May 2012/2 Download Roundup
Brian Wilson

The May 2012/1 Roundup is here, April 2012/2 here and previous versions are indexed here.
Bargains of the Month

Johann Sebastian BACH (1685-1750) Cantatas 10-12
Cantata No.10, Meine Seel' erhebt den Herren (Visitation, 1724) [21:51]
Cantata No.11, Lobet Gott in seinen Reichen (Ascension, 1735) [29:00]
Cantata No.12, Weinen, klagen, sorgen, zagen (Easter 3, 1714) [23:53]
Concentus Musicus Wien/Nikolaus Harnoncourt (Nos.10 and 11)
Leonhardt Consort/Gustav Leonhardt (No.12)
WARNER TELDEC DAS ALTE WERK Vol.4 of 2564699437 [74:30] – from amazon.co.uk (mp3)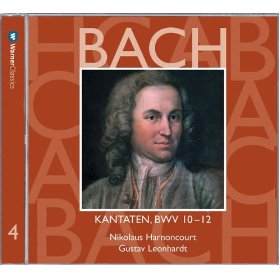 Despite the undeniable strengths of modern cycles from John Eliot Gardiner (Soli Deo Gloria and DG), Masaaki Suzuki (BIS – almost complete on 50 volumes at the last count) and Sigiswald Kuijken (Accent – under construction), there's still much to be derived in the way of instruction and entertainment from what remains of Karl Richter's DG Archiv cycle* and, above all, from the ground-breaking Telefunken achievement, shared equally between Messrs Harnoncourt and Leonhardt. Both employ boy trebles and counter-tenors – the former no match for professional female singers, but what Bach would have had in mind. If forced to choose between them for my desert island, I'd go for Leonhardt, who contributes a very fine No.12 to the present album.

By contrast with more recent recordings, and even with the Ferrier/Jacques version which I reviewed in the last Roundup, the opening chorus of No.11 sounds a bit languid in Harnoncourt's hands. The greater discipline of Harnoncourt's team, wins the day, but Karl Richter beats both versions here with tempi to rival modern recordings: use the link below to hear a sample.*

The practice of offering the cantatas in the Schmieder (BWV) catalogue order throws together some strange bedfellows, in this case separated by 20 years: No.10 is the German paraphrase of the Magnificat – here Harnoncourt's treble is severely taxed but wins the day – No.11 is a joyful cantata, the so-called 'Ascension Oratorio', while No.12 seeks to put away 'weeping, lamentation, worry and apprehension'.

This series is no longer available except as a 60-CD set, a notable bargain to be sure, but many listeners won't want the whole bundle – perhaps preferring to mix and match different performances – so the separate availability of individual discs and some of the 6-CD sets as downloads from amazon.co.uk and hmv.digital.com is an attractive proposition. (See below for Volume 9.) In this case the amazon.co.uk download at £2.79 is the better bargain. The recording, at 256 kb/s, is good enough. It's not worth paying a little more at hmvdigital.com; their offering of Nos.10-12 is also at 256kb/s. There are no texts, but these and translations are easy to find online.

* Cantatas Nos.10 and 11 are part of the volume of music for Ascension, Whitsun and Trinity – download only, in lossless flac only, 439 3802 6CDs for £20.99 ($32.22), from deutschegrammophon.com.

Anton BRUCKNER (1824-1896) Symphony No.8 in c minor (original version, ed. Haas)
Berlin Philharmonic Orchestra/Günter Wand – rec. live, 2001. DDD
BMG RCA RED SEAL 74321 82866-2 [87:07] – from hmvdigital.com (mp3)

['This is a towering achievement and I think it is likely to be one of the most significant orchestral releases of 2002. It is an essential purchase for all Brucknerians and for all devotees of great orchestral playing and great conducting.' See review by John Quinn: Recording of the Month.]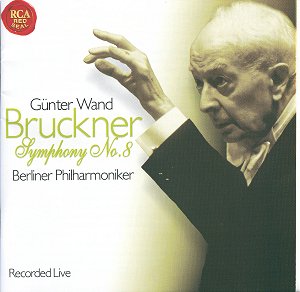 Unfeasible as it may seem, this classic recording appears to be difficult to obtain on CD. Stranger things have happened in the crazy world of recorded music, but, surely, it must be scheduled for reissue. Until then, only his earlier Cologne and NDR recordings are available and, good as they are, this Indian Summer BPO version outshines them, as John Quinn's comprehensive review makes clear. There's no need to wait, however, for a CD reissue; amazon.co.uk have a download at a ridiculously inexpensive £2.76, presumably at 256kb/s, and hmvdigital.com offer superior 320kb/s sound for just a touch more, at £3.16, and I recommend paying that little extra.

I'm not about to throw out my Eugen Jochum recording, also with the BPO, currently available at a budget price in a package of all the Bruckner symphonies on nine CDs, or mp3 or lossless download from deutschegrammophon.com, but if push came to shove it would have to be Wand.

If you haven't yet discovered Günter Wand's recording of the Fourth Symphony, the 'Romantic', you'll find my review in the March 2010 Roundup – another Bargain of the Month. As well as the amazon.co.uk link there, hmvdigital.com have that, too, in preferable 320kb/s form for £3.16.

The Hoffnung Astronautical Music Festival
Hoffnung Symphony Orchestra – rec. 1961. ADD/mono
PAST CLASSICS [42:06] – from emusic.com (mp3)



From the sublime to the ridiculous in this 1961 posthumous tribute to Gerard Hoffnung. The nonsense loses some of its point if you can't see it, and emusic.com don't offer any notes to help you understand what a glorious mish-mash of music is served up here, as when Beethoven's Leonora 'No.4' metamorphoses into 'On top of a Load of Hay', but it's still funny – and ridiculously inexpensive at £0.42. (Non-members will find it for £0.62 from amazon.co.uk.) My own favourite is Humphrey Searle's, alias 'Bruno Heinz Jaja's' Barber of Darmstadt: Wer war die Dame mit der ich dich gestern Abend gesehen habe? (Who was the lady I saw you with last night?) in the manner of Luigi Nono and other members of the Darmstadt School. The recording – variable bit-rate, but up to 320kb/s in places – is decent enough to give pleasure.



Follow up with Malcolm Arnold's riotous Grand Grand Festival Overture, with solo parts for vacuum cleaners and a floor polisher, from the 1956 Hoffnung Festival, on Chandos CHAN10293 from theclassicalshop.net. It's in the company of more 'serious' Arnoldiana there, but the whole thing is extremely enjoyable in some fine performances the BBC Phil and Rumon Gamba. (See full details and review by John Quinn: Recording of the Month. Please refer also to MusicWeb International's Hoffnung Collection here.)


Second Thoughts

I was only partly convinced by the recent Linn recording of Hector BERLIOZ Symphonie Fantastique (CKD400). I'm not at all surprised, however, that others have reacted much more positively, including Dan Morgan, who features regularly in these download pages and who recently made the SACD his recording of the Month – see review.

Collins Classics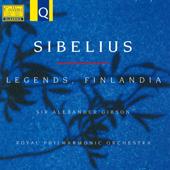 It's good to see so many recordings from the defunct Collins Classics label resurfacing, not only as licensed to other labels but also as downloads from classicsonline.com (mp3) and eclassical.com (mp3 and lossless) or for streaming from the Naxos Music Library. Emusic.com also have several of these recordings, often less expensive than any of their rivals, but their bit-rate tends to be variable and mostly on the low side.

For many years my CD of choice for Sibelius' Lemminkäinen Suite (Four Legends, Op.22) was Sir Alexander Gibson's with the RPO on CC-3013, coupled with Finlandia: two idiomatic accounts, well performed and still sounding well in the mp3 version from classicsonline.com. There are, of course, equally fine rivals* – some available from classicsonline.com, indeed – but I very much enjoyed hearing this Collins recording again.

* including:

o Naxos 8.554265: Iceland SO/Petri Sakari – February 2009 Roundup and review
o Naxos Classical Archive 9.80350: Philadelphia Orchestra/Eugene Ormandy (rec.1951) – February 2009 Roundup
o CHAN6586: Scottish National Orchestra/Alexander Gibson – download in mp3 or lossless from theclassicalshop.net (@ £4.80/£4.99 respectively, pdf booklet included) or stream from Naxos Music Library
o Amazon/BIS: Lahti Symphony Orchestra/Osmo Vänskä (part of a super-budget collection reviewed as Bargain of the Month in June 2011/2 Roundup.)

The more recent Philadelphia/Ormandy recording to which I referred is still available as a download: EMI Encore 0094638867951 from classicsonline.com or stream from Naxos Music Library – see September 2011/2 Roundup. At £4.99 currently, it's a little less expensive than when I last mentioned it. (The passionato.com links listed in 2009 no longer apply.) Rob Barnett aptly described this as outstanding – see review.
***

Temple of Chastity: Codex Las Huelgas – Music from 13th century Spain
Virgines egregie; JC, HG, BS, JW [2:11]
Salve, sancta parens / Salve, porta regis / Salve, salus gencium; JC, HG, BS [1:19]
Surrexit de tumulo; JC, HG, JW [1:22]
Rosa das rosas (cantiga); BS, JW, (JC, HG) [4:06]
Castitatis thalamum; JC, HG, BS, JW [2:29]
Benedicamus benigno voto; HG, BS [3:10]
Catholicorum concio; JW [2:12]
Alpha bovi et leoni; JC, JW [1:37]
Veni, redemptor gencium; HG, (JC) [2:16]
Audi pontus, audi tellus; JC, HG, BS [2:36]
Improvisation on Audi pontus; BS, (JC) [2:48]
Salve regina glorie; JC, HG, BS, JW [2:26]
Gaude, virgo, plena Deo; JC, HG, BS [4:54]
Alpha bovi et leoni; JC, HG, BS [1:04]
Vella e mininna (cantiga); JC, JW, (HG, BS) [3:40]
Confessorum agonia; JW, JC, BS [2:21]
Ex illustri nata prosapia; JC, HG, BS [1:41]
Parit preter morem; JC, HG, BS, JW [2:58]
Castrum pudicicie / Virgo viget melius; JC, BS, JW [2:56]
Como poden per sas culpas (cantiga); JW [4:57]
O Maria, virgo regia / Organica cantica; JC, HG, BS [1:57]
Maria, virgo virginum; JC, (HG, BS)
Mille Fleurs (Jennie Cassidy (voice, sinfonye), Helen Garrison (voice) and Belinda Sykes (voice, shawm and drums) with Jan Walters (harp) – rec. 2002. DDD
Pdf booklet with texts and translations included
SIGNUM SIGCD043 [59:35] – from eclassical.com (mp3 and lossless)

[see review by Gary Higginson]



Though this is advertised as Volume 1, it doesn't appear that Mille Fleurs made a follow-up recording. Anonymous 4 recorded a selection from the Codex las Huelgas, Secret Voices (Harmonia Mundi HMU807510) – it's unfortunate that there are a few overlapping items between their recording and this, but it offers a chance for direct comparison. Both collections open with virgines egregie, which Anonymous 4 take at a noticeably slower pace and a cappella whereas Mille Fleurs give it the full works – all three voices with instrumental accompaniment. You'd hardly recognise the same piece – presented in contemplative manner by one group and almost as a jolly piece of folk music by the other. Of course, we don't know how the music originally sounded, and I enjoyed hearing both, but I suspect that the Cistercian begetters of the manuscript would have preferred the more contemplative version from Anonymous 4.

The two recordings differ as to the title of castrum or claustrum pudicie, castle or enclosure of chastity – either makes sense – and the boot is on the other foot here, with Anonymous 4, again a cappella, dispatching the piece more expeditiously than Mille Fleurs. You may well have a preference for the music with or without accompaniment – I'm all for the penny plain in that respect, as an admirer of the Gothic Voices practice in such works – but in other respects honours are about even between the two recordings. Accompaniment apart, Anonymous 4 mostly sound smoother than Mille Fleurs. Despite the overlap of a few works, too, there's enough that's unique to one or the other collection to merit my recommending both. Were it still available, I'd also recommend the Sequentia recording on Deutsche Harmonia Mundi to which Gary Higginson refers; in many respects that remains my preference among the three.

I was about to join Gary Higginson in lamenting the lack of text for confessorum agonia until I noticed that, despite what the credits say, it's performed in a purely instrumental version. The Signum recording is good. I listened to the Harmonia Mundi for comparison via Spotify – it sounds well and, I imagine, better still in the 320kb/s download from hmvdigital.com. At $10.73, the eclassical.com version not only comes in lossless sound at the same price as mp3, it's also competitive in price with downloads from other sites.

Masters of the Rolls: Music by English composers of the fourteenth century
Ab ora summa nuncius [3:10]
Inter usitata/Inter tot et tales/TENOR [1:46]
Vexilla regni prodeunt [3:52]
Singularis laudis digna [5:14]
Dulcia dona redemptoris [2:04]
Summum regem honoremus [1:45]
Omnis terra/Habenti dabitur/TENOR [2:51]
Copiose caritatis [1:12]
Missus Gabriel de celis [1:59]
Pura, placens/Parfundement plure/TENOR [2:20]
Letetur celi curia [3:21]
Salve regina [2:44]
Jesu fili virginis [0:47]
Jesu fili/Jesu lumen/[Jesu Fili Virginis] [2:05]
Sospitati dat egrotos [1:35]
Exultemus et letemur [2:00]
Stella maris illustrans omnia [2:14]
Venit dilectus meus [4:57]
Pange lingua [4:09]
O sponsa Dei electa [1:34]
Generosa Jesse plantula [2:38]
Musicorum collegio/In templo Dei/TENOR [2:46]
Gothic Voices (Catherine King, Steven Harrold, Julian Podger, Leigh Nixon, Charles Daniels, Stephen Charlesworth)/Christopher Page – rec. 1999. DDD
Pdf booklet with texts and translations included.
HYPERION HELIOS CDH55364 [59:04] – from hyperion-records.co.uk (mp3 and lossless)



This latest (and almost last)* budget reissue from the many distinguished recordings which Gothic Voices made for Hyperion is due for release on CD in July, 2012, but is available for download now.

All the composers are anonymous, though graced in their time by the title magister, master, hence the rather fanciful Masters of the Rolls, referring not to the government official known by that title (custos rotulorum) but to the rolls of music which we see illustrated on the cover shot. One of the singers in particular is looking decidedly apprehensive in that picture – thinking, perhaps, how hard the music is to sing – but the outcome doesn't suggest that Gothic Voices or their director were at all fazed by the music on this recording.

The recording is first class. Christopher Page's notes are, as usual, excellent; perhaps he's a little less technical than is sometimes the case, referring to one of the types of singing in the fourteenth century as 'having all the voices sing the same text at the same moment'.

* Jerusalem Vision of Peace remains at full price (CDA67039: see Hyperion Top 30) but frequently features as a special offer (CD offered at £4.00 as I write). Guillaume de MACHAUT The Mirror of Narcissus also remains at full price but the download costs just £5.99 (CDA66087, see below).

The perennial favourite Hildegard recording, A Feather on the Breath of God has been reduced to mid price (CDA30009: see Hyperion Top 30 – download for £4.99 at the time of writing); the rest have all appeared on Helios at budget price:

o A Song for Francesca: GAW21286 or CDH55291 – see review (Robert Hugill) and September 2011/1 Roundup
o Pierre de la RUE Masses CDH55296 – see review (Gary Higginson) and April 2011/2 Roundup
o Lancaster and Valois CDH55294 – see below
o Music for the Lion-hearted King CDH55292 – see my review of the CD: Bargain of the Month
o The Castle of Fair Welcome CDH55274 – see my review of the CD: Bargain of the Month
o The Earliest Songbook in England CDH55297 – January 2012/1 Roundup
o The Garden of Zephirus CDH55289 – see my review of the CD: Bargain of the Month
o The Marriage of Heaven and Hell CDH55273 – see my review of the CD
o The Medieval Romantics CDH55293 – see below
o The Service of Venus and Mars CDH55290 – see review
o The Spirits of England and France 1 CDH55281 – see my review of the CD.
o The Spirits of England and France 2 CDH55282 – see my review of the CD.
o The Spirits of England and France 3 CDH55283 – see review (J-P Joyce) and my review – Bargain of the Month
o The Spirits of England and France 4 CDH55284 – see October 2010 Roundup
o The Spirits of England and France 5 CDH55285 – February 2011 Roundup and review – Bargain of the Month
o The Study of Love CDH55295 – see my review of the CD
o The Voice in the Garden CDH55298 – see review (Robert Hugill) and my review of the CD

I'm surprised to see that we haven't reviewed Lancaster and Valois: French and English Music c.1350-1420 (CDH55294 – full details and mp3 or lossless download from hyperion.co.uk) and The Medieval Romantics: French Songs and Motets, 1340-1440 (CDH55293 – full details and mp3 or lossless download from hyperion.co.uk), the first two parts of the triptych which concludes with The Study of Love, but it's easy to repair the omission: these are just as essential purchases for anyone with an interest in medieval music as any of the others listed above, including those which have been selected for a special encomium.

Both contain music by the great Guillaume de MACHAUT (c.1300-1377), a collection of whose music under the title The Mirror of Narcissus we also seem to have missed, more excusably since it was released in 1987, well before MusicWeb International came into being:

Dame, de qui toute ma joie vient [5:31]
Foy porter [3:20]
Dame, je sui cilz / Fins cuers doulz / Fins cuers doulz [3:01]
Tuit mi penser [3:11]
Dame, mon cuer en vous remaint [4:30]
Dame, a qui [5:37]
Biauté qui toutes autres pere [4:51]
Je vivroie liement [2:24]
Rose, liz, printemps, verdure [4:37]
Dame, a vous sans retollir [2:56]
Amours me fait desirer [4:13]
Douce dame jolie [2:52]
Inviolata genitrix / Felix virgo / Contratenor / Ad te suspiramus [3:47]
Gothic Voices/Christopher Page – rec.1983. DDD
Pdf booklet with texts and translations included.
HYPERION CDA66087 [50:56] – from hyperion-records.co.uk (mp3 and lossless)



It's invidious to pick one artistic figure from the fourteenth century but if I had to plump, it would be for Machaut, poet and musician. His influence on Chaucer alone would be enough to guarantee him a place in my musical pantheon and I suspect that's part of the attraction for Christopher Page, an English don as well as a musician. The performances here are every bit as fine as the others in the series and there are two added attractions: though still at full price on CD, the download comes at £5.99 and the Gothic Voices are joined here by Emma Kirkby.

[For a less enthusiastic view of this and other Gothic Voices recordings, see Gary Higginson's review of the music of Pierre de la Rue. The New Albion recording to which he refers, NA068CD, can be streamed from the Naxos Music Library or downloaded in mp3 from classicsonline.com.]

Guillaume de MACHAUT Le remède de Fortune
Qui n'aroit autre deport [16:19]
Tels rit au main qui au soir [44:11]
Joie, plaisence et douce norriture [5:42]
En amer a douce vie [4:25]
Dame, de qui toute ma joie vient [5:51]
Dame, a vous sans retollir [2:40]
Dame, mon cuer en vous remaint [5:01]
Dame, mon cuer en vous remaint [4:36]
Marc Mauillon (vocal), Angelique Mauillon (harp), Vivabiancaluna Biffi (vocal, viol) and Pierre Hamon (recorders) – rec. c.2008? DDD.
ELOQUENTIA EL0918 [2 CDs: 88:44] – from emusic.com (mp3)



Similar repertoire to the Gothic Voices album, but there are major differences in interpretation and one potentially hard nut to crack in the complainte which gives the recording its title, the 44-minute long monophonic Tels rit au main (He who laughs in the morning weeps at night.) The only other recording which I can trace of this work (Ars Nova Ensemble, on the New Albion label) offers an abridged 10-minute version. Whatever may be your opinion concerning the use of instrumental backing – and I'm with Gothic Voices' unaccompanied approach in general – it's only the employment of instruments that makes this work palatable for modern listeners; for this modern listener, at least.

The recording, as usual with emusic.com, comes at variable, mostly low, bit-rates – Winamp hovers between 152 and 224 – but sounds acceptable. The lack of texts and translations is a severe handicap, though you'll find some of them freely available for the Hyperion album from the website. The price tag of £3.36 or less offers a considerable saving over the CDs (around £16-17).

Guillaume de MACHAUT
Messe de Nostre Dame [24:23]
Le Lai de la Fonteinne [23:20]
Rondeau: Ma fin est mon commencement [5:38]
The Hilliard Ensemble (David James, Ashley Stafford (counter-tenor); Rogers Covey-Crump, John Potter, Mark Padmore, Leigh Nixon (tenor); Paul Hillier, Michael George (bass))/Paul Hillier
– rec. March 1987 and February 1989
Pdf booklet with texts and translations included.
HYPERION CDA66358 [53:22] – from hyperion-records.co.uk (mp3 and lossless)



Among the many fine recordings of this seminal work – so far as we know, the first complete setting of the Mass – the Hilliards have consistently been at or near the top of most reviewers' lists and I'm not about to put a spanner in the works. At the moment, indeed, there's not a huge amount of competition. Other recordings may be more 'adventurous', but this is the version to which I return when looking for calm and tranquillity at the end of the day – which is by no means to say that it's bland.

If you are looking for a liturgical reconstruction – or, at least, one that places the sections of the Mass in context with the propers – I recommend searching out the Harmonic Records CD (H/CD8391) which Tony Haywood reviewed here and which has been my other version of choice for some time. It's not generally available in the UK at the moment, but Diabolus in Musica offer a good alternative, also with propers (ALPHA132 – download from classicsonline.com for £4.99 or stream from Naxos Music Library). Andrew Parrott's version with the Taverner Choir and Consort offers a similar solution, too – no longer available on CD, but download for £4.49 from hmvdigital.com.

Because of the slightly short playing time, the Hyperion download is on offer for just £5.99.

Thomas TALLIS (c.1505-1585)
The Complete Works: Volume 7 – Music for Queen Elizabeth
Salvator mundi I [2:19]
O sacrum convivium [3:15]
In manus tuas [1:51]
O nata lux de lumine [1:54]
Absterge Domine [5:31]
Discomfort them O Lord [4:37]
Domine, quis habitabit [8:29]
Laudate Dominum [4:04]
Miserere nostri [2:18]
Salvator mundi II [2:21]
Mihi autem nimis [2:15]
O salutaris hostia [2:38]
In ieiunio et fletu (Low) [3:59]
In ieiunio et fletu (High) [3:18]
Derelinquat impius [3:49]
Spem in alium [10:03]
Chapelle du Roi/Alistair Dixon
SIGNUM SIGCD029 [62:45] from eclassical.com (mp3 and lossless) or stream from Naxos Music Library



I've already recommended the whole series of which Volume 7 forms the most attractive part for the majority of listeners, but I felt that I must try eclassical.com's lossless (flac) version and, having done so, I'm happy to commend it as having a subtle but worthwhile edge on the mp3 versions which I've recommended heretofore: you'll find Volumes 1-6 reviewed in the November 2008 Roundup and Volumes 7-9 in the December 2008 Roundup. At $11.28 the eclassical.com download compares well with the price of £7.99 for the mp3 version from classicsonline.com; eclassical.com also allows you to download lossless and return for the mp3 later. Neither offers the booklet, but the extensive notes may be obtained direct from signumrecords.com.

I need hardly add that this glorious music receives superb performances from Chapelle du Roi and Alistair Dixon. There are other fine recordings of Spem in alium in particular, but none to which I return more often than that on this Signum recording. For those who don't want the whole set, the 2-CD set of highlights, Portrait of Tallis, remains available at budget price (Note new catalogue number: Regis RRC2090: Bargain of the Month – see review).

William BYRD (c.1540-1623) The Great Service in the Chapel Royal
Mattins [29:50]
Constitues eos (Six-voice motet from Gradualia seu cantionum sacrarum, liber secundus, London, 1607: prima pars) [1:11]
Venite [5:13]
Psalm 114: When Israel came out of Egypt [1:54]
Te Deum [9:35]
Benedictus [9:17]
Anthem: Sing joyfully unto God our strength [2:38]
Communion [11:34]
Nunc scio vere (Six-voice motet from Gradualia seu cantionum sacrarum, liber secundus, London, 1607: prima pars [3:50]
Kyrie [0:54]
Organ solo Prelude in C [1:14]
Creed [5:34]
Evensong [25:49]
Hodie Simon Petrus (Six-voice motet from Gradualia seu cantionum sacrarum, liber secundus, London, 1607) [3:34]
Psalm 47. O clap your hands together, all ye people [3:11]
Magnificat [9:27]
Organ solo Verse in C [2:05]
Nunc dimittis [5:02]
Anthem: O Lord, make thy servant Elizabeth [2:27]
Steven Devine (organ); The English Cornett and Sackbut Ensemble
Musica Contexta/Simon Ravens – rec. 2011. DDD.
Pdf booklet available
CHANDOS CHAN0789 [67:24] – from theclassicalshop.net (mp3, 16- and 24-bit lossless)



There are a number of fine recordings of Byrd's Great Service (see below) but they offer just the two canticles for Mattins, the two for Evensong, Kyrie and Creed. True to their name, Musica Contexta here offer those settings in the context of how they might have been performed in Queen Elizabeth's Chapel Royal, where the services were conducted with such vestments and ceremonial that, as the notes put it, the link with Rome seemed to have been bent rather than broken, with Latin settings employed as well as English.

Certainly Elizabeth was no puritan and foreign ambassadors often reported little difference between the ceremonies in her Chapel Royal and those of Rome. As for the use of Latin texts there and in collegiate chapels and cathedrals, the Book of Common Prayer specifically permits this use of any language 'understanded of the people'. The result here cannot be an attempt to reconstruct the service for a particular day – we don't have enough surviving Byrd settings of English psalms for that; those chosen here for Mattins and Evensong would not have been used on the same day. On the other hand, the three Latin texts refer to St Peter's Day: Nunc scio vere is the Introit for Mass on that day and Consitues eos and Hodie Sanctus Petrus also relate to Peter.

The singers use Elizabethan pronunciation. Though they have followed scholarly advice, reconstructing the pronunciation of any period of the past is a hazardous affair, since we don't know at what pace the Great Vowel Shift, which changed the sound of English progressively from the mid-fifteenth century onwards, progressed.

In any case, diction is the least recommendable aspect of this recording, since the instrumental accompaniment, heavier in some places than others, sometimes makes the words almost inaudible. The notes again claim modern scholarship for the employment of the Cornett and Sackbut ensemble but it's possible to have too much of a good thing and the result, though rich and glorious, does seem overdone to me. The unaccompanied singing of the anthem for Queen Elizabeth at the end is one of the tracks which show what might have been without them – it sounds very fine and the words are audible.

The recording is good – I listened to the 16-bit lossless – but could have been better balanced to avoid the over-prominence of the instruments which I've mentioned. Some sloppy editing has resulted in abridgement of the end of the Te Deum in the booklet – the words in italics have been omitted: O Lord, let thy mercy lighten upon us: as our trust is in thee.

An interesting experiment, then, and one to which I shall return, but not as often as to:

o The Tallis Scholars sing William Byrd – the three Masses and the Great Service: Gimell 2-for-1 CDGIM208 – see The Tallis Scholars at 30 Roundup
o The Great Service and other works: Westminster Abbey Choir/James O'Donnell – Hyperion CDA67533 – see review* and February 2010 Roundup (mentioned in review of CDA67779).

For the Latin settings I continue to prefer The Cardinal's Musick and Andrew Carwood: all three pieces from the 1607 Gradualia are included on Hyperion CDA67653 one of my Recordings of the Year for 2009.

* the King's College recording referred to is no longer generally available on CD or as a download.

Thoinot ARBEAU (Jehan TABOUROT) (1519-1595)
Monsieur Arbeau's School of Dancing (1589): Volume 1
Music from Orchésographie (1588/9) and other contemporary collections
Convivium Vocalium; Convivium Musicum/Sven Berger – rec. May 1989. DDD.
Pdf booklet included.
MUSICA REDIVIVA MRCD001 [66:10] – from classicsonline.com (mp3) or stream from Naxos Music Library



Only recently I bemoaned the lack of a modern replacement for the old Turnabout recording of this music; I didn't look hard enough because this was under my nose – I should have typed orchesographie into the Naxos Music Library search engine. This Musica Rediviva recording offers lively performances in an appropriate 'jolly japes' style, well recorded and complete with booklet. What you see on the cover of that booklet is pretty much what you get.

An added recommendation for this album is the price, just £4.99. If you enjoyed this volume, try its successor on MRCD005. The recording of renaissance music reviewed by Kirk McElhearn, some of it from Orchésographie, remains available from Antes and as a download from amazon.co.uk.

Georg Philipp TELEMANN (1681-1767) The Autograph Scores
Ouverture-Suite in F for two horns, bassoon, strings, and basso continuo, TWV55:F16 [19:47]
Concerto in D for strings and basso continuo, TWV43:D4 [6:56]
Concert en Ouverture in A for solo violin, strings, and basso continuo, TWV55:A7 [19:00]
Ouverture-Suite in D for two flutes, bassoon, strings, and basso continuo, TWV55:D23 [22:09]
Fanfare in D for two flutes, bassoon, horn, strings, and basso continuo, TWV50:44* [1:24]
Divertimento in E-flat for two flutes, two horns, strings, and basso continuo, TWV50:21 [10:42]
Collegium Musicum 90/Simon Standage – rec. November 2011. DDD.
Pitch: A = 415 Hz Tuning: 'Fifths tuned narrow until the thirds sound good'
* premiere recording
Pdf booklet included
CHANDOS CHAN0787 [79:18] – from theclassicalshop.net (mp3, 16- and 24-bit lossless) or stream from Naxos Music Library



Collegium 90 present a programme of the surprisingly few works of Telemann which have been preserved in manuscript form, in effect an appendix to the other recordings of Telemann which they have made for Chandos. I very much like Simon Standage's way with Telemann, making the music go with a real swing, and the new album is no exception. Everything here is thoroughly delightful; Telemann did, of course, write more serious music, but you won't it among this collection of suites and divertimentos. Forget the fact that there are some doubts about whether everything is in Telemann's own hand and enjoy. The excellent performances are supported by the first-rate recording – even if you only stream the 'CD-quality' version from Naxos Music Library you'll be impressed; the amount of continuo, (just) audible, is exactly right – and there's an excellent booklet of notes.

Jean-Philippe RAMEAU (1683-1764)
Dardanus (tragédie en musique, 1739) [36:33]
Le temple de la gloire (Opéra-ballet, 1745) [29:56]
Tafelmusik Baroque Orchestra/Jeanne Lamon – rec. 2001. DDD
TAFELMUSIK TMK1012CD [67:12] – from classicsonline.com (mp3) or stream from Naxos Music Library



It's good to see the return to the catalogue of Tafelmusik who formerly recorded for CBS and CBC – the present release comes from the latter, first released in 2005 – now on their own label. These two suites from Rameau's operas have been recorded a number of times, though only a few survive in the catalogue. A shorter version of the Dardanus Suite (11 movements against Lamon's 16), by the EU Baroque Orchestra conducted by Roy Goodman is a notable bargain on Naxos 8.557490 – £4.99 from classicsonline.com – while Raymond Leppard's ECO recording of the two Suites from le Temple de la Gloire has been reissued with music by Charpentier and Grétry on CD on Eloquence 480 2373 – see review. The most stylish version of Rameau Overtures, including the two from the operas, Les Talens Lyriques conducted by Christophe Rousset, comes on mid-price Oiseau-Lyre 475 9107.

If you were tempted to explore Rameau's music further by the recent 2-CD Une fête baroque* with its three excerpts from Dardanus, any one of these will provide an hour of wonderful entertainment – even the least idiomatic from Leppard – but none is more stylish, better performed or recorded than the Tafelmusik reissue. This is currently their only recording from the Naxos Music Library but classicsonline.com also have TMK1003CD, The Galileo Project, with music by Bach, Handel, etc. and more music by Rameau – that comes with the booklet, too. More, please, from both sources.

If you wish to move on to a complete performance of Dardanus, you'll find Marc Minkowski's DG Archiv recording for £11.99 from hmvdigital.com – see 5-star review of original release.

* An enjoyable recent 2-CD set celebrating the tenth anniversary of Le Concert d'Astrée includes excerpts from one Lully opera, Thésée, together with music from four Rameau works, plus music by Purcell and Handel. Watch out for my review on the main Musicweb International pages (Virgin Classics 7307992, around £13 in the UK or download for £8.99 as 5099973079958 from classicsonline.com).

London Calling: Music by Handel and his Contemporaries
George Frideric HANDEL (1685-1759)
Amadigi di Gaula, HWV11: Sinfonia (Act 1) [4:04]
Aria (Amadigi): T'amai, quant'il mio cor [5:16]
Aria (Amadigi): Vado, corro al mio tesoro [3:06]
Arcangelo CORELLI (1653-1713)
Concerto grosso in D, Op. 6/4 [9:57]
George Frideric HANDEL
Hercules, HWV60: Sinfonia (Act 3) [2:57]
Recitativo accompagnato (Dejanira): Where shall I fly? [5:58]
Francesco Maria VERACINI (1690-1768)
Sonata in A for violin and continuo (Sonate accademiche, Op.2/9)* [11:30]
George Frideric HANDEL
Theodora, HWV68: Air (Irene): As with rosy steps [7:56]
Francesco GEMINIANI (1687-1762)
Concerto grosso in d minor, No.12 ('La Follia') [11:19]
George Frideric HANDEL
Amadigi di Gaula, HWV11: Aria (Amadigi): O rendetemi il mio bene [6:01]
Sinfonia (Act 3) [1:22]
Aria (Amadigi): Sento la gioia [5:02]
Bjarte Eike (violin); Thomas Pitt (cello); Fredrik Bock (theorbo); Allan Rasmussen (harpsichord)*
Tuva Semmingsen (mezzo)
Barokksolistene/Bjarte Eike (artistic director and violin) – rec. September 2010. DDD/DSD
pdf booklet with texts and translations included
BIS-SACD-1997 [76:15] – from eclassical.com (mp3 and 16- and 24-bit lossless) or stream from Naxos Music Library



London Calling - the old call sign of the BBC World Service – is a convenient peg on which to hang music by Handel and some of his contemporaries who found it an attractive city to ply their wares around 1720. It's not a new idea – see the Intim Music album from 1997 below – but it's useful because the selection gives us the chance to check how similar their music could be – Handel had, of course, absorbed the Italian style – though in the case of Veracini it might have been more to the point to have given us one of his concerti grossi or overtures. The one significant composer who's missing here is Bononcini, whose music was thought to be so similar to Handel's that they were nicknamed 'tweedledum and tweedledee'. (Strange that all this difference should be / Twixt tweedledum and tweedledee.)

No matter; the Veracini sonata is very attractive – don't be put off by the 'academic' label – and receives a heavenly performance. We can check out his concerti grossi and overtures from recordings on CPO (777 302-2), Naxos (8.553412 and 8.553413) and DG Archiv (447 6442, coupled with music by Heinichen, etc.). All but the last are available from classicsonline.com and the DG can be downloaded from deutschegrammophon.com in mp3 or lossless.

In the case of Bononcini there's a recording entitled Handel & Companye on which the music of Handel is combined with that of Bononcini, Geminiani and Steffani (Intim Music IMCD054: Musicke Companye [69:20] – from classicsonline.com, £4.99 with pdf booklet, or stream from Naxos Music Library). Neither the singing nor the instrumental playing are quite of the standard of the new BIS recording, but they are good enough to be enjoyable.

Performances and recording on the new BIS recording are very good; I'm especially pleased with the balance that allows just enough of the continuo to be heard without the harpsichord clattering away too prominently. With booklet included and availability in lossless as well as mp3 – come back later for fodder for your mp3 player – this is worth a strong recommendation. The price of $11.42 ($18.27 for the 24-bit) is very competitive, too. I imagine that the red Routemaster buses on the cover will help sell this album in London Olympics year, though they have nothing to do with Handel. With or without them, this is certain to be a regular visitor to my music system.

Johann Sebastian BACH (1685-1750) Organ Transcriptions
Introduction and Fugue from the Cantata Ich hatte viel Bekümmernis (transcr. Liszt) [5:32]
Chorale Wir setzen uns mit Tränen nieder from St Mark Passion, BWV 244 (transcr. Robert Schaab) [6:02]
Concerto in d minor, BWV 596, after Antonio Vivaldi (transcr. JS Bach) [10:48]
Symphonia pastorale from Christmas Oratorio, BWV 248 (transcr. Karg-Elert) [6:50]
Miserere mei from Bach's Memento (transcr. Widor) [4:22]
Prelude and Fugue in b flat minor, BWV 867, from The Well-Tempered Clavier I (transcr. Max Reger) [7:05]
Wachet auf ruft uns die Stimme, BWV 645 (transcr. JS Bach) [4:21]
Sinfonia from Cantata Wir danken dir, Gott, BWV 29 (transcr. Marcel Dupré) [4:05]
Trio Sonata in C, after BWV 1031 (transcr. Martin Schmeding) [11:00]
Chaconne in d minor from Partita II, BWV 1004 (transcr. Arno Landmann) [14:30]
Martin Schmeding (organ) – rec. 20-22 September 2011. DDD/DSD.
Pdf booklet included
ARS PRODUKTION ARS38109 [75:19] – from classicsonline.com (mp3) or stream from Naxos Music Library



Inspired by Dominy Clements' Recording of the Month review of the CD – a superb recording which he had hardly been able to put down for weeks – I checked this out in CD quality from the Naxos Music Library. He's absolutely right: this recording of transcriptions by Bach of his own and others' music and of Bach's music by later composers, including the organist, Martin Schmeding himself, is infectious.

The quality of the Naxos Music Library version suggests that the classicsonline.com download will be fine, but you may wish to wait for a lossless version to appear from eclassical.com – you may even find that their version costs slightly less or little more than the mp3 at £7.99 from classicsonline.com

Johann Sebastian BACH (1685-1750) Cantatas 163-182
Concentus Musicus Wien/Nikolaus Harnoncourt (Nos. 163, 167, 168, 169, 171, 173, 174, 177-179 and 182)
Leonhardt Consort/Gustav Leonhardt (Nos. 164-166, 170, 172, 175, 176, 180 and 181)
WARNER TELDEC DAS ALTE WERK [6 CDs: 6:02:32] – from amazon.co.uk (mp3)



I've chosen the single-disc recording of Cantatas 10-12 from this series as Bargain of the Month, but this and the other 6-CD sets are even better value, at £13.49, for those prepared to take a bigger plunge. In this case, though Amazon advertise only Cantatas 163-166, you actually get Nos. 163 to 182, which means casting your net very widely across the church's year: Nos. 163, 164, 168-170 and 177-180 are for Sundays after Trinity, Normal Time as it's now called, 165 and 176 for Trinity Sunday, 166 for Easter 4, 167 for St John's Day, 171 for New Year, 172-175 for Whitsuntide, 181 for Sexagesima and 182 for Palm Sunday.

Nikolaus Harnoncourt has the lion's share here by a small margin; both his and Leonhardt's contributions remind us how much modern performance practice owes to this joint series. I'm not at all surprised to see one reviewer, writing about the recently released 153-CD complete Bach from Warner Classics placing the cantatas at the heart of Bach's output and returning to these pioneering recordings even in preference to Gardiner (SDG) and Suzuki (BIS). That goes for me, too, even though I'd throw Richter (DG Archiv), Rilling (Hänssler) and Kuijken (Accent) into the list of excellent recordings – such an embarrassment of riches, not to mention individual recordings from the likes of Andrew Parrott, Monica Huggett (both on Virgin), Philippe Herreweghe (Virgin and Harmonia Mundi), Florilegium (Channel Classics) and Christopher Hogwood (Decca/Oiseau Lyre). Look to these alternatives if boy trebles, as used on the Teldec set, put you off.

It really is time that amazon.co.uk joined other providers in offering mp3 at 320kb/s, but their normal 256kb/s here is perfectly adequate. There are no texts, but these and translations can readily be found online. This is too much of a good thing to be taken in one helping; if you have set Amazon to sync to iTunes, you'll find the individual Harnoncourt and Leonhardt contributions sorted into separate sections, but even each of those is too much for one listening session.

Ignaz (Ignace) Joseph PLEYEL (1757-1831) Symphony in C (B151) [23:40]
Johann Baptist VANHAL (Jan Křitel VAŇHAL) (1739-1813) Symphony in C (C17) [15:00]
Ignaz Josef PLEYEL Sinfonia Concertante in F (B113) [20:11]
Philharmonie Györ/Paul Weigold – rec. c.2003. DDD
ARS PRODUKTION 38811 [58:51] – from eclassical.com (mp3 and lossless) or stream from Naxos Music Library



This is the first volume of several live recordings of Pleyel's music on the Ars Produktion label – all available from eclassical.com or the Naxos Music Library. Although individual works are available on other recordings*, this is the most thorough coverage currently available. In addition to Pleyel, works by his contemporaries are included, as is the case with the Vanhal here.

The music is attractive – often reminiscent of Haydn and Mozart, though not equal to either at his best – and the performances do it justice. The recording is good; the live audience produce one or two audible coughs and creaks, but there is no applause, which I know some listeners don't like to hear. Mp3 and lossless (flac) come at the same price – you can download one and return for the other, but there are no notes. As an additional attraction: at $10.59 this album is attractively priced when others offer mp3 downloads only for £7.99.

* there's an entire disc of Pleyel symphonies in the Chandos Contemporaries of Mozart series, available separately (CHAN9525) or on a 12-CD USB plug and play collection (CHUSB0001 – see May 2011/2 Roundup).

Frédéric (Fryderyk) CHOPIN (1810-1849)
Scherzi Nos. 1-4 [8:18 + 9:12 + 6:40 + 9:58]
Nocturne No.5 in f-sharp major, Op. 15 No. 2 [3:11]
Nocturne No.19 in e minor, Op. 72 No. 1 [4:02]
Nocturne No.20 in c sharp minor, Op. post. [3:46]
Ferenc (Franz) LISZT (1811-1886)
Polish Songs S480/5 Meine Freuden (Moja pieszczotka, My Joys) (after Chopin) [3:22]
Polish Songs S480/1 'Maiden's Wish' (after Chopin) [3:39]
En rêve – Nocturne S207 [2:18]
Maurice RAVEL (1875-1937)
Gaspard de la Nuit [20:44]
Benjamin Grosvenor (piano) – rec. 2011. DDD.
DECCA/LINN UNI013 [75:24] – from linnrecords.com (mp3, 16- and 24-bit lossless)



This recording was released to great acclaim in 2011. We seem to have missed it on its appearance, so I'm happy to make good the omission. Decca even considered the Maiden's Wish special enough to issue it on a limited-edition 10" vinyl single for Record Store Day 2012.

The programme appears tailor-made to display not only Benjamin Grosvenor's technique but also his sensitivity to the music, especially in the major work here, the Ravel Gaspard. That comes last, as is appropriate, after the Chopin and Chopin-inspired Liszt. I have to admit that solo Chopin is not my area of expertise – I'm much more taken with the piano concertos – but I can admire excellent playing when I hear it, and that's what we get here. More than that, it held my attention in the way that Chopin's solo music often doesn't.

It's the Ravel that received the lion's share of the praise on CD and it's for this that I shall mainly be listening regularly to this recording and hoping that we shall have more – much more – from this young man in due course.

The download comes in a variety of formats, from mp3 (£8) via 16-bit flac and wma (£10) to Studio Master 24/96 flac and wma (£18) – the last well worth the investment for audiophiles. If you think that good recording doesn't matter in the case of the solo piano – it's actually one of the most difficult instruments to record, as anyone who ever tried to do so with an old reel-to-reel recorder will attest – the 24-bit version of this album should make you think again, so truthfully is the instrument captured. The CD scored the maximum 5 stars from most reviewers, so I guess the Studio Master deserves 5 stars plus.

Giuseppe VERDI (1813-901)
Falstaff – Opera in three acts
(Libretto: Arrigo Boito)
Sir John Falstaff – Fernando Corena (baritone)
Fenton – Juan Oncina (Acts I & II)/Kevin Miller (Act III)
Ford -Walter Monachesi (baritone)
Dr Caius – Dermot Troy (tenor)
Bardolfo – Daniel McCosham (tenor)
Pistola – Marco Stefanoni (bass)
Alice Ford – Anna Maria Rovere (soprano)
Nannetta – Eugenia Ratti (soprano)
Meg Page – Fernanda Cadoni (mezzo)
Mistress Quickly – Oralia Dominguez (contralto)
Glyndebourne Opera Chorus
Royal Philharmonic Orchestra/Carlo Maria Giulini – rec. Edinburgh Festival, Edinburgh, 25 August 1955. ADD/mono.
Pdf booklet included – no texts.
ICA CLASSICS ICAC5061 [58:15 + 67:04] – from classicsonline.com (mp3)



This recording, licensed from the BBC, preserves what the cover of the booklet aptly describes as Giulini's triumphant UK debut. Its principal competitors among vintage versions are the Gui recording from 1960, again with Glyndebourne forces, with Geraint Evans in the title role, recently reissued on GFOCD02160 and Karajan's 1956 studio recording on EMI Opera, with Tito Gobbi in the title role – see September 2011/2 Roundup. Be aware that classicsonline.com's yo-yoing price policy means that at the time of writing their version of the Karajan costs not £8.99 as I wrote then, but £13.99; hmvdigital.com offer better value at £8.99, like the classicsonline.com, their download comes in full 320kb/s mp3.

Geraint Evans and Tito Gobbi were among the greatest ever Shakespearean or Verdi Falstaffs; Fernando Corena doesn't quite throw himself into the role to the same extent, but he's not far behind. With Giulini's sure hand in Verdi – his Requiem still heads my short-list for that work – and strong supporting cast, this is a very enjoyable recording.

The rather dry recording requires a degree of tolerance at first but the ear soon adjusts. Nevertheless, such is the quality of the Karajan recording that the superior studio sound, together with its availability at an advantageous price if you choose the hmvdigital.com version at £8.99, sways the decision for me, as I think it will for most.

It's a shame that, though the pdf booklet is part of the deal, no libretto is included; I'd gladly have sacrificed the seven pages of glossy illustrations of other ICA albums to have had at least a synopsis. No matter, you'll find synopsis and libretto online easily enough.

Max BRUCH (1828-1920)
Violin Concerto No.1 in g minor, Op.26 [24:20]
Scottish Fantasia [28:08]
Kyung-Wha Chung (violin); Royal Philharmonic Orchestra/Rudolf Kempe
DECCA/LINN UNI003 [52:29] – from linnrecords.com (mp3, 16- and 24-bit lossless)



This recording has been around a while – I used to own the LP and the recent Virtuoso reissue is available as a 320kb/s download from hmvdigital.com for as little as £5.53 – but I've never heard it sounding so well. Nor do I consider that the remake which Kyung-Wha Chung made for EMI with Klaus Tennstedt*, coupled with the Beethoven, has superseded it, if only because I love the 'MacBruch' Scottish Fantasia perhaps even more than the first Violin Concerto. It certainly deserves to be better known; both works consist mainly of music to wallow in, but a good wallow never did any harm. All concerned here do it in the best possible taste, yet I still want to hum along – an unsophisticated reaction which I'm rarely tempted to indulge. £18 for the flac or wma 24-bit/16kHz versions may seem a lot but audiophiles will consider it money well spent; others will be content with the 16-bit at £10 or even the mp3 (at full 320kb/s) at £8.

I enjoyed the Beulah reissue of Campoli's version of the Scottish Fantasia (7-9BX10 - see April 2011/1 Roundup), but Chung's is the version to go for, especially in so fine a transfer. The passionato.com link to the Oistrakh version listed in the Campoli review no longer applies.

* if you want that, hmvdigital.com have it for £7.99.

Camille SAINT-SAËNS (1835-1921)
Danse bacchanale from Act III of Samson et Dalila, Op. 47 (1877) [6:44]
Le Rouet d'Omphale, Poème symphonique, Op. 31 (1872) [7:51]
Phaëton, Poème symphonique, Op. 39 (1873) [8:21]
Danse macabre, Poème symphonique, Op. 40 (1874) [6:36]
La Jeunesse d'Hercule, Poème symphonique, Op. 50 (1877) [13:58]
Marche militaire française - No. 4 from Suite algérienne, Op. 60 (1880) [4:10]
Overture to La Princesse jaune, Op. 30 (1872) [5:54]
Une nuit à Lisbonne, Op. 63 (1880) [3:37]
Spartacus (1863) [12:56]
Marche du couronnement, Op. 117 (c. 1902) [6:21]
Royal Scottish National Orchestra/Neeme Järvi
rec. 14-15 September 2011, Royal Concert Hall, Glasgow, UK
Pdf booklet included
CHANDOS CHSA5104 [77:40] – from theclassicalshop.net (mp3, 16-bit lossless, Studio 24/96 stereo & surround)



The partnership between Neeme Järvi and the Scottish National Orchestra – as it was then – was a fruitful one, yielding some fine Strauss and Shostakovich along the way. It's good to see the conductor at the helm of his old band again, although their recent Wagner series didn't impress me. Perhaps that's because it isn't the kind of repertoire one associates with Järvi; come to think of it, Saint-Saëns isn't either, although a quick dip into this collection suggests otherwise. As always, I've selected the 24/96 flacs for review.

Looking at the track list these are the familiar 'lollipops' one might expect on an LP from Albert Wolff, Arthur Fiedler or Ernest Ansermet. And where better to start than with the show-stopping Danse bacchanale. From that first plucked note it's clear we're in for something special; apart from that big, beefy Chandos sound the RSNO are in spectacular form, driven to deliver by a maestro intent on playing these pieces for all they're worth. There's an electric charge surging through this programme, revitalising music much dulled by repetition. And goodness, what a wild party this is, the percussion especially well caught. Now that's what I call an orgy.

The symphonic poems are no less enjoyable, Le Rouet d'Omphale, Phaëton and La Jeunesse d'Hercule played with a clarity and strength I've not heard in a long while. The RSNO, now diaphanous now bold, seem to be enjoying themselves immensely, the freewheeling Phaëton played with remarkable grace and refinement. Järvi's not the most subtle of conductors at times, but these gems are most beautifully done. That said, the big tutti in Phaëton will make you jump, the weird sonorities and rhythms of the Danse macabre as entertaining as ever. Violinist Maya Iwabuchi's spooky solos are superb, Järvi making the music sound more sinuous than usual.

True, not all of the works here are from the top drawer, but that hardly matters when they're so well played. And in the heady aftermath of M. Hollande's election the Gallic hauteur of the Marche militaire seems especially apt. The brass and side drums are splendid and rhythms are taut, the piece building to a climax of Tchaikovskian weight and colour. The stately Marche du couronnement is no less satisfying: broad, spacious and chockful of lovely detail. This really is a top-notch recording, bringing back fond memories of Chandos's halcyon days with this orchestra and conductor.

Spartacus continues the composer's Greco-Roman theme with music of animation and sweep. But the voltage does fluctuate somewhat, and the piece almost outstays its welcome. That said, it's played with as much commitment and care as anything here. As for the overture to Saint-Saëns' oriental pot-boiler, The Yellow Princess, it has a mild Polovtsian flavour that Järvi brings out rather well; otherwise it's one of the composer's more unremarkable efforts. No such caveats about A Night in Lisbon, which gets a warm and sensuous outing.

Wolff and Ansermet are uniquely inspired in this repertoire, but Järvi can be just as thrilling, even if his musical sensibilities are closer to Russia than to France. Throw in vintage Chandos sound and really, what's not to like?

Dan Morgan
http://twitter.com/mahlerei

Antonín DVOŘÁK (1841-1904)
String Quintet No. 2 in G, Op.77 (B49) [34:17]
Nocturne in B for strings, Op.40 (B47) [6:04]
String Quintet No. 3 in E flat, Op. 97 (B180) 'American': Scherzo [5:25]
Berlin Philharmonic String Quintet
PENTATONE PTC5186458 [45:43] – from classicsonline.com (mp3)

String Quintet No. 2 in G, Op. 77 (B49) [33:10]
Nocturne (Intermezzo) in B for strings, Op.40 (B47) [4:14]
String Quintet No. 3 in E flat, Op. 97 (B180) 'American' [31:10]
Chilingirian Quartet with Duncan McTier (double-bass) and Simon Rowland-Jones (viola) – rec. 1990 and 1991. DDD
Pdf booklet available.
CHANDOS CHAN9046 [68:11] – from theclassicalshop.net (mp3 and lossless)

Piano Quartet No. 2 in E flat, Op.87 (B162) (1889) [34:32]
Piano Quintet No.2 in A, Op.81 (B155) (1887)* [39:43]
Songs my mother taught me, Op.55/4 (B104) (1883) [2:03]
Schubert Ensemble (Simon Blendis (violin); Douglas Paterson (viola); Jane Salmon (cello)
William Howard (piano)) with Alexandra Wood (violin)* – rec. November 2011. DDD.
Pdf booklet included.
CHANDOS CHAN10719 [76:55] – from theclassicalshop.net (mp3 and lossless) or stream from Naxos Music Library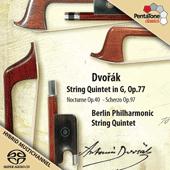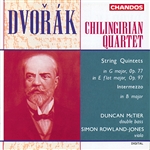 The second String Quintet is glorious music, but it's not nearly well enough known when it's not far behind the 'American' Quartet and the Piano Quintet in quality and appeal. The record-buying public are at least partly to blame, with excellent CDs from Hyperion and Chandos available only to special order or as downloads.

The first-rate new PentaTone performances in good mp3 sound should help but, however good the performances, 46 minutes for a full-price recording seems extremely stingy – 'never mind the quality, feel the width' in reverse. Why could we not have been given the whole of Op.97 instead of just the scherzo? CHAN9046 gives us all three works and with room to spare. The reduced price of the download as against the SACD helps soften the blow to pocket or purse, though you lose the booklet of notes and there's no lossless option, which comes with Chandos*, let alone surround sound. Both performances are excellent, so it's safe to leave your choice to preference of coupling and how far you are put off from paying even £7.99 (£6.39 as a special offer as I write) for a download of a short recording. If you wait a little longer, it's likely that eclassical.com will issue the PentaTone version, not only in lossless at the same price as mp3 but also at a price that takes account of the short playing time.

That Chandos recording is out of stock in CD form, so the download is especially welcome. That it's available in lossless sound for just a little more than the mp3 is an added recommendation.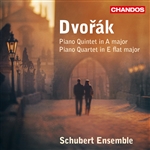 If you haven't yet added the better-known Piano Quintet to your collection, the new Chandos (CHAN10719) is one of the best ways to do so. As with the String Quintet, there are other couplings to choose – Andreas Haefliger with the Takacs Quartet has hitherto been my chief recommendation (Decca 466 1972, with String Quartet No.10 – see September 2009 Roundup). The passionato.com link for the Haefliger no longer applies: go to deutschegrammophon.com for mp3 or lossless.

The Goldner Quartet and Piers Lane on Hyperion couple the two Piano Quintets on CDA67805 – see review.) If you prefer the mature Piano Quintet and String Quintet together, go for the Gaudier Ensemble on another Hyperion recording (CDA66796). Clifford Curzon's classic performance of the Piano Quintet seems no longer to be available in any form.

* mp3 and lossless flac are available from prestoclassical.co.uk.

Frederick DELIUS (1862-1934) Anniversary

Inevitably there have already been several new releases and reissues to celebrate Delius's 150th anniversary and more are appearing all the time.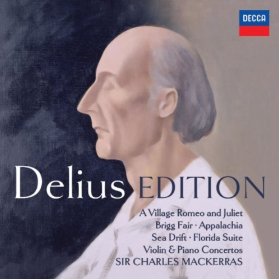 Decca have released an 8-CD set of recordings directed by Sir Charles Mackerras (478 3078), available for £19.99 from hmvdigital.com. That's a small saving over the cost of the CDs – target price around £26 in the UK – but it represents better value, and in 320kb/s sound, than amazon.co.uk's £35.99 for 256kb/s when Amazon themselves offer the same set on CD for £25.77. The earlier 2-CD Decca/Mackerras collection, now incorporated in that larger set, was my joint Download of the Month in the April 2011/1 Roundup. The passionato.com link no longer applies: get it from hmvdigital.com if you don't want the 8-CD set.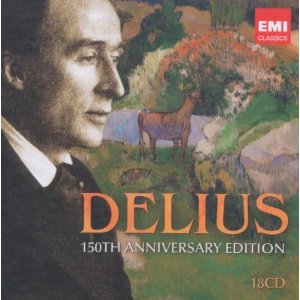 EMI's more recent, more comprehensive, 18-CD box (0841752 - see review ) seems not to be available yet as a download, but the CD set sells for around £30 in the UK. If you're buying the CDs of either or both sets, shop around – prices seem to vary very widely.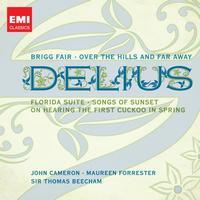 I haven't yet laid eyes on the new EMI set but, of course, most of the components are well enough known for it to be self-recommending; Rob Barnett thought it irresistible – see review. Equally self-recommending is the 2-CD budget set of Delius's music in EMI's 20th Century Classics series (0946532: download from hmvdigital.com), all directed by Sir Thomas Beecham and effectively replacing the single-CD Great Recordings reissue which I recommended in the May 2010 Roundup. Even if you have the single CD or download, you should consider this inexpensive release – unless, of course, you have the yet more tempting EMI set The English Tradition, containing even more Beecham Delius – see review and July 2011/1 Roundup: Bargain of the Month.

There's another inexpensive EMI 2-CD set, this time involving various artists:

Essential Delius: 150th Anniversary Edition
CD 1
On hearing the first cuckoo in Spring [5:49]
Summer night on the river [6:31]
London Philharmonic Orchestra/Vernon Handley – rec. 1979
The Walk to the Paradise Garden arr. Beecham [9:45]
London Symphony Orchestra/Sir John Barbirolli – rec. 1967
A Song before Sunrise [6:09]
Royal Philharmonic Orchestra/Sir Malcolm Sargent – rec. 1965
Recorded and reissued on CD under the auspices of the Delius Trust
La Calinda (arr. Fenby) [4:32]
Hallé Orchestra/Sir John Barbirolli – rec. 1969
Sleigh Ride [5:28]
Royal Philharmonic Orchestra/Sir Thomas Beecham
Fennimore and Gerda – Intermezzo (arr. Fenby) [4:45]
London Philharmonic Orchestra/Vernon Handley – rec. 1979
Irmelin – Prelude [5:43]
London Symphony Orchestra/Sir John Barbirolli – rec. 1967
Summer Evening [6:32]
Northern Sinfonia of England/Richard Hickox – rec. 1986
Paris: The Song of a Great City [21:40]
Royal Liverpool Philharmonic Orchestra/Sir Charles Mackerras – rec. 1991
CD 2
In a Summer Garden [14:18]
Hallé Orchestra/Vernon Handley – rec. 1982
Hassan – Intermezzo (arr. Beecham) [2:24]
Hallé Orchestra/Sir John Barbirolli – rec. 1969
A Song of Summer [11:15]
London Symphony Orchestra/Sir John Barbirolli – rec. 1967
To Be Sung of a Summer Night on the Water [2:07]
Robert Tear (tenor); Choir of King's College, Cambridge/Sir Philip Ledger – rec. 1976
Late Swallows (arr. Fenby) [10:48]
London Symphony Orchestra/Sir John Barbirolli – rec. 1969
Dance Rhapsody No.2 [7:40]
Royal Philharmonic Orchestra/Sir Thomas Beecham
Recorded under the auspices of the Delius Trust
Cynara [9:32]
John Shirley-Quirk (baritone); Royal Liverpool Philharmonic Orchestra/Sir Charles Groves – rec. 1975
Brigg Fair: An English Rhapsody [16:02]
Bournemouth Symphony Orchestra/Richard Hickox – rec. 1991
EMI ESSENTIAL 0842102 [77:26 + 76:26] – from hmvdigital.com (mp3) or stream from Naxos Music Library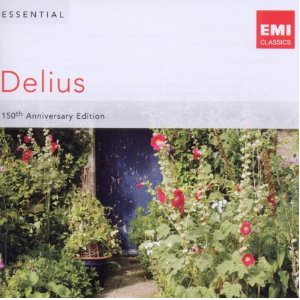 These are all tried and tested performances, many of which I have, or used to have, in my collection on LP or CD and I checked out the whole set with great enjoyment from Naxos Music Library. Though there are some Beecham items, it serves as a reminder that EMI had other splendid Delius interpreters, too. Taken as a whole this is a superb bargain – you'd pay more for the two rather short Classics for Pleasure albums of Vernon Handley's Delius, many of the items from which feature here.

Despite assurances that their irrational pricing policy for EMI recordings was due to be sorted out, classicsonline.com were still asking £15.98 at the time of writing for a CD set which can be had for as little as £6.75 on disc and as a download from hmvdigital.com for £4.49. amazon.co.uk have the download for the same price, but the hmvdigital.com download comes at the full 320kb/s.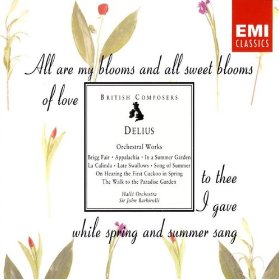 Hmvdigital.com also offer the 2-CD set of Barbirolli's Delius – Brigg Fair, Appalachia, The first Cuckoo, etc., on EMI. The recordings were, of course, made with the Hallé, not the LSO as hmvdigital.com erroneously state. Good value at £8.99, though it duplicates some of the performances from the Essential Delius set.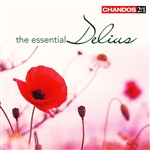 At these prices, you should have enough left over for a similar, only slightly less inexpensive, 2-CD collection from Chandos: The Essential Delius, performances conducted by Vernon Handley and Richard Hickox (CHAN241-37: £8.40 in mp3, £10.00 in lossless sound – see January 2009 Roundup.) The highlights are complete recordings of North Country Sketches and the Florida Suite, neither of which features on the EMI set, apart from La Calinda from the latter. With these two substantial items, but no Brigg Fair, the Chandos is effectively complementary to the EMI. The pdf booklet is available to view, but cannot be saved. There's not a single dud recording in either of these collections.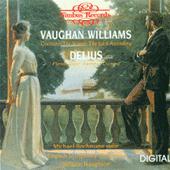 For another very fine recording of the Florida Suite, with Summer Evening and Vaughan Williams' Overture The Wasps and The Lark Ascending, don't overlook William Boughton and the English Symphony Orchestra, recorded in 1989, on Nimbus NI5208 – see my review of the CD; purchase for £12 post-free worldwide from MusicWeb International here, stream from Naxos Music Library or download from classicsonline.com (mp3). The Hickox recording to which I referred in that review is no longer available from passionato.com, who are not now in the download business, but can be downloaded from hmvdigital.com, though their price of £8.49 is a little steep – and amazon.co.uk's £9.49 even steeper.

There are some recordings, especially of the historical variety, which fall outside the remit of these box sets. Two of these, recorded by Sir Thomas Beecham, can be obtained very inexpensively: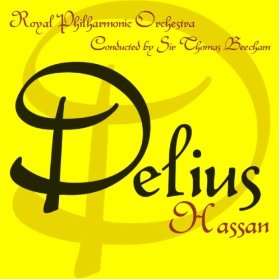 Hassan – incidental music, recorded by Leslie Fry (baritone), Arthur Leavins (violin), Frederick Riddle (viola), the BBC Chorus, Royal Philharmonic Orchestra and Sir Thomas Beecham used to be available on a mono Philips Classical favourites LP, in not very good quality sound, coupled with North Country Sketches. That coupling has been resurrected by Discover Classical Music, and there is also a download on the Hallmark label where what is billed as Hassan Part 2 turns out to be, in fact, North Country Sketches, complete on one 25-minute track.

The sound is decent enough for its age, though there is a degree of background noise, almost silent in places but with prominent thumps in others. If you prefer the coupling with Beecham's version of Sea Drift, Emkay can oblige. You can try all these transfers first from Spotify but it's hardly going to break the bank to obtain the emusic.com Hallmark download for £0.84, or the Discover Classical or the Emkay from the same source for £2.10 each. (£1.38, £4.45 and £3.45 respectively as downloads from amazon.co.uk for non-emusic.com members.)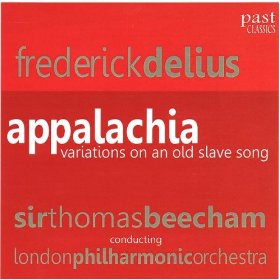 Emusic.com also have Beecham's Appalachia, also originally Columbia, and also once available on the Philips GL label and later on a deleted Sony CD*. The Past Classics transfer is extremely good for its age, but inevitably dated – download from emusic.com (£1.68) or hmvdigital.com (£3.16) or try it from Spotify. Whereas no more modern recording of more than two short items from Hassan, however, is readily available apart from the 18-CD set, we do have a recent version of Appalachia, coupled with Song of the High Hills, and in Hybrid SACD and 24-bit surround sound, too: Sir Andrew Davis with the BBC Symphony Chorus and Orchestra (Chandos CHSA5088 – see review, Recording of the Month; see April 2011/1 Roundup: joint Download of the Month).

* It's listed as the London Philharmonic Orchestra version (issued on 78s), but the sound is surely too good to be other than the later LP version with the Royal Philharmonic. Amazon.co.uk offer a Hallmark download of Appalachia plus An Arabesque for £2.07, which is listed as the RPO version, yet what I've heard sounds more like a transfer from 78s! If it's the LPO version that you want, the Naxos transfer (with Brigg Fair and Hassan: Closing Scene) offers a much better transfer. From classicsonline.com or try it on Spotify or the Naxos Music Library.

Richard STRAUSS (1864-1949)
Don Quixote, Op.35* [44:16]
Horn Concerto No.2 in E-flat, AV132** [19:52]
Pierre Fournier (cello), Giusto Cappone (viola)*
Norbert Hauptmann (horn)**
Berlin Philharmonic Orchestra/Herbert von Karajan – rec. 1965, 1973. ADD.
DG/LINN UNI017 [64:09] – from linnrecords.com (mp3, 16- and 24-bit lossless)



Most of my reviews of Linn Studio Master reissues of recordings from the Universal stable so far, like all the others that I've included in this Roundup, have been from Decca, but this Deutsche Grammophon release is fully their equal. Of Karajan's several recordings of Don Quixote, this has a fair claim to be his best and one of the top recommendations of all time: an earlier reissue, on the DG Galleria label, coupled with Tod und Verklärung, has been my version of choice for some considerable time. Some have found Karajan too detached in this music, but that's not a view that I share.

The Horn Concerto No.2 makes a strange bedfellow – one that would have been better placed preceding Don Quixote - but it, too, receives an exemplary performance, excelled only among versions that I know by Dennis Brain with Wolfgang Sawallisch, more aptly coupled with the first concerto and Hindemith's Horn Concerto and Konzertmusik (EMI Great Recordings mono/stereo – download for £5.99 as 0724356778351 from classicsonline.com).

Though you can obtain an mp3 download of this DG Original recording for as little as £4.99 from hmvdigital.com, the superior Studio Master re-mastering of the analogue original represents £18 well spent. (320kb/s mp3 at £8 and CD-quality 16-bit at £10 are also available.)

Other recommendable recordings of Don Quixote of much the same vintage include George Szell – no longer available on CD or download but look out for possible reissues – and, at budget price, Paul Tortelier and Rudolf Kempe with the Berlin Phil, coupled with Till Eulenspiegel and Don Juan (Regis RRC1371 – see review by Michael Cookson and April 2012/1 Roundup). The Regis sounds well in mp3 from classicsonline.com or Naxos Music Library, but it's no match sonically for the Karajan which has come up splendidly in the Studio Master version – subtly but noticeably better than my Galleria CD.

Gerald FINZI (1901-1956)
Earth and Air and Rain: Five Song Cycles to Words by Thomas Hardy
CD 1 [59:58]
Earth and Air and Rain Op.15** [30:32]
Till Earth outwears Op.19a* [16:27]
I said to Love Op.19b** [12:58]
CD 2 [60:00]
A Young Man's Exhortation Op.14* [28:53]
Before and after Summer Op.16** [31:06]
Martyn Hill (tenor)*
Stephen Varcoe (baritone)**
Clifford Benson (piano) – rec. December 1984. DDD.
HYPERION DYAD CDD22070 [2 CDs for the price of one: 119:58] – from hyperion-records.co.uk (mp3 and lossless)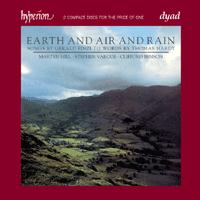 Reviewing the new Resonus recording of Finzi's music in May 2012/1 (RES10109), I promised to consider this older complementary recording of five of his song cycles in view of Rob Barnett's somewhat 'waspish' (his word) review.

The 2-for-1 package undoubtedly offers excellent value at £7.99 for both mp3 and lossless sound, though hmvdigital.com also offer the 2-CD Lyrita set which RB preferred for the same price, but only at 192kb/s mp3. The real question concerns the quality – fragile or otherwise? – of Stephen Varcoe's voice. In Earth and Air and Rain I thought him a little detached at times in When I set out for Lyonesse, though he more than atones in the very next song, Waiting Both.

In Sweet Lizbie Brown I hear some of the fragility on which RB comments, certainly by comparison with John Carol Case's more forthright tone on Lyrita, but it seems so appropriate to the theme of loss which permeates the poem:

I let you slip;
Shaped not a sign;
Touched never your lip
With lip of mine,
Lost Lizbie Browne!

By contrast, I thought Roderick Williams and Ian Burnside (Naxos 8.557963 – see review) too upfront and cheerful in this song – no fragility here, but not enough nostalgia, either. At 4:01, this is just a little too fast – Varcoe and Benson (4:21) give it a little more time to make its effect, as do John Carol Case and Howard Ferguson on Lyrita (4:16). All three bring insights to the cycle and I wouldn't rate Varcoe below the other two.

Hardy's poetry – Finzi's favourite poet, though he does very well by Traherne (Dies Natalis) and Wordsworth (Immortaloty Ode), too – was the culmination of a career largely spent writing the novels which produced enough money for the leisure to be a poet. It's often intense and personal; Finzi responds to it intuitively, and so does the sensitive listener, which is why I think RB has become so wedded to individual performances such as John Carol Case in Earth and Air and Rain. Equally, I have to say that I sometimes react adversely to Robert Tear, RB's preferred exponent of Till Earth Outwears; I very much prefer Martyn Hill in this cycle.

Overall I'm far less inclined than RB to be waspish about this Hyperion set – not really waspish at all. Either it or the Lyrita would make an excellent next step for anyone who has taken my advice and purchased the Resonus recording.

George GERSHWIN (1898-1937) An American in Paris [21:44]
Ferde GROFÉ (1892-1972) Grand Canyon Suite [33:32]
Charles Butler (trumpet)
Seattle Symphony/Gerard Schwarz rec. 1989 and 1990. DDD
Pdf booklet included
NAXOS 8.571205 [55:16] – from classicsonline.com (mp3) or stream from Naxos Music Library

Aaron COPLAND (1900-1990)
Suite from Appalachian Spring [24:27]
Symphonic Ode [19:55]
Paul CRESTON (1906-1985)
Symphony No. 3, Op. 48 'Three Mysteries' (1950) [26:06]
I. The Nativity [9:32]
II. The Crucifixion [8:42]
III. The Resurrection [7:52]
David Ritt (trombone); Raymond Davis (cello); Susan Gulkis Assadi (viola); Seth Krimsky (bassoon); Charles Butler (trumpet)
Seattle Symphony/Gerard Schwarz – rec. 1994 and 1992. DDD
Pdf booklet included.
NAXOS 8.571203 [70:28] – from classicsonline.com (mp3) or stream from Naxos Music Library

Aaron COPLAND
Rodeo: Four Dance Episodes [19:25]
Piano Concerto [17:52]
Billy the Kid: Suite [20:52]
Lorin Hollander (piano)
Seattle Symphony/Gerard Schwarz – rec. 1990 and 1993. DDD.
Pdf booklet included
NAXOS 8.571202 [58:09] – from classicsonline.com (mp3) or stream from Naxos Music Library
[reviewed in March 2012/2 Roundup]

More excellent reissues of ex-Delos Seattle/Schwarz recordings to join those which I and others have welcomed in recent months.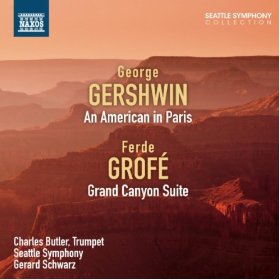 8.571205: Schwarz brings out both the rumbustious and delicate elements of An American – the latter to an extent that I hadn't appreciated before, without detriment to the music's energy. At much the same price there's the Doráti recording on Regis RRC1386 which I reviewed in the previous Roundup – an all-Gershwin programme, which you may prefer for that reason, though it seems a little hurried and less sensitive to the subtler elements than Schwarz. The older Regis recording has come up well but the Naxos is even better and the mp3 transfer does justice to an excellent recording.

This restores the version of An American which I was hoping for when I reviewed the Copland works on 8.571202 in the March 2012/2 Roundup – I've repeated the details and given a link above for ease of reference.

I can't pretend that Grofé's Grand Canyon is great music, but it's very colourful and enjoyable and it receives a first-class performance and recording. If you would like to hear it in the context of Grofé's two other picturesque suites, Mississippi and Death Valley, you may prefer the Slatkin recording on EMI American Classics – but see my slightly lukewarm review of the parent CD. If you still want the Slatkin, download the less expensive of classicsonline.com's two offerings of this here. Try it first from the Naxos Music Library if possible.

At first I thought the Naxos notes a bit rudimentary until I realised that the version offered by the Naxos Music Library is missing page 2, as, I presume, is the classicsonline.com download. No matter; it's all there if you click 'about this recording', though it doesn't tell you anything about the programme of the Grand Canyon Suite.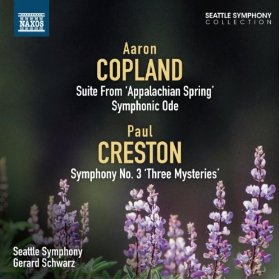 8.571203: It's a little disappointing that Schwarz recorded only the Suite from Appalachian Spring. Those who would prefer the whole thing should note the availability of the recording of the chamber-scale original by the San Francisco SO and Michael Tilson Thomas on SFS media 82193600342, coupled with Ives' Holidays Symphony, the latter as reviewed by me on DVD – here – download for £4.99, complete with pdf booklet, from classicsonline.com. There's also an excellent earlier Tilson Thomas all-Copland recording, again of the complete ballet, on a budget-price RCA download – see Bargain of the Month review of the CD and October 2009 Roundup for that even less expensive recording.

That said, Schwarz's performance of the Suite is about as good as it gets; as in American in Paris, he brings out the tender elements of the music – an indefinable wistful purity – better than any other version that I know.

Naxos have other recordings of Creston's music, including this symphony. Rob Barnett gave a four-star rating to their earlier recording of Symphonies 1-3 (National SO of the Ukraine/Theodore Kuchar 8.559034) and Lewis Foreman was also appreciative, but David Wright had severe reservations – see joint review. All in all, Schwarz offers a much safer recommendation.

Dmitri SHOSTAKOVICH (1906-1975)
Symphony No. 1 in f minor, Op. 10 (1924-1925) [32:03]
Symphony No. 2 in B flat, Op. 14 'To October' (1927) [20:02]
Symphony No. 3 in E flat, Op. 20 'The First of May' (1929) [27:51]
Netherlands Radio Choir
Netherlands Radio Philharmonic Orchestra/Mark Wigglesworth – rec. October 2006 (No. 1), October 2010 (Nos. 2 & 3). DDD/DSD
Pdf booklet with sung texts included (Cyrillic and English)
BIS-SACD-1603 [81:13] – from eclassical.com (mp3, 16- and 24-bit lossless) or stream from Naxos Music Library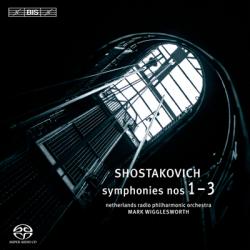 Dan Morgan has already awarded Recording of the Month status to the 24-bit version of this album – see his detailed review. I'd happily have followed suit had I been as readily sold on Shostakovich before the Fourth Symphony – anything from then on is real grist to my mill but the earlier symphonies a good deal of sound and fury, too often signifying very little. I see that when I reviewed the complete Ashkenazy set on Decca – review – I thought that he brought out qualities that raise the first above a student work, barely mentioned the second and the third not at all.

All concerned here make the strongest possible case, about on a par with those Ashkenazy recordings – both almost convince me about the first. I'm certainly encouraged to listen to other recordings in this now nearly complete series – but I'm still not really convinced about Nos. 2 and 3. Stream this first from Naxos Music Library, if you can, and if you're not sure about it; you'll even find the pdf booklet there.

As Dan has reviewed the 24-bit version, I tried the 16-bit lossless version and thought it excellent, apart from the fact that the level of the opening of the second symphony is virtually inaudible at a normal listening level.

Jean FRANÇAIX (1912-1997)
Quintet No. 1, for flute, oboe, clarinet, bassoon and horn (1948) [20:38]
Quintet No. 2, for flute, oboe/cor anglais, clarinet, bassoon and horn (1987) [20:02]
Quartet, for flute, oboe, clarinet and bassoon (1933) [10:49]
Divertissement, for oboe, clarinet and bassoon (1947) [10:06]
Bergen Woodwind Quintet – Gro Sandvik (flute), Steinar Hannevold (oboe), Fredrik Fors (clarinet), Ilene Chanon (horn), Per Hannevold (bassoon)
rec. April 2008, Herdla Kirke, Askøy, Norway. DDD/DSD
BIS-SACD-2008 [62:48] – from eclassical.com (mp3, 16- & 24-bit lossless) or stream from Naxos Music Library



The Bergen Woodwind Quintet is new to me, but the downloadable liner-notes point to a busy ensemble immersed in teaching activities when they're not performing at home or abroad. As for Jean Françaix, those unfamiliar with his œuvre will find these wind pieces very approachable indeed, the composer's ear for pleasing sonorities and supple rhythms evident in every bar. As always, I've chosen to review the 24-bit flacs which, at the time of writing, were being offered for the same price as the 16-bit files. Regular visitors to eclassical.com will know that such 'deals' are a regular feature of the site.

The first quintet's technical challenges – which caused some discontent when it was first played – pose no problems for the BWQ, whose fast, fluid playing in the presto in particular is impressive. Detail is sharp but not overly analytical, and the recording has pleasing warmth and weight. And despite a fairly close balance there's plenty of 'air' around the instruments. As for the quality of the performance itself just listen to the third movement – Tema con variazioni - played with simple gravitas and a marvellous, singing line. There's wit and sparkle in the Puckish finale, and one has to marvel at the pin-sharp articulation and sheer energy of this ensemble.

That may be a hard act to follow, but these players are even more alluring in the second quintet, written almost four decades later. After a gentle – rather wistful – Prelude the gurgling Toccata is despatched with panache; what precise, pointful playing this is, and yet how spontaneous it sounds. The Scherzo's air of joie de vivre is beautifully caught as well, the slow, dark-toned Andante glowingly done. Even in such august company bassoonist Per Hannevold deserves a special mention here. They're all so adroit in the dancing allegrissimo, flautist Gro Sandvik especially so.

The early quartet may be leaner and tighter, but it's no less assured than the later works. As ever, the playing is crisp, the pensive little andante deftly characterised. But it's the rollicking, Chaplinesque allegro molto that will get the biggest smiles, the nimble allegro vivo scarcely less enjoyable. This really is infectious music, and I can't imagine it better played than it is here.

The Divertissement is just that, a pleasant diversion that's as rhythmically dextrous as anything here. Think of it as the crowning confection that rounds off a splendid meal. Indeed, not quite sated I found myself returning for seconds.

A winning programme, superbly played and recorded.

Dan Morgan
http://twitter.com/mahlerei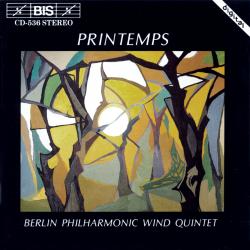 If you're just looking for the first Wind Quintet in the company of some other mainly light-hearted French music for wind ensemble, there's an enjoyable earlier BIS recording entitled Printemps, that you may wish to consider. Good performances by the Berlin Phil Wind Quintet and well recorded:

Jacques IBERT (1890-1962) Trois Pièces brèves for wind quintet [6:48]
Henri TOMASI (1901-1971) Printemps for wind quintet and saxophone [9:08]
Darius MILHAUD (1892-1947) La Cheminée du roi René for wind quintet [12:54]
Charles KOECHLIN (1867-1951) Septuor pour instruments à vent [15:24]
Jean FRANÇAIX (1912-1997) Quintette no.1 for wind quintet [20:24]
Eugène BOZZA (1905-1991) Scherzo pour quintette [2:35]
Berlin Philharmonic Wind Quintet – rec.1991. DDD.
Pdf booklet included
BIS-CD-536 [66:47] – from emusic.com (mp3 and lossless) or stream from Naxos Music Library

The English Song Series: 22 – Britten
Benjamin BRITTEN (1913-1976)
Songs and Proverbs of William Blake, Op.74 [26:03]
Tit for Tat [8:38]
Folk-songs [25:50]
Roderick Williams (baritone)/Iain Burnside (piano) – rec. January 2011. DDD.
Pdf booklet with texts included
NAXOS 8.572600 [60:45] – from classicsonline.com (mp3)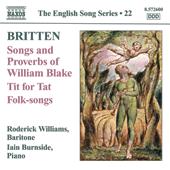 The Blake texts which Britten set are among the glories of English literature. Yet they are often either unfathomable – 'The lust of the goat is the bounty of God' – or unbearable – the little chimney sweep whose parents condemned him to a life of misery because he was happy. The latter quality is heightened by the power of Britten's setting and even more by Roderick Williams's performance, to the extent that this has to be a recording to return to only when the nerves are not too raw.

Though the settings were made for Dietrich Fischer-Dieskau (still available on a 7-CD set, 475 6051 – download from hmvdigital.com), it's Peter Pears whom Williams evokes – sounding as much like Pears as it's possible for a baritone to do but without the colourlessness of his voice. That's even more the case in the different milieu of the Folk Songs – I was introduced to them long ago by Pears and Britten on a 10" LP: now on Decca Eloquence 467 2362 or (selections) 480 1273 (2 CDs) or Heritage HTGCD224. (See Em Marshall's review of an earlier Decca incarnation). Pears may be sui generis in this music but Williams comes very close indeed to matching him and his voice is firmer than Pears'.

With excellent recording and perceptive notes, this deserves a strong recommendation for all my reservations about playing it only in the right mood.

John COLTRANE (1926-1967) A Love Supreme
John Coltrane's Quartet (John Coltrane (bandleader, vocals, soprano and tenor saxophone); Jimmy Garrison (double bass); Elvin Jones (drums); McCoy Tyner (piano) – rec. 1964. ADD.
DECCA/LINN UNI038 [32:46] – from linnrecords.com (mp3, 16- and 24-bit lossless)



This classic album has been round the block lots of times since it was first released by Verve Records in 1965, and deservedly so. For those in the know it marks an important transitional phase in the development of John Coltrane's music; for me it's simply one of the most enjoyable jazz recordings ever and I'm delighted to see it revived in such excellent sound.

£16 may seem a high price for a 33-minute recording made as long ago as 1964 but you couldn't really add anything to the programme, and audiophiles will find it well worth the money. Linn's other versions range from mp3 (£7.50) via 16-bit wma (£8) to 16-bit flac (£10).


The Golden Age of Light Music: Holidays for Strings
Music by David ROSE, BORODIN arr. David CARROLL, Leroy ANDERSON, George GERSHWIN, Percy FAITH, Robert FARNON, Frederick LOWE, Lorenz HART, etc.
Orchestras conducted by Leroy Anderson, Frederick Fennell, Geoff Love, Ron Goodwin, George Melachrino, Percy Faith, Steve Race, Robert Farnon, etc. – rec. 1952-1961. ADD/mono/stereo.
Pdf booklet can be accessed and printed but not saved.
GUILD LIGHT MUSIC GLCD5189 [79:08] – from theclassicalshop.net (mp3 and lossless)

['This is yet another fine addition to the ever increasing number of CDs in 'The Golden Age of Light Music' series. Long may they continue!' – see review by John France for track details.]



Suffice to say that I enjoyed this every bit as much as John France, both the pieces that I knew well and the less familiar. Most of the recordings were made between 1959 and 1961. The first half and the final track are in stereo, but even the mono tracks sound well. As usual, the album comes with an eye-catching cover.

The mp3 download from theclassicalshop.net at £4.99 is the least expensive, yet comes at the full 320kb/s, while their lossless version at £7.99 costs little more than the mp3 from other providers, some of whom offer only 256kb/s or less. For music of this vintage, mp3, at the full bit-rate, will be good enough for most listeners – as I don't have review access to Guild downloads and had to pay for this, I chose the mp3.

Eric WHITACRE (b. 1970) Water Night
Alleluia (2010) [9:25]
Equus (1999, rev. 2011)* [9:02]
Oculi omnium (2010) [3:17]
The River Cam** (2010) [11:54]
Her Sacred Spirit Soars (2002) [6:58]
Water Night (1995/6)* [6:06]
Goodnight Moon*** [5:09]
When David Heard [17:38]
Sleep My Child [6:28]
** Julian Lloyd Webber (cello); *** Hila Plitmann (soprano)
Eric Whitacre Singers; London Symphony Orchestra/Eric Whitacre – rec.?
DECCA /LINN UNI024 [75:56] – from linnrecords.com (mp3, 16- and 24-bit lossless)

['I'm sure that Whitacre's many admirers will want to acquire this disc, especially as it contains so much material that is previously unrecorded. Those who buy the disc will find that the performances are all that could be desired in terms of quality of singing and playing.' See review by John Quinn.]



Most of Linn's releases from the Universal stable so far have been from the distinguished back catalogue, but this is one of Decca's more recent recordings, reviewed by JQ just last month. Since the masters were presumably in 24/96 or even 24/192 format, it benefits even more than those with analogue antecedents from Linn's Studio Master treatment.

I very much enjoyed Eric Whitacre's music on an earlier Hyperion recording – interestingly, they made it one of their 30th anniversary specials (CDA30028 – see October 2010 Roundup). It would have been my Discovery of the Month if that accolade had not gone to the music of Jonathan Dove on another Hyperion release.

I know what John Quinn means about the preponderant sweetness of the music but I found it less cloying than he did- and, whatever either of us may think, I'm sure that the album has already sold and will continue to do like the proverbial hot cakes. The 24-bit sound is the crystal-clear icing on the cake. This was the last music that I was listening to as I completed this roundup and I found it a wonderful note on which to close.