July 2011/1 Download Roundup
Brian Wilson

The previous Roundup, June 2011/2 is here and earlier Roundups can be found here.

With so many excellent recent releases, it has been especially difficult to choose a Recording of the Month: Emmanuel Krivine's or Paul Lewis's Beethoven could easily have claimed that position. Only my somewhat specious reasoning that Charles Mackerras and Stephen Kovacevich offer strong competition kept these recordings from the top spot. Despite strong competition in the Bach, I don't think that any current strong rival offers the same four Cantatas as Masaaki Suzuki.

Recording of the Month

Johann Sebastian BACH (1685-1750) Volume 48: Leipzig Cantatas 1727-79
Cantata No.34: O ewiges Feuer, o Ursprung der Liebe [16:14]
Cantata No.117: Sei Lob und Ehr' dem höchsten Gut [21:19]
Cantata No.98: Was Gott tut, das ist wohlgetan (I) [13:27]
Cantata No.120: Gott, man lobet dich in der Stille [20:07]
Hana Blažiková (soprano); Robin Blaze (counter-tenor); Satoshi Mizukoshi (tenor); Peter Kooij (bass); Bach Collegium, Japan/Masaaki Suzuki – rec. June 2010. DDD.
No booklet from eclassical.com – available with purchase from classicsonline.com (mp3) or Naxos Music Library
BIS-SACD-1881 [72:13] – from eclassical.com (mp3, lossless and 24-bit)


Bach's Cantatas, even those geared to a specific occasion such as No.34, for the feast of Pentecost (Whitsun) really are for all seasons and all moods: I'm even tempted to include one recording of them in every Roundup. They don't come much better than this new release from the BIS series with Masaaki Suzuki. For all the virtues of rival complete and partial sets, this is overall even more consistent than John Eliot Gardiner. Listen to the snippet from track 3, Robin Blaze in Wohl euch, ihr auserwählten Seelen, forget the Calvinist predestination theology, and you'll be won over.

For some reason unclear to me, Squeezebox dropped out completely in the middle of track 19 and refused to play the rest of the track, but the free version of Winamp played it perfectly. One great plus for this site is the ability to access your downloads again: if the flac version causes problems, you can return and obtain the mp3 at the maximum 320kb/s. Squeezebox had no problems at all with the mp3, but with both versions you'll need to renumber the tracks if you want the cantatas to play in the correct order, otherwise No.120 plays first, which you may think no problem. If it bothers you, back up the album, then carefully insert the numbers – 01 – to – 25 – in the track names after 'Bach – Cantatas Vol.48'.

Surprisingly and unusually, the booklet of notes, texts and translations does not come as part of the deal from eclassical.com: if you're happy with paying a little more (£7.99 against $8.49) for just mp3, that comes with the classicsonline.com download. Subscribers to Naxos Music Library can download it there. The translations are not without their peculiarities: 'This will be the reward for the place of the sacrament' is a bizarre rendering of So wird der Sitz des Heiligtums belohnt – 'thus the dwelling place of holiness is rewarded' (track 4).

Some other Bach Cantata recordings reviewed in Download Roundups:
– Cantata 4: Beulah – Thomas (Feb 11)
– Cantatas 4, 131, 106, 196; 172, 182, 21: Chandos – Kirkby, etc (October 08)
– Cantata 4, etc. (Eastertide Cantatas): Koopman (April11/2)
– Cantata 11 (Easter Oratorio) and Ascension Oratorio: Halls Linn (May11/1)
– Cantatas 45, 46, 101, 102, 136, 178: SDG – Gardiner (January 09)
– Cantatas 61-63 (Advent and Christmas): Warner – Harnoncourt (Christmas 09)
– Cantatas 61, 62 and 36: SDG – Gardiner (Jan 2010)
– Cantatas 113, 179 and 199: DG Archiv – Gardiner (August 09)
– Cantata 118: Alpha – Pygmalion (Feb 11)
– Cantatas 148, 114 and 47: SDG – Gardiner (Jan 2010)
– Cantata 170: Beulah Heynis, Goldberg (Feb 11)
– Cantatas 211 ('Coffee') and 212 ('Peasant'): Oiseau Lyre – Kirby, etc. (July 09)

Promising New Label

Arthur BLISS (1891-1975) Sonata for Piano and Violin* [11:00]
Henry WALFORD DAVIES (1869-1941) Sonata in A for Violin and Piano* (1893 rev 1895) [21:56]
York BOWEN (1884-1961) Sonata for Violin and Piano, Op.112 [20:10]
Rupert Luck (violin); Matthew Rickard (piano) – rec. August 2010. DDD
*world première recordings
Pdf booklet included.
EM RECORDS EMRCD001 [53:06] – from classicsonline.com (mp3)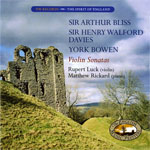 [See review of CD: Rob Barnett's Recording of the Month – here: 'EM records have started out magnificently with this disc. We must hope to hear much more of Luck and Rickard. Let them continue to explore and harry the periphery rather than being drawn to the well-served 'great and good'.' See also review by Jonathan Woolf – here: 'A most enjoyable disc'.]

The tally of EM Records may stand at just one so far, but it marks a most auspicious beginning. With the classical music recording industry constantly presented as on the verge of commercial collapse, and with so many ground-breaking recordings even from Hyperion ending up at half price in their 'please buy me' category, the launch of a new label is a bold venture. The comparison with Hyperion is by no means fortuitous for, in common with many recordings on that and the Chandos label, two of the three works here are premiere recordings. I invented a special category of Promising New Label for Resonus Classics: there's no reason why that title shouldn't also apply to EM when their first release is so enterprising and so well performed and recorded.

Bargain of the Month

Sir Thomas Beecham – English Music
Frederick DELIUS (1862-1934)
Over the Hills and Far Away [12:57]
Sleigh Ride [5:30]
Brigg Fair [15:42]
Florida Suite [35:13]
Marche Caprice [4:00]
Dance Rhapsody No. 2 [7:40]
Summer Evening [6:22]
On Hearing the First Cuckoo in Spring [7:04]
Summer Night on the River [6:37]
A Song before Sunrise [6:07]
Fennimore and Gerda – Intermezzo [5:11]
Irmelin Prelude [5:03]
Songs of Sunset [29:25]
Dance Rhapsody No. 1 [12:10]
Violin Concerto [23:24]
The Song of the High Hills [24:30]
Paa Vidderne (On the Heights) [12:19]
A Village Romeo and Juliet [101:18]
Sea Drift [23:01]
Edward GERMAN (1862-1936)
Gypsy Suite: Valse Mélancolique (Lonely Life); Allegro di molto (The Dance); Menuetto (Love Duet); Tarantella (The Revel)) [15:36]
Granville BANTOCK (1868-1946)
Fifine at the Fair [32:57]
Arnold BAX (1883-1953)
The Garden of Fand [16:44]
Lord BERNERS (1883-1950) The Triumph of Neptune: Schottische; Hornpipe; Polka (The Sailor's Return); Harlequinade; Dance of the Fairy Princess; Sunday Morning (Intermezzo); Apotheosis of Neptune) [14:08]
See review by Rob Barnett – here – for track listing and performance details
Royal Philharmonic Orchestra/Sir Thomas Beecham – rec. 1946-57. stereo/mono. ADD
EMI CLASSICS 9099152 [6 CDs: 73:53 + 74:17 + 72:42 + 63:25 + 60:54 + 79:56] – from hmvdigital.com (mp3)



In good 320kb/s mp3 sound at £14.99, this slightly undercuts the price of the CD set, typically around £18-£19: both offer incredible value. The whole EMI Beecham Delius stereo œuvre is here, not just the truncated single-CD selection latterly available, which means that we have the complete Florida Suite, sounding much better than it did on an HMV HQS LP – and we don't have to put up with the awful HMV photo of Beecham in an ill-fitting suit that came out looking anything between light blue and light brown on different LP covers, even though it was apparently the same suit. Sartorial considerations aside, Beecham's Delius always was, and remains, very special; even though only the contents of CDs 1 and 2 are in good stereo, CDs 3-5, in decent mono, are also well worth having. CD6 completes the set with music by German, Bax, Bantock and the eccentric Lord Berners – The Triumph of Neptune another Beecham speciality.

I was somewhat apprehensive when I saw how many tracks Brigg Fair had been divided into – mp3 is not usually as good at smoothing over the joins as lossless flac, but I didn't notice any hiatus with Squeezebox or Winamp. Don't try to play it in Windows Media Player, though, or you will experience constant 2-second interruptions.

If you want to keep all six CDs in the same file, which is how the music will download, you will have to re-number tracks 01 to 20 as 101 to 120, otherwise Squeezebox and Winamp will interrupt Brigg Fair midway through Variation 14 (track 20) and jump to track 201, the first track of CD2: it's simply a function of the way that these players 'think'. Do the re-numbering very carefully, and be sure that you've backed up the tracks first. Otherwise it's possible to create separate folders for each of the CDs.

If the technical considerations sound a problem – they aren't really, just a bit of a nuisance – go for the CDs but do get this set in one form or another. It may be a little more expensive, but it's an even more essential bargain than the BIS-derived Sibelius which I chose last month. There are other very fine Delius recordings – Andrew Davis on Warner Apex, David Lloyd-Jones on Naxos and Vernon Handley on Classics for Pleasure, to name only the budget-price alternatives, but none quite to match the great 'Tommy'.


***


NEIDHART (fl. c.1215-30) A Minnesinger and his 'Vale of Tears': Songs and Interludes
Der han (after NEIDHART) [2:33]
NEIDHART Mir ist ummaten leyde (arr. M. Lewon) [5:28]
Summer unde winder (arr. M. Lewon) [7:46]
Clausula (after songs by Neidhart and 13th Century English monodies) [3:53]
Sinc eyn gulden hoen – Der munich (stantipes) (arr. M. Lewon) [7:40]
Willekome eyn sommerweter suze (arr. M. Lewon) [5:54]
'Tugendhafte Schreiber' Guoten wib wol uch der eren [adapted from Jena Liederhandschrift, 14th Century] (arr. M. Lewon) [5:47]
Non veul mari (after a 13th Century motet) [1:48]
NEIDHART Ich claghe de blomen (arr. M. Lewon) [9:28]
Der hedamerschol (stantipes) (after a trouvère song, 13th Century) [2:31]
Allez daz den sumer (arr. M. Lewon) [7:04]
Walther von der VOGELWEIDE Vil wol gelopter got (completed by M. Lewon) [3:10]
Adam de la HALLE Je muir, je muir (arr. M. Lewon) [1:35]
Ensemble Leones/Marc Lewon (voice, vielle, harp, director) – rec. April 2010. DDD.
No booklet or texts, but notes 'about this album' available
NAXOS 8.572449 [64:39] – from classicsonline.com (mp3) or stream from Naxos Music Library



This recording combines music by Nithart or Neidhart with that of other Minnesänger (Walter von der Vogelweide and the anonymous 'virtuous writer', who also participated in the Wartburg Contest, celebrated in Wagner's Tannhäuser) and their Provençal and Northern French counterparts, the troubadours and trouvères, who jointly stand at the source of the stream of Western European music. The performances are scholarly – as are Marc Lewon's notes, which demolish the idea that Neidhart's full name was 'von Reuenthal'* – and convincing to my non-specialist ear. The lack of texts and translations is a problem: my Middle High German is pretty good, but not good enough to pick up all the words. Some of the texts are available online or in collections such as Minnesangs Frühling, but you may wish to wait in hope of a release on CD with texts.

* meaning simply 'vale of tears'. Even the name Nithart, envy-heart, may be a pseudonym.

My thanks to Mark Lewon for pointing out that the texts and translations are available here. I forgot to say that these performances are not only scholarly, I also enjoyed hearing them.


Claudio MONTEVERDI (1567-1643)
Vespers of the Blessed Virgin Mary (1610) [83:57]
Exultent cæli [6:04]
Giovanni Battista FONTANA (1571-1630)
Sonata Secunda [7:06]
Grace Davidson, Kirsty Hopkins, Meg Bragle, Kim Porter (sopranos); David Clegg, Tim Travers-Brown (counter-tenors); Matthew Long, Nicholas Mulroy, Sam Boden (tenors); Alex Ashworth, Robert Davies, Philip Tebb, Eamonn Dougan (baritones); Stuart Young, William Gaunt (basses); Alison Bury (violin)
Orchestra of the Age of Enlightenment/Robert Howarth – rec. live, August 2010. DDD
pdf booklet with text and English translation included
SIGNUM SIGCD237 [49:08 + 47:59] – from classicsonline.com (mp3) or stream from Naxos Music Library



['The sheer variety of response [this work] elicits from performers is itself a source of great joy to the listener and sensible Vespers addicts will not want to restrict themselves to only one – even to three or four – versions, but I have to say that this is one of the most enjoyable I have heard in recent years.' See full review by John Sheppard: Recording of the Month here.]

This Signum recording now joins those by the Robert King and the King's Consort (Hyperion CDA67531/2 – see Hyperion Top 30) and Parrott (Virgin, super-budget price, 5616622*) at the top of my list of recommendations for this wonderful but challenging music; the mp3 recording does the performance justice and the inclusion of the booklet is a considerable plus. The English translation of the psalms sometimes follows neither the Latin which Monteverdi sets nor modern translations from the Hebrew. My only other grumble concerns the short playing time: the Parrott is now offered at the very lowest price with considerable fillers from Selva morale e spirituale. King, still marginally my first choice, includes the alternative Magnificat and the Missa In illo tempore from the 1610 collection. If, like JS (and me) one version won't do, you need at least all three versions that I've mentioned.

* Also at a slightly higher price on EMI GROC 2126852, if you require the texts.

Claudio MONTEVERDI (1567-1643) Sacred Vocal Music


Su le penne de' venti (Prologue to G B ANDREINI: La Maddalena) (1617) [2:12]
Confitebor tibi Domine II [5:49]
Iste confessor Domini sacratus II [2:39]
Laudate Dominum omnes gentes IV [2:42]
Confitebor tibi Domine V [8:11]
Confitebor tibi Domine III alla francese [5:54]
Ab æterno ordinata sum [6:06]
Nisi Dominus I [7:01]
Deus tuorum militum II [2:12]
Emma Kirkby (soprano); Ian Partridge (tenor); David Thomas (bass)
The Parley of Instruments/Roy Goodman and Peter Holman – rec. 1981. DDD.
pdf booklet with texts and English translations included
HYPERION HELIOS CDH55345 [43:11] – from hyperion-records.co.uk (mp3 and lossless)

If by now you're in Monteverdi mood and have decided to download one or more of these recordings of the Vespers, or buy it/them on CD, a little further outlay will buy you this equally wonderful recording of mostly sacred music from the maestro. It's short value again, but the download price of £4.99 takes that into consideration.

The Guerra Manuscript, Volume 1: 17th Century Secular Spanish Vocal Music
ANON. Introduction (solo harp) [2:21]
Oyeme, escuchame [4:54]
Juan HIDALGO (1614-1685) ¿Quien es amor? [3:43]
ANON. Mayor es mi dolor [3:34]
Que corriendo y volando [2:51]
José MARÍN (1619-1699) Que obstinarse en las sombras 2:12
ANON. No parezca rigor el desden [2:51]
Cansada imaginación [4:00]
Cuidado, descuido [3:42]
Juan HIDALGO Peces, fieras, aves [4:15]
ANON. Si la Gloria de adorar [3:29]
Juan HIDALGO ¿Quien son aquellos? [2:35]
Rompe amor las flechas [2:17]
Credito es de mi decoro [3:51]
José MARÍN Que pues muero y me matas [4:07]
Isabel Monar (soprano)
Manuel Vilas (Spanish baroque harp) – rec. July 2007. DDD
All works transcribed by Manuel Vilas
pdf booklet included. Spanish sung texts can be accessed online - here.
NAXOS 8.570183 [50:42] – from classicsonline.com (mp3) or stream from Naxos Music Library



All recent Naxos releases contain a succinct indication of what you are likely to find inside – pick one up in a browser in one of the few record shops still open or check it out at classicsonline.com, who offer the back cover information and notes 'about this album' to all comers, and you know what you are contemplating purchasing. In this case I can't put it better or more succinctly than the Naxos summary: 'The ... Guerra Manuscript is an anthology of the finest pieces heard in Madrid during the second half of the 17th Century and was probably prepared for a high-ranking noble or member of the Spanish royal family. It contains a hundred vocal pieces by leading composers ... as well as others whose authors remain anonymous.'

The manuscript was assembled around 1680 by José Miguel Guerra: all the music is anonymous, though several of the contributions, including around half of those on the CD, can be attributed. The notes in the booklet by Manuel Vilas, the editor of all the music here and the harpist on the recording, are helpful and can be supplemented by an article in the Journal of the Royal Musical Association, Vol.123/2 (1998) by Álvaro Torrente and Pablo-L Rodriguez, The 'Guerra Manuscript' and the Rise of Solo Song in Spain – here – if you have Jstor access.

Spanish music of this period tends to be sung by powerful voices and Isabel Monar is no exception. She is as forceful as you could wish, but doesn't deliver everything in a monotone – she can sing softly where appropriate.

I've praised Manuel Vilas's notes, but that, plus a brief resumé of the performers, is all that you get in the 3-leaf folder. The Spanish texts are available online, but no translations, so it's hard luck if your 17th-century Spanish isn't up to it. Whilst I'm grumbling, too, let me point at that 51 minutes is short value, even at the Naxos price, these days. The only possible reason for the photo of the high altar of Santiago de Compostela on the cover of an album of secular music is that the recording was made at the Via Stellæ Festival. For all my grumbles, this is well worth downloading and I look forward to Volume 2: check it out at Naxos Music Library first, if you can.

Henry PURCELL (1659-1695) Keyboard Suites Nos.1-8, Z661-9; Suites Nos.9-11
Suite No.1 in G [5:07]
Suite No.2 in g minor [7:37]
Suite No.3 in G [5:57]
Suite No.4 in a minor [5:05]
Suite No.5 in C [5:39]
Suite No.6 in D [6:08]
Suite No.7 in d minor [5:49]
Suite No.8 in F [6:12]
Suite No.9 in a minor [4:04]
Suite No.10 in G [9:24]
Suite No.11 in B-flat [7:04]
Thurston Dart (Thomas Goff harpsichord, 1952) – rec.1956.
BEULAH EXTRA 7-17BX69 [times as above] – from Beulah (mp3)

I reviewed these recordings in my June 2011/2 Roundup in their alternative availability as an album from iTunes (1PD69).

Antonio VIVALDI (1678-1741)
Concerto in e minor, RV484 [11:44]
Concerto in D, RV234 [9:17]
Concerto in E, RV270 [8:21]
Concerto in e minor, RV277 [17:25]
Concerto in E, RV271 [13:39]
Concerto in G, RV532 [12:14]
Anna Maria Cologni (violin), Felix Ayo (violin), Robert Michelucci (violin), Walter Gallozzi (violin); Maria Teresa Garatti (organ and harpsichord); Gino del Vescovo (mandolin), Tommaso Ruta (mandolin); Marco Constantini (bassoon)
I Musici – rec. 1958 and 1960. ADD/stereo
BEULAH 1PD47 [72:33] – from iTunes (mp3)



I've already commented on two of these recordings in my June 2011/1 Download Roundup: RV484 on Beulah Extra 2BX147 and RV532 on 3BX147.

I Musici more or less dominated the record catalogues in Vivaldi and other baroque music in the late 1950s and early '60s when these recordings were made. They were ahead of their time, too, in recording all of Vivaldi's works with Opus numbers, Op.1 to Op.12; some of these are still available on Eloquence and, re-mastered in surround sound SACD on PentaTone. The complete set has just resurfaced on Newton Classics (880 2034, 19 CDs at super-budget price).

Though we have moved on since the 1960s, I must say at once how much I enjoyed re-hearing these performances. Tempi, style and sometimes recordings sound a little heavy and dogged by comparison with more recent interpretations, but if you can put these to the back of your mind, I Musici in their heyday are still worth hearing. When you do begin to make comparisons, for example in the Christmas Concerto, Il riposo, RV270, with Collegium Musicum 90 (Baroque Christmas Concertos and Cantatas, Chandos CHAN0754 – see December 2008 Roundup), I Musici seem less fleet of foot in the outer movements, but there's a case to be made for their slightly slower tempo for the adagio second movement in which we are invited to join the shepherds in contemplation of the crib.

What a democratic group I Musici were, too, with their violinists taking turns as soloist and leader – four of them here, with Felix Ayo still the pick of the bunch for me, especially as he gets the star billing in the beautiful L'amoroso, RV271. As before, I also particularly enjoyed this performance of the two-mandolin concert, RV532.

The recordings have come up very well in this Beulah transfer, though RV484 sounds bottom-heavy. All in all, this is a fine opportunity to hear I Musici at their best.

Some other Vivaldi recordings from Download Roundups:
– 'Vivaldi: The French Connection': Avie – Chandler (December 2009)
– Cello Sonatas: Hyperion Dyad CDD22026 – King (October 2010)
– Concertos – Il Proteo, etc.: Linn – Orchestra of the Age of Enlightenment (April 2009)
– Concertos: Beulah – Gobermann (1959) (March 2011/1)
– Credo/Stabat mater/Beatus Vir; RCA/Sony – Verrett/Antonelli (1966) (March 2011/1)
– Four Seasons, etc: Decca – ASMF/Marriner (September 2009)
– L'Amore per Elvira (secular cantatas): Linn – La Serenissima (March 2009)
– L'Olimpiade: Naive – Alessandrini (August 2010)
– Lute and Mandolin Concertos: Hyperion CDA30027 – O'Dette (October 2010)
– The Rise of the North Italian Violin Concerto Vols 1-3: Avie – La Serenissima (October 2010)
– Violin Concertos: DG Archiv – Carmignola/Marcon (June 2010)
– Violin Concertos, Op.6: Decca – Manze/AAM/Hogwood (May 2009)

and, from the main review pages:
– Violin Concertos, Op.3 and Op.8 (complete): Virgin – Biondi; Op.4/3, 4 and 10; Op.8/1-4 (Four Seasons) – Parrott; Manze – review here – including brief mentions of other recordings of Op.3, Op.4 and Op.8 and Concertos for Mandolin, etc: Virgin – Biondi.

George Frideric HANDEL (1685-1759) Harpsichord Suites 1-4
Thurston Dart (harpsichord) – rec. 1959. ADD/mono
BEULAH EXTRA 18-21BX69 [11:04 + 11:46 + 8:19 + 19:38] – from Beulah (mp3)



I've recently reviewed recordings of these and other Handel Keyboard Suites on Somm Laurence Cummings) and Divine Art (Gilbert Rowland) – see May 2011/1 Roundup. Dart's harpsichord, a Thomas Goff from 1952, is larger and louder than on either of those recordings, 16' stop and all, and Dart's manner is more forthright, but I found it instructive, as always with Thurston Dart, to see how far current thinking has come since his time and how much he himself did to build the framework of those modern thoughts. The recording is a little up-front and dry but perfectly acceptable in this transfer – better than I recall from the 'electronic stereo' transfer from the 1970s, though I miss the attractive covers of those £0.99 Oiseau Lyre LPs.

Ludwig van BEETHOVEN (1770-1827) Complete Symphonies
CD1
Symphony no.1 in C, Op.21 (1800) [24:37]
Symphony no.2 in D, Op.36 (1800/3) [31:16]
CD2
Symphony no.3 in E-flat, 'Eroica', Op.55 (1802/3) [46:00]
Symphony no.4 in B-flat, Op.60 (1806) [31:02]
CD3
Symphony no.5 in c minor, Op.67 (1807/8) [31:35]
Symphony no.6 in F, 'Pastoral', Op.68 (1808) [40:09]
CD4
Symphony no.7 in A, Op.92 (1811/12) [37:59]
Symphony no.8 in F, Op.93 (1811/12) [23:50]
CD5
Symphony no.9 in d minor, Op.125 (1815-23) [63:02]
Sinéad Mulhern (soprano); Carolin Masur (mezzo-soprano); Dominik Wortig (tenor); Konstantin Wolff (bass-baritone); Chœur de Chambre les Éléments (Joël Suhubiette, chorusmaster)
la Chambre Philharmonique (on period instruments)/Emmanuel Krivine – rec. live, June 2009 to May 2010. DDD.
Includes 45-page pdf booklet with texts and translations.
NAÏVE V5258 [5CDs: 5:29:50] – from classicsonline.com (mp3) or stream from Naxos Music Library



This is something special, not just another set of Beethoven symphonies.

Having greatly enjoyed Krivine and his period orchestra in Mendelssohn (Symphonies 4 and 5, Naïve V5069 – see June 2009 Roundup), I approached his Beethoven with considerable anticipation, especially as I've recently come to think Charles Mackerras's Edinburgh Festival cycle with the SCO and the Philharmonia almost unassailable. (Hyperion CDS44301/5: Recording of the Month – see review, review and March 2010 Roundup.*)

One of the great virtues of the Mackerras set is the combination of non-dogmatic period-informed performance with a modern chamber orchestra. Krivine goes one better with a band of period-instrument players but with none of the hazards that sometimes attend such performances: there are no fractured horn notes here. It's easy to think that one has got to know all there is to know in these symphonies, but Krivine challenges us (me, at any rate) to think again.

To take just one moment that we all think we know well, the opening of the Fifth Symphony is particularly arresting without sounding over-driven or pulled about. Period instruments had their limitations, of course – that's why their modern equivalents were developed – but you wouldn't know it from this version of the Fifth, which I now think goes to the top of the list alongside the DG Originals Carlos Kleiber recording of Nos.5 and 7 (447 4002 – see March 2010 Roundup again). If the CD of this symphony and the Pastoral had been released on its own, that would have been something to write home about. The Pastoral in particular stands out from the over-exposure that it seems to receive on BBC Radio 3, with the antiphonal violins particularly telling here, and other instruments standing out clearly from the orchestral mix.

Add good recording, conveyed in very good 320kb/s sound and you have a winning combination: the first two symphonies in particular sound more powerful than usual. Audiophiles who reject even the best mp3 will have to buy the CDs or turn to the Mackerras set.

Krivine's recording of the Ninth Symphony is separately available on V5202. I hope that other symphonies will be made available separately, too, for those who don't want the complete set.

The 45-page booklet which comes with the deal is a considerable bonus, but I should point out that the classicsonline.com price of £39.95 is not very competitive, when the CD set can be bought on line at the time of writing for as little as £24.97, including p&p in the UK.

* You may wish also to consider some of the single-CD alternatives that I listed along with the Mackerras set in that Roundup.

Ludwig van BEETHOVEN (1770-1827)
Symphony No.5 in c minor, Op.57 (1807/8) [33:56]
Piano Concerto No.4 in G, Op.58 (1807) [34:19]
Emanuel Ax (piano); San Francisco Symphony Orchestra/Michael Tilson Thomas – rec. live, December 2009. DDD/DSD.
Includes pdf booklet.
SFS MEDIA 8219 3600372 [68:15] – from classicsonline.com (mp3) or stream from Naxos Music Library.



If you're not looking for the radical rethink that the Krivine performance of the Fifth Symphony brings, you could do much worse than this SFSO recording, with Michael Tilson Thomas as reliable as ever – and more – in this live recording. I'd still go for Krivine, not just because he shaves a couple of minutes off the overall time and makes me think of power and grandeur rather than the pompousness that causes me to prefer the even-numbered Beethoven symphonies and No.7 to the more popular big beasts. (Remember the music student who allegedly told his tutor that Beethoven wrote three symphonies – the Third, the Fifth and the Ninth.) Actually, Tilson Thomas doesn't overdo the pompousness either: in the finale in particular, he treads millimetres short of a very fine line.

The drum thwacks in San Francisco are effective, but those on the Naïve recording make you sit up and take notice. Subscribers to the Naxos Music Library should compare the end of the first movement in both recordings.

Tilson Thomas's Fifth is about as good as modern-instrument versions get, especially when it's paired with an equally excellent version of the Fourth Piano Concerto. The concerto didn't need any rehabilitation for me but, if it had, this might well have been the version to do it. Here again, however, there is a period-instrument alternative that I think well worth considering, if not quite as revelatory as Krivine's recording of the symphonies:
– Piano Concertos 4 and 5, Arthur Schoonderwoerd (fortepiano and director)/Cristofori Ensemble, ALPHA 079 [69:45] – from classicsonline.com (mp3) or stream from Naxos Music Library: see review in December 2010 Roundup.

Nor am I yet going to pension off my CD of Stephen Kovacevich and Colin Davis: that remains my benchmark for modern-instrument performances, though Ax and Thomas come close to equalling it. Download the Kovacevich as part of a 7-CD set of the Piano Concertos and Sonatas from passionato.com (Stephen Kovacevich plays Beethoven: 475 6319) in mp3 or lossless. Alternatively, PentaTone have Piano Concertos 2 and 4 in re-mastered 'Quadro Sound' on PTC5186101.

Despite the recording having been made in December, the audience are remarkable un-bronchitic – well, it was California – and the sound is as good as any studio recording. The disc equivalent comes in SACD format for those who prefer surround sound; otherwise there's no reason not to download the mp3.

Ludwig van BEETHOVEN (1770-1827)
Piano Sonata No. 21, Op. 53, Waldstein, in C [25:19]
Piano Sonata No. 17, Op. 31/2, Tempest, in d minor [26:17]
Piano Sonata No. 31, Op. 110 in A-flat [20:09]
David Wilde (piano) – rec. September and November, 2009, and March 2010. DDD.
Pdf booklet included.
DELPHIAN DCD34090 [71:45] – from classicsonline.com (mp3) or stream from Naxos Music Library



[See review of CD: Brian Reinhart's Recording of the Month – here: 'Wilde's is some of the best Beethoven I've heard in a very long time, and I'd set his Waldstein alongside Brautigam's as a contemporary reference. More, please!']

This is a fine cross-section of sonatas from different periods in Beethoven's career, from the Heiligenstadt-period Tempest via the middle-period Waldstein to the penultimate sonata – after this only Op.111, the Diabelli Variations and the late Bagatelles were to come for the piano. David Wilde shows here that his playing has lost none of its vigour in the 50+ years that he's been performing and he's supported by a fine recording that comes over well in mp3 format. I can't decide whether this or Paul Lewis's Diabelli (below) is the piano gem of the month.

Ludwig van BEETHOVEN (1770-1827)
33 Variations on a Waltz by Diabelli, Op.120 (1823)
Paul Lewis (piano) – rec. December 2009. DDD.
Pdf booklet included
HARMONIA MUNDI HMC902071 [52:32] – from classicsonline.com (mp3)



Paul Lewis's Beethoven in general and this recording of the Diabelli Variations in particular have already won such golden opinions that all I need do is to point to the availability of the download and report that the mp3 sound does it justice. This is late Beethoven, on the verge of the last great quartets, and the music is often powerful, though there are also light-hearted moments, as in Variation 22 where he pays homage to Mozart – echoes of Nott'e giorno faticar. Lewis rises to the occasion in both respects. I shan't be throwing Stephen Kovacevich's 1968 Philips recording away, however, especially as it seems to be no longer available.

Actually, I have just one grumble, but it's pedantic and aimed at Beethoven or his publisher who named the work Dreiunddreißig Änderungen when there are only 32 Variations – the 'first' of the 33 being the theme itself, clearly marked 'tema' in the facsimile of the first page of the score in the booklet.
Mea culpa - I'm indebted to my colleague John Quinn, who so often interests himself in the same eclectic range of music as myself, that I've been mistaken for years in believing that Beethoven was wrong to refer to his Diabelli Variations as dreiunddreißig Veränderungen, believing that he had wrongly counted the theme itself as one of the 33. In fact, there are 33 variations in addition to the theme. My recommendation of the new Paul Lewis recording (Harmonia Mundi) and the much older Stephen Kovacevich (Philips/Pentatone) remains valid.

César FRANCK (1822-1890) Symphony in d minor
Paris Conservatoire Orchestra/Charles Munch – rec. 1946. ADD/mono
BEULAH EXTRA 10-12BX32 [34:08] – from Beulah (mp3)



Munch re-recorded the Franck Symphony for RCA with the Boston Philharmonic – a splendid version which became my preferred version on LP, even in preference to Beecham. That version remains available on a budget-price 2-CD set, coupled with Munch's classic version of Sant-Saëns' Organ Symphony, another work which I owned and liked on RCA Victrola (RCA 74321987152). Amazon.co.uk have the single-CD download here.

The 1946 version on 78s was deemed good enough to be reissued on LP in 1952, by which time the recording was already sounding out of date. If the Symphony is not to sound like a poorly-orchestrated work for organ, it needs better-differentiated sound than this, though Beulah have done their best. When the LP was released, with the Symphonic Variations, it cost 39/6, something like £50 in today's values; you can try it for yourself for a fraction of that cost today. Munch allowed himself rather more time for the central movement in his remake; some have thought the 1946 version too fast, but I wouldn't make that criticism.

Johannes BRAHMS (1833-1897) Piano Trio No.2 in C, Op.87
Myra Hess (piano); Jelly d'Aranyi (violin); Gaspar Cassado (cello) – rec. 1928. ADD/mono
BEULAH EXTRA 5-8BX175 [29:12] – from Beulah (mp3)



A starry line-up and a very valuable historical document, but in inevitably rather dated sound. Beulah have done their best with the transfer, with only an occasional patch of surface noise, and enough of the music shines through the mist to be tolerable, but the general listener will be better served by a more recent version. With the Florestan Trio now disbanded, their Hyperion recording of the three Brahms Piano Trios will do very nicely to preserve their memory (CDA67251/2, with the Clarinet Trio and Horn Trio – from hyperion-records.co.uk): when the history of recorded music is written in the future, they deserve to be remembered in it, singly and collectively, as much as the distinguished performers here.

Myra Hess re-recorded this Trio with Joseph Szigeti and Pablo Casals in 1953 for CBS; that recording is still available on a Sony CD and mp3 from amazon.com, but not amazon.co.uk, coupled with Mendelssohn's Piano Trio No.1.

Camille SAINT-SAËNS (1835-1921) Introduction and Rondo Capriccioso
Michael Rabin (violin); Hollywood Bowl Symphony Orchestra/Felix Slatkin – rec. 1960. ADD/stereo
BEULAH EXTRA 1BX151 [9:36] – from Beulah (mp3)


Beulah already have Ida Haendel's 1945 version (1BX104). Rabin and Slatkin père are much better recorded, especially as Beulah appear to have secured a better balance between soloist and orchestra than reviews in 1960 suggested the Capitol LP achieved. This is, after all, not deeply introspective music and the then 20-year-old Rabin's confident playing suits it well. A fun interpretation of fun music that we hear all too seldom these days.


Edvard GRIEG (1843-1907) The 99 Most Essential Grieg Masterpiece
X5 MUSIC (from BIS and other originals) [8:02:19] – amazon.co.uk (mp3)



I promised to follow up and, perhaps, expand on some of the bargain recommendations which Nick Barnard contributed last month and this eight-hour selection of Grieg seemed to be a good place to start. I've had time to sample only some of the tracks and enjoyed those which Nick recommended as much as he did.

I've also listened to some of those for which he was less complimentary, such as the Peer Gynt Suites, and, while there's nothing special about the playing of the Tbilisi Symphony Orchestra, who contribute the greater part of these Suites, there's nothing seriously amiss, either: a novice could do far worse than to start here. The Piano Concerto and Holberg Suite are tentative rather than wrong-headed, and the BIS-derived items are excellent. All in all, this is every bit as fantastic a bargain as Nick says.

Nikolai RIMSKY-KORSAKOV (1844-1908) Tsar Saltan: Suite, Op.57


London Philharmonic Orchestra/Gzregorz Fitelberg – rec. 1946. ADD/mono
BEULAH EXTRA 1BX150 [17:18] – from Beulah (mp3)

This recording used to be available on the Lys label as part of L'art de Gzregorz Fitelberg Volume 1 and Fitelberg's Borodin Prince Igor Overture of the same vintage remains available on Dutton CDBP9712. The Beulah reissue is very welcome: the performance has plenty of life and the recording is much better than that of the Franck Symphony (above), though made in the same year.

Charles Hubert PARRY (1848-1918)
Symphonic Variations in e minor (1897) [14:06]
Concertstück in g minor (ed. Bernard BENOLIEL) [9:58]
From Death to Life: Symphonic Poem (1914) [16:33]
Elegy for Brahms in a minor (1897) [13:19]
London Philharmonic Orchestra/Matthias Bamert – rec. 1991/2 (?). DDD.
CHANDOS COLLECT CHAN6610 [53:56] – from theclassicalshop.net (mp3 and lossless) or stream from Naxos Music Library



At £4.80 (mp3) or £4.99 (lossless) this could easily have been my Bargain of the Month. If you were impressed by hearing Parry's music at the Royal Wedding and/or by Prince Charles's advocacy and were wondering where to start with his non-choral works, this could be the ideal opening and at very low cost. Don't pay more by mistake for the same recordings on CHAN7006 – confusingly still available. Performances and recording are excellent* and will almost certainly lead you on to explore Parry's symphonic output, also on offer from the LPO and Bamert on Chandos via theclassicalshop.net (CHAN9120, 3 CDs in mp3 and lossless, or separately). Two small grumbles; there's no booklet, though there are some brief notes on the CD page – here – and you'll need to re-number the tracks if you want them to play in the right order.

I've already recommended Sir Adrian Boult's recording of the Symphonic Variations, coupled with An English Suite, Lady Radnor's Suite, etc. on Lyrita SRCD.220 (see March 2009 Roundup: see also review and review). I haven't heard either of the downloads of this from emusic.com or amazon.co.uk: my recommendation is based on the CD, available at a keen price from MusicWeb International – here. It's well worth duplicating the Symphonic Variations to obtain these two first-class recordings.

There's even a third fine version of the Symphonic Variations, coupled with the Cambridge Symphony (No.2 in F) from the SNO and Andrew Penny on Naxos 8.553469, well worth considering if you don't wish to plump for the symphonies in one go. Again my recommendation is based on the CD, but you can stream from the Naxos Music Library or download from classicsonline.com (mp3). Both offer the booklet.

* Don't settle for mp3 when you can have lossless for £0.19 more: if you buy the lossless version, you can return for the mp3 later if you wish – a very useful facility which only theclassicalshop.net and emusic.com offer.

Charles Villiers STANFORD (1852-1924)
Irish Rhapsody No. 4 in a minor, Op.141 (1913) [18:52].
Becket, Op. 48 (1893) – Funeral March, 'The Martyrdom' [6:45]
Piano Concerto No. 2 in c minor, Op. 126 (1911) [37:32].
Malcolm Binns (piano); London Philharmonic Orchestra/Sir Adrian Boult; London Symphony Orchestra/Nicholas Braithwaite – rec.? ADD
LYRITA SRCD.219 [63:20] – from emusic.com or amazon.co.uk (both mp3)
['An invaluable Stanford collection' – see full review by Colin Clarke.]

Charles Villiers STANFORD (1852-1924)
Cello Concerto in d minor (1879/80) [27:36]
Piano Concerto No.3 in E-flat, Op.171 (orch. Geoffrey BUSH) (1919) [37:43]
Alexander Baillie (cello); Malcolm Binns (piano)
Royal Philharmonic Orchestra/Nicolas Braithwaite – rec. ? ADD.
LYRITA SRCD.321 [65:23] – from emusic.com or amazon.co.uk (both mp3)
['This CD is a must for all enthusiasts of Stanford's music. I guarantee that it will not disappoint: in fact it will inspire you and make you want to explore the music of this Great Man in much more detail. And that can be no bad thing!' – see full review by John France: Recording of the Month.]



SRCD.219: This is especially valuable for the Piano Concerto No.2, especially as the whole album is complete on five tracks (£2.10 or less from eMusic), when the eMusic download of the recent Finghin Collins recording (Claves 501101) is spun out to a ridiculous 17 tracks, one of them as short as 39 seconds. The two other works are no less enjoyable and the mp3 download comes in

more than acceptable sound, despite the fact that the bit-rate falls to 181kb/s for one track and never rises above 192kb/s.

If anything, SRCD.321 is even more essential: JF's review says it all, so I need only add that the eMusic mp3 transfer is perfectly acceptable, despite the fact that bit-rate falls even further here, with one track at a mere 175kb/s. This time it comes on six tracks for £2.52 or less.

Charles Villers STANFORD (1852-1924) Songs of the Sea, Op.91
Peter Dawson (baritone); Orchestra/Lawrance Collingwood – rec. 1933. ADD/mono
BEULAH EXTRA 12BX53 [14:43] – from Beulah (mp3)

Samuel COLERIDGE-TAYLOR (1875-1912) Sons of the Sea
Peter Dawson (baritone); Orchestra/Lawrance Collingwood – rec. 1935. ADD/mono
BEULAH EXTRA 13BX53 [3:29] – from Beulah (mp3)

Frederick BEVAN (1856-1939) The Admiral's Broom
Peter Dawson (baritone); Male Chorus; Orchestra/George Byng – rec. 1929. ADD/mono
BEULAH EXTRA 14BX53 [3:22] – from Beulah (mp3)

Some of the above are contained in: Peter Dawson in Classical Mood
Joseph HAYDN Rolling in Foaming Billows (The Creation) [4:00]
George Frideric HANDEL O Ruddier than the Cherry (Acis and Galatea) [4:22]
Honour and Arms (Samson) [4:28]
Why do the Nations? (Messiah) [4:49]
Mikhail GLINKA The Midnight Review [4:02]
Leonid Dimitrievich MALASHKIN O Could I in Song Tell My Sorrow [2:34]
Sergei RACHMANINOV Christ is Risen, Op.36/6 [2:14]
Pyotr Ilyich TCHAIKOVSY To the Forest, Op. 47/5 [2:51]
Don Juan's Serenade Op.38/1 [3:58]
Charles François GOUNOD Even Bravest Heart May Swell (Faust) [3:39]
Vulcan's Song (Faust) [3:17]
Georges BIZET Toreador's Song (Carmen) [4:00]
Gioachino ROSSINI Through the Darkness (Stabat Mater) [4:32]
Franz SCHUBERT Der Erlkönig [4:01]
Ralph VAUGHAN WILLIAMS Songs of Travel: The Vagabond [3:11]; Bright is the Ring of Words [2:25]
Silent Noon [3:33]
John IRELAND I Have Twelve Oxen [2:34]
Samuel COLERIDGE-TAYLOR Sons of the Sea [3:34]
Charles Villiers STANFORD The Little Admiral (Songs of the Fleet No. 4) [3:28]
Arthur SULLIVAN The Lost Chord [4:04]
Peter Dawson (baritone); Various accompanists, orchestras and conductors
BEULAH 1PD53 [75:42] – from iTunes (mp3).



Of all the music here, only The Admiral's Broom represents the Peter Dawson who has been too readily dismissed as a ballad singer. No less an authority than the late John Steane thought that his operatic output was by no means to be despised. I enjoyed what we have here and I note that there is more to be had – several items reissued by EMI in the 1970s -perhaps Beulah will provide more if the downloading public supports these issues.

Predictably, the old bass-baritone favourites such as Ruddier than the cherry and Honour and arms are especially impressive and it isn't necessary to put modern Handelian practice too far to the back of one's mind in listening to them.

I must admit to a slightly ashamed fondness for the unfashionable gung-ho of Stanford's Songs of the Sea on 12BX53 and the excerpt on 1PD53 and for Peter Dawson's interpretation of them. The recording can't match the recent Chandos version (CHSA5043 : Recording of the Month – see review), but it sounds astonishingly well for its age and has been transferred with almost no surface noise. Reviewing the Chandos, Christopher Howell makes some pertinent points about Dawson's performances, especially concerning the fast tempi for the slower songs, mostly dictated, I presume, by 78 side lengths, but I retain a greater affection than he for Dawson's recordings. The other English items go equally well.

The recordings, from the 1920s and 1930s, are predictably dry – much kinder to the voice than to the orchestra – but perfectly acceptable, with very little surface noise apart from an unavoidable occasional clunk and his and crackle in the Vaughan Williams.. Most importantly, these reissues allow us to understand why Dawson's recordings were so popular for so long.

Edward ELGAR (1857-1934) Violin Concerto in b minor, Op.61
Alfredo Campoli (violin); London Philharmonic Orchestra/Sir Adrian Boult – rec. 1954. ADD/mono
BEULAH EXTRA 11-13BX10 [45:26] – from Beulah (mp3)

Pomp and Circumstance March No.4 in G
London Symphony Orchestra/Malcolm Sargent – rec. 1953. ADD/mono
BEULAH EXTRA 19BX13 [5:19] – from Beulah (mp3)



Two great Elgar interpreters, Boult and Sargent, go back to back rather than head to head in Beulah reissues this month. As these performances were among my first introductions to Elgar and are still competitive, I can recommend both strongly. Beulah have already given us Albert Sammons' recording of the Violin Concerto (March 2011/1 Roundup) and there have, of course, been other classic versions, not least from Yehudi Menuhin and the composer in the 78 era and Nigel Kennedy, with Vernon Handley and Simon Rattle in the CD era, but the Campoli can hold its own against them. The transfer of the mono recording is much more than adequate. Only if you already have Beulah's earlier reissue of this recording with Campoli's Mendelssohn (4PD10 – see review) or the 5-CD set

of the LPO in Elgar (LPO0016/20) should you turn down the chance to obtain this fine recording. The transfer sounds as if it's received further, beneficial attention since Jonathan Woolf reviewed the CD.

Decent mono sound, well transferred, means that Sargent's idiomatic performance of Pomp and Circumstance March No.4 is still well worth having.

Gustav MAHLER (1860-1911)
Symphony No. 2 in C minor 'Resurrection' (1888-1894)
Adriana Kučerová (soprano)
Christianne Stotijn (mezzo)
London Philharmonic Orchestra and Choir/Vladimir Jurowski
rec. 2009, Royal Festival Hall, London, UK. DDD.
LPO-0054 [82:29] – from eclassical.com (mp3 and lossless) or stream from Naxos Music Library (with booklet)


The London Philharmonic certainly proved to be a superb Mahler band during Klaus Tennstedt's all-too-brief tenure as principal conductor and then, when illness struck, as conductor laureate; among the most memorable of their Mahler collaborations are live versions of the First – review – Fifth and that famous Eighth, the latter also available on an EMI DVD. But despite committed playing from the LPO, I was never entirely convinced by Tennstedt's two readings of the 'Resurrection', least of all the live one from 1989 (LPO-0044) where he pulls the music about far too much for my tastes. Mahler groupies – especially those who were at the Festival Hall that February night – speak of that performance in reverential tones, so Vladimir Jurowski and the LPO really have a mountain to climb with this new recording.

First impressions? Well, the Allegro maestoso is brisk – terse, even – which is no bad thing in a symphony that invites expressive overload; that said, I find Jurowski a tad brusque as well, and that's less desirable. Not only that, some of his phrasing and sonorities strike me as unorthodox, the latter reminiscent of Shostakovich at times. Again, that's not necessarily a deal-breaker, as those who know Antoni Wit's Naxos Mahler 8 will testify. In any event, the 'Resurrection' needs a degree of affection in the phrasing if it's not to sound too bland, and that's especially true of the lovely A-flat Ländler of the second movement. Jurowski is much too forensic here – not to say unyielding – and that simply robs the music of its echt-Viennese lilt and charm.

The recording – in its lossless form at least – is analytical yet atmospheric, although those who know Jonathan Nott's Bamberg 'Resurrection' – review – may find this newcomer a little lacking in weight and warmth. But then this is the Royal Festival Hall which, despite its recent makeover, still sounds rather dry and bright; just listen to the hard crack of timps at the start of the third movement. The LPO are in fine form though, the woodwinds especially so, but Jurowski's unsentimental approach leaches the music of all its mystery. Even more disappointing is the episodic nature of this performance; the most convincing conductors of this work are those blessed with a lofty, far-sighted character and a firm grasp of the symphony's long, seamless span.

No qualms about Christianne Stotijn's limpid 'Urlicht', which is beautifully sung; this is pure loveliness, disfigured by a somewhat halting orchestral line. The harp is very well caught, an idyllic pause before the ferocious storm that breaks at the start of the fifth movement. This is always a thrilling moment, and I doubt anyone will be disappointed by its impact here; that said, it's even more seismic on the Bamberg recording, which was one of my discs of 2010. Comparing Nott and Jurowski one just doesn't get the same sense of cumulative tension with the latter; still, the LPO tam-tam is thrillingly present.

As for those dirge-like passages in this Scherzo-Finale they really do drag, and that illuminating passage where the music emerges from darkness into light – not to mention those apocalyptic crescendi – are devoid of all terror or tumult. Brisk to the end, Jurowski races towards the finish, so that when the climaxes arrive they count for precious little. I'm afraid that in the company of so many heaven-storming accounts of this symphony this one is resolutely earthbound. Not even that wonderfully hushed choral entry – and radiant singing from the soloists – can revive this pulseless performance; once again Jurowski is prosaic in moments of transfiguring reach and power. This may have worked in the concert hall – it's certainly spectacular – but as a recording this Ossa and Pelion of a finale is just plain vulgar.

So, not a Mahler Two I'd wish to revisit. Among recent versions I'd opt for Jonathan Nott (Tudor) and David Zinman (Sony). Both are much more illuminating, and better recorded as well.

Dan Morgan

[As usual when Dan comments on the lossless version, I tried the mp3 and found it more than acceptable apart from a very brief glitch early in track 6, the last part of the finale. The flac version is free from the problem and, as it comes at the same very reasonable price as the mp3, most will prefer it: there's a small but significant improvement in quality.

I, too, thought the first movement a little too driven and unyielding in the main – surprisingly, Jurowski allows a small degree of rhythmic flexibility where I hadn't expected it, about three minutes before the end of the movement.

The second movement begins by sounding tentative and never develops the echt-Viennese lilt. Claudio Abbado's Mahler recordings demonstrate that it's not just Austrian conductors who achieve this. The third movement is fliessend, but I wonder if it's quite ruhig enough. Urlicht and the finale go well enough for me to feel that I shall revisit this performance.

I think that many will like Jurowski's 'Resurrection' Symphony and I certainly don't write it off as decisively as Dan, but it's not the version which I've been waiting for to combine the virtues of Walter and Klemperer. I'll stay with Klemperer (EMI 2668352 from passionato.com, mp3 and lossless) or, among recent versions, Nott on Tudor, which I also praised in the June 2010 Roundup. (Tudor 7158).

There's no booklet with the eclassical.com version but subscribers to the Naxos Music Library will find it available there. It's worth having for the text and translations, though Pein (Der Mensch liegt in grösster Pein) means 'torment' rather than 'pain'. BW]

Charles IVES (1874-1954)
A Concord Symphony (arr. Henry BRANT) (1913-2008) [50:05]
Aaron COPLAND (1900-1990)
Organ Symphony [27:02]
Paul Jacobs (organ); San Francisco Symphony Orchestra/Michael Tilson Thomas – rec. live February and September 2010. DDD/DSD
Pdf booklet included.
SFS MEDIA 821936-0038-2 [77:07] – from classicsonline.com (mp3) or stream from Naxos Music Library
[Recording of the Month – see review by Kirk McElhearn]



Henry Brant's realisation of Ives's monumental Concord Sonata for piano is very successful and Michael Tilson Thomas proves its ideal interpreter, as might have been expected from his DVD exposition and performance of Ives's Holidays Symphony which I reviewed last year. (821936-002490, Blu-ray 821936-002599) As Harvey Steiman wrote of the performance here recorded, 'With Tilson Thomas at the helm, the pieces fell into place, or as much as pieces can in Ives' music. Tempo, dynamics and sonorities jelled into a cohesive whole for the full duration. One wonders why it took 14 years for the piece to make its way into this orchestra's repertoire.' (See Seen and Heard review). I'm not sure that it helps me to love the work as a whole, however.

The SFSO performance of the Holidays Symphony, without commentary, is coupled with Copland's Appalachian Spring on CD (821936-00342), so it's appropriate that Copland's youthful Organ Symphony should be the coupling for Concord.

The recording is very good, though lacking, of course, the surround possibilities of the SACD release.

Ottorino RESPIGHI (1879-1936)
Aria for strings, P32 * [5:51]
Violin Concerto in A, P49 (1903, rev. and perf. 2010)* [21:08]
Suite for strings, P41 (revised Salvatore Di Vittorio) [27:33]
Rossiniana: Suite for orchestra (1925, from Les Riens by Gioachino ROSSINI (1792-1868), P148 [23:01]
Laura Marzadori (violin); Chamber Orchestra of New York 'Ottorino Respighi'/Salvatore Di Vittorio – rec. February and May, 2010. DDD.
* World première recordings, transcribed and completed by Salvatore Di Vittorio.
Pdf booklet included.
NAXOS 8.572332 [77:32] – from classicsonline.com (mp3) or stream from Naxos Music Library



Don't expect the brilliance of the Roman Trilogy, whatever the Naxos notes claim, or even the charm of Gli Uccelli and the Botticelli Pictures, but the Violin Concerto, begun in 1903 and never completed, was well worth Salvatore di Vittorio's time in revising, completing and performing, and ours in listening. Two of the other works are also unfamiliar: the Aria and, in its revised form, again the work of Di Vittorio, the Suite for strings. Only Rossiniana, a delightful concoction of Rossini's 'sins of his old age', given the same treatment as the Ancient Airs and Dances for the Lute, La Boutique Fantasque and Gli Uccelli, though not quite in the same league, is at all familiar; everything here is attractive, though I thought that the Suite slightly outstayed its welcome.

I had no benchmarks for two-thirds of the new recording, then, but enjoyed the performances and recording. With Rossiniana I was on better-known territory: the OSR/Ansermet recording is on Eloquence 476 2724, a performance and recording which John Phillips thought just right – see review – and which Stephen Vasta also enjoyed – see review. That performance is also available to download from passionato.com, on its own for £4.09 or – better value – as part of a 7-CD set of Ansermet recordings 1953-1967 (475 8140) for £27.99.

Naxos have another recording of Rossiniana, coupled with Vetrate da chiesa and Impressioni brasiliane (JoAnn Falletta, 8.572332 – see review) but it was with a Chandos Respighi recording containing Rossiniana that I made my chief comparison:

Ottorino RESPIGHI (1879-1936)
Burlesca for Orchestra, P59 (1906) [7:30]
Preludio, corale e fuga for Orchestra, P30 (1901) [17:03]
Rossiniana, Suite for Orchestra from Les Riens by Gioachino ROSSINI (1792-1868), P148 (1925) [23:04]
Five Études-tableaux, from Études-tableaux, Opp.33 and 39 by Sergey Vasil'yevich RACHMANINOV (1873-1943), P160 (1930) [24:58]
BBC Philharmonic/Gianandrea Noseda – rec. September 2005. DDD.
CHANDOS CHAN10388 [73:04] – from theclassicalshop.net (mp3 and lossless) or stream from Naxos Music Library



While the Naxos recording is commendable for introducing us to the Violin Concerto, the Chandos version of Rossiniana is slightly more lively; many will prefer the equally enterprising coupling, especially the orchestration of five of the Études-tableau of Rachmaninov. The other works, too, though little-known, are highly attractive: a work entitled Prelude, Chorale and Fugue may not sound very enticing, but it is. Yet, though this features in the list of recordings in Respighi's Legacy at 75 Years after his Death – here – we don't seem to have reviewed it on disc. Let me say, therefore, that if you are not yet into downloading, the lossless version augurs well for its CD equivalent – slightly preferable to the mp3-only classicsonline version of the Naxos, good as that is.

The Symphonic Eric COATES (1886-1957)
Cinderella, a Phantasy [14:58]
The Selfish Giant, a Phantasy (orch. Sydney BAYNES) [9:51]
The Three Bears, a Phantasy for Orchestra [9:31]
Miniature Suite [12:11]
London Suite (London Everyday) [14:46]
Joyous Youth Suite [13:26]
The Dam Busters March [4:05]
BBC Philharmonic/Rumon Gamba – rec. October 2001. DDD.
CHANDOS CHAN9869 [79:27] – from theclassicalshop.net (mp3 and lossless)



The music of Eric Coates has a particular resonance for those of us who remember the use of 'Knightsbridge', from the London Suite, as the signature tune of In Town Tonight, but there's plenty here that isn't just for us oldies. This is by no means the only worthwhile Coates recording, but it's special in that Rumon Gamba gives the music the full symphonic treatment; it takes it easily without losing its concert-orchestra appeal. The recording is good, especially in lossless form, though you may wish to turn up the volume. It's one of those earlier Chandos downloads where you'll need to alter the track names 1 to 9 to 01 to 09 for them to play in the right order in most players. (Back up the tracks and do it carefully; if something goes wrong, however, you can return to your Download History and download again, a very worthwhile facility which theclassicalshop.net shares with eclassical.com.)

You'll find some recommendations for the music of Eric Coates among the Light Music albums which I reviewed in the December 2010 Roundup. Another prime recommendation would be the 2-CD Classics for Pleasure set conducted by Charles Groves, Reginald Kilbey and Charles Mackerras: £6.99 from HMV Digital in 320kb/s mp3 – here – though that's not a huge saving on the price of the CDs. Amazon have it for £4.99, at a slightly lower bit-rate – here. (3523562).

Herbert HOWELLS (1892-1983) St Paul's Service and other music
CD 1 [66:31]
Psalm-Prelude Set 1, Op 32/1 [6:40]
Te Deum 'Collegium Regale' [9:15]
Psalm-Prelude Set 1, Op 32/2 [5:18]
Jubilate 'Collegium Regale' [3:16]
Psalm-Prelude Set 1, Op 32/3 [7:43]
Behold, O God our defender [4:02]
Rhapsody in D-flat Op 17/1 [6:20]
Rhapsody in e-flat minor Op 17/2 [8:15]
Rhapsody in c-sharp minor Op 17/3 [7:57]
Like as the hart desireth the waterbrooks [6:38]
CD 2 [53:12]
Take him, earth, for cherishing [9:43]
Master Tallis's Testament [6:43]
Psalm-Prelude Set 2/1 [9:15]
Magnificat 'St Paul's' [6:52]
Psalm-Prelude Set 2/2 [6:55]
Nunc dimittis 'St Paul's' [5:15]
Psalm-Prelude Set 2/3 [7:41]
Christopher Dearnley (organ)
The Choir of St Paul's Cathedral/John Scott – rec. June 1987 and November 1989. DDD
Includes pdf booklet with texts
HYPERION DYAD CDD22038 [66:31 + 53:12] – from hyperion-records.co.uk (mp3 and lossless)



Last month (June 2011/2) I recommended a series of recordings of the music of Herbert Howells. Just too late for inclusion, I noticed that this 2-for-1 set was languishing in the unloved category which Hyperion offer at half price. It won't still be there when you read this review, but it's excellent value as a download in either format for £7.99: idiomatic performances, well recorded, especially in the lossless transfer, and an excellent booklet of notes. Ignore it only if you already have all or most of the music here, from one of the other albums which I recommended last month.

Dmitri SHOSTAKOVICH (1906-1975)
Symphony No.3, Op.20 ('The First of May') (1930) [28:36]
Symphony No.10, Op.93 (1953) [51:47]
Chorus and Orchestra of the Mariinsky Theatre/Valery Gergiev
MARIINSKY MAR0511 [80:25] – from emusic.com (mp3)



Congratulations to eMusic for getting these performances online before their rivals. They are likely to be least expensive download source, too, at £2.94 – less if you're on one of the older protected tariffs – though others are likely to offer the recordings at better bit-rates (196-256kb/s here). In practice, eMusic's variable bit-rate sounded perfectly acceptable. Congratulations, too, to Gergiev and Mariinsky for offering performances of such high standard and for a very generous timing of a little over 80 minutes.

The Third Symphony has not been very frequently recorded, but we now have two good versions, from Vasily Petrenko (Naxos 8.572396, with Symphony No.1 – see May 2011/2 Roundup) and Valery Gergiev. I wasn't convinced by Petrenko's coupling – more the fault of the music itself than the interpretation – so I welcome the more attractive coupling from Gergiev. There is strong rivalry in the Tenth Symphony from Karajan (DGG Originals), Haitink (LPO) and Järvi (Chandos) but Gergiev's slow-burning performance can stand its ground against them. It's been variously described as enigmatic, desolate and a testament of the misery suffered under Stalin: Gergiev allows you to take your pick.

Benjamin BRITTEN (1913-1976)
A Midsummer Night's Dream
Heather Harper (soprano) – Helena, Elisabeth Harwood (soprano) – Tytania; Alfred Deller (counter-tenor) – Oberon, Peter Pears (tenor) – Lysander, Josephine Veasey (mezzo) – Hermia), Owen Brannigan (bass) – Bottom; London Symphony Orchestra/Benjamin Britten – rec. 1966. ADD.
DECCA 425 6332 [2:23:48] – from passionato.com (mp3)



This was effectively my Discovery of the Month; inspired by reports of the current ENO production I decided to dip my toe into a Britten work that I didn't know and was delighted with the outcome. Performance and recording do the work full justice, capturing both the magic and the menace, but the fact that it's offered in mp3 only means that there are some very slight but noticeable gaps between tracks when the music is continuous. The set offers good value at £12.99, but passionato.com also have the work in a multi-CD set of Britten operas (475 6029, 10 CDs for £34.99). They also have the Hickox recording – see review of its previous incarnation – but this has just been reissued on CD for considerably less than the Passionato download and even less than HMV Digital's £8.99 or amazon.co.uk's £9.49.

Fine Music: 1
Claude DEBUSSY La fille aux cheveux de lin (The Maid with the Flaxen Hair) (anon. arr. clarinet and orchestra) (1910) [2:44]
Richard Stoltzman (clarinet); Slovak Radio Symphony Orchestra/Kirk Trevor
Jonathan SACKS Incantations: Book V (2002) [9:08]
Warsaw Philharmonic Orchestra/Carl St. Clair
Marty REGAN fastpass! (2007) [7:11]
Tetsuya Nozawa (shamisen); Kaho Tosha (ko-tsuzumi)
Tadd RUSSO Salzburg Prelude (1999) [3:07]
Michael Kraft (organ)
Orjan SANDRED The Third Perspective (1991) [11:01]
John CAROLLO Let Thy Mind Be Still [5:07]
Ernö DOHNÁNYI Serenade in C, Op.10 for String Trio: Mvt. 3 (1902) [4:16]
Amerigo Trio: Glenn Dicterow (violin); Karen Dreyfus (viola); Inbal Segev (cello)
Kile SMITH Veni Sancte Spiritus (2008) [2:49]
Piffaro; The Crossing/Donald Nally
Meira WARSHAUER Tekeeyah (a call): Mvt. 1 [10:10]
Haim Avitsur (shofar/trombone); Moravian Philharmonic/Petr Vronsky
John DOWNEY, Jenny KALLICK, Lewis SPRATLAN Waiting [7:51]
Jeffrey Lentz (tenor); Richard Lalli (baritone); Julia Fox (soprano)
Martin SCHLUMPF Mouvements: Mvt. 1 [5:33]
Moravian Philharmonic Orchestra/Vit Micka
Ricardo LORENZ En Tren Va Chango (Destination Macondo) [9:03]
Moravian Philharmonic/Raphael Jiménez
Patrick BECKMAN Clarinet Suite 'Big Muddy': Memphis Nightrain [7:13]
Richard Stoltzman (clarinet); Patrick Beckman (piano)
Howard RICHARDS The Noise of the Waters [4:15]
The Kühn Choir/Marek Vorlicek
NAVONA NV5841 [89:25] – from classicsonline.com (mp3) or stream from Naxos Music Library



This digital-only release comprises a selection of recent and forthcoming releases on the Navona Label, offered at an attractive price by classicsonline (£4.99 or $7.99 – less expensive than amazon.co.uk's £6.99 or $8.99). Note the length – too long to fit on one CD. Inevitably, it's somewhat bitty, with a wide range of genres and styles, and there are no notes, but I found it generally (very) enjoyable. I'm particularly looking forward to the complete recording from which Tadd Russo's Salzburg Prelude is taken, promised for release in 2011.

I was less impressed with some of the avant-garde material, such as Orjan Sandred's The Third Perspective, but it's easy enough to skip the few bits that you don't like. I did, but I certainly intend to listen to the whole of the recording from the next track, John Carollo's Let thy Mind be still, is taken, Transcendence in the Age of War (NV5817 – from classicsonline.com). Like much of the music on this sampler, it's highly suitable for unwinding after a busy day.

Marty Regan's fastpass! offers a fascinating blend of Eastern and Western music, which may lead you to the parent album (NV5831 – see review by Rob Barnett: 'Everything here is warmly recorded – a very pleasurable meditative yet vitality-renewing experience.')

Fine Music 2 is available on NV5851 – look out for review next time.

Con Moto: Modern Works for Orchestra
James Windel BROWN London Overture (2000) [4:34]
London Symphony Orchestra/Roger Briggs
Symphony No. 2 (2003) [17:13]
Moravian Philharmonic Orchestra/Vit Micka
Jeryy SORCSEK Alajuela (1996) [13:24]
Moravian Philharmonic Orchestra /Vit Micka
William PRINCE Concertino for Jazz and Legit Clarinets (1999) [6:45]
Richard Stoltzman (clarinet); William Prince (clarinet); Warsaw Philharmonic Orchestra/Gil
Rose
Robert EHLE Bay Psalmes (1640), Op. 31, Symphony No. 3 (1999) [17:13]
Brno Chamber Choir; Moravian Philharmonic Orchestra/Vit Micka
Eric FUNK Symphony No. 3, Op. 65, 'Hradcany' (1995) [21:09]
Anna Maria Baeza (clarinet); Czech Radio Symphony Orchestra/Vladimir Válek
Symphony No. 4, Op. 75, 'This Eventide Seems Spilt' (1996) [31:15]
Judith Stabler (contralto); Warsaw Philharmonic Orchestra/Jerzy Swoboda
Mitch HAMPTON The Four Humors (2001) [1:57]
Richard Stoltzman (clarinet); Mike Finegold (flute); Warsaw Philharmonic Orchestra/Gil Rose
The Swinging 㥎s (1998) [7:12]
Mike Finegold (flute); Mitch Hampton (piano); Czech Radio Symphony Orchestra/Vladimir Valek
RAVELLO RR7811 [120:42] – from classicsonline.com (mp3) or stream from Naxos Music Library



Another digital-only recording, like the Navona from the Parma stable. The price of £4.99 (UK) or $7.99 (US) buys an even longer playing time of over two hours, making it an attractive sampler even for those not entirely in love with contemporary classical music. The two symphonies by Eric Funk alone, in these same performances, cost $18.99 on CD from ArkivMusic.com. In fact, most of the music here is not much more avant-garde than Copland or Britten. I mainly enjoyed it and, as regular readers may have deduced, I'm not great lover of much contemporary music. William Prince's Jazz Concertino is especially approachable, while Eric Funk's symphonies are the toughest nuts to crack. The mp3 sound is good, but the lack of notes is a problem.

Those seeking lossless sound will find a flac version at eclassical.com, but, for once, their otherwise enlightened policy of charging by the second doubles the price to $14.48.