DOWNLOAD ROUNDUP – MAY 2011/2
Brian Wilson
I promised to start each Roundup with a link to the previous version: in fact, I'll do better than that - there is a link list for all previous updates here.

Download of the Month: New Recordings

Tomás Luis de VICTORIA (1548-1611) Hail, Mother of the Redeemer
Salve Regina a 5 [7:32]
Alma redemptoris Mater a 5 [5:50]
Congratulamini mihi a 6 [4:56]
Sancta Maria [4:16]
Gaude Maria [1:56]
Missa Alma Redemptoris Mater a 8 [19:58]
Hymn: Ave Maris Stella [5:27]
Magnificat octavi toni [8:45]
Regina cæli a 5 [3:05]
Ne timeas, Maria [3:12]
Litaniæ Beatæ Mariæ a 8 [7:22]
The Sixteen/Harry Christophers – rec. October 2010. DDD.
Download includes pdf booklet with texts and translations.
CORO COR16088 [72:23] – from classicsonline.com (mp3) or stream from Naxos Music Library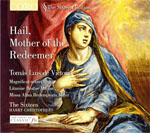 This new recording, timed to coincide with the 400th anniversary of the death of Victoria, is a most valuable addition to the box sets of earlier releases from Gimell (The Tallis Scholars) and Coro (The Sixteen – from classicsonline.com) which I reviewed in the March #2 Roundup. I've already said that Victoria was probably the greatest export that Spain ever made to Italy in any sphere – I don't think many would prefer the Borgias as candidates for that title – with music that equals, and occasionally excels that of Palestrina. Perhaps Organ Morgan in Under Milk Wood should have made those two great renaissance composers joint runners-up to his (and my) all-time favourite Bach. Go for those bargain boxes first – I refuse to choose between The Sixteen or The Tallis Scholars in preference – then you'll find it hard to resist the lure of this excellent new recording in good mp3 sound and complete with texts.

[I understand that students participating in Coro's Summer progarmme will be offered a 30% discount on classicsonline downloads of recordings by The Sixteen. There's also a specially priced 42-minute sampler, COR99001, Behind the Music, for £2.99 - here.]


Download of the Month: Back Catalogue

Tomás Luis de VICTORIA (1548-1611) O quam gloriosum
O quam gloriosum [2:36]
Missa O quam gloriosum [22:11]
Missa Ave maris stella [31:46]
Westminster Cathedral Choir/David Hill – rec. November, 1983. DDD.
Download includes pdf booklet with texts and translations.
HYPERION CDA66114 [56:01] – from Hyperion-records.co.uk (mp3 and lossless)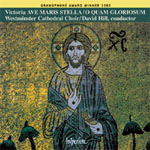 I've had my say about this before – it was one of my Top 30 Hyperion recommendations – but it's worth reminding potential purchasers that this remains one of the best ever recordings of Victoria's music.

Hyperion are about to replace two other Westminster Cathedral recordings of Victoria with reissues on their inexpensive Helios label: Missa Dum complerentur and motets (CDA66886) becomes CDH55452 and Missa Vidi speciosam and motets (CDA66129) becomes CDH55358. The latter is already available to download – here – at the reduced price of £4.99 (mp3 and lossless).

This is an appropriate time to include an index of Victoria recordings which have been included in Download Roundups – you'll see that some are so good that I've included them twice:

Lamentations (excs): Chandos – Nordic Voices (+ GESUALDO, WHITE, PALESTRINA) (Nov 09)
Missa Dum complerentur, Missa Simile est Regnum Cœlorum : Nimbus – Christ Church, Oxford (Aug 09)
Missa Gaudeamus – a Liturgical Sequence: Hyperion – Westminster Cathedral (Aug 09) and (Mar11/#2)
Missa Gaudeamus a6, etc. Cardinall's Musick – ASV (March11/#2)
Missa O quam gloriosum, etc: Hyperion – Westminster Cathedral (Hyperion Top 30)
Missa trahe me post te, etc. Westminster Cathedral – Hyperion Helios (March11/#2)
Requiem (1605), Salve Regina, etc.: Coro – The Sixteen (October 08)
Requiem Hyperion CDA30026 Westminster Cathedral (October 2010)
Requiem, etc (in 'Renaissance Giants' and 'Requiem'): Gimell – Tallis Scholars (Oct 08) and (Tallis Scholars at 30)
The Call of the Beloved – Motets and Hymns: Coro – The Sixteen (October 08)
The Victoria Collection – Coro – The Sixteen (March11/#2)
The Victoria Collection – Tallis Scholars – Gimell (3 CDs) (March11/#2)

[You won't find recordings by The Sixteen at passionato.com any more: they are missing several of the labels which they once carried – temporarily, I hope. Obtain Coro recordings from classicsonline.com or stream from Naxos Music Library. You will, however, find a large number of hard to obtain ASV recordings at passionato.com, including the Early Music Gaudeamus series.]


Discovery of the Month

Paul MEALOR (b.1975)
Now sleeps the Crimson Petal (World Première Recording)
Now sleeps the crimson petal (words Tennyson) [2.44]
Lady, when I behold the roses sprouting (words Grillo) [2.35]
Upon a bank with roses set about (words Drayton) [1.36]
A spotless rose (Es ist ein' Ros entsprungen, trans. Winkworth) [4.39]
Con Anima Chamber Choir/Paul Mealor – rec.2011. DDD.
Texts included in pdf booklet
DIVINE ART DDS29002 [11:37] – from theclassicalshop.net (mp3 and lossless)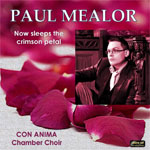 Like most of us, I imagine, I had never heard of Paul Mealor until a couple of weeks ago, when these works were performed at the Royal Wedding, adapted to the words Ubi caritas et amor. With whichever text, they make for entertaining listening. With a booklet of texts, good performances and recording, and a reduced price to match the 'ep' length, this is strongly recommended.



Music on USB



I reviewed two of Chandos's enterprising new USB memory sticks a little while ago, finding the Wagner and Vaughan Williams collections very well worth having. Another excellent collection brings two volumes of selections from the Chandos 'Contemporaries of Mozart' series from the London Mozart Players and Matthias Bamert.

As I've already recommended some of the programmes from this series, rather than reviewing the two sticks as a whole, I thought it best to pick some of the individual items and leave you to decide whether to lay out £99.99 in one go or to download the recordings separately. If you feel ready to splash out for the stick(s), it would be money well spent, as each represents something of a saving of around £20 over buying the single albums in lossless form. (Both mp3 and lossless are contained on each stick – you need to specify wma or flac).

The contents are:

Contemporaries of Mozart Vol. 1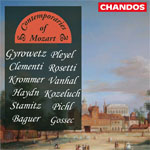 Muzio CLEMENTI: Symphonies [58:05]
from CHAN 9234 [58:05]
Franz KROMMER: Symphonies
from CHAN 9275 [54:11] – also CHAN10628 (5 CDs)
Michael HAYDN: Symphonies
from CHAN 9352 [68:33] – see below
Carl STAMITZ: Symphonies
from CHAN 9358 [60:53] – also CHAN10628 (5 CDs)
Carlos BAGUER: Symphonies
from CHAN 9456 [57:20]
Joseph Ignaz PLEYEL: Symphonies
from CHAN 9525 [69:55] – also CHAN10628 (5 CDs)
Antonio ROSETTI: Symphonies
from CHAN 9567 [66:02]
Johann Baptist VANHAL: Symphonies
from CHAN 9607 [59:36] – see June 2009 Download Roundup
Francois-Joseph GOSSEC: Symphonies
from CHAN 9661 [66:31]
Leopold KOZELUCH: Symphonies
from CHAN 9703 [56:39] – also CHAN10628 (5 CDs)
Vaclav PICHL: Symphonies
from CHAN 9740 [67:10]
Adalbert GYROWETZ: Symphonies
from CHAN 9791 [63:19]
CHUSB0001

[12 CDs] – from Chandos.net

Contemporaries of Mozart Vol. 2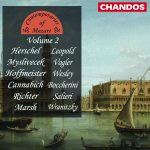 William HERSCHEL: Symphonies
from CHAN 10048 [67:51] – see July 2009 Download Roundup and review
Josef MYSLIVECEK: Symphonies
from CHAN 10203 [60:05] – see review
Franz Anton HOFFMEISTER: Symphonies
from CHAN 10351 [62:53] – see review
Johann Christian CANNABICH: Symphonies
from CHAN 10379 [66:41]
Franz Xaver RICHTER: Sinfonias and Sinfonies
from CHAN 10386 [61:42] – see July 2009 Download Roundup
John MARSH: Symphonies Nos. 2, 6, 7 and 8; Conversation Symphony
from CHAN 10458 [63:49] – see May 2009 Download Roundup
Leopold MOZART: Symphonies
from CHAN 10496 [67:05] – see May 2009 Download Roundup
George Joseph VOGLER: Symphonies, Overtures and Ballets
from CHAN 10504 [67:14] – see May 2009 Download Roundup and review
Luigi BOCCHERINI: Symphonies Nos. 3, 8 and 21
from CHAN 10604 [65:09]
Samuel WESLEY: Symphonies
from CHAN 9823 [70:15] – see review
Antonio SALIERI: Symphonies and Overtures
from CHAN 9877 [64:40] – see below and review
Paul WRANITZKY: Symphonies
from CHAN 9916 [70:02] – also CHAN10628 (5 CDs)
CHUSB0002

[12 CDs] – from Chandos.net

The following discs from the series have also been reissued as a budget-price 5-CD box set or as a download (mp3 or lossless) from theclassicalshop.net:

CD1 [57:38]
Franz KROMMER (1759-1831)
Symphony in D, Op. 40 [28:03 ]
Symphony in c minor, Op. 102 [29:26]
CD2 [61:35]
Carl STAMITZ (1745-1801)
Symphony in F, Op. 24 No. 3 (F 5) [14:47]
Symphony in C, Op. 13/16 No. 5 (C 5) [16:33
Symphony in G, Op. 13/16 No. 4 (G 5) [13:35
Symphony in D, 'La Chasse' (D 10) [16:19
CD3 [70:27]
Ignaz Joseph PLEYEL (1757-1831)
Symphony in C, Op. 66 (B 154) [23:10]
Symphony in G, Op. 68 (B 156) [24:19]
Symphony in d minor (B 147) [22:45]
CD4 [56:59]
Leopold KOZELUCH (1747-1818)
Symphony in D [18:08]
Symphony in g minor [17:47]
Symphony in F [20:56]
CD5 [71:13]
Paul WRANITZKY (1756-1808)
Symphony in D, Op. 36 [21:42]
Symphony in c minor, Op. 11 [18:47]
Grand Characteristic Symphony in C for the Peace with the French Republic, Op. 31 [30:32]
London Mozart Players/Matthias Bamert
rec. St Jude-on-the-Hill, Hampstead Garden Suburb, London, 11-12 November 1993 (Krommer), 24-25 October 1994 (Stamitz), 23-24 November 1995 (Pleyel)
rec. All Saints Church, Tooting, London, 13-14 November 1997 (Kozeluch), 28-29 January 2001 (Wranitzky). DDD
CHANDOS CHAN10628 [5 CDs] – from theclassicalshop.net (mp3 and lossless)

[NB: The files of Wranitzky are hopelessly mis-labelled in both mp3 and lossless form, with tracks 52-61 even attributed to Pleyel: the correct information is as stated above – the three works are contained on tracks 44-47, 48-51 and 52-61 respectively.]



Everything in this shorter selection can be heartily recommended: all the music is well worth hearing; though obviously you will mostly listen in vain for inspiration of the same order as Mozart's, all these composers know how to turn a phrase with great skill and all the performances – and the recording – contribute to listening enjoyment. The notes which come with the deal can be supplemented with those of the single discs – free to download even to non-purchasers. My own favourite has to be the Carl Stamitz – a Mannheim composer from a talented Bohemian family whose works I have long admired, and which are still not well represented in the catalogue.

Classicsonline also have an inexpensive selection from the series:

Introduction to the Classical Symphony – Rare Classical Symphonies Sampler
Johann Christian BACH (1735-1782) Grand Overture in D, Op. 18, No. 4, W. C27* [10:55]
Carlos BAGUER (1768-1808) Symphony No. 13 in E flat** [12:55]
Muzio CLEMENTI (1752-1832) Symphony in D, Op. 18, No. 2** [16:35]
Carl Ditters von DITTERSDORF (1739-1799) Symphony No. 1 in C, 'Die vier Weltalter' (The Four Ages of the World)*** [17:38]
Franz Anton HOFFMEISTER (1754-1812) Symphony in G, 'La festa della Pace 1791'** [24 :00]
Wenzel PICHL (1741-1805) Symphony in D, Z. 16, 'Diana'** [17:02]
Samuel WESLEY (1766-1803) Symphony in B flat** [18:29]
* Academy of Ancient Music/Simon Standage (rec.1993) DDD
** London Mozart Players/Matthias Bamert
*** Cantilena/Adrian Shepherd
CLASSICSONLINE EXCLUSIVE 9.30107 [116:13] – from classicsonline.com (320k mp3) – see October 2009 Download Roundup (Bargain of the Month)

Chandos have their own even shorter sampler – CD only for £2: CON0011

It's impossible to pick just one disc from the series for recommendation, but the Salieri and Michael Haydn recordings (below) would be high on my list: I enjoyed hearing the Salieri just as much as John Phillips – see review. I plan to review in coming months some of the other individual discs which I haven't already dealt with.
Antonio SALIERI (1750-1825)
Overture in D to 'Cublai, gran kan de' Tartari'* [3:46]
Twenty-six Variations on 'La folia di Spagna' [17:47]
Overture in D to 'Angiolina, ossia Il matrimonio per sussuro' [3:48]
Sinfonia Veneziana in D [9:57]
Overture in D to 'La locandiera'* [7:25]
Sinfonia in D 'Il giorno onomastico' [17:54]
Overture in D to 'Falstaff, ossia Le tre burle' [4:17]
London Mozart Players/Matthias Bamert – rec. April 2000. DDD.
* premiere recordings
CHANDOS CHAN9877 [65:41] – from theclassicalshop.net (mp3 and lossless) or stream from Naxos Music Library



We all know by now that Salieri was by no means the duffer that he's been misrepresented as, but there still aren't too many recordings of his music to prove it. The recording from Chandos's 'Contemporaries of Mozart' series helps to do so, with modern-instrument performances which remain true to the spirit of the music. Salieri may have outlived Mozart, but his music breathes the spirit of a slightly earlier age – one when variations on the ubiquitous La folia or Les folies d'Espagne were very popular: Salieri's set of these is particularly striking.

Michael HAYDN (1717-1806)
Symphony P.6 in A [14:24]
Symphony P.9 in B flat [14:06]
Symphony P.16 in G [16:03]
Symphony P.26 in E flat major [9:00]
Symphony P.32 in F [15:22]
London Mozart Players/Matthias Bamert – rec. 28-29 April 1994. DDD.
CHANDOS CHAN9352 [68:33] – from theclassicalshop.net (mp3 and lossless) or stream from Naxos Music Library



Michael Haydn is understandably overshadowed by his famous older sibling, as Salieri and Leopold Mozart are by Wolfgang Amadeus. In all three cases, these Chandos recordings go a long way towards restoring the balance. With just a handful of recordings of his music, the disc or download of Michael Haydn's music becomes mandatory for a real appreciation of Mozart's relation to his contemporaries, especially as one of Michael Haydn's symphonies was long attributed to Mozart as his No.37 – he actually wrote only the slow introduction.


***


Abbess HILDEGARD of Bingen (1098-1179)
Ordo Virtutum: The Soul's Journey
The virtues are greeted by the Patriarchs and Prophets. The soul comes in innocence, and calls to the Virtues. The Devil seduces the Soul. [17:57]
Led by humility, the Virtues sing of their powers and their solidarity against the Devil [24:40]
The soul returns to the Virtues in penitence, seeking their aid [11:55]
The soul fights against the Devil and overcomes his power [9:27]
The Soul, Humility and the Virtues are joined by the Patriarchs, Prophets and other Souls imprisoned in the flesh to sing of the joy of steadfastness, and give thanks for God's mercy. [4:52]
Evelyn Tubb (soprano); Vox Animæ/Michael Fields – rec. c.1997. DDD.
ET'CETERA KTC1203 [68:51] – from emusic.com (mp3)



Hildegard's Ordo Virtutum, the Play or Ritual of the Virtues is an example of a morality play centuries before most of the known examples, produced, indeed at a time when Western European drama was only beginning to find its earliest feet in the Easter and Pentecost liturgies, another example of how much this remarkable abbess was in advance of her time. She's even been claimed as the earliest forerunner of women's lib, though that title might be claimed by another abbess with a similar name, Hild or Hilda, the heroine of Bede's Ecclesiastical History of the English People, who presided over both monks and nuns at Whitby and chaired the synod at which Celtic and Roman Christians from different parts of Britain agreed to fix the date of Easter.

The performance is good, though slightly less ethereal than recordings of Hildegard's music by Gothic Voices – their Feather on the Breath of God was my prime choice among Hyperion's Top 30 – Oxford Camerata (Naxos 8.557983: Celestial Harmonies – see January 2009 Roundup) and Sequentia (BMG). The Hyperion recording, now at mid price (CDA30009 – see Hyperion Top 30 and October 2010 Roundup), would still be my ideal recommendation as an introduction to the music of Hildegard, followed by the Naxos.

No texts are provided, but the headings of the sections given above will give you a good idea of what is going on. You'll find a text and translation online at oxfordgirlschoir.co.uk.

The BMG recording of Ordo Virtutum with Sequentia seems to be no longer available but Vox Animæ's BBC performance is available on DVD (Opus Arte OA0847D [PAL] or OA0875D [NSTC])

Le Divin Arcadelt
Jacques ARCADELT (c.1507-1568) Pater noster* [6:01]
Hodie beata virgo Maria [3:23]
CHANT Introitus: Suscepimus, Deus [3:16]
Jacques ARCADELT Missa 'Ave, Regina cælorum': Kyrie* [4:21]; Gloria* [5:24]
CHANT Graduale: Suscepimus, Deus [1:09]
Giovanni Pierluigi da PALESTRINA (c.1525-1594) Motet: Senex puerum portabat [7:31]
Jacques ARCADELT Missa 'Ave, Regina cælorum': Credo* [9:18]
Giovanni Pierluigi da PALESTRINA Offertory: Diffusa est gratia [2:42]
CHANT Tractus: Nunc dimittis [2:11]
Jacques ARCADELT Missa 'Ave, Regina cælorum': Sanctus* [5:41]
CHANT Communio: Responsum accepit Simeon [0:55]
Andreas de SILVA (c.1475/80-c. 1530) Motet: Inviolata, integra et casta es Maria* [5:29]
Jacques ARCADELT Missa 'Ave, Regina cælorum': Agnus Dei* [4:57]
Andreas de SILVA Motet: Ave, Regina cælorum* [5:44 ]
The English Cornett and Sackbut Ensemble
Musica Contexta/Simon Ravens – rec. 17-19 May 2010. DDD.
* Premiere recording
Download includes pdf booklet with texts and translations.
CHANDOS CHAN0779 [68:14] – from theclassicalshop.net (mp3 and lossless)



Music for the Feast of Candlemas, the Presentation of Christ in the Temple (February 2nd) may seem untimely for release in May, but there's no close season for music of this quality – not for nothing is the overall title 'le divin Arcadelt' – especially when so much of it is receiving its first recording. In fact, there's not much Arcadelt in the catalogue – what there is comes with the music of other composers, with our man usually taking a back seat.

As Simon Ravens' notes admit, it is unlikely that this programme reconstructs any single celebration of that feast in Rome, though all the composers were members of the same choir. Just sit back and enjoy some excellent music, splendidly performed. Purists who worry about whether or not the music would have been performed with an instrumental ensemble need not be too distressed: the English Cornett and Sackbut Ensemble are fairly restrained. The lossless recording is very good – I just wonder why, when the recording was made in 24-bit/96kHz sound, we are not offered a 24-bit download.

The booklet is of Chandos's usual high quality – one can always rely on Chandos and Hyperion for that – and the texts and translations are included. The Book of Common Prayer version of the Gloria is employed – slightly at odds at time with the Tridentine Latin text – but not for the rest of the text of the Mass. All in all, this is an excellent follow-up to Musica Contexta's recording of Palestrina's music for Holy Week (CHAN0617, 0652 and 0679 – see April 2009 Roundup).

William BYRD (c.1540-1623) Complete Consort Music
Fantasia a3 (III) [1:04]
Browning a5 (The leaves be green) [4:37]
Te lucis a4 [2:20]
In nomine a5 (III) [2:31]
Christe redemptor omnium a4 [3:16]
In nomine a5 (IV) [2:43]
Fantasia a4 (III) [2:08]
Sermone Blando a3 [2:02]
Fantasia a5 ('Two parts in one in the 4th above') [6:03]
Fantasia a6 (I) (A song of two basses) [3:38]
Fantasia a3 (I) [1:47]
Christe qui Lux es a4 (I) [2:50]
In nomine a5 (II) ('on the sharp') [2:32]
Christe qui Lux es a4 (II) [2:42]
In nomine a4 (II) [2:35]
Fantasia a6 (II) [5:08]
Miserere a4 [1:33]
Fantasia a4 (I) [2:22]
Christe qui Lux es a4 (III) [1:07]
In nomine a5 (V) [2:51]
In nomine a4 (I) [2:25]
Pavan and Galliard a6 [3:57]
Fantasia a6 (III) ('to the vyolls') [4:16]
Pavan and Galliard a5 [3:56]
Sermone Blando a4 (II) [2:15]
Fantasia a3 (II) [1:39]
Prelude and Goodnight Ground a5 [5:40]
Phantasm (Laurence Dreyfus (director, treble viol); Wendy Gillespie (treble and tenor viols); Jonathan Manson (tenor viol); Markku Luolajan-Mikkola (bass viol); Mikko Perkola (tenor and bass viols); Emilia Benjamin (tenor viol))
rec. Merton College Chapel, Oxford, UK, 6-8 September 2010. DDD.
LINN CKD372 [79:57] – from linnrecords.com (SACD, mp3, lossless and 24-bit downloads)



With Byrd's complete vocal music now available from the Cardinall's Musick (earlier volumes on ASV, later volumes from Hyperion) and his complete keyboard works on offer from Davitt Moroney (Hyperion again), the new Linn recording of the complete consort music, conveniently fitting (just) on one disc – that's prescience for you on Byrd's part – is very welcome. We have had other recordings of this repertoire, notably from Fretwork (a splendid bargain on a very inexpensive Virgin Veritas twofer, with Dowland, 5615612)* and there have been various selections, such as the Naxos Consort and Keyboard Music, Songs and Anthems (Rose Consort and Red Byrd, 8.550604 – download from classicsonline.com). There's a recommendable, slightly incomplete one hour selection from the New York Consort of Viols on Lyrichord LEMS8015 (download from classicsonline.com).

Only those chronically indisposed to listen to Byrd's consort music – like that of Dowland, it's mostly in the fashionable downbeat, often melancholy style – should steer clear. If anything, Phantasm's slightly understated style serves to emphasise the melancholy side of the music, which I like, though I don't think that many listeners will wish to sit through the whole 80 minutes in one go.

If you like Phantasm's Byrd, try their recording of music by John Ward (CKD339, October 2009 Roundup) – there again, you may not wish to listen straight through in one go. That recording was made in Wadham College Chapel, the new one in the fine acoustic of Merton College Chapel. I downloaded the lossless (wma) version, which sounds very good; those with younger and sharper ears will want the SACD or one of the 24-bit versions. Linn also have a fine alternative to the Purcell Quartet's Chandos recordings of Purcell's Sonnatas in four parts (Retrospect Ensemble, CKD332, June 2009 Roundup).

* available for download from passionato.com, but at twice the price of the CDs. Passionato also have the original single CD with just the Byrd recordings, but even that is more expensive in lossless format than the Veritas twofer.

Index of Byrd recordings reviewed in Download Roundups:

BYRD and TALLIS Cantiones Sacræ – Skinner – Obsidian (Mar11/#1)
BYRD Assumpta est Maria: Hyperion – Carwood (September 2009, October 2009, Hyperion Top 30)
Ave verum corpus: Willcocks – Beulah (April 11/#1)
Cantiones Sacræ Bk I and Bk II: Chandos – Marlow; CRD – Higginbottom (Feb 09)
Gradualia (excs): William Byrd Choir – Hyperion Helios (mentioned Feb 2010)
Gradualia (excs.): Hyperion – Carwood (February 09)
Hodie Simon Petrus – Hyperion – Carwood (Jan 2010)
Infelix ego, etc.: Hyperion – Carwood (Feb 2010)
Keyboard Works, excerpts: CDA66558 – Moroney (Oct 2010)
Keyboard Works: Hyperion CDA44461/7 – Moroney (Oct 2010)
Lute Music 4: Naxos – North (Jan 2010)
Mass for 5 voices in Sacred Music in the Renaissance I: Gimell (Nov 10)
Masses: Nimbus – Christ Church Cathedral – Tallis Scholars at 30 (mentioned)
Music for Holy Week and Easter: ASV – Carwood (Nov 10)
O ye that hear this voice: Beulah – Trinity Consort (Jan 11)
Singing Elizabeth's Tune: Gimell – Tallis Scholars (Tallis Scholars at 30)
The Caged Byrd: Chandos (October 08)
The Great Service: Westminster Abbey – Hyperion (mentioned Feb 2010)
The Second Service: Harmonia Mundi – Ives (Feb 09)
The Tallis Scholars Sing William Byrd: Gimell (Tallis Scholars at 30)

(This updates and corrects the list given in March 2011/#1).

Claude DEBUSSY (1862-1918)


La boîte à joujoux (orch. Claude Debussy and André CAPLET) [32:44]
Six épigraphes antiques (orch. Ernest ANSERMET) [17:54]
Estampes No. 1: Pagodes (orch. André CAPLET) [5:37]
Estampes No. 2: La soirée dans Grenade (orch. Paul-Henri BÜSSER) [5:54]
L'isle joyeuse (orch. Bernardino MOLINARI) [6:56]
Le triomphe de Bacchus (orch. and arr. Marius-François GAILLARD) [3:38]
Orchestre National de Lyon/Jun Märkl
rec. Auditorium de Lyon, France, 27-28 March 2009, 11-14 January 2010, 24-27 February 2010. DDD.
Booklet included with download.
NAXOS 8.572568 [73:04] – from classicsonline.com (mp3) or stream from Naxos Music Library.

Complete Works for Orchestra


CD 1 [72:47]
La Mer [22:05]; Nocturnes [24:49]; Printemps (Orchestrated by Henri BÜSSER) [16:08]; Prélude à l'après-midi d'un faune [9:17]
CD 2 [72:17]
Images [33:41]; Jeux [17:53]; Khamma [20:20]
CD 3 [72:47]
La Boîte à joujoux [30:21]; Children's Corner (Orchestrated by André CAPLET) [17:08]; Petite suite (Orchestrated by Henri BÜSSER) [12:53]; Marche écossaise sur un thème populaire [6:03]; Danse [5:42]
CD 4 [73:36]
Fantaisie for piano and orchestra* [24:54]; Première rapsodie** [7:37]; Danses for harp and string orchestra [9:49]; Rapsodie for alto saxophone and orchestra (Orchestrated by Jean ROGER-DUCASSE) [10:09]; Sarabande [4:29]; L'Isle joyeuse [6:11]; La plus que lente [5:17]; Clair de lune (Orchestrated by André CAPLET) [4:15]
Anne Queffélec (piano)*; Christopher King (clarinet)**; Gerard McChrystal (saxophone)***
Ulster Orchestra/Yan Pascal Tortelier – rec. 1988-1992. DDD.
CHANDOS CHAN10144 [4 CDs 288:20] – from theclassicalshop.net (mp3 and lossless)



Prélude à l'après-midi d'un faune [10:17]
La Mer [24:12]
La boîte à joujoux [31:40]
Feux d'artifices [5:00]
Ce qu'a vu le vent d'ouest [3:22]
Feuilles mortes [3:31]
Berlin Philharmonic Orchestra/Simon Rattle – rec. 2004. DDD.
EMI CLASSICS 5580452 [78:02] – from passionato.com (mp3 and lossless)
Also available on a budget-price 5-CD set of Debussy and Ravel from passionato.com (5145652, mp3 and lossless) – see review

I enjoyed, but was not fully convinced by the Naxos recording – see review – and that set me looking around for alternative recommendations, especially for the main work, the orchestrated version of la Boîte à joujoux. I promised in that review to look at the Chandos recording with Tortelier and Simon Rattle on EMI.

In the event, there isn't a great deal to add. If you are looking for a good place to start a collection of Debussy recordings, the Chandos set is a very good place to start – almost all his orchestral/orchestrated music on four discs for the price of two, in performances which may not be first choices but will not let you down. Both Märkl and Tortelier have to yield to Rattle's award-winning Boîte and the coupling with la Mer offers a clear extra advantage. The 5-CD set of Debussy and Ravel presents a notable bargain, but I'm pleased that the single CD also remains available from passionato.

Jean SIBELIUS (1865-1957)
Symphony No. 2 in D, Op.43 (1902) [44:16]
Karelia Suite, Op.11 [17:35]
New Zealand Symphony Orchestra/Pietari Inkinen
rec. Michael Fowler Centre, Wellington, New Zealand, 16-18 October 2008 (Symphony No. 2) and 27 July 2010 (Karelia Suite)
NAXOS 8.572704 [62:00] – from classicsonline.com (mp3) or stream from Naxos Music Library

The Classical Guide to Sibelius
Finlandia Op.26 [08:05]
Karelia Suite Op.11 [15:08]
Symphony no 1 in e minor, Op.39 (mvts. II and III) [14:28]
Romance, Op.42 [4:39]
Luonnotar, Op.70 [9:43]
Valse Triste, Op.44 [5:56]
Symphony no 2 in D, Op.43 (mvts. I and III) [15:25]Allegretto 09:20
Suite for Violin in d minor Op. 117 (mvts. I and III) [4:37]
Lemminkainen Suite Op. 22/III: The Swan of Tuonela [9:05]
Violin Concerto in d minor Op. 47 [32:05]
7 Songs, Op.17/6: To Evening [1:33]
6 Songs, Op.36/1: Black roses [02:03]
4 Pieces, Op.78 /2: Romance [3:14]
Symphony No.4 in a minor, Op. 63 (mvt. II) [4:35]
String Quartet in d minor, Op.56, Voces intimae (mvt.IV) [6:01]
5 Songs, Op.37/4: Was it a dream? [2:13]
5 Songs, Op.37/5: The maiden's tryst [2:49]
Kuolema, Op.62: Canzona [2:54]
Symphony No.5 in E-flat, Op.82 (mvt.III) [9:58]
Karita Mattila (soprano);
City of Birmingham Symphony Orchestra/Sakari Oramo
Maxim Vengerov (violin); Chicago Symphony Orchestra/Daniel Barenboim
Ostrobothnian Chamber Orchestra/Juhan Kangas
Toronto Symphony Orchestra/Juka Pekka Saraster
Lawrence Foster
Tom Krause
Yuval Yaron
New Helsinki Quartet
Raimo Sariola (cello)
WARNER CLASSICS AND JAZZ [2 CDs: 155:21] – from iTunes
Also available as 2-CD set The Sibelius Experience 2564696959.



Warner: This would be a good place for beginners to start or, perhaps, for more experienced Sibelians to store on their mp3 player, but the latter in particular are likely to be annoyed by the inclusion of only one movement from the Fifth. Much as I enjoyed Sakari Oramo's performances here and in the two movements from the First Symphony, I think that beginners would have been better introduced to Sibelius by ditching them in favour of a complete Second or Fifth, especially as the music cuts off so abruptly at the end of the third movement of the Second, where it should segue into the finale. We do, however, get Luonnotar – with some superb singing from Karita Mattila – the Violin Concerto – ditto from Maxim Vengerov – and the Karelia Suite complete and the download is worth its modest £4.99 for these plus Tom Krause's appearance in four Songs.



Beginners who buy the Warner introduction might well move on to the Naxos recording of the much-recorded Second Symphony*, though they will duplicate two movements and the whole Karelia Suite in the process. In fact, I found the slightly livelier account of the Suite on the Warner set somewhat preferable to Inkinen's rather grander view of the second movement Ballade, not exactly my idea of Tempo di menuetto. Inkinen's tempo for the March, too, is fairly sedentary. At first I was not entirely happy with Inkinen's view of the symphony, either, which I thought slightly too lightweight, though I did enjoy his approach to the big Tchaikovsky-like moments. I warmed much more to the overall interpretation the second time round, finding much of the power which I'd missed the first time. If you sample this recording first from the Naxos Music Library, do try to hear it at least twice. The recording is good, apart from the booming and ill-focused bass in the symphony; the recording of the Suite is much better.

This Naxos series is proving variable with critical opinion mixed. So far I've enjoyed some of the results more than others: for where to find the Sibelius downloads that I've reviewed, please see the end of this review.

In the same very low price bracket, I like Sir Charles Mackerras's LSO recording of the Second Symphony, also with the Karelia Suite and with the added bonus of the Swan of Tuonela (Regis RRC1220 – see review). I've enjoyed this recording ever since its earlier Pickwick incarnation was released. That's so inexpensive (around £5 in the UK) as to make it unlikely that you will save anything significant by looking for a download. Alternatively, Mackerras's later Symphony No.2 with the Swan of Tuonela on the LSO Live label can be purchased for £2.10 or less from eMusic.com (no longer available on CD?). Sir Colin Davis's well-liked recording of the Second Symphony and Pohjola's Daughter (LSO Live LSO0605) is available from passionato.com or classicsonline.com.

* 38 listings in the Naxos Music Library alone at the time of writing.

Index of Sibelius recordings reviewed in Download Roundups:
Finlandia, etc. – Beulah – Collins (March 10)
Finlandia; Karelia Suite; Lemminkainen Suite: Naxos – Sakari (Feb 09)
Night Ride and Sunrise; Belshazzar's Feast; Kuolema (excs): Naxos – Inkinen (Feb 09)
Symphonies – Beulah – Collins (March 10)
Symphonies 1 and 3 – Inkinen – Naxos (Dec 10)
Symphonies 3 and 6: Avie – Zehetmair (+STRAVINSKY Violin Concerto) (Aug 09)
Symphonies 4 and 5 – Naxos – Inkinen (Feb 11)
Symphony 5; Karelia Suite; Swan – HDTT – Gibson, Gould (July 10)

Sir Arnold BAX (1883-1953) Orchestral Works, Volume 2
Spring Fire* [30:32]
Northern Ballad No. 2* [16:04]
Northern Ballad No. 3 (Prelude for a Solemn Occasion)† [8:36]
Mediterranean† [3:54]
Symphonic Scherzo* [7:30]
Royal Philharmonic Orchestra/Vernon Handley*
London Philharmonic Orchestra/Bryden Thomson†
CHANDOS CHAN10155X [67:11] – from theclassicalshop.net (mp3 and lossless) or classicsonline.com (mp3) or stream from Naxos Music Library



The highly recommended new Hallé recording of Spring Fire and other English music for the season was not yet available at the time of writing (CDHLL7528: Recording of the Month – see review), so I've recommended this very fine Chandos budget-price alternative for those who can't wait – see review. The all-Bax coupling may well be more to your liking, too. The classicsonline mp3 version is less expensive (£4.99) than Chandos's own equivalent from theclassicalshop (£6.00), but only the latter has the lossless version.

Index of Bax recordings reviewed in Download Roundups:
Concertante; Symphonic Variations: Naxos – Wass (July 09)
Nonet; Oboe Quintet, etc.: Hyperion – Nash Ensemble (Hyperion 30)
Piano Concertino ; with IRELAND Piano Concerto – Somm – Bebbington (Feb 11)
Piano Quintet; with BRIDGE Piano Quintet – Naxos – Wass, etc. (Jan 11)
Symphony 4; Tintagel: Chandos – Thomson (June 09)
Symphony No.6: Bostock – ClassicO (April 11/2)
Tintagel, etc. – Beulah – Boult (July 10)
Winter Legends; Saga Fragment: Wass/Judd Naxos (April 11/2)

York BOWEN (1884-1961)
Symphony No. 1 in G, Op. 4 (1902, premiere recording) [29:58]
Symphony No. 2 in e minor, Op. 31 (1909) [43:12]
BBC Philharmonic/Andrew Davis – rec.10/11 October 2010. DDD.
CHANDOS CHAN10670 [73:23] – from theclassicalshop.net (mp3, lossless and 24-bit)



These are two early works – the First here receiving its first recording – by a composer who is experiencing something of a belated renaissance, thanks mainly to Dutton, Hyperion and Chandos. The First Symphony was the work of an 18-year-old and, while we would all wish to have produced something so good at that age, it remains no more than a pleasant listen. By the time that he came to write the Second, seven years later, Elgar's First Symphony had changed the expectations of the musical public and this is a much deeper, more ambitious, powerful and impressive work than the First.

Chandos had planned to have Vernon Handley record these works, then Rumon Gamba – see interview with Rob Barnett – but it's quite appropriate that Sir Andrew Davis with his Elgarian credentials should now fill the breach and I'm delighted that he does it so ably.

With very good recording (I tried the lossless version) and the usual excellent Chandos notes, this is well worth trying.

Don't forget the Hyperion recording of Bowen's two Piano Concertos (CDA67659: Recording of the Month – see review) and the Bowen and Forsyth Viola Concertos, also on Hyperion (CDA67546 – see review). I could easily have included one or both of these in my Hyperion Top 30; they are probably a better place than the symphonies to start exploring York Bowen's music and both come at just £6.99, mp3 or lossless. Of the Chandos recordings of Bowen's Piano Works I've heard and enjoyed only Volume 2 (CHAN10410).

Dmitry SHOSTAKOVICH (1906-1975)
Symphony No. 1 in f minor, Op. 10 [33:23]
Symphony No. 3 in E flat 'The First of May', Op. 20 [31:10]
Royal Liverpool Philharmonic Choir and Orchestra/Vasily Petrenko – rec. July 2009 and June 2010. DDD.
Download includes pdf booklet with texts and translations.
NAXOS 8.572396 [64:33] – from classicsonline.com (mp3) or stream from Naxos Music Library


I can't really come to terms with Shostakovich's First Symphony – plenty of sound and fury, signifying ... what? It's one of the few symphonies in the Rozhdestvensky cycle on Olympia which I never got round to obtaining before the label died on us and I'm afraid that Petrenko's performance does little to persuade me that I missed much. Looking back at my review of Vladimir Ashkenazy's complete set of the symphonies on Decca, however, I see that I thought that there it 'receives a performance that makes it sound worth listening to, not just a student work. Instead of emphasising its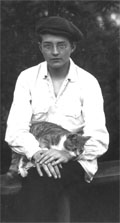 debts to other composers, Ashkenazy brings out the individual touches. Though it is not a work I listen to frequently – hardly on a par with Sibelius's First Symphony either in its own right or as a predictor of things to come – it is well performed and recorded and well worth the occasional outing.' (475 8748, 12 CDs – see review). Perhaps it's hardly worth buying the whole set in order to obtain the First – I thought the set rather a mixed proposition – but you can download the Ashkenazy First and Sixth Symphonies separately from passionato.com (425 6092) currently part of a 3-for-£18 offer.

I see that I didn't get the Olympia Third, either – presumably they were coupled as here – but that's a more attractive proposition, and Petrenko's performance does it justice, with the RLPO Chorus playing no small part in the proceedings. The mp3 transfer is good; now that passionato.com are no longer offering lossless versions of Naxos recordings – temporarily, I hope – 320kb/s is as good as you are likely to get.

The back cover which comes with the download of the booklet appears to have been an early draft, with [xx:xx] in place of some of the timings, but you can download the final version from the classicsonline site. In addition to the wrapper image, the cover of the CD itself contains a picture of Shostakovich as a young man which I've included here.

Benjamin BRITTEN (1913-1976)
Phædra, Op. 93, Dramatic cantata for mezzo-soprano and small orchestra* [15:00]
A Charm of Lullabies, Op. 41, Arranged by Colin Matthews for mezzo-soprano and orchestra* [12:16]
Lachrymæ, Op. 48a, Reflections on a song of Dowland for solo viola and string orchestra† [15:32]
Two Portraits for strings† [15:09]
Sinfonietta, Op. 1 (Version with two horns) [14:45]
Sarah Connolly (mezzo)*
Maxim Rysanov (viola)†
BBC Symphony Orchestra/Edward Gardner
CHANDOS CHAN10671 [73:18] – from theclassicalshop.net (mp3 and lossless)



For me this is not as special as the Chandos recording of the Cello Symphony, etc., which I reviewed in the March 2011 #2 Roundup and which I narrowly failed to make Recording of the Month. As the Chandos notes admit, it's hard to put together a raison d'être for this particular collection of Britten's music, ranging from Op.1 to Op.93, but in practice it works well enough.

Though Phædra was written for Janet Baker, who could make anything sound sublime, and is sung here by Sarah Connolly as an excellent replacement for Dame Janet, it's not a work that I warm to – rather too angular for my tastes, though I'm hard pressed to explain why I can enjoy the sharper features of Peter Grimes and not Phædra. Perhaps it's the way that Britten set this classical story: I have something of the same problem with his Rape of Lucretia, which is why I note without comment that the Baker-Pears-Britten recording of these two works remains available on Decca 425 6662 (2 CDs – download from passionato.com).

The Charm of Lullabies is more amenable; though I'd hardly rate it an essential Britten work, here I was able to appreciate the beauty of Connolly's performance. Nor are the (Bartók-inspired?) Two Portraits essential listening though, again, the performances do them proud.

The Sinfonietta emerges here as a more substantial and powerful work than I remembered from the old Vienna Octet recording on Decca which I bought years ago for £0.50 in a Woolworth's sale (now Eloquence 480 2406, 2 CDs, with Hindemith, etc.). It's the inclusion of a fine performance of Lachrymæ, with its reminder of Britten's role as heir to the English musical tradition of the likes of Dowland and Purcell that makes this new release so valuable for me.

There is a much less expensive Hyperion alternative for Phædra, Lachrymæ and the Sinfonietta (Helios CDH55225, with The Sword in the Stone, Wind Sextet and the end of Night Mail). As that CD was wholeheartedly recommended by Em Marshall, who is more attuned to Phædra than I am – see review – I'm not sure that it's worth splashing out the extra on the new Chandos, especially as there's no 24-bit version.

Index of Britten recordings reviewed in Download Roundups:
Gloriana Suite; Cello Symphony; Sea Interludes – Andrew Davis – Chandos (March 11 #2)
Les Illuminations with FINZI Dies Natalis – Chandos – Gardner (June 10)
Piano Concerto; Young Apollo; Diversions: Hyperion – Osborne (Hyperion Top 30)
Saint Nicolas; Hymn to St Cecilia: Hyperion – Best (November 09)
String Quartets 1-3 – EMI – Belcea Quartet (July 10)
String Quartets Nos.2 and 3: Challenge Classics – Brodsky Quartet (March 09)
Turn of the Screw: Past Classics – Britten (mono) (April 09)
War Requiem: Decca Originals, Britten (August 09)

Nino ROTA (1911-1979)
Concerto soirée for Piano and Orchestra (1962)* [19:24]
Divertimento concertante for Double-bass and Orchestra (1968-1973)** [23:47]
Symphony No. 3 in C major (1956-1957) [18:23]
* Barry Douglas (piano)
** Davide Botto (double-bass)
Filarmonica '900 del Teatro Regio, Turin/Gianandrea Noseda
rec. Sala Regia, Teatro Regio, Turin, Italy
CHANDOS CHAN 10669 [60:56] from theclassicalshop.net (mp3, lossless and Studio 24bit/96kHz flac)



Composers for the big screen get precious little exposure in the concert hall, yet they seem to fare much better on record. Chandos must be congratulated for their many releases devoted to British and American film music and, where Miklos Rozsa and Nino Rota are concerned, for recording their non-filmic œuvre as well. As their downloadable Rozsa series demonstrates, these movie men wrote some decent concert works, although a lifetime of short takes makes longer spans more of a challenge. That said, advocacy is everything, and the presence of Gianandrea Noseda underlines Chandos' commitment to this under-represented repertoire. Regular MusicWeb International readers will know how impressed I was with Noseda's performance – and Chandos' recording – of Casella's Second Symphony, another work that needs to be much better known (review).

At the time of writing the usual pdf booklet and cover art weren't available on the Chandos site, but impatient purchasers can always go back and download the paperwork at a later date. [The booklet is available now - BW] Still, there are embryonic notes to help one along; in particular, they refer to the Concerto soirée as something of an oddity, 'a piano concerto written in the spirit of Rossini's Soirées musicales.' In this 24/96 Studio download the caressing, seductive tune at the start has an ear-pricking immediacy that bodes well for the work as a whole. True, the five short movements don't seem very coherent, but that's not a huge issue when the music is this well played.

There's certainly enough variety and colour to keep one entertained, but listeners looking for something more substantial will be disappointed. Indeed, the Romanza – marked malinconico – could so easily pass for a moody cinematic meditation; it's saved from sounding like movie mush by Douglas's keenly felt piano playing. Then we're back to big and bold with the spiked energy of the can-can-inspired Finale, the brass given a splendid edge. There's nothing rough or untidy about this performance or recording, Chandos' larger-than-life presentation entirely apt for a composer used to thinking in CinemaScope.

The Divertimento Concertante is much more symphonic in style and execution – just sample that imperious opening – and although I was unsure about the double-bass as a solo instrument I was pleasantly surprised by David Botto's expressive range. Speaking of range, the double-bass spans nearly four octaves, the darkest of which are superbly caught in this close yet atmospheric recording. There's something endearing – quixotic, even – about this bumbling music, notably the swoop and swoon of the March, but there's nothing ungainly about Botto's articulation of the jauntier tunes. And although the work's emotional compass is narrow, Botto digs deep in the Aria, producing some wonderfully lyrical, singing lines. That said, there's an overblown climax that emphasises the up-close-and-personal nature of this recording. As for the Finale, it's a curious mix of Rossinian lift and gruff introspection, but for the first time I felt the musical fabric was wearing a little thin.

'Entertaining' was the word I used earlier, and without wanting to damn with faint praise that describes exactly what I've heard thus far. Given Rota's propensity for economical gestures I did wonder how he'd fare as a symphonist. The Allegro of the Third Symphony certainly has a weight and drive that suggests he's comfortable in the genre. Unfortunately, though, there just isn't enough interesting material here, no matter how well it's presented. And that goes for the unsettled Adagio as well, its grand flourishes apt to sound rather hollow. The sharp, jabbing rhythms of the Scherzo sound vaguely Herrmannesque to me, as does the concluding Vivace.

In the past I've suggested that first-rate conductors can bring out the very best in second-rate music, but with the exception of the Concerto soirée this collection doesn't represent Rota at anywhere near his best; for that one needs to hear his ballet score La Strada or, for real originality and flair, the music he wrote for Visconti's film Il Gattopardo (The Leopard). Now that's a suite that would be most welcome in the concert hall.

Technically this Studio download isn't in the same league as the Casella I mentioned earlier, and that's partly because it's a bit too close and airless for my tastes. Musically there are a few nuggets, but this one's for Rota fans only.

Dan Morgan

[I was fully prepared to find that Dan had appreciated this recording more than I had, and to offer a contrary view, but once again we find ourselves in agreement. I enjoyed hearing the music in these sympathetic performances, and I thought the 'ordinary' lossless (wma) sound good but hardly outstanding; I can't pretend, however, that this is going to be anywhere near regular listening for me. BW.]