September, 2009, Download Roundup
DOWNLOAD OF THE MONTH: Back Catalogue
Antonio Vivaldi (1678 - 1741) The Four Seasons and other concertos
Concerto for Violin and Strings in E, Op.8, No.1, R.269 'La Primavera'1 [11:20]
Concerto for Violin and Strings in G minor, Op.8, No.2, R.315 'L'estate' [11:17]1
Concerto for Violin and Strings in F, Op.8, No.3, R.293 'L'autunno' [11:23]1
Concerto for Violin and Strings in F minor, Op.8, No.4, R.297 'L'inverno' [8:35]1
Concerto for 2 Oboes, Strings and Continuo in D minor, R.535 (Performing Edition by Christopher Hogwood) [9:00]2
Bassoon Concerto in A minor, R.498 (Performing Edition by Christopher Hogwood) [11:39]3
Flautino Concerto in C, R.443 (Performing Edition by Christopher Hogwood) [10:55]4
Alan Loveday (violin)1; Celia Nicklin, Neil Black, Christopher Hogwood, Colin Tilney, Kenneth Heath2; Martin Gatt, Christopher Hogwood, Colin Tilney, Kenneth Heath3; William Bennett4; The Academy of St. Martin in the Fields/Sir Neville Marriner 
DECCA THE ORIGINALS 475 7531 [74:12] – from passionato.com (mp3)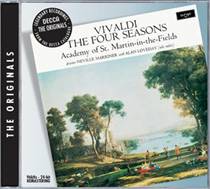 The appeal of this classic Argo recording of The Four Seasons, ground-breaking in its day, has recently been greatly increased by the addition of three other concertos, for bassoon, two oboes, and flautino, in performances which are just as recommendable in their own right.  Some more recent recordings may be more athletic than Marriner's, but none has more to offer – I'm thinking especially of the invocation of Winter in the first two movements of L'inverno, which has never been bettered, but aspects of other concertos are just as insightful in different ways.
Even though I was very impressed with the recent versions of these and the remaining Op.8 concertos by the Accademia Bizantina/Ottavio Dantone on the Arts Blue Line label (SACD 47564-8 and 47565-8 – see review) I retained the caveat that in some moods I would still prefer this 1969 recording as a safer choice.  The recording, though currently available only in 320k mp3 format – flac version to follow, I understand – still sounds well.  Like other DG and Decca Originals, this was on offer for an appealing £4.99 when I downloaded it; even at the regular price of £7.99 it remains (just) competitive with the CD.
Those who prefer the greater excitement of those Dantone recordings, or their coupling of The Four Seasons with Op.8/5 and 6, with Op.8/7-12 on the second CD, will also find them available as downloads in mp3 and flac formats from passionato.com, though not, of course, in SACD format.
DOWNLOAD OF THE MONTH: New Recording
Henry's Music - Motets from a Royal Choirbook; Songs by Henry VIII  John TAVERNER (c.1490-1545) Christe Jesu, pastor bone [2:49]; Anonymous King's Pavan [1:29]; England be glad [2:03]; Henry VIII (King of England) (1491-1547) Consort No. 12 [0:57]; Anonymous Madame d'amours [3:44]; Henry VIII Tandernaken [2:12]; Richard Sampson (d.1554) Salve Radix [2:17]; Psallite felices [10:00]; Benedictus de Opitiis (fl.1516) Sub tuum præsidium [3:33]; Quam pulcra est [4:23]; Anonymous Hec est præclarum vas [2:48]; Jacotin (before 1479-1529) Beati omnes qui timent Dominum [5:25]; Henry VIII Consort No. 13 [0:47]; My hart and O my hart [0:59]; Helas madam [1:12]; Though sum saith that yough rulyth me [3:33]; Philippe Verdelot (1480/5 – c.1530/2) Nil majus superi vident [3:30]; Henry VIII Consort No. 8 [1:10] ; Adieu Madame [4:27]; En vray amoure [1:05]; Robert Fayrfax Lauda vivi alpha et oo [16:28] Andrew Lawrence-King, medieval harp; Alamire; Quintessential/David Skinner
OBSIDIAN OBSID-CD705 [74:51] – from classicsonline.com (mp3)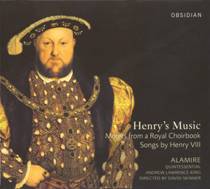 When, in my July Roundup, I compared Sirinu's recent recording of the music of Henry VIII (Chandos CHAN0621) with the much older Decca/Argo reissue of the Purcell Consort and Musica Reservata in Music to entertain Henry VIII (475 8582), I found myself torn between the scholarship of the new recording and the much greater vitality of the reissue.  Alamire and Quintessential under the direction of David Skinner on the new Obsidian recording square the circle: their scholarship is fully the equal of  Sirinu's, extending to the inclusion of some material completely new to the catalogue, and their performances have the vitality and strength which I found lacking in the Chandos recording.  The recording is fully worthy of the performances and the 320k download presents a faithful reproduction.
This download will be especially attractive to anyone who heard the same programme live at the British Library or elsewhere on tour.  Otherwise, if you buy just one recording to celebrate the 500th anniversary of Henry's accession to the throne, let it be this one.
If you must have the texts and translations, go for the CD.
There's a 15-minute promotional video on the Alamire website and the Folio Society has produced a colour facsimile of MS Royal 11.e.xi, a collection presented to Henry in 1518 or 1519, from which the new material has been derived.
REISSUE OF THE MONTH
Bohuslav MARTINů (1890-1959)
Cello Concerto No.1, H196 (1930, 1939, 1955) [26:08]
Cello Concerto No.2, H304 (1944) [36:05]
Concertino in c minor, H143 (1924) [13:54]
Raphael Wallfisch (cello); Czech Philharmonic Orchestra/Jirí Belohlavek 
rec. Spanish Hall, Prague Castle, 24-28 June 1991.  DDD.
CHANDOS CHAN10547X [76:27] – from theclassicalshop.net (mp3 and lossless)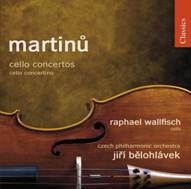 I recommended the original full-price version of this recording as recently as my March, 2009, Download Roundup: 'For the recording of Martinů's Cello Concertos 1 and 2 and the Concertino recorded by Chandos [in 1991] in Prague Castle, with Raphael Wallfisch, the Czech Philharmonic and Jiři Bělohlávek, I need only refer you to Rob Barnett's recommendation of the CD as "the first choice for the Martinů Cello Concertos" (CHAN9015 – see review) and report that the lossless download from theclassicalshop comes in sound to match the ample acoustic of the CD which, this time, also remains available. The Supraphon recording to which RB referred is available from eMusic, but its omission of the Concertino relegates it to second choice.'
Now the Chandos recording reappears 50 years after Martinů's death at a lower price and very welcome it is, too.  In the case of the original recording both the mp3 and lossless downloads had a price advantage over the physical CD; this remains true for the mp3 (£4.99) but the lossless download now costs a few pence more than the CD (£7.99 against £7.83).  Having recently praised Hyperion for following the lead of Chandos in making their booklets freely available, I'm disappointed that the download originally came without the booklet – a problem now rectified.
Highly recommended
Josquin des Prés (c.1440-1521)
Missa Malheur me bat [39:46] ; Missa Fortuna desperata [35:41]
The Tallis Scholars/Peter Phillips
rec. Chapel of Merton College, 2008. DDD.
GIMELL CDGIM 042 [75:27] – from gimell.com (mp3, lossless and 24-bit)

Yes, I know that I've reviewed and praised this before, in my February, 2009, Download Roundup and in detail in a full review (see also review by Mark Sealey).
Those earlier reviews were based on the 'ordinary' CD-quality files.  More recently, having invested in Squeezebox, which allows me to play 24-bit recordings, I have investigated the Studio Master (24-bit, 48kHz) and Studio Master Pro (24-bit, 96kHz) downloads and found the recording even more superb in those formats.  If you're uncertain whether your system can cope (and you certainly can't burn the Studio Master Pro recording onto CD), the Gloria from Missa fortuna desperata is still available free; download it and try.  Squeezebox certainly copes with this and with Linn 24-bit 96kHz recordings, but not with Linn's 24-bit 88.2kHz downloads.  If you haven't already bought the CD or downloaded, and your system can cope, go for one of the 24-bit versions.
The Golden Age - Volume 1: Europe
Tomas Luis de VICTORIA Ave Maria [4:45]
Francisco GUERRERO Ave Virgo Sanctissima [4:28]
Gregorio ALLEGRI Miserere [11:15]
Giovanni Pierluigi da PALESTRINA Stabat Mater [9:26]
Joao Lourenço REBELO Panis Angelicus [4:08]
Carlo GESUALDO O Vos Omnes [3:00]
VICTORIA Versa Est In Luctum [3:59]
Josquin DESPREZ Absalon Fili Mi [4:12]
Orlando LASSUS Justorum Animæ [2:48]; Tristis Est Anima Mea [3:11]; Timor Et Tremor [3:59]
Magnificat/Philip Cave
LINN CKD052 [55 minutes] - from linnrecords.com (mp3 and lossless)
Thomas Tallis (1505-1585) Te lucis ante terminum (ed. Simon Hill; OUP) [2:39]; Salvator mundi (ed. John Milsom; OUP) [2:55]; Spem in alium (ed. Philip Brett; OUP) [9:56]; In iejunio et fletu (ed. Peter le Huray & David Willcocks; OUP) [4:40]; O Salutaris hostia (ed. John Milsom; OUP) [3:16]; Lamentations I (ed. Philip Brett; OUP) [8:04]; Lamentations II (ed. Philip Brett; OUP) [12:14]; Miserere (ed. Sally Dunkley) [2:34]; Mass for 4 Voices (ed. Philip Cave) [21:27] Magnificat/Philip Cave rec. St Mary the Virgin, Buckland, January 2000 and at St Jude's on the Hill, Hampstead, June and November 1995, June 1997.  DDD. – texts and translations included.
LINN CKD233 [67.20] – from linnrecords.com (mp3, lossless and Studio Master quality)

Though CKD052 was advertised as Volume 1 of a series, I don't think Magnificat ever made any subsequent volumes, which is a shame, because what we have here is very good – a wide-ranging anthology of Renaissance music, good enough to serve as an introduction to the period, in very fine performances and recording.  The lossless (flac) download sounds excellent, but there are no notes, which is a serious deficiency for anyone coming to this music afresh.  No texts, either, though most of them are available on the web in the original Latin and/or translation.

No matter that the 'Golden Age' recording was not followed up; Magnificat's Tallis recording made an excellent sequel.  If you're looking for a one-CD introduction to his works, you need look no further.  The singing is superb – fully on a par with performances of Tallis's music by The Tallis Scholars (Gimell) and Chapelle du Roi (Signum) – and the recording is excellent.  The Studio Master download, played via the Squeezebox – it's too large to burn to CD – sounds excellent, but be sure that your system will support 24-bit, 96kHz wma or flac recordings.  Otherwise, go for the ordinary CD-quality wma or flac version.  If you want surround sound, there are also 5.1 24-bit versions. 
Don't forget, however, the inexpensive 2-CD distillation of Chapelle du Roi's splendid complete Tallis recordings which I reviewed some time ago.  (Portrait PCL2101, for around £8.50).  And don't overlook Magnificat's recording of the music of Rogier which I recommended in the January, 2009, Roundup.
Josquin des PRÉS (c.1440-1521): Præter rerum seriem [7:27]
Cipriano de Rore (c.1515-c.1565) Missa Præter rerum seriem [29:28]
Infelix ego [12:15] ; Parce mihi [11:09] ; Ave Regina caelorum [5:56]; Descendi in hortum meum [5:35]
The Tallis Scholars/Peter Phillips
rec. St Peter and St Paul, Salle, Norfolk, UK, 1993. DDD.
GIMELL CDGIM 029 [72:10] – from gimell.com (mp3 and lossless)
Cipriano de RORE Mon petit cueur [5:16] ; Plange quasi virgo [5:10] ; Mia benigna fortuna [4:00] ; Missa Præter rerum seriem [28:48] ; Schiet'arbuscel [4:09] ; Calami sonum ferentes [4:59]; Se ben il duol [4:32] ; Dissimulare etiam sperasti [7:41]
Huelgas Ensemble/Paul van Nevel HARMONIA MUNDI HMC90 1760 [64:34] – from emusic.com (mp3, 12 credits)

In last month's Roundup I rashly undertook to compare the excellent Gimell recording of de Rore's Missa Præter rerum seriem with its equally distinguished Harmonia Mundi competitor.
In fact, as I should have anticipated, both are so good that I'm reduced to noting trivialities, not least of which is that the Harmonia Mundi is deleted on CD – hopefully, to return at mid price – and available only as a download from eMusic or Amazon.
As expected, The Tallis Scholars' tempi are all slower than those of the Huelgas Ensemble, with the exception of the Kyrie where they are very similar and the Agnus Dei, taken only once on Gimell instead of the usual three-fold repetition, as on Harmonia.
Finally, the couplings are very different and complementary.  I wouldn't want to be without the Josquin motet which opens the Gimell recording and is employed as the cantus firmus of the mass – there would have been room to have included it on the Harmonia recording – but I equally wouldn't wish not to have the wonderful setting of Dido's verbal scourging of Æneas in Vergil's words from the Æneid, which ends the Harmonia recording.
Claudin de SERMISY (c.1490-1562) Si bona suscepimus 4vv [5:37]
Dominique PHINOT (c 1510–before 1561) Pater peccavi 5vv [7:50]; Missa Si bona suscepimus 4vv [23:51]; Tanto tempore 8vv [3:57]; Iam non dicam vos servos 8vv [4:23]; O sacrum convivium 8vv [4:33]; Incipit oratio Jeremiæ prophetæ 8vv [11:38]; Magnificat octavi toni 4/5vv [5:24]; Confitebor tibi, Domine 4vv [6:56] The Brabant Ensemble (Helen Ashby, Kate Ashby, Alison Coldstream, Kate Semmens, (soprano); Emma Ashby, Sarah Coatsworth, Claire Eadington, Fiona Rogers (alto); Alastair Carey, David Knight, Andrew Mcanerney, Oliver Winstone (tenor); Christopher Borrett, Will Dawes, Jon Stainsby, David Stuart (bass))/Stephen Rice rec. Chapel of Harcourt Hill Campus, Oxford Brookes University, 29–31 August, 2008. DDD. HYPERION CDA67696 [74:13] –

There were several highly recommendable runners-up for the title of Download of the Month and this new recording was certainly among them. 
As with the Victoria Missa Gaudeamus last month, I looked on iTunes to download it at the first opportunity when it was released on August 1st but didn't find it.  It transpires that Hyperion are preparing their own download facility and they kindly supplied me with the mp3 tracks which will constitute the download of this recording.  I understand that they will also be offering lossless versions, but the variable-bit-rate mp3 tracks (averaging around 240k) certainly sound fine – as good as most 320k versions.  As with other recordings of the Brabant Ensemble, you will probably want to turn up the volume a couple of dB; once that is done, even the very keen-eared should be happy with the sound.
I'm glad that the Sermisy motet on which the Mass is based is placed first – I can never understand why Nimbus don't do the same with their recordings of Christ Church Choir, e.g. on the Lassus recording reviewed below – but I'd have preferred to have had it immediately before the Mass.
Phinot's music fully deserves to be better known; only short pieces have found their way onto anthology recordings in the past.  The performances do him full justice; they are every bit as good as the earlier recordings by the Oxford-based Brabant Ensemble that I have reviewed: Crecquillon Missa Mort m'a privé (CDA67596 – see review); Gombert Tribulatio et angustia (CDA67614 – see review); Manchicourt Missa Cuidez vous que Dieu (CDA67604 – see review) and Morales Magnificat, Motets & Lamentations (CDA67694 – see review).   As I've said before, The Tallis Scholars and The Sixteen have some serious competition on their doorstep.  Only their most recent recording, of music from the Chirk Castle Part-books, (CDA67695 – see review) disappointed me slightly.
As always, the artwork and notes are available to all on the Hyperion website.  The artwork – de la Tour's painting of Job 'comforted' by his wife – and the notes are, as usual, first-rate.  There's just one problem with the translation of the Prayer of Jeremiah from Lamentations (track 11): ligna nostra precio comparavimus actually means 'we purchased our wood at [high] cost', not 'our wood we have likened to money.'  The classical scholarship of Hyperion's translation for once is not an advantage in translation 'low' Latin.
Hyperion have promised to let me know when their download site is up and running and I'll publicise it as soon as I know.  In the meantime, please don't bombard them (or me) with queries.
Orlando Lassus (1532-1594) Masses and Motets
Missa Qual donna attende à gloriosa fama [20:56]; Tristis est anima mea [5:02]; Exaltabo te Domine [2:01]; De profundis clamavi [11:10]; Missa Venatorum (Jäger) [10:50] Cipriano De Rore (1515/16-1565) Madrigal: Qual donna attende à gloriosa fama [4.17]   Christ Church Cathedral Choir/Stephen Darlington rec. Dorchester Abbey, Oxfordshire, 16-17 May 1988.  DDD. NIMBUS NI5150 [54:08] – from classicsonline.com (mp3)

Recordings of renaissance polyphony by professional groups must not be allowed the field entirely to themselves when performances as good as this are available.  Last month I recommended a Christ Church recording of Victoria on Nimbus NI5434.  This Lassus recording was made some years earlier but still sounds very well, with the bright recording adding spice to the performance.  The Jäger or Huntsmen's Mass is very short but attractive – but why was the Credo omitted?  I know that this section was sometimes sung to chant, even when the other sections were sung polyphonically, but, as Lassus set the movement and there was plenty of room on the CD, its omission seems inexplicable.
My other small reservation concerns the decision to place de Rore's madrigal which provides the cantus firmus for the longer Mass at the end of the recording – surely it would have been more helpful to place it first.  With a download, of course, it's quite feasible to rearrange the order of the tracks.
Johann Sebastian Bach (1685-1750) Concerto for violin and strings in a minor BWV 10411 [13:14] Concerto for two violins and strings in d minor BWV 10431,2 [15:10] Concerto for violin and strings in E major BWV 10421 [16:28] Concerto for three violins and strings in D major (arr. from BWV 1064 by Simon Standage)1,2,3 [16:21] Simon Standage (violin)1; Micaela Comberti (violin)2; Miles Golding (violin)3; Collegium Musicum 90/Simon Standage  rec. St Jude on the Hill, Hampstead, London, 23-25 May 1995.  DDD. CHANDOS CHACONNE CHAN0594 [61:39] – from theclassicalshop.net (mp3 and lossless)

When I recommended the recent reissue of the versions of BWV1041, 1042, 1043 and 1060 by Catherine Mackintosh, Elizabeth Wallfisch, The King's Consort/Robert King (Hyperion Helios CDH55347), I made a brief mention of this version and promised to give a fuller account in this Roundup.
Simon Standage's earlier version on Archiv remains in the catalogue at full price and as a download from passionato.com; as I said in the Hyperion review, I shall continue to listen to that recording with enjoyment.  Some have, however, found his Andante of BWV1041 (much) too slow; though his time of 7:15 worries me less than others, his 6:01 here is much closer to the consensus for this movement and will, I'm sure, please the majority of listeners.  (Paradoxically, despite the faster tempo, I did find the playing here to drag a little.)  Elsewhere, just about everything is as it should be and, with good recording, especially in lossless format, the download is recommendable.
Instead of the usual BWV1060, as on the Hyperion CD, Standage here concludes with his own, effective, arrangement of the 3-Keyboard Concerto, BWV1064.
Unlike the Hyperion CD, this Chandos recording remains at full price, so even the mp3 download, at £7.99, is more expensive than its rival, at around £6.
Highly recommended
Johann Sebastian BACH Orchestral Suites for a young prince Overture (Suite) No. 1 in C (BWV 1066) [20:33] Overture (Suite) No. 2 in a minor (after Overture in b minor, BWV 1067; reconstruction: Gonzalo X. Ruiz) [17:45] Overture (Suite) No. 3 in D (after BWV 1068) [17:20]Overture (suite) No. 4 in D (BWV 1069) [17:31] Ensemble Sonnerie/Monica Huggett rec. 21-25 September 2007, Saint Silas Church, Kentish Town, London, UK. DDD AVIE AV2171 [73:45] – from classicsonline.com (mp3)
This version of four old favourites in new guise is another of the recordings which vied for the title of Download of the Month.  Johan van Veen had some small reservations about repeats – see review – which didn't prevent his awarding the recording a Thumbs Up.  I had even fewer reservations than JV so, with a 320k download which does pretty full justice to the recording, my recommendation is secure.
This wouldn't be prime recommendation, since it presents the music not in its familiar, final form, but in a putative earlier state, but it makes a very enjoyable alternative for anyone who already has a conventional recording.  Avie now have another feather in their cap to join that earned for Trevor Pinnock's remake of the Brandenburgs last year.
Highly Recommended
George Frideric Handel (1685 - 1759) Alexander's Feast (HWV75, 1736) Nancy Argenta (soprano), Ian Partridge (tenor), Michael George (bass); The Sixteen; The Symphony of Harmony and Invention/Harry Christophers rec. All Hallows Church, Gospel Oak, London. DDD Originally released on the Collins label in 1991.CORO COR16028 [69:42 + 46:04] from classicsonline.com (mp3), with texts, translations and notes.
George Frideric Handel (1685 - 1759) Solomon (HWV67, 1749) Nancy Argenta (soprano - Solomon's Queen); Barbara Hendricks (soprano - Queen of Sheba); Carolyn Watkinson (mezzo - Solomon); Joan Rodgers (soprano - first harlot); Della Jones (soprano - second harlot); Anthony Rolfe Johnson (tenor - Zadok); Stephen Varcoe (bass - a Levite); The Monteverdi Choir, English Baroque Soloists/John Eliot Gardiner First released 1985.  Reissued March, 2006.  DDD. DECCA THE ORIGINALS 475 7561 [68:41 + 67:34] from passionato.com (mp3)

When I recently reviewed the reissued Harnoncourt version of Alexander's Feast (2564 69056-2), I found it somewhat let down by its omission of any of the orchestral music associated with that work and by a less than ideal bass singer, whose account of Revenge, Timotheus cries, though well sung, just isn't powerful enough.
The Sixteen include two of the three associated orchestral pieces, the Harp Concerto, Op.4/6 and the Organ Concerto, Op.4/1, played within the performances as they originally were, but not the Concerto Grosso nicknamed Alexander's Feast, though there would have been room for this, too, to have been included, as it was in the interval of the original performance.
If you must have the Alexander's Feast concerto, it's included on the Gardiner performance on Philips, and that, too, is available as a download, from passionato.com (Philips 422 0532, £15.99).  The classicsonline and passionato downloads are at 320k; the Decca Originals reissue of Gardiner is available at the slightly lower bit-rate of 256k at £8.99 from amazon.co.uk, who also have the CDs for £9.57.
That may sway the choice to the Gardiner performance for you, as I thought it might for me, but it's Michael George's voice that eventually makes me prefer the Coro version.
The 320k mp3 sound is good and you get the booklet of notes and texts to download, but at £15.99 it's actually a few pence more expensive than some dealers charge for the CDs.

By way of compensation, it has to be Gardiner in Solomon.  When first issued, this recording ran to three LPs/cassettes/CDs, so its reissue on two CDs is a real bargain, especially as passionato are, as I write, offering 2-CD Originals for £9.99.  The performance is excellent, as is the recording, sounding much more than adequate in its mp3 guise.
Following the advice of Winton Dean, Gardiner omits some of the less interesting music, a decision which has been warmly welcomed in some quarters and deprecated in others.  I'm not about to disagree with two such eminent Handelian authorities as Dean and North, but, if it matters to you to have every last note, Passionato also offer the DG/McCreesh version on 3CDs.
You won't get the libretto with the download, but that's widely available on the web.
Discovery of the Month
Ferdinando Bertoni (1725-1813) Orfeo (1776) Delores Ziegler (mezzo - Orfeo); Cecilia Gasdi (soprano - Euridice); Bruce Ford (tenor - Hymen); Ambrosian Opera Chorus; I Solisti Veneti/Claudio Scimone rec. 3-7 July, 1990, Olympic Theatre, Vicenza, Italy.  DDD. ARTS MUSIC RED LINE 47118-2 [65:02] passionato.com (mp3 and flac)

This is a real discovery – an opera on the story of Orpheus and Eurydice, using the text which Gluck had employed for his first, Italian, version – indeed, intended for the same castrato singer.  Some of the music comes close enough to Gluck to be accused of plagiarism, but there are some interesting differences, with Bertoni harking back much more to the opera seria tradition.  The performances are good and the recording is more than adequate, especially in its lossless flac version.  At the time of writing, Arts Red Line mp3s were on offer for a mere £3.99 but Passionato's normal download price is competitive with the CD equivalent.  There are no texts or notes, but the Gluck text, which differs only slightly, is easily to be found on the web.  I strongly recommend giving this a try.
There's more (sacred) music by Bertoni on a CD of Galuppi (Messa per San Marco, 1766, Chandos CHAN0702 and downloads) which I hope to explore.
Wolfgang Amadeus MOZART (1756-1791)
Piano Concerto No. 9 in E flat, K291 (1777) [34:35]
Piano Concerto No. 23 in A, K488 (1786) [27:19]
Northern Sinfonia/Imogen Cooper (piano)
rec. live, The Sage, Gateshead, 18-20 October 2005. DDD
AVIE AV2100 [61:54] from passionato.com (mp3 and lossless) or classicsonline.com (mp3) See Musicweb review by Colin Clarke.

Like Colin Clarke, I retain a great deal of affection for Alfred Brendel's performance of the Jeunehomme Concert, K291, not least for his first recording of it which I recently reviewed as reissued on the super-budget Alto label (ALC1047, with No.14, K449).  I do think, however, that his erstwhile student Imogen Cooper has a slight edge in this live recording, coupled with K488, which has a strong claim to be the pinnacle of Mozart's concertos.  Though K488 is placed first here, the earlier work comes as by no means an anti-climax and, as CC rightly says, the applause after each is strongly deserved.  Whatever other version(s) you may have – for example, Kovacevich in K488 – this Avie recording is almost mandatory.
It's worth paying a little extra for the passionato flac version, as against the 320k mp3s from either provider, though you may have some trouble getting your computer to recognise the three tracks of K271; the trick is to shorten the filename after the 'No.9' and add the extension '.flac' (or '.mp3' for the mp3 version).
Felix Mendelssohn (1809-1847) Complete Symphonies
CD 1 [72:57]
Symphony No. 1 in c minor, Op. 11 [32:16]
Symphony No. 3 in a minor 'Scottish', Op. 56 [40:34]
CD 2 [72:57]
Symphony No. 2 (Lobgesang) in B flat, Op. 52 [72:57]
CD 3
Symphony No.4 in A, Op.90 (Italian) [29:41]
Symphony No.5 in D, Op.107 (Reformation) [32:37]
Overture: The Hebrides, Op.26 [10:03]
Cynthia Haymon (soprano I)*; Alison Hagley (soprano II)*; Peter Straka (tenor)*; Philharmonia Chorus*; Leslie Pearson organ; Philharmonia Orchestra/Walter Weller 
rec. St Jude on the Hill, Hampstead, London, 6-7 February 1991 (Symphonies Nos.3 and 4), 10-11 April 1991 (Symphony No. 2); 5-6 May 1992 (Symphonies Nos.1 and 5).  DDD.
CHANDOS CHAN10224(3)X [3 CDs: 72:57 + 72:57 + 72:36]
from theclassicalshop.net (mp3 and lossless)

On CD and as an mp3 download, these three discs come as a package, for £15.64 and £9.99 respectively, but the lossless downloads may be purchased separately at £4.99 each, which would be useful if you followed my recent recommendation of the Naïve/Krivine recording of Nos. 4 and 5 (V5069 – see June, 2009, Roundup and MG's review of the CD) and simply wish to complete a set of Mendelssohn symphonies.  Weller's performances are very good and the recording to match, especially in the form of the lossless download – go for the .flac version for preference, unless you intend to listen and/or burn to CDR via iTunes, in which case the .wav version will be preferable.
Weller's version of the Italian symphony is also available with excellent Howard Shelley performances of the First Piano Concerto and Capriccio Brillant on an inexpensive Chandos Introduction to Mendelssohn (CHAN2025) which I recommended a year ago.
Camille SAINT-SAËNS (1835-1921)
Le Carnaval des animaux (ed. Durand) [22:23]; Fantaisie pour violon et harpe Op.124 [12:53]; Romance pour violoncelle et piano Op.36 [3:20]; Prière pour violoncelle et piano Op.158 [5:15]; 'Mon coeur s'ouvre à ta voix' extract from Samson et Dalila [2:55]; Septet in E flat Op.65 [16:04]
Renaud Capuçon, Béatrice Muthelet, Esther Hoppe (violins); Gautier Capuçon (cello); Emmanuel Pahud (flute); Paul Meyer (clarinet); David Guerrier (trumpet); Frank Braley, Michel Dalberto (pianos); Janne Saksala (double bass); Marie-Pierre Langlamet (harp); Florent Jodelet (percussion) – rec. 2003.  DDD.
VIRGIN CLASSICS 5 45603-2 [63:00]
from passionato.com (mp3 and lossless)

There are many recommendable versions of The Carnival of the Animals on CD and as downloads but none, I think, which captures the fun of the music as well as this – just listen to the glorious hash which the pianists make of their scales (track 11) to take just one example.  With attractive couplings, especially the Septet, which also receives a splendid performance, and fine recording, especially the lossless flac version, this deserves a strong recommendation as a bit of fun among some mostly serious music in this month's Roundup.  Both the 320k mp3 and flac versions, at £7.99 and £9.99 respectively, are competitive economically with the full-price CD.
Mily Alexeyevich BALAKIREV (1837-1910)
Piano Concerto No. 1 in F sharp minor, Op. 1 (1855-56) [14:17]
Piano Concerto No. 2 in E flat major (completed by Sergei Lyapunov) (1864/1906) [36:41]
Grande Fantaisie on Russian Folksongs, Op. 4 (1852) [18:32]
Anastasia Seifetdinova (piano); Russian Philharmonic Orchestra/Dmitry Yablonsky
rec. 25-30 November 2006, Studio 5, Russian State TV & Radio, Co KULTURA, Moscow, Russia
NAXOS 8.570396 [69:27]
from classicsonline.com (mp3)  or passionato.com (mp3 and lossless)
See Musicweb reviews by Dan Morgan and Colin Clarke.

Dan Morgan could muster only one cheer (out of three), though he still recommended purchasing the CD for the sake of the youthful Grande Fantaisie.  Colin Clarke was much more enthusiastic: 'This is a fascinating release well worthy of investigation.'
I must admit that I've been a sucker for Balakirev ever since, years ago, a friend played me the Beecham recording of the First Symphony; I rushed out and bought it, on the HMV Classical favourites label, the next day and I snapped up the CD reissue as soon as it became available.
My wife has always been more ambiguous about Balakirev, alleging that vast swathes of his music go nowhere.  She's right, of course – and the same is true of these concertos – but the journey is much more interesting than the (non-)destination in that classic Beecham performance and on this new Naxos recording.  The performance is more than adequate and the recording is very good, especially in passionato's first-rate lossless flac version, as played directly via Squeezebox.  The 320k mp3 from Naxos's own classicsonline.com is also very good of its kind, but I'm very much looking forward to the promised time (soon) when they, too, issue flac downloads.
As for the First Symphony, I'm afraid that Beecham's EMI Studio CD has been deleted, but there are decent alternatives from Svetlanov on Regis (RRC1131) and Golovschin on Naxos (8.550792 and download), both at super-budget price.  Hyperion and Chandos also have recommendable 2-for-1 sets containing both symphonies (CDD22030 and CHAN24129 and download, respectively).
Antonín Dvořák (1841-1904)
Piano Quintet in A, Op.81 [39:00]
String Quartet No.10 in E flat major, Op.51 - B.92 [32:02]
Andreas Haefliger; Takács Quartet
rec. Potton Hall, Dunwich, Suffolk, November 1998.  DDD.
DECCA 466 1972 [71:02]
from passionato.com (mp3)


My allegiances still lie with the Clifford Curzon/Vienna Philharmonic Quartet performance of the Quintet; though that's currently available only on a 4-CD set or download from Universal classicsandjazz.co.uk (475 0842) you do also get his version of the Franck Quintet, his superb accounts of Schubert's last Piano Sonata, D960, the Grieg Piano Concerto, Mozart Piano Concertos 23 and 24, etc., so there are plenty of compensatory riches for the inconvenience.
The Haefliger/Takács version is my preferred alternative among more recent single CD recordings; though that, too, appears to be currently unavailable on CD, passionato's 320k download offers a much more than acceptable substitute.  The performance achieves just the right blend of power and affection, with even a touch of Schmaltz in the right places and the Quartet, B92, makes a good coupling – it's not eclipsed by its proximity to the wonderful Quintet, though I would have preferred the playing order to have been reversed, with the Quartet first.  (See Michael Cookson's review of this version as part of a box set.)
If you must have lossless sound, go for the Chandos recording with Jeremy Menuhin and the Chilingirian Quartet (CHAN9173).
Gustav MAHLER (1860–1911)
Symphony No.6 (1903-4, perf. 1906) [83:53]
London Philharmonic Orchestra/Klaus Tennstedt
rec. live, Royal Albert Hall, London, 1983.  BBC Recording. ADD.
LPO LPO-0038 [52:56 + 30:57]
from classicsonline.com (mp3)


This is the perfect antidote for those who don't like Gergiev's hard-driven account on the LSO Live label which I reviewed last year (LSO0061 – see review).  Not that this is too soft-centred – far from it – or that Mahler's music doesn't lend itself to a variety of approaches; I certainly shan't be ditching Gergiev, but it has to be admitted that Tennstedt's Mahler, with eight more minutes to breathe, will probably have a wider appeal.  Those for whom it matters should note that Tennstedt places the Andante third; I tend to prefer it in second place, but I'm not going to go to the stake over it.
The BBC recording is not at all bad for its 1983 date, though it's not as immediate as some modern versions.  I made the mistake of listening to this immediately after a bright Chandos recording in their Contemporaries of Mozart series; the contrast made the LPO sound seem dry at first, but the ear soon adjusts.
Classicsonline's price of £9.99 for the two CDs takes into account the short playing time – Gergiev, of course, fits the whole symphony on one CD.  Playing the new recording via Squeezebox, of course, alleviates the need to change CDs between the third and fourth movements.  Like John Quinn, I thought this rather special – see review.
Alexander Konstantinovich Glazunov (1865-1936)
The Seasons: Ballet, Op.67 [35:34]
Concerto for Violin and Orchestra in a minor, Op.82 [20:48]
Oscar Shumsky (violin); Royal Scottish National Orchestra/Neeme Järvi 
rec. Henry Wood Hall, Glasgow, 28-29 October 1987.  DDD.
CHANDOS CHAN8596 [56:32]
from theclassicalshop.net (mp3 and lossless)

Järvi takes The Seasons at quite a pace, but all the lyricism is there, too.  With the Violin Concerto as an apt coupling, in an equally fine performance, you need look no further for Glazunov's two most popular works; indeed, I don't think that anyone else has offered them together.  This is music to wallow in and these performances certainly allow you to that.  The recording is good, if a little reverberant, and the lossless download sounds very well.  See below (the Bacewicz review) for a way to avoid having your player follow track 1 with track 10.
Lord Berners (Gerald Hugh Tyrwhitt-Wilson) (1883-1950)
The Triumph of Neptune [43:16]; L'uomo dai baffi (The man with the moustache) [15:52]; Valses bourgeoises (orch. P. Lane) [7:43]; Polka (orch. Philip Lane) [2:37]
English Northern Philharmonia; Royal Ballet Sinfonia/David Lloyd-Jones rec. 1998.  DDD. MARCO POLO 8.223711 [69:23] from passionato.com (mp3 and lossless) and classicsonline.com (mp3)

This recording is no longer available on CD which, I hope, means that it will be transferred to the less expensive Naxos label.  I can't pretend that it's the greatest music ever – most will probably be content with the more familiar Suite from The Triumph of Neptune – but it is attractive and it does deserve this, its only outing on record in its full form.  The ENP and Royal Ballet Sinfonia make good cases for it and the recording is good, even in plain mp3 format.  If it's just the 25-minute Suite from Neptune that you want, classicsonline can offer the classic 1952 Beecham recording, coupled with Arnell's Punch and the Child, for £1.99 on Naxos Classical Archives 9.80798. L'uomo dai baffi certainly doesn't deserve its (otherwise total?) neglect on record. Philip Lane's excellent notes are available to all-comers on the classicsonline web site.
Francis Poulenc (1899-1963) Concerto for Organ, Strings & Timpani in g minor (1938) [21:24]
Pierre Petit (1922-2000) Concertino for Organ, Strings & Percussion (1958) [20:49]
Samuel Barber (1910-1981) Toccata Festiva Op. 36 (1960) [16:20]
Gillian Weir (organ); English Chamber Orchestra/David Hill; Raymond Leppard
First released 2001.  DDD.
LINN CKD 178 [59:00]
from linnrecords.com (mp3 and lossless)

With Gillian Weir as organist and two such experienced conductors, this recording could hardly go wrong.  I have seen it suggested that the balance in the Organ Concerto over-favours the solo instrument – indeed, it does, but that didn't worry me at all.  The couplings are so little known that this recording might well be recommended as Discovery of the Month on their behalf alone; neither is overwhelmed by being juxtaposed with the much more famous Poulenc work.  Apart from the noted imbalance – which, as I say, was not a major problem for me – the recording is excellent.  I listened via Squeezebox to the lossless version (available as .wma or .flac for £10) but Linn's 320k mp3 (at £8) downloads have always been more than adequate in my experience. 
I tried the 24-bit Studio Master versions but, while other Linn and Gimell 24-bit recordings are compatible with Squeezebox, it reported that the 88.2kHz sample rate of this particular download was incompatible.  Make sure that your system is compatible before you try the .wma or .flac Studio Master version, then; otherwise stick with one of the normal CD-quality versions.
Dmitri Shostakovich (1906-1975)
String Quartet No.7 Op. 108; String Quartet No.4 Op.83; Piano Quintet in g Minor Op.57*  
Ian Brown (piano)*; Schidlof Quartet (Ofer Falk; Rafael Todes (violins); Graham Oppenheimer (viola); Oleg Kogan (cello)) – first released 1997.  DDD.
LINN CKD065 [69:26] – from linnrecords.com (mp3 and lossless)

The critical response to this recording in 1997 was pretty dire, with one reviewer opining that pretty well any other recording of the Quartets would be preferable and that even Ian Brown's contribution was not enough to keep the Piano Quintet afloat.  It's true that other recordings find a greater degree of passion in these Quartets, notably the Shostakovich Quartet, who couple them with Nos.1-3 and 5 on a very inexpensive 2-CD Regis set (RRC2028), but I didn't find the performances quite as bland as those 1997 reviews imply – perhaps I'm 'filling in' what is missing here from memory of other performances, or I'm carried away by the immediacy of the sound?
The Piano Quintet is certainly well worth hearing, with all the passion that is missing in the Quartets, and the recording is excellent throughout in the lossless .flac version.
Grażyna Bacewicz (1909-1969)
Concerto No. 7 for Violin and Orchestra, dedicated to Agustin León Ara (1965) [21:57]
Concerto No. 3 for Violin and Orchestra (1948) [23:08]
Concerto No. 1 for Violin and Orchestra (1937) [12:22]; Uwertura (Overture) (1943) [5:51] 
Joanna Kurkowicz (violin); Polish Radio Symphony Orchestra/Lukasz Borowicz 
rec. Witold Lutoslawski Concerto Studio, Polish Radio, Warsaw, 21-24 October 2008 and 2-6 February 2009. DDD.
CHANDOS CHAN10533 [63:47] – from the classicalshop.net (mp3 and lossless)

Yet another centenary to celebrate in 2009 – that of the birth of Polish violinist and composer Grażyna Bacewicz.  Full marks to Chandos for spotting the occasion and celebrating it in this way.  There's no doubting violinist Joanna Kurkowicz's enthusaiasm for the music and I'm sure that this recording offers the best possible advocacy, but I'm afraid that I wasn't at home with Bacewicz's idiom.  My wife complains of Balakirev's music, which I love, that it's intermittently beautiful but ultimately that it goes nowhere; I'm afraid that I'd say the same of Bacewicz.  I preferred the Adès concerto (below).  Excellent recording and very good transfer.  Like all downloads from theclassicalshop, you may find yourself playing track 10 after track 1, followed by track 2.  This is due to a quirk in programmes such as Squeezebox – the solution is to rename 'tk1' as 'tk01', etc.  Better still would be for the boffins at Chandos to do this with future downloads.  I'm assured that, when they revamp their site soon, they will bear this in mind.
Thomas Adès (b.1971)
Violin Concerto: Rings [04:01]; Paths [10:45]; Rounds [05:20]
Anthony Marwood (Violin); Chamber Orchestra of Europe/Thomas Adès
rec. 2007?  DDD
EMI Download only 5002712 [20:08 ] – from passionato.com (mp3 or lossless) or iTunes

A friend who came round the other day brought the new recording of Adès's The Tempest.  I liked what I heard at least well enough to download it when it becomes available online and, meanwhile, it encouraged me to listen to his Violin Concerto, released in 2008 as a download only until EMI have a suitable pairing for it on CD.

It's not easy to say why I find this more approachable than the Bacewicz Concertos – it's certainly not neo-romantic or neo-classical music and the opening Rings is quite angular. The second movement, the longest, Paths, sets a lyrical solo against a stormier orchestral accompaniment. The finale, Rounds, is, for me, the most attractive: think of the Berg Violin Concerto or K A Hartmann's Concerto funèbre, and you will be somewhere in the right area. Which is not to suggest that the music is at all derivative: in fact, it's not easy to describe what it's 'like'. Though not a lover of most contemporary music, I am rapidly warming to the very individual voices of Adès and Macmillan.


As with all new music, I'll have to let it grow on me for a while before I give a definite answer, but my interim position is favourable.  The iTunes version comes in 256k mp3 sound; the passionato is a little more expensive, but it's offered at 320k mp3 or as a flac lossless download, in which form the recording sounds excellent.
Brief recommendations with links to Musicweb reviews:
(Franz) Joseph HAYDN (1732-1809) String Quartets (Volume 2)
String Quartet No. 23 in F minor, Op. 20, No.5, Hob.III:35 [22:55]
String Quartet No. 32 in C major, Op. 33, No.3, Hob.III:39, 'The Bird' [20:05]
String Quartet No. 64 in D major, Op. 76, No.5, Hob.III:79 [19:29]
The Jerusalem Quartet – rec. 2008/9?  DDD.
HARMONIA MUNDI HMX296 2030 [62:30]
f rom classicsonline.com (mp3)

The Quartet's earlier recording of Op.64/5, Op.76/2 and Op.77/1, described by Colin Clarke as 'a magnificent disc' – see review – has recently been reissued at mid price on HMX296 1823 as 'Volume 1' in what I hope is a projected series.  As before, we have a selection of quartets from different periods, which some will prefer to having three related quartets, in excellent performances – no matter that CC thought the players better on record than in the flesh.  The classicsonline transfer (320k) is very good and, though the CD is at mid price, the download is still (just) competitive unless you require the notes.
Ruperto CHAPÍ (1851-1909)
la Corte de Granada: Fantasía Morisca (1873 rev. 1879) [22:18]
Symphony in d minor (1877 rev. 1879) [34:29]
Orquesta de la Communidad de Madrid/José Ramón Encinar
rec. rehearsal hall, Orchestra and Chorus of the Communidad de Madrid, Teatro Isabel Clara Eugenia, Spain, 25-29 June and 15-17 October 2007
NAXOS 8.572195 [56:49]
from passionato.com (mp3 and lossless) or classicsonline.com (mp3)
"[H]ere is a very enjoyable but inexpensive disc of two very worthwhile pieces by a composer who clearly ought to be better known beyond his own country." (John Sheppard  - see review.)  Be prepared to find the music unusual for its date, in neo-classical (or, in the Fantasía, neo-galant) manner, with prominent organ parts and a harpsichord in the finale of the Fantasía.  The flac download is especially good, though slightly more expensive than the mp3 versions from both websites (both at the maximum 320k).  The classicsonline site offers the booklet; passionato don't, but you can get the notes from the Naxos site.
John IRELAND (1879-1962)
Trio in D for clarinet, cello and piano (ed. & reconstr. by Stephen Fox) (1912-3) [23:15]
Fantasy Sonata for clarinet and piano (1943) [13:33]
The Holy Boy for clarinet and piano (1913) [2:44]
Sextet for clarinet, French horn and string quartet (1898) [26:52]
Robert Plane (clarinet); Sophie Rahman (piano); Alice Neary (cello, Trio); David Pyatt (French horn, Sextet); Maggini Quartet
rec. 20-21 April 2008, Potton Hall, Westleton, Suffolk (trio & fantasy); 25 April 2008, St. Silas Church, Chalk Farm, London (sextet & Boy). DDD
NAXOS 8.570550 [66:25]
from passionato.com (mp3 and lossless) and classicsonline.com (mp3)
"This CD is a must for all Ireland enthusiasts – however many recordings of the Fantasy Sonata there are (9); there is always room for one more – and this present CD is a great one!" (John France – see review).  The passionato .flac transfer is excellent and I've no reason to doubt that the classicsonline and passionato mp3 transfers (both at 320k) are also good.
Joseph CANTELOUBE (1879–1957)
Chants d'Auvergne (selection) [23:19]; Triptyque (1914) [16:04];
Chants de France (selection) [17:35]
Véronique Gens (soprano); Orchestre National de Lille-Région Nord/Pas-de-Calais/Serge Baudo
rec. Auditorium du Nouveau Siècle, Lille, 6-9 January, 2007.  DDD.
Texts available online.
NAXOS 8.570338 [56:58]
from passionato.com (mp3 and lossless) and classicsonline.com (mp3)

'A most welcome addition to the catalogue.' (Hubert Culot: Bargain of the Month – see review).  The download is equally desirable and, for once, there's little advantage in buying the CD, since the texts and translations are not included in the booklet – both CD purchasers and downloaders can obtain these online.  Classicsonline offer the booklet as a pdf.; passionato don't.   On other hand, passionato offer a lossless (flac) version, which many will prefer, albeit at about the same price as the CD.  Both providers offer 320k mp3 versions, which will be more than adequate for most listeners.  Both also offer the first volume, completely devoted to those Chants d'Auvergne not included here, a must for those who missed it.  (8.557491: another Bargain of the Month – see review.)
Aram Il'yich KHACHATURIAN (1903-1978)
Concerto-Rhapsody for Violin and Orchestra (1961) [25:41] 
Violin Concerto on d minor (1940)
Nicolas Koeckert (violin); Royal Philharmonic Orchestra/José Serebrier
rec. The Colosseum, Town Hall, Watford, UK, 10-11 April, 2008.  DDD.
NAXOS 8.570988 [64:05]
from classicsonline.com (mp3)
"Nicolas Koeckert effortlessly rises to Khachaturian's technical demands." (See review by John-Pierre Joyce).  The mp3 transfer is good but suffers from the same backward balance of the orchestra as the CD.  If, like me, you still find the 1954 Oistrakh recording with the Philharmonia and Khachaturian, with its faster tempi, your benchmark, classicsonline have that, too, for £1.99 in their Classical Archives series (9.80275).
Alan HOVHANESS (1911-2000)
Cello Concerto Op. 17 (1936)1 [31.13]
Symphony No. 22 City of Light Op. 236 (1971)2 [29.43]
Janos Starker (cello); Seattle Symphony/Dennis Russell Davies1; composer2
rec. 19 March 1999, Benaroya Hall, Seattle1; 19 May 1992, Seattle Center Opera House. DDD
NAXOS 8.559158 [60.49]
from passionato.com (mp3 and lossless) and classicsonline.com (mp3)
"A contrasting couple of works, stunningly recorded and well annotated by Steven Lowe. The spare and rare Cello Concerto [is] played by the world renowned – and rather breathy – Starker and the composer-directed Symphony No. 22, an artefact of his lush-plush mystical 1970s." – see Rob Barnett's review, with links to further reviews by John France and Ian Lace.
The passionato lossless download is very good but comes at a premium when, at the time of writing, the classicsonline mp3 is temporarily discounted to £3.74.
And finally ...
I promised to say more about two recordings to which I gave a preliminary thumbs-up last month:
Sacred Garland: Devotional Chamber Music from the Age of Monteverdi
Nicolo Corradini (d. 1646) Spargite flores (Venice, 1613) [4:19];
Claudio Monteverdi (1567-1643) Venite, sitientes ad aquas (Venice, 1624) [4:09]; Giovanni Pierluigi da Palestrina (1525/26-1594) Pulchra es amica mea (Milan, 1620) [4:34]; Alessandro Grandi (1586-1630) Jesu, mi dulcissime (Venice, 1625) [3:20]; Michelangelo Rossi (c. 1602-1656) attrib. Partite sopra la Romanesca (Rome, 1657) [2:43] ; Tarquinio Merula (1594/95-1665) Nigra sum (Venice, 1624) [3:53]; Alessandro Piccinini (1566-c. 1638) Toccata XII - from Intavolatura di liuto, et di chitarrone, libro primo (Bologna, 1623) [2:34]; Ignatio Donati (c. 1570-1638) O gloriosa Domina (Milan, 1626) [3:30]; Giovanni Battista Bovicelli (fl. 1592-1594) Angelus ad pastores (Venice, 1594) [4:05]; Girolamo Alessandro Frescobaldi (1583-1643) Canzona 'La Bernardinia' (Rome, 1628) [3:03] ; Giovanni Picchi (fl. 1600-1625) Toccata [4:31]; Benedetto Re (fl. early 17th c.) Tulerunt Dominum (Venice, 1618) [3:19]; Girolamo Alessandro Frescobaldi Canzona 'La Capriola' (Rome, 1628) [3:29]; Giovanni Girolamo Kapsberger (c. 1580-1651) Toccata VII (Rome, 1640) [3:58]; Archangelo Crotti (fl. 1608) Congratulamini (Venice, 1608) [3:52] ;
Girolamo Alessandro Frescobaldi Toccata I (Rome, 1637) [3:46];
Tarquinio Merula Gaudeamus omnes [3:23]
The Gonzaga Band (Faye Newton (soprano); Jamie Savan (treble cornet, mute cornet); Richard Sweeney (theorbo); Steven Devine (harpsichord, organ))
rec. Church of St Andrew, Toddington, 2-4 April 2008. DDD.
CHANDOS CHAN0761 [63:24]
from theclassicalshop.net (mp3 and lossless)
Palestrina, Gombert, Lassus, Victoria, etc. 'Song of Songs'
Ego flos campi [6:05]; Osculetur me [3:24]; Antiphon: Cum esset rex [0:44]; Surge, propera amica mea [6:07]; Quam pulchra es [6:11] ; Antiphon: Nigra sum [0:41]; Veni, dilecte mi [4:19]; Vadam et circuibo [10:41]; Alleluia: Tota pulchra es [2:41]; Ego flos campi [3:18]; Nigra sum [5:34]; Antiphon: Læva eius [0:37]; Hortus conclusus [5:33]; Nigra sum [3:58]; Antiphon: Speciosa facta es [0:42]; Veni, dilecte mi [4:22]; Trahe me post te [5:16]; Antiphon: Iam hiems transiit [0:49]; Vidi speciosam [6:39]
Stile Antico
HARMONIA MUNDI HMU80 7489 [77:28]
from emusic.com (mp3, variable bit-rate)


I'm delighted to be able to confirm my initially favourable impressions of both: the Harmonia Mundi in particular has been a regular favourite and may be strongly recommended.  The only problem is that this recording may tempt you to hear the whole of Palestrina's settings of Canticum Cainticorum, The Song of Songs, in which case I recommend that you go for the inexpensive Virgin Double CD with the Hilliard Ensemble (5622392), available for around £8 – don't buy it as a download, which is likely to cost more than the CDs – or the single budget-price Hyperion CD (Helios CDH55095 – again, the CD is less expensive than the iTunes download).  There's also a recording by Magnificat on Linn (CKD174, CD and mp3 and lossless downloads) which I haven't heard but which was well received; I hope to report on in a future Roundup.
The small-scale music on Chandos is a little more esoteric but it is very attractive and the performances and recording are fully worthy of it.
Brian Wilson
Postscript
Very positive initial reactions to two Hyperion September issues, due to be available soon as downloads (see the Phinot review above):

Francisco Guerrero (1528-1599)
Missa De la batalla escoutez & other works
Pange lingua gloriosi  [8:31] ;
Missa De la batalla escoutez  [29:18] ;
In exitu Isræl [13:58];  Duo seraphim clamabant [4:19]; Regina cæli lætare, alleluia [3:34]; Magnificat octavi toni [7:27]; Conditor alme siderum [4:13] 
Westminster Cathedral Choir, His Majestys Sagbutts & Cornetts/James O'Donnell
rec. All Hallows, Gospel Oak, London, June, 1999.  DDD.
(reissue: from CDA67075)
Texts and translations included.
HYPERION HELIOS CDH55340 [70:59]
A splendid budget-price reissue.
William Byrd (1539/40-1623)
The Cardinall's Musick Byrd Edition 12: Assumpta est Maria
Salve sancta parens  [4:55]; Benedicta et venerabilis  [2:33]; Felix es, sacra Virgo  [1:36] ;  Beata es, Virgo Maria  [2:10]; Beata viscera  [1:48]; Quem terra, pontus, æthera  [4:30] ; 7  Salve regina a 4  [4:23]; O gloriosa Domina  [3:41] ; Vultum tuum  [6:16]; Diffusa est gratia  [7:10]; Ave Maria  [1:45]; Ecce virgo concipiet – Alleluia  [1:41]; Memento, salutis auctor  [3:05]; Salve sola Dei genetrix  [3:04]; Ave maris stella  [7:48]; Gaudeamus omnes in Domino  [5:23] ; Propter veritatem et mansuetudinem  [4:05] ;  Assumpta est Maria  [1:31] ;  Optimam partem elegit  [1:57] 
The Cardinall's Musick/Andrew Carwood
rec. Fitzalan Chapel, Arundel Castle, 10–12 November, 2008.  DDD.
Texts and translations included.
HYPERION CDA67675 [69:21]

A very worthy successor to The Cardinall's Musick's recent recording of music associated with feasts of St Peter – but don't jettison the earlier Hyperion budget-price reissue of much of this Marian music from the Gradualia – Helios CDH55047 (Pro Cantione Antiqua/Bruno Turner).
More details of both recordings next month
Brian Wilson