FEBRUARY 2011 DOWNLOAD ROUNDUP
Brian Wilson
Download of the Month
Ottorino RESPIGHI (1879-1936)
Fontane di Roma (1916) [16:36]
Pini di Roma (1924) [21:42]
Feste Romane (1929) [24:27]
São Paolo Symphony Orchestra/John Neschling
rec. February 2008, Sala São Paolo, Brazil. DDD.
BIS-SACD-1720 [63:41] – from eclassical.com (mp3, lossless and 24-bit)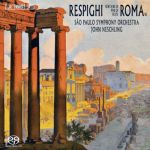 The accolade is as much for the eclassical download website as for this recording. This was my introduction to the site and it marks an auspicious beginning. It offers BIS, Signum, Hänssler, HNH and Proprius recordings in full bit-rate mp3 and 16-bit and 24-bit lossless flac, all at a very reasonable price. Where other sites have a standard charge, often more expensive for lossless, or charge by the track, eclassical charges by the second. Like Hyperion, who reduce their charge slightly for shorter recordings, but without the per-second finesse of eclassical, flac and mp3 come at the same price, for this site stated in US dollars. This Respighi recording costs $7.52 ($11.28 for 24-bit), which works out very reasonably by comparison with classicsonline.com who charge £7.99 for 320k mp3 BIS downloads and Passionato.com, who charge £7.99 and £9.99 for 320k mp3 and lossless respectively. Most eclassical downloads, like this one, come with a pdf booklet.

The lossless flac download of the Respighi Trilogy is excellent and the performances are every bit as fine as Dominy Clements states in his review here - a well-deserved Recording of the Month. Don't forget Pappano's very fine EMI Classics recording, which adds Il Tramonto to the Trilogy (394429-2: Download of the Month in October 2009 Download Roundup. See also Tim Perry's 2007 review).

Both versions offer plenty of zest where appropriate - and it often is appropriate in Respighi's film-like music - but there are more delicate moments and both Pappano and Neschling are excellent at finding and responding to these. I mentioned Pappano's skill in holding his forces in abeyance until the right moment, a skill which Neschling also demonstrates, in Pini del Gianicolo, for example, or Pini della Via Appia, before the legionaries come marching with hob-nail boots. Even Feste Romane sounds less than usual to be full of mere sound and fury. Neither Neschling nor Pappano works with a big-name orchestra, but both the Santa Cecilia and the São Paolo orchestras can look their better-known fellows in the eye on the basis of these recordings.

If you already have Il Tramonto - perhaps in Tamás Vasary's Chandos recording which I recommended in the November 2008 Download Roundup (CHAN8193), coupled with the charming Botticelli Pictures and even more charming The Birds - the new BIS recording becomes even more desirable: bear in mind that the eclassical download price takes the shorter playing time into account. You get what you pay for, which is much better than eMusic's system of charging per track. Recordings with lots of short tracks work out more expensive than the parent CD at eMusic, sometimes hugely more expensive, whereas Mahler and Bruckner symphonies are very inexpensive. The eclassical system irons out all those anomalies and the mp3s are all at the optimum 320kb/s.

I recently praised the São Paolo Orchestra in downloads of three BIS CDs of the Villa Lobos Chôros - see review. I had to rely for expediency on downloads from eMusic and the Naxos Classical Library in compiling that review. If I had had access to eclassical then, that would have been my preferred source:

· Volume 1 (BIS-CD-1440) here ($9.25 at the time of writing)
· Volume 2 (BIS-CD-1450) here ($9.58 at the time of writing)
· Volume 3 (BIS-CD-1520) here ($9.42 at the time of writing)
Additionally the BIS recording of Villa Lobos's Floresta do Amazonas is available here ($9.35 at the time of writing).

[This review has already appeared as an appendix to Dominy Clements' review to which I refer above.]

Bargain of the Month

John DOWLAND (1563-1626) Lachrimæ (1604)
Lachrimæ antiquæ pavan: Sir John Souch his galliard: Lachrimæ antiquæ novæ pavan: The King of Denmark's galliard: Lachrimæ gementes pavan: The Earl of Essex galliard: Lachrimæ tristes pavan: M. Thomas Collier his galliard: Lachrimæ coactæ pavan: M. Nicholas Gryffith his galliard: Mrs. Nichols Almand: [28:04]
Lachrimæ amantis pavan: M. Henry Noel his galliard: Lachrimæ veræ pavan [8:29]
Captaine Digorie Piper his galliard: Semper Dowland semper dolens: M. Giles Hobies galliard: Sir Henry Umpton's funeral: M. Bucton's galliard: M. John Langton's pavan: M. George Whitehead his almand. [20:59]
Philomusica of London/Thurston Dart
From Oiseau-Lyre OL50163 (1958) ADD/mono
PAST CLASSICS [57:32] – from eMusic and Amazon.co.uk (mp3)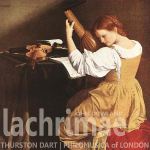 This recording, first issued in mono in 1958 and later in 'electronic stereo', is no mere blast from the past. Thurston Dart's scholarship and, even more, his instinctive feel for the music mean that this recording of Downland's masterpiece is still well worth hearing, despite the thin recorded sound. There's a fine line with recordings of this period; though this is much better than the Purcell/Lully from Past Classics (below), there's scope for improvement - perhaps Beulah*, who have done Dart's Handel Water Music proud, or High Definition Tape Transfers will oblige with a better transfer, but the music shines through the recording and there is little or no surface noise. From eMusic the three tracks cost a mere £1.26 - less to established subscribers - from Amazon £2.37, a genuine bargain indeed for music-making of this quality. Their information, however, is far from adequate: this is indeed the early-music-pioneering Philomusica of London, as Past Classics correctly attribute it on the cover, not the Philharmonia which eMusic and Amazon claim. I've also added the details of the individual pieces which are interspersed with the seven pavans: eMusic and Amazon list only the pavans. A fine supplement to more recent recordings.
* I understand that Beulah have no such plans at present.

LÉONIN (fl.1150s, d.c.1201)
Magister Leoninus - 1
Alleluya. Non vos relinquam orphanos [8:05]
Alleluya. Dulce lignum, dulces clavos [8:02]
Alleluya. Spiritus Sanctus procedens [7:14]
Alleluya. Paraclitus Spiritus Sanctus [8:40]
Priusquam te formarem [8:44]
Alleluya. Inter natos mulierum [8:07]
Viderunt omnes fines terre [8:13]
Alleluya. Dies sanctificatus illuxit nobis [6:32]
Alleluya. Pascha nostrum immolatus est [6:07]
Red Byrd (John Potter, Richard Wistreich)
Cappella Amsterdam
rec. 1997. DDD.
Texts and translations included as pdf.
HYPERION HELIOS CDH55328 [71:10] – from Hyperion (mp3 and lossless)

Magister Leoninus - 2
Christmas: Iudea et Iherusalem [6:55]
Descendit de celis [12:42]
Easter: Et valde mane [10:49]
Christus resurgens [5:55]
Sedit angelus [13:07]
Pentecost: Dum conplerentur [7:42]
Advenit ignis [6:21]
Repleti sunt omnes [7:12]
Benedicamus Domino [2:31]
Red Byrd (John Potter, Richard Wistreich)
YORVOX
rec. 2001. DDD.
Texts and translations included as pdf.
HYPERION HELIOS CDH55338 [74:33]– from Hyperion (mp3 and lossless)



I reviewed and recommended the first of these reissues in CD format some time ago – see review. It's now joined by the second, then languishing in the special-order archives: I hope that my enthusiasm for it and Gary Higginson's for its original release – see review – were partly responsible for its reissue now. Bear in mind my warning that Léonin's style sounds odd to the modern ear, but is well worth persevering with, especially having the Hyperion notes to help. It's hypnotic when you do become attuned to it. Remember, too, my concluding remark that Volume 2 is possibly the more amenable and you may download either or both with confidence. The lossless download is in every way comparable in quality with the CD.

The Spirits of England and France - 5
Missa Veterem hominem - an anonymous English Mass-setting from c1440 - and other fifteenth-century English music
Jesu, fili virginis [2:44]
Doleo super te [1:36]
Gaude Maria virgo [3:04]
Deus creator omnium [2:55]
Missa Veterem hominem: Kyrie 'Deus creator omnium' [5:33]
Missa Veterem hominem: Gloria [4:50]
Jesu salvator [2:18]
Missa Veterem hominem: Credo [4:49]
A solis ortus [3:30]
Missa Veterem hominem: Sanctus and Benedictus [5:28]
Salvator mundi [2:38]
Missa Veterem hominem: Agnus Dei [4:55]
Christe, qui lux es [2:07]
To many a well [5:22]
Sancta Maria virgo [1:33]
Mater ora filium [1:23]
Ave maris stella [2:28]
John DUNSTABLE (c.1390-1453) Beata mater [2:49]
Pange lingua [3:54]
Gothic Voices/Christopher Page - rec. July 1996. DDD.
Texts and translations available as pdf document
HYPERION HELIOS CDH55285 [65:23] – from Hyperion (mp3 and lossless)



The Missa veterem hominem is related to the Missa Caput which Gothic Voices recorded on Volume 4 of this fascinating series (CDH55284 – see review by Jonathan Woolf and September 2010 Roundup): both are among the earliest cantus firmus mass cycles, both may rightly be regarded as early masterpieces, and both emanate from the huge influence which English music had on continental Europe in the age of Dunstable (or Dunstaple) and his contemporaries. It's set in context here with monophonic settings from the Sarum Missal, the rite most in use in medieval England, and a work by Dunstable. With superb performances and the usual scholarly but readable notes – practically a given considering the combination of Christopher Page, Gothic Voices and Hyperion – this is another strong recommendation, especially at its new reduced price and because it completes the series of five reissues.

The music by Dunstable here, on Volume 3 of the series (CDH55283), and The Service of Venus and Mars (CDH55290) is a strong appetite-whetter: for a complete course: try the Orlando Consort in a 74-minute programme wholly devoted to his music, including the Missa Rex seclorum (Metronome METCD1009 – see review: download from eMusic – see November 2008 Download Roundup).

Jacobus CLEMENS NON PAPA (c.1510 - c.1555)
Pastores quidnam vidistis [4:46]
Missa Pastores quidnam vidistis [27:58]
Tribulationes civitatum [5:15]
Pater peccavi [8:36]
Ego flos campi [4:11]
The Tallis Scholar/Peter Phillips - rec. Salle, Norfolk, UK, 1987. DDD.
CDGIM013 [54:15] - from Gimell (mp3 and lossless)

Behold How Joyful
Ecce quam bonum [3:32]
Quod decendit [3:02]
Missa Ecce quam bonum: Kyrie and Gloria [9:54]
Acceserunt ad Jesum [2:33]
Non legistis [1:47]
Propter hoc [3:14]
Missa Ecce quam bonum: Credo [8:01]
Job tonso capite [4:30]
Dominus dedit [3:55]
Missa Ecce quam bonum:Sanctus and Benedictus [5:27]
Veni electa mea [2:56]
Audi filia et vide [2:51]
Missa Ecce quam bonum:Agnus Dei I and II [6:21]
Pascha nostrum [3:34]
Haec est dies [2:54]
Carole, magnus eras [3:14]
Nunc omnes [3:04]
The Brabant Ensemble/Stephen Rice - rec. Merton College, Oxford, 5-7 April 2003. DDD
Notes, texts and translations available from Signumrecords.com.
SIGNUM SIGCD045 [70:54] - from classicsonline.com or Amazon.co.uk (mp3) or stream from Naxos Music Library.

Missa pro defunctis (Requiem) 4vv [20:38]
Tristitia et anxietas 4vv [10:02]
Vae tibi Babylon et Syria 4vv [4:59]
Erravi sicut ovis 5vv [7:29]
De profundis 5vv [9:21]
Vox in Rama 4vv [4:16]
Peccantem me quotidie 4vv [8:41]
Heu mihi, Domine 4vv [7:23]
The Brabant Ensemble/Stephen Rice - rec. Merton College, Oxford, March 2010. DDD.
HYPERION CDA67848 [72:52] - from Hyperion (mps3 and lossless)



We now have three excellent recordings wholly devoted to the music of the neglected renaissance composer Jacobus Clemens and, even better, all three come with the essential texts and translations - from Gimell and Hyperion as pdf booklets and from Signum on their website. If, predictably, the new Hyperion documentation is marginally more lavish than the others, it's a close thing. Buying all three as downloads would cost less than £24, even if you choose the lossless versions where available.



The Gimell recording predates the other two in order of release by quite a margin - the first complete album of Clemens' music and another debt which we owe to them. As well as the CD which I've listed, the Christmas Mass, Pastores quidnam vidistis, is also included on a 2-for-1 anthology, CDGIM202, but the other music of this composer who jokingly called himself 'Clement, but not Pope Clement', is well worth downloading separately if you already have the Christmas Mass. In an interview with my colleague John Quinn, Steve Smith chose this as his 'Desert Island' recording, for reasons that I fully understand: though it's the shortest of the three recordings, this remains my first recommendation for this composer and not just for Christmas, despite the pastoral text of the motet which forms the cantus firmus of the Mass.



Robert Hugill thought all the performances on Signum very good, if a little 'straight' and lacking in verbal colouring. With very little from Clemens in the catalogue, he recommended this highly musical recording - see full review. Even though the Brabant Ensemble themselves have now added further to the repertoire, it remains highly recommendable in a download that does justice to the music and performances - a little more forward than the sound on the new Hyperion.

Hyperion's own description of the new recording as 'quietly sublime' puts the finger on its strengths and weaknesses. The singing is every bit as good as on the earlier Signum album, and not far short of the sublimity achieved by the Tallis Scholars, but everything here is in a quiet mode: it's asking for perfection, but I'd have liked a little more variety and a slightly more forward recording. A volume lift of three or four decibels helps.

Dietrich BUXTEHUDE (c. 1637-1707) Scandinavian Cantatas
Præludium for Organ in e minor, BuxWV142 [8:10]
Pange lingua gloriosi, BuxWV91 [7:23]
Herren vår Gud, BuxWV40 [5:39]
Ecce nunc benedicite Domino, BuxWV23 [6:40]
Att du Jesu vill mig höra, BuxWV8 [5:05]
Accedite gentes, BuxWV1 [6:07]
Passacaglia for Organ in d minor, BuxWV161 [5:57]
Missa alla brevis, BuxWV114 [8:45]
Domine salvum fac regem, BuxWV18 [5:18]
Bine Bryndorf (organ); Theatre of Voices; The Theatre of Voices Band/Paul Hillier - rec. February 2010. DDD
Booklet with texts and translations included.
DA CAPO 6.220534 [59:04] - from classicsonline.com (mp3) or stream from Naxos Music Library



A welcome addition to the Buxtehude recordings which were issued or reissued in the anniversary year of 2007 and which still continue to come forth. This is well worth having for the quality of the music - not all of it 'Scandinavian', despite the title and the fact that two of the texts are in Swedish - the performances and the recording.

Bine Bryndorf's complete recording of the organ works, also for the da Capo label, was one of the highlights of Buxtehude year and her contributions here are no less welcome - perhaps they will tempt listeners to explore one or more of those albums, on CD or from classicsonline. Passionato.com also have three of the volumes in lossless flac.

Paul Hillier is a real pluralist: not only has he recorded for a variety of labels, but his expertise stretches from the late-medieval Old Hall Manuscript (Virgin 5613932, download only, from Passionato.com) via William Billings (Harmonia Mundi HCX3957048 and 3957128) to Terry Riley (in C, da Capo 8.226049). These Buxtehude works with the Theatre of Voices are among the very best recordings which he has offered us.

The sound is mp3 only, but at the highest bit-rate, so little is lost, apart from the SACD layer on the parent CD, which, on the strength of the download, must be very good. Full marks to classicsonline for including the important booklet with this and so many of their recent downloads. It's also available to Naxos Music Library subscribers.

Henry PURCELL (1659-1695) Come ye sons of art away, Z323 [23:15]
Jean-Baptiste LULLY (1632-1687) Miserere [30:04]
Margaret Ritchie, Elsie Morison (sopranos), Alfred Deller, John Whitworth (counter tenors), William Herbert, Richard Lewis (tenors), Bruce Boyce (baritone); St Anthony Singers; Ruggiero Gerlin (harpsichord); L'Oiseau-Lyre Orchestral Ensemble/Anthony Lewis - rec. 1953/4. ADD/mono
PAST CLASSICS [53:19] – from eMusic (mp3)

The thin recording doesn't even begin to do justice to the music or the performances, excellent as these were for their time - and still able to hold their own in a better transfer. This looks like a bargain at £0.84 or less, but I'm sure that the original LPs could be made to sound better: purchase at your peril even at that price. The eMusic transfer is at a low bit-rate, but I can't imagine that it sounds any better for costing a little more from Amazon.co.uk or much more (£7.99) at iTunes. There are plenty of fine versions of the Purcell Ode - look no further than Hyperion - but not many alternatives for the beautiful Lully setting of the penitential Psalm: try Herreweghe on Harmonia Mundi or Niquet on Naxos, both at budget price.

Georg Philipp TELEMANN (1681-1767) Harmonischer Gottes-Dienst (1725-26)
Volume 3: Cantatas for high voice, recorder and basso continuo II
Deine Toten werden leben (TVWV 1: 213) (Fifth Sunday after Easter) [10:01]
Wer sehnet sich nach Kerker, Stein und Ketten (TVWV 1: 1594) (Trinity III) [11:09]
Wenn Israel am Nilusstrande (TVWV 1: 1562) (Trinity VII) [9:07]
Durchsuche dich, O stolzer Geist (TVWV 1: 399) (Trinity XI) [12:34]
Trifft menschlich und voll Fehler sein die meiste Zeit zusammen (TVWV 1: 1417) (Trinity XV) [10:51]
Es ist ein schlechter Ruhm (TVWV 1: 506) (Trinity XIX) [8:06]
Locke nur, Erde, mit schmeichelndem Reize! (TVWV 1: 1069) (Trinity XXIII) [9:33]
Bergen Barokk: Mona Julsrud (soprano); Frode Thorsen (recorder); Thomas Boysen (theorbo); Markku Luolajan-Mikkola (cello); Hans Knut Sveen (harpsichord); Hans Knut Sveen (organ)
TOCCATA CLASSICS TOCC0074 [71:21]
Due for release on CD, 17 February 2011.
Available as mp3 download from toccataclassics.com now.

This is the third volume in Toccata's enterprising recording of all 72 cantatas for the liturgical year which Telemann published in Hamburg in 1726 under the collective title Harmonischer Gottes-dienst. This volume continues the cantatas for high voice, begun on Volume I (TOCC0037). I welcomed the first two volumes in my November 2009 Download Roundup and Mark Sealey recommended Volume II (TOCC0057) here.
What I wrote about Volume One applies equally to Volume Three: Don't expect cantatas of the kind which Bach produced: these are three- and four-section works on a much smaller, more intimate scale, ideal for performance in smaller churches or domestic performance - and for late-night listening. The performances, too, are suitably small-scale. With very good singing and accompaniment and an mp3 transfer which does justice to the music, these recordings are a real delight and provide a welcome introduction to an under-represented aspect of Telemann's music.

My only reservation is that by recording the high-voice cantatas together here and in Volume One, there is a danger that the music will sound rather same-y, though the pure beauty of Mona Julsrud's voice amply compensates.

Though Toccata CDs and downloads are open to all, there are advantages in joining the Toccata Discovery Club, not least in the reduction of the cost of the CDs and of the download, from £7.99 to £5.99 in the latter case.
Domenico SCARLATTI (1685-1757) Salve regina in A (1757) [13:01]
Alessandro SCARLATTI (1660-1725) Cantata Su le sponde del Tebro (1702) [15:31]
Johann Adolf HASSE (1699-1783) Salve regina (1744) [16:49]
Alessandro SCARLATTI Cantata Infirmata vulnerata (1702) [12:28]
Cantata O di Betlemme altera [18:38]
Deborah York (soprano); James Bowman (counter-tenor); Crispian Steele-Perkins (trumpet)
The King's Consort/Robert King – rec. February 1996. DDD.
Texts and translations available as pdf.
HYPERION HELIOS CDH55354 [77:04] – from Hyperion (mp3 and lossless)



This is an enjoyable mixed recital of short secular and sacred works, well performed by soloists and consort and well recorded. Most of the music was otherwise unavailable on record in 1996 and remains so - only Su le sponde del Tebro, with its trumpet obbligato, here very well supplied by Crispian Steele-Perkins, is at all well known. Hasse's Salve Regina may be the weakest item here, but it was well worth reviving, as was the beautiful Christmas Cantata which concludes the programme. I was very surprised to discover that one reviewer in 1996 was pretty lukewarm about this disc: I certainly was not.

Johann Sebastian BACH (1685-1750) Trio Sonatas BWV 525-530
Transcribed from the Organ Sonatas by Carolyn Gibley
Trio Sonata BWV 525 in E flat [12:12]
Trio Sonata BWV 526 in c minor [9:27]
Trio Sonata BWV 527 in d minor [12:25]
Trio Sonata BWV 528 in e minor [9:28]
Trio Sonata BWV 529 in C [12:33]
Trio Sonata BWV 530 in G [12:43]
The Brook Street Band (Rachel Harris, Farran Scott - Baroque Violins; Carolyn Gibley - Harpsichord; Tatty Theo - Baroque Cello) - rec. March 2010. DDD.
AVIE AV2199 [68:56] – from classicsonline.com or eMusic (mp3) or stream from Naxos Music Library

The new Avie is far from the only recording of Bach's Trio Sonatas, organ music realised in an instrumental version, but it is probably the most recommendable. The classicsonline version costs only pence more than the eMusic and comes with the excellent booklet, also available to subscribers to the invaluable Naxos Music Library.
Versions by London Baroque (BIS) and the Purcell Quartet (Chandos) offer similar transcriptions – stream them both, like the Avie, from the Naxos Music Library for comparison – but, for something more varied, the King's Consort (1995) are well worth tracking down: Hyperion Archive Service CDA66843, available only to special order on CD but readily available for download in mp3 or lossless format for £7.99.
As an inveterate lover of the organ, though no great shakes as a player, I must point out that the music loses as well as gaining from the transcription. For the originals, try Kevin Bowyer on Nimbus (Nos. 3 and 4 on NI5647/8, a 2-CD set, or Nos.1-6 as part of the complete and wonderfully inexpensive mp3 set on NI7121, which Kirk McElhearn and I recommended in April 2010 – here – available from MusicWeb International for just £23 post paid at the time of writing). If the prospect of the whole of Bach's organ music, even at super-budget price, seems daunting, try Werner Jacob's very inexpensive 3-CD set which includes five of the six Trio Sonatas (EMI Classics 5093932 – see review).

Don't try to download either of these – they are likely to be more expensive than buying the CDs – but there is one version which even surpasses Bowyer and Jacob and which is available to download at less than the physical disc. By buying Christopher Herrick's stunningly performed 1989 version on the organ of St Nikolaus, Bremgarten, Switzerland, you will also be rescuing it from potential oblivion, since it has fallen on even harder times than Hyperion's 'please buy me' CDs to which I try to throw a lifeline from time to time. Like the King's Consort transcriptions, it's available on disc only to special order from the Archive Service, but the download can be yours in very good mp3 and excellent lossless sound for £7.99: CDA66390. The booklet is not of Hyperion's usual quality – it's a text-recognition scan of the original – but it does include a very useful specification of the organ and details of the registration for each movement.

Toccata and Fugue in d minor, BWV565
Fernando Germani (Harrison organ, Royal Festival Hall, London) - rec.1960 ADD/stereo
BEULAH EXTRA 1BX110 [8:57] - from Beulah (mp3)

Toccata, adagio and fugue in C, BWV564
Fernando Germani (Harrison organ, Royal Festival Hall, London) - rec.1960 ADD/stereo
BEULAH EXTRA 2BX110 [14:51] - from Beulah (mp3)

Passacaglia and fugue in c minor, BWV582
Fernando Germani (Harrison organ, Royal Festival Hall, London)
BEULAH EXTRA 3BX110 [12:59] - from Beulah (mp3)

Fantasia and fugue in g minor, BWV542
Fernando Germani (Harrison organ, Royal Festival Hall, London)
BEULAH EXTRA 4BX110 [12:06] - from Beulah (mp3)



These four recordings are taken from an HMV LP. In 1960, BWV565 was still generally regarded as genuine Bach - now its position is in considerable doubt, though that doesn't make it less a masterpiece. After a rather odd staccato start which, at least, signals that this is no routine run-through, Germani gives us a performance in the grand style - at least, as grand a style as the RFH organ was capable of giving: my doubts remain as to whether it's really a Bach organ, though it reproduces in this fine transfer with a nice clear sound - and clarity is the watchword for Germani's Bach. The other works also come over well, fully deserving the critical praise which this and other Germani recordings of this period for HMV received. Most of those other recordings, however, were made on the much older, though modernised, instrument at Alkmaar and it might have been better to have chosen some of those.

Cantata No.4, Christ lag in Todesbanden
Agnes Giebel (soprano); Martha Höffgen (alto); Hans-Joachim Rotzsch (tenor); Theo Adam (bass); Hannes Kästner (organ); Thomanerchor and Gewandhaus Orchester, Leipzig/Kurt Thomas - rec.1959. ADD/stereo.
BEULAH EXTRA 1BX106 [21:22] - from Beulah (mp3)

Cantata No.170, Vergnügte Ruh, beliebte Seelenlust
Aafje Heynis (alto); Piet van Egmond (organ); Nederlands Kammerorkest/Szymon Goldberg - rec.1960. ADD/stereo.
BEULAH EXTRA 1BX107 [23:45] - from Beulah (mp3)



I included a Berlin Classics recording from the Thomanerchor and Kurt Thomas in the Christmas 2010 Download Roundup as a reminder that fine performances of Bach cantatas didn't begin with the authentic movement, so I'm extremely pleased to see an early Easter offering in the form of another 1959 Leipzig recording from Beulah Extra, originally from HMV.

The virtues and defects of this recording of this Cantata No.4 are much the same as those of Karl Richter's roughly contemporary recording: on the one hand, deep involvement from two conductors steeped in the Lutheran tradition and Bach in particular, on the other a more solid approach than would now be fashionable. With excellent solo singing and a decent transfer - the choral sound is a little thick and the solo voices are not quite as cleanly recorded as we should expect today - this is a fine reissue and well worth its modest price.



I'm also very pleased to see the other recording with the great Dutch singer Aafje Heynis in what was rightly hailed in 1961 as her greatest Bach recording - and she had already made a few. It's good, too, to see the Netherlands Chamber Orchestra and Szymon Goldberg up and running again: the other items on the original LP featured slightly less attractive recordings from the VSO under Hans Gillesberger. Goldberg and the Netherlands orchestra also produced some attractive Haydn recordings, last seen in Nos. 57 and 83 on the budget Philips/Fontana label - perhaps some of those could be restored to us. By 1980, when Goldberg appeared again in Bach as soloist and conductor of the violin concertos, his style was out of date, but his collaboration with Heynis here is treasurable and the Philips recording has come up well in the Beulah transfer.

You may like to follow the link to an excerpt from Aafje Heynis in BWV170:
http://www.youtube.com/watch?v=Dfu6cIx1V10

Cantata No.118: O Jesu Christ, meins Lebens Licht [9:13]
Coupled with: Missa Brevis, BWV233 and Missa Brevis, BWV236
Pygmalion/Raphael Pichon
ALPHA 170 [60:55] – from eMusic (mp3)

One of the advantages of downloading is the ability to select individual tracks – except that some tracks from all providers are listed as 'album only'. In this case, I didn't want yet another version of the two short Lutheran Masses, happy as I am with Ton Koopman's versions of all four plus the Magnificat on Challenge Classics (CC72188 – Recording of the Month – see review), but the short Cantata No.118 doesn't get too many outings. It can be yours for £0.42 – less if you're on one of the older tariffs – in this excellent performance. The mp3 sound is at the rock-bottom 192kb/s, but sounds fine. I can't speak for these performances of the Masses, but they have been well received elsewhere.

George Frideric HANDEL (1685-1759) Organ Concertos, Op.7/1-3
Organ Concerto Op.7/1, HWV306 [14:56]
Organ Concerto Op.7/2, HWV307 [14:50]
Organ Concerto Op.7/3, HWV308 [15:31]
Simon Lindley (organ); Northern Sinfonia/Bradley Creswick
NAXOS 9.70148 [45:16] – from classicsonline.com (mp3) or stream from Naxos Music Library



With a recommendable recording of the better-known Op.4 Organ Concertos already in the catalogue, this further helping from the same artists is welcome, especially for those who prefer modern instruments. The performances are stylish, most enjoyable and well recorded - particularly recommended to anyone who owns the earlier set. If I'm not exactly ecstatic, that's because the new recording, available as a download only, with no CD at the moment, offers poor value, with a mere 45 minutes playing time. Rival period-instrument performances from Ton Koopman and Simon Preston are more economically coupled, with Op.4 and Op.7 on a pair of budget CDs from Koopman (Warner Apex 2564627602, £8 or less) and Op.4, Op.7 and the miscellaneous Organ Concertos, including the splendid No.13 Cuckoo and the Nightingale on a budget 3-CD set from DGG (469 3582, £18 or less, or download for about the same price from passionato).

My own recommendation would be to buy the Koopman CDs - you won't save anything by downloading - and supplement them with a recording of The Cuckoo and the Nightingale. Unfortunately, I'm at a loss to recommend a single-album recording as a supplement: the Preston recording which I recommended in May, 2009 as a supplement, seems no longer to be available from passionato - if you want No.13, it has to be the 3-disc Preston set, or wait to see if Lindley and Creswick record a third album containing Op.7/4-6 and No.13.

Handel at Home
Flute Concerto (contemporary version of Oboe Concerto in g minor) [9:25]
Alcina* Overture [3:14]; Verdi prati, selve amene [4:02]; Air [1:31]; Un momento [6:17]; Tornami [4:81]
Solomon* Overture [4:13]; What tho' I trace [7:05]; Beneath the vine [5:43]; Will the sun forget to streak [5:00]
Semele* Myself I shall adore [6:59]; O sleep [3:47]; Gavotte in the Overture [2:00]; No, no, I'll take no less [5:23]
* ed. John Walsh/Rachel Brown
London Handel Players: Rachel Brown (flute); Adrian Butterfield, Oliver Webber (violins); Peter Collyer (viola); Katherine Sharman (cello); Laurence Cummings (harpsichord) - rec. March, 2008. DDD.
SOMM CÉLESTE SERIES SOMMCD055 [68:56] – from theclassicalshop.net (mp3 and lossless)



Somm have put us in their debt many times with their recordings of Handel, not least with what is still the only version of Silla, but nothing is more charming than this collection of music with prominent parts for the flute. The publisher Walsh, a pragmatist who knew a good thing when he saw it, began the process of arranging Handel's music for the transverse flute rather than the recorder and Rachel Brown has completed it for this recording. Handel, too, was a pragmatist - rather than rail at Walsh's pirate publication of his Op.3 Concertos, he joined Walsh in publishing a corrected second edition - so he would almost certainly approve of these arrangements. With performances to match and with very good recording in lossless form - there's also mp3 at the highest rate - this is highly enjoyable.

Trio Sonatas, Op.2
Sonata in g minor, op. 2/6* (HWV 391) [09:09]
Sonata in F, op. 2/4* (HWV 389) [12:02]
Sonata in g minor, op. 2/5* (HWV 390) [10:47]
Sonata in b minor, op. 2/1** (HWV 386b) [11:29]
Sonata in g minor, op. 2/2* (HWV 387) [10:25]
Sonata in B flat, op. 2/3* (HWV 388) [11:14]
Sonnerie: Monica Huggett, Emilia Benjamin* (violin); Joseph Crouch (cello); Matthew Halls (harpsichord, organ); Wilbert Hazelzet** (transverse flute)
- rec. October 2002, Saint Silas Church, Kentish Town, London. DDD
AVIE AV0033 [65:30] – from passionato.com (mp3 and lossless) or classicsonline.com (mp3)

I can't put it better than Johan van Veen when the parent CD was released in 2004: 'If one has listened to a number of recordings with baroque chamber music which are rather rigid and inflexible, this disc is like a breath of fresh air. I can only strongly recommend this excellent performance of some of Handel's greatest chamber music.' (See full review). If you enjoy the Somm recording (above) and are looking for equally entertaining small-scale Handel, you can't do better than to turn to this Avie recording.
Giovanni Battista PERGOLESI (1710-1736)
Stabat mater [40:20]
Salve regina in a minor [11:11]
In cælestibus regnis [2:33]
Gillian Fisher (soprano); Michael Chance (counter-tenor); The King's Consort/Robert King
rec. December 1987. DDD.
Texts and translations available as pdf document
HYPERION CDA66294 [54:03] – from Hyperion (mp3 and lossless)



I managed to let Pergolesi's anniversary pass me by in 2010, partly because there is such a wealth of fine versions of his best-known music, the Stabat mater and Salve regina, that I hardly knew which to recommend. In the end I've plumped for the King's Consort on Hyperion because it's the least expensive download, especially in lossless form, and it offers texts and translations as part of the deal - indeed, they are available to all comers. Though this is older than rival versions from Hogwood, Rousset (both Decca), Biondi (Virgin) and Abbado (DGG Archiv), all available from Passionato.com, the sound in lossless form is still first-rate.

If you must have an adrenalin-charged version, however, you should turn to Sara Mingardo, Gemma Bertagnolli and Rinaldo Alessandrini on Naïve (V5110, with Vivaldi Stabat mater, or OPS30160, with Alessandro Scarlatti Stabat mater, available from classicsonline or streamed from the Naxos Music Library). I can't speak for the quality of the download version of the Alessandrini - I own the CD but haven't tried it any other form - and you should be aware that it costs £2 more (in mp3 only) than the Hyperion in either format. Like most of Alessandrini's recordings, it's just right in certain moods, but there are times when I wouldn't wish to hear it, whereas the King's Consort are for all seasons.

Johann Christoph Friedrich BACH (1732-1795)
Sons of Bach III
Sinfonia à 8 in G, Wf I/15 (1793) [24:56]
Concerto Grosso in E flat for fortepiano, 2 oboes, 2 horns, 2 violins, viola and continuo, Wf II/5* (1792) [29:25]
Sinfonia à 10 in B flat, Wf I/20 (1794) [22:54]
Christine Schornheim (fortepiano)*; Freiburg Baroque Orchestra/Gottfried von der Goltz
rec. March 2009. DDD.
CARUS 83.306 [77:35] – from classicsonline.com (mp3), or stream from Naxos Music Library

Symphony in C, W I/6 (1772) [16:54]
Symphony in E flat, W I/10 (1770-72) [11:38]
Symphony in B flat, W I/20 (after 1792) [22:42]
Leipziger Kammerorchester/Morten Schuldt-Jensen
rec. Paul-Gerhardt-Kirche Leipzig, Germany, 25-28 August 2008. DDD.
NAXOS 8.572217 [51:14] – from classicsonline.com (mp3) or stream from Naxos Music Library

How many of the sons of J.S. Bach can you even name? How much of their music have you heard? Not much of J.C.F., I imagine – not to be confused with the more famous Johann Christian, the 'London' Bach, or his composer relatives Johann Christoff and his son Johann Friedrich. Once again the Naxos Eighteenth-century Symphony series does sterling service in bringing us stylish and attractive performances of music that well deserves an outing. The recording – like all those from classicsonline, it's at the highest 320k bit-rate – is very good and it comes with the booklet of notes.

There's not much competition: the only other recording of J.C.F.'s orchestral music currently available (Carus 83.306 – see review) overlaps only with W I/20 on this Naxos release – stylish period performances by the Freiburg Baroque Orchestra. If I marginally prefer the Carus for its rather brighter tone, it's not by much: both are hugely enjoyable. The download again comes with the booklet of notes.

For information about J.C.F. Bach, see the Naxos and Carus booklets and the introduction to Ewald V Nolte, Johann Christoph Friedrick Bach: Four Early Sinfonias, A-R Editions, Inc., Madison, 1982.

Carl Maria von WEBER (1786-1826)
Overtures: Der Freischütz* [9:00]; Preciosa** [7:01]; Der Beherrscher der Geister (Ruler of the Spirits)*** [5:46]; Oberon+ [8:22]; Abu Hassan++ [3:15]; Euryanthe+++ [7:17]
Orchestre de la Suisse Romande/Ernest Ansermet [40:44] - rec. 1959 ADD/stereo
BEULAH EXTRA 1BX68*; 2BX68**; 3BX68***; 4BX68+; 5BX68++; 6BX68+++
Details of all Beulah Extra Ansermet recordings here.



These recordings have also appeared in Australian Eloquence's series of Ansermet reissues, coupled with the Jubel Overture and the Bassoon Concerto (480 0123), excellent value at super-budget price. If, however, you just want the contents of the original Decca LP in equally fine transfers, for slightly less than the cost of the Eloquence CD, Beulah Extra is the right place to call.

By 1959 Decca were producing some excellent stereo recordings, though I couldn't afford any of them at the time; my experience of Ansermet and the OSR was limited to Ace of Clubs reissues of their recordings of the likes of the Mussorgsky/Ravel Pictures from an Exhibition. It has become a cliché to say that Ansermet made the OSR sound like a world-class orchestra, but it is true, as these Weber Overtures clearly demonstrate. I might have preferred a little more drama in Der Freischütz, but that's about my only criticism. You could hardly tell the age of the recording in these transfers.

Wolfgang Amadeus MOZART (1756-1791)
String Quartet No.20 in D, 'Hoffmeister', K499 [35:17]
String Quartet No.22 in B-flat, K589 [26:50]
Salomon Quartet (Simon Standage (violin: David Rubio, 1987, after Stradivarius); Micaela Comberti (violin: David Rubio, 1987, after Stradivarius); Trevor Jones (viola: Rowland Ross, 1984, after Stradivarius, 1690); Jennifer Ward Clarke (cello: William Forster, London, 1791))
HYPERION HELIOS CDH55094 [61:22] – from Hyperion (mp3 and lossless)



Reviewing the recent ArkivMusic reissue of the Juilliard Quartet's recordings of the last three Mozart String Quartets, Nos. 20-23 (Sony 77114, 2 CDs), I remarked on their omission of repeats, especially in the outer movements, whereas the period-instrument groups, the Salomon Quartet and the Mosaïques Quartet observe them. It is at least arguable that their omission here distorts the shape of the works as a whole. That being so, since I tend to prefer period instruments, without wishing to be dogmatic on the subject - and since neither of the period-instrument groups in question plays in such a way as to suggest that they are dogmatic either - my firm recommendation must be for one of these and, since the Salomon Quartet are available at budget price on the Hyperion Helios label, coupled with No.22, K589, I plump for them. Complement this recording with the Mosaïques on Naïve in the other two works, Nos. 21 and 23 (E8888 - download from classicsonline.com or stream from Naxos Music Library).

Ludwig van BEETHOVEN (1770-1827) Symphony No.3 in E-flat, Op.55 ('Eroica')
Vienna Philharmonic Orchestra/Erich Kleiber - rec.1955 ADD/mono
BEULAH EXTRA 5BX6-8BX6 [48:46] - from Beulah (mp3)

Symphony No.3 in E-flat, Op.55 ('Eroica') [47:02]
Richard STRAUSS (1864-1949) Also Sprach Zarathustra, Op.30 [31:54]
Chicago Symphony Orchestra/Fritz Reiner - rec. 1953 and 1954. ADD.
ARCHIPEL ARPCD0212 [78:56] - from Passionato.com (mp3)



Having recorded the Eroica with the Concertgebouw Orchestra in 1951, Erich Kleiber returned to the work with the VPO four years later, a recording which first appeared only in 1959 on the Decca Ace of Clubs label, where it deservedly survived for quite some time and even resurfaced briefly from French Decca in the mid-1980s. Trevor Harvey's judgement that this is a performance of the utmost distinction remains valid, most of all, as far as I'm concerned, for Kleiber's refusal to make too heavy weather of the work. I'd rate this alongside Klemperer's mono recording of much the same vintage, far less stodgy than his stereo remake. The recording is dry and limited even for its date, but the Beulah transfer renders it well worth hearing.



The Fritz Reiner recording is actually slightly earlier than Kleiber's . In the Archipel transfer it, too, sounds a little dry and slightly distorted in climaxes, but tolerable. In any case, the high point of this version is Reiner's Zarathustra, a classic recording also available on an acclaimed RCA SACD with Ein Heldenleben. The Archipel transfer is not quite in the miracle league but it's not far off and, if the alternative coupling appeals, well worth having. The Passionato price shaves a few pence off the price of the Archipel CD which, in turn, costs around £2 less than the RCA.

Ludwig van BEETHOVEN Symphony No.6 in F, Op.68 ('Pastoral')
Berlin Philharmonic Orchestra/André Cluytens - rec.1958 ADD/stereo
BEULAH EXTRA 8-10BX82 [43:44] – from Beulah (mp3)



Having already given us the 1947 Erich Kleiber Pastoral - see December 2010 Roundup - Beulah now follow up with the better-recorded Cluytens. Though I enjoyed the Kleiber, I thought his countryside a little too tame: after all, the storm represents the spiritual turmoil which Beethoven had been through and the calm afterwards should be all the greater if the storm is really ferocious. Here it's pretty substantial, with pre-echoes in the scherzo, then starting slowly and building to a climax, and the calm afterwards is equally effective.

Cluytens is not the only conductor in a crowded field and, though originally issued to critical acclaim, his recordings soon drifted down to the bargain basement and then disappeared from the catalogue, most undeservedly. I'm pleased that Testament (the earlier mono Pastoral) and Beulah are restoring his Beethoven.

Unlike the (apocryphal?) music student who informed his tutor that Beethoven had composed three symphonies, the third, fifth and ninth, I tend to listen more often to the even-numbered ones, plus No.7. This Pastoral may not be the most demonstrative, but it doesn't do anything wrong and, for that reason, is likely to become one of my versions of choice.

The early stereo on this Cluytens reissue sounds very good in the Beulah transfer. You may need to renumber the tracks 8BX82 and 9BX82 as 08BX82 and 09BX82 - be very careful as you do this - otherwise your player may begin with 10BX82 and play the movements in the wrong order.

Cello Sonata No.3 in A, Op.69 [19:28]
Emanuel Feuermann (cello); Myra Hess (piano) - rec.1937 ADD/mono
BEULAH EXTRA 1BX75-3BX75 [19:28] – from Beulah (mp3).

Very fairly, Beulah warn prospective purchasers: 'There is a cut in the reprise of the first part of the Scherzo and the omission of the conventional repeats in the first and last movements. This was standard practice at the time the recording was made.' That's no great problem: you wouldn't, in any case, make this your sole choice for the Sonata - try the two new Hyperion CDs for that, with Daniel Müller-Schott and Angela Hewitt, CDA67633 and CDA67755 for that: Op.69 is on the first volume.

The 1937 Columbia recording has come up well enough not to impede our appreciation of two great performers of the past and, surprisingly, apart from those cuts, there's very little about the performance that would seem out of place today. Alec Robertson at the time was lukewarm about the performances, especially in the Scherzo: unnecessarily so, I think. This is not quite a classic performance but it is a valuable one.

Felix MENDELSSOHN (1809-1847)
Violin Concerto in e minor, Op.64* [26:36]
Octet in E-flat, Op.20** [30:55]
James Ehnes (violin); Philharmonia Orchestra/Vladimir Ashkenazy*; Seattle Chamber Music Society (Edward Arron; Augustin Hadelich; Andrew Wan; Erin Keefe; Robert DeMaine ; Richard O'Neill; Cynthia Phelps)**
ONYX 4060 [57:31] – from eMusic or onyxclassics.com (mp3)



The world was not crying out for another version of the Mendelssohn Violin Concerto, but in all other respects this is a worthy successor to the award-winning Elgar Violin Concerto recording which Ehnes made, again with the Philharmonia. This time the able conductor is Vladimir Ashkenazy and the appeal of the album is enhanced by the coupling of the Octet - it's still rather a short programme, however.

Two tracks from eMusic are at the optimum 320kb/s, the rest are at 224k. The sleeve-notes are available from the Onyx website.

Symphony No. 2 'Lobgesang' (Hymn of Praise) (1840)
Ruth Ziesak, Mojca Erdmann (Sopranos); Christian Elsner (Tenor); MDR Radio Choir (Chorus Master: Howard Arman); MDR Symphony Orchestra/Jun Märkl
rec. MDR-Studio am Augustusplatz, Leipzig, Germany, 26th to 29th August, 2008. DDD
Booklet with German texts and English translations included: may also be accessed online.
NAXOS 8.572294 [68:40] – from classicsonline.com (mp3) or stream from Naxos Music Library

With so little competition in their price range for their existing recording of Mendelssohn's Lobgesang, it may seem surprising that Naxos have chosen to record it again. This new version has real virtues, not least in that it gets off to a rousing start and continues to keep up the pace, without sounding hard-driven. With very able support from a fine team of soloists, chorus and orchestra, and good recording and mp3 transfer*, Märkl continues the good work that he has been doing recently. Those who have not yet added this under-estimated work to their collection may do so with confidence. Those who have yet to obtain recordings of the other Mendelssohn symphonies should note that Weller's complete set is recommendable: it comes at an attractive price, too (Chandos – see September 2009 Download Roundup).

In case you're puzzled by the cover-shot, it shows Gutenberg at work: the symphony was composed to celebrate the 400th anniversary of his first printing press in 1840.

* A couple of small glitches in playing the first movement seem to have been the fault of Squeezebox - they weren't there when I tried again.

Frédéric CHOPIN (1810-1849)
Piano Concerto No.1 in e minor, Op.11 [32:48]
Artur Rubinstein (piano); London Symphony Orchestra/Barbirolli - rec. 1937 ADD/mono
BEULAH EXTRA 1BX73-3BX73 [32:48] – from Beulah (mp3)



Any recording of this age has to be very special to be still worth hearing. There are several reasons for preferring one of Rubinstein's later recordings - the thin recording, though with miraculously little surface noise in this transfer, and the fact that the performance is heavily cut - but, for all that, I did find this version special enough to forget all my reservations. Those who can't ignore them would be better served by the Naxos Historical CD of the 1953 recording, coupled with the 1946 second concerto, also available for download from classicsonline and available for streaming from the Naxos Music Library (8.111296).

It is to Rubinstein's stereo recordings (1958 and 1961) that I turn for complete satisfaction - now sounding infinitely better than they did on LP on RCA 09026 63044-2 (download from Amazon.co.uk for £3.99 - see November 2010 Download Roundup).

Piano Sonata No.2 in b-flat minor, Op.35
Sergei Rachmaninov (piano) - [24:40] rec. 1930 ADD/mono
BEULAH EXTRA [24:40] – from Beulah (mp3)

This requires even more tolerance than the Rubinstein but, if anything, it's even more special - one master of piano composition playing the music of another. There is plenty of competition in the 'historical' category, not least from Horowitz on Naxos Historical 8.111282, and even hotter competition from more recent versions, but this Beulah release is well worth having - and at a fraction of the modern equivalent of what the original 78s cost.

Franz (Ferenc) LISZT (1811-1886) Piano Concerto No.1 in E-flat
Samson François (piano); Philharmonia Orchestra/Constantin Silvestri - rec.1960 ADD/stereo
BEULAH EXTRA 1BX108[18:40] – from Beulah (mp3)

Piano Concerto No.2 in A
Samson François (piano); Philharmonia Orchestra/Constantin Silvestri – rec.1960 ADD/stereo
BEULAH EXTRA 2BX108 [23:01] – from Beulah (mp3)



These recordings of the two Liszt Piano Concertos first appeared on HMV's lower-price Concert Classics label, but there's nothing bargain-basement about them: so did Colin Davis's highly acclaimed first recording of Beethoven's Seventh Symphony. François's playing was described as characterised by old-fashioned flamboyance even in 1961, so you might expect it to sound even more outdated now. Certainly some of the solo pianism sounds decidedly old-fashioned, with a tendency to linger where we might expect the soloist to move on, but the performances overall are still enjoyable, despite the strong competition: there's both power and lyricism where they are called for and the finale of No.1 brings the house down in style. I thought this recording of No.2 even better than that of No.1 - it takes a little longer to get under way, but so does Liszt.

The piano tone is a little hard, but not unduly so: these recordings certainly merited rescuing and are well worth buying at so reasonable a price (£1 each).

Pyotr Ilyich TCHAIKOVSKY (1840-1893) Meditation in d minor, Op.42
Leonid Kogan (violin); Paris Conservatoire Orchestra/Constantin Silvestri - rec.1960 ADD/stereo
BEULAH EXTRA 1BX109 [7:29] – from Beulah (mp3)

Sérénade mélancolique
Leonid Kogan (violin); Philharmonia Orchestra/Kyril Kondrashin - rec.1960 ADD/stereo
BEULAH EXTRA 2BX109 [9:06] – from Beulah (mp3)

Édouard LALO (1823-1892) Symphonie Espagnole, Op.21
Leonid Kogan (violin); Philharmonia Orchestra/Kyril Kondrashin - rec.1960 ADD/stereo
BEULAH EXTRA 3BX109-5BX109 [31:01] – from Beulah (mp3)



The two Kogan/Kondrashin recordings appeared together on the Columbia label in 1961, praised for the sheer virtuosity of the performances and the recording balance but criticised for the lack of Spanish feeling in the Lalo. The Méditation, originally coupled with the Tchaikovsky Violin Concerto, was added when the recordings were reissued on the Classics for Pleasure label - that, too, received some criticism for lack of feeling, not entirely undeserved.



The opening of the Lalo sounds more Russian than Spanish, even putting deliberately out of mind the nationality of the soloist and conductor, but the quality of virtuosity is enough to compensate. In fact, there are not too many recent alternatives for a tuneful work which has fallen into doldrums which it doesn't really deserve - some of the best, such as Tasmin Little and Vernon Handley on Classics for Pleasure and Sarah Chang with Charles Dutoit (EMI) have been deleted.

The Beulah transfer of the recordings is good, apart from an abrupt cut-off at the end of the first movement of the Lalo. The bravura of the finale is well captured.

Anton BRUCKNER (1824-1896)
Symphony No. 3 in d minor, WAB103 (original 1873 edition)
Bamberg Symphony Orchestra/Jonathan Nott – rec. December 2003. DDD/DSD.
TUDOR 7133 [62:57] – from Passionato.com (mp3 and lossless)

Symphony No.6 in A, WAB106
London Philharmonic Orchestra/Christoph Eschenbach – rec. live, Royal Festival Hall, November 2009. DDD.
LPO 0049 [59:59] – from eMusic (mp3)



I thought the Tudor recording of the Third too good for a short review in this Download Roundup and posted a full review on the main MusicWeb International pages – details here. Even with so many competitors – I was surprised to see over 25 versions currently available on CD – this Tudor recording deserves a place near the top of the list, especially as it makes such a strong case for Bruckner's original thoughts. The lossless download sounds excellent.



Gavin Dixon made the LPO Sixth his Recording of the Month and I see no reason to disagree – see review. This is usually reckoned to be the most elusive of Bruckner's symphonies, with only a handful of widely recommended versions – Klemperer (EMI) and Tintner (Naxos) are usually mentioned: now Eschenbach joins their select ranks. The eMusic transfer is at lowish bit-rates – no track higher than 224kb/s – but it's adequate, even on headphones; though classicsonline's 320kb/s is undoubtedly a safer proposition until someone offers a lossless version, the eMusic download comes very inexpensively (£1.68 or less). Classicsonline offer the booklet, which is also available to Naxos Music Library subscribers, though, as GD writes, it's no great shakes and the pdf version is presented with the pages in a very odd order.

Gustav MAHLER (1850-1911) Symphony No.4 in G [57:05]
Sarah Fox (soprano); Philharmonia Orchestra/Sir Charles Mackerras
rec. live, Queen Elizabeth Hall, London, February 2006. DDD.
SIGNUM SIGCD219 [57:05]- from classicsonline.com (mp3)

Judith Raskin (soprano); Cleveland Orchestra/George Szell – rec. 1960s. ADD. Transferred from Columbia 4-track tape, c.1963.
HIGH DEFINITION TAPE TRANSFERS HDCD158[57:22] – from HDTT (CD, DVD or 24-bit/96kHz download)



Last month I had to refrain from recommending Signum's fine Mackerras recording of Mahler's best-known symphony because the eMusic and HMV Digital downloads were marred by end-of-track bangs and dropouts. I've now heard the classicsonline download and the Naxos Music Library streamed version and can confirm them to be free of extraneous noises, with seamless joins between movements, which means that it's now available to download with confidence. At £7.99 it's twice as expensive as those eMusic and HMV downloads – and, at 57 minutes, short value – but it comes with the booklet and it makes a worthy addition to the discography of the late Sir Charles Mackerras.



The Szell recording dates from the 1960s and, though HDTT have opened out the sound wonderfully well by comparison with the original CBS Classics LP and the first CD reissue (CBS Maestro MYK44713), the very bright strings – particularly fierce in tutti and above the stave – give its age away. By attempting more than the CBS engineers, who were more prepared to live within the limitations of what they had, HDTT have at the same time exposed those limitations. If you open Pandora's box, you never know what comes out. Yet I'm very grateful for the extra spotlight which this transfer plays upon the performance – one which I bought as soon as the LP was released in the first batch of mid-price CBS records in the UK: indeed, it had been pronounced a Radio 3 Building a Library choice even before it was issued, having previously been available on the English Columbia label.

This is far from the hard-driven Szell whose account of Schumann's Rhenish Symphony earned the quip 'that's Szell, that was', echoing an ad for Shell petrol. It amazed that expert Mahlerian Deryck Cooke in 1967 and it still amazes me that Szell could respond so sensitively. Some of the rubato would not be out of place in a Vienna Philharmonic performance of the music of the Strauss family – reminding us that Mahler's music arose from within that same Viennese milieu - and the rubato is much more naturally applied than by Fischer (Channel Classics) or Maazel (NYPO) on recent recordings: see July 2010 Download Roundup

Judith Raskin is a first-rate soloist in the finale. Though Sony have reissued this recording in the lowest price category and with a substantial coupling, the HDTT transfer is well worth having. When you consider that the Columbia LP cost 38 shillings in 1967 – at least £40 in today's values – and even the 1969 reissue cost 28/6 – say £30 – the HDTT asking price ($7.99 for the cheapest version on CD or DVD, $12.00 to download) seems very reasonable. This still heads my list of versions of this deservedly oft-recorded work, though Michael Tilson Thomas (SFSO Media 821936-0004-2 – see August 2010 Download Roundup) is a strong modern competitor.

My colleague Dan Morgan has also listened to this recording. He writes:

Mahlerians of a certain age will remember that George Szell's CBS Mahler Fourth was the version to have on LP. Indeed, reviewing an early reissue – priced at 28s 6d – Gramophone's Edward Greenfield wrote: 'If I were asked to choose a record of Szell's to show his art at its most inspired, I think it would be this.' Not that there was a lot of choice then, as these symphonies weren't quite the growth industry they are now. So, having owned this recording on both vinyl and CD, I was very keen to hear this 24bit/96kHz download. And given the quality of the high-res Farberman/Ives and Bizet's Symphony in C from Ansermet, this Mahler promised to be very special indeed.

First I listened to the digitally re-mastered CD (CBS Maestro MYK 44713) and was struck immediately by the overall warmth and geniality of Szell's reading. The first movement has a wonderful glow and pleasing lilt – rubato notwithstanding – and within minutes I was utterly seduced. The playing of the Cleveland Orchestra is as polished as ever – strings precise, woodwind liquid and horns suitably burnished – qualities I hoped the high-res transfer would preserve, perhaps even enhance. In the event I was somewhat disappointed, as the strings now have a razored edge. True, the recording sounds more spacious and the amount of fine detail is astonishing, but that essential warmth has been lost.

Such clarification adds to the impact of the Farberman/Ives Circus Band March, and in the case of the Bizet Symphony in C the analogue 'bloom' of Decca's original tapes is certainly enhanced. What a pity that HDTT's transfer of the CBS recording isn't in the same league, although the instruments do have an immediacy, a presence, that the more diffuse CD conceals. Still, that brightness can be tamed – to some extent at least – with a bit of knob twiddling on your amp.

Fortunately, the wie eine Fiedel of the second movement isn't as strident as I feared it would be, but there are a few drop-outs – possibly incurred during the transfer process – and the hard-edged sound does begin to take its toll after a while. Switching back to the CD one is instantly drawn into Mahler's unique sound-world in a way that just isn't possible with this squeaky-clean download. All is not lost, however, for the slow movement is just glorious, the felicities of the Clevelanders' playing – the lower strings especially – revealed as never before. It's music of aching tenderness, spoilt here by that fatiguing treble and a less-than-lovely peroration at the end.

The success of the child-heaven finale depends so much on the soloist. In recent years Luba Organášova (Zinman/Sony-RCA) and Miah Persson (Fischer/Channel) have done this music proud, although some may find the former a tad matronly for the part. Szell's soloist, Judith Raskin, is perfectly adequate and, given my caveats about the string sound, I half expected to hear some extra sibilance in her voice. But no, all is well. I only wish I could be as reassuring about the rest.

There are many fine Mahler Fourths in the catalogue now – and this second centenary year will surely see some new ones – but Szell's Mahler, as with Bruno Walter's and Jascha Horenstein's, will always be indispensable. That said, listeners would do well to hang on to their vinyl or CD versions of this classic, as the sound of HDTT's high-res files is just too unforgiving to warrant a recommendation from me.

Dan Morgan

Sergey Mikhaylovich LYAPUNOV (1859–1924) Piano Concertos
Piano Concerto No. 1 in E flat minor, Op. 4 [22:16]
Piano Concerto No. 2 in E major, Op. 38 [19:27]
Rhapsody on Ukrainian Themes, Op. 28 [16:35]
Shorena Tsintsabadze (piano); Russian Philharmonic Orchestra/Dmitry Yablonsky
rec. Studio 5, Russian State TV and Radio Company KULTURA, Moscow, Russia, 2–6 March 2008. DDD
NAXOS 8.570783 [58:32] – from classicsonline.com (mp3) or stream from Naxos Music Library



You either love Russian music of this period, as I do, or you think it's going nowhere, finding it impossible to love or hate - which is why Balakirev's First Symphony, the real litmus test, has to be a private affair for me because my wife places it in the 'going nowhere' category, even in the superb Beecham recording on EMI (Perhaps that's why that splendid CD is no longer available). Lyapunov's two short Piano Concertos and the Rhapsody are superb spirit-lifters and this idiomatic set of performances, well recorded – much better than what used to emanate from Moscow, and in good mp3 – are almost guaranteed to be regular visitors when I need a psychological boost without too much mental effort.

Please see also review by Ian Lace.

Aleksandr Tikhonovich GRECHANINOV (1864–1956)
Now the powers of heaven, Op 58 No 6 (1912) [5:20]
In thy kingdom, Op 58 No 3 * (1912) [7:29]
Lord, now lettest thou thy servant Op 34 No 1 (Nunc dimittis) [2:32]
All-Night Vigil - Vsenoshchnoye bdeniye ('Vespers'), Op 59 (1912) [47:35]
* James Bowman (counter-tenor); Holst Singers/Stephen Layton
– rec. November, 1998. DDD
Texts and translations available as pdf document.
HYPERION HELIOS CDH55352 [62:33] – from Hyperion (mp3 and lossless)


Hyperion's recording of the Rachmaninov 'Vespers' was a worthy CD to include in their mid-price 30th birthday releases (Corydon Singers, CDA30016). Grechaninov's setting dates from three years earlier and, though far less often performed, even by Russian choirs, is also well worth getting to know: beautiful music idiomatically performed and well recorded – and now superb value on the budget-price Helios label.

Though Hyperion emblazon it on the cover, the common title 'Vespers' is something of a misnomer: the texts are taken from the vigil service (not necessarily all-night) preceding Sundays and feast days in the Orthodox calendar – First Vespers, followed by Matins. The first two pieces on the CD are taken from Grechaninov's equally passionate music for Holy Week.

Jean SIBELIUS (1865–1957) Symphonies Nos. 4 and 5
Symphony No. 4 in a minor, Op. 63 [36:29]
Symphony No. 5 in E flat, Op. 82 [33:05]
New Zealand Symphony Orchestra/Pietari Inkinen
rec. Michael Fowler Centre, Wellington, New Zealand, 21-23 September 2009 (Symphony No. 4) and 16–18 October 2008 (Symphony No. 5). DDD.
NAXOS 8.572227 [69:44] – from classicsonline.com (mp3)


After some reservations about their recordings of Symphonies Nos. 1 and 3 (8.572305), Pietari Inkinen and his New Zealand Orchestra made me wonder why the Fourth Symphony is not usually rated more highly, achieved mostly by underplaying the bleakness which often unduly pervades performances, yet they also convinced me that the Fifth remains the jewel in the crown. The mp3 sound does justice to the performances. Unlike most classicsonline downloads of recent Naxos material, there is no booklet. Nevertheless, this restores my belief that Naxos have the makings of another fine Sibelius cycle in hand.

The Fringes of the Fleet
John ANSELL (1874-1948) Overture: Plymouth Hoe [7:29]
Sir Edward ELGAR (1857-1934) The Fringes of the Fleet- The Lowestoft Boat [3:58]; Fate's Discourtesy [3:31]; Submarines [2:40]; The Sweepers [3:27]; Inside the Bar [2:30]); Big Steamers [3:04]
John IRELAND (1879-1962) The Soldier [2:34]; Blow Out, You Bugles [3:04]
Sir Edward ELGAR (1857-1934) Elegy for Strings [4:31]
Haydn WOOD (1882-1959) A Manx Overture - The Isle of Mountains and Glens [7:59]
Sir Edward GERMAN (1862 -1936)Big Steamers [2:58]
John ANSELL (1874-1948)Overture: The Windjammer [8:27]
Haydn WOOD (1882-1959) March: Elizabeth of England [5:05]
Roderick Williams, Nicholas Lester, Duncan Rock, Laurence Meikle, (baritones).
Guildford Philharmonic Orchestra/Tom Higgins
rec. All Hallows Church, Gospel Oak, London, 9-10 May 2009 DDD
SOMM SOMMCD243 [61:26] – from theclassicalshop.net (mp3 and lossless)



Em Marshall's verdict was: 'Some of the works on the disc are unremarkable, but all work well in a carefully-compiled programme of both lighter and more serious war music. This version of Fringes of the Fleet is certainly a welcome addition to the catalogue – and the disc has the further benefit of including an extremely sensitive and poignant performance of Elgar's Elegy for Strings. All in all, well worth a listen!' (See full review). it only remains for me to say that the mp3 sound matches the performance. Unfortunately, however, there's no booklet with the download, so no texts.

I haven't heard the version with piano accompaniment on Avie AV2129 (2 CDs) and we don't seem to have reviewed it on MusicWeb International. It had some mixed reviews elsewhere – perhaps it would be wise to sample it at the Naxos Music Library. If you then decide to buy, be aware that the classicsonline version again comes without booklet or texts and that for a little more you can purchase the CDs from MusicWeb International via the Avie purchase button.

Arnold BAX (1883-1953) Concertino For Piano and Orchestra (1939)
(World premiere recording edited and orchestrated by Graham Parlett) [29:06]
John IRELAND (1879-1962) Concerto for piano and orchestra in E-flat (1930) [28:14]
Legend for piano and orchestra 1933/4) [13:14]
Mark Bebbington (piano);Orchestra of the Swan/David Curtis – rec. April, 2009. DDD
No booklet, but notes available from Somm here.
SOMMCD242 [70:35] – from theclassicalshop.net (mp3 and lossless)

John IRELAND (1879-1962)
Piano Concerto (1930) [25:47]
Legend for piano and orchestra (1933/4) [13:22]
Mai-Dun, symphonic rhapsody(1921) [13:41]
Eric Parkin (piano); London Philharmonic Orchestra/Bryden Thomson
- rec. All Saints' Church, Tooting, London, December 1985. DDD.
CHANDOS CHAN8461 [52:51] – from theclassicalshop.net (mp3 and lossless)

Please see review of the Somm recording by Richard R Adams here and of the Chandos by Gwyn Parry-Jones here.



My reaction to the Somm was rather more favourable than RRA's. The Ireland Concerto, however, faces strong competititon from the rather brisker version on Chandos, which also offers a performance of Legend. I find it almost impossible to choose between these two fine recordings: I think your choice of coupling will have to decide. The Somm offers the premiere recording of an unjustly neglected Bax work which is well worth having in the repertoire; all the music is idiomatically performed and the playing time is considerably longer.



The Chandos offers equally fine performances of the two Ireland works, together with the attractive Mai-Dun, with a larger orchestra than Somm, which the music really requires – though I didn't think this a major issue – and directed by Bryden Thomson who had an instinctive feel for British music of this period. There are two other fine recordings of Mai-Dun, on Lyrita (SRCD240: Boult conducts John Ireland – see review) and Hallé (CDHLL7523, conducted by John Wilson: Recording of the Month – see review. Download from classicsonline.com). Both the Somm and Chandos recordings are excellent in lossless form (for £9.99) and even both mp3 equivalents are at the fullest bit-rate (£7.99).

Alban BERG (1885-1935) Orchestral Works
CD 1 [79:35]
Piano Sonata, Op.1 (1908) (orch. 1984 by Theo Verbey (b.1959)) [12:43]
Three Pieces, Op.6 (1914-15/ rev.1929) [20:57]
Der Wein (1929) Sung in French [12:52]
Passacaglia (1913) [4:17]
Violin Concerto (1935) [28:10]
CD 2 [77:45]
Three Fragments from Wozzeck (1923-4) [19:58]
Symphonic Pieces from Lulu (1934) [34:17]
Der Wein (1929) Sung in German [13:13]
Wein, Weib und Gesang! Waltz Op.333 by Johann Strauss (transc. Berg (1921)) [9:22]
Geraldine McGreevy (soprano); Robert Murray (tenor); Isabelle van Keulen (violin)
Gothenburg Symphony Orchestra/Mario Venzago
rec. Konzerthuset, Gothenburg, 2004 -2007. DDD
CHANDOS CHAN5074 (2) [79:35 + 77:45] - from theclassicalshop.net (mp3 and lossless). Also available as SACD, CHSA5074. (2 SACDs for the price of one).


This received a mixed, though mainly positive reception from Tony Haywood and Siebe Riedstra when it first appeared – see review. I can't claim to be a great lover of Berg's music, other than the wonderful Violin Concerto, here performed in the revised edition, but I'd certainly recommend this recording to those seeking the 'complete works' - actually more than complete, since several of the pieces here are arrangements.

Those, like myself, seeking only the Concerto may be pleasantly surprised by the rest of the music, not least thanks to the contribution of Geraldine McGreevy – one reviewer in 2009, not on MusicWeb International, even contrived to write about only the items in which she participates. On the other hand, if it's just the Concerto that you want, it's available on a very inexpensive but satisfying Warner Apex CD, performed by Thomas Zehetmair and the Deutsche Kammerphilharmonie under Heinz Holliger, coupled with Concertos by Janáček and Karl Amadeus Hartmann (0927408122. This was formerly even better value on a 4-CD set, Twentieth Century Classics, 0927494202, which may still be around as a remainder for about £8.

One oddity is that the SACD sells for £15.99 direct from Chandos, while the mp3 download shaves just one penny off that price and the lossless download is more expensive at £19.98. Perhaps there is some economic sense in that, but I can't see it.

Luís de FREITAS BRANCO (1890-1955) Orchestral Works: Volume 4
Symphony No. 4 (1944-52) [42:20]
Vathek – Symphonic Poem in the form of variations on an Oriental Theme (1913) [34:03]
RTÉ National Symphony Orchestra/Álvaro Cassuto
rec. National Concert Hall, Dublin, 12-13 April 2010. DDD.
NAXOS 8.572624 [76:23] – from classicsonline.com (mp3) or stream from Naxos Music Library



Luís de Freitas Branco wasn't even a name to me until Naxos commenced this series of recordings of his music – music which they aptly describe as 'eminently satisfying yet unaccountably neglected repertoire'. So impressed was I by the music, performances and recording – mp3 only, but sounding fine – of the chant-based Fourth Symphony and the exotic Vathek that I now intend to listen to the three earlier volumes: 8.570765 - review, 8.572050 – review and review - and 8.572370 - review. As with all recent classicsonline downloads of Naxos and several other labels, the booklet forms part of the deal. If in doubt, stream from Naxos Music Library – here - where you'll also find the booklet, as well as Volumes 1-3 and a rival version of the Second Symphony (Atma ACD22578, also available to download from Passionato).

Erich Wolfgang KORNGOLD (1897-1957)
Symphony in F sharp (1952) [51:00]
Much Ado About Nothing – Incidental Music (1918) [16:24]
Orchestre Philharmonique de Strasbourg/Marc Albrecht
rec. Salle Erasme, Palais de Congrès, Strasbourg, France. 20 March 2010. DDD.
PENTATONE PTC 5186 373 [67:41] – from eMusic and classicsonline.com (both mp3)

Lieder des Abschieds (Songs of Farewell), Op. 14 (1920–21)* [16:16]
Symphony in F sharp, Op. 40 (1947–52) [51:33]
Linda Finnie (contralto)*
BBC Philharmonic/Sir Edward Downes
Booklet with texts and translations included as pdf.
CHANDOS CHAN10431 [68:02] – from theclassicalshop.net (mp3 and lossless)

String Quartet No.1 in A, Op.16 (1920-1923) [32:30]          
String Quartet No.2 in E flat, Op.26 (1933) [21:59] 
String Quartet No.3 in D, Op.34 (1944-1945) [25:24]          
Doric Quartet (Alex Redington, Jonathan Stone (violins), Simon Tandree (viola), John Myerscough (cello)) - rec. 5-7 April 2010, Potton Hall, Dunwich, Suffolk. DDD   
CHANDOS CHAN 10611 [79:57] – from theclassicalshop.net (mp3, lossless and 24-bit)



With Korngold at last, it seems, coming into his own, at least in terms of recordings, perhaps we can finally lay to rest the old quip about more corn than gold. I refer you to Ian Lace's detailed review of the SACD, with a footnote that the download from eMusic is fine, even though only two tracks are at the optimum 320k bit-rate: it's inexpensive, too (£3.78 or less) but the more expensive version from classicsonline comes at the full bit-rate. At the time of writing, the latter was reduced from £7.99 to £6.39.



The older Chandos recording continues to hold its own and some may prefer the very attractive coupling, especially if you already have the Naxos recording of the Violin Concerto and Much Ado Suite (8.570791 – see review). It's available from Chandos's own theclassicalshop.net for £4.99 (mp3 at the full bit-rate) or £7.99 for a variety of lossless formats for the satisfaction of those who insist on CD-quality. Wouldn't it have been nice if Chandos or PentaTone had recorded all three of these works – they could easily be fitted on one disc.



Now Chandos have done even greater service to Korngold by recording his String Quartets – nothing at all corny here, indeed, not always easy listening. Bob Briggs thought this a disc to be relished – see review – and Rob Barnett recommended us to 'Go for it' – see review. I'm working on it in the belief that the music will pay as much reward as the chamber music of Elgar and Vaughan Williams – and the Doric Quartet offers to be a most able guide. The slightly warmer ASV recordings to which RB refers in his review are currently available as a super-budget 2-CD set on Brilliant Classics 8549 (around £7.50).

Dmitri SHOSTAKOVICH (1906-1975)
Symphony No.2, Op.14 ('To October') [19:25] (1927)
Symphony No.11, Op.103 ('The Year 1905') (1957) [56:39]
Mariinsky Chorus and Orchestra/Valery Gergiev
MARIINSKY MAR0507 [76:05] – from eMusic (mp3)



The Second Symphony may be a bit of a non-starter – plenty of sound and fury but signifying almost nothing – but it makes a decent makeweight for the Eleventh, which usually takes a whole CD to itself, and this recording makes the best possible case for it. Even the Eleventh is not among my favourite Shostakovich works, though I can't quite put my finger on the reason: it's had some fine performances, not least on this new recording. It's a dark and brooding work, affected by the brutal quelling of the Hungarian uprising in 1956 as much as by its nominal inspiration, the events of 1905.

The performances are good but ideally the recording could do with a bit more elbow-room than this mp3 transfer allows – only one track at the optimum 320kb/s, the rest at around 200kb/s. Though the sound is decent enough, it's probably best to wait until classicsonline offer it in premium mp3, which may be the case by the time that you read this. Don't overlook Vasily Petrenko's recent Naxos version of the Eleventh (8.572082, Recording of the Month – see review and as a tail-piece to my review of Petrenko's Symphonies 5 and 9 in my April 2010 Download Roundup), available from classicsonline.com here.

Camargo GUARNIERI (1907-1993)
Symphony No.5 for orchestra and choir (1977) [21:08]; Suite Vila Rica (1957/58) [19:54]; Symphony No.6 (1981) [20:29]
São Paulo Symphony Chorus and Orchestra/John Neschling – rec. 2003. DDD.
BIS BIS-CD-1320 [61:31] – from eclassical.com or Passionato.com (both mp3 and lossless) or classicsonline.com (mp3)



Not content with sharing the family name of one of the greatest ever violin makers, Guarnieri's parents christened their children after composers, in this case Mozart, though he dropped the name, or abbreviated it to M., in favour of his mother's maiden name.

The most immediately appealing music here is the film suite Vila Rica, but I suspect that the symphonies will make the more lasting impression. Guarnieri is usually hailed as the successor to Villa-Lobos and while there are 'native' elements in his music, the overall effect is not particularly Brazilian.

These are persuasive performances and the lossless recording from Passionato is good. At $7.38, the eclassical download is the least expensive and comes in lossless flac for the same price as mp3.

Morton GOULD (1913-1996)
Dance Variations for Two Pianos and Orchestra (1953) [21:24]
Gian-Carlo MENOTTI (1911-2007) Sebastian Suite (1944) [23:28]
Arthur Whittemore, Jack Lowe (pianos); San Francisco Symphony Orchestra; NBC Symphony Orchestra/Leopold Stokowksi – rec. 1953, 1954. ADD/mono
NAXOS CLASSICAL ARCHIVES 9.80163 [44:32] – from classicsonline.com (mp3)
(Not available in the USA, Australia and several other countries).



I'm indebted to John Bundy for drawing my attention to this recording and for contributing a review. All that remains is for me to add that I enjoyed hearing these two recordings of works which were unfamiliar to me: the only major music by Morton Gould which I knew was Fall River and I didn't even think that I liked Menotti. At £1.99, where available (sadly, not in the US, for copyright reasons) this remarkably well-transferred reissue, in good mono sound, is well worth having though I echo JB's plea for a stereo reissue of the Menotti. Perhaps High Definition Tape Transfers could oblige.

John Bundy writes: This review concentrates on the Morton Gould Dance Variations. Gould [1913-1996], was a musical prodigy – pianist, composer, conductor, radio music director, and even had his own fine orchestra from 1942-1964, recording predominantly for RCA. He was a prolific composer, with an engaging, inventive, and original style, which is strongly evident in the Dance Variations for Two Pianos and Orchestra [1953]. The duo-piano team of Arthur Whittemore and Jack Lowe, for whom the piece was intended, was active from 1945 to 1975, and is featured on this 1953 monophonic recording, released as RCA LM-1858 in 1955. The flip side offers Menotti's delightful Sebastian Suite, later released in stereo, from the pioneering RCA two-track stereo tapes made in 1954, at the same recording session as the mono version on this download. This was available on reel-to-reel and cassette formats, and eventually made its way to the Stokowski Stereo Collection [CD format], and is a magnificent performance, well worth the effort to find.

The Dance Variations are comprised of four movements: 1. Chaconne; 2. Arabesques [gavotte, pavane, polka, quadrille, minuet, waltz, and can-can]; 3. Pas de deux [tango]; 4. Tarantella. The performance, with Stokowski conducting the San Francisco Symphony Orchestra, is exciting, and while the two pianos are unfortunately joined as one by the mono recording, and set fairly far away from the listener, the pianists' virtuosity is nonetheless evident. Considering the age of the recording, and the fact that this download comes, possibly, from the LP rather than the master tapes, the fidelity is quite acceptable. However, it is Stokowski's interpretation that sets this apart from the few recordings that have succeeded it. In particular, the final movement dashes to a finish with an abandon that is not matched by the stereo competition. In fact, Stokowski takes every movement notably faster [than Amos], particularly the final two, with the tango a full minute shorter. There exists a 1989 CD recording, with David Amos and the Royal Philharmonic Orchestra, Joshua Pierce and Dorothy Jonas, duo-pianists, on Koch 7002, reissued in 1999, on Helicon HE 1044. This recording benefits from stereo separation of the often intricate and demanding piano parts, as well as digital recording. However, the Stokowski version provides a different viewpoint, and stands convincingly on its own artistic merits. It would be wonderful, and a real service to the music, personnel, and enthusiasts, if RCA would reissue this recording, substituting the stereo version of the Menotti for the monophonic format of the LP.

John Bundy

The only current rival version of the Menotti in the UK catalogue comes from the Spoleto Orchestra and Richard Hickox on Chandos (CHAN9900, coupled with Apocalisse and the Fantasy for cello and orchestra).

Astor PIAZZOLLA (1921-1992)
Sinfonía Buenos Aires, Op. 15 (1951)* [26:20]
Concerto for Bandoneón, String Orchestra and Percussion, 'Aconcagua' (1979)* [24:58]
Las Cuatro Estaciones Porteñas (Four Seasons of Buenos Aires) (1964-70)** [28:20]
(arr. Leonid Desyatnikov for violin and strings)
Daniel Binelli (Bandoneón)*; Tianwa Yang (Violin)**
Nashville Symphony Orchestra/Giancarlo Guerrero
rec. Laura Turner Concert Hall, Schermerhorn Symphony Center, Nashville, Tennessee, USA, 21-22 November 2009
NAXOS 8.572271 [79:39] – from classicsonline.com (mp3) or stream from Naxos Music Library



I can't put it better than Bob Briggs: 'The performances are very good, and idiomatic. Binelli is a fine player and has the spirit of Piazzolla in his playing, Tianwa Yang has exactly the right swing, and delivers a splendid performance of this very attractive music. The Nashville Symphony under Giancarlo Guerrero play to the manner born. The recording is very good, as one expects from Naxos, and the notes, though short, are worthwhile. This is a very exciting issue and would grace any record shelf. It will please all Piazzolla lovers, and bring many more into the fold.' – see full review. The download is very good and comes with the notes to which BBr refers.

Some time ago I recommended a South American recording of Piazzolla, but that's hard to obtain in the UK; these North Americans play just as well

Stop Press
Wood conducts British Music

CD 1
Ralph VAUGHAN WILLIAMS (1872-1958) Overture to The Wasps [8:39]
A London Symphony (Symphony No 2) [36:37]
Fantasia on Greensleeves [3:30]
Eric COATES (1886-1957) London Suite: Westminster [4:03]; Covent Garden [4:11]; Knightsbridge [3:57]

CD 2
London Bridge March [4:04]
Edward ELGAR (1857-1934) Violin Concerto in b minor, Op.61* (1910) [42:42]
Henry PURCELL (1659-1695) (arr H J WOOD) Suite in Five Movements [12:02]
Albert Sammons (violin)*;
New Queen's Hall Orchestra*;
Queen's Hall Orchestra/Sir Henry J Wood – rec. 1929-1937. ADD/mono
BEULAH 34PD3 [60:47 + 58:57] – from iTunes (mp3) details here.



This arrived for review just as I was closing the Roundup and I've had time to listen only once. Beulah downloads come to me for review on CD, divided in this case as indicated above, which would be a good template for purchasers to follow in burning their own CDRs.

Very few of Wood's recordings were any great shakes but these are certainly tolerable, as refurbished here, perhaps because some of the original sides were recorded in 'wide-groove' technique: most is better than the Past Classics transcription of the much more recent Purcell and Lully (above) and the performances of the three RVW works, especially the Symphony, are well worth having, particularly if you have the Hickox recording of the original score as an alternative (Chandos CHAN9902).

The Coates is much more coarsely recorded but tolerable as a historical document, especially for older listeners who will recall the Knightsbridge March being used on the BBC Home Service on Saturday evenings as the introductory music for In Town Tonight. Once again, this is best regarded as a supplement to more recent recordings on a Classics for Pleasure 2-CD set, or the Marco Polo CD which I commended in the December 2010 Roundup.

With individual tracks at £0.79 and the whole 2-CD for £7.99, this could have been my Reissue of the Month. The RVW recordings, originally spread over 14 78rpm sides, reappeared in the mid-1960s on Decca Ace of Clubs, when the LP was thought to be a bargain by comparison with the 78s. It's even more so now: the 20/6 which it then cost for less than the contents of one of these CDs would equate to at least £25 now.

Edward Greenfield, in 1965, was no doubt correct in thinking the Scherzo of the Symphony a little too fast, owing to the constraints of 78 timings, but I was not greatly troubled by this.

The Albert Sammons Elgar is a true classic, though I retain a soft spot for the teenage Menuhin's performance of a few years later, available on Naxos Historical 8.110902, with Bruch. Those few years saw a vast improvement in recording quality but the Beulah transfer of the earlier recording has been very well done. I made a quick comparison with the renowned Mark Obert-Thorn transcription on Naxos Historical (8.110951, with Delius) and found little to choose between them. I suspect that there's a very slight difference in the speeds at which the transfers were made, with the Beulah marginally brighter and faster, but that didn't trouble me: I have no sense of absolute pitch, so I couldn't tell which is right. If anything, the Beulah has less surface noise, though that's not a major problem on Naxos; the Beulah seems slightly easier to live with – and it's available in countries where the Naxos isn't because of copyright.

You may wish to note that the Sammons Elgar recording will be available separately from Beulah in March 2011.

The Purcell Suite is not one of the best examples of this kind of pastiche – Britten did it so much better in the Young Person's Guide, as did Walton, whose Bach arrangement, The Wise Virgins, Beulah have already reissued (Ballet by Arrangement, 1PD40 – see August 2010 Download Roundup), whereas Wood's enshrines the old, heavy approach to early music. The 1937 recording is afflicted by more surface noise than the other tracks. To hear Wood in much lighter vein in baroque music, try Handel's Samson Overture from Sir Henry's Themes and Variations, Beulah 1PD3: excerpt on YouTube here.


Last month I made the Capilla Flamenca recording of Agricola's Mass In myne Zyn my Download of the Month, but mentioned the low bit-rate of the eMusic download and the lack of texts and translations. Next month I plan to revisit this recording in the 320kb/s download from classicsonline.com and to include the texts which Capilla Flamenca have kindly supplied.

Brian Wilson