JANUARY 2012: DOWNLOAD ROUNDUP
Brian Wilson
The second December 2011 Roundup is here and earlier Roundups are indexed here.

Download of the Month

La Sublime Porte: Voix d'Istanbul (The sublime Gateway, Voices of Istanbul) 1430 – 1750
Gürsoy Dinçer (singer), Montserrat Figueras (soprano), Lior Elmaleh (singer)
Musicians from Armenia, Turkey, Bulgaria, Israel, Greece and Morocco
Hespèrion XXI/Jordi Savall – rec. February 2010, May and June 2011. DDD/DSD
ALIA VOX AVSA9887 [79:49] – from emusic.com (mp3)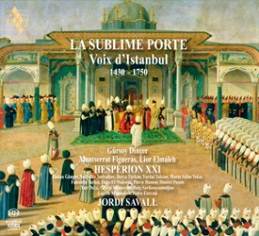 Some Downloads of the Month choose themselves at an early stage in my listening; this was one. There are numerous reasons: it offers yet another most successful East/West partnership from Jordi Savall, the music is colourful and entrancing, the performances and recording do everything to enhance our enjoyment and, not least, it now, sadly, serves as a fitting memorial to Mrs Savall, Montserrat Figueras, the voice of Hespèrion XX and XXI, who died in November 2011.

Savall has already explored the music of Istanbul, which was and is the sublime gateway between Europe and Asia. The previous (2009) recording concentrated on Dimitri Cantemir (1673 – 1723), a Moldavian prince who arrived in Istanbul originally as a hostage, and his Book of the Science of Music (AVSA9870*). This time, too, the music in Cantemir's manuscripts provides Savall with much of the music as he illuminates the meeting point of Turkish, Sephardic Jewish and Christian music, as illustrated on the cover by the differently coloured turbans worn by Turks, Christians and Jews.

The cost from emusic.com is £6.72 or less; those without emusic membership can obtain the download from amazon.co.uk – here – for a little more (£6.99). The emusic.com bit-rate hovers around the 210kb/s mark, which is not great but sounds more than adequate. Audiophiles should note that the original disc is a hybrid SACD. Though the time is perilously close to the maximum 80-minute mark, the music all burned to CDR successfully.

There are no texts – a serious loss which I understand the SACD booklet lavishly redeems – but a detailed essay by Jordi Savall can be found on the Alia Vox website – here. Click on the 'disc reviews' tab. You will also find the names of the tracks there; I haven't listed them at the head of the review because they would make little sense until you listen to the recording. Around half the tracks are described as taksim, a Turkish word meaning division and, here, signifying form of improvisation on a makam or given theme. A small point of puzzlement: the cover shown on the emusic.com and amazon.co.uk websites gives the relevant dates as 1400 – 1800, that on the Alia Vox website says, more narrowly, 1430 – 1750.

Most of the Alia Vox label's earlier recordings are available from emusic.com, though their per-track charging policy means that some are incredibly inexpensive and others over-priced. El Cant de la Sibil.la Catalunya (Song of the Sibyl, Catalonia), one of Figueras's most haunting recordings is especially good value from emusic.com – here – at £1.26. See review in November 2009 Roundup: the nondescript cover employed then has been replaced by a much more attractive number.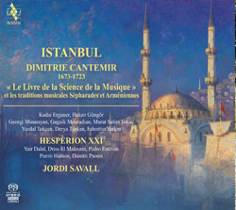 * Download for £4.99 from amazon.co.uk (mp3). Reviewing Savall's disc of Jérusalem: la Ville des deux Paix in the April 2010 Roundup, I hoped that passionato.com would follow up with the Istanbul and Forgotten Kingdom albums. Sadly, far from complying, they have recently lost the Alia Vox and many other labels, so the link in that review no longer works. Having heard the new recording, you may well wish to obtain its fascinating predecessor, especially at such an attractive price from amazon.co.uk; though audiophiles will want the parent SACD and most of the tracks, at around 220kb/s, are well short of Amazon's usual 256kb/s, the result sounds well enough. Again, though there are no notes, the Alia Vox website partly compensates.

Reissue of the Month



You'll find my Reissue of the Month among the Beulah Extra releases below; it's Sir Adrian Boult's 1944 account of Elgar's Second Symphony. Of all the many recordings of this great work which he made, I think this is the only one that I hadn't encountered before. Though I think his later thoughts in many ways an improvement and have in mind other recordings which I wouldn't wish to jettison, such as Vernon Handley's*, there's a power in this recording which even Boult never recaptured and Beulah's restored sound is little short of a miracle.

* EMI Classics for Pleasure 5753062, with Sea Pictures. Unfortunately I can't recommend the classicsonline.com download – at £8.99 it's almost twice the price of the CD – but you can stream it from their sister site Naxos Music Library. Nor is amazon.co.uk much better with a price of £7.76 for the download and the CD when the latter can be bought for around £5.50. HMV Digital seem to be offering just two tracks of Sea Pictures for £1.98!

Second Thoughts

John TAVERNER (d.1545) Imperatrix inferni: Votive Antiphons and Ritual Music
Quemadmodum [5:39]
Audivi vocem [3:50]
Ave Dei patris filia [14:15]
Dum transisset sabbatum [7:48]
Mater Christi [6:11]
Gaude plurimum [15:28]
[Hodie nobis celorum rex...] Gloria in excelsis Deo [4:36]
Kyrie 'Leroy': O splendor gloriæ [11:51]
Alamire (Grace Davidson, Kirsty Hopkins, Eleanor Cramer (soprano); Ruth Massey, Clare Wilkinson (contralto); Mark Dobell, Nicholas Todd, Ashley Turnell, Simon Wall (tenor); Eamonn Dougan, Timothy Scott Whiteley (baritone); William Gaunt, Robert Macdonald (bass))/David Skinner – rec. 23-25 November 2010. DDD.
Performing editions by David Skinner
OBSIDIAN OBSID-CD707 [70:21] – from eclassical.com (mp3 and lossless)



This almost made it to Download of the Month in the November 2011/1 Roundup; in the end it yielded to the Tallis Scholars in Josquin but in most months it would have been an easy winner. John Quinn also rated it highly – see review – and I passed it over reluctantly as one of my Recordings of the Year. I'm returning to it now because it's become available in lossless sound from eclassical.com and clearly music of this complexity in performances as good as these deserves the highest possible recording quality. If you need mp3 for your mp3 player, eclassical.com allows you to return for this later. The eclassical.com price of $12.53 is a little higher than the classicsonline.com £7.99 in the UK, but there's not a great deal in it. Classicsonline.com offer the booklet and eclassical.com don't; you can, however, find notes texts and translations here.

Beulah Extra

Details of all these releases can be found here. Pressures of time and a heavy cold over the Christmas period mean that I've had to pick and choose my personal favourites and leave some of this month's Beulah releases over to the January 2012/2 Roundup.

George Frideric HANDEL (1685 – 1759) Solomon: Arrival of the Queen of Sheba [2:53]
London Philharmonic Orchestra/Sir Thomas Beecham – rec. 1933. ADD/mono
11BX43 [2:53]



Though this can hardly now be described as 'buried' Handel, as it was in 1933 – the Rossini Scala di Seta overture on the flip side was also a novelty then – anything by Beecham is still special; we wouldn't now use the epithet 'capital' any more, either, but it is. The performance is lively and stylish and the recording has come up very well indeed for its age. Beecham's Messiah, complete with everything but the kitchen sink, may no longer be to our taste but a performance as fine as this has a permanent appeal.

Joseph HAYDN (1732 – 1809) Symphony No.40 in F [14:11]
Royal Philharmonic Orchestra/Sir Thomas Beecham – rec. 1948. ADD/mono
10BX43 [14:11]



Even now Symphony No.40 is not one of the most played Haydn works – it's actually much earlier than the Hoboken number suggests, belonging properly with Nos. 13 and 14 – so I was surprised to see that Beecham had recorded it as long ago as 1948 at a time when even No.102 could be described as a rarity. It was issued in a commemorative album to celebrate the conductor's 70th birthday.

Beecham was a distinguished Haydn interpreter, as witness his complete set of the London Symphonies, now on two EMI budget-price twofers, and this symphony benefits from his touch. A few repeats are omitted to conform to 78 side lengths – modern performances run for a couple of minutes longer – but that's not a great problem. The recording sounds well, with very little surface presence. Complete on one track, it's a notable bargain.

Wolfgang Amadeus MOZART (1756 – 1791) Arias
Le Nozze di Figaro: Voi che sapete [3:03]
Così fan tutte: Come scoglio [4:24]
Suzanne Danco (soprano); La Scala Opera Orchestra, Milan/Jonel Perlea – rec, 1947. ADD/mono
1 – 2BX177 [3:03 + 4:24]



Mozart sopranos don't come any better than Suzanne Danco; her Cherubino is one of the many reasons why the vintage Erich Kleiber recording of Figaro remains my version of choice. That was still seven years in the future when she essayed this version of the countess's Voi che sapete (sung by Lisa della Casa for Kleiber) and the aria from Così; the result was described by one original reviewer as 'pleasant and competent if unremarkable'. By 1986 John Steane was much more enthusiastic, finding it almost impossible to fault the French Decca LP which included these two items. Perhaps it was a case of distance lending enchantment – now an even greater factor – but for whatever reason I'm with JBS in enjoying Danco's singing.

The recording is nowhere near as fresh as recent transfers of Kleiber's Figaro but the lack of body is not a serious hindrance to enjoyment. Surface swish is a virtually non-existent ghost in the background of Come scoglio, but there is some occasional light rumble and there's the odd spell of light crackle in Voi che sapete.

Franz SCHUBERT (1797 – 1828) Octet in F, D803 (Op.166) [48:35]
Vienna Octet – rec. 1948. ADD/mono
5 – 10BX168 [48:45]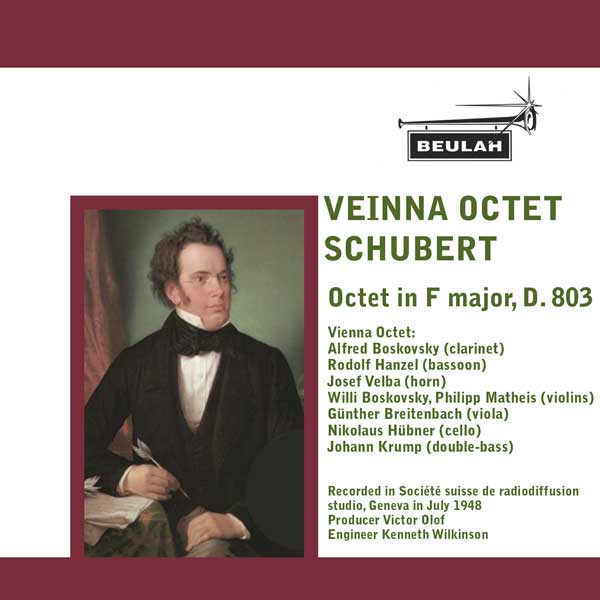 The stylish recordings which the Vienna Octet made from the 1940s to the 1960s contain models of performance of the classical repertoire and beyond: I'm thinking particularly of the Trout Quintet which they recorded with Clifford Curzon and the Mendelssohn Octet, both of which Beulah have reissued in good transfers. This recording of the Schubert Octet is almost as fine – in many ways it's still a benchmark, well worth having as an adjunct to more recent recordings unless you are one of those who think it a little too stylish.

The Vienna Octet re-recorded this work for LP and again in stereo – both available on Decca Eloquence – but this 1948 recording has worn well, with only the horn sounding less than realistic. There's very little surface noise.

Hector BERLIOZ (1803 – 1869) Symphonie Fantastique, Op. 14 [54:21]
Bamberg Symphony Orchestra/Jonel Perlea – rec. 1958. ADD/stereo
1 – 5BX174 [54:21]



The fact that this recording first appeared not at full price but on Vox's mid-price GBY label – later in stereo, too, on STGBY511090 – suggests that they didn't have a great deal of faith in it and it was duly castigated as unbearably slow. At £4 in total for the five tracks, the download is quite a bargain and the recording sounds fine, but I'd recommend paying a little extra for the Beecham classic, recently reissued on EMI Masters – £5.99 from classicsonline.com, with Le Corsaire and two extracts from Les Troyens thrown in.

Compare Beecham's 12:44 for the opening movement with Perlea's 14:28 and you'll see why the Rêveries do almost send the listener to sleep at the hands of the latter. The ball (movement 2) and the last two movements are taken quite quickly and sound well, but the Scène aux champs (movement 3) is again a whole two minutes slower than Beecham.

Colin Davis on his most recent recording on LSO Live is slower than Beecham – almost as slow as Perlea in places – but he keeps the music moving, which makes all the difference. (LSO0007 – see review). Compare Beecham and Davis via the Naxos Music Library but don't even consider buying the Davis from their sister site, classicsonline.com, for £7.99 when the CD can be had in the UK for around £5.50.

Pyotr Ilyich TCHAIKOVSKY (1840 – 1893) Hamlet Overture, Op.67a [14:23]
London Symphony Orchestra/Albert Coates – rec. 1932. ADD/mono
4BX124 [14:23]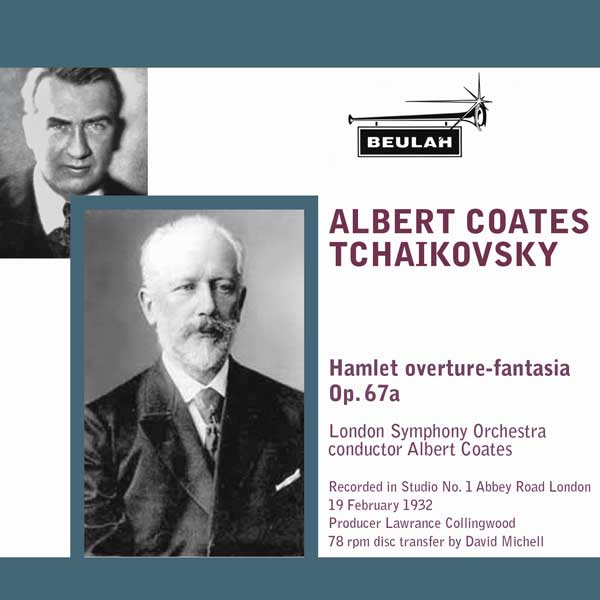 We're hardly short of recordings of this impassioned music – my favourite has to be Stokowski at budget price on Everest EVERCD003, with Francesca da Rimini – but this vintage version was well worth reviving. The recording sounds dry but the transfer is very good considering its age, with almost no surface noise, and the passion of the performance comes through clearly.

Antonín DVOŘÁK (1841 – 1904) The Golden Spinning Wheel, Op.109 [24:47]
Royal Philharmonic Orchestra/Sir Thomas Beecham – rec. 1947. ADD/mono
9BX43 [24:37]



I hadn't thought of Beecham as a Dvořák interpreter; he did record the Symphonic Variations and Symphony No.8 but neither met with great acclaim. There are so many fine recordings of this work – from Kubelík on DG and Mackerras on Supraphon to name but two – that I wondered whether the Beecham magic could win me round. In the end I have to admit to being partly convinced; with those two much better recordings on offer, it would have to be a Dvořák specialist of the calibre of Talich to convince me to listen regularly to a recording of this vintage.

Modern recordings of this work tend to run about two to four minutes longer than Beecham's, apart from Bělohlávek on Chandos, whose version takes just over 22 minutes. Beecham never seems to rush the music and, in fact, his timing is only a little faster than Mackerras's (coupled with Symphony No.6), good company, indeed, in this context.

Though hailed in 1949 as of good quality, the recording is tolerable but noticeably rougher and thinner than Beulah's other reissues of recordings from this period such as this month's Beecham Haydn Symphony No.40. Things improve as the music progresses – maybe it was just side 1 that was problematical or my ear adjusted. Past Classics offer this same Beecham recording – just £0.42 from emusic.com – though their transfers tend to be less carefully made than Beulah's.

Sir Edward ELGAR (1857 – 1934)
BBC Symphony Orchestra/Sir Adrian Boult – rec. 1937. ADD/mono
Sospiri, Op.70 [4:14]
33BX12 [4:14]

Overture In the South (Alassio) [19:48]
BBC Symphony Orchestra/Sir Adrian Boult – rec. 1944. ADD/mono
34BX12 [19:48]

Symphony No.2 in E flat [52:37]
BBC Symphony Orchestra/Sir Adrian Boult – rec. 1944. ADD/mono
35 – 38BX12 [52:37]

The Dream of Gerontius: Prelude [9:26]
BBC Symphony Orchestra/Sir Adrian Boult – rec. 1934. ADD/mono
32BX12 [9:26]



It's probably not too surprising if I give pride of place to these Boult recordings of Elgar or that I make the Second Symphony my Reissue of the Month. Though Boult now seems with hindsight to have been the greatest interpreter of Elgar, it was not always so – one correspondent to The Gramophone in 1938 avowed that his interpretation of the Second Symphony had put him off the work for life. The first three recordings listed above go so well together that they fit comfortably onto one CD – burn them yourself or have Beulah do it for you for a little extra – and the 1944 sound in particular has come up sounding remarkably well, especially on small equipment, such as the Roberts CD/radio in the bedroom on which I listened first.

The order in which they came to me – Sospiri, then Alassio and finally the symphony – works particularly well. EMI have The Barbirolli recording of Sospiri with two different catalogue numbers on the EMI Masters label, a welcome and more recent alternative to the Boult.

If Alassio is not quite as dramatic and bustling as some other interpretations, that allows the wistful element to come through all the more clearly – the Northern artist's yearning for the South that seized even Ratty in Wind in the Willows. The connections with Falstaff are very apparent in this recording. If you would prefer this version of Alassio coupled with the Nursery Suite, classicsonline.com can oblige for £1.99.

Boult recorded the symphony many times – I made his penultimate thoughts [not final, as Rob Barnett, the Classical Editor rightly reminds me – there was an EMI recording in the early 1970s], as reissued on Lyrita SRCD.221, both symphonies for the price of one – my Reissue of the Month in the September 2011/1 Roundup – but this 1944 recording has a great deal going for it in such a fine transfer. The inwardness which I find so much in evidence in Alassio is, perhaps, the one element least developed in Boult's wartime recording of the symphony – many would say that element first appeared in his 1956 Nixa recording with the LPO* – but I don't want to make too much of that and the passion of the performance goes a long way towards making up. It's not a matter of timing: by 1956 the tempo for the first two movements had broadened almost imperceptibly, the second remained the same and the finale was a little faster.

In the South and the Second Symphony were recorded in Bedford during the BBCSO's wartime sojourn there. The sound is inevitably a touch dry but the transfers make it sound miraculous for its age, even when I transferred from listening on the CD/radio to my main setup. There's just a trace of surface noise.

The Gerontius Prelude is not often played on its own but it, too, receives a sympathetic performance and the recording sounds excellent for its date.

* now on a superb budget-price reissue from First Hand Records FHR06 with much other valuable material – see review and November 2010 Roundup.

Frederick DELIUS (1862 – 1934) Irmelin: Prelude [5:19]
Cleveland Orchestra/George Szell – rec. 1956. ADD/mono
1BX171 [5:19] [preview on YouTube here]



I first encountered this recording on a CBS LP of Delius, mingled with interpretations by Ormandy and some of the recordings which Beecham recorded for what was originally the US partner of Columbia. I was impressed how much other than English conductors could get the idiom right; I should have remembered what a stickler Szell was for getting things correct and how successful Monteux's Enigma Variations were. This may not be quite in that league but I'm as impressed now as I was then. Check it out on the YouTube link above and you'll fall for it, too. It's slightly slower than Beecham's classic performance, which it could never replace, though it makes an attractive adjunct to it.

The CBS LP came in 'electronic stereo' but Beulah have wisely reverted to double mono, in which form the sound is a trifle thin but far more than acceptable.

Peter WARLOCK (Philip Heseltine) (1894 – 1930) Capriol Suite [10:44]
Boyd Neel String Orchestra/Boyd Neel – rec. 1953. ADD/mono
7BX116 [10:44]

Peter WARLOCK Serenade for Frederick Delius [7:32]
Boyd Neel String Orchestra/Boyd Neel – rec. 1954. ADD/mono
8BX116 [7:32]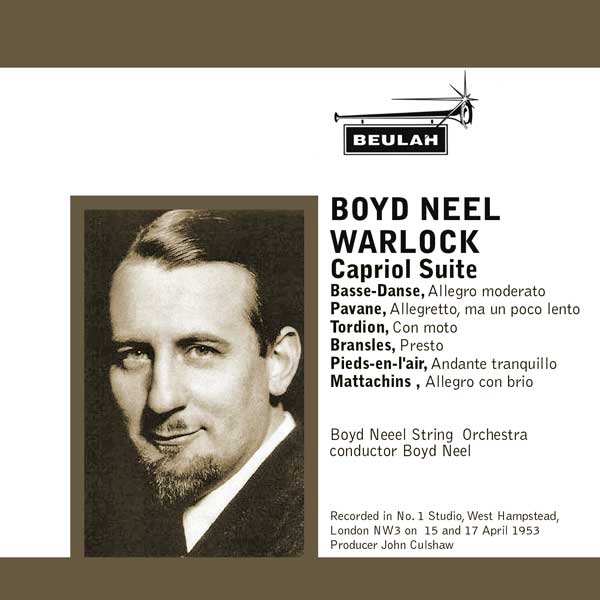 These two reminders of the valuable recordings of English music which the Boyd Neel Orchestra produced in the 1940s and 1950s were first released on a 10" LP with music by Ireland. They were reissued on Ace of Clubs along with Anthony Collins' Elgar Falstaff. The Capriol Suite belongs to a genre popular in the mid-20th century of baroque and earlier music arranged for the modern orchestra. It happens to be a genre for which I have a great liking: Respighi's Gli Uccelli and Ancient Airs and Dances, Stravinsky's Pulcinella and Walton's The Wise Virgins to name but a few.

Boyd Neel and his orchestra give an excellent performance – just the right scale for the music, which can sound too well- upholstered in large orchestral versions. Boyd Neel is not quite as lively as Constant Lambert (Divine Art, below) or William Boughton with the English String Orchestra on a rather motley collection of Orchestral Favourites (Nimbus NI7019 – download from classicsonline.com (mp3) or stream from Naxos Music Library). On the other hand, I'd rather have Neel's considered pace than Anthony Bernard's scramble (Divine Art, below).

The Serenade for Delius, a pretty close approximation to that composer's own music, is less well known and there is only one modern recording in the current UK catalogue to the best of my knowledge (Vernon Handley on Chandos, with Capriol and Moeran) so the Beulah reissue is doubly welcome. Both performances are thoroughly idiomatic – I wasn't as troubled by the minor discrepancies in Bransles as one original reviewer – and the recording is vintage Decca/Culshaw early LP. Though Capriol sounded 'considerably tubby' in the ACL reincarnation, Beulah have brought up the sound well.

Collectors of early recordings of Warlock will need also to add to their collection a Divine Art recording which contains two recordings each of the Serenade (Barbirolli, c.1928, and Lambert, 1937) and Capriol (Bernard, 1931 and Lambert, 1937). (2 CDs: DDH27811 – from theclassicalshop.net (mp3 or lossless, with pdf booklet) or classicsonline.com (mp3) or stream from Naxos Music Library. See review and review.
***


The Earliest Songbook in England (Cambridge University Library MS Ff.1.17(1)) (c.1200)
Verbum patris umanatur O O [1:53]
In hoc ortus occidente [5:01]
Regis cuius potentia [1:22]
Ecce torpet probitas [3:28]
Magno gaudens gaudio [1:37]
Rerum Deus conditor [1:05]
Cantu miro [5:10]
Peter of BLOIS (1135 – 1212) (attrib?) Vacillantis trutine [4:48]
In natali novi regis [2:31]
Diastematica [4:07]
Divino maduit [0:55]
Virgo mater salvatoris [4:03]
Tronus regis instauratur [1:11]
Benedicamus Domino: Spiritus almi [0:48]
Adulari nesciens [4:00]
Agnus Dei: Qui pius est factus [2:22]
Resonet, intonet [2:08]
Ad honorem salvatoris [1:56]
Ad honorem salvatoris [2:10]
Argumenta faluntur fisice [3:52]
Flos floriger [2:25]
Licet eger cum egrotis [4:57]
Ad cantus letitie [1:18]
Gothic Voices (Catherine King, Steven Harrold, Rogers Covey-Crump
Charles Daniels, Leigh Nixon, Stephen Charlesworth)/Christopher Page
HYPERION HELIOS CDH55297 [63:07] – from hyperion-records.co.uk (mp3 and lossless)


The manuscript from which these items are excerpted exists almost miraculously, solely because it was used to bind a later work. All the music is anonymous but I've included in the list the tentative suggestion that Peter of Blois composed at least one of the works and may have arranged others. All the pieces included here are in Latin, almost all are devotional in nature and many are associated with the Christmas – New Year – Epiphany – Candlemas period.

The one work to which I've attached Peter of Blois' name, however, is more secular; it speaks of the vacillations of the poet's mind, torn between reason and love. Its theme and refrain are more familiar from a similar song in the Carmina Burana – both the medieval original and the Carl Orff setting:

O O O langueo!
Causam languoris video,
nec caveo,
videns et prudens pereo.
[Oh, how I languish! I see the cause of my languishing and cannot avoid it. I perish knowingly, with my eyes open.]

The better-known song in Carmina Burana which echoes this theme even employs the same image of a wavering pair of scales (trutina):

In trutina mentis dubia
fluctuant contraria
lascivus amor et pudicitia.
Sed eligo quod video,
collum iugo praebeo;
ad iugum tam suave transeo.
[In the wavering balance of my mind wanton love and chastity sway in opposite scales. But I choose what I see, I offer my neck to the yoke; I choose to cross to a yoke so sweet.]

which Orff sets as No.21.

Don't expect to hear anything on this recording that sounds remotely like Carl Orff, though with their usual aplomb Gothic Voices and Christopher Page ensure that this album is of much more than scholarly interest and the presentation is, as usual with Hyperion, exemplary for a budget-price recording.

I'm not sure how many more riches there are in the manuscript; perhaps someone will record the others for us. In addition to Christopher Page's excellent notes, you may be interested in
http://www.lancs.ac.uk/staff/haywardp/hist422/seminars/CUL_Ff.1.17(1).htm

Orlando di LASSO (1530 or 1532 – 1594)
La Chambre Musicale d'Albert le Magnifique
Canon 15 a 3: Cantate Domino [2:58]
Novæ aliquot et ante hac non ita usitatæ cantiones suavissimæ (excerpts) [5:30]
No.1 Beatus vir; No.2 Beatus homo; No.18 (instrumental)
Liber mottetarum: O Maria clausus hortus [2:14]
Novæ aliquot et ante hac non ita usitatæ cantiones suavissimæ (excerpts) [2:17]
No. 4 Justus cor suum tradet; No. 3 Oculus non vidit
Selectissimæ cantiones: Cernere virtutes [2:24]
Novæ aliquot et ante hac non ita usitatæ cantiones suavissimæ: No.13. (instrumental) [2:32]
Verbum caro factum est [1:07]
Novæ aliquot et ante hac non ita usitatæ cantiones suavissimæ: No.14. (instrumental) [1:36]
O bone Jesu o piissime Jesu [12:16]
Novæ aliquot et ante hac non ita usitatæ cantiones suavissimæ: No. 16. (instrumental) [2:14]
Alleluia laus et gloria [0:48]
Novæ aliquot et ante hac non ita usitatæ cantiones suavissimæ (excerpts) [12:06]
No.21. (instrumental); No.10. (instrumental); No.23. (instrumental); No.11. Fulgebunt justi;
No.24. (instrumental); No.12. Sicut rosa; No.22. (instrumental); No.19. (instrumental)
Missus est Angelus Gabriel a 3 – 6: Dixit autem Maria [2:04]
Novæ aliquot et ante hac non ita usitatæ cantiones suavissimæ (excerpts) [3:16]
No.17. (instrumental); No.5. Expectatio justorum
Missæ variis concentibus ornatæ: Diligam te Domine [2:04]
Novæ aliquot et ante hac non ita usitatæ cantiones suavissimæ (excerpts) [2:53]
No.6. Qui sequitur me; No.15. (instrumental)
Ego sum pauper [3:12]
Regina coeli lætare [1:45]
Novæ aliquot et ante hac non ita usitatæ cantiones suavissimæ (excerpts) [5:18]
No.7. Justi tulerunt spolia; No.8. Sancti mei; No. 9. Qui vult venire post me; No.20. (instrumental) [1:47]
Adoramus te Christe [0:53]
Agimus tibi gratias [1:03]
In pace in idipsum [1:22 ]
Ad te perenne gaudium [1:04]
Resonet in laudibus [3:23]
Ensemble l'Echelle
PARATY 3760213650016 [76:19] – from classicsonline.com (mp3) or stream from Naxos Music Library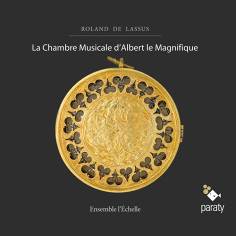 This collection of disconnected and mainly very short pieces by Lasso/Lassus is entertaining but not very satisfying. It's rather like a collection of arias from a selection of operas with no connecting thread other than the performer(s) and, without texts or notes I fear that it will just be a collection of sweet sounds to most listeners. The only information with which we are provided is what it says on the cover – that the works were composed for the musical chamber of Albert the Magnificent – Albrecht V, Duke of Bavaria, whose employ Lassus joined in 1556. Since Lassus remained in Albrecht's service and that of his son and heir for the rest of his life, that information does little to pinpoint the music, though you will find some dates by clicking on the 'i' icon in Naxos Music Library. Searching the outdated Paraty web page proved fruitless – this recording is not even listed there.

If you're wondering about the long title that keeps cropping up in the heading – Novæ aliquot et ante hac non ita usitatæ cantiones suavissimæ – it's the title of two volumes of 'most sweet songs, new and hitherto unpublished in this form' which Lassus published in Munich in 1577; despite the reference to cantiones (songs) in the title, twelve of the items are purely instrumental and several of these are included here.

The performances are decent but not ideal, with some slightly insecure vocal and instrumental intonation at the top of the stave. The recording is truthful but rather too forward, to an extent which I found tiring. Overall, I must say that there are many more desirable collections of Lassus' music, several of which I've recommended in these Roundups.

Peter PHILIPS (1560/61 – 1628)
Cantiones Sacrae Quinis et Octonibus Vocibus (Antwerp 1612 & 1613)
Christus resurgens [3:45]
Disciplinam et sapientiam [2:27]
Loquebantur variis linguis [2:51]
Ne reminiscaris, Domine [2:52]
Gabriel Angelus apparuit [3:07]
Viæ Sion lugent [3:13]
Ave Jesu Christe [3:53]
Pater noster [3:40]
Beata Agnes [4:09]
Elegerunt Apostoli [3:21]
Media vita [3:40]
Ave Regina caelorum [3:38]
Ave gratia plena [3:00]
Ecce vicit Leo [3:50]
Ne timeas, Maria [1:53]
Gaude Maria virgo [3:07]
Virgo prudentissima [3:34]
Cum jucunditate [3:11]
Salve Regina [2:51]
Eia ergo [3:07]
The Sarum Consort/Andrew Mackay – rec. August, 2000. DDD
Pdf booklet included. Texts and translations available online.
NAXOS 8.572832 [65:08] – from classicsonline.com (mp3) or stream from Naxos Music Library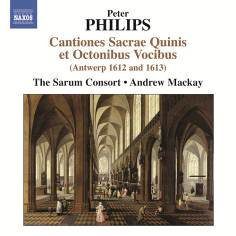 Naxos already had a recording of the five-part Cantiones Sacræ of Peter Philips (8.555056 – see review and May 2010 Roundup).

From their recording of music composed by All the Queen's Men (8.572582 – see review, review and April 2011 Roundup) the Sarum Consort now turn their attention to a composer who chose not to be one of those men but to work in exile in the Low Countries, where he was even briefly thrown into prison on suspicion of plotting against Elizabeth.

The Philips recordings were made as long ago as 2000, so I'm a little perplexed as to why we have had to wait so long for them, unless it be the inevitable overlap with the earlier Naxos CD. Perhaps the answer lies in the fact that Sarum Consort had recorded some of the 5-part Cantiones the previous year for the ASV label. Maybe these recordings, too, were made for ASV and never published – the label has had a somewhat patchy history and even now, as part of the Universal stable, availability is not easy.

Gary Higginson praised the ASV release highly – see review – and I see no reason not to accord the same accolade to the Naxos recording. Just occasionally I wondered if the singing valued tonal perfection at the expense of involvement with the words and, like GH, I would have preferred the soft Italianate c, but I was not unduly troubled by either of these considerations.

I do marginally prefer rival recordings where they overlap with the current selection, for example items from the 1612 collection on the earlier Naxos CD (above) and on a selection on Chandos, sung by St John's College Choir, Cambridge (CHAN0770 – see review and July 2010 Roundup). Chandos, too, were tardy in releasing that 2002 recording – are the record companies afraid that Philips won't sell? – though they need have had no qualms about its quality.

Several other items, both 5- and 8-part, are duplicated on a recording by Winchester Cathedral Choir, directed by David Hill on Hyperion's budget Helios label (CDH55254 – see May 2010 Roundup). While it's a matter of swings and roundabouts in tempo between St John's and the Sarum Consort, the Winchester performances have a markedly greater sense of forward motion and, for that reason, I prefer both to the earlier Naxos set.

Currende/Erik van Nevel maintain even faster tempi in two items by Peter Philips on their CD Ave Virgo Sanctissima, Accent ACC24235, which I recommended in June 2011 – here. I don't wish to over-emphasise the differences; it's most gratifying to have so many recordings of this 'forgotten' composer to compare and you wouldn't go seriously wrong with any one or more of them.

Though the pdf booklet is part of the deal with the new Naxos recording, you won't find texts or translations there, but they are available online – here – where you will also find to which liturgical festival they are appropriate. The mp3 sound is good.

Georg BÖHM (1661 – 1733)
Prelude and Fugue in C [5:07]
Vom Himmel hoch da komm ich her [2:19]
Nun bitten wir den heil'gen Geist [3:31]
Christe, der du bist Tag und Licht, versus 1 – 3 [1:47+5:19+2:01]
Prelude and Fugue in a minor [3:22]
Partita 'Wer nur den lieben Gott lässt walten' [7:33]
Christ lag in Todesbanden, version 2 [4:14]
Christ lag in Todesbanden, version 1 [5:19]
Auf meinen lieben Gott, versus 1 – 4 [2:57+2:37+1:42+2:23]
Vater unser im Himmelreich, version 1, versus 1 – 2 [3:06+4:30]
Vater unser im Himmelreich, version 2 [6:05]
Prelude and Fugue in d minor [5:11]
Bernard Foccroulle (Schnitger organ, Groote Kerk, Alkmaar)
RICERCAR RIC319 [69:03] – from classicsonline.com (mp3) or stream from naxos Music Library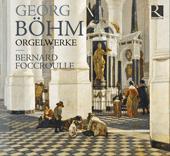 Though he was a very important forerunner of Bach's organ music, Böhm is under-represented in the catalogue: he doesn't even feature in the last full (2010) edition of the Penguin Guide or the current (2012) Gramophone Guide and the new recording appears to be one of only two in the current catalogue entirely devoted to his music, as opposed to those which juxtapose it with Bach or other near-contemporaries. Such a programme can be found on Dabringhaus und Grimm MDG906, where just one work of Böhm's can be found alongside music by Buxtehude, Scheidt, J.S. Bach and others. Chris Bragg gave that 'gorgeous release', on another Schnitger organ, at Nordheim, full marks – see review. I have made a note to investigate the MDG, though I don't think it's available for download, but the present release has an even greater claim on our attention.

The other recording of Böhm's organ music is on Naxos 8.555857, recommended by Scott Montague – see review – available from classicsonline.com (mp3). It's labelled Volume 1 but there doesn't seem to have been a successor. Though Teeuwsen employs a modern instrument on that recording, the two approaches are very similar. Where the repertoire overlaps, there are mere seconds of difference in tempo. If I prefer the new recording, it's largely because I think that the Schnitger organ just gives it the edge. On the other hand, there are times when I thought that Teeuwsen found a little more joy in the music than Fouccroulle, who is just a little more inclined to make the music sound serious.

Either recording would make a useful introduction to Böhm's music; both make clear his influence on Bach. The Naxos is yours for £4.99; the Ricercar is a little more expensive at £7.99. Neither is available in lossless sound but classicsonline.com's mp3 is always at the full 320kb/s bit-rate and both sound well. You can save a few pence on the Ricercar at emusic.com, but their bit-rates are variable and I certainly can't guarantee that their version comes at anywhere near 320kb/s. There are no notes with the Ricercar download but the Naxos comes with a pdf booklet which includes a full specification of the organ. Subscribers to the Naxos Music Library can compare the two recordings there.

Michel Pignolet de MONTÉCLAIR (1667 – 1737) Cantates à voix seule
Le Retour de la Paix [15:03]
Pan et Syrinx [17:36]
Le Triomphe de la Constance [11:45]
La Mort de Didon [12:11]
La Morte di Lucretia [12:20]
Emma Kirkby (soprano)
London Baroque (Ingrid Seifert, Richard Gwilt (violin), Charles Medlam, William Hunt (viola da gamba), Steven Devine (harpsichord)) – rec. February 2010. DDD
Pdf booklet with texts and translations included
BIS-CD-1865 [70:11] – from eclassical.com (mp3 and 16– and 24– bit lossless)

['Nobody who likes French baroque music should miss this disc.' – see review by Johan van Veen.]



I'm reviewing two ethereal voices on BIS this month, in very different material: Emma Kirkby here and Katarina Karnéus in the three Mahler song cycles (below). Montéclair is hardly the best known French baroque composer, but this recording makes one wonder why. Any recording by Emma Kirkby is self-recommending, especially one made with her old friends at London Baroque. With excellent recording and a booklet as part of the deal, this could have been a strong contender for Download of the Month had it not been for the Savall recording. Whoever translated the text of le Retour de la Paix has surely misunderstood Pourquoi, de la Parque inflexible/prévenir le fatal ciseau? Ciseau does mean chisel (in the plural = scissors), but Atropos or Morta, one of the Parcæ (Fates) wielded not a chisel but what Milton calls 'the abhorred shears' (Lycidas) to cut off the strand of life – here 'the fatal cut of the shears'.

Jan Dismas ZELENKA (1679 – 1745)
Litaniæ de Venerabili Sacramento Z147 [20:53]
Regina caeli lætare Z134 [3:40]
Salve Regina, mater misericordiæ Z135 [19:00]
Lectiones from Officium defunctorum, Z47 [17:01]
Invitatorium from Officium defunctorum, Z47 [13:06]
Carolyn Sampson, Rebecca Outram (soprano)
Robin Blaze (counter-tenor)
James Gilchrist (tenor)
Michael George, Peter Harvey (bass)
The Choir of The King's Consort
The King's Consort/Robert King – rec. 2002. DDD.
Pdf booklet with texts and translations included.
HYPERION HELIOS CDH55424 [73:52] – from hyperion-records.co.uk (mp3 and lossless)

Jan Dismas ZELENKA
CD 1
Officium defunctorium ZWV 47 (1733) [61:26]
CD 2
Requiem in D ZWV 46 (1733) [40:04]
Collegium 1704 and Collegium Vocale 1704/Václav Luks – rec. June 2010 DDD
ACCENT ACC24244 [61:26 + 40:04] – from classicsonline.com (mp3) or stream from Naxos Music Library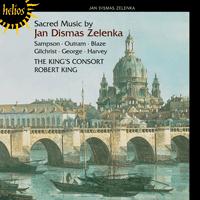 I snuck Hyperion's reissue of the King's Consort recording of the music of Kuhnau in December 2012/2 among my Christmas selections. Also due for reissue in February, but available for download now, is their recording of another of J.S. Bach's contemporaries, the Bohemian Zelenka. This was a five-star recording at full price and it's even more attractive now; only the existence of the complete funeral music on Accent (below) as against the selections here – about half the complete Officium – limits its otherwise very high appeal. Even if you decide to follow my advice and obtain the Accent set, the Hyperion recording contains such fine music in addition to the Officium, offers such superb performances, recording and notes – there are none with the Accent download – and comes at such an economical price in mp3 and lossless that you'll want both. Reservations? I dislike the hard g in Agnus Dei and Regina, but that's probably the sound that Zelenka heard at the Saxon court.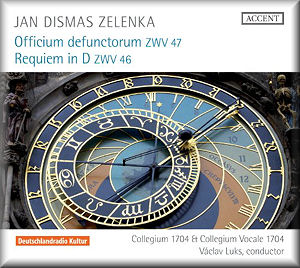 Zelenka's funeral music for King Friedrich August I of Poland is powerful and dramatic rather than lugubrious. The King's Consort 4-track selection is fine enough, but for the whole thing you need the Accent recording, which was one of Dominy Clements' Recordings of the Year – see original review – and justly so. The first disc contains the Matins of the Dead and the second, rather short CD, the Requiem. I can't complain about the short playing time – any coupling would have sounded superfluous. I can, however, bemoan the lack of texts. Performances and recording are excellent and the classicsonline.com mp3 transfer is much more than adequate; eclassical.com have several Accent recordings in lossless sound, but this is not one of them.

Mozart Symphonies

If you prefer period performances and like the idea of buying your Mozart symphonies in bulk, the obvious answer is the DG Archiv budget box set of performances by the English Concert and Trevor Pinnock (471 6662, 11CDs – see review), available for download from passionato.com at £40.99. (But NB: you may well find the set of CDs for slightly less than this.) Unfortunately, I'm currently waiting for my review access to passionato.com to be renewed, so I couldn't make any direct comparisons.

There is, however, a highly recommendable alternative from Charles Mackerras and the Prague Chamber Orchestra on Telarc, on individual discs for around £7.50 each, or as a complete set. Emusic.com have both formats and, while I'm far from suggesting that you spend £88 on the whole lot – here – you can pick and choose individual symphonies – three or four tracks for £1.46 or £1.68 from that set or from individual discs. There are a few exceptions, where longer movements cannot be purchased separately but only as part of the album. The later symphonies are superseded by his SCO recordings for Linn, but you could do very much worse than these recordings of the earlier works.

Wolfgang Amadeus MOZART (1756 – 1791)
Symphonies vol.3 (1769 – 70)
Symphony No.9 in C, K73 [9:34]
Symphony No.'44' in D, K81 [8:45]
Symphony No.'47' in D, K97 [8:24]
Symphony No.'45' in D, K95 [9:59]
Symphony No.11 in D, K84 [10:19]
Symphony No.10 in G, K74 [7:10]
Danish Radio Sinfonietta/Adam Fischer – rec. 2006. DDD
Pdf booklet from classicsonline.com
DACAPO 6.220538 [54:11] – from classicsonline.com (mp3 with booklet) or eclassical.com (mp3 and lossless, no booklet) or stream from Naxos Music Library

Symphonies vol. 5 (1772)
Symphony No. 15 in G, K124 [14:15]
Symphony No. 16 in C, K128 [11:56]
Symphony No. 17 in G, K129 [14:27]
Symphony No. 18 in F, K130 [17:59]
Danish Radio Sinfonietta/Adam Fischer – rec. 2006. DDD
Pdf booklet from classicsonline.com
DACAPO 6.220540 [58:45] – from classicsonline.com (mp3) or stream from Naxos Music Library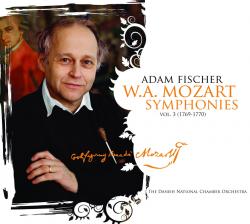 Volume 5 was the first in this planned 11-CD series to be released and it appears to be the only one which we've reviewed on disc so far. Michael Greenhalgh greatly enjoyed the performances and recording – in twin-channel SACD and CD: see review – and though you lose the SACD channel, the download sounds more than well enough in good mp3.

Volumes 3–4 and 6–8 have also been released now, all available in good mp3 from classicsonline.com and available to stream from the Naxos Music Library. All maintain the high standard of Volume 5 – stylish and enjoyable modern-instrument performances employing a fairly small orchestra and with awareness of period practice – and the latest, Volume 3, contains works from 1769 – 1770, more than half of which are of dubious authorship, though all are enjoyable.

All volumes are available from classicsonline.com, with booklet, which is also available to subscribers to Naxos Music Library; the latest is also available in lossless sound from eclassical.com, though without booklet. As the booklet contains somewhat fanciful thoughts about the music from Fischer – something of a mixed blessing which, fortunately, doesn't spoil the actual performances – this may be no great loss. The eclassical.com price of $9.75 compares very well with classicsonline.com's £7.99 and the lossless version comes at the same price as the mp3 – in fact you can even return later for the mp3 if you wish, a service which eclassical.com shares with theclassicalshop.net, though the latter charges extra for lossless downloads.

The brief details of the other volumes are:

* Volume 4 (Symphonies 12–14) daCapo 6.220539 [54:15] – from classicsonline.com (mp3) or stream from Naxos Music Library
* Volume 6 (Symphonies 19–21 and 26) daCapo 6.220541 [67:48] – from classicsonline.com (mp3) or stream from Naxos Music Library
* Volume 7 (Symphonies 22–25 and 27) daCapo 6.220542 [64:48] – from classicsonline.com (mp3) or stream from Naxos Music Library
* Volume 8 (Symphonies 28–30) daCapo 6.220543 [67:16] – from classicsonline.com (mp3) or stream from Naxos Music Library

Until Volumes 1 and 2 appear, two sources for the earliest symphonies will do very nicely:

Wolfgang Amadeus MOZART (1756 – 1791)
Symphony No.1 in E flat, K16 [13:18]
Symphony No.2 in B flat, K17 (now attrib. Leopold MOZART) [16:08]
Symphony No.3 in E flat, K18 (now known to be by Carl Friedrich ABEL) [12:34]
Symphony No.4 in D, K19 [9:55]
Symphony No.5 in B flat, K22 [6:52]
Northern Chamber Orchestra/Nicholas Ward – rec. 1994. DDD.
Pdf booklet included.
NAXOS 8.550871 [58:46] – from classicsonline.com (mp3) or stream from Naxos Music Library

Symphony No.6 in F, K43 [13:29]
Symphony No.7 in D, K45 [10:37]
Symphony No.8 in D, K48 [12:22]
Symphony No.9 in C, K73 [11:44]
Symphony No.10 in G, K74 [7:45]
Northern Chamber Orchestra/Nicholas Ward – rec. 1993. DDD.
Pdf booklet included.
NAXOS 8.550872 [55:57] – from classicsonline.com (mp3) or stream from Naxos Music Library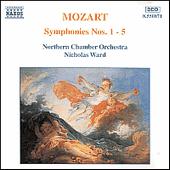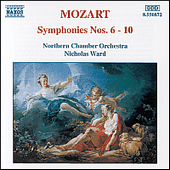 Symphony No.2 may well be by Mozart père, Leopold, and No.3 is now known to have been composed by Carl Friedrich Abel, but the music is no less attractive for that – indeed, Chandos's series of recording of Mozart's contemporaries has proved how valuable these composers are in their own right. The second volume contains works all securely attributed to the young Wolfgang. The performances and recordings are excellent and the mp3 transfers are good. You may even prefer the other symphonies in this series, especially those numbered in the teens and twenties, to their rivals. The whole series is available from classicsonline.com and the Naxos Music Library.

Wolfgang Amadeus MOZART (1756 – 1791)
Symphony No.1 in E flat, K16 [11:38]
Symphony No.25 in g minor, K183 [25:54]
Symphony No.41 in C, K551 ('Jupiter') [36:41]
South West German Radio Symphony Orchestra/Roger Norrington – rec. 2006. DDD
HÄNSSLER CLASSIC 93.211 [74:03] – from classicsonline.com (mp3) or stream from Naxos Music Library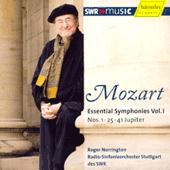 Instead of Naxos's chronological approach, Hänssler mix and match works from the early, middle and late periods. The mix is especially valuable here in that No.1 is coupled with the popular 'little' g minor and the mighty Jupiter. Unless you must have the early symphonies together, this arrangement works well – Naxos employ a similar mix and match approach for their Haydn Symphony series. I've included this volume as representative of the series.

Though working here with a modern-instrument orchestra, Norrington employs the exact number of players who were present at the first performances of these symphonies and he works hard to turn his players into a period band with a (just) audible harpsichord. (See David Billinge's review of the DVD of him in rehearsal with them in Symphony No.39.) The result is stylish and enjoyable, though I thought K16 just a little four-square by comparison with the less expensive Naxos.

I enjoyed the dramatic account of No.25, with all repeats taken in the outer movements, though I marginally prefer daCapo's placing of it on Volume 7 (above) in the company of other symphonies from the same period, which allows us to appreciate its superiority to them. If you want to be surprised, try Klemperer's Vox recording of this symphony, coupled with Symphony No.36 and Schubert Symphony No.4 – downloadable from classicsonline.com for £4.99. It's not quite as fast as it looks on paper, with repeats cut in the outer movements, but it should dispel any notion of Klemperer as a slowcoach, a phenomenon of his later years only. The recording is thin and scratchy, but it's worth the price. Even when he recorded the work later, for Columbia, his tempi remained faster than the dour image of Klemperer would suggest – listen to him tear into the opening allegro with real brio on EMI 0724356733152, with Nos.29 and 31 and the Così Overture from the Naxos Music Library; download from classicsonline.com to follow, I presume.

I normally prefer all the repeats to be observed, but I have to admit that I actually like No.25 without them. Of all the versions of this symphony that I've been considering, I'm most taken with the performance by the Capella Istropolitana under Barry Wordsworth on Naxos 8.550113, where they are not observed. That 1988 recording is coupled with likeable accounts of the single-movement No.32 and No.41 (Jupiter).

Though the Hänssler Jupiter seems remarkably consistent within three seconds overall with Norrington's earlier EMI (now Virgin) recording – see below – that overall timing hides some changes of thought in the middle movements, with the second (adagio cantabile) now taken at a slower pace and the minuet faster than before, perhaps as a result of reviewers' comments in 1992. The opening movement, too, which now runs to 10:56 (not 11:05 as stated) as opposed to 11:10 with the LCP, benefits from a marginally faster tempo.

Played straight after either of the Norrington recordings, Wordsworth's tempo for the opening movement of the Jupiter on the Naxos recording to which I've referred sounds deliberate, laboured even at first, but this soon develops into a Jupiter to live with. It's less expensive than Norrington on Hänssler and disc for disc not much more expensive than the Virgin Norrington. The Capella Istropolitana, drawn from the Slovak PO, use modern instruments but employ some period techniques, such as the use of hard drum sticks. The recording sounds well and the download comes with the pdf booklet, as does the Naxos Music Library version – stream all three versions of the Jupiter from there for comparison if you can and wish to make you own choice.

Wolfgang Amadeus MOZART (1756 – 1791) Symphonies 38–41
CD1
Symphony No. 38 in D, K504 (Prague) [36:51]
Symphony No. 40 in g minor, K550 [32:49]
CD2
Symphony No. 39 in E flat K543 [29:13]
Symphony No. 41 in C, K551 (Jupiter) [36:44]
London Classical Players/Roger Norrington – rec. 1990/91. DDD.
VIRGIN VERITAS 0724356201057 [2 CDs: 135:37] – from classicsonline.com (mp3) or stream from Naxos Music Library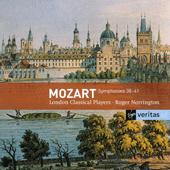 The classicsonline.com price reflects the fact that this is a budget reissue in the UK. It's money well spent, but I'd still recommend the Mackerras recording of these last four symphonies on Linn (CKD308) which I reviewed in the February 2009 Roundup – modern instruments but with a real sense of period style. The mp3 version of that set costs very little more than the Virgin and it's also available in a variety of 16- and 24- bit lossless formats, none of which will break the bank.

The Virgin release does have solid virtues of its own. Though these are period performances, nothing here is small-scale and over-delicate – this is no Meissen figurine representation of Mozart. If anything, I thought some of the playing a little too matter-of-fact. At other times the drama of the performances comes at the cost of beauty; otherwise there is nothing that misrepresents Mozart but nothing that I thought special either and certainly it seems less 'provocative' than it was thought in 1992. If Mackerras's 2-CD set on Linn is not to your taste for some reason, the Capella Istropolitana/Barry Wordsworth version of the Jupiter to which I've referred above is alternatively coupled with No.40 on Naxos 8.550299.

Wolfgang Amadeus MOZART Duo for violin and viola in G, KV 423 [16:16]
Michael HAYDN Duo for violin and viola No. 1 in C, MH 335 (P127) [15:02]
Wolfgang Amadeus MOZART Duo for violin and viola in B flat, KV 424 [20:38]
Michael HAYDN Duo for violin and viola No. 2 in D, MH 336 (P128) [18:35]
Wolfgang Amadeus MOZART Menuetto (from 12 Duos for Horn, KV 487) [2:01]
Rachel Podger (violin)
Jane Rogers (viola) – rec. 2010. DDD/DSD
CHANNEL CLASSICS CCSSA32411 [72:37] – from channelclassics.com (mp3, 16- and 24-bit lossless)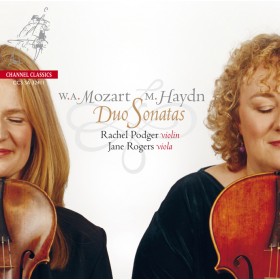 After the symphonies, now for something completely different – at any rate, much more small-scale. These Mozart Duos for violin and viola are not played or recorded at all often – they are not to be confused with the Sonatas for violin and keyboard, which Channel Classics have also very successfully recorded, with Rachel Podger and Gary Cooper. The only other recording which I remember hearing, of K423, was made by the Oistrakhs, père et fils, as a filler to their Decca recording of the Sinfonia Concertante, K364 (SXL6088).

The music may be small scale but it is all – both the Mozart and that of his friend Michael Haydn, brother of Joseph – highly enjoyable. Rachel Podger's name alone is enough to guarantee excellence of performance and she is very ably partnered by Jane Rogers. With excellent recording – I chose the 24/96 version – and a helpful pdf booklet, this is a very refreshing alternative to larger-scale Mozart.

Gustav MAHLER (1860 – 1911)
Symphony No. 6 in a minor (Tragic) (1904/5) [80:35]
Philharmonia Orchestra/Esa – Pekka Salonen – rec. live, May 2009. DDD
SIGNUM CLASSICS SIGCD275 [80:35] – from classicsonline.com or emusic.com (mp3)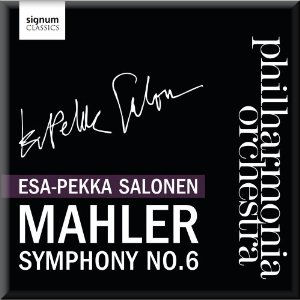 Please note: because the debate over the position of the Scherzo generates more heat than light, I'm not going to stick my neck out except to say that Salonen places it second.

Like Tim Perry, I hadn't originally expected too much from Salonen in Mahler – hadn't even listened to the recording from the Naxos Music Library, much less requested it as a download for review – but I'm glad that I read the review in which he explains the reasons for making this his Recording of the Month. Like John Quinn, I thought that I'd found my ideal recording of this symphony in the Tennstedt performance on LPO-0038, also a live performance, from 1983 (see September 2009 Roundup) but Salonen runs him pretty close, is better recorded and is available more economically, squeezed on one mid-price CD.

At the time of writing neither classicsonline.com nor eclassical.com offered the download; the recording sounded more than adequate as streamed from the Naxos Music Library, so you should be able to buy the classicsonline.com download, at the full 320kb/s, with confidence.

If you're just looking for a download for your mp3 player, emusic.com have this recording for a ridiculously inexpensive £1.68 or less at bit-rates around the 220kb/s mark. At that price it would even do as a stop-gap for your main audio system.

Gustav MAHLER (1860 – 1911)
Kindertotenlieder (1901 – 1904) [26:17]
Lieder eines fahrenden Gesellen (1883 – 1885) [16:38]
Rückert-Lieder (1901 – 1904) [19:54]
Katarina Karnéus (mezzo)
Gothenburg Symphony Orchestra/Susanna Mälkki – rec. June 2007, January and August 2010. DDD
pdf booklet with texts and translations included.
BIS-SACD-1600 [64:11] – from eclassical.com (mp3, 16- and 24- bit lossless)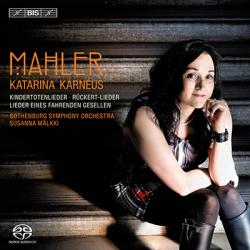 If I was marginally less impressed than Göran Forlsing, who made this his Recording of the Month, it's probably because there are two and a third other excellent older performances buzzing around in my unconscious. Though past her excellent best when she recorded Mahler for Decca, Kirsten Flagstad is unforgettable and Janet Baker almost equally so; both could sing the telephone directory and still get top marks from me. For the Lieder eines fahrenden Gesellen, where I prefer a male voice Fischer-Dieskau is unassailable. That said, though I was slow to warm to Nun will die Sonn' so hell aufgehn – not my favourite Mahler song, in any case – I soon began to appreciate GF's enthusiasm for Karnéus. In Lieder eines fahrenden Gesellen she really comes gloriously into her own in Ging heut' Morgen and the Rückert Lieder, especially the closing Ich bin der Welt abhanden gekommen, are all that I could wish – ethereal.

Those not afflicted by my ghosts from the past should purchase with confidence. The well-balanced recording sounds very well in the 24-bit lossless version, though there are no surround-sound channels, and the booklet is very good.

Flagstad's recordings of Kindertotenlieder and Lieder eines fahrenden Gesellen plus Wagner's Wesendonck Lieder, etc. are available on Decca Eloquence 480 1796 (2 CDs, around £9.50). Passionato.com offer a download of the earlier single CD of the two Mahler cycles and the Wesendonck Lieder (468 4862 mp3 or lossless – here). Janet Baker's recording of the three song cycles are on EMI Great Recordings 5669812 for around £8. Amazon.co.uk offer the download for £7.49, which isn't much less than the CD. HMV digital offer it twice – at £5.99 and £7.99! Fischer-Dieskau's versions of these three cycles come on DG Originals 477 9375 and his Geselle is also available coupled with Kubelík's first-class account of the First Symphony (DG Originals 449 7352).

Havergal BRIAN (1876 – 1972) Orchestral Music Vol. 2: Music from the Operas
The Tigers: Symphonic Variations on 'Has anybody here seen Kelly?' (1921/2) [12:16]
Three Pieces from Turandot (1962/3) * [17:19]
Faust: Night Ride of Faust and Mephistopheles (1955/6) * [5:21]
The Cenci: Preludio tragico (1951/2) * [13:42]
A Turandot Suite (1949 – 51) (arr. Malcolm MAcDONALD, 1975) * [22:10]
* first recordings
BBC Scottish Symphony Orchestra/Garry Walker – rec. 2009. DDD.
Pdf booklet included
TOCCATA CLASSICS TOCC0113 [17:48] – from toccataclassics.com (mp3)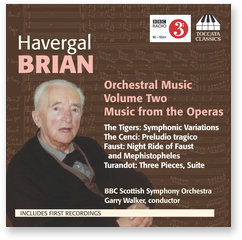 I mentioned this briefly last month as an appendix to the Hyperion recording of the Gothic Symphony. In some respects it's even more important than that release, since we already had a more than serviceable account of the Gothic, whereas all but one of the works included here are receiving their first recordings. For all its unfamiliarity, the music is all well worth hearing and the performances do it justice, while the recording is much more than adequate, though the bit-rate is only around 192kb/s. Theclassicalshop.net have this for download – here – in 320 kb/s mp3 and lossless sound.

John IRELAND (1879 – 1962)
Violin Sonata No.1 in d minor (1909) [29:29]
Violin Sonata No.2 in a minor (1917) [28:30]
Bagatelle [2:40]
Michael Davis (violin); Harper Nelson (piano)
VIENNA MODERN MASTERS VMM2009 [60:32] – from classicsonline.com (mp3) or stream from Naxos Music Library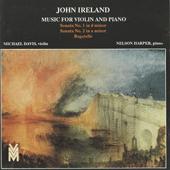 Though available on disc for some time, this recording has just been added to classicsonline.com and NML; though there are rivals, it has a strong claim for consideration. I considered two inexpensive rival versions, on Naxos (8.572497 Lucy Gould and Benjamin Frith) and Hyperion Helios (CDH55164), in the August 2010 Roundup, where you can also find links to other versions on Chandos and Lyrita.

There is a pervasive myth that chamber music is somehow anaemic and 'intellectual', the property of a chosen few. Nothing could be further from the truth, as these two sonatas by John Ireland amply demonstrate. The performances need to have some fire in their belly – was that the reason for choosing the Turner painting of Parliament on fire for the cover? – and on that count the Vienna Modern Masters recording scores over the slightly less powerful versions on Hyperion, with tempi generally midway between that and the Naxos recording in No.1 and slightly more expansive than either in No.2. The recording is good, though a little less full than the Hyperion.

At £7.99 and in mp3 only, the price is less attractive than that of the Naxos at £4.99 and the Hyperion at £5.99 (mp3 and lossless and with The Holy Boy as an attractive extra). The Hyperion also comes complete with pdf booklet – there are no notes with the Vienna Modern Masters download.

William Grant STILL (1895 – 1978)
Wood Notes (1947)* [16:32]
Symphony No. 2 in g minor 'Song of a New Race' (1937) [27:05]
Symphony No. 3 'The Sunday Symphony' (1958) [18:01]
* World premiere recording
Fort Smith Symphony/John Jeter – rec. April 2011. DDD.
Pdf booklet included.
NAXOS AMERICAN CLASSICS 8.559676 [61:39] – from classicsonline.com (mp3) or stream from Naxos Music Library


This is the third and last but not least of three Naxos albums devoted to the symphonies of William Grant Still, all performed by John Jeter and the Fort Smith Symphony. The other volumes are:

* In Memoriam; Africa (Symphonic Poem); Symphony No.1 (Afro American Symphony)
NAXOS 8.559174 [60:09] – see very positive review by John France and August 2009 Roundup.

* Symphony No.5 (Western Hemisphere); Poem for Orchestra; Symphony No.4 (Autochthonous)
NAXOS 8.559603 [56:24] – see review by Rob Barnett, who enjoyed the music and performances, and review by Nick Barnard who was somewhat disappointed.

Those earlier reviews have included information about the remarkable William Grant Still which it would be superfluous to repeat here. The new recording is most enjoyable: even though I slightly prefer the Chandos recordings coupling Nos. 1 and 2 with music by Duke Ellington (CHAN9154 and CHAN9226 – see August 2009 Roundup) there's very little to choose and the Sunday Symphony makes an attractive extra. If you choose the Naxos version of the Afro-American Symphony, however, you must have the alternative Chandos coupling of Ellington's The River and William Dawson's Negro Folk Symphony on CHAN9909 with Ellington's Harlem and Solitude.

Richard ADDINSELL (1904 – 1977) Film Music
Suite from Goodbye Mr Chips ** [10:14]
Warsaw Concerto from Dangerous Moonlight (arr. Roy Douglas)† [8:25]
Suite from Love on the Dole ** [12:43]
From Blithe Spirit ** [9:54]
Suite from The Black Rose ** [7:43]
Suite from Scrooge (arr. Steven Bernstein) * 13:59
Overture: Tom Brown's Schooldays ** [7:40]
From The Admirable Crichton ** 5:40
The Flame Tango from Out of the Clouds (arr. Robert Sharples) [2:30]
** reconstructed by Philip Lane
Martin Roscoe (piano) †
Chetham's Chamber Choir *
Manchester Cathedral Choir *
BBC Philharmonic/Rumon Gamba
Pdf booklet available
CHANDOS CHAN10046 [79:50] – from theclassicalshop.net (mp3 and lossless) or stream from Naxos Music Library

[See joint 4-star reviews by Ian Lace and Gary Dalkin – here.]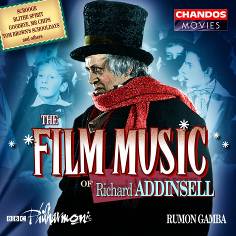 There's nothing at all taxing here, just well-crafted music of immediate appeal. Spotting the influence is half the fun – that of Rachmaninov on the Warsaw Concerto was never denied; in fact it was stressed. For all that it's no longer the subject of universal adulation, as it was for years, this concerto can still span the classical/popular divide in a 'Friday Night is Music Night' kind of way. Rumon Gamba and the BBC Phil are just the people to do Addinsell's music justice and they are ably abetted by Roscoe in the Concerto and by the two choirs elsewhere. The lossless download sounds very well, too.

If you just want the Warsaw Concerto, you'll find the same recording on a 2-for-1 collection from the Chandos British Film Music series on CHAN241-12 – download in mp3 or lossless here.

Mark-Anthony TURNAGE (b. 1960) A Constant Obsession: Chamber works
A Constant Obsession for tenor solo and eight players (2007)* [22:21]
Three for Two for piano quartet (2010) [10:20]
Four Chants for violin and piano (2008) [9:51]
A Slow Pavane for piano trio (2004) [7:34]
Grazioso! for six players (2009) [9:03]
Nicky Spence (tenor)*
Chamber Domaine/Thomas Kemp (conductor & violin)
All tracks are world premiere recordings and were recorded in the presence of the composer, June and October 2011.
Pdf booklet with texts included
RESONUS RES10106 [59:27] – download only (no CD) from resonus.com in aac, mp3 and lossless.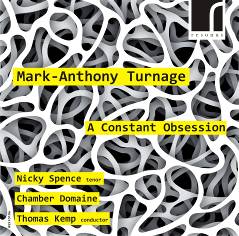 Resonus have been very even-handed in offering new music and new slants on older music, apparently with a policy of alternating the two. Thus, they began by casting new light on Mendelssohn with a recording of the original version of the Octet (RES10101) which prompted me to proclaim them a most promising new label, then followed up with music by Judith Bingham (RES10102). Now they earn full marks again for enterprise by following Canite Tuba for Advent and Christmas (RES10105) with unrecorded music by contemporary composer Mark-Anthony Turnage, again to be followed in February 2012 by the Ravel and Debussy Quartets.

The avowed inspiration for the main work, A Constant Obsession, is Benjamin Britten – a slightly more avant garde Britten, it's true, but the influence is clear, with the prominent part for the horn particularly reminiscent of the mood of the Serenade for tenor, horn and strings. I also hear the influence of other 20th-century English composers, not least Peter Warlock's The Curlew, in these settings of the works of Keats, Hardy, Edward Thomas, Graves and Tennyson. With the underlying theme of unrequited love, it's music to make you take notice rather than to enjoy and it receives a powerful performance. Dare I upset fans of Peter Pears by saying that I'd like to hear Nicky Spence now in preference to him in that Britten Serenade?

All the music here will take a little while to gel with me but I'm sure that most of it will do so in due course – I'm a little slow to take new music on board, but nothing here strikes me as unlikely to do so, especially as much of it is not a million miles away from the idiom of classical jazz and the jazz-inspired music of Ravel. Some of it, like the third part of Three for Two, originally intended for the opera Anna Nicole, is immediate in appeal. As all the performances here were recorded in the presence of the composer, they are, presumably, authoritative. The recording to which I listened in 16-bit flac is excellent; it was made in the friendly acoustic of St Augustine's, Kilburn, London.

Like all Resonus recording, this comes in download form only, from the company's own website in aac, mp3 and flac – here – in mp3 only from classicsonline.com with 24-bit lossless from theclassicalshop.net, linnrecords.com and eclassical.com – all to appear later. The album will be available from resonus.com early in January 2012; some of these proxy sites may take a little longer. The booklet with texts comes with the download in all cases.

Treasures of Christ Church
George Frideric HANDEL (1685 – 1759) Zadok the priest [5.41]
William WALTON (1902 – 1983) Set me as a seal [3.35]
Thomas TALLIS (c.1505 – 1585) Salvator mundi [3.44]
Henry PURCELL (1659 – 1695) O God, thou art my God [3.55]
Robert PARSONS (c.1530 – 1570) Ave Maria [4.44]
Benjamin BRITTEN (1913 – 1976) A shepherd's carol 4.55
Herbert HOWELLS (1892 – 1983) Like as the hart [6.14]
John TAVENER (b.1944) The Lord's prayer [2.34]
John TAVERNER (c.1490 – 1545) Christe Jesu [3.24]
Francis GRIER (b.1955) My breath lies quiet [1.56]
Peter WARLOCK (1894 – 1930) Bethlehem Down [4.15]
John RUTTER (b.1945) Canticle of the heavenly city [6.23]
William BYRD (1543 – 1623) O Lord, make thy servant, Elizabeth our Queen [2.57]
Traditional, arr. Stephen DARLINGTON (b.1952) Jacob's ladder [2.44]
Orlando GIBBONS (1583 – 1625) Great Lord of Lords [4.46]
Howard GOODALL (b.1958) Veni, Sancte Spiritus [4.45]
Thomas WEELKES (c.1576 – 1623) Hosanna to the Son of David 1.50
The Choir of Christ Church Cathedral, Oxford/Stephen Darlington – rec. March 2011. DDD.
Pdf booklet with texts included.
AVIE AV2215 [68:43] – from classicsonline.com (mp3) or stream from Naxos Music Library.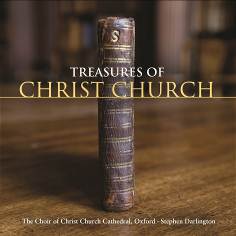 My Christmas selections included an inordinate amount of music from Cambridge and very little from Oxford, so I'm going to redress the balance by opening the New Year with this excellent anthology from the Christ Church Choir, recorded not at The House itself but in the more recording-friendly acoustic of Merton College next door. It contains an excellent sampler of English church music, stylishly performed and well recorded. I'd have preferred a chronological approach rather than the hither-and-thither placement, but that's about my only reservation and the arrangement allows the two distantly-related Tave(r)ners to be placed back to back.

The Christ Church pedigree is well maintained, with music from the first choirmaster of what was then Cardinal College, Taverner, two of his modern successors, Grier and Darlington, and Walton who sang in the choir before and as an undergraduate.

Don't forget the wonderful Christ Church recording of Masters of the English Renaissance on Regis RRC1320, available for just £4.99 from classicsonline.com (mp3), complete with booklet, which duplicates only the Parsons Ave Maria on the new Avie recording.