Download Roundup – September 2011/1
Brian Wilson

The August/2 Roundup is here and earlier editions can be found here.

I'm sorry to see that passionato.com no longer offer the EMI Classics and Virgin catalogues, to add to the number of labels which they have lost recently. As they were the only download site to offer much of what they had in lossless flac as well as mp3, apart from the own-label sites and until eclassical.com started offering 16- and sometimes 24-bit flac, you'll find plenty of passionato.com links which no longer work in earlier reviews. Win some, lose some, however: classicsonline.com are now offering music from these two catalogues – around 400 titles as I write, with more being added. They need to sort out their pricing policy – certain recordings which are identically priced on CD come at widely varying prices as downloads – some budget-price Encore discs at a very reasonable £3.99, others over-priced at £8.99. Usually the downloads cost significantly less than the equivalent CD(s) but sometimes considerably more – but that will, doubtless, be sorted out in due course.

A similar problem seems to afflict the new download service from arkivmusic.eu, with single full-price CDs hugely uncompetitive at €20.99/£15.99 – even 'special offers' at €10.99/£7.99 are not attractive – yet some of the latest Helios CDs reviewed below significantly undercut Hyperion's own price as special offers at €4.99/£3.24.

Recording of the Month

Francesco CAVALLI (1602-1676) Artemisia (Venice, 1657)
Francesca Lombardi Mazzulli (soprano) – Artemisia
Roberta Mameli (soprano) – Artemia
Valentina Coladonato (soprano) – Oronta
Maarten Engeltjes (counter-tenor) – Meraspe
Andrea Arrivabene (counter-tenor) – Alindo
Marina Bartoli (soprano) – Ramiro
Silvia Frigato (soprano) – Eurillo
Salvo Vitale – Indamoro
Alberto Allegrezza – Erisbe
Alessandro Giangrande (counter-tenor) – Niso
La Venexiana/Claudio Cavina – rec. Mondovì, Italy, October 2010. DDD
Booklet with libretto and translations
GLOSSA GCD920918 [3 CDs: 2:25:40] – from eclassical.com (mp3 and lossless)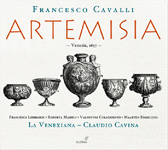 The plot of Artemisia is hugely complicated – even the Wikipedia article doesn't try to summarise it – and if you download from classicsonline.com or emusic.com it's made even more so by the lack of a booklet of notes, libretto and translation, which makes the 3-CD set more appealing. Nor will you save much over the price of the CDs from these sources.

Eclassical.com rides to the rescue, with mp3 and 16-bit flac at the same low price of $17.48, a considerable saving on the CDs and rival downloads, potentially better sound quality if you choose the flac – come back later for the mp3 for your iPod if you wish – and mirabile dictu the libretto, translation and notes in an attractive 130-page booklet.

Once again, then, an eclassical.com download tops the bill. I can't resist making this Download of the Month because the music is so attractive, the performances and recording are so sympathetic and the eclassical.com download comes complete with all the goods. I wouldn't recommend Artemisia before the two better known Cavalli operas La Calisto and l'Ormindo, but I prefer it to Ercole Amante, a performance of which I reviewed on DVD some time ago (Opus Arte OA1020D), perhaps because I was a little put off by tomfoolery with fat suits and the like in that production.

Squeezebox seemed irreconcilably opposed to completing the flac version of the final track of Act II (track 215) before leaping onto Act III, so your best bet may be to play the download via Winamp – the free version will do – or to burn the recording to three CDs via some such programme as Winamp. Alternatively, the mp3 version of this track plays without problem in Squeezebox and is easily substituted for the flac version.

Reissue of the Month

Sir Edward ELGAR (1857-1934)
Symphony No. 1 in A flat Op.55 (1908) [48:37]
Symphony No. 2 in E flat Op. 63 (1911) [51:16]
London Philharmonic Orchestra/Sir Adrian Boult – rec. 1968. ADD
LYRITA SRCD.221 [48:37 + 51:16] – from emusic.com (mp3)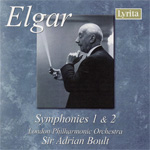 [see reviews by Rob Barnett: 'Perhaps not the most passionately headstrong of readings but full of the satisfaction of maturity and not short of carefully managed excitement. Should be in the collection of all Elgarians', Jonathan Woolf: 'not essential but very valuable', and Stephen Hall: 'WOW isn't a word used in classical music reviewing but this Lyrita re-issue deserves it and I use it because I'm of an age to have the original 1968 vinyls, so there!']

I remember being disappointed by the original release of these recordings in a gatefold 2-LP set, mainly because of the decision to group the violins together on the left instead of divided left and right. Rightly or, as it proves, wrongly, I resisted the CD reissue. That decision regarding the non-divisi violins remains a disappointment but whatever other reservations I had forty-plus years ago – mainly, I think, that slight lack of drive to which Rob Barnett refers – have fallen away. Perhaps as a septuagenarian I now better appreciate Boult's Indian summer recordings. They now (just) replace for me the two Hickox recordings for Chandos which I recommended in the January 2010 Roundup.

The CDs are available from Musicweb International for just £11.75 – here – two discs for the price of one and worth having in that form for the notes alone. The eMusic download is a decent substitute and the sound is more than acceptable, even though it's delivered at slightly below the 192 kb/s bit-rate usually regarded as the minimum for mp3 or DAB. At £3.36 or less, I'm not surprised that this is their most downloaded Lyrita recording.

Amazon.co.uk have these recordings to download but their price is only fractionally less than the cost of the CDs. Their download of Boult's EMI recordings of these symphonies, with ample fillers, is better value for £5.49. Their offering of the Andrew Davis recordings of the symphonies and other Elgar works is also well worth considering: 5 CDs for just £10.49.

Bargain of the Month

Arvo PÄRT (b.1935) Passio (Passio Domini Nostri Jesu Christi Secundum Ioannem, The Passion of our Lord Jesus Christ according to John, 1982)
The Hilliard Ensemble (David James (counter-tenor); Rogers Covey-Crump, John Potter (tenor); Gordon Jones (baritone); Lynne Dawson (soprano); Michael George (bass); Elizabeth Layton (violin); Melinda Maxwell (oboe); Elisabeth Wilson (cello); Catherine Duckett (bassoon); Christopher Bowers-Broadbent (organ))
Western Wind Chamber Choir/Paul Hillier – rec. March 1988. DDD
No texts.
ECM New Series 1370 [70:52] – from emusic.com (mp3)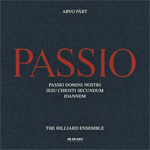 Apart from a musically illiterate attribution of the performance to Catherine Duckett alone in the emusic heading, this has to be a strong recommendation, not least because this hauntingly beautiful music comes complete on one track for a mere £0.48 or less. (£5.49 from iTunes.) The one-track arrangement, though it prevents easy finding of individual parts of the work, which is normally presented in four sections, also avoids any possible gaps in the music, as sometimes happens with mp3.

Most reviewers have marginally preferred the later Naxos recording under Anthony Pitts (8.555860), but there are also points in favour of this pared-down Hilliard version; indeed, John Quinn marginally preferred the Hilliards – see his review of the Naxos recording.

There are no texts, but chapters 18 and 19, 1-30 of St John's Gospel in the Latin Vulgate are readily available online. You may find marginal variations between the text which Pärt sets (from the Tridentine liturgy and the Sixtine-Clementine Vulgate) and more recent editions which rely on the earliest manuscripts and are, thus, closer to St Jerome's original. After John 19.30 Pärt concludes with the words: Qui passus es pro nobis miserere nobis. Amen. [You who suffered for us, have mercy upon us. Amen.]

Discovery of the Month

William Brocklesby WORDSWORTH (1908-1988)
Symphony No. 2 in D, Op.34 (1947/8) [43:45]
Symphony No. 3 in C, Op.48 (1948) [27:20].
London Philharmonic Orchestra/Nicholas Braithwaite. – rec. January 1988. DDD
LYRITA RECORDED EDITION SRCD.207 [71:05] – from emusic.com (mp3)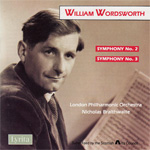 [see review by Colin Clarke: Recording of the Month.]

I must have come across the music of William Wordsworth before; if so, I've put it to the back of my mind, so this recording was a real discovery. The music and performances are all that CC says and the recording is good. Despite very low bit-rates (177-185 kb/s, when 192 kb/s has come to be regarded as the minimum for classical music), the mp3 transfer does justice to the music. Even if you've never heard a note of Wordsworth's music, this is well worth trying for £2.94 or less. Non-members can obtain the download from amazon.co.uk for £7.49.

Beulah Extra

The picks of this month's Beulah reissues are:

Wolfgang Amadeus MOZART (1756-1791)
Symphony No. 32 in G, K318
Berlin Philharmonic Orchestra/Karl Böhm – rec.1960. ADD/stereo
BEULAH 5BX133 [8:37] – from eavb.co.uk (mp3)

Symphony No. 35 in D, K385 ('Haffner')
Berlin Philharmonic Orchestra/Karl Böhm – rec.1960. ADD/stereo
BEULAH 1-4BX133 [17:40] – from eavb.co.uk (mp3)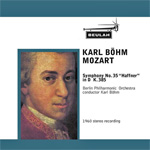 This is old-school Mozart of the very best kind – a fairly large orchestra, but playing with all the athleticism of a smaller ensemble and still very well worth hearing. Like Bruno Walter, whose stereo recordings of Nos. 35-41 I still treasure, Böhm brings out all the aristocratic elegance of the 'Haffner' without losing sight of the livelier aspects of the work. His version of the one-movement No.32 makes an excellent case for this earlier symphony, too. I only wish that he had observed more repeats in the 'Haffner' – 18 minutes of this kind of performance is just too short, so I played the whole symphony again. The recording has come up as fresh as paint in both works. This is an excellent and inexpensive alternative to the DGG Originals 2-CD reissue of Böhm's recordings of Nos. 35-41.

Look out next month for Böhm's 1955 recording of Beethoven's Symphony No.8 with the Vienna Philharmonic (6-9BX133).

Franz SCHUBERT (1797-1828)
Symphony No.9 in C ('Great' C Major)
Concertgebouw Orchestra, Amsterdam/Josef Krips – rec. 1952. ADD/mono
BEULAH EXTRA 2-5BX46 [47:55] – from eavb.co.uk (mp3)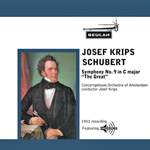 For many years this was 'the' version of the Great C Major; even when Krips re-recorded the work in stereo it continued to do sterling service on the Ace of Clubs label and it's still well worth hearing now. The only reservation concerns the availability, also from Beulah Extra, of Boult's 1934 recording on 20-23BX12 (see October 2010 Roundup). Of course, the Krips comes in much better sound – remarkably good for its age; in a blindfold test I'd have placed it a few years later than 1952 and even the mono sound is no handicap to enjoyment. It certainly sounds much better than I recall the Ace of Clubs LP and it comes for just £3 – if you want just this work, that's less expensive than the reissue of the same performance on Australian Eloquence 480 2802, coupled with Beethoven.

In 1952 the lack of repeats was regarded as a merit; now that we are more used to the 'heavenly length' of the work, it seems to be more of a defect, but it's the only one and you may prefer it that way. I've certainly no complaints about the fairly brisk pace for the slow movement. Perhaps we might now also have Krips' stereo remake with the LSO (SXL2045) for those who don't want the Unfinished coupling on the Eloquence reissue of that – I never got round to hearing it, since I plumped for Böhm instead when it came to choosing a stereo version.



Other releases include a recording of HAYDN's Mass in Time of War (Missa in tempore belli or Paukenmesse, H22/9) with Hans Gillesberger at the helm on 1-6BX134 [41:01 - here]. The soloists are variable and the Vienna Chamber Choir and Vienna Symphony Orchestra are never much more than adequate, but Gillesberger's lively direction saves the day and the Vox recording (c.1960?*) has come up well. At 17/6 (88p) this was an excellent bargain when it was reissued on the Turnabout label in 1967, and the Beulah release remains very good value – less than half the modern equivalent of 17/6.

The transfer is thin, but generally free from distortion. Nevertheless, for regular listening I'd prefer a more recent recording – John Eliot Gardiner (Philips 470 8192 – download separately or as part of a set, 475 1012, both from passionato.com: see June 2009 Roundup) or Richard Hickox (Chandos, CHAN0633 – from theclassicalshop.net – or complete set on CD, CHAN0734), for example: see March 2009 Roundup for the Hickox, but note that the complete set seems no longer to be available to download, so you need to go for the separate album or buy the USB set of all the Masses plus six of the London Symphonies, the equivalent of 10 CDs for £49.99 and excellent value: look out for a detailed review in the near future. (CHUSB0015). To listen to either of the newer versions is to enter a different sound world.

* Beulah's date of 1950 seems unduly early for a recording first issued in mono and stereo in 1962, yet I don't hear any stereo information in the transfer, so maybe the Turnabout was bogus 'electronic stereo'.

OFFENBACH's Overture to Orpheus in the Underworld (1BX143 [7:43] – here) is taken from the lively and enjoyable 1960 Sadler's Wells recording of excerpts, conducted by Alexander Faris, which I recommended from Past Classics in my March 2011/1 Roundup. Past Classics give us the Overture for just £0.42 and the contents of the whole original LP for £0.84 in a decent transfer, but Beulah take more care over their transfers and the sound of the result is fuller and preferable. I note that the two transfers are at slightly different pitch and I'll put my shirt on Beulah being right. Many, like me, will remember the sheer fun of that production so, please, may we now have the complete recording from Beulah?

There are two short contributions from the Paris Conservatoire Orchestra conducted by Charles Munch in 1946: Gabriel FAURÉ Pavane, Op.50 [4:48] on 16BX32 and Albert ROUSSEL Petite Suite, Op.39 on 15BX32 [12:02]. The Fauré receives an evocative performance, decently recorded for its age and free from surface noise. The Roussel is less well known and less immediately appealing, and there are not many rival recordings, but it, too, receives an idiomatic performance and good recording for its date. Find both recordings here.

As a pendant to the recordings of Peter Dawson on Beulah Extra and the two albums which are available from iTunes, featured in the July 2011/1 and August 2011/1 Roundups, this month we have his 1926 recording of Hubert PARRY's Jerusalem on 17BX53 [2:15]. Though it's also included on the album Peter Dawson Man of Song (2PD53 – find it here), many will appreciate its separate availability. As usual with 78s, the voice comes across much better than the orchestral accompaniment; with Beulah's usual skilful refurbishment, this gives us later-comers a decent idea of the quality of Dawson's voice – and his wonderful diction, which sounds so attractively old-fashioned now, the musical equivalent of Alvar Liddell reading the 9 o'clock news or Bob Danvers Walker on Pathé newsreel.

There's more music by PARRY on 2BX1, I was glad when they said unto me from the 1933 Festival of English Church Music [7:20]. The recording is not at all bad for its age and it's been well spruced up by Beulah. Find both Parry recordings here.



Finally HANDEL's Behold the Lamb of God from the 1926 Handel Festival on 3BX1 [3:37] – here. In place of the Beulah house-style cover, there's a photograph of the massed forces of performers at the Crystal Palace, together with a quotation from Gramophone magazine. We're not so fond of a 'gigantic combination of sounds' in Handel these days and the recording requires a good deal of tolerance, but this reissue enshrines a valuable historic record. The miracle is that it was recorded at all and placed on the market within months.

I haven't yet had time to listen to Beulah's refurbishment of the 1947 Huddersfield Choral Society recording of Mendelssohn's Elijah, conducted by Sir Malcolm Sargent, but I'm very much looking forward to it. It's released on iTunes in September and on two tracks from Beulah Extra in October (22-23BX13).

Hyperion reissues

September brings a particularly rich crop of reissues on Hyperion's budget-price Helios label, all available in mp3, flac or alac format for the same price of £5.99. In chronological order:

A Song for Francesca: Music in Italy, 1330-1430
Andreas De FLORENTIA Astio non morì mai – ballata [3:02]; Per la ver'onestà – ballata [4:35]
ANONYMOUS Quando i oselli canta – madrígal [2:01]; (Faenza codex) Constantia [3:04]
Giovanni Da CASCIA 'Johannes De FLORENTIA' Quando la stella – madrígal [3:15]
ANONYMOUS Amor mi fa cantar a la Francesca – ballata [2:34]; (Faenza codex) Non na el so amante [2:39]
Francesco LANDINI Ochi dolenti mie – ballata [2:52]; Per seguir la sperança – ballata [3:38]
ANONYMOUS O regina seculi / Reparatrix Maria [2:28]
Guillaume DUFAY Quel fronte signorille in paradiso [2:36]
Richard LOQUEVILLE Puisque je suy amoureux – rondeau [2:52]; Pour mesdisans ne pour leur faulx parler [1:52]
Hugo de LANTINS Plaindre m'estuet – rondeau [4:33]
Johannnes HAUCOURT Je demande ma bienvenue – rondeau [1:52]
ANONYMOUS Confort d'amours – rondeau [3:47]
Richard LOQUEVILLE Qui ne veroit que vos deulx yeulx – rondeau [1:12]
Estienne GROSSIN Va t'ent souspir [1:34]
Gothic Voices with Andrew Lawrence-King medieval harp/Christopher Page – rec. September 1987. DDD.
Pdf booklet with notes, texts and translations included
HYPERION HELIOS CDH55291 [50:29] – from hyperion-records.co.uk (mp3 and lossless)



Any recording by Gothic Voices is self-recommending. It's very good to see this joining most of the rest of their Hyperion recordings at budget price, having been available till recently only as part of a 3-CD set. Only those predisposed to dislike this early-renaissance repertoire, or to its being sung without instrumental accompaniment should steer clear – as usual, Christopher Page employs Andrew Lawrence-King on medieval harp for instrumental interludes only. With excellent recording, de luxe notes and texts, this could easily have been my Reissue of the Month. Try Haucourt's Je demande ma bienvenue and you'll be sold.

Tomás Luis de VICTORIA (1548-1611)
Veni Sancte Spiritus 8vv [3:07]
Dum complerentur 5vv [6:54]
Missa Dum complerentur 6/7vv [29:23]
Popule meus 4vv [4:59]
Vexilla regis 4/6vv [8:33]
Veni Creator Spiritus 4vv [6:10]
Pange lingua gloriosi 4vv [6:26]
Lauda Sion salvatorem 8vv [3:21]
The Choir of Westminster Cathedral/James O'Donnell – rec. March 1996. DDD
Pdf booklet with notes, texts and translations included
HYPERION HELIOS CDH55452 [68:27] – from hyperion-records-co.uk (mp3 and lossless)



As with Gothic Voices in the late-medieval and early-renaissance repertoire (above) and the King's Consort in the baroque (below), Westminster Cathedral's recordings of Victoria, especially under David Hill and James O'Donnell are benchmarks and this, their latest reissue in Victoria's quatercentenary year, is no exception. I've already recommended their recording of the Missa Vidi speciosam, etc., under David Hill, also reissued this month on CDH55358 (see June 2011/1 Roundup) and the Missa Trahe me (CDH55376 – see March 2011/2 Roundup); the O'Donnell recording is equally excellent. The music relates mainly to the feast of Pentecost (Whitsun) but some of the shorter works are for Holy Week and it might have been more logical to have placed these first. There's a good rival recording of the Motet and Mass Dum complerentur on Nimbus NI5434 (see August 2009 Roundup), but the Westminster Choir have the music of Victoria rather more in their blood than Christ Church Cathedral Choir under Stephen Darlington.

Sebastian KNÜPFER (1633-1676)


Vom Himmel hoch, da komm ich her [11:32]
Was mein Gott will, das gescheh allzeit [11:41]
Wenn mein Stündlein vorhanden ist [8:14]
Ach Herr, strafe mich nicht in deinem Zorn [12:16]
Quemadmodum desiderat cervus [5:10]
Super flumina Babylonis [9:18]
Jesus Christus, unser Heiland [10:38]
Die Turteltaube lässt sich hören [10:35]
Carolyn Sampson, Rebecca Outram, Susan Hamilton (soprano)
James Bowman, Robin Blaze (counter-tenor)
James Gilchrist, Charles Daniels (tenor)
Peter Harvey, Michael George, Robert Evans (bass)
The King's Consort/Robert King – rec. September 1999. DDD.
Pdf booklet with notes, texts and translations included
HYPERION HELIOS CDH55393 [78:27] – from hyperion-records.co.uk (mp3 and lossless)

Johann SCHELLE (1648-1701)


Lobe den Herrn, meine Seele [10:53]
Wohl dem, der den Herren fürchtet [7:41]
Aus der Tiefen [10:15]
Herr, lehre uns bedenken [9:36]
Gott, sende dein Licht [10:59]
Komm, Jesu, komm [5:42]
Christus, der ist mein Leben [9:28]
Christus ist des Gesetzes Ende [4:47]
Vom Himmel kam der Engel Schar [8:31]
Carolyn Sampson, Rebecca Outram, Lisa Beckley, Julie Cooper (soprano)
James Bowman, Robin Blaze (countertenor)
Charles Daniels, James Gilchrist, Angus Smith, Matthew Vine (tenor)
Peter Harvey, Charles Pott (bass)
The King's Consort/Robert King – rec. November 2000. DDD.
Pdf booklet with notes, texts and translations included
HYPERION HELIOS CDH55373 [78:54] – from hyperion-records.co.uk (mp3 and lossless)

I wouldn't exactly call these two composers 'Bach-a-likes' as Hyperion do in their publicity material – much of the music harks back to Schütz as much as forward to Buxtehude and Bach – but these are two extremely valuable reissues of music by important but little-known predecessors of Johann Sebastian. As with Gothic Singers, anything by the King's Consort attracts my immediate attention.

Gerald Fenech awarded a well-deserved 5+5-star rating to the Knüpfer on its first appearance – see review – and I see no reason to demur. The Schelle recording, with a slightly different line-up of singers, is equally distinguished. Both albums come with the usual de luxe booklet, a straight reprint of the full-price original apart from the Helios logo on the covers, themselves attractive additions to the appeal of these reissues.

A recording of the music of another of Bach's predecessors at the Thomaskirche, Johann Kunhnau, also made for this series by the King's Consort, languishes in Hyperion's Archive series, though it's readily available for download: CDA67059. I look forward to its reissue, too, on the Helios label, as foreshadowed in the booklets for the two current reissues. Ditto the Sacred Music of Jan Dismas Zelenka on CDA67350. If you can't wait in order to save £2, these are both well worth the outlay of £7.99.

Anton BRUCKNER (1824-1896)
Mass No.3 in f minor [59:44]
Psalm 150 [8:16]
Juliet Booth (soprano); Jean Rigby (contralto); John Mark Ainsley (tenor); Gwynne Howell (bass)
Corydon Singers; Corydon Orchestra/Matthew Best – rec. 1992. DDD.
HYPERION HELIOS CDH55332 [68:01] – from hyperion-records.co.uk (mp3 and lossless)



Just two things prevent me from giving this the very highest accolade: the Corydon Singers and Matthew Best perform all three Masses and other pieces on a 3-CD set which works out even less expensively per disc (CDS44071/3 £14.99 in all download formats) and there are equally fine performances of all three Masses from the Bavarian Radio Chorus and Orchestra under Eugen Jochum on DG Originals (447 4092, £9.49 in mp3, £11.49 in flac from the DG shop here), also Te Deum and Psalm 150 from Berlin forces and Jochum on 457 7432 – download in mp3 or lossless from passionato.com – here – or stream Jochum's Psalm 150, a slightly more measured account than Best's, from Spotify.

Reynaldo HAHN (1874-1947)
Sonata in C for violin and piano (1926) [20:12]
Soliloque et Forlane for viola and piano (1937) [7:42]
Nocturne in E flat for violin and piano (1906) [5:30]
Romance in A for violin and piano (1901) [4:27]
Piano Quartet No 3 in G (1946) [21:57]
Si mes vers avaient des ailes (transcribed by the composer for cello and piano) (1888) [1:53]
Room-Music (Stephen Coombs (piano), Charles Sewart (violin), Yuko Inoue (viola), Philip de Groote (cello)) – rec. May 2003. DDD.
Pdf booklet included.
HYPERION HELIOS CDH55379 [61:59] – from hyperion-records.co.uk (mp3 and lossless)



[from CDA67391 – see review by Ian Lace: 'Enchanting, nostalgic music. Warm-hearted performances by Room-Music with great sensitivity and lack of condescension.']

I played this just before Sunday lunch, a time to which the music seems eminently suited. That's not to downplay Hahn; though I certainly wouldn't make great claims for him – there's nothing like the intensity of Elgar's chamber music, for example – his work is extremely enjoyable and these performances make a very strong case for him. With very good recording, this certainly deserves a recommendation at the new lower price.

Hyperion have already reissued Hahn's mock-antique le Bal de Béatrice d'Este on Helios CDH55167, performed by the New London Orchestra/Ronald Corp and coupled with Poulenc's Aubade and Sinfonietta, another highly desirable CD or download. You could build a decent music library from these inexpensive Helios reissues alone – one far better than could be had from the Ace of Clubs and Golden Guineas of my youth and less than half the price in real terms.

Constant LAMBERT (1905-1951)
The Rio Grande, for chorus, alto solo, orchestra and solo pianoforte (1927) [14:04]
Aubade héroïque, for small orchestra (1942) [8:05]
Summer's Last Will and Testament, for orchestra, chorus and baritone solo (1936) [52:59]
Sally Burgess (mezzo); William Shimell (baritone); Jack Gibbons (piano)
Chorus of Opera North/Martin Pickard; Leeds Festival Chorus/Simon Wright
English Northern Philharmonia/David Lloyd-Jones – rec. September 1991. DDD.
Pdf booklet with notes and texts included
HYPERION HELIOS CDH55388 [75:13] – from hyperion-records.co.uk (mp3 and lossless)



It's exactly 60 years since Constant Lambert died and about time that his reputation received a boost – a task which this Hyperion reissue is ideally placed to perform. The programme begins with the well-known Rio Grande – perhaps just lacking the last degree of oomph here – and progresses to two lesser-known works, including Summer's Last Will, a setting of words by the Elizabethan Thomas Nash and a neglected minor masterpiece. If a setting of a poem about the plague sounds uninviting, think again. When this album was first released, the recording was hailed as a supreme example of the Tonmeister's art and it still sounds very well. Snap it up.

Don't forget the Hyperion recording of Lambert's Romeo and Juliet, Piano Concerto and shorter works which I recommended in the November 2010 Roundup (CDA67545). Alternatively, there's an equally fine version of Romeo and Juliet on Lyrita SRCD.215, with Music for Orchestra and 'King Pest' from Summer's Last Will – Recording of the Month: see review, review and review. Try the latter from Spotify – free if you can stand the ads – or download from amazon.co.uk; don't go for the emusic.com version – because of the latter's pay-per-track policy, it's much more expensive.

For a good third version of Romeo and Juliet, with Pomona and the Overture The Bird Actors from the State Orchestra of Victoria and John Lanchbery on Chandos CHAN9865, see the 4-star review and download in mp3 or lossless from theclassicalshop.net.

I can't speak with any authority about RACHMANINOV's solo piano music, but those who can have praised Howard Shelley's 1983 recording of the two sets of Études-tableaux, Op.33 and Op.39 as exemplary: CDH55403 [57:03] here. I may not be qualified to pronounce, but I greatly enjoyed hearing this reissue. Don't forget, however, that Hyperion have already make Shelley's complete Rachmaninov recordings available at a special price: 8 CDs for £55.92 or download in mp3 or lossless for £39.99, CDS44041/8 – here.
***


Nicolas GOMBERT (c.1495-c.1560)
Media vita in morte sumus [6:09]
Missa Media Vita: Kyrie [4:33]; Gloria [7:34]
Salve Regina [8:44]
Anima mea liquefacta est [6:56]
Missa Media Vita: Credo [10:15]
O Crux, splendidior [6:32]
Missa Media Vita: Sanctus [8:37]
Quam pulchra es [4:52]
Missa Media Vita: Agnus Dei [5:23]
Musæ Iovis [6:19]
The Hilliard Ensemble: (David James (counter-tenor); Rogers Covey-Crump (tenor); Steven Harrold (tenor); Andreas Hirbreiter (tenor); Gordon Jones (baritone); Robert Macdonald (bass)) – rec. May 2002, Propstei St. Gerold. DDD.
No texts, but some notes available from ECM Records here.
ECM 1884 [76:00] – from emusic.com (mp3)



[see appreciative review by Dominy Clements]

Only those irreconcilably opposed to 16th-century polyphony or to the Hilliard Ensemble's distinctive one-to-a-part delivery should ignore this recording. For the rest of us, only the lack of texts and translations is a real disadvantage – and most of these are available online, especially the sections of the Ordinary of the Mass, here with the cantus firmus from Media vita, a funeral motet ditched at the Council of Trent but the first part of which was employed as the opening of the Anglican Burial Service:

Media vita in morte sumus; Quem quærimus adjutorem nisi te, Domine, Qui pro peccatis nostris juste irasceris? Sancte Deus, sancte fortis, Sancte misericors Salvator amaræ morti ne tradas nos. In te speraverunt patres nostri; Speraverunt et liberasti eos. Ad te clamaverunt patres nostri; Clamaverunt et non sunt confuse. Gloria Patri, et Filio et Spiritui Sancto

In the midst of life we are in death: of whom may we seek for succour, but of thee, O Lord, who for our sins art justly displeased? Yet, O Lord God most holy, O Lord most mighty, O holy and most merciful Saviour, deliver us not into the bitter pains of eternal death. [Our fathers trusted in thee, they trusted and thou didst deliver them. Our fathers cried to thee, they cried and were not confounded. Glory be to the Father and to the Son and to the Holy Spirit.]

The download does justice to the recording, with bit-rates around 256kb/s.

Gombert's music has still not received the attention due. For other recordings of it, please see:
– Magnificats: Gimell – Tallis Scholars (November 2008, Tallis Scholars at 30)
– Tribulatio et angustia: Hyperion – Brabant Ensemble – review and review
– Missa octavi toni, Missa tempore paschali: Hyperion Helios – Henry's Eight (April 2011/1 and review: Bargain of the Month)
– Magnificat I, etc. Naxos: Oxford Camerata – see review: download from classicsonline.com (mp3) – here.

Tomás Luis de VICTORIA (1548-1611) Et Jesum: Motets for solo voice


Et Iesum [01:57]
Duo Seraphim clamabant* [03:27]
O Decus Apostolicum [02:53]
Missa Quam pulchri sunt: Domine (vihuela solo) [01:14]
Senex puerum portabat [03:00]
Magi viderunt stellam [03:17]
Domine, non sum dignus [03:20]
Domine, non sum dignus (vihuela solo) [04:25]
O magnum mysterium [03:11]
Missa O magnum mysterium:
Sanctus* [01:55]
Benedictus* [01:51]
Agnus Dei* [01:34]
Ne timeas, Maria [03:38]
Missa Gaudeamus: Pleni sunt (lute solo) [01:29]
Iste Sanctus [02:09]
Estote fortes in bello* [02:32]
Alma redemptoris mater [05:55]
Missa Gaudeamus: Domine Deus (vihuela solo) [01:17]
O quam gloriosum [04:09]
Doctor bonus, amicus Dei [03:13]
Missa Quam pulchri sunt: Crucifixus (vihuela solo) [02:33]
Pueri Hebræorum [02:37]
Salve Regina [04:11]
Carlos Mena (alto); Francisco Rubio Gallego (cornet*); Juan Carlos Rivera (lute, vihuela) – rec. October 2003. DDD
Texts not included.
HARMONIA MUNDI GOLD HMG50 7042 [65:48] – from classicsonline.com (mp3)

['This is a fine recording which sheds light on a wide-spread practice in the renaissance which hasn't been given much attention to.' – see review of earlier release by Johan van Veen]



Missa Ave Regina (8vv.) with propers for Mass of the Annunciation of the BVM.
Antonio de CABEZÓN Dic nobis Maria (organ) [1:10]
Tomás Luis de VICTORIA Ave Regina Cœlorum for two choirs (8 voices) [3:13]
Antiphona: Vultum tuum (Gregorian chant) [2:49]
Kyrie (alternated with the Three Verses from the Missa de N[uest]ra Señora by 17th-century Anonymous) [4:04]
Gloria [3:10]
Collecta: Dominus vobiscum … (Gregorian chant) [1:11]
Prophetia: Lectio Isaiæ prophetæ (Gregorian chant) [1:09]
Canzon dopo l'Epistola : 17th-century Anonymous: Partite sopra la Aria della Folia España (organ) [3:16]
Alleluia (Gregorian chant) [2:00]
Evangelium: Dominus vobiscum (Gregorian chant) [2:29]
Credo (choir) [5:59]
Ad Offertorium: Ave maria, gratia plena (choir) [3:36]
Præfatio: Per omnia sæcula sæculorum (Gregorian chant) [2:43]
Sanctus (choir) [3:01]
Ad Elevationem: Pablo BRUNA Tiento de falsas (organ) [4:53]
Per omnia sæcula sæculorum (Gregorian chant) [1:51]
Agnus Dei (choir/ Gregorian chant/ choir) [2:55]
Ad Communionem: Lucas PUXOL Obra de 6° tom (organ) [2:56]
Domine non sum dignus (choir) [2:40]
Postcommunio: Oremus … (Gregorian chant) [0:55]
Dominus vobiscum … Ite missa est (Gregorian chant) [0:37]
Ad Finem: Ave Regina Cœlorum (choir) [3:56]
Sancta maria, succurre miseris (choir and viola da gamba) [3:03]
Francisco Correa de ARAUXO Canto Ilano de la Inmaculada Concepción De la Virgen Maria (organ) [1:22]
Festina Lente/Michel Gasbarro – rec c.2000? DDD.
Pdf booklet with texts included – but no translations
DYNAMIC CDS261 [65:10] – from classicsonline.com (mp3)

Tomás Luis de VICTORIA


Ave Regina cælorum for eight voices [4:34]
Missa Ave Regina cælorum for eight voices [19:56]
Ave Maria for four voices [2:08]
Dixit Dominus for eight voices [5:37]
Laudate pueri Dominum for eight voices [5:05]
Laudate Dominum omnes gentes for eight voices [3:19]
Lætatus sum for twelve voices [6:56]
Nisi Dominus for eight voices [5:22]
Magnificat septimi toni for four voices [10:09]
Ave Maria for eight voices [4:15]
The Choir of Westminster Cathedral/Martin Baker – rec. February 2004. DDD
Pdf booklet with texts and translations included.
HYPERION CDA67479 [67:02] – from hyperion-records.co.uk (mp3 and lossless)

Tomás Luis de VICTORIA


Ave Maria [1:37]
Missa O magnum mysterium [17:28]
O magnum mysterium [4:25]
Missa O quam gloriosum [20:01]
O quam gloriosum [2:12]
Ardens est cor meum [5:00]
Alonso LOBO (c.1555-1617) Versa est in luctum [5:15]
Oxford Camerata/Jeremy Summerly – rec. April 1992. DDD
NAXOS 8.550575 [57:26] – from classicsonline.com (mp3)

The wide-spread practice to which JV refers in his review of the Harmonia Mundi recording was to reduce Victoria's elaborate polyphony to solo voice plus instrument(s) in churches and even cathedrals which didn't have the resources for the full works. (See the Chandos recording below for a similar practice of setting of Vespers for one or two soloists and small ensemble.) Et Jesum had passed me by until I heard some of the tracks on BBC Radio 3 and immediately requested a review download from classicsonline.com. It's a wonderful set of performances, sounding well in mp3. Only the lack of texts, some of which are not easy to come by, makes me recommend the CD in preference – at HM Gold's mid price it's not much more expensive than the download.

The Dynamic recording attempts to reconstruct the Mass of the Annunciation as it might have been performed with chant and items from the works of Victoria's contemporaries. We know that his music was performed in the manner demonstrated by the Harmonia Mundi recording; the Dynamic reflects only a possibility, but it's an interesting reconstruction in the manner which we associate with Paul McCreesh. Having had some less than ideal experiences of Spanish singing of renaissance polyphony, I was pleasantly surprised to discover some very competent performances here from what appears to be an Italo-Spanish collaboration. I still prefer UK-based choirs, especially that of Westminster Cathedral, in this repertoire, together with professional groups such as The Sixteen and the Tallis Scholars, but Festina Lente may well come closer to the sound that Victoria would have heard. The recording reproduces well and the booklet is informative.

Though hailed as a first recording on the cover, the Dynamic recording has the field to itself only in the sense that it's coupled with the propers of the Annunciation. Hyperion offer the settings of the Motet and Mass without the propers but with other works by Victoria on CDA67479. Need I add that the performances are excellent, that the presentation is well up to Hyperion's high standards and that the recording comes in flac and alac as well as mp3, all for the same price. As the price happens to be identical to that of the Dynamic recording from classicsonline.com, that just puts the Hyperion recording ahead.

The CD of the Naxos recording has been in my own collection for a long time. Can it really be nearly 20 years ago? It sounds very well in mp3, though keener, younger ears may just be able to sport the difference. The fairly brisk, small-scale performances are excellent and the download comes complete with the Naxos booklet, albeit that there are no texts. This is the least expensive download of Victoria's music on the market – further reduced from £4.99 to £3.74 at the time of writing – but that doesn't mean cut-price singing, far from it.

In an alternative coupling on 8.553240 the same performance of the Missa O magnum mysterium is accompanied by Masses from Alonso and Duarte Lobo and Lassus – at 64 minutes, that's better value, but I prefer the coupling of the two Victoria Masses.

Chamber Vespers: Miniature Masterpieces of the Italian Baroque
Orazio TARDITI (1602 – 1677) Domine ad adiuvandum (1650) [2:20]
Adriano BANCHIERI (1568 – 1634) Psalm I. Dixit Dominus (1613) [4:51]
Giovanni Paolo CIMA (c. 1570 – 1630) Sonata per cornetto (1610) [3:55]
Giacomo FINETTI (fl. 1605 – 1631) Psalm II. Laudate pueri (1613)* [5:20]
Alessandro PICCININI (1566 – c. 1638) Toccata quarta (1623) [1:26]
Francesco PETROBELLI (d. 1695) Psalm III. Lætatus sum (1670)* [9:25]
Girolamo Alessandro FRESCOBALDI (1583 – 1643) Canzon terza per basso solo (1634) [3:33]
Orazio TARDITI Psalm IV. Nisi Dominus (1650)* [4:45]
Girolamo Alessandro FRESCOBALDI Capriccio sopra un soggetto (1626) [4:48]
Natale MONFERRATO (c. 1615 – 1685) Psalm V. Lauda Jerusalem (MS, not dated)* [6:10]
Archangelo CROTTI (fl. 1608) [Sonata sopra] Sancta Maria (1608) [2:06]
Giovanni Felice SANCES (c. 1600 – 1679) Hymn. Ave, maris stella (1638) [3:13]
Adriano BANCHIERI Canticle. Magnificat (1613)* [5:08]
Maurizio CAZZATI (1616 – 1678) Regina cæli (1667)* [4:05]
The Gonzaga Band: (Faye Newton (soprano); Jamie Savan (treble cornett, mute cornett); Richard Sweeney (theorbo); Steven Devine harpsichord (chamber organ))with Clare Wilkinson (mezzo); Gawain Glenton (treble cornett, mute cornett)
Project director Jamie Savan – rec. August 2010. DDD
Pitch: A = 440 Hz; Temperament: quarter comma mean tone
* premiere recordings
Pdf booklet included with texts and translations
CHANDOS CHACONNE CHAN0782 [62:16] – from theclassicalshop.net (mp3, 16- and 24-bit lossless)



Monteverdi's Vespers of 1610 would have been beyond the resources of even comparatively large churches and cathedrals in the early 17th century. Without suggesting that any establishment ever rounded off their major Sunday or Saint's Day services with this collection, Chandos has assembled the kind of smaller-scale setting of the Versicles, Responses, psalms, Magnificat, hymns and motets, with at most two solo voices, which could have been employed at any time in the first three quarters of that century. To do so, they've raided the works of the great and well-known and included quite a few unknowns – note the number of premiere recordings.

It's all much less exciting than the Monteverdi collection, of course, but it's deeply satisfying – more intimate and, in many ways, more spiritual. Modern copies of original instruments are employed, tuned in pre-equal-tone manner, but I doubt if many congregations in the seventeenth century heard performances as good as these: full marks all round, except to whoever typed the Notes on the web page for spelling Divine Vespers as Devine Vespers, a howler not at all like Chandos and not perpetuated in the same paragaph in the booklet, I'm pleased to say. The same errant spelling crops up again in Chandos' ads in the magazines – surely it can't be intended as a pun on the name of Steven Devine; if it is, he doesn't perpetuate it on his own website, where he correctly refers to Divine Vespers.

Luigi CHERUBINI (1760-1842)
Marche funèbre (1820) [6:10]
Requiem in c minor (1816) [47:06]
Corydon Singers; Corydon Orchestra/Matthew Best – rec. April 1995. DDD
Pdf booklet included with texts and translations.
HYPERION CDA66805 [53:32] – from hyperion-records.co.uk (mp3 and lossless)



If you heard the Mozart and Verdi Requiems at the BBC Proms this year and were thinking of what to try next, the Cherubini, a work praised by Beethoven, Berlioz and Brahms, is an obvious choice and this Hyperion performance is the only download version that I know that's available in lossless sound. The excellent performances stress Cherubini's kinship with Beethoven, who reportedly said that if he wrote a Requiem he would want it to sound like this, and there's a price reduction from the normal £7.99 to £6.99 in all formats to take account of the slightly short playing time.

If you're looking for extra value, don't mind mp3, and you still haven't got a version of the Verdi Requiem, amazon.co.uk have Muti's 2-CD budget set of the two works for £5.99: preview in Spotify.

Henryk WIENIAWSKI (1835-1880)
Violin Concerto No. 1 in f sharp minor, Op. 14 [27:28]
Violin Concerto No. 2 in d minor, Op. 22 [23:49]
Légende, for violin and orchestra in g minor, Op. 17 [7:33]
Pablo SARASATE (1844-1908)
Zigeunerweisen, for violin and orchestra ('Gypsy Airs), Op. 20 [8:59]
Gil Shaham (violin); London Symphony Orchestra/Lawrence Foster – rec. 1990. DDD.
DEUTSCHE GRAMMOPHON 431 8152 [68:04] – from passionato.com (mp3)



Last month in a tailpiece I welcomed Charlie Siem's new recording of the Bruch Violin Concerto, with the Wieniawski Violin Concerto No.1 (Warner 2564 6661-2), though only as an all-concertante alternative to the Gluzman/Litton all-Bruch recording (BIS-SACD-1852). Those who choose the BIS Bruch and/or prefer both Wienawski concertos together might well wish to consider this alternative from Gil Shaham, with the Légende and Sarasate's Zigeunerweisen as attractive couplings. These are the kinds of glorious performance that make good second-rate music sound first-rate. Try them first from Spotify.

If you prefer a fellow Pole in Wieniawski, there's a recording of the two Violin Concertos alone on the Dux label, with Mariusz Patyra as soloist (DUX0674), about which my only serious reservation is that it's rather short on playing time.

Bela BARTÓK (1881-1945)
Violin Concerto No. 1, BB48a, Sz.36 (1907/8) [20:45]
Violin Concerto No. 2, BB117, Sz.112 (1938) [36:01]
Viola Concerto BB 128, Sz.120 (1945, cptd. Tibor SERLY, 1949) [20:40]
James Ehnes (violin/viola)
BBC Philharmonic/Gianandrea Noseda – rec. November 2009 and November 2010. DDD.
Pdf booklet available
CHANDOS CHAN10690 [77:15] – from theclassicalshop.net (mp3, 16- and 24-bit lossless)

[See Seen and Heard reviews of Ehnes, BBC Philharmonic and Noseda in this repertoire:
Violin Concerto 1, 30.10.2010: Michael Cookson here;
Viola Concerto, 26.02.2011: Michael Cookson here.]



Those looking for value for money will not be disappointed by this very full programme – not just the two violin works but the Viola Concerto as well. Even if you choose the 24-bit download at £15.99, that's still plenty of music for your outlay. mp3 and 16-bit come at £7.99 and £9.99 respectively, which compares very favourably price-wise even with the well-liked budget-price Naxos version of just the two Violin Concertos (György Pauk; Polish National Radio Symphony Orchestra/Antoni Wit, 8.554321 – download in mp3 only from classicsonline.com). the EMI Zimmermann/Shallon coupling of the Bartók Viola Concerto and Hindemith's Der Schwanendrehrer – available to stream from the Naxos Music Library – is made to look very poor value by comparison, at just 49 minutes.

James Ehnes and Gianandrea Noseda have performed all three of these works in public, with the BBC Phil, as listed above, and the Second Violin Concerto with the LSO at the Barbican in October 2010. All the reviews that I've seen of those performances stress Ehnes's almost effortless virtuosity – a necessary quality, of course, but is it enough to live up to Chandos' billing of Recording of the Month when there are some excellent alternatives in the lower price categories? As well as the Naxos recording mentioned above, amazon.co.uk have the Menuhin/Doráti 2-CD set of the three concertos plus Rhapsodies 1 and 2, the six Duos, etc. for £5.99 – here – which John Leeman described as an irresistible bargain – see review. (EMI Gemini 5854872). Despite some less than secure playing occasionally, Menuhin's and Doráti's special relationship with Bartók inclines me still to regard these performances as my benchmark.

Apart from the opening movement of the first Violin Concerto, where Ehnes and Noseda adopt an andante which is more sostenuto, the Chandos performers adopt faster tempi than their older rivals – sometimes considerably faster, as in the second movement of the same concerto 11:15 against 12:57. Hearing the two performances one after the other – not always a good idea because it over-emphasises differences – I did think the new version dragged very slightly in the first movement but never to the extent that it sounded laboured. By way of compensation the accompaniment sounds more powerful, aided by the recording. In the second movement the faster tempo of the new recording works very well – here it's Menuhin who very slightly allows the music to drag.

It's the second Violin Concerto, for long the only one known, that will interest most listeners. Here the new recording is faster throughout than Menuhin (1965) – himself a few seconds slower in each movement than he had been in 1947 – with Pauk (Naxos) noticeably slowest of all in the opening movement and very close to Menuhin in the other two movements. Ehnes and Noseda take the first movement almost two minutes faster than Menuhin (1965) and a full two minutes faster than Pauk, largely because Ehnes makes some difficult music sound easy. I never felt, however, that that this was virtuosity for its own sake – indeed, there's a great deal of tenderness as well as fire in this interpretation. Menuhin (1947) almost exactly splits the difference between Ehnes and his own later timing here.

Putting aside comparisons, I very much enjoyed the new recording of the Second Concerto – just as much as I enjoyed making the acquaintance of Menuhin again, whose recording of this concerto and the Six Duos I owned on LP.

In the Viola Concerto Ehnes and Menuhin are much closer in tempo. Both are a little faster in the opening movement than Yuri Bashmet and Pierre Boulez, with whom they are in close agreement in the other movements (DG 477 7440, with Violin Concerto No.1 and the Concerto for 2 pianos, percussion and orchestra – a 'top notch release': see review by Dominy Clements – download from passionato.com). In an interesting interview on BBC Radio 3 CD Review, Noseda spoke of Ehnes as a soloist who really believes in this work and that comes through well in the recording.

The Chandos 24-bit recording is (very) good but not exceptional. Unless your system can make full use of 24/96 quality – Squeezebox, for example, downsizes 24/96 to 24/44 – I'd go for the 'ordinary' 16-bit CD-quality. Most of the tracks of the amazon mp3 download of the much older Menuhin are at slightly less than their usual 256kb/s so, on the face of it, comparisons should be odious, but in practice the latter is much more than acceptable – it's certainly not shamed by the comparison.

It's swings and roundabouts, then. Personal choice and price may well be your deciding factors. You can hear the new recording from Naxos Music Library and the Menuhin from Spotify, who also have his Mercury recording of Violin Concerto No.2, again with Doráti.

Sir Michael TIPPETT (1905-1998)


The Rose Lake, a song without words for orchestra (1991-95) [30:02]
The Vision of St. Augustine (1965) [38:15]
John Shirley-Quirk (baritone)
London Symphony Orchestra and Chorus/Sir Colin Davis (Rose Lake); Sir Michael Tippett (Vision)
rec. Walthamstow Town Hall, 17 April 1997 (Rose Lake) and 7-8 June 1971 (Vision) DDD
BMG-RCA CATALYST 8287664284 2 [68:19] – from amazon.co.uk (mp3)

['Whatever your thoughts about the coupling, The Rose Lake demands your attention.' – see full review by Tony Haywood.]



The Rose Lake, a song without words for orchestra (1991-95) [29:09]
Ritual Dances for orchestra (1953) from The Midsummer Marriage (1946-52) [24:22]
BBC National Orchestra of Wales/Richard Hickox – rec. November 2004 and July 2005. DDD/DSD
Pdf booklet included.
CHANDOS CHAN/CHSA5039 [53:39] – from theclassicalshop.net (mp3 and lossless)

I first heard the Vision at the 2005 Proms and didn't know whether to agree with those whose response was to be grateful that they had heard it once or with those who thought it a neglected masterpiece. Hearing it again now, I'm still not sure, for all that I'm interested in Augustine's struggle to shape a coherent set of beliefs and particularly in his Confessions, which form the basis of Tippett's music. The trouble is that I'm not sure that Tippett knew what he was aiming to do.

The Rose Lake is another matter – his last work and a beautiful and appropriate farewell it is. Both pieces are well performed on RCA and the recording is good throughout – even the 1971 recording comes up well, though the bit-rate is disappointingly slightly below Amazon's normal 256kb/s.

Amazon's attractive download price of £4.99 is (surprisingly) matched by the same asking price for the CD, including delivery, from the same suppliers. In view of the low-ish bit-rate of the download and the lack of notes in that form, you may well prefer to go for the CD.

The Chandos coupling may appeal to more listeners, especially those who don't already have the Ritual Dances. It also comes with a booklet of notes. If, at first, The Rose Lake appears slightly less magical on this recording, where some of the sections are taken a little faster, the difference is minimal: overall, this recording is not far behind at all. This recording of the Ritual Dances as a concert piece is preferable to taking them from a complete recording of the Midsummer Marriage – a work which I must admit that I've never come to terms with, much as I like the Dances. Excellent recording – only the surround channels are missing from the lossless download.

Olivier MESSIAEN (1908-1992)
La Nativité du Seigneur, 9 méditations pour orgue (1935)
Hans-Ola Ericsson (1987 Grønlund Organ of Luleå Cathedral) – rec.1988. DDD.
Pdf booklet included
BIS-CD-410 [61:13] – from eclassical.com (mp3 and lossless)



This is volume 2 of the BIS Complete Organ Music of Messiaen, well worth considering on its own for those who don't want the whole set, though that's excellent value at 7 CDs for the price of 3 (BIS-CD-1770-72, see review by Dominy Clements). The complete set is better value, but the eclassical.com price of $7.21 compares well with £7.99 for mp3 from classicsonline.com.* See below for availability of Gillian Weir's Priory recording.

My initial feeling was that Ericsson's interpretation was a mite lacking in power and emotion by comparison with Jennifer Bate, formerly on Unicorn-Kanchana, now boxed at budget price on Regis, but I soon found myself agreeing with so much of what Dominy Clements had to say that I'm simply going to quote his review:

Ericsson's performance is one of the utmost clarity, and one has the feeling that there is nothing imposing itself between the music and its message. All of the hushed reverence is present, as well as the more turbulent stresses in Le Verbe and Les Anges. The voice of doom in the bass lines when Jésus accepte la Souffrance is more of a mildly gruff uncle, where Bate's is the voice of your most feared schoolteacher. Latry's pedal here is more that of a throaty pharmacist offering soothing lozenges than anything really threatening. Where he wins is in the final Dieu parmi nous, whose descending bass lines can really rattle your tonsillectomy scars. Bate is also good here, with plenty of atmosphere, but almost engulfed in resonance. Ericsson takes a swifter, more dramatic tempo in the opening chords, but sustains more later on. I feel the organ and the engineer's treatment of the acoustic might possibly have conjured a final nth more of atmospheric potential in the gentler sections, but what you do get is a true sense of what Messiaen actually wrote, rather than anything that the environment may or may not have dictated.

* classicsonline.com don't seem to realise that this is a 7-for-3 complete set, so their asking price of £55.93 is uncompetitive with the CD set, typically on sale for around £38.

Dan Morgan has also been listening to this download:

Having recently immersed myself in this work as part of a review for the main site I thought this would be a good opportunity to try the download of Hans-Ola Ericsson's La Nativité. Volume 2 in the BIS series, it's played on the Grönlund organ (1983-1987) of Luleå Cathedral in Sweden. As a performance it faces tough competition from Simon Preston (Decca), Gillian Weir (Collins/Priory) and, most recently, Jean-Pierre Lecaudey (Pavane). I daresay these CDs can be downloaded from the internet*; if not, I'm sure most collectors are happy to supplement their virtual collections with discs where necessary. I've chosen to review the 16-bit flac version.

Messiaen's epic, nine-movement meditation on the birth of Christ must be one of the pinnacles of 20th-century organ music, a densely woven tapestry laced with threads of silver and gold. This emphasis on colour – combined with breathtaking scale – makes the choice of instrument more important than ever; the organs of Aarhus Cathedral (Weir) and Westminster Abbey (Preston) manage to convey both the subtlety and scale of the piece. By contrast the quieter Grönlund speaks in cool, clear tones, 'La Vierge et l'Enfant' beautifully detailed but much less radiant than Preston, who is simply unassailable here and in the rarefied music of 'Les Bergers'. That said, the BIS team capture the high-lying notes of the latter most beautifully.

Whatever one's view of Messiaen's very personal universe, few organists bring out the profound sense of rapture that pervades this great work. For all his clarity – perhaps even because of it – Ericsson seems a tad prosaic at times; the static nature of 'Desseins éternels' shouldn't preclude a deep sense of communion, and while I prefer Preston and Lecaudey at this point Ericsson is very persuasive indeed. The requisite glow is there, but rivals – Preston especially – conjure up huge sculptures in sound, startling in their palpability and presence. Perhaps it helps to have an intuitive 'connection' with this score, but a spacious acoustic certainly enhances the illusion.

The magisterial music of 'Le Verbe' is splendid though, the dark pedals beautifully contrasted with the ecstasy and shimmer from above. Pleasing as he is, Ericsson just lacks that extra dimension – the penetrating gaze, if you will – that distinguishes great Messiaen playing from the merely serviceable. In any event, this movement lacks essential mystery, and while the BIS team have done a fine job the Decca recording – which dates from 1965 – is a wonder to behold. But it's not just about profundity, for the sheer, inexorable surge and spike of this piece needs to be conveyed as well; in that respect Ericsson is outclassed by his peers.

Perhaps this lack of dynamism and contrast explains, to some extent at least, why this performance leaves me feeling curiously detached. And while the weight and wash of 'Les Enfants de Dieu' is impressive there's no big, rolling bass to underpin this music. That said, this is a recording from the early days of digital, and in that context it's pretty good. Thankfully there's no glare or hint of digital 'edge' in the shimmering haloes of 'Les Anges', but listeners hoping for any insights or epiphanies will be sorely disappointed.

The dark, excoriating textures of 'Jésus accepte la souffrance' are superbly realised in the Weir, Preston and Lecaudey recordings; it's much less visceral here. Indeed, one might even be tempted to characterise this as a lightweight performance that, despite external charms, simply doesn't dig deep enough. So although the rise and fall of 'Les Mages' is adroitly done, Preston et al find a transfiguring beauty in these notes that simply eludes the Swede. As for 'Dieu parmi nous' it really ought to be a grand summation of all that's gone before; the Swedish organ makes a mighty noise at the outset, but there's little here to batter the heart or liberate the soul.

Unfortunately for Ericsson he's up against formidable competition in a very small, specialised field. Make no mistake, this is a perfectly decent performance; it's just not a memorable one.

Dan Morgan

* In fact there are surprisingly few good versions available to download: passionato.com have Olivier Latry (DG); amazon.co.uk and emusic.com have Jennifer Bate (Jade); classicsonline.com have the BIS recording reviewed above and Tim Byram-Wigfield (2 CDs, Delphian, with l'Ascension and Messe de la Pentecôte). Best of all, theclassicalshop.net has Gillian Weir, just £4.99 in mp3 or £7.99 in lossless, coupled with Apparition de l'Église éternelle and le Banquet céleste (Priory) – the same recording in mp3 only costs £7.99 from iTunes. Amazon.co.uk have Simon Preston's la Nativité as part of a 7-CD set of Messiaen Piano and Organ Music for £27.99.

Olivier MESSIAEN (1908-1992)


Chronochromie, for orchestra, I/43 [23:47]
La Ville d'en haut, for 31 winds, piano & percussion, I/56 [9:17]
Et exspecto resurrectionem mortuorum, for 34 winds & 3 percussion, I/47 [24:31]
Cleveland Orchestra/Pierre Boulez – rec. March 1993. DDD
DEUTSCHE GRAMMOPHON 445 8272 [57:48] – from passionato.com (mp3)





Trois petites liturgies de la présence divine (1944) [34:04]
Couleurs de la cité céleste (1964) [17:24]
Hymne pour grand orchestre (1932 ) [16:44]
Roger Muraro (piano); Valérie Hartmann-Claverie (ondes-martenot); Hélène Collerette (violin); Catharine Cournot (piano)
Maîtrise de Radio France/Morgan Jourdain
Orchestre Philharmonique de Radio France/Myung-Whun Chung – rec. 2007? DDD.
DEUTSCHE GRAMMOPHON 477 7944 [68:14] – from passionato.com (mp3)

I've neglected Messiaen for some time, but the BIS recording of la Nativité made me look around for some back-catalogue recommendations. I got to know Et exspecto resurrectionem and Couleurs de la cite céleste from an old CBS recording with Pierre Boulez (SBRG72471/Columbia MS7356) and his more recent version of the former makes an excellent replacement, perhaps a little more detached and cerebral, but better recorded, even in mp3. Considering that the Cleveland Orchestra can't have been very familiar with Messiaen, this recording marked a major achievement. Boulez is, of course, a major Messiaen interpreter whose own music is influenced by Messiaen – so why does Messiaen's work satisfy me and most of Boulez's drive me mad?

Anne Ozorio welcomed the Myung-Whun Chung recording on CD – see review – and the download is equally recommendable. I didn't know the Liturgies; though I reckon that I could easily have recognised them as Messiaen, there are some surprises here, with gamelan influence anticipating Britten's Prince of the Pagodas and syncopations which at times predate Bernstein's Chichester Psalms. It's by far the longest work in the programme and it doesn't outstay its welcome in this performance, though I still think Couleurs de la cité céleste the masterpiece here, in a performance (almost) to equal the old Boulez CBS recording from which I got to know the work, and far better recorded. There's no lossless version, but the mp3 is pretty good.

First Hearings



Two new albums have reached me via Warner Classics and Jazz Play MPE Player. Both sound very well in that format and should sound equally well when released as mp3 downloads. Michael DAUGHERTY's (b.1954) Fire and Blood (2003), Flamingo and Ladder to the Moon, a 60-minute programme performed by Alexandre da Costa (violin) with the Montréal Symphony Orchestra and Pedro Halffter will be available to download from amazon.co.uk on September 3rd. (2564 71947 [60:34]). You'll find some information on Michael Daugherty in Carla Rees's review of a Naxos recording of Fire and Blood. If you're not sure whether you'll like Fire and Blood, try it on YouTube – here. Suffice it to say that I enjoyed the new recording and that I haven't heard the Naxos version, which is rather less expensive.



Gábor Farkas (piano) has already made something of a reputation as an interpreter of Ferencz LISZT with a recital entitled An Evening with Liszt: Michael Cookson was particularly impressed with his rendition of the b minor Sonata (Warner 2564 69847 – see review). On a new 59-minute release (2564 67226) he joins the Hungarian National Philharmonic Orchestra and Zoltan Kocsis in live performances of Les Preludes, the Hungarian Fantasy and Ce qu'on entend sur la Montagne, due for release on September 5th. The performances are very dramatic, especially so in the case of the Hungarian Fantasy – after all, it's even more of a warhorse than the piano concertos, with which I'm surprised that it isn't more often coupled, so it's legitimate to pile the drama on. The live recording is vivid, with the piano and the cellos and basses clearly pinpointed antiphonally, almost in the manner of early stereo demo discs. This is one to sample first.

Phantasm: Music for Saxophone
Ed MARTIN Apparitions [3:35]
Zachary CROCKETT Fight to Flow Between [7:19]
Karlheinz ESSL Sequitur VII [6:31]
Eric HONOUR Phantasm [8:00]
Edward D DAVIS sugar baby [6:50]
William COOGAN Fantasy [5:18]
Christopher BIGGS Exterminate all the Brutes [9:29]
Lou BUNK Luna [8:46]
Massimo BIASONI Il Cortile di Charlie [12:13]
Scott McLAUGHLIN Whitewater [7:56]
Luigi CECCARELLI Neuromante [13:06]
Eric Honour (clarinet and computer electronics) – rec? DDD.
RAVELLO RR7815 [79:03] – from classicsonline.com (mp3)



I'll get my grumble in first. The download comes without notes, just the back cover, which is a serious omission in view of the likelihood that most listeners, especially on the UK side of the pond, are not likely to know much about any of these contemporary composers – this could have been my own Discovery of the Month – and the music won't be to all tastes. Nor was there anything on the Ravello Records website – at the end of August, Phantasm was still announced as coming soon in July!

Eric Honour's own site is a little more forthcoming: 'In May 2008, Honour put out an international call for scores for saxophone and computer. After receiving more than 30 submissions from North and South America, Europe, Oceania, and the Middle East, he chose 11 extraordinary works.' You'll also find some excerpts from the music there and a video of Honour performing Sequitur VII.

I must confess to being no great fan of the experimental and avant-garde but there was enough here to grab my interest, not least Honour's own work (track 4) which gives its name to the album. The following track, sugar babe, sax with banjo-simulation, is perhaps the most immediately appealing. As it's all performed by its begetter, who is also an audio engineer, these must count as definitive performances. At the very reasonable price of $7.99/£4.99 from classicsonline.com – less expensive than the iTunes equivalents – you can afford to experiment with Ravello and Navona recordings. Alternatively, try this out at that valuable resource, the Naxos Music Library.