OCTOBER, 2009, DOWNLOAD ROUNDUP
Joint DOWNLOAD OF THE MONTH – Back Catalogue
Giuseppe VERDI (1813-1901) Messa da Requiem [87:47]
Elisabeth Schwarzkopf (soprano); Christa Ludwig (mezzo); Nicolai Gedda (tenor); Nicolai Ghiaurov (bass); Philharmonia Orchestra and Chorus/Carlo Maria Giulini
Quattro pezzi sacri - Ave Maria (1889) [5:57]; Stabat mater (1896-97) [13:22] ; Laudi alla Vergine Maria (wds. Dante: c1890) [5:49]; Te Deum (1895-96) [15:45]
Dame Janet Baker; Philharmonia Chorus; Philharmonia Orchestra/Carlo Maria Giulini
rec. 1963. ADD.
EMI CLASSICS 5 67560 2 or 5 67563 2 [2 CDs 67:02+61:43] – from passionato.com (mp3 or lossless)
Simon Boccanegra (1857, 1881)
Mirella Freni (soprano, Amelia), Piero Cappuccilli (baritone, Simon), José Carreras (tenor, Gabriele) Nicolai Ghiaurov (bass, Fiesco), José van Dam (bass-baitone, Paolo), Giovanni Foiani (bass, Pietro); Coro del Teatro alla Scala di Milano/Romano Gandolfi; Orchestra del Teatro alla Scala di Milano/Claudio Abbado
rec. 1977. ADD.
DGG THE ORIGINALS 449 752 2 [2 CDs 79:03+57:03] - from passionato.com (mp3)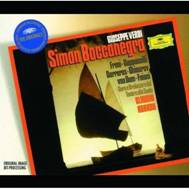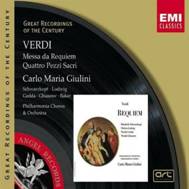 I wanted to take this opportunity to assert the qualities of these two well-established recordings which are about to receive new challenges – the Requiem in the new version from Pappano on EMI and Simon Boccanegra in the shape of Placido Domingo's planned version. Whatever those new accounts bring, they will never supplant Giulini and Abbado respectively – the former in one of Verdi's best-known works, the latter directing what is probably his least-well-known opera.
Both recordings have worn well – the 1997 re-mastering of the Requiem has ironed out many of the problems, though there are still some moments of congestion, which didn't trouble me, while the close sound on Simon Boccanegra suits the music and Abbado's interpretation of it. Not the least of the virtues of this download is the absence of short glitches between movements, sadly not uncommon on opera downloads and often ruinous.
It's only fair to add that some of my colleagues have taken a radically different view of the Giulini Requiem. Christopher Howell found boredom setting in – see review – and others have preferred one or other of Giulini's BBC Legends versions: John Quinn made the RFH version on BBCL4144-2 (mono, 1964) his indispensable Recording of the Month – see review – and Harry Downey was equally enthusiastic about the RAH version of the previous year (BBCL4029-2 – see review).
DOWNLOAD OF THE MONTH – Recent Releases
Ottorino Respighi (1879-1936): Roman Trilogy
Fontane di Roma (The Fountains of Rome, 1914-16) [17:04]
Pini di Roma (The Pines of Rome, 1924) [22:59]
Il Tramonto (lyric poem for mezzo-soprano and string orchestra, 1918)* [15:46]
Feste romane (Roman Festivals, 1929) [24 :26]
Christine Rice (mezzo)*; Orchestra dell'Accademia Nazionale di Santa Cecilia/Antonio Pappano
rec. concert and sessions, 11-23 January 2007, Sala Santa Cecilia, Auditorium, Parco della Musica, Rome. DDD
EMI CLASSICS 394429-2 [80:41] – from passionato.com (mp3 and lossless)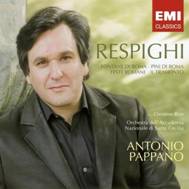 It's taken me almost two years to catch up with this recording, which Tim Perry made recording of the Month in November, 2007 – see review. At first, I wondered why it had received such strong recommendations here and elsewhere, but, like TP, I came to admire the skill with which Antonio Pappano holds his forces in abeyance until the right moment. This certainly is Technicolor music but it also requires sensitive handling if it isn't to sound merely brash. With generous playing time – slightly too long to fit onto a CDR, unfortunately – and excellent recording, especially the lossless flac version from passionato, I can readily echo TP's strong recommendation.
DOWNLOAD OF THE MONTH – New Releases
Sergey (Sergeyevich) Prokofiev (1891–1953)
Cello Concerto in E minor, Op 58 (1933-8) [36:18]
Symphony-Concerto in e minor, Op 125 (1952) [36:51]
Alban Gerhardt (cello), Bergen Philharmonic Orchestra/Andrew Litton
rec. Grieghallen, Bergen, 1–5 September 2008. DDD.
HYPERION CDA67705 [72:57] – availability: see review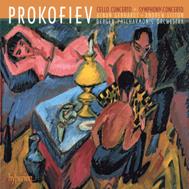 The award here is as much for the coupling – unique, I think – as for the performances and recording. Others offer the Symphony-Concerto in company (usually) with other music by Prokofiev, as on the Warner performance by Mstislav Rostropovich and the LSO with Seiji Ozawa, coupled with Rostropovich's performance of the Second Symphony with the Orchestre National de France (Maestro 2564 69174-2). Hyperion place it here in the company of the work from whose ashes it arose, the 1930s Cello Concerto, allowing us to ascertain the similarities and the many differences between the two.
The Concerto is no match for the appeal of the revised work and, equally, it would be desirable to hear the latter performed by the person who inspired its resurgence, so I shall not be pensioning off the Warner CD in its earlier Warner Elatus incarnation even though the coupling is less recommendable. There's also an earlier, now classic, EMI CD with Rostropovich partnered by Malcolm Sargent – don't be put off by EMI's use of the less accurate alternative title Sinfonia Concertante – GROC 3 80013-2, with Miaskovsky. Either (or both) of these would be an excellent choice for the Symphony-Concerto, but I do urge you, even if you own one of them, also to acquire the new Hyperion. Alban Gerhardt need fear no comparison with Rostropovich; he is as very well supported as we've come to expect of the Bergen Orchestra and Andrew Litton, and well recorded.
I downloaded the recording in very good mp3 sound from Hyperion, who are about to launch their own download site, offering mp3 and lossless versions. I've already promised to signal when this is ready – see my Phinot review last month – and I've promised Hyperion to ask readers to be patient until then; you could do much worse than buy the CD if you can't wait. Full notes and artwork are available from the Hyperion website.
REISSUE OF THE MONTH
The Spirits of England & France, Vol. 3 - Binchois and his contemporaries
Gilles Binchois (c1400-1460) Qui veut mesdire1 [1:40] ; Amoreux suy [6:34] ; Adieu
mon amoreuse joye [2:57]
Cardot (c1380-1470) Pour une fois1 [1:06]
Gilles Binchois Ay! doloureux [8:39]
Gilet Velut (fl early 15th century-?) Un petit oyselet1 [1:56]
ANONYMOUS Abide, I hope [4:11]
Gilet Velut Laissiés ester [3:07]
Johannes Legrant (fl c1420-1440) Se liesse1 [1:15]
Johannes de Lymburgia (fl1400-1440) Descendi in ortum meum [2:59]
Leonel Power (d1445) Gloria [3:12]
Gilles Binchois Magnificat secundi toni [7:40]
John Dunstable (c1390-1453) Beata Dei genitrix [4:24]
Gilles Binchois Se la belle [3:12]
Pierre Fontaine (c1380-c1450) J'ayme bien celui [2:45]
Guillaume de Machaut (c1300-1377) Il m'est avis [4:51]
ANONYMOUS Exultavit cor in Domino [2:01]
Byttering (fl c1410-1420) En Katerina solennia / Virginalis concio / SPONSUS AMAT SPONSUM [2:52]
Gothic Voices, Christopher Page, with 1Shirley Rumsey (lute), Christopher Wilson (lute), Christopher Page (lute). Notes, texts and translations available for download.
rec. March, 1985, Boxgrove Priory, Chichester, UK – reissued from CDA66783
Hyperion helios cdh55283 [65:21] – availability: see Prokofiev review above.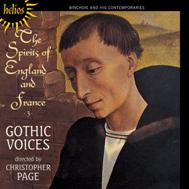 This is the third of Hyperion's budget reissues from their series of recording by Gothic Voices in the series The Spirits of England and France. It shares the excellent qualities of the two earlier volumes in the series which I have reviewed – see reviews of Volume 1 and Volume 2. This third volume concentrates on Gilles Binchois and his contemporaries, including one piece each from the two English luminaries whose music briefly shone as brightly in continental Europe as the famous opus anglicanum embroidery, John Dunstable (or Dunstaple) and Leonel Power.
I've run out of superlatives to describe the singing of Gothic Voices; the tracks on which the three lutenists perform here not only make for variety, they are also of the same high quality. With excellent recording and splendid presentation – the notes, texts and translations may be downloaded from the Hyperion website – this deserves a strong recommendation: 65 minutes of sheer bliss.
As yet Hyperion's download site is not quite up and running but the 'beta' mp3 versions of this and other recordings with which they have kindly provided to get me ahead of the game have all been of the highest quality. Expect even better lossless equivalents when the site is active. Meanwhile, the CD is widely on offer for around Ł6 so, if you can't wait, it will hardly break the bank.
Volumes 4 and 5 are currently available only from Hyperion's Archive service; their reissue on the Helios label must surely follow without delay. The speed with which Volume 3 has followed hard on the heels of its predecessor is an encouraging indication that this will be so.
Both Dunstaple and Power are well worth hearing more of: the Orlando Consort's recording on the Metronome label, which I reviewed in the November, 2008 Download Roundup would be a good starting point, on CD or download, for the former.
BARGAIN OF THE MONTH
Introduction to the Classical Symphony - Rare Classical Symphonies Sampler
Johann Christian BACH (1735-1782) Grand Overture in D major, Op. 18, No. 4, W. C271 [10:55]
Carlos Baguer (1768-1808) Symphony No. 13 in E flat major2 [12:55]
Muzio Clementi (1752-1832) Symphony in D major, Op. 18, No. 22 [16:35]
Carl Ditters von Dittersdorf (1739-1799) Symphony No. 1 in C major, 'Die vier Weltalter' (The 4 Ages of the World)3 [17:38]
Franz Anton Hoffmeister (1754-1812) Symphony in G major, 'La festa della Pace 1791'2 [24 :00]
Wenzel Pichl (1741-1805) Symphony in D major, Z. 16, 'Diana'2 [17:02]
Samuel Wesley (1766-1803) Symphony in B flat major2 [18:29]
1 Academy of Ancient Music/Simon Standage (rec.1993) DDD
2 London Mozart Players/Matthias Bamert
3 Cantilena/Adrian Shepherd
CLASSICSONLINE EXCLUSIVE 9.30107 [116:13] – from classicsonline.com (320k mp3)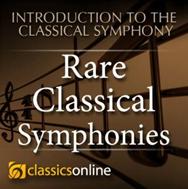 The recordings on this highly recommendable and inexpensive sampler (Ł2.39 for the equivalent of two CDs) are all taken from the Chandos catalogue, mostly from their invaluable 'Contemporaries of Mozart' series, performed by the London Mozart Players and Matthias Bamert.
As a long-time admirer of the LMP since the days of Harry Blech, I'm pleased to see Bamert keeping up the good work.
Several of the parent recordings have been reviewed on Musicweb, some of them by me; it may be useful to list them and to link them to the Chandos website, where the notes are available, as the information offered with the classicsonline download is rudimentary and more details may be found on the Chandos webpages:
J C BACH: CHAN0713 – see Musicweb review; CD, mp3 or lossless download from theclassicalshop.net (mp3 and lossless)
Carlos BAGUER: CHAN9456 – CD, mp3 or lossless download from theclassicalshop.net
DITTERSDORF: CHAN8564(2) – CD, mp3 or lossless download from theclassicalshop.net
Clementi: CHAN9234 – CD, mp3 or lossless download from theclassicalshop.net
HOFFMEISTER: CHAN10351 – see Musicweb review; CD, mp3 or lossless download from theclassicalshop.net
PICHL: CHAN9740 - CD, mp3 or lossless download from theclassicalshop.net
WESLEY CHAN9823 – see Musicweb review; CD, mp3 or lossless download from theclassicalshop.net
The AAM and Cantilena tracks are equally recommendable, the latter slightly preferable to Naxos's recordings of the twelve 'Ovid' Symphonies.
Chandos's own sampler of the series (CON0011 – CD only) should be your next stop, for a mere Ł1.99, or, better still, try some of the parent recordings. I recommended John Marsh's symphonies (CHAN10458), with brief mentions of Leopold Mozart (CHAN10496) and Georg Vogler (CHAN10504) in May, 2009, Vanhal in June (CHAN9607) and the Herschel recording was a discovery in July (CHAN10048). All the symphonies are complete – no bleeding chunks or detached movements.
BARGAIN OF THE MONTH
Pietro Mascagni (1863-1945) Cavalleria Rusticana (1890)
Maria Callas (soprano, Santuzza); Giuseppe di Stefano (tenor, Turiddu); Rolando Panerai (baritone, Alfio); Anna Maria Canali (soprano, Mamma Lucia); Ebe Ticozzi (mezzo-soprano, Lola); Chorus and Orchestra of Teatro alla Scala, Milan/Tullio Serafin
rec. 16-25 June and 3-4 August, 1953, Basilica di Santa Eufemia, Milan. ADD.
PAST MASTERS mono [77:48] – from emusic.com (mp3)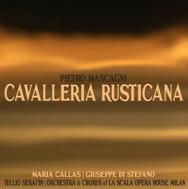 If anything, this is an even better bargain than the Classicsonline sampler, since it comes on one track costing as little as 24p, depending which tariff you are on. If you aren't a member of eMusic, it's almost as good a bargain, at 79p, from Amazon.co.uk.
This is still the Cav to return to, especially for the sake of Callas, whose squally voice is just right for Santuzza. There are some voices that sound just right in certain music, whatever else you may think of them: Peter Pears in Britten is one and Callas as Santuzza is another, superbly supported by Di Stefano as Turiddu.
The recording is a trifle dry, but the ear soon adjusts to the re-mastered sound and the mono sound picture sounds credible – better, in my opinion, than the early stereo Decca sound on the Erede version, which is also available from Amazon.co.uk for 79p and remains worth having for Jussi Björling.
There are no notes or libretto, but the latter is easily available online.
Plainchant Nigra sum [1.31]
Jean Lhéritier (c.1480–after 1552) 2. Nigra sum (5vv) [5.07]
Gilles de Bins dit Binchois (c.1400–1460) De plus en plus [4.03]
Johannes Ockeghem (c.1425–1497) Missa De plus en plus [34.19]
Ockeghem or Barbingant (fl.c.1470) Au travail suis [4.38]
Johannes Ockeghem Missa Au travail suis [21.14]
The Tallis Scholars/Peter Phillips
rec. Church of Saint Peter and Saint Paul, Salle, Norfolk, England, 1997. DDD.
Texts and translations included.
GIMELL CDGIM035 [64:21] – from gimell.com (mp3, lossless and Studio Master quality)
Giovanni Pierluigi da Palestrina (c.1525–1594) Missa Nigra sum [35.20]
Tomás Luis de Victoria (1548–1611) Nigra sum [4.01]
Andreas de Silva (c.1475/80–c.1530) Nigra sum [1.55]
The Tallis Scholars (Sopranos: Jane Armstrong, Alison Gough, Deborah Roberts, Emily van Evera; Countertenors: Michael Chance, David Cordier; Tenors: Joseph Cornwell Andrew King, Rufus Müller, Andrew Murgatroyd; Bass: Francis Steele, Julian Walker)/Peter Phillips
Recorded in Merton College Chapel, Oxford, 1983. AAD. Texts and translations included.
Gimell CDGIM 003 [47.54] – from gimell.com (mp3 and lossless)

Ockeghem may be less well known than, say, Josquin, and Lhériteier is but a shadowy name even to most connoisseurs, but these two masses certainly deserve a place in any collection of early renaissance music. As always, Gimell help by preceding each mass with the relevant work which inspired it.
My primary purpose in downloading this recording was to review another of Gimell's Studio Master 24-bit recordings which I had not yet dealt with. It certainly presses all the right buttons in terms of sound quality and the performances are fully up to the standard we have come to expect. Whatever competition there may be from other younger ensembles, there will always be a place for performances of this standard from The Tallis Scholars.
Make sure that your system can deal with 24-bit recordings; otherwise go for the 'ordinary' 16-bit CD quality. Incidentally, I was wrong to recommend last month that owners of the Squeezebox should opt for Gimell's premium-price 24-bit 96kHz; I'm reliably informed that the Squeezebox can deal only with the 44.1kHz or 48kHz option (44.1 is, in any case, the only 24-bit option available here) and that it merely dumps the surplus information, leading potentially to quality potentially inferior to the 48kHz version.

I've paired the Ockeghem with the Palestrina as a reminder of The Tallis Scholars' equal excellence in later polyphony and of the quality of their earlier 16-bit recordings which don't have a 24-bit equivalent. This, in fact, is an AAD transfer, though it still sounds very well indeed. The only possible complaint is that 48 minutes is short value for a full-price recording these days; Hyperion, for example, have mostly transferred their shorter early recordings to the budget-price Helios label – and, indeed, Gimell themselves have reissued some of their own earlier recordings at a lower price or as 2-for-1 bargains.
Both recordings come complete with excellent booklets – Gimell and Hyperion are exemplary in this regard.
Francisco Guerrero (1528-1599) Missa De la batalla escoutez & other works
Pange lingua gloriosi [8:31]; Missa De la batalla escoutez [29:18]; In exitu Isrćl [13:58]; Duo seraphim clamabant [4:19]; Regina cćli lćtare, alleluia [3:34]; Magnificat octavi toni [7:27]; Conditor alme siderum [4:13]
Westminster Cathedral Choir, His Majestys Sagbutts & Cornetts/James O'Donnell
rec. All Hallows, Gospel Oak, London, June 1999. DDD.
(reissue: from CDA67075)
HYPERION HELIOS CDH55340 [70:59] – availability: see Prokofiev review above

I gave a brief initial welcome to this reissue last month, a welcome which I am very happy to affirm in greater detail now.
In fact, what I said a year ago about an earlier Westminster Cathedral/O'Donnell recording of Guerrero (CDH55313, Missa sancta et immaculata, etc. – see review) holds equally true for this: "With singing, recording and presentation of this quality – the booklet in no way inferior to the original full-price issue – and at the new price, there is every reason to place your order forthwith." If anything, the music here is even more attractive. Either will almost certainly lead you to the other – and, indeed, to the Gimell recording of Missa surge propera, etc. (CDGIM040) – see review by Adam Binks and in the Postscript to my August, 2009, Download Roundup.
Pierluigi da PALESTRINA (1525-1594) Canticum Canticorum Salomonis – Song of Songs (1584)
Osculetur me [2:49]; Trahe me post te [2:31]; Nigra sum sed Formosa [3:06]; Vineam mean non custodivi [2:17]; Si ignoras te, O pulchra [2:44]; Pulchrć sunt genć tuć [2:59]; Fasciculus myrrhć dilectus meus [2:22]; Ecce tu pulcher es [2:32]; Tota pulchra es, amica mea [2:23]; Vulnerasti cor meum [2:57]; Sicut lilium inter spinas [3:26]; Introduxit me rex [2:25]; Lćva eius sub capite meo [2:42]; Vox dilecti mei [2:14]; Surge propera, amica mea [2:28]; Surge amica mea, speciosa mea [2:48]; Dilectus meus mihi [2:26]; Surgam et circuibo civitatem [2:03]; Adiuro vos filić Hierusalem [3:38]; Caput eius aurum optimum [2:46]; Dilectus meus descendit [2:48]; Pulchra es amica mea [2:30]; Quć est ista quć progreditur [2:49]; Descendi in hortum meum [2:41]; Quam pulchri sunt gressus tui [2:48]; Duo ubera tua [2:53]; Quam pulchra es et quam decora [2:53]; Guttur tuum sicut vinum optimum [2:58]; Veni dilecte mi [2:59]
Magnificat/Philip Cave
rec. 1995. DDD. Texts and translations included.
LINN CKD174 [79:00] – from linnrecords.com (mp3 and lossless)

I gave an encouraging nod in the direction of this recording last month and am pleased to say that it has lived up to my expectations. This now becomes my version of choice for this highly-charged music, in preference to the Hilliard version which I mentioned last month, though I stand by my other recommendation of Stile Antico's music from the Song of Songs by Palestrina and others on Harmonia Mundi (HMU80 7489) – you may recall that my only reservation about that recording was that it would make you want the complete Palestrina set.
William Byrd (1539/40-1623)
Vigilate [4:52]; Tristitia et anxietas [10:07]; Ne irascaris, domine [8:06]; Prevent us, O Lord [2:46]; O Lord, make thy servant Elizabeth [3:04]; Magnificat, from the Great Service [9:57]; Mass for four voices [23:06]; Ave Verum Corpus [3:56]
rec. Tewkesbury Abbey, 2006. DDD. Texts and tranlslations included
Gimell CDGIM992 [65.54] – from gimell.com (mp3, lossless and Studio Master)
The Cardinall's Musick Byrd Edition 12: Assumpta est MariaSalve sancta parens [4:55]; Benedicta et venerabilis [2:33]; Felix es, sacra Virgo [1:36] ; Beata es, Virgo Maria [2:10]; Beata viscera [1:48]; Quem terra, pontus, ćthera [4:30] ; 7 Salve regina a 4 [4:23]; O gloriosa Domina [3:41] ; Vultum tuum [6:16]; Diffusa est gratia [7:10]; Ave Maria [1:45]; Ecce virgo concipiet – Alleluia [1:41]; Memento, salutis auctor [3:05]; Salve sola Dei genetrix [3:04]; Ave maris stella [7:48]; Gaudeamus omnes in Domino [5:23]; Propter veritatem et mansuetudinem [4:05]; Assumpta est Maria [1:31]; Optimam partem elegit [1:57]
The Cardinall's Musick/Andrew Carwood
rec. Fitzalan Chapel, Arundel Castle, 10–12 November, 2008. DDD.
Texts and translations included.
HYPERION CDA67675 [69:21] – availability: see Prokofiev review above

Gimell have other recordings of these works in their catalogue, distinguished recordings, too, but this recording, made in conjunction with a BBC television programme, uniquely juxtaposes the public, Anglican music which Byrd composed for the Chapel Royal and the private, Roman Catholic music for the small recusant circle in Essex of which he was a part. Of all the music here, he was sailing closest to the wind with Ave verum Corpus, for the feast of Corpus Christi which no longer formed part of the calendar of the English church. Though Elizabeth herself had insisted on restoring to the Communion service the words of administration from the 1549 Prayer Book which proclaimed the Eucharistic real presence, such a clear allusion to pre-reformation beliefs was hardly tactful.
Byrd's three settings of the Mass could conceivably have been sung in the Chapel Royal, though it seems unlikely that they ever were, since the saying or singing of words in a language understood by those present was permitted – there is even an Elizabethan Prayer Book in Latin for use in the universities and in Wales and Ireland, the Holy Communion service from which is still in use immediately preceding each full term in the University Church at Oxford.
The collection opens with three pieces from the 1589 Cantiones Sacrć, typically setting texts reflecting the quandaries of a loyal subject who remained faithful to the old beliefs in the political turmoil of the 1580s – remember that the publication came just one year after the Armada. The central works show how Byrd, following the example of Tallis, skilfully adapted polyphonic music to the new reformed insistence on the priority of the words and the 4-part Mass and Ave verum Corpus end the programme with the calmer music for the Roman liturgy which Byrd produced after his departure from the public stage.
The performances are as first-rate as we have come to expect – there's little point in comparing them with the Scholars' other recordings of these works; collectors will want both – and the recordings are very good, especially as heard in the Studio Master format. There are also DVD (GIMDP901 or GIMDN902) and SACD versions (GIMSA592).
If you don't have the 2-CD set containing the three Masses and the Great Service, you should go for that first. (CDGIM208, 2 CDs or downloads for the price of one).

The Hyperion recording just scraped into last month's Stop Press: "A very worthy successor to The Cardinall's Musick's recent recording of music associated with feasts of St Peter – but don't jettison the earlier Hyperion budget-price reissue of much of this Marian music from the Gradualia – Helios CDH55047 (Pro Cantione Antiqua/Bruno Turner)."
The music on the new recording represents Byrd's boldest assertion of his Roman Catholic allegiance. Whereas just the one piece on the Gimell recording relates to a feast superseded in post-reformation England, everything here is for the feast of the Assumption of Mary, another victim of the reformers' axe; from 1549 onwards "the glorious and moste blessed virgin Mary" ceased to be an object of intercession and merely chief of those whose "wonderfull grace and virtue" was "declared ... from the begynning of the worlde" and those of her feasts which had no biblical foundation were abolished.
Perhaps for that reason, the music even surpasses the quality of the Petrine music on the recent Volume 11 – see review – and I think the performances also outshine that earlier volume which has, itself, already been nominated for an award. I made volumes 10 and 11 jointly Recording of the Month; not to make the new volume my Download of the Month is illogical, but I can't keep nominating Hyperion's renaissance recordings. (Instead, I've nominated their Prokofiev Download of the Month!)
John Ward (c.1589-1638) Consort music for five and six viols
Fantasia No. 1 a6 (VdGS 1) [3:25]; Fantasia No. 3 a6 (VdGS 3) [3:34]; Fantasia No. 6 a6 (VdGS 6) [4:02]; Fantasia No. 2 a6 (VdGS 2) [2:55]; Fantasia No. 4 a6 (VdGS 4) [3:37]; Fantasia No. 5 a6 (VdGS 5) [2:38]; Fantasia No. 7 a6 (VdGS 7) [3:24]; In Nomine No. 1 a6 (VdGS 1) [3:53]; Fantasia No. 1 a5 Dolce Languir (VdGS 1) [3:01]; Fantasia No. 2 a5 La Rondinella (VdGS 2) [3:47]; Fantasia No. 3 a5 (VdGS 3) [3:31]; Fantasia No. 4 a5 (VdGS 4) [3:00]; Fantasia No. 5 a5 (VdGS 5) [3:08]; Fantasia No. 6 a5 (VdGS 6) [2:50]; Fantasia No. 7 a5 (VdGS 7) [3:33]; Fantasia No. 8 a5 (VdGS 8) [3:08]; Fantasia No. 9 a5 (VdGS 9) [3:18]; Fantasia No. 10 a5 (VdGS 10) [3:18]; Fantasia No. 11 a5 Cor Mio (VdGS 12) [3:15]; Fantasia No. 13 a5 Non fu senze (VdGS 14) [2:57]; Fantasia No. 12 a5 Leggiada sei (VdGS 13) [4:25]; In Nomine a5 (VdGS 14) [3:29]; In Nomine No. 2 a6 (VdGS 2) [3:42]
Phantasm
rec. Wadham College Chapel, Oxford 15-18 March 2009. DDD.
LINN CKD 339 [77:45] – from linnrecords.com (mp3, lossless and Studio Master)

This is attractive music, well performed and recorded, but a little goes a long way with music of this kind; I'm sure that Ward never intended us to listen to 78 minutes in one take, especially as the individual pieces are much less characterised than Purcell's viol consort music, recently recorded for Linn. (See the June, 2009, Roundup).
Much better to intersperse Ward's music with vocal items, as on Harmonia Mundi's recording Crystal Tears, where two of the Fantasias punctuate Andras Scholl's singing of music by Dowland and his contemporaries. (HMC90 1993 – CD, also available from classicsonline).
Linn have been providing .pdf downloads for their booklets recently, but you have to cut and paste from the web page this time.
For more information, have look at 'W' on the website of the Viola da Gamba Society – the originators of the mysterious VdGS catalogue numbers.
The titles Cor mio, etc., refer to Ward's madrigals; here the vocal parts are subsumed in the instrumentation.
Johannes Brahms (1833-1897)
String Quintet No.1 in F, op.88 [26:34]; String Quintet No.2 in G op.111 [29:05]
The Nash Ensemble
ONYX ONYX4043 [55:40] – from emusic.com (mp3, 7 credits)

I was a little disappointed with the Nash Ensemble's accounts of the Brahms String Sextets (ONYX4019, see review). I found myself swimming against the critical tide there, but I was much happier with their more recent recording of two of the Piano Quartets (ONYX4029 – see Feb., 2009, Roundup). The new recording of the Quintets has already received praise in the press and I'm perfectly happy to swim with the critical tide this time. The mp3 download, at variable bit-rates, sounds just a little congested at times, but that didn't interfere with my general enjoyment of this recording. Though Brahms thought that his inspiration was running out when he produced the second quintet, this is music which very much deserves to be better known and this could be just the recording to achieve that. Bargain-hunters will find very decent accounts from the augmented Ludwig Quartet on Naxos 8.553635, available to download from classicsonline.
Edward ELGAR (1857-1934)
Introduction and Allegro**, Op 47 [13.59]; Serenade in e Minor, Op 20 [13.05]; Elegy, Op 58* [4.22]; Sospiri, Op 70* [5.08]
Ralph VAUGHAN WILLIAMS (1872-1958)
Fantasia on a theme by Thomas Tallis† [16.13]; Fantasia on 'Greensleeves' [4.39]
Sinfonia of London: *New Philharmonia Orchestra/Sir John Barbirolli
** with Allegri String Quartet
rec. 10-11 November 1962 and 16 August 1966. Kingsway Hall, London. † Recorded 17 May 1962. Temple Church, London. ADD (remastered 2000)
EMI Great Recordings of the Century 5 67240 2 [58:07] – from passionato.com (mp3 and lossless)

I can't put it better than Harry Downey in 2000, when he awarded the full five stars – he actually wanted to give it more – and wrote: "This disc is a masterpiece. If it isn't in your collection in any of its old formats - then buy it now. It's a must have. Six works, played faultlessly, in incomparable performance by musicians and conductor in perfect accord and almost breathing the music they are so involved." (See review). Not every recording which graces the front cover of Gramophone goes on to greatness, but this one certainly did: it still easily holds its own against all comers.
Gabriel PIERNÉ (1863-1937)
Cydalise et le chčvre-pied (1915)
Collčge Vocal de la Cathédrale de Metz; Orchestre Philharmonique du Luxembourg/David Shallon
Rec. Luxembourg Conservatoire, 29th May – 2nd June 2000. DDD
TIMPANI 1C1059 or 1C1174 [73:39] – from classicsonline.com (mp3)
– see reviews by Peter Quantrill and Rob Barnett.


This recording seems to exist with two covers and two catalogue numbers. Classicsonline, like the original Musicweb review, employs the 1C1059 number and the cover with the heavy margin. Timpani's (French) website offers the alternative number and what I consider to be the more attractive cover; I've given both. The CD remains at full price in the UK, so the download price of Ł7.99 offers a useful discount, especially when the 320k mp3 sound offers such a good reproduction of the original.
If the Pierné (almost inevitably) puts you in mind of Ravel's Daphnis et Chloë, passionato.com can offer you a choice of the classic Monteux and the more recent Dutoit versions. The latter, on Decca Legends 458 6052, is no longer available on CD – it must, surely, resurface soon as a Decca Original – so the download is the only way to obtain it. My preference remains marginally for the Monteux, still sounding very well, though inevitably slightly outdone as a recording by the Dutoit. Dutoit also has the advantage of the wonderful Montréal orchestra – this was the recording which led Edward Greenfield to dub it the world's best French orchestra – but his interpretation sounds just a shade episodic by comparison with the Monteux. The Monteux, like all Decca and DG Originals, is currently on offer at Ł4.99, a real bargain. Even if it's returned to the regular Ł7.99 when you read this, it's still a wonderful acquisition (475 7525). Both versions come generously coupled.
Bela BARTÓK (1881-1945)
Music for Strings, Percussion and Celesta, BB 114 [26:16]
Igor STRAVINSKY (1882-1971) Chant du rossignol (Song of the Nightingale) [20:14]
Amsterdam Concertgebouw/Eduard van Beinum
rec. 1955, 1956. ADD
naxos classical archives 9.80677 [46:30] – from classicsonline.com (mp3)

Two classic recordings from the mid-1950s in very well refurbished sound, all for Ł1.99; what more could you want? Whatever other versions of these works you have, this is simply too good not to snap up while it's available – in Europe only, and not much longer there, with imminent changes to the copyright laws. The Bartók in particular can withstand comparison with the best, not excluding the Reiner recording of the same vintage and the two Solti stereo recordings. The Bartók originally appeared with a less recommendable version of Kodály's Hary Janos (Philips ABL3163); the pairing with Stravinsky is welcome. Classicsonline justifiably publicise this as one of the jewels of their historical catalogue.
Igor Stravinsky (1882-1971)
Jeu de cartes, Ballet in three Deals (1936) [21:35]
Agon, Ballet for twelve dancers (1957) [21:20]
Orpheus, Ballet in three Scenes (1948) [29:37]
BBC Scottish Symphony Orchestra, Ilan Volkov (conductor)
rec. City Halls, Candleriggs, Glasgow, 13-14 December 2008 (Jeu de cartes & Agon) and 15 April 2009 (Orpheus). DDD.
HYPERION CDA67698 [72:45]
Apollon Musagčte [31:58]; Pulcinella Suite [23:55]
Chamber Orchestra of Europe/Alexander Janiczek
rec. Église Maronite Notre-Dame Du Liban, Paris, France, 19-21 November 2008. DDD.
LINN CKD330 [55:43] – from linnrecords.com (mp3, lossless and Studio Quality)
I have to be in the right mood for Apollo and, clearly, I wasn't when I first played this Linn recording, finding it uncommitted and, frankly, rather boring, till it came to life with the Coda (track 9). A second hearing left me more satisfied: this is, after all, rather cerebral music when heard in isolation from its choreography – not for nothing did Balanchine describe it as 'white music, white on white in places – and many will approve of Alexander Janiczek's lessaffective performance. Nevertheless, turning to performances by Robert Craft (Naxos) and Neville Marriner (Decca) brings an extra dimension which the new version lacks. In the case of Craft, part of the secret lies in the fast tempi which he adopts – for details see review by Jonathan Woolf, with its further links to reviews by John Phillips and Tony Haywood. Marriner's overall time is very similar to Janiczek's, but that disguises rather slower tempi in most of the earlier movements and faster in the final sections.
Janiczek's Pulcinella Suite has all the liveliness that you could wish, but you're unlikely to buy the recording for this alone.
The Linn recording is every bit as good as expected and there's an attractive cover. The notes can be cut and pasted from the website but Adobe Reader pronounced the file containing the booklet to be corrupted and refused to open it.
My response to the Hyperion recording was much more positive. The BBC Scottish SO may not be one of the world's best-known but, under Ivan Volkov's direction they offer credible and very creditable versions of these three ballets. Only the existence at budget price of two of these ballets conducted by Robert Craft on Naxos leads me to hedge my recommendation marginally. I'm not sure what Hyperion will be charging for their downloads; if it's competitive with the price of the Naxos CD or its download from classicsonline.com, coupling will safely dictate your choice. The mp3 download with which I was supplied is of very good quality but you may prefer the lossless version when the Hyperion download site becomes active.
Craft couples the three Greek ballets, Apollo, Agon and Orpheus (Naxos 8.557502) and Marriner's recording is almost equally well filled, with Apollo, Pulcinella Suite and the Capriccio for piano and orchestra (John Ogdon as soloist) – currently unavailable; last seen on Decca The Classic Sound 443 577-2.
Zoltán Kodály (1882-1967)
Galántai táncok (Dances of Galánta) [15:56]; Táncnóta (Dancing song)1 [1:56]; Marosszéki táncok (Dances of Marosszék) for orchestra [11:41]; Gergely-járás (St. Gregory's day)2 [3:31]; Instrumental excerpts from the Háry János Singspiel (1929 - The flute playing Hussar3 [1:57]; The old woman4 [1:45]; The Jewish family5 [1:40]; Háry riding Lucifer [1:10]; The two gypsies6 [1:17]; Túrót eszik a cigány (See the gypsies)1 [1:52]; Háry János Suite [23:54]
1Children's Choir Magnificat, Budapest; 2Children's Choir Miraculum, Kecskemet; 3Oszkár Ökrös, Erika Sebok; 4Peter Lukacs; 5Gabriella Pivon; 6Gábor Takács-Nagy; Budapest Festival Orchestra/Iván Fischer
rec. June, 1999. DDD.
PHILIPS 462 8242 [66:06] – from passionato.com (mp3)
Háry János Suite (1926-7) [25:22]
Galántai tancok (Dances of Galánta) [17:27]
Variations on a Hungarian Folksong, Felszallott a pava ('The Peacock') (1939) [28:29]
Hungarian State Symphony Orchestra/Adam Fischer
rec. 1990. DDD.
NIMBUS NI7081 [71:18] – from classicsonline.com (mp3)


The Philips, probably the best current recording of the Háry Janos Suite, is made even more attractive by the couplings – an equally fine version of the Dances of Galánta and Marosszék and, more importantly, of four short excerpts from the original Singspiel which gave rise to the Suite. Attractively performed versions of songs by two children's choirs complete a well-recorded programme, presented in very acceptable 320k mp3 sound. Of the major orchestral works only the Peacock Variations are not included here, and adding them brings inevitable duplications, the only reservation one need have.
If you prefer the Peacock Variations to the extra Háry János items and the Dances of Marosszék, the Nimbus recording with Iván Fischer's brother Adam makes a very useful alternative. The Háry János Suite and Peacock Variations on this Nimbus recording appeared briefly on CD1 of a 2-CD Brilliant Classics set which Rob Barnett welcomed – see review. That set featured versions of the Dances of Galánta and Marosszék and the Psalmus Hungaricus conducted by Ivan Fischer on CD2. I have seen the recording criticised but I'm more inclined to side with RB's description of the sound as more natural than we are accustomed to. The mp3 sound is good. Now you just need the Symphony and Psalmus Hungaricus.
Bohuslav Martinů (1890-1959)
Concerto for Violin and Orchestra No. 1, H. 226 (recte 228/233) [23:36]
Concerto for Violin and Orchestra No. 2, H. 293 [27:36]
Rhapsody - Concerto for Viola and Orchestra, H. 337* [21:19]
Josef Suk (violin and *viola); Czech Philharmonic Orchestra/Vaclav Neumann
rec. Prague, 1973, *1987. AAD/DDD – from emusic.com (mp3)
SUPRAPHON SU3967-2 011 [72:46]
The Epic of Gilgamesh. Cantata on the Words of the Old-Babylonian Epic for Soloists, Speaker, Mixed Chorus and Orchestra, H. 351 – Gilgamesh (Tablets 1, 2) [19:02]; The Death of Enkidu (Tablets 7, 8, 10) [19:20]; Invocation (Tablet 12) [19:13]
Marcela Machotková (soprano); Karel Průsa (bass); Jiri Zahradniček (tenor); Václav Zitek (baitone); Otakar Brousek (speaker); Czech Philharmonic Chorus; Prague Symphony Orchestra/Jiří Bělohlávek
SUPRAPHON SU3918-2 [57:35] – from emusic.com (3 tracks, mp3)
Orchestral Suite from Juliette for Large Orchestra, H. 253B (arr. Z. Vostřák, World premiere recording) [13:16]
Three Fragments from the Opera Juliette (The Key to Dreams) H253A* - Scene in the Forest (La scčne de la foręt) [20:49]; Scene of Memories (La scčne de souvenirs) [5:43]; Finale of Act III (Finale du IIIe acte) [11:39]
Magdalena Kožená (soprano, Juliette); Steve Davislim (tenor, Michel); Frédéric Goncalves (bass-baritone); Michčle Lagrange (contralto); Nicolas Testé (bass); Czech Philharmonic Orchestra/Sir Charles Mackerras
* live recording from the work's world premieres on 11 and 12 December 2008. DDD.
SUPRAPHON SU 3994-2 [51:22] – from emusic.com (mp3)

Three more excellent recordings of Martinů's music in his 50th anniversary year, to supplement that of the Cello Concertos which I made Reissue of the Month last month (CHAN10547X). All, appropriately, come from the Czech label Supraphon. If you don't want to go for them all at once and can't choose where to begin, the order in which they are placed here would probably be the most satisfactory, beginning with the re-mastered recording of Suk's classic performances.
The lack of texts is something of a handicap, though there is a good English translation of Gilgamesh in Penguin Classics and the Naxos website offers full notes and translations for their Marco Polo-derived recording.
Herbert HOWELLS (1892-1983):
Sir Patrick Spens, Op. 23 [19:49]; Hymnus Paradisi [45:01]
Claire Rutter (soprano); James Gilchrist (tenor); Bach Choir; Bournemouth Symphony Orchestra/David Hill
rec. Concert Hall, The Lighthouse, Poole, UK, 16–17 September, 2006. DDD
NAXOS 8.570352 [64:28] – from passionato.com (mp3 or lossless) or classicsonline.com (mp3)
 "This is an extremely important release... All admirers of Howells will be grateful to Naxos for letting us hear Sir Patrick Spens at long last. They should be equally grateful for a dedicated and eloquent performance of Hymnus Paradisi. This distinguished release is an undoubted feather in the Naxos cap." (John Quinn, Bargain of the Month – see review). There are also excellent versions of Hymnus Paradisi on Hyperion (Handley) and Chandos (Hickox) and, formerly, on EMI (Willcocks), but there is no other version of Sir Patrick Spens. The 320k download from classicsonline comes with the booklet in .pdf form.
Aaron COPLAND (1900-1990)
Billy the Kid (1938) [21:10]; Appalachian Spring (1944) [35:57]; Rodeo (1942) [19:15]
San Francisco Symphony Orchestra/Michael Tilson Thomas
rec. Davies Symphony Hall, San Francisco, 19-23 May 1999. DDD. (Remastered 2004)
RCA 82876 658402 [76:29] – from amazon.co.uk (mp3)

At Ł4.14 this is an excellent bargain, offering splendid performances of all three works. It includes the complete Appalachian Spring, which adds ten minutes of significant extra music to the better-known Suite. With very acceptable 256k mp3 sound, this may be strongly recommended. It received first-rate review on Musicweb when it first appeared (Gary Dalkin awarded it five stars – see review) and from Peter Lawson when it was reissued on 2005 – see review.
Kenneth Leighton (1929–1988)
Concerto for Cello and Orchestra, Op. 31 (1955)* [32:22]
Symphony No. 3 'Laudes musicae', for Tenor Solo and Orchestra, Op. 90 (1984)† [27:10]
Neil Mackie tenor†; Raphael Wallfisch cello*; Scottish National Orchestra/Bryden Thomson
rec. Henry Wood Hall, Glasgow, 23-24 Jan 1989. DDD
Texts included.
CHANDOS CHAN10307X [59:44] – from theclassicalshop.net (mp3 and lossless)
God's Grandeur [4:35]; What Love is This of Thine? [6:16]; Give Me the Wings of Faith* [5:18]; Crucifixus pro nobis, Op. 38 [18:55]; Lully, Lulla, Thou Little Tiny Child, Op. 25b [3:10]; Mass, Op. 44 [25:16]; Laudate pueri, Op. 68 [7:13]
Andrew Lumsden organ*; The Finzi Singers/Paul Spicer
rec. All Saint's Church, Tooting; 30th September–1st October 1993. DDD.
Texts and translations included.
CHANDOS CHAN9485 [71:16] – from theclassicalshop.net (mp3 and lossless; deleted on CD)


Kenneth Leighton is one of those 20th-century British composers whose music is still very much under-rated. This recording of his Cello Concerto is alternatively available coupled with the Finzi Cello Concerto, but there are three very good reasons for preferring the coupling of this reissue – its attractive price, the fact that most collectors will already have a good performance of the Finzi, and the quality of the Third Symphony which forms the coupling here, effectively an orchestral song-cycle.
 If the first recording leads you to the second, so much the better, especially as this recording of vocal music has been deleted on CD and is available only as a good-quality download. I've seen a Naxos anthology of Leighton's music described as evoking affirmation from the soul (8.555795 – with very little overlap with the Chandos recording); it's no exaggeration that the same could be said of the Finzi Singers' programme.

I intend to return to Hyperion's new recording: From the vaults of Westminster Cathedral - A procession of chant & polyphony from Advent to Christmas & the Epiphany and Presentation of our Lord (CDA67707) next month, an October release, clearly intended for the pre-Christmas market. The title is a bit of a misnomer – some of the 'polyphony' is of a decidedly more modern nature than we usually associate with that term and it occasionally jars with the earlier music – but it's all very enjoyable, very well performed and recorded and lavishly presented in Hyperion's usual manner – the booklet of notes and texts is available for download. I hope that when I review the recording in greater detail I shall be able to announce that the Hyperion download site is up and running. Meanwhile the 'beta' mp3 tracks to which I've been listening are about as good as mp3 gets.
Brian Wilson