Download Roundup - September 2011/2
Brian Wilson
The September 2011/1 Roundup is here and earlier editions can be found here.

The problems with passionato.com which I reported in the previous Roundup seem to be deepening: my two most recent attempts to download have ended in failure, so I must advise caution for the moment. I'm assured, however, that they will be up and running normally again in the near future and they have promised to sort out any failed downloads.

I owe an apology for assuming last month that the new arkivmusic.eu site was offering downloads, as its parent arkivmusic.com does (in the USA only). It's an online site only in that it sells CDs and DVDs, so the prices which I mentioned as uncompetitive for downloads are actually much more attractive than I thought.

Just to show how different responses to performances can be, I note that the Pletnev Tchaikovsky Fifth Symphony which received fairly short shrift from me in June 2011/2 has just received a five-star review and been named Recording of the Month in the BBC Music Magazine. (Pentatone PTC5186 385). De gustibus non est disputandum.

Recording of the Month

That's Entertainment: A Celebration of the MGM Film Musical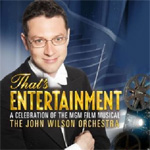 MGM Jubilee Overture [7:46]
The Trolley Song (from Meet me in St Louis) [3:52]
Steppin' Out With My Baby (from Easter Parade) [6:22]
The Heather on the Hill (from Brigadoon) [7:02]
Barn Dance (from Seven Brides for Seven Brothers) [5:45]
You're Sensational (from High Society) [3:07]
I Got Rhythm (from An American in Paris) [5:35]
Singin' in the Rain (from Singin' in the Rain) [3:58]
An American in Paris - Main Title [2:56]
Love is Here to Stay (from An American in Paris) [4:03]
Well, did you evah? (from High Society) [3:36]
The New Moon - Sequence: One Kiss/Lover Come Back To Me (from The New Moon) [6:43]
That's Entertainment (from That's Entertainment )[3:45]
Broadway Melody Ballet (from Singin' in the Rain) [13:18]
Matthew Ford; Kim Criswell; Sarah Fox; Curtis Stigers; Seth MacFarlane; Maida Vale Singers;
The John Wilson Orchestra/John Wilson
EMI CLASSICS 0288452 [77:47] - from amazon.co.uk (mp3)

If, like me, you were carried away by John Wilson and his team at this year's Proms, broadcast on Radio 3 and BBC2, you need have no hesitation in downloading this release, timed to coincide with the Prom performance. It's a shorter programme and you miss the visual entertainment of the singers coming on singly or in pairs, but otherwise this captures all the enjoyment. The mp3 sound is very good, considering that most of the tracks fall below amazon.co.uk's usual 256kb/s standard.

Bargains of the Month

Pyotr Ilyich TCHAIKOVSKY (1840-1893) The Sleeping Beauty
Minneapolis Symphony Orchestra/Antal Doráti - rec.1955. ADD
NAXOS CLASSICAL ARCHIVE 9.80591-3 [3 CDs: 2:30:13] - from classicsonline.com or emusic.com (both mp3)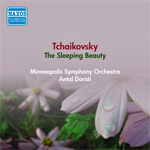 The sound is over-bright and rather thin - much more so than the Ansermet Ravel (below) which was recorded the previous year - and emusic.com reduce the bit-rate to a measly 155kb/s but the ear adjusts and this is well worth having as a reminder of Doráti's idiomatic way with Tchaikovsky, especially in this earlier Minneapolis version, a great favourite of mine in its earlier incarnation on the budget Fontana LP label. It comes on five tracks for just £2.10 or less to add to its attractions. From classicsonline.com, in better 320kb/s sound, it's still a good bargain for £5.97. Better still is the Past Classics transfer of Doráti's 1957 Minneapolis Swan Lake (see the review of the CfP/Previn recording below).

Passionato.com have the 1995 Doráti recording with the Concertgebouw (Philips Duo 446 1662, mp3, £12.99) but that can be obtained on CD for around £9 - and bear in mind what I have said above about the problems with Passionato. Classicsonline.com also offer the slightly abridged Weldon recording on EMI Classics for Pleasure, two CDs for just £3.99 - see below.

Maurice RAVEL (1875-1937) L'Enfant et les Sortilèges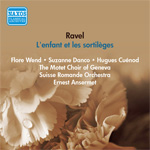 Suzanne Danco, (soprano); Flore Wend (contralto); Hugues Cuénod (tenor); Motet Choir of Geneva; L'Orchestre de la Suisse Romande/Ernest Ansermet - rec.1954. ADD
NAXOS CLASSICAL ARCHIVE 9.80161 [41:53] - from classicsonline.com or emusic.com (both mp3)

This classic recording has come up as fresh as paint in the Naxos Archive transfer, even in the version from emusic.com, at a miserly 155-160kb/s. At £0.84 or less, that's a better bargain than the classicsonline.com price of £1.99, but the latter comes at 320kb/s and will hardly break the bank. At these prices the short playing time hardly matters. If anything, the performance is fresher than the Maazel recording on DG which I recommended in the May 2009 Roundup or the more recent Rattle recording - see review by Dominy Clements.

Manuel de FALLA (1876-1946)
El Amor brujo (Love the magician): Suite* [16:06]
El Sombrero de tres picos (The three-cornered hat) [35:45]
London Philharmonic Orchestra/Anthony Collins*; Suzanne Danco (soprano); Suisse Romande Orchestra/Ernest Ansermet - rec.1950*, 1955. ADD.
NAXOS CLASSICAL ARCHIVE 9.80466 [51:55] - from classicsonline.com or emusic.com (both mp3)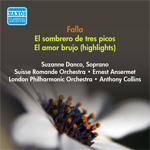 I associate Anthony Collins and his Decca recordings with Sibelius and Delius, so I at first assumed that all the items here had been conducted by Ansermet, whom I do associate with Falla. That's a roundabout way of saying that I thought the Amor brujo here thoroughly idiomatic and well recorded for its date, if a trifle shrill. I haven't heard the Eloquence reissue of this version of El Sombrero with the complete Amor brujo (480 0077 - see review by Göran Forsling) but this Naxos Classical Archive sounds acceptable, even at emusic.com's low bit-rate. (The classicsonline.com version comes at a better bit-rate and actually costs a few pence less at £1.99.) Ansermet remade El Sombrero in stereo in a recording with Teresa Berganza which is still available on Decca Legends 466 9912, available for download from passionato.com - here. (See 3-star review by Rob Barnett). They also have the Double Decca recording of Ansermet's Amor and Sombrero, coupled with Nights in the Gardens of Spain (Larrocha and Burgos), etc. (433 9082 - mp3 for £7.99, lossless for £9.99). As this appears to be deleted on CD in the UK, the lossless download seems particularly appealing.

Ross EDWARDS (b.1943) Star Chant
Symphony No.1, Da pacem Domine (1991) [27:25]
Symphony No.4, 'Star Chant' (2001) [32:37]
Adelaide Philharmonia Chorus; Adelaide Chorus; Adelaide Symphony Orchestra/Richard Mills - rec.2002. DDD
No booklet but this is available online, with texts, from Buywell (see below)
ABC CLASSICS 476 6161 [60:02] - from emusic.com (mp3)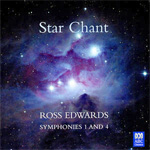 This could easily have gone into the Discovery of the Month category - I've never knowingly heard anything by Australian composer Ross Edwards before: I should have read Tim Perry's Recording of the Month review, which I didn't discover till I'd heard the music. Lovers of the likes of Arvo Pärt or Einojuhani Rautavaara should like what they hear on this recording. Complete on just three tracks for £1.26 or less, it's enough of a bargain for you to try it out. Those who don't subscribe to emusic.com will find it for £7.49 from amazon.co.uk.

The bit-rates, ranging from 221 to 227kb/s are well short of the maximum 320kb/s but the recording sounds more than acceptable in this form. There are no notes, but Buywell generously offer a pdf booklet free - here. It includes the names of the constellations in various languages, including Australian aborigine, which are chanted in the Fourth Symphony, divided across the two movements - The Northern Sky and The Southern Sky:

Alioth, Mizar, Alkaid, Alcor.
Capella: Purra. Deneb: Woorbrady.
Lyra: Neilloan; Vega: Boi-Boi.
Aquila: Totyarguil; Altair: Ku-ur-rook.
Arcturus: Marpeankurrk. Delphinus: Otchocut.
Pleiades: Meamei; Aldebaran: Karambal.
Aldebaran: Gellarec. Procyon: Beegerer.
Pleiades, Hyades, Orion: Tjilpuna.
Orion: Njiru; Pleiades: Kungkarungkara.
Hydra: Unwala. Spica: Gurie.
Sirius: Warepil. Fomalhaut: Gani.
Antares: Djuit; Scorpius: Ingalpir.
Antares: Alkarinja. Archernar: Agnura.
Proxima Centauri, Proxima Centauri.
Canopus: Wahn. Crux Australis: Waluwara;
Crux Australis: Yaraan-do; Crux Australis: Wanamoumitja.
Crux, Centaurus: Iritjinga; Crux, Centaurus: Mirrabooka.
Sigma Octantis, Sigma Octantis.

Discovery of the Month

Robert SCHUMANN (1810-1856) Complete Works for Violin and Orchestra
Concerto in a minor for violin and orchestra, after the Concerto in a minor for cello and orchestra, Op.129 (1850: Violin version by the composer) [22:31]
Fantasy in C for violin and orchestra, Op. 131 (1853) [16:20]
Concerto in d minor for violin and orchestra (1853) [32:22]
Ulf Wallin (violin); Robert-Schumann-Philharmonie/Frank Beermann - rec.2009. DDD/DSD
Pdf booklet of notes included
BIS BIS-SACD-1775 [72:30] - from eclassical.com (mp3 and 16- and 24-bit lossless)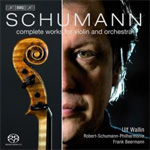 It's not my discovery this month but a recording which I imagine will be an eye-opener for many readers who have been told that Schumann's Violin Concerto is a flop. I already knew otherwise, despite the apparent opinions of Clara Schumann and Joachim, the violinist for whom the work had been intended, but this recording definitively proves it. What did come as a pleasant surprise to me was how well Schumann's own transcription of the Cello Concerto sounds. The Fantasy, too, is a welcome addition.

With most persuasive performances and informative documentation, this has to receive a strong recommendation. The recording is excellent, especially in 24-bit format, where nothing is missing except the surround channels of the SACD. The price is very attractive, too: $8.54 for mp3 or 16-bit flac, $12.81 for 24-bit.
[In the process of coverting this Roundup as a webpage, I'm please to see that Gavin Dixon hasenjoyed this recording as much as I have:

The time has certainly come to reassess these fine works after a century and a half of wholly undeserved neglect. Perhaps the challenges they pose are not the sort of challenges that 19th century virtuosi relished. ... Ulf Wallin is a soloist who clearly relished these kinds of challenges.

See his full review here.]
EMI Classics on classicsonline.com and Naxos Music Library

Classicsonline.com are currently adding the EMI Classics and Virgin Classics catalogues to their download labels, with availability for streaming from the Naxos Music Library - a particularly valuable facility, since passionato.com have recently dropped these labels. The classicsonline.com acquisition doesn't entirely compensate, since passionato.com used also to offer lossless flac for many of these recordings. I'm concentrating this time on good performances which offer especially good value - I've appended UK prices - because there are some pricing anomalies at present. Please note that catalogue numbers differ from the corresponding UK CD numbers. My grumble about oddities of price in my last Roundup appeared at one stage to have been addressed until some uncompetitive prices for most of the budget-price 2-CD sets were restored.
[NB: on the very cusp of converting this Roundup to html, I note that Gemini 2-CD sets have reverted to a reasonable £6.99. please ignore anything that I've said below to the contrary]

Joseph HAYDN (1732-1809) London Symphonies Vol.1 (1791/2)
CD1
Symphony No.93 in D [23:09]
Symphony No.94 in G (Surprise) [22:36]
Symphony No.95 in c minor [19:34]
CD2
Symphony No.96 in D [21:38]
Symphony No.97 in C [23:43]
Symphony No.98 in B-flat [25:16]
Royal Philharmonic Orchestra/Sir Thomas Beecham - rec.1957/8. Mono/ADD.
EMI CLASSICS GEMINI 0724358577051 [2CDs: 2:15:54] - from classicsonline.com (mp3, £6.99)

[Bargain of the Month - see review by Terry Barfoot]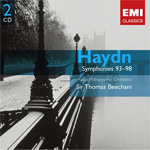 I cut my Haydn symphonic teeth on Beecham's earlier accounts of Nos. 93 and 94, once available on Philips Classical Favourites. For all that I've heard and greatly enjoyed other versions across the years, notably Colin Davis, now on a pair of inexpensive Philips Duo CDs, and Karl Böhm, whose complete London Symphonies I recommended in July 2011/2, it's been a delight to return to Beecham, inauthentic editions and decently refurbished mono sound notwithstanding. In fact, I never deserted Sir Thomas's Haydn: the reissue of two of the later London Symphonies, formerly on Classics for Pleasure, is still part of my regular listening. I'm surprised, however, that though Beecham plays the surprise in No.94 to the full, he misses Haydn's little joke with the harpsichord at the end of No.98, which Böhm plays up, especially in the bonus 1960s recording included with his set.

TB's well-deserved accolade actually cover the two volumes which were released simultaneously on Gemini, but whereas the first (above) costs a very reasonable £6.99, Volume 2 began at an uncompetitive £13.98, was briefly reduced to £6.99 like volume 1, but then appears to have gone up in price again. [Now back to £6.99 as I convert this Roundup to html.] All four CDs, together with Beecham's Seasons and his Mozart also come on a 10-CD set for around £23 (9099462 - see review).

Ludwig van BEETHOVEN (1770-1827)
Piano Sonata No. 8 in c minor, Op. 13, Pathétique (1799) [21:51]
Piano Sonata No. 17 in d minor, Op. 31/2 (1802) [25:48]
Piano Sonata No. 23 in f minor, Op. 57, Appassionata (1805) [24:54]
Ingrid Fliter (piano) - rec. 2010. DDD
EMI CLASSICS 5099909457355 [72:58] - from classicsonline.com (mp3, £7.99)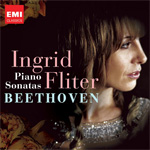 [Bargain of the Month - see review by William Hedley]

There have been some highly recommendable Beethoven piano sonata recordings in recent month, but this from Ingrid Fliter, part of which is included on the EMI sampler which I recommended as Freebie of the Month in August 2011/1, is one of the very best. Try the extract on that sampler - which is now no longer free but costs £7.99 - and you'll want the whole programme. The recording does justice to these excellent performances and the download price of £7.99 shaves over a pound off the price of the CD.

Hector BERLIOZ (1803-1869)
Symphonie Fantastique, H48, Op.14 [56:01]; Le Carnaval Romain, Op.9 [9:14]
Anima Eterna Brugge/Jos van Immerseel
ZIG-ZAG TERRITOIRES ZZT100101 [65:15] - from classicsonline.com (mp3)
Symphonie Fantastique [52:34]; Overture Le Corsaire [7:58]; Les Troyens: Royal Hunt and Storm and Trojan March [14:35]
Orchestre National de RTF; Royal Philharmonic Orchestra/Sir Thomas Beecham - rec. Salle Wagram, Paris, 1957, Abbey Road Studio, London, 1958/9. ADD.
EMI MASTERS 5099991870957 [74:53] - from classicsonline.com (mp3, £5.99) or stream from Naxos Music Library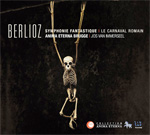 I reviewed both of these recordings in May 2010, together with a third recording by Charles Dutoit (DG Concerts 475 8204), giving links to emusic.com and passionato.com respectively. You'll find a better quality download of the Immerseel at classicsonline.com, though at £7.99 it's a little more expensive than from emusic.com, and the passionato.com link for the Beecham no longer works. In any case, the new re-reissue on EMI Masters offers better value than the earlier GROC version.

For convenience, I'll repeat what I wrote then: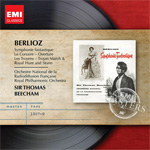 There's something old here [and] something new … [both] are excellent in their different ways. The Beecham recording has been a classic almost since it was first released; though it was challenged early in its life by rival versions from Klemperer (no longer available) and Davis (till recently available on Eloquence), it survived unscathed and became a genuine Great Recording of the Century. Generously coupled and re-mastered, it remains one of the few versions of this symphony which retain my attention all the way through, when other versions leave me slightly off message in one movement or another. The recording could not be mistaken for modern DDD - it sounds just a little coarse in places - but it is very good for its age.
Van Immerseel's new account also retains my attention all through. The employment of period instruments is scrupulous but never done for its own sake; only the substitution of two period pianos for the bells in the finale struck the wrong note to my ears - and Immerseel claims Berlioz's own sanction for their employment. The sound is lean and mean - quite the opposite of Beecham, who, even if he had known Berlioz's preference for the kind of drum sticks employed by Immerseel, wouldn't have given a hoot. Yet the two conductors somehow arrive at the same place by different routes.

Felix MENDELSSOHN (1809-1847)
A Midsummer Night's Dream - overture and complete incidental music
Lillian Watson (soprano); Delia Wallis (mezzo-soprano); Finchley Children's Music Group; London Symphony Orchestra/André Previn
EMI CLASSICS ENCORE 0724357498159 [57:21] - from classicsonline.com (mp3, £4.99)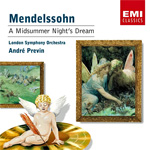 This is a thorough delight. Reviewing the Eloquence reissue of Midsummer Night's Dream and die erste Walpurgisnacht (Ashkenazy and Dohnányi, 480 1279 - see review), which I thought well worth having for the latter, I recommended two EMI recordings of the Dream, Andrew Litton on Classics for Pleasure (no longer available) and this André Previn version. That Eloquence reissue is excellent value, with 33 minutes of Walpurgisnacht added to the Dream, but Previn includes more of the Dream music, especially the vocal items, and, though 57 minutes is short, the quality of the performance and the attractive price more than compensate - but be aware that classicsonline.com are also offering the older version of this recording at an uncompetitive £7.99: be sure to choose the Encore version. The recording and mp3 transfer are very good.

Giuseppe VERDI (1813-1901) Falstaff
Tito Gobbi - bass-baritone (Falstaff)
Luigi Alva - tenor (Fenton)
Rolando Panerai - baritone (Ford)
Tomaso Spataro - tenor (Dr Caius)
Renato Ercolani - tenor (Bardolfo)
Nicola Zaccaria - bass (Pistola)
Elizabeth Schwarzkopf - soprano (Alice Ford)
Anna Moffo - soprano (Nannetta)
Nan Merriman - mezzo soprano (Meg Page)
Fedora Barbieri - contralto (Mistress Quickly)
Phiharmonia Orchestra & Chorus/Herbert von Karajan - rec.1956. DDD.
EMI CLASSICS HOME OF OPERA 5099994819953 [2 CDs: 119:42] - from classicsonline.com (mp3, £8.99)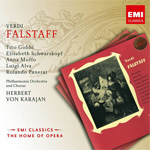 Christopher Fifield described this in its earlier reissue on the EMI Great Recordings label as 'truly one of the Great Recordings of the Century' - see review. It had strong rivals then and more have appeared since on CD and DVD, but this is still the version for most opera buffs. Cast, direction and orchestral support are ideal and the recording still sounds very well.

Two earlier versions are still available and classicsonline.com has the earlier EMI Historical release for £1 less - £7.99 - here. Avoid the Great Recordings version at £14.99. There's no libretto or translation with any download - it's a shame that the bonus third CD with the latest release was not included - but these are easily available online. Squeezebox had some problems with some of the tracks - of its own making, I think, perhaps because of the large amount of textual information - so it's probably better to burn to CDR, where it sounds fine.

Colin Davis's rival version on LSO Live is also available from classicsonline.com - here - but it's not competitively priced at £15.98: the 2-CD set (as opposed to the more expensive SACDs) can be bought for around £9.50. Emusic.com have the Toscanini version from Past Classics for £2.52 or less - here - and the Karajan - here - for the same price but Past Classics transfers are unlikely to sound as well as EMI's own.
Pyotr Ilyich TCHAIKOVSKY (1840-1893) The Nutcracker, Op.71 (complete) [86:12]
Romeo and Juliet Overture [20:40]
Marche Slave [9:41]
1812 Overture [16:31]
Sergei PROKOFIEV (1891-1953) Cinderella, Op.87 (highlights) [15:42]
London Symphony Orchestra/André Previn - rec.1972. ADD
EMI CLASSICS FOR PLEASURE 0094639323357 [2CDs: 72:00 + 76:48] - from classicsonline.com (mp3, £6.99)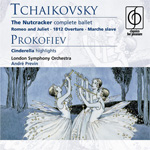 The well-filled CfP version is good value at £6.99, but beware - classicsonline.com also have the more recent 2-CD set of Nutcracker with Løvenskiold's La Sylphide, as reviewed by Dan Morgan here: it's now offered at a very uncompetitive price of £15.98, around twice the UK price of the parent CD set. [Now reduced to a more feasible £7.99 as I go to press, but I imagine that most will prefer the CfP coupling anyway.]

Whichever coupling you choose, Previn's Nutcracker is one of the best performances of all time and it still sounds well in a good mp3 transfer - when classicsonline.com says 320kb/s, that's what you invariably get in my experience. Only Ansermet's Nutcracker, now on Eloquence 480 0557, has such classic status - my version on the former Decca Weekend label comes out every Christmas - but the Previn, even in mp3 form, sounds fuller than the Ansermet, which, with recent increases in the price of Eloquence CDs in the UK, is no longer such a super-bargain at around £12.

The remaining Tchaikovsky items are good, but not as special as Nutcracker. The highlights from Cinderella come from the recommendable complete set on two EMI CDs, available from classicsonline.com here with the Classical Symphony or in its latest reissue here with excerpts from Raymonda, but at prices twice as much as those of the equivalent CD sets in the UK. [NB: now reduced to £6.99 and £7.99 respectively.]

Pyotr Ilyich TCHAIKOVSKY The Sleeping Beauty (slightly abridged)
Philharmonia Orchestra/George Weldon - rec. c.1958. ADD.
EMI CLASSICS FOR PLEASURE 0094639323852 [2CDs: 2:02:37] - from classicsonline.com (mp3, £3.99)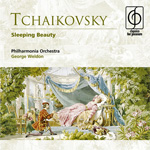 This recording sounds better than the Doráti (above): very acceptable though hardly new-minted. The slightly-abridged performance is good, though I note that it has divided reviewers - it's not quite as sparkling as the Doráti, so it's swings and roundabouts in terms of completeness, performance and recording.

In terms of price, both Doráti and Weldon offer excellent value, with classicsonline.com asking a very reasonable £3.99 for the two CDs. Emusic.com have the Weldon recording for £1.68 or less in a Past Classics transfer - here - usually transfers from this source are acceptable, but I haven't heard this one, so caveat emptor; I can't vouch for it.

Pyotr Ilyich TCHAIKOVSKY Swan Lake Op.20 (1877) [155:38]
Ida Haendel (violin), Douglas Cummings (violoncello)
London Symphony Orchestra/André Previn - rec.1976. ADD.
CLASSICS FOR PLEASURE 0094639324354 [77:52 + 77:46] - from classicsonline.com (mp3, £5.99)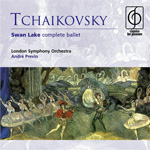 Christopher Howell was not entirely sold on Previn's way with this ballet; though he thought it a 'safe' recommendation, he preferred a CD of extracts from Fistoulari's stereo (Phase 4) recording - see review. My own response is more positive and more in line with general critical opinion. I may prefer some aspects of the earlier (mono) Fistoulari and Doráti versions mentioned below, but Previn is more complete than the former and better recorded than either of those mono versions and the mp3 transfer is very good.

CH criticised the length of some of the tracks, but that's a positive virtue in a download, since it reduces the number of joins, each potentially the cause of brief drop-outs. The asking price of £5.99 is very reasonable but classicsonline.com also offer the more recent reissue of this recording for a very much less reasonable £17.98 - the CDs cost around £7.50 in the UK. This is the sort of pricing anomaly that I've drawn to the attention of classicsonline.com's parent company Naxos in the hope that it can be sorted.

If you're looking for an inexpensive and idiomatic alternative, Naxos Historical Archives have Anatole Fistoulari's 1952 recording with the LSO of the almost complete score - roughly two thirds - on 9.80724/5. Download from classicsonline.com - here - for £3.98. (Not available in the USA). It's mono only, but surprisingly good for its age - better than the Doráti Sleeping Beauty (above) and better than I remember it sounding on Ace of Clubs LPs; I enjoyed rehearing it - and you may prefer it to the Phase 4 sound of his remake.

The incomplete Fistoulari version was challenged in 1957 by Antal Doráti's recording with the Minneapolis Symphony Orchestra of a more complete version of the score for Mercury. That's available for a very inexpensive £1.68 in a Past Classics release from emusic.com - here. I've known this version through several LP incarnations, on the Philips GL label and Fontana and I'm pleased to hear it again. Though a bit-rate as low as 158kb/s leaves a great deal to be desired, it sounds at least as well as when I last heard it on LP, with a fuller-bodied sound than the Doráti Sleeping Beauty (above). Both the Fistoulari and Doráti come with each act complete on one track, which means that you could burn either complete to a CDR in mp3 form without suffering the mp3 hazard of drop-outs between tracks where the music is continuous.

I could happily live with any of these three in preference to yet another budget-price release: Wolfgang Sawallisch, formerly on CfP and now on EMI Gemini. How gratifying it is to have such choice. And I haven't even mentioned the Gergiev version. I recommended the passionato.com download of this not very complete Swan Lake (475 7669) in June 2010; in view of the problems which passionato.com seem to be experiencing, I'd better redirect you - amazon.co.uk seem to have only the highlights from this set, actually better value time-wise than the complete set; otherwise it has to be iTunes for £12.99 - here.

Jean SIBELIUS (1865-1957)
Lemminkäinen Suite, Op.22 (Legends) [45:50] - Lemminkäinen and the Maidens of the Island [16:12]; The Swan of Tuonela [9:03]; Lemminkäinen in Tuonela [14:22]; Lemminkäinen's Return [6:15]
Philadelphia Orchestra/Eugene Ormandy - rec.1978. ADD
Tapiola, Op.112 [14:53]
Helsinki Philharmonic Orchestra-Orchestra/Paavo Berglund - rec.1987. DDD
EMI CLASSICS ENCORE 0094638867951 [60:45] - from classicsonline.com (mp3, £5.99)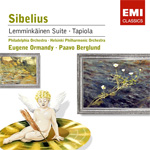 ['The main sell here is the Lemminkainen four tone poems but this Tapiola is by no means negligible. Good to be reminded in such a forceful way of the golden late afternoon of Ormandy and the Philadelphia's conjoined career. Outstanding Sibelius and outstanding analogue technology.' - see full review by Rob Barnett.]

I enjoyed Petri Sakari's account of the Lemminkäinen and Karelia Suites (Naxos 8.554265, also available from classicsonline.com - here - for £4.99) in February 2009, but Ormandy's version alternately knocks you off your seat and enchants on an even higher level. With excellently refurbished sound and a good mp3 transfer, the only thing left to say is that £5.99 is pushing at the upper limit of competiveness when Encore CDs can be purchased for around £5 in the UK and classicsonline.com charge a more reasonable £3.99 or £4.99 for other albums in this series. As it happens, this particular album is deleted as a CD, so the download is especially welcome, even at the price.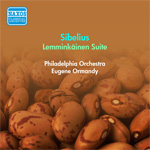 Classicsonline.com also have Ormandy's even more powerful 1951 mono version of the Lemminkäinen Suite - a snip at £1.99, though the sound is, of course, dated, but excellent for its age (Naxos Classical Archives 9.80350 [44:26] - here). Try it from the Naxos Music Library. (Not available to download or stream in the USA). It has also been added very recently to the Pristine Classics roster.

Osmo Vänskä and the Lahti SO offer the conventional Op.22 Lemminkäinen Suite plus alternative versions and alternative endings of some of the constituent parts on BIS-CD-1015, available from eclassical.com - here - in mp3 and lossless sound. (See Len Mullenger's 5-star review.) If you want just Vänskä's version of the usual Suite from this set, without the extras, you'll find it on the super-bargain Sibelius bundle from amazon.co.uk which Nick Barnard and I recommended in June 2011/2.

Jean SIBELIUS (1865-1957)
Symphony No. 7 in C, Op.105 [20:23]
Tapiola, Op.112 [17:47]
The Oceanides, Op.73 [10:20]
Pelleas and Melisande Suite, Op.46 [27:33]
Royal Philharmonic Orchestra/Sir Thomas Beecham - rec.1955. ADD
EMI CLASSICS GREAT RECORDINGS OF THE CENTURY 5099950969258 [76:44] - from classicsonline.com (mp3, £5.99)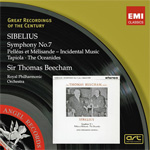 [Bargain of the Month - see review by Ewan McCormick: 'Throughout this disc the performances are of the very highest standard, with Beecham's accustomed sensitivity to phrasing and dynamics. Recordings have come up newly minted in these transfers, sounding richer and more spacious than ever. A Great Recording of the Century, beyond a doubt.']

There's very little that I need add to EM's review, except to say that a 7" EP of extracts from Beecham's Pelleas Suite which opens the programme so effectively was one of my earliest Sibelius recordings and that it sounds much better now than it did in that format. At £5.99 it's competitive with the CD, which typically sells for around £7. An essential download; the only reason not to obtain it would be that it's likely to be transferred to the even less expensive EMI Masters label shortly.

Arthur BLISS (1891-1975) Bliss conducts Bliss
Ceremonial Prelude for orchestra and organ (1965)* [5:26]
Welcome the Queen (1954) [7:20]
A Song of Welcome (1954) [16:08]
Miracle in the Gorbals - suite (1944) [23:04]
Music for Strings (1935) [24:26]
Simon Preston (organ); Joan Sutherland (soprano); John Cameron (tenor); BBC Chorus; Philharmonia/Bliss; New Philharmonia/Bliss (Prelude)
rec. live, Westminster Abbey, 1965 (Prelude)*; 1954 (rest). Mono/stereo*/ADD.
EMI CLASSICS BRITISH COMPOSERS 0094637056455 [76:58] - from classicsonline.com (mp3, £5.99)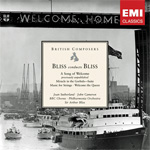 ['Here is a disc first and foremost for Bliss completists. It shows Bliss as both the pastmaster of the occasional and the ceremonial and as a fierily inspired craftsman.' - see review by Rob Barnett.]
I don't recall hearing any of this music before, apart from the Miracle in the Gorbals suite, and, though I take RB's point that this is not Bliss for beginners, I very much enjoyed hearing it all. The 1954 sound has come up brilliantly well in this good mp3 transfer. At the time of writing, the other EMI recording of Miracle in the Gorbals which RB mentions was not available from classicsonline.com, but the Groves recording of Morning Heroes has, happily, reappeared on CD in company with Britten's War Requiem (2CDs for around £8: 5059092 or download from amazon.co.uk for £5.49).

Carl ORFF (1895-1982) Carmina Burana (1936)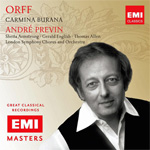 Sheila Armstrong; Gerald English; Thomas Allen; St Clement Danes Boys' Grammar School Choir; London Symphony Chorus and Orchestra/André Previn - rec.1975. ADD.
EMI CLASSICS MASTERS 5099963180251 [62:36] - from classicsonline.com (mp3, £5.99)

For all the appeal of more recent digital recordings, this is still one of the best Carmina Buranas on the market, alongside the Jochum version on DG Originals - 447 4372 see August 2010 Roundup - both have much more life than Simon Rattle's disappointingly under-strength version and the EMI still sounds well in the digital transfer of a recording that rather defeated the recording engineers in its LP format. Make sure to choose the right version - the older Great Recordings of the Century version is also on offer at £7.99.

Aaron COPLAND (1900-1990)
Fanfare for the Common Man (1942) [3:39]
Appalachian Spring (1943) [36:42]
El Salon Mexico (1932) [10:50]
Old American Songs (1951) [24:55]
Orquesta Filarmonica de la Ciudad de Mexico/Enrique Batiz (Fanfare)
Saint Louis Symphony Orchestra/Leonard Slatkin (Appalachian)
Dallas Symphony Orchestra/Eduardo Mata (Mexico)
Bruce Hubbard (baritone)
Orchestra of St Luke's/Dennis Russell Davies (Songs) - rec. 1985-1989. DDD
EMI AMERICAN CLASSICS 5099920663452 [76:31] - from classicsonline.com (mp3) (£4.99)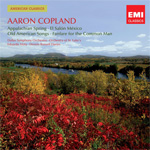 ['A generous, capable and engaging Copland collection.' - see review by Rob Barnett. 'A really successful disc … and a good introduction to Copland's work.' - see review by Simon Thompson]

Idiomatic performances, well recorded in a good mp3 transfer. The opening Fanfare may be a little understated and Copland's own Appalachian Spring may be preferable, but this EMI version compensates by including the whole ballet - there's some fine music not included in the usual suite. Copland's own LSO recording seems not to be available on CD or as a download, though amazon.co.uk has his recording of the Suite with the Boston SO for £3.99 with the suite from The Tender Land. Emusic.com offer the same recording in a Past Classics transfer for less - just £1.26. Don't forget the Tilson Thomas recording of the complete Appalachian Spring with Billy the Kid, still a bargain from amazon.co.uk at £4.14, which I recommended in October 2009.

Walton conducts Walton
Sir William WALTON (1902-1958)
CD 1
Symphony No. 1 in b flat minor (1935)* [42:41]
Belshazzar's Feast (1931)** [36:12]
CD 2
Violin Concerto (1939)*** [31:55]
Viola Concerto (1927)*** [25:55]
Partita for Orchestra (1957)* [15:50]
Donald Bell (bass)**; Philharmonia Choir**; Philharmonia Orchestra or New Philharmonia Orchestra*/**
Yehudi Menuhin (violin and viola)***; London Symphony Orchestra***
all conducted by William Walton - rec. 1951 (mono, Symphony), 1953, 1959, 1970, 1959. ADD.
EMI CLASSICS 5099996894453 [2CDs: 2:31:34] - from classicsonline.com (mp3, £5.99)

Scenes from Henry V and Richard III
Richard III: Prelude (arr. Muir MATHIESON) (1955) [7:32]
Richard III: A Shakespeare Suite (arr. Muir MATHIESON) (1955) [10:28]
Henry V Suite (arr. Muir MATHIESON) (1943) [15:14]
Spitfire Prelude [3:46] and Fugue [4:18] (1942)
Henry V: London, 1600 - Globe Theatre - Prologue: O for a muse of fire - Speech before Harfleur: Once more unto the breach - Act IV: Prologue: Now entertain conjecture of a time - Night before the Battle: But if the cause be not good - Night before the Battle: Upon the king! - This day is called the Feast of Crispian - Once more I come to know of thee, King Harry - I pray thee bear my former answer back - The Battle of Agincourt - My duty to you both, on equal love - Epilogue: Thus far, with rough and all-unable pen (Chorus) - Madrigal - Agincourt Song (1943)* [34:17]
Laurence Olivier (speaker)*; Philharmonia Chorus; Philharmonia Orchestra/William Walton - rec. 1943 (mono)*, 1963. ADD.
EMI CLASSICS 0724356500754 [75:06] - from classicsonline.com (mp3, £4.99)

[see review by Rob Barnett of 8-CD set which includes these two recordings.]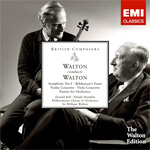 RB thought the 8-CD excellent value at around £3 per CD which, by coincidence, exactly matches the Walton conducts Walton download at £5.99, whilst the single disc is a little more expensive but still good value at £4.99 when both contain so many riches in such little room. You should consider supplementing Menuhin's less than ideal accounts of the concertos with the Nigel Kennedy recording (also EMI, not yet available from classicsonline.com as I write*), but that's my only reservation concerning the 2-CD set. Even the mono sound of the First Symphony - actually very good for its age - is no hindrance when the performance is so authoritative - challenged but not superseded by Previn on RCA, which in turn is challenged but not superseded by the recent Hyperion.

* amazon.co.uk have the Violin Concerto on a 2-CD set with the Mackerras recordings of the two symphonies and the Tortelier Cello Concerto - here - for £5.99.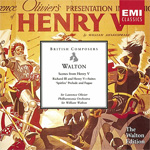 If the Henry V music seems a bit of a muddle, with the short Mathieson Suite, recorded in stereo, separated from the longer excerpts from the 1943 film, recorded at around the same time in mono, and with certain items common to both Suite and excerpts, you may prefer the Chandos recording which I recommended some time ago (CHAN10437 - see review). That recording, with Christopher Plummer and Neville Marriner is more logically constructed and also comes at an attractive price (£3.99 in mp3, £7.99 lossless) but, for me, for whom Olivier's Richard III and Henry V are often wrong-headed but completely sacrosanct, it cannot replace the 'real thing' which we have here. As RB wrote, 'it all works very well' and the new transfer seems to have eliminated some of the whiskery 78 background which he mentioned. In any case, however dry it may be - it's actually very good for its age - this is essential listening, especially with the newer recordings of the Spitfire and Richard III items thrown in.

Dmitri SHOSTAKOVICH (1906-1975)
Symphony No.8 in c minor, Op.65 (1943)
London Symphony Orchestra/André Previn - rec.1973. ADD.
EMI CLASSICS ENCORE 5099950902453 [61:12] - from classicsonline.com (mp3, £3.99)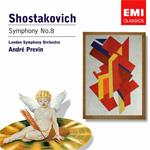 ['I can't think of a better way to introduce a newcomer to this work than by hearing this wonderful recording. In its latest incarnation, it sounds terrific.' - see review by Leslie Wright]

This recording is worth all the praise that LW and others have heaped upon it. I last owned it in the early days of the music cassette and I'm please to get to know it again, now sounding much better than on cassette and at a very reasonable price. As for the slight textual inaccuracy which LW mentions, I hardly noticed it: Tauno Hannikainen introduced a much worse one into his reading of Sibelius's Second Symphony, from which I got to know the work - one accepted as a genuine unpublished revision for years because of Hannikainen's friendship with the composer - and it's never harmed my appreciation of the music.

Elliott CARTER (b.1908)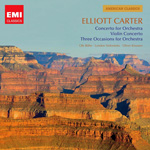 Three Occasions for Orchestra (1987) [15:59]
Violin Concerto (1990) [25:45]
Concerto for Orchestra (1989) [20:55]
Ole Böhn (violin); London Sinfonietta/Oliver Knussen - rec. 1991. DDD
EMI AMERICAN CLASSICS 5099920662950 [63:13] - from classicsonline.com (mp3) (£5.99)

['A superbly recorded and brilliantly performed Carter collection.' - see review by Rob Barnett.]

Elliott Carter is a tougher nut to crack than Copland; of the three works here, I find it possible to connect easily only with the Violin Concerto. That's well performed, so I gladly take RB's word for it that this is a very good anthology. Perhaps those who, like me, have yet to come to terms with his music would be better with the CD and its booklet of notes. The mp3 transfer is good.

Samuel BARBER (1910-1981)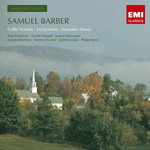 Cello Sonata, Op.6 (1932) [18:56]
Alan Stepansky (cello); Israela Margalit (piano)
Canzone, Op.38a (1961) [4:25]
Jeanne Baxtresser (flute); Israela Margalit (piano)
Excursions, Op.20 (1942-44) [14:02]
Israela Margalit (piano)
Nocturne (Homage to John Field), Op.33 (1959) [4:27]
Summer Music, Op.31 (1956) [11:40]
Jeanne Baxtresser (flute); Joseph Robinson (oboe) Stanley Drucker (clarinet); Judith LeClair (bassoon); Philip Myers (horn)
Souvenirs, Op.28 (version for piano solo) [6:52]
Israela Margalit (piano) - rec? DDD?
EMI AMERICAN CLASSICS 5099923447257 [60:27] - from classicsonline.com (mp3, £4.99)

This is one of several recordings of Samuel Barber's music in the EMI American Classics series. The obvious starting point would be the recording of Adagio, Knoxville - Summer of 1915 and the Violin Concerto (Elmar Oliveira and Leonard Slatkin - see review - not yet available from classicsonline.com as I write), with the current CD as a follow-up. I didn't know most of this music but particularly enjoyed Excursions, with folksy adaptations of the likes of The Streets of Laredo. Idiomatic performances, as far as I can judge, and well recorded; well worth experimenting with.

William SCHUMAN (1910-1992) Violin Concerto (1947-59) [32:38]
Leonard BERNSTEIN (1918-1990) Serenade (after Plato's Symposium) (1954) [30:25]
Robert McDuffie (violin); St Louis Symphony Orchestra/Leonard Slatkin - rec.1989. DDD.
EMI AMERICAN CLASSICS 5099920661151 [64:03] - from classicsonline.com (mp3, £5.99)


['McDuffie and the St. Louis Symphony are poised and lyrical, capable and musical, without quite setting me afire. In both works they are capably conducted by Leonard Slatkin who contributes to a pair of beautifully recorded well modulated performances.' - see review by Robert Hugill.

'Here are two tensile lyrical violin concertos continuing the romantic tradition yet without schmaltz.' - see review by Rob Barnett]

My colleagues have just about said it all, except that the transfers are good and that those who know only the lighter side of Bernstein should expect something more demanding.

Benjamin BRITTEN (1913-1976)
Spring Symphony, Op.44 (1949) [44:24]
Peter Grimes: Four Sea Interludes, Op.33a (1945) [16:20]
Dame Janet Baker (contralto), Sheila Armstrong (soprano), Robert Tear (tenor); St. Clement Danes School Boys' Choir; London Symphony Chorus; London Symphony Orchestra/André Previn
EMI ENCORE 0077776473659 [60:44] - from classicsonline.com (mp3) (£3.99)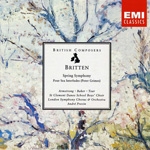 This is just about the best Spring Symphony on the market, not least because of the quality of the solo and choral singing - Janet Baker's contribution is especially welcome, while Robert Tear evokes memories of Peter Pears without the coloration that made Pears' voice unacceptable to many. With a recording which sounds well in mp3, this is superb value. If you don't know the Spring Symphony, a choral work with texts ranging from Spenser to Auden, this is the way to get to know it. The only reservation concerns EMI's use of the same recording of the Four Sea Interludes on other recordings - e.g. with Shostakovich's Fourth Symphony, also on the Encore label. If that's a problem or if you must have lossless sound, Chandos have their Richard Hickox recording of the symphony, coupled with the Welcome Ode and Psalm 150 to download from theclassicalshop.net (CHAN8855).

BIS recordings from eclassical.com

I've included a few BIS recordings from eclassical.com in previous Roundups, sometimes in tandem with Dan Morgan, and several of them have featured as Download of the Month. That doesn't mean that we haven't been uncritical at times, as in the case of the Messiaen la Nativité in the previous Roundup, but I wanted to feature some really recommendable items from their back catalogue. As always, these are available in 16-bit lossless sound for the same price as mp3 and that price is always very competitive, being based on length in seconds. Many are also available in 24-bit versions for a little more.

Johann Sebastian BACH (1685-1750)

I've included some recommendations from the BIS series of Bach Cantatas in earlier Roundups:

- Volume 10 - Cantatas 105, 179 and 186: BIS-CD-951 (December 2010)
- Volume 33 - Cantatas 41, 92 and 130: BIS-SACD-1541 (December 2010)
- Volume 48 - Cantatas 34, 98, 117 and 120: BIS-SACD-1881 (Download of the Month, July 2011/1)

The passionato.com links for Volumes 10 and 33 no longer apply: go to eclassical.com for Volume 10 - here - and Volume 33 - here.

Since I'm on record as saying that there should ideally be at least one Bach Cantata recording in each Roundup, I'll try to make up for those months that didn't qualify by recommending volumes 38, 39, 42 and 46.

Cantatas - Vol. 38
Falsche Welt, dir trau ich nicht, BWV 52 (1726) [14:18]
Ich habe genug, BWV 82 (1727) [22:10]
Ich armer Mensch, ich Sündenknecht, BWV 55 (1726) [14:23]
Ach Gott, wie manches Herzeleid, BWV 58 (1727) [13:54]
Carolyn Sampson (soprano); Robin Blaze (alto); Gerd Türk (tenor); Peter Kooij (bass)
Bach Collegium Japan/Masaaki Suzuki - rec.2006. DDD.
Pdf booklet with texts and translations included.
BIS BIS-SACD-1631 [66:00] - from eclassical.com (mp3, 16- and 24-bit lossless)

['The quality of the performances … easily matches the rest of the series - and the recorded sound is superb.' - see review by Peter Bright.]

Cantatas - Vol. 39
Also hat Gott die Welt geliebt, BWV 68 (1725) [14:05]
Er rufet seinen Schafen mit Namen, BWV 175 (1725) [14:51]
Gottlob! Nun geht das Jahr zu Ende (1725) [13:16]
Sie werden euch in den Bann tun, BWV 183 (1725) [13:46]
Ich bin ein guter Hirt, BWV 85 (1725) [15:09]
Carolyn Sampson (soprano), Robin Blaze (counter-tenor), Gerd Türk (tenor), Peter Kooij (bass)
Bach Collegium Japan/Masaaki Suzuki - rec. 2007. DDD.
Pdf booklet with texts and translations included.
BIS BIS-SACD-1641 [72:42] - from eclassical.com (mp3, 16- and 24-bit lossless)

['Overall, when measured against the immensely impressive standard set by Suzuki and BCJ, this is a slightly disappointing volume. However, this is due as much to the relatively uneven quality of the cantatas as the performances themselves. There are delightful individual movements, and the entire opening cantata is particularly memorable. I am deeply impressed with Carolyn Sampson's contributions, and I am convinced there are very few (if any) sopranos able to challenge her in the Baroque repertoire at present. Dmitry Badiarov also deserves special mention for his exceptional playing throughout four of the cantatas on this disc.' - see review by Peter Bright.]

Cantatas - Vol. 42
Alles nur nach Gottes Willen, BWV72 (1726) [15:07]
Liebster Jesu, mein Verlangen, BWV32 (1726) [22:46]
Meine Seufzer, meine Tränen, BWV13 (1726) [20:11]
Herr Gott, dich loben wir, BWV162 (1725) [15:51]
Rachel Nicholls (soprano); Robin Blaze (counter-tenor); Gerd Türk (tenor); Peter Kooij (bass)
Bach Collegium Japan/Masaaki Suzuki - rec.2008. DDD.
Pdf booklet with texts and translations included.
BIS-SACD-1711 [75:24] - from eclassical.com (mp3, 16- and 24-bit lossless)

[see review by William Hedley: 'Those collecting this series can … add this one in without hesitation.']

Cantatas - Vol. 46
Herr, Deine Augen sehen nach dem Glauben, BWV 102 (1726) [20:45]
Es ist dir gesagt, Mensch, was gut ist, BWV 45 (1726) [17:32]
Wer Dank opfert, der preiset mich, BWV 17 (1726) [15:09]
Es erhub sich ein Streit, BWV 19 (1726) [17:57]
Erschrecke doch (alternative version of tenor aria from BWV 102) [4:37]
Hana Blažíková (soprano), Robin Blaze (counter-tenor), Gerd Türk (tenor), Peter Kooij (bass)
Bach Collegium Japan / Masaaki Suzuki - rec.2009. DDD.
Pdf booklet with texts and translations included.
BIS BIS-SACD-1851 [76:24] - from eclassical.com (mp3, 16- and 24-bit lossless)

[Recording of the Month - see review by Peter Bright]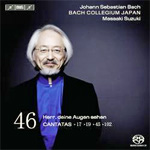 With the possible slight exception of Volume 39 - and I think that PB was being a little harsh even there - it's apparent that I could issue a blanket recommendation of the whole series. As all these downloads are also offered in excellent 24-bit sound and come complete with the booklets of notes, texts and translations, I can't think of any reason why any Bach lover would not wish to download as many as he or she can afford. By all means include some of John Eliot Gardiner's very fine recordings on his own SDG label, too, and don't forget that amazon.co.uk have the older Telefunken recordings from Harnoncourt and Leonhardt at ridiculously inexpensive prices, still well worth hearing, but BIS and Suzuki are probably the most consistently recommendable and eclassical.com the place to download them.

Georg Frideric HANDEL (1685-1759) Concerti Grossi Op.6 (1739)
CD 1
No.1 in G, HWV319 [11:15]; No.2 in F, HWV320 [11:49]; No.3 in e minor, HWV321 [11:36]; No.4 in a minor, HWV322 [11:28]; No.5 in D, HWV323 [14:50]
CD 2
No.6 in g minor, HWV324 [15:16]; No.7 in B flat, HWV325 [13:36]; No.8 in c minor, HWV326 [15:05]; No.9 in F, HWV327 [12:38]; No.10 in d minor, HWV329 [13:54]
CD 3
No.11 in A, HWV329 [16:29]; No.12 in b minor, HWV330 [11:39]
Arte dei Suonatori/Martin Gester - rec. 2007. DDD/DSD
Pdf booklet of notes included
BIS BIS-SACD-1705/06 [3 CDs: 62:32 + 72:03 + 29:04] - from eclassical.com (mp3, 16- and 24-bit lossless)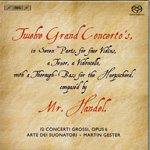 ['I just have to admit it, this is the best set of Handel's Concerti Grossi Op.6 I know; Hogwood and Harnoncourt included… Don't accept second best, sir; insist on Gester!' - see review by Dominy Clements.]

I'm not going to ditch Hogwood, Standage, Pinnock or the Avison Ensemble set (Linn CKD362) which I recommended as Download of the Month in July 2010, but I shall certainly be playing these recordings alongside them - a little slower than most in places but still full of life. I'm now really stuck as to what will be my benchmark for this wonderful music - less immediately appealing than the Op.3 set but much better constructed. The recording is excellent, especially in 24-bit format.

Even though the SACDs retail as three-for-two (around £24 in the UK), eclassical.com's price of $19.08 (mp3 or 16-bit flac) or $28.61 (24-bit) is still very competitive - but so is the Linn set at prices ranging from £13 (mp3) to £25 for 24-bit.

Georg Frideric HANDEL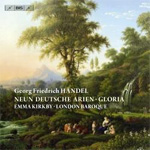 Neun Deutsche Arien (Nine German Arias), HWV202-10 [42:27]
Trio Sonata in F, HWV 392 [10:42]
Gloria [15:41]
Emma Kirkby (soprano); London Baroque (Ingrid Seifert, Richard Gwilt (violin); Charles Medlam (cello); Terence Charlston (harpsichord and organ)) - rec.2006. DDD.
Pdf booklet included with texts and translations.
BIS-CD-1615 [69:47] - from eclassical.com (mp3, 16- and 24-bit lossless)

Handel in Italy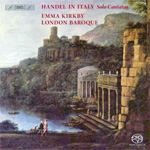 Notte placida e cheta, HWV142 (1707) [15:07]
Un' alma innamorata, HWV173 (1707) [13:30]
Concerto a Quattro in D [5:42]
Figlio d'alte speranze, HWV113 (1706) [9:59]
Agrippina condotta a morire or Dunque sarà pur vero, HWV110 (1709) [22:05]
Emma Kirkby (soprano); London Baroque (Ingrid Seifert, Richard Gwilt (violins); Charles Medlam (violoncello); Terence Charlston (harpsichord)) - rec. 2007. DDD.
BIS BIS-SACD-1695 [67:23] - from eclassical.com (mp3, 16- and 24-bit lossless)

Two aspects of Handel's musical personality are encompassed here: his German background and the Italianate style which he developed as a young man in that country (1706-1710) and which remained a prime element in his music for ever after. There could hardly be better interpreters of his music than Emma Kirkby and London Baroque, who reprise their earlier success for EMI in the German Arias, while the Italian programme splendidly supplements the Eloquence reissue of Emma Kirkby's earlier Oiseau Lyre programme of (different) Italian Cantatas (476 7468, well worth its budget price - see review and review.) If you must choose only one, go for the Italian Cantatas.

For details of the recent discovery of the Gloria on the first disc, see Musicweb International article here.

Anders HILLBORG (b. 1954)
King Tide (1999) [13:33]
Exquisite Corpse (2002) [13:28]
Dreaming River (1998)* [20:14]
Eleven Gates (2005-2006) [18:59]
1. Drifting into D major [1:51]
2. Suddenly in the Room with Chattering Mirrors [2:09]
3. D major Still Life [00:24]
4. Confused Dialogues with Woodpecker [00:57]
5. Suddenly in the Room with Floating Mirrors [00:44]
6. Into the Great Wide Open [3:56]
7. Meadow of Sad Songs [2:47]
8. Toy Pianos on the Surface of the Sea [00:50]
9. String Quartet Spiralling to the Seafloor [00:45]
10. Seafloor Meditation (Whispering Mirrors at the Sea floor) [1:45]
11. Waves, Pulse and Elastic Seabirds [2:51]
*Mårten Larsson & Ulf Bjurenhed (Chinese oboes)
Royal Stockholm Philharmonic Orchestra/Sakari Oramo (Tide), Alan Gilbert (Corpse) & Esa-Pekka Salonen (Gates) - rec.2007/2010. DDD/DSD Pdf booklet included
BIS-SACD-1406 [67:27] - from eclassical.com (mp3, 16- and 24-bit lossless)

Over to Dan Morgan for this one: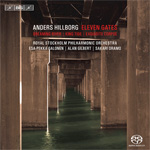 Anders Hillborg's rejection of what he calls 'sado-modernism' will tempt enquiring listeners keen to try modern music without having to endure an acid bath. This Swedish composer, rooted in pop and electronic music but who now writes for orchestras, certainly seems comfortable with the idea of 'accessibility', which some contemporaries might regard as a sell-out. In the event, Hillborg has received a number of commissions from high-profile bands - the Berliner Philharmoniker among them - and has firm advocates in the conductors Sakari Oramo, Alan Gilbert and Esa-Pekka Salonen. And let's not forget those canny people at BIS, who've long championed out-of-the-way repertoire.

The first piece on this download - reviewed here in its 24-bit form - is pretty straightforward; entitled King Tide, it has a breathtaking shimmer and pulse that certainly impressed me at the outset. Having lived with the piece for a week I'm pleased to report it's retained its mesmeric power, the fine oscillations superbly caught by the BIS team. One could be uncharitable and call it a superior sci-fi soundtrack, but the piece has a complexity, a symphonic heft, that takes it beyond such trifles. The virtuosity of the Stockholm band is similarly assured, all of which makes for a most rewarding listen.

The glacial glissandi of Exquisite Corpse may be punctuated by fragments and interjections, yet the music maintains a distinct, unbroken dramatic curve from first to last. That said, it's the sonorities that really catch one's ear, the atavistic percussion similarly arresting. Again one senses an organic unity in Hillborg's writing, the piece building to a riotous peak before subsiding into music of almost Straussian opulence and lyricism. This really is demonstration material, and I can only guess at how immersive this must be in multichannel.

The reedy Chinese oboes in Dreaming River add more bright threads to Hillborg's musical tapestry. There's a virility of rhythm here that's intoxicating, controlled outbursts contrasting most effectively with quieter, more liquid passages, And what a haunting, evanescent close. One might be tempted to think of these as programmatic pieces - they have titles, after all - but I find them more rewarding in the abstract, as exercises in shifting dynamics, rhythms and textures. Even then, Hillborg's music remains refreshingly free of the didactic, bullying style one associates with all too many contemporary pieces.

The issue of programmes as narrative aids resurfaces in Eleven Gates, each section of which purports to be a 'gateway' to odd, Carrollian worlds. In the booklet Sara Norling underlines the work's surrealist credentials - the titles certainly suggest as much - but I don't find that terribly helpful in getting to grips with the music. Indeed, I often feel it's best to read these notes and promptly forget them as one listens. It's a lot more fun spotting the allusions in this score; for instance, 'Drifting into D major' has an elemental ebb and flow that reminds me of the start to Das Rheingold. Very different from the spikily aphoristic 'Suddenly in the Room with Chattering Mirrors'; well, not quite, for this section ends with a Wagnerian flourish too.

One passes through all these apertures at surprising speed, from the static, half-minute 'D major Still Life' through to the Bartók-flavoured pianism of 'Confused Dialogues with Woodpecker'; in turn this slips seamlessly into the swoop and glide of 'Suddenly in the Room with Chattering Mirrors'. And then there's the stirring, CinemaScope presentation of 'Into the Great Wide Open'. The latter has considerable sweep and power - there's a passing glimpse of Mahler's Ninth, I'm sure - the huge orchestral sound and lancing brass very well rendered. After the fray the tranquil 'Meadow of Sad Songs' offers welcome respite; and is it my imagination or is there a hint of Strauss again, this time of Eine Alpensinfonie?

It's a measure of Hillborg's compositional skill that he weaves these elements into the music without it sounding nakedly derivative. Moreover, he's adroit at stitching together passages of broad nobility and pure whimsy - the tiny tinkle of 'Toy Pianos on the Surface of the Sea', for instance. And then there's the chamber-like scale and sonority of 'String Quartet Spiralling to the Seafloor', which sits comfortably with the harp-led 'Seafloor Meditation'. And yet there's contrast aplenty here, the hard-driving 'Waves, Pulse and Elastic Seabirds' bringing the work to a bracing close.

This is a most stimulating collection, and sonically it's one of BIS's best. It may not satisfy the 'sado-modernists' among you, but then it's not anodyne either.

Dan Morgan
http://twitter.com/mahlerei
***
Music for Henry V and the House of Lancaster
'ROY HENRY' (1386-1422) Gloria [3:42]
The Office for St John of Bridlington: Antiphons and Responsory [7:04]
Asperges me, Domine (chant, with faburden) [2:40]
Kyrie: Missa Quem malignus spiritus [6:58]
Gloria: Missa Quem malignus spiritus [6:27]
Ave regina cælorum (chant) [1:14]
Leonel POWER (d.1445) Ave regina cælorum [2:53]
Credo: Missa Quem malignus spiritus [7:34]
Gloriosæ virginis (chant) [0:52]
Leonel POWER Gloriosæ virginis [1:39]
Sanctus and Benedictus: Missa Quem malignus spiritus [7:37]
[?Thomas] DAMETT (d.1436/7) Salvatoris mater / O Georgi Deo [4:12]
John COOKE (c1385-?1442) Alma proles / Christi miles [3:50]
[?Nicholas] STURGEON (d.1454) Salve mater / Salve templum [3:03]
Agnus Dei: Missa Quem malignus spiritus [6:18]
Ite missa est … Agimus tibi gratias (Lucca Choirbook) [2:00]
Tota pulchra es (chant) [2:01]
Walter FRYE (d.1475) Ave regina cælorum a 4 [2:35]
The Binchois Consort (Mark Chambers, Timothy Travers-Brown (alto); Richard Butler, Edwin Simpson, Matthew Vine, Christopher Watson (tenor))/Andrew Kirkman
Pdf booklet with texts and translations included
HYPERION CDA67868 [72:47] - from hyperion-records.co.uk (mp3 and lossless)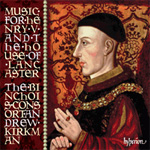 This recording seeks to capture some of the brilliance of the court of Henry V, victor of Agincourt, and of the music associated with his royal chapel and that of his son, Henry VI, both of whom had a special devotion to St John of Bridlington. The music of some of the greatest figures of English music in the fifteenth century, a time when it was as highly regarded internationally as English needlework in rich ecclesiastical vestments, is included here. Power and Frye, who were especially famous and justly so, are joined by lesser musical luminaries, including the presumed author of the opening Gloria, 'Roy Henry', no less than Henry V himself. The antiphons and responsory from the following Office of John of Bridlington are taken from one of the few pre-reformation sources to have survived, the Wollaton Antiphonal and chant is interspersed throughout the Mass Quem malignus spiritus which forms the backbone of the music and refers to the evil spirit which John of Bridlington cast out.

As Philip Weller's excellent notes point out, the Mass setting, the cantus firmus for which is taken for the Office of John of Bridlington, and preserved in fragmentary form in the Lucca Choirbook, was clearly composed for a group of accomplished singers and the Binchois Consort provide just that, to build on their earlier successes for Hyperion. They appear to have absorbed modern research which suggests that the vowel shift which divides modern English from earlier forms took place earlier than previously believed and even affected the pronunciation of Latin. (Credo and Deum pronounced as if with the sound of the modern English ee.) With good recording - lossless no more expensive than mp3 - and an even more sumptuous booklet than Hyperion's usual, lavishly illustrated from the Wollaton Antiphonal, this has to be a strong recommendation for lovers of late-medieval music.

Joseph HAYDN (1732-1809) String Quartets Op 20 'Sun'
CD 1 [79:53]
No 1 in E flat [26:04]
No 2 in C [26:55]
No 3 in g minor [26:54]
CD 2 [80:25]
No 4 in D [30:18]
No 5 in f minor [30:06]
No 6 in A [19:59]
The London Haydn Quartet (Catherine Manson (violin); Michael Gurevich (violin); James Boyd (viola); Richard Lester (cello)) - rec. September 2010. DDD.
Pdf booklet included.
HYPERION CDA67877 [2 CDs for price of one: 79:53 + 80:25] - from hyperion-records.co.uk (mp3 and lossless)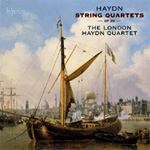 The first thing to note is that this is a tremendous bargain - two well-filled CDs for the price of one, containing performances of the first set of quartets by the 'father' of the genre which are regularly performed. The London Haydn Quartet, who play with gut strings and classical bows, have already recorded the earlier Op.9 and Op.17 sets, each also available as a 2-for-1 offer, and made good cases for at least some of the works included there, but Op.20 brings us onto more mature territory, with performances to match.

Michael Greenhalgh made the Op.17 set Recording of the Month (see review). There's less competition there, but in Op.20 the London players are up against stiff competition from the Quatuor Mosaïques (Astrée Naïve E8802, also available as a 2-for-1 offer at around £12), who also perform in period fashion, and the Lindsay Quartet on two hard to obtain ASV recordings. Download the Mosaïques from classicsonline.com for £9.98 - here - a very reasonable price for such fine performances, but still more expensive than the Hyperion; that the Hyperion also comes in lossless sound for the same price of £7.99 tips the balance.

Felix MENDELSSOHN (1809-1847) Elijah (1846) (sung in English)
Isobel Baillie (soprano), James Johnston (tenor), Gladys Ripley (contralto), Harold Williams (bass-baritone); Ernest Cooper (organ); Huddersfield Choral Society (chorus master Herbert Bardgett); Liverpool Philharmonic Orchestra/Sir Malcolm Sargent
[from Columbia DX1408-23, 78 rpm, rec.1947. ADD/mono]
BEULAH EXTRA 22-23BX13 [2CDs: 64:22 + 59:48] - from eavb.co.uk or as 56PD13 from iTunes (mp3, from 21 September 2011)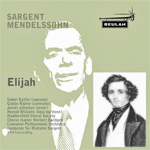 Recorded to celebrate the centenary of Mendelssohn's death in 1947 in a slightly cut performance by forces better known for all-but-the-kitchen-sink Handel's Messiah, the reissue just misses the bicentenary of his birth but is none the less very welcome. I don't mean to sound dismissive: this is the kind of performance that first introduced me both to Messiah and to Elijah, though on the other side of the Pennines from Huddersfield and, indeed, it's much more appropriate for Mendelssohn than for Handel. Oddly enough, when reviewed in 1947 it was thought a bit new-fangled: WRA wrote 'the soloists are sound if not always like those I was brought up to judge by'. In fact the soloists are more than merely 'sound' and I'm surprised to find them so described; Isobel Baillie in particular was a noted soprano soloist in Messiah and Elijah and at 52 still in good voice. By today's standards, the female soloists sound a trifle plummy and their male counterparts a bit stentorian: think the sung equivalent of Pathé newsreel speak if you can remember that far back.

Autres temps … indeed. My own benchmark, itself somewhat dated now, is provided by Wolfgang Sawallisch on Philips Duo, sung in German. (Formerly on 438 3682 and worth reissuing by Eloquence, though the fact that they have chosen the older Josef Krips recording probably rules that out.) The language is largely irrelevant, since, like Haydn's Creation, Elijah/Elias has led a bilingual existence almost from the start and many will prefer English, especially as the Sawallisch came without texts.* On the other hand, the large size of the chorus and 1947 recording mean that only the soloists' words are really clear. More to the point, the Dresden Staatskapelle provide fresher accompaniment than the RLPO who, even in 1947, were described as plodding in Mendelssohn's more 'square-toed' music. On the other hand there's no doubting Sargent's absolute commitment to the music. He was something of a man for all seasons, turning his hand to performances of all kinds of music that were always very competent though rarely more, but his Messiah and Elijah transcend his usual standard. Try the closing chorus of Part 1 if you want to be uplifted.

The recording was thought to leave something to be desired in 1947, especially in terms of balance, so I would have expected some pretty dire sound had Barry Coward of Beulah not alerted me to the quality of what he had conjured out of the ancient grooves. Hi-fi it certainly isn't, but it is remarkably good for its age, with just a trace of surface noise (at the ends of sides, I think). I can well believe that those who know the Huddersfield sound think it perfectly recreated here. Thus an important historical document becomes more of a pleasure too.

There's a Classics for Pleasure bargain release of a later (1950s) Sargent recording, again with the Huddersfield and Liverpool forces but with different soloists who were preferred at the time (5759752), available for around £7.50 in the UK. If you're going for the real thing, however, it's the 1947 version that you want and Beulah give it to you for a small fraction of what those 16 78 rpm discs cost and without all that side-turning. (Though an automated version was available, the kind boggles at the thought of balancing 16 shellac discs on an auto-changer.)

* both English and German texts are readily available online.

Nikolay Andreyevich RIMSKY-KORSAKOV (1844-1908)
Capriccio espagnol, Op. 34 [16:20]
Overture to May Night [8:26]
Overture to The Tsar's Bride [6:12]
Overture on Russian Themes, Op. 28 [11:34]
Overture to The Maid of Pskov [5:25]
Dubinushka, Op. 62 [3:49]
Russian Easter Overture, Op. 36 [15:16]
Seattle Symphony/Gerard Schwarz - rec.2010/2011. DDD.
Pdf booklet included.
NAXOS 8.572788 [67:05] - from classicsonline.com (mp3) or stream from Naxos Music Library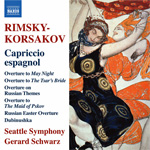 This follows hard on the heels of Schwarz's Sheherazade, also on Naxos, which has won golden opinions all round: see review (Bargain of the Month), review and March 2011/1 Roundup. This is rousing music but it's also music to wallow in and Schwarz gives you both aspects - a brisk account of Capriccio espagnol gets us off to a good start, followed by a May Night that begins with all the mystery of Ansermet's classic account but in better sound. The Overture on Russian Themes almost brings the house down, but leave just enough voltage for the Easter Overture, my favourite of all Rimsky favourites, to finish in rousing style.

With good mp3 sound, this is a strong recommendation, unless you already have the Neeme Järvi budget-price 2-CD set on Chandos of May Night and the operatic suites (CHAN10369) and/or the Fantasy on Russian Themes (CHAN10491, with music by Taneyev), both of which I recommended in December 2008. Good alternatives for the Easter Overture come on Hyperion Helios CDH55137 (Svetlanov, with Antar) and Chandos Collect 2-for-1 CHAN6613 (Kitajenko, with Symphonies 1-3 and the Piano Concerto), both recommended in March 2010.

Gabriel FAURÉ (1845-1924)
Requiem, Op.48 (1893 version, with lower strings) [34:45]
Ave verum corpus, Op.65/1 [3:37]
Tantum ergo sacramentum, Op.65/2 [2:28]
Ave Maria, Op.67/2 [1:55]
Maria, Mater gratiæ, Op.47/2 [2:40]
Cantique de Jean Racine, Op.11 (ed. Rutter) [6:40]
Messe Basse [10:15]
Caroline Ashton (soprano); Stephen Varcoe (baritone); John Scott (organ); Simon Standage (violin); Cambridge Singers; City of London Sinfonia/John Rutter - rec. c.1983. DDD
COLLEGIUM COLCD109 [61:29] - from classicsonline.com (mp3)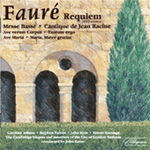 I'm less impressed by the fact that Rutter employs the 1893 version, with lower strings but no violins, than by the sheer spirituality of this performance of the most gentle of Requiems, Duruflé's - closely modelled on the Fauré - only excepted. This recording first released in 1984 on the defunct Conifer label and (twice) reissued by Rutter's own Collegium, has justifiably become something of a classic.

I obtained this as a lossless download from passionato.com, in which format it sounds very well but, in view of the problems with this site that I've mentioned, I've given an additional link to the classicsonline.com version in reliable 320kb/s mp3. They have another download, derived from the most recent release (2010) on CSCD520 - here - which you may prefer because it comes with the booklet.

There's also an excellent version from the Corydon Singers on Hyperion CDA30008, with couplings almost identical to those on Collegium, or more generously coupled with the Duruflé Requiem: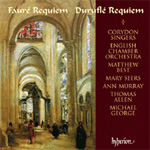 Gabriel FAURÉ Requiem Op.48 (1893 version)* [36:18].
Maurice DURUFLÉ (1902-1986) Requiem (third version)** [41:26]
Mary Seers (soprano)*; Michael George (baritone)*; Ann Murray (soprano)**; Thomas Allen (baritone)**; Corydon Singers; John Scott*, Thomas Trotter** (organ); English Chamber Orchestra/Matthew Best - rec.1985. DDD.
Pdf booklet with texts and translations included.
HYPERION CDA67070 [77:07] - from hyperion-records.co.uk (mp3 and lossless)

For this version of the Fauré, please refer to the October 2010 Roundup. The Rutter version may have just a slight edge in Fauré but for those who would also like the Duruflé the Best version represents formidable value.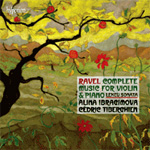 Guillaume LEKEU (1870-1894)
Violin Sonata in G (1892-3) [33:40]
Maurice RAVEL (1875-1937)
Violin Sonata No 1 in A, posthume (1897) [14:04]
Violin Sonata No 2 in G (1923-7) [18:10]
Tzigane: rapsodie de concert (1924) [9:56]
Berceuse sur le nom de Gabriel Fauré (1922) [3:07]
Alina Ibragimova (violin); Cédric Tiberghien (piano) - rec. November 2010. DDD.
Pdf booklet included
HYPERION CDA76820 [78:55] - from hyperion-records.co.uk (mp3 and lossless)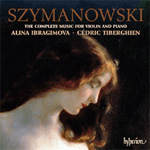 Karol SZYMANOWSKI (1882-1937) The Complete Music for Violin and Piano
Nocturne and Tarantella, Op. 28 (1915) [11:40]
Mythes (La fontaine d'Aréthuse; Narcisse; Dryades et Pan) Op. 30 (1915) [21:02]
Romance in D, Op. 23 (1910) [6:10]
Violin Sonata in d minor, Op. 9 (1904) [20:03]
Three Paganini Caprices, Op. 40 (1918) [14:24]
Lullaby 'La Berceuse d'Aïtacho Enia', Op. 52 [3:56]
Alina Ibragimova (violin); Cédric Tiberghien (piano) - rec. July 2008. DDD
Pdf booklet included
HYPERION CDA67703 [76:15] - from hyperion-records.co.uk (mp3 and lossless)

There's something old and something new here. I'm grateful to Hyperion not only for their new recording of Ravel's music for violin and piano - well deserving of their own designation as Recording of the Month - but also for the ability to dig out the earlier Szymanowski recording from their back catalogue. The two together as downloads will cost about as much as one full-price CD and if you choose one of the lossless formats there should be no difference in quality.

Rob Barnett thought the earlier recording a natural and inspired choice for an accessible collection of this repertoire - see review - and I see no reason not to describe the Ravel and Lekeu in the same manner. The Lekeu is somewhat undemonstrative by comparison with Ravel, fragrant rather than forceful, so it was an excellent idea to place it first and for the performers to resist over-egging the pudding here and in the earlier Ravel Sonata.

We're not short of good performances of the Ravel G major Violin Sonata, variously coupled, sometimes with Tzigane. My benchmark remains the Grumiaux/Hajdu, now on Eloquence 468 3062, at budget price, with the Ravel Piano Trio and Debussy's cello and violin sonatas, of which Jonathan Woolf wrote that none is better - see review - but no other version exactly matches the coupling here and there's always room for performances and recordings of the calibre of the Hyperion. The performers capture not only the bluesy aspects of the G major Sonata but all the other moods of the music.

Howard HANSON (1896-1981)
Symphony No. 1 'Nordic' (1922) [29:23]
The Lament for Beowulf (1925)* [19:11]
Seattle Symphony and *Chorale/Gerard Schwarz - rec.1988, 1990. DDD.
Pdf booklet with sung texts included
Previously available from Delos International.
NAXOS AMERICAN CLASSICS 8.559700 [48:34] - from classicsonline.com (mp3) or stream from Naxos Music Library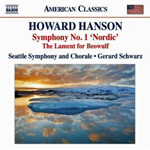 Naxos already had a recording of the Nordic Symphony in their catalogue, conducted by Kenneth Schermerhorn (8.559072, with Merry Mount) - see review by John Phillips, which includes a comparison with the Schwarz version, then on Delos. I haven't heard that other version but I doubt that it excels Schwarz, except in terms of more generous playing time. JP thought the comparison swings and roundabouts. Now that Hanson's own Mercury recordings seem to be no longer readily available (see below and review by Rob Barnett), though they won't be getting thrown out from my collection, this is the version to have. The mp3 transfer does justice to the recording.

Passionato.com list Hanson's own Mercury recording of the Third Symphony and Lament for Beowulf but, in common with all my recent experiences from this source, my 'payment' - actually a reviewer's code - was accepted but the download failed. [NB: passionato.com have promised to follow up any reports of failed downloads.] Amazon.co.uk have the 4-CD Mercury set Hanson conducts Hanson to download for £15.99 - here.

Kenneth LEIGHTON (1929-1988)
Te Deum laudamus (1964) [9:58]
Missa Brevis Op 50 (1967) [13:08]
Lully, lulla, thou little tiny child Op 25b [3:12]
Crucifixus pro nobis Op 38 (1961) [21:57]
The Second Service Op 62 (1971) [12:06]
An Evening Hymn (1979) [8:54]
Let all the world in every corner sing (1965) [3:35]
Neil Mackie (tenor); The Choir of St Paul's Cathedral; Andrew Lucas (organ)/John Scott - rec.1992. DDD.
Pdf booklet with texts included.
HYPERION HELIOS CDH55195 [73:30] - from hyperion-records.co.uk (mp3 and lossless)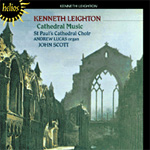 This recording needs you! It's drifted through no fault of its own into the 'please buy me' category, where it's been available for £2.80 on CD. It won't still be there when you read this, but it really is worth buying as a download for £5.99, preferably in lossless format. [NB: Until the end of September, all Helios CDs and downloads are discounted by 20%. That includes their October and November releases on the Helios label, which are already available for download.]

No sooner had it been removed from the list than it was replaced by another recording of Kenneth Leighton's music, The World's Desire (CDA67641). I publicised its first appearance among the waifs and strays in the March 2011/2 Roundup, directed readers to John Quinn's review (Recording of the Month) and urged its purchase in one form or another, yet here it is again. What is it that we aren't doing sufficiently well to persuade enough listeners to try Leighton's blissful music? Perhaps I might have more success if I directed you towards a new 61-minute recording of his chamber music for cello and piano, available from classicsonline.com - here - or to stream from Naxos Music Library, on British Music Society BMS439CD (mp3).

Indian Classical Music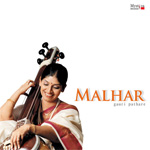 Raga Gaud Malhar [27:20]
Raga Sur Malhar [28:44]
Raga Basant [14:57]
Gauri Pathare (voice and sitar) - rec.2007. DDD(?)
MYSTICA MUSIC [71:01] - from emusic.com (mp3)

I'm no expert on Indian classical music but this sounds pretty authentic to me. At just £1.26 or less, as opposed to £6.99 from amazon.co.uk, you can afford to experiment. Malhar is the name of a traditional Indian raga associated with the coming of rain and Raga Basant is associated with the Sikh tradition. The name is derived from Sanskrit vasant, Spring. There's more information on the Mystica Music webpage - here - but it would be nice to have access to texts and translations.

Classical Britain
Gustav HOLST (1874-1934)
St Paul's Suite [3:03 + 1:51 + 4:20 + 3:15]
Boyd Neel String Orchestra/Boyd Neel
Somerset Rhapsody [9:24]
Bournemouth Symphony Orchestra/Charles Groves
Frederick DELIUS (1862-1934)
North Country Sketches (1913/14) [7:13 + 4:04 + 5:48 + 7:33]
Royal Philharmonic Orchestra/Sir Thomas Beecham
Grace WILLIAMS (1906-1977)
Fantasia on Welsh Nursery Tunes (1940) [10:07]
London Symphony Orchestra/Mansel Thomas
Percy GRAINGER (1882-1961)
Handel in the Strand* [3:46]
Country Gardens* [1:34]
Shepherd's Hey* [1:39]
Mock Morris [2:58]
Molly on the Shore [3:28]
Early one Morning [3:31]
Irish Tune from County Derry [3:33]
Percy Grainger (piano); Leopold Stokowski and his Orchestra
Rec. 1948-1957. ADD/mono
BEULAH 1PD58 [77:07] - from iTunes (mp3, from 14 September 2011)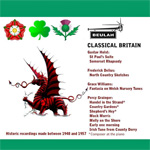 This geographical-musical tour is really a useful peg on which to hang refurbishments of some recordings from the late 1940s and 1950s. Of course, not every title has a geographical tag, some obvious titles such as Brigg Fair are omitted and, strictly speaking, County Derry is not in Great Britain, though it is part of the UK. EMI have had a similar idea for a 2-CD anthology The British Composers Guide to Britain which casts its net rather wider and contains only one overlap with this Beulah release in the Dargason movement from the St Paul's Suite.

Boyd Neel and his orchestra provided some staple recordings for Decca in the 1940s and 1950s and the four movements of Holst's St Paul's Suite are among their best offerings, presented here in thin but very acceptable sound.

The Somerset Rhapsody has been rescued from Classics Club, later reissued on a crackly Saga LP for 10/- (£0.50). It's the sort of music that was meat and drink to Sir Charles long before he became the Grand Old Man of British music and it sounds well. Beecham's Delius has even more classic status, as evidenced by this mono recording of North Country Sketches, which I first encountered on a Philips GL-label LP - originally recorded on 78s (Columbia LX1399-41), and sounding every bit of it on LP as I recall, despite Trevor Harvey's comments to the contrary when the Philips LP was released in 1964. I wouldn't have recognised the glowing Beulah transfer as the same recording - either the Columbia original was better than the Philips reissue or Barry Coward has worked magic on it, as he so often does.

The new reissue makes a welcome supplement to the mono and stereo recordings of Beecham's Delius included in the recent 6-CD anthology of British music from EMI (see Rob Barnett's review) which was my Bargain of the Month in July 2011/1. An earlier (1945) recording of the Sketches with the LPO features in an all-Delius programme on Somm SOMM-BEECHAM10*, but includes Autumn and Winter only, so the Beulah version is all the more welcome. There are too few recordings of this work to ignore either of these Beecham versions and, in any case, his way with Delius is unbeatable. Vernon Handley on Chandos is the sole current alternative for the complete thing, best obtained on the 2-for-1 The Essential Delius, CHAN241-37, reviewed in January 2009. Mark Elder and the Hallé have recorded The March of Spring on their excellent recent anthology English Spring (CDHLL7528 - Recording of the Month: see review, review and August 2011/1 Roundup: Download of the Month).

Though reissued with the Holst on a 10" Decca LP in 1951, the Fantasy on Welsh Nursery Tunes had been released on 78s in 1949. It's an attractive and very competent work, though slightly banal after the Delius, alternatively to be found in the context of other music by this little-known composer on Lyrita SRCD.323 - see review and review - available on CD from Musicweb International here; neither emusic nor amazon, the usual sources for Lyrita downloads, appears to offer it. Again the recording belies its 78 rpm origin in the Beulah transfer.

There had to be some Percy Grainger half a century after his death and these Stokowski recordings are just the thing to round off this recording in style. Grainger himself joins in the first three items without the faux pas that spoil some of his other recordings. Excellent transfers again, apart from a slightly sharp cut-off of the ambiance after some tracks; if it wasn't there, I suppose that's better than creating it artificially and it's not much of a problem.

* download in mp3 or lossless from theclassicalshop.net - here - but please note that at £9.99 the lossless version is actually more expensive than the CD as offered by some online dealers.