OCTOBER 2010 DOWNLOAD ROUNDUP
Brian Wilson


DOWNLOAD OF THE MONTH

Johann Sebastian BACH (1685-1750) Keyboard Works
Angela Hewitt (piano) - rec. 1994-2008. DDD.
See MusicWeb International review for full track-listings.
HYPERION CDS44421/35 [15 CDs: 17:39:00] - from Hyperion (mp3 and lossless)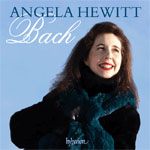 If forced to contemplate which music he would try to rescue from a burning house, Dominy Clements opted for this set, which brings together Angela Hewittís survey of Bachís keyboard music - see review. My priorities might not be the same - his other choices are all heavily piano-dominated - but Hewittís recordings are an exception to my rule about disliking piano versions of JSBís music. I almost chose one of her recordings of Bach as one of my Top 30 Hyperion Downloads but, in the event, made Christopher Herrick my choice for that composer (CDA66434), opting instead for Hewittís Beethoven (CDA67633, with Daniel Müller-Schott). I actually sneaked in her Bach by the back door by referring to it in my comments on the Beethoven, so Iím delighted to endorse DCís choice of this box set as my Recording of the Month.
The CD box slashes the price of the individual discs by about half; downloading reduces the price still further to £60 in either format. Be warned that there are 370 tracks to download and only 10 days to complete the operation, so a little patience will be required. It really is time that Hyperion adopted the more user-friendly Adobe download manager used by almost all the other major players, or the Java platform which Chandos now employ. Meanwhile Google Chrome and Safari, especially the former, work well with Hyperion.
Those not into huge albums should bear in mind that individual works remain available, separately priced. Two of the discs from the series are due to be released in October 2010 as part of Hyperionís 30th-anniversary celebratory series: Volume 1 of the Bach Keyboard Concertos, Nos.1, 7 and 5, with the Australian CO and Robert Tognetti (CDA30003) and the 1999 version of the Goldberg Variations (CDA30002). The Herrick Bach recording mentioned above will also be included in the series (CDA30004). For full details please see the end of this Roundup.

BARGAIN OF THE MONTH
Protégé
Franz LISZT (1811-1886) Piano Sonata in b minor (1852-53) [31:10]
Julius REUBKE (1834-1858) Piano Sonata in b-flat minor (1857) [29:00]
Anthony Hewitt (piano) - rec. Potton Hall, Suffolk, 23-24 January 2006. DDD
DIVINE ART DDA25064 [60:10] - from eMusic (mp3)


This is one of eMusicís best bargains: charging per track, some of their downloads work out very expensively, but Bruckner and Mahler symphonies, with only four movements per CD, are extremely inexpensive. With just two tracks for an hour of music, this is an even greater bargain, potentially less than 50p. With performances and recording every bit as good as Robert Costin indicates in his review - here - this must be a strong recommendation. The download comes at an acceptable 224kbps (Liszt) and the maximum 320k (Reubke). Only the notes to which RC refers are missing, of course.
DISCOVERY OF THE MONTH
Jonathan DOVE (b. 1959)
Bless the Lord, O my soul (2000) [5:43]
Missa brevis (2009) [13:41]
I am the day (1999) [7:42]
Wellcome, all wonders in one sight! (1990) [5:10]
The Star-Song (2008) [3:24]
The Three Kings (2002) [4:54]
Run, shepherds, run! (2001)* [5:28]
Ecce beatam lucem (1997) [6:56]
In beauty may I walk (1998) [3:42]
Seek him that maketh the seven stars (1995) [6:41]
Into thy hands (1996) [7:02]
Wells Cathedral Choir; Jonathan Vaughn organ; (with Wells Cathedral School Chapel Choir*)/Matthew Owens - rec. Wells Cathedral, June 2009. DDD.
Texts and translations available as pdf download
HYPERION CDA67768 [70:23] - from Hyperion (mp3 and lossless)

Several of the works here are receiving their first recordings, notably the impressive Missa brevis, so the CD is a discovery not only for me - I hadnít heard any of Jonathan Doveís music before - but for the listening public at large. With excellent performances and recording and a booklet with striking cover and splendid notes, this is well worth trying; listen to any of the extracts on the Hyperion webpage and youíll want to purchase. As usual the download comes at a considerable saving.

William BYRD (1543-1623) Complete Keyboard Music
Davitt Moroney (harpsichord, muselar (virginals), clavichord and organ)
HYPERION CDA44461/7 [7 CDs 492:57] - from Hyperion (mp3 or lossless)
Go from my window, BK79 [4:17]
O quam gloriosum est regnum, EKM48 [7:03]
The Bells, BK38 [5:37]
Miserere I, BK66 [1:00]
Miserere II, BK67 [1:21]
The Carmanís Whistle, BK363 [4:14]
A Pavion and The Galliard, BK23 [6:06]
Præludium to the Fancie, BK12 [0:40]
Fantasia, BK13 [8:05]
The Battell, BK94 - The Trumpetts [1:24]
The Galliard for the Victorie, BK95 [1:59]
Pavan and Galliard 'Johnsonís Delighte', BK5 - The Galliard [1:47]
Have with yow to Walsingame, BK8 [9:23]
The seventh pavian, Canon 2 parts in 1, BK74 [4:49]
My Lady Nevellís Grownde, BK57 [5:18]
Christe qui lux, BK121 EECM6/34 [2:26]
A Grounde, BK43 [2:59]
Ut, re, mi, fa, sol, la, BK64 [8:28]
Davitt Moroney (muselar (virginals); harpsichord; clavichord; organ)
HYPERION CDA66558 [77:16] - from Hyperion (mp3 and lossless)

Davitt Moroneyís 7-CD set, already available at a special price, 7 CDs for the price of 5 - see MusicWeb International 5-star review - is now further reduced to £48.93 on CD (much less from some dealers) or £34.99 as a download. I didnít have time to listen to the whole set, which is a boon for specialists in renaissance keyboard music, but listened instead to Hyperionís excellent and very full selection, on which Davitt Moroney plays all the instruments which feature on the set. I started with the premise that the single CD would be enough for most listeners but itís actually more likely to make you want the complete set.
Johann PACHELBEL (1653-1706) Vespers
Ingressus in c minor (orig in d minor) (P 92) [7:48]
Magnificat in C (orig. in E flat) (P 250) [19:46]
Ingressus in e minor (orig. in g minor) (P 96) [9:09]
Ingressus in G (orig. in A) (P 97) [6:27]
Ingressus in g minor (orig. in a minor) (P 98) [8:46]
Magnificat in F (orig. in G) (P 253) [6:11]
Ingressus in B flat (orig. in C) (P 88) [3:19]
Johann KRIEGER (1652-1735) Sonata à 5 in a minor [7:00]
Johann Caspar KERLL (1627-1693) Sonata à 5 in g minor [4:01]
The Kingís Singers; Charivari Agréable/Kah-Ming Ng
rec. 23-25 June 2009, St Andrewís Church, Toddington, Gloucestershire, UK. DDD
SIGNUM SIGCD198 [72:49] - availability: see below

Johan van Veen had some reservations about the 'open' quality of the Kingís Singers and the fact that we have not a complete Lutheran Vespers but different settings of the Ingressus, the opening Deus in adiutorium meum intende/Domine ad adiuvandum meum festina, O God make speed to save us/O Lord make haste to help us, and the Magnificat. (See review.) To which I could add that itís liturgical nonsense to end with one of these settings of the opening invocation. Iím so pleased, however, to have this wonderful music, a reminder that Pachelbel wrote more than his Greatest Hit - yes, there is, or was, a recording with that title - that Iím willing to forgive all. The playing of the Charivari and Kah-Ming Ngís direction also more than make up for any perceived vocal shortcomings.
The least expensive way to obtain this is from Amazon.co.uk (£6.99 in 256k mp3). Classicsonline and theclassicalshop have it in 320k for £7.99 and the latter also have it in lossless for £9.99. Theclassicalshop also have the booklet to download. Emusicís charge of 41 tracks is exorbitant - thatís almost the complete monthly allocation, costing £11.99 or more, for most subscribers. Members can stream from the Naxos Music Library.
The Rise of the North Italian Violin Concerto: 1690-1740.
Volume One: The Dawn of the Virtuoso


Francesco NAVARA (fl.1695-1699) Sinfonia/Sonata à 5 in C [5:37]
COMPOSER X (fl.c.1695) Laudate pueri Dominum: à voce sola et 5 strumenti, RV Anh.30 [19:21]2
Giovanni LEGRENZI (1626-1690) 3 Balletti e Correnti à 5, from Op.16 (1691): Balletto II in G [0:42]; Corrente II in G [1:23]; Ballatto IV in E [1:52]; Corrente IV in E [1:06]; Balletto VI in F [1:57]; Corrente VI in F [0:34]
Francesco NAVARA (fl.1695-1699) Sinfonia/Sonata à 5 in A (1697) [5:43]
Tomaso ALBINONI (1671-1751) Concerto IV in G, Op. 2/8 (1700) [5:24]
Giuseppe VALENTINI (c.1680-c.1760) Concerto XI à 6, con quattro violini obligati, Op.7 (1710) [17:32]1
Antonio VIVALDI (1678-1741) Concerto III, con violino solo obligato in G, Op.3, RV310 (1711) [6:46]; Concerto X, con quattro violini e violoncello obligato, Op.3, RV 580 (1711) [9:00]
La Serenissima: Adrian Chandler (violin, director); Sarah Moffatt, Simon Kodurand, Jane Gordon, George Crawford, Emilia Benjamin (violin); Peter Collyer (alto viola); Alfonso Leal, Katherine McGillivray (tenor viola); Gareth Deats (violoncello); Peter McCarthy (double bass); Eligio Quinteiro (theorbo, baroque guitar); Robert Howarth (harpsichord, organ); 2 Mhairi Lawson (soprano)
rec. Church of St. Mary the Virgin, Salehurst, East Sussex, February 27-March 1 2006; 1Phoenix Sound, Pinewood Studios, June 25, 2006. DDD.
AVIE AV2106 [77:51]Ė from Passionato (mp3 and lossless) or classicsonline (mp3)

Volume 2: Antonio VIVALDI Virtuoso Impresario


Concerto for violin, strings and continuo in B-flat, RV 370 (?1716) [12:22]
Arias, for soprano, strings and continuo, from La costanza trionfante degl'amori e de gl'odii, RV 706 (1716) [10:34]
Concerto for violin, two violoncellos, strings and continuo in C, RV 561 (1728?) [9:33]
Concerto/Sinfonia for strings and continue in E, RV 134 [6:19]
Concerto senza cantin, for violin, strings and continuo in D, RV 243 [10:33]
Arias for soprano, strings and continuo, from La fida ninfa, RV 714 (1732) [12:08]
Concerto for violin, strings and continuo in E-flat, RV 254 [14:48]
Mhairi Lawson (soprano), Sarah McMahon, Gareth Deats (cello), La Serenissima/Adrian Chandler (violin), - rec. 4-7 March 2007, Studio 1, The Warehouse, London. DDD.
AVIE AV2128 [76:38] Ė from Passionato (mp3 and lossless) Ė or classicsonline (mp3)

Volume Three - The Golden Age


Antonio VIVALDI (1678-1741) Concerto for violin, 2 oboes, bassoon, 2 horns, strings and continuo RV569 [12:32]
Pietro LOCATELLI (1695-1764) Concerto da Chiesa in C, Op. 4/11[10:20]
Concerto for 4 Violins, strings and continuo Op 4/12 [12:24]
Giovanni Battista SAMMARTINI (c.1700-1775) Concerto à più Stromenti in E-Flat, J. 73 [13:17]
Giuseppe TARTINI (1692-1770) Concerto for violin, strings and continuo D117 [15:14]
Antonio VIVALDI Concerto for violin, 2 oboes, bassoon, 2 horns, timpani, strings and continuo RV562a [13:14]
La Serenissima/Adrian Chandler (violin) - rec. St Paulís School, 13-16 February 2008. DDD.
AVIE AV2154 [79:25] Ė from classicsonline or emusic (both mp3)
Antonio VIVALDI Vivaldi in Arcadia - Concertos and Arias


Concerto for 2 violins, 2 cellos, strings and basso continuo in G (RV 575) [10:03]; Concerto for 3 violins, cello and basso continuo in D 'La Pastorella' (RV 95) [10:54]; Concerto for 3 violins, strings and basso continuo in F (RV 551) [09:37]; Dorilla in Tempe, opera (RV 709)*: Mi lusinga il dolce affetto, aria of Elmiro (Act I, 1) (Johann Adolf HASSE, 1699 - 1783) [06:29]; Bel piacer saria d'un core, aria of Nomio (Act II, 7) [07:27]; Rete lacci, aria of Filindo (Act I, 9) (Geminiano GIACOMELLI, 1692 - 1740) [04:54]; Concerto for 4 violins, viola and basso continuo in B flat (RV 553) [10:00]; Concerto for 2 violins, strings and basso continuo in A (RV 520) [09:02]; Concerto for 2 violins, 2 cellos, strings and basso continuo in D (RV 564) [10:05]
Mhairi Lawson (soprano); La Serenissima/Adrian Chandler - rec. Sept 2003, Church of St Mary the Virgin, Salehurst, East Sussex, England DDD
AVIE AV0031 [79:30] Ė from Passionato (mp3 and lossless) or classicsonline (mp3)

I need add little to Glyn Pursgloveís final comment on Volume 1 of The Rise of the North Italian Violin Concerto: ĎPrepare to be instructed and moved. And delighted.í (See review.) Volume 2 was Recording of the Month, again for GPu Ė here Ė and I awarded the same accolade to Volume 3 Ė here. Volumes 1 and 2 come in good mp3 and even better lossless flac from Passionato: I tried the lossless version of Volume 1 and the mp3 of Volume 2.
Johan van Veen was rather more circumspect in his review of Vivaldi in Arcadia Ė here. You will need to refer to that review to discover how arias by other composers found their ways into Vivaldiís operas - there are no notes with the download. Otherwise, my reaction was more favourable than JvVís. Check it out first at the Naxos Music Library if in doubt.

For more delights from Mhairi Lawson and la Serenissima, try Vivaldi: Elvira on Linn CKD281 Ė see review by Robert Hugill and my March 2009 Download Roundup. La Serenissimaís most recent recording, Vivaldi: The French Connection (Avie AV2178) may be something of a misnomer, but is just as delightful, for all that Ė see review by John-Pierre Joyce and my December 2009 Download Roundup.

Carl Friedrich ABEL (1723-1787) The Drexel Manuscript (MS Drexel 5871)
Suite in D [26:53]; Suite in d minor [21:50]; Suite in D [23:25]; Two pieces in A: Allegretto - Allegro [7:05]
Paolo Pandolfo (viola da gamba)
rec. Église de Franc-Waret, Belgium, February 2008. DDD.
GLOSSA GCD920410 [79:28] Ė from Passionato (mp3 and lossless)



This offers a fine alternative or supplement to the earlier Hyperion recording Mr Abelís Fine Airs (CDA67628), which Glyn Pursglove so strongly recommended Ė here. Iím not sure exactly how much overlap there is - Hyperion donít state which of their 24 pieces are taken from the Drexler MS and Glossa donít give the WKO numbers - but even those who have bought the Hyperion might well consider downloading the Glossa.
George Frideric HANDEL (1685-1759) Tenor Arias from Joshua, Jephtha, Acis and Galatea, Judas Maccabæus, Alexanderís Feast, Samson and Semele.
Richard Lewis (tenor); London Symphony Orchestra/Sir Malcolm Sargent - rec. 1958. Stereo/ADD
BEULAH EXTRA 1BX137-8BX137 [42:44] Ė from Beulah (mp3)

This is the pick of Beulahís October releases. Richard Lewis was in many ways the Handel tenor of his day and his singing still sounds stylish. Malcolm Sargent was the conductor for all seasons rather than a Handel specialist, apart from his Huddersfield Messiah, and the accompaniment is over-large by todayís standards, but not overwhelmingly so; itís good enough for this to remain a very enjoyable set of recordings - eight tracks, available separately, but best heard together. The 1958 HMV stereo is more than serviceable.
John STANLEY (1712-1786) Six Concertos in seven parts, Op.2 (1742)


Concerto No 1 in D [9:20]; Concerto No 2 in b minor [12:50]; Concerto No 3 in G [9:06]; Concerto No 4 in d minor [8:36]; Concerto No 5 in a minor/A major [8:28]; Concerto No 6 in B-flat [9:51]
The Parley of Instruments (director Peter Holman)/Roy Goodman - from CDA66338, rec. November 1988. DDD.
HYPERION HELIOS CDH55361 [58:03] - from Hyperion (mp3 and lossless)

Concerto No 1 in D [10:22]; Concerto No 2 in b minor [12:19]; Concerto No 3 in G [9:06]; Concerto No 4 in d minor [9:06]; Concerto No 5 in a minor/A major [8:37]; Concerto No 6 in B-flat [7:52]
Collegium Musicum 90/Simon Standage - rec. March 1998. DDD
CHANDOS CHACONNE CHAN0638 [57:08] - from theclassicalshop (mp3 and lossless)
Once again Hyperion does us a double service, first by recording these attractive but neglected concertos by the blind organist John Stanley, then by reissuing them at budget price, even though there is still only one other recording on offer - and precious few recordings of Stanleyís other music. Published two years after Handelís Op.6 Concerti Grossi, the works owe something to him and to Corelli, but have enough individuality and charm to be well worth investigating at the new modest price.
When the Hyperion recording appeared in 1990, most listeners still expected baroque music to sound smooth and sonorous and it was received with some reservations in some quarters for having some roughish edges: Stanley Sadie in Gramophone wrote of its 'making few concessions to the modern, sensuous ear'. My ear may be less sensuous than it was 20 years ago - can an ear actually be sensuous? - itís certainly less acute, but I didnít notice any of those rough edges. In No 3 Goodman follows an alternative version with solo organ part and in No.6 he combines the Op.2 version with the Organ Concerto Op.10/3 (1775) which reuses much of the music from Op.2/6, thereby varying the texture.
The Hyperion webpage advertises several other recordings from the English Orpheus series, most of which have also been reissued on the budget Helios label. Quite a few, at the foot of the list, languish in the special-order Archive Service; though they are available as downloads, I trust that many of these will be reissued on the Helios label soon.
Nine years later SS wrote that the Chandos version 'comfortably surpassesí the Hyperion. The Chandos is a little more expensive - £7.99 for mp3, £9.99 for lossless, as against £5.99 in both formats for the Hyperion. I enjoyed hearing it - itís noticeably a little warmer in tone - livelier, too - and even the mp3 version sounds excellent - but Iím far from sure that it comfortably surpasses its rival, or that it justifies the extra cost.
Franz SCHUBERT (1797-1828) Symphony No.8 in b minor, D759 ('Unfinished')
National Symphony Orchestra/Anatole Fistoulari - rec. 1944 Mono/ADD
BEULAH EXTRA 2BX7 and 3BX7 [22:07] Ė from Beulah (mp3)

This and the next two items have already been released on CD (Beulah 1PD32) Ė see the appreciative review by Bob Briggs: ĎThis is a splendid disk!í
Itís always been something of a tradition to play the opening movement rather slower than the allegro moderato marking, so I was expecting to rule out this 1944 performance in that respect. In the event, itís no worse an offender than many more recent versions and there is a real lightness in Fistoulariís approach. The recording is a little thinner than was usual by this date, but Beulah have tidied it up nicely - thereís just a hint of surface noise - and it comes at a fraction of the modern equivalent of its 1944 price of 19/10.
Symphony No.9 in C, D944 ('Great')
BBC Symphony Orchestra/Sir Adrian Boult - rec. 1934. Mono/ADD
BEULAH EXTRA 20BX12-23BX12 [45:48] Ė from Beulah (mp3)

As Bob Briggs notes, this performance has a freshness and sparkle rather lacking in Boultís later version. By 1972 when he recorded the work again on HMV ASD2856, his time had extended to almost 54 minutes. (Now on EMI GROC 5627922 - download in mp3 or lossless from Passionato.) The recording is very good for its age and Beulahís transfer makes the most of it.
Rosamunde Act II: Entríacte
Basle Symphony Orchestra/Felix Weingartner - rec. 1928. Mono/ADD.
BEULAH EXTRA 6BX36 [3:45] Ė from Beulah (mp3)
This is attractive, but itís the least substantial of the Beulah Extra reissues of Weingartner: his 1928 account of Mozartís Symphony No.39 (3BX36-5BX36) offers a much more substantial sample of his affectionate performing style, though the recording requires a good deal of tolerance. His 1939 Boccherini Minuet (2BX36) comes in much more tolerable sound and remains a stylish performance, but his Bach Suite No.3 (1BX36) is just too slow to be other than of historical interest.
Lieder: Volume 31 - Schubert and Religion
Die Allmacht, D875a [6:42]
Hagars Klage, D5 [16:19]
Dem Unendlichen, D291 (Second Version) [4:20]
Himmelsfunken, D651 [3:34]
Des Mädchens Klage, D6 [5:13]
Im Abendrot, D799 [3:34]
Die Gestirne, D444 [2:48]
Der 13. Psalm, D663 [3:04]
Der 23. Psalm, D706 [5:23]
Der 92. Psalm, D953 [5:27]
Mirjams Siegesgesang, D942 [18:05]
Christine Brewer (soprano)/Graham Johnson (piano); Holst Singers/Stephen Layton; Paul Robinson (baritone); Patricia Rozario (soprano), Lorna Anderson (soprano), Catherine Denley (contralto), Catherine Wyn-Rogers (mezzo) - rec. July 1998. DDD.
Texts available on webpage.
HYPERION CDJ33013 [74:29] - from Hyperion (mp3 and lossless)

I had overlooked this volume of Hyperionís Schubert Edition until, having recommended Christine Brewerís new recording of Straussís Ariadne (below), I decided to check on some of her other recordings. With its concentration on religious texts, many of them permeated by the Romantic theme of God in nature, itís a little off the beaten Lieder track, but well worth exploring. Brewerís powerful voice never overwhelms the music - I actually had to turn up the volume slightly - but serves it beautifully.
Johannes BRAHMS (1833-1897) Symphony No.4 in e minor, Op.98
Berlin Philharmonic Orchestra/Max Fiedler - rec. 1929. Mono/ADD
BEULAH EXTRA 1BX92-4BX92 [41:36] Ė from Beulah (mp3)

It takes a very special reading of this symphony to bring out its qualities: Klemperer pulls it off in a reading which, for me, is still unmatched; though recorded in stereo, his is now something of an historic version. Fiedler comes close at times, but doesnít quite hit the mark, partly because he indulges in too much rubato. The recording is thin, but much clearer than I had expected for its date and there is mercifully little surface noise in this transfer. Despite Beulahís care, there are some very wavery notes.
I note that the original Gramophone reviewer had trouble playing a whole side of each of the original 78s without having to sharpen his fibre needles. Those were the days: fibres and thorns were much kinder to the shellac surfaces, but had to be sharpened regularly on a strange rotary machine with a circular sheet of glass paper. They came from Imhofs in New Oxford Street in a 'top hat' box. Autre temps, autres mœurs.
Amilcare PONCHIELLI (1834-1886) La Gioconda: Dance of the Hours


Paris Conservatoire Orchestra/Anatole Fistoulari - rec. 1950. Mono/ADD
BEULAH EXTRA 1BX7 [8:44] Ė from Beulah (mp3)

Fun music - try to forget the silly words which have become attached to it in some quarters - in a lively performance and recording which still sounds perfectly acceptable: a worthwhile pendant to Beulahís offering of Schubertís 'Unfinished' Symphony from Fistoulari (above).
Karl GOLDMARK (1830-1915) Violin Concerto No.1 in a minor, Op.28 [35:48]
Max BRUCH (1838-1920) Violin Concerto No.2 in d minor, Op.44 [24:35]
Nai Yuan Hu; Seattle Symphony Orchestra/Gerard Schwarz - rec. 1994. DDD.
DELOS DE3156 [60:23] - from Passionato (mp3 and lossless) or classicsonline (mp3)

I recommended a Naxos recording of the Goldmark in August 2009, with Vera Tsu and Yu Long (8.553579 Ė here), but you may already have the Korngold Violin Concerto with which that performance is coupled, especially as I recommended another Naxos download with an equally fine version of that work in the same Roundup. The Delos download is a little more expensive, but it comes with Bruchís Second Violin Concerto - no match for the famous First Violin Concerto or the Scottish Fantasia, but well worth hearing in this fine performance. The lossless sound is very good.
Antonín DVOŘÁK (1841-1904)
Old World - New World


String Quartet No. 10 in E-flat Op.51, B92 (1878/9) [32:03]
String Quartet No. 11 in C, Op.61, B121 (1881) [39:06]
String Quintet No. 3 in E-flat 'American' Op.97, B180 (1893)* [32:37]
12 Cypresses arranged for string quartet, B152 (arr. 1887) [32:42]
String Quartet No. 13 in G, Op.106, B192 (1895) [37:06]
String Quartet No. 14 in A-flat, Op.105, B193 (1895) [31:48]
Emerson String Quartet (Eugene Drucker, Philip Setzer (violins); Lawrence Dutton (viola); David Finckel (cello); Paul Neubauer (viola)*)
rec. December 2008 and December 2009, American Academy of Arts and Letters, NYC, USA. DDD
DEUTSCHE GRAMMOPHON 477 8765 [3 CDs: 71:18 + 65:28 + 69:03] - from Passionato (mp3 and lossless)

String Quartet No.9 in d minor, Op.34, B75 (1877) [33:50]
String Quartet No.14 in A-flat, Op.105, B193 (1895) [32:56]
Wihan Quartet (Leoš Čepický, Jan Schulmeister (violins); Jiří Žigmund (viola); Aleš Kaspčík (cello))
rec. live, Convent of St Agnes, Prague, no date given. DDD.
NIMBUS ALLIANCE NI6115 [67:30] - from classicsonline (mp3)
These two new recordings, on Nimbus and DG, more than hold their own against earlier versions. If the coupling of Nos. 9 and 14 appeals, go for the Wihan Quartet, especially if you already have and enjoy their earlier Dvořák CD (NI6114, Nos.11 and 12). I enjoyed hearing both of these when I reviewed them on CD. Members of the Naxos Music Library can try them out first there.
If the idea of having all the mature String Quartets apart from No.12, the American, plus the Quintet, appeals and you already have a recording of No.12, perhaps in the Emersonsí own version, the Emerson Quartet, in the 3-CD set or as a download, are well worth the extra outlay. Michael Cookson wrote that it would be hard to imagine these scores played better - see review. The lossless recording is excellent, though those happy with mp3 at the full bit-rate will save a few pounds on downloading in that format: £12.99 as against £15.99 for the lossless - the CD set sells for around £26 in the UK.
If you are looking to obtain all the quartets in one go - and you could do much worse - the older budget DG box set of the Prague Quartet offers unbeatable value (463 1652, also from Passionato in mp3 only). Passionato also have the Emerson version of No.12, the American, coupled with Tchaikovsky and Borodin (4455512 - here.)
Antonín DVOŘÁK Suite in A, Op.98b, B190 ('American') [22:48]
Josef SUK (1874-1935) Serenade for Strings in E-flat, Op.6 [28:45]
Fantastic Scherzo, Op.25 [14:37]
SUPRAPHON SU3882-2 [66:08] Prague Philharmonic Orchestra/Jacob Hrůsa [66:08] - from emusic (mp3)

Delightful music from father and son-in-law, idiomatically performed and well recorded. The 'American' Suite deserves to be much better known and Sukís Serenade is very nearly the equal of Dvořákís. If you already have Jiři Bělohlávekís Chandos version of the Fantastic Scherzo (CHAN8897, below) you need buy only 9 of the 10 tracks. Only one track comes at the barely acceptable bit-rate of 195k; the others are mostly at 256k, with one at the maximum 320k.
The alternative account of the Suk Fantastic Scherzo comes on:

Leos JANÁČEK (1854-1928) Sinfonietta [23:13]
Bohuslav MARTINŮ (1890-1959) Symphony No.6 (Fantaisies Symphoniques) [28:07]
Josef SUK Fantastické Scherzo Op.25 [13:46]
Czech Philharmonic Orchestra/Jiři Bělohlávek - rec. Prague Castle, 3-6 June 1990. DDD.
CHANDOS CHAN8897 [65:06] - from theclassicalshop (mp3 and lossless)
The Janáček is as good as any, the Martinů also very recommendable, and the Suk Scherzo the equal of the Hrůsa on Supraphon (above).
Richard STRAUSS (1864-1949) Horn Concerto No.1 in E-flat, Op.11 (1882/3) [15:17]
Horn Concerto No.2 in E-flat, Op.132 [18:17]
Paul HINDEMITH (1895-1963) Horn Concerto [14:56]
Konzertmusik for brass and strings, Op.50* [16:08]
Dennis Brain (horn); Philharmonia Orchestra/Wolfgang Sawallisch; Paul Hindemith - rec.1956-1959. Mono/stereo*ADD.
EMI CLASSICS GROC 5677832 [64:38] - from Passionato (mp3 and lossless)

The three Horn Concerto recordings were included in a 4-CD EMI Icon box set, Dennis Brain - The Horn Player (2060102), which Jonathan Woolf and John Sheppard welcomed Ė here and here. That set is also available from Passionato - here. Iím very pleased to make the acquaintance of these old favourites again in the same coupling (now plus the Konzertmusik) as when I owned them on a mid-price HMV Treasury LP (HLS7001) - and sounding much better now than they did then in 'electronic stereo'.
Richard STRAUSS
Suite from Le Bourgeois Gentilhomme, Op. 60 (1912, 1917, Suite 1920) [35:11]
Ariadne on Naxos - Opera in a prologue and one act. Libretto by Hugo von Hofmannsthal. (1911/12, rev.1916) [117:43]
English translation by Christopher Cowell
Christine Brewer (soprano) - Prima Donna/Ariadne
Robert Dean Smith (tenor) - Tenor/Bacchus
Anita Watson (soprano) - Naiad
Pamela Helen Stephen (mezzo) - Dryad
Gail Pearson (soprano) - Echo
Stephen Fry (spoken) - Major-Domo
Alice Coote (mezzo) - Composer
Alan Opie (baritone) - Music Master
Paul Keohone (bass) - A Wigmaker
Dean Robinson (bass) - A Footman
Declan McCusker (tenor) - An Officer
Gillian Keith (soprano) - Zerbinetta
Roderick Williams (baritone) - Harlequin
John Graham-Hall (tenor) - Scaramuccio
Matthew Rose (bass) - Truffaldino
Wynne Evans (tenor) - Brighella
Catriona Beveridge piano
Scottish Chamber Orchestra/Richard Armstrong
rec. Usher Hall, Edinburgh, 17-21, 23-25, 27-28 January, 2010, and Trident Audio Post, London, 13 May 2010. DDD. Sung in English. Text available as pdf document.
CHANDOS CHAN3168 [75:11 + 77:43] - from theclassicalshop (mp3 and lossless)

Competition is fierce for Straussís most approachable opera after Der Rosenkavalier, with Schwarzkopf and Karajan (EMI or Naxos, mono) and Janowitz and Kempe (EMI) such strong contenders that even the likes of Norman and Masur (Philips) and Price and Solti (Decca) appear to have been deleted. The new Chandos recording starts with three obvious advantages for Anglophone listeners: itís in English, like the two main contenders it comes at mid-price and it offers a substantial filler in the form of the attractive Suite of incidental music for Le bourgeois gentilhomme. The coupling is apt, because M. Jourdain, the would-be nobleman of Molièreís play was the unseen master of Hoffmannsthalís first version of the libretto. When the original concept was changed and the Gentilhomme music ditched, it was salvaged in 1917, with additional music, some of it 'borrowed' from Lully. The 1920 Suite incorporates music from the 1912 Ariadne and the 1917 Gentilhomme. It doesnít get performed too often and the fact that it receives a good performance here is an additional recommendation for the new recording.
The greatest advantage of all, however, is to be found in Christine Brewerís singing of the Prima Donna/Ariadne role, which requires a combination of great tonal beauty and Wagnerian power and which finds its nigh-perfect embodiment in the present performance. With excellent support all round, not least from Stephen Fry in the speaking role of Major-domo, a reprise of his portrayal of Jeeves to Hugh Laurieís Wooster.
Strauss clearly envisaged a performing time of just under two hours - assuming a 7.00 p.m. start and noting that the fireworks were due at 9.00 p.m. precisely, according to the major-domo - a time constraint which Richard Armstrong and his team meet with minutes to spare, where others just run over the two-hour deadline, presumably to be cut off in their prime by the display.
This is not the first time that the opera has been performed in English: Beecham conducted Straussís first version in London in 1912 in a translation by Somerset Maugham. The new version is as idiomatic as Peggie Cochraneís classic version, with very few oddities occasioned by being fitted to the music. The only disadvantage of downloading means having a pdf printout which you are unlikely to be able to fit into a CD case.
Ralph VAUGHAN WILLIAMS (1872-1958)

Valiant-for-truth1 [5:59]
Symphony No. 5 in D [39:31]
The Pilgrim Pavement1,2 [8:43]
Hymn-tune Prelude on Song 13 by Orlando Gibbons (arr. for string orchestra by Helen Glatz) [3:17]
The Twenty-third Psalm (arr. by John Churchill)1 [2:31]
Prelude and Fugue in c minor3 [10:13]
Malcolm Hicks organ3; Ian Watson organ2; Richard Hickox Singers1
London Symphony Orchestra/Richard Hickox - rec.1999. DDD.
CHANDOS CHAN9666 [70:48] - from theclassicalshop (mp3 and lossless)
Symphony No.5 in D [36:24]
London Philharmonic Orchestra/Sir Adrian Boult - rec. 1953. ADD.
NAXOS CLASSICAL ARCHIVES 9.80372 [36:24] - from classicsonline (mp3)

No one set of the Vaughan Williams symphonies can be consistently excellent; though Sir Adrian Boult (mono, Decca; stereo EMI), Bernard Haitink (EMI), Vernon Handley (CfP), Kees Bakels (Naxos), Andrew Davies (Warner), Bryden Thomson (Chandos) and André Previn (RCA) are all first-rate and inexpensive, one needs to supplement them for individual symphonies. For all my love of the 'London' symphony (No.2), especially in Richard Hickoxís wonderful Chandos recording of the original version, the powerful wartime Sixth and the memories of seeing Scott of the Antarctic, aged seven, which are evoked by the 'Antartica' (No.7), itís the Fifth, with its echoes of Pilgrimís Progress, to which I return most often.
Two versions seem to me to have the best measure of that work: the 1953 Boult, from which I learned to love the work, now available in a very decent transfer from classicsonline, and the 1999 Hickox. The Boult is a special bargain at just £1.99 though, for copyright reasons, itís not available in the USA and in many other countries: there it has to be bought in the British Music box set. Only Boultís Job appears still to be available separately on Australian Eloquence. It now sounds much better than it did in its 'electronic stereo' version on Eclipse, but it canít compare with the Chandos - and that contains so much more worthwhile music. Ideally, buy them both.
Josef SUK (1874-1935)


Zrání (Ripening) Symphonic Poem for Large Orchestra, Op. 34 (JSkat 70) (1912-17)* [38:02]
Symphony No. 1 in E, Op. 14 (JSkat 40) (1897-99) [40:18]
New London Chamber Choir* (James Weeks, musical director); BBC Symphony Orchestra/Jiří Belohlávek
CHANDOS CHAN5081 [78:03] - from theclassicalshop (mp3 or lossless)
If you already know Suk in desolate mood in Asrael - a work that I have yet to come to terms with - or in the happier echo of his father-in-law Dvořák in the Serenade for Strings (see above, or Asrael and the Serenade on CHAN9460, 2 CDs - see review by MWI Classical Editor Rob Barnett), this new Chandos issue, idiomatically performed and well recorded, might well be your next port of call.
Maurice RAVEL (1875-1937) Le Tombeau de Couperin
London Philharmonic Orchestra/Jean Martinon - rec. 1947. Mono/ADD
BEULAH EXTRA 1BX91 [13:46] Ė from Beulah (mp3)

Martinonís later stereo recording of Le Tombeau with the Orchestre de Paris is available as part of two budget-price EMI sets (5008922, 3 CDs for around £9.50 or 4769602, 2 CDs for around £8.50), but this delicately performed 1947 version is well worth hearing in such a good transfer. The Gramophone reviewer in 1950 had never heard Martinon but thought that he must be 'a conductor of rare sensibility': prophetic words. If I hadnít known the recording date, I'd have thought it from much later. Well worth the modest price of 75p, just pennies more than the 14/4 (72p) which the recording cost in 1950 - more like £20 in todayís values.
Béla BARTÓK (1881-1945)
Piano Concerto No. 1, BB91 [22:02]
Piano Concerto No. 2, BB101 [27:48]
Piano Concerto No. 3, BB127 [23:26] - rec. December 2009 and April 2010. DDD
Jean-Efflam Bavouzet (piano); BBC Philharmonic/Gianandrea Noseda
CHANDOS CHAN10610 [73:28] - from theclassicalshop (mp3 and lossless)

Everything here seems in place: No.1 receives a powerful performance, yet the performances of Nos. 2 and 3 left me unmoved. I think you must take that as a provisional judgement, however, because itís received strong recommendations in BBC Music Magazine (Orchestral Recording of the Month) and The Guardian, though I note that the latter shares some of my reservations about the Second and Third Concertos.
At the risk of seeming perverse, Iím going to reserve my preference for Stephen Kovacevich and Colin Davis in these concertos - partly because it was through their recordings on two Philips LPs that I got to know these wonderful concertos well, partly because they move me more than the new recording; they also come at mid-price on Decca Originals 475 8690. (Or download the now deleted Philips Duo, with the Concerto for Orchestra on 438 8122 from Passionato here.) What happened to the Stravinsky Concerto for piano and wind instruments, the fourth work on those LPs?
William WALTON (1902-1983)
Violin Concerto (1938-39) [32:40]
Symphony No. 1 in b-flat minor (1932-35) [46:46]
Kurt Nikkanen (violin); New Haven Symphony Orchestra/William Boughton
rec. Woolsey Hall, New Haven, Connecticut, USA, 14 May 2009 (symphony); 17 September 2009 (concerto). DDD
NIMBUS NI6119 [79:28] Ė from classicsonline or emusic both mp3)



What makes this release especially competitive is the fact that it couples two major works. The Naxos version of the symphony (8.553180) offers only the Partita as fill-up and the LSO Live (LSO0076) has no coupling Ė see November 2008 Download Roundup for an appraisal of both. Matters have changed since then, in that Passionato now also offer the LSO version, in 320kbps sound.
MWI classical editor Rob Barnett described the parent CD as offering 'very fine expansive readings in up to date sound' - see review. The emusic download is inexpensive (7 tracks, potentially less than £2) but it comes at a range of bit-rates from an acceptable 219kbps to the maximum 320k. The classicsonline equivalent is more expensive (£7.99) but all the tracks are at the maximum 320k.
The Film Music of Ron GOODWIN (1925-2003)
633 Squadron: Main Theme [3:00]
Frenzy: The London Theme [2:14]
Lancelot and Guinevere: Main Theme [4:14]
Deadly Strangers: Main Theme [2:58]
The Battle of Britain: Suite [11:50]
Whirlpool: Main Theme [2:33]
The Trap: Main Theme [3:16]
Of Human Bondage: Main Theme [3:16]
Monte Carlo or Bust: Suite [6:45]
633 Squadron: Love Theme [2:02]
Submarine X-1: Main Theme [5:27]
Miss Marple Theme [3:28]
Operation Crossbow: Main Theme [2:38]
Clash of Loyalties: Suite [6:08]
Beauty and the Beast: Belleís Love Theme [2:17]
Force Ten from Navarone: Main Theme [3:10]
Where Eagles Dare: Main Theme [3:01]
Those Magnificent Men in their Flying Machines [6:16]
BBC Philharmonic/Rumon Gamba
rec. Studio 7, New Broadcasting House, Manchester, 10-11 March 2004. DDD.
CHANDOS CHAN10262 [76:24] - from theclassicalshop (mp3 and lossless)

The recent commemoration of the 70th Anniversary of the Battle of Britain provides a splendid excuse, if excuse were needed, to sing the praises of Ron Goodwinís evocative film music and this performance of it. Gary Dalkin wrote: ďif you were only to have one Ron Goodwin album in your collection there is every reason that this should be the one.Ē (See review) The lossless version is excellent but, as with all Chandosís earlier downloads, Squeezebox users will need to alter Tk1 to Tk9 to Tk01 to Tk09 in Windows Explorer in order to replay the music in the correct order. (Itís easier than it sounds, but do it carefully for fear of deleting the tracks.)
Witold LUTOSŁAWSKI (1913-1994)
Symphony No. 3, for Sir Georg Solti and the Chicago Symphony Orchestra (1981-83) [30:50]
Chain 3 for Orchestra (1986) [10:53]
Concerto for Orchestra (1950-54) [27:51]
BBC Symphony Orchestra/Edward Gardner
rec. Assembly Hall, Walthamstow, 5-6 July 2010. DDD.
CHANDOS CHAN5082 [69:56] - from theclassicalshop (mp3 and lossless)

Having been rather sniffy about Chandosís Recording of the Month for September (Bartók - see above), let me compliment them on the speed with which its October equivalent has been published: Iím writing this on September 15, little more than two months after it was recorded. Donít be afraid of Lutosławskiís reputation as an unapproachable avant-garde composer in what Grove defines as his second, serial period of composition. The music here comes from the fresh, Bartók-like tonality of his pre-serial period (Concerto for Orchestra) and the more approachable music of his final period (Symphony No.3 and Chain).
The performances are up against strong competition from well-received budget-price Naxos versions directed by Antoni Wit: the Concerto for Orchestra on 8.553779, Chain 3 on 8.553625 and the Symphony on 8.553423. Tony Haywood also commended another Wit recording of the Concerto (Dux0499 Ė see review) and Evan Dickerson was more circumspect about a recording of that work with its Bartók namesake (Telarc CD-80618 Ė see review). There is also a rival 1993 Chandos recording of the Concerto for Orchestra (CHAN9421, BBC Philharmonic/Yan Pascal Tortelier).
As the new recording was placed online on the very day that I had resolved to close this Roundup for editing, I havenít had time to compare those other versions. First impressions of the new version are, however, very favourable. Barenboimís highly-recommended coupling of the Concerto and Symphony is rather short value (Warner Elatus 0927490152); though the mid price makes up for that, if you want those two works with Chain 3, you need the new Chandos.
Giuseppe VERDI (1813-1901) Nabucco: Anchíio dischíiuso1 [9:36]
Giacomo PUCCINI (1858-1924) Tosca: Vissi díarte2 [3:30]
Vincenzo BELLINI (1801-1835) I Puritani: Qui la voce sua soave3 [[6:29]
Giuseppe VERDI (1813-1891) Un Ballo in Maschera: Morro, ma prima in grazia4 [5:10]
Wolgang Amadeus MOZART Così fan tutte : Come scoglio5 [6:09]
Gaetano DONIZETTI (1797-1848) Lucrezia Borgia : Era desso il figlio mio6 [5:28]
Helen Lawrence (soprano); National Philharmonic Orchestra/Robin Stapleton Ė rec. 1979. Stereo/ADD
BEULAH EXTRA 4BX551; 5BX552; 6BX553; 7BX554; 8BX555; 9BX556 [36:25] Ė from Beulah (mp3)

The tracks are available separately, at 95p each, but together make a fine short recital, ranging across a diversity of composers, styles and moods. Helen Lawrenceís powerful voice is at home in the Nabucco excerpt, but she is also capable of fining it down for Vissi d'arte and even more for the opening of the Bellini. She even comes close to making me think that Belliniís and Donizettiís operas are greater than I had rated them: only briefly, however - the aria from Ballo in Maschera and, even more, the Mozart outshine them, especially when they are as well sung as here. Why was Lawrence not recorded more often? She is ably accompanied by Robin Stapleton, doyen of several similar recordings. The sound is more recent than most of Beulahís offerings and the mp3 transfer is fine, so there are no problems on that score.
HYPERION 30TH ANNIVERSARY SERIES
This is a complete listing of the series, due for reissue in the UK on Monday 27 September 2010. The single CDs will sell for a reduced £9.99 but the downloads will remain at £7.99 in both formats, mp3 and lossless, already a competitive price, apart from shorter programmes, which will be offered at £6.99. Doubles, like the Isserlis Bach, will remain at £15.49.
Iíve already mentioned the two CDs of Bach from Angela Hewitt (above) and several others featured in my recent choice of Hyperion Top 30 Downloads. Iíve included a hyperlink to these and to other MusicWeb International reviews where relevant. Iíve also added my own comments on some of the recordings, based on their earlier incarnations, and I plan to cover the rest of the series in future Roundups. Meanwhile, be assured that everything here has received high praise in one place or another - just about everything is listed in the current (2010) Gramophone Guide and/or receives three or four stars in the Penguin Guide.
Thereís just one serious omission: I would certainly have included have included the excellent Kingís Consort recording of the Monteverdi Vespers (CDA67531/2) which I included in my Top 30 Hyperion Downloads: it outshines even the Andrew Parrott Virgin Classics recording.
Johann Sebastian BACH: Cello Suites - Steven Isserlis (from CDA67541/2, rec.2005-6,

DDD - Recording of the Month Ė see MusicWeb International review here.)
CDA30001/2 [2 CDs: 136:06]
This has become my benchmark by which to judge other performances, replacing even Pierre Fournier and Paul Tortelier as my regular choice for listening to these Suites.
Goldberg Variations - Angela Hewitt (piano) (from CDA67305, rec. September 1999. DDD)
CDA30002 [78:18]
Keyboard Concertos Nos. 1, 5 and 7 - Angela Hewitt (piano), Australian Chamber Orchestra/Richard Tognetti (from CDA67307, rec. February 2005. DDD)
CDA30003 [76:53]

Gerald Fenech gave the Goldberg Variations five stars: it was his Hyperion release of the year Ė see review. Dominy Clements was equally enthusiastic about its inclusion in the complete set (see above and review): Ďa very good thing indeed.í Heís not quite right about her inclusion of every possible repeat Ė Mathew Halls on Linn CKD356 does that and runs to 91 minutes. My only reservation in recommending that recording (June 2010 Download Roundup) was that it might be a little too long: Hewittís version with almost all the repeats will be nearer to most listenersí comfort zones.
Hyperionís original hype for the Keyboard Concertos - 'self-recommending' - irked my colleague Christopher Howell, but he soon decided for himself that the hype was true: Angela Hewitt was the right person at the right moment and the CD deserved to be another Hyperion hit - see review. The remaining concertos remain available on CDA67308. Once again she persuades me, as no other pianist ever has, that Bach can sound wonderful on the modern instrument.

For recordings with harpsichord, try Robert Woolley and the Purcell Quartet on Chandos Chaconne CHAN0595 Ė here Ė CHAN0611 Ė here Ė CHAN0636 Ė here Ė and CHAN0641 Ė here. They still bowl me over as much as they did when I wrote about Bach downloads in 2008 Ė here Ė but they now cost £7.99 rather than £6 (mp3) and £9.99 (lossless). They remain out of stock on CD, so available only as downloads.
Toccatas and Fugues - Christopher Herrick (organ) (from CDA66434, rec. 1990 - Hyperion Top 30 Downloads)
CDA30004 [63:14]
Johannes BRAHMS: Cello Sonatas - Steven Isserlis (cello), Stephen Hough (piano) (from CDA67529, rec. 2005, DDDĖ see MusicWeb International review here.)
CDA30005 [72:58]
Frédéric CHOPIN: Piano Sonatas Nos. 2 and 3, Barcarolle, Berceuse, Nocturnes 7 and 8 - Marc-André Hamelin (piano) (from CDA67706, rec.2008, DDD. See April 2010 Download Roundup)
CDA30006 [75:59]

To be offered such a recent and highly-regarded recording at reduced price so soon is generous indeed. Iím far from being the greatest expert on - or even the greatest lover of - Chopinís solo piano music, but this is one recording that I donít wish to be without, ranking alongside even the likes of Rubinstein, whose recording of Sonatas 2 and 3, Barcarolle, Berceuse and Fantaisie in f minor is available to download from Amazon for £7.79. I gave Hamelin a small edge over Howard Shelleyís Sonata No.3 on Chandos (CHAN9175, download only) in my April 2010 Download Roundup, largely because of the price advantage of the lossless download - £7.99 for both mp3 and lossless from Hyperion, £7.99 for mp3 and £9.99 for lossless from Chandos.
Hyperion also have Nikolai Demidenkoís recording of Sonata No.3, with Ballades 1-4, on the budget Helios label: CDH55182 Ė here Ė and, on the same label, his recording of the Piano Concertos - see April 2010 Download Roundup.
Gabriel FAURÉ, Claude DEBUSSY and Maurice RAVEL Three French Piano Trios - Florestan Trio (from CDA67114, rec. March 1999. DDD.)
CDA30029 [64:47]
Three of the performers on the superb Domus recording of the Fauré Piano Quartets (see below) and Piano Quintets here do full justice to more Fauré and Debussy. The highlight for me, however, is the Ravel Piano Trio, which receives as fine a performance as Iíve ever heard.
Gabriel FAURÉ: Piano Quartets Nos. 1 and 2 - Domus (from CDA66166, rec.1985, DDD. - Top 30 Hyperion Downloads)
CDA30007 [61:47]

Iíve already praised this highly, but canít resist repeating that itís one of the very best chamber music recordings ever. Donít forget the equally wonderful recording of the Piano Quintets (CDA66766) and of the Dvořák Piano Quartets (CDA66287), both of which also feature in my Top 30 Hyperion Downloads.
Requiem (1893 version, ed. John Rutter), Messe basse, Cantique de Jean Racine, Two motets, Op.65 - Corydon Singers, English Chamber Orchestra/Matthew Best (from CDA66292, rec. September 1989, DDD)
CDA30008 [57:08]
Best uses the Rutter edition of the 1893 version of the Requiem, which Rutter himself has also recorded (Collegium COLCD109, also with Messe basse and Cantique de Jean Racine Ė available in mp3 and lossless sound from Passionato here). Both performances and recordings are first-rate.
The Hyperion also comes in an alternative coupling with the Duruflé Requiem, a work which owes so much to the Fauré, and which some may prefer (CDA67070). Because of the short playing time, the all-Fauré coupling is offered for £6.99 in both formats, thereby comparing favourably with the Passionato download of the Collegium, only a few minutes longer, at £7.99 (mp3) and £9.99 (lossless).
Abbess HILDEGARD of Bingen: A feather on the breath of God - Emma Kirkby (soprano), Gothic Voices (from CDA66039, rec.1981, DDD - Top 30 Hyperion Downloads)
CDA30009 [44:03]



Itís very good to see this appear at long last at less than full price in a separate reissue, though itís a measure of its quality that it has stayed so long at top price or available only in a box set. Forget about the short playing time: this is the recording that started the rediscovery of a major polymath talent.
Wolfgang Amadeus MOZART: Clarinet Concerto; Clarinet Quintet - Thea King (basset clarinet), English Chamber Orchestra/Jeffrey Tate; Gabrieli Quartet (from CDA66199, rec. 1986. DDD.)
CDA30010 [63:18]
The main recommendation for this recording concerns Thea Kingís use of the basset clarinet, which allows the solo part to be played without transcription on the instrument for which Mozart wrote these works, though now obsolete. That would be just an historical novelty were it not for the quality of the playing: that, for all my love of versions by Jack Brymer and Gervase de Peyer, makes this recording still one of the best available.
Exsultate jubilate! Carolyn Sampson (soprano), The Kingís Consort/Robert King (from CDA67560, rec. October 2005. DDD Ė see MusicWeb International review here.)
CDA30012 [65:10]
Piano Quartets - Paul Lewis (piano), Leopold String Trio (from CDA67373, rec. December 2002. DDD.)
CDA30011 [62:44]
New World Symphonies - Ex Cathedra/Jeffrey Skidmore (from CDA67380, rec. 2002, DDD - Top 30 Hyperion Downloads) (See also review by Gary Higginson - here)
CDA30030 [68:27]
If you enjoy this - as Iím sure you will - donít forget the other two recordings in the series: CDA67524 and CDA67600. Fire burning in snow on CDA67600 has languished in the 'Please buy me' category recently: itís much too good to be there.
Arvo PÄRT: Triodion, Dopo la vittoria, Nunc dimittis, Salve Regina and other choral works - Polyphony/Stephen Layton (from CDA67375 - rec. September, 2003. DDD.)
Texts and translations available as pdf document.
CDA30013 [77:23]
Despite the availability of Triodion and some of the other works here on a more recent and highly recommendable Naxos recording (8.570239, Bargain of the Month Ė see reviews here, here and here), this remains a very valuable collection of Pärtís distinctive, often complex, but approachable choral music.

Sergei RACHMANINOV: 24 Preludes - Steven Osborne (piano) (from CDA67700 - rec. August 2008. DDD Ė see MusicWeb International review here.)
CDA30015 [77:53]
Piano Concertos 1-4 - Stephen Hough (piano), Dallas Symphony Orchestra/Andrew Litton (from CDA67501/2 - rec. live, May 2004. DDD Ė see MusicWeb International review here: Recording of the Month.)
CDA30014/2 [2CDs: 144:30]
Vespers (ĎAll Night Vigilí) - Corydon Singers/Matthew Best (from CDA66460 - rec. September 1990. DDD.)
CDA30016 [65:17]
John RUTTER: Requiem (1985) and other choral works - Polyphony; Bournemouth Sinfonietta/Stephen Layton (from CDA66947, rec. January 1997, DDD). Texts and translations available as pdf document.
CDA30017 [67:17]
Camille SAINT-SAËNS: Piano Concertos Nos. 2, 4, 5 - Stephen Hough (piano), City of Birmingham Symphony Orchestra/Sakari Oramo (from CDA67331/2 - rec. September 2000. DDD.) (See MusicWeb International review: 'this is the one to have'.)
CDA30018 [73:32]
Franz SCHUBERT: String Quartet No.14 ('Death & the Maiden'); String Quartet No.13 (Rosamunde') - Takács Quartet (rec. 2006, from CDA57585 - Top 30 Hyperion Downloads)
CDA30019 [69:07]
Die schöne Müllerin - Ian Bostridge (tenor), Graham Johnson (piano) (from CDJ33025, rec. March 1996. DDD). Texts and translations available as pdf document.
CDA30020 [71:22]
This and Winterreise contain two of the highlights of the splendid Hyperion Schubert Edition. In both works Fischer-Dieskauís various recordings are not superseded, but thereís a bonus from the great man himself here, reading the Prologue and Epilogue and other items not set by Schubert from Müllerís cycle of poems.
Winterreise, D911 - Matthias Goerne (baritone), Graham Johnson (piano) (from CDJ33030, rec. August 1996, DDD). Texts and translations available as pdf document.
CDA30021 [74:00]

Graham Johnson, the constant factor in Hyperionís complete Schubert Lieder edition, of which this is Volume 30, hand-picked Matthias Goerne as his partner for the Winter Journey. Though memories of Dietrich Fischer-Dieskauís many versions are not effaced - I especially like his recording with Daniel Barenboim, not currently available - this Hyperion would do equally well as my desert island companion. The voluminous notes are yours to download and print out, but they are likely to be too thick to slip into a CD case unless you use rice paper.
Passionato have the Fischer-Dieskau/Jörg Demus recording (DG Originals 447 4212, mp3 only) - here - also strongly recommended, also the versions with Alfred Brendel (Philips, mp3) and Gerald Moore (EMI, mp3 and lossless). Any version of Winterreise stands or falls by the performance of that desolate final song, der Leiermann: here, I think, Dieskau and Demus just have the edge over the Hyperion, but itís a very close thing. You could download both for little more than the cost of one CD.
Robert SCHUMANN: Piano Trios Nos.1 and 2 - The Florestan Trio (from CDA67063, rec. May 1998, DDD)
CDA30022 [56:16]
The shared personnel of the Florestan Trio and Domus are so good that they are rightly represented by three albums in the anniversary set. The Florestan Trioís versions of the Brahms (CDA67251/2) and Dvořák Piano Trios (CDA66895) might equally well have been chosen, but this recording allows us not only to enjoy Schumannís well-known Piano Trio No.1 but also to reassess its less familiar companion. The slightly short playing time is reflected in a reduced download price of just £6.99 for both mp3 and lossless.
Dmitri SHOSTAKOVICH Piano Concertos Nos. 1 and 2; SHCHEDRIN Piano Concerto No.2 - Marc-André Hamelin; BBC Scottish Symphony Orchestra/Andrew Litton (from CDA67425, rec. April 2003, DDD) (Recording of the Month: see MusicWeb International review here.)
CDA30023 [62:44]

MWI Classical Editor Rob Barnett expected this recording to sell as well as Hyperionís Hildegard: I trust that its inclusion among the 30 means that it has come close to that. My only small reservation concerns the availability of an equally fine budget-price recording of the Shostakovich from Dimitri Alexeev on Classics for Pleasure 3822342, coupled with the irresistible film excerpt The Assault on Beautiful Gorky, Jazz Suite No.1 and Tahiti Trot (alias 'Tea for two') If you decide on the CfP, buy the CD for around £5 - donít spend as much or more on downloading.

Thomas TALLIS: Spem in alium, Lamentations I and II, Salvator Mundi I and II and other choral works - Winchester Cathedral Choir/David Hill (from CDA66400, rec. July 1989, DDD)
CDA30024 [58:56]
For all the myriad recordings of Tallis, including the complete set on Signum, as with the recording of Victoria (below) there are advantages to having the music sung by a male Cathedral choir. The slightly short playing time is reflected in a reduced download price of just £6.99 for both mp3 and lossless.
Ralph VAUGHAN WILLIAMS: Serenade to Music, Flos Campi, Mystical Songs, Fantasia on Christmas Carols - Corydon Singers, English Chamber Orchestra/Matthew Best (rec. 1990, from CDA66420. See MusicWeb International review of set CDS44321/4 here.)
CDA30025 [67:33]

There is very little to choose between this recording of the wonderful Mystical Songs and that of Bryden Thomson on Chandos CHAN8590: both are excellent and superior to Hyperionís other version of this work on Helios CDH55004, where itís coupled with an under-strength version of the Tudor Portraits. The coupling may well be left to decide the issue - from Chandos a very good performance of Dona Nobis Pacem and from Hyperion, on a more generously filled CD, equally fine performances of the Serenade to Music, Christmas Fantasia and Flos Campi. Iím not a great fan of the Serenade, though itís VWís best-known choral work and sets some marvellous poetry by Shakespeare spoken by Lorenzo in Merchant of Venice, a part which I played many years ago and for which I still remember the words. Of all the versions that Iíve heard, this came closest to persuading me. The Christmas Fantasia is the odd work out - not something youíd wish to play at other times of the year, though it is good fun and, like everything here, very well performed.
Tomas Luis de VICTORIA: Requiem (Officium Defunctorum, 1605)
Westminster Cathedral Choir/David Hill (from CDA66250, rec. 1987. DDD). Texts and translations available as pdf document.
CDA30026 [57:23]

Recommending one version of Victoriaís Requiem is impossible, when there are four splendid versions to choose from. The superb Tallis Scholarsí version is of the Requiem Mass alone on a 2-for-1 set, Renaissance Giants (CDGIM207), and with Versa est in luctum on another twofer, CDGIM205, with Requiems by Duarte Lôbo, Manuel Cardoso and Alonso Lobo. The version on CDGIM012 is superseded by these two bargain alternatives. (See my Tallis Scholars at 30). The Sixteen offer all the music from the 1605 collection on an equally superb recording on their own Coro label (CORSACD16033), my Download of the Month in October 2008, now available in good mp3 and even better flac from Passionato here. Yet another top-class complete recording comes from Paul McCreesh on DG Archiv 4470592 - also from Passionato, in mp3, here.
All the above come from professional groups. The great advantage of the Hyperion is that it features a cathedral choir - the one English cathedral choir that can claim superiority in the music of Victoria and his contemporaries. It yields nothing to the professionals and it adds the extra dimension of an all-male choir. Being greedy, I want them all for their different qualities; if it has to be just one version, I'd plump for the Hyperion by a small margin, not least because it includes some of the music from the Matins of the Dead, placing the Requiem in context - and also because, of the two versions available in lossless sound, itís £2 less expensive.
[The Tallis Scholarsí recording of the Victoria Requiem has just been reissued as part of a budget-price 4-CD set which also includes their recordings of Tallis, Allegri, Byrd and many others, all dealt with in my recent survey of all the Scholarsí recordings. This splendid reissue on GIMBX301, a clear Bargain of the Month, selling for around £14, has been reviewed on CD by John Quinn - here - and other volumes are due to follow. As I write, the set is not yet available for download.]
Antonio VIVALDI: Lute and Mandolin Concertos - Paul O'Dette (lute); The Parley of Instruments (from CDA66160 - rec. December 1984. DDD.)
CDA30027 [57:34]
These tuneful works provide proof, if proof were needed, that Vivaldi didnít write the same concerto 500 times. There are rival performances, notably from Il Giardino Armonico on Warner Classics, but none to outshine this chamber-scale Hyperion recording.
Another highly recommendable Hyperion reissue of music by Vivaldi is due in November, but available for download now:
The Complete Cello Sonatas


Sonata in B-flat, RV47 [12:44]; Sonata in a minor, RV44 [11:23]; Sonata in-B flat, RV45 [13:55]; Sonata in E-flat, RV39 [12:43]; Sonata in g minor, RV42 [14:49]; Sonata in e minor, RV40 [11:15]; Sonata in F, RV41 [12:39]; Sonata in B-flat, RV46 [10:48]; Sonata in a minor, RV43 [15:19]
David Watkin (solo cello); Helen Gough (continuo cello); David Miller (theorbo, archlute, baroque guitar); Robert King (chamber organ, harpsichord) - rec. November 1993. DDD.
HYPERION CDD22026 [65:35 + 50:02] - from Hyperion (mp3 and lossless)
This is not quite such an urgent recommendation as the Lute and Mandolin Concertos, but itís still well worth investigating at the new attractive 2-for-1 price (£7.99 for the download).
Eric WHITACRE (b. 1970) Cloudburst and other choral works
i thank You God for most this amazing day (1999) [6:05]; I hide myself (1991) [2:51]; Sleep (2000) [5:33]; i will wade out (1999) [2:45]; Go, lovely Rose (1991) [4:07]; When David heard (1999) [12:57]; hope, faith, life, love (1999) [3:50]; Cloudburst* (1993) [8:25]; With a lily in your hand (1991) [2:27]; This Marriage (2004) [2:59]; Water Night (1995) [5:03]; A Boy and a Girl [2002) [4:25]; Her sacred spirit soars (2002) [5:08]; Lux aurumque (2000) [4:08]
pupils of The Lady Eleanor Holles School, Hampton, Middlesex; * Stephen Betteridge (piano); * Robert Millett (percussion); Polyphony/Stephen Layton - rec. The Temple Church, London, 3-5 January 2005. DDD (from CDA67543 - Recording of the Month: see MusicWeb International review.)
CDA30028 [70:43]
This might well have been my Discovery of the Month: I had never encountered the music of this young American composer, but, like John Quinn, reviewing the original CD, I can recommend the reissue wholeheartedly.
*
Finally, Iím planning to include some jazz downloads from time to time.
Take Five - HD Digitally Remastered
Take Five [5:23]
Shortínin Bread [2:27]
Basin Street Blues [4:31]
Strange Meadow Lark [7:22]
Blue Rondo à la Turk [6:43]
When You Wish Upon A Star [4:48]
Georgia On My Mind [6:33]
Three To Get Ready [5:23]
Kathyís Waltz [4:48]
Everybodyís Jumpin' [4:21]
Pick Up Sticks [4:17]
Jeepers Creepers [4:56]
The Lonesome Road [7:34]
Very Good Advice [5:30]
Dave Brubeck Quartet - rec. 1960s. ADD.
TECHNICHE LABEL OMP [74:36] - from emusic (mp3)

If your old LP copy is getting worn and you want to replace it with a bright new digital re-mastering of these classic tracks, this download is strongly recommended; itís yours for the price of 14 tracks. Thereís another 12-track album on emusic, The Essential Take Five - here - with only the title piece (in a different, longer take) overlapping.