Download Roundup – September 2012/2

Brian Wilson


The previous Roundup, September 2012/1 is here.

Some months ago I embarked on a survey of the Haydn Symphonies as performed by the Austro-Hungarian Orchestra on Nimbus, fully intending to cover one volume per month. So far I've managed only the first volume and been side-tracked by the wealth of other new and back-catalogue recordings that have come my way. Mea culpa – I'll try to catch up again next month.

Recording of the Month: Download and Blu-ray

Gustav MAHLER (1860-1911) Symphony No.1 in D: Titan (1889)
Budapest Festival Orchestra/Iván Fischer – rec. September 2011. DDD/DSD
Pdf booklet included.
CHANNEL CLASSICS CCSSA33112 [55:45] – from channelclassics.com – SACD and mp3, 24/44.1, 24/96, 24/192 and 2– and 5-channel DSD downloads

Sergei PROKOFIEV (1891-1953) Piano Concerto No.3 in C, Op.26 [29:52]
Gustav MAHLER (1860-1911) Symphony No.1 in D: Titan (1889) [57:48]
Yuja Wang (piano)
Lucerne Festival Orchestra/Claudio Abbado – rec. live, August 2009. DSD
HD 1080i 16:9 ratio PCM stereo and DTS 5.1 surround. All regions.
EUROARTS Blu-ray 2057694 [79 minutes]
[also DVD 2057698]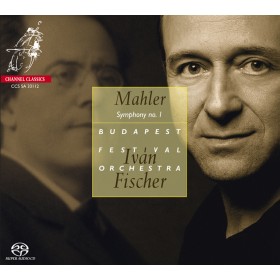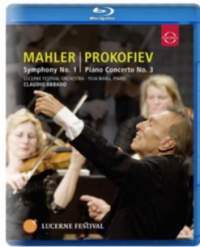 These two recent recordings of this symphony have come to challenge the classic Rafael Kubelík (DG Originals 449 7352) version in my affection. Both of the new versions take more liberties than Kubelík with rubato. Whereas I was mildly disturbed at first by this aspect of Iván Fischer's Mahler Fourth – a view which I modified considerably on repeated hearing – I was not troubled on hearing either version of the First; in fact, I didn't even notice it on first hearing in either case.

Iván Fischer opens the first movement with great delicacy as if Nature herself were setting the pace and the recording allows us to savour that delicacy, especially in 24/96 mode. Later, however, as everything bursts fully into life at the end of the movement, natura naturans, there's plenty of power where it's needed. My only minor caveat is that the wide range and the extreme delicacy of some of the softer passages would preclude playing this recording at a comfortable level in the car; listen at the right level for when things get going and the softer passages will get lost unless you have a very quiet limousine. Heard on a good domestic system this wide range has the advantage of compelling attention; I often start to type my initial responses to a recording even as I'm listening to it, but that seems almost sacrilege in this case.

While on the subject of the recording I should mention that I had some difficulty at first in downloading the 24/96 version – something on my computer was limiting the download to a very slow speed, for reasons which I haven't yet fathomed – so I downloaded the 24/44.1 version, which came down the line much more quickly. Both sound good, but the 24/96,as expected, has the edge.

Both Iván Fischer and Claudio Abbado come to this symphony with their Mahler credentials well established*. They are both a little more measured than Kubelík throughout, except in the third movement where Fischer is only a fraction slower than Kubelík, but it's a measure of the expertise of all three that all their tempi sound exactly right in context. Both make the first movement truly 'Spring without end' in a way that brought to mind both the bright colours and the subtlety of the original animation of the cleaned up Blu-ray version of Walt Disney's Bambi.

In the remaining movements, too, both of the newer recordings held me in thrall just as much as Kubelík. By the end of the tumultuous finale the wild applause that greets Abbado is fully merited, but I'm sure that the other two recording are equally deserving of a similar accolade. With performances such as these, it seems incredible that the original performance of the symphony was such a failure, but that's partly because Mahler has done more than any other composer to re-educate us in the way in which we listen to music.

What Fischer and Abbado have in common is their ability to bring out the degree to which this symphony is based on the sounds of Nature and of birdsong in particular, especially in the first movement. It's not that you wouldn't realise that from Kubelík and it's inherent in the marking in the score, Wie ein Naturlaut, 'like a sound of nature', but it becomes inescapable in these two versions.

DG's 1967 recording has worn exceptionally well – in some respects my caveat about the wide dynamic range of the Channel Classics version also applies here – but the sound of the Euroarts Blu-ray played on the Cambridge Audio 650BD that's linked to my audio system – I haven't heard the DVD equivalent – and the 24-bit versions of the Channel Classics obviously have an edge on it, with the 24/96 bringing a subtle but welcome extra degree of realism over the 24/44.1 of the latter. Audio-only is my preferred method of enjoying the Abbado, only partly because the Cambridge is the better of my Blu-ray players, but the camera-work is a model of its kind: none of the up-the-flautist's-nose shots, but directing us to significant instrumental contributions.

DG couple Kubelík's recording very appropriately with Dietrich Fischer-Dieskau in Lieder eines fahrenden Gesellen, which makes it better value than the Channel Classics, which has no coupling. At £4.99 in 320 kb/s mp3 from hmvdigital.com, it can be yours for the price that I paid for its earlier CD incarnation on the short-lived DG Privilege label. I can't see much reason to pay £8.99 for the lossless download from deutschegrammophon.com, when the CD can be yours for less, even from their own mail order shop.

Bargain hunters in search of the First and Third symphonies together could do much worse than consider the 2-CD Decca Eloquence set with Zubin Mehta and the Israel and Los Angeles Philharmonic Orchestras respectively (480 1133). The First sounds more matter-of-fact than from Kubelík, Fischer or Abbado, and at around £11-12, it's a little more expensive now than when I reviewed it – here – but it's still good value.

If you just want an mp3 version, the Fischer recording can be yours for as little as £1.68 from emusic.com. The bit-rate is unlikely to be impressive – their transfer of the Fourth which I tried falls well below even 102 kb/s – and though you may think the result not too bad, my experience with re-hearing that recording in Channel Classics's 24-bit version made me rethink my attitude to the performance fairly radically. Channel's own downloads are all charged at reasonable rates: from mp3 at £7.12 via 24/44.1 at £11.10 and 24/96 at £13.47 to 24/192 at £15.85. The 2– and 5.1-channel DSDs cost £23.78.

It's a little naughty of Euroarts to claim 'Running Time 93 minutes'; it's more like 79 minutes, but the Prokofiev makes a welcome if unspectacular bonus. Theirs is the most expensive way to obtain the music and you may well wish to see the performance only once before reverting to just hearing it, but the sound and picture are both excellent in Blu-ray format. The DVD costs around £24 and the blu-ray around £28.

Abbado's Mahler is well represented on CD and on DVD/Blu-ray and Fischer has given us the Second (23506), Fourth (26109) and Sixth (22905). May we hope that he now completes the series?

Those looking for the original 1893 5-movement version of Mahler's First, with the rejected Blumine in its proper place, not just as an appendix, will be well served by either Jan Willem de Vriend (Challenge Classics CC72355) or Alexander Joel (Coviello COV31002) - see June 2010 Roundup. The passionato.com download of the Joel recording no longer applies but you'll find it in mp3 and lossless from eclassical.com.

* see my review of Fischer's recording of the Fourth Symphony in the November 2011/1 Roundup.

Joint Download of the Month

George Frideric HANDEL (1685-1759) Saul (1739)
Saul – Christopher Purves (bass)
David – Sarah Connolly (mezzo)
Jonathan – Robert Murray (tenor)
Merab – Elizabeth Atherton (soprano)
Michal – Joélle Harvey (soprano)
High Priest – Mark Dobell (tenor)
Witch of Endor – Jeremy Budd (tenor)
Ghost of Samuel – Stuart Young (bass)
Abner – Eamonn Dougan (baritone)
Doeg – Ben Davies (bass)
Amalekite – Tom Raskin (tenor)
The Sixteen/Harry Christophers
Pdf booklet with text included
CORO COR16103 [2:42:39] – from thesixteendigital.com (mp3, aac, 24/96 alac and 24/96 flac) or stream from Naxos Music Library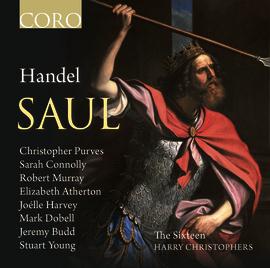 I'm pleased to see Coro's recordings with The Sixteen becoming available now as downloads almost simultaneously with their availability on disc.

The new recording has some formidable predecessors from Messrs Gardiner (Philips) and McCreesh (DG) but Harry Christophers' stylish performance of the overture soon convinced me that there was no need to disinter either of these from their cabinet for comparison: the worth of the new version can safely stand on its own without the need to compare, especially as it alone is available in 24/96 format (flac or alac). Everything seems so right here that detailed analysis is superfluous. I'd already decided to make the two Mahler recordings my choice for the month and I don't normally like to nominate two – it makes it all the more difficult to choose my six recordings of the year, for one thing – but I can't pass over this new Saul.

The new download is also competitive in price terms with either of its rivals: mp3 and aac at £14.50 are less expensive than deutschegrammophon.com's £16.49 for McCreesh in mp3 and £24.99 (flac or alac) not much more for superior 24/96 than deutschegrammophon.com's £19.99 for 16-bit flac. (The deutschegrammophon.com price of £12.49 (mp3) and £14.99 (flac) for the Gardiner, on the other hand, is a real bargain; there's no libretto but you'll find one online here.)

Discovery of the Month

Christopher GIBBONS (1615-1676) Motets, Anthems, Fantasias and Voluntaries
Not unto us, O Lord [4:58]
Voluntarie in C [4:09]
Above the stars my Saviour dwells [6:29]
Fantasy-Suite in d minor [6:57]
Ah, my soul, why so dismayed? [2:38]
Organ Voluntary in C [2:22]
O bone Jesu [3:26]
A Voluntary for ye Duble Organ in a minor [5:40]
Fantasia [4:37]
The Lord said unto my lord [5:02]
Verse for the Double Organn in d minor [4:20]
Fantasy-suite in F [11:49]
Philippa Hyde (soprano), Jacqueline Connell (mezzo), Charmian Bedford (soprano), Richard Latham (bass), Alastair Ross (organ)
Choir of the Academy of Ancient Music; Academy of Ancient Music/Richard Egarr (organ, conductor)
rec. All Hallows Church, Gospel Oak, London, November 2010. DDD/DSD.
¼ comma meantone tuning.
Booklet with English and Latin texts, French and German translations included.
HARMONIA MUNDI HMU807551 [62:27] – from classicsonline.com (mp3)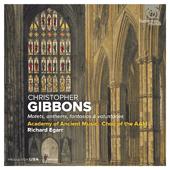 A more detailed review of this recording, in hybrid SACD format, is due to appear on the main MusicWeb pages as my Recording of the Month. The music of Christopher Gibbons has hitherto been a largely unknown quantity apart from odd recordings of individual works in anthologies and the semi-masque Cupid and Death which he co-wrote with Matthew Locke, but this new album from the AAM and Richard Egarr, the latter a fan of the music since he discovered an elderly dissertation on it, reveals him to be as worthy of attention as his more famous father Orlando, himself no mean composer. The solo singing may not be quite out of the top drawer but that's no more than a minor drawback in the case of a revelatory release.

The download comes complete with the booklet, itself an elaborate affair which will be difficult to print out – it's too large to fit into a jewel case, so it comes as a separate entity with the disc in a cardboard cover. I haven't heard the download but the availability of an SACD layer with the physical disc – a subtle but noticeable improvement on the CD layer – means that you may wish to spend a little extra on this occasion; I've seen the SACD on sale for £11 – or less as a limited offer from one online dealer – as opposed to £7.99 for the download, so the price difference is not great.

Bargains of the Month

Channel Classics, whose Mahler First Symphony is my joint Recording of the Month with the Euroarts Blu-ray, have released a number of attractive sampler recordings on SACD, mp3, 24-bit and DSD formats, each priced at 8 Euros or £6.34. You'll find the details on their homepage here. Don't forget the free monthly Hyperion samplers: September HYP201209 and October HYP201210.

***
Conductus, Volume 1: Music and poetry from thirteenth-century France
Quo vadis, quo progrederis? [3:19]
Genitus divinitus [4:30]
Quod promisit ab eterno [4:36]
Artium dignitas [2:59]
Relegentur ab area [8:01]
Qui servare puberem [monophonic] [3:28]
Ut non ponam [3:09]
Qui servare puberem [two-part, unmeasured] [4:00]
Porta salutis [5:23]
Ista dies celebrari [5:49]
Qui servare puberem [two-part, measured] [2:46]
Stephani sollempnia [1:07]
Beate virginis [5:21]
Qui servare puberem [three-part] [1:00]
Heu quo progreditur [1:53]
Stella serena [3:14]
John Potter (tenor), Christopher O'Gorman (tenor), Rogers Covey-Crump (tenor) – rec. October 2011. DDD
Epub and pdf booklet with texts and translations included
HYPERION CDA67949 [60:31] – from hyperion-records.co.uk (mp3, 16– and 24-bit lossless)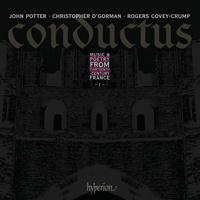 Hyperion, who have already added considerably to the availability of medieval music on record, from Gothic Voices and others, now put us even more in their debt by offering what promises to be the first volume of conductus. To explain what conductus was and how it foreshadowed the more familiar polyphony would take most of this Roundup; it's best that I refer you to Mark Everist's notes on the homepage for this recording – follow the link above.

I should say that conductus is not likely to appeal to as many listeners as the early polyphony of Pérotin, so it might be wise to try track 15, Heu quo progreditur, on the free September 2012 sampler, HYP201209 – here – before purchase. Even the predominantly black cover may be off-putting for many, but those who like what they hear on the sampler will find scholarly and assured performances, well recorded and with those notes by Mark Everist to which I've referred in the booklet, together with the texts and translations; in short, all is well up to Hyperion standards.

Adriaen WILLAERT (c. 1490-1562)
Vespro della Beata Vergine (Vespers of the Virgin Mary, 1550, pub. 1555)
Joris Verdin (organ) – rec. March 2012. DDD
Capilla Flamenca (Rob Cuppens, Marnix De Cat (counter-tenors); Jan Caals, Tore Denys, Govaart Haché, Laurens Wyns (tenors); Lieven Termont (baritone); Dirk Snellings (bass))/Dirk Snellings – rec. February 2012. DDD.
Pdf booklet with Latin texts included
RICERCAR RIC325 [79:28] – from classicsonline.com (mp3)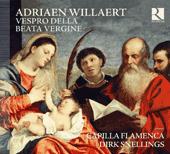 I'm amazed how many unjustly neglected composers are receiving their due in the form of fine recordings even in this time of austerity. Renaissance composers are no exception – two new recordings of Jean Mouton within a few months – and Adriaen Willaert is among them, hitherto represented in the current catalogue only by one recording devoted (almost) entirely to his music: Cinquecento on Hyperion CDA67749 – July 2010 Roundup.

Capilla Flamenca have given us some fine performances of Flemish composers – I'm thinking especially of their recording of the music of Agricola on RIC306: see March 2011 Roundup and my overview of the Ricercar catalogue, February 2012/2 Roundup – and this assemblage of Willaert's music for Vespers of the Virgin Mary is no exception. Organ pieces by Willaert's contemporaries, played on an instrument whose provenance dates back to 1471, are interspersed with the vocal items. In a less competitive month I might well have been considering this for Download of the Month.

The vocal and instrumental items were recorded at different times and in different localities, but the variation of acoustic is not readily apparent. In all respects the mp3 sound is fine and the inclusion of the booklet with texts is welcome – there are no translations, but those of the psalms and Magnificat are not hard to come by.

Fantasticus: Baroque chamber works
Alessandro STRADELLA (1639-1682) Sinfonia No. 22 in d minor [7:71]
Dieterich BUXTEHUDE (c. 1637-1707) Sonata a 2 in a minor, BuxWV272 [7:42]
Giovanni Antonio Pandolfi MEALLI (c. 1629-c. 1679) Sonata 'La Castella' [6:47]
Johann Heinrich SCHMELZER (c. 1620/23-1680) Sonata a 2 in a minor [6:00]
attr. Augustinus KERTZINGER (d. 1678) Sonatina in d minor [4:50]
Antonio BERTALI (1605-1669) Sonata a 2 in d minor [6:45]
Georg MUFFAT (1653-1704) Passacaglia in g minor (from Apparatus musico-organisticus (1690)) [7:45]
Dietrich BUXTEHUDE Sonata and Suite in B flat, BuxWV273 [13:50]
John JENKINS (1592-1678) Fantasia in d minor [4:50]
Fantasticus (Rie Kimura (baroque violin), Robert Smith (viola da gamba & baroque cello), Guillermo Brachetta (harpsichord) – rec. April 2012.
Pdf booklet included
RESONUS CLASSICS RES10112 [66:38] – no CD; download only from resonusclassics.com (mp3, and lossless)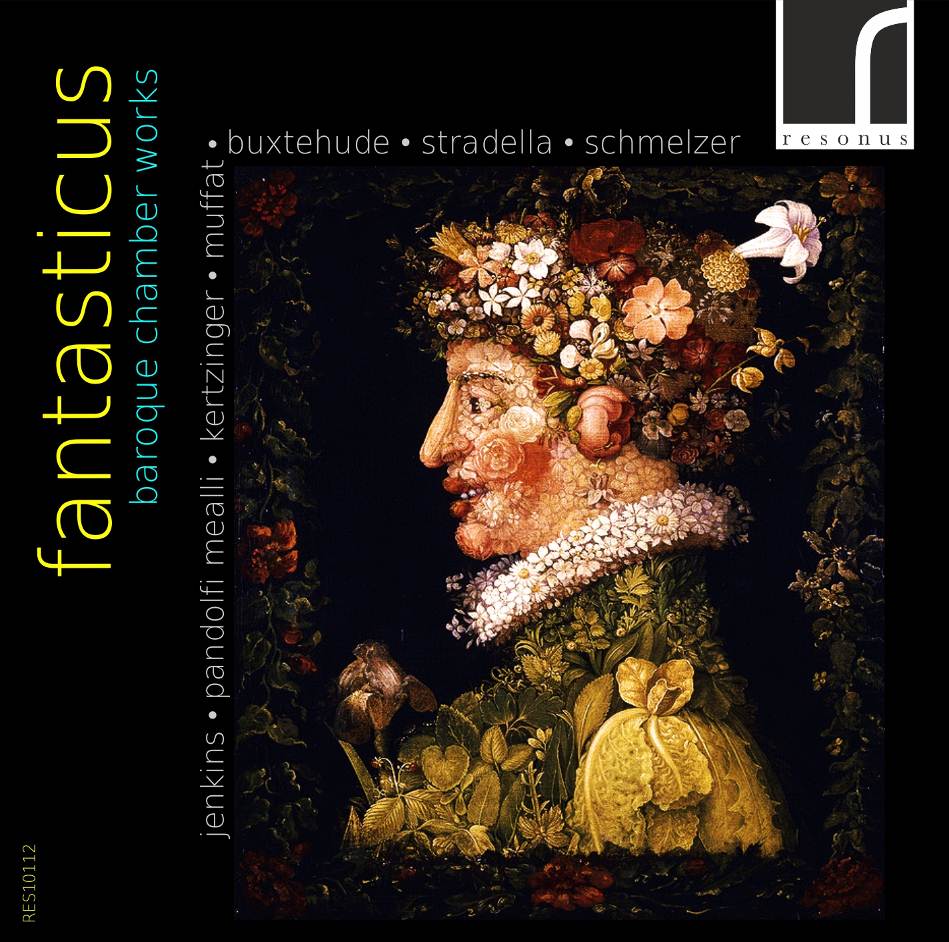 What a huge variety of music Resonus have brought us on their first twelve releases in just one year, from baroque to contemporary and plugging several gaps in the catalogue on the way. Their new release features debut recordings from the Amsterdam-based group Fantasticus, their name adopted from the so-called fantastic style of seventeenth-century music. The recording covers similar ground to a Naïve recording which Geoff Molyneux and I recently reviewed (OP30531 – see review), entitled '1600' but whereas that was limited to Italian instrumental repertoire of the period, Fantasticus have concentrated on Austro-German composers, most of them, apart from Buxtehude, not well known. The two Buxtehude sonatas are available in good recordings from Challenge Classics (CC72251) and Naxos (8.557250). Of the music of Augustinus Kertzinger, however – whom I hadn't heard of before – there seems to be just one other work in the catalogue, a sonata for trumpets, trombones, strings and continuo. I can't pretend that the d minor sonatina attributed to him which we hear on this recording is a major discovery, but it is an exuberant, virtuoso and inventive work.

There's just one Italian here, Pandolfi Mealli, and he was an expatriate working in Innsbruck, c.1660. Setting aside national stereotypes, the music of these composers is somewhat more 'solid' than that of their Italian contemporaries but that doesn't mean that it's boring, especially as presented here. Lovers of baroque instrumental music are well served and others may well start here. The cover shot – one of those Arcimboldo paintings of fantastic human faces made up of fruit and veg – is a good indication of what you'll find on this album. The performances are assured, matching the style of the music and the recording is excellent – I sampled the 16-bit version (£9.99); aac and mp3 are £7.99. I also received a 24-bit review version which I imagine will be more widely available later – perhaps from eclassical.com, who offer 24-bit versions of some of Resonus' earlier recordings. The recording is rounded off with a colourful booklet containing a scholarly but readable survey of the development of the fantastic style in instrumental music in the seventeenth century.

Heinrich SCHÜTZ (1585-1672)
Geistliche Chormusik, SWV369-397 (Sacred Choral Music, Op.11) (1648) [101:04]
Die sieben Worte Jesu Christi am Kreuz, SWV478 (The Seven Words from the Cross) [19:20]
Bach Collegium Japan/Masaaki Suzuki – rec. 1997. DDD
Pdf booklet with texts and translations included
BIS-CD-831/832 [66:06 + 55:37] – from eclassical.com (mp3 and lossless)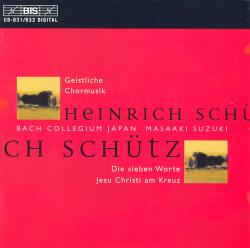 Regular readers will be aware of my high regard for both the music of Heinrich Schütz and the performances of the Bach Collegium and Masaaki Suzuki, here brought together in one of their earliest recordings for BIS, predating even their Bach Cantata series.

The Geistliche Chormusik is far less austere than much of Schütz's music. By 1648 the devastating Thirty Years War was finally over; larger forces were at the composer's disposal than he had had for the Kleine Geistliche Konzerte and the luxurious employment of them seemed appropriate; they receive the luxury treatment here. I haven't heard rival recordings on Carus (83.232), Berlin Classics (0021092BC) and Capriccio (C10858), but I very much doubt that they rival Suzuki's performers, let alone excel them. Mark Sealy – review – and Johann van Veen – review – have both given thumbs up to the Carus, but it's short value by comparison with the BIS – no Sieben letzte Worte, a valuable bonus from BIS.

The recording is excellent, especially in the lossless version, albeit that 'only' 16-bit is available, for the same price as mp3. The notes in the booklet are detailed and scholarly but readable. Only the rather garish cover seems out of place.

At the time of writing this was offered alongside the latest album in the Bach Cantata series – the Bach with 24-bit at the same price as 16-bit and mp3, the Schütz at a 30% discount. As with Hyperion's 'please buy me' bargains, it's impossible in a bi-monthly series of Roundups to keep up with short-term offers, though I did highlight this one in the September 2012/1 Roundup. Keep watching eclassical.com and hyperion-records.co.uk on a regular basis.

The Dacapo recording offers a very good alternative version of the Words from the Cross together with the St John Passion. While the latter is less spare than the St Matthew Passion, it shouldn't be imagined that it is in anything like the operatic style of the Bach passions or even of Telemann's. In many respects it's little different in style from Richard Davy's setting which I featured last month as part of the new Naxos recording of music from the Eton Choirbook. It's unfortunate that it's necessary to duplicate the Words from the Cross in order to obtain both the BIS and Dacapo recordings, though that's less of a problem than might appear, since they are effectively a bonus on BIS, with other recordings offering just the Geistliche Chormusik.

Johann Sebastian BACH (1685-1750) Cantatas Volume 51
Cantata BWV195: Dem Gerechten muss das Licht (1748 or 1749) [18:49]
Cantata BWV192: Nun danket alle Gott (1730 or 1731) [11:00]
Cantata BWV157: Ich lasse dich nicht, du segnest mich denn (1727) [19:42]
Cantata BWV120a: Herr Gott, Beherrscher aller Dinge (1729) [30:37]
Hana Blažíková (soprano), Damien Guillon (counter-tenor), Christoph Genz (tenor), Peter Kooij (bass)
Bach Collegium Japan/Masaaki Suzuki – rec. DDD/DSD
BIS-SACD-1961 [80:88] – from eclassical.com (mp3, 16– and 24-bit lossless)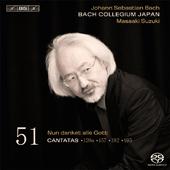 This latest recording in the series will be released on SACD from 1 October 2012 but will have been available for over a month as a download by that date. For some of that time the 24-bit has been available for the same advantageous price as the mp3 and 16-bit.

All the music here was composed as a result of commissions which served to boost Bach's income, but don't let that make you think that it's in any way inferior – after all, the Brandenburg Concertos were commercial; they got their name because they were presented to the Marquis of that name as a calling card from a composer seeking employment. Nor need we be worried that BWV157 exists only in a manuscript written after Bach's death by Christian Friedrich Penzel, the first part of what was originally a bi-partite cantata which has required some editing to restore its original form.

BW120a, adapted for a wedding from what was originally for a council election, has also required some reconstruction; you'll find the details in the excellent booklet of notes – another reason for obtaining the download from eclasscal.com rather than elsewhere. (Classicsonline.com also have the booklet, but not the lossless versions.)

I almost forgot to mention the performances and recording quality – we've come to expect near perfection in both from this source and the same is true again. And if you're thinking never mind the quality, feel the width, look at the generous playing time of 80:88, the only problem with which is that it's too long to burn to one CD-R (limit 79:47) except in mp3 format.

Ludwig van BEETHOVEN (1770-1827)
Große Fuge, Op.133 (orchestral version) [19:09]
Berlin Philharmonic Orchestra/Wilhelm Furtwängler – rec. live 1952. ADD/mono
BEULAH EXTRA 2BX31 [19:09] – from eavb.co.uk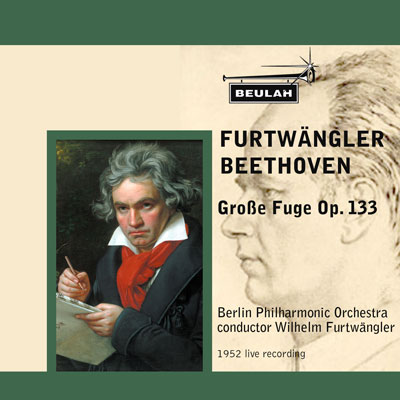 The Große Fuge was the original final movement of the String Quartet, Op.130; deemed too long, it was replaced and preserved with a separate opus number. It used to be fashionable to perform it in a version for string orchestra, the best-known recording of which was made by Otto Klemperer; it was coupled on CD with his stereo version of the Eroica Symphony but is now available only from Testament (SBT1405, with Symphonies nos. 1 and 8). The coupling with the Eroica is not easy to come by even as a download but classicsonline.com can oblige – here – or stream from Naxos Music Library.

This Furtwängler recording was made live in 1952 and I fear that it sounds its age; though there is little or no surface noise in the Beulah transfer the tone is scratchy. As for the performance, it has been described as shaped with loving care but one person's loving care is another's extreme slowness. Klemperer, too, is slow – the former whizz-kid had slowed down considerably by 1961 – but not so extremely; it's his version that I'd go for. You may, however, be a greater fan of Furtwängler's Beethoven than I and it will cost you only £0.75 to find out.

Robert SCHUMANN (1810-1856) Complete Works for Violin and Orchestra
Concerto in a minor for violin and orchestra, after the Concerto in a minor for cello and orchestra, Op.129 (1850: Violin version by the composer) [22:31]
Fantasy in C for violin and orchestra, Op. 131 (1853) [16:20]
Concerto in d minor for violin and orchestra (1853) [32:22]
Ulf Wallin (violin); Robert-Schumann-Philharmonie/Frank Beermann – rec.2009. DDD/DSD
Pdf booklet of notes included
BIS BIS-SACD-1775 [72:30] – from eclassical.com (mp3 and 16– and 24-bit lossless)

[first reviewed in September 2011/2 Roundup. See also review by Gavin Dixon.]

The Romantic Violin Concerto 13
Violin Concerto in d minor, WoO 23 (1853) [32:12]
Violin Concerto in a minor, Op. 129 (1850, arranged from the Cello Concerto) [21:43]
Fantasie in C for Violin and Orchestra, Op.131 (1853) [15:29]
Anthony Marwood (violin)
BBC Scottish Symphony Orchestra/Douglas Boyd – rec. November 2011. DDD
Pdf booklet of notes included
HYPERION CDA67847 [69:24] – from hyperion-records.co.uk (mp3, 16– and 24-bit lossless) [excerpt available on free sampler HYP201209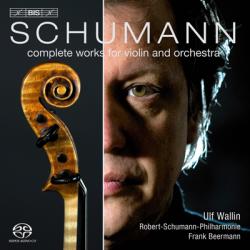 I've long believed that the Schumann Violin Concerto was greatly underrated and deserved a break, but that has seemed a minority view until recently. Now, like London buses, three have come along in short succession, two of which couple the Concerto in d with the composer's own arrangement of his Cello Concerto and the Fantasie in C and both come in 16- and 24-bit lossless sound as well as mp3. The third version appeared on Ondine: Chistian Tetzlaff with the Frankfurt Radio SO and Paavo Järvi, the Violin Concerto in d and the Fantasie with the Mendelssohn Violin Concerto (ODE1195-2 – download in mp3, with pdf booklet, from classicsonline.com or in mp3 and lossless, without booklet, from eclassical.com, or stream from Naxos Music Library). Now the only problem is to choose between them, which is more easily said than done because both Anthony Marwood and Ulf Wallin give excellent accounts; both are very well supported and recorded and both come with booklet.

Tetzlaff and Järvi open proceedings with what looks on paper like a fast performance of the Fantasie – noticeably faster than Marwood and Boyd and even more so than Wallin and Beermann. Whatever the stopwatch says, however, there's no sense of haste here and I enjoyed the performance, especially as it opens proceedings, which is surely preferable to having it follow a major work. Both rival performances are good, too, but you may well prefer to rearrange the order to place this short piece first, as Ondine do.

Subscribers to the Naxos Music Library can compare the Ondine and BIS recordings there and Hyperion offer the complete third movement of the Schumann Violin Concerto on their free sampler (see above).

Where the Ondine recording of the Fantasie is faster than its two rivals, and the same is true to a lesser extent in the first two movements of the Schumann Violin Concerto, Tetzlaff and Järvi take a more expansive view of the finale – 9:19 against 7:27 (Hyperion) – while the BIS performers take longer still: 10:30. The question is which half of the direction to emphasise – lebhaft doch nicht schnell. Heard immediately after the Ondine recording, the BIS version does sound rather deliberate, but if you put the comparison out of mind, the extra degree of lyricism compensates for the slight decrease in drive. All three versions have their merits but ultimately I'd plump for the new Hyperion version – it's the fastest of the three in this movement and faster than Joshua Bell (below) but there's no sense of a scramble. Overall, it's a close one to call – depending on your preferred coupling, you're unlikely to be disappointed – but I think Marwood and Boyd just have the edge.

The Cello Concerto sounds well in its new guise for violin – almost as if it were a different work – and it's well performed in both BIS and Hyperion versions. If you choose the Ondine recording, you won't be disappointed by the Mendelssohn coupling – don't be put off by the cover shot of Tetzlaff with peeling paintwork behind him; there's nothing tatty about the performances – but you may well have more than one version of this already, in one or more of the common couplings with Bruch and Tchaikovsky.

Other recordings of the Schumann Violin Concerto worth considering:

– Orchestral Music (symphonies and concertos): EMI CLASSICS 6090372 (4 super-bargain CDs) Frank Peter Zimmermann, etc.: see review by Rob Barnett (Bargain of the Month) – the CD set is on offer for less than from classicsonline.com, the only download that I can find.
– Piano Concerto and Violin Concerto: WARNER APEX 2564-67716-1 (budget CD) Gidon Kremer/Nikolaus Harnoncourt: see review by Rob Barnett. Also available on a 3-CD set with the Symphonies, for £9.99 from classicsonline.com (mp3) WARNER TELDEC 825646992843
– TCHAIKOVSKY, WIENIAWSKI, BRAHMS and SCHUMANN Violin Concertos: DECCA 475 6703 (2 CDs) Joshua Bell – download from hmvdigital.com (mp3)

Camille SAINT-SAËNS (1835-1921)
Piano Concerto No. 2 in g minor, Op. 22 (1868) [22:07]
The Carnival of the Animals – The Swan (1886) (arr. Godowsky) [2:32]
Maurice RAVEL (1875-1937)
Piano Concerto in G (1929-1931) [20:44]
Prelude in a minor (1913) [1:27]
George GERSHWIN (1887-1959)
Rhapsody in Blue (1924) [14:50]
Love Walked In (1930) [4:00]
Benjamin Grosvenor (piano)
Royal Liverpool Philharmonic Orchestra/James Judd
No downloadable booklet
DECCA 478 3527/UNI029 [66:00] – from linnrecords.com (mp3, 16-bit lossless & 24/96 Studio Master)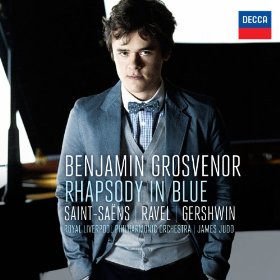 Unless you've been holidaying on Mars you'll know that this 20-year-old pianist is very hot property indeed. Benjamin Grosvenor, who won the BBC Young Musician of the Year title in 2004 and is one of their New Generation Artists, has already given us one recording that was well received by Brian Wilson (review). This new release offers a varied programme that, one assumes, is designed to showcase this young man's range of talents; trouble is, this is not a solo album, so one has to factor in the orchestral contribution as well. And while Vassily Petrenko has done wonders for the RLPO they're not on top form here.

Grosvenor kicks off with Saint-Saëns's wayward second concerto, whose maverick mix of Bachian and rhapsodic elements makes it a good vehicle for virtuosi. My first impressions of Grosvenor – I've not heard him until now – are of a strong musical personality well suited to that grandiose opening. Happily, he's also at ease in the concerto's more reflective moments, striking a good balance between raw technique and finer feelings. I'm less taken with the recording – reviewed here in its 24/96 Studio Master form – which is bright and much too forwardly balanced for my tastes. It all smacks of a hi-fi presentation that, while initially arresting, becomes tiresome after a while.

The RLPO aren't flatteringly caught either, but then the soloist is the star here. Even in the presence of other stellar talents, such as Daniil Trifonov, Nobuyuki Tsujii and H J Lim, Grosvenor is definitely worth your attention. The rhythmic oddities of the second movement are particularly well handled – there's a real sense of mischief here – and he carries off the finale with aplomb. If only the sound weren't so aggressive – orchestral tuttis and keyboard flourishes are fatiguing – this would be an out-and-out winner. As a follow-up Grosvenor gives us Godowsky's arrangement of The Swan, from Carnival of the Animals. An assured performance, it's otherwise unremarkable.

I was keen to hear the Ravel concerto, as it was Grosvenor's Gaspard de la nuit that garnered so much praise last time around. And I wasn't disappointed; he really does have a feel for this mercurial music, and his control of phrasing and dynamics is very impressive indeed. True, his reading may lack the finer nuances and lasered precision of, say, Zimerman and Boulez on DG, but it's still a most persuasive and engaging performance. That said, the central movement is perhaps a little unyielding, although the hyperactive finale is despatched with tremendous brio and bounce.

So not exceptional versions of these concertos, but still a tantalising glimpse of what lies ahead for this promising young pianist. Ravel's Prelude in A minor is a little gem, and it gets a polished outing here, but it's Gershwin's Rhapsody in Blue that really grabbed my attention. Despite the piercing, air-raid-siren of a clarinet glissando at the start, it's a thrilling performance. Grosvenor is a natural when it comes to the work's train-ride rhythms, although some may find the RLPO's exuberance bubbles over into brashness at times. But then this is Gershwin, so that's hardly a deal-breaker. The programme ends with a piano-only version of Love Walked In, played with a quiet, wistful charm that seems just right for the piece.

Not an unqualified success then; the recording and rough orchestral playing are real drawbacks, and the programme is a little odd. Also, Universal have made no attempt to address the issue of downloadable booklets which, when one pays a whopping £18 for these Studio Masters, is just unforgivable. In fact, given the disappointing sonics of this SM – superior sound is the raison d'être of such expensive downloads – I'd suggest buyers go for the cheaper mp3s or 16-bit lossless files instead.

Generally fine playing; the Gershwin fares best.

Dan Morgan
http://twitter.com/mahlerei

Pyotr Ilyich TCHAIKOVSKY (1840-1893)
Symphony No. 6 in B minor, 'Pathétique', Op. 74 (1893) [42:49]
Romeo and Juliet – Fantasy overture (1869/70/80) [18:45]
Swedish Chamber Orchestra, Örebro/Thomas Dausgaard
rec. September 2011, Örebro Concert Hall, Sweden. DDD/DSD
pdf booklet included
BIS-SACD-1959 [62:21] – from eclassical.com (mp3, 16– & 24-bit lossless)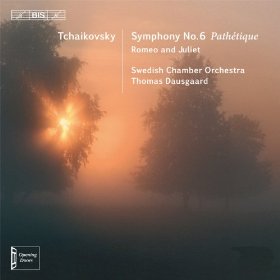 I'm a great admirer of the Danish conductor Thomas Dausgaard, who's given us fine recordings of Nielsen and Langgaard (review); indeed, I'm working my way through Dacapo's big box of the latter's symphonies and I can assure you it's excellent in every way. That said, I was somewhat sceptical about his decision to tackle Tchaikovsky with chamber forces; after all, these are both chest-heaving, emotion-draining pieces, and surely demand a big, surging sound to match. One has to wary of snap judgments, as I felt exactly the same way before auditioning the new Symphonie fantastique from Robin Ticciati and the Scottish Chamber Orchestra; goodness, what a pleasant shock that was (review).

One possible benefit of smaller-scale performances is a greater degree of transparency which, in the case of that astonishing Berlioz, flung the casement wide and revealed a whole new sound world. But then that's the very nature of the piece, its small, telling touches often masked in big-band performances. Orchestral Tchaikovsky, though, is about extravagant gestures and a seamless dramatic line, so can Dausgaard's pared-down, 'Opening Doors' approach – pioneered in Schumann and Bruckner symphonies – really work here? [It does work for me in Schumann, with very minor reservations: see review of BIS-SACD-1519, BIS-SACD-1569 and BIS-SACD-1619 in April 2010 Roundup. Download these now from eclassical.com in mp3 and lossless. BW]

Well, the Stygian start to the opening Adagio has never seemed so hopeless, or the colours so dark. Even at this stage one feels a lack of propulsion, and the tuttis are somewhat underpowered. Also, the thick, bass-heavy sound cloaks inner detail. The Allegro non troppo offers a brief respite from all this existential angst, but for all that the music is blighted by dull, dry textures and a sense that it's emanating from behind a heavy curtain. The Allegro con grazia is no better; that deep Tchaikovskian swell is missing, and it all sounds so grey.

For grey read featureless; the varied topography of this great piece is just hammered flat, both here and in the Allegro molto vivace; indeed, I struggled to find any glimmer of light in this dreary landscape. Even the percussion lacks edge, drowned out by the odd instrumental and recording balance; that said, Dausgaard does find a redeeming thrust at movement's end. Sadly, it's too little too late, even if one were to argue that this slow, louring approach suits the 'blasted heath' that is the Adagio lamentoso. Yes, there is sorrow here – albeit muted – but I do miss the nobility and stoicism that needs more amplitude and energy than it's afforded here. As for that ghostly tam-tam stroke it's very effective, and the music's underlying pulse is well conveyed.

After that dispiriting start I hoped the overture would salvage this brave enterprise. It starts well enough, those dark pizzicato strings much more clearly articulated than usual. There's also more of a dramatic arch here, although it tends to sag under the weight of this bass-heavy blend. In mitigation there are some lovely, hushed moments and those ardent tuttis work better than expected. For all that, momentum is lacking, and despite a powerful finale this performance simply fails to convince.

Innovative approaches to core repertoire are always welcome, as they so often lead to re-evaluation and renewal. That's the case with Ticciati's Berlioz, which overturned all my preconceptions of how the piece should sound. I so wish I could say the same about BIS and Dausgaard's plucky project.

Sometimes less is more; here it really is less.

Dan Morgan
http://twitter.com/mahlerei

Sir Charles Hubert Hastings PARRY (1848-1918)
Te Deum (1911)* [17:06]
England: John O'Gaunt's Verse (1918)* [3:31]
The Birds of Aristophanes (1883) Edited for concert performance by Phillip Brookes) [19:25]
Jerusalem (And did those feet in ancient time) (Original Version) (1916)* [2:34]
The Glories of Our Blood and State, A Funeral Ode by James Shirley (1883)* [8:17]
Magnificat (1897) [23:49]
Amanda Roocroft (soprano)
BBC National Chorus of Wales (Adrian Partington, chorus master)
BBC National Orchestra of Wales/Neeme Järvi – rec. BBC Hoddinott Hall, Cardiff Bay, Cardiff; 17-19 May 2012. DDD.
* premiere recording
Pdf booklet with texts available
CHANDOS CHAN10740 [75:15] – from theclassicalshop.net (mp3 and lossless)

Job: An oratorio for treble, tenor, baritone and bass soli, chorus and orchestra
Guildford Choral Society
Royal Philharmonic Orchestra/Hilary Davan Wetton – rec. 1997. DDD.
Pdf booklet with texts included
HYPERION CDA67025 [68:53] – from hyperion-records.co.uk (mp3 and lossless)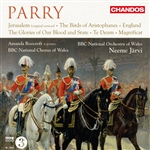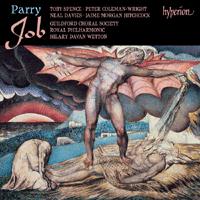 Chandos and Hyperion have done very well by Parry; I'm including a new release with several premiere recordings (Chandos) and one that has fallen by the wayside (Hyperion) this month. Job is available on CD only from the Special Archive Service, so the availability of the download is particularly welcome. I'm publicising it alongside the new Chandos release in the hope that I can in my own small way encourage readers to take both up.

It seems hard to credit that music of this quality is still receiving its first recording more than a hundred years on, but that's the case with three of the works on Chandos and the original version of Jerusalem. In the case of the Coronation Te Deum it's doubly hard to believe that it wasn't discovered even in 1992 when the 1892 Magnificat and Nunc Dimittis (on the second Hyperion recording, below) were restored to us. The 1897 Latin Magnificat, too, is a worthy successor to its English predecessor of 1892. Full marks, then, to Chandos for their pioneering effort and for the quality of the performances, recording and presentation. I had expected to see Sir Andrew Davis's name on the front of the booklet and was surprised to see Neeme Järvi's instead, forgetting that some of the best ever performances of English music have been conducted by incomers such as Pierre Monteux, who gave us such a splendid account of the Enigma Variations during his time with the LSO.

Job is an oratorio much in the mould of Mendelssohn's Elijah but, whereas there's plenty of drama there, as when the prophets of Baal are put to the sword, Job is of necessity a more static work. It's not that Parry doesn't make good use of the dramatic possibilities when they occur, but his treatment of them is just a little too polite – don't expect the vigour of Vaughan Williams' Job – and I think Hilary Davan Wetton's direction is also somewhat to blame; his recording of Vaughan Williams' Tudor Songs suffers in the same way (CDH55004). The recording is good, though at low listening levels I sometimes thought the soloists a little too recessed in balance with the orchestra unless the volume is turned up a notch or two– paradoxically, that's more a problem with the version that I burned to CD than when I play the music directly from my computer. These are, however, very minor reservations about a recording which I have greatly enjoyed hearing.

Two very striking covers and the excellent booklets which they enclose add to the appeal of these recordings.

When you've purchased one or both of these recordings and decided that Parry's music is much under-rated, as I hope you will, you may wish to consider the Chandos complete set of his symphonies (CHAN9120, also available separately) which I recommended in the July 2011/2 Roundup. Then there's the wonderful Lyrita recording of An English Suite and Lady Radnor's Suite on SRCD.220 – see March 2009 Roundup. Let's also get that Parry revival rolling, for example with:

Sir Charles Hubert Hastings PARRY
I was glad [5:44]
Evening Service in D ('the Great', 1892, pub. 1992): Magnificat [8:30]; Nunc dimittis [3:42]
Songs of Farewell [31:20]
Hear My Words, Ye People [15:13]
Jerusalem [2:59]
Roger Judd (organ)
St George's Chapel Choir, Windsor/Christopher Robinson – rec. 1987. DDD.
Epub and pdf booklet with texts included.
HYPERION CDA66273 [67:36] – from hyperion-records.co.uk (mp3 and lossless)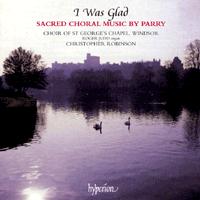 Fortunately there's only one work which overlaps with the new Chandos, Jerusalem, and that's performed here in the conventional version whereas Chandos have recorded the original. You won't find a much finer recording of the English choral tradition – Parry coming home to Windsor in a sense, since he had been a pupil at next-door Eton where he studied under the St George's organist – and everything here belies the image of Parry as a stodgy Victorian.

Sir Charles Hubert Hastings PARRY
Nonet in B-flat [23:27]
Sir Charles Villiers STANFORD (1852-1924)
Serenade in F 'Nonet' [28:41]
Capricorn – rec.1987. DDD
Epub and pdf booklet included.
HYPERION CDA66291 or CDH55061 [52:38] – from hyperion-records.co.uk (mp3 and lossless)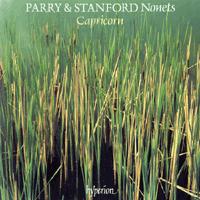 Regrettably the CDA version is available on CD only to special order and the budget-price CDH version is deleted, but both are available for just £5.99 as downloads – the same files, I presume, whichever you choose and certainly the same enjoyable music in fine performances, well recorded.

For other music by Stanford, another composer whose cause needs to be advanced, please refer to the September 2010 Roundup, July 2011/1 Roundup and August 2011/2 Roundup. For the Resonus recording of Stanford's organ music (RES10104, Tom Winpenny) see the June 2011/1 Roundup.

John Philips SOUSA (1854-1932)
Ancient and Honorable Artillery Company [2:21]
The Black Horse Troop [3:14]
Golden Jubilee [3:20]
Manhattan Beach [2:05]
The National Game [2:51]
New Mexico [2:54]
Sesqui-centennial Exposition [3:17]
The Glory of the Yankee Army [3:20]
The Gridiron Club [3:18]
The Kansas Wildcats [2:37]
The Pride of the Wolverine [3:34]
The Rifle Regiment [3:15]
Eastman Wind Ensemble/Frederick Fennell – rec. 1961. ADD/stereo
BEULAH EXTRA 15-26 BX182 [36:09: all available separately] – from eavb.co.uk (mp3)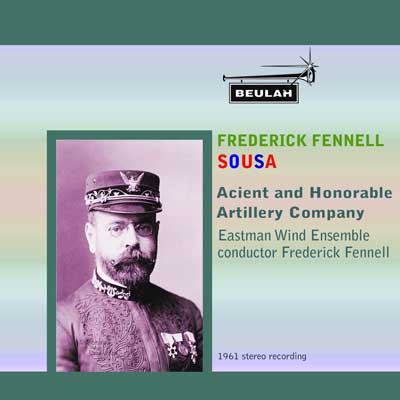 British orchestras have made successful recordings of the music of Sousa, though none seem to be currently available, but his very name is cognate with America – his Portuguese father supposedly altered the spelling of the family name so that it ended with the letters USA – and most of all with these lively and classic recordings under the direction of Frederick Fennell. Beulah have already released a number of Fennell's recordings of Sousa – see December 2011/1 Roundup – and the new releases are equally welcome. As before, the recordings have come up well. Some of these recordings are available on a Mercury CD but that seems to be hard to find in the UK. Indeed, there's very little by Sousa in the current UK catalogue, so Beulah is the place to go and, at £0.50 each, these reissues are very good value.

Sergei RACHMANINOV (1873-1943)
Piano Concerto No.1 in f-sharp minor, Op.1. Revised version (1891/1917) [28:44]
Piano Concerto No.4 in g minor, Op.40. Final version (1926/41) [27:04]
Rhapsody on a Theme of Paganini, Op.43 [24:48]
Noriko Ogawa (piano)
Malmö Symphony Orchestra/Owain Arwel Hughes – rec. June and November1998 and June 2001. DDD.
Pdf booklet included
BIS-CD-975 [81:30] – from eclassical.com (mp3, 16– and 24-bit lossless)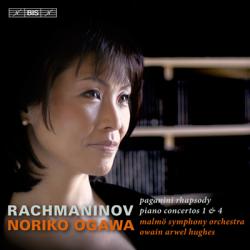 These recordings were made some considerable time ago, soon after those of Piano Concertos Nos. 2 and 3 (BIS-CD-900) and the catalogue number suggests that it was slated for release at about the same time. That recording received a bit of a rough ride from the reviewers – slated in a different, Beckmesser sense of the word – which may account for the fact that its successor has only now been released. In the meantime BIS have treated us to Yevgeny Sudbin's very fine account of the Fourth Concerto, coupled with Medtner's Second (BIS-SACD-1728 – see 'In Brief', February 2010 Roundup: download from eclassical.com in mp3 and lossless).

I haven't heard Noriko Ogawa's recording of the two popular concertos, but competition is much less fierce in Nos. 1 and 4 and she makes a good case for these two works. I'm not entirely sold by her performance of No.1, but that's Rachmaninov's fault rather than hers – I'm not even totally convinced by the award-winning Hyperion recording from Dallas with Stephen Hough and Andrew Litton (CDA67501/2 – December 2011/2 Roundup). No.4, on the other hand, though it takes a bit longer to love than its two predecessors, is an unjustly neglected work. The delicacy of Ogawa's playing in French repertoire has been much praised and it works well with Rachmaninov, too, especially given the sympathetic support which she receives.

I can't make a direct comparison between Ogawa and Sudbin in No.4 because she gives us the 1941 final version, published by Charles Foley, and he the original 1926, published by Boosey & Hawkes. Both are very good and choice may safely be left to preference of coupling; the Medtner concerto is well worth getting to know, but the Paganini Rhapsody which concludes the Ogawa recording is very tempting, bringing the playing time to over 81 minutes. That's a bonus, but also a problem if you want to burn the music to CDR, something which you'll be able to do only if you burn the mp3 version as an mp3 disc, in which case you'll have to cope with minute gaps between variations in the Rhapsody. (See below for the mp3 CD of Gershwin and Rachmaninov which I burned for in-car use.) The original recording was made in 20-bit format, but it's still worth paying that little extra for the excellent 24-bit download.

Top recommendation for all four concertos and Rhapsody still lies with Hyperion; copyright prevents that from being offered as a download but it's available at mid price on disc. If, for any reason, that doesn't appeal, there's Earl Wild and Jascha Horenstein on two CDs, originally recorded for Reader's Digest and now on Chandos CHAN7114. You'll find my thoughts on both of those sets in the December 2011/2 Roundup. If it's just Nos. 1, 4 and the Rhapsody that you want, however – perhaps you have Nos. 2 and 3 already – the new Ogawa recording will do fine, as will Sudbin if you're looking for No.4 and the Medtner.

Josef SUK (1874-1935)
Piano Quartet in a minor, Op.1 [22:39]
Four Pieces, Op.17 [16:37]
Piano Quintet in g minor, Op.8 [33:41]
The Nash Ensemble (Marianne Thorsen (violin), Benjamin Nabarro (violin), Lawrence Power (viola), Paul Watkins (cello), Ian Brown (piano)) – rec.2003. DDD
Epub and pdf booklet included
HYPERION HELIOS CDH55416 [72:56] – from hyperion-records.co.uk (mp3, 16– and 24-bit flac)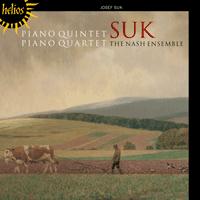 Reviewing the original release – here – Jonathan Woolf thought this a valid alternative to the Supraphon recordings of the Quartet (Suk Trio) and Quintet (Suk Quartet plus Pavel Štěpan), though he ultimately thought those Czech performances preferable. Those Supraphon recordings, coupled with the Piano Trio, are available as a download from hmvdigital.com, amazon.co.uk and emusic.com, but I haven't been able to hear them. I can only say that they must be very good indeed to be preferred to the Nash Ensemble. The music is most attractive, if a little on the serious side in places, the Hyperion recording is excellent and comes in 24-bit sound as well as mp3 and 16-bit lossless; none of these will break the bank – even the 24-bit costs only £6.75.

George GERSHWIN (1898-1937)
Piano Concerto in F (1925) [32:54]
Rhapsody in Blue (original jazz band version, orch. Ferde Grofé, 1924) [16:21]
Second Rhapsody for piano and orchestra (in the original 1931 orchestration by the composer) [15:02]
Variations on 'I Got Rhythm' for piano and orchestra (1934) [8:29]
Freddy Kempf (piano)
Bergen Philharmonic Orchestra/Andrew Litton – rec. August 2011. DDD/DSD
Pdf booklet included
BIS-SACD-1940 [73:56] – from eclassical.com (mp3, 16– and 24-bit lossless)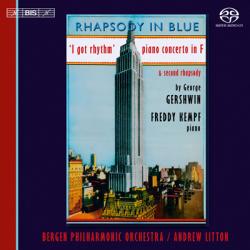 Leonard Bernstein still takes a lot of beating in this repertoire*, but there's a great deal to be said for the new recording, not least the use of the original versions of the two Rhapsodies, in the former of which Håkon Nilsen's schmoozy clarinet turns Bergen into pre-war New York. Freddy Kempf and Andrew Litton don't quite erase memories of Bernstein but they come pretty close and they do so on an album which conveniently couples all four concertante works.

I sometimes think that the Piano Concerto tries too hard to be 'classical' and that impression is heightened by the slightly tentative beginning of this performance, but matters soon improve greatly and all is long forgiven by the time that we reach the end of the prestidigitation of the I Got Rhythm variations at the end of the programme. The recording is excellent – even in the mp3 version which I burned to play in the car, alongside two other BIS releases, the new Rachmaninov Concertos from Noriko Ogawa and the slightly older Yevgeny Sudbin of Rachmaninov and Medtner concertos; over three hours of sustenance for a long journey and still room to spare on one CDR. Remember that with eclassical.com, as with theclassicalshop.net, you can download the very good lossless flac version – either the 16– or 24-bit – and return for the mp3 later.

On the face of it, the recent Naxos recording of three of these works by Orion Weiss and JoAnn Falletta with the Buffalo PO offers a splendid bargain (8.559705). There's nothing at all amiss with the performances but I could give only a limited recommendation in the April 2012/1 Roundup because of the short playing time, without the Rhapsody in Blue. That recording comes from classicsonline.com for £4.99, which is fine if you already have a version of the Rhapsody and need only mp3, but the eclassical.com price of $11.09 for an extra 16 minutes means that you can have both mp3 and 16-bit lossless for not much more. (The 24-bit costs a little extra.)

Bargain-hunters may be interested in a budget-price Regis CD which I reviewed in the May 2012/1 Roundup: Eugene List and Howard Hanson in the Rhapsody in Blue and Piano Concerto, with Antal Doráti conducting An American in Paris (RRC1386 – buy the CD for around £5 or download from classicsonline.com; downloads from other sources may be more expensive).

* American in Paris, Piano Concerto and Rhapsody in Blue, Sony Great Performances 82876787682. Download American and Rhapsody from hmvdigital.com for just £1.98 or from sainsburysentertainment.co.uk, with Bernstein Symphonic Dances from West Side Story for £3.99, both in 320 kb/s mp3.

Allan PETTERSSON (1911-1980)
Symphony No. 1 – Performing edition by Christian Lindberg from the original, incomplete score (1951– ) [30:11]
Symphony No. 2 (1952-1953) [46:45]
Norrköping Symphony Orchestra/Christian Lindberg
rec. May-June 2010, Louis de Geer Concert Hall, Norrköping, Sweden
BIS-CD-1860 [77:54] – from eclassical.com (mp3, 16- & 24-bit lossless)

Symphony No. 6 (1963-1966) [59:18]
Norrköping Symphony Orchestra/Christian Lindberg
rec. January 2012, Louis de Geer Concert Hall, Norrköping, Sweden
BIS-SACD-1980 [59:18] – from eclassical.com (mp3, 16- & 24-bit lossless)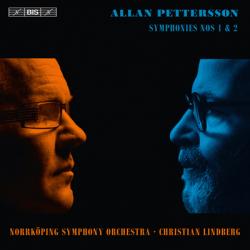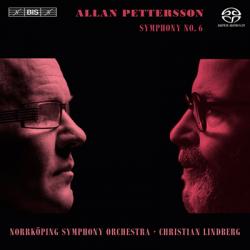 At the time of writing – early September – eclassical were offering both downloads as a cut-price package; buy the newest recording – Symphony No. 6 – and get a 30% discount on Symphonies 1 and 2. To sweeten the deal even more, the 24-bit flacs are offered at the same price as the mp3s and 16-bit files, albeit for a limited period. It's a shrewd strategy, aimed at getting more listeners to experiment with high-res audio. As one converted to the cause some time ago, I reckon it makes good sense, but with one proviso: not all these 24-bit files are high-res originals, a fact stated clearly on the website. Is that an issue? It shouldn't be; I've heard a number of these BIS releases and the difference between 44.1kHz and 96kHz originals is not significant. And for that I'm sure to be pilloried by those on the fringes of Audio-la-la Land.

Sound quality is but one consideration, and matters much less when the performances are something special; occasionally, as in the Dausgaard Tchaikovsky, neither is up to snuff. Thankfully, that's rare and, where possible, I always choose the 24-bit flacs for review or private purchase. One only has to hear the improvements in those vintage Decca, Philips and DG downloads – available from Linn – to be persuaded that these issues are worth the extra moolah. In BIS's case, prices are much lower, which makes the switch to high-res even more attractive.

BIS have recorded many of Pettersson's symphonies, including his late breakthrough, the Seventh (1966-1967). It's unusual for a composer to achieve success so late in his life, but then this intense soul had plenty to contend with, not least the arthritis that plagued him for the last 30 years of his life. In his exhaustive liner-notes Michael Kube describes the incomplete score of Pettersson's First Symphony as an 'extensive torso', although reading further it becomes clear that creating a performing version of the work was far from easy. Undaunted, trombonist and conductor Christian Lindberg took on the task, leading to this world-premiere recording.

As with many of Pettersson's symphonies this one is set in a single movement; and while it's essentially tonal there's a degree of rigour and a density of specification that makes for a highly individual work and an absorbing listen. Certainly, those expecting an uncompromising piece will be pleasantly surprised by the vein of lyricism here; even more appealing is the richness and variety of Pettersson's colour palette, details of which are well caught in this clear and dynamic recording. In fact, it's very hard to believe this is a humble Red Book original, which just proves the point I made earlier.

Newbies will find much to enjoy in this symphony, whose narrative strength and level of incident is never less than compelling. No comparatives spring easily to mind – his is a very distinctive soundscape – which is an advantage in that one can listen free of preconceptions. The Second Symphony is no less engaging and pliable; textures are perhaps leaner – there's some piquant writing for brass that reminded me of Bartók's Bluebeard – and dynamic contrasts are much stronger. That said, there are passages of startling beauty and undoubted feeling, played with great refinement and a sure sense of the work's evolving architecture. Even those outbursts – just listen to the rumble of bass drum and fizz of cymbals – seem proportionate and not in the least rhetorical.

The Second Symphony is remarkably assured, and it benefits in no small measure from an exceptional recording. If you're reluctant to splash out on the entire album – the First is perhaps more of a sketch, an outline, than a finished picture – I'd suggest downloading the Second as a good example of the composer's early work. The Sixth, written over four years, is even more impressive; daunting in its length – the single span lasts an hour – colours are vivid and small details are more subtly realised. There's less time for repose here, and a greater sense of disquiet – menace, even – in those strange tuttis and extended meditations.

Lindberg and his band dig deep, and the BIS engineers respond with another spacious and quietly spectacular recording. Balances are entirely natural, and the extremes of dynamic are accommodated without aggression or loss of focus. There's a pleasing three-dimensionality to the sound as well; just listen to how the lower brass rears out of the mix, and marvel at the sheer 'presence' of side drums and tam-tam. As for the music itself, this eventful hour passes without longueurs; there's so much to savour here, not least the thrill of a fine orchestra in great form.

This deal makes good sense both financially and musically, and potential buyers can be assured that – despite disappointments in the past – the highest production values prevail here. Indeed, this ongoing cycle is every bit as important and desirable as BIS's Aho project, so expect more reviews from this quarter soon.

Fascinating rep, played with rare commitment; fabulous sound.

Dan Morgan
http://twitter.com/mahlerei

Second thoughts

Olivier MESSIAEN (1908-1992) Turangalîla Symphony
Steven Osborne (piano), Cynthia Millar (ondes Martenot)
Bergen Philharmonic Orchestra/Juanjo Mena – rec. June 2011. DDD.
epub and pdf booklet included
HYPERION CDA67816 [77:07] – from hyperion-records.co.uk (mp3 and lossless)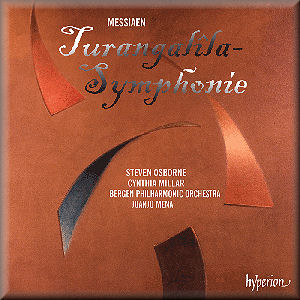 This, from Geoff Molyneux, is actually a fourth positive opinion – Dan Morgan and John Quinn have both made it a Recording of the Month and I was also impressed when I reviewed it in the August 2012/2 Roundup.

One of the most important works of the 20th century is stunningly portrayed by Juanjo Mena and his forces on this magnificent Hyperion recording. The first movement, entitled 'Introduction' is given a performance of colossal power and energy together with playing of great delicacy and refinement in which individual performers contribute with subtlety and musicality. In comparison, the performance by Kent Nagano and the Berlin Philharmonic sounds positively tame in the more ferocious music and in the 'statue theme'.

In 'Chant d'amour 1' the performers make telling contrasts between the gorgeous and tender melody for strings and ondes, beautifully played here, and the rhythmic sometimes violent outbursts. Sometimes faster sections seem a bit rushed in Mena's performance and there is not quite as much clarity as in Ricardo Chailly's rendition with the Amsterdam Concertgebouw Orchestra. Rattle is also somewhat slower than Mena in both the fast music and the gentle string melody with ondes. All three control well the various tempi presented in the different sections and I particularly like Rattle's performance of the beautiful slow melody. That said, Mena controls the sudden changes in tempo and character in this movement so well, and gives the most energised and well-contrasted performance.

In the third movement, 'Turangalila 1' the opening is beautifully coloured beginning with a clarinet solo and delicate percussion, soon joined by a pizzicato bass. The recording has a very wide dynamic range and maybe this opening is slightly too soft. The pizzicato is barely audible, but it is perfect on its return at the conclusion of the movement where solo oboe shares the honours with the clarinet. Chailly takes a little longer here and this is to the music's advantage and the Amsterdam principal clarinet has a tone to die for. Yan Pascal Tortelier also has a beautiful clarinettist but Tortelier does not produce the white heat of intensity that Mena achieves during the more frightening sections.

At the beginning of the fourth movement, 'Chant d'amour 2', I love the colour of the bassoon and piccolo in octaves at the start. This is lively, humorous and staccato, until the piano and other instruments join in. Previn is so slow in this passage. In the full orchestra sections in the Hyperion recording there is a perfect balance, and even in the densest music we can hear the individual solos and orchestral sections with great clarity. What superb piano playing from Osborne in this movement! The various themes are developed and coloured, then suddenly we hear the supremely gentle flower theme on the clarinets followed by the statue theme. Everything is superbly controlled by Mena, especially as we reach the lovely and delicate conclusion.

The fifth movement is fast and fearless and is played with a great rhythmic verve and colour. This is a real tour de force of energy and I can hear everything so clearly. There is some fabulous ondes playing here from Millar. The brilliant and virtuosic piano cadenza leads into a return of the statue theme concluding with a massive and climactic crescendo on the final chord. This is actually quite overwhelming in Mena's performance. Previn is almost as impressive in the climax but the Hyperion is more spacious, whilst Kent Nagano's recording with the Berlin Philharmonic is a bit over resonant in the lively first section.

After such exhilaration, we need a long pause before moving into the sublime music of Movement six. Hyperion give us the necessary time to adjust before we enter the intoxicating 'Jardin du Sommeil d'amour'. This is fabulously played in the strings and the ondes Martenot with contrasting birdsong represented in the piano. The delicacy and refinement here is truly wonderful. A great and moving performance. I also like André Previn with the London Symphony Orchestra in this movement; the accompanying instruments are more equally balanced whereas Steven Osborne on Mena's performance is a little too much in the foreground both at the start and when other instruments join the piano. This is only a minor observation. The performance is fabulous.

Movement 7, 'Turangalila 2' is a nightmarish piece beginning with a piano cadenza, but an array of percussion soon begins to dominate. Later we hear the brass chordal statue theme. I like the clarity of Howard Shelley's playing on Tortelier's recording, but Osborne and Mena provide a more abandoned and thrilling experience.

In the eighth movement most of the themes and ideas are further developed. The huge range of colour, texture and volume is superbly captured by Mena and his forces. The final shattering chord, which gradually disappears into empty space at the end, is an astonishing feat of recording. Rattle and the City of Birmingham Symphony Orchestra also give a stunning performance, but their rather elderly recording cannot match this new version from Hyperion.

The ever-increasing complexity of the short Ninth movement, 'Turangalila 3' is superbly realised by Mena, and the finale is a fast, lively and joyous climax to the work. Mena controls a thrilling crescendo leading to a magnificent, final statement of the love them from the full orchestra, followed by a lively conclusion finishing with a fortissimo chord.

There are several fine recordings available including those by Tortelier, Previn and Rattle, but on balance I would choose this new recording headed by Juanjo Mena. The performance has all that one could wish for and Hyperion have done wonders in capturing the vast range of sound in Messiaen's huge palette of musical colour.

Geoffrey Molyneux

***

Ravi SHANKAR (b.1920) Symphony (2010)
Anoushka Shankar (sitar)
London Philharmonic Orchestra/David Murphy – rec. live, RFH, July 2010. DDD
Pdf booklet included
LPO LIVE LPO0060 [41:49] – from classicsonline.com (mp3)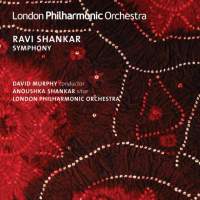 Even more than Ravi Shankar's by now well-known sitar concertos (EMI Gemini 5865552), this is a first-class blend of Eastern and Western music. I'm not sure if it qualifies as a symphony, but that shouldn't spoil your enjoyment; take it as you find it. With his daughter Anoushka playing the sitar and Ravi Shankar himself in the Festival Hall audience, this premiere performance is authoritative and the live recording is very good. The booklet of explanatory notes comes as part of the deal, which is valuable.

42 minutes is hardly a generously playing length, but for once I won't complain; what could possibly have been coupled with the Symphony? It's one of those inexplicable paradoxes that you can purchase the CD for less than the download (on offer for £4.85 from our partners at MDT, normally £5.95, £5.32 from amazon.co.uk at the time of writing, as against £7.99 for the download from classicsonline.com.

Antony PITTS (b.1969) Alpha and Omega
The Peace of Jerusalem [8:15]
Sanctus and Benedictus [3:26]
A Thousand Years [7:50]
My Dove [7:22]
The 'I Am' sayings of Jesus [41:06]
Tonus Peregrinus (Joanna Forbes, Rebecca Hickey, Kathryn Knight, Alexander L'Estrange, Richard Eteson, Alexander Hickey, Francis Brett, Nick Flower)/Antony Pitts – rec. 2007. DDD.
Pdf booklet and epub included
HYPERION CDA67668 [67:59] – from hyperion-records.co.uk (mp3 and lossless)

Antony PITTS Seven Letters
Adoro te [3:55]
The Lord's Prayer [3:58]
The First and Last [2:16]
Seven Letters to the Churches [24:10]
O Love [3:46]
O Wisdom of God – Antiphon for Advent [9:36]
O Holy of Holies – Antiphon for Advent [4:16]
Amen [8:24]
Tonus Peregrinus/Antony Pitts – rec. 2000. DDD.
Pdf booklet and epub included
HYPERION CDA67507 [60:13] – from hyperion-records.co.uk (mp3 and lossless)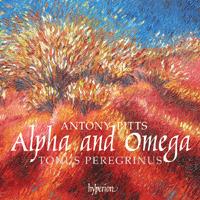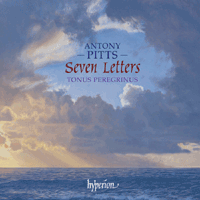 As director of Tonus Peregrinus, Anthony Pitts clearly has the music of renaissance composers in his blood and they are a clear influence on his own music, as also is Arvo Pärt whose music the group has also performed. (Serenity: the Beauty of Arvo Pärt, Decca 480 6386, 2 CDs.) It's almost as if one of his renaissance predecessors has been miraculously restored to life, been allowed to catch up with all that has intervened, and then set pen to paper – except that my description doesn't begin to do justice to the individuality of his music. Jeremy Summerly's notes, available on the Hyperion webpage, do it better. The result is not 'easy' listening – less immediately approachable than some of the other contemporary composers that Hyperion have brought us – but it is absolutely enthralling and there can be no better take on it than these two recordings from his own ensemble, both very well recorded and documented in the Hyperion style. It clearly arises from the composer's own religious faith, but you don't need to share that faith to respond – after all, it spoke to me as an Anglo-Catholic/Buddhist agnostic.

Reviewing Tonus Peregrinus's recent release of music from the Eton Choirbook (Naxos 8.572840 – Bargain of the Month: August 2012/2 Roundup) I omitted to mention their recordings of their founder's own music and I'm happy to put that right now. Unfortunately the encomiums (encomia?) which greeted the release on CDA67507, not least from our own John Quinn – review – have not saved it from the unloved 'please buy me category' where it was languishing when I downloaded it – let's not allow it to descend there again.

We seem not to have reviewed the more recent recording on CDA67668 but it's equally recommendable. The enthralling opening work is the coda from Pitts' Jerusalem-Yerushalayim, a work still awaiting its premiere recording in full, and one which I hope someone will be prepared to take up. The received etymology of the name Jerusalem links it with the Semitic root s-l-m, peace, and that's the spirit that breathes through this work. If you're still not prepared to go the whole hog and buy either of these recordings, you'll find adoro te, perhaps the most striking work from CDA67507, on a Hyperion sampler of contemporary choral music, Dreamland (HYP41– yours to download for just £2.99 – here).

Work in progress

Loyset COMPÈRE (c1445-1518)
Dictes moy toutes voz pensées [1.50]
Jean MOUTON (before 1459-1522)
Missa Dictes moy toutes voz pensées [38.18]
Quis dabit oculis? (Lament for Anna) [8.35]
Ave Maria … benedicta tu [2.11]
Salva nos, Domine [2.31]
Ave Maria … virgo serena [9.33]
Nesciens mater [4.54]
The Tallis Scholars/Peter Phillips – rec. 2011 (?). DDD.
Pdf booklet with texts and translations included.
GIMELL CDGIM047 [67:54] – from gimell.com (mp3 and 16– and 24-bit lossless)



I plan to say more about this new recording, due for release in October, in my next Roundup, when I hope to be able to include some thoughts from Geoff Molyneux to set alongside my own. I know that John Quinn is also planning to review the physical product among the main MusicWeb International reviews. As soon as the download appears, there's no need to hesitate; my fuller review will be largely a matter of filling out my very positive initial thoughts on the music, performance, recording and presentation. Best of all, only Nesciens mater overlaps with the fine Mouton recording made by the Brabant Ensemble for Hyperion and reviewed in the July 2012 Roundup (CDA57933). Between them these two recordings have increased the recorded repertoire of Mouton by a factor of almost infinity.