Download Roundup – August 2011/2
Brian Wilson

The August 2011/1 Roundup is here and earlier versions can be found here.

Downloads of the Month
Anton BRUCKNER (1824-1896)
Symphony No. 7 in E, WAB 107 (ed. Haas)
Vienna Philharmonic/Herbert von Karajan – rec.1989. DDD.
DG KARAJAN GOLD 439 0372 [66:05] – from passionato.com (mp3)

Symphony No. 7 in E, WAB 107 (1885 version, ed. L. Nowak)
Orchestre de la Suisse Romande/Marek Janowski – rec.? DSD/DDD
PENTATONE PTC5 186370 [65:14] – from eclassical.com (mp3 and lossless)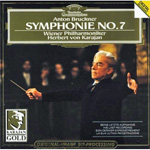 These two recordings neatly encapsulate my usual recommendations for new releases and back catalogue: this month they are both for the same work. The DG was Karajan's last recording, in the Vienna Musikverein, still available on CD at full price and worth every penny. Though I've enjoyed and listed the new Janowski for those in search of more recent sound, conveyed via a lossless (16-bit flac) download, I don't think many will fault the mp3 transfer of the Karajan. Had I heard it in a blind test, I might well have thought that I was listening to the CD or a lossless download. Much as I like Jochum's more episodic approach to Bruckner, also on DG, Karajan's apparently seamless performance wins in the Seventh.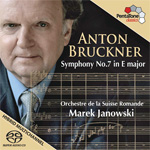 PentaTone already had a decent recording of this symphony, from the VSO, conducted by Yakov Kreizberg but their new account safely replaces it. Janowski also adopts a comparatively seamless approach to the work and his recording sounds first class. Choose either Karajan or Janowski according to personal preference and you won't go far wrong. With neither of these versions do you find yourself thinking that you heard this theme 30 minutes ago and you're tired of it. There's very little difference between the prices (eclassical $11.71 in mp3 or lossless, passionato.com £7.99 in mp3 only).


Bargain of the Month

Claudio MONTEVERDI (1567-1643) L'Orfeo (1607)
La Musica – Natalie Dessay (soprano)
Orfeo – Ian Bostridge (tenor)
Euridice – Patrizia Ciofi (soprano)
Messagiera – Alice Coote (contralto)
Speranza – Sonia Prina (contralto)
Caronte – Mario Luperio (bass)
Proserpina – Veronique Gens (soprano)
Plutone – Lorenzo Regazzo (bass)
Apollo – Christopher Maltman (baritone)
Ninfa – Carolyn Sampson (sopr will ano)
Eco – Paul Agnew (tenor)
Pastori – Pascal Bertin, Paul Agnew, Christopher Maltman, Richard Burkhard
Spiriti – Malcolm Bennett, Paul Thompson, Norbert Meyn, Richard Burkhard, Robert MacDonald
European Voices; Les Sacqueboutiers
Le Concert d'Astrée/Emmanuelle Haïm (harpsichord, organ, regal and direction)
rec. 15-22 January 2003, Paroisse Notre Dame du Liban, Paris. DDD.
No booklet or texts
VIRGIN VERITAS 5456422 [45:05 + 51:08] – from amazon.co.uk (mp3)

['This is a fine recording and will appeal to all admirers of Ian Bostridge. Those purists who are looking for a performance which attempts to recreate Monteverdi's original sound-world may be disappointed and are all advised to look elsewhere.' See review by Robert Hugill]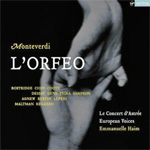 This is not the definitive version of L'Orfeo – as if there could be such a thing – but its virtues are sufficient to make it competitive and the asking price of £2.99 makes it an undeniable bargain. Some of the aspects which RH mentions are annoying but not so that they spoiled my pleasure. Overall the strengths greatly outweigh the shortcomings. The recording is transferred at rates slightly below Amazon's normal 256kb/s but I had no complaints about the sound. If you must have lossless sound, you'll find it at passionato.com, but it will cost you £19.99, a good deal more than the price of the CDs from some suppliers. (Recently reissued on EMI Opera 9482532, 2CDs plus bonus disc.) There's no booklet – not that I can really grumble when the two CDs cost so little: in any case, you should easily find a libretto and/or summary online. Try the Naxos offering here.

The Gardiner, Medlam, Cavina and Alessandrini versions which I recommended in February 2010 all have their (very) strong points, but none comes anywhere near the ridiculously inexpensive price of the Haïm download.

Reissue of the Month

JOSQUIN DES PREZ (c.1450/55-1521)
Missa Pange lingua (4vv) [32:36]
Planxit autem David (4vv) [14:45]
Vultum tuum deprecabuntur (4vv) [27:51]
The Choir of Westminster Cathedral/James O'Donnell – rec. March 1992. DDD
Pdf booklet with texts and translations included.
HYPERION HELIOS CDH55374 [74:02] – from hyperion-records.co.uk (mp3, lossless flac and alac)
[originally issued on CDA66614]



The Westminster performance of the Mass is slightly more measured than that of its principal competitor from The Tallis Scholars on Gimell. (See my survey of The Tallis Scholars at 30 – here.) If I prefer the latter, it's only by a small margin – and it's only that slight preference which initially made me hesitate to make the Helios my Reissue of the Month. Indeed, both are available so inexpensively that there's a strong case for having both the all-male choir and the mixed-voice professionals. The Helios costs just £5.99 in all formats and the Gimell comes on a 2-for-1 offer, The Tallis Scholars sing Josquin, with three other Masses, Missa la sol fa re mi, Missa l'homme armé super voces musicales and Missa l'homme arme sexti toni (CDGIM206).

***

Orlande De LASSUS (1530/32-1594)
Prophetiæ Sibyllarum (Prophecies of the Sibylls) 4vv [29:15]:
Prologue Carmina chromatico quæ audis modulata tenore [1:28]
Sibylla Persica [2:36]
Sibylla Libyca [2:54]
Sibylla Delphica [2:24]
Sibylla Cimmeria [2:22]
Sibylla Samia [1:58]
Sibylla Cumana [2:25]
Sibylla Hellespontica [2:11]
Sibylla Phrygia [2:01]
Sibylla Europæa [1:57]
Sibylla Tiburtina [2:07]
Sibylla Erythræa [2:05]
Sibylla Agrippa [2:40]
Magnificat Quant'in mille anni il ciel 6vv [9:26]
Iustorum animæ 5vv [3:16]
Deficiat in dolore vita mea 6vv [4:08]
Tristis est anima mea 5vv [4:48]
Missa Amor ecco colei 6vv [23:17]
The Brabant Ensemble (Helen Ashby, Kate Ashby, Alison Coldstream, Aimée Green (soprano); Emma Ashby, Sarah Coatsworth, Fiona Rogers (alto); Alastair Carey, Andrew McAnerney, Daniel Norman, Oliver Winstone (tenor); Will Dawes, Jon Stainsby, David Stuart (bass))/Stephen Rice – rec. September 2010. DDD.
Pdf booklet with texts and translations included
HYPERION CDA67887 [74:01] – from hyperion-records-co.uk (mp3, lossless flac and alac)



Orlande de Lassus, also known as Orlandus Lassus, Orlando di Lasso and Orlande de Lasse, was by far the most prolific composer of his age and, by and large, the recording catalogue has done well by him. There are distinguished recordings on the Harmonia Mundi, Signum, Gimell and ASV labels and, at budget price, Naxos, Regis and Alto. No other label has done better by him than Hyperion who already had excellent versions of the Missa bell'amfitrit'altera (CDH55212, Westminster Cathedral) and the Seven Penitential Psalms (CDD 22056, 2-for-1, Henry's Eight).

The title of the main work, Prophecies of the Sibyls, requires some explanation. There seems originally to have been just one sibyl in the ancient world but their number soon multiplied until a dozen or more had appeared, the best-known of whom was the Sibyl of Cumæ who facilitates Aeneas's descent to the underworld in Book VI of Virgil's Aeneid. In general they foretold the coming return of the Golden Age, a message eagerly seized on by the Emperor Augustus and his supporters and later adopted as foretelling the birth of Christ by Saint Augustine and other Christian writers, including Milton in his Ode On the Morning of Christ's Nativity.

There have been earlier versions of the Prophetiæ from Cantus Cölln (Deutsche Harmonia Mundi), Labyrinth (Stradivarius) and by the Hilliard Ensemble on the ECM label: some dealers have limited stocks of the latter. The only current rival generally available appears to be on a recent recording from Manuel Cordes and Weser-Renaissance Bremen on the CPO label (777 4682, download from classicsonline.com or stream from the Naxos Music Library). It's excellent value at £4.99 with a booklet of texts and translations, but it received rather short shrift from Robert Hugill who thought that the singers could make a great deal more of the words – see review. You don't need to listen to this version very long to see what RH meant about the poor diction and CPO even manage to misprint the title of the prologue in the list of contents – it's not carmina chromatica: as Stephen Rice points out in the Hyperion booklet:

The opening text phrase, 'Carmina chromatico quae audis modulata tenore' at first sight … appears to imply that the prologue, or indeed the entire piece, is chromatic; but as in most Latin poetry, the word order is subordinated to the metre, and here the word 'chromatico' describes the 'tenore', both in the ablative case. Thus it is not the 'songs' ('carmina') that are chromatic, but the tenor-the songs are 'modulata' (set polyphonically).

The performances on Hyperion are taken at a more leisurely pace and sound less frenetic than those on CPO and I'm pleased that they come without the (albeit unobtrusive) instrumental accompaniment of the latter.

Neither the Magnificat nor the Mass recorded here seems to have any current rivals. These, together with the five-part penitential motets are very well performed in an unhurried fashion and the whole album is very well recorded – as usual with recordings of this provenance, a touch of volume increase is in order.

The notes in the booklet are scholarly and informative, though they will probably be a little too scholarly for the average reader. In short, everything here is up to the usual high standards of the Brabant Ensemble and Hyperion in conjunction.

Some further Lassus recordings which have been reviewed in Roundups:

– Lamentations for Maundy Thursday; Requiem: Signum – Cleobury (April 2009)
– Missa Tous les regretz: Harmonia Mundi – Huelgas Ensemble (+ ASHEWELL, PALESTRINA Missa ut re mi) (May 2009)
– Missa Osculetur me, etc.: Gimell – Tallis Scholars (May 2009)
– Missa Qual donna attende; Missa Venatorum, etc: Nimbus – Christ Church Cathedral Choir (September 2009)
– Laudent Deum – Sacred Music : Chandos – St John's Cambridge (March 2011/2)
– Music for Easter and Requiem: Alto – Pro Cantione Antiqua (April 2011/1)
– Quam pulchra es, etc.: Regis – Cardinall's Music (April 2011/1)
– Requiem; Lamentations: Signum – Cleobury (April 2011/1)

For medieval vernacular treatments of the sibyl, see review of El Canto de la Sibilla (Montserrat Figueras and Jordi Savall, Alia Vox – from emusic.com here or here) in the November 2009 Roundup.

Tudor Anthems and Motets
Orlando GIBBONS (1583-1625) Hosanna to the Son of David [2:48]; O Lord in thy wrath [3:48]
Thomas MUDD (1559/60-c.1619) Let thy merciful ears [1:35]
Richard FARRANT (1525-1580) Call to remembrance [2:03]
Richard FARRANT and John HILTON (?-1608) Lord for thy tender mercies sake [2:03]
Thomas TALLIS (1505-1585) Salvator mundi [3:21]; If ye love me [2:17]
William BYRD (1543-1623) Hæc dies [2:12]; Ave verum corpus [4:29]; O Lord give ear [3:00]; Sing joyfully [2:41]
Thomas TOMKINS (1572-1656) When David heard [5:35]
Richard DERING (1580-1630) Factum est silentium [2:40]
Peter PHILIPS (1560-1628) Ascendit Deus [2:24]
Robert PARSONS (1530-1570) Ave Maria [5:49]
John SHEPPARD (1515-1559) Libera nos [3:11]
Thomas WEELKES (c1575-1623) Hosanna to the Son of David [1:55]
Robert WHITE (1538-1574) The Lord bless us [4:23]
Choir of Clare College, Cambridge/Timothy Brown – rec. June 1991 and June 1993. DDD.
pdf booklet, but no texts or translations included
HERITAGE HTGCD216 [67:32] – from classicsonline.com (mp3) or stream from Naxos Music Library

[see reviews by John Quinn – Bargain of the Month – and John Sheppard: 'otherwise [apart from the lack of texts] very distinguished.']



This is a real bargain on CD – £10 post free from MusicWeb International – and even less expensive as a download for £4.99. Either way, it's an excellent recommendation for beginners and seasoned collectors of Tudor polyphony alike. I've seen one review which complained about out-of-focus tuning and reduced the recording to 2-star status. The tuning may slip slightly and occasionally in the longer works, but not to the extent that it's really worrying – and it can be a problem with long a cappella works from performers with much bigger names – and the recording is certainly never less than very serviceable.

Oxford Anthems
William BYRD (c1540-1623) O lux beata trinitas* [5:16]
Thomas TOMKINS (c1572-1656) O Lord let me know mine end** [6:43]
Christopher TYE (1505-1572) My trust, O Lord, in thee is grounded [4:05]
Orlando GIBBONS (1583-1625) O Lord in thy wrath rebuke me not [3:35]
William CROFT (1678-1727) We will rejoice in thy salvation*** [4:55]; O Lord rebuke me not*** [7:32]
Maurice GREENE (1696-1755) O clap your hands together* [3:35]; Thou visitest the earth* [2:26]
William BOYCE (1711-1779) Wherewithal shall a young man* [5:51]
Thomas ATTWOOD (1765-1838) Come, Holy Ghost** [4:17]
Jonathan BATTISHILL (1738-1801) O Lord, look down from Heaven** [3:47]
Samuel Sebastian WESLEY (1810-1876) Thou wilt keep him in perfect peace**** [4:03]
Charles Villiers STANFORD (1852-1924) If ye then be risen with Christ***** [8:51]
Edward ELGAR (1857-1934) Ave verum corpus [2:44]
C. Hubert H. PARRY (1848-1918) I was glad [5:19]
The Choir of New College, Oxford/Edward Higginbottom
Timothy Morris (*), David Burchell (**), Andrew Smith (***), Martin Hallows (****), Paul Plummer (*****) (organ)
rec. 1987-2007, UK. ADD/DDD
pdf booklet, but no texts included
HERITAGE HTGCD217 [73:00] – from classicsonline.com (mp3) or stream from Naxos Music Library

[See review by Johan van Veen: 'I don't hesitate to recommend [this CD], in particular to those who don't know this choir yet. But the best advice I can give is to collect the original recordings from which the anthems on this disc are taken. I have already indicated that the performances are generally excellent.']



In a generous spirit of ecumenism, I've allowed Clare College from the 'other' place to precede New College, but this recording, which casts its net somewhat wider – over four centuries, indeed – is equally recommendable apart from Johan van Veen's proviso about preferring the parent discs. In fact, I'd go a step further and suggest that if you buy this sampler of New College's CRD recordings, you'll almost inevitably incur further expense because you'll want some or all of the parent recordings. Alternatively, you could supplement the Heritage selection with the very inexpensive 2-CD Regis set, The Glory of New College (RRC2091) which I recommended in the December 2010 Roundup. Most of the same composers feature but, perhaps deliberately, you won't duplicate any of the music.

The Triumphs of Oriana (1601)
Michael EAST (c. 1580-1648) Hence, stars, too dim of light [1:40]
Daniel NORCOMBE (?1576-1655) With angel's face and brightness [2:05]
John MUNDY (c. 1555-1630) Lightly she whipped o'er the dales [2:57]
Ellis GIBBONS (1573-?1603) Long live fair Oriana [2:40]
John BENNET (c. 1575/80, fl. 1599-1614) All creatures now are merry-minded [1:54]
John HILTON the elder (c. 1560-1608) Fair Oriana, beauty's queen [2:02]
George MARSON (c. 1573-1632) The nymphs and shepherds danced [2:39]
Richard CARLTON (c. 1558-?1638) Calm was the air and clear the sky [3:43]
John HOLMES (?-1629) Thus Bonny-boots the birthday celebrated [2:29]
Richard NICOLSON (1563-1639) Sing, shepherds all, and in your roundelays [3:27]
Thomas TOMKINS (1572-1656) The fauns and satyrs tripping [4:23]
Michael CAVENDISH (c. 1565-1628) Come, gentle swains [3:04]
William COBBOLD (1560-1639) With wreaths of rose and laurel [2:08]
Thomas MORLEY (1557/8-1602) Arise, awake, awake [2:10]
John FARMER (c. 1570, fl. 1591-1601) Fair nymphs, I heard one telling [2:23]
John WILBYE (1574-1638) The Lady Oriana [2:23]
Thomas HUNT (1580-1658) Hark! Did ye ever hear so sweet a singing? [3:01]
Thomas WEELKES (1575-1623) As Vesta was from Latmos hill descending [3:02]
John MILTON (c. 1563-1647) Fair Orion in the morn [2:13]
Ellis GIBBONS Round about her charret [2:27]
George KIRBYE (?-1634) Bright Phoebus greets most clearly [2:14]
Robert JONES (fl. 1597-1615) Fair Oriana, seeming to wink at folly [2:54]
John LISLEY (fl. 1601) Fair Cytherea presents her doves [3:38]
Thomas MORLEY Hard by a crystal fountain [3:05]
Edward JOHNSON (fl. 1572-1601) Come, blessed bird [2:30]
The King's Singers: (David Hurley, Nigel Short (counter-tenors), Paul Phoenix (tenor), Philip Lawson, Gabriel Crouch (baritones), Simon Connolly (bass)) – rec. March 1998. DDD
No texts but pdf booklet available free from Signum – see review below for details
SIGNUM CLASSICS SIGCD082 [67:13] – from eclassical.com (mp3 and lossless)

['The King's Singers bring these madrigals to life with an altogether broader range and perspective than the exquisiteness of a Nicholas Hilliard miniature.' – see full review by Michael Greenhalgh.]



I referred to this and a rival CD from I Fagiolini on Chandos when I reviewed a Naxos recording containing excerpts from the Triumphs and other music in honour of Queen Elizabeth I (8.572582, Sarum Consort – see April 2011/1 Roundup and reviews by John Sheppard and Gary Higginson). I concluded that review with a recommendation for those who didn't require the complete set. For those who do – and there's some fine music here which isn't included in the Naxos anthology – this well characterised set from the King's Singers is well recorded and the lossless download does it justice. There are no notes or texts but these are available in the excellent pdf booklet from the Signum website here.

I've now tracked down the 1977 DG Archiv recording of these madrigals which I couldn't find when I reviewed the Naxos (formerly available on 437 076-2). Pro Cantiona Antiqua directed by Ian Partridge take most of these pieces much more slowly than the King's Singers – quite noticeably so in the case of the opening Hence stars! which as a result sounds mournful by comparison. Whereas Mundy's Lightly she whipped o'er the dales does indeed whip along from the mouths of the King's Singers at just under three minutes, Pro Cantione Antiqua sound somewhat less whippy at a whole 30 seconds longer. There are exceptions: Cavendish's Come gentle swains drags on Signum but swings along, almost exactly twice as fast, on Archiv.

Now would someone please reissue the Purcell Consort's recording of Music of the English Renaissance under Grayston Burgess, an attractive budget-price Turnabout LP which contained some of these madrigals.

Orlando GIBBONS (1583-1625)
Praise the Lord, O my soul [6:36]
Lord we beseech thee [3:55]
O clap your hands [5:45]
Hymns and songs (1623, excerpts) [4:23]
O Lord in thy wrath [3:35]
I am the Resurrection [4:52]
Hymns and songs (1623, excerpts) [9:06]
See, see, the word is incarnate [7:08]
Hosanna to the son of David [3:04]
Sing unto the Lord [6:04]
Blessed are all they [5:01]
O Lord, how do my foes increase [1:26]
Preces and Psalm 145 [5:42]
O Lord, I lift my heart to thee [2:21]
The Clerkes of Oxenford/David Wulstan – rec. c.1975. ADD
Pdf booklet included, but not texts
PHAIA MUSIC/CALLIOPE CAL4611 [68:48] – from classicsonline.com (mp3) or stream from Naxos Music Library



David Wulstan and the Clerkes of Oxenford were pioneers in the music of the English renaissance and their recordings are well worth preserving: without them, we might never have had the Tallis Scholars and The Sixteen. Not everything here is as well controlled as we have come to expect from later performers and the sound is a little thin, but those are minor considerations.

The cover bears no relation to the music and there are no texts, though the very clear diction partly atones for the latter.

Johann Hermann SCHEIN (1586-1630)
Fontana d'Israel (1623, Israels Brünnlein, the Fountain of Israel)
Auserlesene Krafft-Sprüchlin altes und newen Testaments auf einer Italian madrigalische Manier (Selected Edifying Quotations from the Old and New Testaments in the manner of Italian madrigals)
(Complete Recording)
Rheinische Kantorei/Hermann Max – rec. January/February 1989. DDD.
Pdf booklet included with texts in German – no translations.
CAPRICCIO C5069 [53:05 + 34:33] – from classicsonline.com (mp3) or stream from Naxos Music Library



The music of Schein ought to be better known: he and his contemporaries Scheidt and Demantius tend to be unjustly overshadowed by Schütz. Israels Brünnlein is a collection of biblical Krafft-sprüchlein, translated by Capriccio as edifying texts, but more literally, powerful texts, composed in the manner of Italian madrigals, thus combining the Lutheran insistence on the primacy of the Bible with the appeal of Italian cultural developments which became such a strong influence on North European composers.

The Capriccio recording is complete where rival versions offer[ed] only selections, such as the recording by the Dresden Kreuzchor and the Capella Fidicina conducted by Martin Flämig on Berlin Classics, also available from classicsonline.com, a 56-minute selection for just £4.99 (0090782BC). I shall turn to the Capriccio for completeness but to the more forthright versions on Berlin Classics and to a recording formerly available from Deutsche Harmonia Mundi for a better set of performances of eleven of these sacred madrigals, with other works by Schein (Cantus Cölln/Konrad Junghänel).

Where the Rheinische Kantorei stress the Lutheran severity of the music, I prefer the greater madrigal-like spirit injected into the music by Cantus Cölln. If you can find a copy of the Junghänel CD, snap it up. Alternatively, the Kreuzchor may sound less period-conscious, but they put more power into the music: Martin Flämig living up to the fire-power of his name. There's also a selection on the Hortus label, which Gary Higginson recommended (Hortus 075).

As now offered, shorn of the other works which accompanied the Schein on the original issue, these two Capriccio discs offer very short value.

Heinrich BIBER (1644-1704) Vesperæ longiores ac breviores
Dixit Dominus [5:54]
Confitebor tibi Domine [6:11]
Sonata VIII, from Sonatae tam auris, quam aulis servientes [3:59]
Beatus vir [4:17]
Laudate, pueri, Dominum [3:04]
Laudate Dominum [2:04]
Sonata: Annuntiatio Mariae, from Mystery Sonatas [6:21]
Magnificat [5:43]
Emperor LEOPOLD I (1640-1705)
Ave maris Stella [7:09]
Giovanni LEGRENZI (ca 1620-1690)
Salve Regina [5:58]
Rupert Ignaz MAYR (1646-1712)
Domine ad adiuvandum me festina [1:12]
Sancta Maria, Mater Dei [7:39]
Yale Schola Cantorum; Yale Collegium Players; Simon Carrington – rec. 2004. DDD
Booklet not included.
CARUS 83.348 [59:30] – from classicsonline.com (mp3) or stream from Naxos Music Library



[All in all, a useful addition to Biber's growing discography – with the welcome supplement from contemporaries – see full review by Mark Sealey.]

This is not so much a reconstructed Vespers service as a collection of music by Biber and his contemporaries of settings of the psalms, canticle and motets prescribed for that service. There's still far too little of Biber's highly attractive music in the catalogue, so this is a very welcome release. The recording is very good and the 320 kb/s mp3 does it justice; the only grumble concerns the lack of texts and notes.

Antonio VIVALDI (1678-1741) Concertos (The French Connection, Volume 2)
Concerto for Strings in e minor, RV133 [6:16]
Concerto in F, RV543 [7:37]
Flute Concerto in a minor, RV440 [8:58]
Bassoon Concerto in C, RV473 [15:36]
Flute Concerto in d minor, RV431a,'Il Gran Mogol' [7:59]
Concerto for Strings in G, RV150 [4:21]
Flute Concerto in g minor, RV104, 'La notte' [9:33]
Concerto for Strings in d minor, RV127 [4:16]
Violin Concerto in B flat, RV365 [13:08]
Katie Bircher (flute); Gail Hennessy (oboe); Peter Whelan (bassoon)
la Serenissima/Adrian Chandler (violin) – rec. February 2011. DDD
AVIE AV2218 [79:03] – from classicsonline.com (mp3) or stream from Naxos Music Library



As with Volume 1, the actual 'French Connection' is somewhat tenuous: though some of these works were commissioned for Paris, it's more a matter of music in the French style – some of the movements actually marked alla francese. Otherwise the performances and recording are just as enticing as the earlier release, perhaps even more so. Apart from il gran Mogol, recently rediscovered (in April 2010), and RV365, another first recording, you'll find all these works on other recommendable Vivaldi programmes, but nothing to beat what you'll find here. At the time of writing neither classicsonline nor the Naxos Music Library was offering notes for this download; you'll find some basic information from the Avie website – here.

Il gran Mogol is available separately from classicsonline.com for £2.37 and from the Naxos Music Library, with a booklet of notes.

Joseph HAYDN (1732-1809)
String Quartet in G, Op. 76/1, H.3/75 [24:34]
String Quartet in d minor ('Fifths'), Op. 76/2, H.3/76 [21:33]
String Quartet in C major ('Emperor'), Op. 76/3, H.3/77 [28:29]
The Lindsays
ASV CDDCA1076 [74:36] – from passionato.com (mp3 and lossless)

String Quartet in B flat ('sunrise'), Op. 76/4, H.3/78 [23:02]
String Quartet in D ('Largo'), Op. 76/5, H.3/79 [20:17]
String Quartet in E flat, Op. 76/6, H.3/80 [24:32]
The Lindsays
ASV CDDCA1077 [77:51] – from passionato.com (mp3 and lossless)

I've recommended some very good recordings of Haydn's String Quartets in earlier Roundups:

– String Quartets 23, 32 and 64: Harmonia Mundi – Jerusalem Quartet (September 2009)
– String Quartets, Op.76/1-3 and 4-6: Naxos – Kodály Quartet (June 2009)
– String Quartets, Op.77/1-2: Naxos – Kodály Quartet (June 2009)
– String Quartets 23, 3 and 32: HDTT – Allegri Quartet (July 2010)



In the Op.76 works the Lindsays come into direct competition with the inexpensive performances by the Kodály Quartet which I recommended in June 2009. That's an excellent bargain, at around half the price of the ASV recordings but I think the latter are worth the extra: the performances won't come as a Damascus Road revelation but I've allowed them to grow on me and there's no turning back now to the Naxos recordings. The lossless version of the download does justice to the very good recording.

You won't find the Naxos catalogue in lossless flac from passionato.com any more but you will find an increasing store of ASV recordings there, including several other recordings by the Lindsays – very welcome when recordings on this label are not easy to come by. All Naxos recordings are available from classicsonline.com in good mp3.

Wolfgang Amadeus MOZART (1756-1791) Violin Concertos I
Violin Concerto No.3 in G, K216 [21:59]
Violin Concerto No.5 in A, K219 [27:12]
Sinfonia concertante in E flat, K364 for violin, viola and orchestra* [28:44]
Richard Tognetti (violin); Christopher Moore* (viola); Australian Chamber Orchestra
BIS-SACD-1754 [77:55] – from eclassical.com (mp3, 16- and 24-bit lossless) or stream from Naxos Music Library

[Recording of the Month: see review by Dominy Clements. 7-minute video available from YouTube and at eclassical.com]

Violin Concertos II
Violin Concerto No.1 in B flat, K207 [18:59]
Rondo in C for violin and orchestra, K373 [05:27]
Violin Concerto No.4 in D, K218 [20:35]
Adagio in E for violin and orchestra, K261 [06:47]
Violin Concerto No.2 in D, K211 [18:30]
Richard Tognetti (violin); Australian Chamber Orchestra
BIS-SACD-1755 [70:18] – from eclassical.com (mp3, 16- and 24-bit lossless) or stream from Naxos Music Library



Dominy Clements made Volume I his Recording of the Month – see review: one of many enthusiastic reviews There's little that I need add except that Volume II has followed fairly hard upon its heels and is equally recommendable, especially in the 24-bit flac download. Apart from the surround sound on the SACD, I can't imagine that the physical product sounds any better. There have been several excellent versions of these youthful works, notably the 2-for-1 Grumiaux/Davis bargain on Philips (Duo 438 3232*), but Tognetti and his Australian performers set the modern benchmark unless you are looking for period performances – and the use of gut-stringed modern instruments, a small ensemble and awareness of period style even gives us a half-way compromise in that direction.

Those seeking period style will find it here:

Violin Concertos 1-5; Rondo in B flat; Adagio in E; Rondo in C
Simon Standage (violin); Academy of Ancient Music/Christopher Hogwood – rec. 1990. DDD
DECCA OISEAU-LYRE DUO 455 7212 [2 CDs: 126:34] – from passionato.com (mp3)



The performances are excellent – period instruments without the tears and with no danger of selling the more powerful aspects of the music short. The price (£12.99) is competitive with ordering the CDs online and the good mp3 sound comes at the full bit-rate. Amazon.co.uk have this for £7.49 but they usually employ a lower bit-rate (256kb/s as against 320kb/s).

There's just one Mozart concertante work for violin not included on either recording: to obtain it you need to duplicate the Sinfonia Concertante:

– Concertone in C; Sinfonia Concertante: PentaTone PTC5186 098 – Julia Fischer (see March 2009 Roundup)

* The five concertos, Sinfonia Concertante, Adagio and Rondo for around £9.50. Alternatively, slightly more expensively, on Philips 464 722: the five concertos with two Beethoven Violin Sonatas in which Grumiaux is partnered by Clara Haskil. (Download the latter in mp3 from passionato.com for £12.99, about the same price as the CDs.)

Wolfgang Amadeus MOZART
Oboe Quartet in F, K370 (oboe, violin, viola, cello) [17:27]
Horn Quintet in E flat, K407 (horn, violin, two violas, cello) [18:41]
Quintet movement in F, K580b (completed Duncan Druce) (clarinet in C, basset horn, violin, viola, cello) [12:48]
Quintet for piano and wind in E flat, K452 (piano, oboe, clarinet, horn, bassoon) [25:03]
The Gaudier Ensemble (Marieke Blankestijn (violin); Iris Juda, Jane Atkins (viola); Christoph Marks (cello); Douglas Boyd (oboe); Richard Hosford (bassett horn, clarinet); Nicholas Rodwell (clarinet); Robin O'Neill (bassoon); Jonathan Williams (horn); Susan Tomes (piano))
HYPERION HELIOS CDH55390 [74:00] – from hyperion-records.co.uk (mp3, lossless flac and alac)



Very attractive music, though not as often performed or recorded as other Mozart works, with the exception of the Piano Quintet. I need only say that performances, recording and presentation are among Hyperion's best and that the price is most attractive: I sometimes think that I might just as well cut and past the whole Hyperion catalogue into one of my roundups and give it a blanket recommendation, apart from the rather underpowered version of Vaughan Williams' Five Tudor Portraits on CDH55004.

Ludwig van BEETHOVEN (1770-1827)
Symphony No.4 in B flat, Op.60 (1806) [33:17]
Symphony No.7 in A, Op.92 (1812) [42:09]
Royal Flemish Philharmonic Orchestra/Philippe Herreweghe – rec.?
PENTATONE PTC5186 315 [75:40] – from eclassical.com (mp3 and lossless)



Beethoven's Fourth and Seventh symphonies go well together, as Avie have already demonstrated with a recording by the Manchester Camerata and Douglas Boyd (AV2169 – see review and March 2010 Roundup).

In the absence of other evidence – recording dates are nowhere to be found – I assume that this PentaTone release offers the same recordings that appeared on the Talent label and which Michael Greenhalgh reviewed, generally favourably, in 2008 – here.

These are attractive performances of my two favourite Beethoven symphonies from a modern instrument orchestra directed by a conductor whose period credentials are impeccable. I enjoyed them, especially the dance-related Seventh, but I certainly wouldn't go quite as far as one reviewer who has awarded a full five-star rating. I'm sure that I shall return, especially to this Seventh, but not as often as to Carlos Kleiber's accounts of Nos.5 and 7 (DG Originals 447 400-2 – see December 2008 Roundup and March 2010 Roundup) the Mackerras cycle for Hyperion (CDS44301/5: Recording of the Month – see review and review and March 2010 Roundup) or Krivine's period performances on Naïve (July 2011/1 Roundup). You'll also find some other Beethoven symphony recommendations in the March 2010 Roundup to which I've already referred.

The 16-bit download is very good apart from a horrid rasp at the beginning of the Seventh on the flac version – not the mp3. I've reported the problem and it should have been solved by the time that you read this review. If not, download the mp3 and go back for the lossless later – eclassical downloads remain available on your account.

Alexander Porfir'yevich BORODIN (1833-1887) Symphonies Nos. 1-3
Symphony No. 1 in E flat [34:24]
Symphony No. 2 in b minor [26:39]
Symphony No. 3 in a minor 'Unfinished' (orch. Glazunov) [17:42]
Seattle Symphony/Gerard Schwarz – rec. 2009/10/11. DDD.
Pdf booklet included
NAXOS 8.572786 [78:46] – from classicsonline.com (mp3) or stream from Naxos Music Library



Naxos already had a decent recording of the two-and-a-half Borodin symphonies from the Slovak Radio Orchestra and Stephen Gunzenhauser (8.550238 – download here). I bought it when Naxos CDs cost £3.99 from Woolworths – they couldn't be ordered, take or leave what the salesman had left in the rack. That version remains recommendable but most will prefer the new version from Seattle, an excellent follow-up to their recent Sheherazade. (8.572693: Bargain of the Month – see March 2011/2 Download Roundup and reviews here and here.)

Even Schwarz can't make too much of the First Symphony but the other two are really tuneful and the new performances make the most of them. With good recording, well conveyed by the mp3 download, this is strongly recommended.

If you just want the Second Symphony, passionato.com can offer The World of Borodin where it's coupled with In the Steppes of Central Asia, the Polovtsian Dances and other extracts from Prince Igor and the Nocturne from String Quartet No.1 (444 3892, Ansermet, Martinon and Solti, mp3 only).

Max BRUCH (1838-1920)
Violin Concerto No.1 in g minor, Op.26 (1864-68) [24.17]
Romance in F, Op.85 (1911) [8.30]
String Quintet in a minor, Op. posth. (1918) [24.05]
Vadim Gluzman (violin); Sandis Šteinbergs (violin); Maxim Rysanov (viola); Ilze Klava (viola); Reinis Birznieks (cello)
Bergen Philharmonic Orchestra/Andrew Litton
rec. Schloss Nordkirchen, Orangerie, Westphalia, Germany, September 2009, and Grieg Hall, Bergen, Norway, October 2009
BIS-SACD-1852 [58:04] – from eclassical.com (mp3, lossless and 24-bit]

[see reviews by Christopher Fifield – Recording of the Month: 'quite the finest performance I have ever heard [of the concerto], including Kreisler's famous 1925 recording' – and Simon Thompson – 'This disc is a great Bruch package, combining the most familiar with something new.']



There's very little to add to these enthusiastic reviews, except to endorse them wholeheartedly, as I see that other reviewers also have, and to report that the 24-bit download sounds excellent.

The sharp-eyed may have noticed that we now conclude all BIS reviews with a link to the eclassical.com site: it's usually the least expensive way to obtain BIS and other label downloads, since it charges by the second – just $6.78 for this CD in mp3 or flac – and offers 24-bit downloads where available, in this case for $10.17.

Antonin DVOŘÁK (1841-1904)
Symphonic Variations, Op.78, B70 [22:47]
Symphony No.8 in G, Op.88, B163 [37:34]
London Philharmonic Orchestra/Charles Mackerras – rec live 1992. DDD.
LPO LPO-0055 [60:21] – from eclassical.com (mp3 and lossless) or stream from Naxos Music Library.



When I made Sir Charles' album of Dvořák Overtures my Download of the Month for August 2010, I thought that we were not likely to get any more recordings from him of a composer in whose music he excelled. I'm delighted that I was wrong, as witness this excellent LPO recording of two of Dvořák's most attractive works – sunny performances, though with the occasional darker moments also brought out. The Eighth Symphony offers an extremely strong challenge to existing recommendations from Kubelík and Fischer, both coupled with the Ninth, which might be the only reason for preferring them. See the July 2010 Roundup for the Fischer.

Classicsonline.com also have this in mp3 at £7.99, but the eclassical.com price of $7.24 is considerably less expensive and lossless flac comes at the same price. Stream the music from the Naxos Music Library and you'll soon be downloading it. Neither eclassical.com nor classicsonline.com offers the booklet but you can obtain it from the LPO site – here.

Sir Charles was a pluralist in the Dvořák symphonies: his earlier budget-price Classics for Pleasure 2-CD set of Symphonies Nos.7-9 and the Symphonic Variations seems no longer to be listed, but his Signum recording of Nos.7 and 8 is (SIGCD183) along with his Supraphon recording of Nos.8 and 9 (SU38482). All of these have their considerable merits, but I think the new LPO version just has the edge

Sir Charles Villiers STANFORD (1852-1924) Chamber Music
Piano Trio No.1 in E flat, Op. 35 (1889) [31:43]
Legend (1893) * [5:32]
Six Irish Fantasies, Op. 54, No.3: Jig (1894) * [5:37]
Six Irish Fantasies, Op. 54, No.5: Hush Song (1894) * [6:45]
Piano Quartet No.2 in c minor, Op. 133 (edited by Jeremy Dibble) * [30:10]
Gould Piano Trio (Lucy Gould (violin); Alice Neary (cello); Benjamin Frith (piano)
David Adams (viola)
Rec. Music Room, Champs Hill, Pulborough, Sussex, UK, 14-16 December, 2009. DDD.
Supported by the RVW Trust and a Research Award from the Royal Welsh College of Music and Drama.
*World Première Recording
Pdf booklet included
NAXOS 8.572452 [79:47] – from classicsonline.com (mp3) or stream from Naxos Music Library



Naxos have already done well by Stanford with recordings of his symphonies – my only complaint is that the cover paintings look so alike that it's easy to pick up the wrong CD – choral music and the Piano Trio No.3, etc., played by the Gould Piano Trio. (8.570416 – see reviews by Michael Cookson and Christopher Howell (Bargain of the Month.)

Much as I enjoyed that earlier recording, I think the current successor is even better. If you still harboured any misconceptions about Stanford as a comfortable Victorian composer, forget them: the First Piano Trio combines as much intensity and lyricism as any of Elgar's chamber music and the Gould Trio do it full justice. Aided by David Adams, they also give a first-class performance of the Second Piano Quartet, an unjustly neglected work which was never published in the composer's lifetime and has only recently been resurrected by the Gould Trio with the editorial assistance of Professor Jeremy Dibble, who also contributes the authoritative notes. The mp3 sound is very good, contributing to a strong recommendation.

For further recordings of Stanford's music, please refer to the following reviews in the September 2010 Download Roundup:

– Clarinet Concerto (+ FINZI Clarinet Concerto): Hyperion Helios – Thea King
– Cello Concerto; Piano Concerto No.3: Lyrita – Alexander Baillie; Malcolm Binns
– Irish Rhapsodies 1-6: Chandos (2 CDs) Vernon Handley
– String Quartets Nos.1 and 2: Hyperion – Vanbrugh Quartet
– Piano Quintet; String Quartet No.1: Hyperion – Vanbrugh Quartet
– Songs of the Sea; The Revenge; Songs of the Fleet: Chandos – Richard Hickox

The Glory of Ely Cathedral
Sir Edward ELGAR (1857-1934) Imperial March Op. 32 [5:28]
Frank BRIDGE (1879-1941) Adagio in E [5:57]
Sir Charles Villiers STANFORD (1852-1924) Te Deum and Jubilate in C [11:10]; Te Deum and Jubilate in A [12:05]
Sir Edward BAIRSTOW (1874-1946) Lamentations of Jeremiah [8:06]
Thomas Tertius NOBLE (1867-1953) Magnificat and Nunc Dimittis in a minor [7:17]
Marcel DUPRÉ (1886-1971) Chorale and Fugue in F# Op. 57 [6:31]
Alexander GLAZUNOV (1865-1936) Fantasia Op. 110 [15:56]
Jeremy Filsell, Paul Trepte (organ)
The Choir of Ely Cathedral/Paul Trepte – rec. Ely Cathedral, 1991-1992. DDD.
pdf booklet but no texts included
HERITAGE HTGCD 219 [73:31] – from classicsonline.com (mp3) or stream from Naxos Music Library



[see reviews by John Sheppard – 'there is so much to enjoy here, and the choir in particular is so good that the disc would be worth having for the choral items alone.' – and Robert Hugill – 'The fine performances ensure that the interest is more than local, even if the programming is a bit indigestible. So, if you are drawn to the English choral tradition then this is highly attractive.']

I listened to this via the Naxos Music Library and, despite the limited bit-rate – the classicsonline.com bitrate is much higher, at the maximum 320kb/s – enjoyed it as much as JS and RH (above). One small grumble: the fade-ins are far too short, so that the ambient noise breaks in obtrusively.

Two more bargains

Richard WAGNER (1833-1883) Lohengrin.
Lohengrin: Wolfgang Windgassen (tenor)
Elsa: Eleanor Steber (soprano)
Telramund: Hermann Uhde (baritone)
Ortrud: Astrid Varnay (soprano)
König Heinrich: Josef Greindl (bass)
Herald: Hans Braun (baritone)
Chorus and Orchestra of the Bayreuth Festival/Joseph Keilberth – rec. 1953. ADD
PAST CLASSICS [65:42 + 79:40 + 69:28] – from emusic.com (mp3)



This could easily have been my bargain of the month: a classic recording in a transfer that sounds more than acceptable and with the five original LPs reduced to three tracks, all for £1.26 or less. You could even burn the whole opera on one CDR – iTunes can do it for you – provided that your CD player can cope with mp3 discs. If you're not a subscriber to eMusic, amazon.co.uk have the same recording for £2.07 – here – or the Telefunken reissue of the same recording for £7.89 – here. The advantage of the Past Classics download, apart from the price, lies in the fact that each act is complete on one track, obviating the short gaps between tracks which sometimes accompany mp3 downloads.

For another classic recording in more recent sound, you need to turn to the EMI Kempe version which I recommended in July 2010.

Richard STRAUSS (1864-1949)
Don Quixote, Fantastic variations on a knightly theme, Op.35 [41:02]
Till Eulenspiegels lustige Streiche, Op.28 [15:25]
Paul Tortelier (cello); Berlin Philharmonic Orchestra/Rudolf Kempe – rec. 1958. ADD.
PAST CLASSICS [56:27] – from emusic.com (mp3)



Two first-rate performances by a renowned Straussian in decent sound for £0.84 or less (potentially just £0.48 for those on the older tariff) is a gift horse not to be looked in the mouth or any other part of its anatomy. With some justification this version of Don Quixote is often regarded as superior to Kempe's remake with the Dresden Staatskapelle and the recording, though rather dry and with minimal stereo information, is more than tolerable, albeit that the mp3 transfer is at low bite-rates (no higher than 212kb/s).

For non-members of eMusic, amazon.co.uk have this recording for £1.38 – here – and those still favouring CD will find these performances on Regis RRC1371, for around £5. See also Jonathan Woolf's review of the 11-CD EMI Icon set of Kempe recordings (6295572, around £22.50 in the UK).

In brief

I hope to report more fully next month on the recent recording of Francesco Cavalli's opera Artemisia of 1657 (Glossa GCD920918: la Venexiana/Claudio Cavina – download from eclassical.com, 3CDs in mp3 or lossless for $17.48, with booklet). It's an important and welcome addition to a catalogue which contains too little of this composer's music; the performances and recording are all that could be asked for.

Just as I was closing, I received Charlie Siem's Warner Classics and Jazz recording of the Bruch and Wieniawski First Violin Concertos, with Ole Bull's Cantabile doloroso e Rondo giocoso, accompanied by Andrew Gourlay and the LSO – it should be available on CD or to download from amazon.co.uk by the time that you read this review: due to be released on 15 August. (2564666612). Brian Reinhart wanted to take the soloist more seriously than the recording of virtuoso show-pieces on the album which he reviewed – here – and we now have more substantial fare. First impressions of the Wieniawski are very favourable, but the coupling with Bruch is unfortunate when there are so many excellent versions, not least the BIS recording (above.)