Download Roundup: February 2012/2

Brian Wilson
The previous Roundup is here and earlier Roundups are indexed here.

Paul Serotsky has recently updated the free section of the MusicWeb International guide to download sites – here. Some of the commercial sections of that guide have become slightly out of date and there are new download sites to add as we gradually update the whole thing.

Reissue of the Month
Please see below for my review of the Elgar Enigma Variations, conducted by Pierre Monteux on BEULAH EXTRA 2BX181.

Discovery of the Month

Ola GJEILO (b. 1978) Northern Lights
The Ground (Pleni sunt cæli) (2010)* [3:37]
Serenity (O magnum mysterium)* (2010)[ 5:13]
Ubi caritas (2001) [3:06]
Northern Lights (Pulchra es, amica mea) (2008)*[ 4:22]
Dark Night of the Soul (2010)* [12:38]
The Spheres (Kyrie eleison) (2008) [4:47]
Tota pulchra es (2001) [5:27]
Prelude (Exsultate, jubilate) (2004) [2:57]
Phoenix (Agnus Dei) (2008) [4:16]
Unicornis captivatur (2001) [6:37]
Evening Prayer (2010)* [5:54]
* première recording
Alison Chaney (soprano)
Phoenix Chorale/Charles Bruffy
Ola Gjeilo (piano)
Ted Belledin (tenor saxophone)
Emmanuel Lopez (cello)
Harrington String Quartet – rec. May 2011. DDD/DSD
Pdf booklet with texts and translations included
CHANDOS CHAN/CHSA5100 [59:43] – from theclassicalshop.net (mp3, 16- or 24-bit lossless) or stream from Naxos Music Library.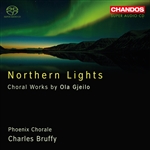 I understand that the classicsonline.com download of this album made history as a best-seller even before the CD was released. Listen to even the brief extracts or, better still, to the whole programme from the Naxos Music Library and you'll understand why. Ola Gjeilo is one of those discoveries that Chandos and Hyperion have been making recently of young composers who write choral music in an approachable idiom.

You'll find details about the composer and his music and how Charles Bruffy, director of Phoenix Chorale, came to meet him in the pdf booklet freely available to all comers from the Chandos website. The quality of the performances has clearly contributed to the success of the recording and the sound is excellent; you'll need the physical disc to get the benefit of the SACD layer, or buy the surround-sound download, albeit at a rather steep £19.99. The 16-bit lossless offers good quality for £9.99. Even if you require only the mp3, you may prefer to buy from theclassicalshop.net, where your previous purchases are permanently available, rather than from any other site. In any format, this is a real discovery.

Second thoughts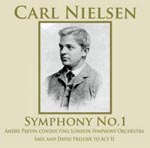 My copy of the High Definition Tape Transfer (HDCD196, from RCA LSC-2961) recording of Nielsen's First Symphony and Saul and David Act II Prelude arrived just too late for me to add my two pennyworth to Dan Morgan's review (February 2012/1 Roundup). In the event my views concur with Dan's so closely concerning the performance and recording that I really don't have anything of value to add. Though I don't know the First nearly so well as the other symphonies – or as well as Dan, who mentions alternatives which I mostly haven't heard – this Previn performance with the LSO from those magic days when their chemistry worked in tandem in the 1960s makes me wonder why I've neglected this work. Strongly recommended if you haven't already gone for it. I listened to the 24/96 download, which is just small enough at 722MB to burn to a CDR; audiophiles with suitable converters will prefer the 24/192 version.

(See also Rob Barnett's review of the CD release.)

Ricercar recordings

The Belgian Ricercar label is a prime source of recordings of renaissance and baroque music, but it isn't as well known as it ought to be and I haven't featured it as much as I ought. Here to make amends is a selection of their offerings, in alphabetical order of the composers' names – the principal composer where there's more than one. In some cases the CD seems to be no longer available.

Unless and until someone offers these recordings in lossless sound, classicsonline.com should be your prime source for downloads. Emusic.com have most of them, but at lower bit-rates and their price-per-track policy often makes them more expensive.

Alexander AGRICOLA (c.1446-1506) Missa in myne Zyn
Capilla Flamenca (Marnix De Cat, Rob Cuppens (counter-tenors); Tore Denys (tenor); Lieven Termont (baritone); Dirk Snellings (bass); Liam Fennelly, Thomas Baete, Piet Stryckers (violas da gamba)/Dirk Snellings
RICERCAR RIC306 [59:41] – from classicsonline.com (mp3) or stream from Naxos Music Library

[Download of the Month – see January 2011 Roundup and, for further details March 2011/1 Roundup]

Pierre ATTAIGNANT (c.1494-1552 or 1553)
Que je chatoulle ta fossette – Danceries
Doulce Mémoire/Denis Raisin-Dadre – rec. 2009. DDD.
Pdf booklet with texts and translations included.
RICERCAR RIC294 [73:55] – from classicsonline.com (mp3) or stream from Naxos Music Library (possibly no longer available on CD?)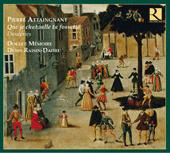 A suite of renaissance dance music entitled 'let me tickle your dimple' has to be fun – it's the title of the eighth track, a bransle gay, and it's an appropriate soubriquet, doubtless with an element of double entendre for the whole CD. As well as Attaignant, from whose various Livres de Danceries the dances come (seven volumes, between 1530 and 1557, the later collections published by his widow), some of the music is by Claudin de Sermisy and Pierre Sandrin: no copyright in the sixteenth century. Lovers of the dance music of Prætorius and Susato will know what to expect, though I should add that most of the music here is slightly less overtly appealing than Prætorius' well-known collection Terpischore, or, rather, that it's interpreted here slightly less up-front than the famous David Munrow recording.

I love that Munrow recording* but more recent performances of Terpsichore have been more authentic, more in line with the slightly more restrained performances of Doulce Mémoire on this Ricercar album. With good recording and informative notes, this is a clear recommendation for anyone wishing to move on from the Prætorius collection. Some of the scores and free recordings of music from the 1530 collection can be found here.

* now on a budget-price Veritas 2-CD set from Virgin Classics with music by Susato, Morley and others, 3500032. Download from amazon.co.uk for £7.49 or in 320k mp3 for £7.99 from hmvdigital.com or CDs from online dealers for about the same price. An essential purchase in one form or another.

Georg BÖHM (1661-1733)
Prelude and Fugue in C [5:07]
Vom Himmel hoch da komm ich her [2:19]
Nun bitten wir den heil'gen Geist [3:31]
Christe, der du bist Tag und Licht, versus 1 – 3 [1:47+5:19+2:01]
Prelude and Fugue in a minor [3:22]
Partita 'Wer nur den lieben Gott lässt walten' [7:33]
Christ lag in Todesbanden, version 2 [4:14]
Christ lag in Todesbanden, version 1 [5:19]
Auf meinen lieben Gott, versus 1 – 4 [2:57+2:37+1:42+2:23]
Vater unser im Himmelreich, version 1, versus 1 – 2 [3:06+4:30]
Vater unser im Himmelreich, version 2 [6:05]
Prelude and Fugue in d minor [5:11]
Bernard Foccroulle (Schnitger organ, Groote Kerk, Alkmaar)
RICERCAR RIC319 [69:03] – from classicsonline.com (mp3) or stream from Naxos Music Library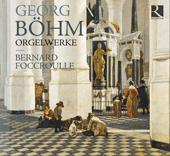 Though he was a very important forerunner of Bach's organ music, Böhm is under-represented in the catalogue: he doesn't even feature in the last full (2010) edition of the Penguin Guide or the current (2012) Gramophone Guide and the new recording appears to be one of only two in the current catalogue entirely devoted to his music, as opposed to those which juxtapose it with Bach or other near-contemporaries. Such a programme can be found on Dabringhaus und Grimm MDG906, where just one work of Böhm's can be found alongside music by Buxtehude, Scheidt, J.S. Bach and others. Chris Bragg gave that 'gorgeous release', on another Schnitger organ, at Nordheim, full marks – see review. I have made a note to investigate the MDG, though I don't think it's available for download, but the present release has an even greater claim on our attention.
The other recording of Böhm's organ music is on Naxos 8.555857, recommended by Scott Montague – see review – available from classicsonline.com (mp3). It's labelled Volume 1 but there doesn't seem to have been a successor. Though Teeuwsen employs a modern instrument on that recording, the two approaches are very similar. Where the repertoire overlaps, there are mere seconds of difference in tempo. If I prefer the new recording, it's largely because I think that the Schnitger organ just gives it the edge. On the other hand, there are times when I thought that Teeuwsen found a little more joy in the music than Fouccroulle, who is just a little more inclined to make the music sound serious.
Either recording would make a useful introduction to Böhm's music; both make clear his influence on Bach. The Naxos is yours for £4.99; the Ricercar is a little more expensive at £7.99. Neither is available in lossless sound but classicsonline.com's mp3 is always at the full 320kb/s bit-rate and both sound well. You can save a few pence on the Ricercar at emusic.com, but their bit-rates are variable and I certainly can't guarantee that their version comes at anywhere near 320kb/s. There are no notes with the Ricercar download but the Naxos comes with a pdf booklet which includes a full specification of the organ. Subscribers to the Naxos Music Library can compare the two recordings there.

[reprinted from January 2012/1 Roundup]

Dietrich BUXTEHUDE (c.1637-1707) Organ Music
Bernard Foccroulle (organ) with Bernarda Fink (mezzo) and Dirk Snellings (bass) – rec. 2003/2006. DDD.
Recorded on Schnitger organs at Norden (Germany) and Groningen (Netherlands), modern organs at Hoogstraten (Netherlands) and in the German Church in Stockholm and on a reconstruction of a Lorentz-Frietzsch organ in the Sct. Mari-Kirke at Helsingør (Denmark) which Buxtehude himself may have played.
RICERCAR RIC252 [5 CDs: 5:59:17] – from classicsonline.com (mp3) or stream from Naxos Music Library

[Full track-listing is available from outhere-music.com – here.]

Cantatas
Herr, ich lasse dich nicht, BuxWV36 [9:20]
Dialogus inter Christum et fidelem animam [9:55]
Nichts soll uns scheiden, BuxWV77 [9:44]
Wenn ich, Herr Jesu, habe dich, BuxWV107 [5:04]
Jesu, meine Freud und Lust, BuxWV 59 [6:56]
Ich halte es dafür, BuxWV48 [13:22]
Ich suchte des Nachts, BuxWV50 [14:48]
O clemens, o mitis, o cœlestis Pater, BuxWV82 [7:52]
An filius non est Dei, BuxWV6 [13:07]
Mein Herz ist bereit, BuxWV73 [7:54]
Drei schöne Dinge sind, BuxWV19 [10:47]
Ich bin eine Blume zu Saron, BuxWV45 [8:22]
Laudate pueri Dominum, BuxWV69 [5:55]
Gen Himmel zu dem Vater mein, BuxWV32 [7:51]
Singet dem Herrn ein neues Lied, BuxWV98 [7:38 ]
Klag-Lied: Muss der Tod denn auch entbinden, BuxWV76b [6:11]
Agnes Mellon, Greta de Reyghere (sopranos); James Bowman (alto); Henri Ledroit (counter-tenor); Guy de Mey, Ian Honeyman (tenors); Max van Egmond (baritone); Ricercar Consort – rec.1987. DDD
RICERCAR RIC250 [2 CDs: 2:24:46] – from classicsonline.com (mp3) or stream from Naxos Music Library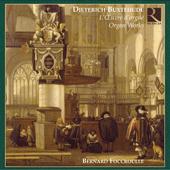 The multi-award-winning five CDs on RIC252 are offered for the price of four, which represents a considerable saving over the cost of the physical equivalent.* There is, however, a price to pay, in that the tracks of the different discs will end up jumbled together and you'll have to spend some time sorting them out. You'll need to create five sub-folders, one for each CD, and use the track list from the Ricercar distributor to know which goes where – I've given the link above.

Once you've done that – otherwise you'll be playing five track 01s, one after the other, followed by five track 02s, etc. – the result is excellent. This is probably the best way to obtain Buxtehude's organ music – the music that Bach had to walk 400 miles to hear, brought to you in the convenience of your own home. Fouccroulle's performances here are every bit as good as those on the Böhm recording (above), the music is even better, and the recording is every bit as good as it's likely to get short of a lossless download. Only the lack of a booklet (again) detracts. If you're collecting the Christopher Herrick series on Hyperion, of course, that does come in lossless format and with a booklet – four volumes to date, so at least one more to come.

* don't pay £32.34 for a lower bit-rate version from emusic.com.

You may think that you're being short-changed by the recording of Buxtehude's geistliche Konzerte on RIC250 because your download will state 'Disc 1' only; in fact, the whole equivalent of the two CDs that you've paid for is included. The performances are good: the names of the participants alone practically guarantee that and the music represents the strengths of Buxtehude's vocal music – less varied than Bach but, if anything, even more beautiful.

If you don't mind a lower bit-rate, emusic.com have this recording for £6.72 or less.

The recording – made in 1987 and reissued in 2007 – is good. The only real problem concerns the lack of texts – you'll find some of these with the scores at
http://imslp.org/wiki/Category:Buxtehude,_Dietrich.

Giulio CACCINI (1551-1618)
L'Euridice (1600)
Orfeo: Nicolas Achten (baritone)
Euridice: Céline Vieslet (soprano)
Tragedia, Daphne: Magid El-Bushra (counter-tenor)
Ninfa, Venere: Marie de Roy (soprano)
Ninfa, Proserpina: Laurence Renson (mezzo-soprano)
Arcetro, Caronte: Reinoud van Mechelen (tenor)
Tirsi, Aminta, Plutone: Olivier Berten (baritone)
Scherzi Musicali/Nicolas Achten (theorbo) – rec. 2008. DDD.
Large pdf booklet (109pp.) with notes, synopsis, texts and translations included.
World première recording.
RICERCAR RIC269 [79:31] – from classicsonline.com (mp3) or stream from Naxos Music Library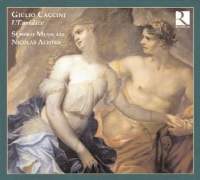 Peri and Caccini vie for the honour of having composed the first extant opera, both on the theme of Orpheus and Euridice, a theme more famously set to music a few years later by Monteverdi. Don't expect the elaborate instrumental accompaniment of the Monteverdi but both the Caccini and Peri are well worth hearing: for the Peri see the Arts recording below.

Caccini packs the music into a shorter space than Peri, though I marginally prefer the latter. The Ricercar performance and recording are very good and the massive booklet – far too large to print out and squeeze into a CD case – provides all the information that you need.

Johannes CICONIA (c.1370-1412)
Opera Omnia – Complete Works
La Morra/Corina Martio and Michal Gondko;
Contrafacta: Diabolus in Musica
Diabolus in Musica/Antoine Guerber – rec. January 2010 and September 2010. DDD.
RICERCAR RIC316 [2CDs: 151:34] – from classicsonline.com (mp3) or download from Naxos Music Library

[Recording of the Month – see review by Gary Higginson and full track-listing – here.]



I mentioned this recording briefly in my January 2012/2 Roundup but I make no apology for returning to it now that I've had time to listen to it more thoroughly. At £7.49 for the two CDs, it's a real bargain. The only reservation concerns the lack of notes, texts and translations, especially as Gary Higginson praised the quality of these; GH's review will help cover the gap to some extent, but it's a shame that Ricercar didn't repeat the generosity of their Caccini l'Euridice, where they've given us the booklet.


(Johann) Christoph GRAUPNER (1683-1760) Ein Weihnachtsoratorium
Die Nacht ist vergangen, GWV 1101/22 [14:10]
Heulet, denn des Herrn Tag ist nahe, GWV 1102/26 [15:19]
Wer da glaubet dass Jesus sei der Christ, GWV 1103/40 [17:28]
Tut Busse und lasse sich ein jeglicher taufen, GWV 1104/34 [12:44]
Wie bald hast du gelitten, GWV 1109/14 [6:07]
Jauchzet ihr Himmel, erfreue dich Erde, GWV 1105/53 [18:25]
Sie eifern um Gott, GWV 1106/46 [16:08]
Gott sei uns gnädig, GWV 1109/41 [19:47]
Merk auf, mein Herz, GWV 1111/44 [15:27]
Elisabeth Scholl, Amaryllis Dieltens (soprano); Lothar Blum, Reinoud van Mechelen (tenor); Stefan Geyer (baritone)
Ex Tempore Ensemble; Mannheim Hofkapelle /Florian Heyerick
RICERCAR RIC307 [2CDs: 2:15:35] – from classicsonline.com (mp3) or stream from Naxos Music Library.



I first heard Graupner's music – the short cantata Wie bald hast du gelitten, included here – on one of those Radio 3 Europe-wide programmes of Christmas music and it made me understand why the Leipzig Council had initially preferred him to a young whipper-snapper named Johann Sebastian Bach in 1723, after Telemann had become unavailable. Had Graupner's employers at Darmstadt not been unwilling to release him, increasing his salary to induce him to stay, musical history might have been very different.

All the music here is for the period from Advent through Christmas and New Year to Epiphany, though there's no reason to restrict one's listening to that period. Florian Heyerick is thoroughly acquainted with Graupner's music, the subject of his PhD, but his interest is clearly not just scholarly.

I'm pleased to see Graupner now finally receiving his due and happy to commend this recording in every respect except to bemoan again the lack of a booklet, a lavish affair as I understand. Some of his works are available in free scores online – for example there's an autograph score of Wie bald hast du gelitten here, but you'll need to be able to read 18th-century German handwriting.

Fortunately, only one work here overlaps with the CPO recording of Graupner's Christmastide music which Johan van Veen praised (Recording of the Month: 777 572-2 – here.) If you're looking for Graupner's orchestral music, JV had another Recording of the Month, subsequently also Recording of the Year, on MDG 341 1628-2 here.

Haydn à Paris
Joseph HAYDN (1732-1809) Symphony No.85 in B flat (la Reine) [22:42]
Joseph Martin KRAUS (1756-1792) Symphony in D (VB143) [18:45]
Joseph HAYDN Symphony No.45 in f# minor (Farewell) [26:52]
Les Agrémens/Guy van Waas – rec. 2008. DDD.
Pdf booklet included.
RICERCAR RIC277 [68:40] – from classicsonline.com (mp3) or stream from Naxos Music Library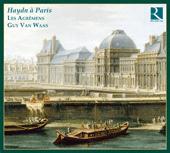 Though less urgently approved than many of these Ricercar recordings – there are, after all, other good versions of both Haydn symphonies, of which more anon, and even Kraus is receiving more of his due now – this is still a very worthwhile recording, with stylish period-instrument performances – perhaps not quite as much in the spirit of Sturm und Drang as I would like in No.45 – and good recording.

La Reine is generally acknowledged as the masterpiece among the fine set of symphonies which Haydn wrote in Paris. The only reason to prefer an alternative to this Ricercar recording would be the desire to have it in the company of some or all of the other Paris symphonies, as with the album of Nos. 83, 84 and 85 which I praised in the January 2012/2 Roundup (Thomas Fey, Hänssler 98.425), or to have all the repeats observed, as on the 3-CD set of these symphonies recorded for Deutsche Harmonia Mundi by Nikolaus Harnoncourt.

The inclusion of the Farewell Symphony in a concert of music for Paris is something of a surprise – the work was clearly written for the Esterházy court, though it appears that a 'symphonie où l'on s'en va' was performed in Paris in 1784. It is, of course, a popular work, not just because of the story attached to the musicians leaving the stage one by one in the finale as a hint to the Prince that they needed a break. Again, the only reason to shun the Ricercar recording would be the desire to have the work in the company of other symphonies from Haydn's so-called Sturm und Drang period. There's also a temptingly inexpensive alternative in the form of Harnoncourt's Teldec recording of Nos. 45 and 60 for £2.79 from amazon.co.uk.

The Kraus symphony is also a bit of a mystery – there is no record of the composer having visited Paris and the work was first published there under the name of Haydn. I've no quarrel with its quality, however: it's no wonder that it was once attributed to Haydn, who equated Kraus with Mozart as a most promising composer.

For other recordings of the orchestral music of Kraus, you need look no further than some recent releases from Naxos, all available to download from classicsonline.com, of course. Please see my review of Kraus's Æneas in Carthage on Naxos 8.570585 for details of the series of symphony recordings.

Heinrich ISAAC (c.1450-1517) Ich muß dich lassen – A Life in Music
Flanders:
Arnold SCHLICK Tmeisken was jonck (instrumental) [2:31]
Heinrich ISAAC Sanctus: Missa Tmeisken was jonck [4:42]
Tmeisken was jonck [1:01]
Ad te clamamus [1:23]
Francesco SPINACINO La Morra [2:18]
Heinrich ISAAC La Morra [3:15]
Florence:
Heinrich ISAAC Hora e di maggio [1:03]
Tartara [2:17]
Fammi una gratia, amore [4:36]
Donna di dentro / Dammene un pocho / Fortuna d'un gran tempo [1:49]
O præclarissima /Alla battaglia [4:47]
Agnus Dei II: Missa La Spagna [2:20]
Quis dabit capiti meo aquam? [5:07]
La mi la sol [3:16]
Vienna, Innsbruck, Augsburg:
Heinrich ISAAC Las rauschen [2:53]
Heinrich ISAAC / Ludwig SENFL (1488/9-1543/4) Ich stund an einem morgen [7:11]
Heinrich ISAAC En l'ombre d'un buissonet [1:40]
Innsbruck, ich muss dich lassen / O welt / Christe secundum – Missa carminum [6:07]
O Maria, mater Christi [7:11]
Capilla Flamenca; Oltremontano/Dirk Snellings – rec. March 2011. DDD.
Pdf booklet with detailed notes and texts (no translations) included. Translations available online.
RICERCAR RIC318 [65:33] – from classicsonline.com (mp3) or stream from Naxos Music Library


This is another winning recording from Capilla Flamenca and Ricercar and a superb successor to their album of music by Agricola which I made Download of the Month a little over a year ago – see January 2011 Roundup and Recordings of the Year. None of the download sites, including classicsonline.com, offer the texts and translations of the Agricola, but I'm pleased to report that classicsonline.com and the Naxos Music Library include the Isaac booklet. The detailed and informative notes, by David Burn, are not the least of the virtues of this recording.

The programme traces the musical career of one of the greatest of the early Renaissance composers – an even more important figure than Agricola – and his international travels, including the brief visit to Innsbruck in 1484 which gave us his most famous piece, Innsbruck, ich muß dich lassen, a tune which, I believe, influenced Bach's setting of O Haupt voll Blut und Wunden, a theme which became something of an obsession so that he also employed it in the Christmas Oratorio and elsewhere. The performances are all commensurate with the high standard set by the earlier recording – who better to perform this Flemish master than the Capilla Flamenca?

If I have one complaint, it concerns the slightly fragmentary form of the album. I'd much rather have heard these accomplished performers in complete masses to complement The Tallis Scholars in Isaac's 6-part Missa de Apostolis (Gimell CDGIM023 or the 2-for1 The Tallis scholars sing Flemish Masters, CDGIM211 – see Tallis Scholars at 30 – or, best value of all, the budget 4-CD collection Sacred Music in the Renaissance:2, GIMBX302: Bargain of the Month – see review and December 2010 Roundup).

The recording sounds excellent and the whole enterprise is set off by the cover illustration of Pieter Bruegel the Elder's Fall of Icarus.

Roland de LASSUS (1532-1594) and contemporaries: Bonjour mon cœur
RICERCAR RIC290 (61:55) – from classicsonline.com or stream from Naxos Music Library

See March 2011/1 Roundup.

Philippe ROGIER (1560-1596) Matheo ROMERO (c.1575-1647) Music for the Spanish court
Philippe ROGIER Missa tribus choribus Domine Deus noster with propers for a marriage service
Matheo ROMERO Missa bonæ voluntatis as performed at the ceremony of the Golden Fleece
Chœur de chamber de Namur; la Fenice; Ensemble doulce mémoire; Ricercar Consort/Jean Tubéry – rec. Festival de Wallonie, 1996 and 2002. DDD.
Pdf booklet included but no texts.
RICERCAR RIC271 [2CDs: 1:55:31] – from classicsonline.com or stream from Naxos Music Library


I already knew that the music of Rogier deserved to be much better known and I've mentioned some fine recordings from Linn and Hyperion that have helped me to come to that conclusion:

• Missa ego sum qui sum – Linn CKD109 (January 2009 Roundup) and Hyperion CDA67807 (May 2010 Roundup)
• Missa Domine Deus noster and Missa Domine in virtute tua – Linn CKD348 (March 2011/1 Roundup)

It's a pity that two of these recordings duplicate the Missa ego sum and that the recording under consideration duplicates one of the works on the second Linn album. Otherwise this recording from Ricercar, made at the Festival de Wallonie, serves to increase my admiration and, even more importantly, it introduced me to the music of Matheo Romero (né Matthieu Rosmarin), whom I hadn't encountered before. Both composers contribute works for festal occasions and the sense of occasion is heightened here by reconstructions of how two masses would have been employed, with additional sections of plainchant and music by the two composers and their contemporaries, in a Nuptial Mass (1585) and Golden Fleece ceremony respectively at the Spanish court.

The performances are suitable to the occasion, the recording is very good and classicsonline.com charge only the single-CD price of £7.99 for a double-length programme. Emusic.com ask a ridiculous £18.48 for the same album – and their bit-rates are usually much lower than classicsonline.com's 320k. There are multi-lingual notes but the lack of texts and translations is my only reservation – and you don't get these with the CD either.

Heinrich SCHÜTZ (1586-1672) Musicalische Exequien
Vox Luminis/Lionel Meunier – rec.1999. DDD.
RICERCAR RIC311 [55:08] – from classicsonline.com (mp3) or stream from Naxos Music Library

See June 2011/1 Roundup. Please note that the pdf booklet with texts and translations is now available with the download as well as from the Naxos Music Library.

Matthias WECKMANN (c.1616-1674)
Weine nicht, es hat überwunden [13:25]
Zion spricht, der Herr hat mich verlassen [8:09]
Herr, wenn ich nur dich habe [7:28]
Wie liegt die Stadt so wüste [15:54]
Dialogo von Tobia undt Raguel: Wo willen wir einkehren [11:35]
Kommet her zu mir alle [8:00]
Angelicus cœli chorus [7:20]
Gegrüsset seist du, Holdselige [6:26]
Wenn der Herr die Gefangnen zu Zion erlösen wird [10:44]
Rex virtutum [5:28]
Tod ist verschlungen [4:06]
Es erhub sich ein Streit [7:04]
Franz TUNDER (1614-1667) An Wasserflussen Babylon [3:18]
Ach Herr, lass deine liebe Engelein [5:54]
Wachet auf, ruft uns die Stimme [6:16]
Da mihi, Domine [8:55]
O Jesu dulcissime [5:15]
Herr, nun lässest du deinen Diener [8:06]
Salve cœlestis pater [5:19]
Es ist g'nug [6:56]
Greta de Reyghere (soprano), James Bowman (alto), Ian Honeyman (tenor), Max van Egmond (baritone); Ricercar Consort – rec. c.1990?
RICERCAR RIC216 [2 CDs: 2:35:38] – from classicsonline.com (mp3) or stream from Naxos Music Library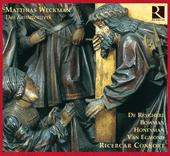 These recordings introduce us to two little-known but important predecessors of Buxtehude and Bach. This is emphatically not just for musical historians: music, performances and recording are excellent, apart from a slightly disappointingly insecure version of Da mihi, Domine from Max van Egmond, but there are no texts – a considerable loss, as I understand that the documentation with the CDs is excellent.

Though the download contains the sum of two CDs, it's offered at the usual price of one, as is the parent set.

Beulah Extra



Julian Bream introduced us to the works of 16th-century lutenists almost single-handed. RCA have deleted the greater part of his recordings; from the series which they once made available in a multi-disc anthology only the lute music of Byrd and Dowland survives (The Golden Age of English Lute Music, 09026615842 – snap it up before it, too, disappears), so it's good to see Beulah reissuing Francis Cutting's Walsingham, Almaine and Greensleeves (2BX184 [7:49]) and John Johnson's Fantasia (1BX184 [4:17]), both recorded in stereo in 1960 and still sounding very well indeed. Despite the existence of later rivals, Bream is still unrivalled in his ability to capture the mixture of joy and sweet melancholy in this music. Find these at eavb.co.uk (mp3).

The reissues of Bach's Brandenburg Concertos No.2 in F, BWV1047 (11-13-BX112) and No.4 in G, BWV1049 (14-16BX112) from the stylish and sprightly recordings which Max Goberman made with the New York Sinfonietta in stereo in 1960 continue the good work begun last month with Nos. 1 and 3 – see February 2012/1 Roundup. They're much more period-aware than I remembered and I'm looking forward to the completion of the set. (eavb.co.uk).

Wolfgang Amadeus MOZART (1756-1791) Clarinet Quintet in A, K581
Alfred Boskovsky (clarinet) and other Members of the Vienna Octet – rec.1954. ADD/mono
BEULAH EXTRA 11-14BX168 [30:38] – from eavb.co.uk (mp3)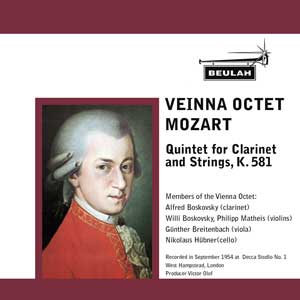 Beulah have reissued a number of valuable historical recordings from the Vienna Octet, made in the early days of LP, sometimes in early stereo. The present recording was made in 1954 and released on a 12" LP costing 36/5 (£1.82 but more like £45 in present values) where it was the sole item – even then the short timing was the subject of adverse comment.

This doesn't have the same classic status as the Curzon/Vienna Octet reissue of the Schubert Trout Quintet (Beulah Extra 1-3BX41 – see below for HDTT transfer of the same recording) or the Mendelssohn Octet with which it was appropriately reissued on the Decca Eclipse label in 1969 (Beulah Extra 1-4BX168) but it's well worth having at a fraction of the true cost of that 1954 LP. The performance is idiomatic, with the Viennese performers giving just that little bit of extra rightness, and the recording still sounds very well, though there's a small amount of surface noise, which becomes bothersome at places in the third movement.

There are almost as many recordings of the Mozart Clarinet Quintet as there are of the Clarinet Concerto; indeed, the two are often coupled as on the Thea King recording using the basset clarinet on Hyperion CDA30010 – download in mp3 or lossless from hyperion.co.uk – which is overall my prime recommendation for both works among modern recordings. (See October 2010 Roundup.)

Ludwig van BEETHOVEN (1770-1827) Fidelio Overture
Sinfonia of London/Colin Davis – rec. 1960. ADD/stereo
BEULAH EXTRA 19BX129 [6:39] – from eavb.co.uk (mp3)

Johannes BRAHMS (1833-1897)
Variations on a Theme by Haydn (St Anthony)
Sinfonia of London/Colin Davis – rec. 1960. ADD/stereo
BEULAH EXTRA 20BX129 [16:06] – from eavb.co.uk (mp3)

Felix MENDELSSOHN (1809-1847) Overture The Hebrides (Fingal's Cave)
Sinfonia of London/Colin Davis – rec. 1960. ADD/stereo
BEULAH EXTRA 21BX129 [9:26] – from eavb.co.uk (mp3)

Richard WAGNER (1813-1883) Siegfried Idyll
Sinfonia of London/Colin Davis – rec. 1960. ADD/stereo
BEULAH EXTRA 22BX129 [18:09] – from eavb.co.uk (mp3)



These four recordings were originally released on World Record Club (S)T61 in 1961 as part of EMI's experiment with the young and largely untried Colin Davis. Along with the Beethoven Seventh Symphony on the HMV Concert Classics label which I reviewed last month (Beulah Extra 15-16BX129) and the Mozart Oboe Concerto and Symphony No.34, again for WRC, they helped to launch his career – and the rest is history.

All these recordings demonstrate what it was that made EMI take that chance and how justified they were and the recordings have come up well in Beulah's transfers. It's not just nostalgia that makes me endorse these reissues now, though I did own the LP at one time – one of my bonuses for renewing my membership, as I recall, it came in the cover for the mono version with the word 'stereo' on a sticker. There's nothing revelatory but there's nothing run of the mill here, either.

We've also had Colin Davis and the Sinfonia of London in Mozart's Symphonies Nos.29 and 39 from Beulah – now how about the Oboe Concerto with Leon Goossens and Symphony No.34?

Antonin DVOŘÁK (1841-1904)
Slavonic Rhapsody No.3 in A flat, Op.45/3
Royal Philharmonic Orchestra/Rafael Kubelík – rec. 1958. ADD/stereo
BEULAH EXTRA 7BX34 [11:47] – from eavb.co.uk (mp3)

Dvořák's Slavonic Rhapsodies are not nearly as well known as they deserve to be and there's no finer interpreter of their composer than Kubelík – his New World Symphony is still very high on my list of favourites. The present recording, originally coupled with the Scherzo Capriccioso and some of Brahms' Hungarian Dances, is almost in the same league as Kubelík's New World and the sound has come up bright and fresh in the transfer. This is a more secure choice than Beulah's reissue of Kubelík's VPO Má Vlast (September 2010 Roundup). Perhaps they will now give us the Scherzo capriccioso.

Frederick DELIUS (1862-1934)
Paris: Song of a Great City
3BX64 [23:49] – from eavb.co.uk (mp3)

In a Summer Garden
4BX64 [13:58] – from eavb.co.uk (mp3)

Summer Night on the River
5BX63 [6:23] – from eavb.co.uk (mp3)

All: London Symphony Orchestra/Anthony Collins – rec. 1953. ADD/mono



Collins' Delius almost equals his Sibelius in classic status, especially for those of us old enough to remember the Ace of Clubs reincarnation in the mid-1960s, and it's still worth hearing despite the enormous competition from more recent versions. That ACL reissue was one of Decca's best; as I recall they resisted the usual temptation to over-emphasise the top, but the Beulah transfers are splendid with only the merest hint of strain in the loudest passages of Paris. These three reissues include the whole contents of LXT2899 and its reissue on ACL245 and they cost much less now in comparative terms than even the ACL reissue, which would work out to at least £25 now. Jonathan Woolf was enthusiastic when these recordings appeared on the Eloquence label in 2002 (461 3582 – see review).

Maurice RAVEL (1875-1937) Daphnis et Chloë: Suite No.2
Philharmonia Orchestra/Carlo Maria Giulini – rec. 1959. ADD/stereo
BEULAH EXTRA 3BX8 [16:48] – from eavb.co.uk (mp3)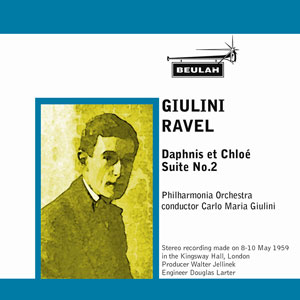 The second suite contains most of the best music from Daphnis, but I'd still opt for the complete ballet – Monteux or Dutoit, both on Decca. Nevertheless, even if you have one of those or another complete Daphnis, there's a great deal going for this sympathetic Giulini recording of the suite, in a recording that may not be as demonstration-worthy as the Dutoit – used as my test piece the last time I bought new speakers – but which still sounds clear and fresh in Beulah's transfer. At £1 (US$1.59) the price is tempting, too.


Sir Edward ELGAR (1857-1934)
Variations on an original Theme (Enigma)
London Symphony Orchestra/Pierre Monteux
BEULAH EXTRA 1BX181 [29:29] – from eavb.co.uk

Nimrod only is separately available as 2BX181 – from eavb.co.uk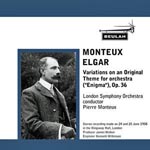 I knew that this would be my Reissue of the Month even before I'd heard a note. Coupled with the Brahms St Anthony Variations on Decca SPA121 (price £0.99), this was my recording of choice towards the end of the LP era. Not only was it one of the least expensive versions around, the performance proved once and for all that English music was not the sole preserve of native conductors, the LSO was at its peak under Monteux and, a little later, Previn – see my Second Thoughts on Nielsen (above) – and the recording was (and remains) superlative for its date.

The price now is even more competitive – that £0.99 in 1971 would be at least £25 now, so Beulah's £1.75 (US$2.75) is a snip, better value, indeed than £0.50 for Nimrod alone. The new transfer is faultless. Demands a place on your shelves, even if you have a more recent recording, such as that of Andrew Davis on an incredibly inexpensive Warner Apex CD.

Sir Edward ELGAR
Falstaff, Symphonic Study in c minor, Op.68 (1913)
London Symphony Orchestra/Anthony Collins – rec.1954. ADD/mono
BEULAH EXTRA 2BX63 [34:10] – from eavb.co.uk (mp3)



In many ways Falstaff is Elgar's homage not only to Shakespeare but also to Richard Strauss and his Don Quixote in particular. Though Elgar reportedly thought it his best work, it's never been very popular in the concert hall, but it has been blessed with several recordings, including Elgar's own, from which I got to know it.

Collins' was the first LP recording, but its original reception from Andrew Porter was not overwhelmingly enthusiastic and it was superseded by Boult on Nixa, now reissued by First Hand Recordings together with the other fruits of Sir Adrian's 1956 recordings for that label.

By the time that Beulah reissued this Collins version in 1996 (1PD15, with the Introduction and Allegro and the Serenade) Edward Greenfield was singing its praises. Which side of the fence I am on will be clear if I say that I really wonder why Andrew Porter was so negative. Perhaps Collins dwells on the languorous aspects of the music a little less than is ideal, but Elgar himself was forced to move on by the exigencies of 78 recordings and Boult also moves the music along. The recording, too, has come up sounding very well indeed – much better than AP's original review suggests.

This may not be my prime choice, even among recordings of this period – that would have to be Boult – but it's an excellent runner-up and it can be purchased separately. The First Hand reissue is a splendid bargain, especially in download form – still only £7.99 from HMV Digital, who also have Boult's Schumann and Berlioz on FHR07 for the same price – but it comes as part of a 3-disc set. (FHR06: see review – Bargain of the Month and November 2010 Roundup).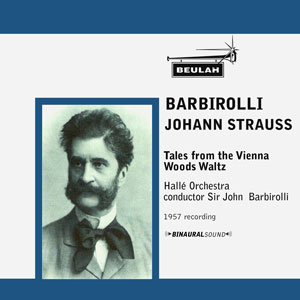 Sir John Barbirolli features at the podium of the Hallé in the ballet music from Rossini's William Tell on 1BX183 [14:00]. This is from a 1959 stereo recording of a lively performance which appeared on Pye both on LP and on its own; it sounds bright and cheerful in Beulah's transcription but the top frequencies are a little shrill, especially at climaxes, and the overall effect is rather thin. (eavb.co.uk)

Barbirolli and the Hallé recorded Johann Strauss Junior's Tales from the Vienna Woods a little earlier, in 1956 or 1957, in stereo. The Beulah reissue is on 2BX183 [13:11]. By the time that this recording was reissued on the Pye Collector label in 1976 the recording was being described as dated and the omission of the zither bemoaned – yes, I felt the lack, too, along with the last degree of Viennese rhythm – but none of these should deter Barbirolli fans. Actually the recording sounds slightly better in Beulah's transcription than the William Tell ballet music. (eavb.co.uk)
***

Jacopo PERI (1561-1633) Euridice (1600)
Euridice – Gloria Banditelli (mezzo)
Orfeo – Gian Paolo Fagotto (tenor)
Furio Zanasi (bass)
Sergio Foresti (bass)
Giuseppe Zambon (counter-tenor)
Monica Benvenuti (soprano)
Rossana Bertini (soprano)
Mario Cecchetti (tenor)
Paolo da Col (tenor)
Ensemble Arpeggio/Roberto de Caro – rec. 1992. DDD.
ARTS 47276-2 [2CDs: 101:40] – from classicsonline.com (mp3) or stream from Naxos Music Library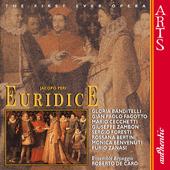 This is usually regarded as the first surviving opera – Peri's own earlier Dafne has been lost. He just pipped Caccini's Euridice to the performance post, though Caccini's was the first to be published. The Caccini – see Ricercar recording above – is a wonderful and concise work and I enjoyed the Ricercar recording very much, but I must express a slight preference for the Peri. Both are well worth exploring by anyone who wishes to hear what preceded Monteverdi's undoubtedly more accomplished l'Orfeo on the same theme of just a few years later. I'd also point you towards the Andrew Parrott EMI recording of the nascent mini-operas known as the Florentine Intermedi of 1589 but that's currently unavailable in any format. The only (used) copy that I could trace is on offer for £58.40.

The performances are fully worthy of the music and the recording is good. The only grey cloud is the lack of libretto. I downloaded this with the intention of reviewing the lossless version, then available from passionato.com, but that has subsequently disappeared along with all the other Arts recordings and those of many other labels. The best quality download now is, as indicated, from classicsonline.com, where it is actually slightly more expensive than the CD set from some online distributors and there is no booklet, but, as the CDs are currently shown as out of stock in the UK, it may be worth paying a little extra. Hmvdigital.com have it for £7.99, but in 192kb/s mp3 only.

An added incentive to buy both this and the Caccini is that they both set the same text, which is provided with the Ricercar recording of the latter.

Jonathan Woolf's review of the recording of Euridice on Pavane ADW7372/3 – here – will give you more information about the music but that version seems to be deleted.

Dietrich BUXTEHUDE (c.1637-1707) Seven Sonatas, Op.2 (1696)
Suonata I in B flat, BuxWV 259* [7:24]
Suonata II in D, BuxWV 260* [11:56]
Suonata III in g minor, BuxWV 261† [10:35]
Suonata IV in c minor, BuxWV 262* [7:11]
Suonata V in A, BuxWV 263* [8:45]
Suonata VI in E, BuxWV 264† [9:17]
Suonata VII in F, BuxWV 265† [7:41]
The Purcell Quartet
Catherine Mackintosh (violin)*; Catherine Weiss (violin)†
Richard Boothby (viola da gamba)
Robert Woolley (harpsichord) – rec. February 2011. DDD.
CHANDOS CHAN0784 [62:55] – from theclassicalshop.net (mp3 and 16- and 24-bit lossless)



This is the sequel to the Op.1 Sonatas (CHAN0766 – see April 2010 Roundup). Though it has been worth the wait, an opportunity was clearly missed thereby, since others have stolen the market which peaked in the tercentenary year, 2007. Chandos missed that boat even with Op.1, recorded 2008-9. The chief competition for both sets comes at budget price from Messrs Holloway, Mortensen and ter Linden (Op.2 on Naxos 8.557249). To be fair to Chandos, however, I note that Hyperion have yet to release a successor to their 2000 recording by Convivium of the Op.1 Sonatas (CDA67236 – download for just £5.25 in mp3 or lossless sound).

I'm slightly less impressed by the Purcell Quartet in Op.2 than I was in Op.1. They play as well as might reasonably be demanded of them, yet somehow the music doesn't quite catch fire. It's not a matter of the chosen tempo – these are mostly faster than those adopted by the Naxos performers or by L'Estravagante on Arts 47732-8, another version which I like: see November 2008 Roundup and download from theclassicalshop.net or classicsonline.com – it's just that they sound ever so slightly dutiful, but I don't want to make it a major criticism.

Maybe it's just that I'm too influenced by the more imposing opening of No.1 in the other two versions. You may well feel otherwise, especially if you must have one of the lossless versions, in which case it has to be the Chandos. (As well as the 16-bit, there's 24/96 for only a little more than the cost of the CD.) All three versions that I've mentioned are available from the Naxos Music Library for comparison – yet another excellent reason to invest in a subscription. The only limitation is that it can't convey the high quality of the lossless versions of the Chandos recording.

Antonio VIVALDI (1678-1741) Vivaldi's Children: Flute Concertos, Op.10
Op.10/1 in F, RV433 (Tempesta di mare; Storm at sea) [6:13]
Op.10/2 in g, RV439 (La notte; Night) [8:56]
Op.10/3 in D, RV428 (Il gardellino; The goldfinch) [9:02]
Op.10/4 in G, RV435 [6:58]
Op.10/5 in F, RV434 [8:09]
Op.10/6 in G, RV437 (Il cavallo; The horse) [7:32]
Wissam Boustany (flute); Peter Manning, Stephen Morris (violins); Philip Dukes (viola); Tim Hugh (cello); Mary Scully (double bass); Steven Devine (harpsichord)
NIMBUS ALLIANCE NI6167 [47:21] – from classicsonline.com (mp3) or stream from Naxos Music Library.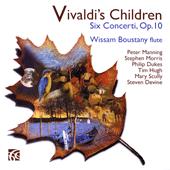 The publicity material for this recording includes Wissam Boustany's thoughts:

To love Vivaldi's music is to love nature, life and all things perpetual, aesthetic and ecstatic. So many years after Vivaldi lived out his life (1678-1741), we still enjoy his colourful, energetic music all over the world. This is proof that certain inner revelations can indeed be shared across generations and boundaries. Truth will not bow in the face of Time, nor will it cease to demand our attention as the human race progresses determinedly towards nowhere in particular…

The fact that such a serene observer of Life should have been a priest in the Ospedale della Pieta, a school and orphanage for young girls in Venice, comes as a reassuring reminder that Vivaldi did not hide away from life on a human scale… This is why I have chosen to donate £1 out of the sale of each CD towards the care of abandoned or needy children around the world… This is part of Towards Humanity, my international initiative using the inspirational qualities of music as a catalyst for promoting and raising funds for humanitarian work around the world.

I can think of no better tribute to Vivaldi's enduring inspiration to us all, than to be continuing his work helping children towards the fulfilment of their destinies, as he did in his own lifetime. May music live on, converting Inspired Thought into Inspired Reality, for our fragile planet.

I'm not quite sure how that £1 contribution works for the download – purchase the parent CD direct from MusicWeb International for £12 – here – to be sure of that. It's not just the attachment of the good cause, however, that makes me endorse this recording; having heard it from Naxos Music Library I've requested the CD for review of a set of performances that are desirable in their own right without the charitable connotation.

There are many sound versions of these concertos, both in their published form and in their original versions, with modern and with period instruments, but what I particularly like about this set is that it bridges the different approaches by employing modern instruments, including the double bass, but in chamber proportions. Better still, there's sheer joy in the faster sections of the music, while the nightmare quality of la Notte is fully brought out, too. I was worried at first that the inclusion of the double bass would mean that it dominated the music, but such is not the case.

The recording is good and, though there's no booklet with the download, it's not exactly essential. There is one huge snag, however, and that concerns the very short playing time; even the budget price recordings on Regis and Alto contain more music – could the performers not have added a couple of other flute concertos?

Johann Sebastian BACH (1685-1750)
Goldberg Variations, BWV988* [38:27]
Overture (Partita) in b minor in the French manner, BWV831** [25:28]
French Suite No.5, BWV816** [16:28]
Glenn Gould (piano)* – rec. 1955. ADD.
András Schiff (piano)** -rec. 1978. DDD.
MUSICAL CONCEPTS ALTO ALC1164 [79:38] – CD only, not yet available for download. Likely to be available from classicsonline.com.

[A longer version of this CD review is due to appear on the main Musicweb International pages.]



There have been so many reissues of Gould's 1955 recording of the Goldbergs that you can take your pick. The main rivals to the current release are on Naxos Historical 8.111247 (download from classicsonline.com, but not available in the USA and several other parts of the world) and Sony (details below).

I can't better what Jonathan Woolf wrote about the 1955 version:

Gould's Goldberg Variations are full of grace and animation; there are times, it's true, when measured against his later performance the youthful one can seem precipitate and too energised for clarity of articulation, though this is a relative matter. But there is magnificent drama and sometimes a sense of euphoric abandon hard to resist, a sense in the final variations of the arch of the music taken in a single span, a sense of flux engendered through passionate continuity. (See full review here.)

Amazon.co.uk offer a download of the Sony release of the expanded 1955 recording – with two short fillers from The Well-tempered Clavier and 12 minutes of studio out-takes for £2.99 – here. ($8.99 from amazon.com – here.)

By omitting all repeats and taking most of the variations at quite a lick, Gould manages to complete the whole work in just over 38 minutes. Compare that with a time of over 91 minutes from Matthew Halls on a recent Linn recording, with every repeat observed and the music given due weight where appropriate (CKD356 – see March 2010 Download Roundup) and you have the two extremes.

Angela Hewitt's excellent recording of the Goldbergs – the only other piano version which I like – is available separately on a mid-price Hyperion 30 reissue (CDA30002) or as part of the 15-CD set which I made my Download of the Month (CDS44421/35 – see October 2010 Download Roundup).

Whichever version of Gould 1955 you choose, the sound is inevitably a little dry but this Alto transfer sounds as good as the Naxos – if anything, there's a little less top, but that makes the sound seem more rounded and it probably also explains why there's less background noise, though that's not a serious problem with the Naxos. If these tracks are, as Alto claim, in stereo, there's very little spatial information on them, though that's not much of an issue with a solo instrument.

It's not inappropriate that Alto have coupled Gould and Schiff in Bach; as the quotation on the back of the CD reminds us, though his own Goldbergs are cut from very different cloth – Paul Shoemaker, reviewing his more recent recording sees it as his ultimate assault on his predecessor (ECM New Series 1825 – see review and review by a disappointed John Portwood) – the coupling is still apt.

Like Hewitt, Schiff is about as good as pianists come in Bach; both play with such delicacy that I'm pleased that Alto chose to complete their CD with his stylish recordings of these two works in the French style. I know that my pleasure will not be universally shared: Schiff's way with Bach is on the fast side. In BWV 831 and 816, however, his tempi are not markedly out of line with for example, Richard Egarr (EMI, harpsichord) and Angela Hewitt (Hyperion, piano). The recordings of these tracks, too, sound much better than the Gould.

The presentation of the Alto reissue is, as usual, minimal, with individual timings for the separate tracks but none for the three works overall – I got my information about the overall timings for the Gould from the Naxos Historical version and about Schiff from the Vanguard release.

If you're looking for a safe prime choice for the Goldberg Variations, it has to be Angela Hewitt: I know that there are those who dislike Gould's manner and I'm sure that there are also those who will find Halls too long at 91 minutes, but I've yet to meet any lover of Bach who didn't admire Hewitt. Her recording comes at mid price, so although it's more expensive than Gould on Alto, Naxos or Sony, the difference is not that great. Those prepared to be adventurous should also go for Gould as well – after all, the CD will cost you only around a fiver and you get some fine playing from Schiff thrown in as well. There's no need to wait for a download to be available – the CD is so inexpensive that classicsonline.com's £4.99 for Alto downloads saves very little.

Johann Sebastian BACH (1685-1750)
Toccata, Adagio and Fugue in C, BWV564 [14:45]
Organ Concerto in a minor (after Vivaldi), BWV593 [12:09]
Leipzig Chorale Prelude, BWV654, 'Schmücke dich, o liebe Seele' [6:24]
Prelude and Fugue in b minor, BWV544 [13:39]
Chorale Prelude, BWV682. 'Vater unser im Himmelreich' [6:46]
Prelude and Fugue in G, BWV541 [7:59]
Chorale Prelude, BWV622, 'O Mensch, bewein' dein' Sünde groߒ [5:31]
Passacaglia and Fugue in c minor, BWV582 [13:10]
David Goode (Silbermann Organ, 1711-14, modified 1738) – rec. July, 2010. DDD
SIGNUM SIGCD261 [80:26] – from classicsonline.com (mp3) or stream from Naxos Music Library

[A longer version of this CD review is due to appear on the main Musicweb International pages.]



Having listened to the recording as streamed from the Naxos Music Library, I was pleased to see the CD appear on my doormat as part of my allocation; had it not done so, I would have obtained and reviewed the classicsonline.com download, which gives away at the outset my recommendation of performance, chosen instrument and recording. If you don't want the detailed reasons which I give in my review of the CD, let me ask that you obtain this recording in one form or another; the CD, of course, sounds more opulent than the NML streamed version, but that's good enough to enjoy the performances and to assure me that the download from classicsonline.com in best-quality mp3 will not be far behind. You'll miss out on the booklet, but that's available from the Signum web page – here.

The organ itself is as much the star of the recording as the composer and organist. A Silbermann organ is many respects the ideal instrument for Bach, whose music in many ways had outgrown the North German instruments which are suitable for Buxtehude and his predecessors, and this is a particularly fine specimen. The Freiberg organ was employed by Marie-Claire Alain for many of her Bach recordings: you can find a one-hour recital of her playing it one YouTube – here. Alain believed that Bach had definitely played this instrument, which is speculative only, but she is right in the belief that this is a fine instrument for Bach's music, built and modified in his lifetime – and it emerged unscathed from WWII. The booklet contains the specification of the instrument, tuned a little above modern pitch at a'=476.3Hz and in modified mean-tone temperament. Somewhat neglected under the DDR, it's now in fine fettle as heard on this recording.

My benchmark for recordings of Bach's organ music is the wonderful and inexpensive complete collection played by Kevin Bowyer on Nimbus which was my Bargain of the Month in mp3 format some time ago: NI1721 [8 mp3 CDs, 31 hours], available direct from MusicWeb International for £23, post paid worldwide, less than downloading it from classicsonline.com for £63.92. (See my joint review with Kirk McElhearn – here.) Having compared Goode with Bowyer and with Hans Fagius in Volume 4 of his complete collection on BIS (BIS-CD-343/4) I found Bowyer perhaps slightly more consistently satisfying, but preferred the versatility of Goode's Silbermann organ and the use which he makes of it. You can compare all three for yourself if you subscribe to the Naxos Music Library.

In comparisons with Werner Jacob, too, on a budget 3-CD EMI set (5093932: Bargain of the Month – see review), again available from the Naxos Music Library, a slight preference for Jacob by no means militated against Goode. Ideally, with the Jacob costing so little – around £7 in the UK – you should have both. Better still, go for the complete set from Kevin Bowyer on Nimbus (above). Don't purchase the Jacob download from classicsonline.com at a ridiculous £20.97 when the CD set costs around a third of that.

So far as such a thing is possible on a single CD, there's a representative cross-section of JSB's organ music from Goode, though not including the Toccata and Fugue in d, BWV565, of which most music lovers will probably have at least one version already, and which may well not be an original Bach composition. With performances, recording and quality of presentation about as good as they get, despite my slight preferences for other versions in some cases, and bearing in mind the most generous playing time, this would make an excellent introduction to JSB's organ music and an excellent adjunct to any collection, even for those who already have the complete works on the Nimbus recording.

Wolfgang Amadeus MOZART (1756-91)
Piano Concerto No.24 in c minor, K491 (1786) [26:45]
Piano Concerto No.25 in C, K503 (1786) [28:00]
(Cadenzas: Ronald Brautigam)
Ronald Brautigam (fortepiano)
Die Kölner Akademie/Michael Alexander Willens
Fortepiano by Paul McNulty 1992, after an instrument by Anton Walter c.1795
Pdf booklet included
BIS-SACD-1894 [55:29] – from eclassical.com (mp3, 16- and 24-bit lossless)


This recording of two of Mozart's finest is as controversial as the earlier recording by these forces of Concertos 9 and 12, scoring 4 out of 10 from one reviewer and 4 out of 5 from another. (Neither of them my MusicWeb International colleagues, I hasten to add.)

I liked the earlier recording and, though I wouldn't place either as my top choice, I enjoyed this too and can't for the life of me understand why anyone would denigrate it so vehemently. If anything, I enjoyed this volume more than its predecessor; though the copy of the 1795 instrument is less appealing than the two instruments based on later models which Brautigam uses for Beethoven (below) it sounds better in the context of these more mature concertos. The sound quality is excellent – remember that the 16-bit lossless comes at the same price as the mp3 and the 24-bit is still competitively priced.

If you're puzzled by the picture of the logger on the front cover, the booklet explains that splitting a linden tree log is the first stage in making the heads of the hammers for a fortepiano.

Ludwig van BEETHOVEN (1770-1827)
Complete Works for Solo Piano – Volume 11: Variations (I: 1796-1802)
Zwölf Variationen über den russischen Tanz aus dem Ballett Das Waldmädchen von P. Wranitzky, WoO71 (1796) [9:36]
Acht Variationen über Une fièvre brûlante aus Richard Cœur de Lion von A.E.M. Grétry, WoO72 (1797) [6:07]
Zehn Variationen über La stessa, la stessissima aus Falstaff von A. Salieri, WoO73 (1799) [9:23]
Sieben Variationen über Kind, willst du ruhig schlafen aus Das unterbrochene Opferfest von P. Winter, WoO75 (1799) [10:15]
Acht Variationen über Tändeln und Scherzen aus Soliman II von F. X. Süssmayr, WoO76 (1799) [8:02]
Sechs Variationen über ein eigenes Thema G-Dur WoO77 (1800)* [7:08]
Fünfzehn Variationen mit einer Fuge Es-Dur, Op. 35 ('Eroica' Variations) (1802) [21:45]
Ronald Brautigam (fortepiano) – rec. August 2010. DDD/DSD
Instrument by Paul McNulty, after Walter & Sohn, c.1805, except *Instrument by Paul McNulty, after Conrad Graf, c.1819
Pdf booklet included
BIS-SACD-1673 [73:35] – from eclassical.com (mp3, 16- and 24-bit lossless)



Ronald Brautigam's complete Beethoven piano works have generally received good reviews from my colleagues – William Hedley, for example, reviewing Volume 7 (BIS-SACD-1612 – see review) placed his request to Santa Claus for the previous six.

There's a danger that the variations might be seen as mere adjuncts to the sonatas, but anyone who already has a complete set of the sonatas, such as the Nimbus set (NI7707, Bernard Roberts) which Geoff Molyneux and I reviewed (November 2011/2 Roundup), should seriously consider adding at least the Diabelli Variations and the Eroica Variations. Brautigam has not yet reached the Diabelli set – Paul Lewis on Harmonia Mundi will do very well for those (HMC902071 see July 2011/1 Roundup) – but the Eroicas are included on this release. That theme was very important to Beethoven, occurring not just in the Third Symphony but also in the ballet The Creatures of Prometheus and the current performance gives them due weight.

Indeed, Brautigam's performances here are revelatory of the quality of the music throughout, especially if, like me, you tried to play some of these variations as a student – inevitably much more slowly than the nimble-fingered Brautigam and with far less sense that these are much more than academic exercises in variation technique.

There's no need to be chary of the sound of the fortepiano: neither of the instruments on which Brautigam plays sounds remotely like a honky-tonk piano. They sound much better than the fortepiano employed for Brautigam's recording of Mozart Pianos Concertos 9 and 12*, though I found much to enjoy there (BIS-SACD-1794 – see October 2011/1 Roundup) and the recording, especially in lossless format, does them justice.

* another McNulty instrument but modelled on an earlier (1795) original. The same instrument sounds better on the recording of Piano Concertos 24 and 25 (BIS-SACD-1894 above).

Franz SCHUBERT (1797-1828)
Piano Quintet in A (Trout), D667 [35:17]
String Trio in B-flat, D471 [7:15]
Clifford Curzon; Members of the Vienna Octet – rec.1957. ADD
Willi Boskovsky (violin); Rudolf Streng (viola); Robert Scheiwein (cello) – rec.1964. DDD
Pdf booklet with notes included.
HIGH DEFINITION TAPE TRANSFERS 293 [42:32] – from hdtt.com (24-bit and HQCD)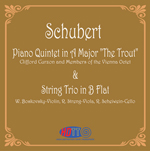 With good quality mp3 downloads of the glorious Curzon/Vienna Octet classic recording of the wonderful Trout Quintet from Beulah Extra*, amazon.co.uk and passionato.com**, is it worth spending the extra on the HDTT lossless transfer (24/96 and 24/192 versions @ $12.00 and $16.00 respectively or CD @ $19.99)?

Whichever version you choose, this is still my all-out favourite version of the Quintet. In all formats, including its most recent appearance on a single CD on Decca Eloquence, coupled with the Death and the Maiden Quartet**, there's no disguising the age of the recording and the dryish but clear sound quality. Both Beulah and HDTT have done very well in every other respect and there's very little to choose. The HDTT transfer is a little clearer and more open while the Beulah is a trifle warmer, though not without a very slight degree of distortion by comparison with the HDTT, which I heard in 24/96 quality.

I think there is a slight advantage in having the new HDTT transfer, especially as the recording of the delightful (unfinished) String Trio is also well worth having. The Beulah is excellent value at £4.00, the Eloquence download for twice that amount is also worth having for the Quartet coupling but the HDTT, which at $12.00 is commensurate in price at the current exchange rate with the Eloquence downloads, just goes to the top of the tree.

* Beulah Extra 1-6BX41 (£4.00) – see August 2010 Roundup. (NB: this was originally contained on four tracks but has now been re-divided on six.)
** 467 4172 – download for £7.49 from amazon.co.uk or from passionato.com, both in mp3, the latter, like the Beulah reissue, is at the full 320kb/s.

Franz LISZT (1811-1886) The Sound of Weimar
The Authentic Sound of Liszt's Orchestral Works

Volume 2
Les Préludes, Symphonic Poem No.3, S97 (1854, pub.1856) [15:35]
Orpheus, Symphonic Poem No.4, S98 (1853/4) [10:27]
Ce qu'on entend sur la Montagne (Berg Symphonie), Symphonic Poem No.1, S95 (1850, 1856) [30:12]
Orchester Wiener Akademie/Martin Haselböck
rec. live, Liszt Festival, Raiding, Austria, January 29-31, 2011. DDD
pdf booklet included
NEW CLASSICAL ADVENTURE NCA60246 [56:34] – from classicsonline.com (mp3) or stream from Naxos Music Library

Volume 3
Hunnenschlacht, Symphonic Poem No.11, S106 (1857) [16:12]
Hungaria, Symphonic Poem No.9, S104 (1854) [22:53]
Mazeppa, Symphonic Poem No.6, S101 (1854) [18:33]
Orchester Wien Akademie/Martin Haselböck
rec. Raiding, Austria, 29 January to 1 June 2011. DDD.
NEW CLASSICAL ADVENTURE NCA60250 [58:07] – from classicsonline.com (mp3) or stream from Naxos Music Library

[A longer version of this CD review is due to appear on the main MusicWeb International pages.]



These are the second and third volumes of a project, commenced in the bicentenary year, to record all Liszt's orchestral works using 19th-century instruments, hence the use of the word 'authentic' in the English subtitle and Originalklang in the German. Volume 1 contains the Dante Symphony, S109, and Evocation à la Chapelle Sistine (NCA60234 – download from classicsonline.com). As we don't seem to have reviewed that here on Musicweb International, I listened to it first, courtesy of the Naxos Music Library, where subscribers can also try out Volumes 2 and 3.

I hadn't encountered Martin Haselböck as a conductor before, though I had heard him play Liszt's organ music – 5 volumes, also from New Classical Adventure. My benchmark for the Dante Symphony is the performance by Daniel Barenboim and the Berlin Phil, the recording which first revealed the quality of this work, now on budget-price Apex (2564 673012 for around £6: Bargain of the Month – see review) or available for download in its earlier Elatus release from amazon.co.uk for £4.99. Haselböck is slightly faster, especially in the Purgatorio section, but I greatly enjoyed his performance. With good recording, this is such a fine start to the series that it gave me high hopes for the next two volumes.

Volume 2 opens with probably the best-known of the symphonic poems, les Préludes. Here I preferred Haselböck to James Conlon on Warner Classics and Gianandrea Noseda on Chandos. Only Kurt Masur is preferable: in many ways his exciting account is my benchmark and it's available inexpensively on an EMI 7-CD collection, download from classicsonline.com for £14.99, but costing very little more on CD. The generously filled single CD where it's coupled with Tasso, Orpheus and Mazeppa on EMI Encore is no longer available but can be downloaded from hmvdigital.com for £3.49. If I marginally preferred the more vigorous Masur, there was very little in it; I certainly would turn to Haselböck now in preference to Noseda or Conlon.

Even streamed from NML, the NCA sound is more open than the rivals – whether that's due to the use of 19th-century instruments, Haselböck's experience as an interpreter of Liszt's organ music, also for NCA, or the recording quality, I couldn't say. Perhaps the fact that this is a live recording from the Raiding Festival – though the audience are not audibly noticeable, even at the end – contributes, too.

In Orpheus and Ce qu'on entend, too, Masur is a clear choice, especially at the advantageous price of the 7-CD set, and particularly in Ce qu'on entend, which can seem to outstay its welcome, yet I find no reason to complain about Haselböck and a great deal to enjoy. If that sounds like damning with faint praise, I don't mean it to. Though Noseda on Chandos CHAN10341 offers considerably better value, with Tasso adding another 19 minutes to the playing time – both NCA albums are rather ungenerous in terms of time – my vote goes to Masur or the new recording.

The music on Volume 3 is less immediate in appeal than les Préludes; though Hungaria, a colourful work, with a rousing ending, is sometimes described as an extended Hungarian Rhapsody, it doesn't have quite the attraction which that implies. Mazeppa, retelling the story of the philandering nobleman who was tied naked to his horse's back before being rescued by Cossacks and chosen as their leader, also has its exciting moments and Haselböck certainly brings out the colourful elements of both scores.

There's obviously less to be gained by using 19th-century instruments in this repertoire than by employing those of a century or so earlier for music of that period, but I do think that their use here, coupled with Haselböck's expertise in performing Liszt's organ music, is a definite advantage.

If I were now starting to collect all Liszt's orchestral music, even if I already had the piano concertos, I would be inclined to go for the 7-CD Masur set, not only because it is such an outstanding bargain but also for the generally greater urgency of the performances. There are undoubtedly some longueurs in some of these works, however, and seven CDs may seem too much.

For those who think so, especially those who already have the concertos and, perhaps, some of the symphonic poems, the new series of recordings from NCA offers a very viable alternative and Volume 2 is a good place to begin. For the works on Volume 3, Noseda on Chandos offers a more generously filled alternative, though the classicsonline.com download of Haselböck has a distinct price advantage – all NCA recordings are just £4.99 each.

I have one more Liszt orchestral suggestion before I close: Ilan Volkov conducting the BBC Scottish Symphony Orchestra in the Funeral Odes, the symphonic poem Von der Wiege bis zur Grabe, S107, and two episodes from Lenau's Faust, including the first Mephisto Waltz, on Hyperion CDA67856 (mp3 and lossless). We seem not to have reviewed this when it appeared in 2011, so let me redress the balance now and give it a strong seal of approval.

Bedrich SMETANA (1824-1884) Má Vlast (1872-9)
Dresden Staatskapelle/Paavo Berglund – rec. 1978. ADD.
EMI CLASSICS 5099991874153 [75:17] – from classicsonline.com (mp3) or download from Naxos Music Library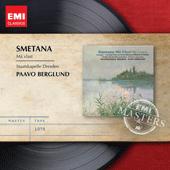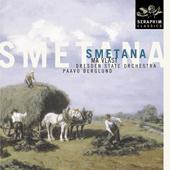 Casting about for a recording to commemorate Paavo Berglund, my first thoughts turned to Sibelius, especially his thought-provoking last recording for Finlandia with the COE, available as a budget price download from amazon.co.uk – the complete symphonies for £7.49. Má Vlast is a less obvious choice – it's not even listed in the last complete Penguin Guide or in the current Gramophone Guide – but it's well worth checking out at Naxos Music Library and it's available for £5.99 as a download from classicsonline.com. They also offer an earlier transfer of this recording here for £3.99 (Angel Seraph 0724357373654). I've illustrated both covers; both sound fine as heard from the Naxos Music Library.

The performance is very sympathetic – warm and expansive, especially in the marvellous Vltava and From Bohemia's Woods and Fields, with recording to match. Czech conductors including the honorary Czech Sir Charles Mackerras*, have a special relationship with this music but Berglund joins a select list of non-Czech conductors who rival them – a list which includes a surprisingly good account from Sir Malcolm Sargent with the RPO (also EMI, now Classics for Pleasure – download for £2.99 from amazon.co.uk, likely to be at 256kb/s, or £3.99 in 320kb/s mp3 from classicsonline.com).

* available as a download only on a 6-CD set from amazon.co.uk.

Maurice RAVEL (1875-1937) String Quartet in F [28:22]
Claude DEBUSSY (1862-1918) String Quartet in g minor, Op.10 [26:31]
Eroica Quartet – rec. June 201 and February 2011. DDD
Pdf booklet available
RESONUS RES 10107 [54:57] – from resonus classics.com (mp3, aac and lossless) or steam from Naxos Music Library



I received an advance copy of this release just as I was closing the February 2012/1 Roundup. These are works to die for in my book – after hearing the Ravel for the first time in the Holywell Music Rooms in Oxford on a balmy Summer evening many years ago, I rushed out the next day to buy the two works on a Supraphon LP. My first reaction to the new recording was not as seminal an event as that – the sort of response that happens only once – and I'm slightly less impressed than I expected to be on the strength of the Eroica Quartet's very special first appearance on the Resonus debut recording in the Mendelssohn Octet (RES10101). The magic of the music is all there but there's slightly less power than on some recordings of the Ravel, which opens proceedings.
Perhaps my slight disappointment is due to the fact that I've heard these works so many times in modern-instrument performances whereas the Eroica play with gut strings and employ late-19th.century playing styles, still in use when these quartets were composed in the 1920s, which I would normally applaud. Don't take my reservations too seriously; I expressed the hope that I would have time to find more of the undoubted strengths of this recording. In the event, I've had time for only one more run-through but in the process I've found more to admire than to criticise.
Resonus downloads come direct from their own website in a variety of formats mp3, aac and flac. I received a review download in 24/96 format, which sounds excellent; though it doesn't seem to be generally available, I'm sure that the 16/44 version sounds fine. Resonus releases are also available from eclassical.com in mp3 and 16-bit flac and from a variety of download sites in mp3 only, including classicsonline.com. The eclassical.com versions were not yet available at the time of writing, but they may well be slightly less expensive than rivals, as they charge by the second and 16-bit lossless comes at the same price as mp3.

Manuel de FALLA (1876-1946) Works for stage and concert hall
El sombrero de tres picos (The Three-cornered Hat) Ballet in two acts by G. Martínez Sierra after a story by D. Pedro Antonio de Alarcón [38:19]
Noches en los jardines de España (Nights in the Gardens of Spain) for piano and orchestra [22:14]
Homenajes (Tributes) Suite for orchestra [15:46]
Raquel Lojendio (soprano)
Jean-Efflam Bavouzet (piano)
BBC Philharmonic/Juanjo Mena – rec.2011. DDD.
Pdf booklet available.
CHANDOS CHAN10694 [76:40] – from theclassicalshop.net (mp3 and lossless)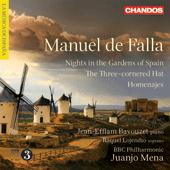 With excellent recordings of Sombrero and Noches in the catalogue, albeit that the best are now rather elderly, this Chandos Recording of the Month is up against strong competition. You'll find all three works on a Double Decca set, for example, in fine performances and coupled with other works for £7.49 as an mp3 download from amazon.co.uk or hmvdigital.com: twice the music for slightly less than the cost of the Chandos mp3 (£7.99, lossless £9.99). That set, which includes the Charles Dutoit Sombrero and the Alicia Larrocha/Rafael Frühbeck de Burgos Noches, both of which formed part of my staple listening on LP, received Rob Barnett's approval (466 1282 – see review) as did a vintage EMI double CD set.

I liked the new recording of Sombrero, though I didn't think it quite the equal of Dutoit. Like Chandos's earlier version with Yan Pascal Tortelier (CHAN8904, still available as a download, albeit at full price); it's good but not quite as energetic as much of the competition.

Carlo Maria Giulini, for example, in the Suite is consistently a little slower than Mena, yet manages to sound more lively and urgent. The figures for the danza final, for example, are 5:55 (Mena) against 6:11 (Giulini), yet it's Giulini that has all the power, though Mena compensates by bringing out the beauty of some parts of the section. Perhaps Giulini wins by just offering the 18 minutes of the Suite – the better half of the music from the ballet – and the couplings include excellent performances of El Amor Brujo, with Victoria de los Angeles and Gonzalo Soriano with Rafael Frühbeck de Burgos in Noches. The ADD EMI recording still sounds well, though it lacks some of the detail of the new DDD Chandos.

(NB: the budget collection on 2375952, 2 CDs for around £8.50, offers the Frühbeck de Burgos version of Sombrero; to obtain the Giulini version of the Suite, you need the classicsonline.com download on 0077776474656.)

You can make the comparison yourself if you have access to the Naxos Music Library. UK readers will also find there the early 1950s Susanne Danco/Ernest Ansermet recording, coupled with the Anthony Collins El Amor Brujo and a link to purchase these classics recordings, which still sound well, though Göran Forlsing was not very enthusiastic about the Eloquence reissue (review), for £1.99 from classicsonline.com. (Not available in the USA).

Chandos are competing with their earlier selves in the case of Noches: their very good 1985 recording with Margaret Fingerhut and Geoffrey Simon is now available at mid price (CHAN10232, mp3 and lossless with el Amor Brujo – the classicsonline.com download (£4.99) is cheaper than Chandos's own at theclassicalshop.net (£6.00), though the latter also offers a lossless version for £7.99). Both are at 320k and come with booklet. That Fingerhut version remains one of my favourite recordings of a work which has long been one of my desert island discs, along with the Soriano-Burgos version which I've mentioned above.

The new recording is not quite in the same league – it's very good, but marginally less evocative, though, having played it several times, I'm not quite sure why. It's not just a matter of the comparison with Soriano and Fingerhut; I felt that the last degree of atmosphere was missing even before I made the comparison, though I suppose that those earlier versions, plus Larrocha (Decca) were in the back of my mind.

There aren't too many competing versions of the orchestral Homenajes, originally piano works of homage to the likes of Debussy, and I can't imagine that its inclusion will sway many listeners in favour of the new recording, though the music is pleasant enough.

If you're looking for excellent modern sound, you can't go wrong with the new Chandos, though, unlike most recent Chandos releases there's no 24-bit version. It's generously filled and I don't think you'd be seriously disappointed by the performances, nor would I be if this were the only Falla recording to wash up on my desert island – it's just that the versions that I've named do that little bit extra for me.

[Dan Morgan has promised second thoughts on this for the next Roundup.]

Jón LEIFS (1899-1968)
Geysir, Prelude for orchestra [9:46]
Trilogia Piccola (1920-24) [11.50]
Trois peintures abstraites (1955) [5.52]
Icelandic Folk Dances (1929-31) [12.25]
Overture to Loftur (1927) [7.33]
Consolation – Intermezzo for string orchestra (1968) [6.20]
Iceland SO/Osmo Vänskä – rec. June 1996. DDD
BIS-CD-830 [55:35] – from eclassical.com (mp3 and lossless)

['This is highly recommendable in its own right but also as a Leifs taster for the wee timorous ones – as are most of us when exploring this far afield.' See review by Rob Barnett]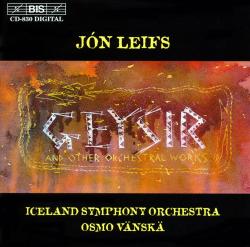 We're raiding the back catalogue for the powerful music of a composer that I hadn't explored before; it would have appeared as Discovery of the Month if the music of Ola Gjeilo hadn't got there first. Though often powerful to the extent of sounding brutal, Leifs' music also has a haunting beauty and I shall certainly return to this recording. Rob Barnett mentions Roy Harris and, for the Folk Dances (not quite) Malcolm Arnold and Tippett arranging Dowland, to which I'll add Alan Hovhaness.

If you enjoy this – and it will cost you only $7.98 to find out, or try it first from Naxos Music Library if you're not sure and you have access – there's more of Leifs' music where it came from, courtesy of BIS and eclassical.com.

I've not given the original Icelandic names of these works, though I think that Íslensk rímnadanslög sounds much more evocative than Icelandic Folk Dances – the modern language virtually unchanged from the Old West Norse in which the sagas were written, complete with the runic letters thorn (þ), eth (ð) and ash (æ), which were borrowed from Old English.

Dmitri SHOSTAKOVICH (1906-1975)
Seven Preludes Opus 34 [9:42]
Viola Sonata Opus 147 [30:03]
Five Pieces from The Gadfly Opus 97 [17:11]
Lawrence Power (viola) and Simon Crawford-Phillips (piano) – rec. October 2010. DDD.
HYPERION CDA67865 [56:56] – from hyperion-records.co.uk (mp3 and lossless)

My thanks to Geoff Molyneux for contributing this review; with the Roundups getting ever longer, I'm indebted to colleagues for their assistance.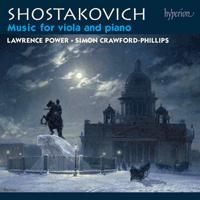 The programme begins with arrangements by Yevgeny Strakhov for viola and piano of Seven Piano Preludes from Opus 34. I had not heard these arrangements before, but they are superb and just as enjoyable as the original Piano Preludes. The performances are deliciously characterful and the players capture the varying moods of these short and attractive pieces. In the first prelude (No.10) the viola plays the melody with delicious and wistful phrasing accompanied by the piano, and later the roles are reversed. Strakhov has given each Prelude a title not present in the original. We have the drama of the Marche funèbre followed by Une valse vite, very fast and fun, though it is rather quick for the composer's original Allegretto marking. There is some beautiful playing in No 17 which Strakhov calls Mélodie amoureuse.

In the Sonata for Viola and Piano, Shostakovich's last work, the two protagonists give a well balanced and moving performance of this bleak piece. The opening Moderato moves along quite swiftly, especially when compared with the performance by Yuri Bashmet and Sviatoslav Richter on Regis. I also prefer Hyperion's more luxurious sound here. The Allegretto gives us some respite from the morbid mood. Surprisingly, Bashmet and Richter give the more lively of the two performances but the steadier pace adopted by Power and Crawford-Phillips allows for more detail in expressive possibilities. The final Adagio is a strange and beautiful movement, with its references to the composer's own symphonies, and a reworking of Beethoven's Moonlight Sonata.

The Five Pieces from the film The Gadfly in arrangements by Vadim Borisovky display a different aspect of Shostakovich's work. The opening Moderato gives an orchestral flavour to the piano accompaniment, the jaunty Barrel Organ Waltz is most attractive, the Romance is very affecting, full of charm with occasional moments of drama, and the final Folk Festival is lively and great fun in typical Shostakovich style.

We are getting used to hearing superb performances from Lawrence Power and this is no exception. I love his rich, almost fat tone sometimes, and he possesses a seemingly endless variety of imaginative colour and phrasing. When he plays his viola I can forget that one usually thinks of the violin and cello as superior instruments. All credit to Hyperion too. I cannot imagine this music better recorded than it is here.

Geoffrey Molyneux

Judith BINGHAM (b.1952) The Everlasting Crown (2010)
The Crown [3:52]
Coranta: Atahualpa's Emerald [3:20]
La Pelegrina [4:38]
The Orlov Diamond [2:56]
The Russian Spinel [4:22]
King Edward's Sapphire [5:34]
The Peacock Throne [7:09]
Stephen Farr (organ of St Alban's Abbey) – rec. August 2011. DDD.
Pdf booklet included.
RESONUS RES10108 [31:54] – from resonusclassics.com (mp3, 16- and 24-bit lossless)



This recording, due for release on 2nd March 2012, is another feather in the cap of Resonus. Already, with just eight recordings to their credit, all available as downloads only, not on physical CDs, they have established themselves as sponsors of new music – this is Judith Bingham's second appearance – and alternative approaches to the old, as with the first version of Mendelssohn's Octet which kicked off the proceedings (RES10101) and the 'authentic' approach to the Debussy and Ravel Quartets (RES10107, above).

The Everlasting Crown was premiered at the 2011 Proms by Stephen Farr, who also features on the new recording. At the Proms it was the highlight of a programme of music by Jehan Alain and Liszt and, surprisingly, it seems to breathe the same atmosphere as their organ music: it's clearly original and 'modern' and yet recognisably in a line of descent from the French organ school of the 19th century, Alain and Messiaen. I liked it very much and, with good recording and documentation, this is very much for you provided that the price takes account of the short playing time, as earlier releases have. The front cover, Edward the Confessor from the Wilton Diptych, is eye-catching, too.

Déjà vu

I recommended Passiontide at St Paul's at full price in the March 2010 Roundup. It's due for reissue in March 2012 on Hyperion's budget Helios label (CDH55436) – available for download now – here. Excellent value, as the booklet is also now available to download.

The Westminster Cathedral recording of the Palestrina Missa Ecce ego Johannes, etc., is also due for reissue in March 2012 and available for download now. Another superb bargain on CDH55407 – here. (See Hyperion Top 30).