Download Roundup July 2011/2
Brian Wilson

First a correction: I'm indebted to my colleague John Quinn, who so often interests himself in the same eclectic range of music as myself, that I've been mistaken for years in believing that Beethoven was wrong to refer to his Diabelli Variations as dreiunddreißig Änderungen, believing that he had wrongly counted the theme itself as one of the 33. In fact, there are 33 variations in addition to the theme. Recordings often blur the issue by making the theme plus variation 1 the first track. My recommendation of the new Paul Lewis recording (Harmonia Mundi) and the much older Stephen Kovacevich (Philips/Pentatone) remains valid.

Next, an apology that this Roundup is shorter and less ambitious than usual: some health problems have limited my use of the computer keyboard and mouse. Though I'm making more use of the Dragon dictation programme, it's probable that the August edition will be later than usual and there may be only one. Having already been delayed, I was even further held up when my laptop crashed after I had converted this Roundup to html and I had to start over again on my reserve machine, hence the fact that there are fewer images here than usual.

Download of the Month

Bedřich SMETANA (1824-1884)
Má Vlast (My Country) (1874-1879)
1. Vyšehrad [14:38]
2. Vltava (The Moldau) [12:14]
3. Šárka [9:42]
4. Z českých luhů a hájů (From Bohemia's Woods and Fields) [12:31]
5. Tábor [13:09]
6. Blaník [13:10]
Malaysian Philharmonic Orchestra/Claus Peter Flor - rec. August 2009, the Dewan Filharmonic PETRONAS, Kuala Lumpur, Malaysia. DDD/DSD
Pdf booklet included.
BIS-SACD-1805 [76:00] - from eclassical.com (16- and 24-bit flac, mp3)

['It's hard not to recommend this issue, and for the inveterate collector of Má Vlast discs, this album will be a special delight'. - see full review by Brian Reinhart]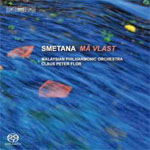 Smetana's patriotic hymn to home is a glorious work, so it's always a pleasure to hear it in toto rather than just the ubiquitous 'Vltava'. I've had my eye on this BIS release for a while, as the label is well known for showcasing the talents of out-of-the-way orchestras; look how they've single-handedly raised the profiles of the São Paulo and Singapore bands, both of which have produced a slew of fine recordings. The Malaysians made a terrific impact with their BIS box of Rimsky-Korsakov under Kees Bakels (BIS-CD-1667/8), so I had high hopes for this Má Vlast, conducted by music director Claus Peter Flor. My review refers to the 24-bit download.

This work has been lucky on record, with fine, idiomatic versions from Rafael Kubelik at the Prague Spring Festival (Supraphon 11 1208-2), Antoni Wit's account on Naxos 8.550931 and, a firm favourite of mine, Libor Pešek and the RLPO on Virgin Classics 61223*. All are engaging, but few start as beautifully as this newcomer, the harp figures in 'Vyšehrad' simply ravishing. The orchestra are as easeful and illuminating as their European counterparts, every facet of 'Vltava' essayed in minute, ear-pricking detail as it grows from gurgling stream to raging torrent. The recording needs to be cranked up a bit before it snaps into focus, those pounding perorations setting new standards for this old warhorse.

And believe me, this performance just gets better and better; granted, rhythms in the epic 'Šárka' could be a bit more pliant, but Flor and his band are undeniably thrilling in the huge tuttis. Dynamics are extremely wide without being splashy or self-consciously hi-fi; the sound is also remarkably transparent, with some delectable woodwind and string playing both here and in those idyllic woods and fields. Indeed, this is a uniquely revealing account of Má Vlast, Flor's many felicities and insights making the piece seem utterly fresh. And what an breathtaking close to 'Šárka', the orchestra as incisive as one could wish for.

Tábor, with its quotation from the Hussite hymn 'Ye Who are Warriors of God', is especially atmospheric, the tuttis expanding without hint of stress or strain; as for the formidable battery of brass, cymbals and timps deployed here, they're presented with a rare, frisson-inducing immediacy that's simply awesome. Has this music ever sounded so implacable, so forbidding? And then there's the truly monumental, hewn-granite quality to this rendition of Blaník that puts its illustrious rivals to shame, the more lyrical episodes as beguiling as I've ever heard. Any concerns that this Má Vlast might lack weight or momentum have long since evaporated, Flor goading his players to a scorching - but not overheated - finale.

Goodness, what a fabulous performance, and how well recorded. BIS have been pilloried on some of the more toxic internet forums for recording their SACDs at 44.1kHz, but this new release should help to silence those harpies and nay-sayers. I must confess I've had cause to grumble about some recent BIS recordings, but after this cracking Má Vlast all is forgiven. Indeed, this version goes right to the top of an already teetering pile. Buy it!

Dan Morgan

[BIS on eclassical.com Download of the Month twice running - and it's no fix. Like Dan, I've lived with and enjoyed several recordings over the years, including Kubelík's several versions, Sargent (an unlikely contestant, but his excellent budget-price reissue on EMI was my first CD version - now on Classics for Pleasure 9689522, for around £5 or download from amazon.co.uk for £2.99) and Libor Pešek*. I thought at first, and again at the opening of Vltava, that this new recording was slow to get off the mark, but I soon came to share Dan's enthusiasm. Most conductors plunge straight into Vltava, forgetting the direction non agitato. As Dan has commented on the 24-bit flac, I tried the CD-quality 16-bit and found it to be excellent.

* The RLPO/Pešek recording is now on Virgin 5221292, around £7, or on a 2-CD set, with Dvořák, for a few pence more, on 5617392. His recording with the Czech Phil is even less expensive on Alto ALC1099. BW]

Bargain of the Month

Leos JANÁČEK (1854-1928) Orchestral Suites from the Operas
The Cunning Little Vixen Suite [16:44]
Osud (Fate) Suite [17:46]
From the House of the Dead Suite [19:57]
Czech Philharmonic Orchestra/František Jílek - rec. 1980s. DDD?
SUPRAPHON C37-7303 [54:28] - from emusic.com (mp3)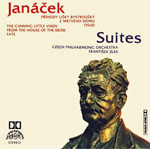 At £1.26 or less, with idiomatic performances and good recording - two tracks at 256kb/s and the third at the maximum 320kb/s - this has to be excellent value, especially as the parent CD seems to be available now only in a 3-CD set. My only grumble concerns the illiterate attribution of the recording to the 'Czech Philharmony', who are, of course, actually the Czech Philharmonic. Even if you have the complete operas, the suites are well worth having.

I was originally tempted to include another apparently even better bargain from eMusic in the form of a Past Classics reissue of the 1951 Karajan Bayreuth recording of Wagner's Die Meistersinger von Nürnberg, for £2.10 or less, but the sound here is just too crumbly for recommendation. The Naxos Historical refurbishment, available from classicsonline.com or to stream from the Naxos Music Library, is not ideal - as their notes indicate, it's a problematic recording to restore - but it's much more listenable.
Freebie of the Month



The Chicago Chamber Musicians are now offering their archive of recordings free to stream online: www.encoreccm.org. Often there are different recordings of the same work, as with the Samuel BARBER String Quartet, Op.11, performed by Joseph Genualdi, Jasmine Lin (violins), Rami Solomonow (viola) and Stephen Balderston (cello) on October 4 and 5, 2009 - here - complete with detailed programme notes. I thought the slow movement (the original of the famous Adagio) a little too sleepy, but enjoyed the performance otherwise - and who's complaining when it's free? It's certainly good enough to tempt you to buy the Endellion Quartet version on an inexpensive EMI CD of Barber's music (6952322, around £7, or download from amazon.co.uk in mp3 for £5.49).

There are also two performances of Georg Philipp TELEMANN's Concerto in D for trumpet, two oboes and continuo, TWV43:D7 (November 08 and 09, 2009 - here) - a little lacking in power, but I can't find any current alternative on CD or download.

Best of all the performances that I tried was Aaron COPLAND Appalachian Spring, the Suite in the chamber version, recorded on May 31, 2000 - here. My favourite recording/download remains Michael Tilson Thomas's of the complete ballet, with Billy the Kid and Rodeo on RCA, available from amazon.co.uk on mp3 for just £4.14 (see October 2009 Download Roundup). The download comes at the full 320kb/s rate, not 256kb/s as I originally thought.


***
Joseph HAYDN (1732-1809) The London Symphonies
Symphonies Nos. 93 to 104*
includes bonus disc containing Symphonies Nos. 88**, 91† and 98**
London Philharmonic Orchestra*; Berlin Philharmonic Orchestra**; Bavarian Radio Symphony Orchestra†/Eugen Jochum - rec. 1958†, 1961/2**, 1971/2*
DG COLLECTOR'S EDITION 474 364-2 [5 CDs: 6:20:14] - from passionato.com (mp3 and lossless)



For most listeners this would be close to the ideal recording of these symphonies: though recorded with modern orchestras when informed period playing was barely in its infancy, Jochum's Haydn is never overblown and still sounds fresh. Add the fact that the set is available as a download only, as far as I'm aware, and at an attractive price, in lossless flac as well as good mp3, and it becomes nigh irresistible. DG even have a further trick up their corporate sleeve in adding Symphony No.88 and a second version of No.98 from an earlier recording with the Berlin Phil, plus No.91 with the Bavarian RSO.

In both recordings of No.98 Jochum is one of the few conductors to include Haydn's little joke with the harpsichord in the finale - just when you think the work has finished, the harpsichord, already old-fashioned by this time as a continuo instrument, is allowed to tinkle away for the last 40 seconds or so. It's not exactly enough to bring the house down, but it does remind us that the po-faced papa Haydn image is far from the truth.

Only Beecham works greater magic in these symphonies and he used an outdated edition. (EMI 3678932, 4 CDs, or as part of Sir Thomas Beecham: The Classical Tradition, 9099462, 10 CDs of Haydn and Mozart - see review). Incidentally, you are likely to find that 10-CD set online for about the same price as any download that I've been able to discover, or even less.

If you're not in the market for a complete set of the 'London' Symphonies, plus Nos.88 and 91, ClassicFM Full Works have an inexpensive coupling of Nos.94, 100 and 104 from Colin Davis's complete Philips set* - download from amazon.co.uk. You'll also find reviews of individual works in the list below:

- Symphonies Nos. 44, 88 and 104: Naxos - Wordsworth (July 2009)
- Symphonies Nos. 83, 94 and 101: Naxos - Wordsworth (June 2009)
- Symphonies Nos. 85, 92 and 103: Naxos - Wordsworth (June 2009)
- Symphonies Nos. 91 and 92; Scena di Berenice: Harmonia Mundi Gold - Jacobs (August 2009) [also available now from classicsonline.com]
- Symphonies Nos. 93-95: Hyperion Helios - Goodman (January 2011)
- Symphony No.94: Beulah - Giulini (June 2010)

* on two Philips Duo sets: 442 6112 and 442 6142, around £8.50 each. Downloads are unlikely to be much - if any - less expensive.

Charles Hubert H. PARRY (1848-1918) Complete Symphonies
Symphony No. 1 in G (1882) [42:39]
Symphonic Variations (1897) [14:04]
Symphony No. 2 in F 'The Cambridge' (1883, rev.1887) [37:46]
Symphony No.3 in C 'The English' (1888/89) [34:40]
Symphony No. 4 in e minor (1888/89) [41:40]
Symphony No. 5 in b minor 'Symphonic Fantasia' (1912) [26:53]
London Philharmonic Orchestra/Matthias Bamert - rec. May 1990, January 1991, January 1991 and January 1992. DDD.
pdf booklet included.
CHANDOS CHAN9120 [3 CDs: 196:56] - from theclassicalshop.net (mp3 and lossless)

Though there are other recommendable versions of some of the symphonies, such as the recent Nimbus First Symphony and From Death to Life (NI5296 - see review), this is the only complete set of the symphonies of a major symphonic composer whose work is only now being appreciated again, and it's very satisfying. My own favourite, the Second Symphony, receives a performance which I prefer to the otherwise recommendable Naxos recording from Andrew Penny (8.553469, with Symphonic Variations and Overture to an Unwritten Tragedy).

The only problem with the set is that it involves duplication of Bamert's performance of the Symphonic Variations which I recommended on a single budget-price Chandos Collect disc last month. If that's a major problem, or you don't wish to go for the complete set, Chandos still offer the individual discs as a download, though not on CD any longer:

- Symphony No.1 and Concertstück, CHAN9062
- Symphony No.2 and Symphonic Variations CHAN8961
- Symphonies Nos.3 and 4 CHAN8896
- Symphony No.5, From Death to Life and Elegy for Brahms CHAN8955

Sir Edward ELGAR (1857-1934)
String Quartet in e minor, Op. 83 [26:57]
Piano Quintet in a minor, Op. 84* [37:38]
Ian Brown (piano)*; Sorrel Quartet (Gina McCormack, Catherine Yates (violins), Sarah-Jane Bradley (viola), Helen Thatcher (cello)) - rec. November 2000. DDD.
CHANDOS CHAN9894 [64:37] - from theclasssicalshop.net (mp3 and lossless)

String Quartet in e minor Op 83** [27:41]
Mina* [3:06]
Laura Valse* [2:39]
March in D * [4:44]
Impromptu* [0:27]
Piano Quintet in a minor Op 84*/** [38:51]
Piers Lane (piano)*; Goldner String Quartet** (Dene Olding, Dimity Hall (violins), Irina Morozova (viola), Julian Smiles (cello)) - rec. July 2010. DDD.
HYPERION CDA67857 [77:28] - from hyperion-records.co.uk (mp3 and lossless)

Violin Sonata in e minor Op 82* [25:13]
Piano Quintet in a minor Op 84 [38:09]
The Nash Ensemble (Marcia Crayford (violin*); Elizabeth Layton (violin); Roger Chase (viola); Christopher Van Kampen (cello); Ian Brown (piano*)
HYPERION HELIOS CDH55301 [63:23] - from hyperion-records.co.uk (mp3 and lossless)



Never judge a book by its cover or a recording by an initial hearing. The first time round I thought the Piers Lane/Goldner performance of the String Quartet somewhat lacking in intensity but after two more hearings, though I still think there could have been just a shade more passion, especially in the slow movement, I now find the performance overall very satisfying. What it lacks in intensity it makes up for in beauty, warmth and tenderness.

The coupling with the Piano Quintet - with or without some short filler(s) - is not as traditional as might have been expected on CD. There is strong competition, however, from Ian Brown and the Sorrel Quartet on Chandos: Christopher Fifield thought this contained exciting playing of the highest order - see review - though Simon Foster was not wholly impressed - see review. There's also a highly-regarded budget-price version on Naxos (8.553737, Peter Donohoe and the Maggini Quartet - from classicsonline.com). It's also worth looking out for the 1994 recording by Piers Lane and the Vellinger Quartet if you can find a decent second-hand copy or remainder. (EMI Eminence 5654542).

In the Quintet, Lane and the Goldners still favour warmth over intensity, though there's plenty of the latter in the climax at the centre of the first movement and, once again, this was a reading which grew on me.

The short piano pieces are attractive but would hardly clinch the issue in favour of the new recording, especially as Hyperion are competing with themselves in the Quintet; they already have a fine performance from the Nash Ensemble, coupled with the Violin Sonata, at budget price. If you can live with the Sonata rather than the Quartet - why not? - the Helios recording is unbeatable, especially at the price.

The Art of Eric SATIE (1866-1925)
3 Gymnopédies [3:08 + 2:28 + 2:28]
Pièces froides, 'Airs à faire fuir' [3:08 + 1:08 + 3:10]
Embryons desséchés [1:40 + 2:37 + 1:23]
Véritables Préludes flasques [Pour un Chien] [0:36 + 0:52 + 0:38]
3 Valses distinguées du précieux dégoûté [0:50 + 0:49 + 0:44]
Sports et Divertissements [11:14]
Avant-dernières Pensées [3:13]
Vieux Sequins et vielles Cuirasses [3:19]
Prélude de la Porte Héroïque du Ciel [4:13]
Gnossiennes 1, 3-5 [9:16]
Heures séculaires et instantanées 1-3 [3:05]
Je te veux [4:17]
Ragtime-Parade [2:11]
Joanna MacGregor (piano) - rec. August 1989. DDD.
WARNER CLASSICS & JAZZ SOUND CIRCUS 2564672635 [66:49] - from amazon.co.uk (mp3)



This recording first appeared on the now defunct Collins label in 1991. I'm pleased to see that the best Collins recordings are being saved by other labels; none are more valuable than Joanna MacGregor's contributions, and this is a prime example. Idiomatic playing combined with good recording make this a real bargain at its new price - around £8 on CD or less than £5 to download. Satie-lovers will not find everything necessary here, but it would make good start for those who don't yet know his music.

This reissue reached me via Warner's Play MPE Player, mainly designed to facilitate distribution to reviewers, but also available for purchase by the public, along with MacGregor's Bach and Scarlatti recordings, which are also available inexpensively on CD or as downloads from amazon.co.uk.

Vitězslav NOVÁK (1870-1949) Symphonic Poems
About the Eternal Longing, Op.33 [20:35]
In the Tatra Mountains, Op.26 [16:45]
Moravian-Slovak Suite, Op.32 [27:20]
Czech Philharmonic Orchestra; Brno State Philharmonic Orchestra/Karel Šejna. ADD.
SUPRAPHON 11-0682-2 [64:58] - from emusic.com (mp3)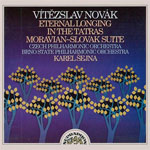 This idiomatic recording of three attractive works seems to be no longer available on disc, so the download is all the more welcome. The only piece that I had encountered before, In the Tatra Mountains, also sometimes known as In the Tatras, is also available on CD and as a download in the Supraphon Ancerl Gold series (SU36882), but the coupling there is music by Slavicky. About the Eternal Longing and the Moravian-Slovak Suite are well worth hearing, which makes this download a must, especially at £2.94 or less. Non-members of eMusic will find it at amazon.co.uk for £4.99. The sound is more than acceptable: most tracks are at 256kb/s or a little below, with one at the full 320kb/s.

Josef SUK (1874-1935)
Symphony No. 2 in C minor, 'Asrael', Op. 27 (1905-1906)
Malaysian Philharmonic Orchestra/Claus Peter Flor
rec. September 2008, the Dewan Filharmonic PETRONAS, Kuala Lumpur, Malaysia
BIS-SACD-1776 [60:18] - from eclassical.com (16- and 24-bit flac, mp3)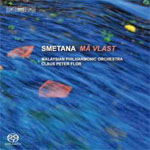 The current issue of a music magazine is featuring its reviewers' musical bores. I'm appalled to find some of my favourite works among their choices, but they may be equally astonished at my nominations. Chief among them are Schoenberg's Gurrelieder - long ago nicknamed by some of my university friends and myself the Dreary-lieder. I'm sorry to say that the Asrael Symphony is also on the list: despite having heard several recommended recordings, I find it to be a work of considerable longueurs and occasional excitements.

I listened to this new recording, therefore, with hope and expectation, knowing that Dan Morgan, similarly not totally convinced, was listening to it. I found fewer longueurs here than before but, despite some undeniably fine playing and recording, was still not wholly convinced.

Knowing that Dan was listening to the 24-bit version, I tried the less expensive 16-bit CD-quality flac, which sounds very well except that I have to warn you not to try to listen in the car: the dynamic range would mean that setting the volume at a decent level for the louder passages would render the opening and several other parts of the symphony inaudible.

Having said my bit, I'll turn to Dan's more detailed thoughts:

We all have them - musical blind spots, that is - and I confess that Asrael, Suk's 'mourning symphony', is one of mine. From the time I first heard it I've always felt like a nineteenth-century explorer hacking through a particularly dense patch of jungle - an awful lot of sweat for precious little progress. I quietly consigned the work to my mental archive for an airing at a later date, but then RB's upcoming review of Sir Charles Mackerras's version (Supraphon SU 4043-2) rekindled my interest in this most elusive piece. And as I'd just reviewed the Flor/Malaysian Philharmonic Má Vlast (see above) their recording seemed a good place to start.

Given that Suk's symphony is an extended lament for the loss of his wife Otylka and father-in-law Antonín Dvo?ák, the subtitle 'Asrael' - the Islamic angel of death who leads the departed into Paradise - is very apt. Cast in five movements - the first three played without a break - this symfonie pro velký orchestr is not as impenetrable as I remember it. Certainly the quiet introduction to the Andante sostenuto and the stoic music that follows suggests rather more transparent textures and a sparing use of resources. The sound is detailed and spacious, the insistent tuttis in this movement very well caught.

Having already remarked on the quality of this orchestra in my Smetana review, I'm happy to say the playing here has a hushed intensity that is most impressive. Moreover, Flor maintains a sense of scale that works wonders in a piece that can easily seem otiose. Just listen to those deeply felt, most inward passages at the seven-minute mark; the muted brass and timps have a wonderful presence. A Damascene conversion? Not quite, but I did find myself listening to this symphony with new ears and - most important - I sensed a narrative that has eluded me thus far. And what a pole-axing peroration at around 13:00, the bass drum suitably grief-struck.

But it's the interior quality of this reading that is most surprising, the first movement sliding seamlessly into the second. There's a profound stillness here, a sense of communion perhaps, that I've not heard before, the engineers picking out every detail of this score, As for the not-very-vivacious Vivace - Suk's, not Flor's - it's played with grace and point, the harp adding a much-needed touch of colour to an otherwise dull canvas. The dark-hued Adagio has plenty of body, if not much thrust; indeed, the transparency of Suk's scoring really does delight the ear, although that's not always enough for me.

And that's where I struggle with 'Asrael'; its undoubted virtues are undermined by the threat of stasis. This is especially true of the Adagio where, despite moments of mobility, the music is inclined to flag. Perhaps it's a much delayed resolution - if indeed such closure is even possible here - which stretches the narrative thread to breaking point. And despite radiant playing the final Adagio maestoso still perplexes me. It may be quietly affirmative, but it still strikes me as strangely opaque.

Qualms aside, this is a very polished, insightful reading of 'Asrael'. That this symphony still eludes me is a source of regret, but at least Flor and his band have persuaded me it's a better piece than I remembered. The 24-bit recording is pretty good too - if not as spectacular as the Smetana - the liner-notes clear and informative. Flor remains a solid choice for this work, at least until the much-heralded Mackerras version arrives as a download*.

Dan Morgan

[* emusic.com have several Supraphon recordings of the work, from Bělohlávek, Talich and Pesek but not, as yet, the Mackerras. BW]

Sergei PROKOFIEV (1891-1953)
Romeo and Juliet (complete ballet)
Mariinksy (Kirov) Orchestra, St Petersburg/Valery Gergiev - rec. 1990. DDD.
PHILIPS 464 7262 [144:04] - from passionato.com (mp3 and lossless)

Of several fine recordings of the complete Romeo and Juliet, this wins by a nose, at least in part because of the Russian orchestra. Though you may recall the fiery moments more, there is some very delicate music in the score and Gergiev brings these out as well as the rest - plenty of menace in the Dance of the Knights, for example, followed by delicacy in the next track, Juliet's Variation. The lossless transfer is good, apart from a very abrupt cut-off at the end of track 33 which intrudes on the Death of Mercutio, and the recording is offered at a keen price: £7.99 for mp3, £9.99 for lossless flac. Passionato also have excellent versions from Previn, Maazel and Ashkenazy; don't download the Previn version on EMI, though, from passionato - they charge more than twice the price at which it's available on CD, which makes a strange contrast with their generous price for the Gergiev.

Classicsonline.com have the more recent award-winning LSO Live performance, with Gergiev at the helm again - here - but at £15.98 it's not very competitive with the SACDs, which can be had online for as little as £9.99, including p&p. See review by Mark Berry of the live performance at the Barbican.

Sir William WALTON (1902-1983)
Symphony No.1 in b-flat minor (1932-35)* [44:15]
Siesta (1926) [5:21]
Symphony No.2 (1956-60) [28:27]
BBC Scottish Symphony Orchestra/Martyn Brabbins - rec. November-December 2010. DDD
HYPERION CDA67794 [78:05] - from hyperion-records.co.uk (mp3 and lossless)



This could well have been Download of the Month. We've not had such a generous coupling of both of Walton's symphonies since Mackerras's 1989 recording with the LPO and LSO on EMI Eminence (CD-EMX2151 or CDM 7632612) - not one of Sir Charles's very best recordings but good value as part of an EMI 2-CD set for around £8.50 (0947082)*. There's very little that I need to add to the strong recommendations given by John Quinn and Rob Barnett which appeared together almost before the parent CD or the download was available - here. The download comes complete with the booklet and, at £7.99 for mp3 or lossless flac, undercuts the price of the CD. If you choose the flac, there should be no loss of quality as against the disc.

Whatever you do, don't throw out Previn's recording of No.1 (RCA/Sony) and/or Szell's of No.2 (Sony).

* download for £5.99 from amazon.co.uk here.

Benjamin BRITTEN (1913-1976)
Young Apollo, Op.6, for piano, string quartet and strings [7:06]
Double Concerto in b minor for violin, viola and orchestra [21:31]
Two Portraits: No.1 - David Layton, for string orchestra [9:10]
No.2 - E.B.B., for solo viola and string orchestra [5:43]
Sinfonietta, Op.1, for chamber orchestra [14:37]
Gidon Kremer (violin); Yuri Bashmet (viola); Nikolai Lugansky (piano)
String quartet: Lyn Fletcher, Dara de Cogan (violins); Tim Pooley (viola); Peter Worrall (cello)
Hallé Orchestra/Kent Nagano - rec. February and November 1998. DDD.
WARNER CLASSICS & JAZZ APEX 2564673917 [58:36] - on CD



This recording was already excellent value on the mid-price Elatus label; on the even less expensive Apex label, it's a give-away: there's not much competition, especially in the Double Concerto. Even in Young Apollo, where we have the Hyperion recording which you may marginally prefer, if only because it's more logically coupled with the Piano Concerto (see Hyperion Top 30 and review by John France: Recording of the Month), Lugansky and Nagano offer strong competition.

As yet, the album doesn't seem to be available for download in the UK, except to stream via the Play MPE Player, which is mainly intended for reviewers, but the CD is extremely inexpensive. Don't buy the more expensive earlier reissue on Warner Elatus or Warner Masters which some suppliers still offer.

Beyond All Mortal Dreams: American a Cappella
René CLAUSEN (b.1953) Tonight eternity alone [3:38]
Steven STUCKY (b.1949) Three Motets in Memoriam Thomas Tallis: O admirabile commercium [4:07]; O sacrum convivium [2:52]; O vos omnes [4:42]
Ola GJEILO (b.1978) Sanctus [4:54]
Frank FERKO (b.1950) Hildegard Triptych: O vis æternitatis [4:59]; Caritas abundat [3:00]; O virtus sapientiæ [2:18]
Edwin FISSINGER (1920-1990) Lux æterna [7:50]
Healey WILLAN (1880-1968) Fair in face [2:08]; I beheld her, beautiful as a dove [2:09]; Rise up, my love, my fair one [1:48]; How they so softly rest [3:44]
Stephen PAULUS (b.1949) The day is done [5:20]; Pilgrims: Hymn [3:03]; Hymn to the Eternal Flame [2:08]
William HAWLEY (b.1959) Mosella [2:16]; Te vigilans oculis [2:24]
Ola GJEILO Phoenix [5:04]
The Choir of Trinity College, Cambridge/Stephen Layton - rec. July 2010. DDD.
Pdf booklet with texts and translations included
HYPERION CDA67832 [68:35] - from hyperion-records-co.uk (mp3 and lossless)



I've recommended several recordings for winding down after a stressful day; now here's another strong recommendation. If 'American a Cappella' makes you think barber-shop, you couldn't be more wrong: this is music which clearly stands at the modern end of the mainstream of Western choral music. It's significant that several of the texts are in the eternal language, Latin, and that six of the works pay conscious homage to two great early landmarks in that mainstream, Abbess Hildegard of Bingen and Thomas Tallis. Although all the music could be described as soothing, there's plenty of variety here, too.

I have no benchmarks for the performances, but it's hard to imagine the music being better sung. The presentation and recording are all that we expect from Hyperion. This was a strong contender for Download of the Month.

Fine Music 2
Johann Sebastian BACH Cello Suite No.1 in G: Prelude [2:27]
Michael EVANS Concerto for Piano and Orchestra: Movement III, Allegro con moto [5:45]
Stephen BARKER Les Mots [2:45]
Jose ELIZONDA Danzas latinomericanos: Pan de Azúcar [5:01]
Judith Lang ZAIMONT Serenade (version for piano trio) [5:15]
Ron NAGOREKA Out of the Blue [2:59]
Hendryk HOFMEYR Ainsi qu'on oît le cerf bruire [16:37]
Osias WILENSKI La Venganza de Carmen (Carmen's Revenge): Act I, scene i [5:42]
Ingrid STÖLZEL The Road is all [12:04]
Hans BAKKER Cantus for String Orchestra [5:41]
Nicholas SACKMAN Concertino for Violin and Orchestra [10:46]
Beth Pearson (cello); Lawrence Figg (cello); Marina Comas (cello); Ovidiu Marinescu (cello) Paul Wiancko (cello); Salvador Frances (clarinet); Tosca String Quartet; Jennifer Yeaton-Paris (flute); Jose Guna (flute); Moravian Philharmonic Orchestra/Vit Micka; Ferran Armengol (percussion); Awadagin Pratt (piano); Karolina Rojahn (piano); Osias Wilenski (piano); Paul Dykstra (piano); Robert Pherigo (piano); Maria Rosa Lopez (soprano) Melissa Manseau (soprano); Anne-Marie Brown (violin); Melissa White (violin); Ondrej Lebr (violin); Yana Tsanowa (violin)
NAVONA RECORDS NV5851 [75:02] - from classicsonline.com (mp3) or stream from Naxos Music Library



Last month I recommended Volume 1 of this series of inexpensive Navona samplers and the second album is equally attractive. Be warned that you'll want to follow up more music by most of the composers here - and with classicsonline.com charging just £4.99 for each of the parent albums you'll hardly be able to resist.

Volume 2 opens with a decent rendition of the Prelude to Bach's first Cello Suite - rather too short to make much impact, except as a warning that this recording is transferred at a high level: I recommend a volume cut of about 6dB. The jazzy movement from Michael Evans Piano Concerto which follows is very likable indeed and makes me want to hear the whole work. He has a whole album to himself on NV5813, but the Concerto recording doesn't appear to be available yet. Stephen Barker's Les Mots is equally attractive in its wistful way: once again, the extract is moreish, as is the movement from Jose Elizondo's Danzas, taken from an album of Latin American Music (NV5820: there's also an extract from this on Fine Music 1).

If the rest of the music on the Hans Bakker album is as good as Cantus, that, too, is well worth having. (NV5832) In fact, apart from the well-enough-known Bach, all the music here was new to me, all of it attractive in different ways and none of it unduly avant-garde. Even the quirky and rather angular Sackman Concertino which concludes the album is no more difficult than Bartók or Hartmann.

The longest piece, Ainsi qu'on oît le cerf bruire is a setting of Psalm 42, 'As the hart panteth after the water brooks', most famously set by Sweelinck. Though Hofmeyr's setting could hardly be mistaken for anything other than modern, I'm guessing that the mainly fairly conservative style and the employment of the archaic French text [oît = hears] was intended as a conscious link between past and present. Be that as it may, it's an impressive piece and I was hoping to hear more but that's the only Hofmeyr piece on the parent Navona recording from which it's taken. (NV5827).

That guess about the Hofmeyr has to be just that: the download comes without any information other than the back cover - and that's rather hard to read because it's printed in blue on blue. The extract from Wilenski's Carmen's Revenge makes little sense out of context but some notes might have helped.

Please buy me...

Leos JANÁČEK (1854-1928)
The Eternal Gospel, Legend for soprano, tenor, chorus and orchestra* [18:45]
The Ballad of Blaník [8:02]
The Fiddler's Child, Ballad for solo violin and orchestra** [11:46]
The Excursions of Mr Brouček, Suite for orchestra, compiled by Jaroslav SMOLKA and Jiří ZAHRÁDKA [20:58]
Angel: Gweneth-Ann Jeffers (soprano)*
Joachim of Fiore: Adrian Thompson (tenor)*
Edinburgh Festival Chorus*
Elizabeth Layton (violin)**
BBC Scottish Symphony Orchestra/Ilan Volkov - rec. 2004/5. DDD.
HYPERION CDA67517 [59:54] - from hyperion-records.co.uk (mp3 and lossless)
[Recording of the Month, October 2005 - see review by Evan Dickerson.]



From time to time I feature Hyperion recordings which have been so undeservedly neglected that they have found their way onto the half-price 'Please someone buy me' list, in the hope that they won't feature there again. As usual, this recording won't be on offer at half price by the time that you read this review, but it's still excellent value as an mp3 or lossless download. Whichever format you choose, you won't be disappointed.