Download Roundup - August 2012/2

Brian Wilson
The August 2012/1 Roundup, with links to earlier editions, is here.

Slightly slim pickings for my second outing this month – I've been in vacation mode and/or watching the Olympics, so I'm very grateful to Dan Morgan for eking out my small offering. Small doesn't mean insignificant, however: at least the 1612 Vespers and the Eton Choirbook recordings are strong contenders for my choice of the year in December.

As always there are several recommendable Hyperion recordings here and in earlier roundups: until the end of August these are particularly good value in their download sale – check them out, but hurry.

Download of the Month

1612 – Italian Vespers
Lodovico VIADANA (1560-1627) Deus in adiutorium meum [1:42]; Dixit Dominus [5:51]
Bartolomeo BARBARINO (c.1568-c.1617) Exaudi Deus [4:07]
Lodovico VIADANA Laudate, pueri [6:41]
Andrea GABRIELI (1510-1586) Benedictus Dominus Deus Sabaoth [2:59]
Lodovico VIADANA Lætatus sum [6:39]
Lodovico VIADANA O dulcissima Maria [2:18]; Nisi Dominus [5:14]
Giovanni Pierluigi da PALESTRINA (1525-1594) Quæ est ista quæ processit [3:04]
Lodovico VIADANA Lauda, Ierusalem [4:52]
Andrea GABRIELIT occata del nono tono (I/12) [0:57]
Capitulum –> Claudio MONTEVERDI (1567-1643) Ave maris stella [9:17]
Plainsong: Versicle and Response [0:16]
Giovanni GABRIELI (1554-1612) Magnificat à 20/à28 – Con il sicut locutus, in ecco (reconstructed Hugh Keyte) [9:27]
Claudio MONTEVERDI Ab æterno ordinata sum [6:20]
Plainsong: Versicle and Response and Collect of the feast [1:32]
Giovanni GABRIELI Extra-liturgical motet: In ecclesiis a 14 [7:21]
I Fagiolini/Robert Hollingworth
No texts or translations, but detailed notes and scores from ifagiolini.com/1612/.
DECCA 478 3506 [78:34] – from hmvdigital.com (mp3)

[Extra tracks, recorded at the same time, available from ifagiolini.com/1612/]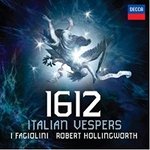 This is a total winner. If I Fagiolini's Striggio didn't knock you off your seat last year, this one will – especially when the cannon start firing in the middle of the Magnificat. It's guaranteed to be a regular listening experience for me, perhaps even in preference to the Monteverdi Vespers of 1610, a work which Robert Hollingworth is reported to have declined recording on the rational basis that it's been done a few times.

Vespers of the Virgin Mary would normally have concluded with the plainchant hymn Salve Regina. I Fagiolini recorded this and Bassano's Deus noster refugium, but they couldn't be fitted on the CD. Mp3 versions of these tracks are available for free download as indicated above. If you visit the website for these, don't be tempted to click the iTunes button to download for £7.99: hmvdigital.com is your better bet, with a full 320kb/s download which does justice to the music at £7.49 or, better still, in lossless from deutschegrammophon.com.

Reissue of the Month

Robert FARNON (1917-2005)
Violin Rhapsody [15:10]
Captain Horatio Hornblower, RN – Suite [17:49]
Raymond Cohen (violin)
London Festival Orchestra/Robert Farnon – rec. 1960. ADD/stereo
NAXOS CLASSICAL ARCHIVE 9.80952 [32:59] – from classicsonline.com (mp3) or stream from Naxos Music Library (not available in the USA).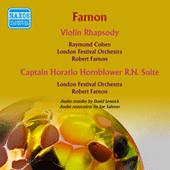 Robert Farnon was not called 'the guv'nor' for nothing; he was the master of light music par excellence and here are two of his best middle-of-the-road works – especially the evocative Hornblower suite – in authoritative performances and still sounding pretty well in these transfers from the long-defunct Delysé label. There's a more recent recording of both works and others on a Reference Recordings CD (RRCD-47CD – download from classicsonline.com in mp3), but if you're looking for a bargain, the Naxos reissue has to be it – just £1.99 or even less, at £0.84, for subscribers to emusic.com.

There's a good deal more Farnon music to be had online; it's worth having a rummage, though I'm disappointed that Dutton Vocalion no longer have in their catalogue the recording of Pictures in the Fire and Two Cigarettes in the Dark of which I recently came across a second-hand copy (CDLK4112) – downloads from other sites of these two short albums seem exorbitantly priced at around £8 for less than 40 minutes of music, when Dutton combined them on one CD, which is worth looking out for. Farnon's music features on many of Guild's excellent light music compilations, available for download from theclassicalshop.net for just £4.99 in mp3 or £7.99 in lossless, mostly with the booklet. For these Guild recordings emusic.com's price-per-track policy makes them uncompetitive.

Discovery of the Month

Tance ze 17. a 18. Století (Czech Dances from the 17th and 18th centuries)
Death Dance / Where Are We Going So Fast – Oh, My God, Oh, My Love [1:53]
The Bagpiper Barta [1:18]
Alia Phantasia [1:16]
Alia non Illepide [1:27]
Alia I [1:27]
Alia II [2:10]
Saltus Civilis [2:03]
The Bonrepos Dance of Death [2:32]
Dances from Zlatá Koruna [2:16 + 2:13 + 3:11 + 1:39 + 2:31]
Dances from Haná [1:53 + 1:45 + 2:38]
Ten Dances from the Second Half of the 18th. Century: Nos. 23, 54, 24, 55 and 21 from Cáslavsko [1:22 + 1:46 + 1:39] – No. 15 from Klatovy [1:18] – Nos. 35 and 46 from Loket [2:17] – Nos. 9 and 10 from Plzen [2:26] – The Wedding Dance from Chrudim [1:50]
Three Dances from the Time of the National Revival : Ungarisch [2:15] – Menuet in C [1:54] – Zweitritt [2:11]
Musica Bohemica/Jaroslav Krček – rec. c.1995. DDD?
SUPRAPHON/PANTON 81 1430-2 131 [51:10] – from hmvdigital.com (mp3)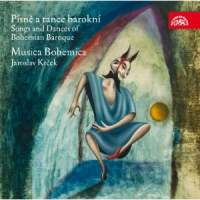 Having heard Rob Cowen play some extracts from these recordings on Radio 3, I was utterly bowled over by the sheer charm of the music which, though copied down in the 17th and 18th centuries, sounds as if it was composed in the early Renaissance – if you love Prætorius's Dances from Terpischore and Arbeau's Orchésographie, their spirit breathes here too, but with an unmistakably Bohemian touch. I don't know how authentic the Krček arrangements and the instrumentation are, but I really don't care when the result is so completely delightful and no great mental effort is necessary. It's not all just peasants' jolly japes, though; there's plenty of delicate music here, too.

I note that this recording is about to be reissued by Supraphon as part of a 2-CD set in the very near future and that looks like being better value at around £15 (SU40982) but I couldn't wait and so downloaded in good (320kb/s) mp3 from hmvdigital.com for £7.99.

Bargain of the Month

Music from the Eton Choirbook
Walter LAMBE (1450/1– 1504) Nesciens mater a 5 [6:05]
William, Monk of Stratford Magnificat a 4 [14:44]
Plainchant Nesciens mater [0:47]
Richard DAVY (c.1465-1507) Passio Domini – St Matthew Passion a 4 [21:21]
John BROWNE (fl.c.1490) Stabat mater a 6 [16:14]
Hugh KELLYK (fl.C15) Magnificat a 5 (first recording) [13:53]
Robert WYLKYNSON (c.1450-after 1515) Jesus autem transiens / Credo in Deum canon a 13 [5:57]
Tonus Peregrinus (Joanna Forbes L'Estrange, Rebecca Hickey, Lisa Beckley, Kathryn Knight, Alexander L'Estrange, Richard Eteson, Benedict Hymas, Matthew Long, Alexander Hickey, Alex Knight, Francis Brett, Nick Flower, with Stephen Rice)/Antony Pitts – rec. St Alban the Martyr, Holborn, London, UK, 11-14 July, 2011. DDD.
Pdf booklet included, with Latin sung texts and English translations. Texts may also be accessed at www.naxos.com/libretti/572840.htm
NAXOS 8.572840 [79:00] – from classicsonline.com (mp3)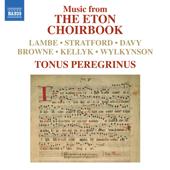 I listened to this from the Naxos Music Library before it became available for streaming from classicsonline.com or as a physical CD. With excellent recordings of the music from the Eton Choirbook on five Coro CDs (The Sixteen), a single CD from Christ Church Choir (Avie) and among various recordings made by The Tallis Scholars on Gimell, I wasn't expecting to find any revelations here. I was wrong: in the booklet Antony Pitts writes 'This recording is perhaps the jewel in the crown of our Naxos series of "milestones of Western Music".' Omit the 'perhaps' and I agree; this is superb, and the performances and recording do the music full justice. The booklet is worthy of comparison with Hyperion's always reliable offerings; perhaps not surprising, because one of the members of Tonus Peregrinus is a key member of Hyperion's staff.

The Eton Choirbook, which miraculously escaped the holocaust of pre-reformation English music, is a wonderful and vast compendium – even Coro's 5-CD series could only scrape the surface – and I'm delighted to see Richard Davy's Matthew Passion restored here alongside Hugh Kellyk's 5-part Magnificat. The Davy was once available on Argo (ZRG558, conducted by Grayston Burgess – not likely to reappear on CD) but the Kellyk, apparently one of the earliest composers in the Book, is a first recording.

There's little point in comparing the various available performances of this wonderful music: the new recording offers an excellent springboard and no two collections contain exactly the same works, so you really need to have them all. After hearing this Naxos recording you'll want to look for:

– Gimell CDGIM036 – John Browne: Music from the Eton Choirbook – also included in CDGIM209 The Tallis Scholars sing Tudor Music I, a 2-for-1 collection and Sacred Music in the Renaissance I (GIMBX301, 4 CDs), both of which offer better value than the single CD. All available from Gimell in mp3 and lossless sound.
– Coro COR16026 – The Rose and the Ostrich Feather – The Sixteen
– Coro COR16022 – The Pillars of Eternity – The Sixteen
– Coro COR16018 – The Flower of all Virginity – The Sixteen
– Coro COR16012 – The Crown of Thorns – The Sixteen
– Coro COR16002 – The Voices of Angels – The Sixteen
[all the Coro recordings are available from classicsonline.com (mp3). The five CDs from The Sixteen are available as a box set for the price of three on Coro COR16040]
– Avie AV2167 – More Divine than Human – Music from the Eton Choirbook – Christ Church Cathedral Choir, Oxford/Stephen Darlington – download from classicsonline.com (mp3)

Freebie of the Month

A Taste of the Proms
Ludwig van BEETHOVEN Symphony No.5 in c minor, Op.67: IV. Allegro [9:04]
Wolfgang Amadeus MOZART Apollo et Hyacinthus – Prologus – V. No. 2, Aria: Sæpe terrent Numina [7:47]
Frédéric CHOPIN Scherzo No.1 in b minor, Op.20 [8:18]
Hector BERLIOZ (1803-1869) Symphonie Fantastique – IV. Marche au supplice [6:35]
LINN AKP988 [31:45] – from linnrecords.com (mp3, 16– and 24-bit lossless)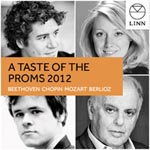 The cover-mount CD may be dead but the concept lives on in the form of download samplers, from EMI, more recently from Hyperion and now from Linn, who have pegged their programme to the 2012 Proms. At the time of writing I'm still waiting for my requested review copies of the Beethoven (Barenboim/Decca) and Mozart (Page/Linn); the sampler serves only to whet my appetite further, if only because this account of the finale of the Fifth Symphony leaves me feeling disappointed; the performance is a bit stodgy and the sound is rather muddy considering that I chose the 16-bit lossless option. I tried the recording of Symphonies Nos. 1, 2 and 4 from this set via Spotify and found myself more impressed by Barenboim's approach to these less well-known works.*

The Mozart is much more attractive; John Sheppard made it his Recording of the Month, though such a short extract leaves me wondering whether this performance is preferable to existing recordings on Brilliant Classics (93127, at super-budget price) and Berlin Classics 0183702BC, 2 mid-price CDs with Bastien und Bastienne: see review of an earlier appearance of this performance on Brilliant Classics coupled with Figaro.

I praised the Chopin/Liszt/Ravel recording from which the Benjamin Grosvenor extract is taken as recently as the May 2012/2 Roundup. I've also praised the Berlioz (Ticciati/Linn), with minor reservations in the April 2012/2 Roundup – I especially liked the section chosen for the sampler – and others have been even more fulsome in welcoming it: Dan Morgan made it Recording of the Month – review.

* I received these two downloads after putting this Roundup to bed – review in the next edition.


***


Songs of Angels: Music from Magdalen College, Oxford, 1480-1560
Vespers Hymn Collaudemus Magdalene lachrymas (Sarum plainchant) [3:45]
Richard DAVY (d. 1538) Stabat mater [15:10]
John MASON (fl.1500-30) Quales sumus [11:34]
JACQUET of Mantua (1483-1559) Aspice Domine [5:56]
Thomas PRESTON (fl. 1540s) Resurrexi (III) [3:01]
Antiphon Inclita sancte Marie Magdalene (Sarum plainchant)
Thomas APPLEBY (d. after 1563) Magnificat [14:49]
Thomas PRESTON Offertory: Confessio et pulchritudo [4:11]
John SHEPPARD (d. 1558?) Dum transisset sabbatum [7:22]
The Lord's Prayer [4:11]
Libera nos [3:02]
Choir of Magdalen College, Oxford/Bill Ives – rec.2002? DDD.
No booklet but pdf flyer included.
SIGNUM SIGCD038 [63:01] – from eclassical.com (mp3 and lossless)



This is a very attractive programme of music by composers associated with Magdalen College, Oxford, or sung there from around 1480 to 1560, performed with assurance by the college choir under Bill Ives' sure direction and well recorded. Immerse yourself for a spiritual experience which at the same time is purely enjoyable. As always with eclassical.com, the 16-bit lossless version comes at the same price as the mp3; in fact, the one purchase means that you can download the lossless and return to obtain the mp3 for your mp3 player. It's not only worthwhile in its own right; it also serves as a good springboard from which to explore the wonderful music of this period on other recordings, such as the two 2-for-1 compilations of recordings by The Tallis Scholars on Gimell*.

Signum give the date of Sheppard's death unequivocally as 1558, but there is some evidence that he lived until 1559 or even 1563 and that some of his English settings date from the reign of Elizabeth I (late 1558 onwards) so I've added the ? For a complete recording dedicated to his music from another Oxford Choir, that of Christ Church Cathedral, see my review of Nimbus NI5480 – purchase on CD from MusicWeb International for £12 including p&p – review – or download from classicsonline.com (mp3). Lively performances of his Masses and other music are to be found on two Hyperion 2-for-1 albums, CDD22021 and CDD22022 (The Sixteen/Harry Christophers).

* The Tallis Scholars sing Tudor Church Music: Volume I CDGIM209; Volume II CDGIM210 – see joint review of these two albums: Bargain of the Month.

Antonio VIVALDI (1678-1741) Six Violin Sonatas, Op. 2/1-6
Violin Sonata, Op. 2/1 in g minor, RV 27 [10:30]
Violin Sonata, Op. 2/2 in A, RV 31 [6:34]
Nicholas CHÉDEVILLE (1705-1782) Pastorale ad libitum [2:44]
Antonio VIVALDI Violin Sonata, Op. 2/3 in d minor, RV 14 [12:04]
Violin Sonata, Op. 2/4 in F, RV 20 [11:28]
Violin Sonata, Op. 2/5 in b minor, RV 36 [7:08]
Violin Sonata, Op. 2/6 in C, RV 1 [8:26]
Elizabeth Wallfisch (violin), Richard Tunnicliffe (cello) and Malcolm Proud (harpsichord) – rec. November 2003. DDD.
Pdf booklet included
HYPERION HELIOS CDH55404 [58:54] – from hyperion-records.co.uk (mp3 and lossless)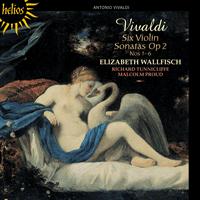 Utterly charming music – not Vivaldi at his most memorable but ideal for unwinding – in excellent performances, scholarly underpinned without the scholarship making the music at all dull, well recorded and presented with Hyperion's usual flair and now at budget price. What more could you want?

There's an even more attractive Hyperion budget reissue of Vivaldi featuring Elizabeth Wallfisch and many other distinguished soloists, due for release on CD in October 2012 but available now as a download:

Antonio VIVALDI Concerti con molti istromenti
Concerto in F, RV574 [11:38]
Concerto funebre in B flat, RV579 [6:42]
Concerto in D, RV562 [15:41]
Concerto in F, RV97 [12:02]
Concerto in D, RV781 [6:31]
Concerto in C, RV555 [8:13]
Concerto in d minor RV566 [7:45]
The King's Consort/Robert King – rec.1998
HYPERION HELIOS CDH55439 [68:42] – from hyperion-records.co.uk (mp3 and lossless)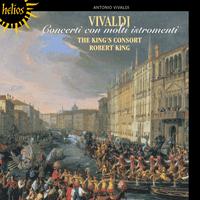 There are a number of recordings with this title – it's one that Vivaldi gave to several of his multiple-instrument concertos – but the programme here is unique, which leaves you free to investigate the similarly-named mid-price Concerti con molti istromenti from the English Consort and Trevor Pinnock (DG Archiv E447 3012 or 457 8972, and in the 5-CD set 471 3172: download from deutschegrammophon.com in mp3 or lossless) and Fabio Biondi's two Concerti per molti strumenti on Virgin: there are two overlapping items with Volume 2 of the latter (5457232), but none with Volume 1 (5455272 – mentioned and recommended in my review of Biondi's Op.3 and Op.8*). All these offer delightful prospects, to quote Gerard Hoffnung, but the Helios reissue is the least expensive. Vivaldi lovers will not be disappointed; even the attractive cover shot is unhackneyed – it's not by Canaletto but by Carlevaris.

* The Passionato link no longer applies: download from hmvdigital.com or sainsburysentertainment.co.uk, both in 320 kb/s mp3.

Francesco Bartolomeo CONTI (1681/2-1732)
David, azione sacra per musica (1724)
Birgitte Christensen (soprano): Gionata; Simone Kermes (soprano): Micol; Marijana Mijanovic (alto): David; Sonia Prina (alto): Abner; Vito Priante (baritone): Falti; Furio Zanasi (baritone): Saul.
Il Complesso Barocco/Alan Curtis – rec. October-November 2003. DDD
Texts not included
VIRGIN CLASSICS 3788772 [76:03 + 79:06] – from sainsburysentertainment.co.uk (mp3) or stream from Naxos Music Library.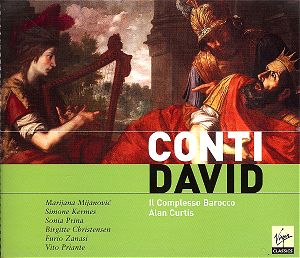 At just £2.99 for two CDs-worth in a good mp3 transfer (320kb/s), this has to be a real bargain, especially when Johan van Veen considered it a strong candidate for Recording of the Year – review. Conti called it a sacred music drama – you'll be nearer the mark if you think of one of the dramatic oratorios of Conti's near contemporary, Handel. Only the lack of a libretto prevents me from making this Bargain of the Month. Try it first from the Naxos Music Library if you can – if you can't, the download won't cost you an arm and a leg to try it. Don't pay £14.99 for the classicsonline.com download, however. This is the only recording, though NML might make you think otherwise by listing it six times in their information section.

Franz SCHUBERT (1797-1828) Complete Works for Violin and Fortepiano: 1
Sonata in D, Op.137/1, D384 (1716) [13:16]
Sonata in A minor, Op.137/ 2, D385 (1716) [23:21]
Sonata in G minor, Op. 137/3, D408 (1716) [16:26]
Sonata in A, Op. post. 162, D574 (1717) [23:36]
Jacqueline Ross (violin), Maggie Cole (fortepiano)
rec. All Saints Church, East Finchley, London, UK, 8-11 April 2011. DDD
Violin by G B Guadagnini, Turin, 1777 : Bow by John Dodd, c. 1790 : Fortepiano by Paul McNulty, 1991, after Anton Walter, Vienna c. 1795. Pitch: A = 430
NAXOS 9.70164 [76:58] – No CD: download from classicsonline.com (mp3) or stream from Naxos Music Library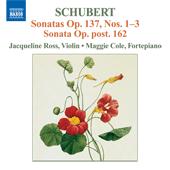 Though it's released for download only, this recording comes with a 'proper' cover and booklet unlike other Naxos releases which have appeared in this form only – indeed, it reached me in physical form, though with a sticker saying that it's for download only. As the Redouté print on the cover matches the Naxos series of Schubert's String Quartets, it may well be that this is a toe-in-the-water exercise prior to a possible release on disc with a second volume to follow.

Naxos claim that these performances are 'copiously researched, historically informed … with due reference to autograph and other relevant source materials.' That must not be equated with a dry academic approach – far from it. The three youthful works from 1816 are concise, probably intended for domestic performance, and they receive suitably intimate performances here which bring out the music's charm. The tone of the fortepiano – based on a 1795 Walter instrument – is in every way an asset, even more than the 1777 Guadagni violin; as with Mozart's sonatas, which are in many ways the models, the keyboard is always at least the equal of the violin. The intimate recording helps too; it's reminiscent of the kind of balance which the BBC regularly achieves for Radio 3 chamber music broadcasts.

D574, though published posthumously, is another fairly early work, but on a larger scale than its three predecessors, hence the title 'Grand Duo' by which it's sometimes known. Without wishing to give the impression that the performances of the first three sonatas are over-delicate – they certainly reflect the 'grace and lucidity' to which the Naxos note refers, especially in the andante of D408 (track 9), but they are also robust enough – D574 calls for and receives a broader treatment. All in all these works deserve more attention than they receive: 'Pieces of the classical epoch more enjoyable for home players it would be difficult to find.' (Arthur Hutchings, The Master Musicians: Schubert, London: Dent, 4th ed. 1979, p.155). At least we now have more recordings of these pieces than in 1979.

The principal rivals for the new recording are from Harmonia Mundi, Explore and Naxos themselves. On Harmonia Mundi HMU90 7445 Andrew Manze (violin) and Richard Egarr (fortepiano) and on mid-price Explore EXP15 Jaap Schröder and Christopher Hogwood offer direct period-instrument competition in exactly the same programme, while on Naxos 8.550420 Dong-Suk Kang (violin) and Pascal Devoyon (piano) perform D384, D385, D408 and D934 on modern instruments. There's also a recent recording of D574, together with D934 and D895, on ECM New Series (476 4546: Carolin Widman (violin) and Alexander Lonquich (piano).

Peter Grahame Woolf gave the full five stars to the inexpensive 2-CD Decca set of these four sonatas, D934 and the Arpeggione Sonata (466 7482 – review). Of these I've been able to hear only the Kang and Devoyon recording from 1990; at times they sound a little more energetic than Ross and Cole, but what the former pair wins on the swings, the latter gains on the roundabouts of contemplation. I've enjoyed the new offering on Naxos and I'm looking forward to hearing its successor.

Carl NIELSEN (1865-1931)
Symphony No. 2, 'The Four temperaments', Op. 16 (1901-1902) [34:11]
Aladdin, Suite for Orchestra, Op. 34 (1918-1919) [21:27]
The Gothenburg Symphony Orchestra/Myung-Whun Chung
rec. 1983, Gothenburg Concert Hall, Gothenburg, Sweden
Pdf booklet included
BIS-CD-247 [55:38] – from eclassical.com (mp3 and 16-bit lossless) or stream from Naxos Music Library.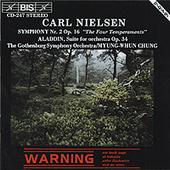 As a recent convert to Nielsen's symphonies I much admire Jukka-Pekka Saraste (Elatus), Herbert Blomstedt (Decca), Ole Schmidt (Regis) and Michael Schønwandt (Naxos) in this repertoire. All have their strengths – Saraste is thrillingly volatile, Blomstedt is taut and well recorded, Schmidt is superbly shaped and Schønwandt is sometimes low key but always illuminating. I recently had the pleasure of hearing the HDTT transfer of André Previn and the LSO in Symphony No. 1 – review – and regret they didn't record them all. It was by chance that I came across Myung-Whun Chung's Nielsen, recorded before he moved to DG and became known for his Messiaen. This download – reviewed in its 16-bit lossless form – includes the attractive Aladdin suite.

Indeed, it was this oft-turbocharged suite and the winsome Springtime in Fünen with Tamás Vetö and the Odense Symphony – first issued on Unicorn-Kanchana and now available on Regis – that drew me to this composer. I've yet to hear an Aladdin that's more captivating, or whose rhythms are better judged, so Chung starts at something of a disadvantage here. What about the symphony, though? First impressions are mixed; there's plenty of thrust, but others find greater contrast, colour and, crucially, more coherence in this score. It's certainly an exciting first movement and the playing is just fine, although the much-vaunted acoustics of the hall – mentioned in the liner-notes – aren't heard to best advantage in this rather bright, forward recording.

After that choleric episode the phlegmatic second movement sounds a little plain – there's some characterful playing from the woodwinds, though – and the third's melancholic cast is very well caught. That said, I do wish Chung dug a bit deeper, so that when those gaunt tuttis arrive there's more of a sense of anguish. No such qualms about the well-blended brass, which has terrific bite and weight. Indeed, at this point I found myself warming to Chung's reading, the quiet closing bars especially moving. The sanguine finale is suitably mobile, but Chung keeps the orchestra on much too tight a rein. As a result tension ebbs away too easily and the music becomes episodic.

This is by no means a bad performance, it's just not as compelling or insightful as the others listed here. Sonically it's a little disappointing too, and it certainly doesn't match Blomstedt – or the ageing Schmidt – in this respect. As for the suite, the Oriental Festival March lacks the physical 'slam' of the Vetö version; also, the Gothenburgers aren't always as unanimous as their Odense cousins. Aladdin's Dream and the Dance of the Morning Mist is much more successful – rhythms are nicely sprung – and although they're well played, the Hindu and Chinese dances are short on charm. The rest of Chung's suite is unremarkable; just compare his Marketplace in Ispahan with Vetö's and you'll see how wide the gulf is between them. That said, both give us a rousing, propulsive Negro Dance.

Consistency, insight and decent sound make Schønwandt a solid choice in the symphony*; no-one really challenges Vetö in the suite.

Dan Morgan
http://twitter.com/mahlerei

[* Symphonies 2 and 3, Naxos 8.570738, download from classicsonline.com (mp3) or stream from Naxos Music Library. Having listened to this recording from the Naxos Music Library, I can see why Dan recommends it. I'd still also recommend Blomstedt – on an inexpensive Double Decca: download from hmvdigital.com – or Schmidt – even less expensive on Regis. You won't find the Schmidt as a download but the 2-CD set with Symphonies 1-3 and 6, RRC2046, is very inexpensive.

You may also wish to try another BIS recording of the Second Symphony, this time coupled with the Fifth, from Osmo Vänskä and the BBC Scottish SO – BIS-CD-1289: download from eclassical.com in mp3 and lossless – here – or stream from Naxos Music Library. John Phillips thought this 'not up there with the best but a very creditable effort, superbly recorded and annotated.' See review. John Quinn was more impressed with the complete box set of Vänskä's Nielsen: BIS-CD-1839/4: Bargain of the Month – review. BW.]

Charles KOECHLIN (1867-1950)
Vers la Voûte Étoilée – nocturne pour orchestre dédié à la mémoire de Camille Flammarion, Op. 129 (1923-1933, rev. 1939) [12:31]
Le Docteur Fabricius – poème symphonique d'après la nouvelle de Charles Dollfus, Op. 202 (1941-1944, orch. 1946) [51:09]
Christine Simonin (ondes martenot)
Radio-Sinfonieorchester Stuttgart des SWR/Heinz Holliger
rec. 24-26 February 2003, Konzertsaal, Stadthalle Sindelfingen, Germany
HÄNSSLER CLASSIC 093.106.000 [63:40] – from eclassical.com (mp3 & 16-bit lossless)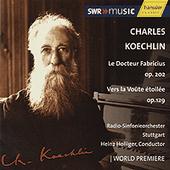 It's good to see downloads from Hänssler on eclassical.com at last, although they also offer them through Presto Classics, who charge £8–£10 as against eclassical's per-second rate of around £7.30 for either the mp3s or the 16-bit flacs.* That's the good news; the bad is that neither appears to offer downloadable booklets, an unforgivable omission when most other labels do. All I could find on Hänssler's own site is an option to download the high-res cover art, which is of little value if one stores music and pdf booklets on a hard drive. Still, this is a world premiere recording, and a much lauded one at that. Indeed, the CD was very well received by Rob Barnett when it first appeared (review).

Listening to Koechlin's Les heures persanes, written between 1916 and 1919, it's clear that even then the composer was harmonically far more daring than his illustrious compatriots, a gap that widened considerably in later years. He was also a star-gazer, Vers la Voûte Étoilée inspired by the writings of astronomer Camille Flammarion. It's a short piece, whose sense of wonderment is captured in music of resolute character and strength. Superficially it may have the long, sensuous lines of late Debussy but otherwise Koechlin's 'voice' is utterly original and distinctive; as for the playing it's very distinguished indeed, Holliger guiding his orchestra through the galaxies and towards a quiet, awe-struck apotheosis.

Any caveats? Well, the recording – in its lossless form at least – is rather fierce in the upper strings, and it could do with more bass weight; otherwise it's perfectly adequate. Le Docteur Fabricius, based on a philosophical tome by Charles Dolfuss, is divided into 15 sections with subtitles such as 'Pain', 'The Revolt' and 'Joy'. As a piece it's as forward-looking as ever; it's also increasingly modal. 'Le Manoir' and 'La Douleur' are broad and sonorous, and the soundstage seems slightly deeper than before. The upper strings are still rather bright though, but that matters less when the writing is so fresh and the reading so persuasive.

Any longueurs? On first hearing there might be, but on subsequent auditions the piece does coalesce into a satisfying whole. I'm particularly struck by Koechlin's economy of style, the more febrile eighth and ninth movements perhaps most reminiscent of Messiaen's epic Turangalîla-Symphonie. The somewhat Hindemithian tenth, 'The Revolt: Choral Aus Tiefer Noth', blends thrilling, Mathis-like grandeur with grace, while the eleventh, 'La Ciel étoilée', is wreathed in contemplation. Is there a hint of Mahler in the harp writing here? Perhaps. In any event Holliger and his players seem completely engaged with this most enigmatic work, which I imagine is hardly core repertoire for them.

'La Nature, la Vie, l'Espoir' (tr. 13) is probably the most haunting section – and, thanks to the sinuous ondes, the most ravishing – the ensuing 'Réponse de l'Homme' replete with Straussian sweep and ardour; it certainly prepares one for the bright uplift and bells of 'La Joie' that follows. As always Koechlin's writing has a startling clarity and focus that could so easily tip over into relentlessness; that it doesn't is a tribute to Holliger, who points and propels the music with consummate skill. Scores such as this really need to be played with conviction if they are to cohere and convince, and that's exactly what happens here. So, huzzahs all round.

Fine performances of two highly individual pieces; minor reservations about the sound.

Dan Morgan
http://twitter.com/mahlerei

[* This and other Hänssler recordings also available, in mp3 only, for £7.99 from classicsonline.com, which is not competitive with the eclassical.com price, or stream from their sister Naxos Music Library – still no booklet from these sources, either. BW.]

Josef SUK (1874-1935)
A Summer's Tale, Op. 29 (1907-1909) [54:25]
Prague, Op. 26 (1904) [24:52]
BBC Symphony Orchestra/Jiří Bělohlávek
rec. 3-4 January 2012, Watford Colosseum, UK
CHANDOS CHSA 5109 [79 :32] – from theclassicalshop.net (mp3, 16-bit lossless, Studio 24/96 stereo and Studio surround)



Jiří Bělohlávek is no stranger to this repertoire, having recorded a number of Suk discs for Chandos. That said, I've not always been persuaded of his artistic 'fit' with this orchestra, and I prefer his recordings with the Czech Philharmonic. At least this new issue gives me a chance to reassess that relationship and address my ambivalence towards Suk's œuvre. In particular his Asrael Symphony remains pretty impenetrable to me, although I did find Flor's Malaysian Phiharmonic account more illuminating than most. I've no such qualms about Praga, which I came to know via Libor Pešek's absorbing account for Virgin Classics.*

For those who don't know A Summer's Tale it's a set of sketches whose subtitles – such as 'Voices of life and consolation' and 'In the power of phantoms' – will give you a good idea of Suk's intentions. It's a long work – it lasts for just under an hour – and it's blessed with some lovely music, much of it slow and restrained. Perhaps that's a weakness as well, for Suk is susceptible to periods of prolixity and stasis. On balance, though, A Summer's Tale has just enough animation and warmth to thaw any doubts about its execution; it's certainly helped by some fine playing and a decent recording.

Suk's great hymn to the city of Prague is altogether more visceral, from its ear-pricking introduction to what veteran critic Edward Greenfield once called its 'tummy wobbling' organ entry at the close. Bělohlávek teases hushed tones from his orchestra at the start and rises magnificently to those big tuttis. The brass and percussion are especially thrilling, but I find Bělohlávek's almost obsessive attention to small details blunts the music's propulsive urge. Pešek, perhaps conscious of Suk's propensity to wander, is much more urgent and, surprisingly, his recording is exceptionally vivid as well.

Make no mistake: Bělohlávek's Praga is impressive; I just wish it weren't intermittently so. Tension ebbs away far too easily, so it's harder to reinvigorate the orchestra when required; the performance only catches fire in the last few minutes – and yes, the organ is rather splendid – but Pešek's jubilant, bell-adorned finale is unbeatable. So, a somewhat muted reception for this release. One unexpected drawback is that the sound – in 24/96 stereo at least – is average at best.

Chandos also need to take more care with the recording details on their website – one might be forgiven for wondering if this were an SACD or an RBCD. Also, it seems there's some controversy about their use of the DSD logo; it's an issue that's been aired – acrimoniously – on one of the Net's more toxic audio forums. I doubt most listeners would give a fig about such things.

This promises much but delivers little; a great shame.

Dan Morgan
http://twitter.com/mahlerei

[* EMI 20th-century classics 2068732, 2 CDs for around £8.50 or download in 320 kb/s mp3 for £4.99 from sainsburysentertainment.co.uk: Asrael, The Ripening and Praga. Dan's review makes me think that I shall be hanging on to my Supraphon recording of A Summer Tale (Czech Philharmonic/Libor Pešek: 33CO-1030; not currently available except as part of a 4-CD download from emusic.com, though his RLPO version to which Dan refers is on a budget Virgin twofer, 6285032, around £8.50. BW.]

Requiem Æternam
Herbert HOWELLS (1892-1983) Requiem (1935) [20:31]; Motet: Take him, earth, for cherishing (1964) [9:05]
Frank MARTIN (1890-1974) Mass (1922/6) [26:00]
Sally Barber (soprano); Julia Field (alto); Mark Johnstone (tenor); Andrew Angus (baritone)
Vasari Singers/Jeremy Backhouse – rec. All Hallows, Gospel Oak, 18-20 February 1994. DDD
SIGNUM SIGCD503 [56:30] – from eclassical.com (mp3 and lossless)

['[T]his is a most attractive proposition that I recommend with the highest possible enthusiasm'. See review by John Quinn.]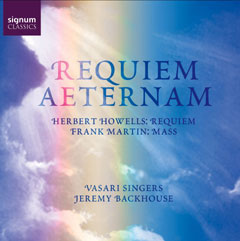 Of the many versions of Herbert Howells' beautiful and moving Requiem, I think this is one of the few that I hadn't heard and commented on. We are particularly blessed for choice considering that the music, though composed in 1935, was not released until 1980:

– Hyperion CDA67914 – Trinity College Cambridge Choir/Stephen Layton (with other music by Howells) – see April 2012/2 Roundup
– Signum SIGCD281 – Gabrieli Consort/Paul McCreesh (A Song of Farewell with other music from the 16th to 20th centuries) – see July 2012/1 Roundup
– Chandos 2-for-1 CHAN241-34 – Finzi Singers/Paul Spicer (with other choral music by Howells) – see June 2011/2 Roundup
– Naxos 8.554659 – St John's College Choir/Christopher Robinson (with other choral music by Howells) – see June 2011/2 Roundup
– Collegium COLCD118 – Cambridge Singers/John Rutter (with music by Stanford and Howells) – see June 2011/2 Roundup
– Hyperion Helios CDH55220 – Corydon Singers/Mathew Best (with Vaughan Williams Mass) – see June 2011/2 Roundup

I could simply say that you can't have too much of a good thing and recommend them all, as they all deserve. It would be slightly more helpful if I suggested that you let coupling decide or pointed to the fact that the Helios and Naxos are the least expensive of the bunch, or that only the Signum from eclassical.com, the Chandos twofer and the two Hyperion recordings are currently available as lossless downloads.

The Vasari singers are certainly up there with the best; the inclusion of Take him earth, written to commemorate the death of John F Kennedy, and the Martin coupling are additional considerations in their favour – though there are several good recordings of the Martin, the coupling is unique – as is the realistic price of US$10.01 for both mp3 and lossless. Only the lack of texts is a drawback – there's just a flyer to download. Subscribers to the Naxos Music Library will be able to download the Naxos booklet which contains the Howells texts.

Sir Michael TIPPETT (1905-1998) Choral Images
Dance, Clarion Air (1952) [4:36]
Plebs Angelica (1943) [3:11]
The Weeping Babe (1944) [5:06]
Magnificat and Nunc Dimittis (1961) [6:59]
Unto the Hills (1958) [3:46]
Four Songs of the British Isles (1956) [13:29]
Over the Sea to Skye (1956) [4:04]
The Source (1942) [2:14]
The Windhover (1942) [3:00]
Lullaby (1959)[4:20]
Five Negro Spirituals (from A Child of Our Time) (1939-1941) [12:11]
Iain Farrington (organ)
BBC Singers/Stephen Cleobury – rec. 2005. DDD
pdf booklet with texts included.
SIGNUM CLASSICS SIGCD092 [63:00] – from eclassical.com (mp3 and lossless) or stream from Naxos Music Library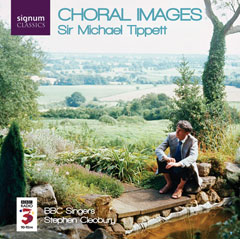 ['The BBC Singers under Stephen Cleobury give strong, passionate performances… [They] go far beyond mere technical competency, creating a series of varied but dazzlingly vibrant performances. If you love good choral music, then buy it.' See review by Robert Hugill.]

The spirituals are best heard in the context of a complete performance of A Child of our Time, but they are in good company here and the performances and recording do all the music justice. The inclusion of the booklet makes the lossless download in every way the equivalent of the CD at an attractive price.

Olivier MESSIAEN (1908-1992) Turangalîla Symphony
Steven Osborne (piano), Cynthia Millar (ondes Martenot)
Bergen Philharmonic Orchestra/Juanjo Mena – rec. June 2011. DDD.
Pdf booklet included
HYPERION CDA67816 [77:07] – from hyperion-records.co.uk (mp3 and lossless)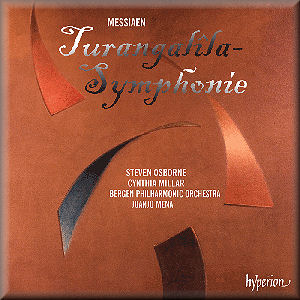 Dan Morgan was so bowled over by this recording that he couldn't wait for the next Roundup and made it Download of the Month among the main MusicWeb International reviews – here. If you heard this massive work – once dubbed an unplayable monster – at the 2012 Proms, there are several fine recordings to tempt you, but this new version has a very strong claim as the front-runner in a competitive field. The standard of performance and recording are at least the equal of my previous benchmark, the Decca recording with Riccardo Chailly (now available as a download only). If you buy before the end of August 2012, it can be yours for a mere £6.49, but it will still be good value at £7.99 thereafter.

See also the May 2011/1 Roundup for Yan Pascal Tortelier's Chandos recording (CHAN9678) which Dan Morgan and I also liked. The Previn recording to which we referred there is available from amazon.co.uk for £7.49 (EMI twofer 2068672, with Quatuor pour la fin du temps), but you should find the CD set online for only pennies more.

Jacquet's Ghost
Huw WATKINS (b. 1976) Pièce d'Orgue * [5:19]
Alexandre P. F. BOËLY (1785-1858) Kyrie (from Messe solennelle pour l'orgue extraite
de plusieurs auteurs anciens) ** [8:46]
Jehan ALAIN (1911-1940) Variations sur un thème de Clément Jannequin, AWV 99 [6:03]
Judith BINGHAM (b. 1952) Jacquet's Ghost (2012) *; Tombeau [2:09]; Labyrinthe [2:11]; Pastorelle somnambule [1:24]; Envoi [1:50]
William ALBRIGHT (1944-1998) Chorale-Partita in an Old Style on Wer nur den lieben Gott lässt walten [10:53]
Lionel ROGG (b. 1936) Ricercare cromatico * (from Omaggio a Frescobaldi) [5:11]
Hugo DISTLER (1908-1942) Partita und Satz: Jesu Christus, unser Heiland, der von uns den Gotteszorn wandt [7:06]
Jon LAUKVIK (b. 1952) Monody with Variations * [5:56]
Bernard FOCCROULLE (b. 1953) Spiegel * [10:06]
Stephen Farr (the Metzler organ of Trinity College, Cambridge)
** with members of Sidney Sussex College Chapel Choir/David Skinner – rec. April 2012. DDD.
* World premiere recording
Pdf booklet with organ specification included.
RESONUS CLASSICS RES10111 [67:12] – from resonusclassics.com: download only (no CD) in mp3, aac and lossless; 16– or 24-bit from eclassical.com, or stream from Naxos Music Library.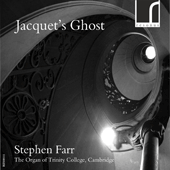 Almost one year and eleven albums on, Resonus' releases are still proving exciting. The new recording offers a chance to show off the 1975 Trinity College organ, a Metzler incorporating parts of a much earlier Father Smith instrument and to include the first performance of Judith Bingham's Jacquet's Ghost; the first recording of her Everlasting Crown featured on RES10108 and her chamber music on RES10102. The Jacquet in question is Elizabeth Jacquet de la Guerre, the 17th-century French keyboard composer, the prelude from whose Première Suite forms the inspiration for the work. Homage to and reworking of the past is a key theme; of the other works here, only Huw Watkins' Pièce d'Orgue, which provides a strong opening for the recital, does not in some way echo an earlier model, except in its title.

Stephen Farr by now needs no introduction – though he receives one in the lavishly illustrated booklet – having been the performer on that earlier Judith Bingham recording on Resonus. There, too, the music combines a sense of both past and present, triumphantly realised by Farr on the organ of St Alban's Abbey and, even more to the point, I greatly enjoyed the work of a contemporary composer when I am normally chary of such beings and all their works.

Alexandre Boëly is the odd man out here, not only in terms of his dates but also because his Kyrie comes with the addition of the Sidney Sussex singers and David Skinner – it's a fairly late example of that strange animal the 'organ mass', in which singers and organ alternate. It left me wishing that someone would record the whole work – all we have of Boëly's music is the odd track or so on organ anthologies. With Jehan Alain consciously invoking an even earlier age -the archaic 'h' in his name seems totally appropriate here – the transition from Boëly to Judith Bingham is smoother than you might imagine.

Bingham's music could hardly be mistaken for that of an earlier age; even though she quotes the original Jacquet harpsichord theme, the sonorities of the organ are those of the present. Just as Ravel evokes the waltz in la Valse but completely in his own manner, so Bingham never 'cribs' in the style, say, of Respighi. In mentioning la Valse, I've referred to one of the very few Ravel works that I don't like, so I must make clear at once that I did enjoy Bingham's Ghost and predict that I shall be returning to it frequently.

With the Albright we return to a more conscious evocation of the past; we might almost be listening to Bach, though a JSB who has heard a bit of jazz – I take it that this is the same William Albright who has recorded a 3-CD set of the complete Scott Joplin for Nimbus. Lionel Rogg was, of course, steeped in the music of Bach and his older contemporaries; his ricercar evokes the spirit not of JSB's Musical Offering but, nominally, that of Frescobaldi, though the result, like Bingham's homage to Jacquet, is too angular ever to be mistaken for the music of an earlier age.

The remaining works may be slightly less memorable, but all have their attractions; those attractions are enhanced by the accomplished performances and by the quality of the Trinity organ, of which I hope that we shall hear more. With very good recording – at least for the lossless download: audiophiles should also note the availability of a 24-bit version from eclassical.com – and an excellent booklet, this is another Resonus recording that I endorse strongly.