July 2012/1 Download Roundup
Brian Wilson


The June 2012/2 Roundup, with links to earlier editions, is here.

In reviewing the download of the Lyrichord recording of Biber's Mystery or Rosary Sonatas last month (LEMS8079), I forgot to include a link to an earlier MusicWeb International review of the same recording on CD by Guy Aron – here.

You may have noticed recently that I've been mentioning two new resources for classical music downloads: sainsburysentertainment.co.uk and prestoclassical.co.uk. The former offers mp3 only – all the albums that I've tried have been at the full 320kb/s bit-rate – while the latter also offers lossless versions. Some of the sainburysentertainment.co.uk offerings are excellent value, with several 2-CD albums on sale for as little as £2.99. The prestoclassical.co.uk offerings seem mostly to be at one reasonable price – £8.00 for mp3, £10.00 for lossless, with Naxos at £4.50 (mp3) or £5.25 (lossless).

Reissue of the Month

Leoš JANÁCEK (1854-1928) Glagolitic Mass
Eduard Haken (bass), Vera Soukupova (contralto), Beno Blachut (tenor), Libuše Domaninská (soprano), Jaroslav Vodrazka (organ)
Czech Singers' Chorus
Czech Philharmonic Orchestra/Karel Ančerl – rec. 1961/ADD/stereo
BEULAH EXTRA 1-8BX192 [39:31] – from eavb.co.uk (mp3)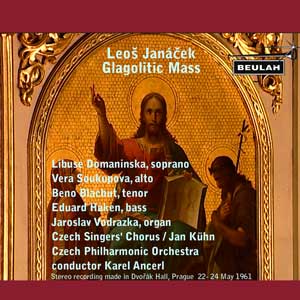 A reissue of this Karel Ančerl recording, the one from which I got to know the work in the early 1960s, in a really good transfer has to be worth a very strong recommendation. The Supraphon LP that I owned cost a mere 17/6 (£0.88) and came in stereo, too, but the surfaces made it sound as if it had been recorded in a fish and chip shop with the fryer going full blast, despite the 'antistatic' sticker on the sleeve; no such problem now. A later release on cassette solved the surface noise problem but with the loss of some dynamic range – again, the Beulah reissue makes no compromises in this respect.

I have reviewed alternative versions in more recent sound – see my comparison of the Naxos and Chandos recordings, with Antoni Wit and Charles Mackerras respectively, both complete with texts, in my December 2011/1 Roundup – and there's another Mackerras version on a Supraphon DVD, but this Czech version still tops the list, and not just for nostalgic reasons. All three versions capture the music's power but Ančerl does so supremely.

The same recording is available on a Supraphon CD, with Taras Bulba (SU36672, around £10) and as a download from emusic.com but the Beulah separate reissue of the Mass for £4.00 will especially suit those who have another version of the coupling.

Discoveries of the Month

Alfred HILL (1869-1960) String Quartets Vol.4
String Quartet no.10 in E (1935) [10:18]
String Quartet no.11 in d minor (1935) [19:38]
'Life' Quintet, for piano and strings, with (final movement) 8 voices (1912)* [39:26]
Dominion Quartet; *Richard Mapp (piano); *vocal octet: Bryony Williams, Amelia Berry (sopranos); Linden Loader, Annabelle Cheetham (mezzos); Richard Greager, Chris Berentson (tenors); Daniel O'Connor, Keith Small (basses)/*Mark Dorrell (conductor)
– rec. 2009 and 2011. DDD
Pdf booklet included.
NAXOS 8.572844 [79:40] – from classicsonline.com or stream from Naxos Music Library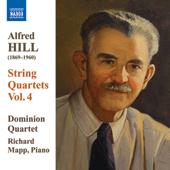 Not only had I not heard any of Alfred Hill's music – not a crime in itself – but I compounded the offence by downloading this for review several months ago and then forgetting to write about it. In the event one of my MusicWeb International colleagues got there before me: see review by Byzantion.

The music is conservative and mellifluous; if it's unadventurous and unmemorable by comparison with other music of the time – 1935 brought the Berg Violin Concerto, Prokofiev's Second Violin Concerto, Walton's First Symphony and Hindemith's Der Schwandrehrer – it's very enjoyable and it's well performed and recorded. Though composed long before the quartets, the Piano Quintet contains the most striking and intense music here; even that rather embarrassing choral finale is offset by the powerful slow movement. Wagner and Boito may have composed their own libretti, but Hill should have stuck to the music job.

If you like what you hear, there's plenty more where this came from: classicsonline.com offer downloads and NML streaming of all the Naxos recordings of his quartets and all the Marco Polo recordings of his symphonies (review).

John WILLIAMS (b.1932) Violin Concerto (1977)
Emmanuelle Boisvert (violin); Detroit Symphony Orchestra/Leonard Slatkin
NAXOS PORTARA 9.70902 [31:10] – from classicsonline.com (mp3) or stream from Naxos Music Library (no CD equivalent).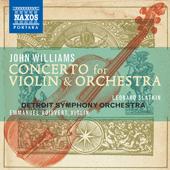 Don't expect anything as immediate in appeal as the Star Wars music – it's much closer in style to the Berg and Stravinsky Violin Concertos – but the craftsmanship of the film scores is also apparent here. I think it will take a while to grow on me, but, with the conductor of the 1981 first performance at the helm, this is obviously an idiomatic performance. The soloist (wrongly spelled Emmanuel on some versions of the cover) negotiates the intricacies of her part with expertise – not too easy when the solo instrument has to start the proceedings.

There's no CD equivalent. In compensation for the short playing time, the price is reduced to £3.19 – even less, at £1.36 from emusic.com. Try it first from Naxos Music Library if you can.

Bargain of the Month

The Very Best of Jussi Björling
Arias from Giuseppe VERDI Rigoletto, Il Trovatore, Aïda, Requiem
Giacomo PUCCINI La Bohème, Tosca, Manon Lescaut, Turandot
Ludwig van BEETHOVEN Adelaide
Richard STRAUSS Morgen; Cäcilie
etc. (for full details, please see review by R J Farr)
Jussi Björling with various orchestras and conductors – rec. 1936-1956.
EMI CLASSICS 5759002 or 6789972 [78:19 + 75:46 ] – from hmvdigital.com (mp3)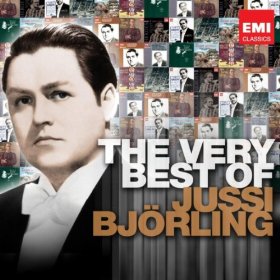 If Jussi Björling wasn't the greatest tenor singer of Italian opera who wasn't Italian – and he has a strong claim to the title despite those of Plácido Domingo and Jose Carreras who, of course, have had the benefit of better recording – the recording of la Bohème which he made with Thomas Beecham and Victoria de los Angeles, though arranged at very short notice, certainly heads the list of distinguished recordings of that work in my book. I'm glad that this collection preserves two items from it – for the complete opera in a decent transfer at a very attractive price, please refer to my review of the emusic.com download of the Past Classics transfer in the January 2009 Roundup. The cost has risen to £1.68 but that's still incredible value. Those who don't subscribe to emusic.com will find the Past Classics transfer at amazon.co.uk for £3.56; beware of another version which they offer for less, which appears to be shorn of Act II.

If you already have that recording of la Bohème, you'll need no urging from me to obtain the rest of this 2-disc album. It's not just the operatic pieces, either: a guest presenter on BBC Radio 3 recently chose Björling's recording of Beethoven's Adelaide (CD2, tr.9) – a wonderful performance which I hadn't heard before but which I'm glad to see here alongside some Richard Strauss and some lighter pieces, O sole mio, Mattinata and Because. Some of the recordings are inevitably dated and none comes from later than the mid-1950s, but all have come up sounding really well in these digital re-masterings from 1997 and 1998. They are certainly good enough to give a truer idea of Björling's voice than those of Caruso.

This set, still available with the original catalogue number, has recently been reissued again at the same price and with a slightly different cover. Both on disc, at around £8, and as a download from hmvdigital.com for £6.99, this is so inexpensive that you need not take my word for its sterling value; go ahead and purchase with confidence. Make sure that you follow my link at the head of the review, with the cover as illustrated; hmvdigital.com also have the older set at a ridiculous £17.82. If you have access to Naxos Music Library, stream it from there – but be warned: you'll want to purchase it. If you press the classicsonline.com purchase button from NML you'll find it there for a little more than the hmvdigital.com price, at £7.99.

Freebie of the Month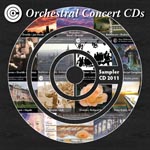 Orchestral Concerts CDs consist of a series of recordings made with a two-microphone setup by Geoffrey Terry. We've reviewed several of these on MusicWeb International. Now you can try them for yourself by downloading a free 71-minute sampler (CD0/2011) from their website. The parent discs themselves are not available for download, but I was most impressed with the quality of the sampler. It even comes with a cover shot, label, booklet and inlay for you to print off if you wish to burn the programme to CD.

The 14 tracks include extracts from the premiere recording of Suk's Philharmonic Dances, Peter Katin in his sole recording of Prokofiev Piano Concerto No.3 and music by Bach, Beethoven, Suk, Dvorák (twice), Bruckner, Chopin, Britten and Shostakovich.
***

Gregorian Chant
Asperges me I; Mass X: Kyrie, Gloria, Sanctus, Agnus Dei; Mass XVI: Kyrie; Mass XVII: Sanctus, Agnus Dei
Choir of the monks of the Abbey of Saint Pierre de Solesmes/Dom Joseph Gajard – rec. 1951 ADD/mono
BEULAH EXTRA 1BX162 – from eavb.co.uk

Mass III: Agnus Dei; Mass IX: Kyrie, Gloria; Mass III: Sanctus; Credo I
Choir of the monks of the Abbey of Saint Pierre de Solesmes/Dom Joseph Gajard – rec. 1951 ADD/mono
BEULAH EXTRA 2BX162 – from eavb.co.uk

1BX162 and 2BX162 also available together as: BEULAH EXTRA 3BX162 [27:21] – from eavb.co.uk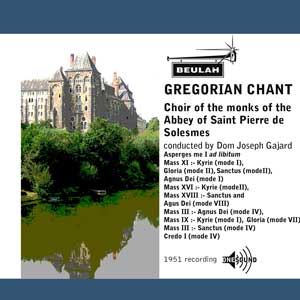 Gregorian Chant – which owes little to Pope Gregory – has meant different things at different times; performers concerned for authenticity often need to research how the chant would have been sung at a particular period if they incorporate it into mass settings from the polyphonic, baroque or classical periods. The monks of Solesmes are credited with establishing a 'normative' form, though not one that met with universal scholarly approval, and these 1951 recordings and an earlier set from the 1930s were a valuable part of the process of disseminating their work, made in the same year as Dom Joseph Gajard's book La Méthode de Solesmes. Solesmes offer those 1930s recordings and some more modern ones on their own Abbaye de Solesmes label, all available for download from classicsonline.com but these 1951 versions are, of course, much better recorded than those from 1930.

We have had many other recordings of chant since then, some of which have achieved brief superstar popularity or made claim to greater authenticity and/or been more securely sung – apparently Dom Joseph Gajard made no choice of the best voices – but these recordings represent a valuable historical document which should always be available. The transfer has been well made, so there's little need for tolerance in listening. In praising Beulah for offering us these substantial snippets, I'd like to add a subsidiary reminder that there's more where this came from and a request that we may have more of it.

A recording such as this provides a balm of hurt minds. Older readers may remember a TV sitcom Butterflies in which the harassed paterfamilias settled into a comfy chair on Sunday to listen to plainsong until the cleaning lady whisked in and announced that she had turned the 'moaning fellas' off. If the Beulah reissue leaves you looking for more, perhaps for Sunday morning listening, you need only visit the websites of our partners or Naxos Music Library to see that there's a vast amount available. Some of the possible follow-on recordings are also available inexpensively, as for example on Naxos 8.550771, Adorate Deum – also available as part of a 3-CD set Time of the Templars – review, review and review.

A Universal Classics & Jazz compilation from Stift Heiligenkreuz, Austria, Chant: Music for Paradise is worth paying full price for; it was my Recording of the Month (176 6016 – review – now 476 6977). EMI's best-selling 2-CD Canto Gregoriano with the monks of Silos is also still available (5652172 – download for £7.99 from classicsonline.com or stream from Naxos Music Library). These are complementary to the Beulah reissue in that they contain music from the propers – the parts of the Mass and Office which change from day to day – rather than the sections of the unchanging ordinary which Beulah offer.

As well as the Solesmes own-label recordings, there's a series of their recordings from Universal subsidiary Accord, some apparently under Dom Joseph Gajard's direction and some of more recent provenance under his successor from 1971.

Jean MOUTON (before 1459-1522) Missa Tu es Petrus and other works
Nesciens Mater [5:37]
Ave Maria, gemma virginum [2:26]
Exsultet coniubilando [4:13]
Verbum bonum et suave [11:08]
Missa Tu es Petrus* [31:03]
Bona vita, bona refectio [6:11]
Factum est silentium [5:30]
*Helen Ashby (soprano), Kate Ashby (soprano), Emma Ashby (alto), Alastair Carey (tenor)
The Brabant Ensemble/Stephen Rice – rec. August 2011. DDD.
Pdf booklet with texts and translations available
HYPERION CDA67933 [66:07] – from hyperion-records.co.uk (mp3, 16- and 24-bit lossless)

The Brabant Ensemble and Steve Rice already have a number of distinguished recordings to their credit on Hyperion:

– CLEMENS: Requiem and Penitential Motets CDA67848 – February 2011 Roundup
– CRECQUILLON: Missa Mort m'a privé – motets and chansons CDA67596 – review
– GOMBERT: Tribulatio et angustia CDA67614 – see my review and review by Robert Hugill
– LASSUS: Prophetiæ Sibyllarum and Missa Amor ecco colei CDA67887 - review
– MANCHICOURT: Missa Cuidez vous que Dieu CDA67604 - review and review
– MORALES: Magnificat, Motets and Lamentations CDA67694 – review
– MOULU: Missa Alma redemptoris and Missus est Gabriel CDA67761 – June 2010 Roundup
– Music from the Chirk Castle Part-Books CDA67695 – see my review of the CD
– PHINOT: Missa Si bona suscepimus CDA67696 – September 2009 Roundup

All are available in mp3 and lossless and the Lassus is additionally available in 24-bit lossless flac.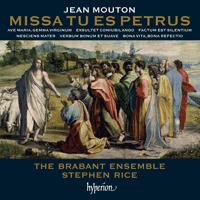 The new release not only continues their established tradition of excellent performances of Renaissance music, it also brings us the only complete album of Mouton's music in the current catalogue and does so without duplicating too much of the repertoire that was already available in other recordings, such as Hyperion's own of Queramus cum pastoribus (Helios CDH55276, Westminster Cathedral Choir/O'Donnell) and Nesciens mater (CDA66263, The Sixteen/Christophers). Nesciens mater had to be included – it's his best-known work and appears on several recordings – but I don't believe that the major work, the five-part Petrine Mass, has ever been recorded before.

Stephen Rice makes a strong case in the booklet for regarding Mouton, punning on the meaning of his name, as an egregious sheep in the literal sense of the word, one distinguished beyond the rest of the flock (e grege from Latin grex, gregis, flock), before modern usage mangled its meaning. The quality of the performances makes that case even more strongly than any words could.

With excellent recording – especially in the 24-bit version, which still won't break the bank at £9.00 – and Hyperion's usual high-quality presentation, this is another winner. (mp3 and 16-bit flac are priced at £7.99.)

Orlando GIBBONS (1583-1625) Music for Evensong on Whit Sunday
Song 44: Veni Creator (from George Wither's Rymnes and Songs of the Church, 1623)
First Preces and Psalm 145.
Voluntary I: Magnificat (Short service)
Voluntary II: Nunc Dimittis
Voluntary III; (A fancy for double organ)
Verse Anthem O God, the King of Glory
Hugh McLean (organ)
Choir of King's College Chapel, Cambridge/Boris Ord – rec.1954. ADD/mono
BEULAH EXTRA 5BX20 [23:40] – from eavb.co.uk (mp3)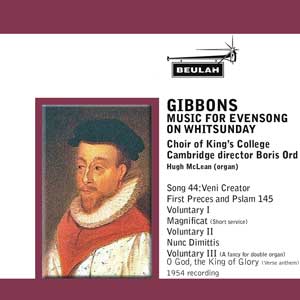 This is another valuable reminder from Beulah of pre-Willcocks days at King's in attractively refurbished sound. There are, of course, plenty of modern recordings of the music of Orlando Gibbons, now rightly regarded as a major figure, having taken up and developed the first tentative efforts of Tallis and the more established achievement of Byrd in shaping a distinctive Anglican sound, but they don't put this selection by any means to shame. You may feel that it was a pity that Gibbons abjured the traditional plainsong melodies for Veni Creator and the canticles, but that was part of the process whereby the C of E established its own identity.

What we have is the first half of an LP released in 1956 with a sleeve note by Thurston Dart, who, with Boris Ord had been instrumental in editing and selecting the music. May we now have the remaining anthems from the second side of that LP, please?

The recording, very good for its day, requires very little tolerance in this transfer.

John BLOW (1649-1708) Anthems
God spake sometime in visions (1685) [12:20]
How doth the city sit solitary (early 1670s) [6:26]
The Lord is my shepherd (1677 or before) [10:57]
God is our hope and strength (late 1670s) [3:02]
I beheld, and lo! A great multitude (1677 or before) [10:26]
Turn thee unto me, O Lord (early 1670s) [5:49]
Blessed is the man that hath not walked (1680-3) [8:35]
Lift up your heads, O ye gates (?late 1670s) [4:25]
O Lord, I have sinned (1670) [6:51]
O give thanks unto the Lord, for he is gracious (c.1683) [13:40]
O Lord, thou hast searched me out and known me (mid 1670s) [5:38]
Cry aloud and spare not (1682 or before) [6:47]
Lord, who shall dwell in thy tabernacle? (c.1680) [9:26]
I said in the cutting off of my days (1677) [10:39]
Winchester Cathedral Choir/David Hill
The Parley of Instruments/Peter Holman – rec. 1995. DDD.
Pdf booklet with texts included.
HYPERION DYAD CDD22055 [2 CDs: 58:21 + 58:07] – from hyperion-records.co.uk (mp3 and lossless)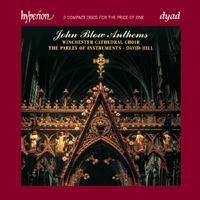 ['There is some very fine music here, very well presented – that goes for the booklet notes as well as the performances themselves.' See review by Christopher Howell.]

If Orlando Gibbons pushed forward the achievements of Tallis and Byrd at the start of the seventeenth century, Blow and his younger contemporary Purcell took the process further at the end of the century. This 2-for-1 bargain helps put Blow on the map alongside his greater pupil, whom he outlived and succeeded, with excellent performances, recording and presentation.

Antonio VIVALDI (1678-1741)
Cello Concerto in g minor, RV416 (c. 1708-1711) [11:45]
Cello Concerto in a minor, RV420 (c. 1708-1711) [10:45]
Concerto for two cellos in g minor, RV531 [11:02]
Cello Concerto in c minor, RV401 (1723-29) [10:24]
Cello Concerto in g minor, RV417 (1723-29) [8:58]
Cello Concerto in a minor, RV418A (1723-29) [10:49]
Cello Concerto in G, RV415A (attributed to Vivaldi) [9:55]
Jonathan Cohen (cello and a five-string 'piccolo' cello)
Sarah McMahon (cello) (RV531)
The King's Consort/Robert King (director; harpsichord) – rec. 2005. DDD
Pdf booklet included.
HYPERION CDA67553 [73:40] – from hyperion-records.co.uk (mp3 and lossless)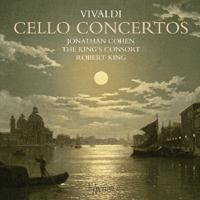 Keep looking at Hyperion's 'please buy me' offers – you never know what goodies you may find. This Vivaldi album was recently to be found there, having failed to sell well despite very positive reviews, not least from our own Michael Cookson, who thought it second only to his favourite set from Roel Dietiens on Harmonia Mundi – review. If it seems incredible that such a fine recording as the Hyperion could have landed in the doldrums, it's even less credible that the Harmonia Mundi seems to be no longer available on CD in the UK, even in its reissued 2-disc form on HML5908235.36. Download from hmvdigital.com in 320k mp3 for £7.99 – you'll pay almost twice that from classicsonline.com or amazon.com.

There's a near-complete set of the cello concertos on four Naxos CDs, highly recommendable but on modern instruments. This Hyperion release makes an excellent period-instrument alternative; even its normal download price will hardly break the bank and there's plenty of fine music on it* – in fact, why not have it alongside some or all of the Naxos recordings? For an alternative period-instrument approach, there's Christophe Coin with Il Giardino Armonico and Giovanni Antonini on Naïve – you'll find my review of RV411, 401, 408, 417, 399, 403 and 422 (OP30457) here: download for £6.49 from hmvdigital.com (mp3). Stream the Naxos and Naïve recordings from Naxos Music Library.

* the playing time is longer than any of the rival recordings to which I've referred.

The Queen's Chamber Band Plays Mozart
Wolfgang Amadeus MOZART (1756-1791)
Sonata for Violin and Harpsichord No.35 in A, K526 (Vienna, 1787) [30:10]
Keyboard Quartet in g minor, K478 [27:43]
Robert Zubrycki (violin); Veronica Salas (viola); Peter Seidenberg (cello); Elaine Comparone (harpsichord)
pdf booklet included
LYRICHORD LEMS8087 [57:53] – from classicsonline.com (mp3) or stream from Naxos Music Library

Last month I strongly recommended Elaine Comparone and members of the Queen's Chamber Band in Rameau (Lyrichord LEMS8040).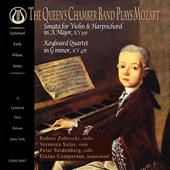 Mozart on the harpsichord rather than the fortepiano is unusual – indeed, the Lyrichord booklet claims that this is perhaps the first recording of K526 on this instrument, which I have no doubt is correct. The three other 'authentic' performances which I know – Schröder and Orkis on Virgin (6932182), Mackintosh and Govier (Chandos CHAN0772 – from theclassicalshop.net, mp3 and lossless) and Podger and Cooper on Channel Classics (CCSSA24607 – from channelclassics.com, mp3 and 24/44, 24/96 and 24/192 lossless) employ the fortepiano. If Mozart wrote on the score pour fortepiano ou clavecin, the latter term would include the harpsichord. Indeed, there are those who believe that Mozart was still employing the harpsichord to double the solo line in his keyboard concertos and I believe that the 'joke' harpsichord which tinkles away on its own for a few bars at the end of Haydn's Symphony No.98* can be explained only on the assumption that it was still being used to fill out the orchestral sound as late as the London symphonies. More to the point, the harpsichord works here – for me at least.

The first movement of K526 is taken at a sedate pace by comparison with Schröder and Orkis and Mackintosh and Govier, with Podger and Cooper adopting a tempo somewhere between the two. To be honest, I didn't think Zubrycki and Comparone slow until I listened to the Virgin and Chandos recordings but I do prefer the faster tempo now that I've let that cat out of the bag. Avoid making the comparison and you'll be more than happy with the Lyrichord. Again in the slow movement the Lyrichord players are slower than the competition and in the finale marginally slower, but they make the chosen tempi work. As is so often the case, all four recordings make perfect sense within their own context.

The Keyboard Quartet also works well with harpsichord. Again, as far as I know there are no direct competitors so, as I found the performance idiomatic and enjoyable, the album as a whole can certainly be recommended, apart from a slightly rushed ending to the finale, as if the performers couldn't wait to get to the finishing tape. It's a much better-known work, of course, and some may think its status diminished by the use of the harpsichord; it's better to accept it as an alternative take on an old friend – unless you're totally averse to the instrument, in which case, of course, you won't even be considering this recording.

The nearest period-instrument rival comes from Malcolm Bilson (fortepiano) and others on DG Archiv (477 6732 – see November 2010 Roundup), a recording of both Keyboard Quartets: ignore the passionato.com link which I gave in my review – no longer available – and download from hmvdigital.com. As in the case of K625, the tempi on Lyrichord are marginally slower than those on DG, but there's not a great deal in it and both make perfect sense in their own rights. If anything, I marginally prefer the Lyrichord and both it and the DG to the Hyperion recording (below).

We're really spoiled for choice in the case of both works. The Lyrichord can be recommended to those who like the coupling and the novelty of having the harpsichord in both pieces. The Virgin 2-CD set, containing a fair cross-section of the Violin Sonatas (K301, K302, K303, K304, K305, K454, K481 and K526) is a notable bargain – see review: Bargain of the Month – though not at classicsonline.com's price of £15.98 – the CD set costs around £8.50 and hmvdigital.com have the download for £6.99.

The Channel Classics and Chandos recordings come as part of highly recommendable series – volumes 4 and 3 respectively: see review of Volume 4 of the Chandos series. Each volume of the Channel Classics series contains works from all periods of Mozart's career – in this case K9, K29, K302, K304 and K526. Chandos concentrate on more mature sonatas, in this case K376, K378 and K526. All the recordings are excellent; all are offered in very good mp3 but the Chandos also comes in 16-bit lossless versions and the Channel Classics in 24/44, 24/96 and 24/192 form for audiophiles.

If you are looking for both Mozart's Piano Quartets on one recording, look no further than the DG Archiv listed above or, for modern instruments, Paul Lewis and the Leopold Piano Trio on Hyperion CDA30011 – see November 2010 Roundup. The opening movement of No.1 is taken rather deliberately but not unduly so; in that respect I rather prefer the Lyrichord and Archiv versions, but everything else is just about ideal. All three recordings come in very good mp3 – the Hyperion also in lossless form and with pdf booklet.

* It should, but some conductors don't know what to with it and reassign the part to a solo violin. Eugen Jochum played the joke to perfection on his earlier Berlin Phil recording and slightly less effectively on his LPO remake.

Richard WAGNER (1813-1883)
Parsifal, ein Bühnenweihfestspiel in drei Aufzügen, WWW111
Evgeny Nikitin (baritone) – Amfortas
Christian Elsner (tenor) – Parsifal
Franz-Josef Selig (bass) – Gurnemanz
Michelle de Young (mezzo) – Kundry/Stimme aus der Höhe
Dimitry Ivaschenko (bass) – Titurel
Eike Wilm Schulte (baritone) – Klingsor
Rundfunkchor Berlin;
Rundfunk-Sinfonieorchester Berlin/Marek Janowski – rec. live, April 2011. DDD.
Large pdf booklet included, but no texts.
PENTATONE PTC5186401 [4 CDs: 58:11 + 38:38 + 62:06 + 67:25] – from classicsonline.com (mp3)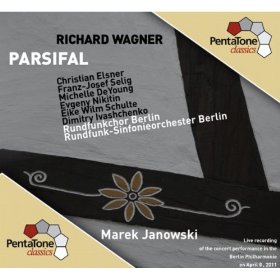 This is my first encounter with Marek Janowski's series of Wagner recordings. I must catch up with his Fliegende Holländer (PTC5186400 – review: download from eclassical.com, mp3 and lossless) and Meistersinger (PTC5186402 – review: download from eclassical.com, mp3 and lossless).

There's a clear and abiding benchmark for any recording of this work in the form of Knappertsbusch's 1951 Bayreuth recording with a near-ideal cast: I can vouch only for the very decent transfer on Quadromania 222185 (4 CDs at budget price if you can find them) but there are also versions on Documents 223063 (download for £7.99 from hmvdigital.com), Naxos (8.110221/24 – reviews: from classicsonline.com with pdf booklet) and Past Classics (from emusic.com for just £1.68, or in 320kb/ from hmvdigital.com for £3.16). I've sampled all these and didn't find any serious problems, with Naxos providing the cleanest transfer, but I must stress that I've sampled only. I'm no fan of faded old recordings just because they are historical, but I can listen to the Quadromania transfer without problem.

Second best, but a very good second best, is Kna's stereo remake, again live with Bayreuth forces, in 1962 (Decca Originals 475 7785: review and review of earlier reissue – download in mp3 or lossless from deutschegrammophon.com).

Knappertsbusch was not known as a speed merchant; in 1951 he ran to over 4½ hours, which makes Janowski at around 40 minutes faster seem on paper like a boy racer. The latter takes 11:37 for the Prelude, Knappertsbusch (1951) 14:14, reduced to 12:02 by 1962. Karajan (DG 413 3472) also takes 14:14. Slower still is Mark Elder's version with the Hallé (CDHLL7517 – review), so Janowski is out of line with the mainstream tempo for the music. You might think that something of the spirituality of the music would be lost at the faster speed, but it didn't find it so. It's important always to bear in mind that Wagner called this not an opera but a sacred stage play – Bühnenweihfestspiel – something which is never lost sight of in any of the Knappertsbusch recordings, but nor did I find it lacking in the new recording.

In a manner typical of Wagner, Gurnemanz explains early in Act I for the benefit of those who haven't read Chrétien de Troyes or Wolfram von Eschenbach the story of how Amfortas came to be wounded – O wunden-wundervoller heiliger Speer (CD1, track 6). It's one of the high spiritual points of the work. Here again Janowski's 3:21 would seem to be dangerously fast by contrast with Karajan's 3:58, Goodall's 4:07 (EMI 9481822, with Welsh National Opera) and Kna's 4:37 in 1951 (4:20 in 1962), but the music is dramatic, too, and the new recording captures both aspects. Franz-Josef Selig may not quite erase memories of Ludwig Weber (Kna 1951), Hans Hotter (Kna 1962) and Donald McIntyre (Goodall) in the role of Gurnemanz, but it's only in direct comparison that I marginally preferred the older singers.

CD2 begins with more explanation for Parsifal's benefit and ours of Titurel's reliance on the Grail communion and the Verwandlungsmusik or transformation music leads into Act II. Once again the new recording is out of step with received opinion here – the transformation, which takes 4:49 from Kna in 1951 and 3:30 from Karajan is here concluded in just 2:39 – but I don't think that you will be troubled thereby unless the slower tempo is indelibly etched into your unconscious.

Apart from a later non-speaking appearance as a corpse, this is the only time that Titurel features. He appears from an earlier fragmentary Middle High German work which seems to have been intended as a prequel to Wolfram von Eschenbach's Parzival. The original Grail romance seems to have contained only one wounded king, the Fisher King, so Titurel and Amfortas are really doublets of this character, one ailing the other wounded, but Wagner contrives to weave both into the story as effectively as he did with the Old Norse and Middle High German elements of the Ring cycle.

Dimitry Ivaschenko successfully melds the two elements of Titurel's character – this is a king's tone but that of an ailing king. The heated debate between Titurel and Evegeny Nikitin's Amfortas is as powerful and effective as any that I've heard. Once again, Janowski handles the communion scene which brings the act to a climax as well as any version that I know, partly because here he does make a concession to a slower tempo – one very much closer to the norm, just five seconds shorter than Karajan in Wein und Brot des letzten Mahles (CD2, trs.7-8).

My copy of the Knappertsbusch recording leads straight into the Prelude to Act II but if you play the Janowski discs separately you'll be grateful for the pause at this point, the end of the PentaTone CD2. You can, of course, arrange for all four CDs to play sequentially from your computer but I do recommend at least observing the break here.

Act II introduces the character of Klingsor, the Grail knight who was rejected. Though often seen as a villain, even as a Jewish racial stereotype, Wagner stresses that he strove for holiness and failed – daß ich einst nach dem Heiligen rang. Eike Wilm Schulte reminds us of Klingsor's past links with the other deeper-voiced characters, Gurnemanz, Amfortas and Titurel, though his is lighter voice than theirs on this recording – a baritone rather than a bass-baritone like Karl Hill at the Bayreuth premiere or bass like Hermann Uhde for Kna in 1951. He makes clear his power over Kundry but never goes overboard in turning Klingsor into a stage villain.

After that and the scene with the Blumenmädchen the act belongs to Parsifal and Kundry. No-one can quite match Kirsten Flagstad in Kundry's Ich sah das Kind (recorded with Knappertsbusch in early Decca stereo and available on Eloquence 480 1796) but if you put that classic recording and Martha Mödl (Kna 1951) out of mind, Michelle de Young is certainly far from disappointing (CD3, tr.8). Though here again Janowski is significantly faster than other conductors, it's only by checking the timings that you'd be aware of the fact.

Parsifal has been a more or less passive observer throughout Act I but he is torn by a range of emotions in Act II. Forget Wolfgang Windgassen or Jess Thomas (Kna 1951 and 1962 respectively) and you'll enjoy Christian Elsner's portrayal of the part.

Act III opens with a performance of the Prelude at a tempo that sounds sedate enough but which, by dint of being a little faster than usual, hints at the drama as well as the resolution which is yet to come.

In the Karfreitagszauber, or Good Friday Spell, the new recording is again noticeably faster than my Knappertsbusch benchmark: Wie dünkt mir die Aue doch so schön running to 2:33 against 3:08 (1951) or 3:37 (1962), yet once again it's only in direct comparison that you'll notice much difference and this Parsifal yields little even to Wolfgang Windgassen in the role of Parsifal; he and Selig are particularly impressive in Du siehst, das ist nich so. Again Janowski takes the music much faster than Kna – faster, indeed, than most performances of the orchestral version, including Elder's – but his tempo never sounds remotely reckless.

From this point to the end all the principal characters are in play, apart from Klingsor and Titurel; all perform so well that I never felt the need to stop and compare Knappertsbusch or Karajan or Goodall to see if they did this or that better or at a more appropriate tempo.

The Berlin Radio Orchestra may not have a world-renowned name, but their orchestral support here and elsewhere is excellent and their choir would not sound out of place at Bayreuth.

Janowski's brisker tempi allow PentaTone to avoid breaking acts between discs, apart from Act I which takes up CD 1 and CD 2.

135 pages of the booklet are included with CD1 of the download; they include a synopsis but not the libretto and translation; according to the Table of Contents it begins on p.157, which in our case we have not got. You'll find the German text and a rough-and-ready English translation with musical examples online at www.rwagner.net.

I've been pleased to dip into other recordings of Parsifal for comparison, not least to that classic 1951 Bayreuth version, but I've enjoyed listening to this new PentaTone recording just as much. The recording sounds fine in classicsonline.com's 320kb/s mp3 transfer – prestoclassical.co.uk have it in lossless flac for a few pounds more and the physical discs offer SACD – and the presentation in the multi-lingual booklet, lack of libretto apart, is informative, including musical examples of the leitmotifs. I foresee that the next time I want to listen to Parsifal I may be choosing this new version rather than Knappertsbusch.

Georges BIZET (1838-1875) Les Pêcheurs de Perles (The Pearl Fishers)
Nicolai Gedda (tenor) – Nadir; Janine Micheau (soprano) – Leila; Ernest Blanc (baritone) – Zurga; Jacques Mars (bass) – Nourabad
Jaroslav Vodrazka (organ)
Chœurs et Orchestre du Théâtre National de l'Opéra Comique/Pierre Dervaux – rec. 1961. ADD/stereo
BEULAH EXTRA 1-22BX193 [1:44:12] – from eavb.co.uk (mp3)
[whole acts also available as 23, 24 and 25BX193]

Au fond du temple saint
Nicolai Gedda and Ernest Blanc (from above complete recording)
26BX193 [5:26] – from eavb.co.uk (mp3)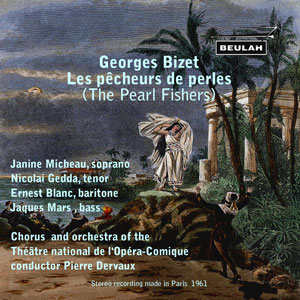 It was either very brave or very foolhardy of Beulah to release this recording of Les Pêcheurs de Perles when it's been reissued so recently by EMI on two mid-price CDs with a bonus disc containing libretto and translation in physical CD format (6406782 – download from hmvdigital.co.uk for £8.99, without the bonus disc) or, for a little more, with excerpts from Bizet's Ivan IV (5660202). At £6.50 if you buy each act complete, however, the Beulah works out less expensive than the EMI reissue.

When first released in 1962, this recording came in for a good deal of stick, though it was then the only complete version in the catalogue. Two subsequent reissues also failed to impress. To have negative opinions from a triumvirate as distinguished as Philip Hope-Wallace, Alan Blyth and Lionel Salter is something of a downer. For some, however, it has joined other EMI recordings directed by Michel Plasson (1990) and André Cluytens (mono, 1954) as something of a classic. The Cluytens recording is available in a decent Discover Classical Music transfer from emusic.com for £1.62 or less – see April 2011/1 Roundup.

Many will want just the one track containing the ever-popular Au fond du temple saint, so I began by listening to this on its own. I have to admit that I have heard Nicolai Gedda sound more mellifluous and that this would not be my choice of principal recording for the duet. Though Gedda fails to live up to his best throughout, however, there are other reasons for purchasing this recording and Ernest Blanc's part in the duet and throughout he opera is one of them – the firmness of his tone is one reason why Gedda sounds below par by contrast in this duet.

In Je crois entendre encore Gedda is in slightly better voice, but even here there's a hint or two of strain and tremulousness on the top notes. Janine Micheau's Leila is more ingratiating, though not ideal, and the less said about the chorus of fishermen and villagers the better. Alain Vanzo and Ileana Cotrubas on the Georges Prêtre recording (below) easily out-sing Gedda and Micheau.

It's evident that care has been taken over the Beulah transfer – it's more carefully done than the Discover Classical Music transfer of the Cluytens, and it sounds as well as the latest EMI reissue, as heard from Naxos Music Library, where I suggest that those with access should try at least some of the highlights; you may find that you like it better than I did and purchase the Beulah set.

NML will also give an opportunity to hear some rival recordings, such as that directed by Georges Prêtre (Classics for Pleasure 3677022 or EMI Gemini 5857642, rec. 1977), with Alain Vanzo much more secure in the role of Nadir and Ileana Cotrubas as Leila. Try Vanzo's Je crois entendre encore from this recording and you're in a different world from Gedda's . The same is true of Au fond du temple saint with Guillermo Sarabia as Zurga, and the whole recording can be obtained on CD for around £8.50 or from classicsonline.com for £7.99. With Cotrubas in good voice, a much better chorus and sympathetic direction, this would be a stronger recommendation. There's even a 62-minute highlights disc for £5.99 if that's all that you want.

NML also have Michel Plasson's recording with Barbara Hendricks the main attraction as Leila – try her O Dieu Brama, CD1, tr.13, where you'll also find a chorus preferable to Dervaux's. John Aler has a darker tenor voice than most Nadirs but he and, even more, Gino Quilico make a good showing in their duet. This version seems to be unavailable on CD at present but can be downloaded from classicsonline.com.

Jussi Björling's version of Au fond du temple saint with Robert Merrill and the RCA Orchestra under Renato Cellini in 1951 sets the gold standard, on Alto (ALC1007: see review) or Nimbus (NI7945 – see review) Though the sound may be a little rough, this is a version to die for, and his Je crois entendre encore, included on the EMI 2-CD Very Best of Jussi Björling (above, Bargain of the Month) licks all the opposition into the proverbial cocked hat.

Would that we had had a complete recording from Björling modern sound. Instead, the world still awaits the ideal Pêcheurs de perles; meanwhile Prêtre comes closer than Dervaux.

Modest MUSSORGSKY (1839-1881) Pictures from an Exhibition [33:54]
Sergei PROKOFIEV (1891-1953) Ten Pieces from Romeo and Juliet [36:30]
Toccata in d minor [4:25]
Nicolai Demidenko (piano) – rec. 1997. DDD.
HYPERION HELIOS CDH55306 [74:49] – from hyperion-records.co.uk (mp3 and lossless)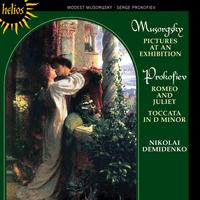 The original piano version of Mussorgsky's Pictures from an Exhibition has been recorded many times by some very distinguished and fine players, and I am pleased to say that Nicolai Demidenko's performance is up there with the best of them. The virtuosic demands of the work are well within his grasp and he portrays with great sensitivity the varying moods and colours represented in Victor Hartmann's paintings.

He plays the opening Promenade in a forthright fashion and at an ideal tempo, in a similar way to Alfred Brendel but without the somewhat eccentric time changes offered by Nikita Magaloff. In Gnomus Demidenko gives an effectively menacing performance, but the opening figure is a little unclear, and why does he toss off the concluding velocissimo so lightly when it is marked to be played con tutta forza? Brendel lacks the mystery required and he is also a little unclear at the start, but Nikita Magaloff is excellent as is Sviatoslav Richter who conveys well the weird antics of the gnome with its unexpected changes of tempo and other surprises.

Demidenko plays Il vecchio Castello with beautifully expressive phrasing and colouring. I also like Jakov Kasman here. Although rather slow it is played with a great sense of poetry, but most poetic of all is Lazar Berman, thoughtful and introspective. Demidenko's performance of Tuileries is very fine, light and crystal clear. Brendel is also light and airy with a classical feel to it in a performance in stricter tempo compared with Magaloff, who presents the piece with idiosyncratic rubato.

Some older editions of this work indicate that Bydlo should begin softly, building to a huge fortissimo climax, then becoming gradually softer and fading away as the ox-cart disappears in the distance. Presumably Ravel had such an edition since his orchestration is scored in this way. Of the recordings I heard of the piano version, only Brendel and Magaloff begin quietly, and their performances are very effective, Magaloff seeming more powerful at the climax. Demidenko and Berman begin fortissimo and both give magisterial performances. The most relentlessly powerful and also the slowest performance is given by Ivo Varbanov, with only one diminuendo, apart from the concluding dying-away effect at the end. I really don't like Andreas Boyde's detached non-legato playing here.

Demidenko really captures the mood of the Ballet of the Unhatched Chicks. Richter also gives a light and dance-like performance. Varbanov is very fast but he makes a rather heavy sound and Alain Lefévre is rather slow and ponderous. In Samuel Goldenberg and Schmuyle Demidenko gives a very good performance and I like his subtle variety of dynamics in Schmuyle, but why does he change a forte marking to piano in the first part? Richter is excellent here with great clarity in the difficult ornaments in Schmuyle, but Lazar Berman is the best. Berman is also the winner in the Market Place at Limoges. His performance is very vigorous and he really conveys the excitement and bustle of activity of the market. Demidenko's performance is suitably virtuosic and deft in its clarity but I am not sure about his curious attempt at ffsf > p on the final chord of Catacombae. This could become rather irritating on repeated listenings. Richter's market place is fast but rather heavy and his catacombs are very slow indeed.

Demidenko presents Con mortuis in lingua mortua with lovely colouring aided by sensitive use of the pedal. We also hear Richter and Berman in delicate and sensitive mode in this piece, even more so than Brendel. In Baba-Yaga Deminenko is the only pianist to begin softly in this piece which is marked ff at the start. So he abandons the startling effect of the opening of this frightening piece, an effect surely intended by the composer following the gentle dying-away of the previous piece. But he builds up the piece dramatically, and the ensuing Andante mosso provides a real contrast. Both Varbanov and Andreas Boyde produce a massive sound, but Boyde's recording is far too resonant for my taste and this results in some lack of clarity.

Demidenko's The Great Gate of Kiev is a magnificent performance though his opening statement seems a little tame. This is a difficult thing to judge because the conclusion of Baba-Yaga is very loud and leads directly into the Great Gate of Kiev whose first statement is marked with only one f (loud) not two. The only totally convincing performance in my opinion is that by Lazar Berman though Richter comes close.

Demidenko's performance is among the best of modern performances, and in spite of a few odd eccentricities here and there, I would certainly recommend it. He displays a greater variety of touch and expression than most performers. Compare the huge sound of Bydlo with the delicacy of the Ballet of the Unhatched Chicks and Con mortuis in lingua mortua. Overall I prefer Richter, but the 1968 recording sounds a little dated now, and this live performances is marred by wrong notes here and there and these would become very irritating on repeated hearings.

For me, by far the finest version is the one by Lazar Berman on DG from 1979. [Available very inexpensively for £5 or less on an Eloquence CD, 469 6262, coupled with Karajan's orchestral Pictures. Don't buy the download from hmvdigital.com for £7.49! BW] I seem to remember that his performance was criticised when it was first released as being too heavy and insensitive. Yes it is very powerful where needed, but this is contrasted with the most delicate and sensitive playing of all the performers I have heard. His tempi are perfect and I find him totally convincing and committed in conveying the wide variety of moods expressed in this extraordinary music.

To couple the Mussorgsky with Prokofiev's Ten Pieces from Romeo and Juliet is a great idea. Each piece is characterfully played by Demidenko who gives a very fine and colourful performance of this collection. I like the rhythmic solidity and strength in the more forthright pieces, such as in the opening National Dance, the Minuet representing the arrival of the guests, and I particularly liked Montagues and Capulets. Fleetness-of-finger is displayed in the first section of Juliet as a young girl and introspection and great delicacy in the concluding part. The last piece is the longest and most substantial, and its representation of Romeo and Juliet before parting is passionately and movingly portrayed.

Finally we hear a stunningly virtuosic and exciting performance of Prokofiev's Toccata in D minor.

Altogether this is a very fine release by Hyperion, superbly recorded.

Geoffrey Molyneux

Gustav HOLST (1874-1934)
Walt Whitman – Overture, Op.7, H42 (1899) [7:21]
Symphony in F, Op 8, H47, The Cotswolds (1899-1900) [23:11]
A Winter Idyll, H31 (1897) [9:01]
Japanese Suite, Op.33, H126 (1915) [10:17]
Indra – Symphonic Poem, Op.13, H66 (1903) [15:46]
Ulster Orchestra/JoAnn Falletta – rec. October 2011. DDD
Pdf booklet included
NAXOS 8.572914 [65:55] – from classicsonline.com (mp3) or stream from Naxos Music Library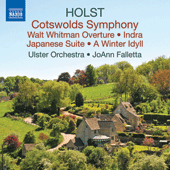 I doubt whether anyone would recognise the music here as emanating from the pen of Holst – most of the music is very early, and even the Japanese Suite, though dating from after his commencement of work on The Planets, is imbued with the necessity of producing an 'oriental' sound for the Japanese dancer who commissioned it. That's certainly not to say, however, that it isn't all well written and enjoyable. Though I have few benchmarks for any of these works, I very much doubt that we're likely to get better performances.

Douglas Bostock and the Munich Philharmonic include the Whitman Overture and Cotswold Symphony – a ClassicO recording (CLASSCD284) recently reissued on Musical Concepts Alto ALC1170 – March 2012/2 Roundup, review and review (4 stars) – idiomatic performances available from classicsonline.com, also for £4.99, though I slightly prefer JoAnn Falletta's slightly brisker performance overall, especially in the finale. Here, I think, Bostock pays a little too much attention to the second word of the direction allegro moderato; certainly Falletta doesn't sound at all rushed.

David Atherton's recording of Elegy, the second movement of the Cotswolds Symphony, Winter Idyll and Indra are available on Lyrita SRCD.209 – January 2009 Roundup, review and review. Indra, an offshoot of his interest in Hindu mythology and Sanskrit which brought us Sávitri and Hymns from the Rig-Veda, comes closest of everything here to the later Holst style; it receives a performance that has little to fear from comparison with Atherton's, though I marginally prefer his account – this time it's Falletta who is just a tad slower.

There are two other recordings of the Japanese Suite: one is the highlight of a recording of The Planets and Beni Mora which Dan Morgan and I found somewhat disappointing (CHAN5086, BBCPO/Andrew Davis – see March 2011/1 Roundup). I even slightly preferred that recording to Boult on Lyrita (SRCD.222 – review and review), though the rest of the Lyrita programme is more recommendable than the Chandos. The new Naxos performance can hold its head up in the company of either.

The recording is good – better than the emusic.com transfer of the Lyrita recording, which comes at just 189kb/s, though that sounds perfectly acceptable – and the notes are helpful and informative. Don't download from anywhere other than classicsonline.com – at £4.99 they charge far less than other suppliers – £7.49 or even £7.99 is typical, which is more than the CD – and the pdf booklet comes with the deal.

Gustav HOLST (1874-1934)
Suite de ballet in E flat, Op.10 (1899)* [19:24]
A Song of the Night, Op.19/1 (1905)** [8:31]
The Wandering Scholar, Op.50 (1929/30, perf.1934)† [25:24]
Bradley Creswick (violin)*
Lesley Hatfield (violin)**
Ingrid Attrot (soprano, Alison)†
Neill Archer (tenor, Pierre)†
Alan Opie (baritone, Louis)†
Donald Maxwell (bass, Father Philippe)†
Northern Sinfonia/Richard Hickox – rec. 1996. DDD.
Pdf booklet with texts available
CHANDOS CHAN10725X [53:40] – from theclassicalshop.net (mp3 and lossless)

[see review of original release.]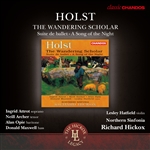 By a careless oversight I listed this with the other Chandos Hickox Legacy recordings in my previous roundup and then omitted to say anything about it apart from my catch-all comment that all these Legacy recordings are well worth having.

The Suite de ballet and Song of the Night are early works; tuneful but no masterpieces, they receive strong advocacy from these performances.

The Wandering Scholar grew out of Holst's interest in the medieval scholars who gave their name to Helen Waddell's classic book and anthology; it's a fabliau-type work somewhat in the manner of Chaucer's Miller's Tale, set to words by Clifford Bax, brother of the composer and it receives a suitably robust performance. There's a rival recording on a budget-price 2-CD set (EMI British Composers 9689292 – review); you may prefer the coupling, otherwise honours are about even. If you choose the EMI, buy the CD set for about £6.75 – the only downloads that I can find offer only half the contents on an earlier release and cost £7.99.

I can't claim that this recording did much to increase my already high esteem of Holst, but I did very much enjoy it. The quality performances, recording and booklet do much to offset the essential lightness of what's on offer.

Other Hickox recordings of Holst on Chandos:

– Brook Green and St Paul's Suites with The Planets (Sir Alexander Gibson) (CHAN2026 – mid price) mp3 and lossless
– Brook Green and St Paul's Suites; Double Concerto; A Fugal Concerto; Lyric Movement (CHAN9270) mp3 and lossless-see February 2009 Roundup
– A Fugal Overture; Egdon Heath; A Somerset Rhapsody; Capriccio (CHAN9420) mp3 and lossless
– The Perfect Fool – ballet; The Golden Goose; The Lure; The Morning of the Year (CHAN5069) mp3 and lossless – February 2009 Roundup
– The Cloud Messenger, Hymn of Jesus, Choral Fantasia (with other music conducted by Paul Spicer) (CHAN241-6: two CDs for the price of one.) (NB: mp3 only) – January 2009 Roundup
– Choral Fantasia; Part Songs; A Dirge; Ode to Death (CHAN9437) mp3 and lossless
– The Cloud Messenger and Hymn of Jesus (CHAN8901, mid price) mp3 and lossless

Sir William WALTON (1902-1983)
Façade: an entertainment (the complete extant numbers) [49:21]
Constant LAMBERT (1905-1951) Suite from the incidental music to Salome [9:17]
Eleanor Bron, Richard Stilgoe (reciters)
The Nash Ensemble/David Lloyd-Jones – rec. 2000. DDD
Pdf booklet with texts included
HYPERION CDA67239 [58:39] – from hyperion-records.co.uk (mp3 and lossless)

[see detailed review by Stephen Lloyd.]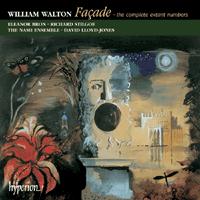 The benchmark for Façade must always be the 1954 Decca mono with Edith Sitwell and Peter Pears as reciters. It's recently been reissued with the Henry V music (with Olivier, 1944) and Orb and Sceptre on Musical Concepts Alto ALC1026 – see review by John Sheppard: download from classicsonline.com. Though it's widely regarded as the pick of modern recordings, I was a little disappointed by the Hyperion recording for the simple reason that it's not always easy to hear the words at times when they come over beautifully clearly in Alto's excellent transfer of Sitwell and Pears. Even on the deleted Chailly recording (Decca 421 7122, Façade I and II and Stravinsky Renard with Peggy Ashcroft and Jeremy Irons) for all its faults the words were clearly enunciated. I must admit, however, that the problem was less troubling second time around; perhaps I was listening more carefully.

A disadvantage of the fact that my review copy of the Naxos Music Library emanates from the USA is that neither the Alto nor the Naxos Classical Archive version of the 1954 recording (just Façade I for £1.99 to UK purchasers from classicsonline.com) is available to sample there, so the easiest way to check out this classic account is from Spotify.

The virtues of the Hyperion include the addition of the extra items normally presented separately as Façade II but here more logically integrated with the 22 Façade I pieces. The excellent performance of the Nash Ensemble under David Lloyd-Jones, the first-rate recording (apart from that vocal balance problem) and the full texts of all 34 items go some way to making amends and the inclusion of the short Suite from Lambert's Salome is an additional benefit.

If you just want the orchestral suite from Façade, David Lloyd-Jones is your man again, with the English Northern Philharmonia, coupled with Lambert (Horoscope) and Bliss (Checkmate) on budget-price Hyperion Helios CDH55099. The full-price original of this recording (CDA66436) is part of my regular listening material – it sits at the very front of its cabinet.

Constant LAMBERT (1905-1951)
Romeo and Juliet – Ballet in two Tableaux [29:51]
Elegiac Blues (in memory of Florence Mills) [2:54]
Piano Concerto (1924) [17:07]
The Bird Actors: Overture [3:18]
Prize Fight – Ballet in one Act [9:12]
Jonathan Plowright (piano); English Northern Philharmonia/David Lloyd-Jones – rec. 2004.
HYPERION CDA67545 [61:56] – from hyperion-records.co.uk (mp3 and lossless)

['The recording quality and booklet notes are up to Hyperion's generous standard. The performances are spot-on.' See review by Jonathan Woolf. See also review by Rob Barnett: 'recorded with … elan.']

[First reviewed by me in November 2010 Roundup.]

Concerto for piano and nine players (1930/1) [28:24]
Eight Poems of Li-Po [13:44]
Sonata for piano [21:47]
Mr Bear Squash-you-all-flat (Once upon a time, in the middle of a dark wood) [15:46]
Ian Brown (piano); Philip Langridge (tenor); Nigel Hawthorne (narrator); The Nash Ensemble/Lionel Friend – rec. 1994. DDD. HYPERION HELIOS CDH55397 [79:41] – from hyperion-records.co.uk (mp3 and lossless) [August 2012 reissue but available for download now]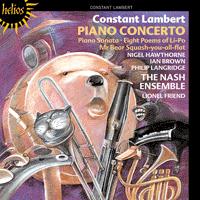 I've included the recording of the 1924 Piano Concerto in the heading to stress that the Concerto for piano and nine players from 1931, on the Helios reissue, is a completely different work and, it must be admitted, a tougher nut to crack. It's a nut worth cracking, however, and it's coupled with some very approachable music – maybe you will think Mr Bear a little too approachable, twee, even. The debt to Walton's Façade is clear, though there can be no doubt which is the greater work. Nigel Hawthorne makes a good case for it, as do Ian Brown and Philip Langridge for the works in which they appear and The Nash Ensemble with Lionel Friend also give of their best. Recording and notes are excellent.

If you are planning to burn this to CDR, don't try to use one of the older 74-minute types – in fact, some burners may even have difficulty fitting it on an 80-minute CDR.

Constant LAMBERT (1905-1951)
The Bird Actors* [3:16]
Pomona – ballet in one act [21:17]
Romeo and Juliet – ballet in two tableaux [30:52]
State Orchestra of Victoria/John Lanchbery – rec. 1999. DDD.
* premiere recording
CHANDOS CHAN9865 [54:56] – from theclassicalshop.net (mp3 and lossless)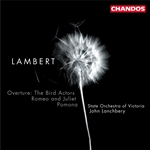 I've referred to this recording a couple of times in the past as an alternative to the Hyperion Romeo and Juliet without actually giving the full details, so, while I'm dealing with the music of Constant Lambert, let me remedy that. If you prefer the coupling of Pomona to the Piano Concerto, go for the Chandos with confidence. If you do, and later wish to purchase the Piano Concerto alone, Hyperion's policy of pricing each work separately would work in your favour. You'll find a 4-star review of the original CD here.

Lyrita couple Romeo and Juliet, Pomona, Music for Orchestra and King Pest from Summer's Last Will and Testament on SRCD.215 – review and Recording of the Month - review. If you just want the Music for Orchestra from this album to complete your Lambert collection, it's possible to download these two tracks from emusic.com for just £0.84. King Pest is best savoured as part of the complete Summer's Last Will on budget-price Hyperion Helios CDH55388, with Aubade Héroïque and Rio Grande – review and September 2011/1 Roundup.

Dmitry SHOSTAKOVICH (1906-1975)
Symphony No.2 in B, To October, Op.14 (1927) [18:28]
Symphony No.15 in A, Op.141 (1972) [48:35]
Royal Liverpool Philharmonic Choir and Orchestra/Vasily Petrenko – rec. June 2011 and October 2010. DDD
Pdf booklet with texts and translations included.
NAXOS 8.572708 [67:03] – from classicsonline.com (mp3)

[see reviews by John Quinn and Dan Morgan]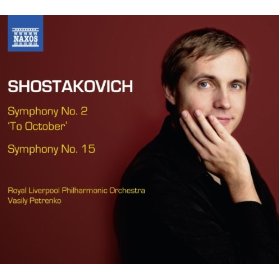 This is Volume 7 of Naxos's unfurling series from the RLPO and Vasily Petrenko and it couples the early second and the final symphony. The second commemorates the tenth anniversary of the 1917 revolution and culminates with a chorus praising communism as the best thing ever, including sliced bread. It wish I could praise it or even engage with it but, in truth, as the writer of the brief note on the rear insert notes, it's best described as organised musical chaos. At any rate it's mercifully brief and Petrenko makes as good a job of it as might be expected.

As for the fifteenth, John Quinn and Dan Morgan in the review to which I've given the link above find themselves somewhat at variance and that's reflected in two other reviews which I've read, one full of praise the other regarding it as a misfire. Like the second, though for different reasons, it's a difficult work to relate to – you just can't help trying to spot all those musical quotations. I'm no nearer to finding my way into the work than I was when I reviewed the 12-CD Ashkenazy set of the symphonies in 2007 (475 8748) – here – though that doesn't mean that I don't enjoy hearing it and it's still Gennadi Rozhdesvensky (below) that gives me that enjoyment.

With the exception of his fast-paced traversal of the allegretto third movement, Petrenko is consistently a little slower than Gennadi Rozhdestvensky with the USSR Ministry of Culture SO on a deleted Olympia CD (OCD179, with Piano Concerto No.1) which remains my benchmark for this work. That means that Petrenko's adagio second movement is dark and brooding and the transition to the allegretto, though not marked by any significant lightening of the mood, rhythmically more marked. That third movement certainly benefits from Petrenko's jaunty tempo (3:49 against Rozhdesvensky's 4:29). Overall I still choose Rozhdestvensky, but that's not very helpful as it's deleted, and the margin is closer than I had expected.

If the recording is not quite out of the topmost drawer, it's still better than the Olympia. I don't think the mp3 transfer is to blame, though you may wish to pay a little more (£5.25) for the prestoclassical.co.uk download in lossless flac. At £4.99 the classicsonline.com download is inexpensive and, like the prestoclassical.co.uk, comes with the booklet. Why amazon.co.uk should think anyone would want to pay £7.49 for a download which comes at a lower bit-rate and without booklet, when they offer the CD for £5.81 passes my understanding. Hmvdigital.com ask even more at £7.99, though that at least comes at 320kb/s like the classicsonline.com and prestoclassical.co.uk versions.

John TAVENER (b.1944)
We shall see Him as He is (1990)
Patricia Rozario (soprano), John Mark Ainsley, Andrew Murgatroyd (tenor)
BBC National Chorus of Wales, Britten Singers, Chester Festival Chorus
BBC National Orchestra of Wales/Richard Hickox
Eis Thánaton (Ode to Death, 1986)
Patricia Rozario (soprano), Stephen Richardson (bass)
City of London Sinfonia/Richard Hickox
Theophany (for pre-recorded tape and orchestra, 1992/3)
Jeremy Birchall (male voices) and Margaret Feaviour (female voices)
Bournemouth Symphony Orchestra/Richard Hickox – rec. 1992-1994. DDD.
Pdf booklet with texts and translations available
CHANDOS 241-42 [61:08 + 67:06] – from theclassicalshop.net (mp3 and lossless) or stream from Naxos Music Library


This was the pilot release in Chandos's Hickox Legacy series, the second wave of which I reviewed in the previous Roundup. It features two full-price Chandos CDs now brought together at exactly half their previous price – two CDs for the price of one. Three sets of performers are involved; all perform well under Hickox's sure direction.

By now most classical music lovers will be acquainted with Tavener's mature style – more approachable than some of his earlier music, though by no means facile, and strongly influenced by his own Orthodox faith – and will know where they stand with it. I don't recommend even admirers, of which I'm certainly one, to sit through the two CDs in one go.

If you don't yet know Tavener's music, start with something a little less daunting than these three choral works, such as The Protecting Veil for cello and orchestra – equally intense but over a shorter span. Try the Steven Isserlis/Gennady Rozhdestvensky recording on Virgin Classics – see review and review of two of its many reissues – available for streaming from the Naxos Music Library: best value download in 2-CD format from hmvdigital.com (mp3) for £4.99. Alternatively try Maria Kliegel and Takuo Yuasa on Naxos 8.554388, also available from NML and from classicsonline.com (mp3) with pdf booklet for £4.99.

We shall see Him was recorded at the Proms in 1992, hot on the heels of its premiere with the same forces in Chester Cathedral. It consists of eleven ikons or images of Jesus as seen through St John's gospel and epistle, and combines hauntingly beautiful meditative sections and powerful passages.

Eis thánaton is equally powerful, a setting of a poem by Andreas Kalvos composed after the death of Tavener's mother in which what he calls an ikon of sorrow prefigures the resurrection, depicted in a blaze at the end. Only the translation of the poem is contained in the booklet – presumably the original is copyright, though there's an online version here. (NB: Tavener seems to have added the Alleluias and doxology sung by the mother and the church to the online text.)

Theophany is the oddest work and the one that I found hardest to come to terms with, though I was ultimately enthralled. The background tape was recorded at double speed and played back at normal speed, reducing the repeated rendition of ego eimi (I am) by a whole octave. There's a separate note from Jeremy Birchall in the booklet on how this was achieved. For all my slight reservations, this is still haunting music with which to end a recommendable programme of Tavener's music.

The recording is excellent throughout. The booklet contains all the material from the two separate releases. One minor irritation: those who read Greek, even if it's as rusty as mine, would be more at home with the original, not a transcription, and it's a shame that we don't have the original Greek of Eis thánaton.

Ronald CORP (b.1951)
Guernsey Postcards (2004) [12:44]
(i) The Viaer Marchi – (ii) Pembroke Bay – (iii) St Peter Port
Piano Concerto No.1 (1997) [30:44]
Symphony No.1 (2009) [22:26]
Leon McCawley (piano)
Royal Liverpool Philharmonic Orchestra/Ronald Corp – rec. June 2009. DDD.
World premiere recordings
DUTTON EPOCH CDLX7233 [65:54] – from amazon.co.uk (mp3)

[See reviews by Garry Humphreys – 'this is a splendid disc; enjoy it'– and Rob Barnett – few people who love the symphonies of Bax, Lloyd, Sibelius or Nielsen will not warm to this music. More please.']

Ronald CORP And all the Trumpets Sounded (1989)* [38:21]
Dies iræ – The Trumpet (Rise up, rise up) – Tuba mirum – The Dead (Blow out, you bugles) – Vigil strange – Rex tremendæ – Such, such is death – Lacrimosa – Pie Jesu – Asleep (Under his helmet)
Michael HURD (1928-2006)
The Shepherd's Calendar – Choral Symphony for baritone, SATB chorus and orchestra (1975)** [30:37]
"With'ring and keen the winter comes" – Lento; "Come, Queen of Months!" – Allegro giocoso; "O Love is so deceiving!" – Largo, sostenuto; "Harvest awakes the morning still" – Andante – Allegro – Andante
Mark Stone (baritone)*
Roderick Williams (baritone)**
The London Chorus (with members of the Highgate Choral Society*)
Bournemouth Symphony Orchestra/Ronald Corp – rec. June 2011. DDD.
World premiere recordings
Pdf document with texts available from duttonvocalion.co.uk
DUTTON EPOCH CDLX7280 [68:58] – from amazon.co.uk (mp3)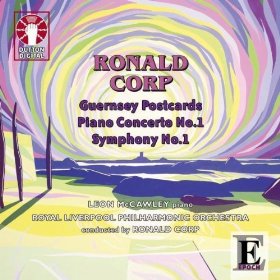 For one who has made his reputation as a conductor of light music on Hyperion and Dutton, Reginald Corp writes some serious stuff, as contained on both of these albums – serious and sometimes tough, as in the first movement of the First Piano Concerto, but stirring and not unapproachable. The most light-hearted work here is Guernsey Postcards – a fine opening to CDLX7233 – but it's the concerto and symphony that are more memorable.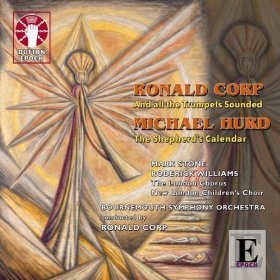 CDLX7280 is a more recent and more challenging release. You may think it odd that a choral work with the title And all the trumpets sounded should not contain those words – they form the unspoken sub-text, from Bunyan's Pilgrim's Progress: 'So he [Mr Valiant for Truth] passed over, and all the Trumpets sounded for him on the other side' and the music consists of settings of various poems about death interspersed among the sections of the Dies iræ. It's a powerful work but not gloomy or morbid. Even in the opening section, the Dies iræ itself, there's more of a sense of God's power from the trumpets and percussion than of his anger. The layout of the words and music recalls Britten's War Requiem, especially as the closing poem is by Wilfred Owen, but not in the sense that the newer work is at all imitative.

Michael Hurd's Shepherd's Calendar is a setting not of Spenser but of John Clare, the 19th-century self-taught Northamptonshire rural poet whose encounter with poetry was so intense that it consigned him to an asylum. There are echoes of Britten again, though not in any imitative sense; this time it's the Spring Symphony that comes to mind.

Here are five works, then, some of them fairly recent, which deserve to be better known, in very good performances. Though the download from amazon.co.uk falls a little short even of their normal 256kb/s, the recording sounds fine. It's very helpful that Dutton provide the texts of the choral works – I suggest that you save the pdf document in the same file as the music tracks.

In the Dark
Felice ANERIO (c. 1560-1614) Christus factus est [2:36]
Richard BATES (b.1984) In the Dark [5:20]
Antonio LOTTI (c.1667-1740) Crucifixus [3:02]
Tomás Luis de VICTORIA (c.1548-1611) Versa est in luctum [3:35]
Carlo Gesualdo da VENOSA (1560-1613) Tristis est anima mea [4:52]
Richard BATES Tenebrae: Tamquam ad latronem [2:36]; Tenebrae factae sunt [2:54]; Animam meam [2:37]; O vinea mea [1:45]; Jesum tradidit [1:56]; Caligaverunt [3:21]
Tomás Luis de VICTORIA Ecce quomodo moritur [5:32]
Orlande de LASSUS (1532-1594) Tristis est anima mea [4:06]
Henry PURCELL (1659-1695) Hear my prayer [2:20]
James MACMILLAN (b.1959) Miserere [11:32]
Platinum Consort (Emma Walshe, Zoe Brown (soprano); Raffaele Pe, Simon Ponsford (countertenor); Timothy Murphy, Nick Ashby (bass); Oliver Jones, Michael Solomon Williams (tenor))/Scott Inglis-Kidger
Pdf booklet with texts and translations included
RESONUS RES10110 [58:04] – from resonusclassics.com (download only – no CD: mp3, 16- and 24-bit lossless)



In their short but distinguished history to date – this is only their tenth release – Resonus have alternated between ancient and modern; now they combine the two in a collection of music centred on the texts of Matins of Holy Week, formerly performed in the dark on the previous evening, hence the old title Tenebræ, darkness.

The modern works by Richard Bates – a new name to me but one I'm sure we shall hear more often – and James Macmillian blend well with the renaissance works. Both composers stand in a clear line of descent from the likes of Victoria without sounding imitative. The Platinum Consort – another new name to me; in fact it's their debut recording, but again it's a name that we shall be hearing again – acquit themselves well in both aspects of the programme. With very good, immediate recording throughout and as good a booklet of notes to print out as you'll find with any physical CD, I'm beginning to run out of terms in which to praise Resonus's offerings: I can't keep referring to feathers in caps, but this is yet another. My only small reservation: I wish this had been available for Holy Week.

A Song of Farewell – Music of Mourning and Consolation
Orlando GIBBONS (1583-1625) arr. Percy DEARMER (1867-1936)
Drop, drop, slow tears [2:00]
William WALTON (1902-1983) A Litany; Drop, drop, slow tears [4:25]
Robert WHITE (c.1538-1574) Christe, qui lux es et dies [4:29]
James MacMILLAN (b.1959) A child's prayer [4:12]
John SHEPPARD (c.1515-1550) In manus tuas [4:05]
Jonathan DOVE (b.1959) Into thy hands [8:14]
Thomas MORLEY (1557/8-1602) Funeral Sentances [10:16]
Edward ELGAR (1857-1934) They are at rest [3:31]
Herbert HOWELLS (1892-1983) Requiem [24:02]
C. Hubert H. PARRY (1848-1918) Lord, let me know mine end (Songs of Farewell) [11:42]
The Gabrieli Consort/Paul McCreesh – rec. November 2009. DDD
SIGNUM RECORDS SIGCD281 [75:56] – from classicsonline.com (mp3) or stream from Naxos Music Library

['This is a disc of staggering beauty and effortless sophistication'. See review by Nick Barnard and review by John Quinn: 'This is a disc of great distinction'. Recording of the Month]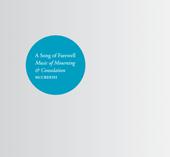 My only reservations in agreeing wholeheartedly with my colleagues who made the CD Recording of the Month are that it brings us yet another recording of the Howells Requiem – a wonderful work, but you may well have more than one very good recording of it already* – and, more seriously, the lack of booklet with texts and translations for downloaders. Signum used to provide these on their website but seem to have discontinued the practice.

For me the most surprising discovery was Thomas Morley's setting of the Funeral Service from the Book of Common Prayer, which henceforth vies in my estimation with the more familiar Purcell and Croft settings.

* notably:
– Naxos 8.554659 (St John's College, Cambridge, Choir/Robinson) – see June 2011/2 Roundup
– Collegium COLCD118 (Cambridge Singers/Rutter) – see June 2011/2 Roundup
– Chandos CHAN241-34 (Finzi Singers) – see June 2011/2 Roundup
– Hyperion Helios CDH55220 (Corydon Singers/Best) – see June 2011/2 Roundup
– Hyperion CDA67914 (Trinity College, Cambridge, Choir/Layton) – see April 2012/2 Roundup