DOWNLOAD ROUNDUP - MARCH 2011/2
Brian Wilson


There are two developments to report. Chandos have begun to issue some of their recordings as 'box sets' on USB memory sticks - up to 16 CDs in lossless (choose wma or flac) and mp3 format. (Details here.) I've already reviewed the Reginald

Goodall complete Wagner Ring - CHUSB0005 here - and my review of the Vaughan Williams symphonies in this format, on CHUSB0008, should appear soon. The Goodall Wagner restored my sanity after being driven to despair by some way-out stage direction on a DVD set from Stuttgart: I reviewed the two side by side.

You'll find a reference to Volume 2 of the Walton Edition - CHUSB0011 - below. As the files can be dragged from the stick to your hard drive much more quickly than by downloading, you avoid the equivalent of watching the paint dry - and there's even a useful discount on the cost of downloading each album separately.

Hyperion have now developed their own version of the Adobe Air platform for downloads from their site. After a minor hitch on day one, this is now working fine - and, as usual with Hyperion, the interface has a classy appearance. We now no longer need to download track by track, though Google Chrome does this very efficiently.

Download of the Month
Sergei Ivanovich TANEYEV (1856-1915)
Overture The Oresteia, Op. 6 (1889) [17:51]
Symphony No. 4 in C minor, Op. 12 (1898) [42:13]
Philharmonia Orchestra/Neeme Järvi
rec. 18-19 October 1990, All Saints Church, Tooting, London, UK. DDD.
Booklet included.
CHANDOS CHAN8953 [59:49] from theclassicalshop.net (mp3, lossless)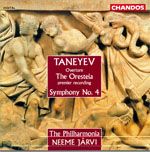 I was trying to settle on a Download of the Month - plenty of candidates but no clincher - when Dan Morgan sent me this:

Trawling through the Chandos back catalogue is most rewarding, especially when it comes to the recordings of two conductors in particular, Gennady Rozhdestvensky and Neeme Järvi. The latter's Strauss and Shostakovich cycles with the Scottish National Orchestra deserve a place in anyone's collection, as does Rozhdestvensky's gallop through the DSCH ballet scores - see my review of The Limpid Stream. Apart from recent discs of Wagner - orchestral syntheses by the Dutch composer Henk de Vlieger - Järvi seems much less active in the studio these days. More's the pity, as his all-Russian Berlin Philharmonic concert - available on demand via the orchestra's Digital Concert Hall - reminded me just how accomplished a conductor he is.

Unlike his compatriots, Taneyev looked to the Greek tragedies of Aeschylus rather than Tolstoy or Pushkin for his opera, The Oresteia, presented here in the composer's own re-working of themes from Act I. Järvi's performance, trumpeted as a world premiere, faces stiff competition from Thomas Sanderling and his Novosibirsk band, whose disc includes the Act III Entr'acte and other orchestral pieces as well - review. The latter's traversal of the Taneyev symphonies - variously reviewed on our main site and available as downloads from Classicsonline.com - are no less desirable.

Järvi's Oresteia starts imposingly enough, the sound - in its lossless WMA format - big and bold, the Philharmonia superbly incisive. There's a clarity of vision here, a refusal to overplay those sumptuous Wagnerian sonorities, that certainly makes for a propulsive, exciting performance. But Järvi doesn't have it all his own way; indeed, Naxos offer a deep, spacious recording for Sanderling, who really does underline the Wagner/Strauss connections to great effect. But then the Philharmonia brass and percussion are on top form, scythe through these dense textures with thrilling ease and impact.

What really prompted my interest in this disc/download was Järvi's buoyant reading of Taneyev's Symphony No. 4, part of the Digital Concert I mentioned earlier. It was good to see this maestro back on the podium, economical of gesture but always alive to the music's dramatic possibilities and high points. Again, Järvi faces competition from Polyansky (also on Chandos) and Sanderling, but he brings a familiar focus and discipline to this score that's hard to match. The first movement is certainly arresting, the Philharmonia playing with commendable passion and bite, the hard-driving timps very well caught.

Comparing this performance with the Berlin one is instructive; in the latter, the music seems more lightly sprung, but that essential momentum is always preserved. In fact, listening to Järvi and Rozhdestvensky in what some might call second-rate music confirms that top-notch performances of such pieces can be very persuasive indeed. Just sample the lovely second movement, where Järvi finds rare transparency and flow, massed strings sounding ardent, horns noble. And if it's Straussian amplitude you're after, it's here, glorious climaxes expanding without hint of stress or strain.

As for the third movement, Taneyev combines orchestral weight with fine detail and a surprising lightness of touch. And although one senses Järvi doesn't wish to linger the music never sounds rushed or perfunctory. The final movement was the most gripping part of that Berlin concert, so I wondered how the Philharmonia would fare. I needn't have worried, for while they're not as nattily dressed as their German counterparts they have a sure sense of style, a street cred if you like, that's every bit as colourful and exciting. Longueurs there are none, and the symphony builds to a thrilling set of perorations, with little sense that the composer has run out of ideas, or the orchestra out of puff. Goodness, the Philharmonia - notably the trumpets - play here as if possessed.

Despite increased competition over the past 20 years these performances are as good as it gets. I wouldn't want to be without Sanderling's idiomatic Taneyev (here and here), but I have a feeling Järvi is the one I will return to most often. As usual, the download process was simple and glitch-free, and buyers can download the cover art and liner-notes as well.

A worthy Download of the Month? You bet.

Dan Morgan

I can only add that there's no argument from me and remind you of the alternative Chandos recording of Symphonies 1-4 from Valeri Polyansky (CHAN9998 and CHAN10390) and Järvi's recording of the Suite de Concert, coupled with Rachmaninov's Fantasy on Russian Themes (CHAN10491) which I reviewed in the December 2008 Roundup. Much as I like Polyansky's Taneyev, I have to agree with Dan that Järvi just goes that extra mile.

Promising New Label
Felix MENDELSSOHN (1809-1847)
Octet, Op.20 (world premiere recording of original 1825 version)
Eroica Quartet (Peter Hanson (violin 1), Julia Hanson (violin 2), Vicci Wardman (viola 1), David Watkin (cello 1)) with Ken Aiso (violin 3), Marcus Barsham-Stevens (violin 4), Oliver Wilson (viola 2), Robin Michael (cello 2) - rec. May/June 2010. DDD.
Booklet included.
RESONUS CLASSICS RES10101 [36:15] - from resonusclassics.com (mp3 and lossless)



This is to be one of the first releases on the new all-digital Resonus Classics label which launches on March 31, 2011, with mp3 and lossless-format downloads, including 24-bit versions. I received the Octet in 24/96 studio master flac and 320kb/s mp3 formats; the former is very good, though Squeezebox downscales 24-bit files to 44kHz, and the latter more than satisfactory. The recording is warm and rounded, but just a shade too close for my liking - not a serious problem.

The performance by the Eroica Quartet and friends was all that I had expected from the reviews of their Harmonia Mundi recordings, including their accounts of Mendelssohn's String Quartets in which they attempt to restore early Romantic playing practice. Additionally in this recording of the Octet they perform the original 1825 version - the differences between it and Mendelssohn's revision are lucidly explained in the accompanying pdf booklet. Don't be put off by either of these aspects, however: this is still very largely the work that we know and love and the performances can stand any amount of competition from the 'mainstream'.

At 36 minutes this is short value, but I understand that's the point - the quartet didn't want to pair the Octet with anything else, and if, as I trust, the price of the download will reflect that, I wish the new venture the very greatest success. With major independents such as Hyperion and Chandos have their own downloads - both of whom offer downloads of the Mendelssohn Octet - there is still room for a new player, especially with the special appeal of this first Resonus release.

Discovery of the Month
(Cecil) Armstrong GIBBS (1889-1960) Dale and Fell: Music for String Orchestra
Prelude, Andante and Finale Op 112 (realised by Lawrence ASHMORE): Prelude. Alla marcia [4:58] Andante. Andante rubato [7:26] Finale. Allegro marcato [5:04]
Dale and Fell: Suite for string orchestra: Prelude - The Beck Climb [2:52] Rest at Noon [3:21] Over the High Fells [2:58]
Threnody for Walter de la Mare for string quartet and string orchestra (1956) [7:40]
A Spring Garland Op 84, Suite for String Orchestra: Kingcup (Ben ritmico) [2:02] Dog Violet (Con grazia) [2:15] Daffodil (Tempo di Menuetto) [2:17] Windflower (Alla Gavotta) [2:28] Tulip (Con anima) [1:59]
Almayne (English 17th-Century Air) Op 71
Four Harmonisations for string orchestra [4:12]
Suite for Strings: Prelude (Con moto moderato) [4:15] A Song of Sleep (Molto lento) [5:41] Promise of Spring (Con brio) [4:01]
Guildhall Strings/Robert Salter - rec. February 1999. DDD.
Booklet included.
HYPERION CDA67093 [63:29] - from Hyperion (mp3 and lossless)


I had only a nodding acquaintance with the music of Armstrong Gibbs - occasional pieces have surfaced on light music collections - until I spotted this among Hyperion's 'please buy me' waifs and strays as a half-price CD. I should have read Ian Lace's detailed, informative and appreciative review - here - and I wish that others had done so, too, to avoid an undeserved lack of sales. There are no undiscovered masterpieces here, but the music is most attractive and the performances and recording do it full justice. Please do your bit to ensure that this recording never languishes again. The half-price CD will no longer be available when you read this, but the download is not much more expensive. The next stop could be Gibbs' songs on CDA67337 - see review - another 'please buy me' casualty.

As I was about to close this Roundup, I discovered another undeserving waif in the 'please buy me' category in the form of a recording of the music of Kenneth LEIGHTON (1929-1988): A Sequence for All Saints, Op.75, Morning Canticles, Venite, Te Deum and Jubilate, and the title work, The World's Desire, a Sequence for Epiphany, Op.91, performed by Wells Cathedral Choir/Matthew Owens on CDA67641, 75 minutes of bliss. Read John Quinn's review (Recording of the Month - here), then go for it.
***
Orlande de LASSUS (Orlando di LASSO) (1530/32-1594) Laudent Deum: Sacred Music
Ecce nunc benedicite Dominum*† p [2:22]
Veni in hortum meum p [4:11]
Qui sequitur me p [1:26]
Resonet in laudibus*† [3:37]
Sine textu 15* p [1:47]
Omnes de Saba venient*† [2:38]
Qui moderatur sermones suos*† p [2:03]
Exaudi, Deus, orationem meam p [2:12]
Jubilate Deo, omnis terra*† [1:37]
Sine textu 19* p [2:06]
Timor et tremor [5:15]
Omnia tempus habent*† [4:02]
Alleluia, laus et gloria [1:08]
Magnificat tertii toni p [4:58]
Quid gloriaris in malitia*† p [4:55]
Laudate pueri Dominum*† [3:48]
O Maria, clausus hortus p [2:07]
Lætentur cæli [3:26]
Laudent Deum cithara*† [0:42]
Sine textu 13* p [2:02]
O peccator, si filium Dei*† p [3:29]
Fratres, qui gloriatur*† p [2:32]
Agimus tibi gratias p [1:18]
Magnificat 'O che vezzosa aurora'*† p [7:07]
His Majestys Sagbutts and Cornetts*
Timothy Ravalde organ†
Choir of St John's College, Cambridge/Andrew Nethsingha - rec. July 2010. DDD.
p = premiere recording
Booklet with texts and translations included.
CHANDOS CHANCONNE CHAN0778 [71:00] - from theclassicalshop.net (mp3 and lossless)



If any proof were needed that the Choir of St John's College need fear no rivalry from its more famous neighbours at King's and Trinity - a fact already amply demonstrated by the series of recordings which they made with Christopher Robinson for Naxos and their more recent recording of the music of Herbert Howells for Chandos (CHAN10587 - see May 2010 Roundup) - this new release containing music by Orlande de Lassus (or di Lasso), much of it not previously recorded, would provide it. There is no question of standards having declined under the direction of Andrew Nethsingha.

Even on the basis of those premieres alone this would be well worth having, but all the music, including the premieres, is of the high standard associated with the name of Lassus, with His Majestys Sagbutts and Cornetts and the organ providing variety, the singing and direction idiomatic and the recording, in lossless format, very good.

Tomás Luis de VICTORIA (1548-1611)
Missa Gaudeamus a 6 [32:06]
Cum Beatus Ignatius, Motet for 5 voices [4:00]
Doctor Bonus Amicus Dei Andreas, Motet for 4 voices [2:58]
Hic Vir Despiciens Mundum, Motet for 4 voices [1:42]
Ecce Sacerdos Magnus, Motet for 4 voices [1:48]
Tu es Petrus, Motet for 6 voices [4:50]
O Decus Apostolicum, Motet for 4 voices [2:20]
Estote Fortes in Bello, Motet for 4 voices [1:45]
Veni Sponsa Christi, Motet for 4 voices [1:46]
Descendit Angelus Domini, Motet for 5 voices [4:30]
Missa pro Victoria a 9 (1600) [18:44]
The Cardinall's Musick/Andrew Carwood - rec. 1998 and 1999. DDD.
ASV GAUDEAMUS CDGAU198 [76:29] - from passionato.com (mp3 and lossless)

Tomás Luis de VICTORIA (1548-1611)
Missa Gaudeamus - a liturgical sequence, with organ works by Girolamo FRESCOBALDI (1583-1643)
Thomas Wilson (organ); Lay Clerks of Westminster Cathedral/Matthew Martin
rec. Westminster Cathedral, London, 7-10 July 2008. DDD.
Booklet with texts and translations included.
HYPERION CDA67748 [73:20] - from Hyperion (mp3 and lossless)
[for full details, see August 2009 Roundup - Download of the Month]



1611 marks the 400th anniversary of the death of Victoria, probably Spain's greatest artistic gift to Italy at a time when the trade was mostly the other way. We already have a considerable amount of excellent recordings of his music - none finer than these two - but expect more new- and re-issues to be available.



The two recordings listed here offer the Missa gaudeamus in alternative forms - the ASV in the form of just the movements of the Ordinary which Victoria set, the Hyperion interspersing those sections with plainsong and organ music by his younger contemporary Frescobaldi: pay your money and take your pick. Both come in both mp3 and lossless sound, for £7.99 and £9.99 respectively from passionato, both formats for £7.99 - no extra for lossless - from Hyperion, who also provide their usual, excellent book of texts and notes as a pdf document. As the two experiences of this superb music are so different, you may wish to go for both. With ASV CDs becoming increasingly elusive to obtain, the passionato download is especially welcome, particularly in its lossless format, though the lack of texts is a problem.



The Victoria Collection (Gimell)

Requiem (1605) - Lamentations - Tenebrae Responsories
The Tallis Scholars/Peter Phillips
Booklet with texts and translations included.
GIMELL GIMBX304 [3 CDs: 177 minutes] - from Gimell (CD, mp3 and lossless)

Includes contents of:
VICTORIA Tædet animam meam [3:19]
Missa pro defunctis (Requiem, 1605) [35:31]
Alonso LOBO (c.1555-1615) Versa est in luctum [4:36]
rec.1987. DDD.
CDGIM012 [43:26]

VICTORIA Lamentations of Jeremiah [52:20]
Juan Gutierrez de PADILLA (c.1590-1664) Lamentations of Jeremiah for Maundy Thursday [11:48]
rec.2010. DDD
CDGIM043 [64:08]

VICTORIA Tenebrae Responsories [65:57]
rec.1990. DDD.
CDGIM022 [65:57]



The latest in Gimell's 3-CD box sets offers excellent value at £14.75 (mp3) or £15.75 (lossless), especially as it contains what Peter Phillips has described as his own Desert Island disc, released as recently as this time last year (2010) to a very warm welcome from me (see March 2010 Download Roundup) and John Quinn - see review. You would pay almost as much for that one CD or download as for the new set - the only prospective purchasers who need hesitate are those who insist on one of the 24-bit downloads (24/44, 24/96 and 5.1 formats). If you have any doubts, try the video clip of the First Lamentation for Maundy Thursday - here or on YouTube - here - which, I believe, will safely dispel them.

With so many excellent recordings of Victoria available this year, this 3-CD set comes with a strong recommendation, even if you duplicate some of the items from other recordings. The only potential purchasers who are likely to be annoyed will be those who paid full price for the Lamentations last year and/or those who already have the 2-CDs-for-1 set Requiem (CDGIM205) which contains the Scholars' recording of the Victoria alongside other renaissance composers. I'm beginning to get confused myself which work is on which Gimell 2- or 3-CD set.

The Victoria Collection (Coro)
Vexilla Regis
Pange lingua
Salve Regina
Ave Regina cælorum a 5
Quam pulchri sunt gressus tui
Salve Regina a 8
Missa Salve a 8
Ave maris stella a 4
Alma Redemptoris Mater a 8
Regina cæli lætare a 8
Ave Maria a 8
Magnificat a 8
Requiem
Nigra sum
Trahe me post te
Ave Regina cælorum for eight voices
Tædet animam meam
Versa est in luctum
Libera me Domine
Lamentations of Jeremiah
Missa Lætatus sum a 12
Motet: Lætatus sum a 12
Veni Creator Spiritus for 4 voices
Motet: Vadam et circuibo civitatem a 6
Motet: Vidi speciosam a 6
Hymn: Ad cænam Agni providi a 4
Magnificat Sexti toni a 12
The Sixteen/Harry Christophers
CORO COR16089 [4 CDs: 75:06 + 67:32] - a 4 CD set, on sale for around £27.50, which includes the contents of the following CDs:

The Mystery of the Cross


Lamentations for Maundy Thursday [20:13]
Hymn: Vexilla Regis (More Hispano) [10:05]
Lamentations for Good Friday [16:11]
Hymn: Pange Lingua (More Hispano) [8:28]
Lamentations for Holy Saturday [20:09]
The Sixteen/Harry Christophers - rec.2003? DDD
CORO COR16021 [75:06] - from passionato.com (mp3 and lossless)

The Call of the Beloved


Lætatus sum (Psalm 121), for 12 voices and organ (1580s) [6:51]
Missa Lætatus sum, for 12 voices and organ (1600) [22:02]
Veni Creator Spiritus, hymn for 4 voices [7:03]
Vadam, et circumibo civitatem, motet for 6 voices [8:48]
Vidi speciosam, motet for 6 voices [7:41]
Ad cœnam agni providi, hymn for 4 voices [6:55]
Magnificat sexti toni, for 12 voices and organ [8:12]
The Sixteen/Harry Christophers - rec.1998? DDD
CORO COR16007 [67:32] - from passionato.com (mp3 and lossless)
[reviewed in October 2008 Download Roundup]



Requiem (1605): Officium defunctorum
Salve Regina [10:01]
Ave Regina cælorum a 5 [4:23]
Nigra sum [3:48]
Quam pulchri sunt [3:56]
Trahe me post te [3:16]
Ave Regina cælorum a 8 [3:41]
Officium Defunctorum: Tædet animam meam [4:11]
Missa Pro Defunctis a 6 [26:39]
Funeral motet: Versa est in luctum [4:05]
Responsory: Libera me [8:59]
The Sixteen/Harry Christophers - rec. April 2005. DDD
CORO CORSACD16033 [72:59] - from passionato.com (mp3 and lossless)
[reviewed in October 2008 Download Roundup: Download of the Month]
[alternative version of Requiem: Westminster Cathedral Choir/David Hill - rec.1987. DDD. HYPERION CDA30026 [57:23] - October 2010 Download Roundup]

Devotion to Our Lady


Salve Regina a 8 [8:13]
Missa Salve Regina a 8 [16:37]
Ave maris stella a 4 [6:08]
Alma Redemptoris Mater a 8 [4:47]
Regina cæli lætare a 8 [3:21]
Ave Maria a 8 [4:02]
Magnificat a 8 [8:10]
The Sixteen/Harry Christophers - rec.1997 DDD
CORO COR16035 [52:51] - from passionato.com (mp3 and lossless)



As with the Tallis Scholars' box set, there's little to add to what has already been said and written about these alternative recordings from The Sixteen. Both are excellent, but there's just enough difference between them to justify recommending them both: there's overlap, but also a great deal of music that isn't duplicated. Where there is overlap, the approaches are sometimes different: the Missa pro defunctis, published in 1605 but composed for the funeral of the Dowager Empress in 1603 is performed unaccompanied by The Tallis Scholars and with light accompaniment (chamber organ and bajón) by The Sixteen. There's room for both - and for the Westminster version on Hyperion which I've also listed.

I don't think that any download site yet offers the Coro as a set, but the lower cost of downloading offsets that disadvantage.

Tomás Luis de VICTORIA (1548-1611)
Trahe me post te 6vv (1585) [3:35]
Missa Trahe me post te 5vv (1592) [24:07]
Alma redemptoris mater 8vv (1581) [6:58]
Ave regina cælorum 5vv (1572) [4:51]
Regina cæli lætare 5vv (1572) [4:09]
Salve regina 8vv (1576) [12:03]
Magnificat primi toni 8vv (1600) [11:07]
Iain Simcock (organ); The Choir of Westminster Cathedral/James O'Donnell - rec.1994. DDD.
Booklet with texts and translations included.
HYPERION HELIOS CDH55376 [67:30] - from Hyperion (mp3 and lossless)


This is due for reissue on CD in May 2011, but is available now for download. As with the Tallis Scholars' and Sixteen recordings of Victoria, this reissue is self-recommending - and it comes with a very attractive price advantage in both mp3 and lossless. If you want to sample Victoria in high quality performances and recording at low outlay, this is for you. As always, the Hyperion booklet is of high quality.


Music from the reign of King James I
Thomas TOMKINS (1572-1656) Gentleman of the Chapel Royal
Be strong and of a good courage [3:23]
Orlando GIBBONS (1583-1625) Organist of Westminster Abbey and Gentleman of the Chapel Royal
Great king of gods [4:31]
O all true faithful hearts [4:15]
Fancy in C fa ut [2:30]
Edmund HOOPER (c.1553-1621) Organist of Westminster Abbey and Gentleman of the Chapel Royal
Great Service: Magnificat [6:34] and Nunc dimittis [3:01]
TOMKINS O sing unto the Lord a new song [3:44]
GIBBONS Fancy in Gamutt flatt [5:53]
TOMKINS When David heard [5:17]
Then David mourned [3:30]
Robert RAMSEY (fl.c.1612-1644) Organist and Master of the Choristers of Trinity College, Cambridge
How are the mighty fallen [6:44]
GIBBONS See, see, the Word is incarnate [6:15]
Fantazia of foure parts [5:14]
Hosanna to the Son of David [2:57]
O Lord, in thy wrath rebuke me not [3:24]
Almighty and everlasting God [2:27]
Preludium [1:42]
O clap your hands [5:23]
Robert Quinney (organ)
The Choir of Westminster Abbey/James O'Donnell - rec. March 2010. DDD.
Booklet included.
HYPERION CDA67858 [76:44] - from Hyperion (mp3 and lossless)



Even Hyperion's own notes are extremely critical of the 'fawning doggerel' of the words, but such was the necessity of the age - and later - when 'mere' musicians had to seek the patronage of the high and mighty. Bach attempted to crawl to the Elector of Brandenburg, who didn't even acknowledge the concertos that bear his name, but that doesn't make the music any worse. Some of the works by Gibbons (especially) and Tomkins here are small masterpieces: if they are scattered among some more barren pieces, such as Hooper's Magnificat and Nunc Dimittis, that serves to highlight their quality. I was about to add that you're unlikely to hear Hooper's settings on offer from cathedral or collegiate choirs until I was surprised to hear St John's Cambridge perform his Mag and Nunc on Ash Wednesday!

The Abbey choristers could probably sing this music in their sleep and if, perhaps, they occasionally seem to be doing so, that's a small blemish on an enjoyable programme. The recording is good, as heard in the lossless version.

Don't overlook Hyperion's fine reissue of a 1999 recording of anthems by Gibbons on the inexpensive Helios label (CDH55228: Winchester Cathedral Choir/David Hill - here) and the Beulah reissue of Boris Ord and King's College Choir (July 2010 Roundup).

Alessandro GRANDI (1580-1630) Motetti a cinque voci (1614)
Sancte Sebastiane [02:49]
Ave Regina cœlorum [03:19]
Judica me Domine [03:40]
O dulcis et o pia [02:24]
O bone Jesu Christe [02:33]
Anima mea liquefacta est [03:05]
Iste cognovit iustitiam [02:18]
Exaudi Deus orationem meam [03:43]
Deus misereatur nostri [02:14]
Quam pulchra est [03:26]
Innova Domine signa [03:57]
Quo rubicunda rosa [03:32]
Quomodo dilexi legem tuam [05:28]
Versus est in luctum cithara mea [03:59]
Qui timetis Domine [03:08]
Letaniæ Beatae Mariae Virginis* [10:29]
[Bonus tracks of works featured in Fallen]
Lodovico AGOSTINI (1534-1590) Veni sponsa Christi* [03:03]
St CATHARINE of Bologna (1413-1463) Salve Regina vergin gloriosa* [02:17]
Josquin DESPREZ (1450/55-1521) Missa L'homme armé 6. toni: Agnus Dei III* [04:04]
Giaches DE WERT (1535-1596) Vox in Rama audita est [03:04]
Plainchant Regnum mundi et omnem ornatum* [01:52]
Josquin DESPREZ Ave Maria … virgo serena [05:23]
Musica Secreta, Celestial Sirens*/Laurie Stras, Deborah Roberts
rec. May 2007, St Mary de Haura, Shoreham, West Sussex, UK. DDD
Booklet with texts and translations included.
DIVINE ART DDA 25062 [79:56] - from theclassicalshop.net (mp3 and lossless)



Poor old Grandi usually receives no more than a walk-on part, as in Paul McCreesh's Venetian Vespers reconstruction on DG Archiv*, which contains two of his motets, neither of them duplicated here, where everything by Grandi is billed as a premiere recording. The performances here are clean-cut and shapely, but, as Johan van Veen noted in his review of the CD here, a trifle lacking in colour - especially when heard after that McCreesh recording. Nevertheless, with good recording, especially as heard in the lossless download, and with the booklet containing texts and translations, albeit in a colour and on a background which make them hard to read, this will do well enough unless and until a better comes along.

* Currently available only as part of a splendidly inexpensive 5-CD set from Brilliant Classics (93870, around £12 in the UK).

Dieterich BUXTEHUDE (c.1637-1737) The Complete Organ Works - 3
Præludium in d minor BuxWV140 [7:19]
Chorale Variations Danket dem Herren BuxWV181 [2:55]
Canzonetta in G BuxWV172 [2:07]
Præludium in g minor BuxWV163 [7:52]
Canzona in e minor BuxWV169 [2:44]
Chorale Prelude Erhalt uns, Herr, bei deinem Wort BuxWV185 [2:03]
Chorale Fantasia Nun lob, mein Seel, den Herren BuxWV212 [3:16]
Præludium in F BuxWV145 [6:33]
Chorale Prelude Herr Jesu Christ, ich weiss gar wohl BuxWV193 [2:27]
Chorale Fantasia Magnificat primi toni BuxWV203 [8:05]
Chorale Prelude Gelobet seist du, Jesu Christ BuxWV189 [1:47]
Chorale Prelude Es ist das Heil uns kommen her BuxWV186 [2:30]
Chorale Prelude Puer natus in Bethlehem BuxWV217 [0:54]
Præludium in C BuxWV136 [6:17]
Chorale Prelude Komm heiliger Geist, Herre Gott BuxWV200 [3:38]
Canzona in G BuxWV170 [3:46]
Chorale Prelude Herr Christ, der einig Gottes Sohn BuxWV191 [3:33]
Præludium in f-sharp minor BuxWV146 [7:35]
Christopher Herrick (organ of St-Louis-en-l'Île, Paris)
Booklet included.
HYPERION CDA67855 [75:31] - from Hyperion (mp3 and lossless)



It will be sufficient for lovers of organ music in general and of Buxtehude's in particular, together with all Christopher Herrick's many fans, especially those who have enjoyed the two earlier volumes in this series, to know that this third volume has been released. It brings what 'Professor' Stanley Unwin used to call 'deep joy'.

Those who think the Hyperion series is proceeding too slowly may like to be alerted to a 7-CD set from Loft Recordings which has just reached me for review. The first volume is entitled Buxtehude and the Mean-tone Organ (LRCD1090/1, 2 CDs), volume 2 The Bach Perspective (LRCD1092/3, 2 CDs) and the final volume Buxtehude and the Schnitger Organ (LRCD1094-6, 3 CDs), all performed by Hans Davidsson on a modern reproduction of the kind of organ on which Buxtehude would have played around 1700. Installed in the New Church at Gøteborg in Sweden, it has split keys for d-sharp-/e-flat and g-sharp/a-flat.



I've had time so far only for a brief sampling but first impressions are very favourable. Where I've been able to compare, Davidsson generally adopts a slightly slower tempo than Herrick, but that's not necessarily a bad thing. It's certainly not the sort of heavy slowness that used to pass in some quarters for expressive playing of Bach and his contemporaries. Davidsson's playing is stylish and, of course, the organ is more 'authentic' than Herrick's in Paris - it's capable, for example, of playing in mean-tone those works which don't work well with modern temperament - and the recording is good. You'll find more information at www.gothic-catalog.com and the recordings, including the booklets, can be downloaded from classicsonline.com - Vol.1 here - Vol.2 here and Vol.3 here.

Classicsonline.com also have the complete Naxos and daCapo recordings of Buxtehude organ works.

Robert SCHUMANN (1810-1856)
Szenen aus Goethes Faust (Scenes from Goethe's Faust), WoO 3 [116:42]
Sorge, Engel, Magna Peccatrix - Iwona Hossa (soprano I)
Gretchen, Una Poenitentium, Not - Christiane Libor (soprano II)
Mulier Samaritana, Mangel - Anna Luban´ska (alto I)
Marthe, Maria Aegyptiaca, Schuld, Mater Gloriosa - Ewa Marciniec (alto II)
Ariel, Pater Ecstaticus - Daniel Kirch (tenor)
Faust, Doctor Marianus, Pater Seraphicus - Jaakko Kortekangas (baritone)
Mephistopheles, Böser Geist, Pater Profundus - Andrew Gangestad (bass)
Warsaw Boys' Choir/Krzysztof Kusiel-Moroz
Warsaw Philharmonic Choir/Henryk Wojnarowski
Warsaw Philharmonic Orchestra/Antoni Wit
rec. Warsaw Philharmonic Concert Hall, Poland, 21-28 April 2009. DDD.
Booklet included. German texts and English translations can be accessed at www.naxos.com/libretti/572430.htm
NAXOS 8.572430-31 [73:06 + 43:36] - from classicsonline.com (mp3)



Schumann's bold setting of scenes from Goethe's Faust has been understandably neglected - to perform it is such a vast undertaking that few have attempted it. We owe considerable thanks, then, to Naxos's entrepreneurial owner, Klaus Heymann, that he has made possible this fine recording of a work which Schumann himself never heard. The only current rivals, apart from recordings of the Overture, come from a 2-CD set on the RCO Live label (RCO9001), a 6-CD EMI box, coupled with Lieder (6090222, Bargain of the Month - see review), a 9-CD EMI box 'The Great Choral Works' (50999 6 31520 2 9) and Britten's famous Decca version in 'Schumann - The Masterworks' (00289 477 8816 - 35 CDs). I haven't heard any of these, but I doubt that they put the Naxos recording to shame - well sung and accompanied, sensitively directed by Wit, who has made some fine recordings for Naxos, and sounding well in good mp3.

Johannes BRAHMS (1833-1897) The Piano Quartets - Volume I
Piano Quartet No.1 in g minor, Op.25 [40:35]
Piano Quartet No.3 in c minor, Op.60 [35:37]
Milander Quartet (Milana Ghernyavska (piano); Lisa Schatzman (violin); Alexander Moshnenko (viola); Beni Santora (cello)) - rec. March 2007. DDD
Booklet included.
AVIE AV2203 [76:03] - from classicsonline.com (mp3)



This very satisfying release comes into direct competition with the same coupling from the Nash Ensemble on Onyx (ONYX4029), which I reviewed and found impressive in the February 2009 Download Roundup. The classicsonline download of the Avie recording comes at the full 320kb/s and is preferable to the variable bit-rates of the eMusic download of the Onyx - you'll find a better quality download of the Nash Ensemble version from classicsonline - here - albeit that it's more expensive than from eMusic.

If you want all three Piano Quartets and don't wish to wait for Avie's second volume, Chandos offer a 2-CD set with the Borodin Trio and Rivka Golani (CHAN8809/10 - download in mp3 or lossless from theclassicalshop.net) - broad tempi, but that didn't trouble me.

Rare French works for violin and orchestra
Gabriel FAURÉ (1845-1924) Violin Concerto in d minor, Op.14 [15:46]
Camille SAINT-SAËNS (1835-1921) Morceau de concert Op.62 [10:27]
Edouard LALO (1823-1892) Fantaisie norvégienne [14:01]
Ernest GUIRAUD (1837-1892) Caprice [11:48]
Edouard LALO (1863-1937) (orch. Gabriel PIERNÉ) Guitarre Op.28 [3:40]
Joseph CANTELOUBE (1879-1957) Poème [15:29]
Philippe Graffin (violin); Ulster Orchestra/Thierry Fischer - rec. June 2001. DDD.
Booklet included.
HYPERION HELIOS CDH55396 [71:13] - from Hyperion (mp3 and lossless)



Attractive music, of which I knew only the Lalo. There are no undiscovered masterpieces, but I very much enjoyed everything here in these idiomatic and well-recorded performances. If you missed this first time round, ignoring the recommendations which it received, there's little excuse for passing it by now that the price is so reasonable, on CD and download.



Giacomo PUCCINI (1858-1924) Nessun Dorma: Puccini's Greatest Arias
(from Turandot, La Bohème, Tosca, La Fanciulla del West, Madama Butterfly and Manon Lescaut)
Luciano Pavarotti (tenor); London Philharmonic Orchestra/Zubin Mehta; Berlin Philharmonic Orchestra; Vienna Philharmonic Orchestra/Herbert von Karajan; National Philharmonic Orchestra/Nicola Rescigno; Oliviero de Fabritiis
DECCA 478 0208 [69:30] - from passionato.com (mp3 and lossless)



This could be the ideal stepping stone for those who snap up albums of miscellaneous short extracts of classical music but baulk at purchasing even a single CD of excerpts from a single opera, let alone listening to a whole opera. Such is the persuasive power of Pavarotti here, most ably partnered by the likes of Mirella Freni in Che gelida manina and Montserrat Caballé in Non piangere, Liù, that listeners might be tempted to buy the excerpts from this performance of Turandot, say (458 2022), and progress from there to the whole opera (414 2742). It might have helped if some notes had been included, so that listeners would know what an interesting story lies behind the ubiquitous Nessun Dorma, but a synopsis is not hard to come by online. Passionato even have the 8-CD box of Pavarotti in Bohème, Butterfly, Tosca and Turandot (473 9972 - here) for the truly converted, though in its complete form the drawbacks of Rescigno's conducting in Tosca are more apparent than in the extracts.



Edward ELGAR (1857-1934) String Quartet in e minor Op. 83 [29:16]
Frank BRIDGE (1879-1941) Three Idylls, H67 [15:03]
William WALTON (1902-1983) String Quartet in a minor (1945-47) [28:09]
The Coull Quartet (Roger Coull (violin), Philip Gallaway (violin), David Curtis (viola), John Todd (cello)) - rec.1993. DDD.
Booklet included.
HYPERION HELIOS CDH55218 [72:38] - from Hyperion (mp3 and lossless)



William WALTON
String Quartet in a minor (1945-47) [28:58]
Piano Quartet in d minor (1918-24) [28:37]
Peter Donohoe (piano); Maggini Quartet - rec.1999. DDD
NAXOS 8.554646 [57:35] - from classicsonline.com (mp3) or passionato.com (mp3 and lossless)




String Quartet (1918-22) [35:45]
String Quartet in a minor (1945-47) [29:01]
Gabrieli String Quartet (Kenneth Sillito (violin), Brendan O'Reilly (violin), Ian Jewel (viola), Keith Harvey (cello)) - rec. 1986 and 1990. DDD.
Booklet included.
CHANDOS CHAN8944 [64:29] - from theclassicalshop.net (mp3 and lossless)
[also available on: The Walton Edition, Volume 2, CHUSB0011, £99.99 on an 8GB USB Memory Stick - from Chandos.net]



String Quartet (1918-22) (first recording of original version) [35:17]
String Quartet in a minor (1945-47) [26:47]
Doric String Quartet (Alex Redington (violin), Jonathan Stone (violin), Simon Tandree (viola), John Myerscough (cello)) - rec. July 2010. DDD.
Booklet included.
CHANDOS CHAN10661 [61:55] - from theclassicalshop.net (mp3, lossless and 24-bit)

With the new Chandos recording from the Doric Quartet in direct competition with their older Gabrieli Quartet version (now available as a download only or on USB, but otherwise still going strong) and since the mature Walton quartet is otherwise available in a variety of couplings, a single recommendation is clearly impossible, but I'll try to make choice a little easier.

The First Quartet, a student work, has gathered something of a reputation for atonality, but you're not likely to find it too hard going even if, like me, you have really never come to terms with post-romantic Schoenberg. It's no great masterpiece, however, and it may be that Chandos have saddled themselves with a mixed blessing of a recording, with only half of the programme appealing generally, when the Naxos and Hyperion offer more widely attractive couplings. On the other hand, you may already have the Elgar, perhaps in a slightly more idiomatic performance than on Hyperion - not that there's too much wrong with the Coull recording - or the Walton Piano Quartet, perhaps in Chandos's own recording (CHAN8999, included with CHAN8944 on the USB release listed above).

If you must have the two Walton works, with all the music which Walton excised before he finally disowned the First Quartet, and if you demand 24-bit recording, the new version from the Doric Quartet is an obvious choice - but make sure that you can play 24-bit/96kHz downloads or burn them to CDR, otherwise go for ome of the 'normal' lossless versions. The Doric Quartet's performance of the First Quartet is slightly faster than the Gabrieli Quartet's but there's very little to choose between them - and no other recording with which I can compare them: the earlier Black Box CD with the same coupling seems to have disappeared from general availability.

The older Chandos recording from the Gabrieli Quartet still stands up well, though it may well be time for them to consider pensioning it off at full price and reissuing it at mid-price. In fact, its appearance in Volume 2 of Chandos's new USB collection of Walton's music - see above - meets that criticism to some extent, since the USB sticks offer a small but useful discount over the separate recordings.

Despite having won several awards, the Coull Quartet recording on Hyperion disappointed me slightly: the Elgar just falls short of conveying the passion and strength of the music quite as fully as other versions, but the Bridge and Walton performances are thoroughly idiomatic. If this coupling appeals, there's the added incentive of the price (mp3 and lossless both available for £5.99) and the quality of the pdf booklet.

The Maggini Quartet on Naxos offer a different choice of coupling - a fine performance of the Piano Quartet - and the performances of both works have won amply justified praise, though Harry Downey had some minor criticisms - see review. For all that it's an early work, like the First Quartet, the Piano Quartet is very attractive music, and it's extremely well performed.

In mp3 form the recording from classicsonline or passionato is slightly less expensive than the Hyperion; the lossless version (from passionato only) comes at the same price as the Hyperion. Of the two recording which offer the mature quartet only, this probably has a slight edge: the lossless version from passionato is excellent, but you may find the parent CDs of this and the Hyperion available from online dealers for slightly less than the downloads. If I had to choose one of these recording for my Desert Island, it would have to be the Naxos.

Gustav MAHLER (1860-1911)
Symphony No.5 in c-sharp minor (1901/2)
London Symphony Orchestra/Valery Gergiev - rec. live, September 2010. DDD.
Booklet included.
LSO LIVE LSO0664 [70:46] - from classicsonline.com (mp3)



Is this the most restrained version yet in this LSO/Gergiev series? Certainly it's less frenetic, more inward and ultimately more satisfying than the others in the series which I've heard. I still treasure Bernstein with the VPO - I snapped it up when it was briefly available at mid price, as it is again now (DG Grand Prix 477 6334, or in one of the DG and Decca limited edition boxes), and haven't regretted it. Bernstein milks the adagietto more than I think Mahler intended - at 11:16, noticeably slower than Gergiev, who also takes it for all it's worth - but he does so most persuasively. The mp3 download is good - though audiophiles will want the SACD or will wish to wait to see if a lossless version appears from passionato.

The Romantic Violin Concerto, Vol. 10
Frédéric d'ERLANGER (1868-1943)
Violin Concerto in d minor, Op 17 (1902) [30:22]
Poëme in D major (1918) [7:34]
Frederic CLIFFE (1857-1931)
Violin Concerto in d minor (1897) [31:47]
Philippe Graffin (violin); BBC National Orchestra of Wales/David Lloyd-Jones
rec. April 2010. BBC Hoddinott Hall, Cardiff, Wales. DDD.
Booklet included.
HYPERION CDA67838 [69:45] - from Hyperion (mp3 and lossless)



There's very little that I need to add to MWI Classical Editor Rob Barnett's review of this Recording of the Month - here - except that the download is equally desirable, especially in lossless format. It comes with the booklet which RB particularly praised - an important adjunct when you're not much more likely to have heard anything by either of the composers than I had, apart from the odd piece of light music by Frederic Cliffe.


Benjamin BRITTEN (1913-1976)
Symphonic Suite from Gloriana, Op. 53a [25:19]
Symphony for Cello and Orchestra, Op. 68 [34:48]
Four Sea Interludes from Peter Grimes, Op. 33a [16:05]
Robert Murray (tenor); Paul Watkins (cello)
BBC Philharmonic/Edward Gardner - rec. July 2010. DDD.
CHANDOS CHAN10658 [75:50] - from theclassicalshop.net (mp3, lossless and 24-bit)



This was a strong candidate for Download of the Month until Dan Morgan's write-up of another Chandos recording ousted it. The complete symphonic suite from Gloriana, as distinct from the Courtly Dances which form part of it, doesn't get many outings: it seems to have fallen under the cloud which enveloped the opera itself, but it certainly deserves to be heard in such a fine performance. The Cello Symphony may not quite erase memories of Rostropovich and Britten himself, but it comes very close. The whole is rounded off with an attractive performance of the deservedly popular Sea Interludes. Everything here is well recorded in the lossless version - choose the more expensive 24/96 only if you're sure that your system can do it justice.

Havergal BRIAN (1876-1972) Orchestral Music, Volume One: Early and Late Works
Legend: Ave atque vale (1968)* [7:05]
Elegy (1954)* [11:35]
Burlesque Variations on an Original Theme (1903) [25:34]
English Suite No. 5, Rustic Scenes (1953) [19:10]
BBC Scottish Symphony Orchestra/Garry Walker - rec. July 2009. DDD.
* First Recordings. Booklet included.
TOCCATA CLASSICS TOCC0110 [63:02] - from toccataclassics.com (mp3)


This recording, made in collaboration with BBC Radio 3, is due for release on March 17th., but I was able to download it a week earlier, thereby demonstrating one of the advantages of downloading. (Cf. the Hyperion reissue of Victoria, above.) That didn't give me long for anything more than a first hearing before I had to close this roundup, but I don't imagine that repeated hearing will cool my initial warm welcome.

I have to admit that that the two works receiving their first recordings didn't add much to the sum of my appreciation of Brian's music, other than to act as a reminder of the tremendously long span of his composing career, from the Burlesque Variations, written in the wake of the Enigma Variations, no less - and sounding it, though sui generis, not in any sense cribbing from Elgar - to the Ave atque vale of 65 years later.

The other music here confirms my belief in Havergal Brian as a major figure. What a tragedy that, just as the musical world was beginning to recognise his talent, he up and died on us. For all my minor reservations about those premieres, I'm delighted to have all this music and equally delighted that Toccata Classics continue their innovative work, with these sympathetic performances, well recorded, and with informative notes, now offered in pdf form with the download. The 'Volume One' in the title indicates that there is more to come: despite the high quality of the Marco Polo recordings, now being transferred to Naxos, it will be very good to have rival versions. In fact, I don't believe that there are any current rival recordings of anything on TOCC0110.

Editor's Note: the Burlesque Variations are in fact available on Cameo Classics CC9014CD-2 (previously RR2CD 1331/32) but the courageous yet fallible efforts of the City of Hull Youth Symphony Orchestra cannot be expected to compare to those of the BBC Scottish on this new recording.

Musical Meze
Maria Hester PARKE Andante Espressivo from Sonata II, Op 13 (1801)*
Ronald BINGE The Watermill (1958)*
Erol ERDINÇ Danse de la Mer Noire*
J S BACH Jesu, Joy of Man's Desiring*
Nicholas MAW Complaint (1962)*
Alan BUSH Northumbrian Dance*
Ennio MORRICONE Gabriel's Oboe (1986)*
Antony le FLEMING Impromptu (1994)*
Cornish Traditional Trelawney March**
Henry PURCELL Dido's Lament (1688)**
Maurice RAVEL Pièce en forme de Habañera (1907)**
Francis SHAW Gaelic Lament (1980)**
Cole PORTER It's All Right with Me ***
Let's Do It ***
Duke ELLINGTON It Don't mean a Thing (if it ain't got that Swing) ***
Arthur BENJAMIN Jamaican Rumba ***
George GERSHWIN Summertime ***
Leonard BERNSTEIN West Side Story: America ***
Jeremy Polmear (oboe*, cor anglais**, alto sax***); Diana Ambache (piano) - rec. September 2010. DDD.
A4 sheet of notes included.
OBOE CLASSICS [46:36] - from iTunes and Amazon.co.uk (both mp3). Details from oboeclassics.com.



This album is available only as a download from iTunes and Amazon (£7.99 and £7.49 respectively); I reviewed it from a CDR copy of the iTunes download. The music is delightful and varied and the performances equally attractive. John France has reviewed several Polmear/Ambache recordings from Oboe Classics on CD and has been consistently impressed (see his review of CC2016 - here). I'm sure that he will be equally delighted with the current offering, even though there is no longer a 'hard' CD equivalent. The download comes with the equivalent of a booklet of notes - my only complaint, apart from the short playing time, is that these print out as a single side of A4, which makes them hard to store in the case if you burn a CDR.

Light Music

Johnny cock thy Beaver - Popular Music-making in seventeenth-century England
including
John PLAYFORD (1623-1686) Dances from The English Dancing Master (1651 and subsequent editions): The Indian Queen [3:19]; Morisco [1:42]; Goddesses/Jamaica [2:26]; The Waits [1:10]; Ham House [2:03]; Pell Mell [1:28]; Johnny cock thy Beaver, etc. [9:58]
John DOWLAND (1563-1626) My Lord Wilobies welcome home [1:35]
Thomas RAVENSCROFT (c.1582-c.1635) The Three Ravens [6:00]; New Oysters [2:10]; Jolly Shepherd [1:54]; Wooing Song of a Yeoman of Kent's sonne [2:46]; Come follow me [3:02]; Of all the Birds [1:37]
The Dufay Collective - rec.1995. DDD
Booklet included
CHANDOS CHAN9446 [73:45] - from theclassicalshop.net (mp3 and lossless)



That such a collection as Playford's English Dancing Master should have been published in the Commonwealth period, in 1651, which we think of as an unreservedly Puritan era, is remarkable. It came into its own ten years later with the Restoration of Charles II and the title tune was not included until the seventh edition of the collection in 1686, but most of the music looks back to the sixteenth and early seventeenth centuries, the age of Tielman Susato's The Dansereye and Thoinet Arbeau's Orchesographie, though with less of a courtly connection than those two. There's some quieter, more meditative music here, too, to round off a satisfying collection, well performed and recorded. The Mummerset in Ravenscroft's Wooing Song of a Yeoman of Kent's sonne (track 20) is rather tiresome - that's not how Kentish yeomen sounded, either then or now - but that's a small point.



Jerry BOCK Fiddler on the Roof (excerpts from film soundtrack, arr John WILLIAMS)
Isaac Stern (violin); Tevye - Chaim Topol; Orchestra/John Williams - rec.1971. ADD.
CAPITOL [60:24] - from Amazon.co.uk (mp3)

All 14 musical numbers are included on this inexpensive download, including at least one item omitted from the final cut of the film, and, while there are those who wished Zero Mostel to have taken the role of Tevye, as he did on Broadway, Topol has for most of us become the true embodiment of the part. The recording comes in good 320kb/s sound.