December 2010 Download Roundup
Brian Wilson
I've included in this Roundup several recordings suitable for the Christmas period, concentrating on less obvious repertoire.

Download of the Month - New Repertoire



Pyotr Ilyich TCHAIKOVSKY (1840-1893)
The Nutcracker: Ballet, Op.71 [86:21]
Berlin Philharmonic Orchestra/Simon Rattle
EMI CLASSICS 6463852 [43:48 + 42:38] - from Amazon.co.uk or hmvdigital.com (mp3)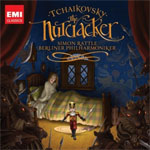 No sooner had I recommended the Bonynge version as on balance the best version available for download when the new Simon Rattle version came upon the scene to take its place not only as my download of choice but as my absolute benchmark, replacing the OSR/Ansermet, now on Australian Eloquence. The new version comes without coupling but, at £7.49 from Amazon.co.uk (256 kb/s) or £7.99 from HMV Digital (320 kb/s) - and not much more on CD - it's very competitively priced. Don't get confused with the shorter, single-CD slightly abridged version at £6.99 on offer from Amazon, unless that's all that you want. You may find that you have to re-number the tracks in your player: Squeezebox plays CD2 first unless you do so. Be very careful not to delete a track in the process - backup the originals first, or buy the CDs.

If you're looking for more Christmas magic from Tchaikovsky, try the delightful new Covent Garden DVD of Cherevichki, The Tsarina's Slippers (Opus Arte OA1037D): as strongly recommended as the new Nutcracker.

Download of the Month - Back Catalogue: The Art of the Prima Donna
Thomas ARNE Artaxerxes Act 3 - The soldier tir'd of war's alarms [4:07]
Georg Frideric HANDEL Samson HWV 57 Act 3 - Let the bright seraphim [5:57]
Vincenzo BELLINI Norma Act 1 - Sediziose voci...Casta Diva...Ah! bello a me ritorna [12:47]
I Puritani Act 1 - Son vergin vezzosa [3:06]
Gioacchino ROSSINI Semiramide Act 1 - Bel raggio lusinghier [6:41]
Vincenzo BELLINI I Puritani Act 2 - O rendetemi la speme...Qui la voce...Vien, diletto [7:02]
La Sonnambula Act 1 - Care compagne, e voi, tenere amici [8:25]
Charles GOUNOD Faust Act 3 - O Dieu! que de bijoux...Ah! je ris de me voir [4:41]
Roméo et Juliette Act 1 - Ah, je veux vivre [3:32]
Giuseppe VERDI Otello Act 4 - Mia madre aveva una povera ancella...piangea cantando [8:05]
Wolfgang Amadeus MOZART Die Entführung aus dem Serail, K.384 Act 2 - Martern aller Arten [8:43]
Giuseppe VERDI La Traviata Act 1 - E strano! - Ah, fors'è lui - Sempre libera [6:45]
Ambroise THOMAS Hamlet Act 4 - A vos jeux, mes amis, permettez-moi [8:51]
Léo DELIBES Lakmé Act 2 - Où va la jeune Indoue (Bell song) [7:52]
Giacomo MEYERBEER Les Huguenots Act 2 - O beau pays de la Touraine [5:45]
Giuseppe VERDI Rigoletto Act 1 - Scena ed Aria. Gualtier Maldè - Caro nome
Dame Joan Sutherland (soprano); Chorus and Orchestra of the Royal Opera House, Covent Garden/Francesco Molinari-Pradelli - rec. 1960. ADD.
DECCA 467 1152 [52:46 + 55:52] - from Passionato.com (mp3)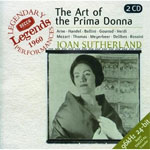 De mortuis nil nisi bonum. I've said some rude things in my time about the late Joan Sutherland's diction - indeed, the words of most of the items on this 2-CD set are pretty hard to fathom - but that wonderful voice more than compensates. These recordings were made early in her career, soon after La Stupenda had taken the operatic world by storm and they still have the power to take the listener by the throat, especially as the Decca recording still sounds so well, even in mp3. Whatever other operatic idols you may have, this is essential listening. If you must have the words - as I say, they are pretty inaudible - you will need the CDs, though most of the items are so very well known that you may know them already. Decca single out the Jewel Song from Faust as the choicest item, and it is stupendous, but so is everything else.

Bargain of the Month
Sergei RACHMANINOV (1873-1943) Rhapsody on a Theme of Paganini, Op.43 [21:48]
Ernst von (Ernö) DOHNÁNYI (1877-1960) Variations on a Nursery Theme, Op.25 [24:10]
Julius Katchen; LPO/Adrian Boult - rec. 1954. Mono/ADD
PAST CLASSICS[45:58] – from eMusic (mp3) or NAXOS CLASSICAL ARCHIVE 9.80648 [46:19] – from classicsonline.com (mp3)


These classic 1954 Decca performances come on just two tracks from eMusic - potentially as little as 48p, and no more than 84p in total when the new pricing structure is introduced - or £1.99 from classisconline.com. Not available in the USA and some other countries - and it may not be available in the UK and the rest of the EU for much longer for copyright reasons. Lively and attractive performances of instantly likeable music, and the mono sound is still good. eMusic place the Rachmaninov first, classicsonline the Dohnányi.

Christmas Bargain Download: A Christmas Present from Polyphony


John RUTTER Silent night [3:31]
Herbert HOWELLS Sing Lullaby [3:10]
William WALTON All this time [1:38]
Edvard GRIEG Ave, maris stella [3:36]
Peter CORNELIUS Die Könige [2:50]
Arvo PÄRT O Morgenstern [2:23] Magnificat [6:56]
John RUTTER Nativity Carol [4:50]
Percy GRAINGER, Dana PERNA The Sussex Mummer's Carol [1:46]
Benjamin BRITTEN A Hymn to the Virgin [3:12]
Kenneth LEIGHTON Lully, lulla, thou little tiny child [3:13]
John RUTTER Away in a manger [2:23]
Morten LAURIDSEN O magnum mysterium [6:31]
Peter WARLOCK Bethlehem Down [4:26]
Herbert HOWELLS A Spotless Rose [3:21]
Benjamin BRITTEN Chorale after an Old French Carol [4:36]
William WALTON What cheer? [1:06]
Peter WARLOCK, Andrew CARTER Lullaby my Jesus [2:55]
John RUTTER Shepherd's Pipe Carol [2:52]
Polyphony; City of London Sinfonia/Stephen Layton
NOEL2 [66:47] - from Hyperion (mp3 and lossless)



At just £2.99 for such a varied programme, this is virtually self-recommending, especially as most of the CDs from which the programme is drawn are not entirely seasonal in content - the exception is John Rutter: Music for Christmas (CDA67245), which is well worth acquiring in addition, duplicating just four of the items here.


A Festival of Christmas


Ding Dong Merrily on High [1:56]
The Infant King [3:39]
Where Was Jesus Born [3:35]
The Carol Singers [2:48]
I Saw a Maiden [3:25]
Dance Little Goatling [3:21]
As Joseph was A-Walking [1:34]
Cradle Song [4:05]
The Boar's Head [1:24]
Buenos Reyes (A Spanish Carol) [3:31]
O Little Sweet One [3:21]
Three Little Birdies [1:51]
Little Robin Redbreast [2:26]
Hop-Hop-Hop [1:29]
Little One Sleep [3:51]
Deck the Hall with Boughs of Holly [2:39]
In the Bleak Midwinter [2:55]
Silent Night [3:12]
O Come All Ye Faithful [3:34]
Jocelyn Bell (girl soprano); St Ambrose RC Junior School Choir, Speke; Royal Liverpool Philharmonic Choir and Orchestra/Edmund Walters - rec. July, 1981. DDD.
CHANDOS CHAN8436 [54:36] - from theclassicalshop.net (mp3 and lossless)

These are traditional, large-scale performances of many of the usual suspects and several less familiar ones. At £3.60 (mp3) or £3.74 (lossless) this is almost as fine a bargain as the Hyperion selection above and there is no overlap, so you could have both for less than most single CDs or downloads. The same programme is available more expensively on CHAN6672.



Beulah Extra have two charming and inexpensive novelties from 1954 which you may wish to add to your download list: Christmas Carols (1BX59) [11:42] and Christmas Carols 2 (2BX59) [13:14], on which seasonal music is performed on the organ and chime bells by Charles Smart and James Blades. (50p or US$0.81 each: click here for link.)


Sacred Music in the Renaissance: Volume 2
Antoine BRUMEL (c1460-c1520) Missa Et ecce terræ motus [47:09]
Heinrich ISAAC (c1450-1517) Missa de Apostolis [29:00]
Jacob OBRECHT (1457/8-1505) Missa Maria zart [69:18]
Heinrich ISAAC (c1450-1517) Tota pulchra es [9:05]
Alfonso FERRABOSCO the Elder (1542/3-1588) Lamentations I [10:00]
Thomas TALLIS (c1505-1585) Lamentations I [8:48] ; Lamentations II [13:15]
Antoine BRUMEL (c1460-c1520) Lamentations [9:06]
Robert WHITE (c1538-1574) Lamentations (5vv) [21:56]
Giovanni Pierluigi da PALESTRINA (1525/6-1594) Lamentations for Holy Saturday [9:46]
Cipriano de RORE (c1515/16-1565) Descendi in hortum meum [5:36]; Missa Præter rerum seriem [30:02]
Manuel CARDOSO (c1566-1650) Requiem [47:20]
The Tallis Scholars/Peter Phillips - rec. 1990-1999. DDD.
Texts and translations included as pdf booklet.
GIMELL GIMBX302 [4 CDs: 5 hours 10 minutes] - from Gimell (mp3 and lossless)

Sacred Music in the Renaissance: Volume 3
Philippe VERDELOT (c1480/85- ? 1530/32) Si bona suscepimus [7:09]
Nicolas GOMBERT (c1495-c1560)
Magnificat 1, Primi toni [11:41]
Magnificat 2, Secundi toni [11:19]
Magnificat 3, Tertii et octavi toni [12:34]
Magnificat 4, Quarti toni [12:21]
Magnificat 5, Quinti toni [11:13]
Magnificat 6, Sexti et primi toni [13:11]
Magnificat 7, Septimi toni [11:13]
Magnificat 8, Octavi toni [12:56]
John BROWNE (fl.c.1490)
Salve regina I [13:15]
Stabat iuxta [12:24]
Stabat mater [15:56]
O regina mundi clara [13:55]
O Maria salvatoris [15:54]
Giovanni Pierluigi da PALESTRINA (1525/6-1594)
Stabat mater [9:52]
Missa Papæ Marcelli [31:52]
Tu es Petrus (6vv) [6:51]
Gregorio ALLEGRI (1582-1652) Miserere (with additional embellishments by Deborah Roberts) [13:44]
JOSQUIN des Prez (c1450/55-1521) Missa Malheur me bat [39:45]
Missa Fortuna desperata [35:45]
The Tallis Scholars/Peter Phillips - rec. 2000-2009. DDD
Texts and translations included as pdf booklet.
GIMELL GIMBX303 [4 CDs: 5 hours 13 minutes] - from Gimell (mp3, lossless and 24-bit)



The second and third volumes of Gimell's 30th Anniversary celebratory boxes are just as self-recommending as Volume One which I made Reissue of the Month in last month's Download Roundup - perhaps even more so, since the recordings in both volumes are DDD and Volume 3 is also available in better-than-CD 24-bit technology. My only criticism is that they now make redundant some of the earlier budget-price two-CD reissues which I and others have already recommended here on Musicweb, excellent value though they are.

For the contents of all these four-disc boxes and, indeed, for all the recordings available from Gimell, please see my recent article The Tallis Scholars at 30 - here. You will see from that article how the wheel has come full circle with new versions from the last decade of the Palestrina Missa Papæ Marcelli and Allegri's Miserere which made their reputation all those years ago - that first version of the Miserere opens Volume 1 of these three new boxes. With twelve discs released now, this 30th-anniversary offering becomes even more comparable in scope with Hyperion's 10-CD 30th-anniversary set of recordings by The Sixteen (The Golden Age CDS44401/10) and, miraculously, if you purchase both, as I recommend that you do, on CD or as downloads, there is very little overlap. Both offer essential and substantial booklets of notes, texts and translations to downloaders. See John Quinn's detailed analysis of Volume 2 here.

Both, too, offer superb value. Volume 3 of the Scholars' collection is worth buying for the two Josquin Masses alone - when they appeared in 2009, they cost as much as the entire contents of GIMBX303, and just look what a wealth of other goodies now appear along with them, including the major contents of two other full-price CDs of Gombert's eight settings of the Magnificat (CDGIM037 and 038).

Vivat Leo! Music for a Medici Pope
Andreas de SILVA: Gaude felix Florentia [11:02]
Adrian WILLAERT: Virgo gloriosa Christi, Margareta [3:12]; Saluto te, sancta Virgo Maria [6:15]
Johannes de la FAGE: Videns dominus civitatem desolatam [4:20]
Jean MOUTON: Nesciens mater virgo virum [3:22]; Per lignum salvi [2:23]; Exalta regina Gallie [3:02]
Josquin DESPREZ: Nymphes des bois [4:33] ; Miserere mei, Deus [14:19]
Andreas de SILVA: Omnis pulchritudo Domini [4:35]
Costanzo FESTA: Inviolata, integra et casta es [7:52]
Cappella Pratensis/Joshua Rifkin - rec. 1009. DDD.
CHANNEL CLASSICS CC72366 [64:55] - from eMusic (mp3)



This recording appeared for download several days before it was released on CD on 15 November 2010. The music, drawn from the Medici Codex, is a mixture of sacred and secular collected for the court of the Medici court of Pope Leo X, whose rule (1513-21) coincided with Luther's publication of the 95 Theses.

Cappella Pratensis are building a fine reputation: Gary Higginson made their recording of Obrecht's Missa de Sancto Donatiano (Fineline FL72414), Recording of the Month earlier this year - see review - and they acquit themselves well here under the direction of Joshua Rifkin.

Johann Sebastian BACH (1685-1750)
Concerto in a minor for flute, violin and harpsichord, BWV10441
Harpsichord Concerto in A, BWV10552
Sonata in C, BWV10373
Richard Adeney (flute)1; Granville Jones (violin)1; Philomusica of London1-3/Thurston Dart (harpsichord)1-3 - rec. 1958. ADD/stereo
BEULAH EXTRA 4BX691 [20:39]; BEULAH EXTRA 5BX692 [13:22] BEULAH EXTRA 6BX693 [7:54] - from Beulah (mp3)



This is second-league Bach, but still well above the standard of most of his contemporaries. These recordings, pioneering in their day in the use of small forces and the application of scholarship by Thurston Dart, a far from stuffy London University academic in his day job, have come up as fresh as paint in these beautifully clean transfers. Though BWV1037 is now known to be spurious and is played here without the final gigue, it's still worth having Dart's performance. If you combine them in one folder on your hard drive, you may find that BWV1055 follows too hard on the heels of its predecessor. Beulah give the date 1959, which I take to be when L'Oiseau Lyre issued them in stereo: they had appeared in mono the previous year.

Other Bach recordings on Beulah Extra:
Details of all these Beulah Extra Bach recordings may be found here.

Fantasia and Fugue in g minor, BWV542 [5:34]
Louis Vierne (organ of Notre Dame, Paris) - rec. 1932 ADD/mono
BEULAH EXTRA 1BX60 [5:34]

A great fellow-composer in a tradition stretching back to Bach and beyond playing JSB's music has to be something special, but the recording sounds wavery and gruff, though miraculously free from surface noise. As with all the 78s in the Beulah Extra series, the sound has not been doctored other than to remove seriously disturbing bangs and crackles. This is just about at the limit of tolerance that I find myself able to extend to 78 recordings, though the sense of occasion shines through.

Fantasia and Fugue in c minor, BWV537 [8:14]
Edouard Commette (organ of Cathedral of Saint Jean, Lyon) - rec.1929 ADD/mono
BEULAH EXTRA 2BX60 [8:14]

Most surprisingly, this recording sounds much better than the Vierne, though it dates from three years earlier - quite a bright sound, though with plenty of bass, too, and again free from surface noise.

Fantasia and Fugue in g minor, BWV542 [12:21]
Prelude and Fugue in C, BWV545 [6:57]
Toccata and Fugue in d minor, BWV565 [8:50]
Albert Schweitzer (organ of All Hallows Church, Barking by the Tower, London) - rec.1935 ADD/mono
BEULAH EXTRA 3BX60-5BX60 [28:09]

These recordings are famous or infamous depending on your point of view. Schweitzer was best known for his medical missionary work, which left him little time to practise his technique on the organ. Flawed or not, these performances are well worth hearing - which of his critics could have held a candle to his achievements? - and Beulah have tidied up the recording as well as could be expected.

Toccata and Fugue in d minor, BWV565 [7:56]
George Thalben-Ball (Compton organ, BBC Concert Hall, Broadcasting House, London) - rec.1933 ADD/mono)
BEULAH EXTRA 6BX60 [7:56]

How George Thalben-Ball allowed himself to be persuaded to be recorded on a Compton electronic organ is beyond me. He does make the most of a bad job, but this is by a long way the least interesting of the very worthwhile Beulah series of Bach organ works.

Variations on Sei gegrüsset, Jesu gütig, BWV768 [20:16]
Fugue in G, BWV577 [3:10]
Toccata and Fugue in F, BWV540 [14:42]
Ralph Downes (organ of the Royal Festival Hall) - rec.1958 ADD/stereo
BEULAH EXTRA 1BX67-3BX67 [38:08]



Despite the surprisingly clear recordings afforded to Commette and Schweitzer, we move to a different sound-world with the 1958 recordings from the RFH. The Pye recordings of Ralph Downes, reissued in stereo on the Golden Guinea label (which never actually cost exactly a guinea) were central recommendations in the LP era. The three Bach works here were originally issued in the company of the Toccata from Widor's Symphony No.5. Downes himself had designed the RFH organ, so was generally reckoned to be its best advocate. There were those (and still are) who hated it, but it proved itself in its begetter's hands to be an excellent instrument for Bach, so I am very pleased to make again the acquaintance of these three recordings - especially now that they are shorn of the surface noise that often afflicted Golden Guinea stereo LPs.

For comparison I tried the mp3 set of Bach Organ Works which Nimbus have fitted on 8 CDs - see review. Downes' performances compare favourably with Bowyer's on that set, which I now regard as my benchmark as well as a superb bargain, and the 1958 recording can still hold its own against the Nimbus: both are encoded at 320kbps. If anything, I slightly prefer Downes' dancing performance of the Fugue in G even to Bowyer's.

Clavierübung: Partita No.3 in a minor, BWV827; Partita No.4 in d minor, BWV828
Ralph Kirkpatrick (harpsichord) - rec.1958 ADD/stereo
1BX89 [19:01] and 2BX89 [33:28]

Like Ralph Downes on the RFH organ, these recordings are recent enough to be heard in decent sound. Kirkpatrick's Bach may no longer be at the cutting edge, as it was when DGG issued the partitas as part of a 3-LP set in 1959, but it is well worth hearing. Nos. 5 and 6 were commended at the time as the best of the set - may we have those next, please?

Cantata No.53: Schlage doch gewünschte Stunde [9:02]
BEULAH 1BX61 [9:02]

Cantata No. 54: Widerstehe doch der Sünde [17:12]
BEULAH 2BX61 [17:12]

Cantata No.200: Bekennen will ich seinen Namen [4:01]
Helen Watts (alto); Philomusica of London/Thurston Dart (harpsichord) - rec. 1958 ADD/stereo
BEULAH 3BX61 [4:01]

The solo parts are beautifully sung throughout, as one would expect, but the very slow opening tempo in Cantata 54 put me off from the start - for one thing, Helen Watts sounds a little plummy at this speed. This is not Thurston Dart as I remember him in Bach or Handel and no match for his recording of the Water Music, which Beulah have also reissued (below), or the Bach Concertos (above). Alec Robertson, the Gramophone reviewer, characterised Cantatas 53, 54 and 200 on the original Oiseau-Lyre LP as lesser-known, which is, perhaps, why he thought the performances so good. Nowadays none of them could really be called little-known but, as Beulah point out, Cantata 53 is now regarded as spurious. Though I enjoyed the excerpts from the other cantatas more than No.54, there are much better versions to be had.

Though the Beulah sound is good, you'd be better off in No.54 with James Bowman and the King's Consort on Hyperion's budget label, Helios (CDH55312, with Cantatas 169 and 170 - CD, mp3 or lossless download). You will see from my review that this is the slowest of the modern recordings of the cantata, yet it takes just 12:26 against 17:12 from Watts and Dart.



Complete Cantatas (Vol.9), Cantatas for Advent: Cantatas Nos. 61 Nun komm, der Heiden Heiland [13:31]; 36 Schwingt freudig euch empor [27:28]; 62 Nun komm, der Heiden Heiland [16:00] and 132 Bereitet die Wege, bereitet die Bahn [16:12]
Gerlinde Sämann (soprano), Petra Noskaiová (mezzo), Christoph Genz (tenor), Jan Van der Crabben (bass); La Petite Band/Sigiswald Kuijken - rec. December 2008. DDD.
ACCENT ACC25309 [73:11] - from Passionato.com (mp3 and lossless) or Classicsonline.com (mp3)



Cantatas Nos.37 Wer da gläubet (Ascension, 1724) [16:23]; 38 Aus tiefer Not (Trinity 21, 1724) [18:44]; 39 Brich dem Hungrigen dein Brot (Trinity 1, 1726) [24:54] and 40 Darzu ist erschienen der Sohn Gottes (2nd Day of Christmas, 1723) [15:16]
Concentus Musicus Wien/Nikolaus Harnoncourt; Leonhardt Consort/Gustav Leonhardt. ADD.
from TELDEC DAS ALTE WERK 4509 917572 [75:19] - from Amazon.co.uk (mp3)



Cantatas Nos.109 Ich glaube, lieber Herr (Trinity 21, 1723) [25:12]; 110 Unser Mund sei voll Lachens (Christmas, 1725) [26:33] and 111 Was mein Gott will (Epiphany 3, 1725) [19:58]
Gächinger Kantorei; Stuttgart Bach Collegium/Helmuth Rilling - rec.1975-81. ADD.
HÄNSSLER CD92.035 [71:43] - from Passionato.com (mp3)

The Bach Cantata Pilgrimage: Volume 16 - Cantatas for the Sunday after Christmas


Motet: Singet dem Herrn ein neues Lied, BWV 225 (1727) [12:59]
Tritt auf die Glaubensbahn, BWV 152 (1714) [18:01]
Das neugeborne Kindelein, BWV 122 (1724) [14:56]
Gottlob! Nun geht das Jahr zu Ende, BWV 28 (1725) [14:05]
Singet dem Herrn ein neues Lied! BWV190 (for New Year's Day,1724) [16:53]
Katharine Fuge, Gillian Keith, Joanne Lunn (sopranos); Daniel Taylor (alto); James Gilchrist (tenor); Peter Harvey (bass); The Monteverdi Choir;
English Baroque Soloists/Sir John Eliot Gardiner. - rec. St. Bartholomew's, New York, 31 December 2000. DDD.
SOLI DEO GLORIA SDG137 [77:29] - from Passionato.com or Classicsonline.com (both mp3)



Cantatas (Volume 33): Nos.41 Jesu, nun sei gepreiset (New Year, 1727) [27:32]; 92 Ich hab in Gottes Herz und Sinn (Septuagesima, 1725) [29:59] and 130 Herr Gott, dich loben alle wir (St Michael, 1724) [15:04]
Yukari Nonoshita (soprano), Robin Blaze (counter-tenor), Jan Kobow (tenor), Dominik Wörner (bass); Bach Collegium, Japan/Masaaki Suzuki - rec. April 2005. DDD.
BIS BIS-SACD1541 [72:35] - from Passionato.com (mp3 or lossless) or Classicsonline.com (mp3)

Cantatas (Volume 10) Nos.105 Herr, gehe nicht ins Gericht (Trinity 9, 1723) [21:19], 179 Siehe zu, dass deine Gottesfurcht (Trinity 11, 1723) [14:38] and 186 Ärgre dich, o Seele, nicht (Trinity 7, 1723) [25:50]
Robin Blaze (counter-tenor); Makoto Sakurada (tenor); Peter Kooij (bass); Bach Collegium, Japan/Masaaki Suzuki - rec. 1999. DDD.
BIS BIS-CD951 [61:47] - from Passionato.com (mp3 and lossless) or Classicsonline.com (mp3)

Bach is just as appropriate as Handel at Christmas - more so, since Messiah was originally intended for Easter, though it has come to be indelibly associated with Christmas. I've included a selection of Advent and Christmas/New Year-period Cantatas from the major completed or ongoing cycles.



ACC25309: The ninth volume of Sigiswald Kuijken's ongoing one-voice-to-a-part series of Bach Cantatas for Accent contains four Cantatas for the First and Fourth Sundays in Advent. Lovers of 'big band' Bach should look to the likes of Richter; the rest of us can confidently enjoy both approaches. No texts, but these are easily found online.



Teldec: individual CDs from this series are no longer separately available - Cantatas 37-60 come as part of a 6-CD set 4509 917572, around £50 - so the availability of separate discs as downloads from Amazon is especially welcome, particularly as they are offered at £2.79 each. The disadvantage of being tied to Schmieder's arbitrary BWV numbering is that Cantatas for different times of the liturgical year are yoked together. The same is true of Rilling's Hänssler recordings, though both these ADD sets are well worth having.



SDG137: Both versions of the download come in good mp3 sound: the Passionato is less expensive (£5.99) but the classicsonline version offers notes on the works and performance from John Eliot Gardiner's diary of the year-long pilgrimage of which this was the fifty-ninth and final concert. The notes are also available to subscribers to the Naxos Music Library. As so often is the case, I find that John Quinn has said just about all that I wanted to say about the music and performances - see review.

BIS-SACD1541 contains three of the most desirable recordings from Masaaki Suzuki and the Bach Collegium Japan: for full details, see Terry Barfoot's review of the SACD. You may also be interested

in Peter Bright's recent review of Volume 46, which he considers to be perhaps the most impressive yet. I've also slipped in an earlier BIS recording (BIS-CD951) of Suzuki's performances of three Cantatas for Sundays after Trinity: they may be for that indeterminate time when the liturgical colour is a neutral green, but there's nothing indeterminate or neutral about the music or the performances.

George Frideric HANDEL (1685-1759)
Details of all the Beulah Extra Handel recordings may be found here.

Water Music Suites 1 in F [26:30], 2 in G [7:27] and 3 in D [9:44]
Philomusica of London/Thurston Dart - rec. 1959 ADD/stereo
BEULAH EXTRA 1BX69-3BX69 [43:42] - from Beulah (mp3)



This dates from much the same period as the Bach Concerto recordings (above). It sounds equally stylish, blending scholarship with a genuine feeling for the music on a par with Charles Mackerras's very different Pye recording of about the same vintage (now on Testament SBT1253). To divide the music into three suites in different keys was cutting-edge at the time, though it is now no longer thought de rigueur to do so. The sound is much less demanding than on more recent recordings, with natural horns.

Utrecht Te Deum [26:31]; Utrecht Jubilate [18:48]; Zadok the Priest [5:59]
Ilse Wolf (soprano); Helen Watts (contralto); Wilfred Brown, Edgar Fleet (tenor); Thomas Hemsley (bass); Geraint Jones Singers and Orchestra/Geraint Jones - rec Walthamstow Town Hall, London, June-July, 1958 ADD/stereo
BEULAH EXTRA 1BX66-3BX66 [51:19]

A former colleague whose judgement I trust on matters connected with choral and vocal singing once advised me to shun the Utrecht Te Deum and Jubilate as probably Handel's worst music. I don't think they are that bad, but they are somewhat workaday compositions - any competent musician could probably reconstruct the entire score of each if large sections were missing - and they need very special advocacy. Looking at the list of soloists and bearing mind Geraint Jones's reputation with Handel, I expected to find that advocacy here.

In the event, this is something of a mixed blessing. Even in 1958, when authenticity was less emphasised than now, the employment of a contralto to sing a part originally written for a counter-tenor seemed an unusual decision, especially when the recording was first issued on a DGG Archiv LP, supposedly the hallmark of period practice. Perhaps I was expecting too much, but all of the soloists let the side down at one time or another. If this had been a live recording I wouldn't have minded, but there were surely opportunities for retakes.

The sound is more than acceptable for its age, though Decca were achieving much better stereo placement and a smoother sound in their recordings at this period - long before DGG and Decca both fell under the Universal umbrella. The initial impression is that someone has skimmed off the highest frequencies and boosted the bass - not Beulah; I'm sure the fault stems from the master tapes - but the ear soon adjusts. After the glories of Thurston Dart's Water Music, this was a little disappointing.

Wolfgang Amadeus MOZART (1756-1791)
Divertimento in E flat, K. 563 [47:00]; String Trio in G, K. Anh. 66 (K. 562e) [3:56]
Henning Kraggerud (violin); Lars Anders Tomter (viola); Christoph Richter (cello)
NAXOS 8.572258 [50:56] - from Classicsonline.com (mp3)



'Divertimento' it says on the package, and the music is a delight, but not many divertimenti run to 47 minutes or contain as much profundity. Performance and close-ish recording do the music proud. This recording is currently available on CD only in Norway and internationally via the Naxos Music Library for streaming or Classicsonline as a download, but that in no way reflects its quality: it deserves to be widely disseminated. From both sources you'll find some worthwhile notes by Ingrid Anderson headed 'about this recording/album.'

Rodolphe KREUTZER (1766-1831) Violin Concertos Nos. 17-19
Violin Concerto No.17 in G [16:57]
Violin Concerto No.18 in e minor [28:50]
Violin Concerto No.19 in d minor [25:55]
Axel Strauss (violin); San Francisco Conservatory Orchestra/Andrew Mogrelia
rec. Caroline H. Hume Concert Hall, San Francisco, California, January-February 2009. DDD. NAXOS 8.570380
[71:52] - from Classicsonline.com (mp3)



This is the first of a planned series of all Kreutzer's Violin Concertos, beginning with the acknowledged masterpieces. These are attractive and tuneful works - just don't compare them with Mozart or Beethoven - and the performances and recording make the listening experience thoroughly enjoyable. Axel Strauss has already made successful recordings of the solo Caprices of Pierre Rode and Mendelssohn's Lieder ohne Worte for Naxos and Andrew Mogrelia seems to make a speciality of conducting ballets and violin concertos for the label. They work here with the very capable orchestra of the San Francisco Conservatory, where Strauss has taught since 2001.

Ludwig van BEETHOVEN (1770-1827)
Details of all the Beulah Extra Beethoven recordings may be found here.

Piano Concerto No.1 in C, Op.15 [33:12]
Géza Anda; Philharmonia Orchestra/Alceo Galliera - rec. 1955 (mono)
BEULAH EXTRA 1BX88-3BX88 [33:12]

Anda's Beethoven was somewhat overshadowed by the series of recordings which Solomon made with Menges and Cluytens at about the same time, also with the Philharmonia, and now reissued by Testament (SBT1219-1221) and by Wilhelm Kempff's first, mono recordings with van Kempen on DGG. The Mozart recordings which he later made with the Salzburg Mozarteum Camerata Academica made much more of an impact but he also established his Beethoven credentials with the version of the Triple Concerto in which he participated, still one of my favourite accounts of this under-rated work.

The Anda/Galliera view of the First Piano Concerto is gentle, essentially Mozartian, with the most delicate opening that I have ever heard. The description of Anda's playing as'elegant' is something of a cliché, but it is very apt. As with Kleiber's Pastoral (below), I'd also want something more forthright for when I'm in the mood - these two recordings are essentially late-night Beethoven. The Columbia mono recording has come up very well.

Piano Concertos Nos. 4 in G, Op.58 and 5 in E-flat, Op.73 ('Emperor')
Arthur Schoonderwoerd (fortepiano and director)/Cristofori Ensemble
ALPHA 079 [69:45] - from eMusic (mp3)



These two concertos lend themselves surprisingly well to the same scaled-down treatment that works so well for the first two concertos - perhaps this is even more successful. With some justification, this recording is claimed as a world premiere: to the best of my knowledge it's the only one to employ one instrument per part and a basso continuo in the 'Emperor'.

Symphony No.1 in C, Op.21 [26:09]
Vienna Philharmonic Orchestra/Carl Schuricht - rec.1952. ADD/mono
BEULAH EXTRA 1BX78-4BX78 [26:09]

I hadn't heard Schuricht's Beethoven - at least, not that I can remember - so I was interested to see what he made of this early work and how well the 1952 recording had worn. I was pleased with what I heard right from the start in both respects. The 1952 Gramophone reviewer, MM, used such terms as'caressing' and 'virtually impeccable' and I can only agree with him. One thing which he mentioned is a thing of the past - keeping the needle in the groove - and the sound now appears to be much improved on what he heard then. Apart from the lack of stereo placement, this sounds almost as well as Jochum's 1958 Second Symphony (below).

Symphony No.2 in D, Op.36 [35:39]
Berlin Philharmonic Orchestra/Eugen Jochum - rec. 1958. ADD/stereo
BEULAH EXTRA 1BX81-4BX81 [35:39]

Jochum's Beethoven enjoyed a distinguished after-life on various DGG reissue labels, in competition with his later Philips recordings. The latter, made with the Concertgebouw, were available on the budget Eloquence label until recently and still survive as a 6-CD set (Decca Original Masters 475 8147, for around £31), so I'm pleased that Beulah have rescued this earlier BPO recording of the Second Symphony. Jochum was at his best, I think, in the less well-known symphonies, the second, fourth, seventh and eighth - they tend to be my favourites, too - so this was a particularly apt choice, especially as the recording still sounds well in Beulah's transfer. Now how about rescuing some of Jochum's Haydn, especially his DGG versions of Symphonies 88 and 98? His is the only version that I know that makes full use of Haydn's little joke with the harpsichord in 98.

Symphony No.6 in F, Op.68 ('Pastoral') [38:17]
London Philharmonic Orchestra/Erich Kleiber - rec. 1947. ADD/mono
BEULAH EXTRA 1BX6-3BX6 [38:17]

For most younger listeners, Beethoven+Kleiber means the wonderful recordings of the symphonies which Carlos Kleiber made with the VPO for DGG in the 1970s - especially Nos. 5 and 7, now reissued on DG Originals. His father Erich was also no mean conductor - his recording of Le Nozze di Figaro still holds a worthy place in the catalogue - and his Pastoral Symphony can also hold up its head among more recent competition. It's a very gentle view of the work - some may find the storm a little too tame - with Kleiber and his players unwilling to tear themselves away too quickly from the idyllic brook. Ideally, you should also have a faster-paced, stronger version in your collection.

The recording must have been state of the art for its day and it still sounds well - undemonstrative to match the performance, and with very little surface noise. Don't expect a sonic miracle - by 1952 the LP transfer of this recording was already being criticised as sub-standard - but there is much to enjoy here.

Symphony No.9 in d minor, Op.125 ('Choral')
Gré Brouwenstijn (soprano); Kerstin Meyer (alto); Nicolai Gedda (tenor); Frederick Guthrie (bass); St Hedwig's Cathedral Choir; Berlin Philharmonic Orchestra/André Cluytens - rec.1958. ADD/stereo
1BX82-4BX82 [72:43]



We no longer need to worry about side-breaks which fall at awkward points, as was the case with the original LP issue: it used to be enough of an achievement to fit the Choral Symphony on one disc. The performance is good throughout: if I'm being hyper-critical, the first movement is a little slow and portentous and the scampering scherzo a shade on the fast side, but Beethoven often is pompous, so these are hardly major faults. The singing in the finale is very good and the Beulah transfer a big improvement on the original LP, with its grooves so dangerously close-packed in the loudest music at the end of side 2.

Overtures: Coriolan, Op.62 [6:07]; Fidelio, Op.72 [6:29]; Leonora No.1, Op.138 [8:21]; Leonora No.2, Op.72a [13:05]; Leonora No.3, Op.72b [12:10]
Boston Symphony Orchestra/Charles Munch - rec. 1956. ADD/Stereo.
BEULAH EXTRA 1BX32 [6:07]; 2BX32 [6:29]; 3BX32 [8:21]; 4BX32 [13:05]; 5BX32 [12:10]

I'm grateful to Beulah and High Density Tape Transfers for making some of Munch's recordings available again. These brisk performances of Beethoven Overtures are a good example of Munch at his best, though it's mainly for the French repertoire that he is remembered now. The recording is good for its date - genuine stereo.

The overture to The Creatures of Prometheus accompanied these recordings when they were reissued on RCA Victrola; though Beulah have recently given us a fine version of that work from van Beinum - may we have that, too?

Ferdinand RIES (1784-1838) Piano Concertos, Volume 3
Piano Concerto No. 7 in A, Op.132, 'Farewell to London' (1823) [34:59]
Grand Variations on 'Rule Britannia', Op.116 (1817) [15:58]
Introduction et Variations Brillantes, Op.170 (1832) [14:35]
Christopher Hinterhuber (piano); Royal Liverpool Philharmonic Orchestra/Uwe Grodd
rec. 9-10 January 2007, Philharmonic Hall, Liverpool, UK. DDD.
NAXOS 8.570440 [66:02] - from Classicsonline.com (mp3)

Piano Concertos, Volume 4
Concerto Pastoral in D, Op.120 (after 1813, pub.1823) [27:50]
Piano Concerto in c minor, Op.115 (1809) [25:36]
Introduction et Rondeau Brillant, WoO54 (1835) [18:00]
Christopher Hinterhuber (piano); Bournemouth Symphony Orchestra/Uwe Grodd
rec. Concert Hall, Lighthouse, Poole, UK, June, 2008. DDD.
NAXOS 8.572088 [71:26] - from Classicsonline.com (mp3)



Ries was a pupil, then life-long friend and colleague of Beethoven; his music, though it shares some of his friend's grandeur, is completely of its own. These recordings are worthy successors to the earlier volumes - see review of Volume 1 (Bargain of the Month, 8.557638), review of Volume 2 (8.557844) and review of Volume 3 here. Christopher Hinterhuber and Uwe Grodd are the constants in the series, ably abetted by four different orchestras.

For all the changes of orchestra, volumes 3 and 4 maintain the high quality of the series. The purchases come complete with a booklet of notes, also available to those who stream from the Naxos Music Library - try the recordings there first if you can.

Franz SCHUBERT (1797-1828) The Unauthorised Piano Duos
Quintet in A for piano and strings D. 667 ('Trout') arranged for piano duet by Joseph CZERNÝ (1785-1831) [33:36]
Study for two pianos on Schubert's Impromptu in E flat, D. 899, no. 2 by Ede POLDINI (1869-1957) [4:29]
Overture to the drama Rosamunde, D. 644 arranged for piano duet by Josef HÜTTENBRENNER (1796 - 1882) [10:44]
Polonaise in B flat major (from the D. 618a sketches) realized by Anthony GOLDSTONE (b. 1944) [4:23]
Waltzes arranged for two pianos by Sergei PROKOFIEV (1891 - 1953) [10:08]
Adagio from String Quintet in C major, D. 956 arranged for piano duet by Hugo ULRICH (1827 - 1872) [13:44]
Anthony Goldstone (piano); Caroline Clemmow (piano)
rec. St. John the Baptist Church, Alkborough, N. Lincs. 2003? DDD.
DIVINE ART DDA25026 [77:36] - from theclassicalshop.net (mp3 and lossless)



Not everything here works - the Adagio from the String Quintet, for example: with enough genuine Schubert music for two pianists to fill several CDs, none of it should work - but most of it does, especially the Trout Quintet. As Chase Morrison wrote, this is a fascinating disc - see review. All that is lacking in this download is the booklet of notes which CM found so helpful. Now I must investigate Volume 2.


Frédéric (Fryderyk) CHOPIN (1810-1849)
Seventeen Songs, Op. 74 [41:47]
Czary (Enchantment) [1:45]
Dumka [1:35]
Seize-ans (Sixteen) [3:28] (from Mazurka No. 31 in A flat, Op. 50, No. 2)*
Aime-moi (Love me) [2:37] (from Mazurka No. 23 in D, Op. 33, No. 2)*
L'oiselet (The Little Bird) [3:20] (from Mazurka No. 47 in a minor, Op. 68, No. 2)*
Coquette [2:31] (from Mazurka No. 5 in B flat, Op. 7, No. 1)*
* arr. Pauline VIARDOT-GARCÍA
Olga Pasichnyk (soprano)/Natalya Pasichnyk (piano) - rec. December 2009. DDD.
Pdf booklet included.
Texts and translations available online: www.naxos.com/libretti/572499.htm.
NAXOS 8.572499 [57:04] - from Classicsonline.com (mp3)



This is unusual and very welcome fare from Naxos for the Chopin bi-centenary in the form of his complete songs, plus four arrangements of his Mazurkas, made by French singer Pauline Viardot-García in 1864. These are enjoyably airy performances of mainly light-hearted music, though there is also power and beauty here, all well recorded.

Don't forget that Hyperion also has a similar inexpensive and highly recommendable collection of the Op.74 Songs, together with Dumka, Czary and five Viardot-García arrangements (Helios CDH55270, Ursula Kryger and Charles Spencer, budget price). The performances are mostly taken at a slightly slower tempo than on the new Naxos recording, but there is otherwise little to choose. The Hyperion comes in lossless sound for the same low price as the mp3 (£5.99), complete with booklet, which classicsonline offer, though texts and translations, which are available only online with the Naxos.

Hyperion also have a performance of the songs with Eva Podleś in their attractive complete 16-CD set with Garick Ohlsson, available to download at the attractive price of £60. Unfortunately, though the songs are available individually at £0.20 or £0.30, there is no option to purchase them as a set, except as part of the complete edition.

Franz LISZT (1811-1886)
Hungarian Rhapsody No.4 (orch. version of piano original No.12)
Danish State Radio Symphony Orchestra/Erik Tuxen - rec.1953. ADD/mono
BEULAH EXTRA 1BX99 [10:55] - from Beulah (mp3)



The original 10-inch LP almost persuaded one reviewer at the time of first issue that he liked two of his least favourite works, this and another nationalist piece, Tchaikovsky's Marche Slave. My taste must be poor, because I like both pieces, especially when the music is so well performed. May we have the Tchaikovsky, too, please?


Johannes BRAHMS (1833-1897)
Details of all the Beulah Extra Brahms recordings may be found here.

Violin Concerto in D, Op.77
Endre Wolf; Sinfonia of London/Anthony Collins - rec.1958. ADD/stereo
1BX26-3BX26 [40:54]



I must be very fussy about performances of Brahms: I like only a handful of recordings of his Fourth Symphony (below) and most performances of the opening movement of the Violin Concerto are too slow - often much too slow, so that we effectively have two slow movements. Only Heifetz and Reiner and Szeryng and Reiner (both RCA, the latter no longer available) get it really correct. Wolf and Collins weigh in at 22:48 for that movement, just too slow for anyone raised on Heifetz, but about average for anyone else. (Julia Fischer in her much-lauded recent recording for PentaTone takes 23:16).

The playing and recording are good enough to make this a central recommendation for most listeners. Just listen to Heifetz, though, who takes 18:40 for the opening movement and shaves 7 minutes off Wolf's timing overall, and he'll change the way that you view this concerto (RCA 74321 634702, 2 budget-price CDs - deleted, but some dealers still have copies, or download the Violin Concerto, with Piatigorsky in the Double Concerto, from Amazon.co.uk., or on its own from Naxos Classical Archive 9.80081 - not available in the USA). Apart from a very muted thump in the slow movement, affecting just a few adjacent grooves, the Beulah transfer is excellent.

Symphony No.1 in c minor, Op.68
Vienna Philharmonic Orchestra/Josef Krips - rec. 1957 ADD/stereo/binaural
1BX65-4BX65 [42:33]

Brahms' First Symphony came comparatively late in his career. He tried his best to escape from the shadow of Beethoven, but still contrived to compose a big tune in the finale that got it dubbed Beethoven's Tenth. His angry response that any donkey could see that doesn't alter the fact, and performances which wallow in the big tune emphasise it still more.

I must admit to a quickening of the pulse when Brahms leads up to that tune, so I generally prefer a performance that makes it sound a little more special than Krips does here. I do appreciate, though, that the approach on this recording makes Brahms sound more his own man, less Beethoven's successor, and the VPO playing is an added inducement. The Eclipse reissue was still competitive in 1972 and, with a good transfer of the stereo recording - Beulah describe it as binaural - this is still well worth hearing.

Symphony No.4 in e minor, Op.98
London Symphony Orchestra/Josef Krips - rec.1950. ADD/mono.
BEULAH EXTRA 5BX65-8BX85 [40:01] - from Beulah (mp3)

National Symphony Orchestra/Karl Rankl - rec 1944 ADD/mono
BEULAH EXTRA 1BX22-4BX22 [35:09]



Brahms' music looks and sounds as if it ought to be easy to bring off, but his symphonies come out very differently from different conductors. The Columbia label, for example, used to have recordings by Giulini and Klemperer, who almost made the symphonies sound like different works when compared.

The fourth is possibly the hardest of all to make sound right: perhaps because it's my favourite, or because he came closest to escaping from the shadow of Beethoven, I can think of only a handful of recordings that I have heard which have achieved that, Klemperer and Vernon Handley chief among them. Now I must add Karl Rankl - a much less craggy account than Klemperer's, but equally effective and well worth hearing in this Beulah transfer, sounding very good for its date, with very little surface noise.

MWI Classical Editor Rob Barnett has let me have his thoughts on this recording:-

I was intrigued by the prospect of hearing Karl Rankl's Brahms 4. This is at times in crumbly sound but things do improve. Rankl is little known as a composer and only slightly less recognised as a conductor. His Brahms 4 with the National Symphony Orchestra (who were they?) is strong and passionate. There's real fire, though I detected imprecision of ensemble in the finale. Still Rankl, for years conductor of the SNO, is thoroughly satisfying, with passion emphasised by an occasionally flattering resonance, as in the expostulations of pizzicato in I at 2.15. Rankl presses the orchestra when the writing becomes animated with the zap and zing of lightning in the third movement. The finale exhibits the same characteristics - it's very exciting and cleverly contrasted: listen to the Berlioz-like whisper at 6:23 before the romp back into the romantic furnace. There is a flaming zest in this reading which is redolent of Reiner and Munch. It's no time-served version and its merits place it well up the historical rankings.

Rob Barnett

Another Beulah Extra reissue, with Max Fiedler conducting, came close, but not quite close enough (October 2010 Download Roundup). Krips comes closer still - very much closer - and the Decca recording has been very well refurbished, so that it didn't spoil my enjoyment. Indeed, it doesn't sound much more dated than Klemperer's Columbia recording which remains my benchmark, now part of a 3-CD set from EMI (5627422, or download US version, 5627602 from Passionato.com). Krips is a trifle slower than Klemperer in places - the latter hadn't quite settled into his final slow period in the late 1950s when the Brahms recordings were made. The Krips LP was described in 1950 as a beautifully proportioned and carefully calculated experience, which puts it very well - but then, oddly, looked forward to its reissue on 78s!

Emmanuel CHABRIER (1841-1894) Suite Pastorale
London Philharmonic Orchestra/Jean Martinon - rec.1948. ADD/mono.
BEULAH EXTRA 2BX91 [16:38] - from Beulah (mp3)



Modern recordings of the Suite Pastorale are thin on the ground, so this reissue is welcome. Martinon was a fine interpreter of French music of this vintage, excelled perhaps only by Ernest Ansermet, whose own recording of the Suite is available on a fine 2-CD collection from Australian Eloquence (480 0049 - see review). The Beulah transfer is good for its date, though inevitably a little muffled.


Krauss conducts Strauss
Richard STRAUSS (1864-1949) Don Juan Op.20 [15:36]
Johann STRAUSS II (1825-1899) Die Fledermaus Overture [8:17]
Der Zigeunerbaron Overture [7:46]
Künstlerleben Waltz Op.316 [8:28]
Frühlingsstimmen Waltz Op.410 [6:26]
Josef STRAUSS (1827-1870) Mein Lebenslauf ist Lieb und Lust Op.263 [7:01]
Johann and Josef STRAUSS Pizzicato Polka [3:25]
Richard STRAUSS Till Eulenspiegels lustige Streiche Op. 28 [13:22]
Vienna Philharmonic Orchestra/Clemens Krauss - rec. 1950-1. ADD, mono
BEULAH 1PD97 [70:36] - available from iTunes or eMusic (both mp3)

Johann STRAUSS II (1825-1899) Die Fledermaus Overture [8:17]
Der Zigeunerbaron Overture [7:46]
Künstlerleben Waltz Op.316 [8:28]
Frühlingsstimmen Waltz Op.410 [6:26]
Josef STRAUSS (1827-1870) Mein Lebenslauf ist Lieb und Lust Op.263 [7:01]
Die Libelle Polka Mazurka [4:29]
Jockey Polka [1:53]
Johann STRAUSS II Im Krapfenwald'l [4:02]
Eljen a Magyar [3:07]
G' schichten aus dem Wiener Wald [11:44]
Johann and Josef STRAUSS Pizzicato Polka [3:16]
Ägyptischer Marsch [4:21]
Vergnügungszug [2:49]
Vienna Philharmonic Orchestra/Clemens Krauss - rec. 1950-1. ADD/mono
BEULAH EXTRA 1BX97-13BX97 [73:19] - from Beulah (mp3)



The two Richard Strauss items used to be available on a very short value Decca Ace of Clubs LP - rather poor value even at ACL price, when a rival Philips recording fitted them on a 10-inch LP. Here they take their place topping and tailing equally classic Clemens Krauss performances of music by the Strauss family from Willi Boskowsky's predecessor at the helm of the VPO on New Year's Day. I'm not blessed (or cursed) with absolute pitch, but I rather think that the transfer has cured the fact that Till Eulenspiegel was recorded marginally sharp. The performance is as cheeky as you are likely to hear, though Szell runs Krauss pretty close on a better-engineered stereo recording, also coupled with Don Juan and adding Tod und Verklärung, which I recommended in May 2009 - a mere £2.07 from Amazon.co.uk, so you can afford both that and the Beulah.

The Strauss family items on 1PD97 are also included in a series of Beulah Extra downloads together with a number of other equally attractive items. I'm especially pleased to see Josef, in many ways the most talented member of the family, represented here. Perhaps Beulah will also give us Josef's Moulinet, Ohne Sorgen and Feuerfest olkas, which appeared alongside die Libelle and Jockey under Krauss's baton on a 10-inch Decca LP in 1954. The recordings are good for their age, though unsurprisingly even Beulah can't help that they sound a little undernourished by modern standards. If you place these recordings in one folder for continuous play, you may need very carefully to change 1BX97 to 9BX97 to 01BX97, etc. in Windows Explorer, in order to get the tracks to play in the right order. Back the tracks up first, just in case you accidentally delete one or more in the process.

Some of the same Strauss family items can be found in good transfers on an Archipel 2-CD reissue of Krauss conducting the 1952-1954 New Year's Day concerts (ARPCD0225, also available from Passionato.com) which I recommended in April 2010 - see review.

Sir Edward ELGAR (1857-1934)
Violin Concerto in b minor, Op.61, to Fritz Kreisler: 'Aquí está encerrada el Alma de .....'* [50:14]
Alternative Cadenza for the Violin Concerto, by the composer, as performed by Marie Hall in the 1916 recording. Harp part reconstructed from the original recording by Gwawr Owen* [6:17]
Interlude from 't he Crown of India', Op. 66* [3:44]
Polonia, Op. 76, Symphonic Prelude à son ami I.J. Paderewski [14:15]
Tasmin Little (violin)*; Royal Scottish National Orchestra/Sir Andrew Davis
CHANDOS CHSA5083 [74:52] - from theclassicalshop.net (mp3, lossless, 24-bit and surround-sound)



We have had some very fine versions of the Elgar Violin Concerto in recent years to challenge the hegemony of the classic Yehudi Menuhin/Sir Edward Elgar recording (EMI 5669792) and the two from Nigel Kennedy, of which I marginally prefer the first with Vernon Handley (EMI 3457922 or CFP5751392). The new Chandos recording with Tasmin Little and Sir Andrew Davis joins that list of challengers and I enjoyed hearing it. Does it oust from my affections Menuhin, Kennedy and James Ehnes, also with Sir Andrew Davis (Onyx ONYX4025 - see November 2008 Roundup)? Not quite - I didn't engage with the performance as much as with them, largely because of some occasional languor where the music didn't seem to be moving forward, though the overall timings are a little faster than Kennedy/Handley. In sum, it's a delicate performance in keeping with Tasmin Little's belief that the dedicatee is Alice Wortley, nicknamed the Windflower. I did think it at least as good as the version from Thomas Zehetmair and Mark Elder (Hallé CDHLL7521 - see August 2010 Roundup). Many will find it ideal - in some moods, I'd agree with them - but Ehnes does the delicacy of the music equally well, while maintaining the forward momentum.

The most interesting of the fillers comes in the form of a reconstruction of the cadenza employed for the 1916 recording with Marie Hall as soloist, though it sounds a little odd in this detached form. If it was worth preserving - which it is - why not embed it in the main performance?

With so few versions of Polonia currently available, I'm pleased to recommend this performance - it has all the vitality that I found slightly lacking in the main course: it's rather as if the pudding were the highlight of this feast.

There were as yet no notes with the download when I checked, though (oddly) the booklet is available from the Chandos web-page for the CD.

Squeezebox owners should note that their equipment will play Chandos 24/96 recordings, retaining the advantage of 24-bit sound, though some of the advantage will be lost because (I believe) Squeezebox will down-sample to 44kHz. I'm not sure that the advantage over the lossless version is worth £6 extra cost.

Jean SIBELIUS (1865-1957)
Symphony No.1 in e minor, Op.39 [40:18]; Symphony No.3 in C, Op.52 [29:36]
New Zealand Symphony Orchestra/Pietari Inkinen - rec. Wellington, NZ, March 2009. DDD.
NAXOS 8.572305 [70:04] - from Classicsonline.com (mp3)



I liked Pietari Inkinen's earlier Naxos recording of Sibelius's Scènes historiques and King Christian II Suites (8.570068 - see my review and review by Bob Briggs, who also welcomed the CD) and I also recommended his recording of Night Ride and Sunrise, etc (8.570563, Feb. 2009 Download Roundup), so I expected good things of this new recording. I was not seriously disappointed, but I thought both the performance and the sound occasionally not quite the equal of the earlier programme - the latter not a serious problem by any means, but perhaps even 320kb/s mp3 can't cope with Sibelius at full blast and one needs the CD or a lossless download. You will probably have to wait several months for that until Passionato.com, who offer flac versions of most earlier Naxos recordings, catch up with this issue. The coupling of the neo-Tchaikovskian but unmistakably Sibelian First and the much sparser Third is illuminating, especially as these performances reveal details in both which I hadn't noticed before.

Other providers offer Naxos downloads, but only that from classicsonline comes complete with excellent notes from Keith Anderson, which are also available to subscribers to the Naxos Music Library: I just wish that Naxos had given him more room to write about the two symphonies, without repeating general biographical details.

Eric COATES (1866-1957)
The Merrymakers - a miniature Overture [4:39]
London Suite: Covent Garden [5:13]; Westminster [5:24]; Knightsbridge [4:29]
Cinderella [15:53]
The Selfish Giant [11:05]
London Again: Oxford Street [3:31]; Langham Place [7:38]; Mayfair [6:07]
Calling All Workers [3:26]
The Dam Busters - March [3:56]
Slovak Radio Symphony Orchestra/Adrian Leaper
MARCO POLO 8.223445 [71:21] - from Passionato.com (mp3 and lossless) or Classicsonline.com (mp3)



You are almost bound to know some of the music here, especially if you are of a certain age and remember the radio shows for which Coates' music was employed, such as Workers' Playtime and In Town Tonight, and the rest is well worth getting to know. Those who wish to avoid duplication should note that these performances of the Knightsbridge and Dam Busters marches also appear on Elizabethan Serenade: the Best of British Light Music (Naxos 8.553515) - see below.


Béla BARTÓK (1881-1945) The Two Violin Concertos
Violin Concerto No.2 (BB117) [39:49]; Violin Concerto No.1 (BB48a) [21:21]
Arabella Steinbacher (violin); Orchestre de la Suisse Romande/Marek Janowski. (P) and © 2010. DSD.
PENTATONE PTC5186350 [61:11] - from eMusic or Classicsonline.com (both mp3)



These performances now head my list of recorded versions of these works, even in preference to Kyung-Wha Chung and Georg Solti on Double Decca (473 2712, with the Piano Concertos). The eMusic bit-rate ranges from 224 to 320kb/s, but the resulting sound is never less than fully adequate.

Those who don't subscribe to eMusic may find a recommendable alternative in the Naxos recording of both concertos (8.554321, György Pauk/Polish RSO/Antoni Wit), available from Passionato.com and Classicsonline.

Strings in the Earth and Air
Ernest J MOERAN (1894-1950) Six Folksongs from Norfolk (1923) [14:23]; Seven Songs of James Joyce (1929) [12:00]
Peter WARLOCK (1894-1930) Candlelight: a Cycle of Nursery Jingles (1923) [8:36]; Along the Stream [3:10]; Three Songs (1916/17): Take, o take those lips away [2:14]; Heracleitus [3:40]; The Fox [3:19]
Geoffrey STERN (1935-2005) Three Wordsworth Songs (1953) [8:12]; Four Songs of James Joyce (2001-5) [11:39]; Legend (1960) [1:21]
Paul Martyn-West (tenor); Nigel Foster (piano) - rec, 2005. DDD.
Booklet with texts available as pdf download.
DIVINE ART DIVERSIONS DDV24152 [68:43] - from theclassicalshop.net (mp3 and lossless)



Suitably understated performances of mostly quiet and understated music. There are no undiscovered masterpieces here, but it's all well worth hearing, especially as I had not even heard of Geoffrey Stern before, from the second of whose Four Songs of James Joyce the overall title of the collection is taken. With idiomatic performances and good recording, this is well worth seeking out by lovers of English song looking for something unusual. It comes complete with a booklet of notes and all for a bargain £4.99 (mp3) or £7.99 (various lossless formats) from theclassicalshop.net.

The recital was originally issued on Dunelm DRD0249 - see reviews by Em Marshall here and John France here.

Dmitri SHOSTAKOVICH (1906-1975)
Symphony No.10 in e minor, Op.93 (1953) [52:11]
Royal Liverpool Philharmonic Orchestra/Vasily Petrenko - rec. Philharmonic Hall Liverpool, 11-12 September 2009. DDD
NAXOS 8.572461 [52:11] - from Classicsonline.com (mp3)



There's a growing belief that this is Shostakovich's greatest symphony and I'm strongly inclined to agree, especially after hearing this new performance: it presses all the right buttons, in both the powerful and the more thoughtful passages, and the recording, though offered in mp3 only, is first-rate.

Petrenko's Shostakovich cycle is gradually but definitively replacing some rather unsatisfactory older versions on Naxos. Apart from the Eighth, where I was slightly less impressed, this is rapidly becoming my Shostakovich of choice, though there is very strong competition in the Tenth, from Semyon Bychkov (Avie SACD AV2137 - Recording of the Month: see review - download from Passionato here), Neeme Järvi (Chandos CHAN8630 - from theclassicalshop here), Rostropovich (Warner Elatus 2564 61568-3) and Karajan (DG Originals 477 5909 or DG Gold 4390362 - from Passionato.com here or here).

Miklós RÓZSA (1907-1995) Viola Concerto, Op 37 (1980-84) [32:31]
Béla BARTÓK (1881-1945) Viola Concerto, Sz120 (edited and completed by Tibor Serly) (1945) [21:33]
Tibor SERLY (1901-1978) Rhapsody for viola and orchestra (1946-48) [8:54]
Lawrence Power (viola); Bergen Philharmonic Orchestra/Andrew Litton - rec. August 2009. DDD.
HYPERION CDA67687 [62:44] - from Hyperion (mp3 and lossless)



There's some snazzy artwork on offer here and a download price of just £6.99 in either format to tempt the prospective purchaser. More to the point, the performances are excellent, all the music well worth hearing, not just the more familiar Bartók Concerto, and the download sound is first-class. I'm particularly pleased to see Tibor Serly represented in his own right, not just as the editor of the Bartók Concerto, and equally pleased to see Miklós Rózsa coming into his own these days for more than his film music.

Leroy ANDERSON (1908-1975) Orchestral Music: Volume 3
Harvard Sketches (Lowell House Bells -Freshman in Harvard Square - Widener Reading Room - Class Day Confetti Battle) [4:49]; Melody on 2 Notes [1:55]; Mother's Whistler [3:30]; The Penny-Whistle Song [2:38]; The Phantom Regiment [3:09]; Plink, Plank, Plunk! [2:49]; Promenade [2:47]; Sandpaper Ballet [3:18]; Sarabande [3:36]; Serenata
[3:54]; Old Macdonald had a Farm [3:16 ]; The Music Man: 76 Trombones [2:57]; Sleigh Ride [2:47]; Suite of Carols (version for brass) [11:42];
George GERSHWIN (arr. ANDERSON) Of Thee I sing: Wintergreen for President [1:25];
Leroy ANDERSON The Typewriter [1:43]; A Trumpeter's Lullaby [3:08]; The Syncopated Clock [2:26]
BBC Concert Orchestra/Leonard Slatkin
NAXOS 8.559357 [61:49] - from Passionato.com (mp3 and lossless) and Classicsonline.com (mp3)

The Girl in Satin [2:09]; Song of the Bells [3:00]; The Typewriter [1:35]; Bugler's Holiday [2:27]; Summer Skies [2:33]; Forgotten Dreams [2:10]; Sandpaper Ballet [3:15]; The First Day of Spring [2:57]; Scottish Suite (excerpts): III. The Bluebells of Scotland [2:14]; II. Turn Ye To Me [3:18]; Irish Suite (arr. L. Anderson): I. The Irish Washerwoman [2:37]; II. The Minstrel Boy [3:50]; III. The Rakes of Mallow [3:04]; IV. The Wearing of the Green [3:05]; V. The Last Rose of Summer [3:24]; VI. The Girl I Left behind Me [3:05]
Leroy Anderson Pops Concert Orchestra/Leroy Anderson - rec. 1952-4. Mono/ADD.
NAXOS CLASSICAL ARCHIVES 9.80764 [44:43] - from Classicsonline.com (mp3). Not available in USA.



I recommended Volumes 4 and 5 of the complete Naxos Leroy Anderson series two years ago (December 2008 Roundup) and the third volume is equally good. I make one small reservation, however, in favour of another download from classicsonline, Anderson's own recordings from 1952 and 1954, still sounding extremely well and adding an extra touch of joie de vivre. The difference is especially

noticeable in the case of The Typewriter and Sandpaper Ballet, where the unconventional solo 'instruments' are almost inaudible on the newer recording, but can be clearly heard in the excellent Naxos Classical Archive transfer. It may offer short value, but it can be yours in the UK for £1.99. Those unable to obtain the vintage versions because of copyright laws will, however, be content with the Slatkin recording.

William SCHUMAN (1910-1992)
Violin Concerto (1947) [33:12]
New England Triptych (1956): Be Glad then America; When Jesus Wept; Chester [16:22]
CHARLES IVES Variations on 'America' (1891-2) (orch SCHUMAN) [7:19]
Philippe Quint (violin); Bournemouth Symphony Orchestra/José Serebrier - rec. 2000. DDD.
NAXOS 8.559803 [56:54] - from Classicsonline.com (mp3)



Schuman's music has its more angular moments, but if you can warm to, say, the Berg Violin Concerto, you won't be daunted by Schuman's concerto for the same instrument. The New England Triptych, perhaps his best-known work, is even more approachable and thoroughly enjoyable: it was hearing a performance of this piece on BBC Radio 3 that reminded me what beautiful music it contains, comparable with Copland at his best. Schuman's orchestration of Ives' Variations on 'America' (the same tune as 'God save the Queen') brings the house down at the end. With excellent performances and recording, well transferred in good mp3 sound, this is a thoroughly recommendable introduction to Schuman's music - it was especially good value at a reduced price of £3.99 when I checked.

William SCHUMAN
Symphony No. 4 (1941) [24:50]
Orchestra Song (1963) [2:59]
Circus Overture (1944) [7:53]
Symphony No. 9 'Le fosse ardeatine' (1968) [27:43]
Seattle Symphony/Gerard Schwarz - rec. 2003 and 2004. DDD.
NAXOS 8.559254 [63:25] - from Classicsonline.com (mp3) and Passionato.com (mp3 and lossless)



If the Naxos recording of the Violin Concerto and New England Triptych offers the ideal introduction to Schuman's music, their series of recordings of the symphonies, of which this was the first, offers an excellent follow-up. Once again performance and recording are ideal and this is also available in lossless sound from Passionato, but at a cost equivalent to (or a little more than) the parent CD. The classicsonline download was on offer at £3.99 when I checked: it comes with the booklet, also available to subscribers to the Naxos Music Library.

Malcolm ARNOLD (1921-2006) Ballet Music
Suite from 'Homage to the Queen' (1953) [19:43]
Rinaldo and Armida (1954) [20:57]
Concert Suite from 'sweeney Todd' (1959) [20:57]
Electra (1963) [14:49]
BBC Philharmonic Orchestra/Rumon Gamba
rec. 9-10 December 2008, Studio 7, New Broadcasting House, Manchester, UK. DDD
CHANDOS CHAN10550 [76:14] from theclassicalshop.net (mp3, lossless and 24bit/96kHz)



I reviewed this recording in lossless sound some time ago and thought it another recommendable co-operation between Chandos and the BBC Phil/Rumon Gamba - see November 2009 Download Roundup, but I'm glad to add a substantial post-script from Dan Morgan, who has been listening to the better-than-CD 24-bit version:

Malcolm Arnold's music may be neglected in our concert halls, but at least we have the excellent Rumon Gamba/BBC Phil series as compensation. Their disc of overtures - review - is very enjoyable, helped in no small measure by Chandos' superb sonics. I had high hopes for these ballet suites and, after hearing this 24bit/96kHz download, I can say these expectations have been more than comfortably met.

The subdued, ear-pricking start to the suite from 'Homage to the Queen' gives way to one of those insouciant Arnoldian tunes, the orchestra set in a wide, deep acoustic. Strings are silky smooth, the brass bracing without being overbearing. Indeed, that's a good metaphor for the recording as a whole - balances are entirely natural and, in the quiet third movement, even the tiniest details are easily discerned. And there's bags of personality in this performance too, pizzicato strings as perky as one could wish for, the bass drum in the fourth movement weighty and well defined. After the gentle dignity of the fifth movement comes a swashbuckling finale, Korngoldian in its filmic sweep. What a terrific curtain-raiser this is.

Gamba and his band are alive to the shifting moods and colours of 'Rinaldo and Armida', textures now dark and forbidding, now light and airy. But it's the poise of this lovely score that's most alluring; even the drum-punched, cymbal-capped tuttis in the final movement are judiciously done, expanding without a hint of stress or strain. Ditto the extremes of 'sweeney Todd', which I remember most vividly from Tod Handley's fine Conifer recording. As for that typically Arnoldian blend of raw energy and sauntering tunes, it's even more entertaining this time round, the BBC Phil playing with fantastic precision and point throughout.

A trouper to the end, Arnold knew the benefit of leaving his audiences wanting more, so I'm pleased to say these suites don't ever outstay their welcome. Yes, he reshuffles and recycles his tunes but the music is never less than engaging. That's certainly true of the suite from 'Electra', the start of which creeps the flesh as much as any fin-de-siècle potboiler by Richard Strauss. Certainly the wild, hypnotic dances and pounding rhythms bring to mind the latter's'Salome' and 'Elektra', the BBC Phil providing all the thrust and amplitude this music requires. That said, Gamba never allows things to sound incoherent or overdriven, and that's a big plus in a febrile score such as this. But it's the long bell- and drum-tormented passage in the final movement that puts the final seal on this spectacular performance and recording.

This and Chandos' 24bit/96kHz download of Casella's Second Symphony are proof that music bought and auditioned this way is now every bit as viable and satisfying as owning a shiny plastic disc. If you have the right equipment and don't mind paying the eye-watering premium Chandos charge for these files, then this is where your next audio adventure begins.

Dan Morgan

Arvo PÄRT (b.1935)
Litany (Prayers of St John Chrysostom) [22:45]; Psalmon [6:45]; Trisagion [11:43]
The Hilliard Ensemble; Tallinn Chamber Orchestra/Tönu Kaljuste; Lithuanian Chamber Orchestra/Saulius Sondereckis - rec. c.1996. DDD.
ECM NEW SERIES 449 8102 [41:23] - from eMusic (mp3)

Fratres for violin and piano* [11:26]; Cantus in Memory of Benjamin Britten+ [5:00]; Fratres for 12 cellos++ [11:51]; Tabula rasa** [26:08]
*Gidon Kremer (violin), *Keith Jarrett (piano); **Lithuanian Chamber Orchestra; +Staatsorchester Stuttgart; ++Cellists of the Berlin Philharmonic Orchestra - rec. 1977-1984.
ECM NEW SERIES ECM 817 7642 [54:25] - from eMusic (mp3)



These are two of the more easily assimilated recordings of Arvo Pärt's music on the ECM New Series label, which has done so much to champion the composer's works, helping Cantus to become something of a modern classic already. The recordings offer rather short value, but they are offered on just three tracks and four tracks respectively, potentially each less than £1, which goes a long way to make amends. Enthusiasts of Pärt's music will find more to explore from the ECM catalogue on eMusic. The lack of notes can be remedied by a visit to the ECM Records website. (Click on 'background information' for each recording.)

Steve REICH (b.1936) Music for 18 Musicians (1974-75)
Bob Becker; Virgin Blackwell; David Van Tieghem; Glen Velez; Shem Guibbory; Pamela Fraley; Gary Schall; Nurit Tilles; Russ Hartenberger; Larry Karush; Rebecca Armstrong; Steve Chambers; Elizabeth Arnold; Ken Ishii; James Preiss; Richard Cohen; Jay Clayton/Steve Reich - rec.1978. ADD.
ECM NEW SERIES 821 417-2 [56:31] - from eMusic (mp3)



Incredibly, this comes as just one track from eMusic, which has to rank as the bargain of bargains, especially for subscribers still on the £11.99 for 50 tracks tariff, for whom it costs 24p. Even for new subscribers at 42p per track, it's worth trying out: if you don't like it - and not everyone goes for Reich's minimalism, especially 57 minutes of it, as much as I do - you haven't wasted much. Give it a chance and it proves as hypnotic as plainsong or Buddhist chant. The recording is good. The composer's own detailed notes on the music are online here.

Christopher GUNNING (b.1944)
Poirot Variants for Alto Saxophone and Orchestra [8:53]
Le Mome Piaf (la Vie En Rose) [6:17]
Under Suspicion [7:00]
Cold Lazarus [10:15]
The Rosemary and Thyme Caprice [3:59]
Rebecca [6:38]
Pollyanna [6:17]
Firelight [7:14]
When the Whales Came [7:12]
The Hollow [3:14]
Five Little Pigs [3:33]
Lighthouse Hill [4:27]
Martin Robertson (saxophone); Matthew Compton (accordion); Julia Bradshaw (cello); Yuri Torchinski (violin); Nicole Tibbles (sopranos)
BBC Philharmonic/Rumon Gamba - rec. July 2009, January and June 2010. DDD.
CHANDOS CHAN10625 [75:50] - from theclassicalshop.net (mp3, lossless and 24-bit)



For me the highlight of this new recording is the first item, based on the Poirot television theme which, inexplicably, no longer seems to be used for the programme, though it can, of course be heard on the repeats of the earlier editions (ITV3 in the UK). Gunning takes the comparatively short theme from the opening and closing moments and weaves it into an enchanting set of variations for saxophone and orchestra. The rest of the music may be rather less well-known, but it's all very well worth hearing. Gamba and the BBC Philharmonic once again prove how adept they are in performing film and television music, and the recording is excellent - as well as mp3 and lossless it's also available in better-than-CD quality 24/96 sound as a download. Please see also the more detailed review by MWI Classical Editor Rob Barnett here.

The Christmas Collection


The Sixteen/Harry Christophers - rec.1990-92. DDD.
CORO COR16054 [199:01] - from Passionato.com (mp3 and lossless)

Includes the contents of:
Hodie: an English Christmas Collection (COR16004) [58:13] - also available separately from Passionato.com (mp3 and lossless) and Classicsonline.com (mp3)

Christus natus est: an Early English Christmas (COR16027) [71:10] - also available separately from Passionato.com (mp3 and lossless) and Classicsonline.com (mp3)

A Traditional Christmas Collection (COR16043) [69:38] - also available separately from Passionato.com (mp3 and lossless) and Classicsonline.com (mp3)



The 3-CD set comes at a saving over the individual programmes, but these remain available separately for anyone who already owns one or more of them. I recommended Hodie last year - see review and review by Jonathan Woolf. The highlight of that programme is the excellent performance of Britten's Hymn to the Virgin and Ceremony of Carols. The highlights of Christus natus est are Sheppard's Gloria and Byrd's Lullaby, my sweet little baby, while the Traditional Collection contains pretty well what you would expect, from The first Nowell on the first track and Once in Royal David's City on the second to Hark! The Herald Angels Sing on the last, with a few less obvious items in between, such as the Coventry Shepherds' Carol. The albums are available only separately and in mp3 only from Classicsonline.com, but they come with booklets, as they also do for subscribers to the Naxos Music Library, unlike the booklet-less Passionato downloads. Classicsonline and the Naxos Library also have the new Traditional Christmas Collection (2) on COR16085 here.

In Brief

A New Heaven
Hubert PARRY (1848-1918) I was glad [5:41]
Charles WOOD (1866-1926) O thou the central orb [4:09]
William Henry HARRIS (1883-1973) Faire is the heaven [5:21]
Charles Villiers STANFORD (1852-1924) Beati quorum via [3:34]
Edward BAIRSTOW (1874-1946) Blessed city [9:05]
Hubert PARRY (1848-1918) Jerusalem [2:53]
Henry BALFOUR GARDINER (1877-1950) Evening Hymn [6:44]
Howard GOODALL (b.1958) The Lord is my Shepherd [3:18]
Edgar BAINTON (1880-1956) And I saw a new heaven [5:14]
Hubert PARRY (1848-1918) My soul, there is a country [4:00]
John STAINER (1840-1901) I saw the Lord [7:13]
Herbert HOWELLS (1892-1983) Like as the Hart [6:33]
Charles WOOD (1866-1926) Hail, gladdening light [3:19]
John RUTTER (b.1944) The Lord is my Shepherd [4:53]
The Sixteen/Harry Christophers - rec. 2008. DDD
UNIVERSAL CLASSICS & JAZZ 179 5732 [72:04] - from Passionato.com (mp3 and lossless)

"Of the many discs of English anthems I've been lucky enough to hear and review, few have been quite as good as this." (see full review by Em Marshall, with links to further reviews by John Quinn - "makes a strong claim for the attention of collectors" - and Michael Cookson - "indispensable listening".) I need add only that the lossless download is excellent. Bear in mind, however, that at the time of writing, though most retailers were charging full price for the CD, I have seen it on offer for as little as £4.99, which even undercuts the download price.

Light Music

Elizabeth Serenade: The Best of British Light Music
Eric COATES By the Sleepy Lagoon [3:47]
Frederic CURZON March of the Bowmen [4:51]
Albert KETÈLBEY Bells across the Meadows [5:14]
Vivian ELLIS Coronation Scot [3:00]
Haydn WOOD Sketch of a Dandy [3:27]
Robert FARNON Westminster Waltz [2:58]
Trevor DUNCAN Little Suite - March [3:04]
Ronald BINGE Sailing by [2:39]
Arthur BENJAMIN Jamaican Rumba [2:27]
Eric COATES Knightsbridge March [4:28]
Albert KETÈLBEY In a Monastery Garden [6:20]
Ernest TOMLINSON Little Serenade [3:22]
Haydn WOOD Roses of Picardy [5:57]
Edward WHITE Puffin' Billy [3:08]
Ronald BINGE Elizabethan Serenade [3:37]
Edward GERMAN Tom Jones Waltz [3:06]
Anthony COLLINS Vanity Fair [3:48]
Billy MAYERL Marigold [3:31]
Albert KETÈLBEY In a Persian Market [5:38]
Eric COATES The Dam Busters March [3:57]
Slovak Radio Symphony Orchestra/Andrew Penny, Adrian Leaper, Gary Carpenter; RTE Concert Orchestra/Eric Tomlinson - rec. 1990s. DDD.
NAXOS 8.553515 [78:19] - from Passionato.com (mp3) and Classicsonline.com (mp3)



This is an excellent selection from several Marco Polo and Naxos recordings of British light music - my only reservation is that I have already recommended the parent discs from which several of these recordings are taken, including the Marco Polo Eric Coates CD, from which the Knightsbridge and Dam Busters marches are included here (see above).



British Light Miniatures: Vintage TV and Radio Classics
Ralph VAUGHAN WILLIAMS Sea Songs March [3:51]
Billy MAYERL Marigold [3:58]
Gilbert VINTER Waltzing with Sullivan [5:08]
Eric COATES Sound and Vision March [3:32]
Fritz SPIEGL Radio 4 UK Theme [5:29]
Clive RICHARDSON the Holiday Spirit [3:04]
Arnold SAFRONI Imperial Echoes March [3:01]
Ivor SLANEY Top Dog (the Men from the Ministry) [1:56]
Archibald JOYCE One thousand Kisses [4:03]
Woolf PHILLIPS Parisian Mode [2:29]
Cyril WATTERS Willow Waltz [3:27]
John MALCOLM Non-Stop (ITN News) [3:05]
George MELACHRINO Winter Sunshine [3:25]
William HILL-BOWEN Paris Promenade [2:36]; Paris Metro [2:36]
Hubert BATH Out Of the Blue March [4:03]
Ashworth HOPE Barnacle Bill (Blue Peter) [2:39]
Alan LANGFORD A Little French Suite [2:54]
Montague PHILLIPS Dance Revels [10:20]
John DANKWORTH Widespread World (London Rediffusion) [4:13]
Royal Philharmonic Orchestra/Gavin Sutherland
NAXOS 8.570332 [75:49] - from Passionato.com (mp3 and lossless) and Classicsonline.com (mp3)



Older listeners will enjoy trying to remember the programmes to which the music was attached. Everyone can sit back and enjoy some well-shaped music in a lighter vein.





British Light Music Classics: Volume 3
Haydn WOOD Montmartre [3:47]
Clive RICHARDSON, arr Ronald HANMER Melody on the Move [2:42]
Jack STRACHEY In Party Mood [4:01]
'Trevor DUNCAN' The Girl from Corsica [4:37]
Lionel MONCKTON Soldiers in the Park [3:51]
'Felix GODIN', arr Adolf LOTTER Valse Septembre [5:22]
Ronald BINGE Miss Melanie [2:25]
Ivan CARYLL Pink Lady Waltz [5:25]
Robert FARNON Portrait of a Flirt [2:44]
Harry DEXTER Siciliano [4:37]
Albert KETÈLBEY In a Persian Market [6:15]
Jack STRACHEY Theatreland [3:19]
Archibald JOYCE Songe d'Automne [4:46]
Vivian ELLIS, arr Sidney TORCH Alpine Pastures [3:40]
Ernest TOMLINSON Little Serenade [3:31]
George MELACHRINO Woodland Revel [3:10]
Tolchard EVANS, arr Fred HARTLEY/Ken WARNER Lady of Spain [3:02]
Charles ANCLIFFE Smiles, then Kisses [4:26]
Sidney TORCH On a Spring Note [2:31]
Eric COATES Music Everywhere 'Rediffusion March' [3:20]
The New London Orchestra/Ronald Corp
HYPERION CDA67148 [78:50] - from Hyperion (mp3 and lossless)

British Light Music Classics Volume 4
'Marshall ROSS' Marching Strings (Top of the Form) [2:45]
Peter HOPE The Ring of Kerry - Jaunting Car [2:46]
'Trevor DUNCAN' High Heels [3:13]
Frederic CURZON Dance of an Ostracised Imp [3:21]
John FOULDS A Keltic Suite, Op 29 - Keltic Lament [4:14]
Charles WILLIAMS Rhythm on Rails [2:47]
Eric COATES By the Sleepy Lagoon [4:03]
Arthur BENJAMIN Jamaican Rumba [2:06]
Albert W KETÈLBEY In a Monastery Garden [5:53]
Charles WILLIAMS A Quiet Stroll [2:55]
Percy FLETCHER Parisian Sketches No 1 - Demoiselle Chic [3:59]
Jack BEAVER Cavalcade of Youth [3:40]
Fredric BAYCO Elizabethan Masque [2:16]
Henry Balfour GARDINER Shepherd Fennel's Dance [5:31]
Charles ANCLIFFE Thrills [6:04]
Frederick ROSSE The Merchant of Venice - The Doge's March [4:55]
Samuel COLERIDGE-TAYLOR Petite Suite de Concert Op 77 [15:40]
The New London Orchestra/Ronald Corp
HYPERION CDA67400 [77:51] - from Hyperion (mp3 and lossless)



Volumes Three and Four of the British Light Music series are just as recommendable as the first two volumes which I included in my choice of 30 Best Hyperion recordings, even allowing for the fact that there is some overlap, especially on Volume 4, with the Naxos and Marco Polo light music CDs. (How many Jamaican Rumbas do you want?) The Hyperions are deleted as CDs, except in a box set, but the downloads remain available separately. This is ideal music for the mp3 player, but the mp3 versions sound just as good on more serious equipment - the iTunes player can't cope with flac.

American Light Music Classics
John Philip SOUSA: the Washington Post [3:02]
Kerry MILLS: Whistling Rufus [3:11]
Morton GOULD: Pavane [3:53]
Felix ARNDT: Nola - a Silhouette [3:29]
Arthur PRIOR: the Whistler and His Dog [2:50]
Leroy ANDERSON: Belle of the Ball [2:51]
The Arkansas Traveler - Old Fiddlers' Breakdown [2:33]
John W BRATTON: the Teddy Bears' Picnic [3:10]
Edward MACDOWELL: to a Wild Rose [2:09]
Abe HOLZMANN: Blaze Away! [3:46]
Rudolph FRIML: Chanson 'in Love' [2:28]
Raymond SCOTT: the Toy Trumpet [3:13]
George GERSHWIN: Promenade [2:51]
Leroy ANDERSON: Plink, Plank, Plunk! [2:28]
Victor HERBERT: the March of the Toys [3:55]
David ROSE: Holiday for Strings [3:14]
Ethelbert NEVIN: Narcissus [2:26]
Don GILLIS: a Symphony for Fun (No.5½) [14:07]
Richard RODGERS: the Carousel Waltz [7:47]
The New London Orchestra/Ronald Corp
HYPERION CDA67067 [73:22] - from Hyperion (mp3 and lossless)



Listeners on either side of the pond will recognise some of these pieces, but there's some unfamiliar repertoire here, too, all of it as thoroughly enjoyable as the British music series.




Mantovani at the Movies
Alex NORTH Unchained - Unchained Melody [2:16]
Henry MANCINI Breakfast at Tiffany's - Moon River [2:39]
Harold ARLEN the Wizard of Oz - Somewhere over the Rainbow [3:07]
Jule STYNE Three Coins in the Fountain [3:40]
Charles CHAPLIN Limelight - theme [2:59]
Sammy FAIN Love is a many-splendored thing [4:00]; April Love [3:59]
Neil YOUNG Around the World in 80 days [2:03]
Sammy FAIN A certain Smile [3:33]
Elmer BERNSTEIN The Magnificent Seven - theme [1:58]
Max STEINER Gone with the Wind - Tara's theme [3:28]
Mikis THEODORAKIS Zorba the Greek - main theme [3:50]
John BARRY Goldfinger [2:39]; You Only Live Twice [2:42]
Maurice JARRE Lawrence of Arabia - theme [3:56]; Dr Zhivago - Lara's theme [2:24]
Jerry BOCK Fiddler on the roof [2:41]
Adolph DEUTSCH the Apartment - theme [3:18]
Nicholas BRODSKY The Toast of New Orleans - Be my love [3:21]
Dmitri TIOMKIN Friendly Persuasion - Thee I love [2:37]
Mantovani and his Orchestra - rec. 1960s? ADD
UNIVERSAL 498 1783 [60:26] - from Passionato.com (mp3)



Mantovani used to be such an important part of the Decca repertoire that there was even a 'Mantovani Month' in May. The orchestra was an ad hoc group of top players from London orchestras and bands, from whom he evoked such silky sounds. Unless you think this all too sugary, it's very enjoyable and the recording has survived the years well.

The Best of Flanders and Swann
From 'At The Drop of A Hat', Fortune Theatre, 1957
A Transport of Delight (London Omnibus) [4:35]
Song of Reproduction [3:29]
A Gnu [6:09]
Design for Living [4:29]
Je suis le ténébreux [2:14]
Songs for Our Time - Philological Waltz / Satellite Moon / A Happy Song [5:38]
A Song of the Weather [1:52]
The Reluctant Cannibal [4:22]
Greensleeves [6:08]
Misalliance [3:54]
Kokoraki - A Greek Song [3:11]
Madeira, M'Dear? [5:42]
Hippopotamus [4:20]
From 'More Out Of The Hat', 1957
Vanessa [4:13]
Too Many Cookers [3:11]
From 'Wallace's Private Zoo', 1956*
The Hippopotamus Song [3:05]
The Rhinoceros Song [2:44]


The Warthog [3:45]
The Elephant Song [2:51]
Michael Flanders and Donald Swann; Ian Wallace*
REGIS FORUM FRC6127 [76:00] - from Amazon.co.uk (mp3)

At £3.99 for 76 minutes, this is self-recommending for those who remember the impact that Flanders and Swann and Ian Wallace made in the 1950s and long after.

In Brief



Puer natus est: Tudor Music for Advent and Christmas
Stile Antico - rec. January 2010
HARMONIA MUNDI HMU807517 [78:09] - from eMusic (mp3)

Though I have several excellent recordings of Thomas Tallis's Mass Puer natus est, written during the brief reign of Queen Mary, I couldn't resist this on the basis of earlier Stile Antico recordings and John Quinn's enthusiastic review - click here for full details. Though only one track of the eMusic download comes at the full 320k bit-rate, the transfer does justice to the recording. No texts, of course, but most of them, especially the sections of the Mass, are fairly easy to come by. Those other recordings of the Tallis Mass come from the Tallis Scholars (Gimell CDGIM034 or better value on Christmas with the Tallis Scholars, 2 CDs for the price of one, CDGIM202), Chapelle du Roy (Signum SIGCD003) and The Sixteen (Coro COR16037).

Antonio VIVALDI (1678-1741)
Concerto 'Conca' for strings and continuo in B flat, RV163 [3:50]
Concerto IX from 'La cetra', Op. 9, two violins, strings and continuo in B flat, RV530 [9:29]
Concerto for bassoon, strings and continuo in a minor, RV500 [9:52]
Concerto for sopranino recorder, strings, bassoon and continuo in a minor, RV445 [10:29]
Concerto VI from 'La cetra' for two violins, strings and continuo in B flat, RV526 [8:28]
Sonata for recorder, bassoon and continuo in a minor, RV86 [8:42]
Concerto fragment for bassoon, strings and continuo in d minor, RV482 [2:46]
Concerto fragment for sopranino recorder, strings and continuo in G, RV312 [3:39]
Concerto X 'L'Amoroso' from 'La cetra' for violin, strings and continuo in E, RV271 [11:44]
Adrian Chandler (violin); Pamela Thorby (recorder); Peter Whelan (bassoon)
La Serenissima/Adrian Chandler rec. Hospital of St Cross, Winchester February 2010. DDD.
AVIE AV2201 [72:02] - from eMusic (mp3) or Classicsonline.com (mp3)

John-Pierre Joyce thought that La Serenissima's scholarship and talents had been wasted on a rather uninspiring programme - see review. The title is rather facetious but you may well feel, as I do, that the first half of J-PJ's summation, re the scholarship and talent, is more apposite than the second. Subscribers can try first on the Naxos Music Library if in doubt, from which source, and from classicsonline to purchasers, the Avie booklet is also available.

Those looking for a Vivaldi bargain should note that Virgin have just reissued Fabio Biondi's performances of Op.3 and Op.8, including, of course, The Four Seasons, with Europa Galante in a 4-CD box (6484082, around £14.50) - or download Op.3 for an unbelievably inexpensive £2.99 from Amazon.co.uk.

Georg GEBEL (Junior) (1709-1753)


Christmas Oratorio (Musikalische Andacht am Heiligen Christ-Abende, 1748) [36:23]
New Year's Oratorio (Musikalische Andacht am Neuen Jahres-Abende, 1748) [32:53]
Monika Mauch, soprano; Kai Wessel, alto; Nico van der Meel, tenor; Peter Kooy, bass
Cantus Thuringia; Capella Thuringia/Bernhard Klapproth
rec. June, 2003, Evangelische Kirche St Bonifatius, Ditfurth, Germany. DDD
CPO 999 993-2 [69:26] - from Passionato.com (mp3 and lossless) or Classicsonline.com (mp3)

Johan van Veen noted some minor disappointments in an otherwise recommendable recording - see review. With good mp3 and lossless transfers, this makes a very worthwhile alternative to the usual Christmas fare. Passionato have it in lossless sound, but Classicsonline charge less - just £4.99.

Dialogues of Sorrow: Passions on the Death of Prince Henry (1612)
Gallicantus/Gabriel Crouch
SIGNUM SIGCD210 [70:46] - available from eMusic (mp3)

Don't be put off at the prospect of 71 minutes of laments from a group of early 17th-century composers whose styles, though not markedly varied to the modern ear, contain more variety than you may think. Go for the earlier Gallicantus recording of the music of Tudor composer Robert White first (SIGCD134 - see review by Robert Hugill and my November 2010 Download Roundup). Those who already own that should head straight for the new recording. Please see my detailed review of the parent CD here. I can't vouch for the quality of the download, merely for that of the CD.

Some Recent Regis CDs

Three recent reissues on the budget Regis label have come my way. I don't recommend trying to find downloads of them - the discs are inexpensive enough - but I'm including them here in order to get my thoughts on them online well before Christmas: none of them are Christmas-y, but they may make ideal presents.

Masters of the English Renaissance
John TAVERNER (c.1495-1545) Kyrie le Roy [5:21]; Alleluya V. Veni electa mea [3:37]; Ave Dei Patris filia [13:52]
John MASON (d.1548) O rex gloriose [11:32]
Robert PARSONS (c.1535-1572) Ave Maria [3:33]
John SHEPPARD (c.1515-1558) The Lord's Prayer [3:38]
Thomas WEELKES (c.1575-1623) Alleluia, I heard a Voice [2:57]; Give Ear, O Lord [5:32]; Ninth Service - Magnificat [8:36]; Nunc Dimittis [6:50]
Richard DERING (c.1580-1630) Factum est silentium [2:44]
Orlando GIBBONS (1583-1625) Hosanna to the Son of David [2:27]
The Choir of Christ Church Cathedral, Oxford/Stephen Darlington
REGIS RRC1320 [70:45]



These recordings are taken from various CDs which the Christ Church Cathedral Choir and Stephen Darlington have made for Nimbus. I've reviewed several of them for MusicWeb International and been generally impressed by their high quality: even when they have not been my first choice, they represent valuable alternatives to recordings by professional, mostly mixed-voice groups. That's especially the case with the music of John Taverner, the first informator choristorum or master of the choristers at Wolsey's new foundation, Cardinal College, later to be renamed Christ Church. Excellent as the recordings of his music by The Sixteen and the Tallis Scholars are, it's especially valuable to hear his music sung by a choir of the same proportions and at the same establishment as the one which he directed almost half a millennium ago.

Don't be surprised if the three works by Taverner on this CD lead you to explore further, in which case, if you wish to avoid duplicating these performances, all taken from Nimbus NI5360: Music for Our Lady and Divine Office - see review - you may turn with confidence to The Sixteen's set of Tudor Church music which was one of my recordings of the Year in 2009, The Golden Age of English Polyphony (Hyperion CDS44401/10: Bargain of the Month) includes all but one of Taverner's Masses and several shorter works - see review and review.) A less daunting but equally attractive budget-price set from the Tallis Scholars also contains an excellent performance of Taverner's Western Wind Mass, The Tallis Scholars sing Tudor Church Music, CDGIM209, 2 discs for the price of one - see review. Don't forget the three volumes of highlights from the Tallis Scholars' 30 years before the recording mast, reviewed last month and above.

I must also mention an excellent recent recording of Taverner's music, including the Missa Corona Spinea by another Anglican cathedral choir, that of St Mary's, Edinburgh, on Delphian DCD34023 (Recording of the Month - see review and review.) That recording features the Kyrie Leroy in a slightly brisker performance than that offered by Christ Church, or, indeed, by The Sixteen and the Tallis Scholars.

The Glory of New College
CD1
John TAVERNER (1490-1545) Mater Christi [5:44]
Christopher TYE (1505-1572) Christ Rising again from the Dead [3:45]
William BYRD (1543-1623) Gloria from the Four-Part Mass [3:28]
Thomas TALLIS (1505-1585) Dum Transisset [6:27]
Orlando GIBBONS (1583-1625) O Clap Your Hands Together [5:46]
Thomas TOMKINS (1572-1656) Jubilate [6:24]
Giovanni PALESTRINA (1525-1594) Stabat Mater [9:22]
Orlande de LASSUS (1532-1594) Veni Creator [8:13]
Philippe de MONTE (1521-1603) Super Flumina Babylonis [6:01]
Eustache Du CAURROY (1549-1609) Salve Regina [4:48]
CD2
Henry PURCELL (1659-1695) Rejoice in the Lord Alway [8:57]
William CROFT (1678-1727) God is Gone Up [4:37]
Maurice GREENE (1696-1755) Lord Let Me Know Mine End [6:30]
William BOYCE (1711-1779) By the Waters of Babylon [8:20]
Jonathan BATTISHILL (1738-1801) Call to Remembrance [6:42]
William CROTCH (1775-1847) How Dear Are Thy Counsels [2:30]
Samuel Sebastian WESLEY (1810-1876) Blessed be the God and Father [7:53]
Charles Villiers STANFORD (1852-1924) The Lord is my Shepherd [8:24]
Gabriel FAURÉ (1845-1924) Sanctus and Pie Jesu from the Requiem [6:13]
The Choir of New College, Oxford/Edward Higginbottom
From various recordings in the CRD catalogue.
REGIS RRC2091 [63:05 + 60:13]



This slightly longer collection from New College Choir covers more ground chronologically than the Christ Church collection and is equally self-recommending. Now that the choir has just launched its own label, it's good to be reminded of their earlier recordings for CRD. Once again, the danger of buying this sampler is that you will want some of the parent recordings, too.

That's also the case with the excellent 2-CD album of excerpts from the complete Signum set of the music of Thomas Tallis which Regis issued on their Portrait label in 2007 and which is now due for reissue again (RRC2090, Chapelle du Roy/Dixon). I understand that the discrepancies of numbering between the booklet and the actual tracks on CD have been put right. (See my original review: Bargain of the Month).

Marcel DUPRÉ (1886-1931) Organ Works
Prelude and Fugue in A-flat, Op. 36/2 [9:13]
Evocation, Poème symphonique, Op. 37 [22 :57]
Six antiennes pour le temps de Noel, Op. 48 : Ecce Dominus veniet [2:40]; Omnipotens sermo tuus [3:05]; Tecum principium [2:26]; Germinavit radix Jesse [1:40]; Stella ista [2:27]; Lumen ad revelationem [2:14]
Psalm XVIII, Poème symphonique, Op. 47 [20:27]
Choral and Fugue in f-sharp minor, Op. 57 [6:31]
Jeremy Filsell (Harrison organ of Ely Cathedral)
rec. Ely Cathedral, c.1991? DDD.
REGIS RRC1321 [73:51]



Like the recent Regis CD of Richard Dering's Motets (RRC1355 - see my review), this Dupré recording was originally released on the Gamut label, in this case on GAMCD530, in 1992. Like the Dering CD, it can be thoroughly recommended, with a small reservation about the parsimonious booklet of notes - less of a problem this time, since there are no texts to bemoan the lack of. (I understand that the Dering CD will be re-released in 2011, this time with the texts and translations). Jeremy Filsell subsequently recorded the complete Dupré organ works for Guild, to considerable acclaim, but the reissue of this single CD is no less welcome.



Christmas Carols from St John's
Piae Cantiones (arr. G. Shaw) Unto Us a Boy Is Born! [1:50]
Anonymous (French, arr. C. Wood) Ding Dong! Merrily on High [2:02]
Peter WARLOCK Balulalow [2:16]
Traditional (arr. H. Walford DAVIES) The Holly and the Ivy [2:40]
Gustav HOLST (arr. P. KENYON) In the Bleak Mid-Winter [4:23]
Traditional (arr. D. WILLCOCKS) Sussex Carol [1:46]
Patrick HADLEY I Sing of a Maiden [2:44]
John RUTTER Shepherd's Pipe Carol [3:28]
Franz Xaver GRUBER (arr. D. CASHMORE) Silent Night [3:42]
Felix MENDELSSOHN (arr. D. WILLCOCKS) Hark! The Herald Angels Sing [3:12]
Traditional (arr. R. VAUGHAN WILLIAMS) O Little Town of Bethlehem [4:07]
God Rest You Merry, Gentlemen [3:09]
Elizabeth POSTON Jesus Christ the Apple Tree [3:28]
Piae Cantiones (arr. KENYON/JACQUES) Good King Wenceslas [2:57]
Anonymous (c. 1420, ed. J. STEVENS) There Is No Rose [4:38]
Raymond WILLIAMS Two Welsh Carols: Graewdwr nef a daear lawr [2:16]; Pan fo'r stormydd garwa'n curo [1:49]
William J. KIRKPATRICK (arr. D. WILLCOCKS) Away in a Manger [2:33]
Traditional O Come, All Ye Faithful [4:06]


Choir of St John's College, Cambridge/George Guest - rec.? DDD.
CHANDOS COLLECT CHAN6670 [57:06] - from theclassicalshop.net (mp3)

Chandos's present in mp3 form to subscribers to their classicalshop newsletter; £4.80 (mp3) or £4.99 (lossless) to everyone else. Well worth buying, but another reminder that it's worth taking a few minutes to sign up for the newsletter.