Download News 2012/19
Brian Wilson
Please note that from this article forward, these musings on downloads of recent and older recordings will be renamed and renumbered. I hope still to produce them at approximately fortnightly intervals, but without the rigid necessity of meeting deadlines at the beginning and middle of the month. As there have been 18 bi-monthly roundups so far, then, this becomes Download News 2012/19. The previous Roundup, September 2012/2 is here.

My apologies to Naxos and the Oxford Camerata whose 1995 recording of the music of Willaert (8.553211 – download from classicsonline.com or stream from Naxos Music Library) I left out of consideration in the previous Roundup when I wrote that there was only one recording wholly of his music in the catalogue beside the new Ricercar. My thanks to Nick Flower of Hyperion for pointing this out.

Download of the Month

Kalevi AHO (b. 1949)
Three Interludes for Organ (1993) [17:45]
Alles Vergängliche, Symphony for Organ (2007) [51:38]
Jan Lehtola (1907/2008 Åkerman & Lund organ)
rec. October 2010, St Johannes kyrka, Malmö, Sweden
Pdf booklet included
BIS-SACD-1948 [70:12] – from eclassical.com (mp3, 16– & 24-bit lossless)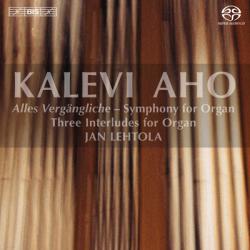 I've listened to this only once, from Naxos Music Library, but I'm happy to follow Dan Morgan's suggestion and make it Download of the Month; here are his thoughts on it:

I've said it before, and I'll say it again; BIS's unfolding Aho series is one of the most significant – and most rewarding – artistic collaborations around. Each release not only offers premiere recordings of new music but also gives us a glimpse into the evolving soundscapes of an important, living composer. The forces employed in this cycle are impressive too, and recruiting Jan Lehtola for these organ works is a real coup. This Finnish organist – one of a distinguished breed that includes Kalevi Kiviniemi, Santeri Siimes and Ville Urponen – can be heard to great advantage in this set of Mendelssohn sonatas (review). Alba's superlative recording helps to make it a very desirable issue indeed.

What a shame Alba's and Fuga's class-leading organ SACDs aren't available as high-res downloads – not yet anyway – for they are very special. Their unfailing musicality and sense of presence is astonishing, which makes them a hard act to follow. Dipping into the latest Aho download it soon becomes clear this is exceptional too, although listeners accustomed to the composer's orchestral music may find these organ pieces a bit daunting at first. The three interludes, rigorously conceived and unerringly played, may seem a tad Messiaenic at times; that said, Aho's 'voice' is always distinctive. As for the third interlude, it brings out the contrasting sides of this composer's musical persona, combining as it does stern formality and a tender, melting inwardness.

The quiet, shimmering sound-world of that interlude is superbly wrought and recorded; it brings goose-bumps aplenty, I assure you, and it reminds one of just how versatile – and imaginative – Aho's musical thinking tends to be. In his succinct liner-notes he admits the Organ Symphony is a challenge for organist and listeners alike; it's a long piece, whose 'density of specification' is breathtaking. The title, taken from Goethe's Faust, always brings Mahler's Eighth to mind; this opus for organ is just as universe-embracing, from the subtle rhythmic palpitations and ear-catching colours of the fantasia through to the mercurial moments of the first fugue and the dark dissembling of the second.

I've not heard this multi-faceted modern instrument before, and I'm hugely impressed by its near-perfect blend of refinement and scale. If that leaves you dumbstruck then Lehtola's sure-footedness – notably in those big, celestial climaxes – will leave you cowering in your pew. At the symphony's core lies a glowing, largely contemplative adagio that conjures up the most radiant organ sounds imaginable. This really is writing – and playing – of the highest order, and BIS have done an astounding job at capturing it all for posterity.

Quite possibly one of my recordings of the year; don't miss.

Dan Morgan
http://twitter.com/mahlerei

Discovery of the Month

David DUBERY (b.1948) Songs and Chamber music
Sonatina for oboe and piano (Threesome for 2 players) (1986) [6:34]
Three Songs to Poems by Robert Graves (for mezzo, recorder and piano (2001) [4:31]
Four Songs for mezzo and piano (1971-1985) [8:34]
Suite from Degrees of Evidence for recorder, oboe and viola (2004) [7:38]
Remember for voice and piano (2005) [3:11]
Two Stopfordian Impressions for recorder and piano (2008-2009) [6:08]
Sonata for cello and piano (2006) [11:22]
Escapades for recorder, bassoon and piano (2008-2009) [10:13]
Walking Cimbrone for bassoon and piano (2007) [3:43]
Harlequinade for recorder and guitar (2007) [12:35]
Mrs Harris in Paris (Valse Temptation) for treble recorder and piano (2003) [3:45]
Adrienne Murray (mezzo), John Turner (recorder), Peter Dixon (cello), Richard Simpson (oboe), Graham Salvage (bassoon), Craig Ogden (guitar), Richard Williamson (viola), David Dubery (piano), Paul Janes (piano) – rec. 2008 and 2009. DDD.
DIVINE ART METIER MSV28523 [78:47] – from theclassicalshop.net (mp3 and lossless)

[see detailed review by John France]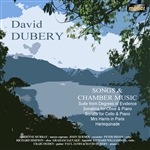 Sometimes I'm a bit slow to cotton on to the discoveries that my colleagues have made; in this case it's more than a year since John France alerted us to 'a great retrospective CD of music by the Mancunian composer David Dubery'. I'm pleased, however, that I've now made it, though there's not much that I can usefully add to JF's detailed review except that the download sounds very well – in lossless format at least – and that theclassicalshop.net offer it at a very attractive price (£4.99 or £7.99 for mp3 and lossless respectively). There's no booklet – classicsonline.com offer that, but at £7.99 for mp3 only. Subscribers to the Naxos Music Library can obtain and save the booklet.

Reissue of the Month

The Enchanted Garden: the Music of Eric COATES (1886-1957)
The Enchanted Garden [19:50]
Cinderella Phantasy [15:25]
Second Symphonic Rhapsody [5:22]
London Bridge March [4:13]
Pro Arte Orchestra/Stanford Robinson – rec. 1957. ADD/stereo
Oxford Street March [3:25]
The Three Bears Phantasy [9:17]
Merrymakers Overture [4:29]
By the Sleepy Lagoon [3:04]
London Symphony Orchestra/Sir Charles Mackerras – rec. 1957. ADD/stereo
BEULAH 1PD43 [65:06] – due to be available from iTunes (mp3): link from eavb.co.uk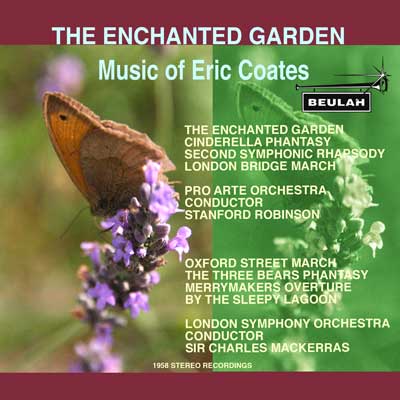 Beulah have already given us some older recordings of the music of Eric Coates, conducted by Sir Henry Wood on a 2-CD set, 3PD13, with music by Vaughan Williams, Elgar and Purcell – see February 2011 Roundup. The recorded sound there is little more than tolerable, whereas in the present case it still sounds agreeably fresh.

Coates wrote some of the most accomplished light music that I know; music like the Knightsbridge March and Calling all Workers are strong favourites with the elderly patients whom I visit in my local hospital, not just because they remember them as theme tunes; but they also go down well with their young carers. My favourite recordings come from a 2-CD EMI Classics for Pleasure set which has been around in various formats for quite some time (3523562, around £7.00 on disc or £4.99 as an mp3 download from sainburysentertainment.co.uk). The splendid performances there are led by Sir Charles Groves, Reginald Kilbey and Sir Charles Mackerras – my only reservation about the Beulah reissue is that you will be duplicating three of the Mackerras items from that set, a set which, if you don't already possess, you will want to. They sound just as well here as they do on CfP.

The Stanford Robinson items come from a Pye recording of about the same vintage, later reissued on Golden Guinea. The music and the performances are just as enjoyable as the more familiar Mackerras items, with none of the surface noise that I remember from Golden Guinea. Though briefly available on CD from PRT with less than ideal documentation, their reissue by Beulah is very welcome, albeit with even less information.

There is also a fine recording of the music of Eric Coates from what may seem an unlikely source, the Czecho-Slovak RSO and Adrian Leaper (Marco Polo 8.223445 – see December 2010 Roundup). It's no longer available on CD – pending reissue on Naxos? – but it can be downloaded from classicsonline.com or streamed from Naxos Music Library.

Bargain of the Month

Krzysztof PENDERECKI (b.1933) Complete Cello Concertos
Cello Concerto No.1 (1966-72) [17:49]
Cello Concerto No.2 (1982) [35:15]
Cello Concerto (variant of Viola Concerto, 1983) [20:25]
Art Noras (cello)
Sinfonia Varsova/Krzysztof Penderecki – rec. c.2000. DDD.
WARNER FINLANDIA ELATUS 809274959362 or 685738557561 [73:28] – no longer available on CD in UK? Download from sainsburysentertainment.co.uk (mp3) or stream from Naxos Music Library


At £1.79 for a recording now available only as a download – which, with many providers means an increased price – this is a surprising bargain. (Sainburys.co.uk also have a download of the original 2001 release for the same price.) There are no notes, but that's also true of the Naxos Music Library version* and its download partner from classicsonline.com, where the cost is £6.99. As with Penderecki's Music for Cellos and Orchestra (Naxos 8.570529 – see my review) this is not music which yields itself easily. Some of it is outside my comfort zone, but it is worth persevering and these are ideal recordings from which to get to know it, unless you prefer to have the 1983 concerto played on the viola, as originally intended (Naxos 8.572211 – see review) though the alternative use of the cello was sanctioned by the composer.

* subscribers to NML will find notes on Concerto No.2 here.

The Open Goldberg Variations Project

My thanks to Stan Metzger, who runs our sister site Seen and Heard, for information about the Open Goldberg Variations Project. There's a printable new edition of Bach's Goldberg Variations, with an iPad app, and free downloads in various formats (mp3, 24/44.1 wma and 24/96 flac) of a performance by Kimiko Ishizaka; details in Stan's recent write-up – here – where you will find a hyperlink to the project.

Naxos Music Library

You may have noticed that I refer quite frequently to the Naxos Music Library in reviews – it's an invaluable tool for deciding which downloads to request to review; almost everything that's available to download from classicsonline.com is there and sometimes items are available there for streaming before they are available for download. We don't always remember to mention it, so much do we take it for granted; it should be an equally invaluable tool for readers wishing to decide for themselves what to purchase. I'm not here to publicise NML – or purchases from MusicWeb International for that matter – but a subscription to the Library is well worth considering.

Music on CRD

The re-emergence of the wider availability of recordings from CRD, both on CD and as downloads provides a good moment to remind readers of recordings from this stable that I've recommended and to add a few more.

Anton ARENSKY Piano Trio in d; Nikolai RIMSKY-KORSAKOV Trio in B-flat
The Nash Ensemble
CRD3409 – see April 2009 Roundup. See also comparison of this and other recordings of the Arensky with my review of both Arensky Piano Trios on TUDOR CD7152.

William BOYCE (1711-1779) Select Anthems
O Where shall Wisdom be Found? [8:49]
Wherewithal Shall a Young Man [5:42]
I Have surely built Thee an House [9:14]
Voluntary No. 4 in g minor [4:17]
O Praise the Lord [7:56]
Turn Thee unto Me [6:14]
O Give Thanks unto the Lord, for He is Gracious [10:07]
Voluntary No. 1 in D [3:47]
By the Waters of Babylon [8:11]
The Lord is King be the People never so impatient [6:50]
Voluntary No. 7 in C [3:00]
Gary Cooper (organ); New College Choir, Oxford/Edward Higginbottom – rec. c.1991. DDD
CRD3483 [74:07] – from classicsonline.com (mp3) or stream from Naxos Music Library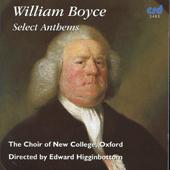 If you know Boyce at all, it may be through his Eight Symphonys [sic], but his impressive choral output has received less attention. Ignore the stolid image presented on the cover and listen to the opening Where shall wisdom be found? and you will find that in this case it's not ut pictura musica; the picture doesn't represent the music. The performances could hardly be bettered and the recording does them justice. Only the lack of texts here and in the other New College recordings makes me hesitate to prefer the download to the physical album – just the back cover of the CD with its list of contents in this case; not even that for some of the others.


William BYRD Cantiones Sacræ (1575)
New College Choir, Oxford/ Edward Higginbottom
CRD3492 – All three albums – this and the two listed below – in January 2009 Roundup. See also references to this album in review of recording of all Byrd's and Tallis's contributions to the 1575 Cantiones (Alamire/Skinner, OBSIDIAN OBSID-CD706) in March 2011/2 Roundup.

William BYRD Cantiones Sacræ (1589/1591)
New College Choir, Oxford/Edward Higginbottom
CRD3420/CRD3439 – See CRD3492 above.

William CROFT Select Anthems
O Lord God of My Salvation
We Will Rejoice In Thy Salvation
O Lord I Will Praise Thee
Voluntary in a minor for Double Organ
Hear My Prayer
God Is Gone Up With a Merry Noise
I Will Sing Unto the Lord
Organ Voluntary in D
We Wait For Thy Loving Kindness
O Lord Rebuke Me Not
Timothy Morris (organ)
New College Choir, Oxford/Edward Higginbottom
CRD3491 – see January 2009 Roundup. Download from classicsonline.com (mp3) or stream from Naxos Music Library.

This collection can neatly be supplemented with Croft's Te Deum, Jubilate and Burial Service from St Paul's on budget-price HYPERION HELIOS CDH55252 – see Hyperion Top 30 Roundup.

Gabriel FAURÉ Piano Quartets
The Nash Ensemble
CRD3493 – see October 2008 Roundup; download from classicsonline.com (mp3) or stream from Naxos Music Library.

Be aware, however, of the very special recording of this music by Domus (HYPERION CDA66166 – see Hyperion Top 30 Roundup). Classicsonline.com now charge £7.99 for CRD downloads, so the Hyperion is actually less expensive and comes in mp3 and lossless, with pdf booklet, for the same price.

Maurice GREENE (1696-1755) Select Anthems
Lord, let me know mine end [6:14]
The king shall rejoice [11:31]
How long wilt thou forget me, O Lord, for ever? [7:46]
Voluntary in G [5:52]
God is our hope and strength [8:19]
Have mercy upon me, O God [11:50]
12 Voluntarys: Voluntary No. 11 in b minor [4:00]
Let God arise [8:27]
O clap your hands together [3:28]
Thou visitest the Earth [2:14]
Gary Cooper (organ); New College Choir, Oxford/Edward Higginbottom – rec. c.1991. DDD
CRD3484 [69:41] – from classicsonline.com (mp3) or stream from Naxos Music Library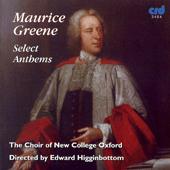 The music of Maurice Greene undoubtedly suffered and still suffers from comparison with that of his contemporary, Handel. His style is certainly restrained and scholarly by comparison, so the portrait of him wearing his D.Mus. gown on the cover of the CRD album is appropriate. And yet … Hyperion coupled one of his longer anthems, Hearken unto me ye holy children, with Handel's Choice of Hercules (CDA67298, King's Consort) without there seeming to be a huge dichotomy between them. Reviewing another performance of Hercules on a budget Virgin twofer – here – I thought that Hyperion's inclusion of the Greene anthem helped set right a historical wrong and re-hearing this CRD anthology has strengthened that opinion, especially as the New College performers get the tone just right and the recording is good. Scholarly Greene may have been, but not po-faced, as this performance of Let God arise (tr.8) amply demonstrates.

These performances of the music of Croft and Greene are also contained in an inexpensive 5-CD anthology, The Restoration and Georgian Anthem, CRD5009.

Johann Adolf HASSE (1699-1783) Cantatas, ballads and sonatas
Quel vago seno, o Fille [19:23]
Trio Sonata, Op.2/4 [8:56]
La conversione di Sant'Agostino: Ah Dio, ritornate [7:35]
Fille, dolce mio bene [13:28]
Harpsichord Sonata in E-flat, Op. 7 [14:24]
Venetian Ballads [9:23]
Julianne Baird (soprano), Nancy Hadden (flute), Erin Headley (viola da gamba), Malcom Proud (harpsichord) – rec. c.1994. DDD.
CRD3488 [74:53] – from classicsonline.com (mp3) or stream from Naxos Music Library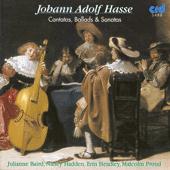 Born in Germany, Hasse travelled to Italy in 1722 where his music became very popular, especially his settings of texts by his friend Metastasio. He's an important enough figure to have an online project dedicated to him, though the list of his works there is as yet incomplete: http://www.hasseproject.com/ Apart from the recordings which I mention below, there isn't much of his music in the catalogue – mostly odd items on recital recordings – so the renewed availability of this CRD recording with its stylish and attractive performances is very welcome – apart, that is, from the lack of texts.

See also reviews of recordings of Hasse, excerpts from Didone abbandonata and other works, on Hyperion and Oehms in the June 2012/2 Roundup.

Herbert HOWELLS A spotless Rose; Missa Ædis Christi, etc.
New College Choir, Oxford/Edward Higginbottom
CRD3455 [63:02] – from classicsonline.com (mp3) or stream from Naxos Music Library

See June 2011/2 Roundup, but ignore link to passionato.com.

Wolfgang Amadeus MOZART String Quartets Nos. 20-21; 22-23
Chilingirian Quartet
CRD3427 [51:37] – from classicsonline.com (mp3); CRD3428 [51:31] – from classicsonline.com (mp3) or stream from Naxos Music Library

See comparative review with Juilliard String Quartet.

Music from the Spanish Kingdoms
Circa 1500/Nancy Hadden
CRD3447 – see September 2012/1 Roundup

New Fashions: Cries and Ballads of London
Anon. Nutmeg and Ginger; Grimstock; Greensleeves; The Queen's almaine; Sellingers rownde
William COBBOLD New Fashions
John DOWLAND Fine knacks for ladies
Jakob van EYCK Engels nachtegaeltje
Alfonso FERRABOSCO II Pavin for 3 lyra viols
Thomas FORD Cate of Bardy
Antony HOLBORNE The voyce of the ghost
Old almaine
Thomas RAVENSCROFT New Oysters; Three blind mice; A Round of three country dances in one; Well fare the nightingale; Come, follow me; Browning
Christopher TYE In nomine XIX Crye
Thomas WEELKES The Cries of London
Clement WOODCOCK Browning my dear
Circa 1500; Red Byrd/Nancy Hadden – rec. c.1993. DDD.
CRD3487 [66:21] – from classicsonline.com (mp3) or stream from Naxos Music Library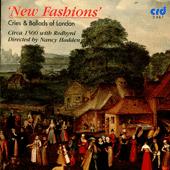 This collection of the popular music of London from the 16th and 17th centuries, set by the likes of Dowland, Weelkes and Ravenscroft, may not have the artistic merit of Circa 1500's Music from the Spanish Kingdoms (above), but it receives a suitably lively set of performances here. This CRD recording makes a good substitute for a recording of Weelkes' Cries of London which used to be available from the Deller Consort (Harmonia Mundi HMA190219); the Dellers are a little too polite by comparison with Circa 1500 but I could wish that their recording of Thomas Tomkins' spoof on the genre, Oyez! Has any found a lad? were still available.

Henry PURCELL (1659-1695) Verse Anthems
My heart is inditing, Z30 [18:37]
O sing unto the Lord, Z44 [12:34]
Rejoice in the Lord alway ('The Bell Anthem'), Z49 [8:52]
Voluntary in d minor, Z719 [5:49]
Praise the Lord, O Jerusalem, Z46 [8:01]
My beloved spake, Z28 [10:49]
The Band of Instruments
New College Choir, Oxford/Edward Higginbottom
No texts.
CRD3504 [64:40] – from classicsonline.com (mp3) or stream from Naxos Music Library: see February 2009 Roundup.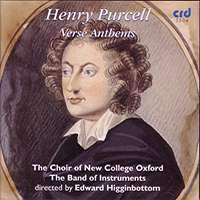 There's formidable competition here not least from the Hyperion complete Anthems and Services of Purcell (CDS44141/51, 11 CDs) – excerpts from this invaluable series and the equally outstanding Odes and Welcome Songs on Essential Purcell, a budget-price sampler (KING2). The downloads of individual volumes from the Anthems and Services are discounted to £3.50 and £4.00 at the time of writing. To these the New College recording makes a fine alternative or addition, preferably the latter, since there's a good case for hearing the music performed by both a college choir and a professional group. The classicsonline.com download is only a little more expensive than the emusic.com version which I recommended in 2009 but it sounds better because it comes at the full bit-rate.

The 2-CD collection from Christ Church Cathedral Choir and Simon Preston on DG 459 4872 (£7.49 from hmvdigital.com, mp3) could also be considered as an additional purchase rather than an alternative to the CRD, as there are very few overlapping items. Classicsonline.com also have the King's/Leonhardt collection from Teldec – here – but at £6.99 it's a shade more expensive than some dealers charge for the Warner Apex CD. Try it from Naxos Music Library.

Sacred Concerti
Johann Hermann SCHEIN (1586-1630)
Siehe das ist mein Knecht [6:17]
Uns is ein kind geboren [4:57]
Also heilig ist der Tag [5:03]
Tobias MICHAEL (1592-1657)
Wo der Herr nicht das Haus bawet [7:03]
Kommet her zu mir [5:32]
Das ist ein kostlich ding [3:01]
Wie lieblich sind auff den Bergen [8:07]
Heinrich SCHÜTZ (1585-1672)
Anima mea liquefacta est [8:30]
Siehe wie fein und lieblich ist's [6:59]
Matthaeus REYMANN (c.1540-1602)
Fantasia for solo lute; Preludium 1 [1:31]
Heinrich SCHEIDEMANN (1595-1663)
O Got, wir danken deiner Güt [2:55]
Herzlich lieb hab ich dich [2:27]
Emily Van Evera (soprano); Esther Levin (soprano); Angus Davidson (alto); Julian Podger (tenor); Ian Honeyman (tenor); Richard Wistreich (bass)
Circa 1500 (Nancy Hadden (renaissance flute); Catherine Mackintosh (violin); Elizabeth Walker (flute, recorder); Sally Holman (dulcian); Susan Addison (alto sackbut); Emily White (tenor sackbut); Lucas Harris (lute, theorbo); Robert Howard (organ))/Nancy Hadden – rec. 2007. DDD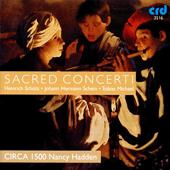 CRD3516 [75:34] – from classicsonline.com (mp3) or stream from Naxos Music Library: see review by Gary Higginson

Schütz and Schein are reasonably well represented on record, but the other composers here are far less so – in fact, I have to admit that I don't recall hearing anything from any of them, so the programme is especially welcome. As with the New Fashions recording, the title of Circa 1500 is a century out, but the performances are idiomatic and well recorded. Only the lack of texts militates against the download when the parent CD is only a little more expensive.

Josef SUK (1874-1935) String Quartets Nos. 1 and 2, Balada; String Quartet in d minor, Suite, Op.21; Variations on an old Bohemian chorale.
The Suk Quartet – rec. c.1994. DDD.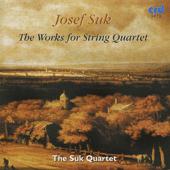 CRD3472 [72:19] – from classicsonline.com (mp3) or stream from Naxos Music Library

Dan Morgan and I have expressed some reservations about various recent recordings of Suk's music in these roundups, but in recommending this and the Hyperion Helios reissue of the Piano Quartet and Quintet (below) I have no hesitation. This recording deserves all the stars, rosettes and keys with which it's festooned in the Penguin Guide; it looks like overkill, but it's perfectly justified.

Thomas TALLIS (c.1505-1585) Cantiones sacræ and other works
Dum transisset sabbatum [6:22]
In ieiunio et fletu [4:43]
Derelinquat impius [2:59]
Magnificat; Nunc Dimittis [13:32]
Candidi facti sunt [4:36]
Salvator mundi [1:52]
Absterge, Domine [5:04]
Gaude gloriosa [16:48]
New College Choir, Oxford/Edward Higginbottom
CRD3429 [55:56] – from classicsonline.com (mp3) or stream from Naxos Music Library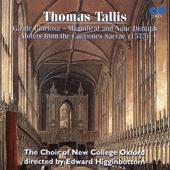 Whatever other recordings of the music of Tallis you may have, from the Tallis Scholars on Gimell, Winchester Cathedral and The Cardinall's Musick on Hyperion, Alamire's 2-CD recording of Byrd and Tallis's 1575 Cantiones sacræ, or even the complete 9-disc recording from Chapelle du Roi on Signum, this album from New College Choir makes an excellent supplement or even a short introduction to his music for those who don't yet know it well. The lack of texts and translations is a problem, but a little online search should find them.


Thomas TOMKINS Third Service, Voluntaries and Anthems
New College Choir, Oxford/Edward Higginbottom
CRD3467 [60:33] – from classicsonline.com (mp3) or stream from Naxos Music Library. See January 2009 Roundup.

There's also an attractive collection, The Glory of New College, selected from these and other CRD recordings, on a budget 2-CD set from Regis, RRC2091 – see December 2010 Roundup. There are also two inexpensive 5-CD sets, Choral Masterpieces of the European Renaissance (CRD5008, around £22) and The Renaissance Anthem in England (CRD5007, around £26).

There's another sampler from the New College CRD recordings on the Heritage label, Oxford Anthems, HTGCD217 – see August 2011/2 Roundup

New College Choir and Edward Higginbottom have also recorded Nicholas Ludford's Missa Benedicta and Votive Anthems for K617 (K617206 – see February 2009 Roundup). You'll also find a small but growing number of their recordings for their own Novum label from eclassical.com, classicsonline.com and the Naxos Music Library:

– François COUPERIN Motets: NCR1384 – see March 2012/2 Roundup and Recording of the Month review
– Wolfgang Amadeus MOZART Requiem: NCR1383 – see October 2011/2 Roundup
– Evensong at New College Oxford: NCR1379 – see October 2011/2 Roundup


***


Loyset COMPÈRE (c1445-1518)
Dictes moy toutes voz pensées [1.50]
Jean MOUTON (before 1459-1522)
Missa Dictes moy toutes voz pensées [38.18]
Quis dabit oculis? (Lament for Anna) [8.35]
Ave Maria … benedicta tu [2.11]
Salva nos, Domine [2.31]
Ave Maria … virgo serena [9.33]
Nesciens mater [4.54]
The Tallis Scholars/Peter Phillips – rec. 2011 (?). DDD.
Pdf booklet with texts and translations included.
GIMELL CDGIM047 [67:54] – from gimell.com (mp3 and 16– and 24-bit lossless)



I signalled that this recording was forthcoming at the end of the September 2012/2 Roundup - here. I've been playing it almost daily since I first obtained review access to the download in early August and marvelling that such a talented composer had disappeared from our ken almost without trace until Hyperion and the Brabant Ensemble came to his rescue – July 2012/1 Roundup – with equally able support now from the Tallis Scholars and Gimell. I rather used up my superlatives on the Hyperion version and was trying to express my enjoyment of the Gimell without having to recycle them; in the event Geoff Molyneux has come to me rescue and given these detailed responses to both recordings:

The CD begins with a three-part chanson by Loyset Compère which is used by Mouton as the basis for his mass Dictes moy toutes vos pensées. We know instantly that we are about to hear a performance and recording of the highest quality. The Kyrie of the mass unfolds beautifully and at Christe there is lovely contrast of texture in the disposition of the voices. The Gloria begins in chordal style, soon dissolving into complex counterpoint. All sing together again in homophonic style at tu solus altissimus but Mouton is such a great contrapuntist that he soon begins to weave yet further beautifully coloured webs of sound.

In the Credo, following a telling pause before Crucifixus, there follows more amazing development of material and new colours created by ever-changing voice combinations. The Sanctus is in sombre mood and performed more slowly. The deep tones at the start portray an all-powerful God, but the music of the Osanna is suitably contrasted with the addition of an alto, a faster tempo and a lighter texture.

Agnus Dei 1 is given a magnificent and expansive performance of great depth and colour. Agnus Dei 3 provides a stunning conclusion to this magnificent work with yet further variations in counterpoint and texture as well as unexpected dissonance.

This Mass, the Compère chanson and Nesciens mater are given excellent, but very different performances by the Gentlemen of St John's directed by Graham Walker on the Quilisma label. [QUIL402 – from classicsonline.com (mp3) or stream from Naxos Music Library. Order CD direct from quilisma.com.] Firstly all the parts of the mass are taken at a slower speed by Walker with the exception of the three Agnus Dei. This more drawn out approach is perhaps more in keeping with the greater resonance of their location. I prefer the Tallis Scholars because of their clarity and greater rhythmic life. For example I like their more solid approach and strong feeling of pulse as the singers enter at the words et in terra pax hominibus following the intonation of the Gloria, and similarly at the outset of Agnus Dei 1.

In Nesciens mater I don't feel that the voices are quite so well blended in Walker's account with the Gentlemen of St. John's, and I can hear one or two, admittedly tiny, lapses in intonation. But this is a minor niggle and it is nevertheless beautifully sung. The performance by The Tallis Scholars has a feeling of great stillness and purity. Their superb singing of Nesciens mater builds to the centre of the piece and this is followed by a gradual decrease in tension as we approach the conclusion of the music. Walker just seems a little turgid after hearing Phillips and the Tallis Scholars.

The Tallis Scholars sing with impeccable intonation – I only noticed one tiny imperfection – and style throughout this recording. Their melodic lines soar, seemingly effortlessly with an even-toned, melodic flow. The recording always displays great clarity in the voice parts in spite of the complexity of the music, and the depth of tone and expression is much to be admired.

Geoffrey Molyneux

Jean MOUTON (before 1459-1522) Missa Tu es Petrus and other works
Nesciens Mater [5:37]
Ave Maria, gemma virginum [2:26]
Exsultet coniubilando [4:13]
Verbum bonum et suave [11:08]
Missa Tu es Petrus* [31:03]
Bona vita, bona refectio [6:11]
Factum est silentium [5:30]
*Helen Ashby (soprano), Kate Ashby (soprano), Emma Ashby (alto), Alastair Carey (tenor)
The Brabant Ensemble/Stephen Rice – rec. August 2011. DDD.
Pdf booklet with texts and translations available
HYPERION CDA67933 [66:07] – from hyperion-records.co.uk (mp3, 16– and 24-bit lossless)

[see also review by Gary Higginbottom and July 2012/1 Roundup]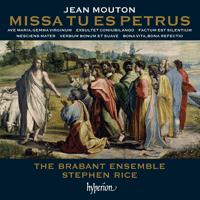 Very different but equally valid accounts of music by Mouton are given by the Brabant Ensemble directed by Stephen Rice. There are two voices, including women's voices, to a part in the Mass and the whole approach seems lighter in spirit. There is a higher tessitura, with the women singing the cantus firmus high in the 5 part texture. Generally the music is moving along at a faster pace than we heard on the Gimell recording, with the exception of Nesciens mater, and this is the only piece appearing on both recordings. The Brabant Ensemble's performance of Nesciens mater is in meditative mood and is an altogether less intense, softer-toned account than that given by The Tallis Scholars, but there are some meltingly beautiful soft passages. The other motets sung here by the Brabants are also beautifully performed. The recording is more distant and resonant than the Gimell due to the more open acoustic of the venue for these performances.

The Kyrie of the mass Tu es Petrus is very free flowing and quite quick. Sometimes I feel that the conductor is pushing the music onwards as if afraid the performance will become too slow. The beautiful quality of the high voices in the Sanctus and Credo provides a real contrast and a different sound world from that of the Tallis Scholars. The Brabant Ensemble allow the music to simply flow along easily and fluently.

It seems amazing that although this music is so complex, it never seems that way to the listener. It gives the impression of airiness, lightness and simplicity as it flows gently along in devotional or meditative mood.

If I had to choose one recording my own personal preference would be for the Gimell because of the greater clarity of the counterpoint and fabulous singing of The Tallis Scholars, but maybe the more diffuse, cathedral-like sound of the Brabant Ensemble is more authentic. Actually I would not like to be without either of these excellent and well-contrasted performances; buy both if funds permit.

Geoffrey Molyneux

Thomas TALLIS (c.1505-1585)
Iam lucis orto sidere (for organ) [1:21]
Fantasy for organ [2:11]
Peter White (organ of St John's College, Cambridge) – rec. 1960. ADD/stereo
BEULAH EXTRA 2BX197 [1:21] and 1BX197 [2:11] – from eavb.co.uk (mp3)

Te Deum a 5 (in English)
Choir of St John's College, Cambridge/George Guest – rec. 1960. ADD/stereo
BEULAH EXTRA 3BX197 [9:04] – from eavb.co.uk (mp3)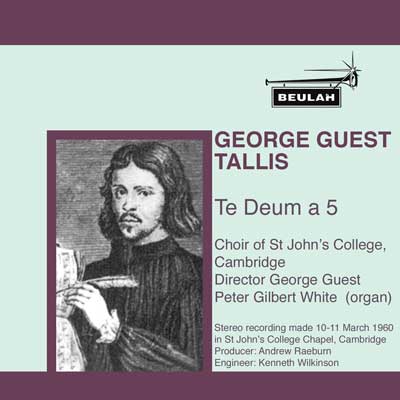 Everything here is available on a Double Decca set in company with recordings from King's (455 2092) but the separate inexpensive availability from Beulah will be especially welcomed by those who have the King's Tallis in an earlier incarnation.

These three recordings were released on Argo ZRG5237 in 1961 and a decade later on the budget Decca Eclipse label, coupled with more Tallis (two Latin motets) and music by Thomas Weelkes. Between them Tallis and Byrd, though themselves clinging to their Roman Catholic beliefs, got the Book of Common Prayer off to a good musical start with settings of the canticles and other English texts. The 5-part English Te Deum, also known as Te Deum for meanes, perhaps composed even before the first English Prayer Book of 1549, is a fine example of Tallis's ability to blend the best of the old style with the post-reformation demand for less elaboration, essentially one note per syllable, and this reissue does the music full justice in a good transfer of a recording which sounds a trifle dim by comparison with what we have come to expect but is much more than acceptable. For more modern sound and an equally fine interpretation, turn to Chapelle du Roi and Alistair Dixon on Signum SIGCD002 – see October 2008 Roundup.

The short organ pieces make very good appetisers for the main course. Now may we have the two Latin motets from the original LP, please?

William BYRD (1543-1623)
The Great Service [42:52]
Praise our Lord, all ye Gentiles [2:46]
Unto the hills mine eyes I lift [4:05]
Make ye joy to God all the earth [2:27]
Turn our captivity [4:25]
This Day Christ was born [2:33]
The Cardinal's Musick/Andrew Carwood – rec. November 2011. DDD.
Pdf booklet with texts included.
HYPERION CDA67937 [59:08] – from hyperion-records.co.uk (mp3, 16– and 24-bit lossless)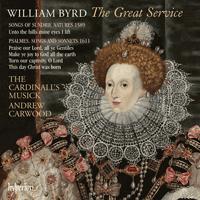 It was to be expected that The Cardinall's Musick would follow up their Latin music of Byrd (ASV and Hyperion), though we already had several undeniably fine performances of Byrd's Great Service, his masterpiece blending polyphony with the requirements of the Anglican liturgy, one of them from Hyperion who are thus competing with themselves:

– The Great Service in the Chapel Royal: Steven Devine (organ); The English Cornett and Sackbut Ensemble and Musica Contexta – CHANDOS CHAN0789 – see May 2012/2 Roundup

– The Tallis Scholars sing William Byrd: Mass for five voices; Mass for four voices; Mass for three voices; Ave verum Corpus; Infelix ego; Tristitia et anxietas; Vigilate (from Cantiones sacræ 1589); Ne irascaris Domine; Prevent Us, O Lord; The Great Service; O Lord, make thy servant Elizabeth; O God, the proud are risen; Sing joyfully: The Tallis Scholars/Peter Phillips – GIMELL CDGIM208 (2 CDs for price of one) – see Tallis Scholars at 30 Roundup

– The Great Service; O Lord, make thy servant Elizabeth; Prevent us, O Lord; Voluntary for my Lady Nevell; How long shall mine enemies? Out of the deep; Fancy for my Lady Nevell; Christ rising again from the dead; Sing joyfully: Robert Quinney (organ); The Choir of Westminster Abbey/James O'Donnell – HYPERION CDA67533 – see February 2010 Roundup, mentioned in review of CDA67779.

The Great Service sets the Venite, Te Deum and Benedictus from Mattins, the Kyries and Creed from the Communion service and Magnificat and Nunc Dimittis from Evensong. The Gimell recording omits the short Kyries and adds three English anthems, O Lord make thy servant Elizabeth, O God the proud are risen and Sing joyfully. It stands out by being available with Byrd's Latin Masses on a 2-for-1 budget offer; indeed, you may well have this recording already.

The recent Chandos recording employs instrumental accompaniment from the English Cornett and Sackbutt Ensemble and is thereby not strictly comparable with the other recordings; you may have mixed feelings about the wisdom of the accompaniment, as I did, and wish to check it out via the Naxos Music Library. Mattins comes with an introit, Constitues eos, a psalm, No.114, and ends with the anthem Sing joyfully. Similarly the Communion settings begin with a Latin introit – perfectly acceptable within the context of a celebration in the Chapel Royal – and an instrumental prelude, while Evensong also comes with a Latin introit, Hodie Simon Petrus, psalm 47, and ends with an anthem, O Lord make thy servant Elizabeth, the whole consistent with having been performed on St Peter's day. Despite my reservations, this is a worthwhile competitor.

Nor should the Westminster Abbey recording, made by choristers who regularly sing Byrd's English and Latin music, under the very able direction of James O'Donnell, be regarded other than as highly desirable. This version opens with the ubiquitous O Lord make thy servant Elizabeth, continues with the settings for Mattins and Communion, Prevent us O Lord, an organ Voluntary, How long shall mine enemies, the two Evensong canticles, Out of the deep, the Eastertide anthem Christ rising, an organ Fancy and Sing joyfully. At over 76 minutes, there's a lot of music here and it's performed with a choir containing boys' voices, as it would have been at the Chapel Royal, the only version to do so now that the King's recording on EMI seems to have disappeared.

The Cardinall's Musick are, therefore, up against stiff competition. Completists who have all their earlier recordings – those on ASV are, happily, beginning to be available again on CD and download – will jump at the chance to obtain this recording from a team who have already offered what The Guardian rightly called a landmark. Wisely Hyperion have chosen to avoid the English settings which have been included on the other recordings. Some of these might have been included, however, without making the recording over-long – in fact it's rather short value by current standards, but the reduced selling price for mp3 and 16-bit of £6.99 takes care of that and the 24/44.1 is still very fair value at £7.85. I've been listening to all three versions without instrumental accompaniment and I really can't favour one in preference to the others, so I'll leave you to decide on the basis of couplings and whether you must have 24-bit sound, which, I can confirm, sounds first-class. You can hardly go wrong.

Johann Sebastian BACH (1658-1750)
Goldberg Variations, BWV988
Karl Richter (harpsichord) – rec. 1958 ADD/stereo
BEULAH EXTRA 1BX198 [44:21] - from eavb.co.uk (mp3)

Jesu, meine Freude, BWV227 (sung in English: Jesu, priceless treasure)
King's College Choir, Cambridge/David Willcocks – rec.1959. ADD/stereo
BEULAH EXTRA 6BX20 [26:49] - from eavb.co.uk (mp3)

Two classic Bach recordings from Beulah this month.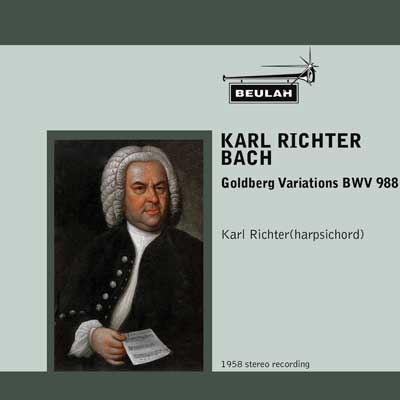 This was Karl Richter's first recorded take on the Goldbergs, for Telefunken (Teldec); he recorded it again in 1970 for DG. It's evident from the timings that repeats are ignored – a playing time of half that of the recent Matthew Halls recording on Linn – but that was par for the course then. The instrument is light in tone by comparison with that employed for the later version, and all the better for it as far as I'm concerned. The performance is very good – unless you want the repeats or a piano version, you won't do much better – and the recording has been made to sound well in this transfer. Beulah give the date as 1958, but I rather think that January 1956 is correct.

Even fans of either of Glenn Gould's recordings might well find themselves drawn to this reissue. With neither of Richter's recordings of the Goldbergs in the current UK catalogue, this Beulah release is very welcome, especially as it comes at an attractive price. Best of all, it may well tempt you to try some of Karl Richter's available cantata recordings. (DG and Warner Teldec).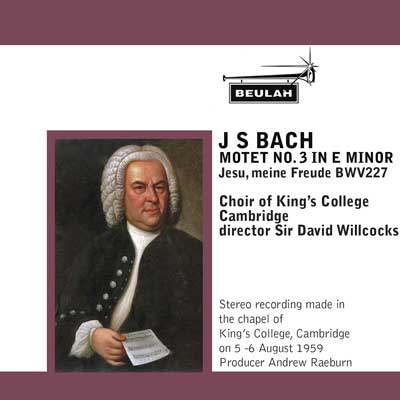 The King's recording of the motet Jesu, meine Freude, from Argo ZRG5234, was generally held to be the best available when it was released in 1960, albeit that it was sung in English. The performance was rated as masterly, which remains true; for all that I agree with Organ Morgan in Under Milk Wood about JSB's superiority, even over Palestrina, his second choice, I'm not a great lover of the Bach motets, but David Willcocks comes as close as anyone to convincing me. The other feature that placed this recording above its rivals was held to be the recording balance; again, that remains true insofar as all the parts are given equal weight, but the sound overall is somewhat muddy by comparison with more recent recordings. Nevertheless, with a good transfer, this is a very worthwhile memento of a golden age at King's.

Great Haydn Symphonies – The Sturm und Drang Era
Joseph HAYDN (1732-1809)
Symphony No. 43 in E flat Mercury [23:37]
Symphony No. 44 in e minor Mourning [22:56]
Symphony No. 49 in f minor La Passione [21:56]
Symphony No. 52 in c minor [20:50]
Symphony No. 59 in A Fire [17:12]
Symphony No. 64 in A Tempora Mutantur [18:19]
Austro-Hungarian Haydn Orchestra/Adam Fischer
NIMBUS NI7072 [2 CDs] – £12 post free from MusicWeb International – here.

Joseph HAYDN Symphonies Volume 3, Nos. 40-54
Symphony No. 40 in F [17:17]
Symphony No. 41 in C [18:35]
Symphony No. 42 in D [26:04]
Symphony No. 43 in E flat Mercury [23:37]
Symphony No. 44 in e minor Mourning [22:56]
Symphony No. 45 in f sharp minor Farewell [26:17]
Symphony No. 46 in B [16:56]
Symphony No. 47 in G [20:17]
Symphony No. 48 in C Maria Theresa [26:43]
Symphony No. 49 in f minor La Passione [21:56]
Symphony No. 50 in C In Nomine Domini [17:44]
Symphony No. 51 in B flat [19:19]
Symphony No. 52 in c minor [20:50]
Symphony No. 53 in D The Imperial [22:23]
Symphony No. 54 in G [24:38]
Austro-Hungarian Haydn Orchestra/Adam Fischer
NIMBUS NI5530/34 [5 CDs] – £23 post free from MusicWeb International – here; downloads are likely to be more expensive. Stream from Naxos Music Library.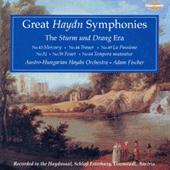 The Sturm und Drang 2-CD set would be an ideal follow-up purchase for anyone who bought the earlier 2-disc set of Nos. 6, 45, 48, 82, 92 and 94 on NI7041/2 (also £12 from MusicWeb International – here) which I made Recording of the Month – review. It's not available in this form for download, though Volumes 3 and 4 of the complete Haydn Symphonies include its contents and much more. Those two volumes, five CDs each, are again best purchased on CD – £23 each, post paid, as against £39.95 each for the download from classicsonline.com. Even better value is to be had by buying the complete set of 104+ symphonies in mp3 format (NI1772 – review; purchase here – £23 post paid.)

Franz SCHUBERT (1797-1828)
Grand Duo Sonata in C, D812 (Op. posth. 140) – orchestrated by Joseph JOACHIM (1855)
Vienna State Opera Orchestra/Felix Prohaska – rec. 1952. ADD/mono
BEULAH EXTRA 1-4BX196 [34:37] – from eavb.co.uk (mp3)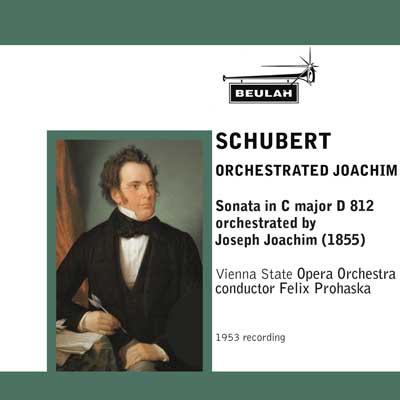 It's no longer believed that Grand Duo sonata of 1824/5 was a reduction of a lost Gastein symphony, though Joachim's arrangement of it is still well worth playing and hearing in this performance, with the VSOO sounding more accomplished than usual. There's a modern (1989) recording from Claudio Abbado on DG, coupled with the Unfinished Symphony (423 6552 – see September 2010 Roundup)* and that, of course, sounds much better than this Vanguard version from the early 1950s. Beulah give the recording date as 1953, but it was first reviewed in 1952. The transfer is thin but more than acceptable; Naxos Classical Archives have also released a decent transfer of the Prohaska recording (9.80605), available from classicsonline.com in the UK and some other countries (not the USA) for £1.99, which works out a few pence less expensive than the Beulah reissue, if you can get it..

Beulah have also given us a recording, again with the VSOO, of Weingartner's completion of a symphony in E, D729, which Schubert began and left unfinished – not the so-called Unfinished of which the last two movements may have been completed and lost: 1BX188-191 – see May 2012/1 Roundup.

* The Passionato link no longer applies for any recordings: download from hmvdigital.com. They also offer Abbado's complete Schubert symphony cycle for a very reasonable £11.99 – here.

Johannes BRAHMS (1833-1897)
Violin Concerto in D, Op.77 [40:32]
Double Concerto for Violin and Cello in A minor, Op.102 [31:57]
Julia Fischer (violin); Daniel Müller-Schott (cello) (Double Concerto)
Netherlands Philharmonic Orchestra Amsterdam/Yakov Kreizberg – rec. 2005 and 2006. DDD.
Pdf booklet included
PENTATONE PTC5186066 [72:59] – from eclassical.com (mp3, 16– and 24-bit lossless) or stream from Naxos Music Library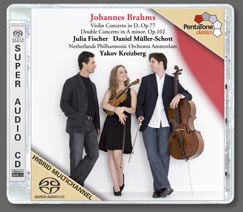 A very generous coupling of two performances which have won golden opinions – if, that is, you adopt the conventional view that the first movement of the Violin Concerto should be predominantly lyrical to the extent that it borders on the elegiac. I have to say that I don't share that opinion – my benchmark remains the superb combination of Jascha Heifetz and Fritz Reiner who fairly belt through that movement by comparison with almost everyone else. They take 18:45 as against 23:16 on PentaTone – and that actually minimises the difference because Julia Fischer employs a shorter cadenza. That said, Ms Fischer and Yakov Kreizberg offer a very good 'standard' interpretation and they are joined in an equally fine account of the Double Concerto by Daniel Müller-Schott.

With good recording, this should please most listeners; fans of Heifetz will find his recording available in various transfers, of which the least expensive is from Naxos Classical Archive, at £1.99 from classicsonline.com or £1.26 from emusic.com. Purchasers in the USA and some other countries where the Naxos version is not available will have to choose one of several Sony/RCA reissues, coupled with the Beethoven or Tchaikovsky Violin Concerto or the Bruch Scottish Fantasia. Try the PentaTone from the Naxos Music Library if you share my preference for a brisker account of the opening movement of the Violin Concerto.

I should add that Jonathan Woolf took a more critical view of this recording than most – see review.

Frederick DELIUS (1862-1934)
Brigg Fair (1907) an English Rhapsody, revised and edited by Sir Thomas BEECHAM, Bart.
[16:00]
Piano Concerto in c minor (early version in three movements) (1897-1904)* [30:01]
Idylle de printemps, morceau symphonique (1889) [10:18]
Paris, a Nocturne (Song of a Great City) edited by Sir Thomas BEECHAM, Bart. (1899) [18:43]
Howard Shelley (piano)*
Royal Scottish National Orchestra/Sir Andrew Davis
CHANDOS CHAN10742 [75:35] – from theclassicalshop.net (mp3 and lossless) or stream from Naxos Music Library

Alternative recording (Piano Concerto):

– Piers Lane (piano); Ulster Orchestra/David Lloyd-Jones (with IRELAND Piano Concerto) – HYPERION CDA67296 [64:04] – from hyperion-records.co.uk (mp3 and lossless) – see review, review and Hyperion at 30

(Brigg Fair):

– English Music – DELIUS, GERMAN, BANTOCK, BAX and BERNERS – Royal Philharmonic Orchestra/Sir Thomas Beecham – EMI CLASSICS 9099152 [6CDs] – see review, review and July 2011/1 Roundup

(Brigg Fair and Paris)

– Bournemouth Symphony Orchestra/Richard Hickox (with Florida Suite) – EMI CLASSICS BRITISH COMPOSERS SERIES 3705652 [76:02] – see May 2010 Roundup and review. Passionato.com link no longer applies; download from classicsonline.com (mp3) or stream from Naxos Music Library
– Royal Liverpool Philharmonic Orchestra/Sir Charles Mackerras (with Essential Delius) EMI CLASSICS 0842102 [2 CDs: 2:32:49] – especially good value at £2.99 from sainsburysentertainment.co.uk (mp3) or stream from Naxos Music Library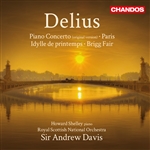 It's evident from the list of alternatives that there is strong competition for all the music on this new recording, especially as the Beecham recording comes at a competitive price as part of a must-have 6-CD set and the Hickox and Mackerras recordings of Paris, the latter available as part of a most inexpensive 2-CD set, are also strong recommendations; indeed, I assume that Richard Hickox had originally been scheduled to conduct this new Chandos recording.

Nevertheless, Sir Andrew Davis makes a strong case for everything here. From the opening notes it's clear that this is going to be an idiomatic and appealing Brigg Fair and the Piano Concerto could hardly be in the hands of a better soloist than Howard Shelley. That the work is performed in the 1897 3-movement edition is of less consequence, since the 1904 version with Piers Lane as soloist on Hyperion also predates the 1907 revision and that comes with excellent performances of John Ireland.

If the new Chandos programme appeals, everything is as well performed and recorded as the earlier release containing the Violin Concerto and other works. If you already have the Chandos recording of John Ireland's Piano Concerto (CHAN8461, Eric Parkin and Bryden Thomson – see February 2011 Roundup) and don't wish to duplicate it with the Hyperion recording, that's an even stronger case for the new recording.

One minor disappointment, shared with the new Rózsa recording (below): the earlier Chandos recording of the Violin Concerto, was available in both 16-bit and 24-bit lossless sound whereas the new release is in mp3 and 16-bit only though it was recorded in 24/96 format.

Richard STRAUSS (1864-1949)
Eine Alpensinfonie, Op. 64 (1915) [52:39]
Symphonische Fantasie aus 'Die Frau ohne Schatten' (1947) [23:29]
São Paulo Symphony Orchestra/Frank Shipway
rec. February-March 2012, Sala São Paulo, Brazil
Pdf booklet included
BIS-SACD-1950 [77:04] – from eclassical.com (mp3, 16– & 24-bit lossless)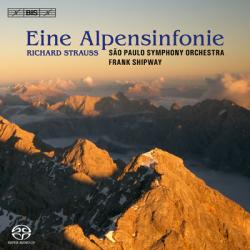 A former colleague, a music teacher, many years ago, had worked as a student in a record shop – remember those? One Saturday a man came in and ordered the latest recording of the Alpine Symphony, so he tried to engage him in conversation about the merits of Richard Strauss in general and the symphony in particular, to which the customer replied that he wasn't interested in the music; he'd simply seen the recording recommended in a hi-fi magazine.

This new recording would meet that customer's requirements admirably, especially in its 24-bit version. He'd be particularly thrilled by the brass but the overall sound stage is very well integrated too. As for the performance, it's true that the São Paolo orchestra is hardly in the same league as, say, the Dresden Staatskapelle who have the music in their blood and who recorded the work for EMI with Kempe (below) and for Sony with Fabio Luisi – review – or even the Weimar Staatskapelle who recorded it with Antoni Wit for Naxos – review (Bargain of the Month) and review. I actually didn't think that they made too bad a fist of the Alpine, though they sometimes make light of the more colourful viewpoints, so I was a little surprised to see Dan being considerably more critical than I had been.

If you subscribe to the Naxos Music Library you can compare the BIS and Naxos recordings for yourself and I would strongly advise doing so in the light of Dan's criticism, though you will have to put up with the short gaps between sections that both versions of their player introduce. I liked the Naxos recording when I reviewed it in the November 2008 Roundup, though I criticised the fact that the sections didn't play smoothly, a problem which should be solved by playing from Winamp or from the new seamless Windows 7 version of the Windows Media Player. You'll also find the LSO/Haitink (LSO Live) and SNO/Järvi (2-for-1 Chandos) recordings in the Naxos Music Library; the latter is especially good value in offering performances among the front runners of all four works: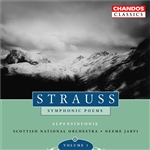 Eine Alpensinfonie, Op.64 [49:25]
Tod und Verklärung, Op.24 [24:02]
Ein Heldenleben, Op.40 [46:20]
Don Juan, Op.20 [18:07]
Scottish National Orchestra/Neeme Järvi – rec. 1986 and 1987. DDD.
CHAN10199 [2 CDs: 73:40 + 64:41] – from theclassicalshop.net (mp3 and lossless) or CHAN7009 – from theclassicalshop.net (mp3 and lossless).
[For some inexplicable reason, CHAN10100 offers mp3 less expensively and CHAN7009 offers lossless less expensively.]

This version of the Alpine Symphony is also available coupled with Four Last Songs (Felicity Lott) on CHAN8557 [60:19] – from theclassicalshop.net (mp3 @£4.99 and lossless @£7.99).

NB: with so many short tracks where the music is contnuous, I strongly recommend that you choose the flac version of the Chandos for download in order to avoid brief drop-outs between tracks.

With so little of Rudolf Kempe's classic Strauss with the Dresden Staatskapelle still extant on CD, it's good to see that NML have his excellent 3-CD set of the Alpine Symphony with Aus Italien, Macbeth and Don Quixote, as do their partners at classicsonline.com, though it's less good news that the latter charge £24.99 for what was a bargain-price set when available. Testament have reissued his 1966 Alpine Symphony with Horn Concerto No.1 (Alan Civil) on SBT1428.

[BW]

Whether it's a simple trek up a mountain or something more complex – it could even be both – Strauss's Alpine Symphony is a glorious creation. There's a clutch of truly memorable recordings, some of which should be available as downloads; one of the most satisfying is Bernard Haitink's latest, with the LSO in radiant form (review). It's a climb that's suited to different temperaments, ranging from youthful impetuosity to the sagacity that comes with age. Haitink's LSO account, measured and lofty, clearly belongs in the latter category; even the notorious Barbican acoustic is less problematic than usual.

The São Paulo orchestra, heard most recently at the BBC Proms under their new chief Marin Alsop, has recorded several discs for BIS, of which this is the latest. As for the British-born conductor Frank Shipway, his experience in European concert halls and opera career over the past 40 years suggests he's a solid – if unexciting – choice for this new recording. Then again, BIS is known for doing things differently, and its advocacy of less-well-known bands, soloists and repertoire is one of its strengths. This Brazilian band has certainly benefited from this interest and exposure. That said, I've not warmed to their earlier efforts; for instance, their Hindemith has its moments, but their Schmitt – for Chandos – was very disappointing indeed.

Despite some less than polished playing at their Proms debut – their 'New World' didn't fare very well – the OSESP play with great conviction and energy, especially in South American repertoire. I really don't want to pigeonhole them, but I did wonder whether the sheer heft and line of Strauss – a challenge for even the best orchestras – would prove too arduous an ascent. As a taster, I opted to start with the symphonic fantasy on Strauss's opera Die Frau ohne Schatten, and was immediately struck by the pleasing warmth and 'presence' of their playing. There's plenty of detail too, and welcome signs of that echt-Straussian swell.

This is quite encouraging, although anyone who knows Giuseppe Sinopoli's forensic – and impassioned – Dresden account (DG) may find Shipway and his crew are more successful when it comes to sensual details rather than sweep. Make no mistake, those big, surging tuttis are pretty impressive – the mighty cymbal clashes are a knock-out – but this orchestra simply doesn't have the unanimous, collective virtuosity that this music demands. Anything less than highly disciplined and it all sounds tentative – halting, even – which is not what one wants to hear in this most sophisticated score.

The OSESP's shortcomings are fairly major, and they don't augur well for the main work. Despite some fine playing, the atmospheric opening – Night – displays the same rather generalised attack one hears in the fantasy, and Sunrise is spectacular but not terribly subtle. As for the brass, they're splendid – there's no sign of the alleged embouchure problems ascribed to the trombones – and there's plenty of vigour as our intrepid climber makes his way through the foothills. Apparition isn't tidy though, and the meadows don't seem very welcoming; I could go on, but there's not much point, as matters don't improve. True, the summit is reached in a veritable blaze of sound, but the vicissitudes of the climb are presented as a curiously random set of events, rather than a single and seamless musical whole.

The descent is just as spasmodic; Shipway and his band rise to the big moments only to fall back in the quieter ones. Take Vision, for example; it has none of the frisson one expects, the music overdriven and the orchestral image oversized. That's fine if you like your Strauss larger than life, but for all its flamboyant gestures this is a remarkably subtle and nuanced score that deserves better than it gets here. The organ doesn't always make the required impact in this piece either, and that's certainly true here.

I daresay this overzealous, under-characterised performance will appeal to audiophiles and assorted headbangers intent on showing off their kit or annoying the neighbours, but as a performance it never gets beyond the foothills.

Not remotely competitive; an uphill struggle.

Dan Morgan
http://twitter.com/mahlerei

Francis POULENC (1899-1963)
Gloria for soprano, chorus and orchestra, FP 177 [23:51]
Maurice RAVEL (1875-1937)
Daphnis et Chloé – symphonie choréographique [53:18]
Jessica Rivera (soprano)
Chicago Symphony Chorus and Orchestra/Bernard Haitink – rec. November, 2007. DDD/DSD
CSO RESOUND CSOR901906 [77:09] – from classicsonline.com (mp3) or stream from Naxos Music Library
[Recording of the Month – see review by Brian Reinhart.]

Alternative recording (Daphnis et Chloé):

– London Symphony Orchestra/Pierre Monteux – Hallmark transfer of Daphnis et Chloé alone from hmvdigital.com (£1.58) [51:41] or Decca Originals E475 7525 with Rapsodie Espagnole and Pavane pour une Infante défunte [73:30] from hmvdigital.com (£4.99) both in 320 kb/s mp3. See review.


One of my major loves which I seem to have left out of the reckoning in these roundup reviews is Ravel's Daphnis et Chloé, best heard in the complete score, though the two suites between them more or less cover the whole work. My commitment to the classic Monteux recording remains unshaken, ever since I heard the SXL original from the university record library and later bought the Ace of Diamonds reissue (SDD170 – one of the last of my LPs to be disposed of), and it can be yours very inexpensively; I can't vouch for the Hallmark transfer, but the short samples available from hmvdigital.com sound perfectly acceptable. The Decca Originals recording adds much more music for not much more money and if it sounds as good as the earlier Decca Classic Sound reissue which I own on CD the recording is still much more than acceptable.

The CSO recording is obviously superior, even heard from the Naxos Music Library; there's even a lossless version from prestoclassical.co.uk, and the performance is very little inferior to Monteux's. If you prefer the Poulenc coupling to the extra Ravel on the Decca reissue of Monteux I see no reason why you shouldn't be very happy with it, though it's a little more expensive than the Decca.

There's an earlier Haitink recording of Daphnis et Chloé alone with the LPO on their own label, but that offers rather short value and reveived rather a lukewarm reception from Karim Elmahmoudi – here.

Miklós RÓZSA (1907-1995) Orchestral Works, Volume 3
Concerto for Violin and Orchestra, Op.24 (1953)* [31:22]
Concerto for String Orchestra, Op.17 (1943) [23:55]
Theme, Variations and Finale, Op.13 (1933) [19:27]
Jennifer Pike (violin)*
BBC Philharmonic/Rumon Gamba – rec. December 2011, January and June 2012. DDD.
Pdf booklet available
CHANDOS CHAN10738 [75:08] – from theclassicalshop.net (mp3 and lossless)

(Earlier volumes):
– Volume 1 – CHAN10488 – October 2011/1 Roundup
– Volume 2 – CHAN10674 – October 2011/1 Roundup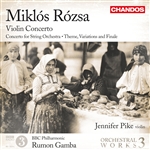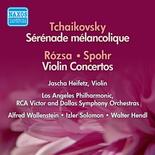 Chandos have been doing sterling service for the music of Miklós Rózsa and the new recording maintains the good work. Whether by accident or design, it offers music from three decades, exactly ten years apart. The Violin Concerto is available on a Naxos recording which Kevin Sutton – review – and Derek Warby liked – review – but the other two works are much rarer beasts.

The classic Heifetz recording of the Violin Concerto is available on Naxos Classical Archives (9.80201 – download only, not in the USA and several other countries). It comes with a Spohr Violin Concerto and Tchaikovsky's Sérénade mélancolique for just £1.26 or less from emusic.com or £1.99 from classicsonline.com in a transfer in which it still sounds very well, making this an unmissable bargain. By comparison with Heifetz the new recording is a trifle languorous, but not to the extent that it's a significant problem, and the two other Rózsa works make a more satisfying coupling than the Spohr and Tchaikovsky. Both recordings make it clear that this is a more substantial work than the Violin Concerto of Korngold with whom Rózsa is often compared.

One minor disappointment, shared with the new Delius recording (above): the earlier volumes were available in both 16-bit and 24-bit lossless sound whereas the new release is in mp3 and 16-bit only though it was, of course, recorded in 24/96 format.