Download Roundup - October 2011/2

Brian Wilson

The October 2011/1 Roundup may be found here and earlier versions are indexed here.

I started to look at classicsonline.com's offerings from the EMI and Virgin Classics catalogues a couple of Roundups ago, but I'm taking the proverbial rain-check until they get their pricing policy sorted - at present I can't keep up with the up-and-down motion of their 2-CD budget album prices, some at £6.99, others at twice that or more. See below, however, for their bargain price of £3.99 for the Richard Hickox Mozart Requiem on Virgin Classics.

Download of the Month

Richard RODGERS (1902-1979) Something Wonderful
Oklahoma! - Oh! What a beautiful mornin' [3:06]
State Fair - It Might As Well Be Spring [4:08]
South Pacific - Some Enchanted Evening [3:41]
Oklahoma! - The Surrey with the fringe on top [4:41]
South Pacific - Bali Ha'i [4:20]; June is bustin' out all over [3:23]
The King and I - Something Wonderful [3:51]
Allegro - So Far [3:09]; A Fellow Needs A Girl [2:36]
The King and I - I Have Dreamed [3:45]; What A Lovely Day for a Wedding [2:13]
Me and Juliet - No Other Love [4:03]
The Sound of Music - Edelweiss [2:46]
Carousel - If I Loved You [3:30]
South Pacific - There is nothin' like a dame [3:50]; Younger Than Springtime [3:28]
Allegro - Come Home [4:06]
South Pacific - This Nearly Was Mine [3:07]
Carousel - Soliloquy [7:56]; You'll Never Walk Alone [3:05]
Bryn Terfel (baritone); Chorus of Opera North; English Northern Philharmonia/Paul Daniel - rec. 1995? DDD.
DGG 449 1632 [74:44] - from passionato.com (mp3) or deutschegrammophon.com (mp3 and lossless)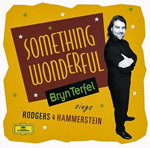 I seem to be in the mood for Hollywood musicals at the moment - John Wilson's MGM collection That's Entertainment was my Download of the Month in the September 2011/2 Roundup, but I can't fail to mention Bryn Terfel's equally wonderful earlier collection with Paul Daniels at the helm of the English Northern Philharmonia. There are a few overlaps between the two but there's room for two versions when both are so excellently performed. Bryn Terfel makes even Edelweiss and You'll never walk alone sound unhackneyed. I know that some find his marvellous voice too large-scale for this music, but music of the quality of that of Richard Rodgers can take it - it's as well crafted in its way as that of composers like George Gershwin and Leonard Bernstein who are recognised as straddling the popular and classical worlds. The mp3 from passionato.com is first-class; if you want lossless flac, you'll have to turn to the DG shop version at £9.49.

Discovery of the Month

The Romantic Piano Concerto: 54
Sir Frederic Hymen COWEN (1852-1935) Concertstück (1897) [19:52]
Sir Arthur SOMERVELL (1863-1937)
Normandy: symphonic variations (1912) [20:56]
Piano Concerto in a minor (Highland) (1921) [27:16]
Martin Roscoe (piano)
BBC Scottish Symphony Orchestra/Martyn Brabbins - rec. January 2010. DDD
Pdf booklet included.
HYPERION CDA67837 [68:06] - from hyperion-records.co.uk (mp3 and lossless)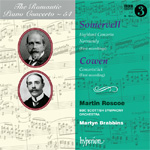 It's Volume 54 of this enterprising series already and there's no sense of any barrel being scraped, though it would be idle to pretend that there are unsung masterpieces here. I had not heard either of the Somervell works and I don't recall even hearing of Cowen - I'm sure that I would have remembered his unusual middle name. Martin Roscoe and Martyn Brabbins don't try to over-egg the pudding but they do make a strong case for Somervell in particular. With good recording - the lossless at the same price as the mp3 - and Hyperion's usual high standard of programme notes, here ably provided by Lewis Foreman, this is more than a mere curiosity.


Bargain of the Month

Philip GLASS (b.1937) Music with changing Parts (1970)
Philip Glass Ensemble/Michael Riesman - rec. c.1992. DDD.
NONESUCH 7599793252 [61:38] - from amazon.co.uk (mp3)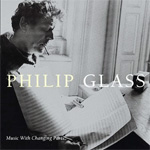 The mp3 download direct from Noneusch costs $10.00 and the CD costs £13.99 from amazon.co.uk, so the mp3, also from amazon.co.uk at £0.69 for over one hour of enthralling music has to be one of the best bargains ever. Steer clear if you hate the minimalists - this is the epitome of the genre. I don't mean to demean the music if I reveal my ideal use for the album - the rhythm is just right for the aerobic exercise that I'm getting into the habit of doing on my exercise bike and listening to the subtly changing rhythm relieves the monotony. I wouldn't recommend joggers to listen via their mp3 players - you may find yourself concentrating on those changing parts to the detriment of life and limb. The performance is authoritative.

Free Concertgebouw Downloads

If you missed the ten free downloads from the Royal Concertgebouw Orchestra in 2008 and didn't go back, under the impression that - as I thought - it was a limited-time offer, please be aware that you can still find some free treasures there. Only the Mahler First Symphony is no longer available. Some of these recordings have since appeared as commercial releases, which makes the bargain all the greater. It's superfluous to say that nothing that I sampled was less than very competent - if you dislike any of the recordings, just delete them and you've lost nothing. All the recordings are at the maximum mp3 bit-rate.

Unfortunately, the link to the promised three extra Bernard Haitink performances, Meer gratis KCO downloads, will take you to a 'page not found' message.

Coro from thesixteendigital.com
For some time Coro recordings by The Sixteen and others have been available from classicsonline.com in mp3 and from passionato.com and theclassicalshop.net in mp3 and lossless flac. Now they have their own download website, offering a variety of formats - aac, alac, mp3 and flac. The aac and mp3 versions cost £7.99 and the two lossless formats £10.00. There is also an option to purchase all four formats for £15.00.

Their recent recording of the Mozart Requiem is reviewed below alongside another recent version from New College Choir Oxford.

I tried the lossless flac version of a recording which I had previously reviewed in its mp3 form from theclassicalshop.net in the June 2010 Roundup:

Venetian Treasures
Antonio CALDARA (c. 1671-1736) Crucifixus a 16 [4:56]
Andrea GABRIELI (?1532/3-1585) De profundis [6:43]
Claudio MONTEVERDI (1567-1643) Domine ne in furore tuo [3:57]
Francesco CAVALLI (1602-1676) Salve Regina [6:25]
Giovanni GABRIELI (c. 1553-1612) Hodie completi sunt [3:48]
Orlandus LASSUS (c. 1532-1594) Missa Bell' Amfitrit' Altera [25:26]; Tui sunt coeli [3:10]
Antonio CALDARA Stabat Mater [17:22]
The Sixteen/Harry Christophers - rec. 1992. DDD.
Pdf booklet with texts and translations included.
CORO COR16053 [69:37] - from theclassicalshop.net (mp3 and lossless).
Now also available in aac, alac, mp3 and flac from thesixteendigital.com.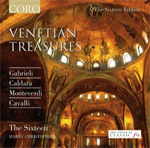 I originally wrote: The mp3 version of this recording was Chandos's free download with theclassicalshop.net's newsletter in May 2010, a valuable bonus for subscribers to this free service which is well worth signing up to. Performances and recording of this excellent overview of Venetian music from the early 16th century to the late 17th are all that we expect from this source, even in mp3 format… Best of all, this recording does not duplicate any of my recommendations from the Gimell catalogue here.

As good as this recording sounds in theclassicalshop.net's mp3 version, the flac download from thesixteendigital.com adds that extra touch of credibility to the sound - a feature which I am sure that younger and more acute ears than mine will particularly appreciate. In addition the download comes complete with the all-important booklet, including texts and translations, as the version from theclassicalshop.net also does now. If you can manage without the booklet, or can obtain it via the Naxos Music Library, you'll find that the passionato.com download - here - comes at a slightly more attractive price - £6.99 for mp3 and £8.99 for lossless flac - £1 less in each format that the other sites which offer Coro downloads. Stream this from the Naxos Music Library, where it sounds well even in limited bit-rate mp3, and you'll want to download it, preferably in lossless sound.

Spem in alium: Music for Monarchs and Magnates
Thomas TALLIS (c1505-1585) Spem in alium [9:38]
Orlando GIBBONS (1583-1625) O all true faithful hearts [4:25]
William BYRD (c.1543-1623) Deus venerunt gentes [13:25]
Thomas TOMKINS (1572-1656) Know you not [8:15]
Orlando GIBBONS Great King of Gods [4:55]
Thomas TOMKINS O God, the heathen are come [10:01]
Thomas TALLIS Te Deum [8:48]
Thomas TOMKINS Be strong [3:08]
Thomas TALLIS Sing and glorify [8:21]
The Sixteen/Harry Christophers - rec.2003. DDD.
Pdf booklet with texts included.
CORO COR10616 [71:37] - from thesixteendigital.com (mp3, aac and lossless)

Great British Choral Works
George Frideric HANDEL (1685-1759) Coronation Anthem: My heart is inditing [2:49]
William BYRD (1543-1623) Laudibus in sanctis [5:12]
James MacMILLAN (b.1959) A Child's Prayer [4:01]
Thomas TALLIS (c1505-1585) Spem in alium [9:38]
Sir John TAVENER (b.1944) Today the Virgin [2:46]
William CORNYSH (1468-1523) Ave Maria Mater Dei [3:47]
Robert CARVER (c.1485-c.1570) Benedictus (from Missa Dum sacrum mysterium) [5:31]
Henry PURCELL (1659-1695) The Fairy Queen: One charming night [2:25]
Hush, no more [4:06]
George Frideric HANDEL Tune your harps to cheerful strains (from Esther HWV 50a, 1718 version) [3:54]
Benjamin BRITTEN (1913-1976) Hymn to St Cecilia [10:40]
Sir Michael TIPPETT (1905-1998) Nobody Knows (Five Spirituals from A Child of Our Time)
[1:28]
John SHEPPARD (c.1515-1559/60) Media vita in morte sumus (excerpt) [8:00]
James MacMILLAN A new song [5:16]
George Frideric HANDEL Messiah, HWV56 - Worthy is the Lamb that was slain [3:31]
Amen [3:44]
Kirsty Hopkins, Grace Davidson (sopranos); Michael Chance (alto); Mark Padmore (tenor); Michael George (bass)
Christopher Glynn (organ)
The Sixteen/Harry Christophers
Pdf booklet included but no texts.
CORO COR16092 [77:57] - from thesixteendigital.com (mp3, aac and lossless)

These two albums share the wonderful recording of Spem in alium - about as good as performances of this work get until you start to make the unenviable comparison with the Tallis Scholars on Gimell. (See Tallis Scholars at 30 for a survey of the full catalogue up to May 2010. Their recordings of Tallis are most inexpensively available on a super-budget 3-CD album, Sacred Music in the Renaissance (1), GIMBX301 - see review and November 2010 Roundup). For the complete view of Tallis you also need the box set from Alistair Dixon and Chapelle du Roi on Signum: Spem in alium is on Volume 7, SIGCD029 - see December 2008 Roundup and download in mp3 or flac for $11.28 from eclassical.com.

Similarly, you need to turn to the Cardinall's Musick for their complete set of recordings of the music of Byrd: the earlier volumes on ASV are rather hard to come by, though you can download their CD of music for Holy Week and Easter on 250 2142* in mp3 or flac from passionato.com, and the later ones are readily available on CD or as downloads from Hyperion.**

* Download of the Month: see November 2010 Roundup
** The final volume (No.13) Download of the Month: see February 2010 Roundup.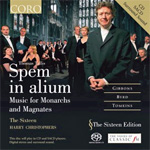 There's an ironic balance to Music for Monarchs and Magnates: Byrd's Latin motet laments the coming of the heathen in the form of Queen Elizabeth's Anglican church into the Catholic sanctuary to which the composer was still devoted, while Tomkins' setting of the same words in English, in a style recognisably derived from the polyphony of the age of Byrd, is appropriate to the overturn of that same Anglican compromise with the thorough-going Protestantism of the Commonwealth period. Similarly, the Tallis works represent that composer's Latin music and his attempts, like those of his fellow-Romanist Byrd who was much more successful in that regard, to come to terms with the English liturgy. Be aware that Sing and glorify is a contrafactum of Spem in alium - the same music repeated to an English text. I can't regard The Sixteen as the only interpreters of this music - see above and below for the impossibility of comparison with the Tallis Scholars - otherwise this recording makes a superb introduction to a very productive century of English music. The recording sounds fine, apart from the loss of the surround sound of the parent SACD, and the booklet contains all the texts.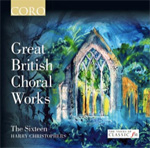 78 minutes are all too short for a programme of the best of British Choral Music from the early 16th century to the present day, but that doesn't prevent Harry Christophers and his team from having as satisfying a try as one might imagine in this compilation assembled by Robin Tyson. They don't observe a chronological progression, so the clash of styles is sometimes ear-jolting, as when the opening Handel work leads into Byrd's very different manner, otherwise I have no problems in giving this recording a strong recommendation: performances and recording are fine and an informative pdf booklet comes with the deal. The inclusion of the texts would have crowned the achievement. I may find it difficult sometimes to recommend a performance by The Sixteen in preference, say, to The Tallis Scholars or one of the other excellent groups now specialising in Renaissance music, so many of which, like both these 'rivals', I'm proud to note, have an Oxford base or origin, but I can't think of any other group with such a wide and thoroughly accomplished repertoire.

As yet the downloads available from the parent site are limited in number, so I've included a programme by the Hilliard Ensemble, whose own recordings have now migrated to Coro:

Hilliard Live: Volume 3
Antoine BRUMEL (c.1460-c.1520)
Missa Victimae paschali laudes [32:12]
Ave virgo gloriosa [10:07]
Mater Patris et filia [3:23]
Nativitas unde gaudia/Nativitas tua, Dei genitrix, for 4 voices [5:47]
O crux, Ave spes unica [1:50]
ANONYMOUS Laude: O divina virgo, flore [2:08]
Salve, salve, virgo pia [2:20]
Regina sovrana [2:47]
Oi me lasso [3:12]
The Hilliard Ensemble (David James (alto); Rogers Covey-Crump, John Potter (tenors); Gordon Jones (bass)) - rec. live 1997. DDD.
CORO COR16052 [74:26] - from passionato.com (mp3 and lossless).
No texts, but also available in mp3 only with pdf booklet from classicsonline.com or stream from Naxos Music Library.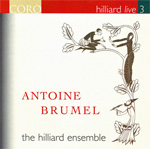 This is all the more welcome for not containing the striking Missa Et ecce terræ motus - the best known of Brumel's works, but already well served, not least by the Tallis Scholars on Gimell (CDGIM026 - see January 2009 Roundup. Also included in the splendid budget price 4-CD set Sacred Music in the Renaissance, Volume 2, GIMBX302, Bargain of the Month - see review and December 2010 Roundup). The Eastertide Mass is less dramatic but well worth hearing, as are the shorter Brumel pieces here, interspersed with more popular Italian-texted devotional music of the time from the Laudario di Cortona. The live performance could perhaps have been a little livelier - in that respect The Tallis Scholars' Brumel is preferable - but it's not a serious defect. A more serious grumble from my point of view is the breaking up of the sections of the Mass among the shorter pieces, but you may mind this less than I did. The recording sounds fine in lossless form.

The classicsonline.com comes in mp3 only; at £7.99 it's a pound more than the passionato.com mp3 and there's no lossless equivalent, but it includes the important booklet with helpful notes, texts and translations. Passionato.com also offer the complete 4-CD set of Hilliard Live (COR16061 - here) at a saving over the cost of the four separate volumes.


***


Henry PURCELL (1659-1695)
Twelve Sonatas in Three Parts, Z790-Z801 (1683)
Retrospect Ensemble - rec. February 2011. DDD.
Pitch: A = 415 Hz
Temperament: modified 1/5th-comma meantone
Pdf booklet included
LINN CKD374 [74:45] - from linnrecords.com (mp3, 16- and 24-bit lossless)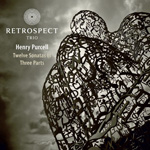 The Retrospect Ensemble have already recorded Purcell's Sonatas in Four Parts (Linn CKD332 - see June 2009 Roundup). Now they complete the set with the three-part works, in which they are just as recommendable if not even more so. With good recording and all twelve works complete on one CD, this is a serious rival to the Chandos recording from the eponymous Purcell Quartet, now available only as a download from theclassicalshop.net. The 3- and 4-part Sonnatas (Purcell's spelling) are available on a 2-disc set, complete with the 3-part Pavans (CHAN0572) or, less generously, on three separate albums (CHAN8591, 8663, 8763). (See review of both formats here.) In just one respect, namely the artwork, the Chandos recordings are preferable. I do hope that the failure of the Chandos CDs to sell doesn't mean that the Linn recordings will meet the same fate: this is fine music, though I wouldn't recommend sitting through both discs in one go. The new recording is very good, especially in lossless sound, though there were some very minor hiatuses where the music is continuous between tracks, even using the Winamp player which usually smoothes these over.

Antonio VIVALDI (1678-1741)
12 Concertos for Violin, strings and continuo, Il cimento dell'armonia e dell'invenzione, Op.8/1-12 (including The Four Seasons)
Avison Ensemble/Pavlo Beznosiuk (violin) - rec. November/December 2009. DDD.
Pdf booklet included.
LINN CKD365 [112:00] - from linnrecords.com (mp3 and various 16- and 24-bit lossless formats)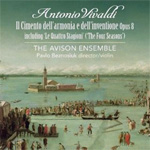 It's hard to believe that until the Stuttgart Chamber Orchestra recording directed by Karl Münchinger was reduced from full price Decca to the Ace of Clubs label in the late 1950s, the Four Seasons were hardly known. Now we have a wealth of choice, not just for those first four concertos but for the whole Op.8 set, on period instruments and their modern equivalents, though usually, in the latter case, with a greater sense of baroque style than shown by Münchinger and his team. To deal with that latter category first, my admiration for the Academy of St Martin in the Fields team under Neville Marriner remains undiminished. (Decca Originals 475 7531: Download of the Month - see September 2009 Roundup).

I recently compared two inexpensive period-instrument performances of The Seasons (John Holloway and Andrew Parrott, Dal Segno DSPRCD058), the complete Op.3 and Op.8 concertos (Fabio Biondi, Virgin Classics 6484082, 4 CDs) and a number of other recordings - see review. I set one benchmark there, which only Biondi observes to the letter, the barking dog in the slow movement of Spring, represented by the viola, which should sound insistent against the background of the sleeping herdsman: sempre forte: si deve suonare sempre molto forte e strappato. The Avison Ensemble also pass this test, if not quite as effectively as Biondi. In fact, if you're looking for something just a tad less overtly dramatic overall than Biondi or Dantone (Op.8/1-6 Arts 47564-8 and Op.8/7-12 Arts 47565-8 - see review), this new Linn recording will do very nicely. The Biondi set offers superb value - a 4-CD set for around the price of a single CD - as do the Taverner Players and Andrew Parrott on a super-budget 2-CD Virgin Classics Veritas recording* - but the new Linn is also something of a bargain in that the complete Op.12 set, on two rather short CDs, is offered for the price of one, from £8 for mp3 up to £18.00 for Studio Master. I chose the 16-bit lossless (wma) which comes at £10 and found it excellent. This is another excellent recording to add to the distinguished list of the best available recordings; I shall certainly be returning to it frequently.

* 4820882, around £7.60 in the UK: at present, the classicsonline.com download at £13.98 is completely uncompetitive.

LAMENTAZIONE
Domenico SCARLATTI (1685-1757) Stabat Mater [23:22]
Antonio LOTTI (c.1667-1740) Crucifixus a 10 [2:34]
Giovanni LEGRENZI (1626-1690) Quam amarum est Maria [5:11]
Antonio CALDARA (1670-1736) Crucifixus a 16 [4:01]
Leonardo LEO (1694-1744) Miserere a 8 [18:32]
Antonio LOTTI Crucifixus a 8 [2:41]
Les Arts Florissants/Paul Agnew - rec. 2010. DDD.
No texts.
VIRGIN CLASSICS 5099907090752 [56:22] - Stream from Naxos Music Library (mp3)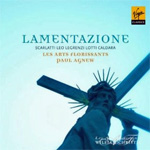 This new recording neatly complements the Coro Venetian Treasures (see above), duplicating only the Caldara Crucifixus.

How do Les Arts Florissants manage without their mentor William Christie at the helm? On the showing of this programme from the Ambronay Festival, they can - and very well, indeed. If you're not put off by hearing music designed for Holy Week, especially for Good Friday, in the autumn, and you like baroque choral works, you need have no reservations. Domenico Scarlatti's Stabat Mater has been recorded many times but never more effectively: if anything, this new version is marginally preferable to the highly dramatic Alessandrini version on mid-price Naïve OP30446 - superb if you're in the right mood: Gary Higginson was bowled over (see review), but it's not for all seasons. Agnew seems to deliver the work at a less hectic pace, yet his overall timing is on a par with Alessandrini's. Lotti's 8-part Crucifixus is well known, almost ubiquitous, but his 10-part setting and Caldara's 16-part are well worth hearing. Naxos Music give the title of the Legrenzi as Quam amrum est, but it should surely be Quam amarum est, how bitter it is. In any case, this seems to be the only recording of this attractive work.

As yet the recording is not available to download from classicsonline.com but doubtless will be soon, as presaged by its appearance in the related Naxos Music Library. It sounds well enough there, at the lower bit-rate, for me to predict that it should sound even better at the full 320kb/s. Meanwhile, amazon.co.uk have it for £7.49: their usual bit-rate is a little lower at 256kb/s. HMV digital offer it for £7.99 at 320 kb/s.

Wolfgang Amadeus MOZART (1756-1791) Piano Concertos: Volume 1
Piano Concerto No 6 in B flat, K238 (1776) [20:01]
Piano Concerto No 8 in C, K246 'Lützow' (1776) [22:32]
Piano Concerto No 9 in E flat, K271 'Jenamy'/'Jeunehomme' (1777) [32:48]
Angela Hewitt (piano); Orchestra da Camera di Mantova (Carlo Fabiano, Leader)
rec. 30 November and 1-2 December 2010. DDD.
Pdf booklet included.
HYPERION CDA67840 [75:16] - from hyperion-records.co.uk (mp3 and lossless)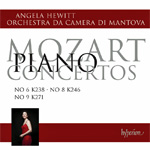 This is billed as the first of a forthcoming series of all the Mozart concertos from the inestimable Angela Hewitt; I understand that Volume 2 is already in the can. Hewitt is just about the only performer to persuade me that Bach can sound well on the piano; can she perform the same trick with Mozart's early concertos, also written for a very different instrument from the modern grand piano, possibly, in the case of K238, as she acknowledges in her notes, for the harpsichord? As she writes, 'in Salzburg in 1776 there were reportedly no fortepianos at all. So it was certainly on the harpsichord that Wolfgang, and also Nannerl, gave the first performances of his Concerto in B flat major, K238'. The question is especially apt in view of Ronald Brautigam's controversial fortepiano and period-instrument recording with the Kölner Akademie and Michael Willens (BIS-SACD-1794) which I reviewed in the October 2011/1 Roundup.

I liked that recording, which includes K271, more than its detractors, though I drew back from calling it the last word, writing 'you really need something like one of Brendel's performances as a reminder that Brautigam and Willens don't have the only answer - the early version on the budget Alto label, which I reviewed some time ago, will do well enough. (ALC1047, with Concerto No.14 and Sonata No.8 - Bargain of the Month: see review: download from classicsonline.com here).'

Hewitt's Mozart is predictably as stylishly light in touch as her Bach, so much so that in K238 questions of the nature of the instrument - modern grand, fortepiano or harpsichord - become irrelevant. Though the Orchestra da Camera di Mantova is a chamber-size group, the combination of Hewitt's light touch, her direction of the orchestra and the fact that they are recorded fairly prominently means that there is no sense of imbalance between soloist and accompaniment. I've already seen Hewitt's performances here described as too uninvolved; the other side of that coin is that she doesn't try to impose on the two earliest works here emotional baggage which is too heavy for them. In the early days of Naxos, I collected many of Jenö Jandó's Mozart concerto recordings and I still return to them to hear his faithful rendition of the notes on the page without over-interpretation. Of course, I want to have my cake and eat it: I also want the likes of Alfred Brendel, Stephen Kovacevich and Clifford Curzon, especially in the mature concertos, from No.20 onwards.

There's plenty of beautiful music in the two earliest works here, especially in the slow movements, but by general consent, it was with K271, the concerto named after his pupil 'Jeunehomme' (probably Victoire Jenamy), that the mature Mozart began to reveal himself, so I imagine that most people will buy this recording for the sake of that work. We are by no means short of good recordings - the early Brendel on Alto (above), his 2002 Philips version (470 2872 with Concerto 25 - download from passionato.com*), Howard Shelley and the London Mozart Players (Chandos CHAN9068 with Concerto 17 - see March 2009 Roundup) and Imogen Cooper with the Northern Sinfonia on Avie (AV2100 with Concerto 27 - see September 2009 Roundup) to name but four. I'm now more than happy to add Angela Hewitt's performance to this eminent list. Here, too, she avoids trying to push the music further than it will go, with tempi a little slower than fortepianists (Brautigam and Bilsom) and Jenö Jandó** and a little faster than Brendel. The finale really goes with a swing. With good recording throughout and an informative and interesting set of notes, this becomes a strong recommendation. Try the samples on the Hyperion website, though, just to make sure that you don't agree with that charge of under-involvement.

* They also have his award-winning earlier 2-CD set with the ASMF and Neville Marriner: Concertos 9, 15, 22, 25 and 27, rec.1974-81 on Philips Duo 442 5712, a splendid bargain which many will prefer. You may, however, find the CD set slightly less expensive (around £9) than the download at £12.99.

** Naxos 8.550203, with Concerto 27: Concentus Hungaricus and András Ligeti. Download from classicsonline.com.

Wolfgang Amadeus MOZART Requiem, K626 (1791) (completed Franz Xaver SÜSSMAYR, 1792)
New College Choir, Oxford; Orchestra of the Age of Enlightenment/Edward Higginbottom - rec.2010. DDD.
Texts not included.
NOVUM NCR1383 [48:45] - from eclassical.com (mp3 and lossless) and classicsonline.com (mp3). Stream from Naxos Music Library.

Ave verum corpus, K618 [2:41]
Requiem, K626 (1791) (completed Franz Xaver SÜSSMAYR, 1792) [42:07]
Commentary from Robert Nairn [1:40]
Per questa bella mano, K612 [7:24]
Elizabeth Watts (soprano), Phyllis Pancella (mezzo); Andrew Kennedy (tenor), Eric Owens (bass); Robert Nairn (double bass, K612); Handel and Haydn Society/Harry Christophers - rec. live, April/May 2011. DDD.
Pdf booklet included with texts and translations.
CORO COR16093 [53:59] - from thesixteendigital.com (mp3, aac, flac and alac). Stream from Naxos Music Library.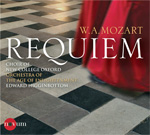 Of making many Mozart Requiems there is no end, but these recordings, especially the Novum, have a special claim on our attention. Unfashionably now, both Edward Higginbottom and Harry Christophers use the Süssmayr completion - and why not? Higginbottom's notes, available from the New College web page - here - explain the decision. Then he uses soloists from within the New College Choir which, together with the period orchestra, adds a touch of 'authenticity'. On the other hand, those attuned to more 'traditional' performances, such as the Neville Marriner recording* used for the film Amadeus, should not find anything here to make them grind their critical teeth. Having listened via the inestimable Naxos Music Library, where it sounds fine, despite the limited bit-rate, I had to listen to the lossless version from eclassical.com, at $8.78, with the ability to download both the flac for listening on a good system and mp3 for your personal player. Very good though the classicsonline.com 320k mp3 download is, the lossless version from eclassical.com sounds even better; it's good value, too.

* Philips 432 9872 - from passionato.com (mp3). Apparently no longer available on CD in the UK, though Marriner's earlier (1971) recording is available on a Double Decca set (443 0092, around £9).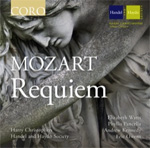 The New College version was recorded last year; the Coro recording was made just months ago. Christophers opens appropriately with the beautiful Ave verum corpus, which here receives a soulful and sensitive reading. The opening Requiem æternam and Kyrie which follow are performed in much the same vein - what this version lacks (slightly) in drama, it more than makes up for in sensitivity. It's affective but without sentimentality, partly because the music moves forward at a faster pace than on the New College recording here and throughout the Requiem. Only when the opening of the Dies iræ follows hard upon the Kyrie did I feel that I wanted more breathing space - does this reflect what happened in concert, or is it the result of editing? We actually have a longer and appropriate break before the second section of the Dies iræ, Tuba mirum. The opening of Dies iræ also comes in too quickly for my liking on the Novum recording, where Tuba mirum is mis-spelled as tuba miram by classicsonline.com, the Naxos Music Library and eclassical.com. Can the mis-spelling actually have emanated from New College where, of all places, Latin should still be on the curriculum?

No apology or special pleading needs to be made for the soloists from the New College choir but the professional singers on the Coro recording, of course, belong in a different - not necessarily a higher - league. Your choice between these two fine accounts could easily be made on the basis of your preference in this regard. Equally, you could decide that you like both. Both take the opening Requiem æternam at a faster pace than Marriner, whose account of the music will have become the norm for so many listeners: Higginbottom is half a minute faster and Christophers another half minute faster still. To put it crudely, do you prefer the work to open portentously (Marriner), brisk and consolatory (Christophers) or a middle way between the two (Higginbottom)? Elsewhere the Novum recording treads less of that middle way, inclining more towards Marriner's tempi, with the Coro pretty consistently a little more brisk.

In recent years I've regarded Peter Schreier's recording as something of a benchmark (Philips 464 7202, with the 'Coronation' Mass and Ave verum corpus - from passionato.com, mp3). With almost 80 minutes on one mid-price CD, that's excellent value, but the performance now sounds a little ponderous alongside these two new recordings: at 51:05 overall, it's slower than either and even a little slower than Marriner. The addition of the 'Coronation Mass', however, may still sway you in its favour.

The little-known aria Per questa bella mano makes a not very appropriate encore to the Coro recording, the incongruity increased by the preceding track of explanatory commentary - surely that's the job of the notes? For future listening, I shall be inclined to skip these two 'bonus' tracks, despite the persuasive performance of the aria.

The Novum recording is available in good mp3 only from classicsonline.com and in mp3 and lossless flac from eclassical.com at the attractive price of $8.78; the Coro comes from thesixteendigital.com in two compressed formats and, for a little more, in two lossless formats. Apple fans should choose the alac, which can be imported into iTunes and burned from there to CDR, rather than the flac: both sound excellent.

Bargain hunters may wish to note that classicsonline.com have the very well-regarded Richard Hickox recording on Virgin 0724356247857 - here - for £3.99.

Sigismund (von) NEUKOMM (1778-1858)
Requiem Mass, Funeral Procession and Miserere (1838)
Cantaréunion; Choeurs de l'Océan Indien;
Grande Écurie et Chambre du Roy/Jean-Claude Malgoire - rec. live, 2008? DDD.
Texts not included.
K617 K617210 [59:19] - from emusic.com (mp3)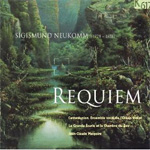 The chief claim to fame of this pupil of Michael and Joseph Haydn and younger contemporary of Mozart is that he composed a setting of Libera me designed to complete the latter's Requiem, as recorded by Jean-Claude Malgoire with the Neukomm conclusion to that work on another K617 recording, K617180 - see review of a 'quite remarkable disc' by Em Marshall, in which you can find a great deal of information about this prolific but little-known composer.

I listened with interest to Neukomm's own Requiem, with a different Libera me, and shall return to it, though I would be the first to acknowledge that it comes nowhere near Mozart's masterpiece in terms of inspiration, emotional power, drama or variety. Nor is the male-only singing, for all the interest of having a choir from the Indian Ocean, ever much more than adequate, partly because the brass accompaniment often overwhelms it - and there are one or two small fluffs in that accompaniment, too. I found the final section, the Procession and Miserere, the most moving. All in all, however, your first port of call for a recording of Neukomm should be his Missa Solemnnis (K617212, conducted by Malgoire) which I reviewed in the May 2010 Roundup.

The recording over-favours the brass and emusic.com's habitually parsimonious bit-rates (as low as 168kb/s) probably don't help in that regard. The CD is currently out of stock, so downloading is the only option. Amazon.co.uk's version should be at a higher bit-rate but, at £7.49, is more expensive than the emusic.

There are no texts but the words of the Latin Requiem Mass, Miserere (Psalm 50, Vulgate/51 Hebrew and English versions), and translations are readily available.

Russian Violin Concertos
Julius CONUS (1869-1942) Violin Concerto in e minor (1898) [23:44]
Mieczysław WEINBERG (1919-1996) Concertino for violin and string orchestra, Op. 42 (1948)* [19:08]
Anton Stepanovich ARENSKY (1861-1906) Violin Concerto in a minor, Op. 54 (1891) [21:55]
*World première recording
Sergey Ostrovsky (violin); Bournemouth Symphony Orchestra/Thomas Sanderling - rec. June 2010. DDD
NAXOS 8.572631 [64:47] - from classicsonline.com (mp3)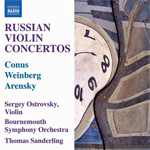 The Conus and Weinberg works are rarities indeed. That the recording will appeal mainly to those with a fairly sweet tooth will be apparent from the names of two of its composers; the Weinberg is somewhat less sweet, though hardly acerbic.

The Conus concerto was recorded by Heifetz in 1952 (Naxos Historical 8.111359, with Korngold, Sarasate and Tchaikovsky) but, to the best of my knowledge, only one modern recording exists, with Anita Chen (violin and piano in the Grieg Piano Concerto) and Dmitry Yablonsky conducting on the Bel Air label (BAM2039).

There is stronger competition for the Arensky, from Ilya Gringolts and Ilan Volkov on Hyperion CDA67642, coupled with the Taneyev Suite de Concert. That recording in the Hyperion Romantic Violin Concerto series received high praise, not least from Michael Cookson here on Musicweb International - see review. Gringolts and Volkov, who adopt generally slightly faster tempi than the Naxos team, take two minutes less overall. If you like your Romantic concertos to be a bit of a wallow, you'll want the new version, but I don't always subscribe to the tradition of lingering too much in violin concertos. It seems to have begun at quite an early date with slow tempi for the opening movement of the Brahms Violin Concerto, thereby effectively creating two slow movements. Listen to Heifetz and Reiner taking that movement notably faster on RCA and you will hear how much more effective the music can be by being taken faster. If you agree with me, you'll probably prefer the Hyperion, though at the expense of a persuasive account of the Conus rarity and the world première recording of the Weinberg. Performances are persuasive - don't take my comments about wallowing in the Arensky too seriously - and the recording good. If you must have lossless, this will doubtless appear in that form on eclassical.com, though probably at an uncompetitively expensive price.

John IRELAND (1879-1962)
Piano Concerto in E flat (1930)† [24:50]
Legend for piano and orchestra (1933)† [13:14]
First Rhapsody in f sharp minor (1906) [12:07]
Pastoral (1896)* [4:45]
Indian Summer (1932)* [2:17]
A Sea Idyll (1900) [12:29]
Three Dances (1913) [7:18]
*World Première Recordings
John Lenehan (piano)
Royal Liverpool Philharmonic Orchestra†/John Wilson† - rec.2007 and 2011. DDD.
Pdf booklet included.
NAXOS 8.572598 [77:00] - from classicsonline.com (mp3). Stream from Naxos Music Library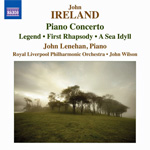 The Piano Concerto is a glowing and powerful work and it receives a performance to match here - one, indeed, to rival its major competitors, Eric Parkin on Chandos CHAN8461 and Mark Bebbington on Somm SOMMCD242, both of which I reviewed in the February 2011 Roundup. Both of those competitors also include the evocative Legend, but then diverge from each other and from the new Naxos recording, with Somm adding the Bax Concertino and Chandos Ireland's Mai Dun. I expressed a preference then for the Parkin, mainly because the full orchestra is more suited to the work than Bebbington's chamber orchestra, but thought that ultimately the coupling would decide the final choice.

The new recording brings us a number of solo piano works. If you prefer these and/or are swayed by the price advantage and generous playing time of the Naxos, I see no reason to hold back. The Chandos offers the shortest playing time and, though it includes Mai Dun, not on the other two recordings, there are also good performances of this work on Lyrita (SRCD240: Boult conducts John Ireland- see review) and Hallé (CDHLL7523, conducted by John Wilson: Recording of the Month - see review. Download from classicsonline.com). If you are undecided and have access to the Naxos Music Library, you'll find both the new recording and the Chandos there to try. The Chandos and Somm recordings are available in mp3 and lossless from theclassicalshop.net but the Naxos, though offered in mp3 only by classicsonline.com, sounds very good.

Howard HANSON (1896-1981)
Symphony No. 2 'Romantic' (1930) [28:19]
Lux Æterna (1923)* [16:51]
Mosaics (1958) [11:56]
*Susan Gulkis Assadi (viola obbligato)
Seattle Symphony/Gerard Schwarz - rec. 1988, 1992 and 1994. DDD.
Previously released on Delos International.
NAXOS AMERICAN CLASSICS 8.559701 [57:06] - from classicsonline.com (mp3). Stream from Naxos Music Library.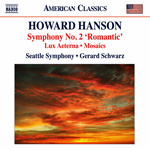 This further Naxos reissue of recordings first released by Delos follows hard on the heels of Volume 1 (8.559700 - see September 2011/2 Roundup). There's a review from the early days of MusicWeb International by Ian Lace of the two Delos twofers* from which these recordings are taken in which he rightly singles out the Romantic Symphony as Hanson's most approachable work and awards the performances and recording a ****(*) recommendation - here. It only remains for me to say that the Naxos reissues, on the showing of the first two volumes, deserve just as much praise and that this second disc is probably the best place to start: Lux Æterna and Mosaics are almost as appealing as the Symphony, though perhaps slightly less immediately approachable. The mp3 sound is good. I shan't be jettisoning my copy of Hanson conducting his own First and Second Symphonies (Mercury 432 0082 - download in mp3 from passionato.com) but I look forward to hearing the remaining Naxos discs.

* these seem still to be available from some UK dealers.

Volume 1 has been released in lossless flac by eclassical.com - here - but for once their policy of charging by the second doesn't result in an attractive price since, at $8.74, it fails to take account of the Naxos budget price, so it's more expensive than the UK price of around £5.50 for the CD.

Dmitry SHOSTAKOVICH (1906-1975)
Symphony No. 6 in b minor, Op. 54 [32:48]
Symphony No. 12 in d minor 'The Year 1917', Op. 112 [34:50]
Royal Liverpool Philharmonic Orchestra/Vasily Petrenko - rec. 2009/10. DDD.
Pdf booklet included.
NAXOS 8.572658 [69:38] - from classicsonline.com (mp3)

['I shall certainly return to Petrenko's fine version of [the Sixth] symphony but I doubt I shall often listen again to the egregious Twelfth'. See review by John Quinn here.]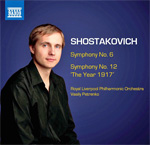 The latest volume, No.6 in the series, maintains the high standards of its predecessors in terms of direction, performance and recording. Whether you go for this version of No.6 or a rival with a different coupling, such as Jurowski, with No.1 (Pentatone PTC5186 068 - see review) will depend on your attitude to No.12. No doubt it's the weakest link in the series; though I still have a soft spot for it, JQ's epithet 'egregious' is just right, yet it reminds me how far the English meaning has come from the Latin original - in the degree ceremony at Oxford, the proctors are addressed as egregii proctores. I doubt that they would be happy for the word to be understood in its modern sense. Petrenko is on record as regarding the Twelfth as a favourite work, though misunderstood in the West; he certainly makes a very strong case for it here.

Only those who must have lossless sound need hesitate to buy the mp3 download. There's a flac version from eclassical.com, but, at $12.53, that's considerably more expensive than either the classicsonline.com download or even the parent CD.

Leonard BERNSTEIN (1918-1990)
The Age of Anxiety for piano and orchestra (Symphony No 2) (after W H Auden) (1948) [35:44]
William Elden BOLCOM (b.1938)
Concerto for Piano and Large Orchestra (1976) [23:40]
Marc-André Hamelin (piano)
The Ulster Orchestra/Dmitry Sitkovetsky - rec. January 2000. DDD.
Pdf booklet included.
HYPERION CDA67170 [59:30] - from hyperion-records.co.uk (mp3 and lossless)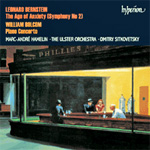 This is one of Hyperion's 'Please someone buy me …' orphans. Though it's probably the most frequently recommended version of the Bernstein and the Bolcom makes an interesting coupling, no-one has purchased the CD for so long that it was on offer at half price at the time of writing. That offer almost certainly will have expired when you read this but the download in all formats - mp3 and lossless flac or alac - is available at the special price of £6.99, £1 less than usual, to reflect the slightly short playing time.

Auden may not have appreciated Bernstein's homage to his poem which was the inspiration for the work, and this is not for those who know and like only the lighter Bernstein of West Side Story and On the Town, but it's not frightening avant-garde serialism, either.

The Bolcom is a slightly tougher nut but it still won't crack your musical jaw unless you're ultra-conservative. Performances and recording are first-rate and the presentation is all that we have come to expect from Hyperion, right down to the apt Hopper painting on the cover.

If you must have Bernstein's own 1977 recording and/or prefer the Chichester Psalms as coupling, passionato.com can oblige, but in mp3 only (DG Originals 457 7572 - here). HMV Digital has the 7-CD set Bernstein conducts Bernstein in mp3 for £22.99 - here. (£27.99 from passionato.com. Both are at the maximum 320kb/s.)

I was even more surprised to find in the next batch of orphans Volume 1 of the Martinů works for violin and orchestra (CDA67671: see review and Top 30 Hyperion Downloads): buy it as a download here for just £5.99.

European Light Music Classics
Leon JESSEL Parade of the Tin Soldiers [2:50]
Franz LEHÁR Gold and Silver [8:38]
Gabriel PIERNÉ March of the Little Lead Soldiers [2:55]
Johann STRAUSS II Tritsch-Tratsch-Polka [2:43]
Paul LINCKE Glow Worm Idyll [6:59]
Hugo ALFVÉN Swedish Polka [2:29]
Charles GOUNOD Funeral March of a Marionette [4:21]
Émile WALDTEUFEL The Skaters (Les Patineurs) [7:41]
Jonny HEYKENS Serenade [4:19]
José PADILLA El relicario [3:01]
Ernesto BECUCCI Tesoro mio! (My Treasure!) [7:11]
Joseph HELLMESBERGER Ball Scene [5:45]
Jaromír WEINBERGER Polka from Schwanda the Bagpiper [2:07]
Oscar FETRÁS Moonlight on the Alster [8:08]
Johan HALVORSEN The Entry of the Boyars [4:41]
New London Orchestra/Ronald Corp - rec.1997. DDD.
HYPERION CDA66998 [74:31] - from hyperion-records.com (mp3 and lossless)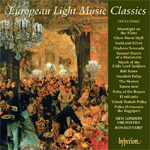 I've already recommended the four CDs of British Light Music (Hyperion CDS44261/4, 4 CDs specially priced, also available separately) and the single CD of American Light Music (CDA67067) in this series. I don't know why I hadn't got around to this European equivalent, but it's every bit as recommendable as the others in terms of foot-tapping repertoire, sparkling performances and first-rate recording. I have to be in the right mood to tolerate the Polka from Švanda the Bagpiper, but if you've collected the other volumes, you need have no hesitation about completing the set. Now that Hyperion are offering alac in addition to mp3 and flac, you may prefer to choose that format - it's a lossless format and it can be played via Squeezebox or via iTunes, where it can also be burned to CDR. (iTunes cannot cope with flac.)

Hidden Treasures
Cecil Armstrong GIBBS (1889-1960) Songs of the Mad Sea Captain [6:27]
Franz SCHUBERT (1797-1828) Drei Gesange, D902 [10:56]
Wolfgang Amadeus MOZART (1756-1791) Mentre ti lascio, K513 [7:21]
Henry PURCELL (1659-1695) This poet sings the Trojan wars, Z423 'Anacreon's defeat' [4:10]
Bacchus is a power divine, Z360 [2:57]
(James) Frederick KEEL (1871-1954) Three Salt-Water Ballads [6:07]
David Soar (bass); James Southall (piano)
Pdf booklet with texts and translations available from Resonus.com
RESONUS CLASSICS RES10103 [38:02] - download from resonus.com (mp3, aac or lossless), eclassical.com (mp3 or lossless) or classicsonline.com (mp3)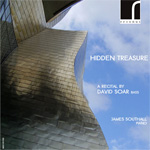 This is an attractive and very varied short recital of rarities from an accomplished singer who mostly handles the very varied styles with assurance. Apart from the Purcell, whose complete opera have been well served by Hyperion and others, I don't recall hearing any of them before and I'm pleased that they have been 'rescued', thereby maintaining this young label's excellent record for filling gaps in the catalogue. Many of the pieces, however, are arrangements and I didn't always think that these sat well with the bass voice or with David Soar's in particular. I know that his WNO Leporello was well received and I'd very much like to hear him in that part - in fact, I could hear him doing so in my mind's ear as I listened to the Keel Salt Water Ballads at the end of the recital. Without wishing at all to put off potential purchasers, this is the least attractive Resonus release so far.

The eclassical.com download is not only less expensive than the classicsonline.com version ($6.83 against £7.99) but the lossless flac comes at the same price. The beauty of the Resonus download-only policy is that there need be no set length for a CD, but the price should always reflect a short programme. Resonus themselves offer mp3 and aac for £6.49 and flac for £7.49. Neither eclassical.com nor classicsonline.com offers the booklet of notes, texts and translations which I received with my review download from Resonus, but this can be obtained from them direct here. You'll need it because, although David Soar's diction in the English pieces is exemplary, the Schubert and Mozart works are in Italian.

Evensong at New College Oxford
Introit: William HARRIS (1883-1973) Faire is the heaven [5:30]
William SMITH (1603-1645) Opening Versicles and Responses [1:09]
Psalm 84 (chant: J. COWARD) [3:15]
Psalm 85 (chant: G. MARTIN) [4:02]
First Lesson: Ecclesiasticus 44.1-15 [2:14]
Office Hymn: Thomas TALLIS (c.1505-1585) Te lucis ante terminum [2:19]
Charles Villiers STANFORD (1852-1924) Magnificat in G [4:06]
Treble soloist: Joseph Littlewood
Second Lesson: I Corinthians 12.27 & 13.1-13 [2:54]
Charles Villiers STANFORD Nunc dimittis in G [4:15]
Bass soloist: Gregory Sanderson
William SMITH Creed and Lesser Litany [2:22]
John FARMER (d. c.1603) Lord's Prayer [1:31]
William SMITH Versicles, Responses and Collects [4:11]
First Anthem: Gerald FINZI (1901-1956) Lo, the full final sacrifice [14:51]
Second Anthem: Charles WOOD (1866-1926) Hail, gladdening light [3:10]
Prayers and Blessing [2:50]
Hymn: Glory to thee my God this night (tune by Thomas TALLIS) [2:25]
Charles Villiers STANFORD Organ Voluntary: Postlude in d minor [5:24]
Nicholas Wearne, Robert Patterson (organ)
The Revd Dr Jane Shaw, Chaplain and Dean of Divinity, New College Oxford (Officiating Priest)
The Choir of New College Oxford/Edward Higginbottom - rec.2003. DDD
Pdf booklet included but no texts.
NOVUM NCR1379 [66:31] - from eclassical.com (mp3 and lossless) or classicsonline.com (mp3). Stream from Naxos Music Library.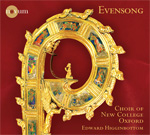 Even many non-Anglicans will recognise the structure of Evensong from BBC Radio 3 broadcasts from colleges and cathedrals on Wednesday and Sunday afternoons. They will find here a splendid example of its kind. Despite its name, New College (founded by William of Wykeham, Bishop of Winchester, in 1371) is one of the oldest in Oxford and the form heard here celebrates the college's episcopal founder.

There are, of course, recordings of the Stanford Mag and Nunc and of Finzi's Lo, the full final sacrifice which one might prefer, but such comparisons are irrelevant in this context. Those who like this sort of thing will enjoy this greatly and others may care to try it via the Naxos Music Library. Radio 3 is limited to 60 minutes: the extra leg-room here allows us to hear a second anthem. The mp3 version is good, the flac even better. At $7.98 and with both mp3 and flac on offer, eclassical.com pips classicsonline.com (£7.99, mp3 only) at the post.