January 2011 Download Roundup
Brian Wilson


Download of the Month: Early Music

Alexander AGRICOLA (c.1446-1506) Missa in myne Zyn
Ante Missam: In minen sin [2:15]; Si j'aime mon amy [0:59]
Anonymous Bien soiez venu - Alleluia [1:13]
Alexander AGRICOLA In mynen zin [1:47]
Ad Missam: Gloria, from Missa In myne Zyn [9:12]
Gilles BINCHOIS (c.1400-1460) Comme femme desconfortée II [2:23]
Alexander AGRICOLA Credo, from Missa In myne Zyn [10:17]
Johannes OCKEGHEM (c.1400/1430-1497) D'ung aultre amer III [1:51]
Alexander AGRICOLA Sanctus, from Missa In myne Zyn [9:18]
Walter FRYE (fl.c.1450-1470) Tout a par moy II [2:54]
Alexander AGRICOLA Agnus Dei, from Missa In myne Zyn [7:36]
Ad Vesperam: Pater meus agricola est [6:49]; Regina cœli [3:07]
Capilla Flamenca (Marnix De Cat, Rob Cuppens (counter-tenors); Tore Denys (tenor); Lieven Termont (baritone); Dirk Snellings (bass); Liam Fennelly, Thomas Baete, Piet Stryckers (violas da gamba)/Dirk Snellings
RICERCAR RIC306 [59:41] – from eMusic or Amazon.co.uk (both mp3)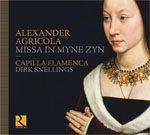 This is a most enterprising release from Ricercar to get the New Year off to good effect. Agricola was one of the most prominent of the contemporaries of Josquin des Prés. His music has not fared as well on record as that of other talented contemporaries, such as Josquin, Binchois, Ockeghem and even Frye, whose works included here give us a chance to judge for ourselves that Agricola's music is just as worthy as theirs of rediscovery - and that there is no better place to start than with the inventive Missa In myne Zyn, or In minen Sin, to give its alternative spelling, based on his own song of the same title - literally, In my mind. Nor can I imagine a better performance to do it and the other music here justice.

Agricola clearly shared the kind of humour that fellow composer Clemens Non Papa possessed, since he plays on his own name (actually Ackermann, apparently, meaning farmer, Latin Agricola) in the piece Pater meus agricola est (My father is a farmer). He was in fact the illegitimate son of a wealthy Ghent businessman. The eMusic tracks are all at a low bit-rate (one is even lower than the basic 192kb/s) but sound well enough for all that.

Neither download offers notes: nothing other than the cover shot, based on a Hans Memling painting, shown again - reversed from the original for some odd reason - on the Capilla Flamenca website. It really is time that all download sites followed the example of Hyperion, Chandos (theclassicalshop.net) and the newer Naxos and some other releases on classicsonline.com in offering the booklet - in this case including, I understand notes by Fabrice Fitch - as part of the deal. You'll find a little information on Capilla Flamenca's website here. I understand that iTunes offer the booklet of this recording, but their price is over £2 more expensive than that charged by eMusic (£5.49) and £1 more than Amazon (£6.99).

Joint Download of the Month

Claude DEBUSSY (1862-1918)
Fantaisie for Piano and Orchestra (à René Chansarel)* [23:59]
Maurice RAVEL (1875-1937)
Concerto in G for Piano and Orchestra (à Marguerite Long)*/** [21:00]
Concerto for the Left Hand for Piano and Orchestra (à Paul Wittgenstein)* [17:40]
Jules MASSENET (1842-1912)
Deux Impromptus (à mon ami Louis Dièmer) [4:52]
Papillons noirs [1:34]
Papillons blancs [2:41]
Valse folle [2:37]
Jean-Efflam Bavouzet (piano); BBC Symphony Orchestra*/Yan Pascal Tortelier*
Alison Teale (cor anglais) **
rec. Watford Colosseum, April 2010 and Potton Hall, Dunwich, Suffolk, UK, June 2010. DDD.
CHANDOS CHAN5084 [76:59] – from theclassicalshop.net (mp3, lossless, 24/96 and studio surround)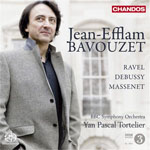 Everything here is just right - the soloist, the orchestra under the direction of a conductor at one with the soloist, the recording and the download quality, even in 'ordinary' lossless sound. I'd already awarded the palm for this month to the Agricola, but this is equally deserving, especially when Chandos already had a fine recording of the Ravel Piano Concertos with Louis Lortie and Rafael Frühbeck de Burgos (CHAN8773 - see May 2009 Roundup). That earlier recording couples the Ravel concertos with Fauré's Ballade; the new recording is much more generous, though Chandos can't agree its exact length: the booklet says 77:00, the download site 76:01. Windows Explorer disagrees with both, timing the total download at 76:59.

The Debussy Fantaisie - effectively a Piano Concerto - adds greatly to the appeal of the new release; though the piano solo works at the end seem less relevant, they, too, are well played.

Those in determined search of a bargain will find Anne Queffélec and Alain Lombard in the Debussy/Ravel coupling on Warner Apex for around £5. Everyone else should go for the new Chandos.

Bargain of the Month

Robert SCHUMANN (1810-1856) Complete Piano Music - Volume 1
Symphonic Etudes ('Etudes in the form of variations'), Op.13 [25:38]
5 Symphonic Etudes, supplement, Op.posth [13:56]
Toccata, Op.7 [7:14]
Canon 'an Alexis', Op.posth [0:57]
Arabesque in C Major, Op.18 [6:06]
Carnaval, Op.9 [30:32]
Faschingsschwank aus Wien [22:00]
Album für die Jugend (Album for the Young), Op.68 [65:56]
Neue Album für die Jugend (A New Album for the Young), Op.posth. [6:34]
Peter Frankl (piano) - rec. 1960s. ADD.
VOX ED-5185 [178:53] – from Amazon.co.uk (mp3)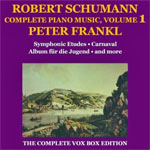 These are vintage performances which were well worth reissuing, especially if you like your Schumann to be a little 'cooler' than usual. At £6.99 for almost three hours of music, this is a wonderful, nay, irresistible, bargain. The Amazon mp3 sound is good at 256kb/s - much brighter and clearer than I recall from the Turnabout reissues of the 1970s - but, if you insist on the highest bit-rate, HMV Digital have it for £7.99. Don't even contemplate buying it from eMusic - their policy of charging by the track - 99 in this case - leads to an absurd price of £41.58!

There are four more volumes in the series, each containing around 3 hours of music. Amazon also have shorter, single CD selections from this series for those who don't like to bite off large chunks, at £4.99 each. Volume 1 in this form contains Album für die Jugend and Neue Album für die Jugend, 72 minutes. Those seeking more of Peter Frankl's Schumann will find his version of the Piano Quintet with the Lindsay Quartet, generously coupled with the Brahms Piano Quintet, on ASV from Passionato.com (mp3 and lossless).

William BYRD (1543-1623) O You That Hear This Voice
Trinity Consort/Clare Wilkinson - rec. 1998. DDD.
BEULAH EXTRA 1BX120 [1:55] – from Beulah (mp3)



This is a short excerpt from the album O Sprite Heroic, settings of the words of that consummate Elizabethan, Sir Philip Sidney, author of Arcadia and hero of the English campaign in the Netherlands, by Byrd and his contemporaries, formerly available on CD (1RF2) and available to download from iTunes. I presume that the other items from this attractive album will follow, though there are many highly recommendable Byrd recordings.

Joseph HAYDN (1732-1809)
Symphony No 93 in D [23:15]
Symphony No 94 in G ('Surprise') [23:26]
Symphony No 95 in c minor [18:40]
The Hanover Band/Roy Goodman (1799 Broadwood fortepiano)
HYPERION HELIOS CDH55126 [65:32] – from Hyperion (mp3 and lossless)

Wolfgang Amadeus MOZART (1756-1791)
Divertimento No 10 in F, K247 [31:27]
Divertimento No 17 in D, K334 [44:06]
The Gaudier Ensemble (Marieke Blankestijn, Lesley Hatfield (violins); Iris Juda (viola); Stephen Williams (double bass); Jonathan Williams, Christiaan Boers (horns))
HYPERION CDA67386 [74:35] – from Hyperion (mp3 and lossless)



What do we reviewers have to do to convince our readers that a particular recording is first-class? Clearly, it's more than we are currently doing because these two excellent recordings have recently fallen into Hyperion's doldrums, their 'please buy me' slot for recordings which no-one has bought for a long time. The CDs won't still be there at half price by the time that you read this review, but the regular download prices of £5.99 and £7.99 respectively, in both mp3 and lossless format,

are attractive. Only an aversion to having Haydn directed (unobtrusively) from the keyboard could possibly deter you: it certainly doesn't deter me, even though I got to know Nos. 93 and 94 from Beecham's inauthentic but delightful mono recordings - I wish the Goodman series had lasted long enough to include No.98, where the keyboard is essential in the finale. The Mozart is lighter-weight but delectable. Please don't let either of these recordings become orphaned again.

Wolfgang Amadeus MOZART (1756-1791)
Concerto for Piano and Orchestra No. 22 in E-flat, K482 [35:46]
(cadenzas: Paul Badura-Skoda)
Concerto for Piano and Orchestra No. 18 in B-flat, K456 [30:24]
Northern Sinfonia/Imogen Cooper (Piano/Director); Bradley Creswick (Leader/Co-Director)
rec. The Sage, Gateshead, UK, November 2009. DDD..
AVIE AV2200 [66:22] – from classicsonline.com or eMusic (mp3) or stream from the Naxos Music Library



Having greatly enjoyed the earlier recording of Piano Concertos Nos. 9 and 23 by the same forces (AV2100), I was initially a little disappointed by the rather heavy opening of the first movement of K482, but matters soon improved to the extent that I can recommend this, like the earlier recording, as an ideal half-way house between full-blown period performance and larger-scale modern-instrument versions.

The classicsonline download (£7.99) comes at the full 320kb/s and includes the booklet, which is also available to subscribers to the Naxos Music Library. The less expensive eMusic (£2.52) is, as usual at varying bit-rates, with only one track at 320k and others as low as 224k, though the sound is never less than acceptable, and there is no booklet.

Piano Concerto No.23 in A, K488
Clifford Curzon (piano); National Symphony Orchestra/Boyd Neel - rec. 1945. ADD/mono
BEULAH EXTRA 1BX101-3BX101 [24:38] – from Beulah (mp3)



Beulah have already given us a recommendable reissue of Dennis Matthews and Rudolf Schwarz in this concerto (1BX42 - see November 2010 Roundup) and Curzon's much later stereo recordings of Nos. 20, 23, 24, 26 and 27 with István Kertesz are available on a 2-CD Decca Legends album (468 4912 - download from Passionato.com here). There is still a place for a performance as fine as this, however, with Boyd Neel on fine form as conductor, as he also was with Kathleen Long in Mozart at around the same time, and a recording which preserves all the essentials in an excellent transfer which made me forget its age.

Curzon's Mozart, even in the 1968 remake, may seem dated, with little attempt to decorate the printed notes, but in other respects his interpretation is timeless and, in its own way, as enjoyable as the more recent Imogen Cooper performance (see above), especially in the delicately-handled slow movement. The performance is a little faster in general than the Matthews - and, indeed, than Curzon himself in 1968 - but never at the expense of the music.

Piano Concerto No.24 in c minor, K491 (cadenzas by Hummel)
Kathleen Long (piano); Concertgebouw Orchestra/Eduard van Beinum - rec.1948. ADD/mono
BEULAH EXTRA 1BX105-3BX105 [23:03] – from Beulah (mp3)



This makes a fine pendant to the Curzon version of No. 23. One contemporary reviewer described the original release as satisfying, sensitive and a welcome change from over-powered performances. It's a judgement which remains true. There's delicacy here, but not the fragile delicacy which used sometimes to be attributed to Mozart. The recording is very good for its age - sounding more like an early LP - and the transfer is of Beulah's usual high quality, with just the occasional slight click and a slightly muffled sound in tutti to remind us of the 78s provenance. May we have more of Long's Mozart, please?

Ludwig van BEETHOVEN (1770-1827) Symphony No.5 in c minor
Berlin Philharmonic Orchestra/André Cluytens - rec.1958. ADD/stereo.
BEULAH EXTRA 5BX82-7BX82 [32:55] – from Beulah (mp3)

I can't do better than repeat a recommendation that appeared back in 1959. Trevor Harvey was one of those reviewers whose opinions always seemed spot-on at the time when I was beginning to build a classical collection. He referred to it as a strong performance: one of the best things he had ever heard Cluytens do. 'It seeks to make no efforts, but by very virtue of its honest strength ends by making a great impression. In its stereo form it is again a success.'

By 1967 it had shed its Coriolan Overture coupling, been generously re-coupled with Symphony No.8, come down in price on the HMV Concert Classics label, had thereby come within my price bracket (£1 2s 9d - about £20 in modern values) and entered my collection, relying on TH's original praise as against Robert Layton's opinion that the performance was 'a little too faceless'. I'd just lost my copy of Klemperer's 10" mono performance - or, rather, the person to whom I'd loaned it had lost it - the memory of which is still in many ways my benchmark, along with Carlos Kleiber (DG Originals 447 0002, with Symphony No.7).

I wouldn't place Cluytens in quite the same bracket as that mono Klemperer or the Kleiber, but this reissue reminds me why I kept its Concert Classics reincarnation in my collection till the end of the LP era. Cluytens' accompaniments of Beethoven concertos with the likes of Clara Haskil, Friedrich Gulda, Solomon and David Oistrakh have survived in the CD catalogue along with his account of the Pastoral Symphony, also to be available from Beulah (8BX82-10BX82, due in February), as is his Ninth already (1BX82-4BX82 - see December 2010 Download Roundup) and this version of the Fifth is equally deserving.

Gioachino ROSSINI (1792-1868) Tancredi Overture
National Symphony Orchestra/Victor Olof - rec.1945. ADD/mono
BEULAH EXTRA 1BX103 [6:34] – from Beulah (mp3)



This sounds more dated than the other 1945 recordings on offer from Beulah this month: overall its rather sub-fusc sound places it just beyond comfortable listening for me and the lively performance didn't make sufficient amends. Olof's recording of the William Tell Overture might have been preferable.


Franz SCHUBERT (1797-1828)
Symphony No.8 in b minor, D759 ('Unfinished') [20:14]
Symphony No.3 [21:08]
Pittsburgh Symphony Orchestra/William Steinberg - rec.1961. ADD. From Command Classics reel-to-reel tape.
HIGH DEFINITION TAPE TRANSFERS HDCD217 [41:22] – from HDTT (24/96 lossless)



Steinberg takes the opening movement of the Unfinished at about the usual pace. That's a little too slow for my liking, since it effectively makes the symphony a work of two slow movements, but he compensates by keeping the momentum going, which is more important than mere tempo. In any case, he comes closer to the allegro moderato marking than Fistoulari on Beulah Extra 2BX37-3BX37 (see October 2010 Download Roundup). On the other hand, Fistoulari compensates with a lightness of touch that Steinberg's more dramatic interpretation eschews. There's room for both, but HDTT's transfer of the Steinberg recording is one of their real marvels; though Beulah have done their best with the Fistoulari, there's a world of difference between 1944 mono and 1961 stereo in full-bodied 24/96 format.

The Third Symphony is one of those works over which Beecham waved his magic wand so effectively that no other version seems able to match it (EMI 5669842, with Nos. 5 and 6). Steinberg comes about as close anyone, however. In neither work could you be under any illusion that Steinberg was using an orchestra anything like the size that Schubert would have expected, but the same is true of Beecham's RPO: both employ their forces with delicacy.

Felix MENDELSSOHN (1809-1847) Violin Concerto
Alfredo Campoli (violin); London Philharmonic Orchestra/Sir Adrian Boult
- rec.1958. ADD/binaural.
BEULAH EXTRA 5BX10-6BX10 [26:24] – from Beulah (mp3)



Alfredo Campoli was something of a pluralist in recording the Mendelssohn Violin Concerto. Beulah already have his 1949 recording with Eduard van Beinum (4PD10, with Elgar - see review). This 1958 recording with Boult at the helm was last reissued on LP on the budget Eclipse label in its original partnership with Bruch's Scottish Fantasia. Beulah have already reissued this pairing on CD (7PD10, with Saint-Saëns Havanaise - see review) - may we have the Scottish Fantasia as a Beulah Extra download, too, please?

The performance is still competitive in a highly competitive market, with the emphasis on beauty rather than showing-off, and the sound remains much more than acceptable despite the over-prominence of the solo violin. It's not a major problem, and it was about par in the 1950s, when most were still listening in mono and, lacking the spatial separation which stereo supplies, would have expected the forward recording of the soloist. I sat back and enjoyed this immensely.

Franz LISZT (1811-1886) Hungarian Rhapsody No.2 (arr. Muller-Berghaus)
Orchestre de la Société des Concerts du Conservatoire de Paris/Albert Wolff - rec. 1954. ADD/mono
BEULAH EXTRA 1BX98 [10:08] – from Beulah (mp3)



Prepare for an avalanche of Liszt new- and re-issues in 2011. It's good to start the year with this reissue of part of an early 10" LP recording from Albert Wolff. There are no fresh insights in the performance - turn to modern recordings such as those by Iván Fischer on Philips 456 5702* for those - but this is enjoyable. What was described in 1956 as 'notably good recording' now sounds a trifle thin at the top of the frequency range.

* Download only, from Passionato.com.

Ambroise THOMAS (1811-1896) Mignon Overture
National Symphony Orchestra/Anatole Fistoulari - rec.1945. ADD/mono
BEULAH EXTRA 5BX7 [8:21] - from Beulah (mp3)


This is Thomas' anniversary year, though he's likely to be swamped by Liszt and Mahler celebrations. The once-famous and tuneful Mignon Overture has rather fallen out of currency, so it's good to have this attractive Fistoulari recording restored by Beulah in a very fine transfer, which sounds almost like a mid-1950s LP at the start; though the 78 origin is apparent later on, the sound is not so thin as to preclude enjoyment and there is almost no surface noise.

Charles GOUNOD (1818-1893) Faust Ballet Music
National Symphony Orchestra/Anatole Fistoulari - rec.1945. ADD/mono
BEULAH EXTRA 4BX7 [16:14] - from Beulah (mp3)



There are not too many recordings of this ballet music around today, and most of the handful that exist are elderly, including the Alexander Gibson which I reviewed some time ago. (Witches' Brew, Decca Eloquence 442 9985 - see review). Fistoulari offers an attractive, often exciting performance in decent sound. Better than either Fistoulari or Gibson, however, Beecham's recording of French Ballet Music, still available on EMI Great Recordings, has been re-reissued at an even lower price on EMI Masters. (6318162 - see review - download from HMV Digital for £5.99, or purchase on CD for just a few pence more.)

Camille SAINT-SAËNS (1835-1921) Introduction and Rondo Capriccioso
Ida Haendel (violin); National Symphony Orchestra/Basil Cameron - rec.1945. ADD/mono
BEULAH EXTRA 1BX104 [8:44] – from Beulah (mp3)



This is another of those once-popular pieces that don't get trotted out too often these days, but deserves to be heard. One reviewer in 1946 thought the performance 'quite exciting' and the recording full-bodied but a little harsh. What sounded full-bodied then sounds thin now, but perfectly acceptable: the 'harshness' is no worse than one would expect for the period, and Haendel's well-supported performance offers strong advocacy for the music.

Pyotr Ilyich TCHAIKOVSKY (1840-1893) Violin Concerto
Ida Haendel (violin); National Symphony Orchestra/Basil Cameron - rec.1945. ADD/mono
BEULAH EXTRA 2BX104 [31:10] - from Beulah (mp3)



Ida Haendel made many more concerto recordings after 1945, including at least two remakes still available of the Tchaikovsky, one from the archives of Stuttgart Radio (Hänssler 94205, with Dvořák) and another with the LSO and Sergiu Celibidache (Testament SBT1038, with Brahms). Later still she recorded the work for EMI with Berglund, but that recording seems to be out of the catalogue. This 1945 version is just as fine as the Saint-Saëns (above) which she recorded at much the same time and with the same decent orchestral support and sympathetic conducting from Basil Cameron. Once again, the performances do the music proud - though this concerto didn't need as much advocacy as the Saint-Saëns - in a decent recording: just don't expect too much from it, though the violin is loud and clear, and the transfer, as always with Beulah, is clear and largely free from surface noise.

Maurice RAVEL (1875-1937) Ma Mère l'Oye (Mother Goose) Suite
National Symphony Orchestra/Sidney Beer - rec.1945. ADD/mono.
BEULAH EXTRA 1BX102 [17:58] – from Beulah (mp3)



'Unauthoritative and unimaginative' but recorded in some of Decca's best pre-LP sound, was a contemporary verdict on this when comparison was made with the rival Ansermet recording. Sidney Beer was the founder of the National Symphony Orchestra, which consisted mainly of musicians from the RAF and other service bands, who feature on several Beulah Extra releases this month. The Suite opens magically enough and, though the playing occasionally sounds somewhat routine, I enjoyed the performance. Though nowadays we're used to hearing the complete ballet, which is about half as long again, this is well worth having at the modest asking price. The recording is excellent for its age and the transfer is free of 78 noise. Of the many very fine modern recordings of the complete ballet, Dutoit's with the Montréal Symphony Orchestra (Decca Gramophone Awards 475 0432) is probably the one to recommend: download from Passionato.com in mp3 or lossless. The Dutoit is also available in mp3 only on a 2-CD Ravel collection, Double Decca 460 2142, again from Passionato.com. (On offer at £5.99 at the time of writing).

Antonín DVOŘÁK (1841-1904)
Symphony No.6 in D, Op.60 [45:35]
Nocturne in B, Op.40 [7:38]
Scherzo capriccioso, Op.66 [15:04]
Baltimore Symphony Orchestra/Marin Alsop - rec. live, March 2008 and March 2009. DDD.
NAXOS 8.570995 [68:19] – from classicsonline.com (mp3)



Having praised Marin Alsop's version of the New World Symphony (8.570714) and been slightly sniffy about her coupling of Nos. 7 and 8 (8.572112), I'm happy to report that she's back on track here. I usually concur with the view that Dvořák's Sixth Symphony contains distinct echoes of Brahms, but Alsop also reminds us of the work's Czech credentials even more than Sir Charles Mackerras with the Czech Philharmonic on Supraphon (SU37712 - from eMusic, mp3). Much as I enjoyed this new Naxos release, however, I'm still going to rate that Mackerras recording as equally, if not even more, essential. Choice of coupling could be your deciding factor: a wonderful account of The Golden Spinning Wheel on Supraphon against the wonderfully ebullient Scherzo Capriccioso and the Nocturne here. Though the performances were recorded live, the Baltimore audience is mercifully un-bronchitic.

Gustav MAHLER (1860-1911) Symphony No.1 ('Titan')
National Youth Orchestra of Canada/Georg Tintner - rec. live. Date? DDD?
NAXOS Tintner Edition 8.70022 [58:03] – from classicsonline.com (mp3)



This album is available for streaming (from the Naxos Music Library - here) and download only. There need be no worries about the playing of the Canadian Youth Orchestra, but the opening of this performance is just too quiet and lacking exuberance to be competitive. True, the initial marking is langsam, schleppend, but Tintner just never gets underway properly, though the climactic outburst at the end is all the more effective for that, even a little too frenzied. I wasn't surprised to find this Naxos recording almost two minutes longer overall than Kubelík, whose DG Original version (449 7352) remains my benchmark. The second movement is much better paced, but there are a few too many changes of gear. The last two movements also exhibit a tendency to sound episodic - not a serious matter, but Kubelík hides the joins much better.

The audience is remarkably quiet, apart from the (extended and enthusiastic) applause which follows the spirited finale. The mp3 sound is good, but the Kubelík also wears its years lightly, comes with a wonderful bonus - Fischer-Dieskau in the Lieder eines fahrenden Gesellen - and is on offer as I write for £5.99 from Passionato. If you want the symphony with the Blumine movement restored, try one of the two recordings which I reviewed in the June 2010 Roundup.

Symphony No.4 in G [57:05]
Sarah Fox (soprano); Philharmonia Orchestra/Sir Charles Mackerras
rec. live, Queen Elizabeth Hall, London, February 2006. DDD.
SIGNUM SIGCD219 [57:05] - availability: see below.

Subscribers to eMusic will find this recording available for just £1.68. For others, the least expensive way to download it - in top-flight 320kb/s mp3, too - is from hmvdigital.com at £3.16. Unfortunately, both downloads contained a flaw in the form of a loud noise at the end of three of the movements, especially the third, so I can't recommend it until the problem is fixed. It's a shame that these flaws mar an otherwise excellent performance.

Frederick DELIUS (1862-1934)
Irmelin: Prelude [4:48]
Koanga, Act II: La Calinda (arr. E. Fenby) [4:37]
A Village Romeo and Juliet: The Walk to Paradise Garden [11:34]
Fennimore and Gerda: Intermezzo (arr. E. Fenby) [5:33]
Violin Concerto [27:31]
2 Pieces for Small Orchestra: No. 1. On Hearing the First Cuckoo in Spring [7:53]
No. 2. Summer Night on the River [6:18]
Sleigh Ride [6:28]
Philippe Djokic (violin); Symphony Nova Scotia/Georg Tintner - rec. December, 1991. DDD.
NAXOS Tintner Edition 8.557242 [74:50] – from classicsonline.com (mp3)



I hadn't associated Georg Tintner with Delius - or, for that matter, with some of the other music offered by Naxos in this commemorative series. If we think that only British conductors can do credit to British music, that is to forget Monteux's Elgar (Enigma Variations, Decca) or Karajan's Holst (Planets, Decca, coupled with the Monteux on 452 3032 or with Strauss's Don Juan, The Originals 475 8225, and DG Karajan Gold 439 0112). Tintner's Delius is not quite in that category, but I have to say that he makes a very credible and creditable case for all the music on this generously-timed album. If you'd played it to me blind and told me that these were lost Beecham, Barbirolli or Handley recordings, I might well have believed you. It's not as if there was much competition in the Violin Concerto - notably from Pougnet and Beecham (1949) on Naxos Historical (8.111006) - though it's not in the same league as the concertos for Cello and Violin and Cello, it's well worth hearing. The recording, made in a church in Halifax, Nova Scotia, offers a believable sound-picture.

Classicsonline offer mp3 only, Passionato lossless, but, for reasons which I can't fathom, Passionato are charging £6.99 and £8.99 (mp3 and lossless respectively) for the Tintner Edition CDs, thereby making them considerably more expensive than from the 'home' site of Naxos at classicsonline (£4.99) and, even in mp3, more expensive than the physical CDs (typically £5-£6). The classicsonline version comes complete with booklet.

The same recording seems to be available on the CBC label from eMusic at £3.36 or less.

Howard Hanson Conducts
John Alden CARPENTER (1876-1951) Adventures in a Perambulator (1914) [27:21]
Roger SESSIONS (1896-1985) The Black Maskers (1923? 1928?) [21:48]
Charles IVES (1874-1954) Symphony No.3 (1904, first perf. 1946) [20:45]
Eastman-Rochester Orchestra/Howard Hanson - rec.1956/7. ADD. From Mercury reel-to-reel tapes.
HIGH DEFINITION TAPE TRANSFERS HDCD216 [69:54] – from HDTT (24/96 lossless)



The major work here is Ives' Third Symphony, which receives a performance to rival the version by Neville Marriner (Decca Originals 475 8237) which I recommended some time ago (see August 2009 Download Roundup). The coupling there is Barber's Adagio, Copland's Quiet City and works by Cowell and Creston, but the two less familiar items on this HDTT reissue were well worth reviving. Performances are idiomatic - the Ives benefits from being generally just a mite faster than from Marriner, so those who find that a touch too refined should be happy - and the 24/96 transfer has opened out the sound to an extent that it is competitive with the much more recent Decca: it's just a trifle drier than its rival.

If you listen via Squeezebox or similar player, you may find that the first movement of the Ives follows a little too hard on the heels of the Sessions, with a gap of just 4 seconds.

My colleague Dan Morgan has also been listening to the Ives:

Leonard Bernstein's recording of Ives's Third Symphony - available as part of a 60-CD set from Sony* - is a wonderful tribute to two musical mavericks. On first hearing Hanson's performance isn't in the same league musically, but in terms of sound the homespun melodies of Old Folks Gatherin' emerge with a warmth and amplitude that is most impressive. And even though the Eastman-Rochester band aren't in the front-rank they play with commendable feeling throughout. Indeed, this music has seldom sounded so refulgent, the strings silky smooth, the woodwinds equally beguiling. The final bars of the first movement are simply radiant, perspectives always nicely judged.

The more animated writing of Children's Day has astonishing clarity and focus, yet warmth and body are never sacrificed in the process. The stereo spread is entirely believable - this isn't one of those tiresome 'hi-fi spectaculars' - and Ives's various instrumental interjections rise from the mix with unforced naturalness. True, there's a hint or hardness in the upper strings at times, but it's hardly a deal-breaker.

And there's a marvellous sense of gravitas to the start of Communion, competing musical strands - an Ives trademark - easily followed. Some might find Hanson's approach to this music a touch reverential, but it seems churlish to complain when it's played with such warmth and affection. The high-res transfer is pretty good too. A genuine classic restored, and a must-hear for all Ivesians.

Dan Morgan

* The Bernstein recording to which Dan refers is available on a single album as a download from Amazon.co.uk, coupled with the Second Symphony and a commentary by Bernstein.

Charles IVES (1874-1954) Music of Charles Ives
Robert Browning Overture (1914, rev. 1942) [18:39]
The Circus Band March (1898) [3:38]
Set for Theatre Orchestra (1915) [7:27]
The Unanswered Question (1908, rev. 1935) [5:07]
Royal Philharmonic Orchestra/Harold Farberman
rec. 1964 (venue not given)
HIGH DEFINITION TAPE TRANSFERS from HDTT (CD, DVD and 24bit/96kHz download)

I'm indebted to Dan Morgan for yet another review of an HDTT 24/96 download of the music of Charles Ives. I'm not surpised at his enthusiasm, since it was from Farberman's Vanguard recordings that I first got to know Ives' symphonies:

One of the joys of downloads is the ability to choose individual tracks from a given album. Which is what I've done here, focusing on the orchestral pieces - taken from a Vanguard master - and omitting the Sonata No. 1 for Violin and Piano, transferred from a Nonesuch tape. As usual, HDTT offer the music on physical media - CD and DVD - as well as a 24bit/96kHz flac download. Other examples of the latter have impressed me very much indeed, especially the Ansermet/OSR Bizet Symphony in C, which Brian Wilson nominated as his Download of the Year.

So how does this collection stack up? The Royal Philharmonic needs no introduction, but the conductor-composer Harold Farberman (b. 1929) is probably more familiar to those who remember the early days of stereo. He's a great advocate of Ives's music, so it's a real treat to hear him in these three - very different - works. The Robert Browning Overture was intended as part of a series devoted to 'Men of Literature', among them Walt Whitman and Matthew Arnold; the latter overture, dated 1912, is incomplete.

The brooding start to the Browning piece makes a startling impression, the stereo spread both broad and deep, the lower brass especially well caught. The first big climax comes as a real shock, the piled dissonances and cross-rhythms as challenging as anything Ives ever wrote. Yes, the upper strings are a little bright and tuttis are somewhat strained, but the snare and bass drum have plenty of impact. What strikes me most forcibly is the unfettered energy of this recording, with no hint of compression or unnecessary spotlighting. An Ivesian rarity, superbly played and presented.

After all that orchestral gnashing The Circus Band March will come as something of a relief. Listening to the piece, and others, on a CD featuring The President's Own US Marine Band - review - I longed for a more unbuttoned approach to Ives's wilder works. And that's certainly what we get from Farberman and the RPO. The dynamics of this recording are simply stunning. Actually, it's a tad unnerving at times, the transported brass and thud of bass drum as visceral as anything you'd hear from a 21st-century recording, let alone one made in 1964. Yes, there is some distortion - those mighty drum thwacks come to mind - and there's a slight left-right imbalance at the start, but nothing detracts from the sheer, unbridled power of this performance. Just fabulous.

The three interlinked sections of Set for Theatre Orchestra - In the Cage, In the Inn and In the Night - show Ives in a darker, more restive mood. Drumbeats and piano flourished dominate the first section - ostensibly inspired by a caged leopard in Central Park - the ragged time of the second filtered through Ives's distinctive musical imagination. Farberman never loses his grip on the orchestra, who play as if this were standard repertoire for them. The final nachtmusik, with its tolling bells and slowing pulse, is a piece of rare economy, a pared-down Tod und Verklãrung that ends as enigmatically as it began.

On CD The Unanswered Question, probably Ives's best-known work, gets a finely calibrated performance from Leonard Bernstein and the New York Philharmonic (DG 429 220-2). It's long been my favoured version of this piece, and the sonics aren't bad either. That said, I was chastened to discover that Farberman's version - a minute quicker than Bernstein's - is far more atmospheric, the ebb and flow of the piece very well managed. Indeed, I've never heard the work sound quite so unsettling, the orchestral colours so vivid and tangible. In fact, the full-bodied sound makes the DG recording seem anaemic by comparison; as for Bernstein, he seems far too mannered - perhaps moulded is the better word - alongside Farberman.

So, another must-hear from HDTT. For all their sonic virtues there's no disguising the age of these recordings - especially in the climaxes of the gnarly overture and riotous march - but in return we get an aural buzz that even the best modern recordings can't quite manage. What a pity that the downloadable cover art - complete with glaring typo - and basic liner-notes let the side down. Still, it's the music-making that really matters. Not to be missed.

Dan Morgan

Havergal BRIAN (1876-1972)
In Memoriam (1910) [18:50]
Festal Dance (1908) [6:16]
Symphony No. 17 (1960-1) [13:36]
Symphony No. 32 (1968) [20:56]
RTÉ National Symphony Orchestra/Adrian Leaper - rec. June 1992. DDD.
(from Marco Polo 8.223841)
NAXOS Tintner Edition 8.557242 [74:50] – from classicsonline.com (mp3)

Naxos, whose full-price label Marco Polo did so much to put Havergal Brian's music on the map, continues to do sterling service in reissuing those recordings at super-budget price. It's now become a cliché to wonder why such fine music was neglected for so long, thanks to the success of those Marco Polo recordings with a wide range of orchestras. This is one of the best of the series in every respect, joining Symphonies Nos. 11 and 15, etc., again with the RTÉ Orchestra (8.572014 - see August 2010 Roundup), and the mp3 sound does it full justice.

Arnold BAX (1883-1953) Piano Quintet in g minor (1914-15) [41:10]
Frank BRIDGE (1879-1940) Piano Quintet in d minor, H49a (1904/5, rec.1912) [27:08]
Ashley Wass (piano); The Tippett Quartet
rec. St Silas Church, Chalk Farm, London, 17-19 December, 2009. DDD.
NAXOS 8.572474 [68:18] – from classicsonline.com (mp3)

This heartfelt performance of his powerful Piano Quintet adds considerably to the Bax discography. The Quintet may not match his symphonies, but it does deserve a place in the catalogue, where it was previously unrepresented. Ashley Wass is rapidly making a name for himself with his recordings for Naxos, to whom he is exclusively contracted, and he is well supported here by the Tippett Quartet.

There are other recordings of the Bridge, notably from Piers Lane and the Goldner Quartet (Hyperion CDA67726 - Recording of the Month here) and Michael Dussek and the Bridge Quartet (Somm SOMM087 - see reviews here). I haven't heard those rival recordings, but I was a little underwhelmed by Wass and the Tippet Quartet after they had made such a strong case for the Bax. Perhaps it's the rather rhapsodic nature of the Bridge, from whom one expects something rather sharper, rather than the performance. I don't want to make too much of my slight disappointment with the Bridge - try it for yourself at the Naxos Music Library if possible - and, in any case, the performance of the Bax justifies the modest cost of the download.

Mp3 only - no lossless version as yet - but the recording does the music and performances full justice, even in that form.

As I am about to close this Roundup, I note that Ian Lace has chosen this CD as his Recording of the Month - see review.

The Jazz Age for Piano Duo
George GERSHWIN (1898-1937)
An American in Paris (1928) - two-piano version arranged by Gershwin [18:37]
Edward Burlingame HILL (1872-1960)
Jazz Studies for two pianos (1922-24) [8:38]
Darius MILHAUD (1892-1974)
La création du monde (1922-23) - piano-duet version by Milhaud [15:43]
Alexander MOYZES (1906-1984)
Jazz Sonata for two pianos Op.14 (1932) [14:29]
Mátyás SEIBER (1905-1960)
Easy Dances for piano duet (1932) - selection of pieces [7:38]
Hoagy CARMICHAEL (1899-1981)
Stardust for two pianos (1927) arr. Louis Merkur (1895-1982) [4:13]
George GERSHWIN (1898-1937)
Embraceable You for piano duet (1928) arr. Percy Grainger (1882-1961) [1:23]
Anthony Goldstone and Caroline Clemmow (piano duo)
rec. 2010, St. John the Baptist Church, Alkborough, North Lincolnshire. DDD.
DIVINE ART DDA25089 [70:43] – from theclassicalshop.net (mp3)



Jonathan Woolf's review - here - whetted my appetite, just as I was about to close the doors on this Roundup - 'This is a sparkling and vivacious disc, marvellously played, and not just for jazzers only'. I've had time for only a light sampling, but first impressions are as favourable as JW's review suggests, with An American in Paris sounding particularly fine in Gershwin's own two-piano arrangement. The recording is very good in lossless format and the booklet, in pdf form, comes as part of the deal. The innards turned out to be for the wrong recording, but I've informed Chandos and I'm sure that will be put right.

Dmitri SHOSTAKOVICH (1906 - 1975)
String Quartet No. 11 in f minor, Op. 122 (1966) [17:19]
String Quartet No. 13 in b flat minor, Op. 138 (1970) [18:47]
String Quartet No. 15 in e flat minor, Op. 144 (1974) [35:01]
St. Petersburg String Quartet. - rec. December 2000 - January 2001. DDD
HYPERION CDA67157 [71:21] – from Hyperion (mp3 and lossless)



Like the Haydn and Mozart CDs (above), this recording has fallen on hard times and ended up through no fault of its own in the 'please buy me' category. I can only echo Neil Horner's recommendation - 'A superb achievement that makes me want to hear the rest of the cycle as a priority' (see full review) - and urge you to purchase this in one format or another.


John ROSE (b.1928)
String Quartet No.1, Op.14 (1997) [21:09]
Prelude and Fugue, Op.20a (2001) [4:51]
Prelude and Two Fugues, Op.20b (2001) [10:50]
Essay on DSCH, Op.7 (1970) [11:13]
String Quartet No.2, Op.17 (1999) [26:06]
The Edinburgh Quartet (Tristan Gurney, Philip Burrin (violins); Michael Beeston (viola); Mark Bailey (cello); Robert Melling (piano)) - rec. 2009. DDD
DIVINE ART DDA25092 [74:14] - from theclassicalshop.net (mp3 and lossless)



The blurb for this recording advertises John Rose's music as 'embrac[ing] a post-modern freedom - allowing him to build tonal and memorable music often with a strong neo-baroque sound, strongly inspired by Bach - although Shostakovich is another source of inspiration. This is not to limit his work which is varied and rich, but emphasises his distinctive linear style'. That's essentially true, though it perhaps plays down the occasional angularity - I think that I shall need a little more time to absorb the idiom, but I especially enjoyed first encounters with the String Quartets which book-end this album. Without scores, which are published by Eden Music, I take the performances on trust as idiomatic and the recording sounds well in download form.

Theclassicalshop usually offer the booklets with Divine Art recordings, but there is none in this case. Subscribers to the Naxos Music Library will find it there, containing notes by the composer.

Edward GREGSON (b. 1945) Concertos
Trumpet Concerto (1983) [23:03]
Concerto for Piano and Wind: 'Homages' (1995, rev. 1997) [19:03]
Saxophone Concerto (2006) [24:00]
Ole Edvard Antonsen (trumpet) Nelson Goerner (piano) Nobuya Sugawa (saxophone) BBC Philharmonic Orchestra/Clarke Rundell
rec. 11-12 September 2007, Studio 7, New Broadcasting House, Manchester, UK. DDD.
CHANDOS CHAN10478 [65:53] from theclassicalshop.net (mp3, lossless and Studio 24bit/96kHz)



I'm grateful to my colleague Dan Morgan for his review of this recording in 24-bit format:

I first chanced upon the music of Edward Gregson in a high-resolution download of his Trombone Concerto, played with astonishing maturity – and style – by the young Peter Moore. That was a deserving Discovery of the Month – review – but is this set of three concertos in the same league?

The soloist in the Trumpet Concerto, Ole Edvard Antonsen, is aided and abetted by timpanist and fellow protagonist Paul Turner. After a striking timp-led start it's clear this is another well-balanced, atmospheric recording from Studio 7. Antonsen is sensitive to the concerto's changing landscape, lighting up the darkling plain of the Mesto, subtitled 'In Memoriam Dmitri Shostakovich', with his glowing timbres. As for Turner, he adds real menace to the mix; indeed, as I've found in other high-res downloads from this source, timps have a pleasing solidity and weight; as for the keening upper strings in this movement, they sound suitably silky. Even in his taxing solos and the animated writing of the final Vivo e brillante, Antonsen is a player who doesn't distract or dominate; the result is an engaging and genuinely collaborative performance.

The Concerto for Piano and Wind is no less appealing. The opening Toccata is bright and mobile, angular rhythms rendered with great precision – and feeling – by Nelson Goerner. It's an intriguing aspect of Gregson's musical persona that even when the writing is virtuosic it retains a marvellous sense of scale and focus, the soloist just another thread in a somewhat Bartókian tapestry. There are some delectable colours in the Passacaglia, the atavistic writing of the Rondo-Burlesque overlaid by a patina of urban sophistication. It's a tricky juxtaposition, but with such committed playing it works a treat. The piano is naturally balanced, the lower registers refulgent, the upper ones nicely extended. Oh, if only more concertos were this sympathetically presented.

The Saxophone Concerto, played by Nobuya Sugawa, boasts beautifully sustained playing and deft articulation from the soloist. There's a smoky languor to the work as well, the heated percussion and plucked basses adding to its jazzy ambience. This is the most extrovert piece here, the BBC Phil bringing an easy swing and sway to the mix. And in the moody monologues of the second movement, Sugawa evokes the urban landscapes of Bernstein and Daugherty. As before, the soloist is given a natural perspective, the answering calls of the piano similarly well balanced. But it's the declamatory bass that is most thrilling, a restless counterpoint to the eloquent – sometimes soaring – line of the sax.

These are genial works, full of good tunes and good humour. Gregson's colour palette is subtle and varied as well, the nuances of his writing highlighted by this recording. So, a worthy companion to the Trombone Concerto? Oh, yes.

Dan Morgan

Royal Air Force: Music for Service Occasions
God Save the King; Edward ELGAR (1857-1934) Land of Hope and Glory [3:31] - also on BEULAH EXTRA 1BX141*
Trumpet Calls of the RAF [2:53]
Henry Walford DAVIES (1869-1941) Royal Air Force March (1918) [2:25]
General Salute; Duke of York March [2:57] - also on BEULAH EXTRA 4BX141*
Noel GAY (1898-1954) Fall in and Fly March [3:06]
Rudolph O'DONNELL The Lad from London Town - March [3:13]
National Anthems of Allied Squadrons - also on BEULAH EXTRA 7BX141* [7:04]
Belgium - La Brabançonne [0:48]
Czechoslovakia - Kde domov můj? [1:21]
France - La Marseillaise [0:59]
Netherlands - Het Wilhelmus [0:43]
Norway - Ja, vi elsker dette landet [0:48]
Poland - Mazurek Dąbrowskiego [0:50]
USA - The Star-Spangled Banner [1:04]
Roast beef of old England [0:51] - also on BEULAH EXTRA 14BX141*
Harry PARR-DAVIES (1914-1955) It's in the Air [2:20]
Émile WALDTEUFEL (1837-1915) España waltz Op.236 (1886) [3:22] - also on BEULAH EXTRA 16BX141*
Giacomo PUCCINI (1858-1924) Madama Butterfly: orchestral selection [6:34]
Eric COATES (1886-1957) Song of Loyalty [3:22]; Over to You [3:16]
Percy FLETCHER (1879-1932) A Sentimental Sea Shanty [3:21] - also on BEULAH EXTRA 20BX141*
John Mackenzie ROGAN (1855-1931) Festival of Empire [3:24] - also on BEULAH EXTRA 21BX141*
Choruses: She'll be comin' round the mountain; I've got sixpence; Bless 'em all; Here comes the RAF; Fed up and far from home; Roll out the barrel [5:33]
Sunday Evening:
William BOYD Fight the Good Fight (1864) [2:52] - also BEULAH EXTRA 23BX141*
William Henry MONK (1823-1889) Abide with me [3:22] - also BEULAH EXTRA 24BX141*
Central Band of the RAF; RAF Orchestra; RAF Dance Band; RAF Chorus/Wing Commander R.P. O'Donnell, MVO. - rec. 1941. ADD/mono
BEULAH 1PD41 [63:19] – from iTunes (mp3)
Tracks marked * also available as Beulah Extra downloads. Details from Beulah, with notes on the music.

Lancaster Fly Past (sound clip)
BEULAH EXTRA 25BX141 [2:51] – from Beulah (mp3)



I imagine that this album, taken from 78s released in 1941, is designed to appeal to those who did their National Service in the RAF - this will be especially the case with the 3 minutes of trumpet calls and the General Salute. As a member of one of the first year-groups not to be called up, but assured by undergraduate friends that Arnold Wesker's Chips with Everything was a pretty accurate reflection of their National Service, I'm afraid that much of that appeal is lost on me. The same goes for the anthems of allied nations: the number of those who served in the Belgian and other forces in exile in the UK must be dwindling. Those to whom the programme appeals, however, can be assured that everything here is well transferred, with almost no surface noise and with the 1941 sound brushed up well enough to provide no serious obstacle to listening pleasure.

In fact, I have an ideal audience in mind for much of the music here – a group of elderly patients in my local hospital to whom I play music of the 1940s, 1950s and 1960s to get their brains active – I'm sure they'll love the likes of Bless 'em all and Roll out the barrel. (Come to that, they got my feet tapping too). Anything by Eric Coates is guaranteed to be of high quality, but poor old Waldteufel has become something of a lost cause these days – what happened to the Skater's Waltz, apart from its inclusion in A Late Romantic Christmas Eve (Ars 38086, see review)? – so I'm pleased to see his Espańa here, even though he did steal most of the music from Chabrier. Marco Polo have done Waldteufel proud with a series of recordings, highlights of which are also available on Naxos 8.553956: Passionato have these and other downloads of his music here.

Tasty Christmas Leftovers

Christmas Goes Baroque Volume 1
Slovak State Philharmonic Orchestra, Kosice/Peter Breiner - rec. 1991. DDD.
NAXOS 8.550301 [63:31] – from classicsonline.com (mp3)

Piæ Cantiones - Early Finish Vocal Music (1582)
Finnish Radio Choir/Timo Nuoranne - rec.1998. DDD.
ONDINE ODE918-2 [67:42] – from Passionato.com (mp3 and lossless) or classicsonline.com (mp3)

Piæ Cantiones - Latin Songs in Medieval Finland
Retrover Ensemble/Markus Tapio - rec. 1997. DDD.
NAXOS 8.554180 [62:11] – from classicsonline.com and Passionato.com (both mp3)



Apologies for having missed both the December Roundup and the Christmas Supplement with these - I hope that this Roundup will appear in time for you to play Christmas Goes Baroque until Twelfth Night and the Piæ Cantiones contain music for all year round - indeed, much of the music, as might be expected for a Scandinavian collection, is about Spring. There is, however, also a good deal of Christmas music, including one of the earliest examples of Personent hodie.

Christmas Goes Baroque continues the work begun in Beatles Go Baroque, with familiar Christmas Carols undergoing the treatment. I thought it less successful than the Beatles album, largely because many traditional seasonal tunes already have a baroque feel, so don't sound greatly altered in these arrangements, but it's great fun.



The lack of texts is the only problem connected with both downloads of Piæ Cantiones: some of the Latin ones are available online, but your Finnish would have to be much better than mine to cope with the songs in that most difficult of languages on the Ondine album. You can, however, obtain some information on Piæ Cantiones from Naxos here. Both albums contain excellent performances, the Naxos with significantly smaller forces, which I prefer as leading to clearer diction and a more 'authentic'

sound. I place the word in quotes because we have little idea how the music sounded in 16th-century Scandinavia. One track on the Ondine recording is accompanied with percussion. The Naxos recording begins with a hauntingly beautiful organ preamble; some of the pieces are lightly accompanied and there are some charming instrumental interludes. Both sound well, even though the Naxos is available in mp3 only.

Classicsonline also have a third album from Piæ Cantiones on the Musica Sveciæ label (Hortus Musicus/Andres Mustonen, MSCD201) and both classicsonline and passionato have a fourth collection, from 1995, sung by the female voices of Oxford Camerata directed by Jeremy Summerly (Let Voices Resound, Naxos 8.555578). Perhaps I'll return to them in time for next Christmas.

Brian Wilson