January 2012/2 Download Roundup
Brian Wilson
The previous Roundup – January 2012/1 is here.
Download of the Month

Arthur BENJAMIN (1893-1960)
Violin Concerto (1931) [26:05]
Romantic Fantasy for Violin, Viola and Orchestra (1936) [22:45]
Elegy, Waltz and Toccata (Viola Concerto) for Viola and Orchestra (1943) [18:23]
Lorraine McAslan (violin); Sarah-Jane Bradley (viola)
Royal Scottish National Orchestra/John Gibbons – rec. May 2011. DDD.
DUTTON EPOCH CDLX7279 [67:29] – from iTunes (mp3)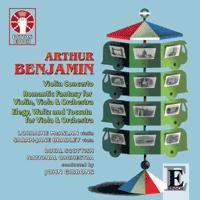 Having read John France's enthusiastic review in which he declared this Recording of the Month, I downloaded the iTunes version. At £7.99 it represents a small but significant saving over the CD (£9.99 direct from Dutton Vocalion), though it comes without any notes, which is a shame when two of the works are so little known. John France's review will help remedy that and there are brief notes on the Dutton website, but I'm disappointed that they have not replied to my email asking them to consider making notes available to downloaders.

The music is immediate in its appeal but strong enough to sustain repeated listening; the performances – one world premiere recording and one world premiere in this form – are most persuasive and the recording very good, though not encoded at the full 320kb/s – the tracks are all at or a little above 256kb/s.

Bargain of the Month – back catalogue

Dmitri SHOSTAKOVICH (1906-1975) The Concerto Album
CD 1
Piano Concerto No.1 in c minor, Op.35 (1933)* [22:56]
Piano Concerto No.2 in F, Op.102 (1957)** [19:33]
Piano Quintet in g minor, Op.57 (1940)*** [31:50]
Mikhail Rudy (piano)*/**; Berlin Philharmonic Orchestra* – rec.1994; London Phiharmonic Orchestra** – rec.1997/Mariss Jansons*/**; Nash Ensemble*** – rec.1999
CD 2
Cello Concerto No.1 in E flat, Op.107 (1959) [29:32]
Violin Concerto No.1 in a minor, Op.99 (1948) [35:50]
Paul Tortelier (cello); Bournemouth Symphony Orchestra/Paavo Berglund – rec.1973; David Oistrakh (violin); New Philharmonia Orchestra/Maxim Shostakovich – rec.1972
CD 3
Cello Concerto No.2 in G, Op.126 (1966) [35:43]
Violin Concerto No.2 in c# minor, Op.129 (1967) [30:19]
Truls Mørk (cello); London Philharmonic Orchestra/Mariss Jansons – rec.1995; Dmitry Sitkovetsky (violin); BBC Symphony Orchestra/Andrew Davis – rec.1989.
EMI CLASSICS 5099950942855 [3 CDs: 74:35 + 65:22 + 66:09] – from classicsonline.com (mp3) or stream from Naxos Music Library

['What a marvellous collections this is' – see review by Bob Briggs: Bargain of the Month]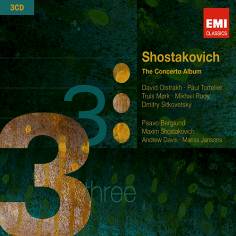 Until the appearance of this EMI 3-CD set, the best bargain going was on Brilliant Classics 7620, three CDs: Oistrakh and Ivashkin with Russian orchestras directed by Mravinsky, Rozhdestvensky and Polyansky together with Ortiz and Berglund – still well worth considering for around £10 but superseded, especially in terms of recording quality by the EMI set. At £6.99 for three excellent CDs, you won't be saving much over the CD set – UK target price £7.20 – in either form it is a tremendous bargain and it comes with a fine performance of the Piano Quintet in addition to the works on the Brilliant box. CD2 alone is worth every penny now that the EMI Encore CD of these two performances seems to have been deleted and amazon.co.uk and classicsonline.com are asking ridiculous sums for downloads of what were super-budget releases.

All six concertos have been recorded many times and most of them remain available with their dedicatees as soloist – only David Oistrakh fills that role here in the first Violin Concerto, and does so to considerable effect. Be that as it may, I didn't think any of the performances significantly inferior to those that I've heard from their begetters. In most cases the recording is superior to any of those original recordings, some of them available in mono only. Even the two ADD recordings from the early 1970s on CD2 sound fine.

There's just one omission; it runs for less than eight minutes but I regard it as essential listening – the mini piano concerto known as The Assault on beautiful Gorky, Op.89a, from the film The unforgettable Year 1919. You'll have to duplicate the two piano concertos to obtain it on Classics for Pleasure 3822342 but it's well worth the outlay of around £4 and the slightly four-square Rudy recording of Piano Concerto No.1 is perhaps the least enticing part of the EMI box – see review by Rob Barnett and review by William Kreindler. Don't dream of paying £8.99 for the classicsonline.com download of the Classics for Pleasure, though it's worth listening via their Naxos Music Library.

Yet a third version of the Piano Concertos is well worth considering, mainly because it's coupled with Shchedrin's Piano Concerto No.2 (Hamelin/Litton, Hyperion CDA30023 – see October 2010 Roundup and review by Rob Barnett).

In the other works, too, these are not the only deer in the forest – in addition to alternatives that I've mentioned you may wish to consider those listed below – but collectively they certainly offer one of the best bargains currently available on disc.

For the two Violin Concertos on one album, Lydia Mordkovich with Neeme Järvi is well worth considering, especially as Chandos also offer their recording in lossless sound, albeit at £1 more than the complete EMI download from classicsonline.com in mp3 and £2 more again in lossless sound. (CHAN8820 – see June 2009 Roundup: download from theclassicalshop.net – the passionato.com link no longer works. The Documents set mentioned there has now transferred to Brilliant Classics, as listed above).

For the various Chandos recordings of the Cello Concertos, please see the review of their new version below.

EMI include a splendid recording of the Piano Quintet by Martha Argerich and Friends on their recent release of her chamber music recordings – see review by Steve Arloff. That's not yet available for download from classicsonline.com but they do have her equally superb recording of Piano Concerto No.1, Concertino for two pianos, Piano Quintet and Piano Trio No.2, with two catalogue numbers: 5099950455652 and 5099950450459 or stream from Naxos Music Library. Both run to over 90 minutes for £7.99.

Further Thoughts

I'm always grateful to colleagues for their thoughts on recordings which I've already reviewed, even if – especially if – they disagree with me. This time I'm very pleased to include three further thoughts on important recent releases – as it happens, all from Hyperion.

Geoff Molyneux has been listening to the Hyperion download of the Franz LISZT and Edvard GRIEG Piano Concertos performed by Stephen Hough (piano) and the Bergen Philharmonic Orchestra/Andrew Litton which I reviewed in the November 2011/2 Roundup. (HYPERION CDA67824 – download from hyperion-records.co.uk in mp3 or lossless. NB: I gave the number incorrectly, having transposed the 8 and 2.)

This outstanding recording gives these well-known warhorses a new lease of life. The delicacy and transparency of the playing in the two Liszt concertos is contrasted with great virtuosity and romantic fervour on the part of the soloist, Stephen Hough.

The third section of Liszt's first concerto, Allegretto vivace, is just one example of extremely light and delicate playing, that is until the menacing first theme ominously reappears, first in the piano, then sotto voce in the strings gradually building to a great climax. Lovely orchestral solos, such as the cello melody of the main theme in the second section of Liszt's second concerto, Allegro moderato, is distinguished by beautifully played piano accompaniment. This soon gives way to a faster section and then to a vigorous Marziale with a full orchestra rendition of the work's opening melody. The final Allegro animato is exhilarating in its virtuosic brilliance combined with a lightness of touch.

As with the Liszt concertos, the Grieg sounds really fresh and exhilarating. Just a few very minor niggles here and there, such as why is the Tempo 1 marking following the first movement cadenza not observed? Also, in the second movement (after B) the piano's accompanying figures nearly obscure the melody in the orchestra, and the ravishing horn solos, though very well-played by the Bergen Philharmonic Orchestra, have been more beautifully and subtly performed elsewhere.
Having taught this work to many students over the years, I have also amassed quite a collection of recordings. Amongst my favourites are those by Radu Lupu and Solomon. Solomon gives a lightweight, modern-sounding performance, with excellent support from the Philharmonia Orchestra under Herbert Menges from 1956. It could do with a little more drama in for example the first movement cadenza. I would give pride of place as top choice to Clifford Curzon, whose recording does not have the clarity of Hough's version, but the performance does have a little more drama where needed. But this new recording comes highly recommended with wonderful playing, sometimes poetic, sometimes thrilling, from Stephen Hough and I am sure to return to it. It also has the great advantage of having three magnificently performed and recorded concertos on one disc.

Geoffrey Molyneux

He's also been listening to another Hyperion download: Ralph VAUGHAN WILLIAMS: Flos Campi and Suite for viola and small orchestra and Sir John McEWEN: Viola Concerto
Lawrence Power (viola); BBC National Orchestra and Chorus of Wales, Martyn Brabbins.
HYPERION CDA67839 – from hyperion.co.uk (m3 and lossless). See November 2011/2 Roundup.

It is good to be reminded what a wonderful instrument the viola is, and there is no better player around today than Lawrence Power to do this. Also, there is no better music than the works on this disc by Vaughan Williams and McEwen, to show, if proof were needed, that the viola is a fine solo instrument with, dare I say, nearly as much potential as the cello for great music.

What an attractive piece is the Suite for viola and small orchestra. There are eight movements in three groups. Everywhere melody abounds in typical Vaughan Williams fashion. In the opening Prelude, Power plays with a rich, but gently undulating tone and beautiful phrasing.

In the Musette of Group 3, the swaying opening is so sensitively played by the viola with gentle touches from the harp and later the celeste. The lively and invigorating Moto perpetuo of Group 2 shows us how fleet of foot the viola can be in the hands of a master. This is a beautifully balanced performance. Listen to the Ballade, which has a haunting introduction on muted strings. Towards the end, the horn is allowed to sing through the texture. In the Prelude, Power becomes a sensitive accompanist when the flute takes over the melody. Flos Campi is given a heartfelt performance of great beauty and sensitivity. The tempi are perfect, from the march-like fourth movement to the serene and moving final movement headed by the words from the Song of Solomon 'Set me as a seal upon thine heart'.

The McEwen Viola Concerto is noteworthy in that it provides great opportunities for a gifted soloist and I am pleased to have such a rarity in my collection. In fact this was Lionel Tertis's first commission and he premiered the work in 1901. Fabulous viola playing here and the recording is a must for viola players, but one can understand why McEwen's music has become quickly forgotten.

These are intensely musical performances in which Lawrence Power is accompanied superbly by the BBC National Orchestra of Wales conducted by Martyn Brabbins. This is a recording to which I will return many times.

Geoffrey Molyneux

Dan Morgan has been listening to the Hyperion download of the Havergal BRIAN Gothic Symphony, which I reviewed in the December 2011/2 Roundup together with a second opinion from Geoff Molyneux.

Havergal BRIAN (1876-1972)
Symphony No. 1 in D minor 'The Gothic' (1919-1927) [106:07]
Susan Gritton (soprano), Christine Rice (mezzo), Peter Auty (tenor), Alastair Miles (bass), The Bach Choir, BBC National Chorus of Wales, Brighton Festival Chorus, Côr Caerdydd, CBSO Youth Chorus, Eltham College Boys' Choir, Huddersfield Choral Society, London Symphony Chorus, Southend Boys' and Girls' Choirs
BBC National Orchestra of Wales; BBC Concert Orchestra/Martyn Brabbins
rec. live, 17 July 2011, Royal Albert Hall, London
HYPERION CDA67971/2 [54:07 + 60:41] – from hyperion.co.uk (mp3 and lossless)

Internet message boards and forums were all aflutter when 'The Gothic' was announced for the 2011 BBC Proms. Old-timers became misty eyed remembering Sir Adrian Boult's legendary 1966 recording; some even dared hope this newcomer would get a commercial release, their initial enthusiasm dampened by the less than ideal sonics of the broadcast itself. As it happens, fortune smiled kindly on them and Hyperion issued a 'cleaned-up' version that's already garnered much praise here and elsewhere. So, to find out what all the fuss is about – and to stave off the January gloom – I downloaded the lossless flacs, fired up foobar and...

Good heavens, is this the same sprawling, empurpled racket I heard on that Ondrej Lenard recording all those years ago? The same piece that made me write off this musical maverick as a mere curiosity, his neglect well deserved? First impressions are highly favourable, Brabbins bringing fabulous momentum and clarity to the orchestral movements, the soloists and choirs singing with astonishing discipline and bite. And, even more impressive, the dynamic range – from the lowest organ notes to the highest choral cries – are captured in crisp, unfatiguing sound.

I wasn't in the Albert Hall that night, but even on the recording there's a palpable sense of a musical milestone in the making – rather like Jascha Horenstein's Mahler Eight, recorded at the same venue in 1959. The Prommers – usually a rowdy lot – are remarkably quiet, and I was particularly struck by the wide, detailed stereo spread, which gives a pretty good idea of the hall's acoustics. The distant choral contributions and burnished brass in the Te deum are especially atmospheric, the low brass and cracking timps forthright without sounding unnaturally prominent; indeed, Brabbins and his vast forces are focused and coherent throughout, Brian's more dissonant passages and complex textures very well articulated and recorded.

Funnily enough, my lasting impression of the Lenard recording – my first encounter with 'The Gothic' – left me the impression of an impossibly dense, sub-Ivesian mélange that was beyond all help and reason, and yet at every turn Brabbins' reading demonstrates the opposite, underlining just how clear- and far-sighted Brian's musical ideas really are; indeed, like most neglected works all 'The Gothic' really needs is unwavering advocacy – the work's army of devotees are true zealots – a conductor steady of hand and purpose, and a half-decent modern recording. The similarities to Horenstein's pioneering Mahler Eight are inescapable.

And, surprisingly for a work of such dimensions, I can't find any weak spots; the choral singing has splendid reach and raptness, and the soloists are a closely knit, well-balanced team. I'd forgotten just how beguiling Susan Gritton sounds, the bright-toned tenor Peter Auty especially transported in the last movement. Inevitably, the noise floor seems to rise in the quiet passages, but such is the air of concentration on stage and in the hall that matters not a jot.

But, more than anything, it's the long, unbroken narrative that impresses – Mahler Eight again – the sense of a disparate collection of movements welded seamlessly into a cogent, persuasive whole. Brabbins is keenly aware of the symphony's peaks and valleys, climaxes judiciously scaled; and who else but Brian would dare to include a jaunty woodwind tune in the finale, a disarming little idée fixe that sits comfortably in this radiant but beautifully restrained apotheosis. The sustained applause – all eight minutes and forty seconds of it – is a performance in itself, the Prommers clearly overwhelmed by this thrilling spectacle.

One of the joys of reviewing is the chance to revisit and re-evaluate works that, for one reason or another, have failed to gel first time round. Suk's Asrael eluded me until I heard the recent BIS recording, but as compelling as that is I had to admit it was not a Damascene conversion. This performance of 'The Gothic' most certainly is.

Dan Morgan
http://twitter.com/mahlerei

Beulah Extra

I didn't have time to review all the Beulah Extra releases two weeks ago, though I did fit in most of my choices, including Boult's wartime recording of Elgar's Second Symphony (35-38BX12), which I made my Reissue of the Month. Szell's Delius (Irmelin Prelude, 1BX171) was not far behind. Actually, though the Elgar and Delius are very special, there are several goodies among the 'left-overs'. All Beulah's January 2012 releases can be found here.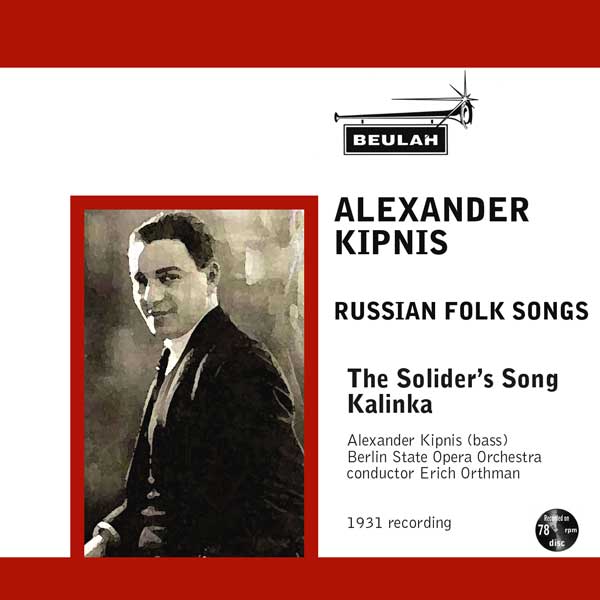 Alexander Kipnis sings The Soldier's Song and Kalinka on 3BX52 [5:10] – a 1931 recording with the Berlin State Opera Orchestra/Erich Orthman which was reissued on LP but is not, I think, currently available on CD, though several of his more 'serious' recordings from this period have been reissued on Nimbus Prima Voce. Despite the age of the recording, on which the orchestra plays only a background role, Kipnis's voice comes over well, especially in his powerful rendition of Kalinka. I had expected to rule this one out on grounds of the age of the sound but I'm pleased to report that I didn't have to.



Pierre Cochereau recorded Girolamo Frescobaldi's Toccata Cromatica per l'Elevazione on the organ of Notre Dame, Paris in 1959 (6BX80 [6:38]). The recording first appeared in the UK in 1982 on a Philips collection of organ pops at a time when Frescobaldi recordings were not exactly thick on the ground. I had anticipated finding this performance rather too heavy and with registration too thick by modern standards; both those expectations were met only minimally. This is a little more weighty and reverential than would now be thought stylish in many quarters, but there's no harm in bringing out the emotional power of music written to accompany the most sacred moment of the Mass, the elevation of the Host, a powerful moment in an age when the consecration was celebrated sotto voce in a language which few understood. When Cranmer drafted his English liturgy for all to understand exactly when the consecration took place he forbade the elevation as no longer necessary, but Frescobaldi was writing for a very different counter-reformation audience and Cochereau captures the mood very well. The recording is still very acceptable.

Two items are taken from Beulah's 2008 album The Art of Jeanne Demessieux (1PD29 – details here: also available from iTunes).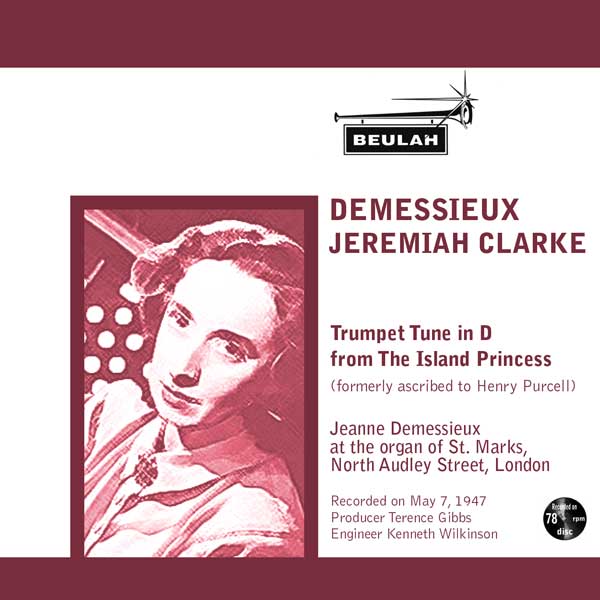 Jeremiah Clarke's Trumpet Tune used to be known as Purcell's Trumpet Voluntary – remember the Peter Sellers spoof of the teenage idol ('I was idle before I was a teenager'), who, having mangled Vrunjak's New World was about to attack the Trumpet Volunteer and was surprised that it wasn't by 'that there Purcell' ('It is out of copyright, innit?'). It's correctly attributed on 3BX299 [2:52] where it's performed by Jeanne Demessieux on a 1947 recording of the organ of St Mark's, North Audley Street, London. I didn't think the performance quite got off the ground – it's a bit dutiful – but a fine performance of the Widor Toccata from Organ Symphony No.5 (2BX229 [4:27]) stems from the same vintage. The recording has come up well – not to be confused with her later stereo recording (c.1968).

Demessieux's recording of Liszt's Fantasia and Fugue on Ad nos, ad salutarem undam, S259, was made on the organ of Victoria Hall, Geneva in 1952 (1BX229 [26:10] – extract on YouTube here). This Decca recording was, it seems, the first ever made of the full work and it was rightly hailed at the time as ground-breaking; there are more overtly exciting performances out there – though all guns are really blazing by the end – and better recorded – the mono sound is a little restricted but not seriously so – but this was well worth reissuing.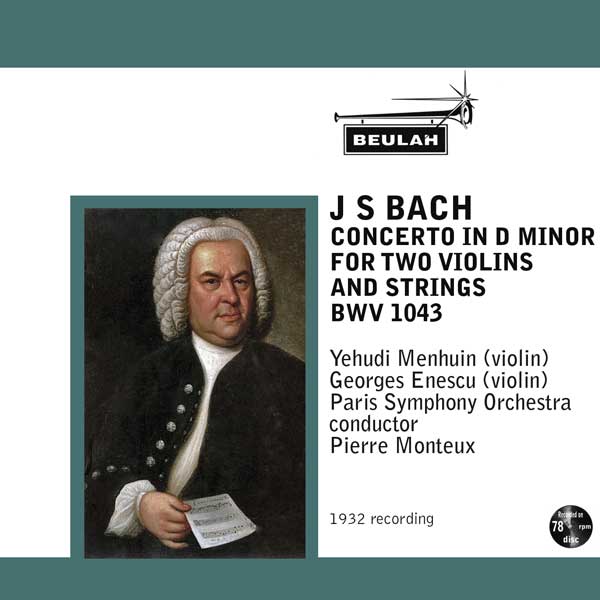 Not long after his ground-breaking recording of the Elgar Concerto, Yehudi Menuhin recorded two Bach Violin Concertos – the Double Concerto, BWV1043 with his mentor Georges Enescu (1-3BX170 [15:40] – rec.1932 with Pierre Monteux conducting) and the Concerto in a minor, BWV1041 (4-6BX170 [16:11] – rec.1936 with Enescu conducting), both with the Paris Symphony Orchestra. These recordings, remarkable for a teenager, not only in terms of technique but also for his rapport with the music, remain available on an EMI Great Recordings CD (3919632*) but their separate and inexpensive reissue by Beulah is very welcome. The performances still sound stylish even by current standards, with Enescu as one with his student as conductor and fellow soloist. The sound is bright and thin but far from intolerable in these noise-free transcriptions; I thought it slightly preferable to the EMI and Naxos transfers.

* All three concertos, BWV1041-3: download as 0094639196258 from classicsonline.com – here – or stream from Naxos Music Library. There is also a Naxos Historical transfer, 8.110965 – from classicsonline.com – here – or stream from NML.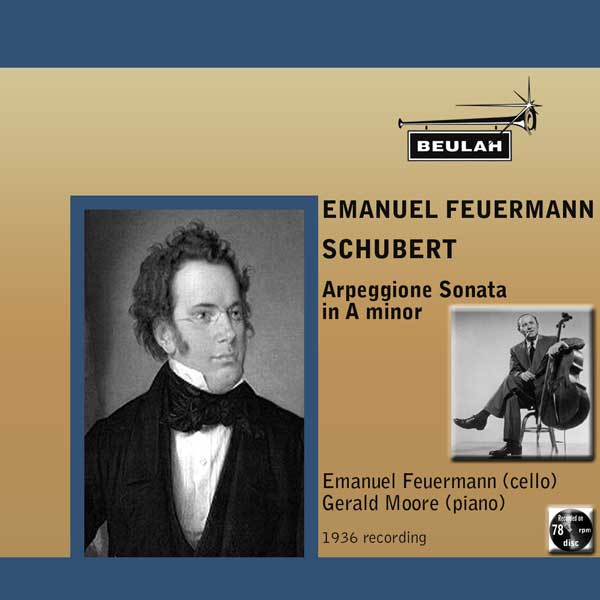 Schubert's Arpeggione Sonata in a minor is something of an oddity: no-one now plays the instrument for which it was written, so it's usually performed on the viola or on the cello, as on Emmanuel Feuermann's 1936 recording with Gerald Moore at the piano. (4-6BX75 [18:19] – excerpt on YouTube here). We're not short of good modern recordings, but Feuermann sounds very special, especially as Moore backs up the proceedings with his usual expertise. The recording has come up extremely well for its age: immediate in impact and with minimal surface noise.



Stefan Askenase plays two Chopin Polonaises, Nos. 3 and 6, on 1-2BX172, recorded in 1960. Askenase was a most under-rated Chopin performer and I'm pleased to see these recordings returned to us in a very good transfer. Apart from an Archipel 2-CD set, there's nothing left in the UK catalogue apart from downloads. These two Polonaises were originally coupled with Piano Concerto No.2 on a DG recording available as a download from amazon.co.uk. Passionato.com have the multi-CD set of his 1950s recordings – download here. The playing is perhaps not as full-blooded as some other performers produce but there is ample compensation in its refinement.

On a recording entitled Albert Coates Wagner (3BX124 [8:23]), Florence Austral (soprano) and Walter Widdop (tenor) sing the opening of Götterdämmerung (zu neuen Taten!) with the LSO under Coates in 1928.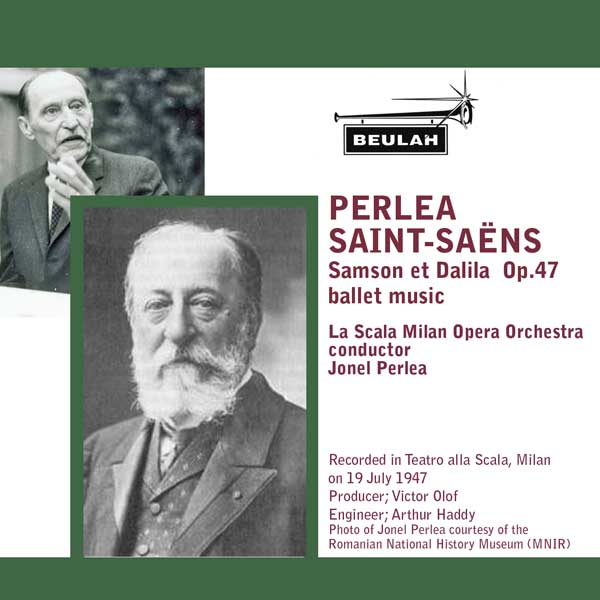 Jonel Perlea conducts la Scala Milan Opera House Orchestra in the ballet music from Saint-Saëns Samson et Dalia (6BX174 [7:11] – rec.1947). The music, which doesn't get out as often as it used and ought to, really needs to be pushed a bit over the top. By comparison with Beecham's French Ballet Music, not the best item in that collection but preferable to Perlea (EMI 6318162 – see review), now also included in the 6-CD collection on 909322 – see review and review – it doesn't quite receive that OTT treatment here but it's lively enough. The recording is perfectly acceptable for its age but sounds a little veiled.



The Aldershot Command Tattoo contribute Abe Holzmann's Blaze Away (5BX19 [3:09] – rec.1932) R.B. Hall's Officer of the Day March (6BX19 [3:15] – rec.1933), Meister's le Grenadier de Caucase (7BX19 [3:19] – rec.1933) Friedmann's Slavonic Rhapsody (8BX19 [5:42]) and John Philip Sousa's Stars and Stripes for ever (4BX19 [3:29] – rec.1934). I'm sure there's a market for this material, despite the faded recordings, but I far prefer Beulah's Mercury-derived Eastman Rochester recordings of similar material, including Officer of the Day, under Frederick Fennell which I recommended in the December 2011/1 Roundup (1-12BX182).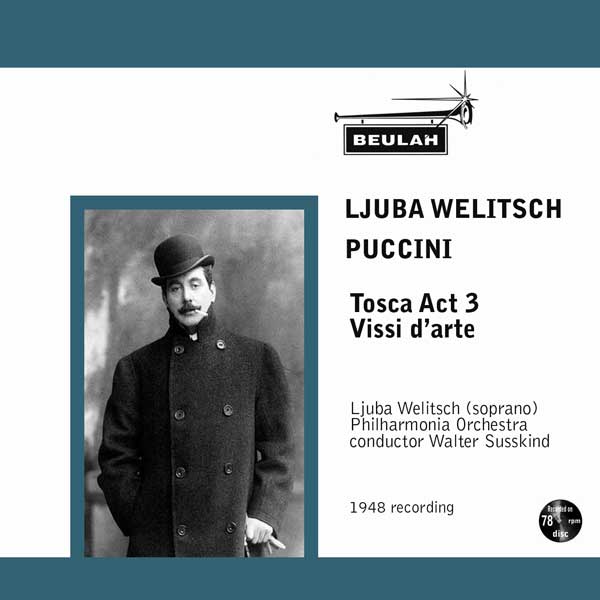 Ljuba Welitsch (née Velichkova) sings Tchaikovsky, Verdi, Weber and Puccini: the Letter Song from Eugen Onegin (in German, 1BX176 [13:54] with Philharmonia/Walter Susskind – rec.1948), Ritorna Vincitor! from Aïda (2BX176 [6:03] with Philharmonia/Josef Krips – rec.1947), Wie nahte mir die Schlummer … Leise, leise from der Freischütz (4BX176 [8:20] Susskind, 1948 again) and Vissi d'arte from Puccini's Tosca (3BX176 [3:00] Susskind, 1948 again). The recordings are not brilliant, even for their age, with Welitsch's voice very slightly more backward than I might have liked. They are, however, good enough to remind us of the purity of her tone at the height of her powers at about the time of her London debut as Salome. Her discography was not very great and her career short, so these snippets are well worth having; though more serious fans may well have the 2-CD Nimbus set on which they appear (NI7959/60 – Recording of the Month – see review and review) most listeners will be content with these four items. (NB if you want the Nimbus set, it's available for £12, postage paid worldwide from Musicweb International – here – which is less expensive than downloading from classicsonline.com for £15.98.)

The Sony recording of the 2012 New Year's Day Concert from Vienna had still not been released at the time of writing (see next Roundup), so I welcome Beulah's commercial enterprise in advertising their recording of one of the novelty items, Lumbye's Copenhagen Steam Train Galop (1BX115, Copenhagen SO/Lavard Frisholm – rec.1960). I reviewed this in the March 2011/1 Roundup.
***
1000 – A Mass for the End of Time
Processional Hymn: Judicii signum [6:13]
Troped Introit: Quem creditis super astra/Viri galilee [10:03]
Kyrie: Celestis terrestrisque [5:34]
Gloria: Prudentia prudentium [6:05]
Alleluia I: Dominus in sina [3:24]
Alleluia II: Ascendens Christus [4:56]
Sequence with Prose: Salvator mundi/Rex omnipotens die hodierna [8:15]
Troped Offertory: Elevatus est rex fortis/Viri galilee [8:29]
Sanctus: Ante secula [2:50]
Agnus Dei: Omnipotens eterne [3:03]
Troped Communion: Corpus quod nunc/Psallite domino [2:34]
Lection: Apocalypse 21:1-5 [2:41]
Prose: Regnantem sempiterna [2:37]
Hymn: Cives celestis patrie [5:38]
Anonymous 4 – rec. 2000. DDD.
HARMONIA MUNDI HMU907224 [72:27] – from emusic.com (mp3)



It's eleven years since this recording was released to mark the new millennium but its appeal remains strong. We seem to have missed it when it was first issued – MusicWeb International was then in its infancy – so I'm happy to make amends now. Millennial fever was rife just before the year 1000, as it was before 2000, but the connection is slightly forced: the music dates from French and English sources dated around the year 1000 but the main theme is connected with the Ascension – only the processional hymn and the reading from Revelation at the end relate directly to the Day of Judgement. That apart, Anonymous 4 sing with their usual clear and beautiful tone, enlivening the proceedings at times with additional newly composed polyphony, and the whole thing, as always with them, is much more than an academic exercise. The emusic.com download sounds more than acceptable, even though the bit-rate of around 180kb/s is low. You'll have to pay a little more (£7.49 as against £5.88 or less) for the better bit-rate of the download from amazon.co.uk. (Beware, however: most of emusic.com's other downloads of Anonymous 4 are uncompetitively expensive).

Joseph HAYDN (1732-1809)
Symphony No.69 in C (Laudon) [21:27]
Symphony No.86 in A [24:22]
Symphony No.87 in D [26:23]
Heidelberg Symphony Orchestra/Thomas Fey
HÄNSSLER CLASSIC 98.268 [72:12] – from eclassical.com (mp3 and lossless) or stream from Naxos Music Library

Symphony No.83 in g minor (La Poule) [23:36]
Symphony No.84 in E flat [23:14]
Symphony No.85 in B flat (La Reine) [24:39]
Heidelberg Symphony Orchestra/Thomas Fey
HÄNSSLER CLASSIC 98.425 [71:29] – from eclassical.com (mp3 and lossless) or stream from Naxos Music Library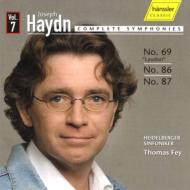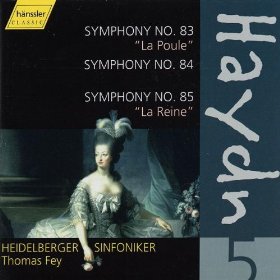 Between them these two CDs contain five of the six 'Paris' symphonies, the pinnacle of Haydn's symphonic achievement before the even greater two sets of six symphonies written for London. No.69 makes an apt companion, as one of the finest of the earlier symphonies. If you want the lossless versions of these two albums, eclassical.com's price of $13.00 and $12.87 respectively is competitive with classicsonline.com's £7.99, though the latter works out at the exchange rate as I write a fraction cheaper if you require only mp3. Classicsonline.com also offer a 2-CD set of the six Paris symphonies (Nos.82-87) on 98.619 – here. That comes with a booklet of notes but the separate downloads don't.

The revelatory performances of the Paris symphonies of recent years, which you either love or hate, have come from Nikolaus Harnoncort – with every repeat taken, they run to three CDs, though offered for the price of two. Though inclined to the Harnoncourt manner, Thomas Fey follows a more conventional path, pruning some of the repeats, though without unduly diminishing the stature of the music thereby. In No.85 his time of 10:12 for the opening movement is midway between 8:23 from Barry Wordsworth – a Naxos recording from a series which I like – and 11:45 from Sigiswald Kuijken on a Virgin budget twofer which I recommended some time ago.* Similarly in the second movement, though I think him a shade too fast, with more emphasis on the first half of the word allegretto than on its diminutive conclusion, Fey's 6:49 falls midway between 4:47 (Naxos) and 8:25 (Virgin). In both movements Fey gives greater weight to the music than Wordsworth without being unduly weighty. Much as I like the full works from Harnoncourt in these symphonies, I think Fey's compromise will be ideal for most listeners. His account of the finale is faster and a little lighter on its toes than either Wordsworth or Kuijken.

The putative hen which lends its name to No.83 (la Poule) is perky enough in the opening movement but a trifle over-large – more of a battery bird being fattened for the table than the free-range variety scratching in the dirt. The rest of the work goes very well, with a very lively finale, but memories of a long-deleted Philips Fontana recording from the Netherlands Chamber Orchestra under Szymon Goldberg suggest how light-hearted this symphony can sound, with the opening allegro a tad more spiritoso. Actually, they ceased to be just memories when I discovered that Past Classics have reissued this recording, coupled with No.57 – available in mp3 from emusic.com for £3.36 or less. The Past Classics transfer comes at a pathetically low bit-rate (no higher than 160kb/s) and sounds thin but acceptable by comparison with the Hänssler. Someone really ought to rescue this recording in a better transfer.

I should end by warning that although I enjoyed both these recordings, Fey, like Harnoncourt, divides opinion; though there's nothing here that I think will frighten the animals, you should probably try to listen via the Naxos Music Library first if you can.

* the link to passionato.com which I gave no longer applies and classicsonline.com have not yet added this recording to their tally of Virgin Classics downloads, though it can be downloaded from the Naxos Music Library. Amazon.co.uk have it for £5.47, but they also offer the 2-CD set for the same price.

Ignaz PLEYEL (1757-1831)
Symphony in B flat (Benton 125) [26:37]
Symphony in G (Benton 130) [28:34]
Flute Concerto in C (Benton 106) (edited Jean-Pierre Rampal) [23:52]
Sinfonia Finlandia Jyväskylä/Patrick Gallois (conductor and flute) – rec. January 2010. DDD
Pdf booklet included.
NAXOS 8.572550 [79:15] – from classicsonline.com (mp3) or stream from Naxos Music Library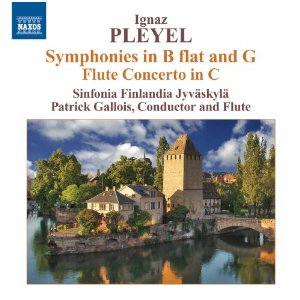 These are stylish and sprightly performances of some very attractive music by one of Mozart's neglected contemporaries. Formerly available with a nondescript cover, it's now been given a proper grown-up version. With good recording, informative notes and at a tempting price, this is highly recommendable. Best of all, there's no overlap with the Chandos recording which I recommended in its USB format (Contemporaries of Mozart: 1 – CHUSB001 – see May 2011/2 Roundup) and which is also available separately on CHAN9525 or on a 5-CD set CHAN10628. Bob Briggs liked Naxos's earlier recording of two of Pleyel's Symphonies Concertantes and Violin Concerto (8.570320, Baltimore CO/Thakar – see review). I think he would have liked this one, too; if anything, the new CD is even more immediate in its appeal.

Joseph-Guy ROPARTZ (1864-1955)
Symphony No.3 in E (1905/6) [47:21]
Isabelle Philippe Soprano); Élodie Méchain (contralto); Marc Laho (tenor); Jean Teitgen (bass); Ensemble vocal Erik Satie; Ensemble vocal Jacques; Ensemble vocal Opus 3
Orchestre Symphonique Région Centre-Tours/Jean-Yves Ossonce – rec. May 2011. DDD.
Pdf booklet included with texts and translation.
TIMPANI 1C1190 [47:20] – from classicsonline.com (mp3) or stream from Naxos Music Library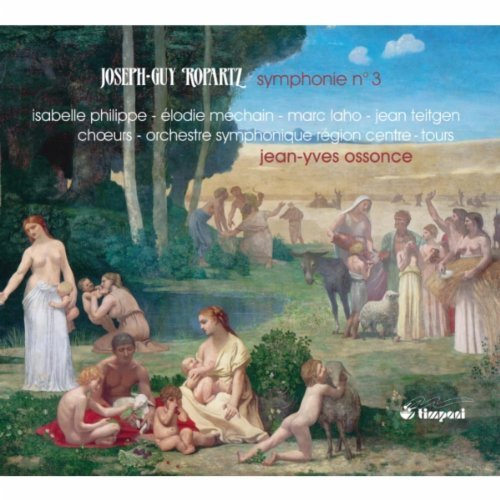 This completes in style the Timpani set of recordings of the symphonies of Guy Ropartz, though not all under one baton, as apparently originally intended. For earlier volumes see Rob Barnett's reviews of Nos.1 and 4 (1C1093 – here) and of Nos.2 and 5 (1C1097 – here). The Petite Symphonie and other shorter works is on 1C1126 – all available from classicsonline.com or for streaming from the Naxos Music Library.

Whatever went wrong with the original plan, the replacement performers make a strong case for this music, thoughtful and powerfully passionate in turns, written at a time when the composer was throwing himself into the Dreyfus debate, and the mp3 recording does them justice. The lavish pdf booklet with its attractive cover (Pierre Puvis de Chavannes L'Été if it's maddeningly familiar and you can't think what it is) crowns a fine achievement. Only the short playing time reduces my enthusiasm.

Jean SIBELIUS (1865-1957)
The Tempest – Overture, Op.109 No.1 [7:12]
The Tempest – Suites No.1, Op.109 No.2 [21:43]; No.2, Op.109 No.3 [15:51]
The Bard, Op.64 [7:01]
Tapiola, Op.112 [17:36]
Lahti Symphony Orchestra/Okko Kamu – rec. January 2011. DDD/DSD
Pdf booklet included
BIS-SACD-1945 [71:41] – from eclassical.com (mp3, 16- and 24-bit lossless) or stream from Naxos Music Library.

['This is not the equal of the extraordinary but ancient Van Beinum version on Eloquence but it is a far from inconsiderable reading and the cutting edge recording accentuates its merits.' See full review and track-listing from Rob Barnett.]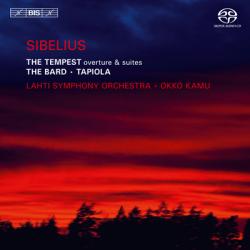 If you require the complete music for The Tempest, Op.109, rather than the Suites, you will need to turn to an older BIS recording, also available from eclassical.com in mp3 and lossless sound. (BIS-CD-581: Lahti SO/Osmo Vänskä). That recording also features on the Theatre Music – Volume 5 of the BIS Complete Sibelius, BIS-CD-1912-14, six CDs for the price of three, available as an mp3 download from classicsonline.com for just £23.97 – here. (See review by Rob Barnett: I plan to cover this set in the next Roundup.)

By coincidence, BBC Radio 3 broadcast a performance of the complete music on the day that I wrote my review. While I can appreciate the importance of having the music in context, especially as my first degree was in English and The Tempest is one of my favourite Shakespeare plays, I imagine that it might be tedious on repeated hearing to have the spoken words in English, let alone in Finnish. The two suites, therefore, seem likely to be all that I would wish to hear in future and this recording seems to me ideal in every respect – I haven't heard the Beinum recording which Rob Barnett prefers (see above).

With cracking performances of The Bard and Tapiola and excellent recording, heard in 24-bit form and an excellent booklet which places the items from The Tempest in the context of the play, all for $8.33 (mp3 or 16-bit) or $12.50 (24-bit) what's not to recommend here?

Jean SIBELIUS (1865-1957)
Finlandia, Op.26 (1899-1900) [7:37]
Tapiola, Op.112 (1926) [18:05]
Oceanides, Op.73 (1914) [9:08]
Nightride and Sunrise (1903) [14:11]
Pohjola's Daughter, Op.49 (1906) [13.45]
Prelude to The Tempest, Op.109 No.1 (1926) [6.13]
London Philharmonic Orchestra/Adrian Boult – rec. June 1956. ADD/mono
SOMM SOMMCD093 [69:05] – from theclassicalshop.net (mp3 and lossless)

[see review by Jonathan Woolf and Rob Barnett].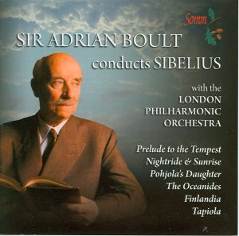 Three eminent English conductors made memorable recordings of Sibelius: Beecham, of course, Barbirolli and Boult. Much as I love the first two, I'm pleased to see that Somm have reissued these 1956 Nixa recordings. The sound is far from ideal, even in the lossless transfer, and I've certainly heard more impassioned readings, especially of Finlandia, but that's the only work that doesn't quite come off. There is no booklet, but brief notes are available from the Somm web-site – here: they include a correction of their original claim that these were the first CD releases.

The parent CD is on sale for a little over £9 in the UK, so theclassicalshop.net's price of £9.99 for the lossless transfer is rather steep. The mp3 at £7.99 is better value.

Vasily KALINNIKOV (1866-1901)
Symphony No. 1 in g minor (1894-1895) [37:37]
Symphony No. 2 in A (1895-1897) [39:02]
Malaysian Philharmonic Orchestra/Kees Bakels – rec. December 2000. DDD
Pdf booklet included.
BIS-CD-1155 [77:29] – from eclassical.com (mp3 16- and 24-bit lossless)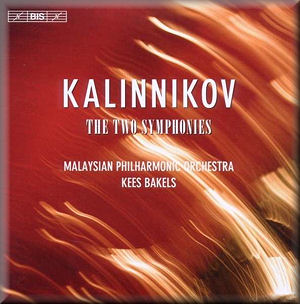 If you enjoy tuneful Russian romantic music – and what's not to enjoy, even if it sometimes seems not to be 'going' anywhere, which is my wife's criticism of Balakirev's First Symphony – this is for you. Add in the high quality of performance and recording, the latter faithfully reproduced in the lossless download (better than CD if you choose 24-bit) and you'll appreciate why Dan Morgan made this Recording of the Month – see review. If you didn't snap it up then, or again when it featured in the Musicweb Recordings of the Year, you can save yourself some money over buying the CD by downloading from eclassical.com for $9.12 (mp3 or 16-bit lossless, with 24-bit a little more expensive at $13.67).

There's a strong challenger from Neeme Järvi on Chandos CHAN9546 – download from theclassicalshop.net here in mp3 or lossless – as Dan Morgan writes, it's rather more fiery, if that's what you prefer – but I'm inclined, like Dan, to side with the new recording, especially as the 16-bit lossless version works out significantly less expensive than the £9.99 for the equivalent version of the Chandos. Even the 24-bit is less expensive at the current exchange rate.

The differences between the BIS and Chandos versions are not so much a matter of time, though Bakels is just a little more expansive than Järvi in seven out of the eight movements – only in the opening movement of the first symphony are things the other way round, though the differences throughout are not great. I could be very happy with either. If you have access to the invaluable Naxos Music Library, you can compare the two performances with each other and with the very workmanlike Naxos recording. (8.553417: National SO of Ukraine/Theodore Kuchar).

Philippe GAUBERT (1879-1941)
Au pays basque (In the Basque Country) (1930) [21:39]
Violin Concerto (1929) [17:07]
Poème Romanesque for cello and orchestra (1931) [15:40]
Le Cortège d'Amphitrite (1910) [12:07]
Philippe Graffin (violin); Henri Demarquette (cello)
Orchestre Philharmonique du Luxembourg/Marc Soustrot – rec. November 2010. DDD
Pdf booklet included
TIMPANI 1C1186 [66:33] – from classicsonline.com (mp3) or stream from Naxos Music Library

[see review by Rob Barnett – Recording of the Month.]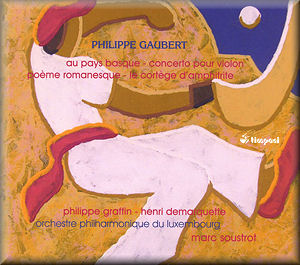 Music by Gaubert and no prominent flute part to be seen or heard? What amazing music it is, too: immediate in appeal without being facile, and in performances which sound thoroughly idiomatic. This is Volume 3 of Timpani's series; now I must catch up with Nos.1 and 2, both of which are available from classicsonline.com and the Naxos Music Library. I shall certainly be checking them out. I listened to the new recording only in near-CD quality from NML but that sounds good enough to assure me that the classicsonline.com download in full 320kb/s mp3 will be very good. The download and the streamed version from NML even come with the booklet which Rob Barnett particularly recommended.

Howard HANSON (1896-1981)
Symphony No. 4 'Requiem', Op. 34 (1943) [25:45]
Symphony No. 5 'Sinfonia sacra', Op. 43 (1954) [15:10]
Elegy in Memory of Serge Koussevitzky (1956) [12:43]
Dies Natalis (1967) [16:07]
Seattle Symphony/Gerard Schwarz – rec. 1990-1994. DDD
Pdf booklet included.
NAXOS 8.559703 [69:44] – from classicsonline.com (mp3) or stream from Naxos Music Library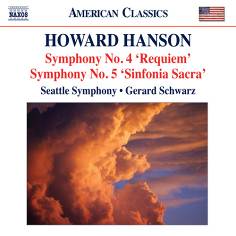 Naxos's series of recordings of the music of Howard Hanson, taken from Delos originals all highly recommended on their first release, continues apace. With such idiomatic performances I'm beginning to think that Hanson rivals Aaron Copland and Roy Harris among his American contemporaries and even Sibelius, whom I hear as a major influence on the Fourth Symphony especially. The music here excels that of the earlier symphonies, which, good as it is, often sounds like the film music of John Williams years ahead of its time. (I don't mean the comparison as a disparagement).

All four works here have a religious, or at least a deeply spiritual dimension: the Fourth Symphony is effectively a requiem for Hanson's father, a journey as it were from darkness of the opening Kyrie (largo inquieto) to the light of the closing Lux æterna (largo pastorale); the Fifth Symphony and Dies Natalis, the latter a work for Christmas, are based on his love of the Lutheran music he sang as a child and the Elegy marks his appreciation of the conductor Serge Koussevitzky. It seems that in Gerard Schwarz Hanson has found the modern equivalent of Koussevitzky and the recordings sound fine.

Dmitri SHOSTAKOVICH (1906-1975)
Cello Concerto No.1 in E flat, Op.107 (1959) [26:43]
Cello Concerto No. 2, Op.126 (1966) [33:12]
Enrico Dindo (cello)
Danish National Symphony Orchestra/Gianandrea Noseda – rec. 2010/11 DDD/DSD
CHANDOS CHAN5093 [60:11] - from theclassicalshop.net (mp3 and lossless)

Chandos were not exactly short of recordings of one or both of the Shostakovich Cello Concertos:

o Cello Concertos Nos. 1 and 2 – CHAN10040X (mid price): Frans Helmerson (cello); Russian State Symphony Orchestra/Valeri Polyansky – rec.1996. DDD [61:53] – from theclassicalshop.net (mp3 and lossless) or stream from Naxos Music Library

[This version of Concerto No.1 is also available coupled with Symphony No.15 on CHAN9550 and Concerto No.2 with Symphony No.12 on CHAN9585 (both archive CD or download only).]

o Cello Concerto No.1; Samuel BARBER Cello Concerto, Op.22 – CHAN8322: Raphael Wallfisch (cello); English Chamber Orchestra/Geoffrey Simon – rec.1982. DDD [58:50] – download from theclassicalshop.net (mp3 or lossless) or stream from Naxos Music Library. Well worth considering if the coupling appeals.

In addition, Raphael Wallfisch has recorded both concertos with the BBC Symphony Orchestra and Martyn Brabbins (NIMBUS NI5764/5, two mid-price CDs), with other cello works by Shostakovich – see review. You can download this from classicsonline.com but, at £15.98, you'll be saving just £0.02 on the price post-paid world-wide from MusicWeb International – here.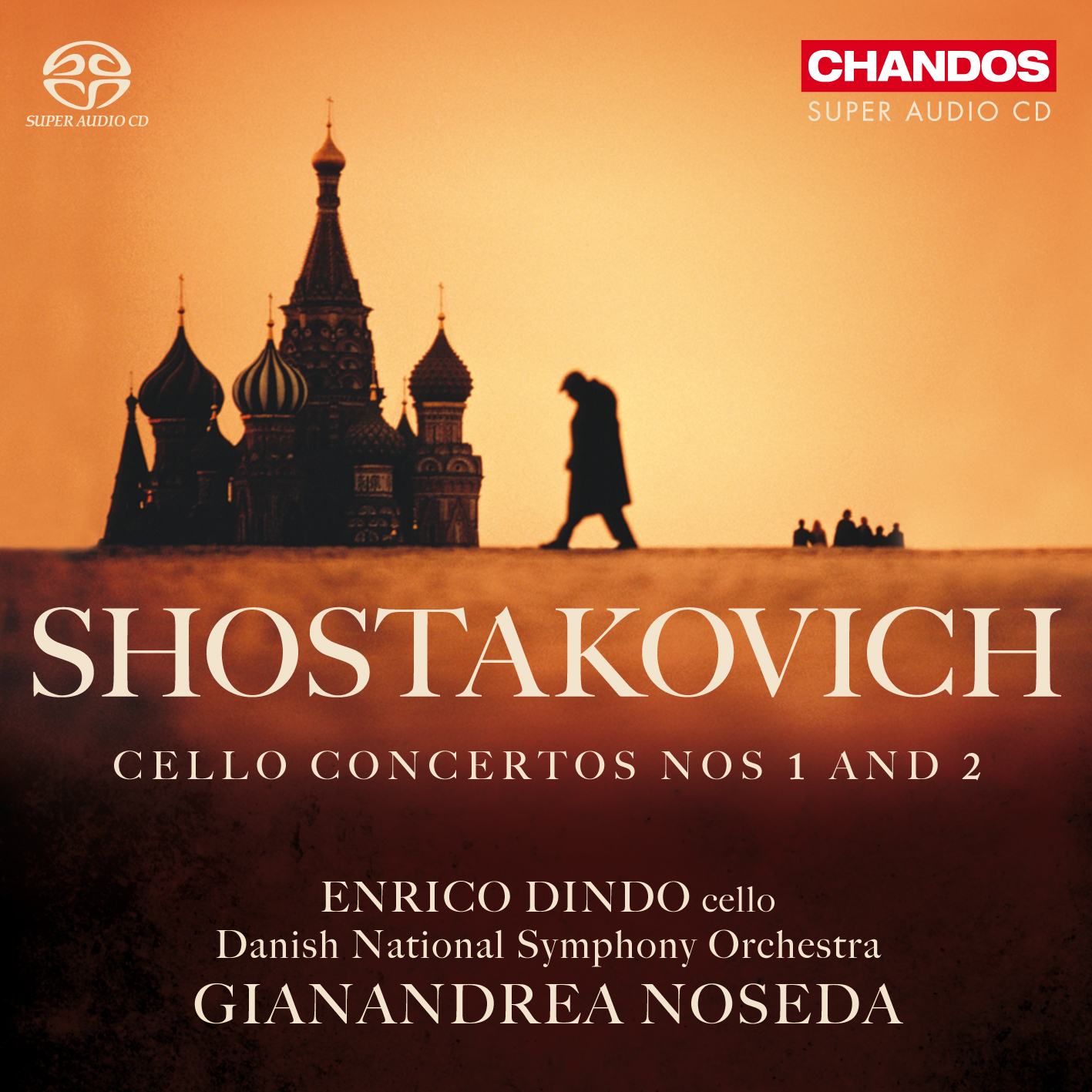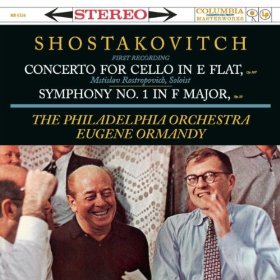 At first I thought the new recording a little too amiable and easy-going at the opening of Concerto No.1, but then I refreshed my memory of the 1960 Rostropovich/Philadelphia/Ormandy recording, now re-coupled as it originally was with the First Symphony on Sony BMG 88697858322 and available for download from amazon.co.uk and for streaming from Spotify. The sound, even in the streamed version, is greatly superior to when I last heard it on LP in a CBS box set, and I was surprised to discover that dedicatee Rostropovich's performance of the first movement is less intense than many more recent recordings, maintaining a greater balance between the drama and a dancing rhythm.

Oddly enough, I see that Jeremy Noble in 1960 thought that the performance had few of the 'amiable connotations' of its allegretto tempo marking, but then he had no other versions with which to compare it. Hearing Rostropovich and Ormandy again has so increased my admiration for their recording that I shall find it very hard to resist the temptation to add it in some form to my already over-large collection.

Yo-Yo Ma, also with Ormandy and also originally CBS and now Sony BMG but now re-coupled with the Fifth Symphony instead of the Kabalevsky Concerto, takes that opening in an even more relaxed manner than Rostropovich, sounding almost lyrical, so Dindo and Noseda are in good company here. Even so, I find them just a little too jolly – their interpretation of allegretto is verging dangerously on allegro; they take 5:57 over a movement which runs to 6:33 from Rostropovich and Ormandy and 6:21 from Tortelier and Berglund (see above), a large enough difference to rob the movement of some of its drama. Even Ma and Ormandy at 6:19 capture more of that drama.

After that matters improve greatly, with a fine balance in the second movement between wistful longing, heartfelt desolation and dramatic power. Tempi vary widely here, with the new recording a little on the fast side (10:50 against 12:52 from Wallfisch and Simon, but slightly slower than Rostropovich/Ormandy who clock in at 10:37). Here and in the remaining linked sections I'm more than happy with Dindo and Noseda. Their version of the finale, with its return to the theme and mood of the first movement, captures all the drama and power that I found slightly lacking there, with a basic tempo a little slower than Rostropovich/Ormandy and a little faster than Wallfisch/Simon.

Those linked sections are one important reason for advising the choice of a lossless download rather than economising with the mp3 version – there's always a chance of a hiatus between movements with mp3, which can destroy the impact. Try any of the recordings of this concerto from the Naxos Music Library with its automatic inter-track gaps to see what I mean – even worse, the free version of Spotify will regale you with advertisements between tracks.

I'm sorry to say that I've yet to hear any recording of the Second Concerto that persuaded me that it's anything like the equal of its predecessor, though it certainly has its moments. Dindo and Noseda are not the people to persuade me, though I think they make as good an effort as any, including Truls Mørk on the EMI set above. Once again the outer movements are a little faster than Rostropovich (with the BBCSO and Colin Davis on BBC Legends BBCL4073-2) but this time the drama is preserved.

With good recording (see above for reasons for preferring the lossless download), if you want the two concertos together, this could be the version to go for.

Benny GOODMAN (1909-1986) Swing, Swing, Swing! (1934-1945)
CD1
Bugle Call Rag
Moonglow
Blue Skies
Sometimes I'm Happy
King Porter Stomp
It's Been So Long
Stompin' At The Savoy
Goody Goody
Get Happy
Christopher Columbus
I Know That You Know
Stardust
The Glory Of Love
I've Found a New Baby
These Foolish Things
Swingtime in the Rockies
You Turned the Tables on Me
Down South Camp Meeting
St. Louis Blues
Goodnight, My Love
Roll 'em
Sugarfoot Stomp
Life Goes to a Party
Don't Be That Way
One O'Clock Jump
CD2
Big John's Special
I Let a Song Go out of My Heart
Bach Goes to Town
And The Angels Sing
There'll Be Some Changes Made
Stealin' Apples
Let's Dance
Darn That Dream
Honeysuckle Rose
How High The Moon
Taking a Chance On Love
Somebody Stole My Gal
Solo Flight
Air Mail Special
Clarinet … la King
Somebody Else Is Taking My Place
Jersey Bounce
A String of Pearls
Why Don't You Do Right?
Mission to Moscow
Gotta Be This or That
Sing, Sing, Sing
Goodbye
Benny Goodman and his Orchestra – rec. 1934-1945. ADD/mono
RETROSPECTIVE RTS4144 [2 CDs: 2:33:45] – from classicsonline.com (mp3) or stream from Naxos Music Library (not available in the USA).

[Benny Goodman was a clarinettist of unparalleled technique and swing. With his band, he christened the advent of the swing era, and these sides indicate just how influential he was during this period. – see review by Pierre Giroux.]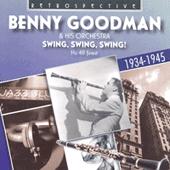 I haven't included any jazz recordings for some time; this should begin to make amends – two and a half hours of great enjoyment from a master of the clarinet who could turn his hand equally to the classics and swing, in sound which has come up well for its age and in transfers almost completely devoid of surface noise. I'm not sure about the sub-title 'his 48 finest', but these selections will do nicely for me. The presence of Ella Fitzgerald and Peggy Lee among the vocalists is the icing on the cake.

Just one reservation applies to the classicsonline.com download – it costs £15.98 when you can buy the CDs direct from MusicWeb International for £9.50, postage paid worldwide – here.

The Film Music of Sir Richard Rodney BENNETT (b.1936)
Murder on the Orient Express – suite [11:18]
Far from the Madding Crowd [15:28]
Lady Caroline Lamb – Elegy for Viola and Orchestra * [17:43]
Nicole's Theme from Tender is the Night [2:04]
Enchanted April [19:20]
Love Scene from Four Weddings and a Funeral [3:30]
Philip Dukes viola*
BBC Philharmonic/Rumon Gamba – rec.2000. DDD
Pdf booklet included.
CHANDOS MOVIES CHAN9867 [69:45] – from theclassicalshop.net (mp3 and lossless)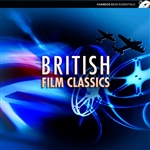 You'll find a pair of detailed and very appreciative reviews from Ian Lace, who awarded ****(*) and Gary S. Dalkin, who went the whole hog and awarded the full five stars – here. I need only add that the download of this splendid CD is excellent and that the booklet is readily available to all comers.

Just one reservation – much of this music in the same performances is also available on an excellent value 2-for-1 Chandos Bear Classics album entitled British Film Classics (CHAN241-12 [138:23] in mp3 or lossless sound – here). The Orient Express Suite, the Elegy from Lady Caroline Lamb and the Love Scene from Four Weddings join an enticing cross-section of film music by Ron Goodwin, Arthur Bliss, Alan Rawsthorne, William Walton, Eric Coates, William Alwyn, Malcolm Arnold, Ralph Vaughan Williams, Richard Addinsell, Georges Auric, Sergei Rachmaninov (the Brief Encounter music) and Arnold Bax. I settled for the mp3 version this time for the simple space-saving reason that you can burn both CDs on one mp3 CD and still have plenty of room left over. The result sounds fine even on my best system.

In brief

Göran Forsling thought that the Musical Concepts/Alto CD of Elizabeth Schwarzkopf singing operetta should be in every collection (ALC1122: Bargain of the Month – see review). At £4.99 the classicsonline.com download – here – represents a small but useful saving. You'll also find her Mozart and Richard Strauss – the classic recording of Four Last Songs with Otto Ackermann (ALC1008) here. You may prefer to obtain the Naxos Historical recording of the Four Last Songs, however, with excerpts from Arabella (8.111145) again available for £4.99 from classicsonline.com – here – especially as it comes with the pdf booklet.

Leonard Bernstein's Shostakovich – Symphony No.5 and Piano Concerto No.2, from 1960 – received a Bargain of the Month recommendation from Rob Barnett – here – despite the dated recording. It's yours, again for £4.99, from classicsonline.com and this time the pdf booklet is part of the deal (Regis RRC1337 – here).

Classicsonline.com also have the Opera Omnia or complete works of Johannes Ciconia in the Ricercar recording which Gary Higginson couldn't praise too highly – RIC316, Recording of the Month: see review. Though it's a generously filled 2-CD set, the asking price for the download is just £7.49 – snap it up at that price. Don't even dream of paying emusic.com £16.80 for this download; that's nearly as much as the CDs. Try all these first from the Naxos Music Library if you can.

Biber's Vesperæ longiores ac breviores (Carus Verlag 83.348: August 2011/2 Roundup – see review by Mark Sealey) which I recommended in the classicsonline.com mp3 download is now available also in lossless flac from eclassical.com – here. The price of $10.71 works out less than classicsonline.com's £7.99 at current exchange rates. Neither version offers the booklet.

Like the Pleyel (above), the Naxos recording of Neidhart: A Minnesinger and his Vale of Tears (8.572449) has now received a proper grown-up cover instead of the temporary one it had when I reviewed it in the July 2011/1 Roundup. It also comes with a booklet now.