As far as I can tell, this is Ives' most frequently recorded multiple-movement orchestral work. As of January 2006, there were at least ten versions available in the catalog (in the U.S.A.). I bet that Ives would find that gratifying--and hilarious.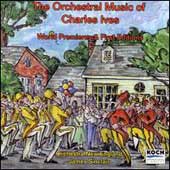 James Sinclair / Orchestra New England / "The Orchestral Music of Charles Ives" (Koch 3-7025-2, coupled with Four Ragtime Dances, Set for Theatre Orchestra, and other short orchestral works)
If I were forced to pick just one version of "Three Places in New England" it would be this one. Sinclair conducts the Orchestra New England using the Charles Ives Society critical edition for small orchestra, and the results are stunning. Some might think that a chamber orchestra might diminish this work, but Sinclair and the ONE quickly put any concerns to rest. Their reading is idiomatic and full of atmosphere, by turns forward-looking and nostalgic. And, while the musical strands are well integrated, the smaller sized orchestra lets details come to the fore that are lost in other recordings. The first section of the work, "The 'Saint-Gaudens' in Boston Common," is haunting and elegiac. Sinclair's version clocks in nearly a full minute longer than Michael Tilson Thomas' with the Boston Symphony, but there's never a sense of flagging momentum. Again, despite the smaller size orchestra, there's no lack of punch, and the woodwinds are balanced beautifully with the strings. The second and third sections ("Putnam's Camp, Redding Connecticut" and "The Housatonic at Stockbridge" respectively) are also fantastic. The second conveys the child's kaleidoscopic sense of reality to perfection. In the final section, it's not hard to imagine the Housatonic's waters shimmering and swirling as Ives and his new bride stroll on the banks. The recorded sound is also outstanding. Along with Sinclair's reading with chamber orchestra, you'll want to hear Three Places with a full symphony orchestra. In my opinion, Tilson Thomas (DG), Ormandy, and von Dohnányi all have something to recommend them.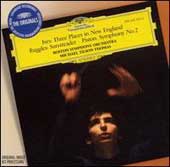 Michael Tilson Thomas / Boston Symphony Orchestra
This recording has been issued in at least three incarnations on compact disc:
On most days, this is my favorite recording of the work for full orchestra. Tilson Thomas' conducting is idiomatic, and the Boston Symphony sounds incredible. The opening section in particular is very dignified, very grand. The second section is also strong, although perhaps it is not as rhythmically incisive as Sinclair's. The final section is a powerful evocation. While the "layers" of sound are less distinct than in Sinclair's recording, Tilson Thomas makes up for it with a tremendous sense of atmosphere and grandeur. This recording is available with three different couplings. The most recent release of this recording is as a part of the DG "Originals" series. It also includes "Sun Treader," an outstanding recording of Ruggles' seminal work, and Piston's Second Symphony, which I have never heard. The "Twentieth Century Classics" release includes Ives' Symphony No. 4 conducted by Seiji Ozawa. Ozawa's reading of the symphony is not a top recommendation--although I don't find it as bad as some others have suggested. The DG Classikon release includes Roberto Szidon's fine performance of the Piano Sonata No. 2. Szidon's reading has much going for it, though it doesn't rate as one of my favorites. Also, unfortunately, the Classikon release is no longer available. Regardless, you can't miss with Tilson Thomas.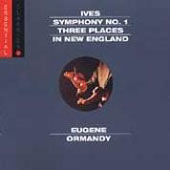 Eugene Ormandy / Philadelphia Orchestra (Sony Essential Classics SBK89851, coupled with Symphony No. 1, and The Robert Browning Overture conducted by Leopold Stokowski)
My first exposure to Ives was Ormandy's glorious reading of "Putnam's Camp, Redding, Connecticut." So I'm probably not too objective about this one. That said, Ormandy's is the most "unbuttoned," rambunctious performance that I've ever heard. And I mean that as a high compliment! This recording takes a different approach than MTT's atmospheric mystery or von Dohnányi's terraced detail. Ormandy's reading flows beautifully. It sounds unforced, natural, and expansive. Even if you have other versions, you'll want to hear it. Also, like all releases in the Sony Essential Classics series, it's cheap! The disc also includes Ormandy conducting the Symphony No. 1 (in a solid performance) and Stokowski's pioneering performance of the "Robert Browning Overture." This one is a no-brainer. Get it.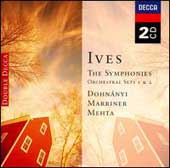 Christoph von Dohnányi / Cleveland Orchestra (Decca Double 4667452, coupled with Symphonies Nos. 1, 2, 3, & 4 and Orchestral Set No. 2, various conductors and orchestras. Also available on London 289 443 776-2, coupled with the Orchestral Set No. 2; Ruggles, "Sun Treader" and "Men and Mountains"; Crawford Seeger, "Andante for Strings.")
This is a very fine recording of "Three Places." While it is marginally less idiomatic than some others, von Dohnányi offers a different interpretive approach. In general, von Dohnányi brings details to the fore much more than other readings with large orchestra. Consequently, Ives' characteristic layers of sound are much more apparent in this reading than in other large orchestra recordings that I've heard. In the first section, von Dohnányi's reading of the soldiers' march is eerily ominous. The final section is also especially strong. The Cleveland Orchestra strings play with an otherworldly beauty. The recorded sound is very fine.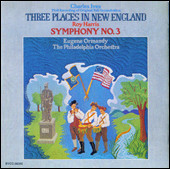 Eugene Ormandy / Philadelphia Orchestra (RCA Red Seal ARL1-1682 out of print LP, coupled with Harris' Symphony No. 3; CD available in Japan coupled with Ives' Holidays Symphony)
Ormandy's recordings of Ives' music are inconsistent, hit-or-miss propositions. His recordings of the First Symphony (Columbia) and Second and Third Symphonies (both on RCA) are moderately successful, but not overwhelming. On the other hand, Ormandy's Holidays Symphony is a no-doubt-about-it home run. (Just listen to the "Thanksgiving and Forefathers' Day" movement. It will knock your socks off.) I'd also put Ormandy's recordings of Three Places in New England in the "solid hit" category. He recorded it twice, and he just seems to have a way with this work. This version on RCA is different than the earlier one with Columbia, but it's no less effective. The first recording was a boisterous, informal affair. The RCA recording seems seems to emphasize the unfolding, mystical aspects of the music. (But it never becomes shapeless or flabby.) It's also worth noting that this LP was the premiere recording of the version for full orchestra, which was edited by James Sinclair. The fabled Philadelphia strings sound grand, as does the music. Like his Columbia recording, Ormandy's reading doesn't represent the ultimate in terms of inner detail. Even so, I strongly recommend it. Look for an old copy of the LP or order the CD from Japan. It's worth the effort. This one just sounds right.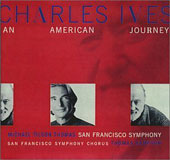 Michael Tilson Thomas / The San Francisco Symphony, The San Francisco Symphony Chorus / "An American Journey" (RCA 09026-63703-2, coupled with various other works by Ives)
Tilson Thomas and RCA have put together what what you might call an Ives "greatest hits" package. And, for the most part, they've done a bang up job of it. Naturally, as an introduction to Ives, the disc includes "Three Places in New England," which is also one of MTT's specialties. His first recording by any composer was of this work, recorded in 1970 for DG. Thirty-odd years later, his interpretation is essentially the same as the classic recording with the BSO. I have to say that the RCA disc doesn't quite generate the sparks, the sense of mystery, that permeates the earlier recording. But MTT does have something unique on offer here. What sets this version apart from his DG recording--and all other versions I've heard--is that the "Housatonic at Stockbridge" movement includes choral accompaniment. Very interesting. It isn't the ultimate "Three Places," but it is worth checking out. And the couplings are outstanding, especially the choral works that you might not find anywhere else.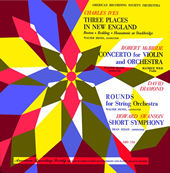 Walter Hendl / American Recording Society Orchestra (i.e., Vienna Symphony Orchestra) (ARS 116, coupled with works by Robert McBride, David Diamond, and Howard Swanson, out of print LP; also released as Desto DST 6403E, out of print LP)
Walter Hendl's recording of Three Places in New England was the premiere of the complete work. It's a surprisingly effective reading, idiomatic and atmospheric. The recording was originally released on the ARS label with the orchestra labeled as the American Society Orchestra. Later, it was released on Desto, and the orchestra's actual name, the Vienna Symphony Orchestra, was used on the cover. (Don't be confused. Both releases are the same recording.) In any case, this is a fine version of the work that's worth tracking down if you're still spinning vinyl.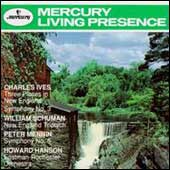 Howard Hanson / Eastman-Rochester Symphony Orchestra (Mercury Living Presence 2MM 432755, coupled with Symphony No. 3 and works by Schuman and Mennin)
Hanson's recording with the Eastman-Rochester Symphony is another solid reading of "Three Places." It is also one of three recordings of the work with chamber orchestra. (The other two are Orchestra New England / Sinclair on Koch and the Orpheus Chamber Orchestra on DG.) That said, I find Sinclair to be truly exceptional, while Hanson's reading is "merely" very good. This assessment also applies to the Third Symphony, the other Ives work on this disc. My version of this recording is an old LP, so I've never had heard the works by Schuman and Mennin. If you've been looking for works by these composers, as well as a good recording of "Three Places," then seek this one out. Otherwise, I'd go for Sinclair. It's extraordinary.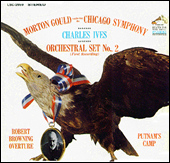 [Movement ii only] Morton Gould / Chicago Symphony Orchestra (RCA Victor LSC-2959, coupled with the Robert Browning Overture and Orchestral Set No. 2, out of print LP)
Morton Gould was an excellent conductor of Ives' music. His recording of Ives' First Symphony is superb, and his recordings of the Second Orchestral Set and Robert Browning Overture are scarcely less effective. Unfortunately, he only recorded the middle movement of "Three Places in New England," which is sad because this is such a pleasingly colorful and rowdy performance. I would have loved to hear what Gould would have done with the entire work. Also, this is the only piece from the two LPs of Ives' music that Gould recorded that has not been issued on CD. So you'll have to track down an original copy of the vinyl if you want to hear this one. (If you haven't already got it, go buy the RCA Navigator CD release that includes Gould's First Symphony, Browning Overture, and Second Orchestral set. It's available in the U.K. only, and it probably won't stay in print for long.)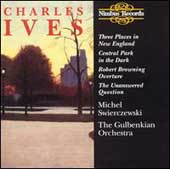 Michel Swierczewski / The Gulbenkian Foundation Orchestra (Nimbus NI 5316, coupled with "The Unanswered Question," "Central Park in the Dark," and Robert Browning Overture, out of print)
Like Andrew Litton's recording (reviewed below), I would characterize Swierczewski's performance of Ives' Three Places in New England as solid if not especially ground-breaking. The Portuguese orchestra sounds comfortable with this very difficult music. This disc, which is no longer in print, may be difficult to find, but other superior recordings are more readily available.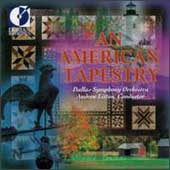 Andrew Litton / Dallas Symphony Orchestra (Dorian DOR 90224, coupled with works by Hovhaness, Piston, Griffes, and Schuman)
This is a solid if not especially distinctive reading of "Three Places." The Dallas Symphony Orchestra plays very well, even if Litton's traversal lacks the interpretive insights of Sinclair or MTT. The most remarkable aspect of this recording is the sound the orchestra, which is captured in an extraordinarily fine recording. If you just bought a new high-powered amp, cue up "Putnam's Camp" and rattle your neighbor's window panes. The couplings are also very interesting, and all are captured in equally fine sound.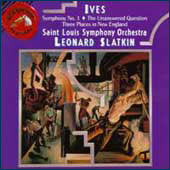 Leonard Slatkin / St. Louis Symphony Orchestra (RCA Victor Red Seal 09026-6122-2, coupled with Symphony No. 3 and other orchestral works, out of print)
I don't find Slatkin's reading particularly engaging. The orchestra does generate a thick, powerful string sound, especially in the final movement with its pounding climax. But overall the reading demonstrates less distinction than some of the others I've heard. The recording is also let down by distant recorded sound. Others have praised this recording; so, as always, listen for yourself. There's no set of ears better than your own!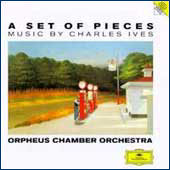 Orpheus Chamber Orchestra (DG 2GH 439869, coupled with Symphony No. 3, Set Theatre Orchestra, and Set No. 1 for Small Orchestra)
This reading just doesn't hold up in the face of such stiff competition. Here's what I think let's this recording down: the Orpheus Chamber Orchestra's sound is too refined for this work. They seem to lack a rough-and-tumble edge that is essential in this work. Take, for example, the shimmering then raucous middle movement, "Putnam's Camp, Redding, Connecticut." It just never takes off. The first and last movements work better, but they still don't achieve the final transcendence that the best recordings offer up. Incidentally, the OCO's refined, polished tone works much more effectively in the Third Symphony and "The Unanswered Question," which are both outstanding readings. So this disc does have those works going for it.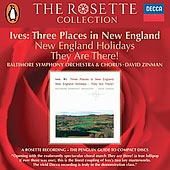 David Zinman / Baltimore Symphony Orchestra (Argo 444 860-2, coupled with the Holidays Symphony and "They Are There!")
The authors of the highly-respected Penguin Guide awarded this disc a coveted "rosette," so I was anxious to hear it. Sorry to say, I was very disappointed when I got around to listening. Zinman emphasizes the works' atmospheric, "impressionist" elements. But I think he does so to the detriment of the work as whole. Ives' music should be rugged--if not ragged--at times, and Zinman seems intent on glossing over these aspects of the music. As a result, the work sounds un-idiomatic to me. Worse than that, it comes off as dull. There's little impetus or forward momentum. The work seems curiously static. You can apply the same description to Zinman's reading of The Holidays Symphony. Obviously, some critics disagree with me, so you may want to listen for yourself.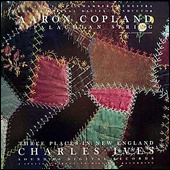 Dennis Russell Davies / St. Paul Chamber Orchestra (Pro Arte PAD-140, coupled with music by Aaron Copland, out of print)
Review coming soon.
Other Recordings
Other versions of Three Places in New England include:
[Movement iii only] Werner Janssen / Janssen Symphony of Los Angeles (Everest SDBR 3118, out of print, coupled with works by Copland, Cowell & Gilbert)
James Levine / Chicago SO / "A Tribute to James Levine; CSO From the Archives, Volume 18" (CSO CD04, 2-CD set coupled with works by Strauss, Gershwin, Beethoven, and Berlioz)
[Movement iii only] Keith Lockhart / Boston Pops Orchestra / "American Visions" (RCA 68786)
Kurt Masur / New York Philharmonic Orchestra / "The New York Philharmonic: An American Celebration" (NY Philharmonic Special Editions, 10 CD box set)