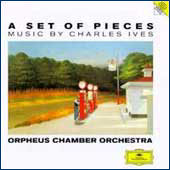 Orpheus Chamber Orchestra (DG 2GH 439869, coupled Orchestral Set No. 1, Set Theatre Orchestra, and Set No. 1 for Small Orchestra)
Ives scored the Third Symphony for chamber orchestra, and the Orpheus CO play it gloriously. You immediately notice that this orchestra sounds very different than Bernstein's New York Philharmonic. The Orpheus CO sounds more lustrous and intimate. Ives derived most of the Third Symphony from organ compositions that he'd composed previously. He played these original works as organist in NYC's Central Presbyterian Church. It's easy to hear that in this recording; the organ tones come across beautifully. In general, the Orpheus CO displays more textural nuance than Bernstein's NYPO. The Orpheus CO's reading also benefits from well-recorded sound--especially compared to Bernstein's 1960's-vintage recording. The Third Symphony is the strongest works on this particular disc, but the Orpheus CO's "Unanswered Question" is also haunting, as good as any out there.
Now for the bad news: The other works on this disc are duds. Their Three Places in New England never catches fire. The other "sets" aren't much better. You'll need to turn elsewhere for good recordings of these works. For some reason, in these works the Orpheus CO comes across as timid, as if the players aren't willing to let loose and be rowdy. In short, I find these works too "nice," nowhere near what (I think!) Ives intended. But I'd rather not end on a sour note. The Orpheus CO's recordings of Third Symphony and "The Unanswered Question" are outstanding! This disc receives my highest recommendation--for these works!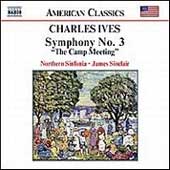 James Sinclair / Northern Sinfonia (Naxos 8.559087, coupled with "Washington's Birthday" from The Holidays Symphony, "The Unanswered Question," "Central Park in the Dark," "Country Band" March, and Overture and March "1776")
This is an excellent disc. Sinclair's interpretation of the Third Symphony is incisive and insightful. It's also a bit on the cool side. His reading is less fervent than the Orpheus Chamber Orchestra's reading, and that's why I marginally prefer the DG account. (The Naxos recording is somewhat cool as well.) But I'm splitting hairs. Sinclair brings out so much detail and nuance that other conductors pass right by. This is one of the best recordings that this work has ever received.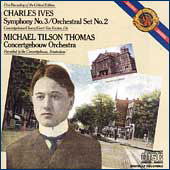 Michael Tilson Thomas / Concertgebouw Orchestra (Available in two different couplings: CBS Masterworks MK 37823, coupled with Orchestral Set No. 2, or Sony Classical SK 46440, coupled with Symphony No. 2)
Here's another outstanding Ives recording from Michael Tilson Thomas. While the luminous recording by the Orpheus Chamber Orchestra is probably my top choice, Sinclair, MTT, and Bernstein are all terrific. If you want to investigate Tilson Thomas' recording, go for the version that couples the Third with the Second Orchestral Set. The latter work receives a staggering performance. Like his reading of the Holidays Symphony, MTT's Orchestral Set No. 2 is a revelation!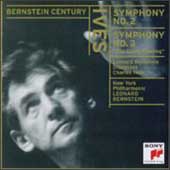 Leonard Bernstein / New York Philharmonic Orchestra (Sony Classical SMK 60202, coupled with Symphony No. 2 and mini-lecture on Ives)
Bernstein's recording is deeply reverential and completely idiomatic. It just seems to be entirely characteristic of Bernstein at his best. Obviously, since this was recorded in the 60's Bernstein doesn't have access to the "critical edition" of the score, and the sound leaves a bit to be desired. Also, Lenny occasionally lingers to "smell the roses." (His timings are much longer than any other conductor's. I think that others benefit from a snappier pace--especially in the first and second movements.) But these are minor quibbles. This is great music! Another positive: Lenny's reading of the Second Symphony is the coupling, and it's a classic readings of that work. This CD also includes a thirteen-minute mini-lecture on Ives by Leonard Bernstein. It's fascinating--even when I occasionally find myself thinking that Bernstein's missing something. But I'm quibbling again. It's a lecture. Who cares? Listen to the music! Now that's advocacy!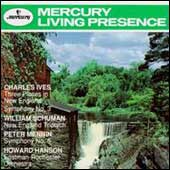 Howard Hanson / Eastman-Rochester Orchestra (Mercury Living Presence 2MM 432755, coupled with Orchestral Set No. 1, Three Places in New England and works by Schuman and Mennin)
This classic recording of the Third Symphony introduced many people to Ives' music for the first time. It's still a very solid reading. But I prefer Sinclair and MTT for their interpretive insights, the Orpheus Chamber Orchestra for its lustrous, fervent orchestral sound, and Lenny for his boisterous energy. But there's nothing wrong here. Pick this one up if you're looking for these particular couplings. (The Schuman is particularly interesting.)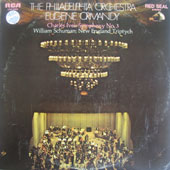 Eugene Ormandy / Philadelphia Orchestra (RCA LSC-3060, coupled with William Schuman's "New England Triptych," out of print LP; CD available in Japan coupled with Symphony No. 2)
Like many of Ormandy's Ives recordings, this LP does a fine job of capturing the genial, folksy qualities in this music, even if it glosses over some of its more profound aspects. I still love Ormandy's Three Places in New England (both versions: Columbia/Sony and RCA), and his Holidays Symphony is sublime. But this recording doesn't pack the wallop that those do. This is good supplemental version of the Third, but it's not a top choice.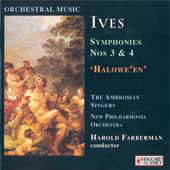 Harold Farberman / New Philharmonia Orchestra (Vanguard Classics 08 6154 71, coupled with Symphony No. 4 and "Hallowe'en", out of print)
Farberman's reading is solid, if not especially distinguished. The New Philharmonia produce a grand sound--even if the pacing is occasionally a bit four-square. Several other interpreters have produced more compelling readings of this work. (And there's no bells at the end! That's no good! The bells are essential!)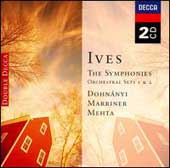 Neville Marriner / Academy of St. Martin in the Fields (Decca Double 4667452, coupled with Symphonies Nos. 1, 2, & 4 and Orchestral Set No. 1 & Orchestral Set No. 2, various other conductors and orchestras)
Marriner's reading has nothing wrong with it, but something is missing. The orchestra produces a refined, polished sound that is very beautiful, but it doesn't capture the hushed intensity found in the best readings. To my ears, Marriner also doesn't negotiate some of the tempo changes particularly idiomatically, so the performance doesn't quite gel. One last quibble: The reading lacks a sense of vitality--even jauntiness--that you hear in the best recordings.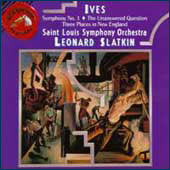 Leonard Slatkin / St. Louis Symphony Orchestra (RCA Victor Red Seal 09026-6122-2, coupled with Orchestral Set No. 1, Three Places in New England and other orchestral works, out of print)
This has none of Bernstein's vitality and none of the Orpheus CO's textural clarity and beauty. I'm not convinced by Slatkin one bit. It's just dull. The irritating, recessed sound doesn't make it any easier for me to recommend this disc. Others really like this recording, so you may want to give it a listen anyway. In fact, I've seen books that recommend this as an introduction to Ives! Frankly, that mystifies me. But who can explain the mystery of taste?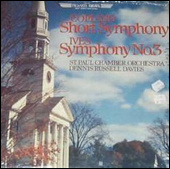 Dennis Russell Davies / St. Paul Chamber Orchestra (Pro Arte CDD 149, coupled with music by Aaron Copland, out of print)
Review coming soon.
Other Recordings
Other recordings of this work include:
Richard Bales / National Gallery Orchestra, Washington, D.C. (Radio Station WCFM, LP-1, out of print LP) [premiere recording]
Reginald Stewart / Baltimore Little Symphony (Vanguard VRS-468, out of print LP, coupled with Richard Donovan's "Suite for String Orchestra and Oboe")