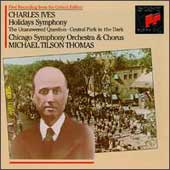 Michael Tilson Thomas / Chicago Symphony Orchestra & Chorus (Sony Classical MK 42381, coupled with "Central Park in the Dark" and "The Unanswered Question")
This is a great disc. It's one of my very favorite recordings by anyone: real desert island music. Oddly enough, it took me a while to "hear" this music. This was the first recording of this work that I'd ever heard. It didn't have the immediate impact that Three Places in New England or the Fourth Symphony had on me. But, if you listen closely (and maybe give it a few hearings), you'll find that this is powerful, nearly overwhelming music. Throughout, Tilson Thomas generates a tremendous sense of mystery and atmosphere. The CSO plays wonderfully, sounding completely at home in Ives' (sometimes) unorthodox idiom. From start to finish, there are no weak spots. Last of all, Tilson Thomas' reading provides a superb argument for treating this work as a symphony, rather than a piecemeal collection of short works. Listen from start to finish. When the chorus enters near the end of the final movement, "Thanksgiving and Forefather's Day," it will send chills down your spine. The transcendent exultation is even more powerful in the context of the work as a whole. In fact, Ives' use of the chorus reminds me of nothing more than the "Ode to Joy" that concludes Beethoven's Ninth.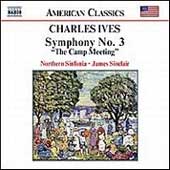 ["Washington's Birthday" only] James Sinclair / Northern Sinfonia (Naxos 8.559087, coupled with Symphony No. 3, "The Unanswered Question," "Central Park in the Dark," "Country Band" March, and Overture and March "1776")
The good news first: This is a superb recording of "Washington's Birthday." The interpretation is incredibly atmospheric, and the icy, desolate cold of a New England winter comes across beautifully. To my ears, this even manages to surpass Tilson Thomas' landmark recording of the same work. It's that good. The bad news is that we'll have to wait to hear Sinclair's version of the other three movements of the "Holidays" because this disc just contains the "Washington's Birthday" movement. Of course, Ives remarked that you could play them own their own or as a "symphony," so there's no foul. But I definitely prefer to hear them in the context of of the other three works. I suppose I should stop grousing. If you're a fan, you want to hear this one. It's something special.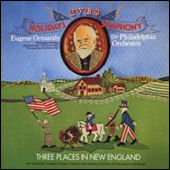 Eugene Ormandy / Philadelphia Orchestra & Temple University Concert Choir (RCA ARL-1249, out of print LP; CD available in Japan coupled with Orchestral Set No. 1: Three Places in New England)
Until recently, I didn't know that Ormandy had recorded the Holidays Symphony. (I understand that the CD is now available--but only in Japan.) My reaction when I first heard the LP: "Wow! What a wonderful record!" It may lack some of MTT's mystery and subtlety, but Ormandy makes up for those shortcomings with a virtuosic sense of Ivesian exuberance and vitality. And the Phildelphia Orchestra sounds glorious. Ormandy and the Philadelphians sound a bit more traditional than Tilson Thomas, and some of the dissonant elements that MTT features are left in background. But Ormandy's reading of the Holidays is very similar to his recordings of Three Places in New England. None represents the ultimate in subtlety, but they are very dramatic, stirring, and covincing. For example, "Decoration Day" is beautifully drawn. It's tender and elegaic as the people remember the veterans, and then explosive and raucous as the townspeople march back to town. But the high point of the recording is the final movement, "Thanksgiving and Forefathers' Day." It's immensely powerful, and stunning in its intensity. When the chorus enters near the climax of the work, they match the orchestra's ecstatic exultation. Tremendous!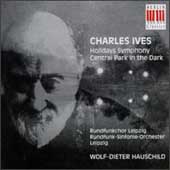 Wolf-Dieter Hauschild / Leipzig Radio Symphony Orchestra & Leipzig Radio Choir (Berlin Classics 9008, coupled with "Central Park in the Dark")
When I listened to Hauschild's recording of the Holidays Symphony for the first time, I didn't have especially high expectations. But I've got to say that I was dead wrong; this recording knocked me flat! At first, I thought Hauschild's reading might be too tentative, focusing on the trees but losing the forest. In general, his tempos seemed to be on the slow side. But, as the performance progressed, I grew more and more wrapped up in it. Hauschild isn't as easy-going and natural sounding as Ormandy. However, he illuminates all sorts of layers and detail that I've never heard so distinctly--without at all being cold. When "Thanksgiving and Forefathers' Day" rolled round (which for me is the real yard-stick of a great performance of this work), I felt that wonderful Ivesian parting of the heavens, that great leap upward! It actually choked me up when the chorus launches at the end.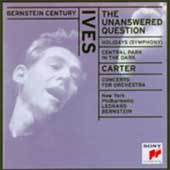 Leonard Bernstein / New York Philharmonic Orchestra & the Camerata Singers (Sony Classical SMK 60203, coupled with "Central Park in the Dark" and "The Unanswered Question" and Carter's Concerto for Orchestra)
I don't think you can go wrong with Lenny's Ives. That said, Bernstein's reading of the Holidays Symphony lacks the cumulative impact of MTT's and Ormandy's readings--which is not surprising as Bernstein recorded each movement separately over a period of five years (1963-68). One other observation: Bernstein takes the work a bit more slowly than his protégé, and I find MTT's pacing more effective. For example, Lenny's reading of "Washington's Birthday" is a full minute longer than Tilson Thomas', and the slackening pace is especially apparent after the "Barn Dance" sequence. But this is a very minor consideration, and you may find Lenny's stately pace preferable. This is a fine recording, but it doesn't get my highest recommendation because the competition is so good.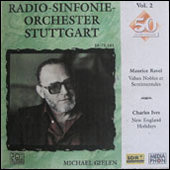 Michael Gielen / Stuttgart Radio Symphony Orchestra (Mediaphon JA-75.101, coupled with Ravel's Valses Nobles et Sentimentales, out of print )
This is a surprisingly strong, idiomatic performance of the Holidays Symphony. While this recording may not rank with MTT's and Ormandy's as one of the very best, Gielen and the Stuttgart RSO are especially compelling in the two middle movements, where Gielen's credentials as a modernist help him navigate Ives' multi-layered musical terrain. The performance, which was recorded live in 1973, was issued on the Mediaphon label to celebrate the fiftieth anniversary of the Stuttgart RSO. (You may have difficulty finding the CD, since it was a limited-edition release issued only in Europe.)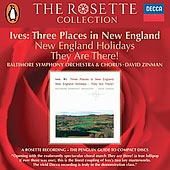 David Zinman / Baltimore Symphony Orchestra & Chorus (Argo 444 860-2, coupled with Orchestral Set No. 1, Three Places in New England and "They Are There!" )
The authors of the highly-respected Penguin Guide awarded this disc a coveted "rosette," so I was anxious to hear it. I'm sorry to say that I was very disappointed when I got around to listening. Zinman emphasizes the works' atmospheric, "impressionist" elements. But I think he does so to the detriment of the work as whole. Ives' music should be rugged--if not ragged--at times, and Zinman seems intent on glossing over these aspects of the music. As a result, the work sounds un-idiomatic to me. Worse than that, it comes off as dull. There's little impetus or forward momentum. The work seems curiously static. You can apply the same description to Zinman's reading of Three Places in New England. Obviously, others critics disagree with me, so you may want to listen for yourself.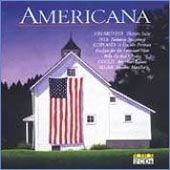 Donald Johanos / Dallas Symphony Orchestra & the Southern Methodist University Choir (Vox CDX 5182, coupled with works by Copland, Siegmeister, Gould, and Sousa. Also formerly available on Analogue Productions APCD004, coupled with Four Dance Episodes from Rodeo and Fanfare for the Common Man by Copland; and Vox 5035, coupled with works by Copland and Rachmaninov)
Johanos and the Dallas SO sound pallid and tentative compared to the best recordings on this list. Details are glossed over; there's little sense of kaleidoscopic vitality, which is so essential for this work. The Dallas SO also lacks the firepower and panache found on the best recordings. The Vox recording is not especially good. The Copland works fare better. They feature an extremely wide dynamic range. The orchestra and conductor also sound much more comfortable in this repertoire.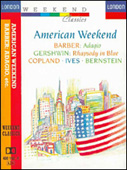 ["Decoration Day" only] Zubin Mehta / Los Angeles Philharmonic Orchestra (London cassette 430 142-4, coupled with Ives' "Variations on America" [orchestrated by Schuman], and other works by Copland, Barber, Gershwin, and Bernstein, out of print)
Mehta's reading of "Decoration Day" is lively and atmospheric, even if it lacks the surrounding movements to give it context. If you can find it, this collection is also worth picking up for Mehta's excellent performance of "Variations on America" as orchestrated by William Schuman.
Other recordings of Ives' Holidays Symphony include:
Nicolas Slonimsky / Pan American Chamber Orchestra / "Barn Dance" section from "Washington's Birthday" (Symposium 1258, coupled with "In the Night" and works by Roussel, Bruckner, Lothar, Egk, and Vaughan Williams) [Slonimsky's 1934 recordings for Henry Cowell's New Music Quarterly Recordings were the first commercially available recordings of Ives' music.]
William Strickland / Tokyo Imperial Philharmonic (i); Finnish National Radio Orchestra (ii); Göteborg Symphony Orchestra (iii); Iceland Symphony Orchestra and State Radio Choir (iv) (Composers Recordings Inc. CRI-190-SD) [premiere recording]
["Decoration Day" only] Robert Whitney / The Louisville Orchestra (LOU 621)