Ives noted that the "Concord" was a work that never seemed finished; it was a perpetual work in motion, a continual improvisation: "I don't know as I shall ever write [my improvisations] out, as it may take away the daily pleasure of playing this music and seeing it grow and feeling that it is not finished...I may always have the pleasure of not finishing it..."
As Ives implies, the sonata defies any single interpretation. Many pianists have something unique and interesting to say about this elusive, protean work. And, as a fellow Ives fan on our discussion board recently pointed out, the "Concord" has been recorded an enormous number of times. Well over thirty pianists have released commercial recordings since Kirkpatrick's premiere was issued back in 1948. (Is it the most frequently recorded modern piano work?) In 2004 alone, three new versions were released.
For a direct comparison of timings of recordings of the "Concord" Sonata recordings reviewed on this site, click here.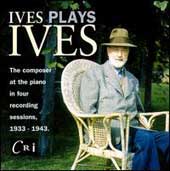 Charles Ives, piano ("The Alcotts" movement complete; improvisations and excerpts from the "Emerson" and "Hawthorne" movements) / "Ives Plays Ives" (CRI CD 810) [Originally, these recordings were issued (in part) on Columbia M4 32504, "Charles Ives: The 100th Anniversary."]
This disc collects the complete extant recordings that Charles Ives ever made of himself playing the piano. And any release that features the Man himself has to appear at the top of the list--even if the recordings are largely fragmentary and the sound quality ranges from pretty bad to horrible. (The recordings were made from 1933 to 1943.) Thankfully, the longest work on the disc is a complete take of "The Alcotts" from the "Concord" Sonata. It's a haunting performance that reaches out and grabs you. And there are a few other examples of Ives' breath-taking artistry at the piano, despite the sonic limitations of the recordings. When I was first digging into the "Concord," these recordings gave me a foothold on the music. I listened to them again and again. Afterwards, other pianists' versions made a lot more sense. Is this the Rosetta stone, the key that unlocks the "Concord"? It was for me.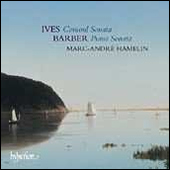 Marc-Andre Hamelin (Hyperion CDA67469, coupled with Barber's Piano Sonata, Op. 26)
With this release Marc-André Hamelin joins John Kirkpatrick as the only pianists to have recorded the "Concord Sonata" two times. So how does this recording compare with his earlier one for New World? The overall tone of the Hyperion recording is much more inward and reflective, but no less intense. Whereas Hamelin's first recording emphasized the trailblazing aspects of the work--especially in the "Emerson" and "Hawthorne" movements, this one seems more weighted toward the poetry of "The Alcotts" and "Thoreau." But this isn't easy, light-hearted lyricism. Rather, the effect is one of a pianist who is plumbing the depths of the work. There's an enormous stillness here, a profound, dark-hued quiet. It's a tribute to Hamelin's long involvement with this music that he can make two recordings of this work that offer such distinct interpretations and still have both of them be so entirely convincing. (And this version includes a flute in the "Thoreau" movement.)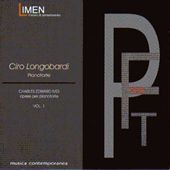 Ciro Longobardi (Limen Classic & Contemporary CDE06-C007, available in Italy, coupled with the Three-Page Sonata, Waltz-Rondo, and Varied Air and Variations)
Longobardi's recording of the "Concord" is powerful, dynamic, and (most of all) dramatic--a "hang-on-by-the-seat-of-your-pants" interpretation. If Cecil Taylor were to play Ives, I think he might sound something like Longobardi. Many pianists capture the improvisatory qualities of the "Concord" in its more meditative moments, but Longobardi finds that same spontaneous, creation-in-the-moment quality throughout, even when he is pounding away on the keyboard, kicking up a storm. I don't think I've ever heard this aspect of the music played so convincingly. Hamelin's first recording is equally massive, equally attuned to rhythm. But Longobardi's is "jazzier"--as in contemporary jazz, even avant-garde jazz. And it still sounds very idiomatic, very "Ivesian" to me. This recording is right up there with the very best of them. And the other short works on the disc are fabulous too. I should note that there's no flute (or viola) here. But never mind. This is essential listening.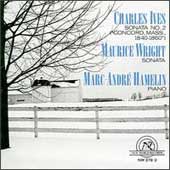 Marc-Andre Hamelin (New World NW 80378, coupled with Wright, Sonata for Piano)
Hamelin made his first recording of the "Concord" for New World Records in 1988. It's a staggering performance. In his writings, Ives imagines Emerson as someone who is so "intensely on the lookout for the trail of his star that he has no time to stop and retrace his footprints." On the CD, Hamelin not only looks up at the sky, he launches into the stratosphere. It's a performance that makes one think of space travel: planets, meteors, stars. All go coursing by in a flash. Hamelin has staggering technique, and at times it is breathtaking. But he brings more than just flash to the performance. It is deeply felt, and Hamelin seems completely at home in Ives' idiom. Listen to the closing moments of the sonata. It's breath-taking music and pianism. A minor complaint: The recording dispenses with the flute in the fourth movement. (No viola in the second either.) Regardless, this is another exceptional performance from Hamelin and another essential purchase for any serious Ives fan.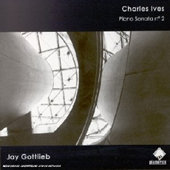 Jay Gottlieb (Pianovox PIA 503-2)
This is a "Concord" that ebbs and flows like the tides. Gottlieb's playing is free-flowing and spontaneous. In the "Emerson" movement, Gottlieb's interpretation is Romantic, dream-like, even lush, emphasizing the music's meditative qualities rather than its more heroic aspects. The "Hawthorne" music is boisterous and rhythmic, but Gottlieb again draws out quiet, grand sonorities between the malestroms. The third and fourth movements are equally impressive. If Kalish's "Concord" appeals to you, then you will like this one too. [Both recordings seem to come out of the same "tradition" of more ruminative, gentle recordings of this work, with Longobardi and Hamelin (New World) occupying the other, "basher" end of the spectrum. You might say that pianists like Kontarsky, Szidon, and Kirkpatrick occupy the middle ground.] However, I must say this: Even though Gottlieb and Kalish have similar interpretive approaches, Gottlieb's recording impresses me far more.
I wasn't familiar with Gottlieb before hearing this disc. He is an American who lives in Paris, and he has studied under Aloy Kontarsky (whose excellent--and very different--version of the "Concord" is reviewed below.) Gottlieb's "Concord" appears on the French label Pianovox. Some may have some difficulty tracking it down. (Unless you're French, that is.) If you want to hear it--and I strongly recommend that you do--try a French online retailer. This is one of the finest versions of Ives' great masterpiece. I recommend it wholeheartedly.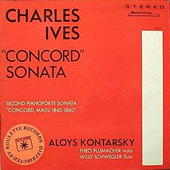 Aloys Kontarsky (Mainstream MS/5013, out of print LP)
This superior version of the "Concord" has the briefest overall timings of any recording of the work that I've heard. Even so, it doesn't sound one bit rushed. It is an intense, tightly-wound performance, free of sentimentality. Kontarsky dashes off rapid-fire runs with effortless ease. And because of this effortlessness, one might say that Kontarsky's recording comes off as less grand and perhaps less ruminative than others. In this regard, it's similar to Kirkpatrick's classic Columbia recordings. Both have a sort of no-nonsense classicism; both are "pianistic." (Despite the comparison, I find Kontarsky's recording to be much more compelling than Kirkpatrick's.) In any case, this is a wholly satisfying and compelling performance by any measure, and it's well worth seeking out. (It also includes both the optional viola and flute parts.) Unfortunately, this LP has never been issued on compact disc, so you'll have to track down some old vinyl if you'd like to hear it.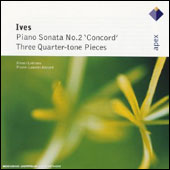 Alexei Lubimov (Warner Apex 0927495152, coupled with Ives' "Three Quarter Tone Pieces")
This is another excellent recording of the "Concord." The first movement is poetic, searching, and mysterious. The second movement is very clearly presented, and much slower than many other recordings. Lubimov does seem to sacrifice some of the more phastasmal qualities to achieve such transparency. But it's certainly an interesting alternative way to interpret the work. The third movement, "The Alcotts," is very dramatic, even Beethovenian. It could be more poetic and gentle. The final movement is portentious and foreboding. The flute interlude is beautifully performed. This recording is not as "American-sounding" as some others, but Lubimov's reading is convincing nonetheless.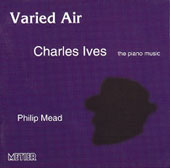 Philip Mead / "Varied Air: Charles Ives, The Piano Music" [Metier MSV CD92037 (a+b), coupled with Ives' Piano Sonata No. 1; The Three Page Sonata; studies and other piano works by Ives; available in the U.K.]
Mead's version of the "Emerson" movement lacks Hamelin's and Longobardi's lightning bolt-like power, but he still manages to be both poetic and impetuous. Mead's performance is even more convincing in the second, "Hawthorne," movement. He does a good job of capturing the crashing, cacophonous rowdiness at the heart of this music. Mead evokes the feeling of an amusement park ride that's both hypnotically scary and exciting; he makes Ives' description of the piece as "phantasmal" seem entirely appropriate. After the wild ride of the Hawthorne, the third seems appropriately traditional without ever being cloying or sentimental. In the fourth movement, Mead is especially adept at evoking the finer, poetic elements in this surging, kaleidoscopic music. My only complaint about this recording of the "Concord" is the recording itself. The music is substantially marred by murky, distant recorded sound. A pity since this is an otherwise excellent release.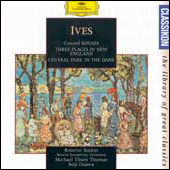 Roberto Szidon (DG Classikon 4394802, coupled with "Three Places in New England" conducted by Michael Tilson Thomas and "Central Park in the Dark" conducted by Ozawa)
I like Szidon's performance very much. It's full of drama, even if he can't quite muster the thunderous technique of someone like Hamelin. (But then again, not many can.) In terms of interpretation, you might call Szidon's reading Apollonian: it's very clear, balanced, and unself-conscious. In the first movement, his reading perhaps lacks that last ounce of mystery and transcendence that (to my ears) is at the heart of Ives' music. But the third and fourth movements are exquisitely rendered--especially the "Thoreau"--and the cumulative power of this recording makes a strong impression. [It also includes both the optional viola and flute.]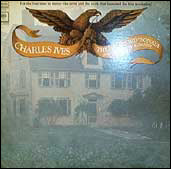 John Kirkpatrick (Columbia MS 7192, out of print LP)
This is a fine recording by the pioneering Ives performer and scholar. This is actually the second recording of the "Concord" that Kirkpatrick made. His first recording of the "Concord," the work's premiere on disc, was made in 1945, predating stereo sound by ten years or so. (I have never heard it.) This second recording was made in the 1968 in stereo. It has never been reissued on compact disc. If you stumble across a copy of the LP, it's worth picking up.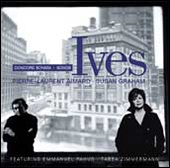 Pierre-Laurent Aimard (Warner Classics 2564 60297-2, coupled with songs by Susan Graham, mezzo-soprano and Aimard)
More than any other recording I've heard (and as the photograph on the cover of this disc implies), Aimard's performance of the "Concord" emphasizes the modern aspects of this work, rather than the Romantic ones. More specifically, the interpretation also seems to place Ives' work in the context of European modernism. (For example, in the Hawthorne movement, Aimard reveals a Debussian quality in the work that I'd never heard so clearly before.) Aimard's technique is stunning, and it also contributes to this very unique interpretation. For example, this a very slow reading (but not so slow as Ramadori). However, the tension rarely flags. On the contrary, at it's best, Aimard's "Concord" has a wondrous hold-your-breath quality.
Nevertheless, to my ears, this is not a performance of great feeling. Aimard's reading de-emphasizes the music's warmth, impetuosity, and color. Instead, this interpretation has a black-and-white quality, and there's an strong sense that Aimard is unwilling to let the music loose. Everything is immensely controlled. Sometimes, the rhythm seems four-square when it should be jumping. Lastly, and most importantly, it just doesn't sound personal enough. It doesn't sound like Ives--or least my conception of Ives, which, admittedly, is a point of view that sees Ives as a Romantic at heart. Of course, like all great art, the "Concord Sonata" is a work that defies any single interpretation. And Aimard has brought something new to the table here. Another thought: my assessment of this disc is not a majority point of view. Quite the opposite. The disc has been praised to the skies everywhere. If you're an Ives enthusiast, you need to check it out. Perhaps your conclusion will be different than mine.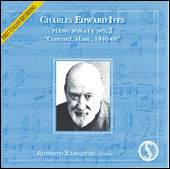 Roberto Ramadori (Symposion 1SCL0602)
More than other masterworks from the classical piano repertoire, Ives' "Concord" Sonata requires performers to put the stamp of their own personality on the work. Ives wants the pianist to blur the line between performance and composition, making the performer an essential element in the process of composition itself. Like jazz, the "Concord" should always seem at least partially improvised--even if, as we listen, we know that this couldn't have been written by anyone other Charles Ives. In this light, Roberto Ramadori's reading of the "Concord" is a compelling, very personal interpretation of the work. It's idiosyncratic in the best sense of the word. Listening, one immediately notes the extremely deliberate tempos. Consider the first movement, "Emerson." Most pianist complete it in the neighborhood of 15 or 16 minutes. Ramadori's reading clocks in at an amazing 22 minutes! (To my knowledge, no other pianist has even broken the 20 minute mark.) And the other movements are equally slow. It's as if Ramadori is determined to linger in every nook and cranny of the music. But timings don't tell the whole story. In spite of the languid tempos, the work doesn't fall apart or lose direction. Ramadori's approach does sacrifice some of the work's headlong drama. But his reading has a "thinking aloud," ruminative quality that I find very appealing. In short, this may be the most unusual "Concord" you'll ever hear. While it may not be a mainstream interpretation (if such a thing could be said to exist), it surely is an interesting one. And that, by Ives' standards, is a good reason to give this a listen.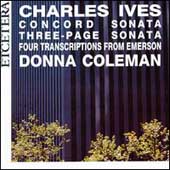 Donna Coleman (EtCetera KTC 1079) This recording includes:
Piano Sonata No. 2, "Concord"
The first movement is presented in a slowish tempo (clocking in at about 18.5 minutes) and the deliberate pacing is typical of Coleman's performance in general. This is not the most impetuous or massive of interpretations, but it is a reading that's often full of dark, meditative poetry. In fact, there's a nocturnal quality that runs throughout Coleman's performance. Rather than four disparate movements, it seems as if she offers one long elaboration on a single overriding mood. This dark-toned quality can be very appealing (and it helps that the piano's sound is beautifully recorded), but some may prefer a performance that offers more drama and more contrast between each of the four movements.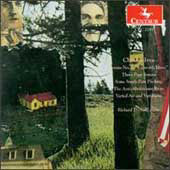 Richard Trythall (Centaur CRC 2285, coupled with other works for piano by Ives)
This is solid recording of the "Concord." The "Emerson" movement is especially spontaneous sounding. But Trythall's reading lacks the intensity and power you'll find in the best versions.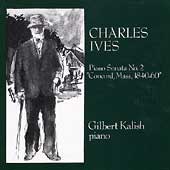 Gilbert Kalish (Nonesuch AW 71337)
This reading is very good, and many long-time Ives' listeners regard it very highly. But for me it lacks a sense of dynamism and form that other artists find in the work. Since this is a very gentle reading, the third movement, The Alcotts, is most convincingly done. But I would have liked more fire in some of the other movements. The short playing time also smarts.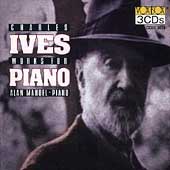 Alan Mandel (Vox Box CD3X 3034, coupled with Ives' piano music including Sonata No. 1)
Mandel's is a good performance, even if he doesn't have the insight of the others' listed above. You might want to buy this set for the other fine performances of Ives' other piano works. And since it's on the Vox label, it's very reasonably priced.
Other Recordings
Other recordings of Ives' Piano Sonata No. 2, "Concord, Mass., 1840-60" include:
Louise Bessette (CBC Les Disques SRC, MVCD 1041 coupled with excerpts from Messiaen's "Vingt Regards sur l'Enfant-Jésus")
Easley Blackwood (Cedille 90000 005, coupled with Copland's Piano Sonata)
Nina Deutsch (Vox Box CDX 5089, coupled with Piano Sonata No. 1 & other piano works by Ives)
Herbert Henck (Wergo 60080-50)
John Jensen (Music & Arts CD-630)
John Kirkpatrick (Columbia ML 4250, mono, out of print LP) [premiere recording]
Stephen Mayer (Naxos 8559127, also includes the "Varied Air and Variations," "The Celestial Railroad," and the "Emerson Improvisations")
Giorgio Morozzi (Materiali Sonori MASO 90122)
George Pappastavrou (Composers Recordings Inc. CRI 150, out of print LP)
Manfred Reinelt (Berlin Classics 0092112-BC)
Per Salo (Kontrapunkt 32046)
Robert Shannon (Bridge 9036, coupled with Harbison's Piano Sonata No. 1)
Daan Vandewalle (Rene Gailly CD 87078, coupled with other works for piano by Ives)