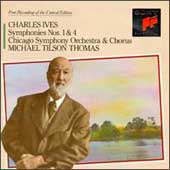 Michael Tilson Thomas / Chicago Symphony Orchestra & Chorus
(Sony Classical SK 44939, coupled with Symphony No. 1 and hymns)
Along with his recording of the Holidays Symphony, Tilson Thomas' reading of Ives' Fourth is surely one of the finest Ives recordings ever made. Tilson Thomas makes no effort to normalize Ives' music. This reading can sound jarringly extreme. Just listen to the crashing, almost hallucinatory second movement. Paradoxically, Tilson Thomas' willingness to express the music's rough edges does nothing to diminish the aspects of the work that place it squarely in the Western symphonic tradition. This recording of the Fourth sounds more familiar and more grand in the "classical" sense than any other I've heard. Tilson Thomas' reading captures the variety of Ives' musical vision, whether it's sternly traditional or wildly experimental, cozily familiar or remotely mysterious. The music revels in the contradictoriness of life, from comic japes and to cosmic contemplation. Just listen to MTT's take on Ives' visionary fourth movement, Finale: Very slowly; Largo maestoso. Here is Ives' greatest exultation, his bid for all-embracing unity that encompasses the whole of life. In my view, this particular movement is not only the culmination of this symphony; it is the culmination of Ives' entire musical achievement. This disc receives my highest recommendation.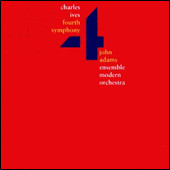 John Adams / Ensemble Modern Orchestra & Collegium Vocale Gent (Ensemble Modern Medien EMCD-001) Available online at http://www.ensemble-modern.com.
Adams' recording of the Fourth Symphony is superb. As far as I am concerned, Adams' and MTT's stand head and shoulders above all other commercially-available recordings. No others are nearly as convincing as these two. Unfortunately, the Adams' CD is only available via mail order from the Ensemble Modern web site. Moreover, it is a very brief disc, clocking in at less than 30 minutes. Plus, it's expensive. Is it worth the hassle and the cost to track it down? If you only need one recording, go for MTT's. That version is readily available, and it will suffice for most. But, if you're like me, and you're particularly captivated by this work, one of Ives' most exultant masterpieces, then you need to hear this disc. No one who hears the final transcendent moments of this symphony will ever forget it, and this performance does a great job of capturing it all on disc.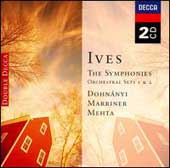 Christoph von Dohnányi / Cleveland Symphony Orchestra & Chorus
(Decca Double 4667452, coupled with Symphonies Nos. 1, 2, & 3 and Orchestral Set No. 1 & Orchestral Set No. 2, various conductors and orchestras)
Von Dohnányi and the Clevelanders present a compelling version of Ives' Fourth that is very different from either Tilson Thomas' or Stokowski's. Whereas those conductors emphasize the work's ecstatic, transcendental elements, von Dohnányi's approach is much more analytical. The reading emphasizes clarity and texture rather than mystery and transcendence. (This impression is also enhanced by fabulous recorded sound, which is vastly superior to any other recording of the Fourth.) I must admit that von Dohnányi's interpretation does seem to sacrifice some of the grandeur found in other readings, especially in the final movement. I don't love this reading like I love MTT's. But I do find it immensely enjoyable and instructive. There is a very lovely "unfolding" quality to this recording that is very powerful. I also hear details in this recording that don't register in other readings. In short, von Dohnányi present an entirely compelling reading of Ives' Fourth that differs significantly from the "mainstream" interpretation. It may not be as captivating as some others, but it is a compelling argument nonetheless. I strongly recommend it as a secondary reading of this immense work. The Fourth certainly defies any single interpretation.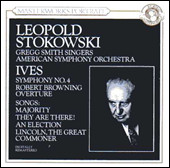 Leopold Stokowski / American Symphony Orchestra & Members of the Schola Cantorum of New York
(Sony MPK 46726, coupled with the Robert Browning Overture; also Columbia LP MS 6775, out of print)
This is the legendary premiere recording of the Fourth from 1965. Stoki's version still holds up well, and the recording is perhaps not as different from later "critical edition" readings as you might expect. On the down side, there is a sense that some of the edges are being smoothed off, and Stokowski doesn't generate nearly as much mystery as MTT in the all-important final movement. Still, this recording has its charms. Although the performance may occasionally sound a bit tentative, there's definitely a "first-time-out" excitement that comes shining through. Even though this recording is out of print, it shouldn't be too hard to find a used copy of the original LP. Columbia (pre-Sony) also released the recording on compact disc, although it is also out of print. This one is worth tracking down.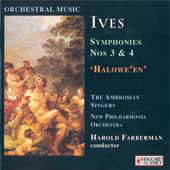 Harold Farberman / New Philharmonia Orchestra & The Ambrosia Singers
(Vanguard Classics 08 6154 71, coupled with Symphony No. 3 and Hallowe'en)
Farberman offers a solid reading of the Fourth. The symphony opens powerfully with a sharp dramatic thrust from the New Philharmonia double basses. (The sound recording is also very good.) The second movement unfolds very slowly. In fact, Farberman's take on the second movement is longer than any other except the glacial Karabtchevsky. Moving so slowly, Farberman loses some momentum, but he is able to linger over musical strands that other conductors gloss over. Farberman's third movement is the best of the four. I especially like how he integrates the organ tones with the strings. The fourth movement is a bit less focused than ideal, but it' still effective. This represents another acceptable alternative take on the Fourth if you'd like to supplement MTT's reading.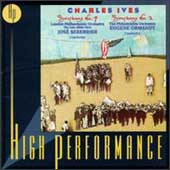 Jose Serebrier / London Philharmonic Orchestra & John Alldis Choir
(RCA Red Seal High Performance 63316, coupled with Symphony No. 2 conducted by Eugene Ormandy)
Serebrier assisted Stokowski in the world premiere recording of this work, and, as his liner notes make clear, he is passionate advocate of the Fourth. Like von Dohnányi, Serebrier is very attuned to the competing musical layers that run through the work. (I wonder if Serebrier's reading is a reaction to Stokowski's recording, where many of the details fell by the wayside. Or were they simply not noted in the early score?) Unfortunately, Serebrier's parts don't always add up to an effective whole. For example, in the final movement, Serebrier and the LSO don't "take flight" like they should. There's no sense of ecstacy or trancendence. The recording also misses an idiomatic touch. The LSO and John Alldis Choir occasionally sound stilted and self-conscious. Even if you'd like a more "analytical" reading, I'd turn to von Dohnányi on London / Decca.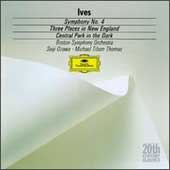 Seiji Ozawa / Boston Symphony Orchestra & Tanglewood Festival Chorus
(DG 423 243-2, coupled with "Central Park in the Dark" by Ozawa and Orchestral Set No. 1, Three Places in New England conducted by Michael Tilson Thomas)
Some critics panned Ozawa's Fourth. But it's worth hearing. Any work of art as protean as the Fourth Symphony certainly defies any single interpretation. (If you need incentive, this release is also coupled with an outstanding version of Three Places in New England.) But there are some shortcomings. In particular, Ozawa stumbles in the multi-layered second movement. He presents a much less coherent musical argument than others.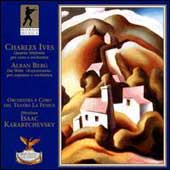 Isaac Karabtchevsky / Venice Teatro la Fenice Orchestra & Venice Teatro la Fenice Chorus
(Mondo Musica MFCH 10600, coupled with Berg's "Der Wein for Soprano and Orchestra")
Karabtchevsky's recording does not have much to recommend it. The interpretation's cardinal characteristic is its extremely slow tempos. Karabtchevsky is especially lethargic in the inner movements. The second movement is interminably long, clocking in at 15.54 (compared to MTT's 11.39), and the third movement is 10.16 (compared to MTT's 7.34). There is also a lack of body in the strings, and the orchestra sounds overmatched by the work. The interpretation just doesn't hold together. The recorded sound is also somewhat congested. It is recorded live, so you hear occasional coughs and other distractions. Unless other versions of this work have always struck you as unduly fast, feel free to steer clear of this recording. It never takes flight.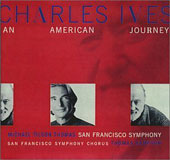 [Third movement only] Michael Tilson Thomas / The San Francisco Symphony, The San Francisco Symphony Chorus / "An American Journey" (RCA 09026-63703-2) This recording also includes:
"From the Steeples and the Mountains"
"The Things Our Fathers Loved" (Thomas Hampson, baritone)
"The Pond (Remembrance)" (choral arrangement)
"Memories" (Thomas Hampson, baritone)
"Charlie Rutladge" (Thomas Hampson, baritone)
"The Circus Band (choral arrangement)
Orchestral Set No. 1: "Three Places in New England" (third movement, "The Housatonic at Stockbridge," substitutes a choral arrangement based on the song)
"In Flanders Fields" (Thomas Hampson, baritone; orchestrated by David Del Tredici)
"They Are There!" (choral arrangement)
"Tom Sails Away" (Thomas Hampson, baritone)
Psalm 100
"Serenity" (Thomas Hampson, baritone; orchestrated by John Adams)
"General William Booth Enters Into Heaven" (Thomas Hampson, baritone; choral arrangement)
Tilson Thomas is an extraordinary interpreter of Ives' music, and, not surprisingly, this recording of third movement from Symphony No. 4 is very good. But the movement loses much of its power when it's removed from the context of the symphony as a whole. I'd turn to MTT's complete version of the work on Sony for a more complete picture of the Fourth. I wish MTT would have re-recorded the work complete, or--even better--recorded some other works which stand better on their own.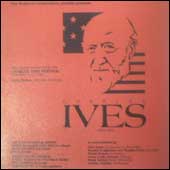 [Fourth Movement only] Gunther Schuller / The Conservatory Symphony Orchestra & Chorus ("Music from the Charles Ives Festival, November 8-11, 1983," New England Conservatory Series, NEC 122, out of print) This recording also includes:
Allegro from "Three Quarter-Tone Pieces"
"Washington's Birthday"
"The New River" [choral version]
"At the River" [choral version]
"Watchman" [choral version]
"They Are There" [choral version]
"Variations on America" [arranged for wind ensemble]
"A Yale-Princeton Football Game"
"The General Slocum"
"The Unanswered Question"
My comments about the MTT RCA disc also apply here. This is a solid, if not particularly distinguished recording of the fourth movement, but taken out of the context of the whole symphony, it loses much of it's indelible power. My recommendation: Listen to the whole work.
I am not aware of any other commercially available recordings of Ives' Fourth Symphony.