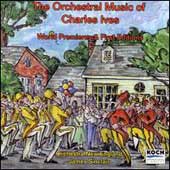 James Sinclair / Orchestra New England / "The Orchestral Music of Charles Ives" (Koch 3-7025-2, coupled with Four Ragtime Dances, Orchestral Set No. 1, and other short orchestral works)
You really can't go wrong with this recording. Sinclair's reading of the "Set for Theatre Orchestra" is on the same high level as the other works included on this disc. (His version of "Three Places in New England" is my very favorite reading of the work, bar none.) Most tellingly, Sinclair not only interprets each of the three movements masterfully--my favorite is the haunting final movement, "In the Night"--he also manages to convey a sense of this work as a whole, rather than as three arbitrarily assembled pieces. Why? I don't know! It may have something to do with the fact that Sinclair paces the middle movement MUCH faster than either of the other two recordings (3:38 versus 4:44 for Bernas and 4:23 for the Orpheus CO). He seems to exploit the variety between movements, emphasizing the slow-fast-slow construction of the work. Anyhow. It works! This is an outstanding release in every way.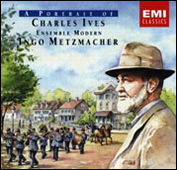 Ingo Metzmacher / Ensemble Modern / "A Portrait of Charles Ives" (EMI CDC7 54552-2, out-of-print)
This recording includes:
Conductor Ingo Metzmacher, who continues to offer superb performances of Ives' works, turns in a superb reading of the "Set for Theatre Orchestra." All three movements work beautifully, but the best of them is last one, "In the Night." It's a powerful evocation, and a tribute to Ives' abilities that the work manages to convey so much feeling in less than three minutes! This out-of-print CD is worth tracking down. All of the performances--not just the "Set for Theatre Orchestra"--are compelling.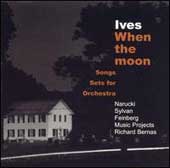 Richard Bernas / Music Projects/London / "When the Moon" (Decca 466 841-2, coupled with Sets for Small Orchestra and Songs)
This is another very fine version of the "Set for Theatre Orchestra"--even if it falls a bit short of Sinclair's reading. My only complaint: Bernas' reading of the middle movement, "In the Inn." It is very austere, even astringent. Of course, this is a viable interpretation, but it lacks Sinclair's rhythmic, ragtimey zest. I like Sinclair's rowdy reading better. And, like I said above, I think Sinclair's approach works better in the context of the work as a whole. Regardless, this is a very good recording. And the rest of the disc contains much more fantastic Ives music that you may have never heard. This one is definitely worth exploring.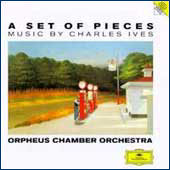 The Orpheus Chamber Orchestra (DG 2GH 439869, coupled with Symphony No. 3, Orchestral Set No. 1, and Set No. 1 for Small Orchestra)
If you've read my reviews of this orchestra's take on the "Three Places in New England" or the Set No. 1 for Small Orchestra, you're going to get the same story here: The OCO just don't have enough bite for my taste. They're too refined, too smooth for this music. Compared to these guys, Sinclair sounds much more rhythmically complex, much more idiomatically "American"; Bernas sounds much more modern and dissonant. You might want to look elsewhere first. Of course, you may LOVE it! Who knows?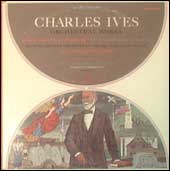 Harold Farberman / Royal Philharmonic Orchestra (Vanguard Cardinal Series VCS-10013, coupled with the Robert Browning Overture, "The Circus Band March" [arranged by H. Farberman], and "The Unanswered Question," out of print)
This is a fairly "straight," workman-like performance from Harold Farberman and Royal PO. The most compelling movement is "In the Night," but the whole work lacks the impact that Sinclair and Bernas find on their much more readily-available recordings. As far as I know, this Vanguard recording has never been issued on compact disc. Track it down if you're a completist; otherwise, don't bother looking for it.
Other Recordings
Other versions of this work include:
Nicolas Slonimsky / Pan American Chamber Orchestra / "In the Night" only (Symposium 1258, coupled with the "Barn Dance" section from "Washington's Birthday" and works by Roussel, Bruckner, Lothar, Egk, and Vaughan Williams) [Slonimsky's 1934 recordings for Henry Cowell's New Music Quarterly Recordings were the first commercially available recordings of Ives' music.]