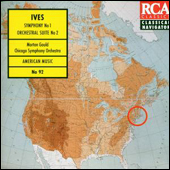 Morton Gould / Chicago Symphony Orchestra (RCA Navigator 09026-61402-2, coupled with Orchestral Set No. 2, "The Unanswered Question," and the Robert Browning Overture; available in the U.K.)
I know that this recording was the work's premiere, but I only discovered it recently. What an impressive performance! It bowled me over. Both Gould's interpretation and the playing of the CSO are first rate. The first movement is fresh-sounding, natural and youthful. (And the Chicago brass section's playing is fantastic, exuberant--especially in the climax of the first movement.) The second movement is wistful, but it doesn't linger--especially compared with Sinclair. The third movement is spritely, perfectly paced, and waltz-like. But the fourth movement is the most impressive part of this recording. Gould doesn't linger on the "big tunes." So, rather than sounding episodic, the work seems more coherent. Also, the recording has a wonderful "folksy" quality that I haven't heard elsewhere. It sounds more "American" than other recordings I've heard. Another note about the fourth movement: the woodwind section plays beautifully. (What a virtuoso orchestra!) In short, Gould's recording is like Kubelik's Mahler. You might find a more dramatic reading, but you won't find a more natural, convincing one. (The couplings are very fine too, but the First Symphony is the most impressive work on this disc.)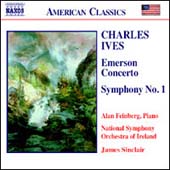 James Sinclair / National Symphony Orchestra of Ireland (Naxos 8559175, coupled with the Emerson Concerto)
This Naxos disc is another version that's self-recommending. Sinclair's reading is much more dramatic and urgent than Gould's--even though Sinclair's recording does sacrifice some of the effortlessness that Gould finds. This is a "big reading"--but it doesn't ever become excessively heavy, like MTT's sometimes does. (As someone else said of MTT's Sony recording, "Ives ain't Bruckner!") The second movement is especially wonderful. The tempos are very slow, and the music spins out a golden, Dvorak-like melancholy. This doesn't sound as American as Gould's reading, but it works. Another reason to pick up this disc: It includes the world premiere recording of David Porter's reconstruction/realization of Ives' "Emerson Concerto." If you're an Ives fan, you'll want to hear this disc.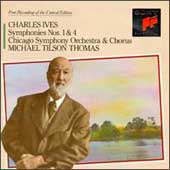 Michael Tilson Thomas / Chicago Symphony Orchestra (Sony Classical SK 44939, coupled with Symphony No. 4 and hymns)
MTT's reading of the First Symphony is a solid one. His tempos are fairly brisk, and the orchestra sounds less lushly "European" than Ormandy's Philadelphians. (No surprise there.) Since this work is coupled with a towering reading of Symphony No. 4, this disc is an easy recommendation. But I prefer Gould and Sinclair for the First Symphony.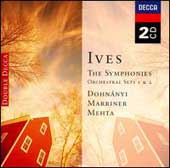 Zubin Mehta / Los Angeles Philharmonic Orchestra (Decca Double 4667452, coupled with Symphonies No. 2, 3, & 4 and Orchestral Set No. 1 & Orchestral Set No. 2, various other conductors and orchestras)
This is a wonderful recording of the First--marred by a cut in the final movement. (Argh!) Mehta's recording would receive an even higher recommendation if it weren't for this misstep. Mehta and LAPO bring a sparkle and verve to the First that neither Tilson Thomas nor Ormandy find. The couplings are also very good, though none of them rank as my first recommendation.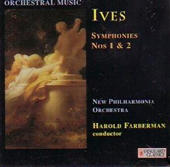 Harold Farberman / New Philharmonia Orchestra (Vanguard Classics 08 6153 71, coupled with Symphony No. 2, out of print)
Farberman conducts a very stirring reading of the First Symphony. Overall, the tone of the work is pleasantly fleet-footed, almost Mozartean, though the first movement does end with a powerful, urgent climax. The second movement is graceful, and it ends very tenderly. In the third movement, Farberman again emphasizes the music's lighter sonorities, and the effect is quite convincing. In the final movement, the music become jauntier and culminates with a grand finale. This is an excellent performance that's well worth tracking down. The recording of the Second Symphony that's included on the disc is fine also.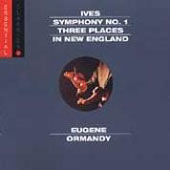 Eugene Ormandy / Philadelphia Orchestra (Sony Essential Classics SBK 89851, coupled with "Three Places in New England" and the Robert Browning Overture conducted by Leopold Stokowski)
Ormandy heavily taps the influence Ives felt from European composers like Brahms and Dvorak. The reading finds its peak in the first and second movements, which I find to be the strongest movements in the work in general. I also like the couplings very much, especially Ormandy's "Three Places."
Other Recordings
Selected other recordings of Ives' First Symphony include:
Neeme Järvi / Detroit Symphony Orchestra (Chandos 10031, coupled with Ives' Symphony No. 2; originally released as Chandos 9053, coupled with music by Samuel Barber)