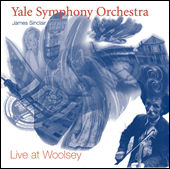 James Sinclair / Yale Symphony Orchestra / "Live at Woolsey" (No catalog info, out of print, coupled with Bernstein's "On the Town: Three Dances")
This is one of those recordings where every note just sounds right. Sinclair and the Yale SO completely inhabit Ives' sound world. Both Sinclair's interpretation and the orchestra's execution are nonpareil. The Second Symphony has never sounded so Ivesian, so wholly idiomatic. Never mind that this is a student orchestra. It's a performance that's as unforced and natural breathing--even as Sinclair and the orchestra reveal layers and musical strands than you've never heard in any other recording. (The 1995 recording uses the Ives Society Critical Edition of the score edited by Jonathan Elkus.) Like most great Ives recordings, this one does a superb job of resolving the work's more traditional symphonic aspects and the folksy, vernacular elements woven into Ives' composition. In short, this is a grand performance of grand music, unmissable for any Ives fan. (Sadly, this recording only saw limited release, and it's no longer available. Keep your eyes open for a used copy, and in the meantime hope for a reissue.)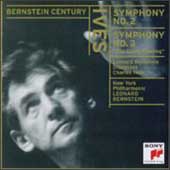 Leonard Bernstein / New York Philharmonic Orchestra (Sony Classical SMK 60202, coupled with Symphony No. 3 and a mini-lecture on Ives)
Lenny's recording of the Second is a famous one, based on his premiere performance on February 22, 1951. The national broadcast and subsequent recording helped Ives' music to reach a much larger audience than ever before. All historical importance aside, this is a tremendous recording. Ives' Second was one of Lenny's signature works, and he plays it to the hilt. Admittedly, Schermerhorn and the Nashville SO use Jonathan Elkus' new critical edition of the score. But I still love Bernstein's recording. For example, Lenny surpasses Schermerhorn by pacing the finale much more rapidly--and convincingly. The coupling is also superb. Lenny's reading of the Third Symphony is another of my top picks. Yes, the recording is old. And remember, Columbia originally made this recording, not RCA or Decca. Otherwise, the age of the recording might not be such an issue. But it doesn't matter. This is great music. If you're an Ives fan, you need to hear it.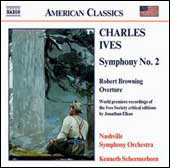 Kenneth Schermerhorn / Nashville Symphony Orchestra (Naxos 8559076, coupled with the Robert Browning Overture)
Schermerhorn's reading of the Symphony No. 2 with the Nashville SO is exceptional. Undoubtedly, this has a great deal to do with its use of the Ives Society Critical Edition of the score. But it's more than that. No, the Nashville SO can't quite pull off the sonorities of Lenny's NYPO or the interpretive insights of Sinclair and the Yale SO. But this is still a very fine performance. The coupling, Ives' Robert Browning Overture, is also excellent.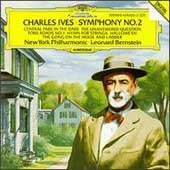 Leonard Bernstein / New York Philharmonic Orchestra (DG 2GH 429220, coupled with various orchestral works by Ives)
Even if it doesn't receive one of my top recommendations, you can't go wrong with Lenny's second recording. This reading sounds much heftier and much more lush than the first. If you like the symphonic standards from the nineteenth century romantic repertoire and you're looking for an easy entry point into Ives' world, this recording would be good place to start.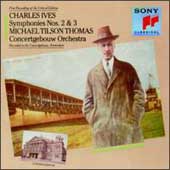 Michael Tilson Thomas / Concertgebouw Orchestra (Sony Classical SK 46440, coupled with Symphony No. 3)
Michael Tilson Thomas seems least at home in Ives most conventional orchestral works, the First and Second Symphonies. [His reading of the First Symphony on Sony Classical SK 44939 isn't spectacular (nor is the work), but the disc is essential because it is coupled with MTT's stellar performance of the Fourth Symphony.] This recording of the Second Symphony is a big-boned, solid performance. The Concertgebouw sounds as glorious as ever. But Tilson Thomas doesn't quite reach the extraordinarily high standard that he achieves in Ives' subsequent, less traditional works. Other conductors offer up performances of the Second that are more vital. You might think that we could point to the Dutch orchestra as the culprit for failing to sound idiomatically "American." But you'd be wrong. MTT's Concertgebouw recording of the Third Symphony is excellent. And their recording of the Second Orchestral Set is a searing performance that sounds wholly idiomatic. In fact, these works are coupled on another disc (CBS Masterworks MK 37823). You should certainly check that one out.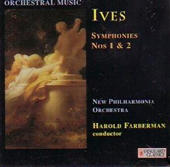 Harold Farberman / New Philharmonia Orchestra (Vanguard Classics 08 6153 71, coupled with Symphony No. 1, out of print)
In the opening of the first movement, the New Philharmonia Orchestra sounds glorious (especially the strings), and they give the music an almost Vaughan Williams-like grand sonority. Impressive. Like his reading of the First Symphony, Farberman again seems attuned to the flowing, graceful aspects of the work, rather than the rowdier aspects that conductors like Bernstein and Sinclair seem to emphasize. Even so, Farberman seems very much at home in Ives' idiom, and the climax of the symphony is real corker. (Remember, Farberman recorded far more of Ives' works than most other legendary conductors associated with Ives, like Bernstein and Stokowski.) In any case, this is a fine, convincing performance, even if it isn't the most "American-sounding" performance you'll ever hear. I prefer this compact disc over Farberman's other Vanguard Classics recording that features an excessively straight Symphony No. 3 & a somewhat better Symphony No. 4.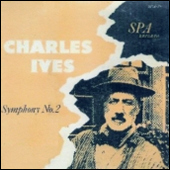 F. Charles Adler / Vienna Philharmonia Orchestra (SPA Records, SPA-39, out print LP)
Even though Leonard Bernstein conducted the premiere performance of this symphony (and subsequently made a famous recording of the work, which is discussed above), Charles Adler beat him to the punch on the first recording. This one was the premiere, issued in 1954 on SPA Records. It's a surprisingly strong reading. It may not be the most idiomatic of performances, but it's bracingly dramatic and Ives' debt to Brahms shines forth clearly. (Indeed, Ives had a bust of Brahms in his study.) A worthy first issue.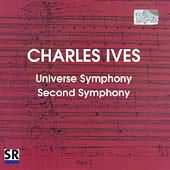 Saarbrücken Radio Symphony Orchestra / Michael Stern [Col Legno WWE1CD20074, coupled with the Universe Symphony (as realized by Larry Austin)]
I understand that conductor Michael Stern has performed and recorded the Porter reconstruction of the Emerson Concerto (though I don't think that it has been issued). This disc includes his readings of the Symphony No. 2 and the Universe Symphony in the Austin realization. (Apparently, Stern is a committed Ivesian.) His reading of the Second Symphony is very fine, and the Saarbrücken RSO plays beautifully, really digging in on the grand Romantic themes. This is a solid reading, even it doesn't quite match the idiomatic naturalness of Sinclair or the vitality of Bernstein.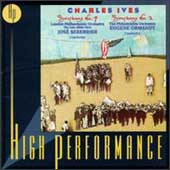 Eugene Ormandy / Philadelphia Orchestra (RCA Red Seal High Performance 63316, coupled with Symphony No. 4 conducted by Jose Serebrier)
A good, straightforward reading--if a bit bland compared to the others. The coupling is more interesting.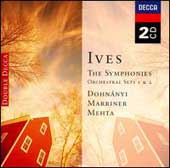 Zubin Mehta / Los Angeles Philharmonic Orchestra (Decca Double 4667452, coupled with Symphonies Nos. 1, 3, & 4 and Orchestral Set No. 1 & Orchestral Set No. 2, various other conductors and orchestras)
After Mehta's wonderful take on the First, he falls flat in the Second. You still will probably want to pick up this set, but this particular work is the weakest of the lot.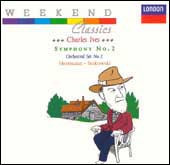 Bernard Herrmann / London Symphony Orchestra (London Weekend Classics 433 017-2, coupled with the Second Orchestra Set conducted by Stokowski, out of print)
An odd, and to my ears, not particularly effective performance. Herrmann, who was a great advocate of Ives, paces the work far too s-l-o-w-l-y. (Herrmann takes 47' to plod through the work. Bernstein zips along in 39'.) The saurian pace the drains the work of it's joyousness and jauntiness. It just doesn't sound Ivesian.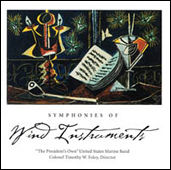 Colonel Timothy Foley / "The President's Own" United States Marine Band / "Symphonies of Wind Instruments" (USMB-CD-17, includes the Lento maestoso and Finale movements from Ives' Symphony No. 2, arranged for wind ensemble; coupled with works by Stravinsky, Rodrigo, Copland, and Rakowski)
This is diverting and fun, but not really essential. I think it would have been more interesting if they had included all of the symphony's movements. Also, you may have some difficulty finding this recording, since it is not available commercially. Only libraries and educational organizations can order the disc; for them it is free of charge.
Other Recordings
Other recordings of this work include:
Leonard Bernstein / New York Philharmonic Orchestra [recording of 1951 world premiere] / "Bernstein Live!" (NY Philharmonic Special Editions, 10 CD box set)
Neeme Järvi / Detroit Symphony Orchestra (Chandos 10031, coupled with Ives' Symphony No. 1; originally released as Chandos 9390, coupled with Creston's Symphony No. 2)
James Levine / Munich Philharmonic Orchestra (Oehms 507, coupled with Gershwin's Cuban Overture and John Harbison's Symphony No. 3)
Stephen Somary / Nüremberg Symphony Orchestra (Claves 509806, coupled with Barber's "Knoxville: Summer of 1915" and Henry Cowell's Symphonic Set for Orchestra)