The site contains two galleries of pictures related to Ives:
Picture Gallery No. 1 is on this page.
To advance to Picture Gallery No. 2, click here.
Click on the thumbnailed images below to view larger pictures.
Note:
All of the photographs on this web site are reproduced courtesy of Yale University, Irving S. Gilmore Library, unless stated otherwise.
Picture Gallery No. 1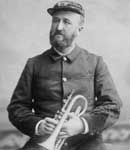 George Edward Ives, the father of Charles E. Ives.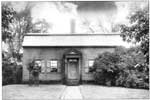 Charles Ives' birthplace in Danbury, Connecticut.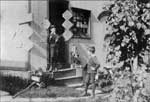 Young Charles Ives and his brother Moss playing store outside of their grandmother's house.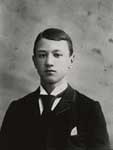 Ives circa 1889.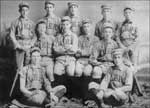 Ives with the Danbury Alerts baseball team. Ives is seated on the bench, far left. July 1890.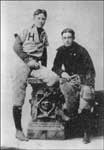 Ives with a teammate from the Hopkins Grammar School. Spring 1894.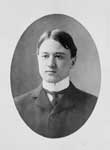 Ives' graduation picture from Yale University. 1898.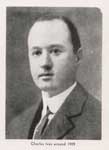 Ives circa 1909. Ives married Harmony Twichell in 1908.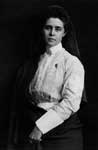 Harmony Twichell around the time that she married Ives.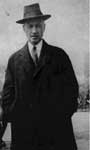 Ives in Battery Park, New York City, circa 1913. At this time, he is at the height of his composing powers.
Photo credit: Bill Joli