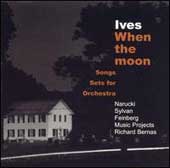 Richard Bernas / Music Projects/London / "When the Moon" [Includes Sets No. 1-3, 5 (complete) and Sets No. 6-7 (selections)] (Decca 466 841-2, coupled with "Set for Theatre Orchestra" and songs)
Ives regularly composed orchestral works, and then would arrange them as songs for voice and piano. In other cases, he composed songs that he later orchestrated for larger forces. This recording of short orchestral works and songs is a fascinating concept that is beautifully realized. The first half of the disc consists of very short orchestral works that Ives compiled into "Sets for Small Orchestra," as Ives called them. The second half of the disc includes art songs that correlate to the orchestral works. In some cases, the works originated as songs; in others, the works originated as orchestral pieces. But regardless of their origin, the recording clearly demonstrates that Ives was a "literary composer" (as conductor Richard Bernas describes him), and that literary texts regularly served as a catalyst for Ives' compositions--even when Ives originally conceived the music as a non-vocal work. All of this would be academic if the performances weren't any good. But I'm happy to report that they're excellent. Bernas and the Music Project/London seem to have a natural affinity with Ives's music. The orchestral works are vividly captured and come across as complete musical thoughts despite their brief length. (The longest orchestral work presented here is "Charlie Rutlage" and it clocks in at 2:28.) Ives' ability to express volumes in succinct form is realized most perfectly in a work dedicated to his father: Bernas' rendition of "The Pond/Remembrance" bowled me over. What's more amazing is that Ives manages to express a complete musical idea in only 45 haunting seconds! Soprano Susan Narucki, baritone Sanford Sylvan, and pianist Alan Feinberg also perform the songs very well. (For more information about their performance, click here.)
I'll also offer this suggestion: If you are not familiar with these works, listen to the songs before the orchestral versions. The words provide an interesting gateway into Ives' thinking in the non-vocal pieces. While these rarely-recorded orchestral works certainly do not generate the cumulative power of the Fourth Symphony or the Second Piano Sonata, they are certainly worth exploring. In short, this is an outstanding disc. If you're an Ives fan, you should check it out.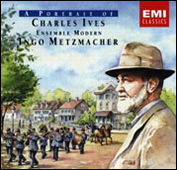 Ingo Metzmacher / Ensemble Modern / "A Portrait of Charles Ives" (EMI CDC7 54552-2, out-of-print)
This recording includes:
The See'r (Set No. 1, i)
A Lecture by President Arthur Twining Hadley (Set No. 1, ii)
Like a Sick Eagle (Set No. 1, iv)
Allegretto sombreoso (Set No. 1, vi)
Calcium Light Night (Set No. 1, v)
The Ruined River (Set No. 1, iii)
The Indians (Set No. 2, i)
"Gyp the Blood" or Hearst? Which Is Worst? (Set No. 2, ii)

Five songs
Metzmacher is a superb conductor of Ives' music and the short works on this disc are thoroughly convincing. There's a pleasing, ragged quality to the playing here, which I think is intentional on Metzmacher's part. The ensemble has the feel of one of Ives' much-loved theater orchestras, rather than going for the refinement that's more appropriate for other composers. (In no way does this raggedness reduce the sometimes strange or more contemporary aspects in the works. In fact, it seems to enhance them.) Since Metzmacher's disc is conceived as grab-bag of shorter pieces, you'll need to hear Bernas' CD for a more complete view of the "Sets for Small Orchestra." But the Metzmacher disc succeeds brilliantly in its intention of presenting a "Portrait of CEI." Unfortunately, this CD is out of print. EMI should reissue it posthaste. In the meantime, keep your eyes open for a used copy.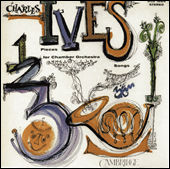 Harold Farberman (conductor) / Boston Chamber Ensemble / "Charles Ives: Pieces for Chamber Orchestra / Songs" (Cambridge CRS 1804, out of print) This recording includes:
Over the Pavements
The Rainbow
Tone Roads No. 1
The Indians
The Pond
Tone Roads No. 3
Hymn
Hallowe'en
Eight songs by Corrine Curry
"The Three Page Sonata" by Luise Vosgerchain
Farberman isn't given credit that Bernstein and Stokowski have received for his early recording advocacy of Ives' music, even though Farberman recorded far more of Ives' music than they did. (In fact, Farberman has recorded as much Ives as anybody, including all four of the numbered symphonies, the Robert Browning Overture, "The Celestial Country," the Set for Theater Orchestra, and various other short works, in addition to the pieces on this Cambridge LP.) Some of Farberman's interpretations can be merely workman-like, but I think that this recording is exceptionally fine, the best disc he's made of Ives' music. Many of these works are thorny, "difficult" pieces. But Farberman and the Boston Chamber Ensemble do a wonderful job of conveying sense of something close-to-home even when the music is unusual. For example, in "Over the Pavements" the ensemble captures a palpable sense of turn-of-the-century America, a familiar kind of herky-jerky hustle and bustle that reminds me of big-city silent movie scenes--even as it sounds like nothing else you've ever heard. It's also easy to imagine these pieces being played by a theater orchestra that's more comfortable with show tunes or popular hits of the day, rather than a symphony orchestra. The Boston Chamber Ensemble does a good job of not being excessively artful. As with many of Ives' songs, too much smooth virtuosity can rob these works of qualities that makes them unique. Unfortunately, this is a rare LP, and it has never been released on CD.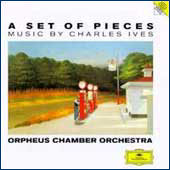 The Orpheus Chamber Orchestra [Includes Set No. 1] (DG 2GH 439869, coupled with Symphony No. 3, Orchestral Set No. 1, and Set Theatre Orchestra)
This is a very fine recording of the "Set No. 1 for Small Orchestra," but it lacks the vibrant, roughhewn edge that Bernas and his group find in the work. Without a doubt, the Orpheus Chamber Orchestra achieves a lovely, refined tone, and it's heard to great effect on the final movement "Allegro Sombreoso," where, arguably, their polished tone seems most appropriate. But overall, the orchestra's smoothed out sound seems to diminish the impact and of these short works. Ives' music often calls for a bit of rudeness, but, unfortunately, in this case, the Orpheus CO seems far too refined for that sort of cantankerousness. Look to Bernas for more idiomatic readings of the Sets for Small Orchestra.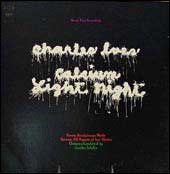 Gunther Schuller / unnamed orchestra / "Calcium Light Night" [Includes: Sets Nos. 1 and 3 (complete) and Set No. 2 (selections)] (Columbia Masterworks MS 7318, out of print)
This long out-of-print LP is good, but the performances lack the razor-sharp precision of Bernas's recording with the Music Project/London. This LP also lacks the cumulative impact of the Decca recording. Nothing wrong here, but this is probably one for completists only.
Other Recordings
I'm not aware of any other recordings of the Sets for Small Orchestra.