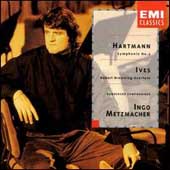 Ingo Metzmacher / Bamberg Symphony Orchestra (EMI Classics 5524, coupled with Hartmann Symphony No. 3)
Ingo Metzmacher's recording of the Robert Browning Overture is outstanding. While Schermerhorn's Naxos recording has much to recommend it (including much easier availability; the Metzmacher disc may no longer be available), I prefer Metzmacher on several points. His slightly quicker pacing (21.20 compared to Schermerhorn's 24.41) seems to helps the piece hang together more effectively. Metzmacher's interpretation also seems to generate more mystery and intensity. The opening moments are entrancing, and the Allegro con spirito section is (appropriately) driven and clangorous. I also love the sound of the Bamberg SO. It is dark and burnished, and very virtuosic. This orchestra regularly performs more contemporary works, and they sail through Ives' craggy dissonances. Lastly, I like how EMI has provided the listener with four tracking points within the overture. A nice touch. This one is worth tracking down.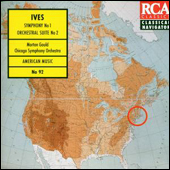 Morton Gould / Chicago Symphony Orchestra (RCA Navigator 09026-61402-2, coupled with Symphony No. 1, Orchestral Set No. 2, "The Unanswered Question"; available in the U.K.)
Here's another terrific performance of this difficult-to-pull-off work. Like Metzmacher, Gould does an excellent job with pacing and dynamics, so the overture "goes somewhere," and it ends up feeling more like a symphony. (In terms of timing, Gould is even faster than Metzmacher, clocking in at 20.17. But the piece never sounds rushed. Just dramatic!) The Adagio section is especially effective. Gould finds more in this section than any other conductor. It just sounds right. In fact, this entire work sounds like Gould's recording of the First Symphony: very idiomatic and very convincing. This is a superb disc. If you're a fan, you've got to hear Metzmacher and this one. (Strangely, this recording is on RCA's European super-budget "Navigator" line, so it's not available in the U.S.A. But Internet retailers make it easy for anyone anywhere to get a copy. Don't hesitate. Snap it up while it's still available somewhere.)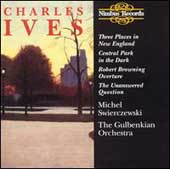 Michel Swierczewski / The Gulbenkian Foundation Orchestra (Nimbus NI 5316, coupled with "Central Park in the Dark," "The Unanswered Question," and Orchestral Set No. 1, Three Places in New England, out of print)
Swierczewski's recording of the Robert Browning Overture is an excellent one, the strongest performance on this disc. Both the conductor and the Portuguese orchestra sound remarkably attuned to this dissonant, difficult work. Unfortunately, this CD is out of print, and it may be difficult to track down. As an alternative, I would recommend either Metzmacher or Gould.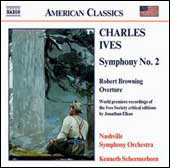 Kenneth Schermerhorn / Nashville Symphony Orchestra (Naxos 8559076, coupled with the Symphony No. 2)
I prefer Metzmacher and Gould, but Schermerhorn and the Nashville SO put on a very strong performance of this work. The recording also uses the latest critical edition of the score prepared by Jonathan Elkus.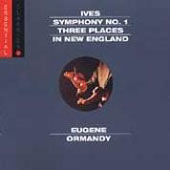 Leopold Stokowski / The American Symphony Orchestra (Sony Essential Classics SBK 89851, coupled with Symphony No. 1 and Orchestral Set No. 1, "Three Places in New England" conducted by Eugene Ormandy)
Stokowski's reading of the Robert Browning Overture was a pioneering effort. And it still holds up well. As you would expect, Stoki's version is full of color and heat, but some other conductors seem to find more shape and subtlety in the work. So this performance can seem a bit over-long. Even so, if you're an Ives fan (or a Stokowski fan), you'll probably want to hear it.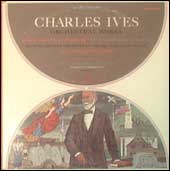 Harold Farberman / Royal Philharmonic Orchestra (Vanguard Cardinal Series VCS-10013, coupled with the Set for Theatre Orchestra, "The Circus Band March" [arranged by H. Farberman], and "The Unanswered Question," out of print)
Like most of Farberman's Ives recordings, this is a solid, if un-spectacular reading. I don't think that this one has been re-issued on CD, so it might be difficult to track down.
Other Recordings
Other recordings of this work include:
William Strickland / Polish National Radio Orchestra (Composers Recordings Inc. CRI-196-SD, coupled with Jack Beeson's Symphony No. 1, out of print LP) [premiere recording]