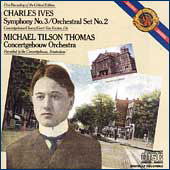 Michael Tilson Thomas / Concertgebouw Orchestra (CBS Masterworks MK 37823, coupled with Symphony No. 3)
This recording is another demonstration why, in my view, Tilson Thomas is the most consistently fine conductor of Ives' music. He has the clearest command of Ives' musical idiom, and he makes this work come alive. The first movement is both familiar and mysterious, characteristics that MTT regularly discovers in Ives' music. The second movement has a swinging, rhythmic flair lacking in any other recording. The third movement is as epic and audacious as anything Ives ever wrote. Tilson Thomas captures the spirit of the movement. It's both tenderly elegiac and resolutely determined. Ives considered this to be one of his greatest musical achievements, and it's easy to understand why: It sounds great! My recommendation is that you play this exultant music very loud! The Concertgebouw Orchestra plays with an unparalleled, refined power. No surprise there. But perhaps a bit more surprising, they play completely idiomatically. They sound very much at home in Ives' unique, very American sound world. This is one of Ives' greatest works, wonderfully played and recorded. The Third Symphony coupling is also very fine.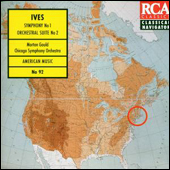 Morton Gould / Chicago Symphony Orchestra (RCA Navigator 09026-61402-2, coupled with Symphony No. 1, The Robert Browing Overture, "The Unanswered Question"; available in the U.K.)
Morton Gould and the Chicago SO recorded the works collected here back in 1965, 1966 and 1967. They are classic versions, but I'd never gotten around to hearing them--until recently. What a mistake to wait! These recordings are superb. Gould's version of the First Symphony is now my top choice. His Robert Browning Overture is completely idiomatic and convincing. And--big surprise--his version of the Second Orchestral Set is outstanding too. Gould obviously has a knack for Ives' idiom, and the CSO is a tremendous orchestra. Yes, Tilson Thomas' reading is a shade more subtle, and his third movement builds to an even more stirring climax. (That's what puts his recording on top.) Even so, Gould's recording--and this entire disc--earns my highest recommendation. If you haven't heard it already, you should check it out. My only real quibble with this CD: The booklet refers to the work as the "Second Orchestral Suite," rather than "Second Orchetral Set." Notes are skimpy in general too. But these are the only indications that this is a super-budget recording. Just listen!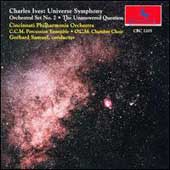 Gerhard Samuel / Cincinnati Philharmonia Orchestra & Cincinnati College-Conservatory Chamber Choir (Centaur CRC 2205, coupled with the Universe Symphony and "The Unanswered Question")
Gerhard Samuel leads another great performance of the Second Orchestral Set. The Cincinnati Philharmonia Orchestra may not have the sheer firepower of the Concertgebouw or Chicago SO. (For that matter, who does?) But the Cincinnati PO comes across very idiomatically, and I find this reading to be more convincing than von Dohnányi's or Stokowski's. If you compare first movements, you'll find that Samuel's pacing is much more deliberate than either of those conductors. It works beautifully, and the momentum never flags for one moment. It sounds very grand. Turning to the second movement, I do have one gripe. I would like to hear a bit more "swing"--like you'll find in Tilson Thomas' reading. But this is nothing major. The best movement of this recording is the third. This one has interesting couplings too. Samuel's "Unanswered Question" is one of my favorite recordings of the work among the ten or so that I know. Austin's realization of the Universe Symphony is also worth hearing.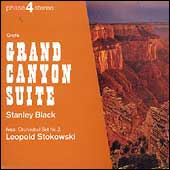 Leopold Stokowski / London Symphony Orchestra & Chorus (London/Decca "Phase 4 Stereo" 2LPF 448956, coupled with Grofe's "Grand Canyon Suite," out of print; also released on London "Weekend Classics" 433 017-2, coupled with the Second Symphony conducted by Bernard Herrmann, also out of print)
I really like this reading. It's very "Stokowskian," which I intend as praise. It's ripe with the conductor's sense color and fantasy. He can't even resist adding a bit of choral accompaniment at the end of the second movement! Of course, in the long run, I prefer MTT, Gould, and Samuel--they just sound more Ivesian to me, but this is definitely worth hearing as a complement to the other recordings. (By the way, this recording is preferable to Stokowski's M&A release described below. Both sound quality and orchestral execution are both much better on the Decca/London releases.)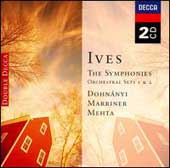 Christoph von Dohnányi / Cleveland Orchestra & Chorus (Decca Double 4667452, coupled Symphonies Nos. 1, 2, 3, & 4 and Orchestral Set No. 1, various conductors and orchestras. Also available on London 289 443 776-2, coupled with the Orchestral Set No. 1; Ruggles, "Sun Treader" and "Men and Mountains"; Crawford Seeger, "Andante for Strings." )
This is a solid reading. The Clevelanders definitely sound powerful. What an orchestra! Many parts are stirring, especially the climax in the third movement. But I still can't shake the feeling that the music doesn't quite "hold together" as well here as it does on other recordings. The Cleveland Orchestra just seems more comfortable with Ruggles on the London disc. At any rate, the chance to hear Ives' good friend Ruggles is another reason you might want to check out this disc. It's very compelling music. Strangely, the recording is oddly balanced for the first few moments of the final movement. Otherwise, the recording is very fine.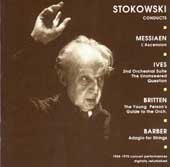 Leopold Stokowski / London Symphony Orchestra (Music & Arts CD 4787, coupled with works performed by other orchestras, including: Ives' "The Unanswered Question" [Japan PO], Messiaen's "L'Ascension" [LSO], Britten's "Young Person's Guide to the Orchestra" [BBC SO], and Barber's "Adagio for Strings" [Large SO of Soviet Radio and TV])
This recording was recorded in 1970, along with the more famous London/Decca "Phase 4" release listed above. Engineers captured this recording in a concert performance before the London "Phase 4" studio recording. This is O.K., but I certainly prefer the studio version. Stoki takes the first movement very quickly; a bit too fast for my taste. And the orchestra sounds a bit shakey. (This movement, in particular, is also limited by a constricted, poor recording.) The second movement is better. As with the studio recording, the chorus briefly enters near the end of the movement. The final movement is very grand. When the music stops, it's interesting to hear the crowd's reaction to the work. I think that they're not quite sure what to make of it! The Messiaen, Britten, and Barber works are all admirably performed, especially the Britten. (You can tell that the audience enjoyed the Britten too. They erupt in ecstatic cheers when the music stops.) None of the works on this disc is recorded in especially good sound, and the Barber is especially rough mono. If sound quality is a concern, and you'd like to hear Stoki's reading of the Second Orchestral Set, seek out the "Phase 4" recording.
Other Recordings
I'm not aware of any other recordings of Ives' Orchestral Set No. 2.