July 2012/2 Download Roundup
Brian Wilson

My apologies for the belated appearance of this Roundup, which may well mean that my next will probably be a little late, too, and there may therefore be only one August Roundup.
The July 2012/1 Roundup, with links to earlier editions, is
here
.
The Naxos Music Library and their partners at classicsonline.com have now added recordings from the Erato, Teldec and Warner catalogues to their roster. At what seems to be their standard price of £6.99 in the UK (£8.99 for double albums, £9.99 for triples), they represent excellent value for recent full-price releases, though amazon.co.uk and hmvdigital.com offer some of the mid– and budget-price albums for significantly less. The 6-CD sets of Bach Cantatas (Leonhardt and Harnoncourt) are special value at £13.99.
I'm making something of a feature this month of Signum recordings as downloaded in lossless sound from classicsonline.com.
Reissue of the Month
Wolfgang Amadeus MOZART (1756-1791
)
Piano Concerto No. 17 in G, K453 (1784) [30:45]
Piano Concerto No. 21 in C, K467
Elvira Madigan
(1785) [27:45]
Piano Concerto No. 6 in B-flat, K238 (1776) [20:16]
Camerata Academica des Salzburger Mozarteums/Géza Anda (piano and director) – rec. early 1960s. ADD.
LINN RECORDS UNI014
(from DG Originals 447 4362) [78:46] – from
linnrecords.com
(mp3, 16-and 24-bit lossless)
[See
review
of complete 8-CD set of Mozart Piano Concertos with Géza Anda and Camerata Academica, still available as
469 5102
– download from
hmvdigital.com.
]

It really is time that we stopped calling K467 by the title of a film that most younger people have never seen, as prominently displayed on the cover. That said, I suppose that we must be thankful that it made the original LP of K453 and K467 so popular. To those original concertos DG have now added No.6 – no great shakes but of historical interest as Mozart's second independently composed keyboard concerto. It's a worthwhile bonus, making this reissue better value than the alternative Eloquence release of Concertos Nos. 20 and 21 (
463 2342
).
It was from Anda's recording that I first got to know Piano Concerto No.23, K488, and though there are other recordings of that and its companions, Nos.20-24, which I regard as among the great masterpieces of the form, it's to Anda's versions and those of Stephen Kovacevich with Colin Davis (Nos.20-23) and Clifford Curzon with Benjamin Britten (No.20) and István Kertesz (23 and 24) that I still turn for preference.
My most recent encounter with K453 was via the Regis reissue of Alfred Brendel's early recording with the VSOO and Paul Angerer (
RRC1388
, with the 2-piano Concerto and 2-piano Sonata). I've just had occasion to look back at what I said about that recording in my May 2012/1
Roundup
because one of my colleagues, Byzantion, has taken a much more negative view of it than I did – see
review
. In particular, we disagree over my statement that the recording has come up very well for its age. It's true that in direct comparison to the brand-new sound of the refurbished DG recording the Regis sounds thin and somewhat undernourished, especially in
tutti
, and that may well be due in part to the shortcomings of the VSOO, hardly up to the standards of the Salzburg Academica, though they play much better here than I remember them sounding on other recordings.
The problem with assessing and describing recordings of this vintage, especially from Vox, is that I remember how unsatisfying they sounded first and second time around, so that any reissue is almost bound to be an improvement. If you wanted Bruckner's
Romantic
Symphony complete on one LP, for a long time that meant Klemperer's Vox recording (
GBY11200
), which sounded as if it had been recorded with a tin can and a piece of string for a microphone and with a less than distinguished ensemble from the Vienna Symphony Orchestra. Reissued on a 2-CD set
CDX25520
with Hans Rosbaud's Mahler Seventh, the playing still sounds scrabbled and the recording very thin, but both now seem more bearable than they did on that scratchy LP.
By contrast with Vox, DG recordings always sounded much smoother, even on LP, so the gain from digital reprocessing is less. Even so, what Linn have achieved with this and other DG, Decca and Philips recordings that Dan Morgan and I have reviewed is little short of miraculous. So far we've both listened to the 24-bit versions but I accidentally 'purchased' the 16-bit version of this Anda recording – never do anything complex last thing at night when you're tired – but even in this form the quality is excellent, with only a hint of inevitable tape hiss when heard on headphones to indicate that this is not a newly minted recording.
Brendel and Angerer take a slightly faster view of the first movement than Anda – 11:45 as against 12:23 – though it's hardly noticeable in practice. As for differences in interpretation, you could sum it up crudely by saying that Brendel is more involved with the music, Anda more in control of it, without sounding in any way unemotional. There's little difference of tempo in the slow movement and finale. If I had to choose just one version for my desert island, I'd be happy with either, though if the island had a good sound system, it would have to be the Anda.
In K467 my benchmark is Stephen Kovacevich with the LSO and Colin Davis, currently unavailable on CD but obtainable as a download, coupled with No.25, K503, from
hmvdigital.com
. If pushed to a single choice, I'd probably opt for Kovacevich, but with considerable regret. In one important respect Anda scores over the opposition in this and all his Mozart recordings with the Camerata for the lightness of his touch, which some characterise – wrongly in my view – as slight coolness.
Kovacevich and Davis are just a shade faster in the first movement but, though that's the version which I most often listen to, I didn't think Anda at all slow. Kovacevich gives a little more weight to the famous slow movement, but here again the differences are minimal – and the Anda recording is, after all, the version that's ingrained in the minds of us old fogies who actually remember the film. The fact that we're pre-programmed to regard this version as ideal doesn't prevent it from being just that – ideal. There's very little in it in the finale.
The Clifford Curzon Decca recordings to which I referred earlier don't include a version of K467, but he did record it live in 1980 with the Lausanne Chamber Orchestra and Armin Jordan for Claves (
DO1021
) and it's available for download for just £1.26 or less from
emusic.com
or £1.99 from hmvdigital.com. The orchestra play almost as well as the Camerata and the LSO and the mp3 download is very good of its kind – it's billed as a DDD recording – though not quite a match for Linn's refurbished DG sound. Curzon always had important things to say about the repertoire that he performed and here he makes a slightly slower tempo throughout sound just right. At 8:19 he's more considered than Anda (7:15) or Kovacevich (7:43) without sounding slow and the brief but enthusiastic applause at the end is well deserved.
Curzon is even more considered in the slow movement (8:29) in another live recording, this time with Rafael Kubelík and the Bavarian Radio Symphony Orchestra from 1970 (Audite
95.453
, with Concerto No.24, K491 – download from
classicsonline.com
for £4.99 or stream from Naxos Music Library) but still persuasive. The Audite recording is perfectly acceptable, a little rougher than the Claves and noticeably more so than the Linn DG transcription, but it does give us Curzon in good form playing a concerto which he didn't record in the studio, at an affordable price.
I've really enjoyed listening to four versions of K467 in one afternoon – no listener fatigue. I wouldn't wish to be without Anda, Kovacevich or Curzon but Anda's is the only recording available in lossless sound – both 16– and 24-bit at that. Linn's mp3 costs only pence more than the Kovacevich and the 16– and 24-bit versions won't break the bank, at £10 and £18 respectively, so my final choice has to go with Linn, DG and Anda, perhaps with a small extra outlay on one of the Curzon recordings as an inexpensive supplement.
After K467 the pleasant little K238 comes as something of an anti-climax; I suggest carefully re-numbering the tracks as 01 to 03 in order to play this first, then renumbering the rest by +3, but back up the download first and do it very carefully.
Freebies of the Month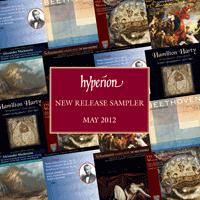 Hyperion (
http://www.hyperion-records.co.uk/
) have now begun to offer free half-hour samplers of each month's release, commencing with May 2012 – excerpts from music by Vieuxtemps (Violin Concerto No.2,
CDA67878
), Tye (
Missa Euge bone
,
CDA67928
– April 2012/2
Roundup
), Beethoven Bagatelles
CDA67879
– May 2012/1
Roundup
, Schumann
Märchenbilder
(Nash Ensemble,
CDA67923
) Harty (Piano Quintet in F,
CDA67927
–
review
and
review
), Mackenzie (Second 'Scotch' Rhapsody,
CDH55395
) and Handel heroic arias (James Bowman,
CDH55370
– see below).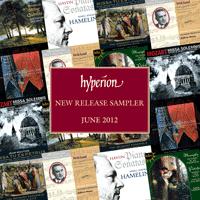 The June sampler contains excepts from Haydn Piano Sonatas (Hamelin,
CDA67882
); Wiklund's Piano Concerto No.1 (Sturfält and Manze,
CDA67828
); the Gloria from Mozart's
Missa Solemnis
(St Paul's,
CDA67921
); Mouton's
Ave Maria
(Brabant Ensemble,
CDA67933
– see July 2012/1
Roundup
); Iestyn Davies in a Handel aria (Arias for Guadagni,
CDA67924
– see June 2012/2
Roundup
); Mendelssohn's second String Quintet (Raphael Ensemble,
CDH55377
) and Mussorgsky's
Pictures from an Exhibition
(Demidenko,
CDH55306
– see July 2012/1
Roundup
).
July (15 minutes) brings excerpts from Schumann's Piano Concerto (Hewitt/Lintu,
CDA67885
); Liszt Songs (Kirchschlager,
CDA67934
); Saint-Saëns Organ Music (Smith,
CDA67922
); Wolf Lieder (Genz/Vignoles,
CDH67389
) and
O sponsa electa
from
Masters of the Rolls
(Gothic Voices,
CDH55364
– May 2012/2
Roundup
).
August's short 17-minute sampler opens with Bloch's
From Jewish Life
(Clein/Volkov,
CDA67910
) and continues with excerpts from Messiaen's
Turangalîla
Symphony (Mena,
CDA67816
– see below); Richafort's
Requiem
(Cinquecento,
CDA67959
); Vivaldi Violin Sonatas (Wallfisch, etc.,
CDH55404
) and closes with Lambert's Poems of Li-Po (Nash Ensemble,
CDH55397
– see July 2012/1
Roundup
). Don't download any of these samplers unless you're prepared to find yourself irresistibly attracted to at least one of these recordings.
Signum Classics from eclassical.com
Thomas TALLIS (c.1505-1585) Music for Henry VIII
Ave Dei patris filia
[15:33]
Ave rosa sine spinis
[11:14]
Alleluia: Ora pro nobis
[3:57]
Euge celi porta
[2:28]
Kyrie: Deus creator
[2:28]
Mass:
Salve intemerata
Gloria
[5:11]
Credo
[6:05]
Sanctus
and
Benedictus
[5:05]
Agnus Dei
[3:56]
Salve intemerata
[15:54]
Chapelle du Roi/Alistair Dixon – rec. October 1996. DDD.
Pdf booklet with texts included
SIGNUM CLASSICS SIGCD001
[71:52] – from
eclassical.com
(mp3 and lossless)
Music for Queen Mary
Beati immaculati
[3:57]
Introit:
Puer natus est nobis
[3:06]
Kyrie Deus creator
[2:31]
Missa Puer natus est nobis: Gloria
[7:45]
Viderunt omnes
[3:35]
Alleluia: Dies sanctificus
[1:57]
Celeste organum
[3:41]
Missa Puer natus est nobis: Sanctus, Benedictus, Agnus Dei
[12:19]
Viderunt omne
s [0:40]
Suscipe quæso Domine
[7:55]
Gaude gloriosa Dei mater
[17:13]
Chapelle du Roi/Alistair Dixon – rec. May, 1997. DDD.
SIGNUM CLASSICS SIGCD003
[64:46] – from
eclassical.com
(mp3 and lossless)
[see
review
of complete 10-CD set].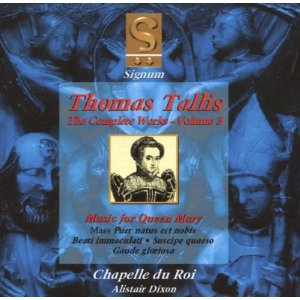 I've already recommended these two volumes, Nos. 1 and 3 respectively, from the complete series of Tallis's music performed by Chapelle du Roi and Alistair Dixon, both in mp3 download form (November 2008
Roundup
) and on a 2-CD distillation from the complete set. (
Bargain of the Month
–
review
: now renumbered as Regis
RRC2090
.) It's ethereal music and the performances are as good as any, despite very strong competition from the likes of the eponymous Tallis Scholars. (The Tallis Scholars sing Thomas Tallis,
CDGIM203
, 2-for-1: download from
gimell.com
in mp3 or lossless.)
On Volume 3, Music for Queen Mary, the main work is the
Mass Puer natus est
, a dual celebration of Christmas and the Queen's presumed pregnancy, which proved to be a phantasm and eventually opened the way to the succession of Queen Elizabeth, for whom Tallis was to write even more brilliantly, as demonstrated on later volumes of this Signum series. There are several recordings of this mass; choice may safely be left to couplings, but Chapelle du Roi's recording has as strong a claim as any:
– Stile Antico: Harmonia Mundi
HMU80715
–
review
:
Recording of the Month
and Christmas 2010
Roundup
– The Sixteen/Harry Christophers: Coro
COR16037
– see Tallis Scholars at 30
Roundup
– The Tallis Scholars (
Christmas with the Tallis Scholars
):
CDGIM202
(2 CDs for 1) – see Tallis Scholars at 30
Roundup
– The Clerkes of Oxenford/David Wulstan: Calliope
CAL9623
– see below
Good as these recordings sound in mp3, eclassical.com's lossless sound adds an important extra dimension and eclassical.com provide that at a price, in US dollars, which is very competitive with the £7.99 charged by classicsonline.com for the mp3 versions. The other advantage of the eclassical.com versions is that, having obtained the lossless flac, you can still return to obtain the mp3 should you wish to listen via your mp3 player.
1605 Treason & Dischord: William Byrd and the Gunpowder Plot
John DOWLAND (1563-1626)
George Whitehead's Almand [1:30]
William BYRD (1543-1623)
Mass for 4 voices:
Kyrie
[1:57]
A Fancie [4:32]
Mass for 4 voices:
Gloria
[5:56]
Richard DERING (c.1580-1630)
Ardens est cor meum
[2:39]
William BYRD
Civitas sancti tui
[5:07]
Peter PHILIPS (1560/61-1628)
Ave Maria gratia plena
[2:11]
William BYRD
Mass for 4 voices:
Credo
[7:59]
John DOWLAND
Sir Henry Umpton's Funeral [4:21]
Thomas WEELKES (c.1576-1623)
O Lord how joyful is the King [8:25]
William BYRD
From Virgin's womb/Rejoice, rejoice [2:07]
John DOWLAND
M. Bucton's Galliard [1:20]
William BYRD
Mass for 4 voices:
Sanctus
–
Benedictus
[3:54]
Francis POTT (b.1957)
Master Tresham: His Ducke [13:54]
William BYRD
Mass for 4 voices:
Agnus Dei
[3:30]
The King's Singers
Concordia
SIGNUM CLASSICS SIGCD061
[69:22] – from
eclassical.com
(mp3 and lossless)
[see
review
by Johan van Veen.]
The spine of this recording is formed by the four-part Mass of William Byrd, interspersed with the work of his contemporaries. The underlying theme concerns the loyalty of Roman Catholics at the time of the Gunpowder Plot of 1605, which set back any likelihood of their emancipation. Byrd was a loyal Catholic, happy to compose some of his best music to English texts until his retirement from the Chapel Royal, Dowland suspected of Romanist sympathies, and Philips living in exile for his beliefs. Dering and Weelkes were among those who made an early mark on the music of the Anglican church, though the former had converted to Rome by 1605. There are no prizes for spotting the odd man out, the contemporary composer Francis Pott, whose contribution has divided reviewers; I'm happy that his music should find a place here, since it's composed in a style recognisably descending from his early 17th-century predecessors.
There are many other highly recommendable recordings of the Byrd Mass – pressed for a choice from a distinguished field I would have to opt for the Tallis Scholars* – but this collection has so much more going for it in terms of the music, performances and recording quality that most of us would be happy to accept the duplication.
The lack of texts – only a pdf flyer included – does present a small problem.
This is one of a number of Signum recordings available from eclassical.com in both mp3 and lossless. Though other sites have these recordings in mp3, lossless flac is preferable, especially for choral music of this kind. Like Hyperion, eclassical.com offer 16-bit lossless for the same price as mp3, in this case $12.49, which compares favourably with the £7.99 that you would pay for mp3 from other providers.
*
The Tallis Scholars sing Byrd
, a 2-for-1 set
CDGIM208
, available on CD and mp3 or lossless download from
gimell.com
.

Antonio VIVALDI (1678-1741)
Pellegrina's Delight – Sonatas and Chamber Music for Oboe
Sonata for oboe and bc in c minor (RV53) [12:03]
Sonata for oboe, organ, violin, chalumeau [bassoon] and bc in C (RV 779) [14:16]
Sonata for violin [oboe] and bc in g minor (RV28) [11:54]
Sonata for 2 violins [oboe, violin] and bc in e minor, Op.1/2 (RV67) [7:29] Concerto for transverse flute [oboe], violin, bassoon and bc in g minor (RV 106) [10:05]
Sonata for violin [oboe] and bc in B flat (RV34) [7:27]
Sonata for oboe, violin, bassoon and bc in C (RV801) [11:54]
Gail Hennessy (oboe), Rodolfo Richter (violin), Sally Holman (bassoon), Katherine Sharman (cello), Peter McCarthy (violone), Nicholas Parle (harpsichord, organ) – rec. 2002. DDD
Pdf booklet included.
SIGNUM RECORDS SIGCD037
[75:13] – from
eclassical.com
(mp3 and lossless)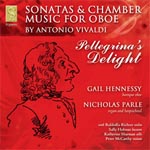 ['[A]n enjoyable recording, which contains music not often played in concerts nor frequently recorded, and therefore can be recommended, in particular to aficionados of the oboe.' See
review
by Johan van Veen.]
Here is a delightful hour and a quarter of unfamiliar but attractive Vivaldi, very well performed and recorded and available complete with its booklet, all at a competitive price. There's not too much competition – quite a few collections contain RV53, but as far as I'm aware there's only one other current complete CD, on Capriccio
C5016
, and that offers all the music on the Signum album except RV801 – RV81 for two oboes is included instead. Burkard Glaetzner is the oboist – see review of his recording of the Vivaldi Oboe Concertos. I'd give the Signum a small edge, especially as it's available in lossless sound; you can compare the two in the Naxos Music Library.
Telemann: The Virtuoso Godfather
Georg Philipp TELEMANN (1681-1767)
Concerto à Flauto traverso, Viola di gamba, Fagotto e Cembalo TWV 43:C2 [9:09]
Georg Philipp KRESS (1719-1779)
Trio à Flauto traversieur, Viola d'amour col Basso Continuo [7:18]
Carl Philipp Emanuel BACH (1714-1788)
Arioso per il cembalo e violono [6:32]
Georg Philipp TELEMANN
Sonata à Flauto traverso, due Viole di gamba et Cembalo TWV 43:G12 [14:58]
Fünfzehnte und Sechzehnte Lection des Getreuen Music-Meisters
, 1728. Viola di Gamba, senza Cembalo TWV 40:1 [10:37]
Georg Philipp KRESS
Trio à Flauto traverso, Viola di gamba e Cembalo [7:35]
Carl Philipp Emanuel BACH
Fantasia sopra
Jesu meines Lebens Leben
[6:44]
Georg Philipp TELEMANN
Sonata à 4. Flauto traverso, due Viole di gamba et Cembalo TWV 43:G10 [10:37]
Charivari Agréable: Rachel Moss (baroque flute); Susanne Heinrich (quinton, bass viols); Reiko Ichise (bass viol); Kah-Ming Ng (harpsichord, chamber organ) – rec. 2005. DDD
Pdf booklet included.
SIGNUM CLASSICS SIGCD086
[73:31] – from
eclassical.com
(mp3 and lossless)

Glyn Pursglove was delighted –
review
– and so am I with this tribute to Telemann and his two godsons, both literally and as his musical heirs. Not least of its virtues is that it introduces us to the unknown Georg Philipp Kress – his music is extremely pleasant, if no match for that of the other two composers on this recording.
The performances are first class, as is the lossless download and the booklet comes as part of the deal.
Other recommended Signum recordings from eclassical.com:
–
Temple of Chastity
: Codex las Huelgas –
SIGCD043
: May 2012/2
Roundup
–
Thomas TALLIS
: Complete Works (7) Music for Queen Elizabeth –
SIGCD029
: May 2012/2
Roundup
– The Triumphs of Oriana:
SIGCD067
– see
review
and August 2011/2
Roundup
***


Thomas TALLIS (c.1505-1585)
Missa Puer natus est (reconstructed David Wulstan and Sally Dunkley) [32:02]
Suscipe quæso [8:12]
Salvator mundi [4:34]
Robert WHITE (c.1538-1574)
Regina cœli [4:33]
Portio mea [6:48]
Domine quis habitabit [8:43]
Christe qui lux es et dies [4:54]
The Clerkes of Oxenford/David Wulstan – rec. 1977. ADD
Pdf booklet included but no texts
CALLIOPE CAL9623 [69:50] – from classicsonline.com (mp3) or stream from Naxos Music Library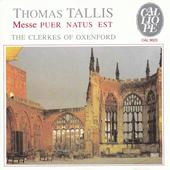 The Clerkes of Oxenford were a ground-breaking group; the Tallis Scholars, The Sixteen and The Oxford Camerata all owe much of their success to the pioneering work of David Wulstan. This album contains the whole of an LP devoted to Tallis and half of one with the music of his younger contemporary White. The rest of the White LP is included on CAL9848 (see below).

Since the Tallis LP was recorded in 1977 we have had other versions of the Christmas Mass Puer natus est, believed to have been written in the expectation, premature as it proved, of Queen Mary giving birth. There are excellent versions from The Tallis Scholars (Gimell CDGIM034 with other music by Tallis, or on a better value 2-for-1 collection on CDGIM202, with Christmas music – Tallis Scholars at 30 Roundup, review and review) and The Sixteen (Coro COR16037 – see October 2008 Roundup). Equally excellent are the versions on Volume 3 of the complete Chapelle du Roi collection (Music for Queen Mary: Signum SIGCD003 – see below for flac download from eclassical.com) and on a Harmonia Mundi collection of Tudor Advent and Christmas music from Stile Antico (HMU807517 – review: Recording of the Month and Christmas 2010 Roundup). None of these attempts to reconstruct the whole Credo but Wulstan does include the short section which is all that is extant. The Signum recording includes the movements of the Mass interspersed at the appropriate points with other music for the Mass of the Nativity and the Harmonia Mundi follows a similar, though non-liturgical, pattern.

Despite the existence of these excellent rival recordings, the Clerkes' recording is much more than a historical curiosity, especially for the sake of the coupling of music by Robert White, whose place in the development of English church music is still not well enough recognised. Of his works on the Calliope recording, Christe qui lux es also appears on a recent recording by Paul McCreesh and the Gabrieli Consort (Signum SIGCD281 – July 2012/1 Roundup), from The Sixteen under Harry Christophers (Coro COR16056) and Stile Antico (Harmonia Mundi HMU807419) – all very good but not so as to supersede the Clerkes.

Even though The Tallis Scholars have recorded everything on the Calliope album except Domine quis habitabit in their usual superb fashion (Gimell CDGIM030), there's still a place for the older recording in any serious collection of Tudor music.

The presentation may be lacking – there are no texts in the short booklet – but everything else is in place for a most enjoyable hour, including a recording which still sounds very well in a good transfer.

Other recordings from the Clerkes on the Calliope label from classicsonline.com:

– The Play of Daniel and Robert WHITE 5-part Lamentations: CAL9848
– John SHEPPARD Missa Cantate and music by Orlando GIBBONS: CAL9621
– Orlando GIBBONS Hymns and Songs: CAL4611 – see August 2011/2 Roundup, also available in lossless sound from eclassical.com.

The three Calliope recordings are included on a 3-CD set from Phaia: PHU005.7, also available from classicsonline.com.

The Clerkes' Classics for Pleasure coupling of music by Tallis (Spem in alium, etc.) and Sheppard is no longer available on CD: £7.99 from classicsonline.com may seem a lot to pay for what used to be a super-bargain disc, but it's worth it – try the excerpts from it on a 2-CD recording, Renaissance, from Naxos Music Library if you can.

A New Venetian Coronation 1595
The procession: Bells; Hans Leo HASSLER Intrada tertia / sexta / septima (pub.1601); Cesare BENDINELLI Trumpet sonata no. 333 (pub.1614) [8:20]
The Mass: Giovanni GABRIELI Toccata secondo tono (pub.1593) [2:02]
Introit [4:24]
Arrival of the doge: Cesare BENDINELLI Toccata 26 (pub.1614) [1:01]
Giovanni GABRIELI Intonazione primo tono (pub.1593) [:30]
Andrea GABRIELI Kyrie à 5 (pub.1587) [1:59]; Christe à 8 [2:13]; Kyrie à 12 [3:29]; Gloria à 16 [5:02]
Collect [1:23]
Epistle [1:05]
Gradual: Giovanni GABRIELI Canzona [13] à 12 (pub.1597) [2:48]
Gospel [2:03]
Andrea GABRIELI Intonazione settimo tono (pub.1593) [1:14]
Offertory: Giovanni GABRIELI Deus qui beatum marcum à 10 (pub.1597) [2:51]
Preface [3:06]
Andrea GABRIELI Sanctus and Benedictus à 12 (pub.1587) 3:40
Cesare BENDINELLI Elevation: Sarasinetta 2 (pub.1614) [1:01]
Giovanni GABRIELI Canzona [16] à 15 (pub.1597) [4:34]
Pater noster [2:02]
Agnus Dei [1:25]
Giovanni GABRIELI Intonazione quinto tono alla quarta bassa (pub.1593) [:42]
Communion: Andrea GABRIELI O sacrum convivium à 5 (pub.1565) [3:59]
Giovanni GABRIELICanzona [9] à 10 (pub.1597) [4:23]
Post communion prayer [1:58]
Cesario GUSSAGO Sonata la Leona (pub.1608) [2:15]
Giovanni GABRIELI Omnes gentes à 16 (pub.1597) [4:22]
Gabrieli Consort and Players/Paul McCreesh – rec. February and March 2012. DDD.
Pdf booklet with texts and translations included
SIGNUM/WINGED LION SIGCD287 [65:23] – from classicsonline.com (mp3) or stream from Naxos Music Library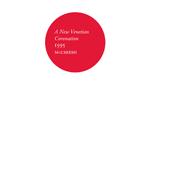 Paul McCreesh's original reconstruction of a Venetian Coronation was a wonderful achievement and would remain so if it were still available, which, incredibly, it doesn't seem to be, even in download form. As before, the bulk of the music on the new recording is provided by the Gabrielis, uncle and nephew, with contributions from the likes of Hans Leo Hassler and Cesare Bendinelli – if you're wondering who he, I don't think I've come into contact with the music of the latter anywhere else.

If anything, the new recording is even more atmospheric than before, with bells, the sound of crowds and comings and goings within St Mark's. If you don't have the earlier version – and even if you do – this deserves a strong recommendation, especially as the download comes complete with booklet and texts. Stream from the Naxos Music Library, where you'll also find the booklet, but be prepared to be tempted to purchase – or wait until we have a lossless version from eclassical.com.

William LAWES (1602-1645) Consorts to the Organ (1636-39)
Phantasm (Laurence Dreyfus (treble viol and director); Wendy Gillespie (treble viol); Jonathan Manson (tenor viol); Emilia Benjamin (tenor viol); Mikko Perkola (tenor and bass viols); Markku Luolajan-Mikkola (bass viol)
with Daniel Hyde (organ) – rec. August/September 2011. DDD/DSD
pdf booklet included
LINN RECORDS CKD399 [77:44] – from linnrecords.com (mp3, 16– and 24-bit lossless)



Linn and Phantasm already had two fine recordings to their joint credit, of music by William Byrd (CKD372 – review: Recording of the Month and May 2011/2 Roundup) and John Ward (CKD339 – review: Recording of the Month and October 2009 Roundup). For Channel Classics Phantasm have already recorded Williams Lawes' four– , five– and six-part consorts; neither of these recordings is available for download and even the CD of the 4– and 5-part recording is out of stock at Channel, so the new recording is especially welcome. In any case, these are premiere recordings of the consorts with organ part.

If anything, the new Phantasm recording is even better than anything they have already done, since it presents the wonderful but neglected consort music of William Lawes whose career was cut short at Chester during the Civil War. William and Henry Lawes were major musical figures in the troubled times of the mid seventeenth century yet, while Henry's name at least has been preserved for posterity from his friendship with Milton – he composed the music for Comus and was the recipient of a sonnet in praise of his music – his brother William is less well known even by name.

This new recording should help redress the balance. The performances are excellent; though I have no benchmark recording by which to judge them, the scores are readily available online from imslp.org, and the recording sets the performers in a credible sound-stage without placing them as close as is sometimes the case with consort music. Even the 24-bit download won't cost a fortune. The notes, well up to Linn's usual excellent standard, set the seal on a most recommendable release.

Georg Philipp TELEMANN (1681 – 1767) Complete Violin Concertos – Vol. 3
Overture for violin, strings and basso continuo in D (TWV 55,D14) [25:46]
Overture for violin, strings and bc in A (TWV 55,A7) [22:44]
Concerto for 2 violins, strings and bc in G (TWV 52,G2)* [11:31]
Elizabeth Wallfisch, Susan Carpenter-Jacobs* (violin)
The Wallfisch Band/Elizabeth Wallfisch – rec. February 2009. DDD
Short pdf booklet included
CPO 777 473-2 [60:42] – from classicsonline.com (mp3) or stream from Naxos Music Library

['[N]o collector of Telemann recordings will want to miss this one. See review by Johan van Veen.]

Volume 4
Overture (Suite) in G for violin, strings & basso continuo (TWV 55:G6)
Overture (Suite) in E for violin, strings & b.c. (TWV 55:E3)
Overture (Suite) in g minor for violin, strings & b.c. (TWV 55:g7)
L'Orfeo Barockorchester/ Elizabeth Wallfisch (solo violin and direction) – rec. October 2006. DDD
Short pdf booklet included
CPO 777 242-2 [61:30] – from classicsonline.com (mp3) or stream from Naxos Music Library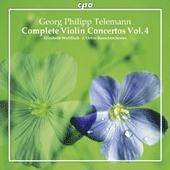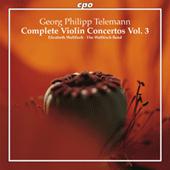 In some respects Telemann's music is more varied and more overtly attractive than that of his slightly younger contemporaries Bach and Handel – his cantatas, for example, are quite different from Bach's, less profound but more immediate in appeal. The violin concertos and overture-suites with prominent violin parts on these two CDs are among his most appealing compositions and the performances on Volume III are every bit as good as Johan van Veen has said; perhaps even better, since I'm not even sure that I agree with his mild reservations.

Apart from having been recorded almost three years earlier, during which time the orchestra has changed its name, Volume IV is well up to the standard achieved by its predecessor – indeed, by all three of its predecessors in the series. Unfortunately, neither classicsonline.com nor eclassical.com offers Volumes I and II.

In both cases the 4-page pdf booklet is rudimentary – surely that's not all that comes with the CDs? CPO usually include detailed information. Otherwise I have absolutely no complaints. Both CDs offer an hour of wonderful music, splendidly performed and well recorded. Volume III can be yours for £4.99; puzzlingly, Volume IV costs £7.99.

More Telemann on CPO:

– 777 218-2 Orchestral Suites – Orfeo Barockorchester/Carin van Heerden. See my review of CD – download from classicsonline.com (£4.99)
– 777 032-2, 777 267-2 Wind Concertos – La Stagione Frankfurt; Camerata Köln. See my review of Volume 2 – download from classicsonline.com (£4.99)
– 777 441-2 Trios and Quartets – Epoca Barocca. See my review of CD – download from classicsonline.com (£4.99)

James Bowman sings Handel Heroic Arias
George Frideric HANDEL (1685-1759)
Pena tiranna (from Amadigi) [5:46]
Va tacito e nascosto (from Giulio Cesare in Egitto) [6:47]
Venti turbini (Rinaldo) [3:39]
Scherza, infida (from Ariodante) [10:05]
Overture to Serse [3:49]
Zeffiretto, che scorre nel prato (from Giustino) [9:27]
Al lampo dell' armi (from Giulio Cesare) [3:99]
Tanti affanni (from Ottone) [9:44]
Or la tromba (Rinaldo) [5:40]
Cara sposa (from Rinaldo) [9:13]
Se parla nel mio cor (Giustino) [4:46]
Verdi prati (from Alcina) [3:46]
James Bowman (countertenor)
The King's Consort/Robert King – rec. December 1990. DDD.
Pdf booklet with texts and translations included
HYPERION HELIOS CDH55370 [76:11] – from hyperion-records.co.uk (mp3 and lossless)

[excerpt included on free May 2012 sampler – above]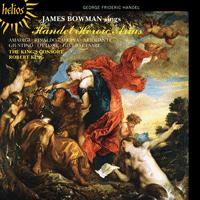 James Bowman is the ideal interpreter of this repertoire and he could hardly have been better accompanied than by the King's Consort. With excellent recording and a booklet of notes and texts to match, this is a splendid bargain. Had the title not gone to the Linn/Universal Mozart reissue, this would have been a strong candidate for Reissue of the Month. Listen to the excerpt on the May 2012 free sampler and you'll be tempted to place your order immediately.

One reviewer of the original issue had one small reservation, thinking the harpsichord too prominent. I didn't find it to be so. My own small irritation is that va tacito (tr.2) appears so frequently in recitals that I'm beginning to find it hackneyed – or would if it weren't so well done here.

Joseph HAYDN (1732-1809) Symphonies Nos. 1-20
Symphony No. 1 in D, Hob.I:1 (1759) [13:19]
Symphony No. 2 in C, Hob.I:2 (1764) [9:27]
Symphony No. 3 in G, Hob.I:3 (1762) [17:32]
Symphony No. 4 in D, Hob.I:4 (1762) [17:29]
Symphony No. 5 in A, Hob.I:5 (1762) [18:29]
Symphony No. 6 in D, 'Le Matin', Hob.I:6 (1761) [22:36]
Symphony No. 7 in D, 'Le Midi', Hob.I:7 (1761) [25:19]
Symphony No. 8 in G 'Le Soir', Hob.I:8 (1761) [21:48]
Symphony No. 9 in C, Hob.I:9 (1762) [12:12]
Symphony No. 10 in D, Hob.I:10 (1766) [16:23]
Symphony No. 11 in E flat, Hob.I:11 (1769) [22:34]
Symphony No. 12 in E, Hob.I:12 (1763) [18:38]
Symphony No. 13 in D, Hob.I:13 (1763) [18:06]
Symphony No. 14 in A, Hob.I:14 (1764) [14:53]
Symphony No. 15 in A, Hob.I:15 (1764) [19:43]
Symphony No. 16 in B flat, Hob.I:16 (1766) [12:10]
Symphony No. 17 in D, Hob.I:17 (1765) [14:44]
Symphony No. 18 in G, Hob.I:18 (1766) [13:47]
Symphony No. 19 in D, Hob.I:19 (1766) [10:38]
Symphony No. 20 in C, Hob.I:20 (1766) [14:27]
Austro-Hungarian Orchestra/Adam Fischer – rec. 1989-95. DDD.
NIMBUS NI5426-30 [5 CDs: 5:34:00] – stream from Naxos Music Library. Purchase CDs from MusicWeb International here.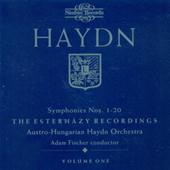 The virtues of the complete mp3 edition are familiar enough – 37 hours of music on 8 CDs at £23 with p&p from MusicWeb International: see review with purchase button – that it's easy to overlook the availability of the separate 2- , 4- and 5-CD boxes for those who may not wish to splurge all at once. I've referred to some of these recordings en passant in earlier Download Roundups in comparison with other recordings and they have generally come out very well from the comparison, but I thought it might be helpful to work my way through the separate volumes, beginning with the first.

You may not expect much from No.1 of Haydn's 104+ symphonies but the surprising thing about these works is that by comparison with Mozart's early symphonies they are all much more than merely entertaining. The first symphony was probably composed in 1758 or 1759 for Count Morzin and it's a surprisingly mature work.

There are rival recordings of Symphonies Nos. 1-12 from Cantilena (Chandos CHAN6618-20) and these can be compared on an equal footing with the Nimbus recordings in CD quality sound by courtesy of the Naxos Music Library. In No.1 Cantilena are lively enough but the playing is more rough and ready than from the Austro-Hungarians. With the Antal Doráti set now available only as a box of the complete symphonies*, the Chandos may look like a bargain, 3 CDs for around £12 plus p&p, (£10 for mp3 download) but the Nimbus is superior in every respect and MusicWeb International's price of £23 includes p&p for the 5-CD set.

Fans of period-instrument performance may prefer The Hanover Band and Roy Goodman on an inexpensive Hyperion Helios recording of Symphonies 1-5 from a series which unfortunately was never completed (CDH55111). If forced to make a choice I'd choose the Hyperion – the discs are available separately and inexpensively at around £6 per CD** and are well filled: mostly 70'+. Nos.6-8 are on CDH55112, 7-12 CDH55113, Nos.13-16 come on CDH55114, 17-21 on CDH55115. The period performances are stylish – there's even a barely audible harpsichord – but so are those with modern instruments on Nimbus and I certainly wouldn't go to the stake for period instruments in this music. I've already reviewed some of these Goodman performances in earlier Roundups and I hope to give an overview of the series at a later date.

I've already indicated that there's very little in these works that sounds immature or run of the mill. The andante of No.4 (1762) is a case in point – not as earth-shatteringly original as some of Beethoven's orchestral and chamber works were to prove in a few decades, but still remarkable for its time. Goodman's period instruments give the music more of an edge and he takes the movement much faster – surely a little too fast for an andante, though the effect is impressive. Fischer's walking pace is, if anything, a little too slow.

Günther Herbig (Berlin Classics 003277BC, Symphonies 4, 5, 9 and 10 with the Berlin Staatskapelle adopts a tempo midway between the two, which would probably have been about right except that his phrasing is slightly too ponderous.

Patrick Gallois with Sinfonia Finlandia in Symphonies 1-5 on Naxos 8.557551 is fastest of all and the effect is to slur the rhythms. His use of the harpsichord with a modern-instrument orchestra is out of place, especially as it's more prominently recorded than Goodman's. Despite a generally positive recommendation from Gary Higginson, who preferred Gallois to Goodman here – review and review by Christopher Howell – the contest for me here is really between Fischer and Goodman, with Cantilena, whom I've ruled out overall, at their best here; though lacking in expressiveness, their tempo is just about right.

Symphonies Nos. 6-8, nicknamed le Matin, le Midi and le Soir, morning, noon and evening, are the earliest works with which even many lovers of Haydn are familiar – the nicknamed symphonies, most of them with names not actually bestowed by Haydn, are the most often recorded and there are several rival recordings of these. It's not just the nicknames, however, that have made these three symphonies so popular; the music is infectious and so are the Nimbus performances. These were probably his first works for the Esterházys; no wonder they were impressed. For all the acknowledged virtues of, for example, the Naxos recording (8.550722, Northern Sinfonia/NicholasWard) I see no reason to prefer any alternative to Fischer, unless it be Goodman's period-instrument band.

If you simply want Fischer's No.6, together with a selection of other named symphonies from throughout Haydn's career, there's a 2-CD set on Nimbus NI7041/2 – £12 with p&p from MusicWeb International – here. I'm planning to include a review of this set on the main MusicWeb International pages in the near future.

I reviewed Volume 32 of the Naxos complete Haydn symphonies (Nos. 9-12 on 8.557771) some time ago – here – thinking it very acceptable as regards both performance and recording. Fischer's account of No.9 reveals the extra degree of style that I was missing from Patrick Gallois, however.

Naxos Volume 30, with Kevin Mallon and the Toronto Camerata in Nos.14-17 (8.557656) seems to be a more formidable rival: Tim Perry thought it deserved a high recommendation – review – Christopher Howell recommended readers not to hesitate – here – and Jonathan Woolf compared the virtues of Mallon and Fischer in his review. I too have enjoyed that Mallon recording but I can confirm JW's attribution of Beecham-like qualities to Fischer's account of No.15 and that's where my preference ultimately lies.

18-21 also come from Mallon and his Toronto players on Naxos 8.557657: Glyn Pursglove thought the performances should satisfy most listeners, but so should Fischer's: I finished listening to this set with his fine account of No.20. That's five Naxos CDs, then, all worth recommending to a greater or lesser degree, but if you tot up the cost you'll find that they cost a good deal more than the first Volume of the Nimbus set – Naxos CDs now sell for up to £8 from some dealers, with the average around £7, and even the downloads from classicsonline.com cost £4.99, so that's between £35 and £40 for the discs and just under £25 even for downloads as against £23 for the Nimbus set.

Even I can work out the difference. It doesn't take a mathematical genius, either, to see that if the only download source for this set appears to be classicsonline.com, at £39.95, downloading in this case is uncompetitive with buying the CDs.

* if you come across the 4-CD set of Nos.1-15 which used to be available on Decca 425 5002, snap it up. The Sony complete set with Dennis Russell Davies at the helm seems no longer to be available in the UK.

** download in mp3 or lossless from hyperion-records.co.uk for £5.99 each.

Joseph HAYDN Die Schöpfung (The Creation)
Amanda Forsythe (soprano)
Keith Jameson (tenor)
Kevin Deas (bass-baritone)
Boston Baroque/Martin Pearlman – rec. October 2011. DDD/DSD
Pdf with texts and translations included.
LINN RECORDS CKD401 [96:09] – from linnrecords.com (mp3, 16– and 24-bit lossless)



Some musical works have an abiding appeal while recordings of others, though attractive, seem to get hidden at the back of a cupboard. The Creation, whether in German or in Baron van Swieten's slightly mangled English, has definitely been in the former camp for me ever since I first heard it some 50 years ago. Supposedly inspired by emerging from hearing Handel's Messiah with tears streaming down his face and exclaiming 'Truly he is the master of us all', he need not have felt daunted in emulating his great predecessor; though an ardent Handelian, for me The Creation matches the master's achievement.

Even more than Haydn's own so-called Nelson Mass it's one of my favourite choral works so, although we already had excellent recordings from John Eliot Gardiner (477 6327, mid-price, in German) and Paul McCreesh (477 7361, in English), both from DG, there's always room for a first-class rival. I knew from the start that we had such a rival here.

With three excellent soloists who employ some tasteful ornamentation, strongly supported by the period-instrument Boston Baroque and with Martin Pearlman's sure hand at the tiller, the performance is a delight from start to finish. There's no single answer to how large the chorus should be – Haydn employed different sizes – but the number recorded here sounds just right to me.

The recording in 24/96 format is excellent and my only grumble about the booklet is that it's printed in white on black – not easy to read on screen and even less so when printed out; unless you have a top-rank printer and use the best paper, the text tends to blur.

Though the recording runs to 96 minutes, necessitating a second SACD, it's priced as if for a single disc, ranging from mp3 at £8, via CD-quality at £10 to Studio Master 96 and 192 at £18. My first recording, a Vanguard product licensed to Philips and conducted by Mogens Wöldike, ran to three mid-price LPs and cost around 75/– , equivalent to at least £75 today, which makes even the Studio Master excellent value. Downloads of other recordings come in mp3 only; the least expensive of the McCreesh that I've found costs £11.99. The same site (hmvdigital.com) offers the Gardiner for £7.49; neither includes a libretto. As the new recording is, all in all, at least the equal of those earlier versions, it outranks them in sheer value. The 24/96 runs to 1.88 GB, which means that if you wish to burn it to CDR you'll need to split it across three discs, one for each part of the oratorio.

Ludwig van BEETHOVEN (1770-1827)
Piano Concerto No. 4 in G, Op.58 (1805-06) [32:09]
Piano Concerto No. 5 in E-flat, Op.73 (1809) [37:27].
Yevgeny Sudbin (piano); Minnesota Orchestra/Osmo Vänskä – rec. January 2009 and June 2010. DDD
Pdf booklet included
BIS BIS-SACD-1758 [70:27] – from eclassical.com (mp3, 16– and 24-bit lossless)

[5:38 YouTube video preview on eclassical.com page].

['[T]hese performances sound spontaneous, never studied.' See review by Melinda Bargreen]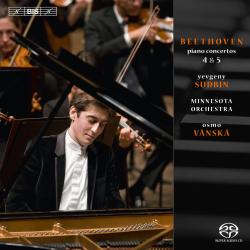 Better late than never; I'm only just over a year late in catching up with this recording.

If the rest of the Sudbin/Vänskä Beethoven Piano Concerto cycle maintains the standard of these two performances it will present a formidable challenge to existing recommendations. As it is, I came close to making this my Download of the Month; only minor reservations prevented me. Yevgeny Sudbin's delicate fingering in No.4 is close to ideal for this smaller-scale concerto, but the Minnesota Orchestra slightly destroys the balance by sounding a shade too heavy. I'm slightly spoiled in judging performances of this and the other Beethoven concertos by my admiration for the performances of Nos. 4 and 5 from Arthur Schoonderwoerd (fortepiano) and the Cristofori Ensemble (Alpha ALPHA079 – see December 2010 Roundup), but there is a half-way house with a full orchestra in lighter mode, as from Emanuel Ax and Michael Tilson Thomas (SFS Media 8219 3600372, with Symphony No.5 – see July 2011/1 Roundup) and, still top of my tree, Stephen Kovacevich and Colin Davis (Concertos 2 and 4, PentaTone SACD PTC5186101 or Complete Piano Concertos, Violin Concerto and Triple Concerto, Decca Eloquence 480 5946, 4 CDs for around £18, or download Nos. 2 and 4 for £4.99 from hmvdigital.com).

The slightly heavier touch suits the 'Emperor' better, especially since heavier here certainly doesn't mean stodgy, as the lithe and rhythmic account of the first movement and Sudbin's neat finger-work make very clear. The delicacy of the slow movement, too, is fully maintained and the finale is gloriously free-wheeling. In this concerto I'm inclined to rate Sudbin and Vänskä on an equal footing with Kovacevich/Davis and Howard Shelley in his 4-CD set of all the Piano Concertos plus the piano version of the Violin Concerto and the Triple Concerto (CHAN10695: Recording of the Month – see review, review and November 2011/2 Roundup).

The recording, as heard in 24-bit mode is excellent but I'm sure that you need have no qualms about the less expensive 16-bit lossless or even the mp3 either.

Ludwig van BEETHOVEN (1770-1827) The Late Piano Sonatas
Piano Sonata No. 27 in e minor, Op.90 [14:06]
Piano Sonata No. 28 in A, Op.101 [17:42]
Piano Sonata No. 29 in B-flat, Op.106 Hammerklavier [40:04]
Piano Sonata No. 30 in E, Op.109 [16:54]
Piano Sonata No. 31 in A flat, Op.110 [18:18]
Piano Sonata No. 32 in c minor, Op 111 [24:18]
Wilhelm Kempff (piano) – rec. 1960s. ADD.
DEUTSCHE GRAMMOPHON E453 0102 [71:52 + 59:30] – from deutschegrammophon.com (mp3 and lossless)

[see Jens Laurson's survey of recording of the Beethoven piano sonatas – here.]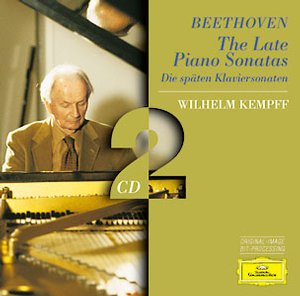 In expanding on my review of Bernard Roberts' complete set of Beethoven piano sonatas (Nimbus NI1774 – review)* from my November 2011/2 Roundup for the main MusicWeb International review pages, I took this inexpensive Kempff set of the last six sonatas as my benchmark. It's not just nostalgia that makes me return to Kempff, though I owe him a debt for introducing me to Beethoven's first four piano concertos and the Triple Concerto when all that I knew was the Emperor. These are well thought-out interpretations – he had already recorded the whole series in mono before this stereo remake, a set which many prefer and still available in decent sound – but they are far from cool or cerebral. Buy the Gilels recording of Op.101 and 106 for a different point of view, though he's less fiery and closer in mood to Kempff than you might expect (DG Originals 463 6392 – download from hmvdigital.com) and you'll be well set up for these late masterpieces.

* a highly recommendable budget-price box set; purchase from MusicWeb International on CD for £28 post free – here – as far less expensive than downloading. See full review.

Antonín DVOŘÁK (1841-1904) Piano Trios
Trio No.1, Op.21 [28:34]
Trio No.3 in f minor, Op.65, B130 [48:02]
Trio No.2 in g minor, Op.26 [32:11]
Trio No.4 in e minor, Op.90, B166 'Dumky' [31:58]
Gould Piano Trio (Lucy Gould (violin), Alice Neary (cello), Ben Frith (piano)) – rec. June 2011. DDD.
Pdf booklet included.
CHAMPS HILL RECORDS CHRCD034 [76:39 + 64:11] – from classicsonline.com (mp3) or stream from Naxos Music Library

Antonín DVOŘÁK Piano Trios Nos. 1-4
Trio No.1, Op.21 [38:35]
Trio No.2 in g minor, Op.26 [36:50]
Trio No.3 in f minor, Op.65, B130 [43:32]
Trio No.4 in e minor, Op.90, B166 'Dumky' [36:25]
Borodin Trio – rec. 1985 and 1992. DDD
CHANDOS CHAN 241-24 [154:48] – from theclassicalshop.net (mp3 and lossless)
[reviewed in October 2008 Roundup]

Antonín DVOŘÁK Piano Trio No.2 in g minor, B56
Pyotr Ilyich TCHAIKOVSKY Piano Trio, Op.50
Smetana Trio
SUPRAPHON SU3949-2 [73:10] – from emusic.com (mp3)
[reviewed in January 2009 Roundup]

Antonín DVOŘÁK Trio No.4 in e minor, Op.90, B166 'Dumky' [29:18]
Trio No.3 in f minor, Op.65, B130 [37:42]
Smetana Trio – rec. 2006. DDD.
SUPRAPHON SU38722 [67:00] – from emusic.com (mp3)
[reviewed in October 2008 Roundup]

Antonín DVOŘÁK Trio No.1 in B-flat, Op.21, B51 [33:08]
Josef SUK (1874-1935) Elegy in D-flat, Op.23 [5:10]
Antonín DVOŘÁK Trio No.2 in g minor, Op.26, B56 [29:26]
Florestan Trio – rec. 2007. DDD.
Pdf booklet included
HYPERION CDA67572 [67:47] – from hyperion-records.co.uk (mp3 and lossless)

Antonín DVOŘÁK Trio No.3 in f minor, Op.65, B130 [38:52]
Trio No.4 in e minor, Op.90, B166 'Dumky' [28:48]
Florestan Trio – rec. 1996. DDD
Pdf booklet and epub included
HYPERION CDA66895 [67:40] – from hyperion-records.co.uk (mp3 and lossless)



There's been something of a bonanza recently for lovers of Dvořák's chamber music. As recently as the May 2012/2 Roundup I recommended a new PentaTone recording of the String Quintets Nos. 2 and 3 and of the Piano Quartet No.2 and Piano Quintet No.2 on Chandos, both strongly competitive with existing recommendations.

Now the Champs Hill label brings us new recordings of all the Piano Trios from the Gould Piano Trio, again competitive with existing recordings, some of the best of which I've listed. I've recently praised the Gould Trio's recordings of all the Brahms Piano Trios, available most inexpensively from Quartz – April 2012/2 Roundup – so I wasn't at all surprised to find their new recording equally recommendable. With that Brahms recording under their collective belt, they are especially good in the Brahms-like No.3. In detailed comparison with other recordings of the Dumky Trio, too, the work which most listeners will return to most often, they compare well with the other recordings which I've listed. If I express a marginal preference for the Smetana Quartet in this work in which Dvořák returned to his national roots, it's not something that I want to press too hard.

The least expensive way to obtain all four trios is to select the 2-for-1 Chandos set from theclassicalshop.net; in mp3 form it's yours for £8.40 and in lossless sound £9.99. The Borodin Trio's tempi are broader than the others', especially at the start of the popular No.4, where I do now think more than before that they sound inordinately slow at times, especially by comparison with the Smetana and Florestan Trios.

Nos. 3 and 4 in the Smetana Trio's performances come inexpensively from emusic.com, at £4.20 or less. Though the bit-rate, both here and in their recording of No.2 with the Tchaikovsky Trio on the other Supraphon CD mostly hovers around a low 200kb/s, these idiomatic performances are reasonably well served by the download.

The Gould Trio are thoroughly competitive throughout and their recording comes in a very good mp3 transfer. I see that Robert Beattie enjoyed their performances of two of these trios at the Wigmore Hall – review – though the fact that he thought their account of No.4 slightly lacking in breadth suggests that he might have preferred something closer to the Borodin Trio's approach here. On the other hand, his wish that they could have been a little less constrained in their delivery of the folk elements suggests that he might have preferred the Smetana Trio's approach. I wasn't troubled in either of these matters to any significant extent and would be thoroughly happy to live with the Champs Hill set. A word of caution: I've seen the 2-CD of this recording offered online for around £10-11, significantly less than the cost of the download from classicsonline.com.

If push comes to shove, however, and I have to give up all but one of these recordings, it would have to be the Florestan Trio in Nos. 3 and 4, even though that's a single-CD set when opting for the Goulds and Borodins would leave me the other two trios as well. Everything that the Florestan Trio, or its members differently configured as Domus, ever recorded is excellent; though they have now disbanded, their legacy is second to none. Give me their recording of Nos. 1 and 2 with the Suk Elegy and I'd definitely still plump for them, not least because only their recording and that of the Borodin Trio is currently on offer in lossless sound.

Gustav MAHLER (1860-1911) Symphony No.9 in B-flat, WAB105
Symphonieorchester des Bayerischen Rundfunks/Bernard Haitink – rec. live, Dec. 2011. DDD
Pdf booklet included.
BR KLASSIK 900113 [79:53] – from classicsonline.com (mp3) or stream from Naxos Music Library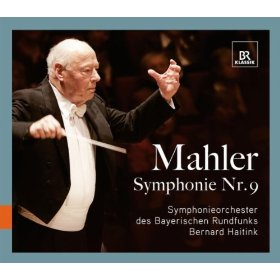 Among existing versions of this symphony*, Haitink's earlier recording with the Concertgebouw Orchestra holds an honoured place (complete symphonies, Philips 442 0502, formerly also available separately 464 7142 – see review). That earlier recording remains available as a download of a 2-CD set, with the classic Lied von der Erde (462 2992, Janet Baker and James King) from hmvdigital.com for £7.49 – it's a must if you don't have Janet Baker's Lied.

My own benchmark remains the wonderful recording made by Sir John Barbirolli with the Berlin Phil, recently reissued for the nth time on EMI 6782922 (£5.99 from hmvdigital.com. Also at £5.99 on an earlier reissue from classicsonline.com). See review of a yet earlier release. He takes the first movement at almost exactly the same overall tempo as Barbirolli but ends up sounding more tentative, less intense. Barbirolli still knocks me over here in a way that Haitink doesn't quite achieve; intending to listen just to Barbirolli's opening for comparison, I couldn't help staying for the whole movement. In the second movement, however, Haitink captures the typically Mahlerian jaunty quirkiness which harks right back to the first three symphonies extremely well, albeit that he's slightly slower overall than Barbirolli.

In the remaining two movements there's very little difference in overall tempo between the two. When the clouds roll over again in the third movement Haitink captures the intensity that I found slightly lacking in the first movement and the orchestra give him the power to do so, never losing sight of the valedictory nature of much of the music. The end of the finale is just as searing as anything that I've heard.

The live recording is very good, with little hint of the audience's presence, not even applause at the end. To be fair to the EMI engineers, however, I thought their latest refurbishment of the Barbirolli, as heard via Naxos Music Library, unbelievably good for its age. The notes in BR Klassik's multi-lingual booklet are short but to the point. Overall, though I'm not about to replace my now elderly CD of the Barbirolli version – the 1989 reissue on EMI Studio – this is a fine account of the Mahler Ninth and worthy to stand beside Haitink's Bavarian Radio recording of Bruckner's Fifth (900109 – see review).

There's just one possible reason to hold back; eclassical.com will probably offer this recording in lossless format in the near future.

* see Tony Duggan's overview of recorded versions of this work – here – and his review of Simon Rattle's recent recording.

Joaquín TURINA (1882-1949)
Cinco Danzas Gitanas, Op.55 [16:08]
Rapsodia sinfónica, Op.66 (1931)[10:06]
Tema y variaciones, Op.100 [9:16]
Serenata for Strings, Op.87 [10:49]
La Oración del torero, Op.34 [9:24]
Gabriella dall'Olio (harp); Ricardo Requejo (piano)
Granada City Orchestra/Juan Udaeta – rec. c.1999. DDD?
CLAVES 50-9215 [55:41] – from emusic.com (mp3)

[see review by Peter Grahame Woolf]



Some time ago I recommended a recording of the Rapsodia sinfónica and la Oración del torero on an inexpensive Regis reissue of recordings made in London and Mexico by Enrique Bátiz (RRC1299 – see review). That can be yours for around £5.50 on CD or as a download* but the emusic.com version of this Claves recording is even less expensive, at £3.78 or less. (£7.49 from amazon.co.uk.) The performances are excellent and the recording, though the bit-rate is only around 200 kb/s, is more than adequate. Turina's colourful music doesn't receive enough outings these days but if you enjoy his teacher Falla's Nights in the Gardens of Spain, for example, the Rapsodia sinfónica would make a good follow-up work which, in turn, might lead you to try some of the other Claves recordings of his music.

* Don't pay more for the download than for the CD – I've seen the CD on offer at £5.35 and the download at £7.90!

Erich Wolfgang KORNGOLD (1897-1957)
The Sea Hawk – complete film score, restored by John Morgan (1940)* [114:26]
Deception – complete film score, restored by John Morgan (1946) [30:22]
Cello Concerto (original version, as used in Deception)** [7:23]
*Irina Romishevskaya (soprano)
**Alexander Zagorinsky (cello)
Moscow Symphony Orchestra & Chorus/William Stromberg
rec. October 2005, Mosfilm Studios, Moscow, Russia
pdf booklet included.
NAXOS FILM MUSIC CLASSICS 8.570110-11 [144:50] – from eclassical.com (mp3, 16-& 24-bit lossless)



Film Music Classics is a very enterprising series from Naxos – just one of many in their vast catalogue – this volume all the more desirable as it's the only recording of all the music Korngold wrote for these films. I've heard one instalment in this series so far – Shostakovich's music for Hamlet – and was mightily impressed by both the performance and sound. Sadly the latter was one of the few SACDs and DVD-As issued by Naxos, before they switched to BD-A. Now they've branched into 24/96 downloads such as this, available from eclassical.com.

Two-and-a-quarter hours of high-res music for US$47.82 (£31) may seem steep when the CDs cost a fraction of that, but as I've discovered some downloads – from Linn/Universal, for instance – offer sonic gains that make them well worth the extra. And while re-masters of vintage Berlioz, Debussy and Strauss will probably appeal to a much wider audience, these fine film scores deserve to be much better known. And in the same way that Shostakovich's music for Hamlet reveals yet another facet of the composer's complex musical persona, so The Sea Hawk and Deception give us a fuller picture of Korngold's talents in this oft-under-rated genre.

The Moscow Symphony, formed in 1989, are a good choice for this repertoire as they – and the California-born conductor William Stromberg – are much involved in contemporary cinema; they've also recorded Korngold's music for Another Dawn and Escape Me Never for the now defunct Marco Polo label.* In any event, soundtracks pose particular challenges for the listener, even if they're familiar with the films themselves. All too often the music seems episodic, an awkward chain of pictures-in-sound that, while individually pleasing, don't always add up to a satisfying, coherent whole. But the best examples – and Korngold's scores belong in that select company – do work well when heard in their entirety.

The Sea Hawk, an Elizabethan swashbuckler directed by Michael Curtiz and intended as a vehicle for the dashing Errol Flynn, has it all; action, intrigue, love interest and, especially appropriate for 1940, a rousing speech from Elizabeth the First about the pursuit of freedom. Propaganda aside, there's plenty of variety in this nautical score, from the sting of spray and flutter of pennants – splendid cymbals and fanfares – to exotic locations, acts of derring-do and moments of the most tender love music. It's all superbly played and recorded, with necessary amplitude when required.

It's also ripely Romantic – those swelling, swoony harps are seldom silent – but there are sudden, bittersweet harmonies that remind me of Korngold's opera Die Tote Stadt. Remarkably for a score that plays for just under eighty minutes The Sea Hawk has enough changes of musical tack to keep one listening to the very end. As for the vocal contributions – Maria's song and the rapid-fire chorus 'Happy sailing' – they may not be particularly idiomatic but they're stirringly done. The slightly pinched quality of the latter confirms my suspicion that the Mosfilm studio can't offer the big, airy acoustic this panoramic score demands. That's hardly an issue when the music is played with such commitment and style. There's also a bonus, a four-minute track of music from the original trailer.

The writing for Deception, a film noir directed by Irving Rapper, is very different. It's a love triangle involving Christine Radcliffe (Bette Davis), cellist Karel Novak (Paul Henreid) and the composer Alexander Hollenius (Claude Rains). The complete score, which plays for just over thirty minutes, is more about dramatic underlining than the near constant accompaniment we hear in The Sea Hawk. As such it's somewhat 'bitty' – many of the tracks last for a minute or less – but even here there's a symphonic breadth and focus that's very impressive indeed. In keeping with the dark subject matter, there's an edge to the writing that you won't hear in the earlier score.

That said, it's still vintage Korngold – rich and creamy – and it features the cello concerto that he later expanded into a stand-alone piece. It's all very accomplished, and the downloadable liner-notes are extremely detailed and eminently readable. There's no competition either, as these are the only complete recordings available. What a pity that André Previn and the LSO only recorded excerpts from The Sea Hawk for DG, as that has even more swash and buckle than Stromberg's admirable account. Still, completists and film buffs will pounce on this Naxos release; audiophiles will find much to enjoy here, too.

Despite the hefty premium this 24/96 download is a worthwhile – and important – release.

Dan Morgan
http://twitter.com/mahlerei


* Though Marco Polo recordings on CD are becoming hard to find, many are still available as downloads from classiconline.com (mp3) and eclassical.com (mp3 and lossless) – see the two recordings of British Light Music below.


Erich Wolfgang KORNGOLD (1897-1957) The Film Music of Erich Korngold – Volume 2
The Sea Hawk – Suite from the film score (ed. Rumon Gamba) [76:57]
Manchester Chamber Choir (male voices)
BBC Philharmonic/Rumon Gamba
rec. Studio 7, New Broadcasting House, Manchester, 4-5 January 2007. DDD
pdf booklet available
CHANDOS CHAN10438 [76:57] – from theclassicalshop.net (mp3 and lossless)

['[A] great achievement'. See review by Rob Barnett]



Inspired by Dan Morgan's review of the Naxos recording, I downloaded it for myself together with the Chandos album of The Sea Hawk. To cut short what I don't wish to make a long story – Dan and Rob Barnett between them have said just about all that needs to be said about these two fine recordings – I very much enjoyed hearing both but marginally preferred Rumon Gamba on Chandos; I thought his direction slightly more sympathetic and evocative, the playing a tad more polished, and the recording more rounded, though the stereo placement is less sharp than the Naxos.

Rumon Gamba's 77 minutes are enough for me, but if you want every note, you will have to go for the Naxos. Many will regard the 24-bit version of the Naxos as a must-have but it does come at a premium price, whereas the Chandos is available in very good 16-bit lossless for £9.99.

Alan HOVHANESS (1911-2000)
Symphony No.1 'Exile', Op.17/2 (1936, 1970) [19:45]
Fantasy on Japanese Woodprints, Op.211 (1965) [14:20]
Symphony No.50 'Mount Saint Helens', Op.360 (1982) [31:35]
Ron Johnson (Marimba)*
Seattle Symphony/Gerard Schwarz – rec. 1990 and 1992. DDD.
Pdf booklet included.
NAXOS AMERICAN CLASSICS 8.559717 [65:40] – from classicsonline.com (mp3) or stream from Naxos Music Library

Symphony No.2, Op.132, 'Mysterious Mountain' (1955) [16:48]
Prayer of Saint Gregory, Op.62b* (1946) [4:45]
Prelude and Quadruple Fugue, Op.128 (1936, 1954) [7:25]
And God Created Great Whales, Op.229/1 (1970) [12:14]
Alleluia and Fugue, Op.40b (1941) [9:13]
Celestial Fantasy, Op.44 (1944) [8:15]
Charles Butler (trumpet)*
Seattle Symphony/Gerard Schwarz
DELOS DE3157 [58:40] – from classicsonline.com or emusic.com (both mp3) or stream from Naxos Music Library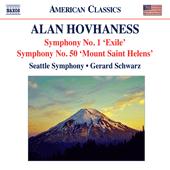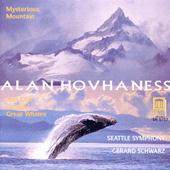 Naxos's latest lucky dip into the rich archives of the Seattle Symphony from the Delos label brings us to the exotic music of Alan Hovhaness. The best known work here, Symphony No.50, Mount St Helens, remains available on a Delos twofer (DE3711 – download from emusic.com or hmvdigital.com) but it's the two opening works, the early Exile Symphony and the Fantasy on Japanese Woodprints, neither of which I had heard before and both redolent of eastern promise, that made the greatest impression on me.

Paul Shoemaker, comparing the Seattle version with Schwarz's Liverpool remake on Telarc, preferred the Delos recording. I haven't heard the Telarc but I can fully endorse his recommendation of the version now before us on Naxos. With informative notes and good recording, this deserves a strong recommendation.

There's an alternative coupling of two of the works, which may appeal to some potential listeners:

American Mystic - Music of Alan Hovhaness: Centennial Collection
Prayer of Saint Gregory, Op.62b [4:53]
The Rubaiyat of Omar Khayyam, Op.308 [13:54]
Four Bagatelles, Op.30 [8;50]
Symphony No. 2 'Mysterious Mountain', Op.132 [17:07]
String Quartet No. 2, Op.147 – excerpts [3:09]
The Flowering Peach, Op.125 [13:41]
And God Created Great Whales, Op.229/1 [12:16]
Charles Butler (trumpet), Michael York (narrator), Diane Schmidt (accordion)
Seattle Symphony Orchestra, Shanghai Quartet and Ohio State University Concert Band/Gerard Schwarz and Keith Brion
DELOS DE3352 [75:13] – from eclassical.com (mp3 and lossless) or stream from Naxos Music Library

The mix of different media and the availability at a reasonable price of the lossless download from eclassical.com, with pdf booklet, are strong arguments in favour of this alternative.

Naxos have already reissued two Schwarz recordings of Hovhaness's music, both available from classicsonline.com and for streaming from NML:

– Cello Concerto and Symphony No.22 on 8.559158 – see review and August 2009 Roundup
– Guitar Concerto and Symphony No.60 on 8.559294 – see review

Presumably Naxos will reissue the contents of DE3157, too, in due course, perhaps in different couplings, but there's no need to wait – classicsonline.com already offer this, though it's rather more expensive (£7.99) than their Naxos offerings (£4.99). Members of emusic.com can download it for £3.36 or less; at around 200-220kb/s the bit-rate is lower than classicsonline.com's 320kb/s but it still sounds more than acceptable.

For other downloads of Hovhaness please refer to:

– Centaur CRC2954: Visions of the East (Symphony No.10, etc.) – review and June 2009 Roundup
– Naxos Classical Archive 9.80130: The Flowering Peach, etc. (rec.1955) – from classicsonline.com (mp3) – not available in the USA
– Naxos Classical Archive 9.80698: Symphony No.9 (r.1956) – from classicsonline.com (mp3) – not available in the USA
– Naxos Classical Archive 9.80676: Lousadzak, etc. (r.1950) – from classicsonline.com (mp3) – not available in the USA
– review by Rob Barnett of all these Classical Archive reissues here and in my February 2009 Roundup.

Tribute!
Lee KONITZ Palo Alto [3:48]
Mel POWELL Shirley Steps Out [4:03]
Harold ARLEN, EY 'Yip' HARBURG Metropolitan: Last Night When We Were Young [5:12]
Ralph BURNS Bijou (Rhumba a la Jazz) [4:05]
Eddie FINCKEL Up an' Atom [2:59]
André PREVIN Lost in a Summer Night [6:05]
David RASKIN The Bad and the Beautiful [2:55]
Arturo O'FARRILL Undercurrent Blues [2:42]
Harold ARLEN A Star Is Born: The Man that Got Away [5:11]
Stan KENTON Fantasy [3:54]
Nils LINDBERG As You Are [6:31]
Horace SILVER The St. Vitus' Dance [6:55]
George GERSWHIN The Shocking Miss Pilgrim: Changing my Tune [5:29]
Billy STRAYHORN Lotus Blossom [5:57]
Miles DAVIS Bebop Lives, 'Boplicity' [4:06]
Artistry Jazz Group (Jan Lundgren, piano; Jacob Fischer (guitar); Vivian Bczek (vocal); Hans Backenroth (bass); Johan Löferantz Ramsey (drums)) and Friends (Peter Asplund (trumpet, flugelhorn; Janne Bengtsson (flute); Klas Lindquist (alto sax, clarinet)
Pdf booklet included
VOLENZA VMCD103 [69:52] – from classicsonline.com (mp3) or stream from Naxos Music Library



A delightful programme of nice'n'easy jazz from a Swedish group whom I hadn't encountered before; I shall be looking out for their other recordings. It's highly suitable for the sultry late Saturday afternoon when I played it or, perhaps better still, for late night listening in the manner of the Dave Brubeck albums that usually fill that slot for me, such as the Take Five download from Techniche Label OMP which I recommended in the October 2010 Roundup. Even better news: this July 2012 release costs just £4.99 from classicsonline.com and it runs to well over the hour, which is not always the case with jazz CDs.

Charles Mingus presents Charles Mingus
Folk Forms No. 1 [13:01]
Original Faubus Fables (aka Faubus of Fables) [9:03]
What Love? [15:19]
All the Things you could be by now if Sigmund Freud's Wife was your Mother [8:33]
Ted Curson (trumpet); Eric Dolphy (alto sax, bass clarinet, flute); Charles Mingus (bass); Dannie Richmond (drums) – rec. October 1960. ADD.
CANDID CD9005 [46:26] – from emusic.com (mp3)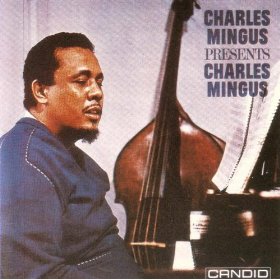 Here's something old and wonderful to match the new recording from Artistry Jazz. There's obviously nothing new that I can say about Charles Mingus at this late date, except that I wouldn't recommend this one for late night listening – I don't want to make it sound cerebral, but it really demands too much mental attention for casual listening. The 1960 recording has come up well in this transfer, though I see that there has been a good deal of comment on the Amazon website to the contrary. At £1.68, this is also an excellent bargain from emusic.com, so that takes care of the short playing time. amazon.co.uk charge £7.49 for this album.

Don't forget Mingus! Tá Lam 11's tribute on Jazz Werkstatt 105 which I reviewed in the June 2011/2 Roundup, alongside two albums by Mingus himself, one of them containing the expanded version of Fables of Faubus.

Miniatures (British Light Music)
Anthony COLLINS Vanity Fair [3:48]
Mark LUBBOCK Polka Dots [3:13]
Cecil Armstrong GIBBS Dusk [4:14]
Benjamin FRANKEL Carriage and Pair [2:55]
Vivian ELLIS Coronation Scot [3:01]
Arthur BENJAMIN Jamaican Song [2:21]; Jamaican Rhumba [2:26]
Robert DOCKER Tabarinage [3:12]
Edward ELGAR Beau Brummel [4:15]
Harry DEXTER Siciliano [4:50]
Ken WARNER Scrub, brothers, scrub! [2:04]
Gordon JACOB Cradle Song [2:54]
Thomas Augustine ARNE Gavotte (Georgian style) (arr. Ernest Tomlinson) [3:47]
Gilbert VINTER Portuguese Party [3:04]
Geoffrey TOYE Concert Waltz: The Haunted Ballroom [7:05]
Edward WHITE Puffin' Billy [3:08]
George MELACHRINO Starlight Roof Waltz [3:07]
Clive RICHARDSON Beachcomber [2:42]
RTE Concert Orchestra/Ernest Tomlinson – rec. 1993. DDD.
MARCO POLO 8.223522 [62:10] – from eclassical.com (mp3 and lossless) or stream from Naxos Music Library (with pdf booklet)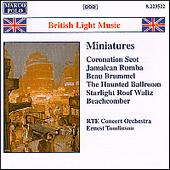 Into every Download Roundup a little light (music) should fall. This is one of an enterprising series of recordings which Marco Polo made in the 1990s of British Light Music, several of them, surprisingly effective, with orchestras in the former Czechoslovakia. This one is at least as effective and it comes from nearer home, having been recorded in Dublin with the RTE Concert Orchestra, with a seasoned conductor of this repertoire at the helm. Apart from his arrangement of a Gavotte by Arne, Ernest Tomlinson's own music is surprisingly absent – it features on two other Marco Polo recordings made in Bratislava* – but there's plenty of other entertaining material here.

Older listeners will recognise much of the music even if they don't know the names; Coronation Scot was for years the signature tune of Paul Temple on the radio. Only those with an aversion to too much of a good thing should steer clear.

The eclassical.com download comes in (very good) lossless as well as mp3 for US$11.18. classicsonline.com have it for £7.99 in mp3 only but with pdf booklet.

If the two works by Arthur Benjamin have whetted your appetite for something more substantial by him, there's an inexpensive Naxos Classical Archives recording of his Concerto quasi una fantasia and Concertino with Lamar Crowson, the LSO and Arthur Benjamin himself, recorded around 1960 – just £0.84 from emusic.com or £1.99 from classicsonline.com (9.80978, both mp3; not available in the USA).

* 8.223413 and 8.223513.

For a further helping of tuneful nostalgia, there's a recording featuring the music of Trevor DUNCAN (1924-2005) – 20th Century Express, the Little Suite (used for Dr Finlay's Casebook), Children in the Park, The Girl from Corsica, Sixpenny Ride, Enchanted April, and other works performed by the Slovak Radio Symphony Orchestra (Bratislava) and conducted by Andrew Penny. Forget the Slovak provenance – these are completely idiomatic performances and they are well recorded. The informative booklet is available with the classicsonline.com download but I recommend the lossless version from eclassical.com for around the same price when the US4/GB£ conversion is taken into account. (8.223517)

Just two words of caution. Excerpts from these two albums also feature on a Naxos collection, Elizabethan Serenade (8.553515) which I recommended some time ago and neither is available on CD, only as a download.

Best avoided

Newton Classics have recently released a 3-CD set of music by Claudio MONTEVERDI: the Mass for Four Voices, the Ninth Book of Madrigals and other works conducted by Angelo Ephrikian (8802117 – review).

Perplexed as to why such performances had been reissued – mostly unstylish and poorly recorded, even by the standards of the 1960s when they were made – I passed them for comment to my colleague Geoff Molyneux, who has himself directed some of the music on the set. Could it really be as bad as I thought? Here's his reply:

Why these discs have been issued is beyond my comprehension. The recording quality must be the worst I have ever heard. It is woolly, often distorted and in a terrible acoustic, and it sounds as though the performances have been restored by amateurs. One could argue that some of the performances are acceptable, as they were made in the late 1960s when much less was known about performance style in such music than is known today. But even so, we hear out of tune, warbly singers with unmusical phrasing and nasty attacks in loud passages. The accompanying instruments are often either crude in themselves or insensitively played. I tried to force myself to believe that the some of the performances of the scherzi musicali from Madrigal Book 9 were quite good, and that Lamento d'Arianna was nicely sung at the start although deteriorating after a few bars. However the recording quality made any kind of pleasurable listening impossible.

I did listen to substantial parts of these discs, especially because I love Monteverdi's music and music of this period. However it proved a very painful experience. You can probably gather from my comments that I would highly recommend that these discs be avoided at all costs.

Geoffrey Molyneux

Fortunately, I don't think it's yet available to download; if and when it is, you've been warned.

Advance Information

The schedule of releases from Beulah Extra for August – here – offers some firm favourites:



Karl GOLDMARK Rustic Wedding Symphony, Op.26 from Sir Thomas Beecham and the RPO heads the list (13-17BX43). This is one of those good second-rate works that Tommy knew how to make sound great, a feat which others have emulated but without quite the same success in the case of this tuneful symphony. The recording, from May 1952, is not exactly new-minted, but the transfer is much better than I recall from its last LP appearance, on the Philips Classical Favourites label – so good that the ear soon adjust to any slight thinness. There's a Past Classics transfer from amazon.co.uk, which doesn't sound too bad, but the Beulah transfer is preferable and works out slightly less expensive.

The reappearance of this recording from Sony was strongly welcomed by Jonathan Woolf – review – but that reissue seems to have dropped out of the UK market, so the Beulah release is especially welcome, replacing the download of Yondani Butt's performance on ASV (November 2010 Roundup) which, in any case is no longer available from passionato.com.

That's the only one that I've had time to listen to yet, but Eduard van Beinum's Elgar also brings back happy memories: Cockaigne (11BX37) and Wand of Youth Suites 1 and 2 (16-17BX37). On past showing, the Beulah transfer should be greatly preferable to the Ace of Clubs LP on which I heard these many years ago. Van Beinum's Debussy Nocturnes feature on 12-15BX37.

Karl Forster was ahead of his time in performing Bach in non-stodgy manner, so I'm looking forward to hearing his recordings of the Coffee and Peasant Cantatas (6-7BX79). The same goes for Lisa della Casa in Brahms Lieder (5-8BX187), Firkusny in Beethoven (Piano Sonata No.8, 1-3BX194), the Budapest String Quartet in Beethoven's String Quartets (Op.18/3 4-7BX86, and Op.18/4 8-11BX86) and Richter-Haaser in the Emperor Concerto and Rondo, Op.51/1 (1-2BX173 and 3BX173).