Other Links
Editorial Board
Editor - Bill Kenny
Assistant Webmaster - Stan Metzger

Founder - Len Mullenger
Google Site Search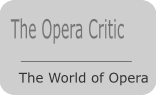 SEEN AND HEARD INTERNATIONAL CONCERT REVIEW
Schubert, Ives (orch. Brant): San Francisco Symphony, Michael Tilson Thomas, conductor; Davies Symphony Hall, San Francisco, 3.2.2010 (HS)
In odd hours between writing his own music and orchestrating others', Henry Brant spent 50 years turning Charles Ives' thorny, finger-busting Second Piano Sonata, "Concord, Mass. 1840-60" into a fully realized orchestral work. This week the San Francisco Symphony, which premiered Brant's own Pulitzer prize-winning composition Ice Field in 2002, took on A Concord Symphony, 14 years after it premiere and less than two years after the composer's death. The results were thrilling.
It helps, of course, that Michael Tilson Thomas, the symphony's music director, is himself a formidable Ives advocate. Some of my most memorable evenings in Davies Symphony Hall have involved Tilson Thomas conducting Ives' music. His approach to Ives takes the composer at his word. He doesn't try to clean up the messiness or soften the dissonances, not does he shy away from making the beautiful moments glow and shimmer. What he does so effectively is conduct it so it all makes sense. It's like riding through the music with Ives himself at your side, pointing out the sights.
The piano work, which Ives only called a sonata because no other word quite covered the sprawling 50-minute work, is actually a series of four massive tone poems inspired by 19th-century transcendental writers associated with the town of Concord. In the order they appear in the music, they are Ralph Waldo Emerson, Nathaniel Hawthorne, the Alcotts and Henry David Thoreau. Ives, in his typical fashion, used a range of different musical styles to express his impressions of these literary figures, sometimes veering suddenly from stentorian declamations to hushed hymns, other times simply piling up dances and eerie harmonics, occasionally quoting Beethoven's Fifth Symphony and "Columbia, the Gem of the Ocean," often at the same time.
As a defining influence on his own music, Brant pointed to Ives' The Unanswered Question, which features a lone trumpet positioned away from the orchestra. Brant experimented endlessly with spatial aspects, placing groups of musicians around different spaces. Early in his own musical life Brant saw that Ives' ideas in the Concord Sonata often cried out for more than what a piano could do on its own. His strength, musically, was orchestration. It's what he did for a living, often fleshing out the scores for other composers, including the movie scores of Alex North and the works of composers the likes of Aaron Copland, George Antheil and Douglas Moore. He even wrote a book on orchestration, Textures and Timbres, published after his death in 2008.
The assuredness with instrumentation shows in every bar. His choices have the effect of clarifying Ives' many layers, which pianists can't help but struggle to achieve, without losing that manic sense of unexpected juxtaposition that makes Ives' music alternately powerful, arresting and sometimes irresistibly funny. One of the finest moments in the score comes in the second movement, inspired by the spooky side of Hawthorne, when woodwinds and softly played percussion create a sensation of dread. The entire first movement, which looks like someone spilled too much ink on the pages of the piano score, rings forth with dissonances intact yet the interplay of brass against woodwinds and strings makes the textures much more accessible than a piano can. It's doubtful Ives himself could have done it better.
With Tilson Thomas at the helm, the pieces fell into place, or as much as pieces can in Ives' music. Tempo, dynamics and sonorities jelled into a cohesive whole for the full duration. One wonders why it took 14 years for the piece to make its way into this orchestra's repertoire.

For an hors d'oeuvre, the orchestra opened with Schubert's short, resolutely consonant and cheerful Mass No. 2. The pleasant 20-minute work featured soprano Lea Crocetto, a first-year Adler Fellow with San Francisco Opera, tenor Thomas Cooley and baritone Patrick Carfizzi. The music makes no attempt to create drama. It just flows engagingly, and the performance provided lush ear candy, especially the sumptuous work of the Symphony Chorus.
Harvey Steiman