RESPIGHI's LEGACY AS AT 75 YEARS AFTER HIS DEATH IN APRIL 1936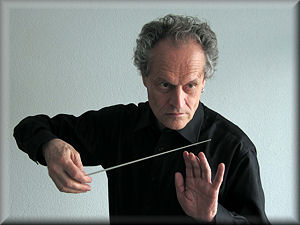 Ottorino Respighi died 75 years ago, on 18 April 1936, in Rome. For decades after his death, his music was largely ignored and with the exception of his Roman Trilogy:
Fountains of Rome, Pines of Rome and Roman Festivals,
plus one or two other works. Very few recordings of the multitude of these other works, in all musical genres, appeared until the last two decades of the 20
th
century. One of the composer's most ardent and consistent champions is the composer, and conductor Adriano who has recorded many of Respighi's works mainly for the Marco Polo recording company. Adriano was also President of the now, alas, defunct Respighi Society.
'Adriano, portrait by Dan Oria (2011)'

 
MusicWeb International asked him to survey Respighi's legacy as at April 2011.
 
We asked him:
 
1) After all this time do you think erroneous associations of Respighi with the Italian fascist movement continues to impede wider recognition of his true worth as a composer in the context of Italian music as a whole?
 
There are still musicologists today who, like parrots, repeat without really researching what their earlier colleagues had previously written. This Fascist business always sounds spicy, especially as far as Respighi's totally unfounded association with Fascism is concerned. It seems as though those writers could not find anything more interesting to say about Respighi. Funnily enough, Richard Strauss, who sympathized with Hitler and had glorified his Olympic games of 1936 with a pompous opening Hymn, seems to be treated better by musicologists. And, contrary to his fellow composers (Pizzetti for one) Respighi did not dedicate any of his compositions to Mussolini.
 
Just a couple of months ago, I had to write a critical letter to a renowned musicologist, who had contributed to the program of Berlin's 2010 production of Respighi's opera Marie Victoire, Such a shame that he could not find more constructive things to say about Respighi than to rake up that worn-out Fascist theme again. He even went on to quote that absurd assertion that Respighi was childish, by thoughtlessly repeating that old Grove Dictionary of Music text by a contributor who at that time was so ignorant of Respighi's real life and character – which I had also studied over many years by reading an enormous amount of documents from his private correspondence and with Elsa Respighi's personal collaboration for which I will be eternally grateful.
 
I think my own arguments about Respighi and Fascism, which I had published in January 2000 in connection with a silly article in the BBC Music Magazine, are so far the most plausible and researched ones in defence of the composer, who, incidentally, abhorred any form of politics.
 
2) Could it be that Italian operatic music tends to drown out the voices of Italian composers of non-operatic music? - Even though Respighi wrote so many operas himself; operas which too often have tended to be denigrated: some commentators have even suggested, for instance that his operas are strong on orchestration but the vocal parts are too weak. Maybe you might like to refute this and other criticisms of his operas?
 
Those writers who say that Respighi's operas are only strong on orchestration have no idea! They surely must be ignorant of the fact that, in comparison with Verdi and Puccini, Respighi wrote some 80 songs with piano and a half dozen cantatas; and that he had studied Monteverdi's operas! No other Italian composer was as highly cultured as Respighi. He even wrote an opera from a French libretto and was able to write in different musical styles – even in Neo-Baroque – and he was also an expert in Medieval music. Furthermore, Respighi spoke not only one, but two or more foreign languages more than Verdi or Puccini.
 
The problem with Respighi's operas is that, like so many others, they are not considered to be 'mainstream'; therefore singers and conductors are averse to spending a lot of time and energy studying them. It's so much more convenient to concentrate endlessly on the usual repertoire that allows agents and opera managers to make money that much easier. Furthermore, Respighi's operas require very talented singers and the chorus parts (especially those of La Fiamma) are extremely demanding. And, in any case, Respighi's La Fiamma, and his works like La campana sommersa and Semirâma are masterworks; and they have libretti that are not at all silly or boring.
 
3) Could it be that the Bologna/Rome rift might still be having an adverse affect on Respighi's reputation?
 
This rift has been long since forgotten and has no influence at all on Respighi's tremendous worldwide reputation. Yet, musical life in Italy has become totally perverse and politically-linked during these last years that even world-known Italian stars have decided not to honour their country with their presence any more.
 
4) Can you see evidence of new and upcoming conductors taking up Respighi's cause?
 
There is no need to take up Respighi's cause any more, since he is loved, performed and recorded everywhere. Some conductors of the newer generation try, unfortunately, with questionable promotional tricks to make themselves important by using or even abusing Respighi's name. I am thinking of a recent case in the USA.
 
5) Would you like to nominate some Respighi recordings that have appeared over the last ten years or so that have impressed you?
 
Adriano gave a very full reply to this question and we are reproducing it below as Appendix 1, below
 
6) Looking forward to the centenary of Respighi's death in 2036, would you care to prophesy how his reputation might stand then?
 
I am no prophet, but I am sure, that his most popular works will remain constantly in the repertoire because Respighi's music is so marvellous to listen to, and wonderful to play. The works are perfect vehicles for good conductors and good orchestras. Nobody asks whether Richard Strauss's tone poems will survive or not! But, considering today's music industry and, increasingly, mankind's intellectual and cultural degeneration, I am concerned that even before the year 2036, there could be less than pleasant surprises in all facets of art.
 
7) If we were to ask you, looking further forward into the future, which of his works will stand the test of time, which ones would they be? Would you like to nominate about ten, please?
 
In answer, I would mention my 10 personally favorite works by Respighi, which I have stored in my iPod. I would have to take these along to my desert island, provided there would be electricity available or enough solar energy.
 
1) La campana sommersa
2) Metamorfoseon
3) La primavera
4) La Fiamma
5) Concerto in modo misolidio
6) Concerto gregoriano
7) Il tramonto
8) La sensitiva
9) Quartetto dorico
10) Fontane di Roma
 
Appendix 1 Adriano's assessment of recordings of Respighi's music as per question 5 above.
 
Firstly, I must mention an excellent 2003 live recording, on the Accord label, of a concert performance of Respighi's 'key' opera La campana sommersa by Friedemann Layer, conducting the Montpellier Orchestra, with Laura Aikin and John Daszak in the main roles.
 
Particularly exciting was the 3-CD collection of Respighi's complete works for violin and piano, magnificently played by the German duo Ilona Then-Bergh and Michael Schäfer on the Genuin label. These performances were produced between 2004 and 2009 and include not only Respighi's original works, but also his transcriptions of old Italian violin pieces by Tartini, Locatelli, Veracini, Porpora, Vivaldi and Valentini. In 2007, the same label also issued an orchestral CD with the Suite from Belkis, regina di Saba, coupled with Rimsky's Sheherazade.

The Italian label, Tactus, issued 4 CDs of chamber music by Respighi; as well as his original violin and piano and solo piano or organ works - all between 2001 and 2008. Another Italian label, Stradivarius, concentrated on Respighi's songs with piano accompaniment on 3 separate CDs, issued between 2007 and 2010.
 
In 2005 and 2006, Exton (Japan) published 2 CDs conducted by Vladimir Ashkenazy, with the Roman Triptych, the Belfagor Overture, Church Windows and the Suite from Belkis.
 
CPO, a German label issued 2 new recordings in 2006 and 2010 with ballets (including the complete Boutique fantasque), and the cantatas Aretusa and La Sensitiva.
 
In 2001, Reference Recordings (USA) issued 2 CDs with Pini di Roma, Ballata delle Gnomidi, Belkis (Suite) and Etudes-Tableaux (after Rachmaninov). BIS issued the Roman Triptych conducted by John Neschling in 2010 and Il tramonto coupled with 2 string quartets with the New Hellenic Quartet in 2006.
 
Looking at labels that published only a few Respighi CDs in the last decade: EMI issued Anthony Pappano's version of the Roman Triptych, coupled with Il tramonto, RCA published a recording of Adagio con variazioni with Sol Gabetta and Decca issued Julia Fischer's recording of Poema autunnale, both recordings added these Respighi shorter pieces as encores of the Elgar Cello concerto and of concert pieces by Vaughan Williams, Chausson and Suk respectively.
 
In addition recent recordings have included:-
 
From DG, in 2004: Metamorfoseon, Rossiniana, Burlesca and Bach's Passacaglia with George Hanson conducing the Wuppertal Symphony.
 
From Chandos (producing its 18th CD containing music by Respighi): a 2006 disc with Burlesca; Preludio, corale e fuga; Rossiniana and Five Etudes-Tableaux, conducted by Gianandrea Noseda.
 
From Ondine in 2010: Concerto in modo misolidio and Fontane di Roma, conducted by Sakari Oramo.
 
The Marquis label, in 2009, issued Concerto gregoriano with soloist José Miguel Cueto, accompanied by the St. Petersburg Symphony (2009).
 
The Turkish label Onyx Classics issued the Belkis Suite, coupled with pieces by Hindemith and Florent Schmitt (2010)
 
Naxos continues its Respighi series with an excellent recording of Church Windows, Impressioni brasiliane and Rossiniana, conducted by JoAnn Falletta (2007). At the same time they have reissued some of those pioneering Respighi CDs which I recorded myself on their related Marco Polo label in the 1990s, such as La Primavera, (a demanding work - so far I am alone in having recorded it) and some symphonic pieces which, in the meantime, have been recorded on other labels by better conductors, better orchestras and with better sonics.
 
Channel Classics completed its remarkable 3-CD series of Respighi's songs with piano in 2006.
 
My own orchestration of Respighi's 4-hand piano pieces of 1926. I was disappointed that I was unable to record this for Marco Polo. I saw its premiere on the Italian Inedita label in 2007, on a CD that also included Respighi rarities such as his Humoresque and Leggenda - all conducted by Roberto Diem Tigani and his Sassari Symphony Orchestra.
 
Finally, I am happy to see my own historical documents of Respighi songs with mezzo-soprano Elsa Respighi and her husband at the piano reissued on a CD with the 4-hand piano version of Fountains of Rome - as played by Respighi and Alfredo Casella in 1925 on the Welte Mignon. This is available on the Pierian label.
 
Besides the above exciting list of about 30 CDs, there are some historical reissues - like the quite unsurpassable Italian RAI concert productions of La Fiamma, of 1955 and La campana sommersa of 1956, both on the GOP label - and some new, usually noisy brass band arrangement CDs of Pines … and Festivals … from USA and Britain.
 
A rather unnecessary flux of new recordings of Antiche danze ed arie and of the Roman Triptych would enlarge my list considerably. Looking at these many CD versions (new and reissued ones) of those popular pieces I just ask myself why they were produced and who is going to buy them over and over again – considering today's low purchasing figures. Just consider that there are now around 70 recorded versions of Pini di Roma made since 1929, meaning that every year one new recording of Pini has been produced, either in the original or in a brass band version. Some of the very old ones have been repeatedly reissued, first on LP and then on CD – not to mention what floats around endlessly on the internet!
 
Appendix 2 Adriano contributes this useful list of Respighi study books
 
Elsa Respighi's book, Ottorino Respighi, is a 340 page's biography, first published in Italian by Ricordi in 1954. Elsa spent many years of hard work on it. The English version is but a poor digest, as edited by its translator Gwyn Morris, and simultaneously translated into both French and German. In addition to this book, Elsa Respighi also wrote a very valuable study of Respighi's stage works and a personal memoir, 50 years of a Life in Music, a major part of which was devoted to the years she spent with Respighi. This latter book has also been translated into English and was published by the Edwin Mellen Press in 1993. Another book, published in English, by Treves in 1986, in the 'Portrait of Greatness' series, is a generously illustrated biography by Pierluigi Alverà.
 
As far as books on Respighi still to be translated from the Italian are concerned, there is a very important 470-page 'symposium' book, that has contributions from 13 Italian musicologist. This book was published in 1985 by ERI (Edizione RAI, Radiotelevisione Italiana).
 
Two other important books by Italian musicologists are: a study with analyses of Respighi's works by Alberto Cantù (Edizioni EDA, 1985) and a book on Respighi's youthful piano compositions by Potito Pedrarra (Rugginenti, 1995).
 
Those who may need more bibliographical information on Respighi should consult an admirably detailed and interesting "Annotated Bibliography" by Lee G. Barrow, which was published by the Scarecrow Press in 2004 (250 pages) and also includes a select Discography and a catalogue of Respighi's works.
 
Interviewer: Ian Lace



<!- paste above here ->