Frequently-Asked
Questions

Here are some questions I've encountered as I built this site and talked about it with others:
What's so special about Bobby Hutcherson's music?
I've thought for a long time about this. Perhaps the fact that there is no one else like him is all we need know to declare him a great artist, a great musician. But that still doesn't answer the question, What makes him different from others?
His music can be deceptively simple. Often, it has a naked, joyous, un-self-conscious but thoughtful quality that I've never heard in any other jazz musician. Other times, his music is more exploratory, and his vibraphone seems to be snatching tones from the ether, tones that seem to be stolen from another, less linear, spirit-world. Sometimes, he swings, deep, deep, deep in the blues, the American songbook, the jazz tradition. But he doesn't play licks; he plays music. Hutcherson is a virtuoso, and he's capable of jaw-dropping displays, but his technique is never flashy. It's always in the service of music that has a sort of ever-present joy in being. Maybe that's it. It seems like this relish for life has been a constant from the beginning of his career to the present, regardless of the musical context.
One other point, vital to understanding Bobby Hutcherson: his music has a sort of poise, a sort of musical balance that is sometimes undervalued in jazz. Yes, his music sometimes inclines toward ecstasy, but it equally addresses calm reflection, questioning, and an everyday, all-about-us sort of joy. Maybe that's what attracted Hutcherson to the vibraphone. It's an instrument that calls for balance: rhythm, melody, harmony; a drum and piano fused into one.
What are your favorite Bobby Hutcherson recordings?
It's hard, but if you forced me to choose just a few, here's what I consider to be "Essential Bobby Hutcherson":
Hutcherson's run of Blue Note recordings in the 60's--from The Kicker through Now!--is an amazing achievement. Every one of these is nothing less than excellent. Hutcherson deserves the "box set treatment" that fellow Blue Note artists like Herbie Hancock and Dexter Gordon have received for their 60's recordings.
Hutcherson's recordings from the 70's are not as consistent as the work he did in the previous decade. (His one-and-only outright dud, Natural Illusions, dates from 1972.) Even so, Hutcherson continued to make compelling records. In recent years, Blue Note has reissued Montara and San Francisco. But even more interesting albums like Head On, Cirrus, The View from the Inside, and Knucklebean have never been reissued on CD. (I understand that the folks at Mosaic are planning to issue a "Mosaic Select" set of Hutcherson's work from the 70's.)
What are your favorite recordings of Hutcherson as a sideman?
Again, it's tough to choose because there are so many. These are the ones that immediately come to mind:
What are Hutcherson's most well-known compositions?
Hutcherson is not especially well-known for his composing skills, but I think he's a terrific and terrifically-underrated jazz composer. At some point, another jazz musician should do a tribute CD and record nothing but Bobby's compositions. I think it would be wonderful, and it would show the breadth and depth of Hutcherson's composing abilities. Here's a short list of some of Hutcherson's more well-known songs:
There are many, many other Hutcherson compositions that deserve to be well-known. (For example, I think "Even Later" is a stunning composition, but many people don't know it because it was released on a fairly obscure LP, Cirrus. Or what about "Messina" from Solo/Quartet? Or "Second-Hand Brown" from Color Schemes?) Again, I think a Plays the Music of Bobby Hutcherson CD is in order! Kenny Garrett, are you listening?
Who are some of the musicians who have collaborated with Hutcherson?
Bobby has worked with an amazing number of jazz legends. The following list only is a sampling of the musicians who have collaborated with him on recordings:
| | |
| --- | --- |
| Alto Saxophonists | Eric Dolphy, Kenny Garrett, Prince Lasha, Jackie McLean, James Spalding, Sonny Simmons, Miguel Zenón |
| Tenor Saxophonists | Curtis Amy, Manny Boyd, Hadley Caliman, Chico Freeman, John Gilmore, Dexter Gordon, Craig Handy, Joe Henderson, Harold Land, Branford Marsalis, Billy Mitchell, Ralph Moore, Joshua Redman, Sam Rivers, Sonny Rollins, Pharoah Sanders, Archie Shepp, Wayne Shorter, Ernie Watts |
| Trumpeters | Oscar Brashear, Dave Burns, Donald Byrd, Jerry Gonzales, Freddie Hubbard, Lee Morgan, Nicholas Payton, Woody Shaw, Charles Tolliver |
| Trombonists | Curtis Fuller, Al Grey, Grachan Moncur, Steve Turre |
| Guitarists | John Abercrombie, Gene Bertoncini, Bruce Forman, Grant Green, Barney Kessel |
| Pianists | Geri Allen, Kenny Barron, George Cables, Chick Corea, Stanley Cowell, Albert Dailey, Tommy Flanagan, Hal Galper, Herbie Hancock, Barry Harris, John Hicks, Andrew Hill, Hank Jones, Les McCann, Mulgrew Miller, Duke Pearson, Renee Rosnes, Joe Sample, McCoy Tyner, Cedar Walton |
| Bassists | Ron Carter, Bob Cranshaw, Richard Davis, Ray Drummond, Reggie Johnson, Herbie Lewis, Cecil McBee, Christian McBride, Barre Phillips, Rufus Reid, Albert Stinson, Buster Williams, Reggie Workman |
| Drummers | Joe Chambers, Leon "Ndugu" Chancler, Jack DeJohnette, Billy Drummond, Peter Erskine, Al Foster, Al Harewood, Eric Harland, Beaver Harris, Roy Haynes, Billy Higgins, "Stix" Hooper, Elvin Jones, Philly Joe Jones, Victor Lewis, Eddie Marshall, Harvey Mason, Mickey Roker, Lenny White, Tony Williams |
| Organists | Joey DeFrancesco, "Big John" Patton, Larry Young |
| Other | Airto, Candido, Jerry Dodgion, Gene McDaniels, James Newton, Lou Rawls, Dianne Reeves, Gerald Wilson |
If I were to point out two collaborators who had the most lasting impact on Hutcherson's earlier music, I would suggest Joe Chambers (drummer, composer) and Harold Land (tenor sax, flute). But many others, like McCoy Tyner and Herbie Hancock, are collaborating with Hutcherson to this day.
From the New Grove Dictionary of Jazz, Volume 3
A vibraphone (or vibraharp or vibes) is a tuned percussion instrument consisting of a set of metal bars arranged like a piano keyboard; in contrast with the two ranks of a xylophone, all the bars are mounted on one level, facilitating the use of three or four mallets and the playing of chords. Each bar is suspended over a tube resonator containing a revolving vane or metal disc; the rotation of the vane causes a repeated opening and closing of the resonator, producing a vibrato. The speed of the rotation, and thus the vibrato, is controlled by an electric motor. When no vibrato is desired, the motor is switched off and the vanes rest in a vertical position, leaving the resonators fully open. The vibraphone has a compass of three octaves and is usually played with rubber-tipped or yarn-wound mallets. It has a foot-controlled sustaining device that operates in a similar way to the sustaining pedal of a piano (p 842).
| | |
| --- | --- |
| | |
| A vibraphone | Vanes in a vibraphone resonator |
See also the Wikipedia article about vibraphones.
From Wikipedia
A marimba is a musical instrument in the percussion family. Keys or bars (usually made of wood) are struck with mallets to produce musical tones. The keys are arranged as those of a piano, with the accidentals raised vertically and overlapping the natural keys to aid the performer both visually and physically. The concert marimba is pitched an octave lower than its cousin, the xylophone. Both xylophone and marimba bars are usually made of rosewood, but presently, synthetic substitutions are becoming more and more popular.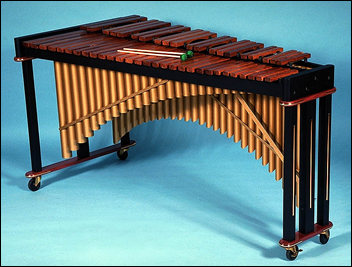 A marimba
See the remainder of the Wikipedia article about marimbas.