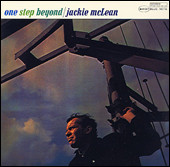 Jackie McLean: One Step Beyond

LP: Blue Note BST 84137
CD: Blue Note CDP 7 46821 2; also included on Mosaic Select: Grachan Moncur III (MS-001)

Tracks & Composers
1 Saturday and Sunday (McLean)
2 Saturday and Sunday [alternate] (McLean)
3 Frankenstein (Moncur)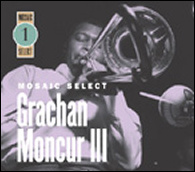 4 Blue Rondo (McLean)
5 Ghost Town (Moncur)


Personnel
Grachan Moncur III (tb); Jackie McLean (as); Bobby Hutcherson (vib); Eddie Khan (b); Tony Williams (d)

Recording Date & Location
30 Apr 1963, Englewood Cliffs, NJ

Commentary
One Step Beyond is a classic in every sense of the word. The musicianship is stellar. The interplay between the band members is telepathic. And the compositions are fascinating and distinctive. If you're following Bobby's development on record, coming to this music after listening to the Al Grey-Billy Mitchell group is like stepping out of a familiar sedan and finding yourself on a rocket-ship.

Several of the compositions remind me of Monk's music, particularly "Saturday and Sunday" and "Frankenstein." But there's also a strangely wide-open aspect to this music that's different from Monk's sound. The wide-open feeling is both literal and figurative. The absence of a piano has a huge effect on creating the limitless, airy sound. (I assume that Jackie's decision to play without a piano comes from Ornette's influence.) On a composition like "Ghost Town," you can practically see crumbling buildings, dusty tumble-weeds blowing by. (Or at least that's why I think of.) But that openness is wonderful because Jackie's slashing, magisterial, harshly bluesy tone can fill up all that space, propelled by Tony Williams' careening drums. (No wonder Miles "stole" Tony from this band.) Incidentally, I think that the cover of this album is one of Blue Note's best. It does a perfect job of pictorially representing the music.

Of course, Bobby plays magnificently here too. Apparently, when Alfred Lion first heard this band rehearsing, he'd only heard one song before proceeding to offer Bobby a contract. Hutcherson ended up staying with Blue Note longer than any other artist except Horace Silver.