LP: Blue Note LT 1086
CD: Blue Note 7243 4 97508 2 1

The Medina CD (Blue Note 97508) includes all selections from the Medina LP and the Spiral LP--except "Jasper," which was originally released on Spiral and is now a CD bonus track on Dialogue.

Tracks & Composers (Original LP)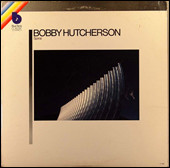 1 Jasper (Hill)
2 Ruth (Chambers)
3 The Wedding March (Cowell)
4 Poor People's March (Land)
5 Spiral (Chambers)
6 Visions (Hutcherson)


Personnel ("Jasper" only)
Freddie Hubbard (tp); Sam Rivers (ts); Bobby Hutcherson (vib); Andrew Hill (p); Richard Davis (b); Joe Chambers (d)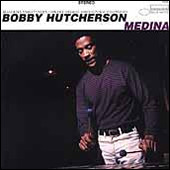 Personnel (All other tracks)
Harold Land (ts); Bobby Hutcherson (vib); Stanley Cowell (p); Reggie Johnson (b); Joe Chambers (d)
Recording Date & Location
11 Nov 1968, Englewood Cliffs, NJ (except "Jasper," 3 April 1965)
Notes
Spiral was not released in the U.S.A. until 1979.
Commentary
The "classic" version of the Bobby Hutcherson - Harold Land Quintet (with the Cowell-Johnson-Chambers rhythm section) appears on both Spiral and Medina. Sadly, neither of these albums were released during the quintet's existence. This type of jazz that this group was making wasn't in step with the times. Jazz-rock and fusion were just taking off, and it would be more than a decade until the music was released. Apparently, Blue Note didn't regard it as commercially viable.
All other considerations aside, I think these recordings are the equal of any that Bobby Hutcherson has ever made. When I was first discovering Hutcherson's music, I played this CD incessantly. There's nothing else quite like it. It's intense and serene, all at the same time. The band seems completely in synch, and everyone plays marvelously. Harold Land, in particular, plays with a sort impassioned ease that is both wonderful and compelling.
The 1998 CD release includes all of the tracks from both Medina and Spiral except for "Jasper," which was originally on the latter LP. (More recently, "Jasper" has been issued on the Dialogue CD, since it was an out-take from that session.) Sadly, the Medina / Spiral CD is out of print again. But it's worth tracking down. (I got my copy on ebay.) Listening to it will make you wish that you could travel back in time to hear this great group that's never received the recognition it deserves.