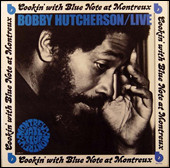 Bobby Hutcherson: Cookin' With Blue Note at Montreux (LP) / Live at Montreux (CD)
LP: Blue Note BN-LA-249-G
CD: Blue Note CDP 7243 8 27819 2 9
Tracks & Composers
1 Anton's Bail (Hutcherson)
2 The Moontrane (Shaw)
3 Farallone (Hutcherson)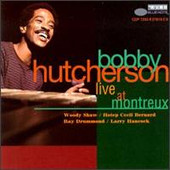 4 Song of Songs (Shaw)
The LP does not include track 3.

Personnel
Woody Shaw (tp); Bobby Hutcherson (vib); Hotep Cecil Bernard (p); Ray Drummond (b); Larry Hancock (d)
Recording Date & Location
5 July 1973, Montreux, Switzerland
Notes
The LP was released in Japan and Europe only in 1974. The CD was released in 1994.
Commentary
Coming soon.