LP: Blue Note LT 996
CD: Blue Note 7243 4 97508 2 1

The Medina CD (Blue Note 97508) includes all selections from the Medina LP and the Spiral LP--except "Jasper," which was originally released on Spiral and is now a CD bonus track on Dialogue.

Tracks & Composer (Original LP)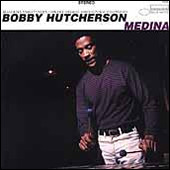 1 Avis (Hutcherson)
2 Comes Spring (Hutcherson)
3 Dave's Chant (Cowell)
4 Orientale (Cowell)
5 Medina (Chambers)
6 Ungano (Chambers)


Personnel
Harold Land (ts); Bobby Hutcherson (vib); Stanley Cowell (p); Reggie Johnson (b); Joe Chambers (d)

Recording Date & Location
11 Aug 1969, Englewood Cliffs, NJ

Notes
Medina was not released until 1980.

Commentary
Everything that I said about Spiral holds true with Medina. Frankly, in my mind, the two albums are one experience--since I absorbed this music on the CD that combines the tracks from both albums. Plus, the overall effect of both albums is so consistent and similar.

Early on, when I was first listening to Hutcherson's music, this is one of the albums that convinced me that Bobby Hutcherson was more than an exceptional vibraphonist. It helped me to realize that he's a truly great musician.

If you like Bobby's music and haven't heard Medina, track it down. You won't regret it.