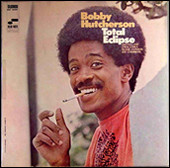 Bobby Hutcherson: Total Eclipse

LP: Blue Note 84291
CD: Blue Note CDP 7 84291 2

Tracks & Composers
1 Herzog (Hutcherson)
2 Total Eclipse (Hutcherson)
3 Matrix (Corea)
4 Same Shame (Hutcherson)
5 Pompeian (Hutcherson)


Personnel
Harold Land (ts, fl); Bobby Hutcherson (vib, marimba, bells); Chick Corea (p); Reggie Johnson (b); Joe Chambers (d)

Recording Date & Location
12 July 1968, Englewood Cliffs, NJ

Commentary
In 1967, Bobby Hutcherson and tenor saxophonist Harold Land decided to form a collaborative partnership, the Bobby Hutcherson - Harold Land Quintet. (Or the Harold Land - Bobby Hutcherson Quintet. Neither of them cared who got top billing.) Since both men were based in California but often performed and recorded on the East Coast, they used a rotating rhythm section of various East Coast and West Coast players. Also, rather than recording as "The Bobby Hutcherson - Harold Land Quintet," each of them released albums in their own name. Hutcherson recorded for the Blue Note label, and Land recorded for Argo/Cadet and Mainstream. The quintet's first album was The Peace-Maker, a woefully under-appreciated album issued in Land's name. That album featured a rhythm section consisting of Joe Sample (p); Buster Williams (b); and Donald Bailey (d), since it was recorded on the West Coast.

Total Eclipse was the first album from the quintet to be released in Hutcherson's name. Recorded at Rudy Van Gelder's New Jersey studio, this album employs an East Coast rhythm section of Chick Corea (p); Reggie Johnson (b); and Joe Chambers (d). Stanley Cowell rather Chick Corea was the quintet's most frequently-used East Coast pianist, but no one would fault Corea's contribution on this album. Corea, who was taking a break from Miles Davis' group, appears on Total Eclipse because this lineup had just completed NYC engagements at Slug's and The Village Vanguard.

All of the compositions are Hutcherson's except for "Matrix," which is by Chick Corea. (You may have heard this track before on Corea's "Now He Sings, Now He Sobs.") Every one of the cuts are superb, but I have to make a special mention of "Pompeian," the album's closing track. It starts off in a straight-forward style. The theme is whimsical, almost child-like. But before long it modulates into flowing free-form interplay. There's something very spiritual, even celestial about this music--plus it's wide-eyed, innocent, and full of wonder. The only other music I've heard that manages to combine these disparate qualities so skillfully, so naturally is Charles Ives'. It's unusual to hear music that manages to be full of joy while at the same time seeking, questing so vehemently.