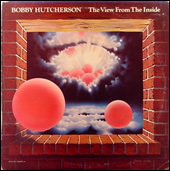 Bobby Hutcherson: The View From the Inside

LP: Blue Note BN-LA710-G
CD: Mosaic Select: Bobby Hutcherson (MS-026)

Tracks & Composers
1 Later, Even (Hutcherson)
2 Houston St. Thursday Afternoon (Hutcherson)
3 Same Shame (Hutcherson)
4 Love Can Be Many Things (Leary)
5 Song for Annie (Boyd)
6 Laugh, Laugh Again (Leary)
7 For Heaven's Sake (Bretton, Edwards, Meyer)


Personnel
Emanuel Boyd (ts, ss); Bobby Hutcherson (vib); Larry Nash (p, el-p); James Leary III (b); Eddie Marshall (d)

Recording Date & Location
4-6 Aug 1976, Los Angeles, CA

Notes
"Later, Even" is an elaboration on the song "Even Later," which originally appeared on Cirrus.

Commentary
If I were forced to describe The View from the Inside in one word, it would be "laid-back." It's a gentle record that floats along like a raft on tranquil stream. As with most of Hutcherson's work from the Seventies, there's little indication that this music comes from that decade. (I can think of one spot. On "Laugh, Laugh Again," the rhythm section sails along, and then incongruously breaks into a disco beat. Funny. But, hey, even the Rolling Stones did it!) But there's no trace of fusion, and the only electric instrument is Lewis Nash's tasteful electric piano. The music doesn't swing as hard as Hutcherson's recordings from earlier and subsequent decades. But I sense that he was shooting for something different. Remember, the Seventies were a low-point in terms of acceptance of straight-ahead swinging jazz.

The opening track, "Later, Even," revisits one my very favorite Hutcherson compositions, "Even Later" from the album Cirrus. This is indescribable, uncategorizable music. (If you were to compare it with someone else's music, you might say that it's like Erik Satie's.) "Houston Street, Thursday Afternoon" is another solid Hutcherson composition. Houston Street must have been a pleasant place on Thursday afternoon. The performance is effortless; no strain, no fuss. The third and final track on side one of the LP is "Same Shame," which Hutcherson originally recorded on Total Eclipse. (Incidentally, Chico Freeman recorded this piece on his album Destiny's Dance.) As with Freeman and Harold Land, this track draws out some impassioned playing from tenor saxophonist Manny Boyd. Hutch follows with an excellent, drawn-out solo of his own. The second side, featuring compositions from Hutcherson's band-mates, is not quite a strong as the first. But it's still good music and well worth hearing.

Mosaic reissued this LP in a "Mosaic Select" set dedicated to Hutcherson's 1970's work. (The set includes the following albums: Cirrus, Inner Glow, Waiting, The View from the Inside, and Knucklebean.) If you're a Hutcherson fan, picking up this set is a no-brainer.