Download News 2013/1

Brian Wilson
Archive of past Download roundips and news is here.
Recording of the Month and Reissue of the Month

George Frideric HANDEL (1685-1759) Finest Arias for Base Voice
Sibilar gli angui d'Aletto (Argante) (Act 1 No 10. Aria from Rinaldo, HWV7a) [4:50]
I rage, I melt, I burn! (Polyphemus) (Part 2 No 02. Accompagnato from Acis and Galatea, HWV49a) [1:21]
O ruddier than the cherry (Polyphemus) (Part 2 No 03. Air from Acis and Galatea, HWV49a) [3:13]
Fra l'ombre e gl'orrori (Polifemo) (No 23. Aria from Aci, Galatea e Polifemo, HWV72) [6:59]
If I give thee honour due (L'Allegro) (Part 1 No 14. Recitative from L'Allegro, il Penseroso ed il Moderato, HWV55) [0:12]
Mirth, admit me of thy crew (L'Allegro) (Part 1 No 15. Air from L'Allegro, il Penseroso ed il Moderato, HWV55) [2:34]
Qual'insolita luce (Lucifero) (Part 1 No 3. Accompagnato from La Resurrezione, HWV47) [1:09]
Caddi, è ver (Lucifero) (Part 1 No 4. Aria from La Resurrezione, HWV47) [4:15]
Tears, such as tender fathers shed (Abinoam) (Part 3 Scene 2 No 2. Air from Deborah, HWV51) [2:30]
To pow'r immortal my first thanks are due (Gobrias) (Act 3 Scene 3. Air from Belshazzar, HWV61) [3:55]
Impari ognun da Orlando (Zoroastro) (Act 3 Scene 6 No 10. Accompagnato from Orlando, HWV31) [1:11]
Sorge infausta una procella (Zoroastro) (Act 3 Scene 6 No 11. Aria from Orlando, HWV31) [4:35]
Racks, gibbets, sword and fire (Valens) (Act 1 No 5. Air from Theodora, HWV68) [3:56]
Volate più dei venti (Porsena) (Act 3 No 6. Aria from Muzio Scevola, HWV13) [3:24]
Vieni, o cara (Claudio) (Act 1 Scene 21. Aria from Agrippina, HWV6) [1:45]
Nel mondo e nell'abisso (Isacio) (Act 3 Scene 4. Aria from Riccardo Primo, Re d'Inghilterra, HWV23) [3:13]
Mie piante correte (Apollo) (No 17. Aria from Apollo e Dafne, HWV122) [2:50]
Cara pianta (Apollo) (No 18. Aria from Apollo e Dafne, HWV122) [7:27]
Revenge, Timotheus cries (Part 2 No 2. Air from Alexander's Feast, HWV75) [7:55]
Leave me, loathsome light (Somnus) (Act 3 Scene 1. Air from Semele, HWV58) [3:40]
Christopher Purves (bass)
Arcangelo/Jonathan Cohen
rec. All Hallows Church, Gospel Oak, London, 19-24 January, 2011. DDD.
Booklet with texts and translations included – as pdf document with download
HYPERION CDA67842 [70:54] – from hyperion-records.co.uk (mp3, 16-bit and 24-bit lossless)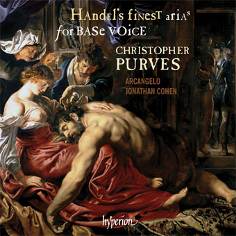 This just missed my 2012/24 Download News and it's much too good anyway not to receive an airing among the main MusicWeb reviews – it may well have appeared there by the time that you read this Download News. Handel's bass arias have rather gone out of fashion now but they deserve to be revived and Christopher Purves is just the man to do so, very ably abetted here by Arcangelo and Jonathan Cohen; this could well be one of my Recordings of the Year next time round.

Perhaps the reason for the neglect of this repertoire stems from the fact that many of Handel's bass roles are villains – the monster Polifemo in his Italian version of Aci, Galatea e Polifemo and Polyphemus in the later English version written for Cannons, or Lucifer in his la Resurrezione, another work composed in Italy. Those villains are certainly represented here – and most villainously, too, from the very first track on which the Saracen King Argante sings of the hissing serpents of Alecto and the following track on which Polyphemus rages and burns.

But there's tenderness, too, as on track 3 where Polyphemus expresses his love for Galatea, and Purves does tender equally well. This villain has a heart, too, and Purves joins the best interpreters of the role over the years who have brought out this tender side. Nor does he overdo the revengeful ire of Valens threatening racks, gibbets, sword and fire for those Christians like Theodora who oppose his decree (tr.13). There's plenty of ire here, but he resists the temptation to make Valens into a pantomime villain.

Handel's basses are also powerful figures, like the mage Zoroastro who expounds on Orlando's loss of reason through love on track 11 and here too I'm very impressed by the power of the singing. It's especially effective, following as it does the different moods of the preceding tracks, Abinoam's Tears, such as tender fathers shed (tr.9) and Gobrias' aria of thanks to Cyrus for having laid low the Israelites' oppressor (tr.10). We have two excellent recordings of Orlando (William Christie/Warner Classical and Christopher Hogwood/Decca) but a new rival with Purves as Zoroastro would present a strong challenge.

No collection of Handel's bass arias would be complete without Revenge, Timotheus cries, from Alexander's Feast, the penultimate item on this recital – more snakes, of course, in the hair of the Furies, and very well done but again without going over the top. But we donít end with a bang – nor with a whimper, either, with a sensitive evocation of the gentler tone of Leave me, loathsome light from Semele, in which Somnus lulls himself to sleep.

That apart, sleep is the last thing that this new recording is likely to induce in its listeners. Not only is it worthy of comparison with such great predecessors as Owen Brannigan, whose Polyphemus, with Sir Adrian Boult conducting Acis and Galatea, is still worth seeking out on Chandos or Australian Decca Eloquence, it also continues Hyperion's strong tradition of Handel performance. Three of these are advertised in the booklet – the most recent Arias for Guadagni (Handel, Hasse, et al., Iestyn Davies, again with Arcangelo, CDA67924 – review) and earlier releases from Emma Kirkby and Catherine Bott (CDS44271/3, 3 CDs at a special price: Bargain of the Month – review and review) and Heroic Arias sung by James Bowman with the King's Consort on budget-price Hyperion Helios CDH55370 (July 2012/2 Download Roundup).

I listened to the new recording in 24-bit download form, which makes it superior to the CD and it is, indeed, excellent – but I doubt whether you would have any problems with the latter. At 700MB the 24-bit is probably a little too large to burn to CDR, so those who like to have the physical disc will have to buy the CD or download the 16-bit CD-equivalent version. As always with Hyperion, the quality of the booklet is an added advantage.

I'd encourage you to make a bee-line for all those Hyperion recordings of arias and duets in one format or another, but also to investigate some of Hyperion's distinguished complete recordings of Handel operas and oratorios. Most of all it's to the two CDs with Arcangelo in accompaniment, the current recording and the earlier Arias for Guadagni, that I would direct your attention. I didnít make Arias for Guadagni a Recording of the Month (June 2012/2 Download Roundup) and, on reflection, I'm wondering why, especially as it won an award, so the accolade is actually for both that and Finest Arias for Base Voice. No reservations? Well, that title with the cod spelling and mixed-up fonts is a bit of pseudo-eighteenth-century flummery, but that's hardly a serious criticism.

George Frideric HANDEL English Arias
Yet, can I hear that dulcet lay (Hercules) (Air from The Choice of Hercules, HWV69) [3:59]
How can I stay, when love invites (Assueras) (Aria from Esther) [3:02]
O fairest of ten thousand fair (Michal/David)* (Act 2. Duet from Saul, HWV53) [3:11]
Great God! who, yet but darkly known (Cyrus) (Act 1. Aria from Belshazzar, HWV61) [3:28]
The rapturíd soul (Didymus) (Act 1 Scene 2. Aria from Theodora, HWV68) [8:14]
Air: Father of heav'n! From thy eternal throne (Priest) (from Judas Maccabæus) [7:24]
Overture (Esther): Andante – Larghetto – Allegro [6:28]
O Lord, whose mercies numberless (David) (Act 1 Scene 5. Aria from Saul, HWV53) [3:30]
What though I trace each herb (Solomon) (Act 1. Aria from Solomon) [6:13]
Martial Symphony – Destructive war (Cyrus) (Act 3 Scene 3. Symphony – Aria from Belshazzar, HWV61) [2:50]
Welcome as the dawn of day (Solomon/Solomon's wife)* (Act 1. Duet from Solomon) [3:33]
Kind heaven, if virtue be thy care (Didymus) (Aria from Theodora, HWV68) [5:13]
Almighty pow'r (Solomon) (Accompagnato from Solomon) [2:45]
Now persecution shall lay by her iron rod – Tune your harps (Israelite) (Act 1. Recitative – Aria from Esther) [5:06]
James Bowman (countertenor); with Susan Gritton (soprano)*
The King's Consort/Robert King – rec.1992 and 1995. DDD
Pdf booklet with texts included
HYPERION HELIOS CDH55419 [66:03] – from hyperion-records.co.uk (mp3 and lossless)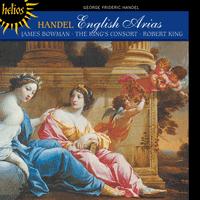 At the time that I wrote the above I didnít know that Hyperion had yet another treat in store for Handelians, for release on CD in January 2013 but available as a download in advance. It's really enough just to draw your attention to this budget-price reissue and leave the names of James Bowman and Robert King to be their own self-recommending advertisement.

Iíd go for Bowman's earlier recording of Handel Heroic Arias first – see above – but whichever you choose first you're sure to want the other and they both come at budget price.
***
Johann Sebastian BACH (1685-1750)
Organ Trio Sonatas, BWV 525-530, arranged for multiple instruments
Florliegium (Ashley Solomon (director, flute); Rodolfo Richter (violin/viola); Reiko Ichise (viola da gamba); Jennifer Morsches (cello / piccolo cello); Eligio Quinteiro (lute); James Johnstone (harpsichord)) – rec. May 2007. DDD.
Pdf booklet included
CHANNEL CLASSICS CCSSA27012 [75:41] – from channelclassics.com (SACD, mp3, 24/44.1, 24/96, 24/192 lossless and DSD.)

['In general terms Florilegium's set of the Organ Trio Sonatas is a terrific success.' See review by Dominy Clements.]

Trio Sonatas for organ arranged by Richard Gwilt
London Baroque (Ingrid Seifert (violin); Richard Gwilt (violin; Trios Nos. 2 & 4: viola); Charles Medlam (cello); Terence Charlston (harpsichord; Trios Nos. 4 & 6: organ)) – rec. October-November, 2001. DDD
BIS BIS-CD-1345 [74:38] – from eclassical.com (mp3, 16– and 24-bit lossless)

[Recording of the Month – see review by Kirk McElhearn]

[See also my review of the excellent recording by the Brook Street Band on Avie AV2199 – February 2011 Roundup]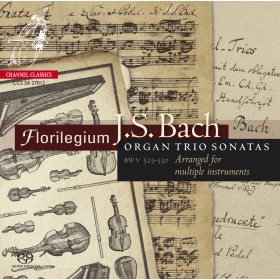 Despite my admiration for the technique recommended in a late medieval mystical treatise, The Cloud of Unknowing, I canít un-know the fact that Dominy Clements, in awarding high praise to the Channel Classics recording, thought the BIS slightly preferable. For that reason I played the Florilegium recording first and soon found myself enamoured of their gentle, lyrical performances, just a little sober by comparison with organ performances that Iíve heard.

Of these I was surprised to discover that Christopher Herrick's 1989 recording on Hyperion (CDA66390 [70:15]) had fallen by the wayside and is now available only to special order on CD or as a download (mp3 or lossless from hyperion-records.co.uk). With Herrick as my benchmark for both the instrumental adaptations I have to say that that's where I shall return most often for these sonatas. It seems odd to write that a single instrument can actually sound more colourful than a combination but that is the case here as between the organ and the various instrumental combinations.

In addition to the Herrick recording, Hyperion have another treasure hidden away in their Archive Service or for download in mp3 or lossless in the form of a set of instrumental transcriptions of these trios recorded in 1995 by the King's Consort (CDA66843 [69:58]). These recordings capture much of the variety that I found in Herrick's performances and they are noticeably more sprightly than the Channel Classics versions.

Sprightliness, where called for, is also the order of the day with the London Baroque BIS recordings. For all the virtues of the Florilegium recording – and I enjoyed their performances, so you could hardly go wrong with them – my final choice must rest between London Baroque and the King's Consort.

All four downloads come with a booklet and all four recordings are very good; I listened to the Channel Classics in 24/96, to the BIS in their best version, 24/44.1 and to the Hyperions in 16-bit flac. As between 24/44.1 and 24/96 there is usually a significant but hardly startling improvement in quality and I found that to be the case here. Equally, 24-bit has advantages over the Hyperion 16-bit sound but, again, the difference is hardly of a major order.

The BIS recording comes in mp3 and 16-bit flac for $10.91 and in 24-bit for $13.09. The prices for the Channel Classics range from £7.30 for mp3 via £11.36 for 24/44.1 to £16.23 for 24/192, while the Hyperion recordings both cost £7.99 whether you choose mp3 or the superior flac.

For the arrangements on Channel Classics some alterations have been made, including a few key signatures:

Sonata No.1 in E flat (BWV 525) arr in G (flute, violin, cello, harpsichord)
Sonata No.2 in c minor (BWV 526) arr in e minor (flute, violin, gamba, lute, harpsichord)
Sonata No.3 in d minor (BWV 527) arr in g minor (piccolo cello, harpsichord)
Sonata No.4 in e minor (BWV 528) arr in e minor (viola/violin, gamba, cello, lute)
Sonata No.5 in C (BWV 529) arr in D (flute, harpsichord)
Sonata No.6 in G (BWV 530) arr in G (violin, gamba, harpsichord)

Francisco António DE ALMEIDA (c.1702-c.1755)
La Spinalba ovvero Il vecchio matto
(Spinalba, or the Mad Old Man, Dramma comico in Three Acts, 1739)
Luís Rodrigues (bass) – Arsenio, a merchant, Spinalba's father
Cátia Moreso (mezzo-soprano) – Dianora, Spinalba's step-mother
Ana Quintans (soprano) – Spinalba
Fernando Guimarães (tenor) – Ippolito, Spinalba's faithless lover
Inês Madeira (mezzo-soprano) – Elisa, Arsenio's niece
Joana Seara (soprano) – Vespina, a servant
Mário Alves (tenor) – Leandro, Elisa's lover
João Fernandes (bass) – Togno, a servant
Os Músicos do Tejo/ Marcos Magalhães – rec 15-23 November 2011. DDD.
First complete recording on period instruments
Italian libretto at www.naxos.com/libretti/660319.htm
NAXOS 8.660319-21 [3CDs: 65:00 + 66:08 + 75:43] – from classicsonline.com (mp3) or stream from Naxos Music Library


The conductor, Marcos Magalhães, shares his surname with the famous explorer whose name is usually corrupted to Magellan in English and this is certainly a metaphorical voyage of discovery – not just the first complete recording on period instruments but the only other recording was released on LP as long ago as 1969. The plot is pretty daft and there's a good deal of recitative to sit through, but both those things are also true to an extent of le Nozze di Figaro.

Almeida is no undiscovered genius but the music is very agreeable, often much more, as are the performances, with no weaknesses among the voices. The recording is good and Keith Anderson's notes, as usual, are an additional incentive to try this out. Eclassical.com offer it in lossless flac as well as the mp3 from classicsonline.com, but the mp3 sounds well enough for me to think the extra outlay ($37.25 as against £14.97) probably unnecessary in this case.

Pieter HELLENDAAL (1721-1799) Six Concerti Grossi, Op.3
Concerto No.1 in g minor – Ouverture [3:53]; Largo [2:33]; Presto [1:34]; Menuet [2:33]
Concerto No.2 in d minor – Ouverture [1:41]; Allegro [2:41]; Affettuoso [2:11]; Presto [2:58]; Borea [1:13]
Concerto No.3 in F – Largo [2:04]; Allegro [1:54 ]; Adagio [2:22]; Alla breve [1:28]; March [2:41]
Concerto No.4 in E-flat – Grave sostenuto [3:41]; Alla breve [1:50]; Affettuoso [1:01]; Presto [1:32]; Pastorale [3:17]
Concerto No.5 in D – Largo [3:56]; Allegro [3:59]; Larghetto [3:52]; Allegro [2:19]; March [2:32]
Concerto No.6 in F – Largo [1:44]; Largo [4:11]; Adagio [2:54]; Allegro [2:40]; Menuet [1:43]
Andrew Manze (violin )
European Community Baroque Orchestra/Roy Goodman (violin) – rec. Oxford, 1992. DDD
CHANNEL CLASSICS 3492 [72:57] – from channelclassics.com (mp3 and lossless)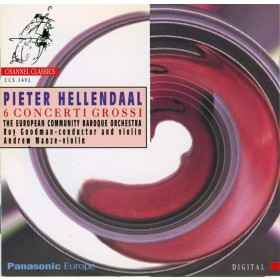 This is a real discovery from Channel Classics' back catalogue. The spirits of Bach, Handel and Vivaldi need not fear that they are about to be ousted from my affections by this younger contemporary, but this is attractive music, worthy at least to be mentioned in the same context as its betters; if you know the music of Heinichen, Iíd place Hellendaal about on a par with him.

With nimble performances and good recording – 16/44.1 this time, before Channel Classics began to offer 24-bit sound, but they were already producing some fine recordings – this is well worth investigating. Unfortunately there's no booklet. The CD is out of stock at Channel Classics and there's no other recording devoted to his music, just the odd item on compilations, so the download is particularly welcome.

Joseph HAYDN (1732-1809)
Trumpet Concerto in E-flat (cadenzas by Kurt Redel) [15:02]
Bernard Jeannoutot (trumpet)
Pro Arte Chamber Orchestra, Munich/Kurt Redel – rec. 1961. ADD/stereo
BEULAH EXTRA 1-3BX231 [15:02] – from eavb.co.uk.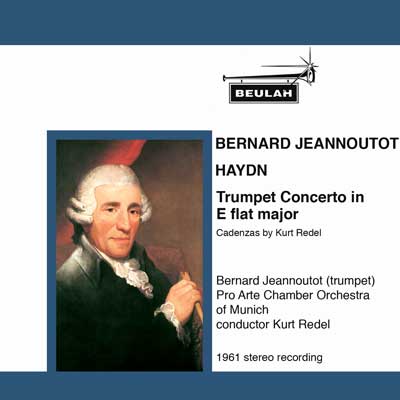 The Trumpet Concerto, with dozens of recordings to its credit, is the best known of Haydn's somewhat neglected concertos – with 104+ wonderful symphonies, almost as many ground-breaking string quartets and some marvellous Mass settings, it's not surprising if the concertos get missed. At the end of 2012 Beulah treated us to the Gendron-Casals recording of Haydn's Cello Concerto in D, now known as No.2, and that's the work and recording to which I would direct you in the first instance. (If you turn back to that review you'll see that Iíve corrected my erroneous statement that that recording was originally coupled with a corrupt edition of the Grützmacher – an alert reader has reminded me that it was, in fact, the first recording of the genuine article.)

There are recordings at all prices, including Alison Balsam's recent EMI recording, with the Hummel concerto for £4.99 from amazon.co.uk, with pdf booklet and there's a good inexpensive version with Crispian Steele-Perkins on Alto, but the best bargain of all, on Philips Duo, seems to have disappeared from the catalogue in any format. Jeannoutot's is as good a performance as Iíve heard and the recording still sounds well. Released by EMI/Angel in 1963, it's a collector's item in some quarters – a French pressing of the LP is on sale as I write for 20 Euros or $26.42 and a Time Life LP box set containing it is being offered at $350. At £1.50, therefore (£0.50/$0.81 per track), the Beulah reissue is a bargain well worth having.

Wolfgang Amadeus MOZART (1756-1791)
Piano Concerto No. 11 in F, K413 [21:37]
Piano Concerto No. 12 in A, K414 [23:44]
Piano Concerto No. 13 in C, K415 [25:01]
Susan Tomes (piano)
The Gaudier Ensemble – rec. April 2003. DDD.
HYPERION HELIOS CDH55333 [70:39] – from hyperion-records.co.uk (mp3, 16– and 20-bit lossless)

Piano Concerto No.20 in d minor, K466 [30:51]
Piano Concerto No.23 in A, K488 [25:21]
London Mozart Players/Howard Shelley (piano) – rec. March 1991. DDD.
Pdf booklet included.
CHANDOS CHAN8992 [60:11] – from theclassicalshop.net (mp3 and lossless)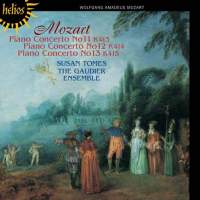 The chamber-music arrangements of the Mozart Piano Concertos Nos. 11-14, as sanctioned by the composer, have been recorded before, notably by Jos van Immerseel and Musica Eterna (nos.11, 13 and 14, Channel Classics CCS0990 – CD only, no download) and I'm not about to dispose of that CD, especially as the fortepiano employed there has such a distinctive sound. If you're looking for a download version and donít mind the modern piano – perhaps even prefer it – you need look no further than the inexpensive Hyperion Helios version. Everything that Iíve heard which Susan Tomes has recorded for Hyperion has been excellent and these performances are no exception. Donít judge the music or the playing from the Watteau on the cover which might make you expect just a pretty sound. The recording is good – unusually there's a 20-bit version; it's worth paying all of £0.36 for that over the mp3 and 16-bit downloads.

It's interesting to compare Susan Tomes and the Gaudiers in No.12 with Volume 4 of the Chandos series of Mozart piano concertos from Howard Shelley and the London Mozart Players (see below). Both achieve delicacy without any hint of fragility and, though the Chandos cannot repeat the intimacy of the Hyperion version with chamber forces – nor, indeed, the authenticity of the fortepiano on Channel Classics – it's excellent within its own terms. Shelley is a fraction slower than Tomes in each movement, but not so that you would notice. I'm not surprised to see that this volume was singled out for special praise by the Gramophone Guide, the 2012 edition of which is, I see, to be the last.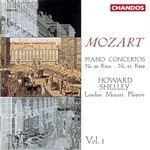 As it's quite a while since I recommended Volume 2 of the Chandos series (Concertos Nos. 9 and 17, CHAN9068 – March 2009 Roundup), it seemed high time that I reviewed some of the other volumes and there's nowhere better to begin than with Volume 1 on which Shelley plays two of the mature masterpieces in performances to equal the finest, a category which includes Alfred Brendel and Neville Marriner in 19-21, 23 and 24 (Decca Duo 442 2692 – see 2012/24 Download News) and Clifford Curzon, Benjamin Britten and István Kertész (Decca 468 4912). With good recording and a pdf booklet to download the only disadvantage of the Chandos is that Brendel and Curzon come at budget price; on the other hand, they are not currently available in other than mp3, while the Chandos download is also offered in lossless format.

Volume 3, containing Concerto No.14 in E-flat, K449 [23:57], and Concerto No.27 in B-flat [31:21], K595, recorded in 1992, on CHAN9137 [55:01] is equally recommendable. Iíve already referred to the quality of the performance and recording of No.12 on Volume 4 in comparison with the Hyperion recording (above); the Chandos coupling is No.19 in F, K459 and that's equally recommendable, apart from the slightly mean playing time. (CHAN9256 [51:45]).

Wolfgang Amadeus MOZART (1756-1791) Symphonies Vol. 9 (1778 -1780)
Symphony in D, No. 31, K297, 'Paris' [15:07]
Symphony in B-Flat, No. 33, K319 [21:11]
Symphony in C, No. 34, K338 [19:57]
Symphony in D, No. 31, K297, 'Paris'
Alternative 2nd movement from 1st edition: Andante [3:33]
The Danish National Chamber Orchestra/ Adam Fischer
– rec. October 2010 and February 2011. DDD.
DACAPO 6.220544 [60:08] – from eclassical.com (mp3 and lossless) or stream from Naxos Music Library (with booklet)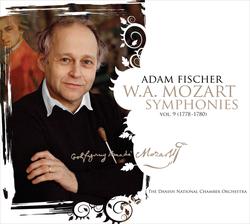 The characteristics of this Ninth Volume are much as before – modern instruments but directed with a sense of period style and just an occasional, totally forgivable quirk; overall very satisfying – and we're getting into the hinterland of the mature symphonies here, which makes this even more recommendable than earlier volumes. There is, however, some formidable competition for No.31 in the recording which Sir Charles Mackerras made for Linn at the close of his career and I have to give that the preference if it's the 'Paris' symphony specifically that you are looking for (Nos. 29, 31, 32, 35 and 36, CKD350 two CDs for the price on one on SACD and in mp3 and lossless versions up to 24/192 Download of the Month – see April 2010 Roundup).

The DaCapo recording sounds very well in the lossless flac version. My only grumble about the eclassical.com download concerns the lack of the pdf booklet – I had to get that from the Naxos Music Library.

Ludwig van BEETHOVEN (1770-1827) The Symphonies
Symphony No.1 in C, Op.21 (1800) [27:44]
Symphony No.3, Eroica, Op.55 (1804) [51:47]
Symphony No.2 in D, Op.36 (1802) [35:20]
Symphony No.4 in B-flat, Op.60 (1806) [33:32]
Symphony No.6 in F, Op.68 (1806-8) [42:49]
Symphony No.5 in c, Op.67 (1808) [32:58]
Symphony No.8 in F, Op.93 (1812) [26:28]
Symphony No.7 in A, Op.92 (1812) [42:19]
Symphony No.9 in d, Op.125 (1824)* [65:06]
* Rebecca Nash (soprano); Wilke te Brummelstroete (contralto); Marcel Beekman (tenor); Michael Tews (bass)
* Laurens Collegium; Laurens Cantorij
Orchestra of the Eighteenth Century/Frans Brüggen – rec. live, 2011. DDD
Pdf booklet included with text and translation of finale of Symphony No.9.
GLOSSA GCDSA92116 [5 CDs: 79:31 + 68:50 + 75:49 + 68:44: 65:06] – from eclassical.com (mp3 and lossless) or stream from Naxos Music Library.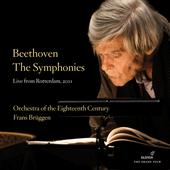 You would expect the earlier symphonies, Nos. 1, 2 and 4, to benefit from the lighter treatment with a period orchestra of fairly modest proportions, and you would mainly be right, but the treatment benefits the bigger-boned Third, Fifth and Ninth, too. In fact, I'm not at all sure that No.1 isnít underplayed; though it's obviously Haydn- and Mozart-influenced, it's also thoroughly Beethovenian and neither its power nor the brio which forms part of the main tempo marking is immediately evident from this gentle performance.

The obvious comparison is with Emmanuel Krivine on Naïve (V5258, 5 CDs, July 2011/2 Download Roundup), who takes 8:31 for the first movement of No.1 as against Frans Brüggen's very leisurely 10:21, slower even than Otto Klemperer (9:55), whose complete Beethoven symphonies and overtures, including both the mono and stereo Third and Fifth, have just been reissued at a very favourable price by EMI. (Around £23 on CD; download from amazon.co.uk for £10.99.) I surprised myself, and probably you, too, by preferring Klemperer in this movement. (See below for Beulah reissue)

Another exponent of period practice, Nikolaus Harnoncourt, though performing on this occasion with the modern-instrument Chamber Orchestra of Europe (Warner Classics) clocks in at 9:28, coincidentally exactly the same as Daniel Barenboim on his recent Beethoven for All set of the symphonies (Decca – September 2012/1 Roundup) which sounds about right to me for this movement; he certainly achieves the brio while allowing the music time to breathe and achieving the same neat phrasing as Brüggen. Herbert von Karajan (DG, 1987, March 2010 Roundup) on the other hand is a little too brisk at 7:48.

Best of all, however, in this movement and throughout the symphony, is Sir Charles Mackerras, recorded with the Scottish Chamber Orchestra at the Edinburgh Festival – a modern-instrument orchestra but of modest size and with period-inspired direction. If Harnoncourt and Barneboim sound about right, Mackerras at 8:44 is just right. (Hyperion CDS44301/5: Recording of the Month – review – review and March 2010 Roundup).

In the other movements timings are much closer, with Krivine and Harnoncourt just a little faster than Brüggen each time, except for Harnoncourt's third movement, but the lack of forward movement from Brüggen at the start seriously compromised his performance for me to the extent that I was surprised to see that one reviewer – not on MusicWeb International – had made this his Recording of the Year.

The second Symphony receives a forthright performance – thoroughly unobjectionable, though not offering any really fresh insights. Is it reasonable to expect insights from a performance of a Beethoven symphony at this late date? I think it is – there are, indeed, several in Brüggen's Pastoral.

Somewhat disappointed by the First and not wholly reassured by the Second, I turned to the Seventh, the symphony that has practically become my test-piece for judging Beethoven recordings. Despite the comparative neglect of this work over the years, there are several very fine recordings, not least Carlos Kleiber with the Fifth (DG). With nine first violins and the other desks in proportion, the orchestra is by no means undernourished; there's plenty of power and energy in Brüggen's performance of the first movement and he takes the second at a nice allegretto. I wanted to get out and push at times in the third movement, but that's better than taking it at breakneck speed and Brüggen contrives to maintain the spirit of the dance even at his chosen tempo though the clock indicates that he is noticeably slower than Kleiber.

Some performances of the finale do threaten to come off the rails – the New York Phil just about keep up with Bruno Walter on his mono LP recording but the Columbia Symphony donít quite manage it on his stereo remake. Given that the tempo adopted here by Kleiber and by the Manchester Camerata and Douglas Boyd (Avie – review and March 2010 Roundup) is about right, as I think it is, Brüggen looks too slow on paper – who said that period performances always had to be fast? – but there's no lack of energy. So Brüggen doesnít displace Kleiber or Boyd or, for that matter, Colin Davis whose early recording with the RPO for EMI has recently been reissued as a download by Beulah (February 2012/1 Roundup), but his Seventh certainly does enough to keep the set in the running.

I should add that when I reviewed Osmo Vänskä's BIS recording of Symphonies Nos. 2 and 7 in the March 2010 Roundup I was listening to mp3 downloads; that recording is now available in much better sound. (BIS-SACD-1816 download in mp3 or 16– or 24-bit format from eclassical.com.)

Another period-instrument recording of No.7 came my way just as I was closing this Download News: on Soli Deo Gloria SDG717 [73:19] John Eliot Gardiner with the Orchestre Révolutionnaire et Romantique live at Carnegie Hall challenges the classic Carlos Kleiber coupling of Nos. 5 and 7 (DG). Download in mp3 from classicsonline.com or stream from Naxos Music Library – Iíve had time only to do the latter. The first movement of No.7 takes a while to warm up but all is well when things get going. After that start Gardiner is a little faster than Brüggen and that helps to give his recording an edge, as it does also in the third movement, though I liked both. In the finale Gardiner is faster than Brüggen but never comes off the rails – though the track details on NML say 9:14, he actually takes 8:34. If the whole symphony is the apotheosis of the dance, the finale sometimes sounds as if it's being danced by the participants in one of those outbreaks of St Vitus' fever which happened in the later middle ages, but that's not a danger with any of the performances that Iíve mentioned. For Gardiner, Krivine and Brüggen the assistance of a period orchestra makes a positive contribution to overall success.

The opening movement of Gardiner's Fifth is pretty brisk but that's much better than the ponderousness that sometimes passes for expressiveness here, though that's not a fault with Brüggen, Krivine or Kleiber, who each take almost a minute longer. If anything Brüggen sounds a little too lightweight in this movement, partly offset if you turn up the volume a couple of notches for impact. If you hadnít thought of this famous movement as dance-like, Brüggen will give you a pleasant surprise.

In the second movement, too, Gardiner interprets Andante to mean something noticeably faster than Brüggen and Kleiber; his basic tempo is arguably closer to walking pace than his rivals, though I can live happily with all three or, indeed with Krivine. At the risk of sounding like a cliché, all four blow the cobwebs off this music; more to the point, Iíve heard the work so many times that it sometimes seems like a chore to listen to it again – but not so with any of these versions.

For me there's one major benchmark for the Eroica and that's Klemperer's mono LP version, still sounding reasonably well in recent CD re-masterings; though slightly veiled by comparison with modern recordings, the ear soon adjusts. Would it be a mistake to play that first and expect Brüggen to shape up to it? Apart from the opening movement, where Brüggen's greater generosity with repeats increases the time, on paper the two look very similar – both are slightly slower than Krivine but faster than Klemperer's stereo remake. Brüggen's opening movement has, if anything, even greater life than Klemperer's so that, although he takes almost 20 minutes about it, it doesnít seem too long. As with the Fifth, there's no sense of listening to this Eroica as a chore, not least for the lilting account of the Prometheus ballet theme in the finale.

In the Pastoral Symphony a less than violent storm and a slightly slow basic tempo for the rejoicing – at 9:44 that's slower than Klemperer (9:12) – is more than offset by the sound of birdsong, present in this recording more than any that I know. I donít recall hearing those little piano flutterings in the wind instruments in the opening bars so clearly before and the whole performance is refreshing.

And so to the Ninth. To compare just the two period-instrument versions, Brüggen and Krivine adopt much the same tempo for the opening movement, but Brüggen is rather slower in the second and third, though not hugely so and not so that I ever thought the music was allowed to drag. For some reason Glossa have decided to split Brüggen's choral finale over six tracks, which could cause a problem with awkward track joins from certain players if you listen to the mp3 version. Here, too, Brüggen is slightly slower than Krivine, almost as slow as Klemperer's 1957 recording – the mono version of which, incidentally, is available for a mere £1.99 from Naxos Classical Archives at classicsonline.com, as well as in the new complete symphony edition.

With live recording there's no opportunity for re-takes and I think that the soloists might have liked to have reprised their roles – they sound adequate but no more and, though the choral singing compensates, their contributions must rank as one of my reservations about a generally recommendable performance of the Ninth and, indeed, of the whole cycle.

Brüggen's audience is quiet throughout and the recording is good – I tried both the mp3 and lossless; you can have either or both for the same price. I recommend turning up the volume slightly from your normal listening level. At $63.80, you'll find complete cycles for less, but considering the quality of performance and recording and the fact that the booklet of notes comes with the deal, the price is not unreasonable. Though the Krivine set is in mp3 only, that sounds well, too, as do the mp3 versions of Kleiber and Gardiner in Nos. 5 and 7.

Both Krivine and Brüggen come complete with booklet – that from Naïve runs to 52 pages and although much of the size is taken up by being written in four languages, the notes are very interesting. On the whole Iíd go for Krivine, but you may well wish to try both from Naxos Music Library if possible, or from Spotify if you canít.

Ludwig van BEETHOVEN (1770-1827)
Symphony No.1 in C, Op.21 (1800) [28:17]
Philharmonia Orchestra/Otto Klemperer – rec. 1957. ADD stereo.
BEULAH EXTRA 6-9BX114 [28:17] – from eavb.co.uk.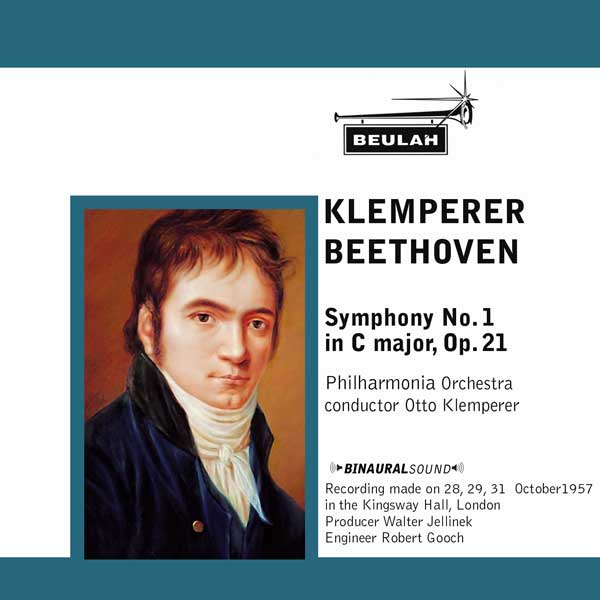 By coincidence, I had no sooner finished writing about my preference for Klemperer's recording of Beethoven's First Symphony over Frans Brüggen's new recording with the Orchestra of the Age of Enlightenment than I found it among this month's Beulah Extra reissues. If you donít intend to invest in the very modestly priced EMI box set of Klemperer's Beethoven (see above), this recording of the First is well worth having. The recording has come up well in this transfer.

Franz SCHUBERT (1797-1828) Complete Symphonies
Les Musiciens du Louvre Grenoble/Marc Mikowski – rec. live by ÖRF, March 2012. DDD.
Pdf booklet included
NAÏVE V5299 [4 CDs: 76:15 + 56:17 + 57:21 + 54:34] – from classicsonline.com (mp3 and lossless flac) or stream from Naxos Music Library

Symphony No.9 in C ('Great') D944 [55:03]
Five German Dances D89 [14:38]
Budapest Festival Orchestra/Iván Fischer – rec. June 2010. DSD.
Pdf booklet included
CHANNEL CLASSICS CCSSA31111 [69:47] – from channelclassics.com (mp3, 24/44.1, 24/96, 24/192 and DSD).

Symphony No.9 in C ('Great') D944 [57:49]
Royal Flemish Philharmonic/Philippe Herreweghe – rec. July 2010. DSD.
Pdf booklet included
PENTATONE PTC5186372 [57:49] – from eclassical.com (mp3 and lossless)


Minkowski: This is very much by way of a first report, as I received the download only one day before closing this Download News. I enjoyed my first run through so much that I'm pretty confident that I wonít change my mind after repeated hearing. These performances, recorded over a three-day period in Vienna, prove that the use of period instruments and placing violins left and right doesnít take the fun out of the music; in No.3, for example, though I'm not likely to ditch Beecham's wonderful recording (with Nos. 5 and 6, EMI) there's plenty of lilt in Minkowski's version.

Such comments as Iíve read mostly agree with my high opinion of these recordings. Just to show that there's always a flip side, however, there's a very unsympathetic review of the live performance of Nos. 1, 3 and 4 – here. Perhaps it's best that you listen first via the Naxos Music Library if you can, to see which of us you agree with. If it's the period instruments that worry you, their use is certainly not obtrusive, but if you are totally allergic your best bet remains the wonderful COE/Claudio Abbado cycle on DG – you even get the orchestral version of the Grand Duo and the Rosamunde Overture thrown in (5 CDs for £11.99 from hmvdigital.com).

If you wish to hear Brian Newbold's completion of the Unfinished, there's an excellent budget-price coupling of Nos. 7 and 8 from Sir Charles Mackerras on Virgin Classics – see April 2012/2 Roundup.

This is the first lossless flac recording that Iíve been sent by the Classics Online team and it's very good. The instrumental sections are located with accuracy of placement and the overall sound stage is very credible. There is one oddity, however, which I must mention, which I gather is common to all COL flac downloads – each disc comes as a single file so, for example, Symphonies Nos. 1-3 are lumped together on CD1, over 76 minutes on one file. That makes it difficult if you wanted to play, say, just Nos.1 and 2 and I'm not sure what the logic behind it is – no-one else does it.

Another illogical aspect of this release concerns the cost: £31:96 in mp3, £36:99 in flac, when the CD set can be had for around £28 – it's actually on special offer from one dealer as I write for £20.81 and from another for £22. Beware the tempting offer from amazon.co.uk 'Buy the mp3 album for £4.49' – it's not the new Minkowski recording.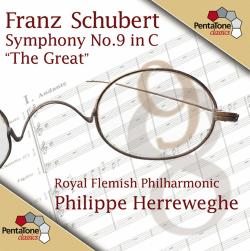 Symphony No.9: Once upon a time the choice of recordings of any Schubert symphony other than the so-called Unfinished was pretty limited: for the Ninth when I wanted to choose an LP version in the 1960s it was Josef Krips in mono (Decca Ace of Clubs – recently reissued on Beulah Extra 2-5BX46 – see September 2011/2 Roundup) or his stereo remake (also Decca) or Karl Böhm on DG. Those recordings remain available and are still well worth considering but there's a wealth of more recent digital recordings, from which Iván Fischer and Philippe Herreweghe, recorded within a month of each other, emerge as strong contenders. There are, indeed, several similarities between them, not least the fact that both employ a degree of period-informed technique (natural horns, even, for Fischer) with modern orchestras and both are well recorded, though only the Channel Classics comes in 24-bit formats.

It's good to have something extra on the Channel Classics recording; it would surely have been preferable to have placed the German Dances first – you can rearrange things yourself, of course..

Robert SCHUMANN (1810-1856)
Cello Concerto in a minor, Op.129 [25:35]
Mstislav Rostropovich (cello)
Leningrad Philharmonic Orchestra/Gennady Rozhdestvensky – rec.1961. ADD/stereo
BEULAH EXTRA 1BX230 [25:35] – from eavb.co.uk.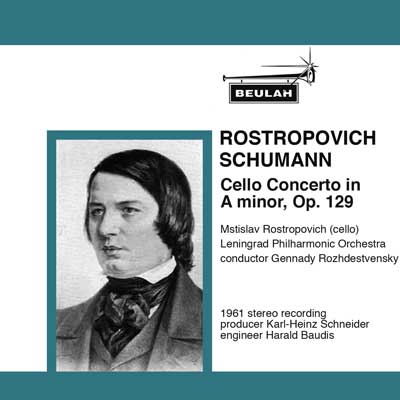 We already have Mstislav Rostropovich and Benjamin Britten playing the Schumann Cello Concerto at Aldeburgh (BBC Legends), coupled with the historic performance of the DvořŠk Cello Concerto at the Proms on the day that the Soviet tanks rolled into Prague and this version with Rozhdestvensky at the helm remains available on DG Galleria (as an import in the UK), coupled with Martha Argerich in the Piano Concerto. There's also a Rostropovich-Rozhdestvensky version with the USSR Symphony Orchestra, but that's available only on a 25-CD EMI box set, so there's a very good case for this Beulah release as an inexpensive single file for £1.50. Many listeners find the concerto episodic – I donít – but whether you are or not, you wonít find a more persuasive advocate than Rostropovich.

The sound on the Galleria reissue was somewhat rough and the contrast with the 1978 Piano Concert coupling made it seem even more so, but not so bad as to make the CD hard to recommend. I canít say that it's been transmogrified for this Beulah release but it doesnít sound at all bad, especially if played at a slightly lower volume than usual – it's a little over-modulated in the loudest passages but overall it's as good as the EMI Encore reissue of the Jacqueline du Pré recording (now available as a download only).

Anton BRUCKNER (1824-1896)
Symphony No. 7 in E major (1881-1883) (1885, ed. Haas) [60:02]
BBC Scottish Symphony Orchestra/Donald Runnicles
rec. 8-9 May 2012, City Halls, Candleriggs, Glasgow, UK
Pdf booklet included
HYPERION CDA67916 [60:02] – from hyperion-records.co.uk (16/44.1 & 24/96 lossless)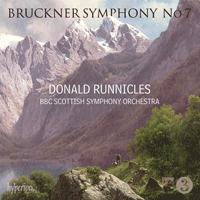 When Hyperion first flagged this release I was pretty sure it was going to be special. I have fond memories of Donald Runniclesí rapturous Gurre-Lieder at the Proms some years ago, and I made a mental note then that I wanted to hear his Bruckner. The only problem is that I recently watched a Blu-ray of Sergiu Celibidache conducting the Berliner Philharmoniker in the Seventh, which reminded of just how wonderfully he and illuminates this great score (review). Granted, what I regard as heavenly lengths may seem hellish to others Ė Celi clocks in at around 90 minutes after all Ė but Iíve not heard anyone build and project this music more persuasively than he does.

That recording is my benchmark for this symphony; not far behind is GŁnter Wandís 1999 performance with the same orchestra. All three use the Haas edition, but only Celibidache and Runnicles opt for the cymbals, timps and triangle in the Adagio. First impressions of the Runnicles performance are favourable; the Allegro moderato is sensibly paced, the opening Ďdreamí sounds gorgeous and the orchestra Ė who Iím told hadnít played the piece since 1975 Ė have all the amplitude one could wish for. Hyperionís spacious, naturally balanced recording Ė I listened to the 24/96 download Ė is good too. As for the noble peroration at movementís end Ė a key moment in this work Ė itís magnificently done, the horns suitably radiant throughout.

This is shaping up to be a memorable Seventh which, although clear-eyed, loses none of its radiance or simple beauty. Runnicles coaxes wonderful sonorities from his band in the Adagio, where phrases are elegantly shaped and neatly dovetailed. And thatís why the all-important sense of a long, unbroken span is never lost; true, the strings may not have the corporate sheen of the Berliners, but their firm, clear sound is just as thrilling. The well-blended brass are a joy too, adding their burnished voices to that gloriously terraced, echt-Brucknerian landscape. And despite that sophistication the Adagio still has an unmistakable bucolic lilt, not to mention moments of reflection and repose.

In short, Runnicles delivers at all the symphonyís nodal points; indeed, when the great climax in the Adagio arrives it does so with extraordinary naturalness and compelling logic, the serene close as deeply felt as Iíve ever heard it. If only I could be as positive about the rest. The Scherzo isnít as buoyant as it is in Celiís Berlin account and the tuttis arenít as polished either; still, that matters less when the BBCSSO bring such mobility and strength to this music. After that cantering Scherzo Bruckner dons seven league boots for a vaulting Finale. Runnicles finds plenty of muscularity and purpose here, although I do miss Celiís carefully built and blended tuttis.

Thereís much to enjoy in Runniclesí Seventh; indeed, the Allegro and Adagio are as poised and affecting as youíll hear anywhere. Itís only in the Scherzo and Finale that this performance becomes a tad incoherent; sonorities arenít so impressive and the music isnít as intuitively shaped. In Celiís hands thereís a real sense of apotheosis here, of a victory worthy of the winning, And as good as the BBCSSO are, theyíre no match for the refinement and reach of the Berliners. As for the 24/96 download itís excellent, although itís not nearly as thrilling or as immediate as the lower resolution Mena/Bergen TurangalÓla that made it to my list of picks for 2012 (review).

Good start, disappointing finish; still worth hearing, though.

Dan Morgan
http://twitter.com/mahlerei

Johannes BRAHMS (1833-1897)
Symphony No.1 in c minor, Op.68 [41:18]
Concertgebouw Orchestra/ Eduard van Beinum – rec.1951. ADD/mono
BEULAH EXTRA 26-29BX37 [41:18] – from eavb.co.uk.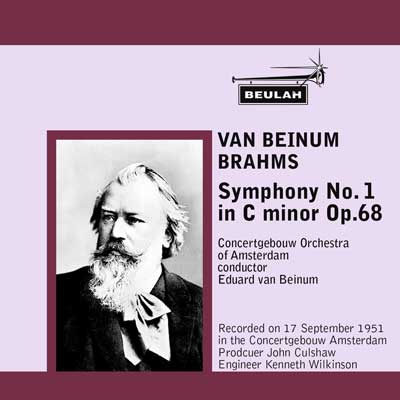 In the early 1960s the choice for Brahms' First Symphony if you could afford full-price stereo was between Otto Klemperer and Carlo Maria Giulini. For the impecunious, however, there were a fair number of van Beinum's mono recordings from the previous decade, still sounding pretty well on modest equipment. Later still this Brahms First was recycled again, in bogus stereo which did it few favours, on the Eclipse label.

This recording was briefly available on CD on the Philips Legendary Classics label, coupled with the Alto Rhapsody, but that release is available only second-hand now, so the Beulah reissue is very welcome. The performance is of the straight-down-the-middle kind which I associate with Beinum – ideal tempi, nothing outrageous, though nothing especially enlightening either. It's a very satisfying account overall and well worthy of reissue, with the anticipatory build-up to the 'big' tune in the finale especially well handled. The sound is rather veiled by modern standards, though generally truthful, and better without the treble enhancement to which the Decca engineers habitually subjected earlier recordings on reissue.

Pyotr Ilyich TCHAIKOVSKY (1840-1893) Complete Symphonies (including Manfred)
Symphony No. 1 in g minor, Op.13 'Winter Daydreams' [43:54]
Symphony No. 2 in c minor, Op.17 'Little Russian' (rev. 1879 version) [34:15]
Symphony No. 3 in D, Op.29 [45:10]
Symphony No. 4 in f minor, Op.36 [41:34]
Capriccio italien, Op.45 [14:26]
Manfred Symphony, Op.58 [53:43]
Symphony No. 5 in e minor, Op.64 [43:24]
Symphony No. 6 in b minor, Op.74 'Pathétique' [43:53]
Oslo Philharmonic Orchestra/Mariss Jansons – rec. 1984-86. DDD.
Pdf booklet included
CHANDOS CHAN10392 (6) [6 CDs 318:19] – from theclassicalshop.net (mp3, 16– and 24-bit lossless)

Symphony 'No.7' in E-flat (completed Semyon Bogatryrev) [40:49]
Piano Concerto No.3 in E-flat [16:21]
Geoffrey Tozer (piano)
London Philharmonic Orchestra/Neeme Järvi – rec. June 1991. DDD
Pdf booklet included
CHANDOS CHAN9130 [57:19] – from theclassicalshop.net (mp3 and lossless)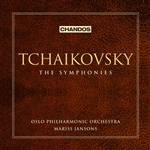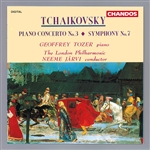 So far Iíve made recommendations for downloads of individual symphonies, especially for the DG 2-CD Mravinsky set of Nos.4-6, the recommendation if you want only the last three symphonies, but if you're looking for the complete set, including Manfred, you could do much worse than to invest in this Chandos set. It's much better value as a whole than by buying the individual discs, especially as some of the constituent CDs and the earlier 7-CD incarnation of this box (CHAN8672) offer poor value with times of little more than 40 minutes.

The performances have stood the test of time extremely well, with no significant weaknesses, as is the case with Andrew Litton's set on Virgin Classics – the under-powered opening movement of No.5 is the Achilles' heel there. Even though I recommend supplementing the set with the Mravinsky recording of the last three symphonies, nothing here is likely to leave you feeling disappointed.

Though recorded as long ago as the mid-1980s – even the 24-bit is only at 44.1kHz – the sound is still excellent. It benefits from a slight increase in volume – from 36 to 39 on my Arcam Solo. Go for the 24-bit version if possible – it's still less expensive than the CD set, which is itself good value.

Tchaikovsky never completed his proposed Symphony of Life, if, indeed, it was even his final intention to do so; instead he reused some of the material for the Third Piano Concerto. Neeme Järvi's recording gives us the chance to compare the two, with Geoffrey Tozer making an equally strong case for the solo part of the concerto. Bogatryrev's completion of the work in symphonic form is less essential than the reconstructions of Mahler's Tenth, Elgar's Third or the finale of Bruckner's Ninth, but still well worth hearing (see also Skripka's version: review review). The opening of the first movement sounds oddly ragged – I'm not sure whether to blame the music or the performance, but I donít recall the Ormandy recording on CBS sounding so ragged. On the other hand the rest of the performance is good.

Try this from the Naxos Music Library first if you're unsure. Classicsonline.com also have the mp3 version but it's better to go for the lossless version from Chandos themselves at theclassicalshop.net.

Alternative single recordings to consider:

Symphony No. 1 in g minor, Op.13 'Winter Daydreams' [39:30]
The Snow Maiden: Suite (1873) [16:21]
Romeo and Juliet: Fantasy Overture [19:29]
Gothenburg Symphony Orchestra/Neeme Järvi – rec. June and December 2002 and August 2003. DSD
Pdf booklet included
BIS-SACD-1398 [77:10] – from eclassical.com (mp3 and lossless)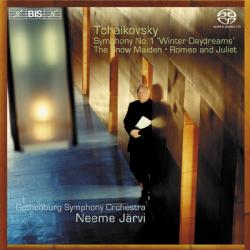 Some have thought this the weak spot in Järvi's complete set of recordings of the Tchaikovsky symphonies but, if that is the case, it's a comparative weak spot in a very distinguished cycle. In fact, of all the recordings that Iíve heard of this work Järvi has come closest to persuading me that the First is almost the equal of its successors. Iíve always thought that a noticeable qualitative change took place with the composition of the Second Symphony; now I'm not too sure. John Philips – review – was similarly impressed with the performance of the symphony and of the two fillers. The recording is very good – as always with eclassical.com, mp3 and 16-bit lossless come for the same price; you can download the flac and then return for the mp3 for your personal player if you wish.

Symphony No. 2 in C minor, Op. 17, 'Little Russian' (1879 version) [32:42]
Overture in F (1866 version) [11:47]
Festive Overture on the Danish National Anthem in D, Op. 15 (1892 version) [12:09]
The Storm (Groza), Overture to the drama by Alexander Ostrovsky, Op. 76 (1864) [14:37]
Gothenburg Symphony Orchestra/Neeme Järvi – rec. August and November 2004. DSD.
Pdf booklet included
BIS BIS-SACD-1418 [72:27] – from eclassical.com (mp3 and lossless)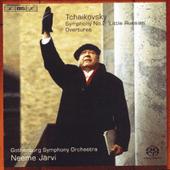 The performance of the symphony is very good – as Brian Burt wrote in his review – here – everything is executed at the highest level. There's very little to choose between Järvi and Jansons – both give strong performances without wallowing in the music – but I'm not too sure that I want to listen to the other shorter works too often, with the exception of the Storm Overture (not to be confused with the Tempest Overture). Though in 16-bit only, the recording is very good – in some respects it's preferable to the Chandos.

Symphony No. 3 in D, Op.29 [43:06]
Entr'acte and Dances of the Chambermaids (from the opera The Voyevoda, Op. 3) [10:01]
Dmitri the Pretender and Vassily Shuisky, incidental music (Introduction to Act I; Mazurka) [6:51]
Serenade for Nikolai Rubinstein's name-day [3:22]
Entr'acte and Waltz and Polonaise (from Eugene Onegin, Op. 24) [7:56 + 5:35]
Gothenburg Symphony Orchestra/Neeme Järvi
BIS-SACD-1468 [76:49] – from classicsonline.com (mp3) or stream from Naxos Music Library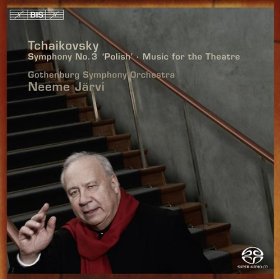 Most surprisingly, I couldnít find this on the eclassical.com site – the 'home' of BIS recordings. If it's just the symphony that you want, emusic.com can oblige for £2.10 – the bit-rate is pretty low, around 180kb/s, but it sounds much better than that bit-rate would suggest.

You will have gathered by now that these Järvi performances present a strong challenge to Jansons. If you donít mind mp3 only – and it's the full 320kb/s anyway – hmvdigital.com are offering the whole set, with all the fillers, on 6 CDs for an unbelievably inexpensive £7.99. (See review by Nick Barnard.)

The 1960 Leningrad PO/Evgeny Mravinsky recording of Symphonies Nos. 4-6 (DG Originals 477 5911, 2 CDs – April 2010 Download Roundup) stands so supreme that unless you're averse to the sound of Russian brass playing – and it's by no means at its most extreme here – you'll find it impossible to resist, even alongside more modern recordings. Some would prefer his earlier (1956) mono recordings, of which Nos. 5 and 6 are available on Naxos Historical Archives (9.80069 and 9.80070 respectively – both from classicsonline.com in mp3).

In No.5 I still greatly enjoy hearing George Szell and the Cleveland Orchestra; the CBS Odyssey CD in my collection is no longer available in the UK, but there's a 320kb/s download from hmvdigital.com for £3.96.

Maurice RAVEL (1875-1937)
Tzigane [0:40]
Ruggiero Ricci (violin)
Orchestre de la Suisse Romande/Ernest Ansermet – rec.1959. ADD/stereo
BEULAH EXTRA 9BX68 [0:40] – from eavb.co.uk.

Ma Mère l'Oye (Mother Goose): Suite [22:14]
Orchestre de la Suisse Romande/Ernest Ansermet – rec.1957. ADD/stereo
BEULAH EXTRA 10BX68 [22:14] – from eavb.co.uk.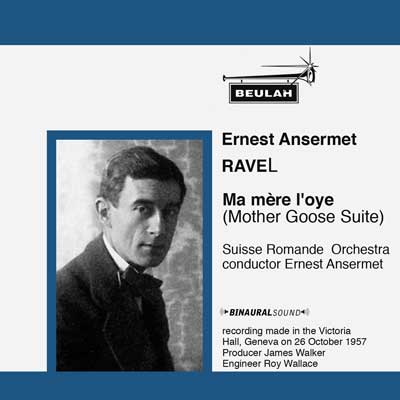 I played these two recordings immediately after the van Beinum Brahms (above) and the different between Decca's early-1950s mono and late-1950s stereo is amazing; even though the Ravel Suite is mostly less upfront as music than Brahms, the veil had to all intents and purposes gone.

Australian Decca Eloquence have reissued Ansermet's early-1950s mono recording of Ma mère l'oye (442 8301) but not, as far as I'm aware, this stereo remake. There's all the magic and mystery that you could want in this performance and the playing of the OSR, though hardly the world's greatest, is well up to the task of presenting Ansermet's interpretation. This is captivating music which deserves to be as well known as Daphnis et Chloë and this account is about as good as it gets.

Preface the ballet suite with Tzigane – Ruggiero Ricci at his virtuosic best – and you have a very satisfying pair of performances.

John IRELAND (1879-1962) My Song is Love Unknown: Church Music
Te Deum in F [6:45]
Benedictus [4:54]
Communion Service in C [14:32]
My song is love unknown [2:56]
Elegiac Romance (organ solo) [8:27]
Evening Service in C [4:40]
Christ the Lord is risen today (Sampford) [2:05]
Four Unaccompanied Carols [8:27]
Greater love hath no man [5:29]
I am trusting (Eastergate) [2:35]
Ex ore innocentium [3:24]
Capriccio (organ solo) [5:03]
Island Praise [1:53]
Evening Service in F [5:56]
Charles Harrison (Organ)
Lincoln Cathedral Choir/Aric Prentice – rec 6-7 and 27-29 February, 2012. DDD.
Pdf booklet with texts included
NAXOS 8.573014 [77:05] – from classicsonline.com (mp3) or eclassical.com (mp3 and lossless) or stream from Naxos Music Library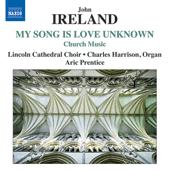 Naxos, having already done well by John Ireland's orchestral and chamber music, now turn their attention to his church music to good effect. The music is a miracle of conciseness and the performances are very good – just a little ragged in places.

Classicsonline.com offer the mp3 version for £4.99 but, although they have begun to offer many of their Naxos downloads in flac, for that you'll have to turn in this case to eclassical.com; though, at $13.88, that is almost twice as much and more expensive even than the CD, you may think it worthwhile in order to download the lossless for your audio system and return for the mp3 for your mobile system. The flac recording certainly sounds preferable to the best-quality version from Naxos Music Library.

You wonít get the booklet from eclassical.com but the texts are available online at www.naxos.com/libretti/573014.htm and the booklet is available to subscribers to Naxos Music Library.

Béla BARTÓK (1881-1945)
A fabol faragott kiralyfi (The Wooden Prince): A Dancing Play in One Act, BB74 (1917) [53:38]
Bournemouth Symphony Orchestra/Marin Alsop – rec. May 2007. DDD
NAXOS 8.570534 [53:38] – from eclassical.com (mp3 and lossless – no booklet) or classicsonline.com (mp3) or stream from Naxos Music Library (both with booklet).

[See reviews by Dan Morgan – here – and Tony Haywood – here.]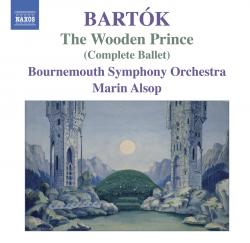 If you have come to terms with Bartók's better-known works, the Concerto for Orchestra, Music for Strings, Percussion and Celesta, the three piano concertos, the two violin concertos, the viola concerto and, perhaps, the six string quartets, and you're thinking what to explore next, The Wooden Prince could well be your next acquisition. The music may not be so immediately appealing as the later masterpieces, but all the hallmarks of the mature Bartók are here in a score that rivals – without quite equalling – Stravinsky's The Firebird in its evocation of mystery and magic.

The performance is good, as is the lossless flac recording. Reservations? Well, the eclassical.com download, at $9.66, is about the same price the CD and it doesnít come with the booklet, which you'll need to understand the plot, though you can remedy that if you subscribe to the Naxos Music Library. The classicsonline.com version is much less expensive, at £4.99, and comes with the booklet, but in mp3 only.

For Bartók's two masterpieces on one disc at budget price, look at what I wrote about Marin Alsop's recording of the Concerto for Orchestra and Music for Strings Percussion and Celesta in the June 2012/1 Download Roundup.

Sir Michael TIPPETT (1905-1998)
Symphony No. 1 [37:16]
Symphony No. 2 [36:13]
Symphony No. 3* [57:11]
Symphony No. 4 [33:35]
New Year Suite ** [28:59]
Faye Robinson soprano*
Timothy Holmes, Kyle Horch, Melanie Bush (saxophones); Steven Smith, Alan Taylor (electric guitars)**
Bournemouth Symphony Orchestra/Richard Hickox
CHANDOS CHAN10330 [3 CDs: 73:11 + 57:11 + 62:47] – from theclassicalshop.net (mp3 and lossless)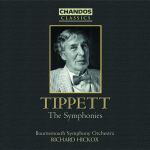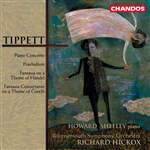 Though Sir Michael Tippett was a major force in British music in the late 20th century, his important symphonic output has never been well represented on record; at present these Chandos recordings, separately or as a box set, are all that we have. Two important 2-CD sets on EMI and Decca ignore his symphonic output completely in favour of more immediately accessible music such as the Corelli Fantasia and the Double Concerto. Fear not, for these Hickox-directed performances are even more recommendable than those conducted by Sir Colin Davis, formerly available from Philips or Decca.

The set comes at an attractive price – £10.00 (mp3) or £14.99 (lossless). Buying the box means forgoing the shorter works, the Handel and Corelli fantasias, the Præludium for brass bells and percussion, and the Piano Concerto, employed as couplings on the individual CDs, but these are gathered together on CHAN9934 [73:54] and there's a very good alternative recording of the Piano Concerto on Hyperion CDA67461/2. The Hyperion comes on 2 CDs with the piano sonatas but if you donít want these you can purchase the concerto as a download separately.