Download News 2012/23

Brian Wilson


Download News 2012/22 is here.

Recording of the Month

Bella dama: Baroque cantatas
Antonio VIVALDI (1678-1741) Cessate, omai cessate, RV684 [12:43]
Nicola PORPORA (1686-1768) Salve Regina [16:27]
Alessandro SCARLATTI (1660-1725) Tu sei quella che al nome (Bella dama di nome santa) [13:25]
Infirmata vulnerata [15:40]
Raffaele Pé (counter-tenor)
Spiritato! (Kinga Ujszászi, James Toll (violins), Joanne Miller (viola), Alice Manthorpe Saunders (cello), Kate Aldridge (bass), László Rózsa (recorder), Jadran Duncumb (theorbo),
Nicolás Mendoza (harpsichord/organ)
Pdf booklet with texts and translations included
RESONUS CLASSICS RES10115 [58:29] – from resonusclassics.com (mp3, aac and lossless flac) or stream from Naxos Music Library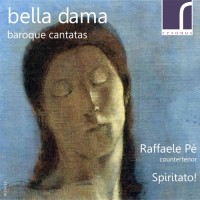 I've come to expect enterprise from Resonus and this, their fifteenth release in just over a year marks the recording debut of the young counter-tenor Raffaele Pé and the group Spiritato! in baroque sacred music. The Vivaldi piece is fairly well known, though half the versions in the catalogue are permutations of Sara Mingardo's recording, but not the remaining works.

Andreas Scholl has recorded cessate, omai cessate with other Vivaldi works on Harmonia Mundi HMC901571 (also on a budget price sampler HMX2901726), one of only two counter-tenor recordings of the piece generally available in the UK. The accompaniment there is provided by Ensemble 415 and Chiara Banchini, so Pé and his supporters are up against some tough competition. Apart from the second section, ah ch'infelice sempre, which is notably slower on the new recording, tempi are remarkably similar. More to the point, Pé need fear no comparison with Scholl on the basis of this performance – in particular he sustains the slower pace in that second section remarkably well and he is well supported throughout.

Max Cencic and Ornamente 99/Erik Carsten on a Capriccio recording (C67072 – from classicsonline.com (mp3) or stream from Naxos Music Library), again with other Vivaldi works, take ah ch'infelice sempre even more slowly than Pé; again he sustains the long line at the slower tempo very well against a heavier accompaniment, but this is another version with which Pé need fear no comparison. Indeed, by comparison with Pé and Scholl Cencic sounds a little plummy.

I couldn't find any version of the Porpora or the first Scarlatti work and the only recording that I could muster for comparison with Pé in infirmata, vulnerata comes from a decidedly plummy Susanna Anselmi (alto) and il Ruggero on Tactus TC661903; there's no contest here, with a much more subtle accompaniment on Resonus and a solo part clear and free from plumminess.

A strong contender for lovers of baroque vocal music; Raffaele Pé is a discovery, indeed, a challenge to the likes of Andreas Scholl and Philippe Jaroussky. If you have access to Naxos Music Library you can try the recording there first.

Reissues of the Month: Decca and DG in 24-bit sound from Linn

All of these releases come in mp3, 16– and 24-bit lossless, with a choice of flac and alac in the last two cases. They are reasonable value in mp3 at £8 – about what you'd pay for mp3 from most suppliers – but it's the 24/96 versions that are really outstanding, making full use of the original recording potential; albeit that the price of £18 is double what you'd pay for mp3, I believe that you will find the extra outlay worthwhile. Dan Morgan and I have already reviewed some of these downloads but I've rounded up several more below.

Ludwig van BEETHOVEN (1770-1827) Violin Concerto in D, Op.61 (1806)
Felix MENDELSSOHN (1809-1847) Violin Concerto in e minor, Op.64 (1844)
Viktoria Mullova (violin)
Orchestre Révolutionnaire et Romantique/John Eliot Gardiner – rec. June, 2002. DDD.
LINN/UNIVERSAL UNI054 [68:17] – from linnrecords.com (mp3, 16– and 24-bit flac.)



Tony Haywood made the original (Philips 473 8722 – review) his Recording of the Month, though he admitted that the enemies of period practice might not like it. I'm as convinced as he was by the performance – there's very little that I think even the non-period listeners could object to, nothing shoved down unwilling throats – and the recording, which he described as superb, full and warm, sounds even better in 24-bit format. Nothing will ever match the revelation of the David Oistrakh performance of the Beethoven at the RFH which I heard many years ago, but this recording is pretty revelatory in its own right and the Beethoven/Mendelssohn coupling makes a welcome change from the usual Mendelssohn/Bruch No.1 arrangement which pairs two very similar works. Only the notes, which TH thought excellent, are missing – surely we might reasonably expect them for £18?

Frédéric CHOPIN (1810-1849)
Piano Concerto No 1 in e minor, Op. 11 (1830) [40:29]
Piano Concerto No 2 in f minor, Op. 21 (1829) [31:51]
Krystian Zimerman (piano)
Los Angeles Philharmonic Orchestra/Carlo Maria Giulini – rec. 1979 (Op. 11) and 1980 (Op. 21)
LINN/UNIVERSAL UNI073 [72:26] – from linnrecords.com (mp3, 16– and 24-bit lossless)



I concur with Peter J Lawson who made the DG Originals reissue of this classic recording his Bargain of the Month – review. I'd place these performances only a little behind Rubinstein (RCA) and Pollini (EMI, Concerto No.1). You can obtain an mp3 download of this recording for £7.49 (hmvdigital.com or amazon.co.uk) and you could until recently have had the CD for not much more – amazingly, it seems to have been withdrawn already in the UK. Even Zimerman's 2-CD remake with the Polish Festival Orchestra – February 2010 Download Roundup – costs only £9.74 (hmvdigital.com), so is it worth paying £18 for the 24/96 Studio Master flac or alac of the same recording? If your system can cope with 24/96 the difference in sound between good mp3 and the Studio Master is not exactly earth-shattering but it is significant. Again, the lack of notes is the only problem in recommending the Linn download.

Concerto Veneziano
Antonio VIVALDI (1678 – 1741)
Concerto for Violin, Strings ('in due cori') and 2 Harpsichords in B flat, RV583 [18:16]
Concerto for Violin, Strings and Harpsichord in e minor, RV278 [14:43]
Pietro Antonio LOCATELLI (1695 – 1764)
Violin Concerto Op.3, No.9 (edited by Prof. Albert Dunning) [18:49]
Giuseppe TARTINI (1692 – 1770) Violin Concerto in A, D96 [18:13]
Giuliano Carmignola (violin)
Venice Baroque Orchestra/Andrea Marcon
LINN/UNIVERSAL UNI072 [65:34] – from linnrecords.com (mp3, 16– and 24-bit lossless)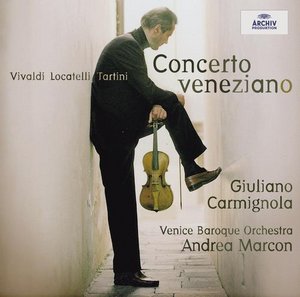 Here's another fine recording that seems to have been prematurely retired on disc in the UK. One reviewer on its original appearance noted that Giuliano Carmignola's Vivaldi was not as adventurous as Nigel Kennedy's – I take that as a considerable virtue rather than as a criticism; I'm sorry to say that I hate the way that Kennedy pulls Vivaldi about, much as I enjoy his performances of other composers – his first recording of the Elgar Violin Concerto is my version of choice.

The performances are just right – virtuoso without being as overtly so as many recent Italian performers have been; indeed RV583, especially the andante movement, is taken more sedately than on either of the other recordings that I tried – as is the recording: a credible sound-stage in 24-bit sound without being in-your-face hi-fi.

Without the notes – not provided with the download – I don't know what happened to the two harpsichords listed in RV583; presumably they were deemed optional; they feature on the recording by Camerata Bern/Thomas Zehetmair (Berlin Classics 0011642BC) but by no means prominently; if they are present at all on the recording by Combattimento Consort Amsterdam (Challenge Classics CC72115) they are as inaudible as on the DG recording. If it's drama that you're looking for in Vivaldi, the Challenge Classics version will give it to you more than the DG recording but Carmignola and Marcon offer a more balanced view overall.

Camille SAINT-SAËNS (1835-1921)
Symphony No. 3 in c minor, Op.78 'Organ Symphony'* [34:24]
Bacchanale from Samson et Dalila [7:15]
Prélude to Le Deluge Op.45 [7:36]
Danse macabre, Op.40 [6:51]
Gaston Litaize (organ)*
Chicago Symphony Orchestra*; Orchestre de Paris/Daniel Barenboim – rec. 1976 (Symphony). ADD.
LINN/UNIVERSAL UNI071 [56:04] – from linnrecords.com (mp3, 16– and 24-bit lossless)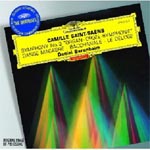 This is by general consent the version of the symphony to have unless you are irreconcilably opposed to having Gaston Litaize's performance of the organ part spliced on to Barenboim's with the Chicago Symphony thousands of miles away. It's a combination that works for me.

If you don't like the suggestion of artificiality, there's another classic version from Berj Zamkochian (organ) with Charles Munch and the Boston Symphony Orchestra (1959 stereo), one that I owned and enjoyed on an RCA LP and now in a fine transfer from Beulah Extra on 13-14BX32 – December 2011/1 Roundup. Alternatively, there's Peter Hurford and Charles Dutoit, coupled with the Poulenc Organ Concerto (Decca Originals 475 7728 – from hmvdigital.com for £4.99).

You can get the Litaize/Barenboim recording as a download in mp3 for £5.49 from amazon.co.uk, though it's likely to be at 256kb/s rather than the full 320kb/s. (Ignore the rather strange comment there from a purchaser who seems to have thought that he was downloading a work for what he calls an 'organ barrel' (barrel-organ?).) Once again, however, the 24-bit Studio Master sound is unspectacularly revelatory.

[My colleague Dan Morgan is also listening to this download – watch this space.]

Jean SIBELIUS (1865-1957) Violin Concerto in d, Op.47 [31:58]
William WALTON (1902-1983) Violin Concerto [29:47]
Akiko Suwanai (violin);
City of Birmingham Symphony Orchestra/Sakari Oramo – rec. 2002. DSD
LINN/UNIVERSAL UNI057 [61:44] – from linnrecords.com (mp3, 16– and 24-bit lossless)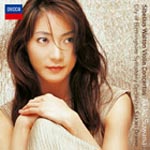 I'm not sure that this recording has ever been available on disc in the UK except as an SACD-only import from Japan, so I was intrigued to hear what I'd been missing, especially as I'd read such good things about the soloist, Akiko Suwanai: John Phillips, for example, was totally convinced by her in the Bruch Concerto No.1 and Scottish Fantasia – review; as this is no longer generally available, perhaps Linn will get together with Universal to give us a Studio Master download version of this, too.

There's such a diversity of coupling for both of these concertos, though none that I know of that pairs them, that comparisons are less useful than usual, though it's the Nigel Kennedy recording of the Walton (EMI) that sits in my unconscious – nice to be complimentary about him after being rude about his Vivaldi – and Kyung-Wha Chung (Decca Originals or Double Decca) or Leonidas Kavakos (BIS, first and revised versions) in Sibelius.

It's to the credit of both soloist and conductor that I wasn't tempted to play either of those named recordings of the Sibelius after hearing this Decca version; that's hardly surprising when Sakari Oramo has given us so many recommendable Sibelius recordings, including a fine version of the Violin Concerto with Lisa Batiashvili (Sony – review). The slow movement is to die for – taken a little more slowly than usual.

The tempi in the Walton are close to those adopted by Kennedy and Previn; were it not that I prefer the EMI coupling with the Viola Concerto (now available only if you go for the 5-CD set at budget price) I'd rate Suwanai and Oramo as the equals of that now classic account.

As with all these 24-bit downloads, the quality of the sound is very good – credible without going out of its way to impress – but the lack of notes (again) reduces my enthusiasm slightly.

Bargain of the Month

Igor STRAVINSKY (1882-1971) Œdipus Rex (1926/7)
Ernst Haefliger (tenor) – Oedipus
Hélène Bouvier (mezzo) – Jocasta
James Loomis (bass-baritone) – Créon and Messenger
André Vessières (bass) – Tiresias
Hugues Cuénod (tenor) – Shepherd
Paul Pasquier (speaker) – Narrator
Société Chorale du Brassus; Orchestre de la Suisse Romande/Ernest Ansermet – rec.1955. ADD
HALLMARK [49:31] – from emusic.com (mp3)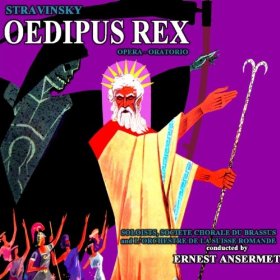 Like the play by Sophocles on which it's based, this is music that one doesn't come to terms with immediately. With narration in French and sung text in Latin, the recording is rather dry and distant, though by no means un-listenable. It's worth making the effort – and it will cost you just £0.84 or less or, if you're not an emusic.com subscriber, a little more (£1.38) from amazon.co.uk. There are no notes, but you can find the booklet for the Australian Eloquence reissue here.

Emusic.com also have the 1960 Ancerl recording on Supraphon, coupled with Symphony of Psalms – review – for £2.10.

Discovery of the Month

Trollfågeln – The Magic Bird
Till Maria (for Maria) [5:00]
G-mollpolska efter Anders Gustaf Jernberg (Polska in g minor) [3:25]
Ut i mörka natten (into the dark night) [4:55]
Isadoras land (Isadora's land) [3:50]
Trollfuglen (the magic bird) [2:25]
Polska fra Hoffsmyran (Polska from Hoffsmyran) [4:02]
Herr Lager och skön fager (Herr Lager and the fair beauty) [3:08]
Brännvinslåt från Torsås (Drinking song from Torsås) [2:40]
Pigopolskan / Den glömda polskan (The Maid's Polska / The Forgotten Polska) [5:08]
När som flickorna de gifta sig (When young women get married) [4:05]
Kapad (Hijacked) [4:44]
Bredals Näckapolska (Näckapolska after Bredal) [3:01]
Galatea Creek [3:19]
Vals från Valsebo (Waltz from Valsebo) [8:56]
Emilia Amper (nyckelharpa, vocal)
Johan Hedin (nyckelharpa)
Anders Löfberg (cello)
Dan Svensson (percussion, guitar, vocals)
Olle Linder (percussion, guitar)
Helge Andreas Norbakken (percussion)
Strings of Trondheim Solistene: Johannes Rusten, Daniel Turcina (violin); Frøydis Tøsse (viola), Marit Aspaas (cello); Rolf Hoff Baltzersen (double bass) – rec. April 2012. DSD.
Pdf booklet
BIS BIS-SACD-2013 [59:42] – from eclassical.com (mp3, 16– and 24-bit lossless)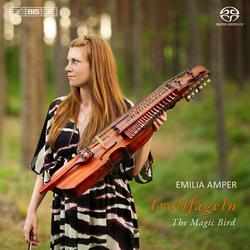 It's very difficult to describe the noise that the nyckelharpa, a Swedish folk instrument sometimes translated as keyed fiddle, makes, so I recommend that you try the previews of a track or two from the eclassical.com website or, better still if you can, listen to the album via the Naxos Music Library. It looks about as large as an archlute and about as archaic – you can see it on the cover. The sound is enchanting, on its own and when supported by the other instrumentalists on this recording, and the vocals are equally enthralling.

The first pages of the booklet are in Swedish, German and Japanese, but persevere and you'll find notes in English on each individual piece.

Naxos – the chairman's recommendations

Naxos chairman Klaus Heymann regularly makes recommendations of recent recordings on that label for download from classicsoline.com – some of you may subscribe to his emails – and they are all worth paying attention to. The most recent set is particularly interesting and varied.

Many of the more recent releases are being offered by classicsonline.com in lossless flac, still good value at £5.99 when the CDs now cost around £1 more than that, while the mp3 versions remain at £4.99. Unfortunately I wasn't able to obtain any of these in flac.

The first volume of a new series of orchestral works by Maurice RAVEL (1875-1937) comes on 8.572887 [67:37] Leonard Slatkin conducting the Orchestra National de Lyon.

Alborada del gracioso [7:35]
Pavane pour une infante défunte [6:37]
Rapsodie espagnole [15:04]
Shéhérazade – Ouverture de féerie [13:02]
Menuet antique [6:43]
Boléro [15:18]
– rec. September 2011. DDD. Pdf booklet included.


This is not Slatkin's first venture with this orchestra – I reviewed his recording of Berlioz' Symphonie fantastique favourably in a recent Download News (2012/20 – here) and my colleague Paul Corfield Godfrey thought it one of the best – review – though it's been described in pejorative terms elsewhere. Bravely, classicsonline.com have included that negative review, typically forthright when you see who wrote it, on their website.

With plenty of recommendable Ravel recordings on the market*, I didn't think this special enough to deserve an outright commendation – there's just a trace of mystery lacking in some of the playing, as at times in the Pavane and there are even some small technical shortcomings – but it would make a reasonable choice for anyone looking to embark on the discovery of Ravel's music, with four of his best-known Spanish-flavoured works, including the ubiquitous and annoyingly unshakeable Boléro, together with the much less well-known but completely Ravelian Shéhérazade Overture and a perky performance of the charming faux-early music Menuet antique.

* sainsburysentertainment.co.uk, for example, offer the 3-CD EMI download of Martinon performances for just £6.99 and classicsonline.com have a 2-CD set in the 20th-century classics series with performances by Karajan, Munch et al for £5.99.


Naxos have set out to record all those symphonies by Mieczyslaw WEINBERG (1919-1996) confusingly, alias Vainberg) which were not recorded by Chandos; the second volume is on 8.572752 [55:36] – Symphony No.19, 'Bright May', Op.142 [34:04] and The Banners of Peace, Op.143 [21:32], both written in 1985 to commemorate the anniversary of the end of World War II and performed here by the St Petersburg State Symphony Orchestra/Vladimir Lande – rec. April 2011, pdf booklet included.

It's tempting to say that Weinberg's music is like Shostakovich. They are sometimes coupled, as in the case of the Hänssler Shostakovich/Weinberg chamber music recording which I reviewed in the 2012/20 Download News, and the Kopelman Quartet's Shostakovich Quartet No.10 and Weinberg Piano Quintet on Nimbus – which I reviewed last year. There are similarities, not least in that these works are no more unthinkingly celebratory than Shostakovich's end-of-war Eighth Symphony. Lovers of the one are likely to appreciate the other, but that's far from the whole picture. I've no benchmark by which to judge these recordings but the performances sound thoroughly idiomatic. More to the point, they made some powerful music which I didn't know accessible to me. The recording is good, though this is a case when I'd have preferred to have heard the lossless flac.



The music of André-Ernest-Modeste GRÉTRY (1741-1813) takes us back from the late 20th century to the 18th. Naxos have released the premiere recording of his opera Le Magnifique (1773), just squeezed complete on one CD: 8.660305 [80:00] – soloists and Opera Lafayette conducted by Ryan Brown and recorded in February 2011. The pdf booklet has a synopsis; it doesn't contain the text but this can be accessed at www.naxos.com/libretti/660305.htm.

I have to admit that just about the only music that I knew by Grétry was the ballet from Céphale et Procris, reissued by Beulah (1BX138 – June 2011/2 Download Roundup) and the Beecham lollipop, the ballet suite from Zémire et Azor – he performed the whole work, too, but I've yet to make the acquaintance of the 2-CD Somm set on which the live recording has recently been issued (SOMM030-2 – review and review: Recording of the Month). Le Magnifique contains some very tuneful music of great charm, though I thought it no great shakes dramatically – 18th-century art and literature, but not the music, are my blind spots, so you may think otherwise. As this is a premiere recording there's nothing to compare it with, but I can't imagine the performances being bettered and the recording is good. There's a lossless flac version – one from eclassical.com, too – but the mp3 with which I was supplied for review is more than adequate.



The music from the Glogauer Liederbuch takes us further back, sacred and secular songs and instrumental music from the junction of the late medieval and the early renaissance in the 15th century – music not just from Germany but from all corners of Europe. The selection on Naxos 8.572576 has been chosen (deliberately?) to avoid that already available on Oehms OC417, also available from classicsonline.com (mp3).

The music is instantly likeable. The performances by Sabine Lutzenberger (soprano), Martin Hummel (baritone), Marc Lewon (lute) and Ensemble Dulce Melos were recorded in August 2010. They do justice to the music except that Lutzenberger's voice is smaller than Hummel's in duets and the instruments sometimes swamp her slightly in solos, though she has a very pure tone and shines powerfully on other tracks, as in Der Morgenstern (trs.8-10). The pdf booklet includes detailed descriptions of each song and the texts in NHG (Early Modern German), Modern German and English can be accessed at www.naxos.com/libretti/572576.htm. The recording, available in mp3 only, is good.



Back to the 20th century for the music of Paul HINDEMITH (1895-1963), the second and final volume of his String Quartets containing Nos. 5, 6 and 7 in performances by the Amar Quartet, named after the ensemble with whom Hindemith performed his own music, recorded in April 2010. (Naxos 8.572164 – pdf booklet included [71:13]). As Klaus Heymann points out, the rival CPO recording of the Hindemith quartets by the Danish Quartet runs to three CDs, but it does also contain the real No.1, Op.2.

Byzantion thought Volume 1 (Quartets 2 and 3, formerly known as Nos.1 and 2 – review) a must-have for lovers of 20th-century music. The three powerful quartets on Volume 2 are just as well performed as those on Volume 1 and the recording is very good, albeit in mp3 only from classicsonline.com.

Time precludes my writing about the other recordings in this month's Chairman's recommendations; I hope to get round to them in the next Download News:

– 8.572742 – Ries Piano Concertos, Volume 5.
– 8.572730 – Rihm Complete works for violin and piano
– 8.573005 – Casella La donna serpente; Introduzione, aria e toccata; Partita for piano and orchestra
– 8.660319-21 – de Almeida La Spinalba ovvero il vecchio matto
– 8.572448 – Asian Music for string quartet


Music for Advent and Christmas

A Piano Christmas in the 1920s
Anonymous: Holiday by the Fireside [3:30]
Howard BROCKWAY Christmas Carols No. 1 [4:25]
Leslie LOTH Christmas Carols No. 2 [6:37]
Adam CARROLL Christmas Greeting [5:30]
Christmas Greetings 'Twilight' [9:51]
Leon JESSEL Parade of the Wooden Soldiers (arr. for piano 4 hands) [2:58]
Adam CARROLLGrandmother's Christmas [9:16]
Fritz KREISLER Toy Soldier's March (arr. for piano) [2:09]
Anonymous, arr. John Tasker HOWARD First Nowell (arr. for piano) [3:15]
Pietro Alessandro YON Gesu bambino (arr. for piano) [4:55]
Leslie LOTH a Christmas Eve Fantasy [9:21]
Fritz Kreisler, Adam Carroll and other Ampico pianists from the 1920s
Pdf booklet included.
LYRICHORD CLASSICAL LYRCD6012 [61:47] – from classicsonline.com (mp3) or stream from Naxos Music Library



Looking for something different this year? This could be it – piano roll recordings from the 1920s performed by star pianists for Ampico, the very latest thing to have at the time for your reproducing piano, which, as the notes point out, was a superior beast to the player piano. Certainly there's a fullness to the sound here, as played on a restored 1929 Haines Bros. grand piano with a late model Ampico A system. Inevitably some of the nuance of live playing is lost in reproduction – there's a touch of mechanical stiffness about the result that means that you wouldn't mistake anything here for the real thing, but it's all very entertaining – and you even get Kreisler played by Kreisler.

Jakub Jan RYBA (1765-1815)
Czech Christmas Mass 'Hej, mistre' (Hail, Master!) [41:12]
Missa Pastoralis [13:28]
Vladimir Dolezal (tenor), Josef Ksica (organ), Pavla Ksicova (contralto), Vaclav Sibera (bass), Dagmar Vankatova (soprano)
Czech Madrigalists Orchestra; Czech Madrigalists Choir/Frantisek Xaver Thuri – rec. 1998. DDD.
NAXOS 8.554428 [54:43] – from eclassical.com (mp3 and lossless), classicsonline.com (mp3) or stream from Naxos Music Library. Pdf booklet from classicsoline.com or NML.



There are several recordings of Ryba's charming Christmas Mass; I endorsed a version on Supraphon – December 2011/2 Download Roundup – and John Sheppard recently commended the new version from ArcoDiva – review – who already had an earlier version on their books, but this Naxos recording easily holds its place among them.

Classicsonline.com offer it in mp3 only for £4.99 – as reviewed in my Christmas 2009 Roundup – but eclassical.com have both mp3 and superior flac for $9.84, which works out about even with the UK price of the CD.


There are several recommendable recordings of Marc-Antoine CHARPENTIER (1643-1704) Messe de Minuit, H9, which employs traditional French carol tunes for each of the movements of the Mass but I'd overlooked a recording of that work and the Magnificat, H73, from the Virgin Consort/Kylie Brown on the Gothic label (G49077 – from eclassical.com, mp3 and lossless). There's real ambience on this recording – and a degree of traffic noise – and Charpentier's music is performed, in spirited fashion, in the context of an actual Mass of the Nativity, complete with plainsong propers, beginning with the Introit Dominus dixit ad me. The lack of texts is less of a disadvantage than it might be, since the texts of the common of the Mass and the propers for Christmas are not hard to come by. The lossless recording is good. This recording presents a strong challenge to the Erato version conducted by William Christie which I mentioned favourably in the 2008 Christmas Roundup.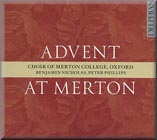 You'll find full details of Advent at Merton (Delphian DCD34122 – mp3 from classicsonline.com or stream from Naxos Music Library, both with pdf booklet) with John Quinn's review. I'm pleased to see how music has blossomed since the foundation of the choir in 2008, now under the joint ægis of Peter Phillips, director of the Tallis Scholars and Benjamin Nicholas – it always seemed a shame that such a fine chapel was going to musical waste. With a series of commissioned new settings of the great Advent Antiphons at its heart, this well-sung programme deserves to be on your Christmas list if you're prepared to be a bit adventurous – in any case, there's nothing too avant-garde here.

Beulah Extra

All these recordings can be found at http://www.eavb.co.uk/dec/index12.html



My personal favourite of Beulah's reissues this month is the performance of Joseph HAYDN's (1732-1809) Cello Concerto in D, with Maurice Gendron (cello) and the Lamoureux Orchestra conducted by Pablo Casals (1-3BX146). Not the least of the virtues of this recording – apart from the fact that the Philips LP, borrowed from the university record library, introduced me to the work – is the fact that a veteran cellist conducted the orchestra. The coupling was the spurious but ubiquitous Grützmacher arrangement of a Boccherini cello concerto (Correction: My thanks to an acute reader, Mark Todd, who has reminded me that Gendron and Casals studiously avoided the corrupt Grützmacher edition of the Boccherini concerto - the first recording of the work to do so and well worth consideration for another Beulah reissue).

The Haydn Concerto in C had not been discovered at the time; Gendron performed that later with the LSO and Raymond Leppard together with another Boccherini concerto, last seen on Philips Concert Classics 422 4812 (available only from ArkivMusic). The recording, in stereo from 1960, has come up sounding very well in this transfer. Only the Rostropovich recording of both Haydn cello concertos (EMI GROC – review) can claim more classic status and I'm glad to see it reissued.



Another classic recording, Herbert von Karajan with the Philharmonia Orchestra in Franz LISZT (1811-1886) Les Préludes was recorded in 1958 in stereo (10BX18). The performance is one of the best ever set down and the recording still sounds fine, even if it doesn't open out quite as spaciously as more modern versions. This recording was available on the IDIS label (Karajan Spectacular No.1, IDI6592) but that, too, is available as a download only now and comes with other works which you may not want.

There are several fine recordings of Ludwig van BEETHOVEN's (1770-1827) Septet, Op.20, the charming work that inspired Schubert's even more wonderful Octet. Beulah have reissued the

Bamberg Symphony Chamber Ensemble (stereo, 1959) on 1-6BX199 [31:37]. My first choice in this work is the Vienna Octet (Eloquence 480 2403, 2 CDs for around £11) or, for a combination of performance quality and excellent value, the Gaudier Ensemble on budget-price Hyperion Helios CDH55189, with the Sextet, Op.81b, for just £5.99 in mp3 or lossless sound, but the Beulah reissue is good value too – £3.00/$4.80 for all six tracks. There's also a version well worth considering from Ensemble 360 on Nimbus (NI6112 – review).

Both the Vienna Octet and the Gaudier Ensemble are more generous than the Bamberg players with repeats in the first movement and the fourth, theme and variations, and both give the music a little more time to breathe in general, yet the Bambergers never sound hurried, even at the fast tempo they adopt for the scherzo fifth movement, and the recording, if a trifle on the 'warm' side, sounds well in this transfer.

The Dolmetsch Ensemble were pioneers in playing early music on the recorder. On 1BX94 [2:27] they play an anonymous Almain and Scots March in sprightly fashion, recorded in stereo in 1961 and still sounding well. This is all too short – more, please.



I don't recall Victoria de los Angeles and Dietrich Fischer-Dieskau recording much together but they make a fine-sounding combination with Gerald Moore at the piano in Henry PURCELL's Duets, Let us wander and Lost is my quiet, on 1BX163 [4:51] – recorded in stereo in 1961 and still sounding well.

We've had plenty of reissues of military music from Beulah in recent months in performances from the Eastman Wind Ensemble directed by Frederick Fennell, but this month they feature in more unusual, earlier repertoire from the Gabrielis, uncle and nephew, recorded in stereo in 1960.



Andrea GABRIELI's Aria della battaglia comes on 39BX182 [14:28]. It's still well worth hearing though we're used to hearing it played less majestically and at a rather faster tempo these days; for a clip of the Eastman Ensemble playing this work many years later in more sprightly fashion, go to YouTube.

From Giovanni GABRIELI:

– 40BX182: Sonata octavi toni [5:15]
– 41BX182: Sonata pian' e forte [5:25]
– 42BX182: Canzon duodecimi toni [5:34]
– 43BX182: Canzon noni toni [5:26]
– 44BX182: Canzon septimi toni/1 [4:41]
– 45BX182: Canzon quarti toni [5:03]


There are more modern versions of this bold and attractive music, some of the first to feature instruments in their own right rather than accompanying the voice, but these Mercury recordings, grand and unhurried, are rather special and it's good to have them available again, not just as historical curiosities or as demonstrating the range of Fennell's musical interests – like Gendron's Haydn they're more valuable than that in their own right. If you're new to this repertoire and wonder where to start, the sonata pian'e forte is the best known of these pieces.

For follow-ups please refer to my review of two recordings of Giovanni Gabrieli's music – canzonas played on the organ with cornetti in some of the pieces and Sacred Symphonies, due to appear on the main MusicWeb International pages but reprinted for convenience below.



If you know only one work by Emmanuel CHABRIER it's almost bound to be his rhapsody España, once famous in arrangement as a pop song – Oh what you do to me, if memory serves aright. You're not likely to find a better performance than that given by Erich Leinsdorf with the Concert Arts Symphony Orchestra in stereo in 1958 on 26BX118 [6:11] and the recording still sounds first rate.



Nikolay RIMSKY-KORSAKOV's Russian Easter Festival Overture is a gloriously wallowy piece of music with which I've been in love for years. It counts with Balakirev's First Symphony as one of my favourite Russian works and the performance from Erich Leinsdorf again with Felix Slatkin's foundation, the Concert Arts orchestra, on 3BX118 [13:41] is about as good as it gets. The sound, though canned as long ago as 1958 (stereo) is first-rate – in fact, the even older Ansermet recording (Eloquence), its strongest rival, is of around the same vintage. Leinsdorf and the Concert Arts orchestra also recorded Rimsky's Sheherazade for Capitol; it's been reissued by Urania, perhaps we might have that, too, from Beulah.



Felix Slatkin conducts his 'other' orchestra, the Hollywood Bowl Symphony, in a snappy performance of George GERSWHIN's An American in Paris on 1BX159, recorded in stereo in 1959 [17:48]. I've heard more raucous car horns in this work, but that's my only (small) grumble. The sound may be a trifle thinner than more recent recordings, but you'd hardly notice. This recording is also available (download only) for £1.99, though not in the USA and some other countries, on Naxos Historical Archives 9.80143, coupled with Rhapsody in Blue (1956). If you don't want the Rhapsody, the Beulah transfer – half the music for around half the price – will do very nicely.

There's plenty of military music again this month, though not with Frederick Fennell at the helm this time:



Concert Artists Symphonic Band conducted by founder Felix Slatkin plays five rousing American Marches in fine form and in good stereo sound from 1958:

– 2BX159 Anchors aweigh [2:59]
– 3BX159 van BOSKERCK Semper paratus [2:44]
– 4BX159 John Stanley SMITH Star-Spangled Banner [1:47]
– 5BX159 Edwin BAGLEY National Emblem March [3:00]
– 6BX159 Josef Franz WAGNER Under the Double Eagle [2:33]

There's more military music than I can shake a stick at or give you all the details of, all self-recommending to aficionados:

– 1-4BX203: Marches played by the Band of the Coldstream Guards directed by Lt. Col. Douglas A Pope
– 1BX202: Sir Arthur SULLIVAN March of the Peers – Royal Artillery Band/Major Sidney Hays
– 2BX202: Hermann KOENIG Post Horn Galop – Royal Artillery Band/Major Sidney Hays

Details from eavb.co.uk

On 1-24BX201 – twenty-four Regimental Marches of the British Army played by the Royal Military School of Music directed by Lt Col David McBain; you'll find them all listed at eavb.co.uk.


***

Giovanni GABRIELI (1544/47-1612) Canzoni
Canzon XXVIII Sol sol la sol fa mi a 8 [2:09]
Canzon francese del duodecimo tono [3:23]
Canzon del duodecimo tono [2:14]
Canzon del duodecimo tono [3:16]
Canzon III a 6 [4:11]
Toccata dell'ottavo tono [2:36]
Ricercar dell'ottavo tono [5:07]
Canzon del secondo tono [2:31]
Motetto Jubilate Deo a 8 [5:14]
Canzon I La Spiritata a 4 [3:15]
Canzon II a 4 del duodecimo tono [2:53]
Canzon III a 4 del duodecimo tono [2:08]
Canzon IV a 4 del duodecimo tono [2:19]
Motetto O Doctor optime a 6 [5:18]
Toccata del primo tono [3:32]
Ricercar del primo tono [3:08]
Sonata I a 5 [3:21]
Canzon del decimo tono [2:15]
Fuga del nono tono [2:33]
Ricercar del decimo tono [4:35]
Canzon del decimo tono [4:08]
Fuga del nono tono [4:25]
Canzon XXVII Fa sol la re a 8 [3:29]
Liuwe Tamminga (organs), Bruce Dickey, Doron Sherwin (cornetti)
rec. San Petronio in Bologna, Italy, 7-9 January 2012. DDD
PASSACAILLE PAS994 [78:21] – CD; not yet available as a download

Sacred Symphonies
Vox Domini super aquas Jordanis C64 [5:52]
In ecclesiis C78 [7:25]
Canzon primi toni a 10 C176 [3:15]
O Jesu mi dulcissime C24 [5:07]
Omnes gentes plaudite manibus C52 [4:01]
O Jesu mi dulcissime C56 [6:21]
Kyrie C71-73 [6:43]
Maria virgo C35 [4:56]
Magnificat C75 [5:38]
Litaniæ Beatæ Mariæ Virginis C63 [12:10]
Exultet iam angelica turba C131 [4:41]
Ex Cathedra
His Majestys Sagbutts and Cornetts
Concerto Palatino/Jeffrey Skidmore
rec. All Hallows Church, Gospel Oak, London, 27-29 May 2012. DDD.
Texts and translations included
HYPERION CDA67957 [66:16] – CD or mp3 or 16– or 24-bit lossless download with pdf booklet from hyperion-records.co.uk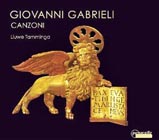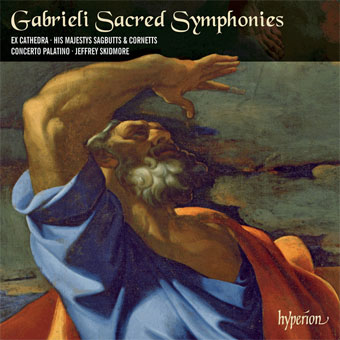 Two recent and quite different takes on the music of the 16th-century Venetian composer Giovanni Gabrieli. The Passacaille CD offers mostly instrumental canzoni, normally performed by cornets and sackbuts or their modern equivalents – the first recording that I heard was by the Philip Jones Brass Ensemble – but here on a pair of historic organs, with the assistance of one or two cornetti in some of the pieces. In addition organ transcriptions of two motets are included. The recording was made on the Epistle and Gospel organs in the church of San Petronio in Bolgna, instruments which date from the late 15th/early 16th and later 16th century respectively and which give a fair indication of how the music of the Gabrielis might have sounded in St Mark's.

Hyperion offer a programme of vocal music with cornet and sackbut accompaniment and one canzon at the centre of the programme, a welcome return from Ex Cathedra and Geoffrey Skidmore and an equally welcome sequel to His Majesty's Sagbutts and Cornetts' earlier recording of Giovanni Gabrieli's instrumental canzoni, interspersed with some organ toccatas from Timothy Roberts and Richard Egarr on Hyperion CDA66908 [74:52] – from hyperion-records.co.uk on CD or mp3 or lossless download.

On CDA66908 the predominant tone is provided by the brass instruments with the organ filling the tone in the background, except on the toccatas and the intonazione, designed for the organ alone. On the new Passacaille recording the organs provide the lion's share of the sound, with one or both cornets filling in on five tracks. Overall the sound is less rich but more varied, since the organist can vary the registration – specified in each case in the booklet – and, indeed, by using either the smaller or larger of the two organs. A degree of grandeur is lost in the process but the performances are persuasive in their own right.

However it's performed the music of Giovanni Gabrieli makes a glorious sound and that's true of both these recordings but especially of the Hyperion. To paraphrase Beecham's comments on the English attitude to music, even if you don't like the music, you'll love the sound it makes. The music of the Gabrielis, uncle Andrea and nephew Giovanni, is particularly colourful and it's hardly surprising that it influenced Monteverdi and their joint influence spread as far as Germany where it coloured the music of Schütz and many of his contemporaries. Ex Cathedra have already amply proved their ability to do colourful in three Hyperion recordings of Latin American music of this period:

– New World Symphonies CDA67380 or CDA30030 – review
– Moon, Sun and all things CDA67524 – review
– Fire burning in snow CDA67600 – review
(all three recordings are included in my survey of Hyperion Top 30 – review).

The new Hyperion recording is every bit as colourful and enjoyable as those earlier releases and the works offered add to our knowledge of Giovanni's music – only In ecclesiis makes a regular appearance on other recordings, as, for example, on the Decca Eloquence reissue of the music of the Gabrielis, The Glory of Venice, which many will have chosen as an excellent introduction (448 9932). I compared the new recording with Stephen Cleobury's performance of his own arrangement of In ecclesiis on an earlier (Argo) incarnation of the Eloquence recording and, while both are good, they are chalk and cheese, with Cleobury slower, more introspective and dignified at the beginning and building to a climax and Geoffrey Skidmore offering a much more colourful approach throughout. There's a place for both, as also for the recording from the Taverner Choir and Players under Andrew Parrott which used to be available on Virgin, but I think it's to the new Hyperion that I shall return most often now. Much as I admire Parrott, his recording now sounds quite slow and tame by comparison.

The Hyperion recording is available on CD or as a download; mp3 and 16-bit lossless are available directly from Hyperion – follow the link above – for £7.99. The 24-bit is a little more expensive at £12.00 but be aware that this is, unusually, at 88.2 kHz – some reproducing systems which cope with 24/96 and even 24/192 are stymied by 24/88.2. I listened to the CD-quality 16-bit lossless version and to the physical CD of the Passacaille. Both are very good.

Both recordings come with excellent documentation – as an Adobe pdf document if you download the Hyperion. In the case of Hyperion excellence is almost a given – and it applies to the earlier recording from the Sagbutts and Cornetts too – but the Passacaille is equally informative, including the specifications of the two organs. The writer, Loris Stella, doesn't make it clear that placing the organ foremost in the picture with just two cornets is the reverse of the normal practice, except in calling this 'an unusual selection' and pointing to the fact that 'it was common practice to substitute available instruments … including … those for 'da tasto' (for keyboards).

If I were starting from scratch to explore the music of Giovanni Gabrieli, I'd be inclined to go for the older Hyperion from the Sagbutts and Cornetts, then to move on to the new Ex Cathedra. For those who already have these or similar collections the Passacaille would be a logical next step. After that it would be time to move on to the music of Andrea Gabrieli; that's a story for another time, but you'll find the Beulah reissues of his Aria della battaglia and more of Giovanni's music reviewed above.

My Beloved Spake
Henry PURCELL (1659 – 1695)
Remember not, Lord, our offences, Z50 [3:21]
Jehova, quam multi sunt hostes mei, Z135*† [6:32]
O sing unto the Lord, Z44*†‡ [13:07]
Pelham HUMFREY (1647 – 1674)
O Lord my God*†‡ [12:28]
Magnificat and Nunc dimittis [5:52]
Henry PURCELL
Behold, now, praise the Lord, Z3*†‡ [6:10]
My beloved spake, Z28*†‡§ [11:20]
Hear my prayer, O Lord, Z15 [2:40]
Rejoice in the Lord always ('Bell' Anthem), Z49*†‡ [8:04]
Iestyn Davies (counter-tenor)‡ James Gilchrist (tenor)* Neal Davies (bass)† David Stout (baritone)§
John Challenger (organ)
Choir of St John's College, Cambridge; St John's Sinfonia/Andrew Nethsingha
Booklet with texts and translation included
CHANDOS CHAN0790 [69:41] – from theclassicalshop.net (mp3, 16– and 24-bit lossless)



With plenty of competition for the Purcell anthems it was sensible of Chandos to kill two birds with one stone; by adding works by the much less well-known Pelham Humfrey they are giving an added incentive to buy this recording while at the same time they are hedging their bets on Purcell's apparently less commercially viable mentor. Les Arts Florissants included two Humfrey anthems, Lord I have sinned and A Hymne to God the Father on a 2007 Purcell recording (3951442), presumably with the same thought in mind.

Nevertheless, Purcell is firmly in the driving seat here, with over 50 minutes of music to Humfrey's 18. Bearing in mind what I've said about the availability of so many fine Purcell recordings, I can't help feeling that the new recording would have been more competitive if the roles had been reversed.

There's a substantial selection of Humfrey's anthems on Coro COR16041 : O Lord my God; Lord I have sinned; O the sad day; By the waters of Babylon; Sleep downy sleep come close mine eyes; the ubiquitous A Hymne to God the Father and the 'Club' anthem in which Humfrey and Purcell both had a hand, together with music by Blow and Cooke and an even more substantial selection on a budget-price 3-CD set of English Church Music by Byrd, Gibbons and Humfrey (Harmonia Mundi HMX2907454/56): O give thanks unto the Lord; O Lord my God; Have mercy upon me, O God; By the waters of Babylon; Lift up your heads; Hear, O Heav'ns; Hear my prayer, O God; Hear my crying, O God and Like as the hart.

Having owned for some time the single CD from which the Humfrey anthems are taken, I can vouch for its high quality, but it now comes coupled with music by Byrd and Gibbons which you may already have, thereby negating some of the attraction of the budget price. If I continue to recommend it above the present recording, that's largely because it offers a more complete picture.

Apart from those recordings there are just two anthems which get a regular airing:

– Hear O Heavens on a CD of Verse Anthems from (John) Bull to Blow, Deux-Elles DXL853, in A Treasury of English Church Music (EMI 0846402, 5 CDs at budget price) and in a programme of music by Blow, Locke and Purcell, Nimbus NI5454

– A Hymne to God the Father on Counter-tenor duets and song, Deux-Elles DXL911, on God be in my Head (Guild GMCD7308 – review), another Guild CD, A quiet conscience (GMCD7150), with a programme entitled Remember your lovers (Signum SIGCD066 – review), on An Evening Hymn (Naxos 8.557129 – review) and on a programme entitled Praise & Majesty, Griffin GCCD4076.

Reviewing the Nimbus CD on which Humfrey takes a walk-on part among his contemporaries – here – I've already made out a case for regarding him as a talented composer who doesn't deserve to be ignored. Jonathan Woolf makes the same case in his review of that CD. I think all concerned with the new Chandos recording were wise not to include his over-exposed setting of Donne's Hymne to God. O Lord my God is less ubiquitous, though you may have picked up a recording of it somewhere, but the two short Evensong settings are, I believe, unique in the current catalogue and I don't recall having seen them recorded elsewhere. The St John's performances certainly make a good case for redressing his neglect.

Indeed, all the performances here maintain the high standards that Andrew Nethsingha has upheld at St John's since taking over from his distinguished predecessor, Christopher Robinson, whose recordings of the 20th-century English choral tradition are one of the glories of the Naxos catalogue.

Robinson did not, to the best of my knowledge, record Purcell with the choir, but there's an obvious benchmark in the complete sacred music which New College Choir, Oxford, recorded for Hyperion with the King's Consort (CDS44141/51; individual CDS available from Archive Service or as downloads – review). Andrew Nethsingha's chosen tempi are similar to those of Robert King – a little faster if anything – and there's not a great deal to choose between them, but I thought the Hyperion performances just a little lighter and, despite the availability of 24-bit sound from Chandos, just as well recorded. Both combine scholarship (chosen pitch and tuning are outlined in the Chandos booklet) with musicality.

If you want to do the comparison for yourself, the 'Bell' Anthem, Z49, is included on an inexpensive (£4.99) sampler of the Hyperion series of King's Purcell recordings (KING2) and subscribers to the Naxos Music Library can hear the Chandos there. St John's round off their recording with this, the best-known of Purcell's anthems. It derives its nickname from the imitation of bell chimes in the instrumental introduction and I thought that the new recording achieved this effect slightly less than King or Edward Higginbottom with New College Choir (CRD3504) or Gustav Leonhardt with King's College Choir, Cambridge (Warner Teldec 2564686992). On the other hand Nethsingha's faster tempo – much faster than Higginbottom's or Leonhardt's – and sprightly rhythm ensure that the programme ends on a suitably up-beat note. You can do the comparison between Nethsingha, Higginbottom and Leonhardt yourself if you subscribe to Naxos Music Library – all three are there.

You'll learn something of the connection between Humfrey and Purcell as mentor and student from the NVC Arts DVD England my England – review – though I hope you don't find it as tedious a programme as I did; the CD that comes with it is worth having.

What goes around comes around. The Naxos recording of evening music which I've listed above among the recordings of the Hymne to God was recorded by a solo treble with St John's College Choir who now, with a different director, return to Humfrey's music. That Naxos recording seems to be hard to come by from UK online dealers, though it's available for streaming from the Naxos Music Library and as a download from classicsonline.com (mp3 with booklet).

If you want the programme being offered on the new Chandos recording I don't think you'll be disappointed but don't be surprised if you don't know Purcell or Humfrey well and find yourself also buying one of the other recordings that I've listed – perhaps even the complete Hyperion Purcell sacred music.

While on the subject of Chandos recordings of St John's Choir and Andrew Nethsingha, it's seasonally appropriate to remind you of their recording from last year On Christmas Night (CHSA/CHAN5096: Recording of the Month – review – review and December 2011/1 Roundup).

Franz SCHUBERT (1797-1828)
String Quintet in C, D956* [54:35]
String Quartet No. 12 in c minor (fragment), D703 'Quartettsatz'[9:06]
Takács Quartet
* with Ralph Kirshbaum (cello) – rec. May 2012. DDD.
HYPERION CDA67864 [63:41] – from hyperion-records.co.uk (mp3, 16– and 24-bit lossless)



I haven't yet managed more than a cursory first hearing of this recording, so I'm grateful to Geoff Molyneux for his review:

The Takács players straightaway set the serious tone and mood for their performance of one of the great masterpieces of music. The drama of the first movement unfolds in a performance characterised by a sense of solidity and architecture, passion and beauty, and moments of great intensity contrasted with more relaxed sections. One of my favourite recordings of this work is the excellent performance given by the Brandis Quartet. Their recording on Nimbus is slightly more resonant and the rubato is more pronounced than with the Takács players, but there are places in the latter where the individual parts are clearer. The Brandis players give a really quiet and touching account of the second subject main theme in this first movement. Another good performance is given by the Schubert Quintet on the Genuin label. This is a very heartfelt and beautifully coloured performance and I like its emotional quality although I feel that some of the rubato is not always under control and the recording does not do the players full justice.

The second movement is lovingly played by the Takács players but I have a preference for the Brandis musicians who move along fractionally faster and they play with a warmer tone. The Brandis players are more passionate in the F minor middle section and have a fuller and richer sound. Now and then I can hear some breathing sounds from the Takács players during some of the quiet chords, and personally I would find this a little irritating on repeated hearings. The Aeolian Quartet with Bruno Schrecker give a fine performance on Regis*. Their Adagio is slower than most and this is a very moving performance.

The third movement scherzo is a fiery affair with a solemn Trio in a slower tempo, and it is all superbly played by the Takács players. The Hungarian Quartet give an exciting performance of this movement but the recording sounds dated and there are a few bars of poor intonation. Again the Nimbus is a bit over resonant for my taste whilst Hyperion gives us a little more clarity and rhythmic bite. I prefer the Takács in this movement, but I hate to hear breathing sounds from string players in chamber music, and this can be heard again in the trio.

The fourth movement Allegretto is beautifully played, but the Belcea Quartet with Valentin Urban finds a bit more humour when needed in this finale in their superb account on EMI Classics

The Takács give an excellent, deeply thought account of this work and it seems good value as you also get a fine performance of the Quartettsatz, whereas the Brandis give us only the Quintet. Also the Hyperion is the best recorded of the versions I heard. It is very spacious allowing for a wide range of dynamics and just the right degree of resonance. I do have a marginal preference for the performance from the Brandis Quartet with Wen-Sin Yang. However my first choice, which for me the most moving performance of all, is that given by the Belcea Quartet with Valentin Urban. The players seem to have totally convincing flexibility in their rubato and a potent mix of delicacy and passion. It is fabulously recorded too.

Geoffrey Molyneux

* RRC1278 - one of the earliest CDs that I reviewed for MusicWeb - here - and one of my favourite versions. [BW]
Franz SCHUBERT
Die Schöne Müllerin, D795
Dietrich Fischer-Dieskau (baritone); Andras Schiff (piano) – rec Schubertiade, Feldkirch, 1991.
Picture format NTSC 4:3
PCM Stereo
Region 0 (all regions)
Subtitles: English, German, French, Spanish, Italian
Bonus: Fischer-Dieskau in conversation with Franz Zoglauer (1985)
ARTHAUS MUSIC DVD 107269 [83:00]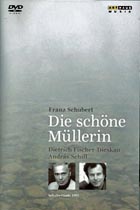 I had the highest expectations of this DVD – two of my all-time favourite Schubert interpreters recorded together at the 1991 Schubertiade in one of the composer's two masterpiece song cycles. The earlier release on TDK (TVCODSM) had earned encomia from Gramophone and the Penguin Guide and Fischer-Dieskau's 3-CD set of the three great song cycles, Die Schöne Müllerin, Die Winterreise and Schwanengesang, with Gerald Moore on DG (477 7956) offers wonderful performances and one of the great bargains of the catalogue.

In the event, if we had a Disappointment of the Month category, this would fit it. I can (just) understand why some reviewers have rated it highly – there are traces of the old, great, voice and interpretation there and it's apparent that the two performers gelled in their enjoyment of working together. For me, however, the 66-year-old voice had simply become too wavery and lacking in dynamic range and all the facial– and body-language which Fischer-Dieskau employs not only cannot compensate but looks rather pathetic. Whenever he sings War es also gemeint? – was it fated to be so? – I can't help thinking how time and fate rob us all of our powers, even the greatest among us.

As Anne Ozorio writes in her review of that TDK release, it seems almost cruel to listen to this performance critically but that's what you expect us to do. The audience react rapturously, but there's surely an element of the Emperor's New Clothes or a memory of better times in their response. Writing about another Arthaus DVD release of this recording with Die Winterreise, Kirk McElhearn thought that the merits of the earlier recording of Winterreise atoned for the shortcomings of Die Schöne Müllerin – review – but he seems to have been a little more impressed by the latter than Anne Ozorio and myself.

I turned for reassurance of how well Fischer-Dieskau had once performed this work not to the DG set but to an EMI recording, again with Gerald Moore in 1961, still available as an EMI Great Recording – review – and recently reissued less expensively on EMI Masters 0852092, available to stream from Naxos Music Library if you wish to check it out. See Bargain of the Month review of an earlier EMI Masters release, with a different cover and number; it's hard to keep up with the speed with which EMI have been reshuffling their catalogue recently. Ironically, the seeds of the destruction of the great voice are heard even at its height in the microscopically slight but attractive waveriness that made the singer so distinctive that one has only to listen to a few seconds of any of his recordings to recognise him.

I understand that Austrian Television (ÖRF) arranged to record the occasion only at the last moment; having intended only to film just a news item, they hastily drafted in an extra camera. The result, considering the circumstances, does justice to the occasion and it would be easy to disregard the shortcomings of 21-year-old technology if the performance had warranted it. As it is, though one can adjust the 4:3 picture to 16:9 without distortion on most televisions, it's not possible to compensate for the grainy picture, with the occasional banding that used to be common on VCR and the disconcerting impression that the lighting was changing from minute to minute.

Stay with one of Fischer Dieskau's recordings of this cycle from better times with Gerald Moore. Alto have recently reissued (the 1951?) recording, plus five Lieder, on ALC1207 and that 1951 version, without the fillers, is also available on Regis RRC1383 – review – both at budget price. Otherwise, the EMI Masters is available for around £8 and the 3-CD DG set costs around £16. (It's on special offer from one dealer at the moment for £10.56). Then there's the Hyperion recording of the cycle on which Fischer Dieskau reads the prologue and epilogue (as he does on the EMI recording) while Ian Bostridge and Graham Johnson perform the music (CDA30020 or CDJ33025 around £8 or download in mp3 or lossless from hyperion-records.co.uk – see October 2010 Download Roundup).

Pyotr Ilyich TCHAIKOVSKY (1840-1893) – The Ballets

Christmas is a traditional time for the Tchaikovsky ballets and the arrival of a new recording of Sleeping Beauty from Chandos makes it even more appropriate to look at what's on offer.

The Sleeping Beauty, Op.66, ballet in a prologue and three acts, à Mr Jean Wséwolojsky (1888-1890)
CD1
Introduction [2:34]
Prologue [27:53]
Act I [36:32]
Act II: First Tableau (beginning) [9:55]
CD2
Act II: First Tableau (conclusion) [22:16]
Second Tableau [8:01]
Act III [47:33]
James Ehnes (violin); Robert deMaine (cello); Johannes Wik (harp)
Bergen Philharmonic Orchestra/Neeme Järvi
rec. Grieghallen, Bergen, 18-23 June 2012. DSD.
CHANDOS CHSA5113(2) [77:14 + 77:56] – SACD, mp3, 16– and 24-bit lossless and Studio Surround from theclassicalshop.net.

My benchmarks for Sleeping Beauty are:

– Paris Conservatoire Orchestra/Anatole Fistoulari (abridged) – rec.1952: NAXOS CLASSICAL ARCHIVES 9.80559/60 [104:47] – from eclassical.com (mp3 and lossless)
– Minneapolis Symphony Orchestra/Antal Doráti – rec.1955: NAXOS CLASSICAL ARCHIVES 9.80591/3: Bargain of the Month – September 2011/2 Download Roundup
– Philharmonia Orchestra/George Weldon (slightly abridged) – rec. c.1958: EMI CLASSICS FOR PLEASURE 3932382 – September 2011/2 Download Roundup
[still available from classicsonline.com for £4.99]
– Royal Opera House Covent Garden Orchestra/Mark Ermler – rec.1989
[the original Conifer CDs, the single-CD highlights CD (ROH003) and the Sony reissue (88697575302) are no longer available in the UK, but worth searching for.]


As far as the quality of sound is concerned, there's no competition for the new Chandos recording; I listened to the 24/96 version, until recently top of the range, though even that format is in danger of becoming old hat, with surround sound versions available of many recent Chandos recordings, including this, and 24/192 rapidly becoming the norm.

Nor do I think that purchasers will be disappointed with the performance from the Bergen PO, fast making a reputation for itself on a number of labels, with Neeme Järvi at the helm and James Ehnes on hand for the important violin solos. Completists will be particularly pleased – as far as I'm aware the score is performed complete; though I'm certainly not ruling out older recordings which are slightly abridged (see below), the completeness, combined with the quality of performance and recording makes this my version of choice now, though there's no such thing as the one and only ideal version of the work. Add the detailed 59-page booklet and the choice is clear – unfortunately you'll find that if you print this it will be too large to fit into a CD case. In any event, the 24/96 recording won't fit onto two CDs; you'll need to be able to burn an audio DVD or run to three CDs.


Of the older recordings Doráti and Fistoulari remain well worth hearing. I listened to the Doráti in the mp3 transfer available from emusic.com and thought the sound decidedly dated though listenable. You can obtain that and the Fistoulari in lossless flac from eclassical.com and, though the price of $18.86 might seem steep for the latter against £1.68 for the mp3 from emusic.com and £3.98 from classicsonline.com, the sound in flac is unbelievably good for its age. This classic version has been given a new lease of life. The music is given in abridged form, as is the Weldon, though the latter slightly less so, but I'm surprised to find myself inclined to prefer either to Doráti, whose version was for long my only recording of the work. With iTunes charging $17.99/£13.99 for the Past Classics transfer of this Fistoulari recording in mp3 only – and presumably not the full 320kb/s at that – the eclassical.com price doesn't seem too steep for the quality.

I must have heard Sleeping Beauty almost as many times as I've had hot dinners, but, guided by any of the recordings that I've mentioned, not least the new Chandos, it never stales. That's even more true of ...

The Nutcracker

– National Philharmonic Orchestra/Richard Bonynge (with Jacques OFFENBACH Le Papillpon): Double Decca 444 8272 – see November 2010 Download Roundup.
NB: the passionato.com link no longer applies – download from hmvdigital.com for £7.49 here or here.
– Berlin Philharmonic/Simon Rattle: EMI 6463852 [43:47 + 42:37] – review and December 2010 Download Roundup (Download of the Month)
– LSO/André Previn (with Romeo and Juliet, Marche Slave, 1812 and PROKOFIEV Cinderella (highlights): EMI CLASSICS FOR PLEASURE 0094639323357 – September 2011 Download Roundup
[NB: this is now priced at £8.99 by classicsonline.com; the alternative coupling with la Sylphide, EMI 9676892, is far and away better value at £3.49 from hmvdigital.com.]
– Russian National Orchestra/Mikhail Pletnev: ONDINE ODE1180/2D – December 2011/2 Download Roundup

While the Ansermet version (Decca Eloquence) remains firmly at the top of my tree, Previn makes an excellent inexpensive download alternative and the plush recent Rattle version is also highly recommendable. Pletnev, on the other hand, is decidedly not for me. There's a ridiculously inexpensive download of the Ansermet from Past Classics – £1.26 from emusic.com or £2.97 from hmvdigital.com. The short samples that I've listened to sound a bit thin by comparison with my earlier Decca CDs but tolerable.

Swan Lake

– Minneapolis Symphony Orchestra/Antal Doráti (1957): Past Classics [131:34] – from emusic.com or hmvdigital.com
– London Symphony Orchestra/Anatole Fistoulari (1952): Naxos Historical 9.80274/5 from classicsonline.com
– Ida Haendel (violin), Douglas Cummings (cello), London Symphony Orchestra/André Previn (1976): Classics for Pleasure or EMI.

The Past Classics transfer of the Doráti is much better than that of Sleeping Beauty – thin but more than tolerable; it's the least expensive version around at £1.68 or £3.96 – and the performance holds its own against more recent versions. Hmvdigital.com also have a (probably preferable) Decca transfer of this recording for £7.49 and eclassical.com have the Fistoulari in lossless sound; it's $16.00 but, given the superiority of their transfer of Sleeping Beauty, probably worth the outlay, though the classicsonline.com transfer, at £3.98, sounds good for its age. For a comparison of these three versions, please refer to the September 2011/2 Download Roundup.

Of highly regarded more recent versions that recorded by the Montréal Orchestra and Charles Dutoit is available for £8.49 from hmvdigital.com.

Gustav MAHLER (1860-1911)
Symphony No. 9 in D (1909-1910)
Royal Stockholm Philharmonic Orchestra/Alan Gilbert
rec. 2-7 June 2008, Concert Hall, Stockholm, Sweden. DSD.
Pdf booklet included
BIS-SACD-1710 [82:22] – from eclassical.com (mp3, 16– and 24-bit lossless)



Alan Gilbert's recent performance of this symphony in New York made headlines for all the wrong reasons; a punter's mobile rang in the Finale, bringing the concert to a brief halt. As any concertgoer knows these devices are a menace, and despite many warnings they still go off at the most inopportune times. Fortunately this Stockholm recording came to prominence for all the right reasons; it's been very well reviewed elsewhere, but it was hearing Gilbert's New York Nielsen 2 and 3 – review – that prompted me to download the 24-bit version of this recording.

I'm so glad I did, for it has the same directness – a lack of sentimentality if you will – that makes those Nielsen symphonies sound so fresh and invigorating. Indeed, this quest for clarity is matched by a recording of breath-taking detail and subtlety, not to mention playing of sustained power and rare concentration. As for tempi and tempo relationships – so often the undoing of this fragmenting symphony – they're perfectly judged; textures are wonderfully aerated too. My only caveat is that tuttis seem a little fierce, but that hardly matters when the music-making is as good as this.

After that contained Andante comodo the Ländler-driven second movement majors in point and propulsion. Gilbert is not one to indulge in Lenny-like liberties of tempo or phrasing; that really counts in the wide-eyed innocence of this music, with its fond echoes of the Wunderhorn-inspired Fourth Symphony. Others may find more charm in these notes, but there's no denying the overall integrity and 'rightness' of Gilbert's conception. Factor in pin-sharp articulation – the woodwind playing is especially characterful, their trills simply gorgeous – and it's little wonder this performance sounds so engaging.

The trenchant Rondo-Burleske certainly benefits from the swift, no-nonsense reading it gets here; that said, essential colour and rusticity is very much in evidence, thanks to alert playing and intuitive direction. Some listeners may feel Gilbert underplays the sheer heft of this symphony, but others may think – as I do – that transparency and lift are more important in such a paradigm-shifting piece. Even in this movement there are unsettling moments where one begins to sense that, to borrow Yeats's momentous phrase, 'the centre cannot hold'.

The long-breathed Adagio, surely the most evanescent in all music, seems to wither and bloom at once; these existential opposites are superbly caught in massed string playing of rare conviction and strength, while Gilbert ensures just enough thrust to sustain the valedictory mood without it becoming fitful. In a movement well-known for its hushed intensity you'd be hard-pressed to find it more beautifully played than it is here. The soft, ear-pricking detail is just extraordinary, and those strange, desolate timbres are haunting beyond measure. The recording is exceptionally well balanced, the dynamic extremes encompassed with ease. This is Mahler playing of an exalted order and proof, if it were needed, that Gilbert is a first-rate conductor from whom we can expect great things.

A transfigured – and transfiguring – Ninth; a must-hear for all Mahlerians

Dan Morgan
http://twitter.com/mahlerei

[As usual when Dan has reviewed the 24-bit version I listened to the 'ordinary' 16-bit. Prospective purchasers unable to run to the cost of the 24-bit ($17.07 as against $12.20) need not worry – the CD-quality version sound fine, too.

This recording joins the classic Barbirolli (EMI) and Haitink (BR Klassik or Philips) at the top of the tree – see July 2012/2 Download Roundup. Fans of Michael Tilson Thomas and the San Francisco SO will find a good, though not outstanding, version on SFS Media – review – download from emusic.com or classicsonline.com or stream from Naxos Music Library.]

Sergei RACHMANINOV (1873-1943)
The Isle of the Dead, Op.29 (1909) [21:45]
Utyos, The Rock, Op.7 (1893) [13:31]
Symphonic Dances, Op.45 (1942) [35:11]
Bergen Philharmonic Orchestra/Andrew Litton – rec. March 2008, June 2009. DSD
BIS-SACD-1751 [71:27] – from eclassical.com (mp3 16– and 24-bit lossless) or stream from Naxos Music Library



This BIS release contains exactly the same programme, though presented in a different order, as that offered by Vasily Petrenko and the RLPO on Avie AV2188, which John Quinn made Recording of the Month with a strong endorsement from Rob Barnett – review – and which I also recommended in the May 2010 Roundup, so there's strong competition indeed. Bargain hunters will also find the same programme on a recording from the Royal Stockholm Philharmonic conducted by Andrew Davis at £2.99 from classicsonline.com and for streaming from Naxos Music Library: this version of The Isle of the Dead, complete with the Böcklin painting, is available on YouTube. (Also available on CD at budget price: Warner Apex 2564609582)

On BIS The Isle of the Dead comes first, a work inspired by a mysterious painting of a ghostly figure piloting a boat with a coffin towards an island. Rachmaninov was not the first composer to be inspired by Böcklin's painting; it would be interesting, but probably commercially unviable, if some kind record company were to offer us Heinrich Schulz-Beuthen's 1890 work of the same name.

Petrenko, who places The Isle between the Symphonic Dances and The Rock, gives the music fractionally less time to make its effect yet, possibly because the contrast with the cheery mood of the dances is more marked by his playing order, his performance is marginally more atmospheric, but there isn't a great deal in it. Davis, who sounds at least as mysterious as either of these, is also marginally slower than Petrenko; all three give the music a little more breathing space than Ormandy, whose 1954 recording is available on Naxos Historical Archives. All three orchestras give of their best – something which with Andrew Litton (and Neeme Järvi in the new Sleeping Beauty, reviewed above) in Bergen and Vasily Petrenko in Liverpool is almost to be taken for granted.

None of these recordings quite effaces memories of Ormandy's recording of the Dances – he gave the first performance. I thoughtr was no longer available in any format but Classical Edior Rob Barnett tells me that it's still to be had on Sony Essential Classics SBK48279 via amazon.co.uk.. (Stock is very low, however, in the UK.) Honours are about even in The Rock.

The Avie and Finlandia recordings are available as downloads in mp3 only from classicsonline.com, so the new BIS recording as delivered in 16– and 24-bit lossless sound and with the booklet as part of the deal, has the edge in that respect; both are currently offered at $10.72; though the price of the 24-bit will have risen a little by the time that you read my review, that's competitive with classicsonline.com's £7.99. There's also currently a 30% discount on the three suites from Prokofiev's Romeo and Juliet for purchasers; again, it will have been withdrawn by the time that you read this, but I mention it as a reminder to keep an eye open for these regular offers from eclassical.com.

If you are just looking for Isle of the Dead, you may wish to consider the Chandos recording which couples it with the 'Youth' Symphony and Symphony No.1 (CHAN10475 – from theclassicalshop.net in mp3 and 16– and 24-bit lossless.) As we don't seem to have reviewed that, I hope to include it in a future Download News. [First reaction: this version of the Symphony is as fine as any that I've heard, the 'Youth' Symphony is well worth hearing and the performance of Isle of the Dead is pretty good, too.]

Richard ARNELL (b.1917)
Symphony No. 4, Op.52 (1948) [26:36]
Symphony No. 5, Op.77 (1955-57) [36:48]
Royal Scottish National Orchestra/Martin Yates – rec. May 2007. DDD
DUTTON EPOCH CDLX7194 [63:49] – from amazon.co.uk (mp3)

['Two fine symphonies embracing the extremes of emotion and one devastatingly likeable and radiantly strong.' Recording of the Month – see review by Rob Barnett.]



Rob Barnett's enthusiastic review says it all, except to report that the amazon.co.uk download sounds fine, although the bit-rate actually falls below Amazon's supposed 256kb/s, itself not the best mp3. The booklet of notes which RB praised doesn't come with the download and Dutton don't even offer the short notes on their website that they usually carry – just a brief recommendation from Fanfare – but RB's review should help place the music for you.

For no logical reason that I can ascertain amazon.co.uk charge a wide range of prices for Dutton downloads; at £5.34 this is one of the least expensive – an added incentive for me, too, as I have to pay just like you for downloads from Amazon.

Pipe Dreams
José SEREBRIER (b. 1938) Flute Concerto with Tango (2008) (Dedicated to Sharon Bezaly) [22:12]
Adina IZARRA (b. 1959) Pitangus Sulphuratus (1987, rev. 2007)* [15:05]
(2007 version commissioned by Robert von Bahr and dedicated to Sharon Bezaly).
Carl VINE (b. 1954) Pipe Dreams (2003) (Recorded in the presence of the composer) [14:53]
Alberto GINASTERA (1916-83) Impresiones de la Puna (1934)
Sharon Bezaly (flute)
Australian Chamber Orchestra/Richard Tognetti – rec. October 2009. DDD
Pdf booklet included.
BIS-CD-1789 [60:23] – from eclassical.com (mp3, 16– and 24-bit lossless) or stream from Naxos Music Library



Sharon Bezaly is the girl with the golden flute, specially made for her in 24 carat; she uses that and, on track 3, the dreamy Fantasia movement of the Serebrier work, a platinum-plated silver model, to bring us a programme of music largely written by contemporary composers. I enjoyed her programme of baroque music in which she was accompanied by members of London Baroque (BIS-CD-1689 – review) so I was intrigued to see how she would respond to the very different music on this album. In the event it's just as recommendable though perhaps to a different clientele. In common parlance pipe dreams are unattainable but that doesn't apply to this recording.

José Serebrier is better known as a conductor than as a composer but his Flute Concerto with Tango suggests that his creative work deserves to be as well known as his interpretative skills. The third movement, fantasia, is ethereal; I was more impressed with that than with the following movement, tango inconclusivo, which, as its title suggests, presents something of a deconstruction of the tango as Ravel's La Valse does of the waltz. There's no other recording but, as the work was dedicated to Sharon Bezaly, we can take this performance as authoritative.

There's one other recording of Pitangus Suphuratus, also on BIS, who have something of a penchant for recording flute music (Oiseaux tendres BIS-CD-689). The programme of Pipe Dreams places the work with music roughly contemporary with it; on the other hand, as the subject of the work is a bird you won't be surprised to hear echoes of Messiaen, who also features on that earlier album.

The penultimate piece, an attractive work which gives its name to the programme, is not available in any other recording. Impresiones de la Puna, originally for flute and string quartet – there's a version on another BIS CD, Sun-Flute 2/3 (BIS-CD-175) – is here played in an arrangement for flute and orchestra.

I can't imagine any of the performances here being bettered so, with good recording and a helpful booklet of notes, readers looking for something different – contemporary music that doesn't set the teeth on edge – will find it well worth going for. I have a mental line in the sand between Messiaen and his erstwhile pupil Boulez; nothing here crosses that line to the dark side. If in doubt, try it from the Naxos Music Library first.