Franz SCHUBERT
Die schöne Müllerin

Dietrich Fischer-Dieskau (baritone and speaker) Gerald Moore (piano)

EMI (Great Recordings of the Century) CDM 5 66907 2 [62:36]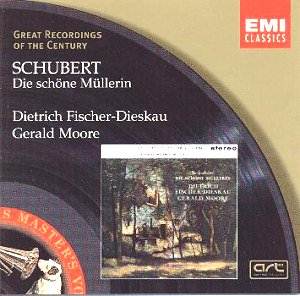 Schubert's song cycles, Winterreise and Die schöne Müllerin (The Maid of the Mill) represent his masterpieces in the Lieder genre and so I could not resist appending a review of this classic 1961 recording when both Fischer-Dieskau and Moore were at the height of their considerable powers. It has recently been released as part of EMI's Great Recordings of the Century Series.
I well remember reading the chapter devoted to the singer in Gerald Moore's autobiography 'Am I too Loud?' in which he wrote that concerts with Fischer-Dieskau were 'inspiring experiences' and how Moore praised his flawless enunciation, marrying perfectly word and tone, and his grasp of the importance of rhythm. Indeed, he and Moore do not allow these songs to become becalmed in a search for inner meaning as others might, but are concerned with the forward movement of the cycle to catch the sweep of the story of the forlorn miller-boy, victim of the fickle, flighty schöne Müllerin.
Fischer-Dieskau light tenor-like baritone is ideally suited to this song cycle and he totally absorbs himself in his role as the hapless lad. From the optimistic wanderer we meet at the beginning through the elation of discovered love and the anguish, jealousy and despair as he realises the maid has been leading him on and that she loves the hunter rival, he is totally convincing. The subtlety of his tonal shading and dynamics is awesomely impressive. There is his carefree high-spirits of the opening, sunny melodic Das Wandern ('Roving'), his exquisite, delicate rendering of Die Neugierige (Inquisitive) as the youth dreamily asks himself if the maid loves him. Then there is the famous elated declaration of love "I'd like to carve it on every bit of bark.." of Ungeduld (Impatience) followed by Dietrich-Fischer's rapturous, tender Morgengrüss ('Morning Greeting). You feel the irony of Tränenregen ('Shower of Tears') where the besotted youth, sits dreaming with the maid but she, in the song's cutting last lines, impatiently says, "It's coming on to rain. Goodbye, I'm going home." There is beautiful poignancy of impossible hope at the end of Pause and the sharp bitterness occasioned by the jealous realisation that it is Der Jäger ('The Hunter) who has captured the maid's heart. The final verses are delivered in torment only alleviated by the oblivion offered by the stream.
An album that just has to be in the collection of every lover of Lieder.
Reviewer
Ian Lace


Reviewer
Ian Lace

---
---
Reviews carry sales links but you can also purchase from: