DOWNLOAD ROUNDUP – APRIL 2011/2
Brian Wilson

The bulk of the reviews this time are of Holy Week and Easter music which I didn't have time to fit into the April 2011/1 Roundup: those who missed that first instalment will find it here. You may also wish to look at some of the recommendations which I made in March 2010 – here.

Download of the Month
Alessandro STRIGGIO (c.1536/7-1592)
Ecce beatam lucem (1561?/1568) [7:26]
Missa Ecco sì beato giorno (c.1566) [26:30]
Vincenzo GALILEI (?late 1520s-1591) Contrapunto Secondo di BM (1584) [2:21]
Alessandro STRIGGIO Fuggi, spene mia (1565) [2:28]
O giovenil ardire (1568) [3:44]
Altr'io che queste spighe (1570) [2:08]
D'ogni gratia et d'amor (1567?/1571) [3:58]
O de la bella Etruria invitto Duce (1560) [4:10]
Caro dolce ben mio (1560) [2:20]
Miser'oimè (1560) [2:23]
ANON Spem in alium (Sarum plainchant) [2:05]
Thomas TALLIS (c.1505-1585) Spem in alium (c.1567) [8:55]
I Fagiolini/Robert Hollingworth – rec. September/October 2010. DDD.
Texts and translations included from Amazon (not from HMV)
DECCA 478 2734 [68:54] – from Amazon.co.uk or HMV Digital (both mp3)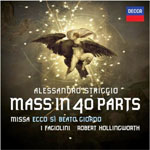 Tallis's 40-part Spem in alium is well known and has been recorded countless times, but its origin and inspiration remained a mystery until recently – was it written for the 40th birthday of Queen Mary or Queen Elizabeth? We now know that it was commissioned – probably by the Duke of Norfolk – as England's riposte to Striggio's 40-part motet Ecce beatam lucem (Behold the blessed light), a performance of which by the Tallis Scholars, the BBC Singers and His Majestys Sagbutts and Cornetts was one of the highlights of the 2007 Proms. The Huelgas Ensemble have recorded both the Striggio and Tallis on HMC801954 – download from classicsonline.com.

Now I Fagiolini, with instrumentalists drawn from such distinguished period groups as Fretwork, have made a gloriously free-wheeling version of that motet, the associated Missa Ecco sì beato giorno, also premiered by the Tallis Scholars at that wonderful late-night prom, and several other pieces by Striggio. The programme is rounded off with the Sarum plainchant of the response Spem in alium and a performance of Tallis's setting of it to challenge – but not supersede – the best. If the Tallis Scholars were to record the programme which they gave at the Proms...

MP3 struggles somewhat to cope with the 40-part wall of sound, especially when Amazon have dropped the bit-rate of some of the tracks below their usual 256kb/s – just one track here is at 320kb/s. I found it adequate but younger, keener ears will demand better: unless and until Passionato offer this in lossless flac, that means buying the CD, which comes with a bonus DVD containing surround-sound excerpts.

Both Amazon and HMV Digital manage to misprint beatam as beatem. I'm pleased to see, however, that Amazon now offer a pdf booklet with the purchase, in which the words are correctly printed in Latin and English. There's even a link in the booklet to part of the score of the Mass.

Reissue of the Month
Sir Edward ELGAR (1857-1934) The Classical Guide to Elgar
Pomp and Circumstance Marches Nos. 1 [6:20] and 5 [5:17]
Cello Concerto*: first movement (excerpt) [3:30]; third movement [4:49]
Chanson de Matin [3:43]
Variations on an Original Theme ('Enigma') [31:33]
Introduction and Allegro [14:47]
Symphony No.2 – first movement [19:02]
Chanson de Nuit [4:15]
Salut d'amour [3:52]
In the South (Alassio) (excerpt) [3:02]
Symphony No.1 – third movement [12:02]
Dream Children – andante [3:31]
Elegy [4:31]
Sospiri [4:34]
Cockaigne Overture (in London Town) [14:57]
Serenade in e minor – larghetto [5:59]
Falstaff – episode 1: Falstaff's Dream [2:33]
Enigma Variations X: Nimrod – arranged as Lux æterna [3:48]
'Land of hope and glory' [2:40]
Arto Noras (cello)*; Finnish RSO/Jukka-Pekka Saraste*; BBC Symphony Orchestra/Sir Andrew Davis
WARNER CLASSICS AND JAZZ [2 CDs: 154:39] – from iTunes.

Also available as a 2-CD set, The Elgar Experience, 2564699246 (around £8).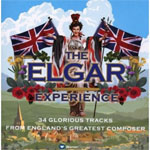 I've been more than a little sniffy about some of the earlier releases in this budget-price 2-CD/downloads series, but I must congratulate Warner on this Elgar release. It contains some complete works and whole movements or sections from others – only Alassio and the Cello Concerto receive scrappy treatment. In the case of the Concerto we have an excerpt from the first movement and the whole of the third. When really only the complete work will do, it's a pity that room was not found for it; otherwise it should have been dropped in favour of more of Alassio or Falstaff.

The Cello Concerto comes from a Finlandia recording, the other items are provided by the BBCSO and Sir Andrew Davis. These recordings are among the best and they are generously represented here: Davis's Enigma Variations, Introduction and Allegro, Cockaigne (all complete) and Second Symphony (first movement) are at or near the top of most lists
Bargain of the Month
Richard WAGNER (1813-1883) Siegfried
Josef Greindl (bass, Fafner); Hans Hotter (bass-baritone, Wanderer); Wolfgang Windgassen (tenor, Siegfried); Astrid Varnay (soprano, Brünnhilde); Paul Kuen (tenor, Mime); Rita Streich (soprano, Woodbird);
Bayreuth Festival Orchestra/Clemens Krauss – rec. Bayreuth, 1953. ADD.
DISCOVER CLASSICAL MUSIC [3 CDs: 79:21 + 75:03 + 79:23] – from emusic.com (mp3)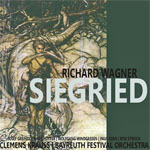 The official Bayreuth-approved recording of this 1953 Ring cycle has just been released on Orfeo C809 113R (13 CDs), but those looking just for Siegfried will not be disappointed with this mp3 download, costing at most £1.26 from eMusic. The sound is so-so, even for a live 1953 recording, though the voices come over well, and any sonic deficiencies are much more than offset by the quality of the singing – a near-ideal cast for the time – and above all by Krauss's direction.

Like other opera recordings from this source, each act is complete on one track, so you can easily burn the whole opera to one CDR in mp3 form – iTunes can do this – without having gaps in the music.

The Rheingold and Walküre of the same provenance are also available.

Discovery of the Month
Judith BINGHAM (b.1952) Landscapes Real and Imagined
Fifty Shades of Green, for string trio (2001) [13:53]
The Moon over Westminster Cathedral, for piano (2003) [5:42]
The Cathedral of Trees, for solo soprano (1998) [6:39]
Chapman's Pool, for piano trio (1997) [18:11]
The Shadow Side of Joy Finzi, for soprano and piano (2001) [8:58]
L'Usignolo, for solo violin, from The Lost Works of Paganini (2007-9) [4:14]
The Mystery of Boranup, for piano quartet (2002) [2:27]
Shelley Dreams, for violin and piano (1998) [6:28]
See and keep silent, for solo cello (2009) [10:01]
My Father's Arms, for soprano and string trio (2002) [14:30]
Yeree Suh (soprano); Chamber Domaine: Thomas Kemp (violin), James Boyd (viola), Adrian Bradbury (cello), Stephen de Pledge (piano) – rec. December 2010. DDD.
All world premiere recordings, made in the presence of the composer.
Booklet with texts included
RESONUS CLASSICS RES10102 [91:11] – due for release on 2 May, 2011, from resonusclassics.com (download only, mp3 and lossless: no CD equivalent)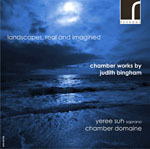 Regular readers will have noted that I don't venture much into the world of contemporary music, classical, jazz or pop, but I'm always willing to make exceptions. Thanks to Signum and Naxos I've recently added the music of Ian Venables to my list of OK-contemporary. Signum and Naxos have also pioneered the music of Judith Bingham (Signum SIGCD144, Naxos 8.570346) and now the enterprising new label Resonus Classics has made a previously unrecorded selection of her music for their second release. It follows hard upon their recording of the first version of Mendelssohn's Octet, a performance that can stand any amount of opposition from accounts of the 'regular' version (RES10101 – see my March 2011/2 Roundup). Now they have two releases to be proud of.

The Naxos Bingham CD was Recording of the Month – see reviews by Christopher Thomas – here – John Quinn – here – and Robert Hugill – here. Like Robert Hugill, I found Bingham's music approachable but needing some work on my part. The Cathedral of Trees is a case in point – I think I shall need repeated listening to be 'subsumed into the music', as RH puts it. I started by thinking that it sounded dangerously like that Hoffnung parody of 'Ludwig JaJa', but I was soon able to put such unhelpful thoughts behind me and to engage with the music. It's certainly worth the effort and the quality of these performances, together with the booklet of notes and texts provided as part of the deal, will offer an excellent opportunity.

The mp3 recording is at the highest bit-rate and will be more than sufficient for most listeners. The lossless flac is even better, but it did take me a long time to download. The Mendelssohn was a short recording because all concerned didn't want to dilute the experience with a coupling. Now we have a release which is too long to fit on one CD: the beauty of digital releases is that they can be as long as the proverbial piece of string.
***

Pierre de la RUE (c1452/60-1518)
Missa de Feria [26:17]
O Domine, Jesu Christe (lutes) [2:43]
Pater de celis Deus [9:36]
Regina celi (lutes) [4:06]
Missa Sancta Dei genitrix [19:10]
Salve Regina (lutes) [3:25]
Gothic Voices (Catherine King (alto); Steven Harrold, Julian Podger, Leigh Nixon (tenor); Stephen Charlesworth, Donald Greig (baritone))/Christopher Page
with Christopher Wilson and Shirley Rumsey (lutes) – rec. 1997. DDD.
Texts and translations included
HYPERION HELIOS CDH55296 [64:36] – from Hyperion (mp3 and lossless)

Missa de septem doloribus beatissime virginis Marie a 5 (Mass of the seven sorrow of Mary) [30:28]
Pater de celis a 6 [9:28]
Missa pascale a5 (Easter Mass) [32:21]
Vexilla regis/Passio Domini a4 [2:04]
Ars Antiqua de Paris/Michel Sanvoisin – rec. 1999. DDD.
Texts and translations included.
NAXOS 8.554656 [74:38] – from classicsonline.com (mp3)

Missa cum iucunditate [28:15]
CLEMENS non Papa: Ego flos campi [4:59]; Pater peccavi [9:12]
JOSQUIN des Prés: Absolve quæsumus, Domine [4:43]
Jakob WILLAERT: O crux splendidor [9:47]
Johannes OCKEGHEM: Ave Maria [3:20]
Henry's Eight – rec. c.1998. DDD.
ET'CETERA KTC1214 [60:18] – from emusic.com or amazon.co.uk (both mp3)



All these recordings of the still neglected music of Pierre de la Rue are available inexpensively – the Naxos was on offer at £3.74 instead of £4.99 when I checked. The Et'cetera is £5.04 or less from eMusic, £4.99 from Amazon UK, and the Hyperion £5.99 in both mp3 and lossless formats.

The Naxos recording came in for quite a lot of criticism when it was first released and, in truth, some of the singing is a good deal less than secure, often painfully flat, especially in the Seven Sorrows Mass. It's still worth hearing, however, for the quality of the music when there are currently no rival versions, the recording of the Seven Sorrows Mass from Musique en Wallonie having apparently been deleted. I wondered why Naxos decided to follow the Easter Mass with Vexilla regis, music for the preceding week. Isn't that the wrong way round – the resurrection before the cross?



There are much better performances of de la Rue's music on the two Naxos recordings by the Capilla Flamenca which I reviewed in the March 2011/#1 Roundup: those really are feathers in Naxos's cap.

After the disappointing Ars Antiqua on Naxos, the singing on the other two recordings is a delight. The Et'cetera recording, placing de la Rue's Missa cum iucundiate in the context of works by his contemporaries, is particularly recommendable. The eMusic transfer is at the basic 192kb/s, with some tracks a little higher, but it sounds more than acceptable. Unlike the Naxos and Hyperion, however, it comes devoid of texts.



Though not due for reissue on CD until June 2011, the Hyperion recording was available as a download from early April – don't be put off by the message 'this album is not yet available'. Despite some very minor niggles, such as the not quite consistent attempt at 16th-century French pronunciation of Latin, one has only to compare the performance of the litany, Pater de celis, with the Sanvoisin version to breathe a deep sigh of relief. Another splendid reissue from Hyperion's treasure-store of Gothic Voices recordings.

I had some problems with downloading this recording via the smart new Hyperion Download Manager. It does seem still to have occasional glitches; if you encounter one I recommend downloading track by track with Google Chrome.

Heinrich SCHÜTZ (1585-1672) Matthäus-Passion (St Matthew Passion), SWV 479 (1666)
Julian Podger (tenor, evangelist); Jacob Bloch Jespersen (bass-baritone, Jesus)
Ars Nova Copenhagen/Paul Hillier – rec. April 2010. DDD.
DACAPO 8.226094 [54:31] – from classicsonline.com (mp3) or stream from Naxos Music Library.



Like the Lukas-Passion (8.226019 – see June 2010 Roundup) and the Johannes-Passion, which Ars Nova and Paul Hillier have also recorded for daCapo, the Matthew Passion is a starkly simple affair, partly because the 40 Years' War had depleted the resources on which Schütz was able to call and partly because the use of instruments was forbidden in services at the Dresden court in Holy Week. Nevertheless, all concerned make the music much more varied and dramatic than the Norrington version which used to be available on Decca (last seen on 436 221-2), largely because Julian Podger is much better suited to the role of Evangelist than Peter Pears, whose voice allowed of too little variety. Hillier also moves the music along much more effectively than Norrington.

There's no booklet with the download, but the words are taken entirely from Luther's translation of the Bible, so they are not hard to find online – do try to follow them as you listen – and daCapo downloads from classicsonline.com are very inexpensive at £4.99 in the UK. They come in mp3 only, though at the highest bit-rate. Passionato.com have the Lukas- and Johannes-Passion in lossless flac, but I hear that classicsonline.com will also be offering flac as part of an ongoing refurbishment of its site in the near future. I've never experienced any difficulty in downloading from them, but I understand that some customers have had problems with slow speeds and timed-out experiences, which the refurb is designed to avoid.

Dietrich BUXTEHUDE (1637-1707)
O fröhliche Stunden, BuxWV 84 [6:05]
O dulcis Jesu, BuxWV 83 [11:52]
Fried- und freudenreiche Hinfahrt, BuxWV 76: Contrapunctus I [1:29]
Was mich auf dieser Welt betrübt, BuxWV 105 [1:29]
Fried- und freudenreiche Hinfahrt, BuxWV 76: Contrapunctus I (Evolutio) [1:32]
Schaff in mir, Gott, BuxWV 95 [7:07]
Fried- und freudenreiche Hinfahrt, BuxWV 76, Teil II: Klag-Lied [7:11]
Gen Himmel zu dem Vater mein, BuxWV 32 [8:15]
Fried- und freudenreiche Hinfahrt, BuxWV 76: Contrapunctus II [1:22]
Singet den Herrn, BuxWV 98 [9:15]
Fried- und freudenreiche Hinfahrt, BuxWV 76: Contrapunctus II (Evolutio) [1:25]
Sicut Moses exaltavit serpentem, BuxWV 38 [4:12]
Emma Kirkby (soprano); John Holloway (violin); Manfredo Kraemer (violin); Jaap ter Linden (viola da gamba); Lars Ulrik Mortensen (harpsichord, organ) – rec. November 1996. DDD.
NAXOS 8.557251 [72:18] – from classicsonline.com (mp3)



I've included this for the sake of the Easter aria O fröhliche Stunden, but there's music here for other festivals, so it's appropriate at any time of year. Like Glyn Pursglove, reviewing the CD – here – I recommend this as outstanding: anything with Emma Kirkby is self-recommending. The texts and translations are available online. I'm surprised that classicsonline are also still offering this same recording in its earlier daCapo form for £3 more.

I've just received Emma Kirkby's recording of Haydn Songs and Cantatas on a budget-price Brilliant Classics CD (94204), accompanied by Marcia Hadjimarkos on the fortepiano. If you don't want to wait for my review, go out and buy. It even includes the texts – rare in this price-bracket – but no translation of Arianna a Naxos. One small grumble – sloppy proof-reading has allowed Emma Kirkby's name to appear on the CD label as 'Emma Kirky'.

Georg Philipp TELEMANN (1681-1767)
Harmonischer Gottes-Dienst, TWV1: Cantatas for Easter and Pentecost
Du bist verflucht TWV1:385 [10:04]
Gott will Mensch und sterblich werden TWV1:694 [8:08]
Weg mit Sodoms gift'gen Fruchten TWV1:1534 [11:35]
Ew'ge Quell, milder Strom TWV1:546 [11:02]
Zischet nur, stechet TWV1:1732 [9:58]
Schmuckt das frohe Fest TWV1:1256 [9:21]
Ergeuss dich zur Salbung TWV1:444 [14:09]
Monika Frimmer, Petra Kotz-Geitner (soprano); Bernard Hirtreiter (tenor); Gotthold Schwarz (bass); Christian Beuse (bassoon); Gerhart Darmstad (cello); Christoph Hammer (harpsichord and organ); Alfredo Bernardini (oboe); Myriam Eichberger (recorder) Peter Affourtit (violin)
CAPRICCIO C10795 [71:33] – from classicsonline.com (mp3)
Also available as part of a 4-CD set, C49498 – here – or stream from the Naxos Music Library.



There's an alternative version of Du bist verflucht on Toccata TOCC0037, a selection of Telemann Cantatas for High Voice, Volume 1 of a highly recommendable ongoing project which I've been following – see November 2009 Download Roundup. Despite Classicsonline's labelling, it's not for Easter but for the Fourth Sunday in Lent, known as Refreshment or Mothering Sunday, three weeks before Easter, and it receives a preferable performance on Toccata, with a more secure solo voice. The solo singing on the rest of the Capriccio recording is better, especially from the male voices, and the use of four soloists makes for greater variety than on Toccata. Also, the Capriccio recording is themed – it's just that the spread of occasions is wider than the title implies. Both are well recorded and are offered in good transfers, even though the Toccata is only at 192kb/s (more recent Toccata downloads are at 320kb/s), so you pays your money and takes your choice.
Classicsonline have the wrong cover-shot from a different Capriccio CD of Telemann.

Johann Sebastian BACH (1685-1750) Eastertide Cantatas
Cantata BWV182 'Himmelskönig, sei willkommen' (Palm Sunday) [24:46]
Cantata BWV4 'Christ lag in Todesbanden' (Easter) [19:25]
Cantata BWV31 'Der Himmel lacht, die Erde jubilieret' (Easter) [21:02]
Cantata BWV6 'Bleib bei uns, denn es will Abend werden' (Easter Monday) [17:40]
Cantata BWV66 'Erfreut euch, ihr Herzen' (Easter Monday) [26:24]
Cantata BWV158 'Der Friede sei mit dir' (Easter Tuesday) [9:48]
Cantata BWV134 'Ein Herz, das seinen Jesum lebend weiss' (Easter Tuesday) [25:16]
Cantata BWV145 'Ich lebe, mein Herze, zu deinem Ergötzen' (Easter Tuesday) [8:16]
Barbara Schlick, Sibylla Rubens, Caroline Stam (soprano), Kai Wessel, Bernhard Landauer, Michael Chance (alto), Guy de Mey, Christoph Prégardien, Paul Agnew (tenor), Klaus Mertens (bass); The Amsterdam Baroque Orchestra and Choir/Ton Koopman
CHALLENGE CLASSICS CC72231 [78:19 + 74:21] – from classicsonline.com (mp3)



These two CDs, excerpted from Koopman's distinguished complete series*, contain cantatas for Palm Sunday and the three days of Easter. They offer an alternative to the Rilling versions of Easter, Ascension and Pentecost cantatas on a 4-CD set from Hänssler Classics which I recommended last year – see March 2010 Roundup. Indeed, there are only two overlapping works – Cantatas 182 and 31 – and you can't have too many recordings of Bach's cantatas: they are my unfailing solace when feeling down. Koopman's approach is sufficiently different from Rilling's, too, to justify having both. The mp3 sound is good.

In fact, I have just two reservations: no texts are provided, though these and the translations are readily available online, and you may find online dealers offering the CDs for less than the classicsonline price. One advantage of the download, however, is that it doesn't split Cantata No.6 across two CDs.

* 67 CDs at around £425.

Arnold Matthias BRUNCKHORST (1670-1725) Opera Omnia (Complete Works)
(Organ) Prelude and Fugue in e minor [4:34]
Weihnachts-Historie (Christmas Cantata) [22:46]
Harpsichord Sonata in A [2:56]
Oster-Historie (Easter Cantata) [23:32]
Ensemble Musica Poetica Freiburg/Hans Bergmann
HÄNSSLER CLASSIC 98.364 [53:47] – from classicsonline.com (mp3)



The complete extant works of Brunckhorst fit onto one not very well filled CD. His music is of historic importance – the Keyboard Sonata in A is regarded as the earliest example of the Scarlatti model in Germany and he forms a bridge between Bach and his predecessors. It's also of not inconsiderable value in its own right: in many ways, this is more attractive for modern listeners than Schütz's better-known Christmas and Easter music.

The performances here are good – not all the soloists are ideal, but nothing is seriously amiss – and the recording also does the music justice. The CD is no longer listed on the Hänssler Classic website, though one online dealer still has it. Otherwise the download may be your only chance to obtain it.

Beethoven Explored, Vol.1
Ludwig van BEETHOVEN (1770-1827)
Violin Sonata No.10 in G, Op.96 [26.58]
Rondo in G, WoO 41 [5.12]
12 Variations in F on MOZART'S Se vuol ballare WoO 40 [11.18]
Erzherzog RUDOLPH (Archduke RUDOLPH)
Variations in F (1810) on a Minuetto [18.54]
Peter Sheppard Skaerved (violin); Aaron Shorr (piano) – rec. October 2000 and February 2001. DDD.
DIVINE ART METIER MSVCD2003 [62.22] – from theclassicalshop.net (mp3 or lossless) or classicsonline.com (mp3) or stream from Naxos Music Library.



The performances and recording are (very) good but not exceptional – there are, after all, other fine versions of Op.96. What makes this recording so important is that it was the first in a series of Beethoven's music for violin and keyboard, coupling lesser-known pieces and works by his contemporaries. In this case the contemporary is Archduke Rudolph* who gave his name to the 'Archduke' Trio and for whom the Op.96 Sonata was composed. Roy Brewer criticised the booklet as rambling and diffuse, but I wish it had been included with the download, nevertheless. Otherwise I'm entirely with him in praising this enterprising release – see review. Now I must listen to the other volumes. The classicsonline.com download is less expensive than the mp3 version from theclassicalshop.net, but the latter also has lossless versions.

* rather bizarrely given the 'surname' Osterreich on the Naxos Music Library: he was Archduke of Austria (Österreich).

Franz LISZT (Liszt Ferenc) (1811-1886)
Crux (Seamen's Hymn) [1:45]
Via Crucis (The Way of the Cross) for solo voices, chorus and organ, S53 (1876-78) [39:47]
The Beatitudes [9:34]
Pro Papa (for the Pope) [2:53]
Baini: O Roma nobilis [2:59]
Nun danket alle Gott (Now thank we all our God) [6:39]
Der Herr bewahret die Seelen seiner Heiligen (The Lord protects the souls of his saints) [1:36]
Molnar Andrea, Szöllösi Karmen (soprano); Hovancsek Tunde Györfi (contralto); Kurgyis Tamás (tenor); Szücs Ferenc (baritone); Fenyvesi Zsolt (bass);
Karasszon Dezsö (organ); Márku Anikó (timpani); Juhasz Istvan, Krasznai, Mariann Sturzenbaum Robert (trombone); Madarassy Balázs, Hegedus Imre (trumpet); Papp Sándor (tuba); Debrecen Kodály Choir/Pad Zoltán – rec. June-July 2010. DDD.
Booklet with texts and translations included.
HUNGAROTON HCD32685 [65:13] – from classicsonline.com (mp3) or stream from Naxos Music Library

Three pieces from Harmonies poétiques et réligieuses, S173: Ave Maria (1847-52) [6:28]; Pensées des morts (1847-52) [12:24]; Pater noster (1847-52) [2:45]
Via Crucis for solo voices, chorus and organ, S53 (1876-78) [42.44]
Brigitte Engerer (piano)
Accentus/Laurence Equilbey – rec. April 2006 DDD
NAÏVE V5061 [58:27] – from classicsonline.com (mp3) or stream from Naxos Music Library



Michael Cookson liked almost everything about the Naïve version of Via Crucis, apart from the use of the piano instead of the organ – see review. It is, indeed, swings and roundabouts: Laurence Equilbey's performance may be preferable to Zoltán Pad's on Hungaroton, but the substitution of a piano for the organ is regrettable. On the other hand, the Naïve download costs only £4.99 as against £7.99 for the Hungaroton, but comes without the booklet of texts and translations which classicsonline offer with the Hungaroton.



I'd recommend that you try both of these in the Naxos Music Library first if possible. Alternatively, there's the award-winning recording from 2000 by the Corydon Singers, conducted by Matthew Best and with Thomas Trotter (organ) on Hyperion CDA67199, coupled with the Missa Choralis. Download here in mp3 or lossless sound – complete with booklet of texts and translations.

The earlier Hungaroton White Label CD to which MC refers is no longer available – the whole series, early competitors with Naxos in the super-budget-CD stakes and including some fine performances, has been deleted in the UK.

Alexander Tikhonovich GRECHANINOV (1864-1956)
The Seven Days of Passion (1911-12) [59:22]
Russian State Symphonic Cappella/Valeri Polyansky – rec. 1993. DDD
Texts and translations included.
CHANDOS CHAN9303 [59:22] – from theclassicalshop.net (mp3 and lossless)

Passion Week, Op. 58 (1911-12) [74:00]
Caroline Markham (mezzo); Paul Davidson (tenor); Bryan Taylor (baritone); Phoenix Bach Choir; Kansas City Chorale/Charles Bruffy – rec. 2004. DDD
Texts and translations included.
CHANDOS CHAN5044 [74:00] – from theclassicalshop.net (mp3 and lossless)



Despite the differences between the titles, these are recordings of the same work. Having bravely recorded this striking but little-known music with Polyansky on their enterprising but short-lived New Direction label, Chandos even more bravely trumped their earlier recording eleven years later. The words follow the events of Holy Week. Parts are intoned in the manner of the Old Slavonic chant, though the work as a whole is not part of the Orthodox liturgy – indeed, the music appeals to all, Orthodox or not, believers and non-believers.



Both recordings are very good, though Bruffy, who gives the music a little more space in which to expand, is probably the one which most will choose. Compare them in the Naxos Music Library if you're unsure – the final Let all flesh is a good place – but do try to listen to this dramatic music in one form or another. Both come in good recordings, especially in lossless form, and both have the usual Chandos high level of documentation. For a more detailed analysis, see Dan Morgan's review of the parent SACD of the more recent version (Recording of the Month).

Two of the items from the Passion Week are included with the Holst Singers' recording of the 'Vespers' (Hyperion Helios CDH55352) which I recommended in the February 2011 Roundup.
Josef SUK (1874-1935)
Fantasy in g minor, Op. 24* [23:28]
Pohádka ('Fairy Tale', suite from the music for Zeyer's Raduz and Madalena), Op. 16 [30:39]
Fantastické scherzo, Op. 25 [15:06]
Michael Ludwig (violin)*
Buffalo Philharmonic Orchestra/JoAnn Falletta
rec. Kleinhans Music Hall, Buffalo, NY, USA, 3-4 May, 2010. DDD.
NAXOS 8.572323 [69:13] – from classicsonline.com (mp3)



If you think of Suk solely as the composer of the highly emotive Asraël Symphony – a work to which I haven't yet found the ideal key – your first port of call might be to his Serenade for Strings. Try the version conducted by Jacob Hrůsa, coupled with Dvořák's 'American' Suite (SU3882-2) which I recommended in the October 2010 Roundup: it also contains the Fantastické Scherzo. Your second call might well be to this new recording.

The performance of the Fantasy, which opens the album, is good, but I marginally prefer Josef Suk's performance of his grandfather's music, now coupled with the Violin Concerto and Romance of his great-grandfather Dvořák from a recording that I've treasured ever since I bought it c.1962 for 17/6 (£0.88), complete with very fractured English sleeve-notes – and in stereo, too. (Supraphon Ancerl Gold Edition: download from eMusic).

If you're looking for a Czech recording of Pohádka, you'll find the Libor Pešek version from Supraphon with the Czech Philharmonic on eMusic, coupled with the symphonic poem Praga. As in the Fantasy, I think the greater familiarity of the Czech players with the idiom gives them a slight edge over their fellows in Buffalo, with Pešek moving the music along a little faster in the outer movements and taking a little more time in the two central intermezzos, but there isn't a great deal in it: without making comparisons, I'd have been happy with the new recording of this wonderfully wallowy music.

The Czech Phil, this time directed by Jiři Bělohlávek, perform the Fantastické Scherzo with Janáček and Martinů on Chandos CHAN8897 – see October 2010 Roundup. JoAnn Falletta's performance is slower than either Bělohlávek's or Hrůsa,'s, but it's every bit as fantastic and the album overall as enjoyable as one might demand. The mp3 transfer is good.
Arnold BAX (1883-1953)
Winter Legends [38:25]
Morning Song 'Maytime in Sussex' [7:11]
Saga Fragment [10:37]
Ashley Wass (piano)
Bournemouth Symphony Orchestra/James Judd – rec. June, 2010. DDD
NAXOS 8.572597 [56:13] – from classicsonline.com (mp3)



I've had time only to dip into this new recording, but first impressions suggest that it presents a very strong challenge to Margaret Fingerhut and Bryden Thomson on Chandos: Winter Legends with the Symphonic Variations on CHAN10209(2)X, Saga Fragment, with the Russian Suite, etc., on CHAN10159X, Maytime in Sussex, with the Violin and Cello Concertos, on CHAN101054X, all at mid price. The original full-price coupling of Winter Legends and Saga Fragment is still available as a download only from theclassicalshop.net. I plan to compare the Naxos and Chandos contenders more fully next month.

Symphony No.6 (1934) [38:07]
Tintagel (1920) [14:45]
Overture to Adventure (1937) [10:16]
Munich Symphony Orchestra/Douglas Bostock
CLASSICO CLASSCD254 [63:08] – from classicsonline.com (mp3)


Rob Barnett was most impressed by the release of this on CD, awarding four-and-a half stars. David Wright (three stars) was a little less taken with the performance – see their joint review – and I find myself somewhere in-between. There are now more idiomatic performances from Vernon Handley (Chandos: Recording of the Month – see review), David Lloyd Jones (Naxos – see review) and Norman del Mar (Lyrita: Recording of the Month – see review), all available as downloads*, so it might seem that the Bostock could be pensioned off. Yet the enterprise of ClassicO in recording these works at a time when Bax was hardly fashionable is still deserving of recognition, the performance from an orchestra with little experience of playing British music is admirable, the mp3 sound much more than acceptable, and the price of £4.99 very tempting. [Note from RB: with the perspective of the intervening 12 years the Bostock must now rank below both the Del Mar and the Lloyd Jones] At that price, too, it's worth browsing the 429 ClassicO titles on offer at classicsonline.com: some of them come with a booklet.

* The Chandos from theclassicalshop.net, the Naxos from classicsonline.com and the Lyrita from emusic.com.

Henryk GÓRECKI (1933-2010) The Three String Quartets
CD 1
Already it is dusk – String Quartet No 1, Op 62 (1988) [15:43]
Quasi una fantasia – String Quartet No 2, Op 64 (1991) [33:02]
CD 2
… songs are sung – String Quartet No 3, Op 67 (1995-2005) [55:54]
Royal String Quartet (Izabella Szalaj-Zimak (violin); Elwira Przybylowska (violin); Marek Czech (viola); Michal Pepol (cello)) – rec. February 2010, Potton Hall, Dunwich, Suffolk, UK. DDD. 2 CDs for the price of 1.
For full tracklist see review by Rob Barnett – here.
HYPERION CDA67812 [48:47 + 55:54] – from Hyperion (mp3 and lossless)



Most listeners will probably find these quartets harder going than the well-known Symphony No.3, the 'symphony of sorrowful songs', which became so popular some years ago, but it's well worth making the effort. So far I've had time for just one complete hearing, but I think I shall be returning to this recording quite often. The Royal Quartet have already had a good deal of well-deserved air time on BBC Radio 3 and they play here as if the Górecki idiom has been in their blood for decades. With very good, immediate recording, excellently transferred in the lossless version, a booklet of notes of Hyperion's usual high standard, a mood-matching cover, and a playing time of over 100 minutes, this could have been my Download or Discovery of the Month.

MWI Classical Editor Rob Barnett reviewed the CD and I can't summarise better than by quoting his final words: 'These are utterly committed recordings and capture the smiting power of Górecki's writing in playing of shockingly indefatigable violence fully attuned to his long sentences and paragraphs'.

At the time of writing, Passionato.com are offering the Naxos recording of Symphony No.3 (The Symphony of Sorrowful Songs) and Three Pieces in the Olden Style at a discount of 25% – 8.550822: Zofia Kilanowicz (soprao); Katowice RSO/Antoni Wit [66:03] – from passionato.com (mp3 and lossless). Snap it up if you can. If you must have the more famous Nonesuch recording of the symphony, with David Zinman conducting, that comes as a download in mp3 only for £7.49 from Amazon.co.uk, with no coupling.
Osvaldo GOLIJOV (b.1960) La Pasión según san Marcos (St Mark Passion) (2000)
Samia Ibrahim (soprano); Luciana Souza; Reynaldo Gonzalez Fernandez (vocals); Schola Cantorum de Caracas; Alberto Grau Cantoria; Orchestra La Pasión/Maria Guinand – rec. 2000. DDD.
HÄNSSLER CLASSIC 98.404 [2 CDs: 86:18] – from passionato.com (mp3 or lossless) or classicsonline.com (mp3)



This remarkable work has already received two recordings, one on DG (477 7461: Recording of the Month – see review), not available for download from the sites to which I have access, and this Hänssler version. I like Golijov's eclectic music, though I'm not sure that the style is really suited to the Passion – in places it would be more appropriate for a festal Mass – but you can't fail to be impressed by it. The performance is as lively as you could wish and the recording is good, but there are no texts with any of the downloads, which means that you might be better served by the CDs or the DG CDs, which include a bonus DVD. If you like Ariel Ramirez's Misa Criolla, you'll love Golijov – I plead guilty on both charges, despite my reservations about the suitability of this as Passion music. The final Kaddish, the Jewish prayer for the departed, puts aside my doubts.