---
The Music Goes Round and Around

by Basil Tschaikov
© Basil Tschaikov 2006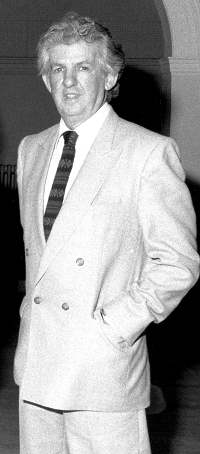 Basil Tschaikov in the early1990s
Sir Thomas Beecham's return to the London Philharmonic Orchestra in 1944. The author's family roots – the Royal Concertgebouw Orchestra in the 1890s, escaping the East European Jewish pogroms, arriving as refugees in England near the turn of the century, playing in cinema orchestras and other groups in England in the first two decades of the 20th Century
2
The BBC Symphony Orchestra
The author's father joins the new BBC Symphony Orchestra as Principal Clarinet. BBC Symphony Orchestra in the 1930s – conditions, players, conductors (including Sir Adrian Boult, Arturo Toscanini and Willem Mengelberg), operations, sections A, B, C, D, E, repertoire performed, and the author's memories of Toscanini rehearsing
3
The War 1939 –1945
The Author wants to learn the Clarinet. His father is against it – he hopes his son will be a doctor. The author's school is evacuated and he plays in the school orchestra. The joy of playing chamber music. He hears a recording of Menuhin: his future is sealed.
4
Starting Out
The BBC Symphony Orchestra in Bristol and Bedford. Small 'orchestras' in restaurants – Lyons Corner Houses – Alfredo Campoli, Albert Sammons, Max Jaffa. Author at Royal College of Music. Many musicians now in the armed forces provides author with opportunity of professional experience that leads to full-time orchestra employment.
The pleasure and hazards of touring with London orchestras and the pre-war BBC Symphony Orchestra.. The Wessex Philharmonic Orchestra touring in war-time – its musicians, conductors (a young Reginald Goodall), soloists and repertoire. Experience in this orchestra leads to many distinguished careers. Author leaves to join London Philharmonic Orchestra.
6
The London Philharmonic Orchestra
History 1932 until 1939 when it was obliged to go into voluntary liquidation. The orchestra reforms and is administered by the players themselves. J B Priestley, Jack Hylton, Sir Henry Wood. Life in a self-managed orchestra. 1944 Sir Thomas returns to his old orchestra. He leaves and in 1946 forms the Royal Philharmonic Orchestra. 1947 the author follows.
The Beecham Wind Orchestra – a unique wind ensemble. Memories and anecdotes from musicians who played for him, including my father (from 1912 onwards) and myself (from 1944 until his last concert in 1960). His rehearsal methods, repertoire and influence on all who played for him. Playing for him at concerts, on recordings, film and TV. His last concert.
8 The Royal Philharmonic Orchestra's 1950 American Tour
Beecham's intention, from 1944, to take an orchestra to the USA. 64 day tour from New England, New York, down the East coast to New Orleans – experience of hearing genuine trad jazz – segregation in the South (and in the North) – up through the mid-west to Chicago and back to New York.
9 The Orchestra Conductor: a Unique Phenomenon
The conductor's authority, control and power. Orchestra/Conductor relationship changes over the past 60 years. Wagner, Stokowski, Beecham and others. Schwazkoft recalls singing for Karajan. International questionnaire produces surprising results.
Playing for great, good, very good and outstanding conductors – in the London Philharmonic, Royal Philharmonic and Philharmonia and elsewhere – Victor de Sabata, Bruno Walter, Charles Munch, Thomas Beecham, Herbert von Karajan, Otto Klemperer, Lorin Maazel, Colin Davis, Simon Rattle and many more.
Playing for Benjamin Britten, Malcolm Arnold, Pierre Boulez, Aaron Copland, Michael Tippet, William Walton, Ralph Vaughan Williams, John Cage, Igor Stravinsky.
The London Philharmonic, Royal Philharmonic, Philharmonia – between 1904 and 1963 all become self-managed. Despite financial problems – lack of subsidy and patronage – the orchestras survive. The Goodman Committee. Comparison with orchestras in Europe and USA – their financial support and conditions.
Musicians playing in theatres – incidental music, opera, musicals; in Music Halls – conditions – playing for jugglers, trapeze artists and the Diaghilev Ballet Company and Sir Harry Lauder; for the 'silent cinema'; for dancing.
Recordings – from wax cylinders to the most recent innovations. Early recordings – folk music, Caruso, Chaliapin, Joachim. 78s, LPs, tape, stereo. The dominance of the producer and engineer – the manipulation of performances. Most music now heard on recordings.
Changing attitude to the status of musicians. In the early 20th century two strands of employment start to emerge. Playing in an orchestra – satisfaction and frustration – how different sections of the orchestra are affected. Ever higher standards of technique.
16 The Pleasure of Taking Part
The delight of playing with great artists. Wonderful solo violinists, cellists, pianists – Heifetz, Oistrakh, Menuhin, Perlman … Fournier, Tortelier, du Pré, Rostropovich … Rubinstein, Solomon, Currzon, Barenboim …
17 Woodwind and Brass Soloists and my Colleagues in the Orchestra
So many fine soloists have come out of the orchestra – Galway, Goossens, Brymer, Camden, Brooke, Brain, Bean, Parikian, Pini, and many more.
18 Singers: Glyndebourne and Edinburgh
The voice – the most beautiful instrument of all – heard to perfection in a delightful opera house in the country and at the Edinburgh Festival. An incredible catalogue of artists singing Rossini, Mozart and Strauss.
19 More Singers: Recordings, Films and Concerts
The privilege of taking part in performances in the opera house, recording and film studio and at concerts with superb artists – legendary singers from 1943 until 1979.
Music not accepted as a profession in the 19th century. Seeking professional identity – various associations – the London Orchestral Association, Archer Street, the ISM and MU. The effect of broadcasting and recording. Pirate, commercial and local radio. BBC radio since 1922.
Opportunities for learning an instrument – in Brass and Military bands. Music colleges and Teacher Training colleges. The Calouste Gulbenkian Foundation – Making Music(1965) – Enquiry into Training Musicians (1975). The BBC Training Orchestra. The National Centre for Orchestral Studies (NCOS).
The National Centre – Conservatoires around the world. Hong Kong – orchestral problems. The Chinese Orchestra. Financial difficulties at the NCOS. Competitions – opposing views.
23 An Astonishing Period of Growth
Pre-1939 – war-time and post-war increase in audiences for concerts and opera. Insufficient financial support. New repertoire – contemporary music. The Institut de Recherche et Coordination Acoustique et Musique. The future for symphony orchestras. The Wheatland Foundation. The Orchestra for Europe.
24 Preserving Music Performances
Music Preserved – a new archive. Performance Practice and Audience Expectations – have they changed? Archive-videos. The Oral History of Musicians in Britain.
Orchestras face increasing financial problems – reduction in recording work. Classic FM. Raymond Gubbay. 'Classical-crossover'. Jazz – dance bands – popular singers. The arrival of pop and rock music. World Music.
26 Where now?
The influence of– folk music – popular music on classical – classical music on popular. Acoustic and electronic instruments. Electronic Music. The three Tenors – 'popular' classical music. Increasing 'classical-crossover' – steep decline in symphonic recordings. Up dating opera productions. Hope for the future.