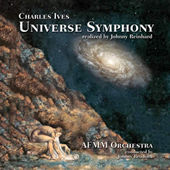 American Festival of Microtonal Music (AFMM) Orchestra / Johnny Reinhard [Reinhard Realization] (The Stereo Society SS007; available online at www.stereosociety.com/ivesCDUniverse.html)
This work, like many realizations of many composers' unfinished works, has generated a fair share of controversy. (One small indicator: on our Charles Ives Yahoo discussion board, there was such contentious talk about this piece that one of the members was banned from the discussion!) As I am neither a musician or a musicologist, I'm going to do an "end-run" around these controversies, and attempt to offer some remarks simply based on the music that I hear. It's still unclear to me how much of this music is Ives and how much of it is Reinhard, so simply listening and reacting is the most appropriate approach that I can offer. (By the way, I have no problem whatsoever with the idea of other composers completing the Universe. After all, Ives actually invited other composers to do so.)
First of all, I should note that Reinhard's realization is nearly twice as long as Austin's. It is characterized by very, very long periods solely of percussion. On one level, these seem interminably long; on another, these passages seem to anticipate musics that would develop later in the twentieth century. (Philip Glass' music springs to mind.) In the liner notes, Reinhard goes to great lengths to show how all of the rhythms interact in incredibly complex, interlocking ways. He also explains how this music points the way toward another, entirely new conception of music, one that transcends all of the boundaries that we now know. A fascinating idea and very Ivesian indeed.
In the final analysis, I must admit that I do not find Reinhard's (or Austin's) realization--the music itself--to be nearly as compelling as Ives' other, completed works. Certainly, in the Universe one hears echoes of pieces like the final movement of the Second Orchestral Set. But to claim, like Reinhard does, that this work should be lumped in the same category with masterpieces like the Fourth Symphony and the "Concord" Sonata, seems unfair--although I suppose that those sorts of judgments must always be subjective.
All Ives enthusiasts owe it to themselves to hear this piece and form their own thoughts about the work. Obviously, this is a labor of love for Reinhard, and the disc is lavishly produced, a beautiful package. If, in my book, this work must always remain "Ives-with-an-asterisk," we shouldn't deny ourselves the opportunity of hearing it and forming our own opinion. Give it a listen and see what you think.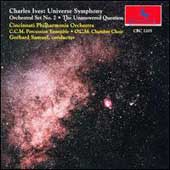 Cincinnati Philharmonia Orchestra & Cincinnati College; Conservatory Chamber Choir / Gerhard Samuel [Austin Realization] (Centaur CRC 2205, coupled with Orchestral Set No. 2 and "The Unanswered Question")
This is the realization of Ives' unfinished work by composer Larry Austin. As such, this is not strictly speaking a work by Ives--despite Austin's claims to the contrary in the recording's liner notes. I think it's more useful to think of the recording as you might think of Deryck Cooke's realization of Mahler's Tenth Symphony. Unlike Austin, Cooke makes no bones that his work is a realization--and as such is not purely Mahler.
Despite my nit picking, it is interesting to hear Ives' Universe Symphony in whatever guise possible. This sounds radically different than anything else I've ever heard from Ives. Percussion predominates, and rhythm is the primary musical element, rather than melody or harmony. In fact, one might point to this work and declare Ives to be the father of minimalism! I'm not exactly sure what to make of this recording. I think most of my ambivalence stems from my lack of knowledge about how much of this work is Ives' and how much is Austin's.
If I put aside that question for moment, and I try to evaluate the music as music, I'm still not totally convinced. Perhaps this is one Ives' work that was best left unfinished. The idea is fascinating, but--in this world--is it possible to achieve? . . . Still, if you're an Ives' fan, you'll want to hear it. Just don't expect the revelations of the Fourth Symphony or Second Piano Sonata.
One incentive to pick up the disc: The couplings are excellent. Samuel's reading of "The Unanswered Question" is one of my favorites, displaying a tremendous level of inner detail. The Second Orchestral Set is also very fine, woodsy and idiomatic.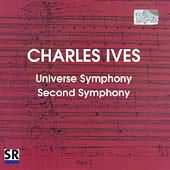 Saarbrücken Radio Symphony Orchestra / Michael Stern [Austin Realization] (Col Legno WWE1CD20074, coupled with Symphony No. 2)
The Saarbrücken RSO is a very fine orchestra, and I especially like the orchestral bells that they use in this recording. However, my overall reaction to this recording of the Universe Symphony is exactly the same as my reaction to the Gerhard Samuel version. (See review above.) I'm not quite sure what to make of it. Is it Ives? Is it Austin? And even if I put the question of authorship aside, the music still doesn't grab me the way that Ives' other works do. Dedicated Ivesians should give the Universe a listen, but don't expect any revelations like Ives' other great works can offer. You may want to make your choice depending on the the couplings. This CD includes a good if not inspired reading of the Second Symphony.